With its delightful maze of whitewashed streets, the stunning views from its castle walls, and the town's exciting collection of festivals, it's safe to say that the best things to do in Obidos, Portugal are bound to delight.
Tiny but mighty, Obidos is one of our favorite small towns to visit in Portugal, packing a wonderful array of attractions into a very small footprint.
For more than 600 years–starting with King Alfonso II and Queen Urraca in 1210–Obidos was given to the queen of Portugal as a gift from the king.
In other words, visiting Obidos is truly an experience fit for royalty.
Want to make the most of your visit to this fairytale town?
Here's what to do in Obidos, Portugal–plus tips for making the most of your visit!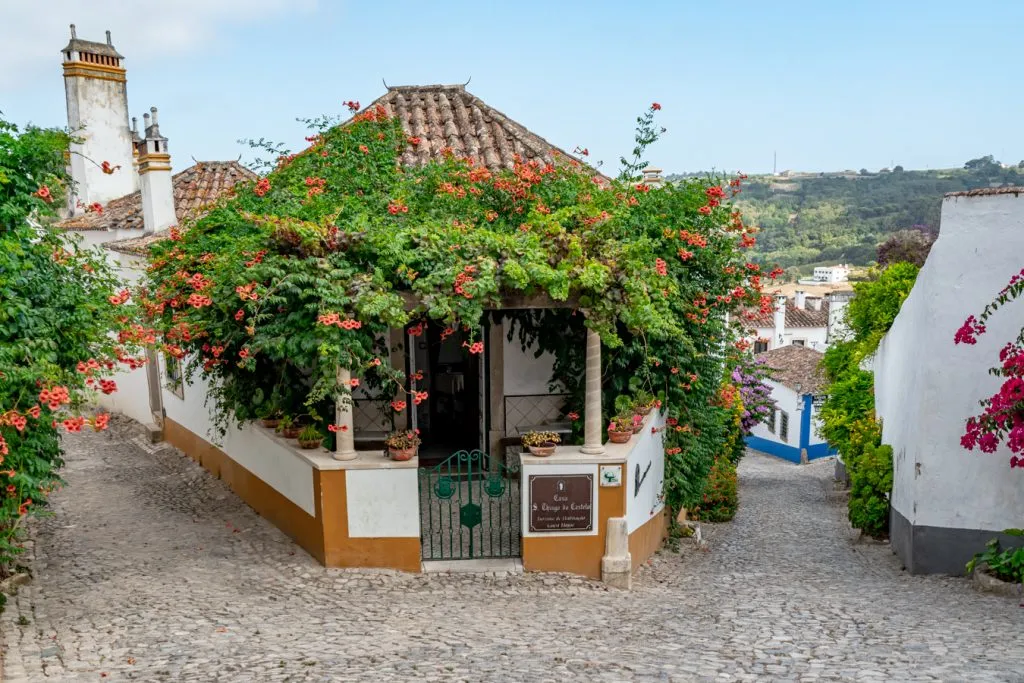 Where is Obidos, Portugal?
Obidos is located about 80 kilometers (50 miles) north of Lisbon in Central Portugal.
The town makes an excellent day trip from Lisbon, either on its own or combined with other nearby destinations like Peniche, Nazare, Alcobaca Monastery, Batalha Monastery, and more.
Popular day trips like this take visitors from Lisbon to Obidos as well as a few of the popular surrounding sights and are a great option with limited time.
Obidos is a bit over an hour from central Lisbon by car or express bus.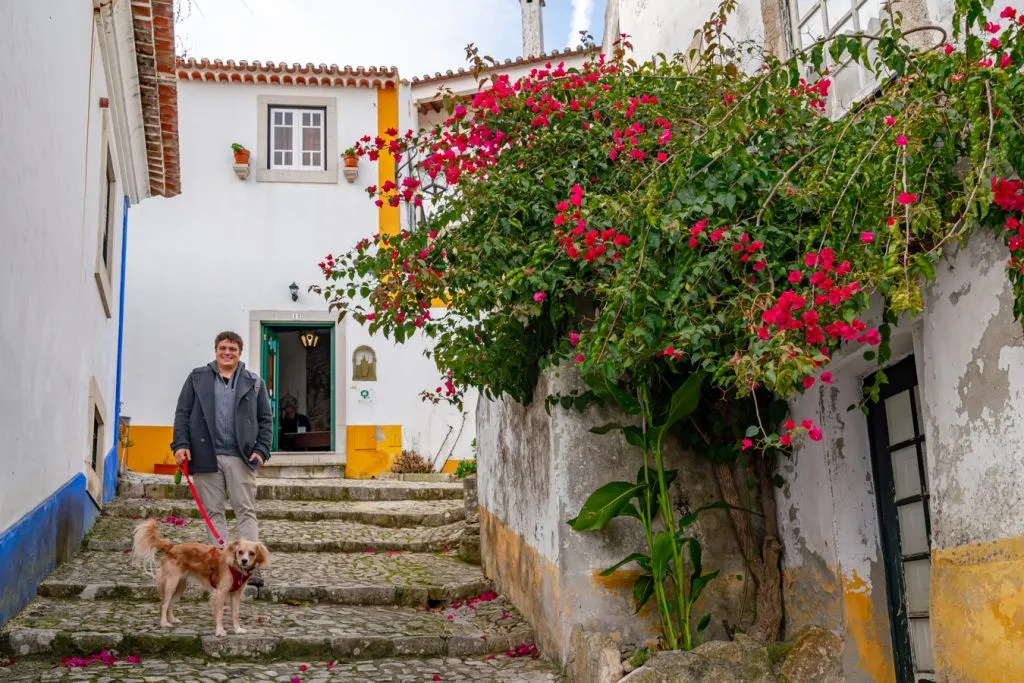 The Best Things to Do in Obidos, Portugal
Walk along the castle walls.
Without a doubt, one of the absolute best things to do in Obidos is to stroll along the castle walls!
Obidos' historic center is completely encircled by its medieval castle, and you can walk the entire route in a mere 1.5 kilometers.
Walking along the castle walls is completely free–and completely at your own risk.
There are no handrails or fences, merely a stone wall on one side and a sheer drop on the other.
You'll need to watch your step, but it's truly not as nerve-wracking as it sounds.
I'm scared of heights and was way too captivated by the views to be worried about being so far from the ground!
There are several staircases around town where you can start or end your climb, but if you simply can't wait to get started, make a hard left as soon as you enter the historic center after passing Porta da Vila, and you'll find a staircase there.
Want to tour the inside of Obidos' Castle?
Sadly, it's not a typical museum, so you can't simply buy a ticket–but you can check in!
Pousada Castelo de Obidos is a luxury hotel located inside the castle, and is one of the most memorable places to stay in Obidos.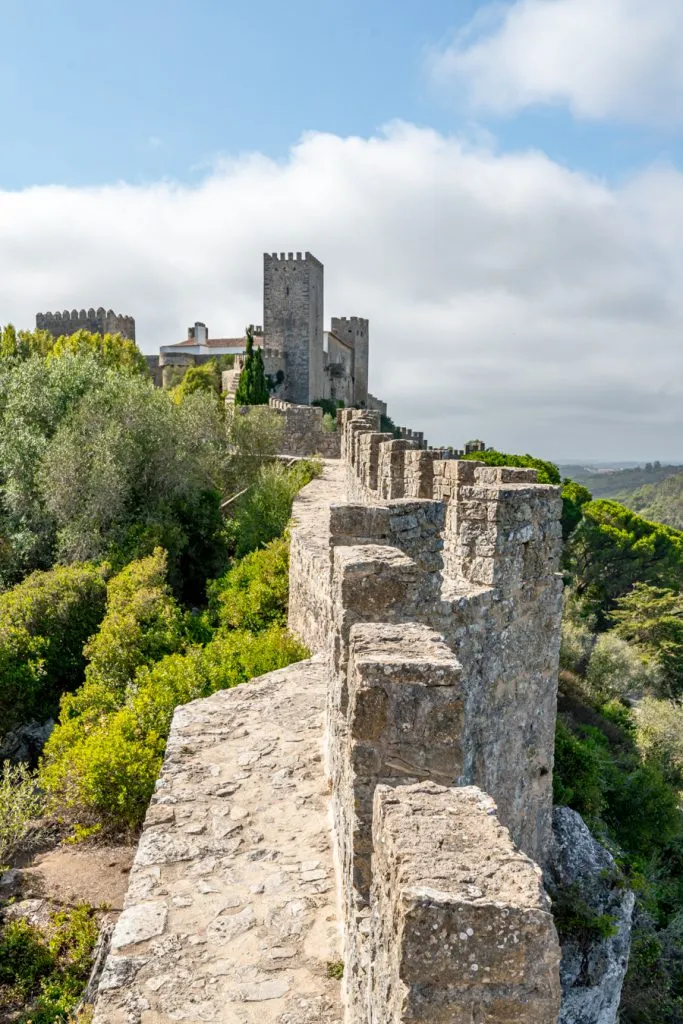 Sample ginjinha in a chocolate cup.
Ginjinha, also known as ginja, is Portugal's most popular liqueur.
And, as someone who typically doesn't care for liqueurs, let me say–this one is absolutely fantastic.
Made with morello cherries among other delights, ginjinha is served in a small, shot-sized glass, but it is meant to be sipped.
The shot glass in question is sometimes made of chocolate, and that's especially true in Obidos.
You can't walk more than a few feet down Rua Direita without finding another shop or cafe selling the drink right out of their front window–no need to sit down or grab a table!
The going price for a chocolate cup filled with ginjinha is a Euro, and while you'll certainly want to pace yourself, sipping this liqueur is a delightful Obidos travel experience.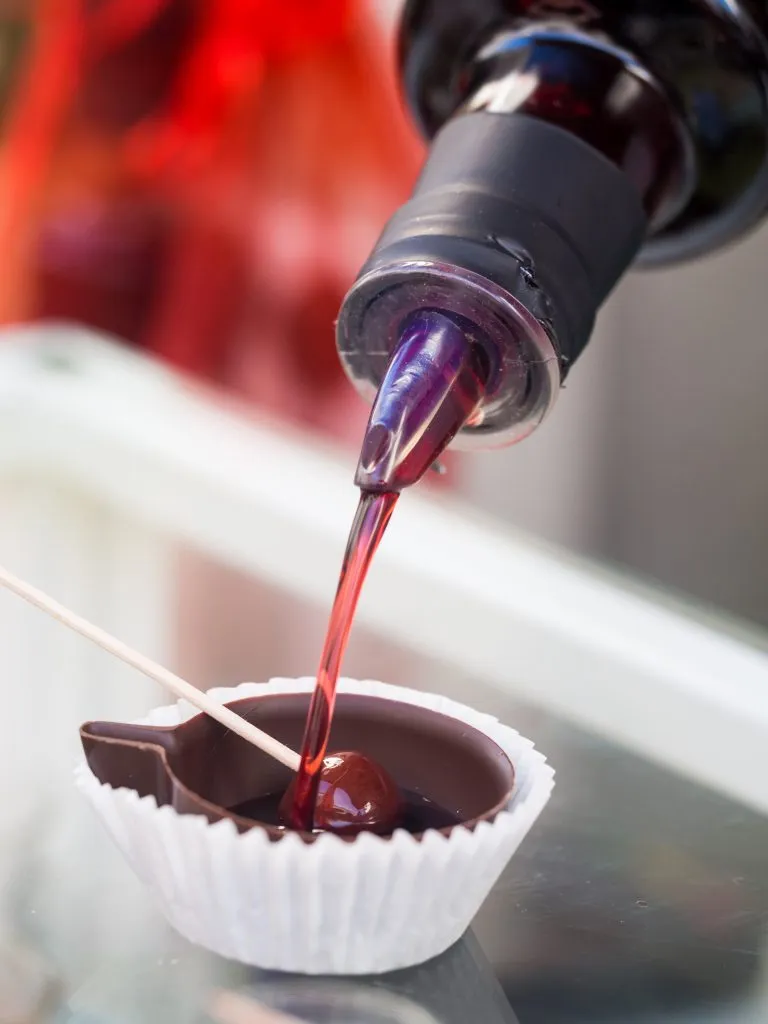 Step inside the stunning Igreja de Santa Maria.
Set in the heart of town, the Igreja de Santa Maria is the most beautiful church in Obidos–and one of the most historic.
With roots dating to the Visigoths, this church has a long history.
Most of what we see today, though, dates to the 1600s, as various occupations, an earthquake, and more caused it to be rebuilt several times.
The result is astounding, from the painted ceiling to the walls of azulejos, and we definitely recommend going inside during your Obidos trip!
The Igreja de Santa Maria, though it would have looked different at that time, was also once the site of a memorable royal wedding: the marriage between King Afonso and Queen Isabel in the 1400s.
Sadly, both bride and groom were pre-pubescent children at the time of the wedding.
Browse Obidos' unique bookshops.
Between hosting FOLIO (The International Literary Festival) and being the home of The Literary Man Hotel, it's safe to say that Obidos is proud of its literary leanings!
Outside of festival times, this translates into an outsized number of beautiful bookshops for such a small town, an absolute delight to bibliophiles like us.
Livraria de Santiago, for example, is located within a historic church and is absolutely worth a visit!
Stroll along Rua Direita.
Running directly through the center of town, Rua Direita is Obidos' main drag and one of the best places to visit during your trip.
Not that you'll be likely to miss it!
Rua Direita is lined with restaurants, souvenir shops, and attractions, and makes up the heart of Obidos' shopping district.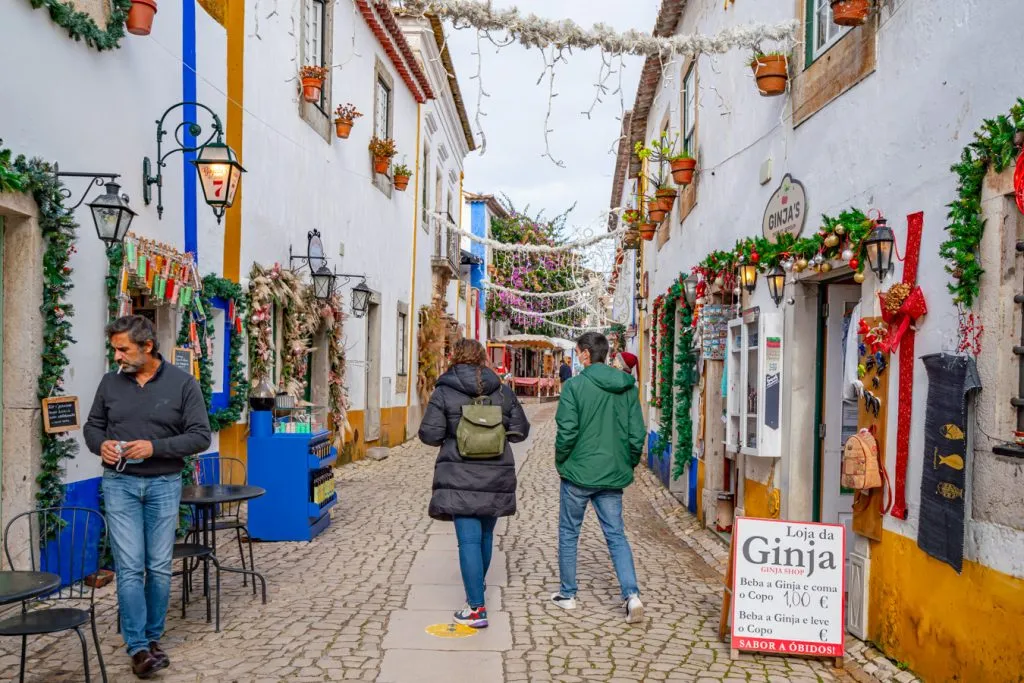 Get lost in search of viewpoints.
As charming as Rua Direita is, be sure to also step off the main street and explore the smaller, less congested streets during your trip to Obidos.
Once away from Rua Direita, Obidos becomes a maze of whitewashed buildings accented with blue and yellow paint, separated by cobblestone lanes that occasionally dead-end into a magnificent view.
You'll need to be prepared for a bit of a workout–steep hills are somewhat inevitable–but exploring Obidos' backstreets is a peaceful and rewarding experience.
Pay a visit to Igreja de Misericordia.
Less ornate than the Igreja de Santa Maria, Obidos' Igreja de Misericordia is still absolutely worth a visit!
Featuring tiled walls and beautiful art, the Igreja de Misericordia is located just steps away from the Igreja de Santa Maria and is an easy addition to your Obidos itinerary.
Marvel at Porta da Vila.
Porta da Vila is the main gate to Obidos, but when people talk about visiting, what they really mean is admiring the gorgeous balcony.
Decorated with azulejos dating to 1740 that depict the Passion of the Christ, this magnificent balcony is one of the best things to see in Obidos.
The rest of the gate, while not quite as eye-catching, is also worth your attention: notice how the 2 doors are set diagonally from each other.
This was a typical feature of medieval Portuguese castles and prevented a direct charge by aggressors.
Most visitors will enter Obidos by walking through Porta da Vila, and usually have a chance to appreciate whichever busker is currently there as they do!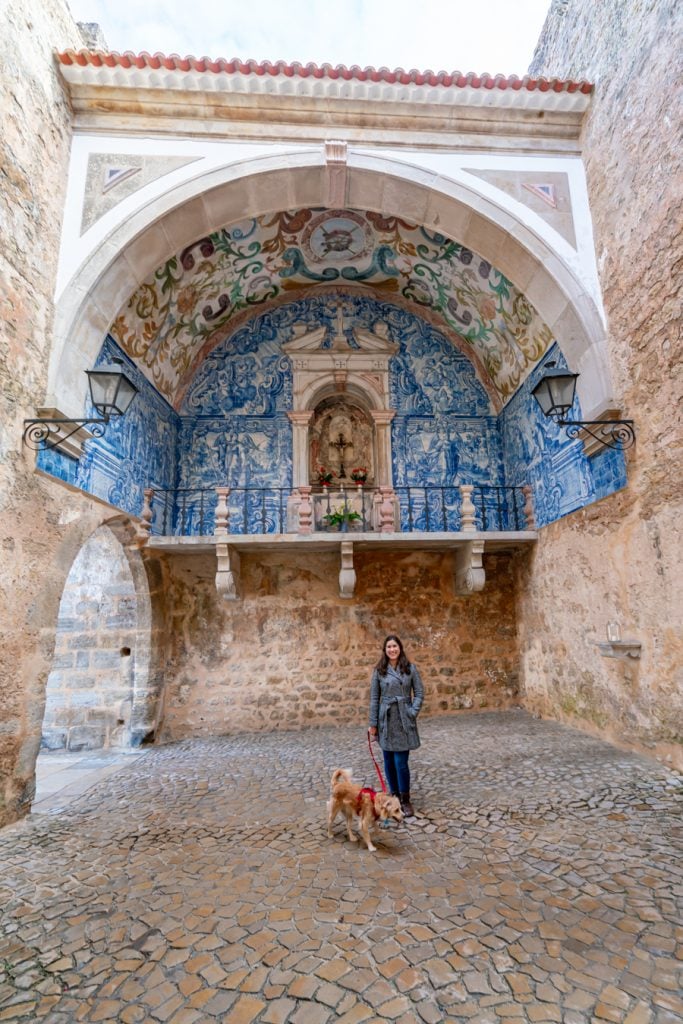 Head outside the town center to visit the Sanctuary of Senhor Jesus da Pedra.
Dating to the mid-18th century, this massive baroque-style church sits surrounded by farmland, just outside of the historic center of Obidos.
If you don't have a car with you, you probably won't choose to visit–but be sure to keep an eye out for an amazing birds' eye view of the building when strolling along the castle walls!
There are many legends surrounding the origin of this enormous landmark in Obidos, but whatever the facts may have been, today, it's one of the most distinctive buildings in the area.
The sanctuary has limited hours, so if you happen to luck out by visiting when the building is open, be sure to take the chance to step inside.
Take a look at Obidos' aqueduct.
Less of a specific Obidos attraction than a point of interest, Obidos' aqueduct nonetheless has quite the history!
Commissioned in 1573 by Queen Catherine of Austria, who was married to King João III, the aqueduct still stands today, stretching for 3 kilometers.
It's not exactly in a scenic location these days, but it is in a very simple place to access.
Right across the street from Obidos' historic center is a dirt parking lot where visitors park their cars… and that's where you'll find this nearly 500-year-old aqueduct.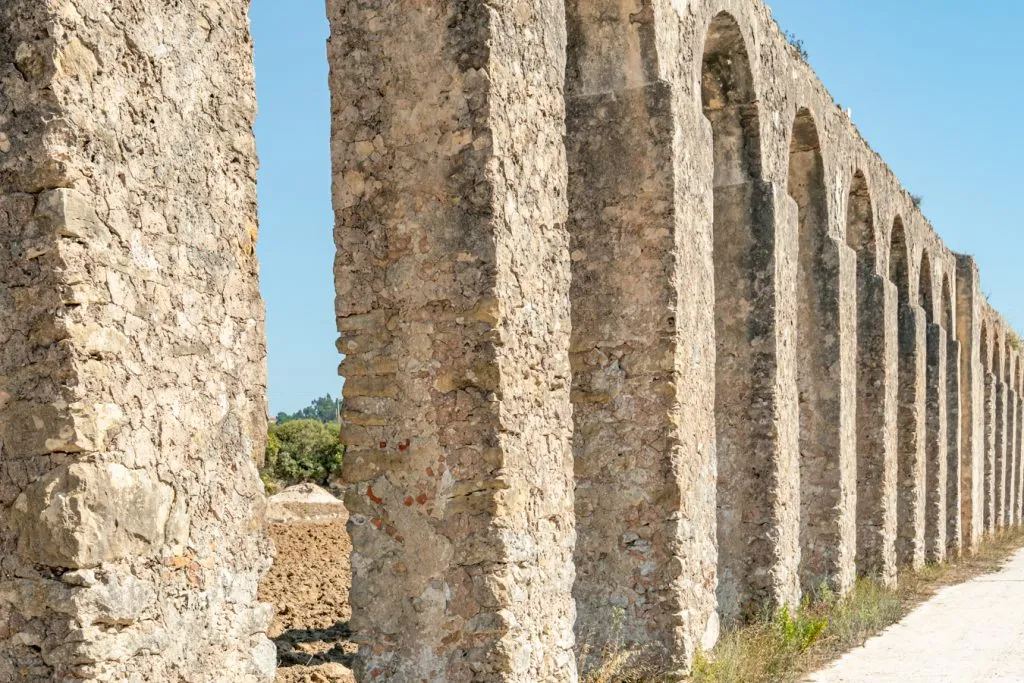 Experience one of Obidos' many festivals!
Around Portugal, Obidos is famous for its many festivals.
Among the most popular are the Medieval Festival, the Chocolate Festival, FOLIO (the International Literary Festival), and the Obidos Christmas Village.
While visiting Obidos during a festival is certainly more crowded and–if you're staying overnight–more expensive than visiting during a "normal" time, it's also incredibly fun.
If you're looking for a unique cultural experience and are lucky enough to have your trip to Portugal overlap with one of Obidos' festivals, it's definitely worth squeezing in a visit!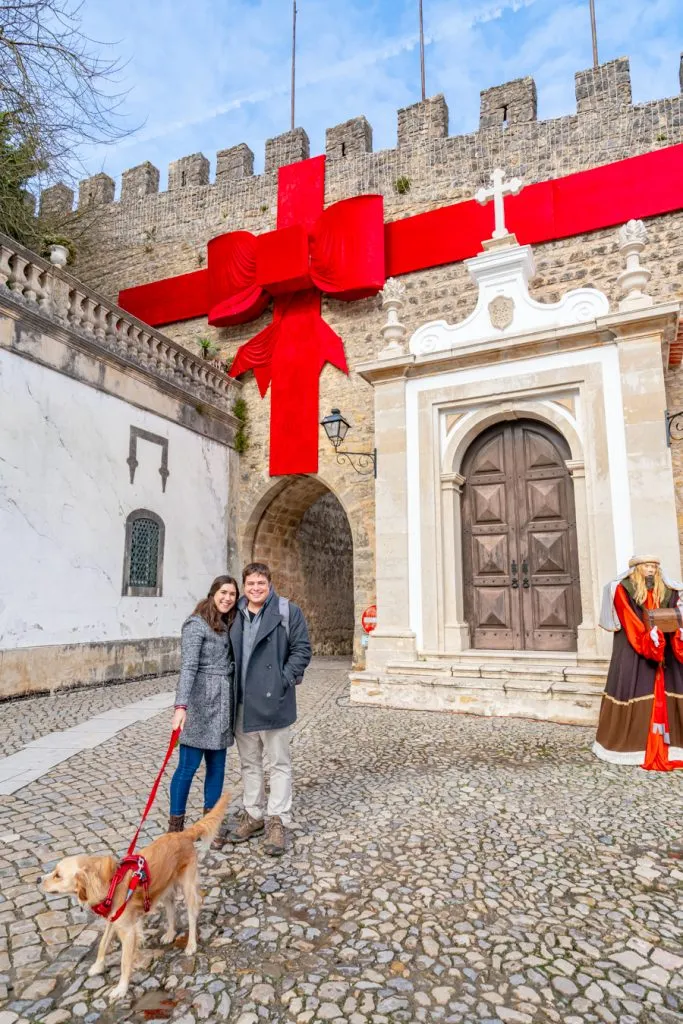 How to Get to Obidos From Lisbon
Getting to Obidos from Lisbon takes a little over an hour, and you have plenty of options to do so!
First, and simplest, would be to rent a car and drive yourself.
There's ample parking available just outside the historic center, and it also comes with the bonus of being able to visit other nearby attractions with ease.
We typically rent a car and drive to visit Obidos.
Second, you can take the express bus from Lisbon.
Third, you could take the train–but Obidos' train station is very small and a 20+ minute (fairly dull) walk from the historic center, so this is less than ideal.
Finally, there's the option of booking a guided tour from Lisbon.
If you're short on time in Portugal and want to squeeze as much sightseeing in as possible, an organized tour is a fantastic option!
Most group day trips to Obidos from Lisbon, like this popular one, include 2-3 other stops as well, at places like Peniche, Nazare, Alcobaca, Batalha, and/or Fatima, allowing you to make the most of your day in Central Portugal.
Book your day trip to Obidos today!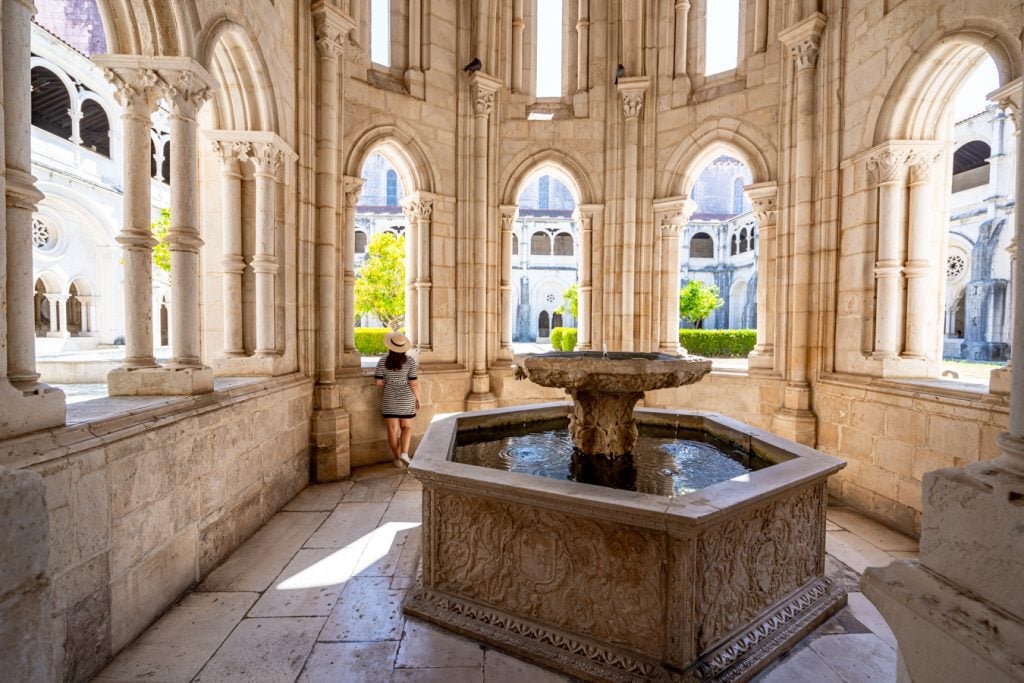 Where to Stay in Obidos, Portugal
While you can technically see all of the typical Obidos attractions in a day (or less, to be honest), Obidos also makes an excellent base for a few days when visiting Portugal.
Not only is the peaceful evening atmosphere lovely, but Obidos is positioned within very easy reach of many of the most popular places to visit in central Portugal, including all 3 UNESCO World Heritage Site monasteries, Peniche, Nazare, and Fatima.
When it comes to where to stay in Obidos, there are 2 unique properties that are incredibly popular and deserve to be considered: The Literary Man Hotel and the Pousada Castelo de Obidos.
Staying in The Literary Man Hotel is a unique experience that bibliophiles will love–there's nothing quite like being surrounded by that many books!
Want to add sleeping in a castle to your Portugal bucket list?
If so, checking into Pousada Castelo de Obidos, which is located in a wing of the otherwise closed Obidos Castle, is the place for you.
Looking for something a bit simpler?
Casa de S. Thiago de Obidos Guest House gets incredible reviews and will allow you to stick to more of a budget while still staying in the heart of Obidos.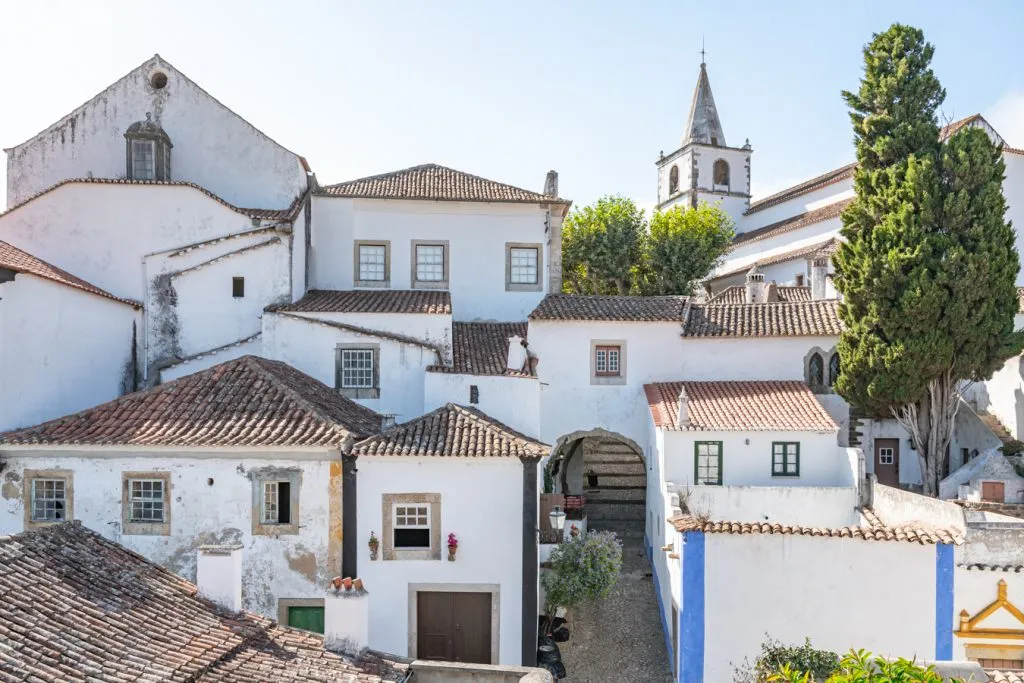 Getting Around Obidos, Portugal
Once you're inside Obidos' castle walls, the entire town is extremely walkable!
This is good news–because walking is really the only realistic way to get around the historic center.
Plan to climb a fair number of hills and stairs, especially if you want to walk the castle walls, but your efforts will be well-rewarded.
With the exception of visiting the Sanctuary of Senhor Jesus da Pedra, all of the things to do in Obidos that are listed in this travel guide can be found within a very short walk of each other inside the historic center.