Beautiful views, comfortable train cars, the bustle of busy platforms, and the thrill of a new adventure: there are a lot of good reasons to travel Europe by train!
But, for those of us who grew up in a place where traveling by train isn't common, the prospect of train travel in Europe can be as intimidating as it is exciting.
Thanks to traveling Europe extensively for years (including with our dog!) and spending more than a year living in Portugal, we've had a chance to appreciate countless train rides through and across Europe.
From the mind-boggling efficiency of Swiss trains to overnight train rides through Eastern Europe (Sofia to Istanbul was a particularly memorable ride) to simple jaunts across Italy, we've experienced just about every form of train travel in Europe.
And along the way, we amassed a huge number of European train travel tips!
This train travel guide is a culmination of everything we wish we would have known before we started traveling Europe by train, plus why we think it's worth a try.
Who is This Guide to Train Travel in Europe For?
If you're planning an epic, multi-destination trip and are hoping to travel by train through Europe but aren't already comfortable with train travel on the continent, then this guide to traveling by train across Europe is for you!
We grew up in suburbs in the USA, and until we started traveling internationally in adulthood (4+ years of full-time travel, more than a year living in Lisbon, many trips across Europe, and counting!), we had virtually never taken a train.
While that's certainly not the case for many people around the world, it is for thousands of our readers who grew up in similar environments to us!
If you're excited to travel Europe by train but are learning the whole process from scratch like we once did, you're exactly who we wrote this guide for.
While train travel in Europe isn't exactly the same everywhere–with over 50 countries and therefore over 50 train systems, there are plenty of quirks based on location–this guide to train travel in Europe will give a solid overview that will help you start your travels with confidence.
Is Train Travel in Europe Right For You?
Planes, trains, buses, rental cars, river cruises–with plenty of transportation options for getting around Europe, how do you know if train travel is for you?
In this section, we'll break down the pros and cons of traveling Europe by train to help you decide if it's the right transportation option for you.
Pros of Traveling Europe By Train
Taking a train across Europe is a bucket-list-worthy experience.
For most of us who hail from other places, this is the number one reason to book that first train in Europe, right?
Traveling by train through Europe tops plenty of bucket lists around the world, and for good reason: it's an incredibly fun way to explore the continent.
On some routes, the train ride is a travel destination in its own right–and even when it's not, it's a cultural experience to remember.
… and can allow for spontaneity.
For some routes, especially those with fixed ticket prices (more on that in another section of this Europe train guide), traveling by train allows you to be spontaneous, coming and going from destinations with much less foresight than is required when taking planes.
Depending on where you are, it can be very scenic.
If you have daydreamed about staring out train windows in Europe as you watch mountains, streams, seas, villages, castles, and vineyards go by, let me tell you… that's pretty much exactly what it's like a lot of the time!
Obviously not everywhere on the continent is scenic, but if you travel Europe by train, you're likely to experience some truly incredible views along the way.
Most train stations are in the center of the city.
In our opinion, this is one of the biggest benefits to train travel in Europe!
While most airports (especially airports servicing budget flights) are located far outside the city centers, train stations are generally located right in the heart of the action.
Step outside the train station in Cologne, for example, and you'll be looking at the cathedral.
In Florence, you'll arrive less than a 10-minute walk from the Duomo.
In some places, like in Milan, Antwerp, Porto, and Paris' Gare de Lyon, the opulent central train station is practically a tourist destination in its own right, so you'll be exploring the minute you arrive, rather than spending hours getting into the city center from the airport.
No luggage limitations!
No one is going to weigh your luggage or make sure it is only a certain size on a train, so you can bring whatever you like (sports equipment and generally pets included).
Train travel in Europe is generally far more comfortable than flying.
At the end of the day, traveling Europe by train is immensely more comfortable than flying.
There's less hassle, more comfortable seats, more ease of moving around, often better views, and more control over your environment.
If all else (price, time, etc.) were equal, we'd personally choose to take a train across Europe over a plane any day of the week.
Cons of Traveling by Train Through Europe
It can get pricey.
When you first set out to travel Europe by train, you may assume that it is more affordable than flying–but thanks to a combination of several factors, including incredibly inexpensive budget flight carriers in Europe, that's actually not the case.
Typically, it's cheaper to hop on a budget flight between two major European cities than take a train.
The severity of the difference, though, can vary dramatically, and there are lots of tips you can apply to your train travel in Europe to mitigate the cost, which we'll cover in this blog post.
If you're traveling long distances, train routes can take a prohibitively long time.
For example, when traveling from Paris to Venice, a route we've traveled by train, the train can easily take upwards of 10 hours, while the flight time is under 2 hours.
Now, that doesn't account for getting to and from the airport, checking luggage, or going through security, all of which increase the amount of time a flight actually takes, but it's still a large difference.
Train travel in Europe isn't available everywhere.
As you move further into eastern Europe and the Balkans, train travel becomes much less prevalent (even popular Dubrovnik isn't connected to the rest of Europe by rail).
And, when it does exist, can take longer and be less comfortable than planes or even buses depending on the destination.
Rail strikes can derail plans to travel Europe by train.
Generally, these are planned in advance, so you'll know what you're getting into before arriving, but they can be a bit of a hassle.
We've had trips to both Italy and France impacted by rail strikes in the past.
If you have mobility issues, train travel can be difficult.
Lifting and storing luggage, navigating small staircases and bathrooms, and making your way through crowded train stations can be difficult if you struggle with mobility, so keep that in mind when deciding whether to travel Europe by train.
This is especially true with a short connection–we once had to literally sprint through the station to make a connecting train on time in Germany!
Traveling Europe by train can be a bit intimidating.
This isn't a con, exactly, but there's no doubt that the confusion surrounding train travel in Europe can prevent new visitors to the continent from trying it out, especially if they're concerned about language barriers or navigating multiple countries.
If that's your only hesitation, though, we urge you to set those concerns aside.
Traveling Europe by train is an incredibly rewarding experience, and well worth stepping a bit outside of your comfort zone for!
Different Kinds of Train Travel in Europe
When discussing train travel in Europe, it's important to remember that not all trains are created equal, or exist for the same purpose.
Here are a few general train categories to keep in mind as you plan your trip.
Metro/Intra-City Transport
Metros, aka subways (though some do run above ground) are public transportation used by a certain city.
While they are technically trains, metros are their own category entirely and this Europe train guide doesn't cover them any further.
Commuter Rails/Regional Trains
Commuter rails and regional trains aren't exactly synonymous, but for the purposes of this guide, they're similar.
These are slower-moving trains used to connect surrounding villages to a major city (for example, Versailles to Paris) or trains that go within a certain country or region (for example, from Siena to Florence in Tuscany).
Most of the tips in this guide to train travel in Europe apply to these trains, but they sometimes have fewer amenities (like snacks/drinks available for purchase, for example) than high-speed or long-distance trains.
High-Speed Trains/Long-Distance Trains
These are trains that cover long distances within a country (for example, from Florence to Venice) or cross borders (for example, from Paris to Amsterdam).
Since each country runs its own train system (often with a national carrier option and private carrier(s) mixed in), booking a ticket between countries may mean changing train companies at a city near the border.
For example, when we traveled from Paris to Venice by train, we took a French SNCF train from Paris to Turin, Italy, and then boarded an Italian Italo-branded train to travel from Turin to Venice–all booked on the same ticket.
These high-speed and long-distance journeys are the primary focus of this guide on how to travel Europe by train.
Tourist Trains
These are trains that, while technically public transportation, are typically used as tourist attractions for sightseeing purposes, and are priced accordingly.
Examples include the Glacier Express or Schniyge Platte in Switzerland, or the Jacobite Steam Train (aka Harry Potter train) in Scotland.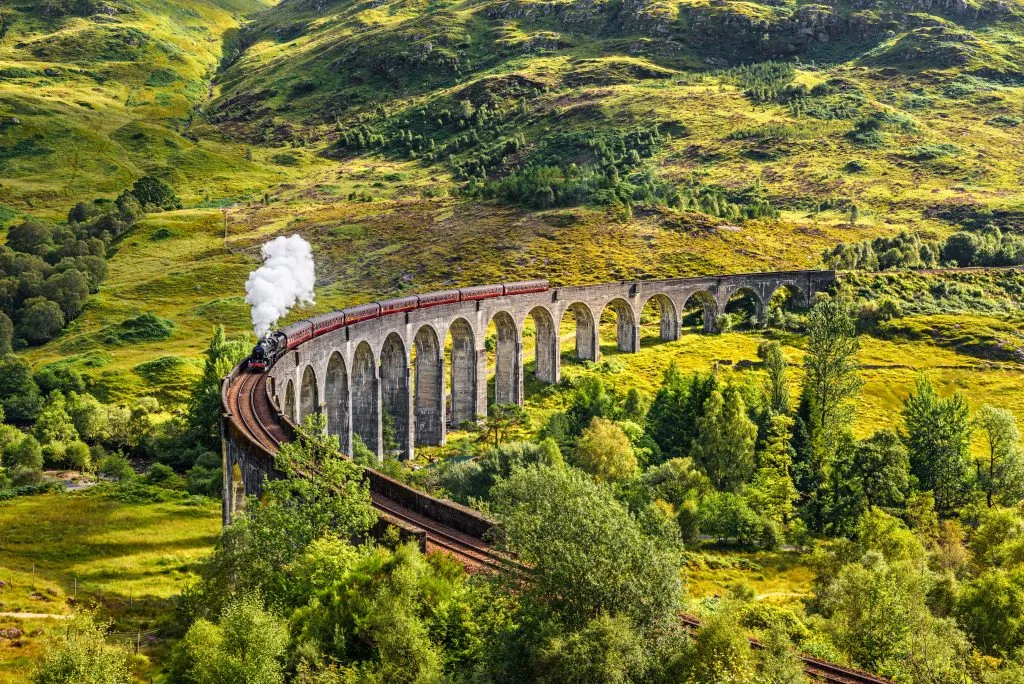 Sleeper Trains
Technically, sleeper trains aren't their own category–they're just long-distance trains with sleeper carriages in them–but they're worth calling out separately in this guide to train travel in Europe because they're particularly interesting for travelers.
Not only are sleeper trains a great way to save on hotel costs for a night of your trip, but they can also be quite the travel adventure in their own right!
Different Kinds of European Train Tickets
Before you start looking into buying train tickets, there are a couple of terms to be familiar with:
First vs. Second Class Tickets
When traveling via train in Europe, you'll generally have a choice between first and second-class tickets.
Buying a first-class ticket generally comes with slightly larger seats, sometimes the ability to reserve your exact seats when you can't in second class (both of those facts vary based on the company you travel with), and possibly a small snack like a water bottle and a pack of cookies.
In our earlier travel years, we never used to consider these perks worth the money–but I'll admit, as we started traveling with more luggage and most importantly, our dog Ranger, we started splurging on first-class more frequently.
The extra space can definitely come in handy if you have more than a suitcase with you!
Variable vs. Fixed Price Tickets
Variable-price tickets, as the name implies, tend to increase in price the closer your date of travel gets.
These tickets are generally used for high-speed trains and long-distance journeys and will be the most common form of ticket you see when traveling between countries by train in Europe.
Fixed-price tickets are more typical for regional (aka "slow") trains and can be booked at any time–so you can just show up at the station and buy them from a kiosk without issue.
For example: if you travel from Florence to Bologna on a high-speed train, it will take around 30 minutes and that ticket has a variable price.
If you travel on the regional train that takes around an hour, the price is fixed and you can book it at any time.
How to Buy Train Tickets in Europe
When you travel Europe by train, one of the first things you'll need to get the hang of is exactly how and where to buy European train tickets–and you have plenty of options!
Here are different ways to obtain train tickets in Europe.
Online (Via a Third-Party Site)
Third-party booking sites are incredibly useful when preparing to travel Europe by train, especially when you're planning to travel between countries.
We use and recommend Omio, which will allow you to easily compare prices between different routes, show you the most efficient path, and allow you to book trains across Europe with no concerns about language barriers, iffy online translations of national websites, or issues with payment (some company websites struggle to process foreign credit cards).
Omio is a ticket aggregate, and searches multiple companies and routes at once, which makes it very handy for checking train timetables and possible routes as well as for booking tickets!
Search train routes and tickets prices in Europe today!
Online (Via the Company Directly)
Alternatively, if you're looking for the best possible deal, you can book tickets online through direct websites for most countries in Europe.
For example, here are the national train company websites for Italy, France, and Germany.
We tend to book directly whenever we're traveling domestically in a place we're very familiar with, like Italy.
At the Train Station
If you're traveling a short distance on a regional or commuter rail (like to take a day trip, for example), you can also buy tickets directly at the train station.
If you're buying train tickets in person, we recommend using the kiosks available whenever possible.
Not only do they tend to have language options that make things much easier, but they also tend to take a fraction of the time of waiting in line to be helped by a person directly.
With a Train Pass
The final option for booking tickets to travel Europe by train is to do it in one fell swoop with a Eurail pass (for non-European residents) or Interrail pass (essentially the same thing, but for European residents).
Essentially, a Eurail pass will allow you to buy a certain number of train rides (or an unlimited number) in advance, allowing you to be more spontaneous in your travels.
However, there are limitations–for example, some routes still require advance reservations and charge additional fees.
Generally speaking, the average user will end up spending more on train travel in Europe with a pass than without one.
There are cases where a train pass makes sense, though, so if you're planning lots of European train travel, especially in Western and parts of Central Europe, be sure to run the numbers to see if a European train pass is right for you!
How to Receive Your Tickets to Travel Europe By Train
Once you buy your tickets, the next step is to actually receive them!
Here are the three main options.
Online
Most European train tickets these days can be received online and downloaded to your phone.
When available, this is by far the easiest and quickest way to receive your tickets.
At the Station
You can also choose to receive your (paper) tickets at the station you're departing from, either by purchasing them there as mentioned above, or by picking up tickets you bought online.
In most cases, there's no real reason to pick up paper tickets you bought online as opposed to simply downloading them, but most countries do still have the option.
At Home
If you book tickets to travel Europe by train well in advance of your trip, many countries do also have a home delivery option where they can be mailed to you before you travel.
We took advantage of this for our very first multi-country trip to Europe and had our train tickets for our overnight route from Krakow to Budapest mailed to our then-home in San Antonio.
Honestly, it was complete overkill, even as the novice travelers we were then, and we don't necessarily recommend doing this–but some places do have the option available.
How to Travel Europe By Train: Step-By-Step Trip Guide
If you're confused, concerned, or just slightly intimidated by train travel in Europe but are ready to book your first journey, this section is for you!
Follow these instructions step-by-step, and you'll travel Europe by train with ease.
Book your ticket.
Generally, for long or inter-country journeys, booking online is the easiest option as we outlined above.
We use and recommend Omio for booking train tickets in Europe.
Make sure your ticket is in hand.
This can mean downloaded onto your phone or printed onto a piece of paper in your hand.
Either option works in most places, but whichever you choose, make sure you have your ticket handy when you board.
Head to the (correct) train station.
Most major European cities are home to more than one train station, so be sure to double and triple-check that you're going to the right one before you set off.
Find your platform.
Much like in an airport, your first step to finding your train platform will be to check the (often large, sometimes confusing) boards bearing destinations and times.
It's best to search for your train based on a combination of the train number, company, and departing time–not the destination.
If your train is continuing past your stop, for example, searching by destination can get very confusing, very quickly.
European trains (and Europe in general) also use the 24-hour clock (so 3:00 PM will be displayed as 15:00, etc), so keep that in mind when looking for your train on the departures board.
Validate your ticket.
If you have a paper ticket, you'll need to validate it before you board.
The kiosks to validate your ticket are generally placed just before you reach the platform, but can sometimes be easy to miss if you're not looking for them.
(As far as we're concerned, this hassle is another point in favor of online/downloaded tickets.)
If applicable, find your train car and seat number.
If your train has reserved seats, you'll need to find the exact train car number and seat number to sit in.
This is most common on long-distance, high-speed trains.
… Or just look for the appropriate class.
If your train has open seating, the only seating concerns will be whether you sit in the 1st or 2nd class.
The "1" or "2" denoting whether it's a first or second-class train car is generally marked obviously on the side of the train, near or on the door itself, so it's fairly easy to make sure you're in the correct place.
Stow your luggage.
In some trains, this will mean storing your luggage in the racks provided at the ends of each train car, in others, it will mean in the racks above the seats, and in still others, there are even places to store bags between the seats.
Keep an eye on what others are doing, but keep in mind that as long as your luggage isn't in anyone else's way, there's generally some flexibility to the process.
Settle in and enjoy the views.
Once you've found your seat and stored your luggage, it's finally time for the best part of train travel in Europe: kicking back and enjoying watching the world go by.
No matter how many times we ride trains through Europe, we never stop getting a little thrill during this part of the process!
Keep your ticket handy for when the conductor comes by.
At some point, as you travel Europe by train–and it could be 5 minutes into your ride, 5 hours into your ride, or both–a conductor will come by to check your ticket.
Be sure to have your ticket in a convenient place so that you're ready when this happens!
Listen carefully as you get close to your destination.
As you begin to get close to your destination, it's time to pay very close attention to the announcements.
Many European cities have train stations that sound very similar to each other, especially to those not familiar with them (for example Roma Tiburtina and Roma Termini), and you'll want to be certain to exit the train at the correct stop.
Otherwise, you might accidentally find yourself deep in the suburbs instead of in the center of the city!
In many places, especially along routes popular with tourists, arrival announcements for each station will be repeated in English, but that's not a guarantee.
Exit the train quickly and smoothly.
When you reach your stop, be ready to exit immediately–that means luggage in hand and waiting at the end of the train car to exit.
You'll generally see people start to queue up a few minutes before arrival.
The train stops long enough for everyone to exit comfortably, so you don't need to push past other people or even hurry if you're prepared.
However, if you wait until the train stops before even getting your luggage together, well–if your station isn't the final stop, you might find the train moves on before you have time to get off.
Useful Tips for Train Travel in Europe
If you have your heart set on traveling Europe by train, plan ahead.
As you plan your Europe itinerary, you'll likely find that some destinations are better suited for traveling Europe by train than others, and it definitely pays to know which destinations require a train, plane, or bus before arriving in Europe.
Train travel in Europe is generally best suited for certain Western and Central European countries–the further you move into the Balkans and Eastern Europe, the more limited (and, shall we say, adventurous) it becomes.
And, despite being situated essentially as far to the west of Europe as you can get, Spain and Portugal are surprisingly isolated from the perspective of train travel (this is due to having a different size of railroad gauge than other countries in Western Europe).
Distance also plays a key role.
Traveling from Paris to Venice by train is a long but completely doable day, but Paris to Zagreb, not so much–that route is better suited to a plane.
Add in the fact that you'll want to book your variable-price tickets in advance, and the bottom line is that you should definitely bank on planning at least the most important routes in advance.
Definitely book complex routes for train travel in Europe in advance.
If you're traveling from Rome to Florence or Madrid to Barcelona, especially if you don't mind taking a regional/slow train, you can book your train tickets once you already arrive in Europe.
For more complex or longer routes, though, you'll make things much easier on yourself if you book before you start your trip abroad.
Bring snacks and drinks along for the ride.
While most long-distance routes will sell simple food on board like sandwiches, drinks, and pre-packaged snacks, the selection is generally about on par with airplane food, in other words, expensive and unexceptional.
Commuter and regional trains are much less likely to sell food on board.
On long-distance trains, there's typically a dining car you can visit to make purchases, and on some routes (especially in first class), a restaurant cart will come around offering a few items, similar to a flight attendant.
Better not to worry about it, though: we recommend packing plenty of snacks (or even a full meal) and drinks to bring along, which is completely typical on trains in most places in Europe.
If you have a long train ride ahead, consider packing cards or a game.
Not only will this help entertain you throughout the journey, but it's also a great way to meet other travelers!
Don't count on having internet access onboard.
Even if you have a European SIM card and are traveling within the Schengen Zone (where SIM cards are supposed to work across borders), maintaining an internet connection on a European train ride is iffy.
Between tunnels, remote countryside, border crossings, etc., it's best not to count on having access.
If the train advertises wifi, don't count on that either–some of them require a local tax ID number or phone number to access.
We've found that our best bet for internet access during train travel in Europe is whenever the train briefly stops at a station.
If you have a SIM card that works for that destination, you can usually expect at least a few minutes of connectivity there.
Make sure you go to the correct train station.
We mentioned this above, but it bears repeating: be very certain that you go to the correct train station when traveling by train through Europe… and that goes for when you get on and when you get off!
… And show up early.
Some train stations in major cities are enormous, and can almost resemble airports, with 30+ platforms, various levels, and in some cases a mall inside them (like Roma Termini, for example).
If you're not familiar with the station in question, be sure to leave yourself plenty of time to find your way to the correct platform once you arrive!
If you have an opportunity to take an overnight train, do!
Not only is it a great way to save on the cost of a hotel for the night, but spending the night in a sleeper car can be quite a travel adventure!
(Though in the interest of full disclosure, I have never once gotten what I would call a good night's sleep on a train. No regrets, though, and we'll do it again!).
Toilets are plentiful, but their quality is questionable.
In other words, bring some toilet paper (I usually keep a small packet of tissues handy for that purpose) and hand sanitizer.
Also, wet floors aren't exactly unheard of, so you might want to stick with close-toed shoes.
Most high-speed trains in Europe have a toilet available in every train car, so you typically won't need to go far to find one.
If you're a student and/or under 26, you might qualify for discounts.
Keep that in mind when booking your train tickets for Europe, and if you do book a discounted fare, be sure to keep your ID handy (it'll likely come in handy in many other places during your trip, too).
Keep in mind that some under-26 discounts are only available to EU residents, so be sure to verify that before counting on them if you aren't European.
You can generally bring dogs (and cats) with you on trains in Europe!
This is a bit beyond the scope of this blog post, but given that we have several photos of Ranger in here, I'm sure at least a few readers are curious!
The vast majority of trains in Europe allow well-behaved companion animals on board, with varying requirements and costs (generally either free or the price of a child) based on the animal's size, whether it's confined in a carrier, etc.
It's best to check the expectations for each route in advance, but with a little planning and flexibility, your furry friends are generally welcome.
Ranger is quite the traveler and has visited 8 countries and counting with us, many of them by train!
Keep an eye on social norms.
Cultural expectations around eating, talking loudly, and storing your luggage can and will vary depending on where your train travel in Europe takes you.
Be sure to keep an eye on what everyone else is doing to ensure you're not inadvertently committing a faux pas!
For example, if you take a train, say, in Italy and then later in Austria as you travel Europe by train, you'll likely notice a huge difference in the noise level on the train!
---