Wood chalets, sparkling lights, soaring Christmas trees, the smell of sugar and glühwein in the air: yes, Christmas markets are magical–but you may be curious about exactly what to buy at Christmas markets in Europe!
We've received emails and comments from several readers this year asking what to put on their Christmas market shopping list, and we're delighted to answer.
While deciding what souvenirs and gifts to buy at Christmas markets can often come down to the specific country or region (like Advent wreaths in Germany and Austria, for example), there are definitely some general trends to keep in mind when it comes to shopping at European Christmas markets!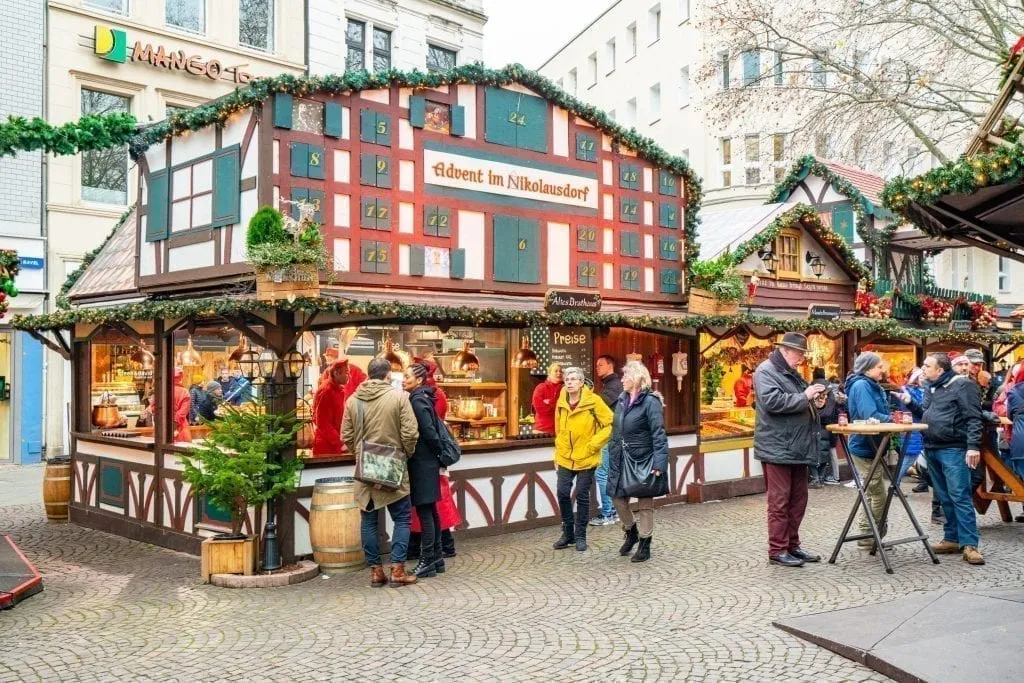 This general guide is intentionally written at a high level, without getting too far into the details of specific regions (that's what our more specific blog posts on the holiday season in places like Salzburg, Bruges, Bavaria, and Strasbourg are for).
If you're ready to start brainstorming your shopping list, this guide will have you tempted to bring an even bigger suitcase on your European Christmas market trip.
Here's what to buy at Christmas markets in Europe!
Planning a European Christmas Market Trip?
Once you finish crafting the first round of your holiday shopping list, we'd love to help you continue to plan your Christmas market trip in more detail!
We absolutely love visiting Christmas markets, and have been lucky enough to spend several years enjoying them across many countries.
Here on Our Escape Clause, we have more than a dozen guides on traveling Europe in winter, and literally hundreds of posts on various European destinations.
I'll link relevant articles throughout this blog post, but of course, I won't have room for all of them.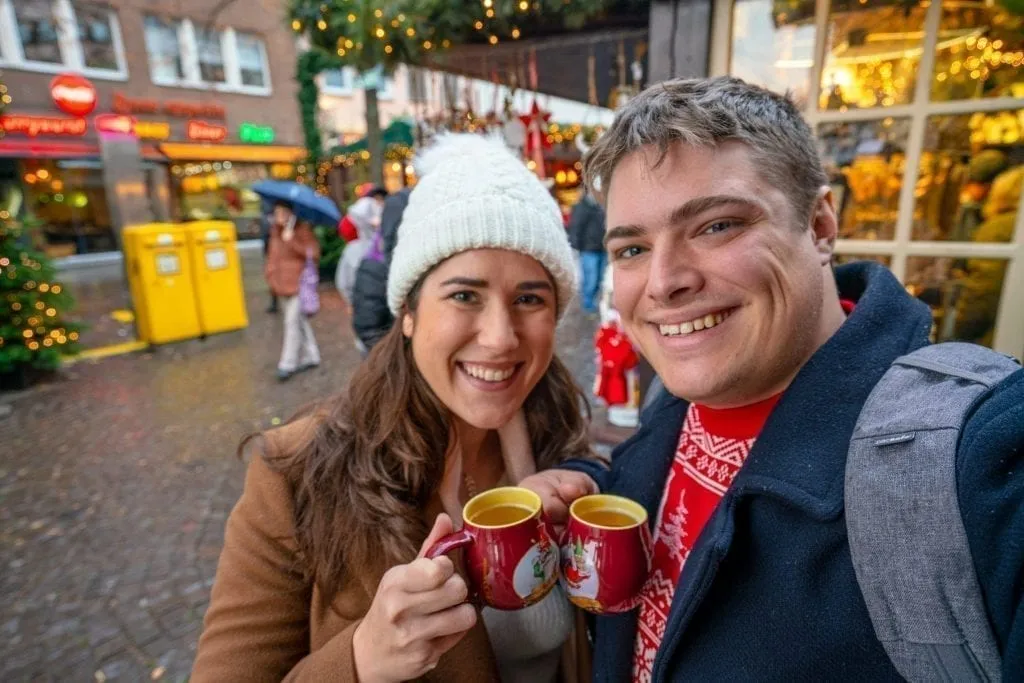 For Christmas market guides specifically, we recommend starting with this roundup of magical Christmas markets in Europe, and this guide to celebrating Christmas in Europe.
You can scroll through all of our European Christmas-related blog posts here.
And, if you're curious about general souvenir shopping in Europe, we have some specific guides for that as well, including posts on what to buy in Italy, Portugal, and Ireland, plus suggestions on the best travel souvenir collections to start!
Decorative Souvenirs to Buy at Christmas Markets in Europe
Handicrafts and holiday (or general household) decor are among the top Christmas market souvenirs to buy!
Here are some of the most common decor items that you'll find for sale at Europe's Christmas markets:
Christmas Ornaments
It wouldn't be a Christmas market without plenty of ornaments for sale!
From the classic to the cutesy, the ornate to the simple, you'll find Christmas ornaments in every possible shape and style at the markets.
Wood, glass, ceramic, metal, paper: anything you can think of, it's there.
We try to purchase at least one ornament per country, and unpacking our ornaments from past years when we decorate for Christmas never fails to put a gigantic smile on our faces.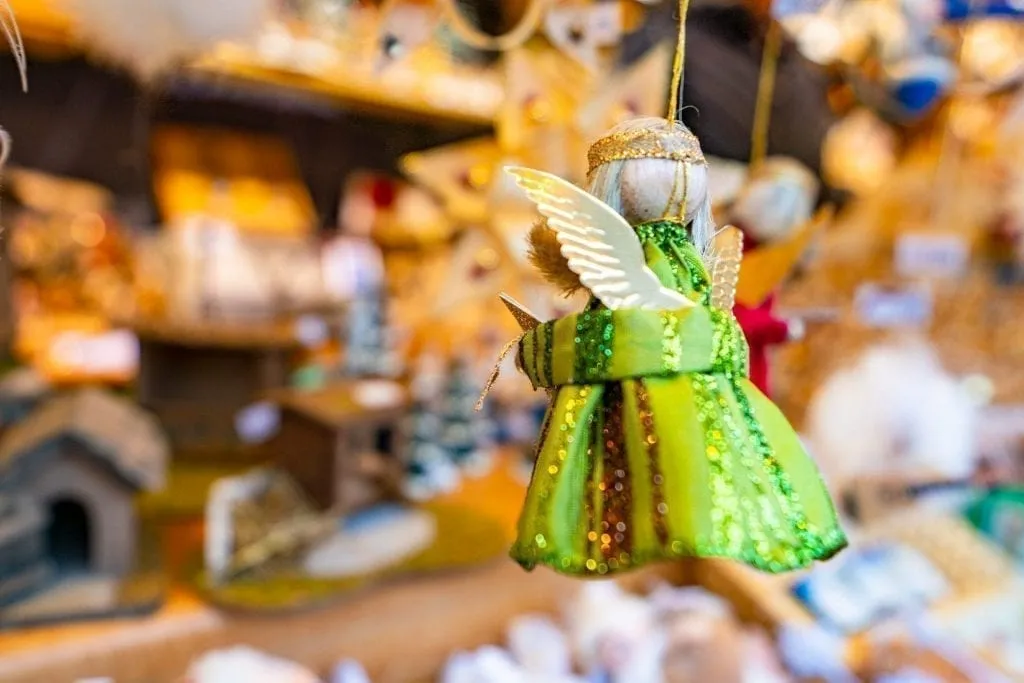 Decorative Ceramics
I have a year-round weakness for decorative ceramics of all kinds.
Add a holiday theme, and they become near-impossible to resist!
From miniature Christmas villages to nativity scenes to small statues, there is no shortage of beautiful ceramic pieces that you can buy at the markets.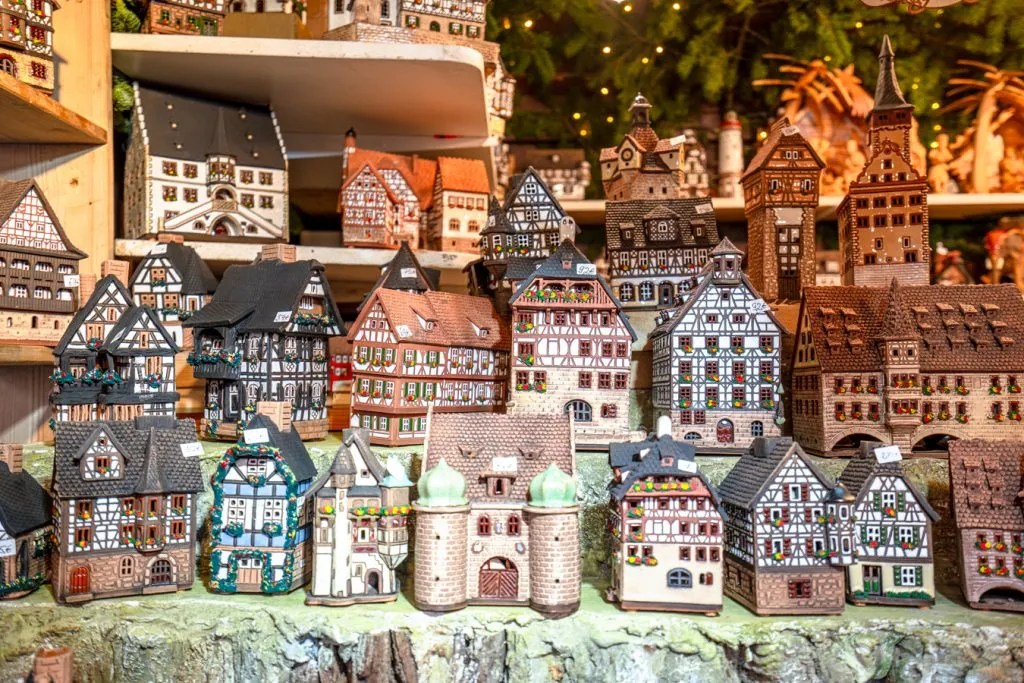 Nutcrackers
Traditional to Germany but now a popular feature of Christmas celebrations around the world (I personally bought my first Nutcracker when seeing the ballet as a girl in Texas), you'll find these whimsical dolls at many Christmas markets!
Ranging from tiny, mass-produced trinkets to intricately crafted pieces of art, you can find nutcrackers for every style, budget, and taste.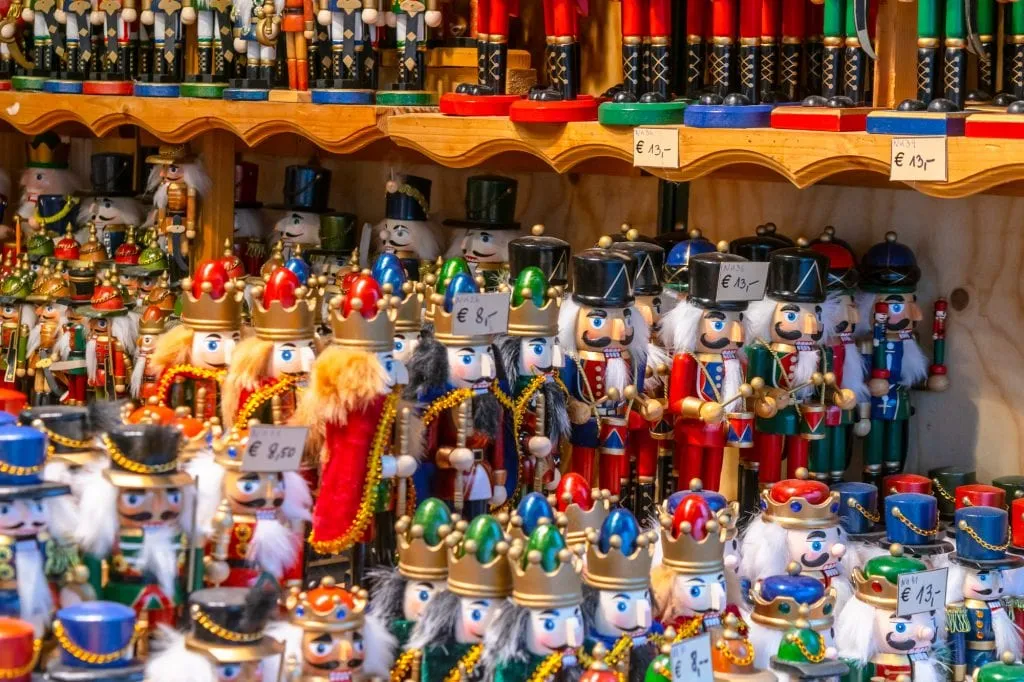 Linens
Linens of all shapes and sizes, often featuring festive embroidery, can be found when shopping at Christmas markets!
Some stalls will even be able to personalize items for you.
Napkins, tablecloths, pillow covers, and dishcloths are some of the most common offerings.
Wood Carvings
Woodwork, whether it's a cleverly carved figurine, a beautiful charcuterie board, a serving bowl, a puzzle, a clock, or something entirely different, is a common form of craftsmanship to find available at Christmas markets.
In Germany, wood-carved nativity scenes are very popular!
Wreaths
While traditional Advent wreaths are incredibly popular, especially in Germany and Austria, you'll find far more whimsical takes on wreaths throughout the markets, too!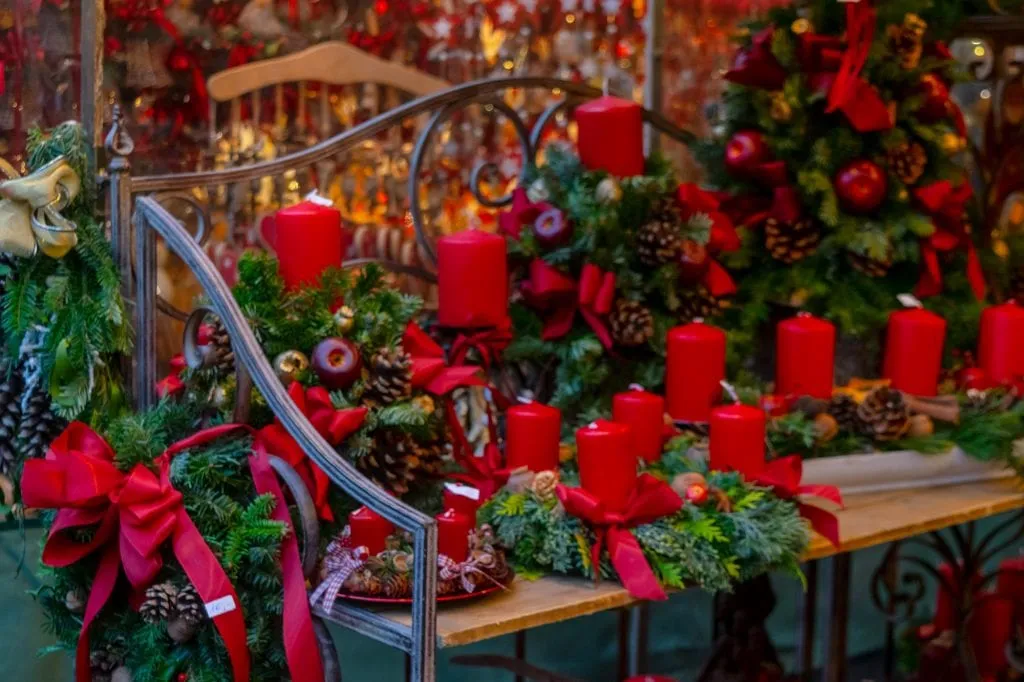 Snow Globes
Without a doubt, snow globes are one of the most common things to buy at Christmas markets–probably second only to ornaments!
You'll find snow globes in various shapes, sizes, prices, and levels of craftsmanship throughout Europe.
Blankets
From small wool throws to large quilts, blankets aren't the most easily transported Christmas market souvenir, but they're no doubt among the coziest.
Candles
Add some cozy candlelight to your winter nights with a beautiful candle (or 6) purchased from the markets.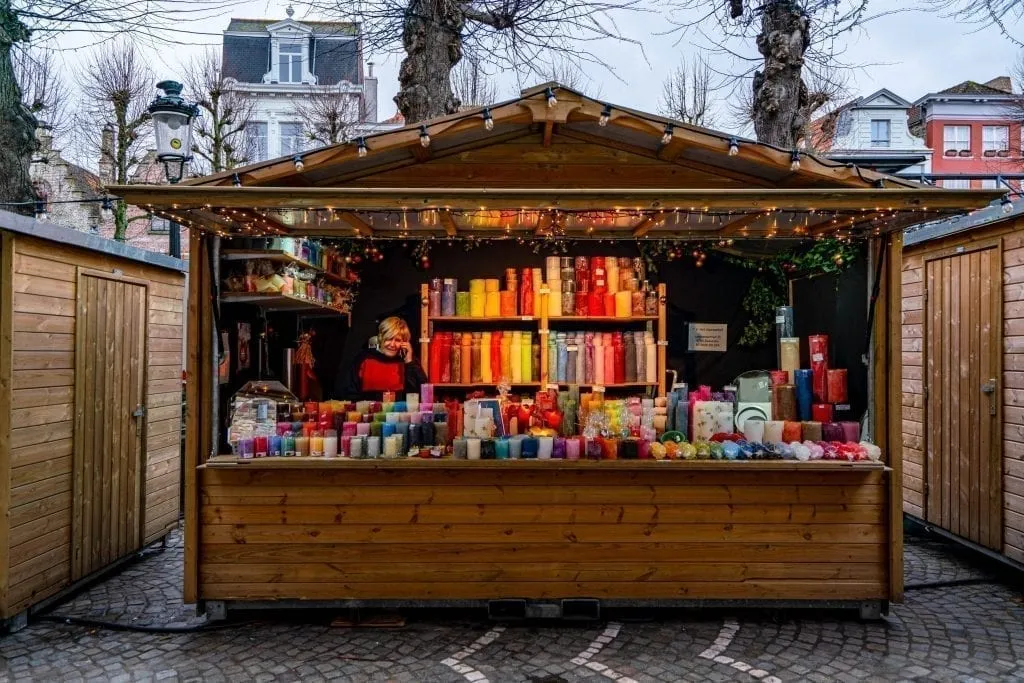 What to Buy at Christmas Markets to Wear
You don't need to wait until you get home to use these souvenirs: some of the best things to buy at Christmas markets in Europe at things you wear!
Wool Accessories
Scarves, hats, gloves: wool accessories are a fantastic addition to any Christmas market shopping list!
I have a tendency to buy a new item or two each year and wear it throughout the rest of our Christmas market trip, which is a great way to both stay warm and leave a little extra luggage space.
Sweaters
Wool knit sweaters are one of the pricier items for sale at many European Christmas markets.
If it's truly an authentic, local sweater, expect to pay close to 100 Euro (though this varies quite a bit depending on the location).
They are warm, comfortable, and very memorable though–and something you can wear for years to come.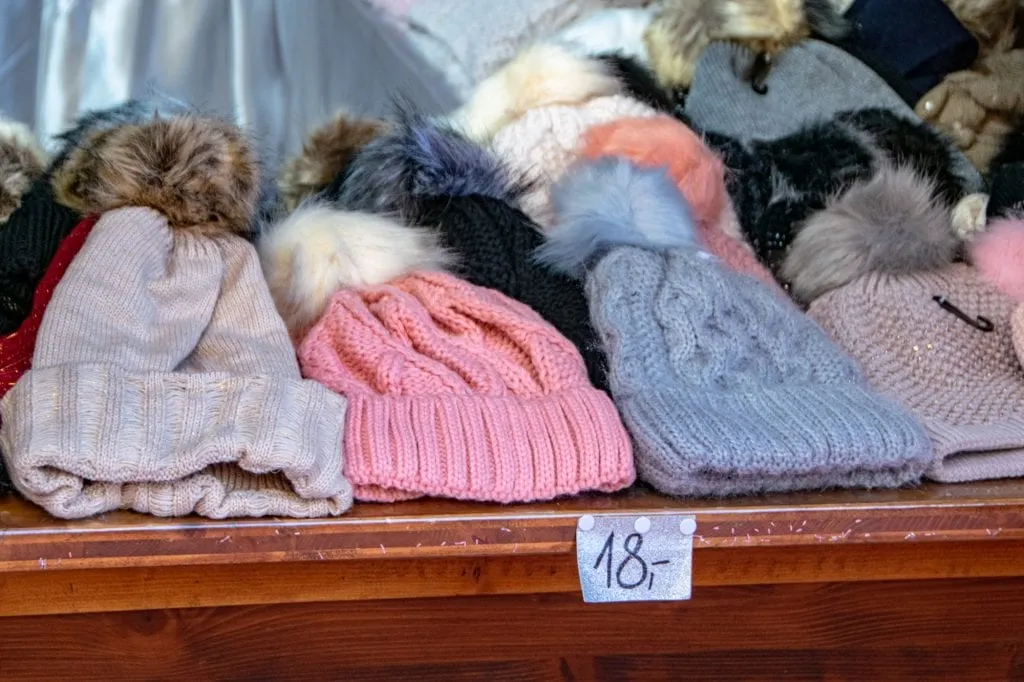 Slippers
Wool slippers are among the most popular things to buy at Europe's Christmas markets, and one of the most comfortable!
Perfect for stowing away in your suitcase and wearing for winters to come, or for bringing home as Christmas gifts for family members, slippers are a memorable purchase.
My wool slippers purchased at a Munich Christmas market are my favorite pair that I've ever owned!
Slipper Socks
Don't want to spring for a full pair of slippers, but want to warm up your feet at night?
Slipper socks like the ones pictured below are sold for low prices–think 5 Euro or so–at markets across Europe.
They're not the most unique Christmas market gift (and are certainly mass-produced), but they're a crowd-pleaser all the same.
My last pair lasted through almost 3 years of heavy use before wearing out–not bad for an inexpensive souvenir!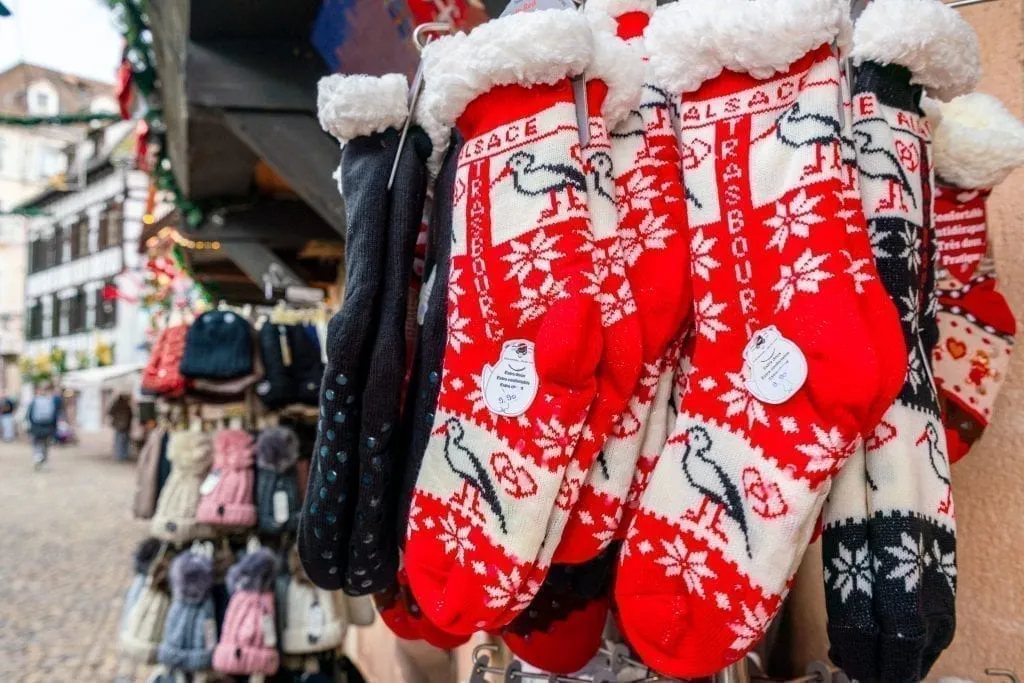 Artisan Jewelry
Necklaces, earrings, bracelets, and beyond: you'll find artists selling handmade jewelry at many Christmas markets.
If you're looking for a unique and physically small souvenir, jewelry is an excellent option.
The Best Food-Related Things to Buy at Christmas Markets
In an effort to keep this shopping guide focused on souvenirs and gifts specifically, this section will cover the food you take home (or at least as far as back to your hotel room), rather than foods purchased to eat on-site.
The meals you can buy at Christmas markets vary significantly by destination, but those are worth an entirely separate blog post themselves!
Mugs (and Glühwein)
There's nothing more iconic to buy at a (Central) European Christmas market than a mug that you rented!
In Germany, Austria, and some markets in surrounding countries, mug rental works like this: when you buy your first drink at a given market, you put down a deposit (normally 2-4 Euros) for the mug, and you can then refill it however many times you want at the different stalls.
When you're finished, you can either turn your mug in and collect your deposit back, or you can keep the mug as a fun and inexpensive souvenir.
Since each market in a given city will have its own mug (12+ in Vienna alone, for example!), keeping every last one obviously isn't feasible.
… But holding on to a couple of favorites sure is!
Outside of the regions where mugs are most popular, you'll sometimes see the same concept with plastic cups, but that doesn't result in nearly as charming of a souvenir.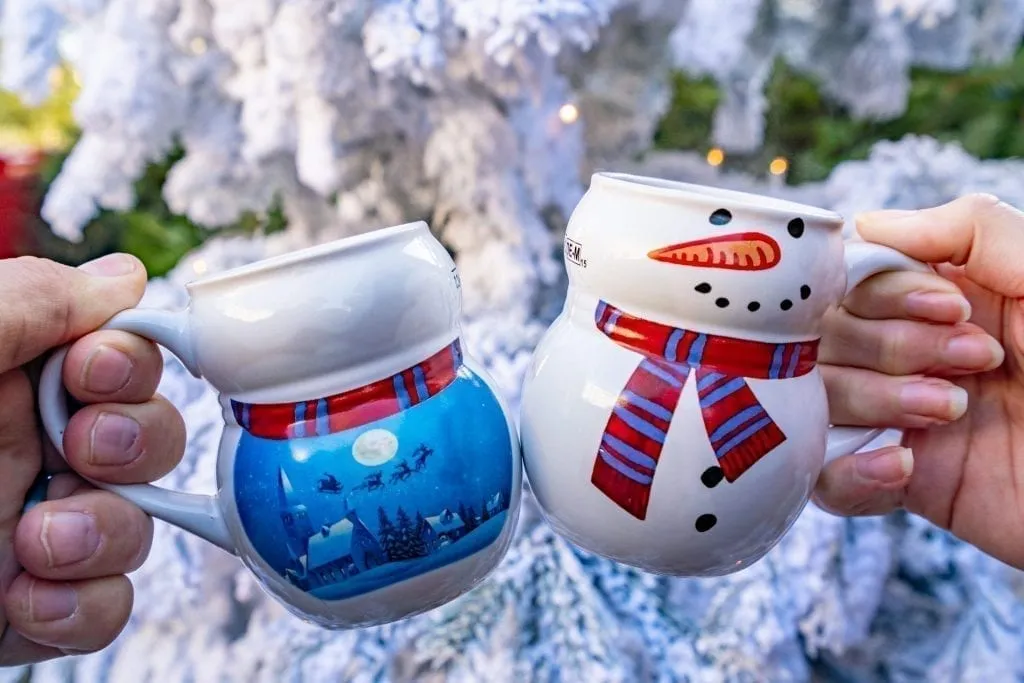 Candied Nuts
I'll admit, I find it extremely difficult to make it out of a given Christmas market with warm, fresh-roasted, candied nuts in hand, let alone all the way home.
These delicious treats are best enjoyed still warm at the market, but if you can resist the sugary temptation long enough, candied nuts are an easy-to-pack Christmas market gift to bring back with you!
Candied almonds are the most traditional, but cashews, peanuts, and mixed nuts are also popular.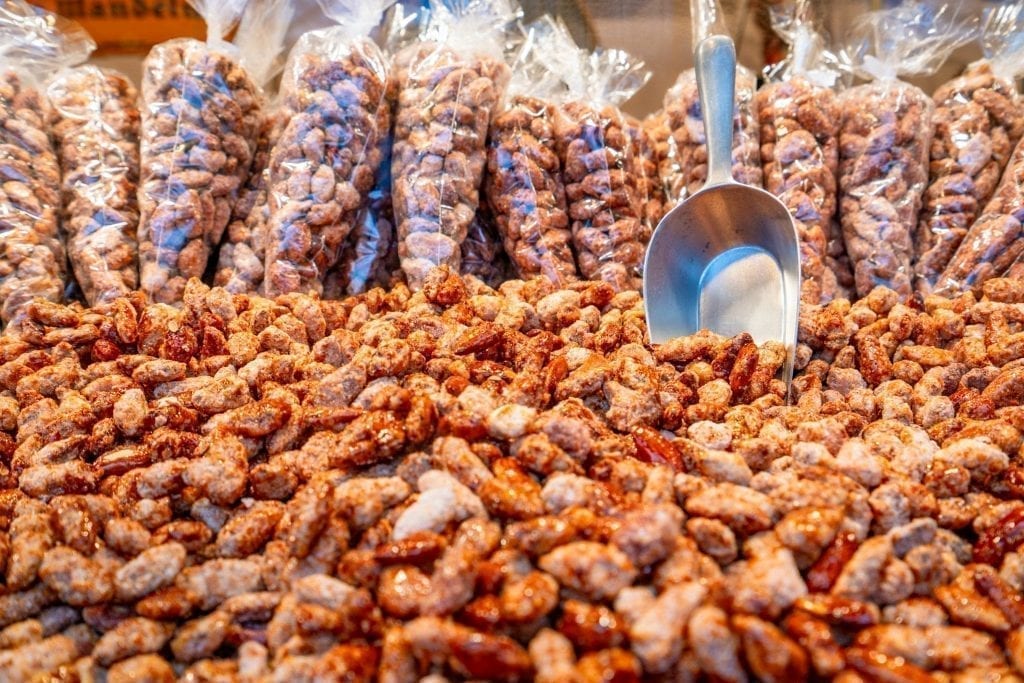 Artisanal Preserved Food
From honey to jam, from cheese to sausage, from cookies to cakes, there is no limit to the kinds of artisanal, prepared foods that you can add to your list of what to buy at a Christmas market!
As a contrast to the ready-made food meant to be eaten on-site, these foods will generally come either jarred or vacuum packed, perfect for transporting home (or at least back to your hotel for a light meal later in your trip, anyway).
(Painted) Lebkuchen
Word on the street is that these classic gingerbread cookies don't taste as good as they look–but they do look particularly lovely hanging from the tree!
Less meant as a snack than as a gift and decoration, they are nonetheless both technically edible and a popular thing to buy at Christmas markets.
Lebkuchen originated among monks in 13th-century Franconia, Germany, but you can find these charming treats for sale across Central Europe today.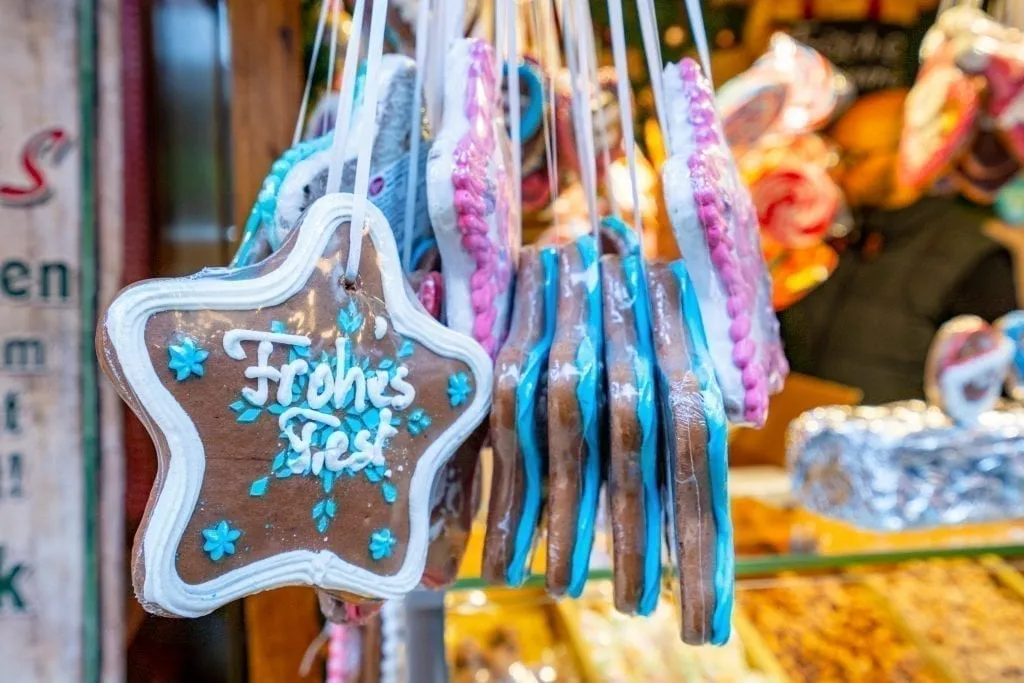 Ready-to-Eat Lebkuchen
Unlike the lebkuchen listed above, these phenomenal cookies–most popular in Bavaria, though if you're lucky, you might find some further afield–are absolutely delicious!
The moment I first tasted one, lebkuchen became one of my absolute favorite cookies in the world.
And luckily, they transport well!
Tips for Shopping at Christmas Markets in Europe
Haggling is not the norm.
Don't expect to haggle for items when shopping at Christmas markets in Europe!
Word on the street is that if you buy an enormous number of items (think 100+ Euros or more), some stalls might cut a minor discount… but it is very much not typical behavior.
The price you see is what you get!
Bring a reusable shopping bag.
Very few vendors will have shopping bags for you to carry your purchases away in, and those that do often charge for them!
You can usually count on vendors to help with bubble-wrapping fragile pieces or providing a small paper sack for an ornament, but nothing that will make your purchases easy to carry around the market with you.
If you plan to shop for more than what will fit into your day bag, bring a reusable shopping bag along as well!
Consider a small collection.
If you're visiting Christmas markets in several cities or countries this holiday season, consider creating a themed collection to remember your vacation by!
By purchasing different versions of the same or similar items, you can create a beautiful capsule of your trip.
This can be as simple and low-cost as buying an ornament in each city, or as elaborate as buying a ceramic building and creating your own miniature Christmas village to decorate with at home (we're in the process of doing this, over a series of years!).
Whatever you choose to collect, by picking a theme, you can tie together each stop of your trip into a specific memory.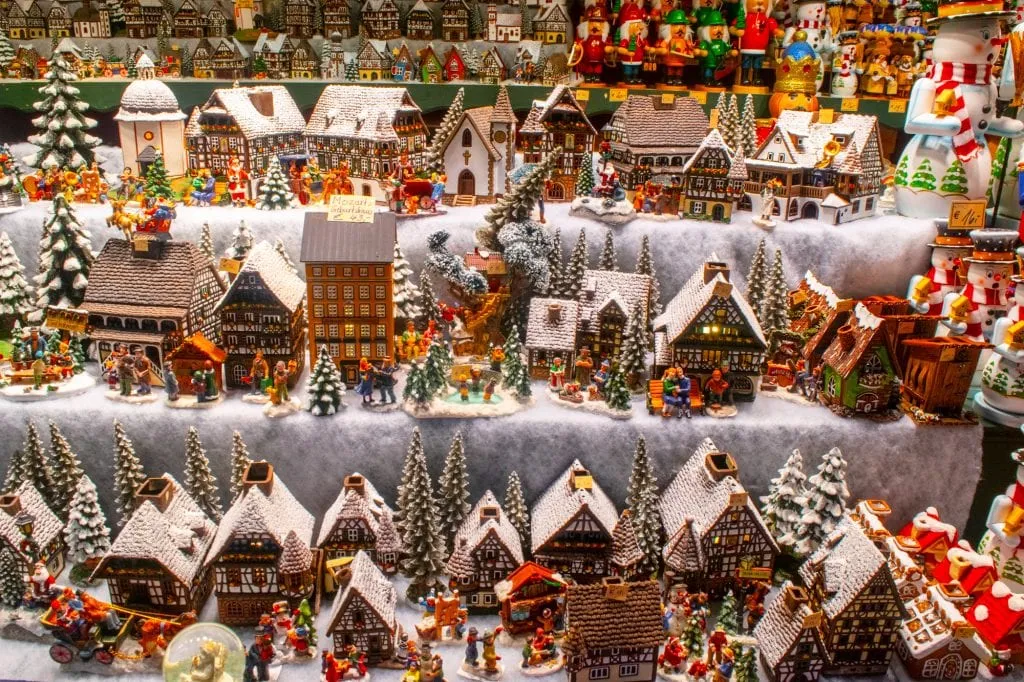 Have cash available to pay for your Christmas market souvenirs.
While some vendors will accept credit cards, not all will–especially for small purchases like a snack or an inexpensive ornament.
Come prepared with cash, instead, ideally with some small bills and coins mixed in.
Note the date and place of purchase on your souvenirs where possible.
On purchases where you can easily do so (decor pieces, some ornaments, etc.), consider writing the city and year of purchase on the bottom of the piece.
Over the years, this can help tie the souvenir to the place it came from and can add a level of personalization to your decoration.
We've been in the habit of doing this for years, and it never fails to make me smile when I see my handwriting from years past on ornaments when we unpack them!
Pack with your shopping in mind.
If you're planning to do a lot of Christmas market shopping, including possibly purchasing gifts for family and friends or buying bulky items like sweaters, be sure to leave room in your suitcase!
Alternatively, you can always buy another suitcase while traveling to fill with your purchases, but be sure to confirm with your airline that you'll be able to check a(nother) bag on the way home before counting on this option.
If you want to splurge on something particularly expensive and/or large, like a German cuckoo clock, most sellers will offer to ship your purchases for a fee.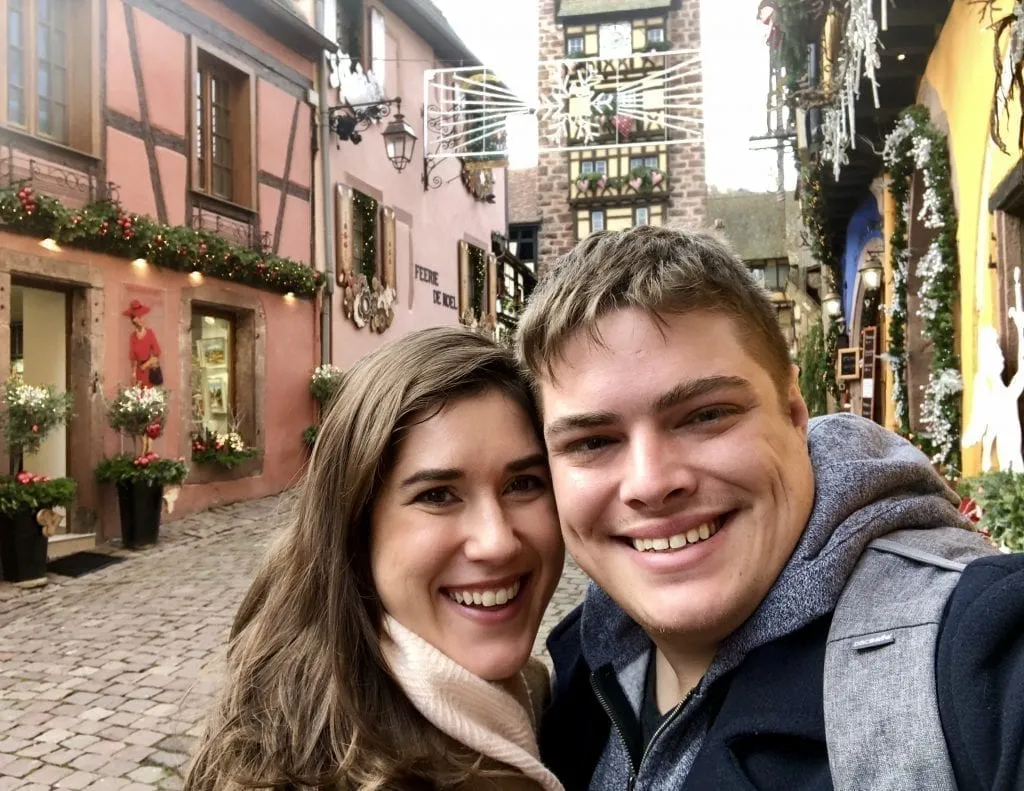 Be aware that mass-produced goods are for sale.
While there are beautiful handicrafts created by local artisans for sale at Christmas markets across Europe, to be perfectly frank, there are plenty of mass-produced goods as well.
This isn't necessarily an entirely bad thing (most of what we own and use in the 21st century is mass-produced in some capacity, after all), but it's often not the experience travelers are looking for.
Keep an eye out for unique stands, possibly manned by an invested artist offering their business card with purchase, and you'll be able to sniff out true handicrafts in no time.
Of course, the prices will be a bit higher–but you'll no doubt walk away with some beautiful and memorable gifts and souvenirs.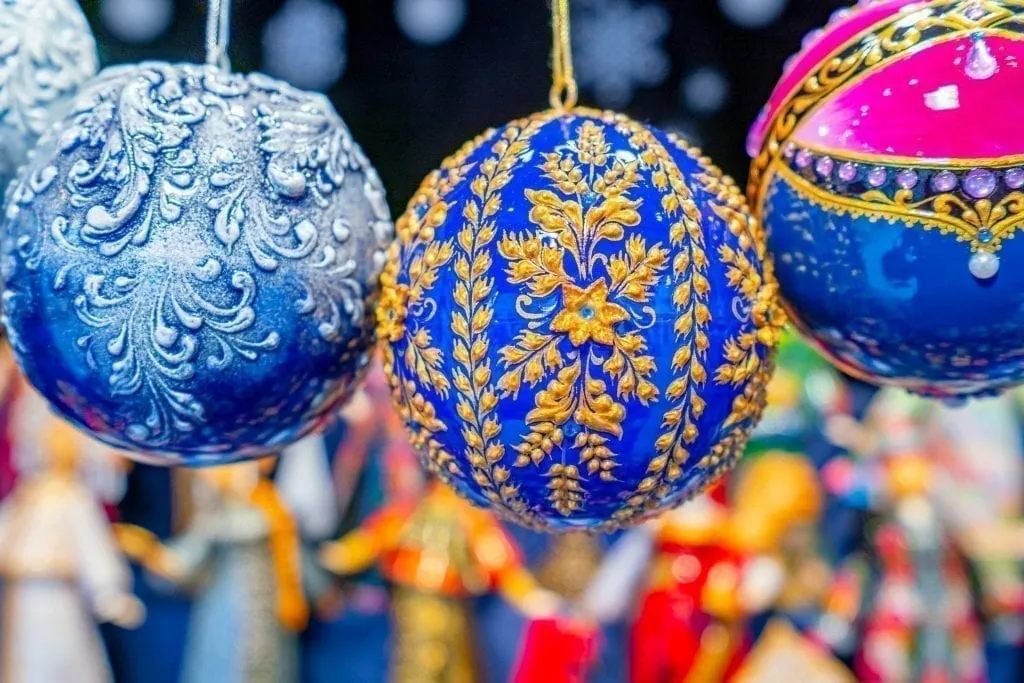 You can have an excellent time at the markets without buying anything (except food).
While shopping at Christmas markets is lots of fun and the purpose of this guide is to help you do so, be sure to remember that you don't have to buy a single thing to have an incredible Christmas market trip in Europe!
If you're traveling on a strict budget, you'll have a fantastic time wandering the markets with or without souvenir shopping.
During our 4 years of full-time travel, we were careful to buy very little (since we had nowhere to put it, after all)–and the window shopping was still incredibly rewarding.
That being said, simple lunches, dinners, and snacks belong on anyone's list of what to buy at Christmas markets.
In addition to offering tasty food, it's generally much more affordable to each at the markets than at restaurants!