There's really no way to quite sum up Istanbul. From its compelling (and lengthy) history to its thriving culture to its delicious food and its distinct neighborhoods, Istanbul is completely addictive–and there is definitely no shortage of fun things to do in Istanbul.
Whether you're a history buff, a foodie, an architecture lover, or simply a traveler who loves to meander through beautiful neighborhoods, Istanbul has something for you.
Here are some of the most fun things to do in Istanbul.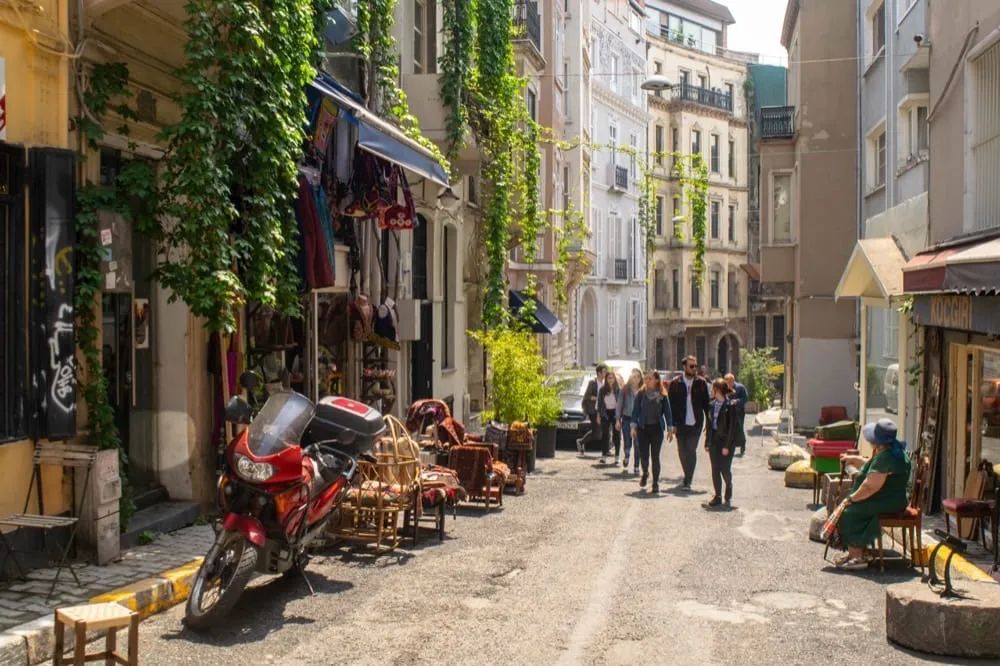 Have limited time to see the best attractions in Istanbul?
If you're working with limited time to explore the best things to do in Istanbul, we recommend checking our our detailed 2-day Istanbul itinerary, which will help you make the most of your time in the city.
Only have one day in Istanbul and don't want to worry about making a plan?
This popular one day tour will show you the biggest highlights in Istanbul, including the Hagia Sophia, Grand Bazaar, Topkapi Palace, and more!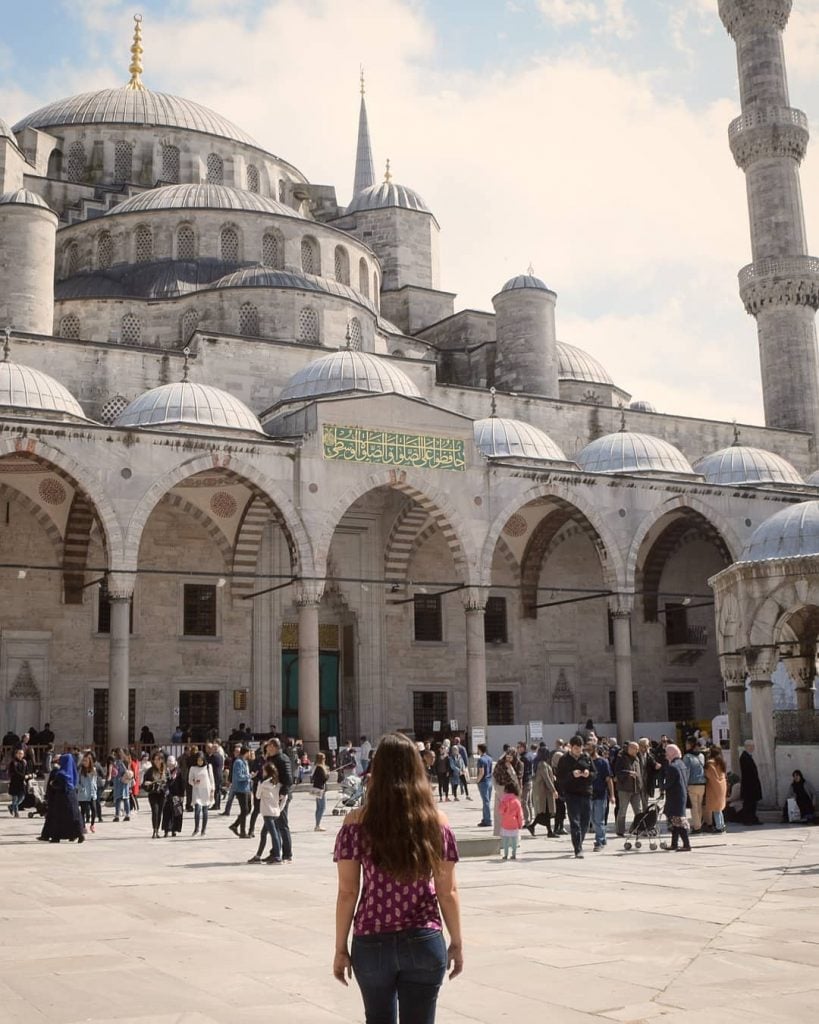 Houses of Worship to Visit in Istanbul
Pay a visit to the Hagia Sophia.
A church, a mosque, a museum–originally built in 537 AD, the Hagia Sophia has had a long and storied life.
Today, it is one of the most famous (former) houses of worship in the world, and visiting the Hagia Sophia is easily one of the most popular things to do in Istanbul!
Be sure to visit and admire the beautiful exterior, the detailed interior, the Christian mosaics that are revealed in pieces of the walls where the plaster has been scraped away, and the beautiful Blue Mosque from the second-story windows!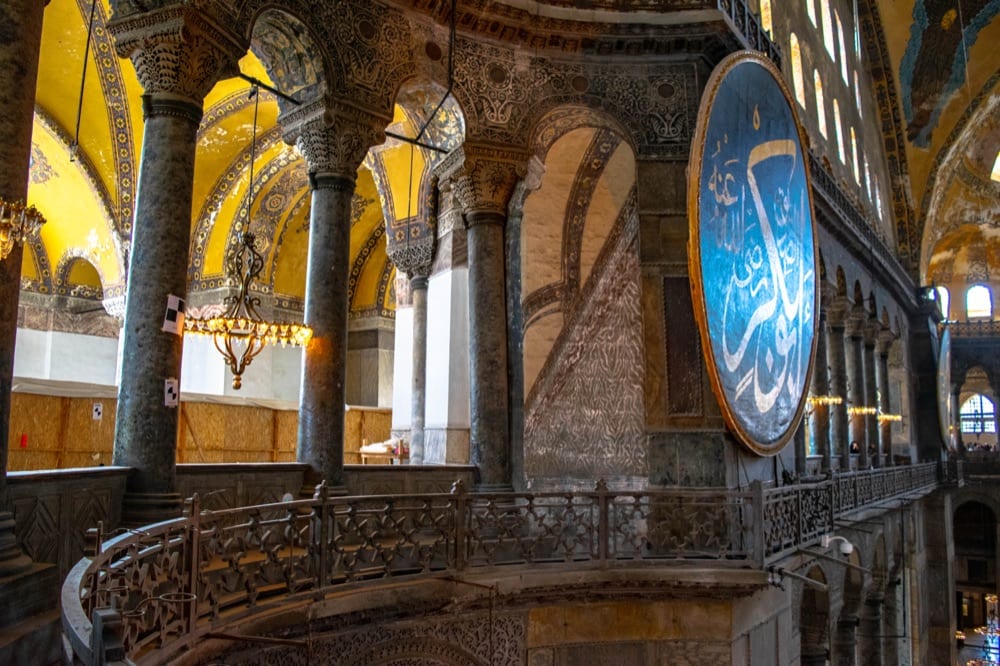 Head inside the Blue Mosque.
The Blue Mosque, so-called because of its stunning blue-tiled interior, is arguably the most beautiful mosque in Istanbul.
Technically named the Sultan Ahmed mosque after the sultan who had it constructed in the 17th century, the Blue Mosque is an unmistakable part of Istanbul's skyline and one of the prettiest sights in Istanbul.
The building is still a functioning mosque, so though it is open to visitors, it closes during prayers each day, and appropriate mosque dress (legs and shoulders covered, hair covered for women) is required to enter.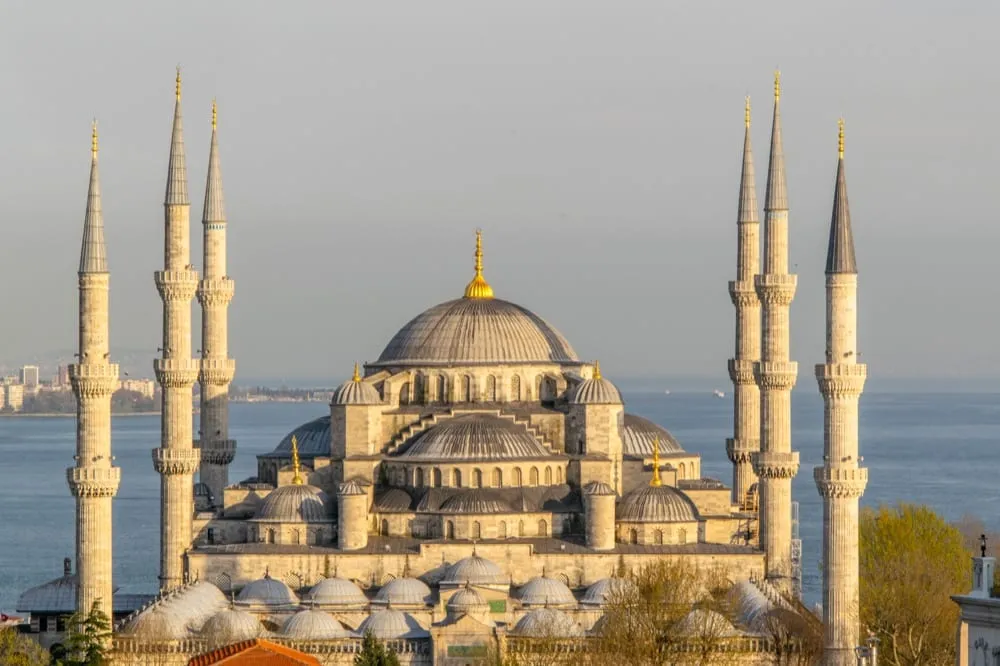 Discover an epic ceiling at the Chora Church.
This 1000-year-old church (older if you count previous buildings that stood in its place!) was once part of a monastery that stood outside the walls of Constantinople–and today, it is a beautiful museum showcasing the decor of the Byzantine-era Greek Orthodox church.
The highlight of this church is its ceiling: intricate mosaics and frescoes, framed in gold, cover the entire area, and it is a marvel to behold.
Like many beautiful remnants of history, however, the details of how the ceiling came to be remain somewhat obscured: the 14th-century artist remains unknown.
Check out the Suleymaniye Mosque.
Second in size only to the Blue Mosque, the Imperial Suleymaniye Mosque is beautiful and expansive.
Set just a short walk away from the Grand Bazaar, a peek inside is definitely worth adding to your list of fun things to do in Istanbul!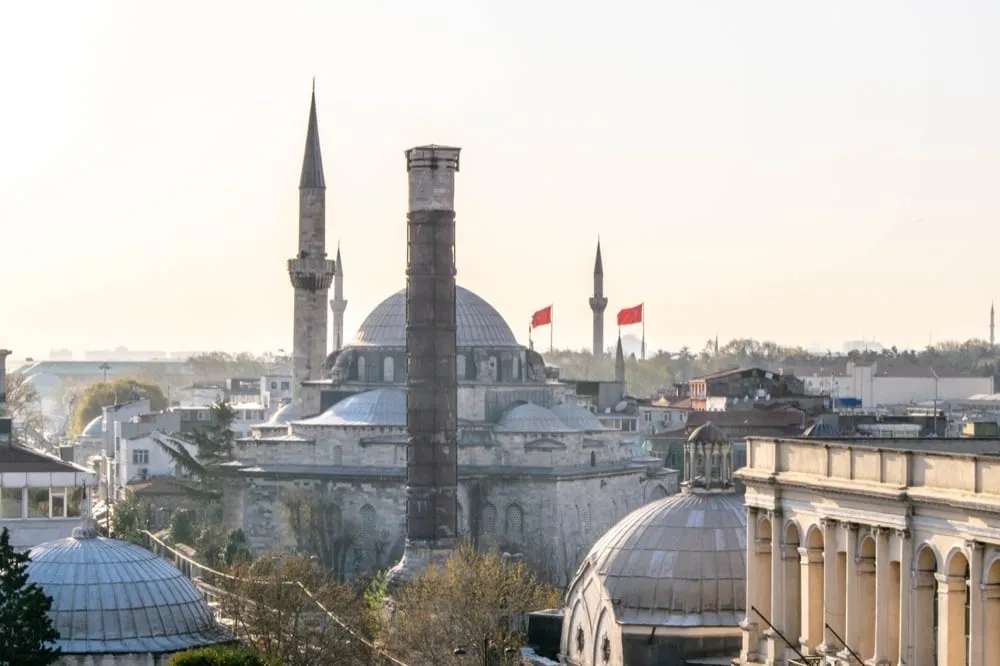 Admire the view near the Ortakoy Mosque.
The Ortakoy Mosque, while lovely, is better known for what sits outside of it than for any particular features of the building.
Set right on the Bosphorus Strait, the Ortakoy Mosque is often photographed with the Bosphorus Bridge directly in the background–a lovely example of the blend of old and new that makes Istanbul such a fascinating city.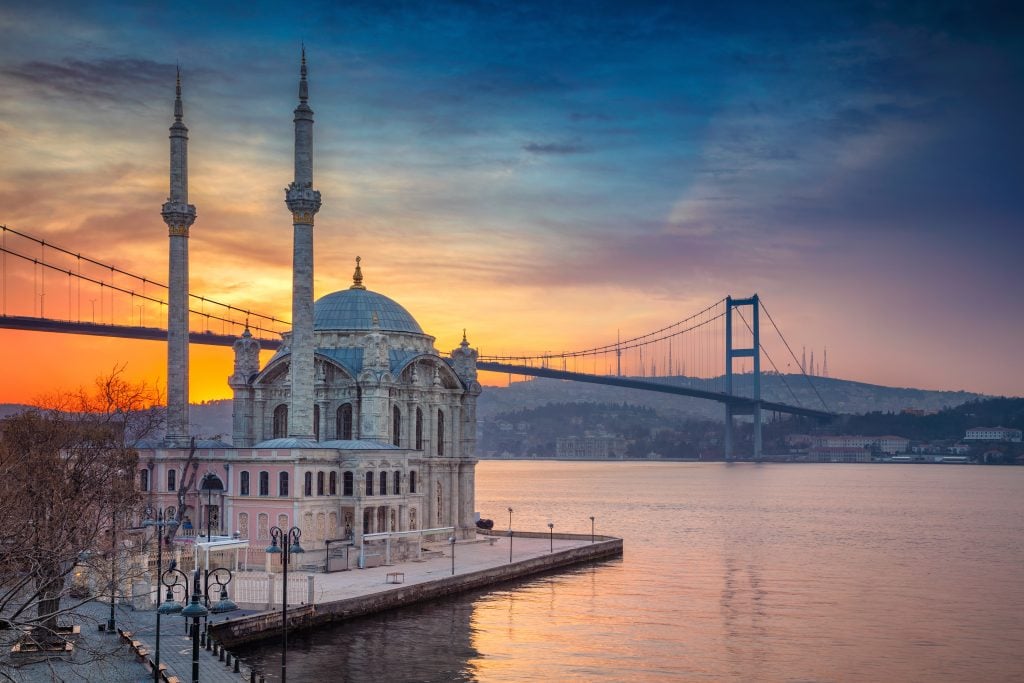 Beautiful Palaces in Istanbul
Tour the Topkapi Palace.
Once the home of Ottoman sultans, Topkapi Palace today is known for its ornate architecture, beautiful grounds, sweeping views of the Bosphorus Strait, and its historical artifacts.
Most notably, Topkapi Palace is known for its collection of historical artifacts purported to belong to certain prophets familiar to everyone with even a passing knowledge of Abrahamic religions–Moses, Joseph, and Mohammed among them.
While visiting Topkapi Palace, be sure to pay an additional small fee to tour the harem.
These were the living quarters of the sultan, his family, and his concubines, and as a result, some of the prettiest and most intricate rooms of the palace are located here.
If there's one thing in Istanbul that you book a guided tour for, make it the Topkapi Palace: there is so much history there, and a guide can really bring it to life!

This popular tour is detailed, well-reviewed, and perfect for a history buff!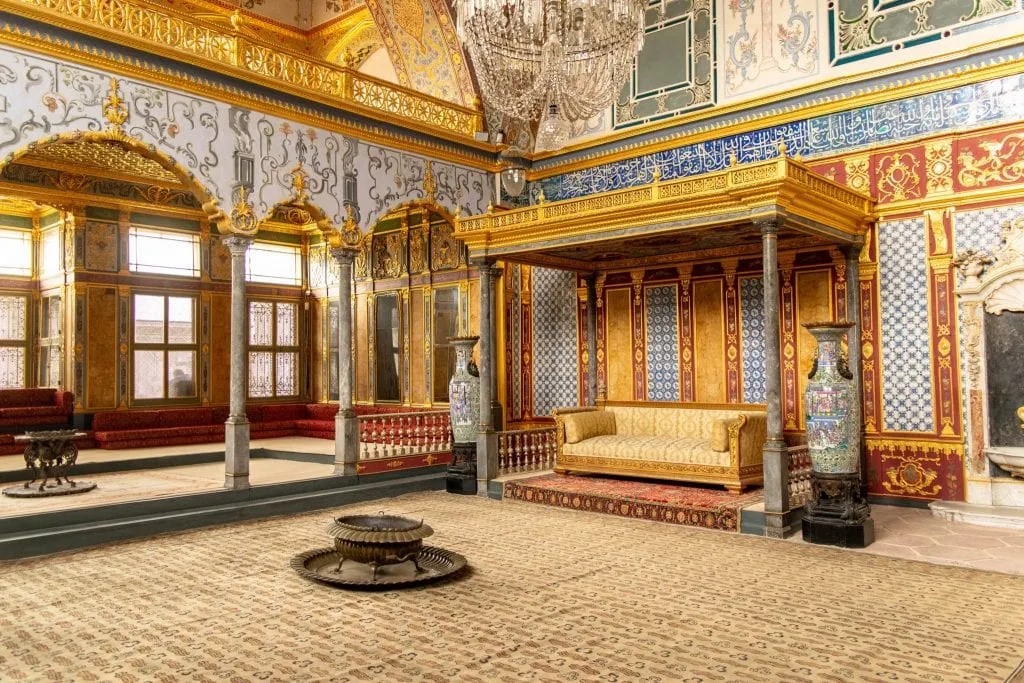 Visit the Dolmabahce Palace.
Newer and more modern than Topkapi Palace, this 19th-century palace became the new home of Ottoman sultans as the Topkapi Palace began falling out of vogue with the royals.
Also sitting along the Bosphorus Strait, the Dolmabahce Palace is known for its gilded interior, splashed out with gold and crystal–including 14 metric tons of gold in the ceiling alone!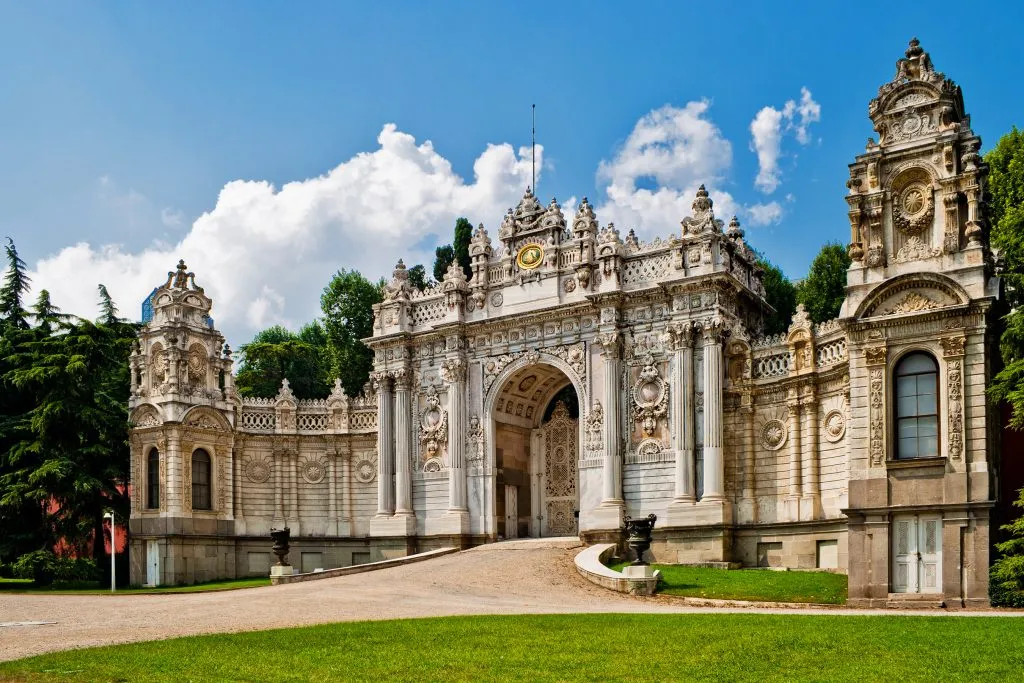 Admire the Beylerbeyi Palace.
Built in the mid-19th century, the Beylerbeyi Palace is, at first glance, perhaps a bit less striking than Topkapi and Dolmabahce–but it does have an interesting history considering its relatively short (by Istanbul standards, anyway) lifespan.
Toward the end of the Ottoman Empire, Beylerbeyi Palace was used as a summer home for the sultan and his family and was also used to entertain visiting heads of states, including the Duke and Duchess of Windsor.
In a less glamorous piece of history, Beylerbeyi Palace was also the last holding place of one of the last sultans of the Ottoman Empire (and the final one to maintain complete control of the government), Abdul Hamid II, during the decline of the empire.
He was held there for six years until his death in 1918.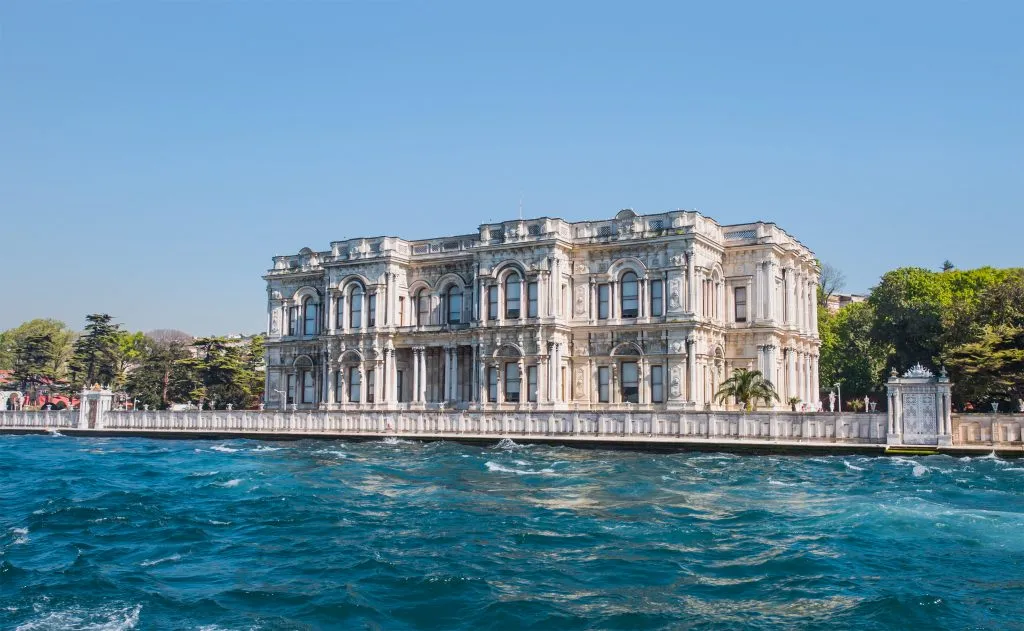 More Historical Things to Do in Istanbul
Climb the Galata Tower.
Looking for the best view over Istanbul? Look no further than the Galata Tower.
Built in the 14th century, the Galata Tower looks out over the Bosphorus Strait toward Sultanahmet, and you can easily pick out features like the grounds of the Topkapi Palace and the Blue Mosque from the top of the tower.
A visit to the tower to enjoy its views is one of the most fun things to do in Istanbul and allows you to grasp just how sprawling and enormous Istanbul really is.
If you'd like to stay and relax for a while, there's even a restaurant on the top floor!
Unlike many historical towers, the Galata Tower has an elevator installed that is used to transport visitors most of the way up–so a visit to Galata Tower doesn't actually involve much climbing at all.
Say hello to the Hippodrome.
Like many features of Istanbul (aka Constantinople) of 2,000 years ago, the Hippodrome isn't easy to pick out at first glance… but it's still there.
The Hippodrome (chariot racing track) can be seen today in the public gardens that stand in front of the Blue Mosque and Hagia Sophia.
Underneath the perfectly manicured paved area that you see today sit the memories of chariot races from thousands of years ago.
Check out the Egyptian Obelisk.
The Egyptian Obelisk that sits right next to both the Hippodrome and the Blue Mosque in Istanbul has had quite a long life: it has been erected in the city for more than 1500 years… and it was already pushing 2000 years old when it got there!
That amount of history is enough to boggle the mind, but its size is also incredibly impressive: the obelisk that you can view today is only 2/3 of its original size, with the final third being lost to time.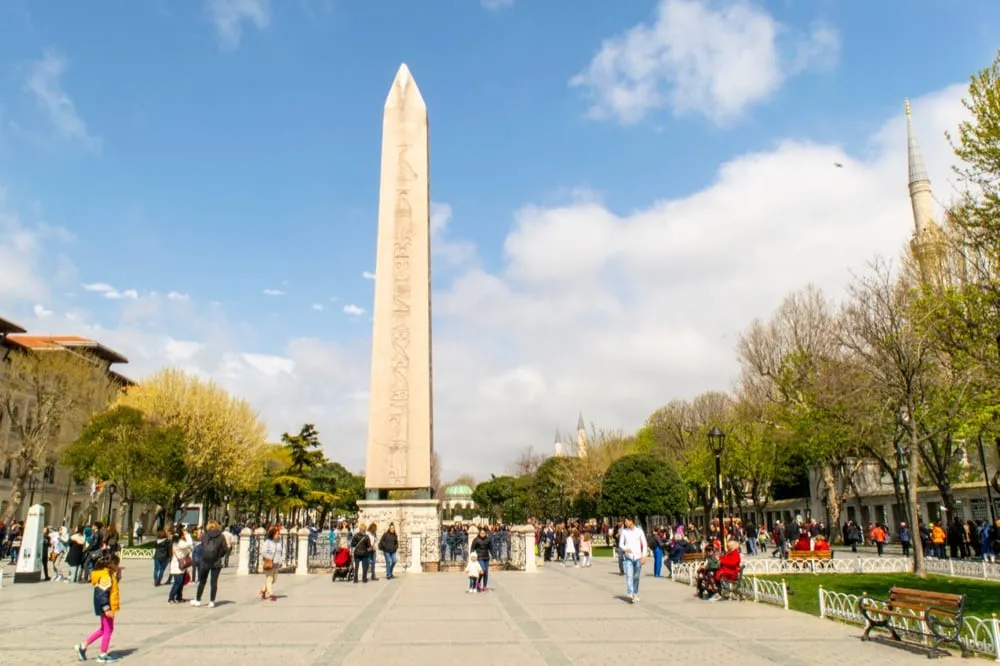 Stroll along the former walls of Constantinople.
Before there was Istanbul, there was Constantinople.
And before there were the Ottomans, there were the Byzantines… and an Emperor Constantine, who gave Constantinople (then known as Byzantium) its second name.
From this piece of history springs forward the famous and intricate walls of Constantinople, which were said to be some of the most intricate and impressive barriers of their time.
Though Constantinople's walls did eventually fail after a lengthy siege by the Ottomans (hence Constantinople's transition into Istanbul), many pieces of the walls still remain: and even today, you can stroll along this history for yourself.
Get underground at the Basilica Cistern.
Descending into the Basilica Cistern is a bit like entering another world: it's damp, it's dark, you can hear water dripping, and the rows of columns seem to extend into the abyss.
As the oldest surviving Byzantine cistern in Istanbul, the Basilica Cistern is definitely worth a visit!
Be sure to wander all the way to the back while you're visiting–there, you'll find two gigantic stone Medusa heads, one of which is upside down, that once served as the bases of two of the columns.
Their origin remains a mystery to this day.
Pay a visit to the archaeological museums.
Istanbul's archaeological museums (a close-knit set of three) are located on what used to be the outer grounds of the Topkapi Palace… meaning that they're so closely located to so many other fun things to do in Istanbul that it would be downright silly not to stop by.

Istanbul's long and storied history and the fact that is has been ruled by several of the world's great empires makes it a positive treasure trove for history buffs.
The three archaeological museums are the Museum of the Ancient Orient, the Archaeological Museum, and the Museum of Islamic Art.
Combined, the museums house over one million objects related to world culture and history.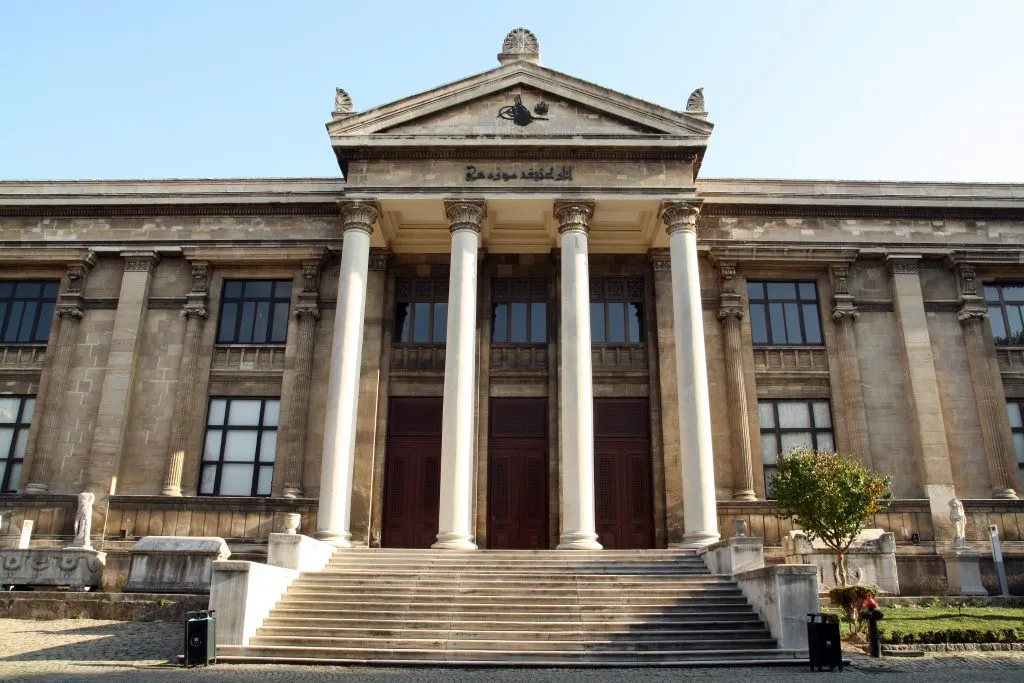 Visit the Maiden's Tower.
Located in the middle of the Bosphorus Strait, this small, Byzantine-era tower is better known for its legends than any solid history.
As the legend goes, a sultan once heard a prophecy concerning his young daughter–that she would be bitten by a snake and killed on her 18th birthday.
Wanting to spare his daughter that fate, he built the Maiden's Tower and placed her in it to keep her far away from any snakes.
Then, on her 18th birthday, he paid her a birthday visit… and the snake he accidentally transported into the tower via a fruit basket filled with gifts bit and killed the girl.
True story? Highly unlikely… but the tower lives on.
Today, you can visit the tower to enjoy beautiful views of Istanbul and to eat at the restaurant on the ground floor or cafe on the second.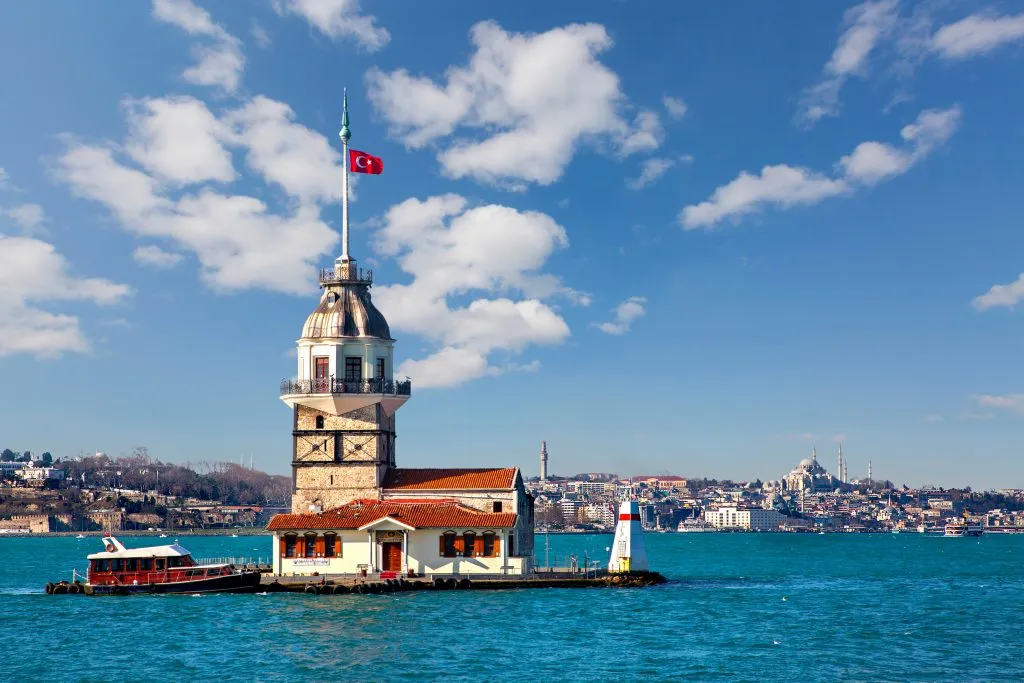 Check out the Valens Aqueduct.
The Roman Empire is well-known worldwide for its aqueducts, and that extended to Constantinople.
Completed in the 4th century, the Valens Aqueduct is the largest surviving Roman aqueduct in the city.
It can be viewed in the Fatih quarter, and, like many features of Istanbul, the ancient has blended with the modern: today, there's a boulevard that runs right under the aqueduct!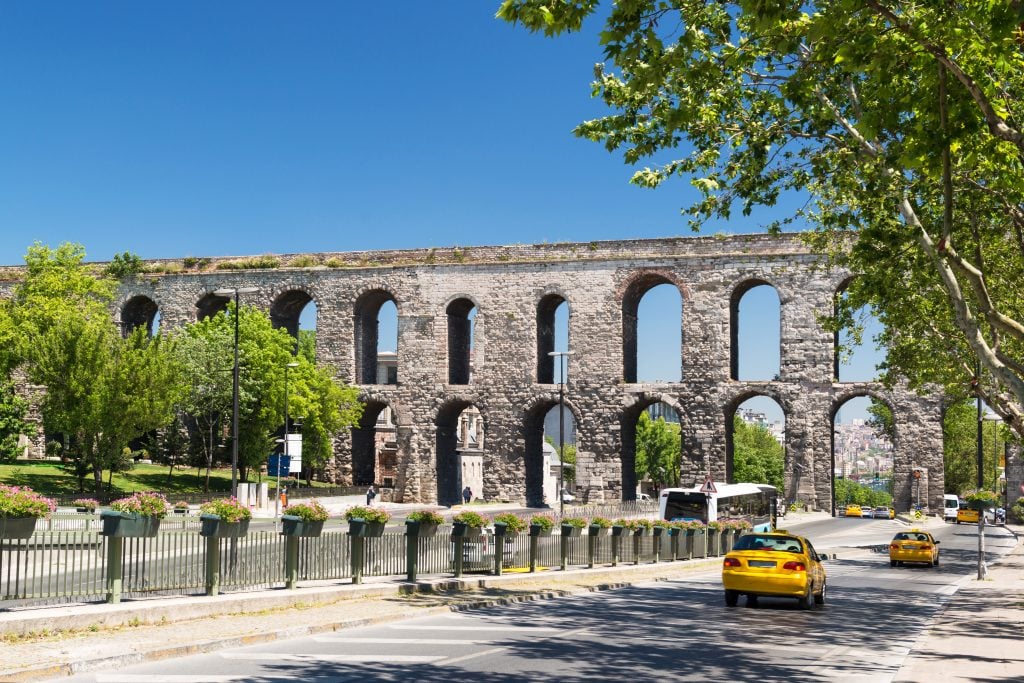 Markets and Shopping in Istanbul, Turkey
Haggle at the Grand Bazaar.
Home to more than 4,000 stores covering 60 streets, the Grand Bazaar most certainly lives up to its name.
Open since 1461 and nearly constantly busy ever since, the Grand Bazaar is the perfect place to enjoy the hustle and bustle of Istanbul in a beautiful setting.
If you're looking for a Turkish lamp, some candy, a cup of tea, fabric, jewelry, shoes, suitcases, or just about anything else, you can find it at the Grand Bazaar.
Haggling is expected here, so come ready to play if you're hoping to take home a souvenir!

Though shopkeepers will attempt to beckon you into their shops and call after you, we found the salesmen in the Grand Bazaar much less pushy than in many other similar markets around the world.
If you're not interested, a friendly "No, thank you" is usually more than enough to get them to move on.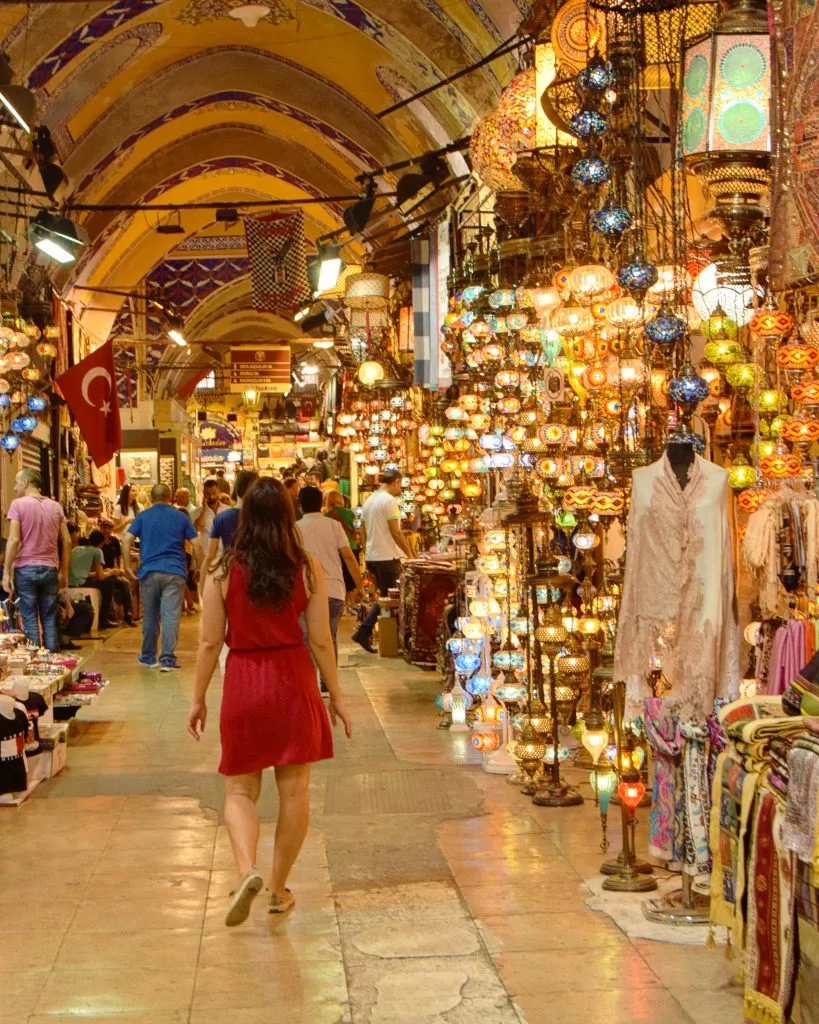 Delight your senses at the Spice Bazaar.
It's impossible not to love the Spice Bazaar: beautiful, colorful, and home to an amazing scent (spices plus tea plus sugar!), the Spice Bazaar is the perfect place to pick out an edible souvenir.
If you haven't had any yet, be sure to pick up a bit of Turkish delight here–it's inexpensive and tasty.
Once you're done exploring the beautiful interior (it's not enormous), be sure to explore the outdoor market on the west side of the building.
It has a bit more of a local feel, and this is where you'll find vendors selling things like olives, local cheeses, vegetables, and even Turkish coffee grounds!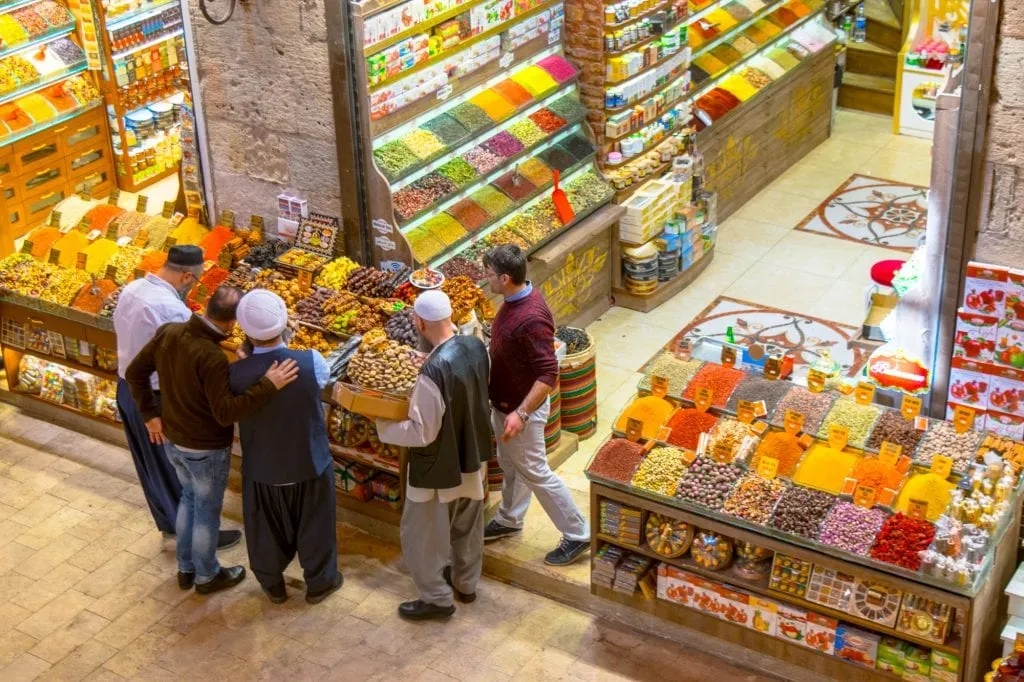 Indulge in some modern shopping on Istiklal.
Istiklal Street is the heart of shopping in modern Istanbul: this is where you'll find a delightful mix of local retailers standing alongside international chains like H&M, Zara, and others.
Prices are competitive and the selection is infinite, so while we feel that Istiklal's nickname of the "Champs Elysses of Istanbul" is overselling things a bit, it's definitely worth stopping by, whether you want to shop or simply to people watch.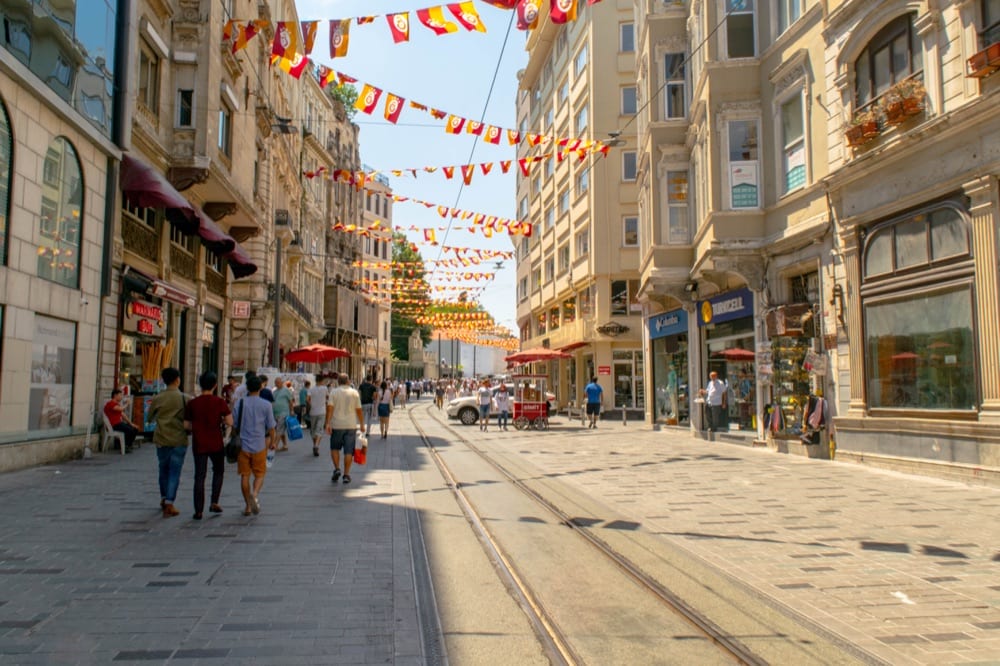 Have tea with a shopkeeper.
Having tea with a shopkeeper is a common practice in Istanbul and an incredibly fun way to explore the city–so don't be surprised when you get offers of tea left and right while out shopping!
Will accepting an offer of tea, especially in tourist areas, up the pressure to buy something?
Sure–but you're still under no obligation to buy.
If you'd like to avoid any potential awkwardness, though, we suggest waiting to accept an offer of tea from someone you're planning on making a purchase from–or even someone you've already finished doing business with!
Jeremy once had a delightful hour-long conversation with a shopkeeper who we dropped our laundry off with, and we went through a couple of cups of tea each in the camera shop we visited to purchase a new lens.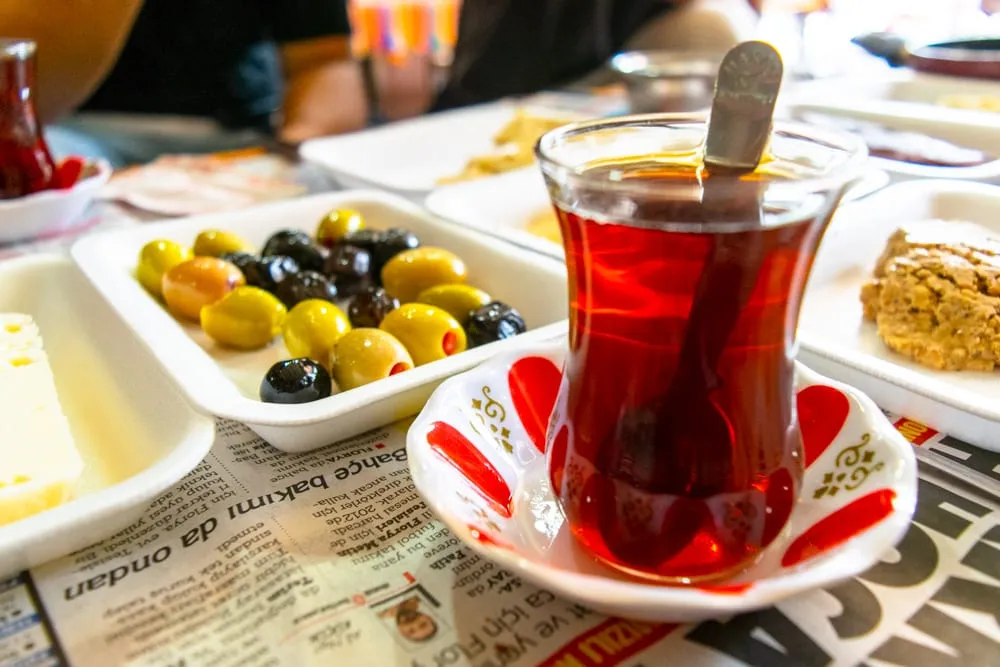 Foodie Attractions in Istanbul
Take a food tour.
Thanks to its long history of having multiple cultures living side-by-side, Istanbul's food scene is varied, gigantic, and full of incredibly delicious options.
A food tour is a perfect way to start wrapping your head around the best foods in the city, and we recommend taking one as early in your trip as possible.
That way, you can use your newfound food knowledge to inform your shopping and ordering choices for the rest of your time in Istanbul!
We absolutely loved our food tour, and ended up trying several foods we probably wouldn't have picked up without taking it (including chicken pudding for dessert–more on that below!).
Book your Istanbul food tour today!
Have chicken… for dessert.
A sweet, creamy dessert pudding made of… chicken meat?
Nope, I'm not kidding: tavuk göğsü is a delicious dessert… just don't think too hard about the ingredients!
The dish reminds us of rice pudding–when we first tried it, it was with tentative small spoonfuls just to say we had tasted it, but we ended up quickly devouring the whole plate!
Give it a try–you won't regret it!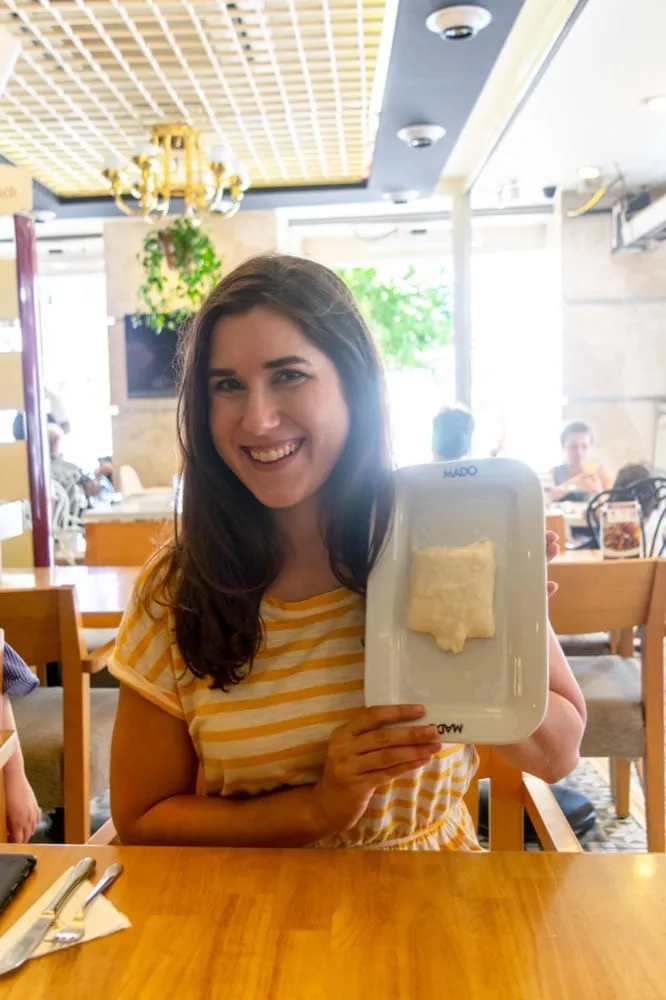 Indulge in some of Istanbul's street food.
While street food in Istanbul isn't quite as prevalent as in, say, Southeast Asia, you'll still pass plenty of options for quick snacks as you explore the city.
Fresh fruit juice, simit (essentially round pretzels covered in sesame seeds), corn on the cob, chestnuts, and kumpir (loaded baked potatoes) are all popular street foods in Istanbul, and tasting at least a couple of them should definitely make your list of fun things to do in Istanbul!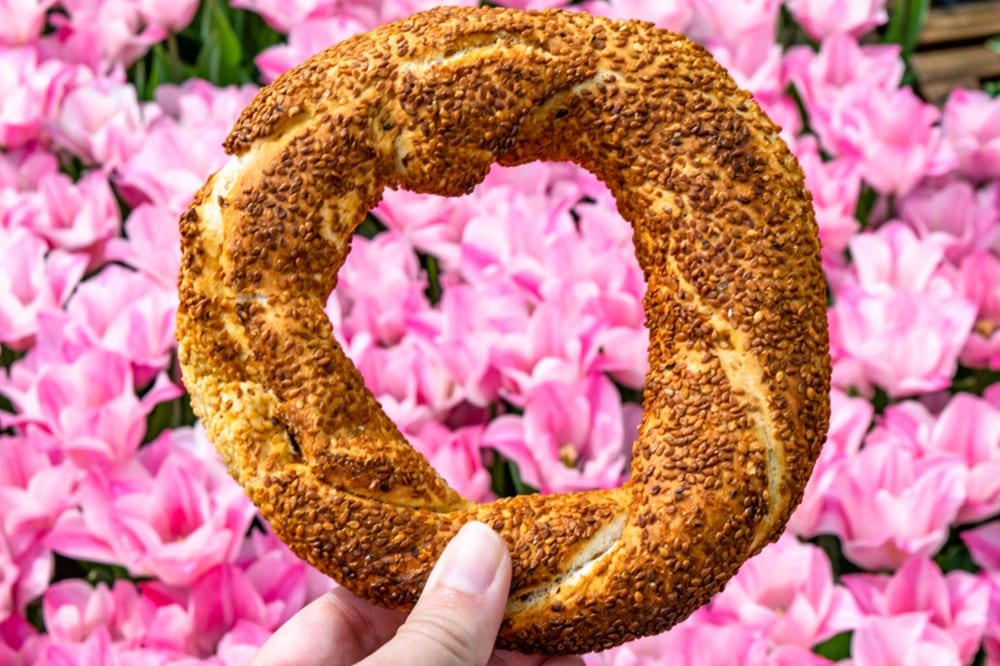 Fall in love with Turkish breakfast.
There are few things in this world more delicious than Turkish breakfast.
Made up of several different spreads, cheeses, breads, olives, honey, and more, plus eggs and sausage if you're feeling particularly hungry, plus unfathomable amounts of Turkish tea, Turkish breakfast is a gut-busting and incredible meal.
No list of fun things to do in Istanbul could be complete without the earnest suggestion to eat as many of these breakfasts as humanly possible while in the city… if for no other reason than that the cravings you'll get for them once you leave will be nearly unbearable (ask us how we know…).
If you're looking for a fantastic and popular breakfast spot that's popular with locals and tourists alike, you can't beat Van Kahvalti Evi (or their prices)–we ate there at least a dozen times while in Istanbul.
Though it's a bit pricier, we also loved Privato Cafe near the Galata Tower–every dish was delicious, the serving sizes were enormous, and the literal dishware itself was incredibly beautiful–great for those Turkish breakfast photos that every trip to the city requires.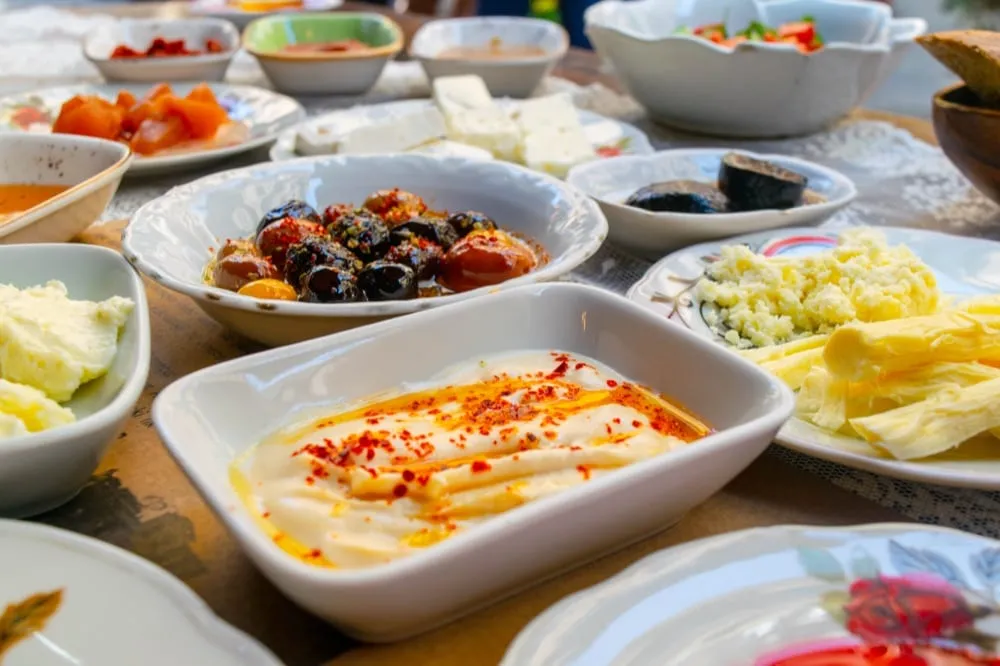 Snack on fresh fish sandwiches under the Galata Bridge.
Touristy? Sure. Fun? Absolutely.
As you stroll across the Galata Bridge in Istanbul, you'll immediately notice the fishing poles.
All across the bridge, men have fishing poles set up in the Bosphorus Strait in the hopes of catching a fish or six–but this photo op is only the beginning of the area's fish-focused culture.
For centuries, this area was where fishermen brought their day's catch to sell, and eventually, the tradition of cooking and selling fish sandwiches right on the dock was born.
Today, you can still buy a fish sandwich right under the Galata Bridge, wrapped in paper and ready for you to munch on it while you wander around the docks and admire the view of the Galata Tower and Bosphorus Strait.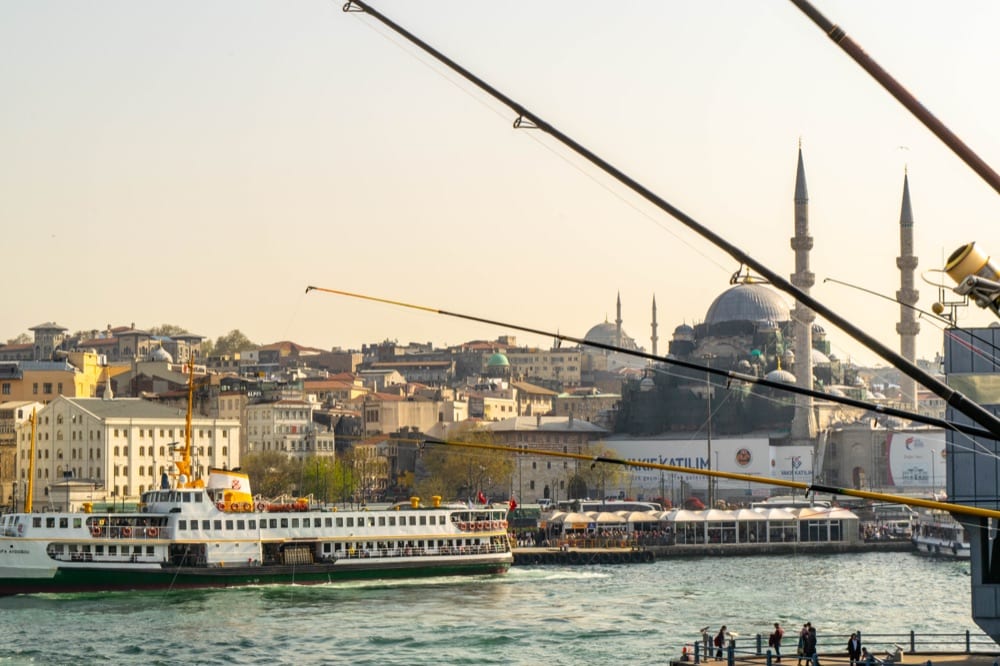 Have dinner between two continents.
How often can you say that you had dinner between two continents?
In Istanbul, it's possible: book a Bosphorus Dinner Cruise and enjoy watching the sunset over the city while you indulge in a delicious meal that takes place not in Europe or Asia, but in a fleeting place in between the two.
This well-reviewed Bosphorus Cruise includes dinner, drinks, entertainment & amazing views!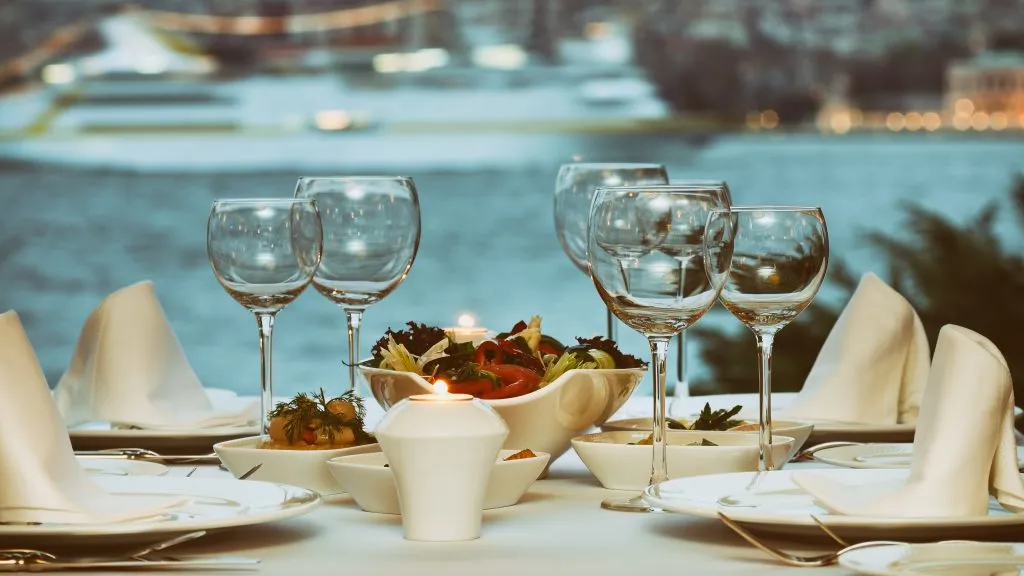 Dine like a sultan.
Ever wanted to dine like royalty?
If so, make your way to the Asitane Restaurant in Istanbul!

This unique restaurant specializes in recreating the dishes that would have been served to sultans and their families throughout the reign of the Ottoman Empire, making a visit to Asitane a meal and a history lesson in one.
If you'd like to turn a meal into a memorable experience, consider adding a visit to Asitane to your list of fun things to do in Istanbul!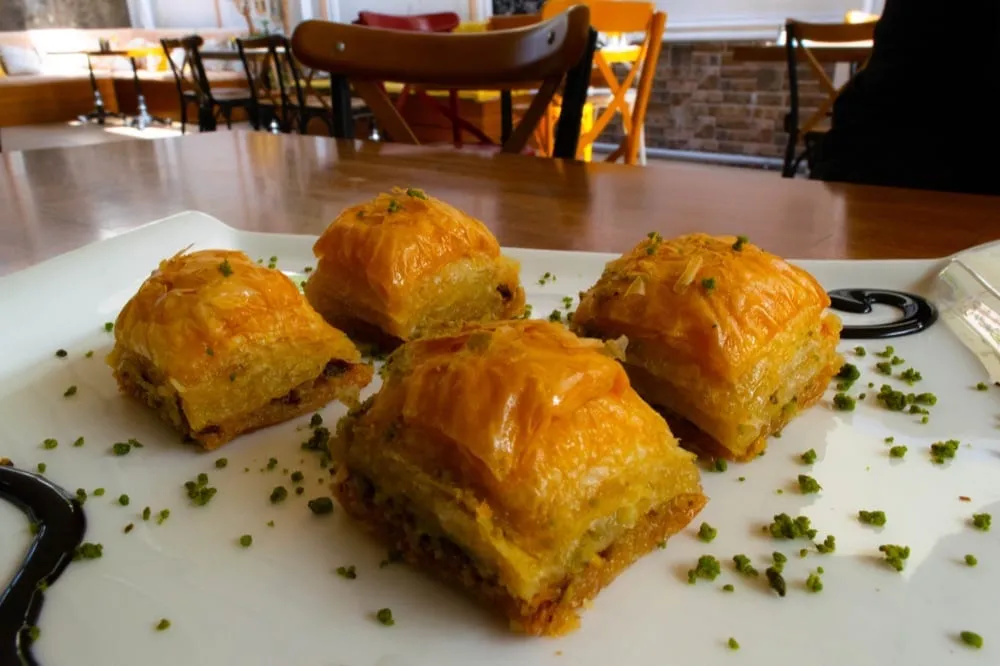 More Fun Things to Do in Istanbul
Day trip to the Princes' Islands.
This small archipelago of islands located just outside of Istanbul makes the perfect day trip to get away from the bustling city, especially during the warm and beautiful weather of the summer.
These quiet islands don't allow any cars on them, just horses and carriages, so a visit here is like a peaceful step back in time–a far cry from the center of the city.
Ferries leave daily from both the European and Asian sides of Istanbul for the Princes' Islands, making a visit an easy and fun thing to do in Istanbul.
Book your ferry to the Princes' Islands today!
See a Whirling Dervish show.
Though Whirling Dervishes didn't originate in Istanbul, they have long become synonymous with the city–and Istanbul is one of the easiest places in the world to see them!
Seeing a whirling dervish show is among the most fun things to do in Istanbul, and is certainly one of the most unique.
Get your ticket to see the Whirling Dervishes in action today!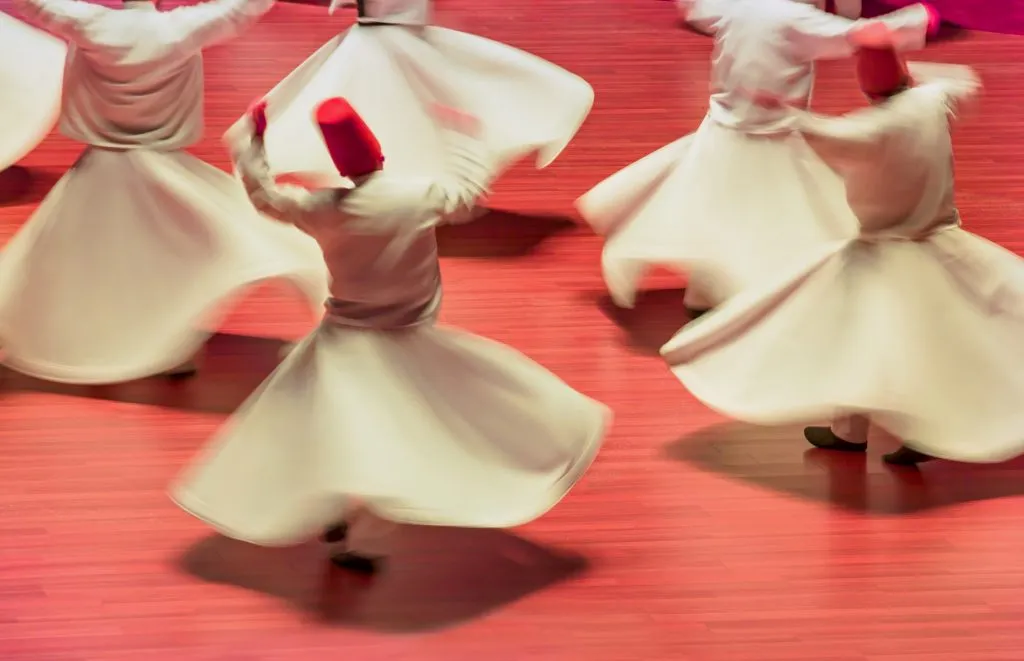 Take the ferry to another continent.
Istanbul is well-known for its status of being the only city to span two continents–and thanks to public transportation, it's extremely easy to travel between the two!
Where can you take a quick boat ride from Europe to Asia, with no immigration check or passport stamp required?
Pretty much only in Istanbul.
Though the ferry ride from Europe to Asia (or vice versa) is the most photogenic and popular way of getting between the two sides of Istanbul, you can actually take a metro as well.
We tended to take the ferry one way and the metro on the way back, combining the two transportation methods.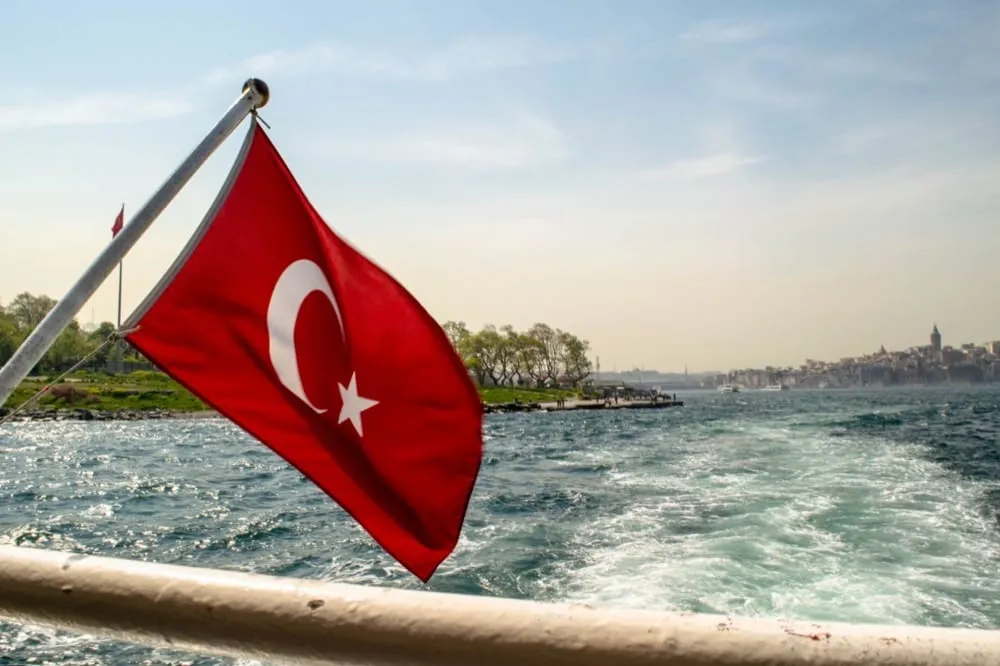 Relax at a traditional hammam.
Turkish hammams are a spa experience like no other.
A traditional experience includes a scrub down and massage from a masseur (who will be the same sex as you), and though the experience can be intense bordering on painful, the amount of dead skin that can be removed is nothing short of remarkable–you'll leave feeling silky smooth!

Traditional hammams include nudity, and as a result, most hammams have either separate areas for men and women or serve men and women at different times of day–before to check before arriving, especially if you're traveling with someone of the opposite sex.
Ride the streetcar.
The streetcar of Istiklal is less about transportation than it is about nostalgia, but regardless, it sure is cute!
The streetcar runs the length of Istiklal, dead-ending into Taksim Square before turning around.
If you stand to the side and watch the streetcar go by, you'll likely see plenty of local children jumping on and off of it for fun.
Try out some hookah.
Hookah is everywhere in Istanbul–if you're hoping to try it out, either for the smoke itself or simply for the photo op, you won't have a shortage of opportunities.
Most traditional cafes and many restaurants have hookah pipes available, but if you're looking for the easiest (and most photogenic) spot to light up, consider stopping into one of the cafes that has hookah pipes set out on each table–they're quite easy to spot!
Delight in the charm of in Istanbul's cats.
Istanbul is known around the world for its cat population–I've even seen it said that they are part of Istanbul's soul, and that seems quite accurate.
Istanbul is home to a plethora of semi-stray cats that are fed and cared for by the public.
You can't spend a day in Istanbul without passing at least a few of these adorable creatures, often as they're grabbing a snack from the bowls left out for them or even directly from someone's kitchen!
As the cats are strays, always be cautious when approaching them, but many relish pets and human attention, and visiting with them as you sip a cup of tea at a cafe is definitely one of the most fun things to do in Istanbul.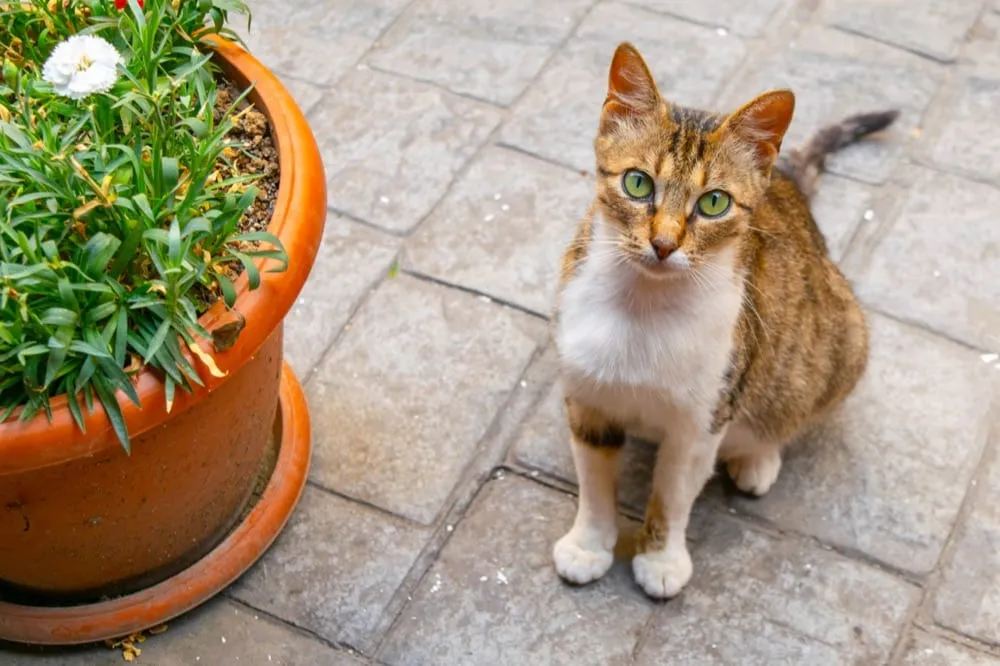 Pay a visit to Miniaturk Amusement Park.
Want to add a downright whimsical feature to your list of fun things to do in Istanbul?
Consider visiting Miniaturk!

This park is all about the tiny things: take a stroll through the park to visit tiny versions of plenty of Turkey's best-known features, including replicas of the Blue Mosque, Istanbul's airport, Cappadocia, and more!
Sound a little silly? Well, it is–but that's no reason not to go.
Check out the Museum of Innocence.
If you're a fan of the novel The Museum of Innocence
by Orhan Pamuk, a visit to the real-life museum that was conceived in tandem with the book is a must–luckily, it's located in the heart of Istanbul!
Tucked away inside the adorable Cukurcuma neighborhood, the Museum of Innocence is small, unique, and utterly unforgettable to those who are fans of the book.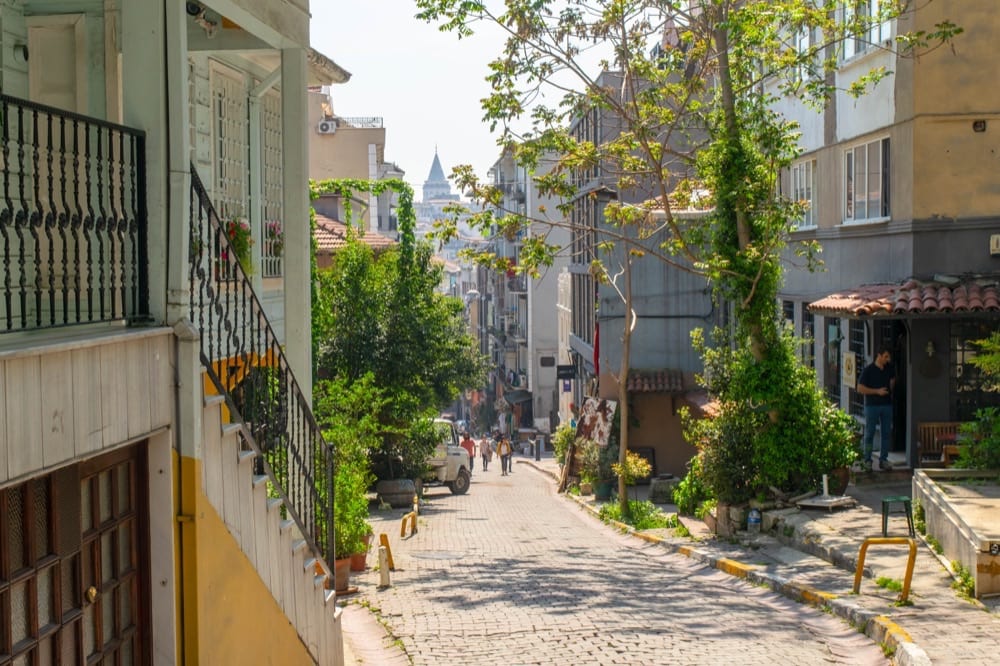 Stroll through Emirgan Park.
As one of the largest and prettiest parks in Istanbul, Emirgan Park is a must-see for anyone who wants to take a deep breath and step away from the city while in Istanbul… without ever having to leave it at all.
Admire the tulips.
The Netherlands may be better-known for their tulips these days, but tulips are actually native to Turkey and Central Asia.
In the spring, tens of millions of tulips bloom throughout the city, and they can be observed just about everywhere, from parks to Taksim Square.
There's even a tulip festival held in Istanbul each April!
The flowers are stunning, and if you're lucky enough to be visiting Istanbul when they're in bloom, be sure to stop and admire them as much as possible.
Check out Taksim Square.
As the heart of modern Istanbul, Taksim Square bears the curious fate of being not much to look at (it's large, bustling, and surrounded by shopping areas on one side and a park on the other) but having a lot of stories to tell.
The square has been the center of several political protests over the last 50 years (though don't worry: it's generally a quite peaceful and touristic place).
Situated at one end of Istiklal Street, it's almost impossible to visit modern Istanbul with passing through Taksim at least one.
Istanbul's funicular and streetcar both end here, and it's a popular drop-off point for cabs and Ubers taking tourists to Istiklal for shopping.
Watch the sunset over the Golden Horn.
Watching the sunset over Istanbul's Golden Horn (a major inlet of the Bosphorus Strait that is framed by Istanbul's minaret-dotted skyline) is a special experience–we recommend grabbing a cup of tea somewhere with a view and settling in for the show!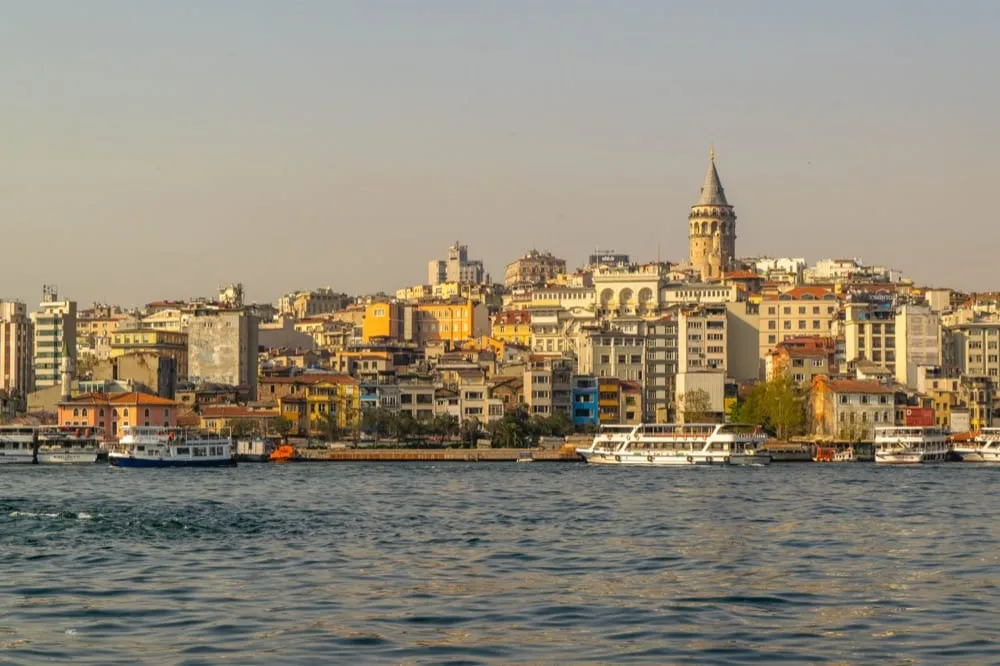 Interesting Istanbul Neighborhoods to Visit
Istanbul is a city of neighborhoods, each one with a unique character and style.
While coverage of all the neighborhoods of the city would take thousands of words, as a visitor, there are definitely a few neighborhoods to keep in mind.
These are the places you'll most likely be visiting as you work your way through all the fun things to do in Istanbul.
Sultanahmet
Sultanahmet is the heart of old Istanbul and the home of the most famous attractions in Istanbul.
This is where you'll find the Topkapi Palace, Hagia Sophia, Blue Mosque, and Basilica Cistern, among other highlights.
Though it is a bustling place during the day, there's not much nightlife in Sultanahmet–it tends to mostly shut down after dark.
Beyoglu
As you cross the Galata Bridge heading toward the Galata Tower, you'll be entering Beyoglu.
This is one of the biggest and busiest districts on the European side of Istanbul and is often cited as a great place to stay in Istanbul.
Beyoglu is enormous, and some of the other neighborhoods covered here (including Galata and Cihangir) are subsets of Beyoglu.
Kadikoy
As Istanbul's best-known neighborhood on its Asian side (at least as far as visitors are concerned), Kadikoy is unapologetically modern and colorful–street art, cafes, and modern restaurants abound.
Kadikoy is located right on the shores of Istanbul's Asian side, and if you take the ferry over, you'll be dropped off right at Kadikoy's doorstep.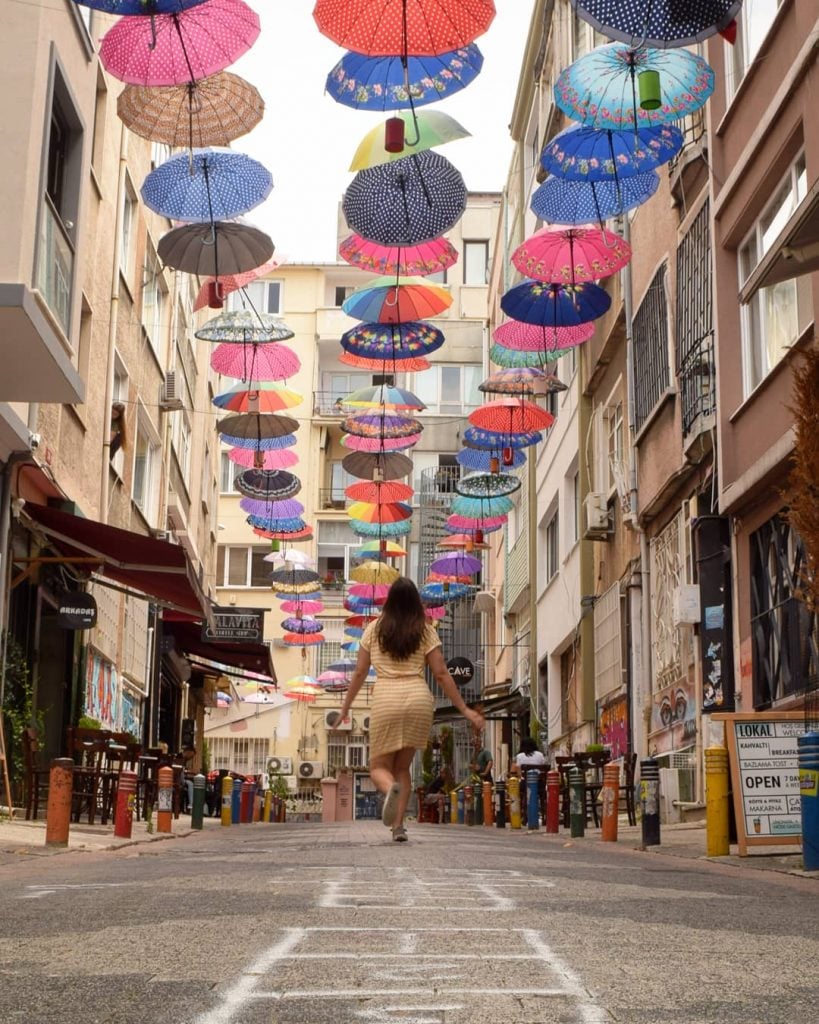 Cihangir
If you're looking for hipster Istanbul, head to Cihangir.
This trendy neighborhood is full of boutiques and delicious restaurants and is often a favorite among those who visit Istanbul.
This is where you'll find Van Kahvalti Evi, the breakfast restaurant we became mildly obsessed with while in Istanbul.
Galata
The Galata neighborhood, predictably enough, is centered around the Galata Tower.
Here you'll find steep hills, tons of restaurants and shopping, and plenty of people at all times of the day.
I'm partial to this neighborhood–it's pretty and centrally located–and think it's a great place to stay while in Istanbul.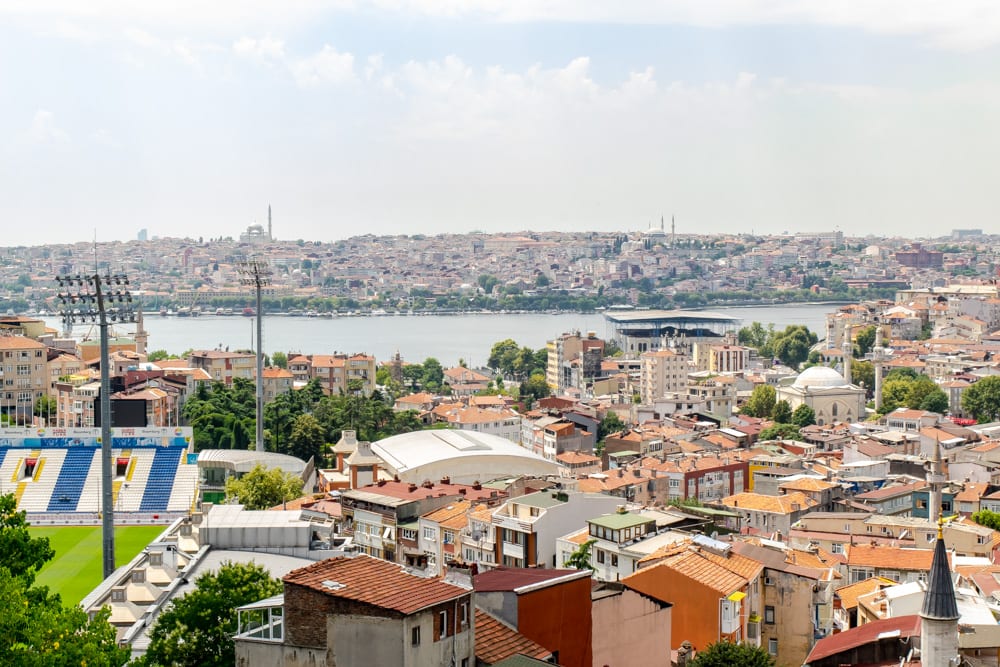 Karakoy
Looking for coffee shops?
Head to Karakoy.
This neighborhood is located right on the harbor and is well known for its trendy coffee shops, cafes, and increasingly its street art.
Cukurcuma
Small and a bit obscure, the Cukurcuma neighborhood of Istanbul is known for its antique shops and is worth visiting for that alone.
The sight of decades worth of wooden furniture pouring into the streets during the day is enough to give Cukurcuma a distinct and lovely feel.
This is also where you'll find the Museum of Innocence.
Balat
Balat was one known as the Jewish quarter of Istanbul, but today it is known more for its colors.
If you're interested in photographing incredibly vibrant buildings and street life, be sure to add visiting Balat to your list of fun things to do in Istanbul.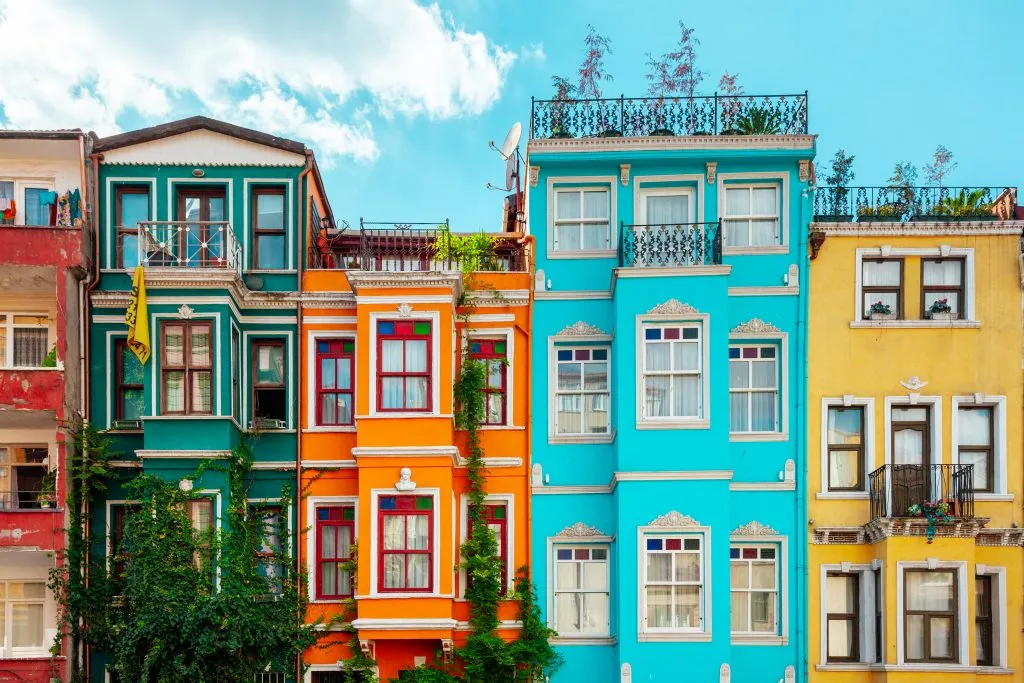 Where to Stay in Istanbul
Where to stay in Istanbul depends a lot on the kind of trip you're looking for.
If you have a short amount of time in Istanbul and aren't interested in nightlife, staying in Sultanahmet near major tourist sights and plenty of fun things to do in Istanbul might be for you.
If you're staying in Istanbul longer or are a fan of nightlife, consider staying over in Beyoglu instead–specifically in Galata, Cihangir, or Karakoy.
Hotels in Sultanahmet
We personally stayed in and enjoyed, both of these Sultanahmet hotels during our visits to Istanbul.
Tom Square Boutique Hotel — With spacious, beautiful rooms, a great location (it's a short, if steeply uphill, walk to the Grand Bazaar), and one of the best included hotel breakfasts we've ever had, we loved our stay at Tom Square Boutique Hotel and would immediately check back in on a return visit to Sultanahmet.
Emirhan Inn Apart Hotel — Located just a few minutes walk from iconic Istanbul sights like the Blue Mosque, the Emirhan Inn had cozy rooms, a friendly proprietor, and makes a solid choice for 2 days in Istanbul.
We definitely recommend grabbing breakfast at the nearby Cafe Galera when staying here!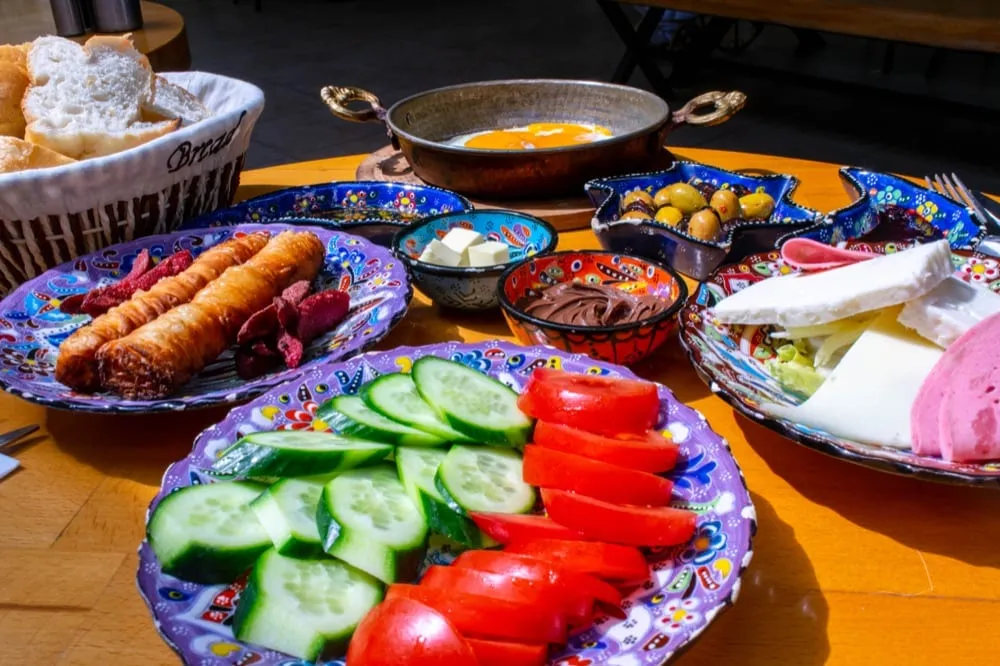 Hotels in Beyoglu
During our times staying in Beyoglu, we have always stayed in Airbnbs or rented apartments, since we've always been planning to stay in Istanbul for weeks at a time.
However, if you'd like to stay in a hotel in Beyoglu, we'd recommend somewhere close to the Galata Tower for convenience during your 2 days in Istanbul.
Here are a couple of well-reviewed properties to consider.
Hotel Momento Golden Horn — With clean, modern rooms and an excellent location (around a 5-minute walk to the Galata Tower), Hotel Momento is an excellent choice for your 2 days in Istanbul.
One of its biggest selling points? Many rooms boast views of the Bosphorus Strait!
Bankerhan Hotel Galata — Set on a quiet street in the trendy Karakoy neighborhood (we love the coffee shops in this area!), Bankerhan features beautifully decorated rooms in a wonderful location–you'll be just a short walk away from Galata Tower and a tram station.