Planning a trip to Cambodia on a budget and wondering exactly how much a trip to Cambodia costs?
We've rounded up our full Cambodia travel budget in this blog post, and even though we blew our personal travel budget a bit on comforts like nicer hotels and restaurant meals, we still walked away feeling like backpacking Cambodia was an excellent value for money.
Relaxing at a beach resort, touring the temples of Angkor Wat, and exploring Phnom Penh all fit into our roughly $50/person/day expenses.
The Cambodia trip costs outlined here represent our time spent backpacking Cambodia on what we would consider a flashpacker budget. Basically, no to dorm rooms, (mostly) yes to a/c, and no to major luxuries.
We spent 17 full days in the country, averaging a total Cambodia travel budget of $98.96/day for two people, or $49.48 per person, per day. This added up to a total cost of $1682.35 for our 2.5 week trip.
All prices for our trip to Cambodia costs are listed in USD unless otherwise noted, and, as usual for our travel budget roundups, we don't include the costs of entering or leaving the country here, as those expenses can vary so dramatically depending on your starting point (in our case, we entered Cambodia via a budget flight from Vientiane).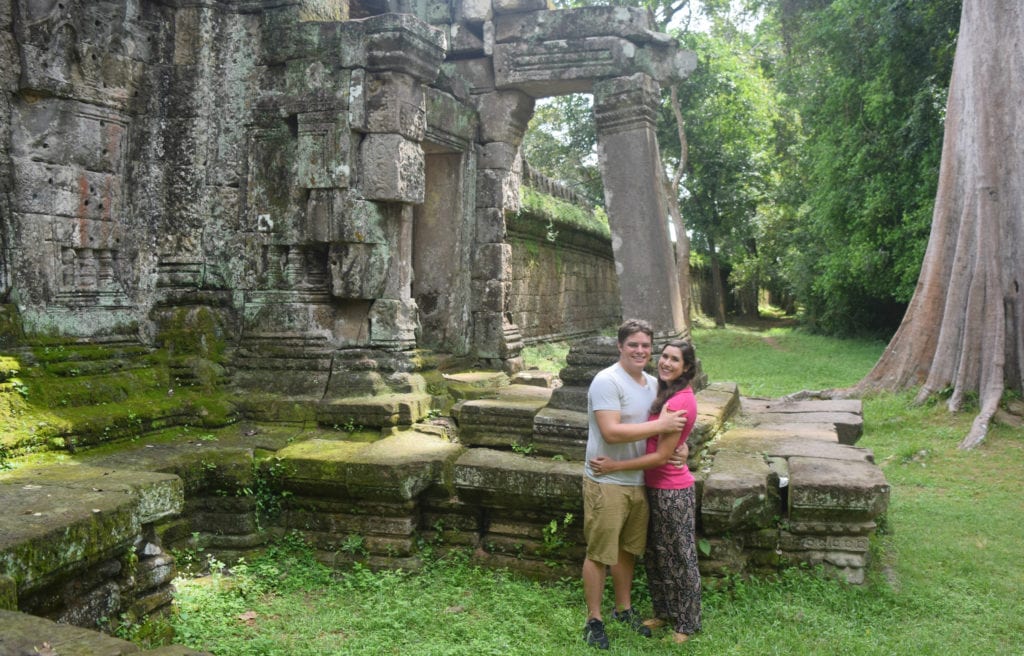 Some links in this post may be affiliate links. If you make a purchase through one of these links, we may earn a small commission at no extra cost to you. Please see our

disclosure policy

for more detail.
Our Lodging Costs in Cambodia
Total: $817.24 for 17 nights, an average $48.07/night.
We felt that we got excellent value for money with our hotels in Cambodia, including at the resort we stayed at on Koh Rong.
If you take off our Koh Rong resort splurge, our per night cost drops significantly–we only paid between $19-$37/night for the rest of our hotels.
Cambodia's hotels offered a great value–both properties we stayed at in Phnom Penh and our property in Siem Reap had pools, were extremely clean, and were centrally located.
We would stay at any of them again–though, we would return to Kolab Sor Phnom Penh Hotel before Home Feel CS Hotel in Phnom Penh, just because they offered a lower price for what we thought to be a similar value.
Here's where we stayed in Cambodia!
Phnom Penh
HomeFeel CS Hotel — Our first stop in Phnom Penh! The most memorable thing about this hotel (as all of our Cambodia hotels felt clean, safe, and accessible) was the breakfast–it was delicious, and served across the street in a restaurant!
On the day we left for Sihanoukville, the staff was happy to get us a takeaway breakfast to go with us.
Kolab Sor Phnom Penh Hotel — A huge room, a varied and delicious breakfast, and a great location in the heart of town–we were very satisfied with our second stop in Phnom Penh!
This hotel also has a reasonably priced rooftop bar with a very relaxed atmosphere–we loved watching the sunset over the city from here.
Koh Rong
Sok San Beach Resort — This resort is beautiful, and located on the "quiet" side of Koh Rong–only a small fishing village was nearby.
The pluses included staying directly on 7 Kilometer Beach, delicious food, and the perfect place to relax.
The minuses included isolation, and the resulting lack of competition–most of the small restaurants in the fishing village were closed for the season, so we were stuck with resort food at resort prices for the duration of our stay.
If you want to "get away from it all"–this is the place to do it.
Siem Reap
Angkor Boutique Villa — We adored our guesthouse in Siem Reap, and would return here in a heartbeat.
This small, family-run guesthouse is on a very quiet road and also less than a 10-minute walk from Pub Street–who can beat that combination?
The family running it was incredibly kind and treated us to a wonderful meal our final night there.
The pool was beautiful and the perfect place to head after getting overheated at the temples, and the room was extremely clean with plenty of space.
Our Transportation Expenses in Cambodia
Total: $251.10
Our biggest transportation expense, by far, was the $80 we paid to take Sok San Beach Resort's private ferry to Koh Rong and back to Sihanoukville–$20 per person/per way.
The (clean, air-conditioned) buses that we took from Phnom Penh to Sihanoukville and back, and to Siem Reap from Phnom Penh, were a great value–about $15/person, give or take, for a several hour ride. We used Great Ibis and were very satisfied with them as a company.
Here's a hint that I read too late: if you're taking Great Ibis' country bus, do not book seats 1A and 1B.
Those seats rest on a ledge, so your legs sit straight out in front of you rather than having a place to rest on the ground. That made for a much less comfortable ride to Sihanoukville than needed.
We could have upped this cost a bit by taking day trips outside of the cities–like from Phnom Penh to Oudong or from Siem Riep to ruins further away than Angkor Wat–but were content to stick closer to town on this trip.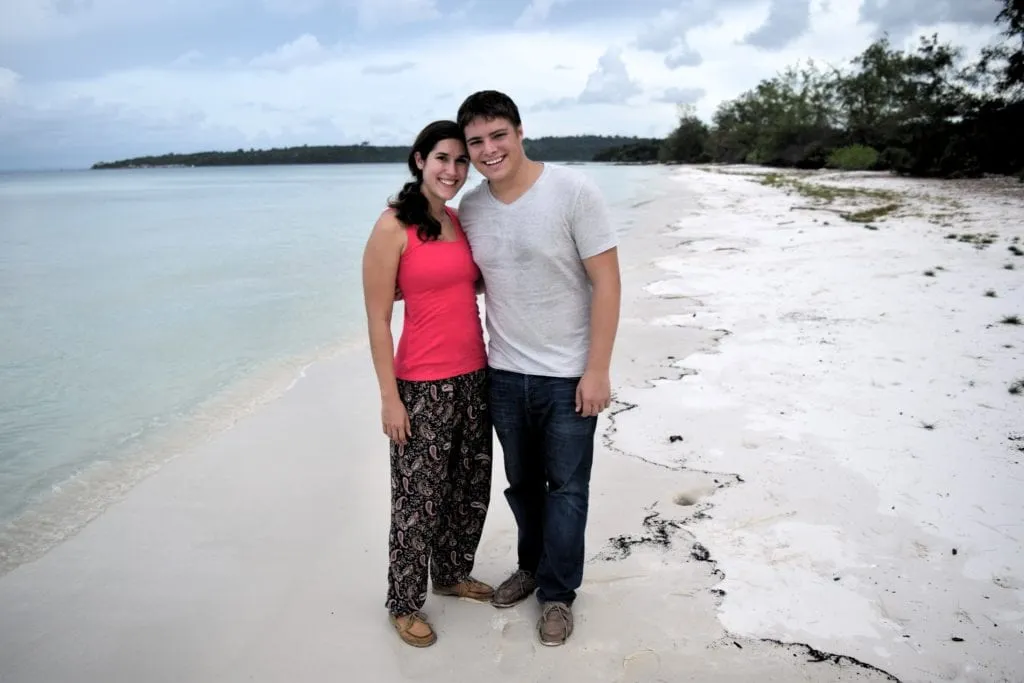 Our Restaurant Travel Budget for Cambodia
Total: $426.64
We went a little expensive on the food side in Cambodia–we ate lots of sit-down meals, especially at restaurants in Siem Reap, and during our week on Koh Rong, the resort food was really the only accessible food in the area.
Overall, the damage wasn't bad–we averaged $13.31 per person/per day in food costs, including the grocery category.
Our Grocery Trip Costs in Cambodia
Groceries: $25.92
"Groceries" in Cambodia consisted of about what it did in Thailand and Laos–water and the occasional snack item.
Virtually all of our meals were eaten out, with the exception of the owners of our guesthouse in Siem Reap making us a delicious thank you dinner by the pool one night.
Our Tour + Excursion Cambodia Travel Budget
Total: $146.00
Considering how much adventure we squeezed into our Cambodia itinerary, I'm thrilled with this number!
$146.00 covered an ATV tour of Koh Rong, our 3-day passes to Angkor Wat, our visits to S21 and the Killing Fields, and–most inexpensively–about 15 minutes spent at a fish spa in Siem Reap.
The fish spa was bizarre, and I mostly laughed through the entire thing (I'm completely ticklish), but it did start to feel good after a while!
Miscellaneous Trip to Cambodia Costs
Total: $15.45
We had very few miscellaneous expenses in Cambodia, and this category mostly consisted of replacing some toiletries that we were running low on.
This number does include our last round of completely inexpensive laundry–I miss $3.00 loads of laundry in Southeast Asia that included washing, drying, and folding!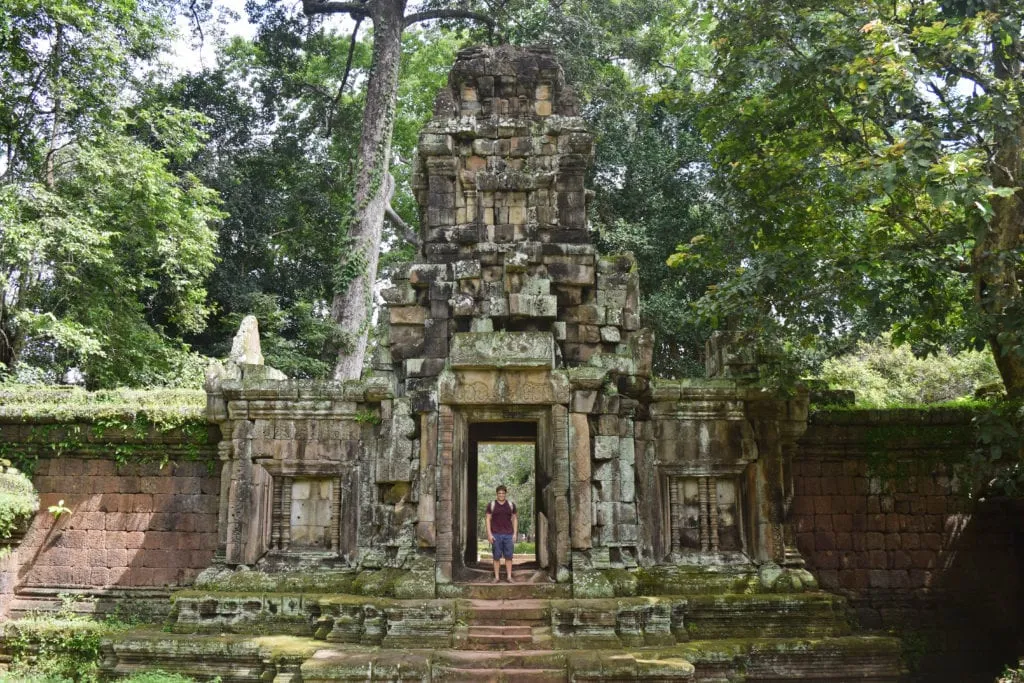 Though we spent more than we initially planned for our Cambodia itinerary, I'm still entirely happy with our Cambodia budget.
Our decision to splurge on nicer accommodation in Koh Rong definitely edged our numbers upward, but it was worth it–we were ready for something slower-paced at that point.
While food also ate into the budget, transportation and excursions were both incredibly affordable in Cambodia.
With the exception of maybe a couple of meals that we could have done more cheaply, I wouldn't change anything about how we managed our Cambodia travel budget.