If you're headed off to explore the Emerald Isle, there's a (very) good chance that your plane is going to touch down in Ireland's capital city–and there's no better way to kick off a trip to Ireland than by spending 2 days in Dublin.
While Dublin may not have the romantic beauty of Paris or the grandiosity of Rome, it is a compelling–and in places gorgeous–city that is packed with interesting things to do.
No, you shouldn't plan a trip to Ireland and base yourself for weeks in Dublin, but spending a couple of days in Dublin before you take off for green pastures and dramatic coastlines is definitely an excellent idea.
Trying to put together a 2 day Dublin itinerary and not sure where to start?
Here's what to do with a couple of days in Dublin.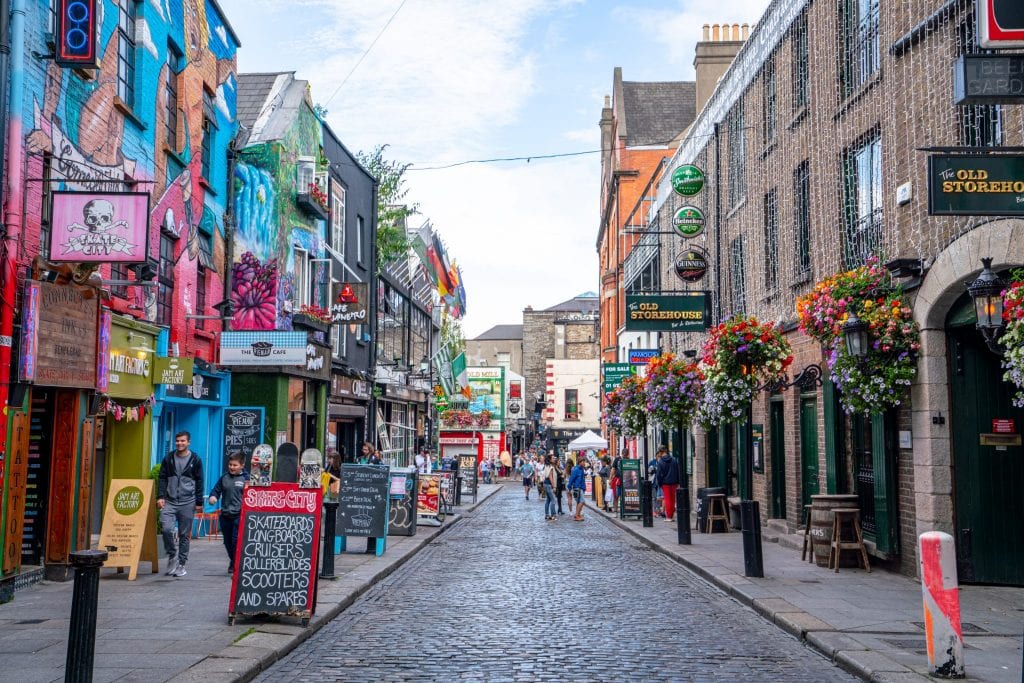 Some links in this post may be affiliate links. If you make a purchase through one of these links, we may earn a small commission at no extra cost to you. Please see our

disclosure policy

for more detail.
How We Structured This 2 Day Dublin Itinerary
This Dublin itinerary is designed for a (potentially jetlagged) traveler touching down in the capital city before leaving to explore more of the Emerald Isle and is intended to give a nice overview of the best things to do in Dublin while maintaining a lowkey pace that won't exhaust you before you get to Ireland's biggest natural treasures.
However, if you're taking a short city break or planning a weekend in Dublin, this guide to spending 2 days in Dublin can work for you too–though you could also condense, say, 65% of this Dublin itinerary into one day and spend your second day in Dublin on a day trip outside the city, and that would be our recommendation!
Day 1 in Dublin: Trinity College, Dublin Castle, Temple Bar + Beyond
Start your sightseeing at the General Post Office.
Dublin's General Post Office (or GPO) may seem like a strange place to kick off your 2 days in Dublin–but with impressive Georgian architecture, a prominent location on O'Connell Street, a beautiful interior, and a compelling history that involves playing a role in Ireland's 1916 Easter Rising, it's actually the perfect place to start.
The GPO is still a working post office, so during business hours, you're welcome to take a peek inside–but if you want to learn more about the building's 1916 history, we recommend visiting its Witness History exhibit.
While you're in the area, be sure to check out the nearby James Joyce statue as well!
Book your ticket for the Witness History exhibit today!
Cross the Ha'Penny Bridge.
Built in the early 19th century, the Ha'Penny Bridge earned its nickname (it's technically called the Liffey Bridge) for a very simple reason: for the first 100 years of its existence, a ha'penny–or half pence–toll was charged to cross it.
Today, crossing the bridge is one of the many fun free things to do in Dublin, and is a great way to grab some views of the River Liffey.
Before crossing, book lovers may want to duck into the beautiful bookshop right across the street from the bridge: The Winding Stair.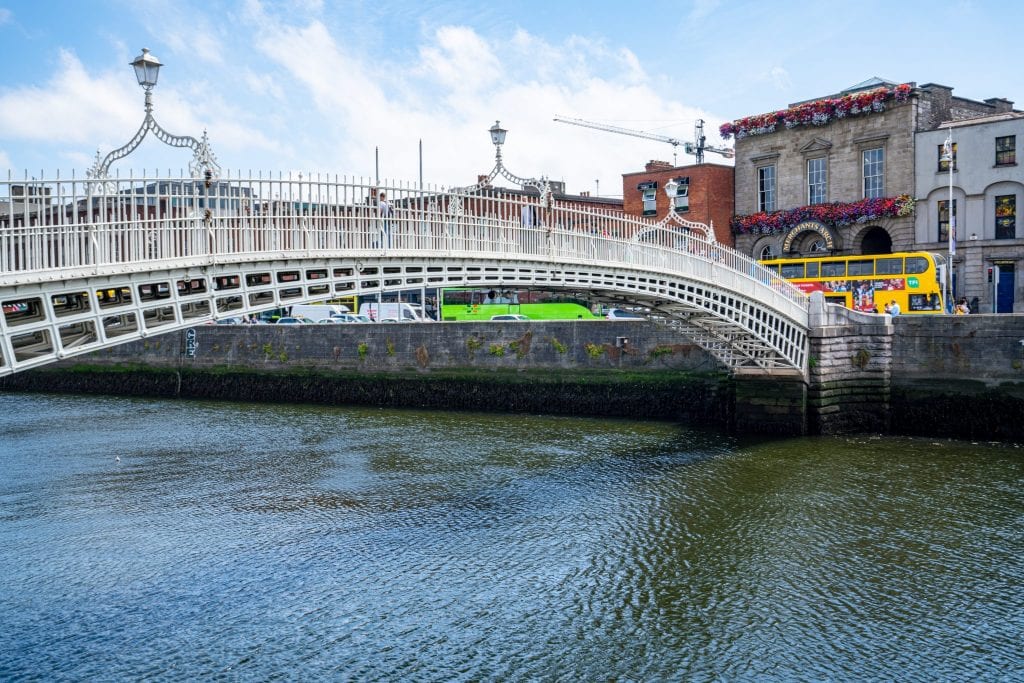 Head to Trinity College.
Located in the center of the city and dating to the 16th century, Trinity College is Ireland's most prominent university–and it's also a beautiful place to visit.
Head over to campus and admire its beauty while making your way to what is arguably one of the prettiest and best-known libraries in the world: the Long Room.
Step inside the Long Room and check out the Book of Kells.
The Long Room at Trinity College holds around 200,000 volumes, is around 65 meters long, and dates to the 18th century–but honestly, all of those facts fade away very quickly when you're confronted with the beauty of the room itself (at least for bibliophiles like us!).
Truthfully, the Long Room has been on my list of must-see literary locations for years, and while the crowds (because there are definitely crowds!) definitely ensure that it feels more like the tourist attraction that it is than a peaceful library, it is an incredible sight, and well worth experiencing during your 2 days in Dublin.
Perhaps less well-known to foreign visitors but at least as interesting is the Book of Kells, which you'll also gain access to with your ticket to the Long Room: this 9th-century illustrated copy of the Gospel is written in Latin and is incredibly beautiful and well-preserved.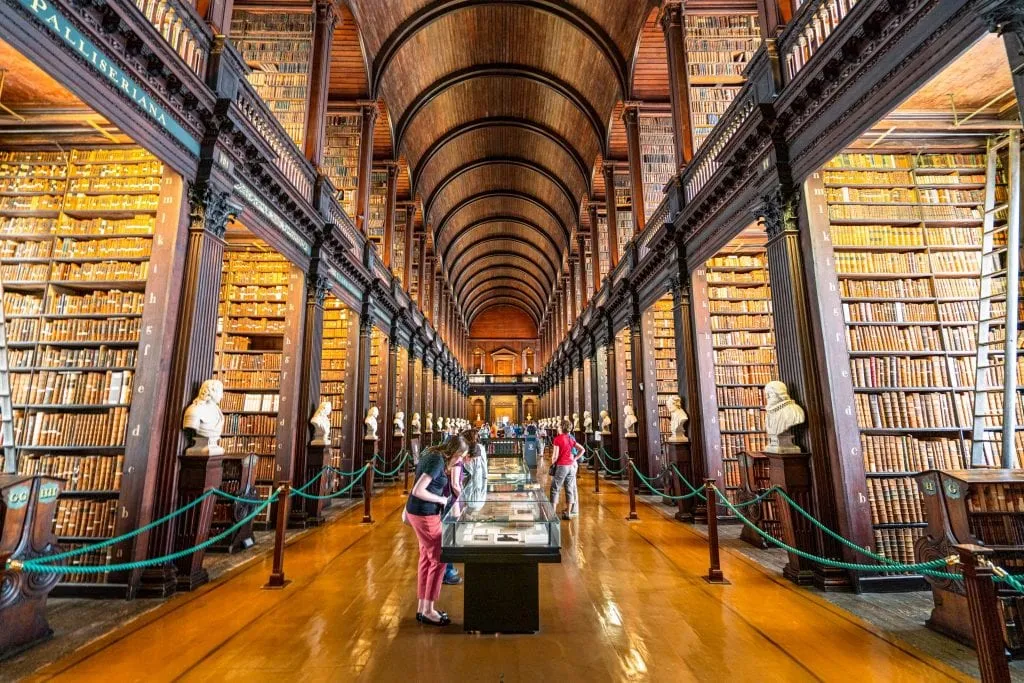 Say hi to Molly Malone.
The legend of Molly Malone is a short, sad one.
Molly Malone was said to be a fishmonger (possibly from the 17th century), who sold cockles and mussels in a wheelbarrow… and then died of a fever. In some versions of the legend, she was also a prostitute.
Molly Malone's legend and the song commemorating it are connected to Dublin–and on your walk from Trinity College to Dublin Castle, you'll come across a statue dedicated to her.
Pay a visit to Dublin Castle.
As compared to what you'll find in Ireland's smaller towns and countryside, it's fair to say that Dublin Castle doesn't look all that much like, well–a castle. Not in the traditional sense, anyway!
However, Dublin Castle has been an important government site in Ireland for most of its existence (the castle dates to the 13th century), including the present, and is absolutely worth visiting.
If you're in a hurry or simply jetlagged, you may want to merely check out the exterior–but if you're interested in learning some Irish history, it's best to head inside on a guided tour, which will take you behind-the-scenes to parts of the castle you can't otherwise access.
Once you finish up in the castle itself, consider stopping by the nearby Castle Gardens or the beautiful Chester Beatty Library that is located right next door!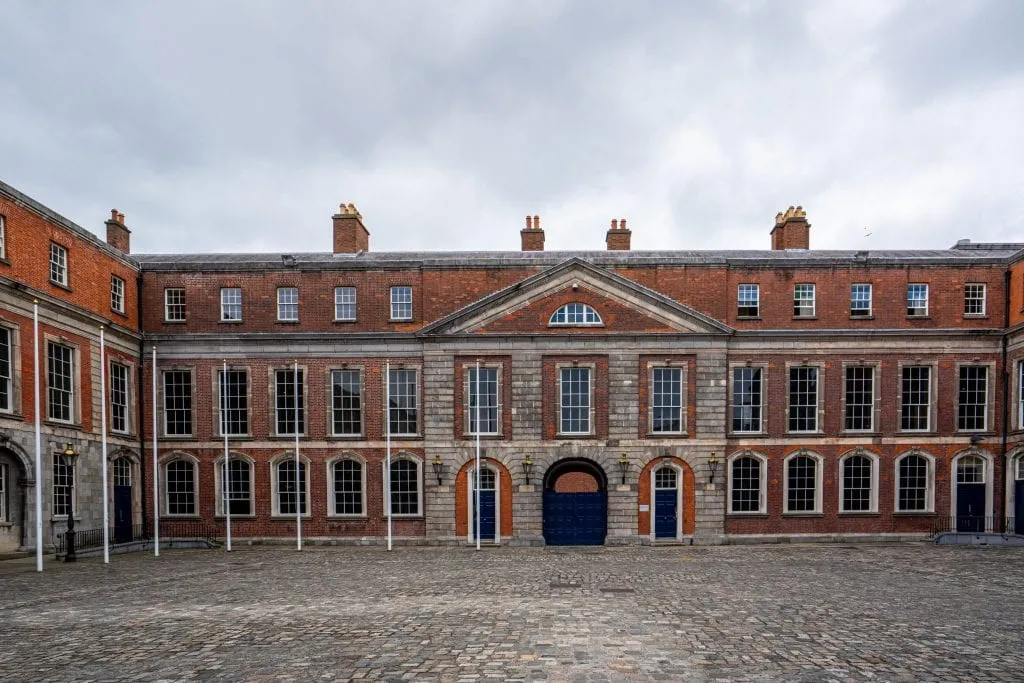 Check out the Christ Church Cathedral.
There are few cities with two cathedrals–but Dublin is one of them.
While St. Patrick's Cathedral is perhaps the more recognizable of the two, Christ Church Cathedral is equally compelling, and actually predates St. Patrick's Cathedral by more than 100 years.
The crypt is one of the most interesting parts of the cathedral, in part because of the mummified cat and rat that are on display there, famous for being mentioned by James Joyce in Finnegans Wake. You can also find Ireland's first copy of the Magna Carta here!
Head over to the Temple Bar district.
The Temple Bar district is undoubtedly touristy, not to mention expensive (even by Dublin's pricey standards), but it's also quite beautiful, and can be a fun way to introduce yourself to the city!
Even if you'd rather stray further off the beaten path to eat and drink on your first night in Dublin, we still recommend at least walking through the Temple Bar district and admiring its cobblestone streets and decked out, colorful buildings.
If you are looking for something to eat in the area, nearby Leo Burdock's is famous for serving up tasty and affordable fish and chips.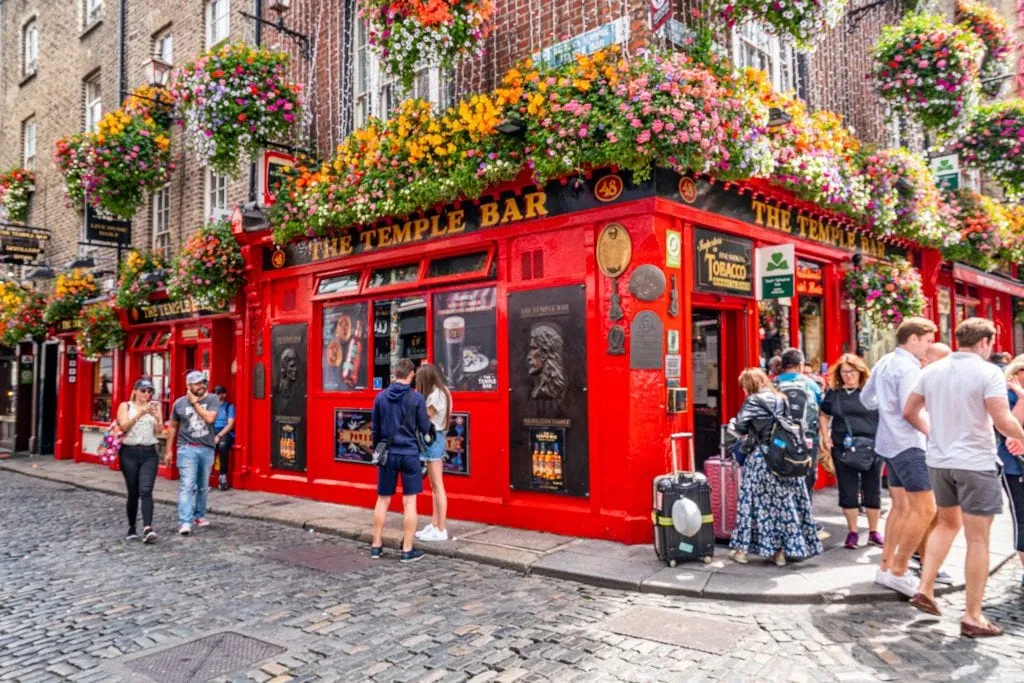 Day 2 in Dublin: Guinness, St. Stephen's + More
Kick off your day in Dublin with a full Irish breakfast.
There's nothing quite like the delight of a full Irish breakfast (full as in complete, but also full as in, "you'll be so incredibly full after eating one that you won't be able to eat for hours").
Boasting a fried egg, sausage, Irish bacon/rashers, beans, black and white pudding, mushrooms, grilled tomato, and occasionally potatoes, eating at least one full Irish breakfast is a must-have experience during your 2 days in Dublin.
For this Dublin itinerary, we can absolutely recommend the delicious breakfast at Beanhive Coffee, which is just a stone's throw from your first sightseeing stops of the day.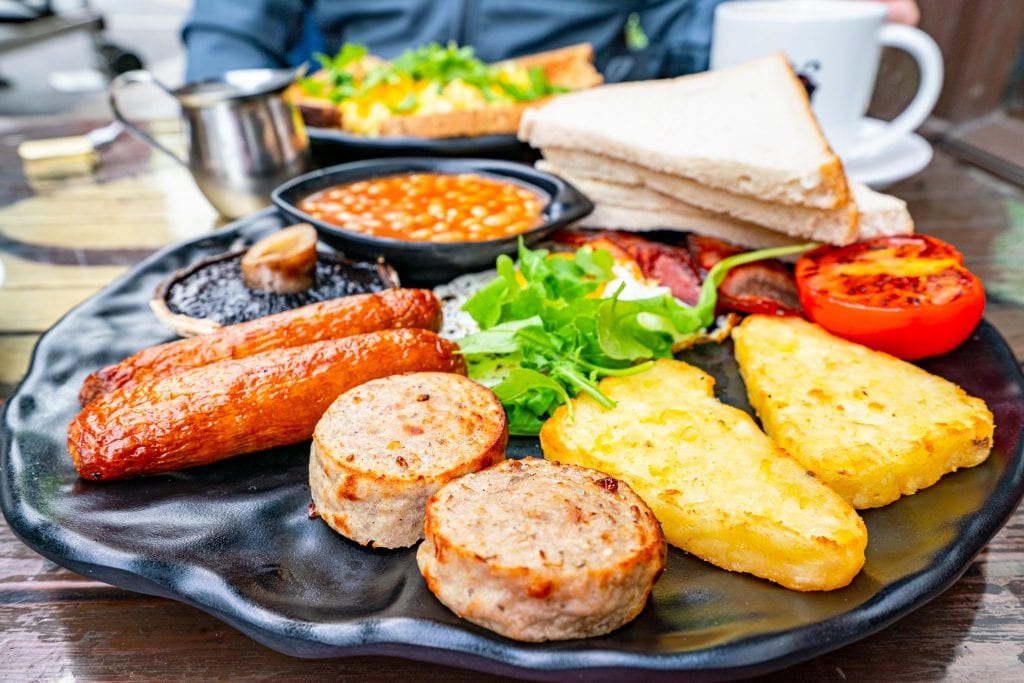 Digest with a walk through St. Stephen's Green.
There's no better place to walk off your heavy breakfast than lovely and peaceful St. Stephen's Green, a quiet and leafy public park that dates back hundreds of years (though its current layout was developed in the 19th century).
It's a beautiful place for a morning walk in Dublin's city center!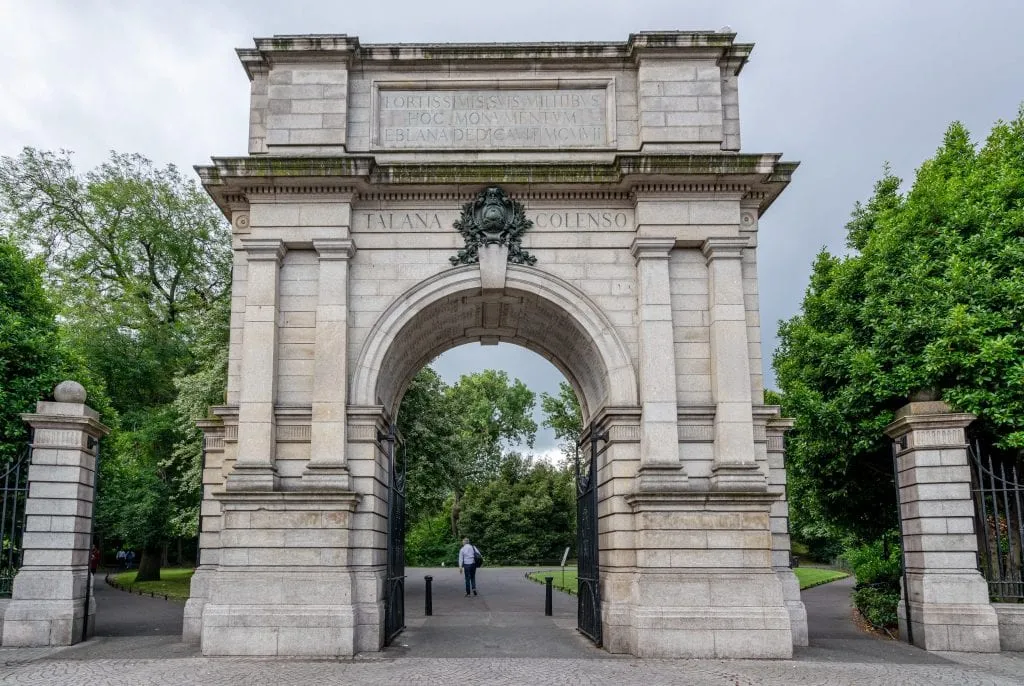 Duck inside the Stephen's Green Shopping Centre.
You don't need to spend much of your 2 days in Dublin inside a shopping center, but as this center at the top of popular Grafton Street is right next door to St. Stephen's Green Park, it's worth ducking into for a quick look at its stunning interior–just look at that light!
Stroll to St. Patrick's Cathedral.
Founded in 1191, St. Patrick's is arguably the best-known church in Dublin–and it's certainly one of the most impressive!
As the National Cathedral of the Church of Ireland, St. Patrick's Cathedral is insanely beautiful, both inside and out, and is open to visitors.
Come to admire the Gothic architecture, to check out the Door of Reconciliation, or, for literary fans, to see where author Jonathan Swift is buried.
There's also an incredible peaceful park right next door, so if you'd like to rest your feet a bit (or watch cute dogs–definitely a big selling point for us), feel free to settle on a bench for a few minutes.
Buy your entrance ticket to St. Patrick's Cathedral today!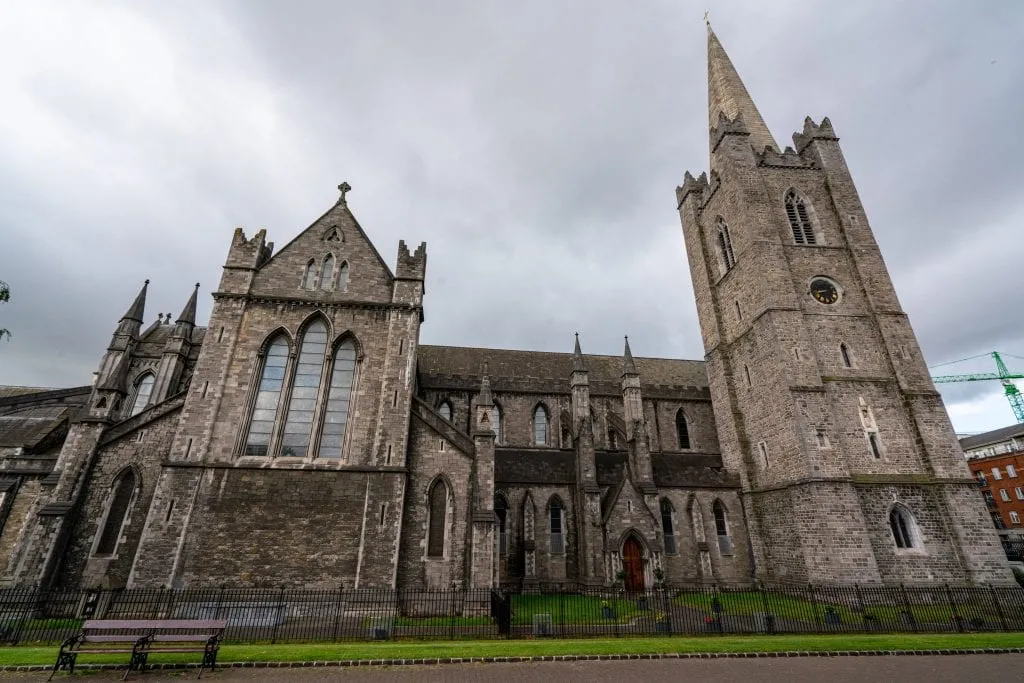 Head to the Guinness Storehouse for the ultimate Dublin experience.
Dublin and Guinness go hand-in-hand, and a visit to the Guinness Storehouse is the perfect way to enjoy the famous brew!
Learn some of the history of the iconic brand, learn how to pull your own Guinness, go for a taste test, and take a walk through the brewing process (in theory, that is–the beer is no longer brewed on the premises).
You can also check out some cool vintage Guinness advertising campaigns (one of my favorite parts of visiting), and top it all off by soaking in some of the best views of Dublin with a cold one in hand.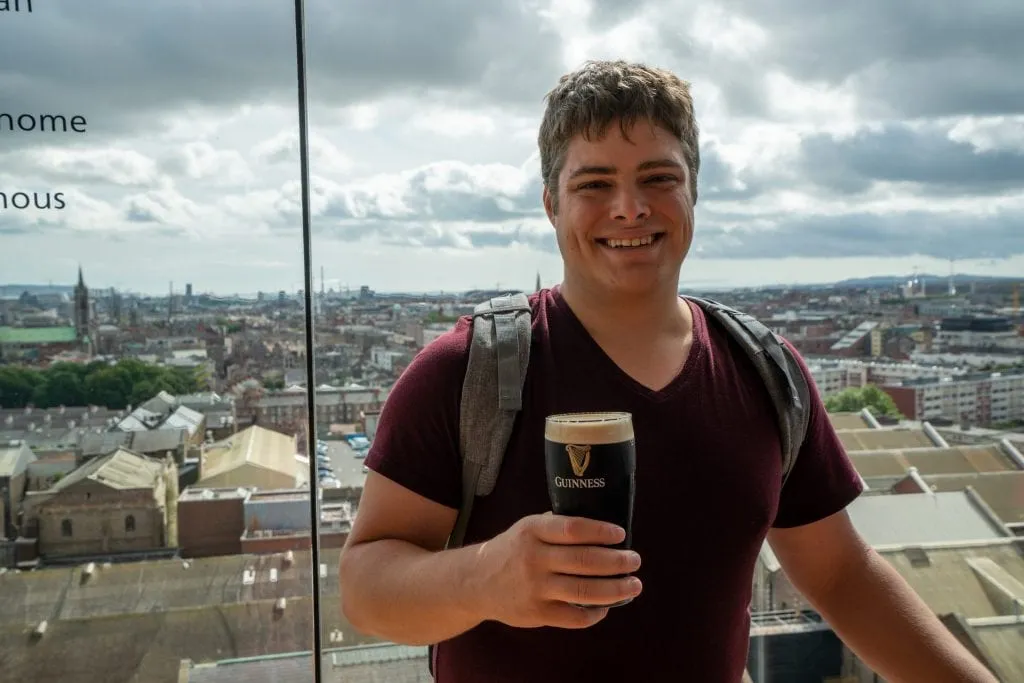 As someone who takes a casual-at-best interest in beer, the views another one of the highlights for me: you can see all across Dublin and right over to the Wicklow Mountains from the lounge at the top of the Guinness Storehouse.
Your ticket includes a drink, with Guinness, of course, being the most popular choice, but soft drinks available for under-18s and the non-drinkers among us.
Fair warning, though: the Guinness Storehouse gets packed.
Be prepared to share the space with plenty of other visitors!
Book your skip-the-line ticket to the Guinness Storehouse (pint of beer included) today!
Finish your 2 days in Dublin with dinner at an Irish pub.
Visiting an Irish pub for an evening of tasty food and (hopefully) some live music definitely deserves to be part of your 2 day Dublin itinerary!
There are plenty of pubs to choose from in Dublin, so whether you're looking for a touristy good time at Temple Bar, a quiet, offbeat experience, or something in between, you'll find one suited to your taste.
If you like chasing history, consider a stop at Brazen Head, which purports to be Dublin's oldest pub and boasts live music every night!
Where to Stay in Dublin
Budget
Abbey Court Hostel — Located right across the street from the River Liffey and less than a 5-minute walk to the Ha'Penny Bridge, Temple Bar, and more, you can't ask for a better place to stay on a budget in Dublin than Abbey Court Hostel.
We stayed here during our first trip to Dublin, and while the accommodation and included breakfast were nothing to write home about–it's a hostel, after all–we had no complaints and were thrilled with the location.
Mid-range
Hotel St. George — We stayed at Hotel St. George on our most recent trip to Dublin, and were completely happy with the experience!
The location allowed us to comfortably walk to most of Dublin's major sites, the room was clean and quiet, the lobby beautiful, and the customer service excellent. We would be happy to stay here again!
Luxury
The Wilder — If you're looking for a luxury experience in Dublin that lends itself to a bit of peace and quiet, the Wilder is the place for you.
Boasting impeccable reviews and an excellent location near St. Stephen's Green, The Wilder is within easy reach of all of Dublin's top sights, while also being far removed from the noise, hustle, and bustle of places like the Temple Bar District.
How Long to Stay in Dublin
While Dublin is a fun city, and spending a couple days in Dublin definitely enhances a trip to Ireland, be cautious of allotting too many of your precious days in the Emerald Isle to the city: outside of the large cities (large being a relative term, of course) is where Ireland really shines.
Two days in Dublin is the perfect amount to get a taste of the city if you're spending roughly 10 days to 2 weeks in Ireland. With only a week or so on the island, we'd recommend spending only one day in Dublin. With three weeks or more, you could consider dedicating more time to the city.
If you do have more than 2 days in Dublin, consider paying a visit to the Kilmainham Gaol, visiting the mummies at St. Michan, or touring one of the many fascinating museums in Dublin, from meaningful spots like the Irish Emigration Museum and Irish Famine Museum, to more lighthearted options like the Leprechaun Museum.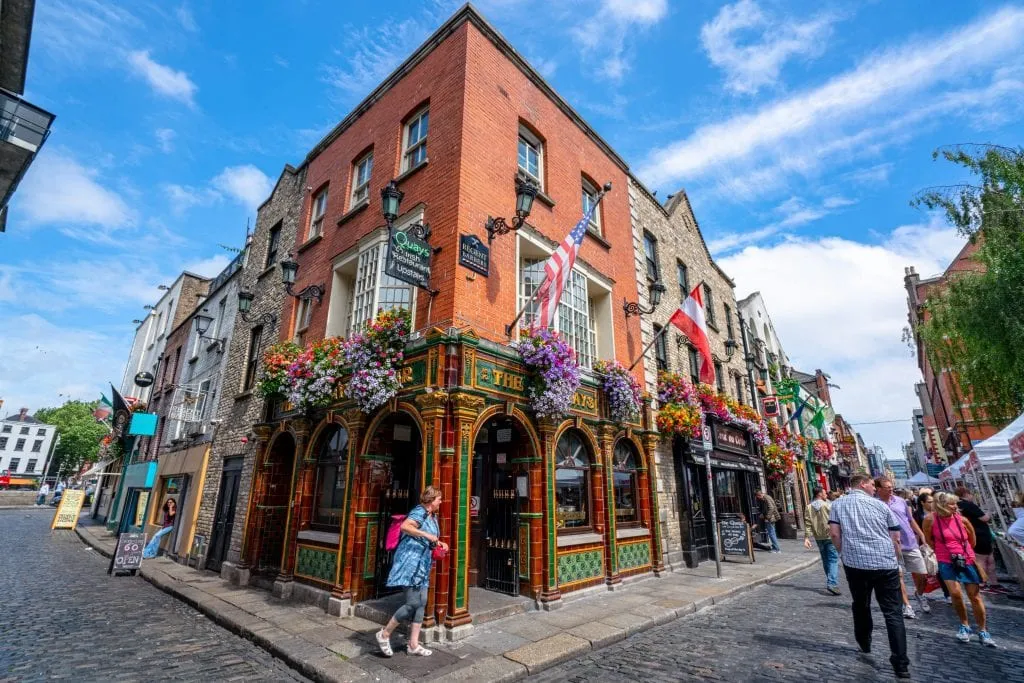 How to Get Around During 2 Days in Dublin
If you book a centrally located hotel in Dublin, you'll find most of the destinations on this 2 day Dublin itinerary fairly accessible by foot–on our most recent visit to the city, we only used alternate transportation to get to and from the airport, and to get back to our hotel after visiting the Guinness Storehouse.
However, if you would like to use Dublin's public transportation system, you'll find plenty of public buses available (exact change only, or you can purchase a transportation pass), as well as some trams.
Taxis and Uber are also both available in the city.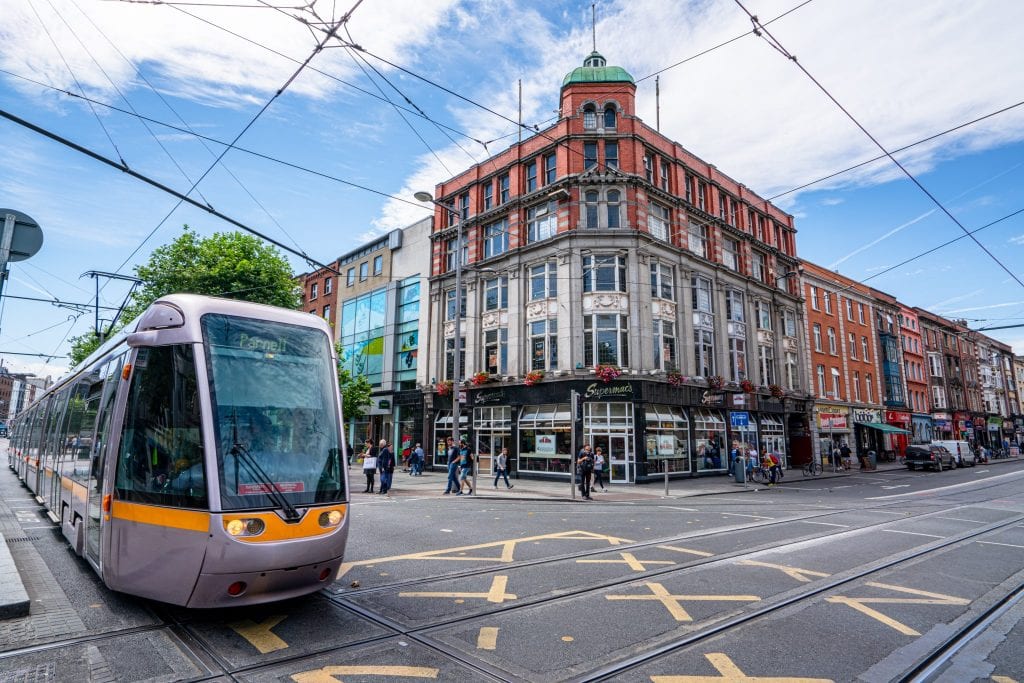 The Best Time to Visit Dublin
There's no doubt that if you're hoping to see the sunshine or avoid bundling up, summer is the best time to visit Ireland, and that includes Dublin as well.
However, this 2 days in Dublin itinerary works for any time of the year, so don't shy away from the city if your opportunity to visit falls outside of June, July, and August–just be prepared for the distinct possibility of less-than-ideal weather, and to dress accordingly!
If you are interested in spending a weekend in Dublin during the St. Patrick's Day festivities, expect high prices, plenty of tourists looking to have a rowdy time, and for the River Liffey to be green–whether that sounds fantastic or terrible to you is absolutely a matter of preference. If you want to go, though, be sure to book your hotel way in advance.
---