One of the absolute best things about exploring all the adorable small towns in Ireland is simply how many of them there are.
In fact, it'd be easy to return to Ireland over and over again throughout your life, visiting different small villages in Ireland each time and walking away with new favorites with every trip.
That's the delight of traveling in Ireland: everywhere is beautiful, everywhere is accessible, and nowhere is dull.
If you're planning a trip to the Emerald Isle, though, and want to ensure you don't accidentally drive right by some of the loveliest, tiniest, and prettiest villages in Ireland, you'll definitely want to add these adorable small towns in Ireland to your list.
Some links in this post may be affiliate links. If you make a purchase through one of these links, we may earn a small commission at no extra cost to you. Please see our

disclosure policy

for more detail.
How to Discover These Small Irish Villages
Without a doubt, the best way to explore small Irish towns–and really the island as a whole–is by renting a car in Ireland.
Ireland is the perfect place for a road trip, and if you hope to explore beyond the big cities and touristy highlights like the Cliffs of Moher, it's practically mandatory (especially if you have limited time in the country).
We recommend searching for rental cars via Discover Cars, which will search many car rental companies to find the best price and rental inclusions for your dates.
Shop rental cars for your trip to Ireland today!
Adorable Small Towns in Ireland
Dingle
As the gateway to the stunning Slea Head Drive and the Dingle Peninsula as a whole, Dingle is one of our personal favorite small towns in Ireland, based in large part on its location!
Come here to enjoy spectacularly colorful houses and streets, admire longtime-harbor resident Fungie the dolphin, track down Star Wars filming locations, and eat delicious Irish food.
Most importantly, visit Dingle to use it as a base to explore the entire peninsula, while returning back to town for a pint of Guinness and a round of traditional Irish music each night.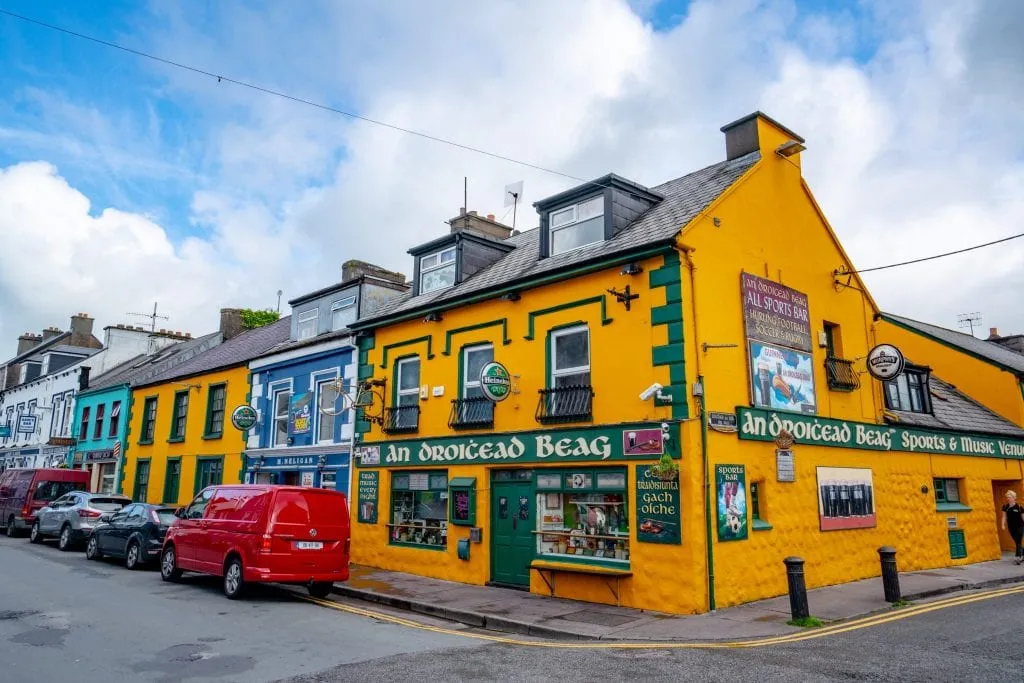 Adare
Packed full of 19th-century thatched-roof cottages, Adare is frequently touted as one of the prettiest small towns in Ireland–if not the absolute prettiest.
Its thatched-roof cottages, which today hold craft shops, boutiques, restaurants, and cafes, were originally built for the people working to build to the beautiful Adare Manor–though today, the tables have turned, and arguably the quaint cottages are a bigger draw to the town than the regal manor house!
The cottages give Adare a distinct look that differentiates it from many of these small Irish towns, making it well worth a quick detour if you're on a quest to find all the prettiest villages in Ireland.
Kenmare
Located south of Killarney National Park on Kenmare Bay, this adorable Irish town is all brightly colored streets, adorable cafes, and cozy pubs.
Kenmare was one of our most unexpected favorite places in Ireland, as, like many visitors, we chose to stay there mostly based on its location near Killarney National Park and therefore the Ring of Kerry.
As it turns out, though, Kenmare is the perfect small Irish village, and a delight to enjoy even when you're not driving the Ring of Kerry, exploring Killarney National Park, visiting the Ring of Beara for a day, or checking out the Kenmare Bay seals, all of which you should definitely do when visiting Kenmare!
Kilkenny
With a massive (and well-preserved) castle dating to the 12th century, a brightly colored town center, a walkable layout, some beautiful churches, and an easy-to-access location just 2 hours south of Dublin, Kilkenny is a fabulous gem of an Irish village and an easy addition to most Ireland vacations.
In addition to visiting Kilkenny Castle and spending some time lounging in the beautiful park located next door, be sure to tour the Black Abbey, check out St. Canice's Cathedral and its quirky round tower, and soak in beautiful views with a stroll along the village's canals.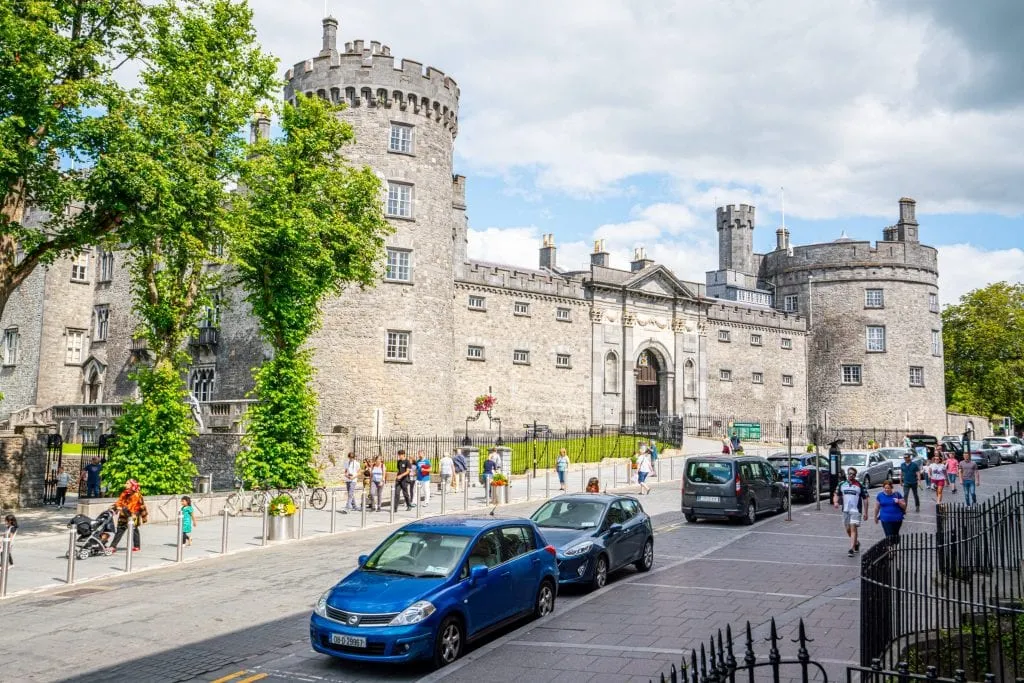 New Ross
One of the best things about traveling is visiting places to expect to like, but instead fall completely in love with–and on our most recent trip to Ireland, that was us and the entirety of Ireland's Ancient East… starting with New Ross.
Located right on the River Barrow (you can't miss the Dunbrody Famine Ship parked along town as you drive up!) and within easy reach of the highlights of County Wexford and County Waterford, cheerful New Ross is a tiny little port town that makes a fantastic base (and the fact that we count our bed and breakfast there, Inishross House, among our favorite places we've ever stayed in Ireland sure helps).
Kinsale
Known as one of the most colorful small towns in Ireland and overlooked by not one, but two 17th-century fortresses, Kinsale is a ridiculously photogenic Irish village, and definitely worth a visit if you pass by during your trip!
While you're there, be sure to pay a visit to Charles Fort, check out Desmond Castle, admire the harbor views from Summercove, and, of course, snap plenty of photos of the incredibly colorful streets, which are bright even by Ireland standards!
Doolin
Most famous for being the gateway to the Cliffs of Moher, Doolin is an adorable small town that is well worth visiting in its own right.
Tiny and cozy, be sure to settle in for an evening at one of the village's delightful traditional Irish pubs (we're personally partial to McDermott's, but McGann's or Gus O'Connor's would also love to have you).
While you're there, also check out the nearby Burren Way, perhaps take a day trip to one of the Aran Islands, admire the colorful streets, and, of course, visit the Cliffs of Moher–you can even hike there from town if you're so inclined!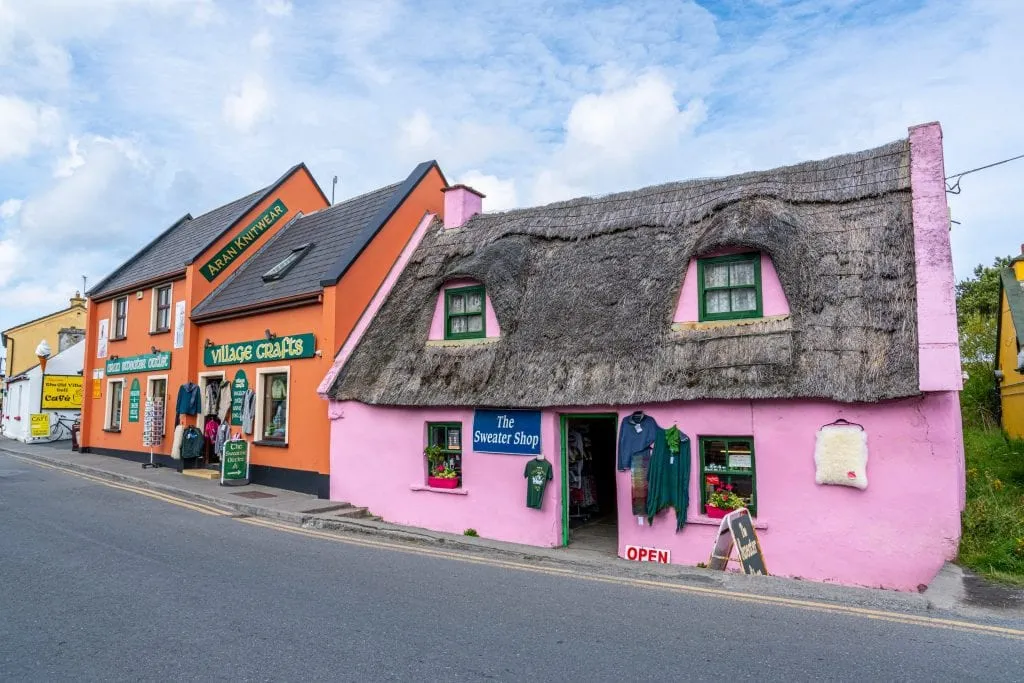 Dunmore East
Keep driving past touristy (and lovely) Waterford, and you'll eventually come to the tiny Irish village of Dunmore East.
Best-known for its beautiful beaches that are arguably among the best in Ireland, this little fishing village is the perfect detour when exploring Ireland's beautiful (and in our opinion, underrated) Ancient East.
Cobh
Beautiful, colorful Cobh is one of our favorite small towns in Ireland.
Perched on the edge of the sea, tiny Cobh (pronounced "Cove") has been historically significant for centuries as a place where many Irish people left the island as emigrants, both willingly and by force, and today is home to a compelling local museum telling their story.
It was also the final port of call of the Titanic before the ship and its occupants met its tragic, watery end.
More cheerfully, Cobh is home to the colorful street of 19th-century homes known as the "Deck of Cards" which, when admired with the gorgeous St. Colman's Cathedral rising out of the village behind them, make for a picture-perfect view, and it is easy to see why Cobh is counted among the prettiest villages in Ireland.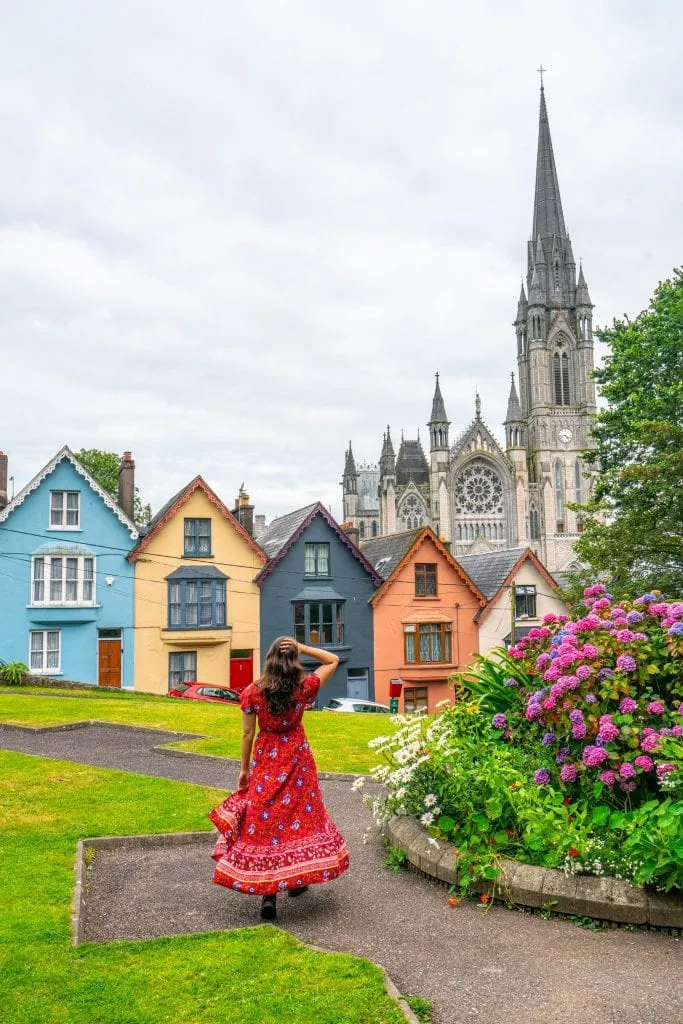 Westport
As the hometown of one of the most famous female pirates in history, Westport is bound to be an interesting place–but it's a beautiful one, too, featuring a lovely Georgian town center in addition to the fascinating manor house the Grace O'Malley once called home.
Located in arguably under-touristed County Mayo, Westport also makes a fabulous base for exploring some of the natural beauty of Ireland's west coast. You can take beautiful drives from Westport, and experience everything from exploring Clew Bay to climbing Croagh Patrick to visiting the absolutely majestic Achill Island.
Ballyferriter
Absolutely minuscule and yet incredibly charming, the tiny town of Ballyferriter is located on the far edge of Slea Head Drive, just about as far west as you can get on the Dingle Peninsula.
Colorful, quaint, and somewhat isolated (as much as one can be on the relatively small island of Ireland, anyway), Ballyferriter is home to many Irish speakers and is one of the few places left where you can hear the Irish language spoken in general conversation.
Students fill up the town during the warm(er) summer months to learn the language, but overall, the village remains a quiet place and the perfect spot to grab lunch when road tripping Slea Head Drive.
Castletownbere
Also known as Castletown Berehaven, this fishing village is located along the delightfully under-the-radar Ring of Beara, making it the perfect of these small towns in Ireland for travelers looking to get off the beaten path and avoid the crowds that fill up more popular spots.
If you'd like to stay overnight somewhere along the Ring of Beara, colorful Castletownbere is an excellent choice, but even daytrippers will enjoy a stop here–be sure to stop by McCarthy's Bar, which is home to tasty food and also has a bit of a claim to fame as a featured spot in the book version of McCarthy's Bar, the memoir by comedian Pete McCarthy (not my kind of humor, as it turns out, but I did give the book a try after our visit!).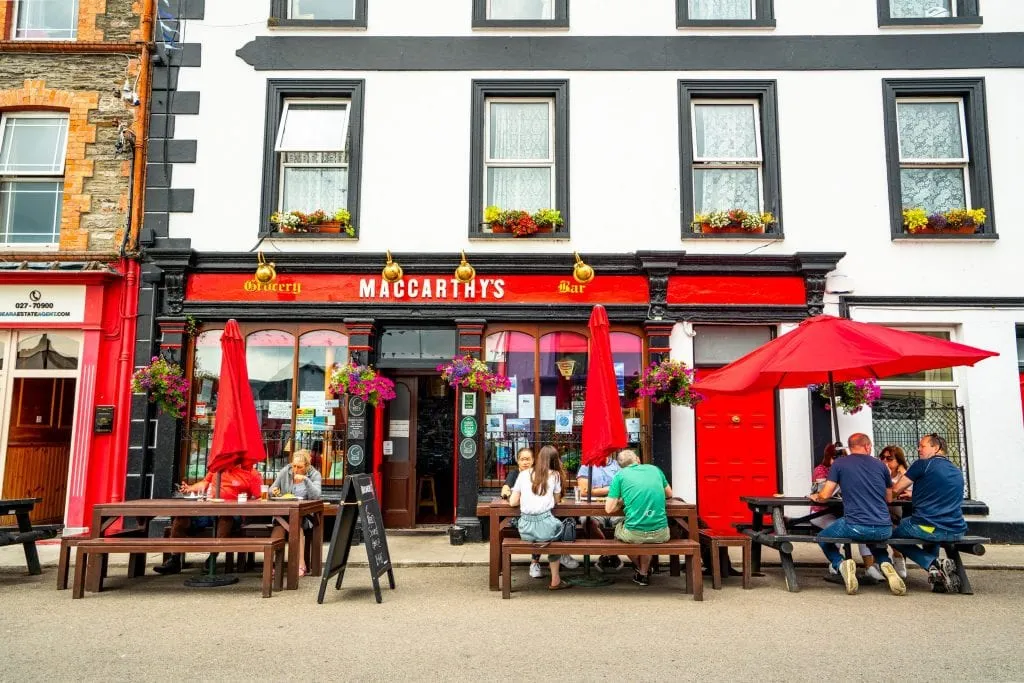 Howth
Located less than an hour from Dublin, the adorable fishing village of Howth is among the easiest of these small towns in Ireland to visit on a very short trip to the country, and you can even visit this village in Ireland by train!
Be sure to stroll through Howth's beautiful harbor, check out the local market, and enjoy views of Howth Castle.
Of course, the real star of the show in Howth is a bit outside the village: the Howth Cliff Walk and Howth Lighthouse are absolute stunners, and any visit to Howth should be sure to include them.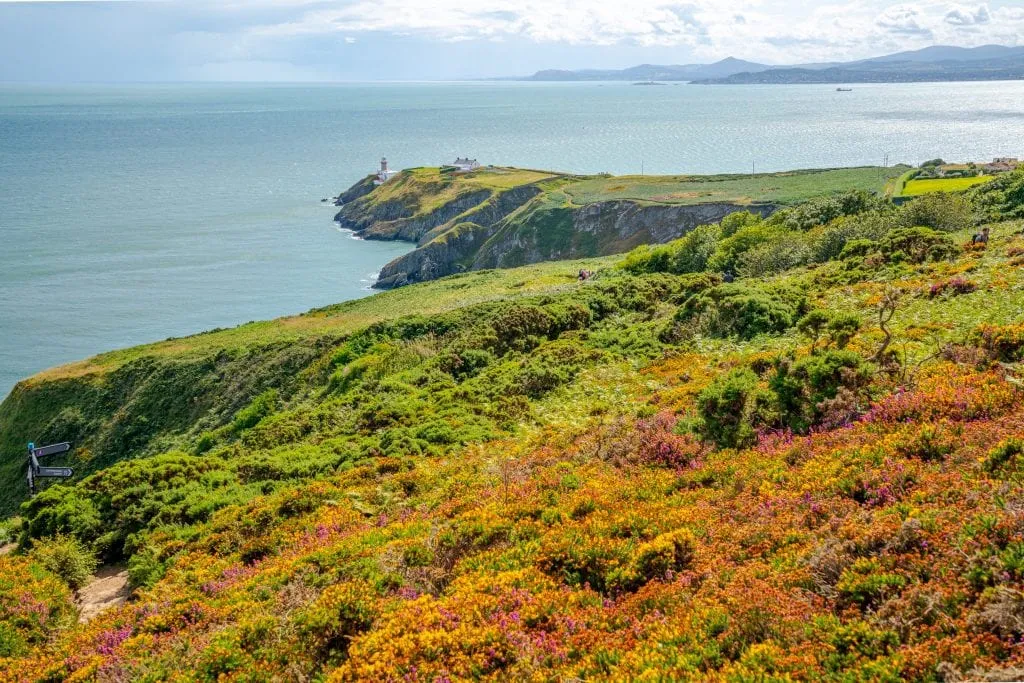 Cashel
Best-known for the phenomenal Rock of Cashel that is perched above the town, Cashel itself is an adorable blink-and-you'll-miss-it village.
While you're there, of course, you can't miss touring the phenomenal Rock of Cashel, but be sure not to miss the beautiful (and free to visit) Hore Abbey located a bit outside of town as well.
Prettiest Villages in Ireland Map
---