Ireland is an absolutely phenomenal place to travel, but its famously temperamental weather and the sheer variety of available things to do can make putting together the perfect packing list for Ireland a bit tricky–especially if you want to avoid lugging around extra gear!
We've now spent more than a month exploring Ireland in-depth over multiple trips, and have walked away with quite a list of recommendations for your Ireland packing list, including must-have gear, what to leave at home, and what to wear in Ireland.
Trying to decide what to pack for Ireland, and worried that you're forgetting something (or bringing too much?).
We've got you covered.

Here's exactly what to bring to Ireland, including some of our personal favorite clothes and accessories!
Some links in this post may be affiliate links. If you make a purchase through one of these links, we may earn a small commission at no extra cost to you. Please see our

disclosure policy

for more detail.
The Absolute Essentials for Your Packing List for Ireland
Passport — Without a doubt, your passport is the most important item on your Ireland packing list–good luck visiting without it!
Travel Insurance — We don't ever suggest traveling without travel insurance–anything can happen, and visiting (and probably road-tripping!) Ireland is definitely a time to be better safe than sorry. We use and recommend Safety Wing for trips to Ireland.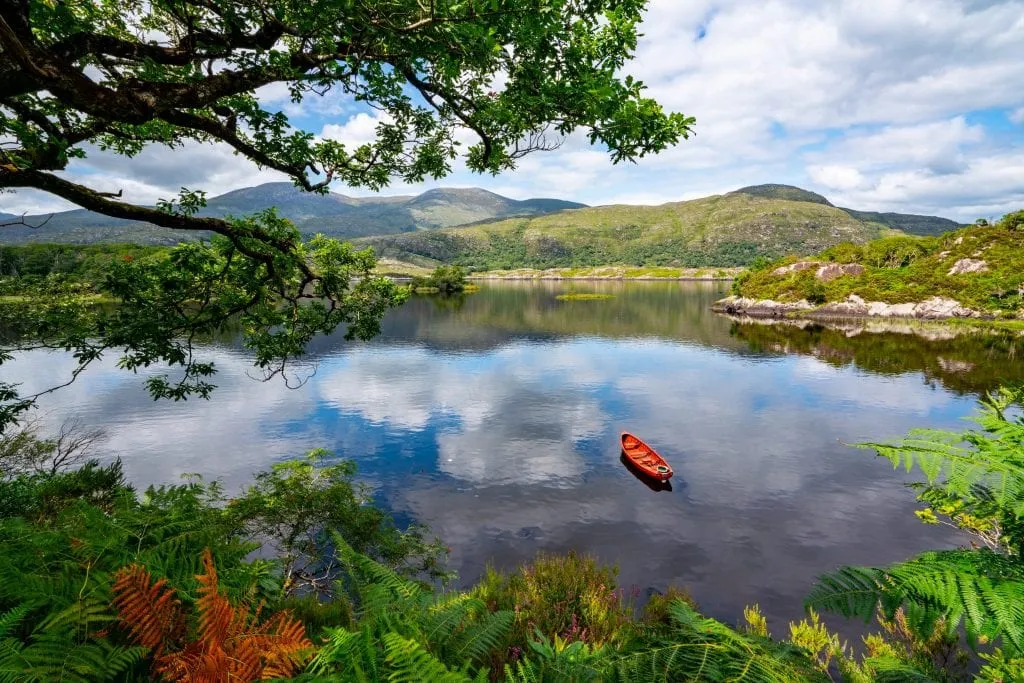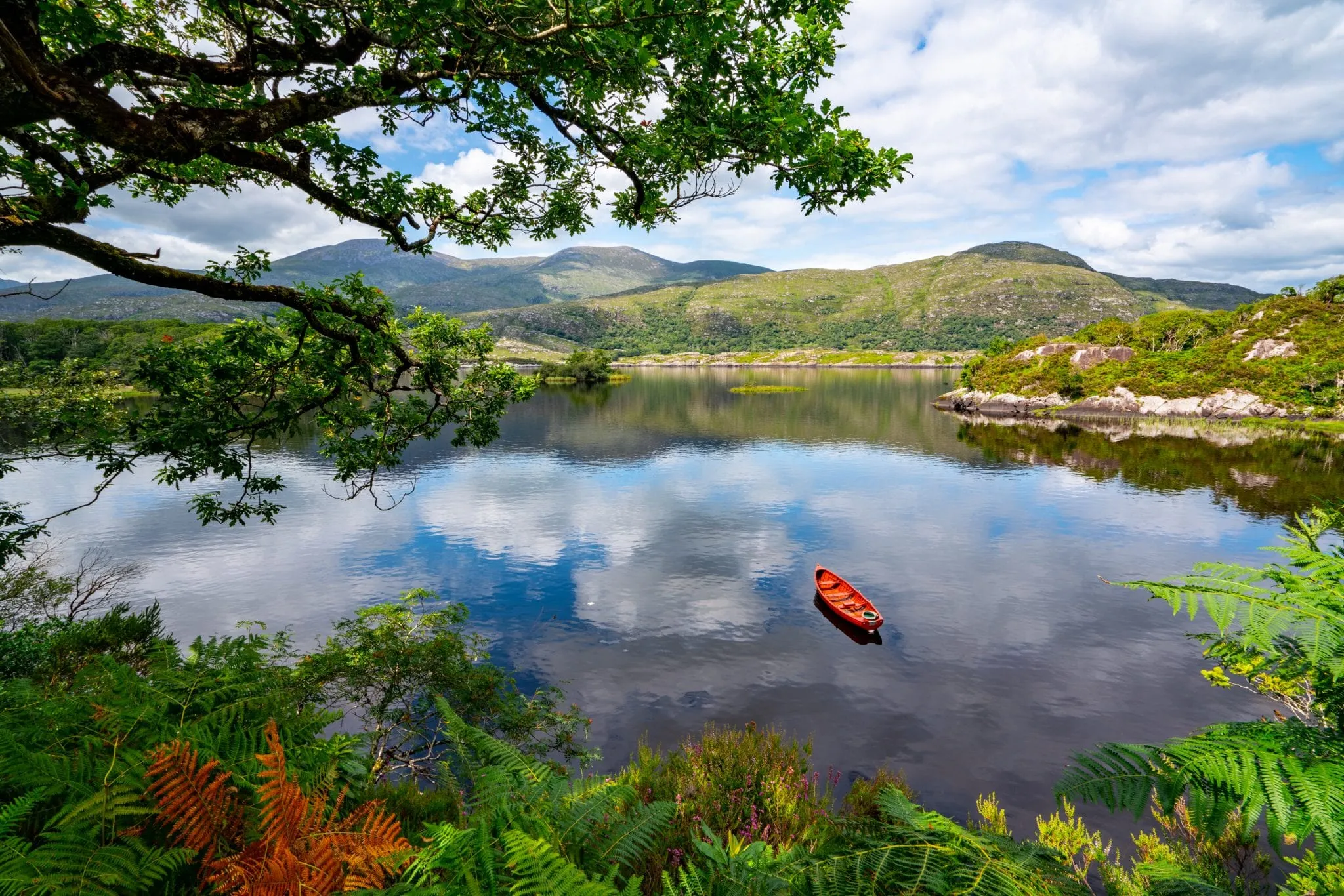 Visa (If Needed) — Generally speaking, most readers of this website, including citizens of the USA, UK, Australia, and Canada, can enter Ireland for tourism purposes for up to 90 days without a visa.
However, as always, be sure to double-check these regulations before packing your bags for Ireland–though we doubt there will be dramatic changes to this policy in the near virtue, it's always best to dot your i's and cross your t's where visas are concerned!
Money — We recommend bringing two credit cards (one to use, and one to keep as a backup), and two debit cards. Ideally, bring cards with no foreign transaction fees. We've never felt it necessary to obtain currency before arriving in Ireland (we just withdraw from an ATM when we get there), but you can purchase currency in your home country traveling if it makes you feel more comfortable.
Note that the Republic of Ireland uses the Euro, but as Northern Ireland is part of the UK, it uses the Pound Sterling. If your trip will take you to both parts of the island, be prepared to change currencies during your trip!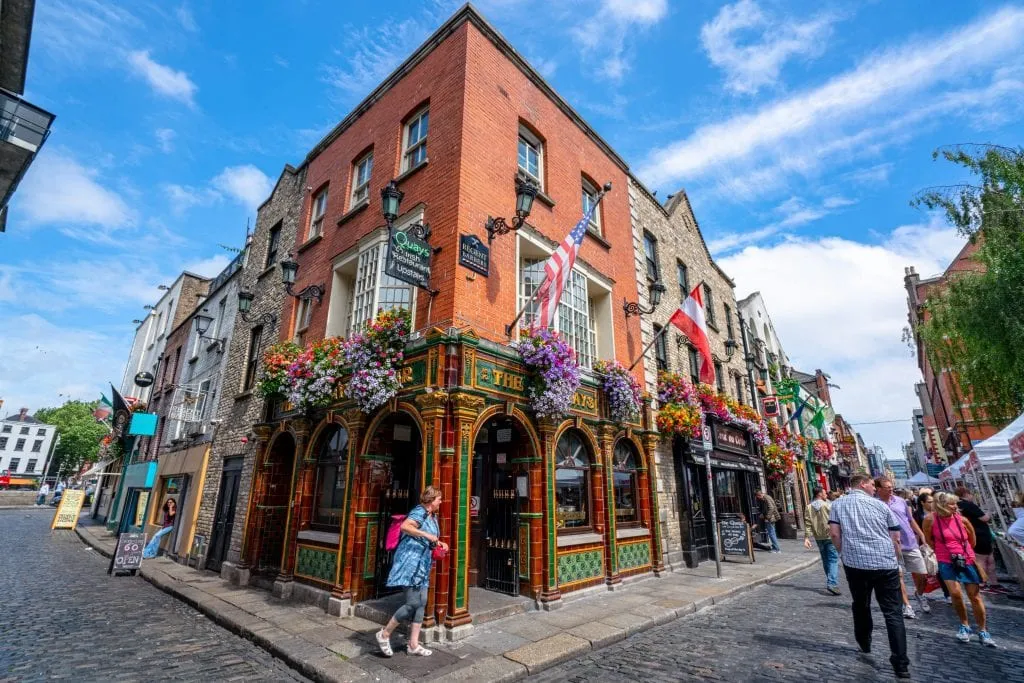 Proof of Age of Driver's License — On both our trips to Ireland, we've run into issues when renting a car where proof of a license of a certain age (we've seen 1-4 years old) is a requirement to rent a car–which is tricky for those of us hailing from states in the USA where the "issued date" on our driver's licenses is the date it was last renewed, not the date we were first licensed to drive.
Read your rental contract carefully before taking off for Ireland, and if you're worried, consider bringing extra proof of your driving experience along–at the recommendation of our rental company, we brought some of Jeremy's old/expired licenses with us on our most recent trip.
Travel Gear You Should Definitely Pack for Ireland
Umbrella
— Given its notoriously rainy reputation, it's safe to say that a travel umbrella belongs at the top of any packing list for Ireland.
That's not the only rain gear you'll want to have, though–more on that below.
Camera — We completely adore our Sony a7R III, but whatever camera you're comfortable with works–just make sure you have something with you to preserve your memories!
Travel Adaptors for Ireland — Ireland uses the same plugs that the UK does–and note that these are different from the bulk of mainland Europe (you'll want to specifically select the Type G UK adaptor).
Double-check you add the right ones to your Ireland packing list! We use these and have never had any issues.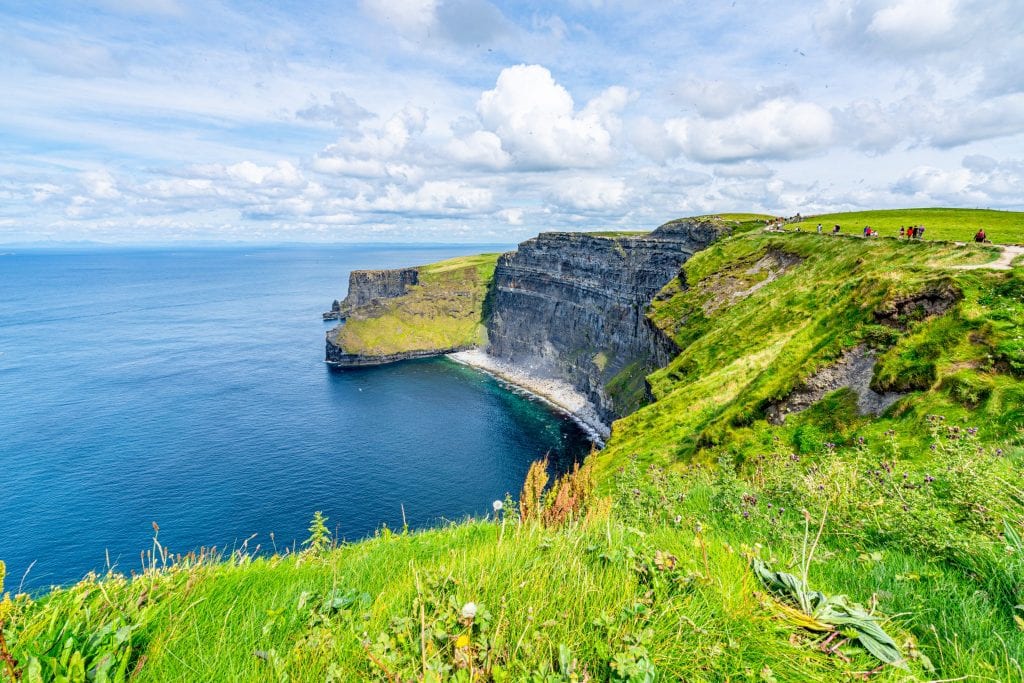 Portable USB Charger
— Don't stress about your phone dying while you're sightseeing (or hiking!) in Ireland: bring a USB charger along for the ride.
Pacsafe
— Generally speaking, we can't recommend our Pacsafe
enough: this travel safe is affordable, sturdy, easy to pack, and will help keep your valuables safe in your hotel room. However, honestly, Ireland feels extremely safe, so if you're not the type to over-optimize security, you may not want it here–but that being said, theft can happen anywhere, and if it will ease your worries, definitely consider bringing it along.
Nalgene
— Cut down on plastic waste during your trip to Ireland and bring a reusable water bottle instead!
Tote Bag
— Incredibly light and easy to pack, a tote bag can serve as a grocery bag, beach bag, laundry bag, or just about anything else. They're incredibly handy and we recommend adding one to your packing list for Ireland. We've been carrying ours for years and it never stops coming in handy, including on our most recent visit to Ireland (it served as our laundry bag + "don't want to repack all our bags today so will just throw extra clothes in the car in this" bag).
Swiss Army Knife
— We love having our Swiss Army Knife along when traveling, and picnics during an Ireland road trip are the perfect excuse to use it!
Comfortable Day Bag — We currently use Pacsafe's sleek anti-theft backpack and love it, but if you don't want to shell out the cash for this trip, that's totally understandable. Just aim for something comfortable to wear, not flashy, and medium-sized–we used a Northface Jester backpack for years and loved it as well.
Student ID — If you're a student, you'll find a fair number of discounts at museums and attractions throughout Ireland by showing your Student ID, so be sure to bring it along!
Cell Phone — We spent more than a year traveling without working cell phones, just relying on wifi… and while that's completely fine, we would never go back. Consider purchasing an international plan for your cell phone (most carriers offer them), or, if you have an unlocked phone, you can just by a local SIM card once you land in Ireland.
Bear in mind that if you rent a car, having your cell phone handy and working will also allow you to avoid renting a GPS!
Purell Hand Sanitizer
— We carry this everywhere, and never been sorry to have it floating around in our day bag.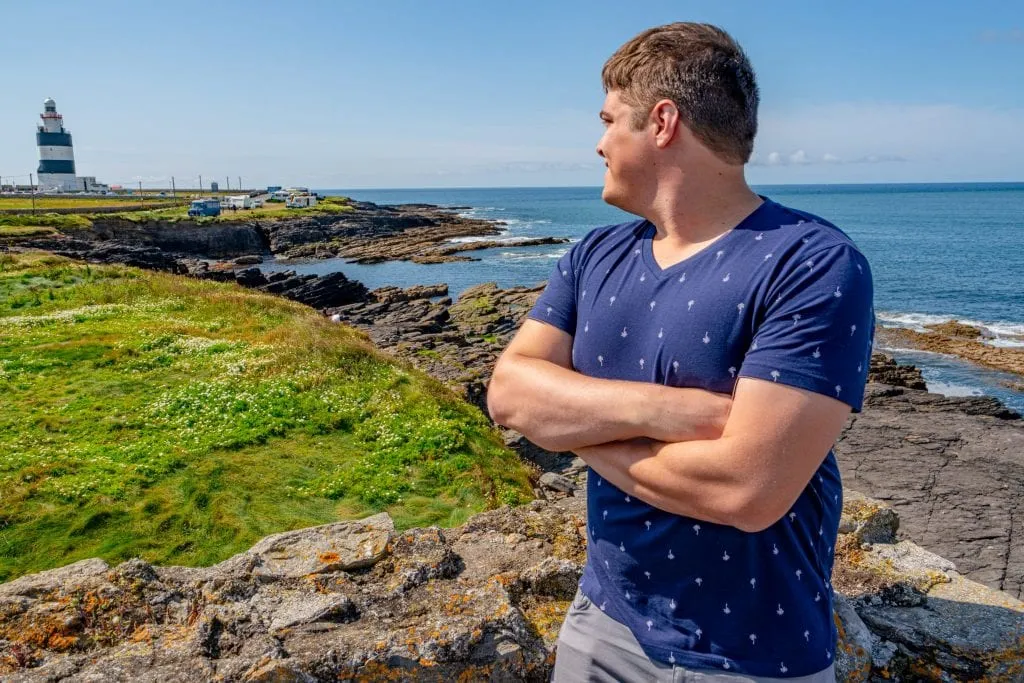 What to Wear in Ireland for Women
Dresses
Personally, I love to live in dresses most of the time, and casual dresses like this paired with these tights (or fleece-lined tights in colder months) are my go-to option.
Consider staying away from full maxi dresses outside of cities–if you wear a maxi dress to traipse around Killarney National Park or the Cliffs of Moher, there's a good chance the bottom of it ends up wet.
This dress isn't quite as long as a traditional maxi dress, and I loved wearing it on our latest trip to Ireland (but be warned–the slit is HIGH and it blows around a lot–definitely wear it with leggings or tights).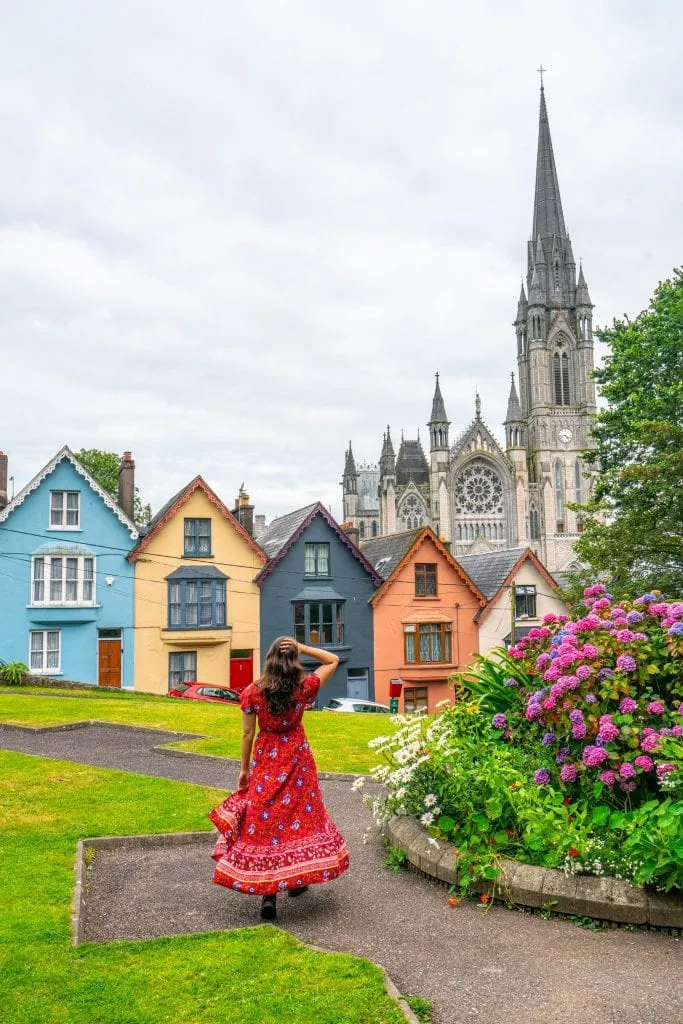 Tops
Even during the summer, light sweaters like this are a great option for Ireland, as are long-sleeved shirts like this.
Short-sleeved tops like this are also a cute choice, but you'll want to make sure to bring a jacket along with you for the day in case the weather turns!
I also loved having a more rugged, comfortable flannel for days spent out in nature–the perfect combo of cute and cozy. Mine is similar to this.
Though Ireland is of course not a Nordic country, Nordic sweaters are also a cozy look that I think is perfect for Ireland–the patterns look beautiful against the countryside!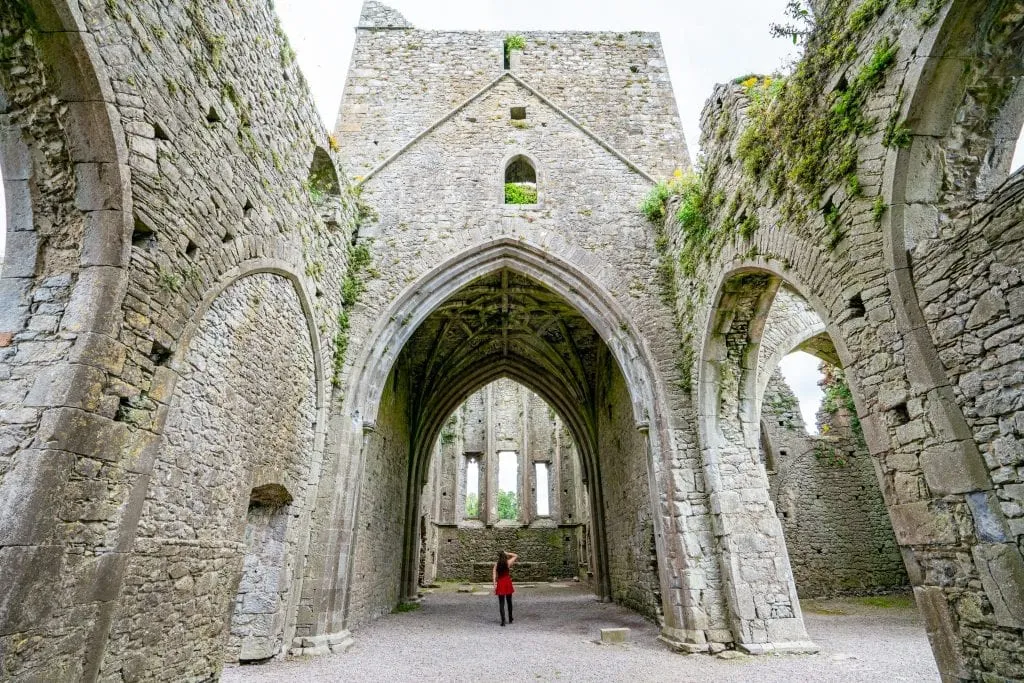 Bottoms
Leggings are a fantastic and cozy choice when deciding what to wear in Ireland–I love this pair and tended to throw them on whenever we had a long drive ahead.
Be sure to bring along a pair of jeans as well–this is my favorite pair–even in the summer.
Skirts like this layered with tights are also a great option for what to wear in Ireland!
I love these tights (they're super durable, very comfortable, and hold up forever), and I tend to wear them constantly under dresses and skirts. If you're traveling in the colder months, consider swapping these from your Ireland packing list for some cozy fleece-lined tights.
Shoes
In my opinion, waterproof boots are an absolute must-have item on your Ireland packing list year-round. They'll keep your feet warm and dry regardless of the circumstances, they're comfortable to wear, and they can be adorable, too!
This is my pair, and I absolutely love them. Even when my jeans got completely drenched (like just-climbed-out-of-a-pool levels of drenched) during a rainstorm in Dingle, they still kept my feet completely dry.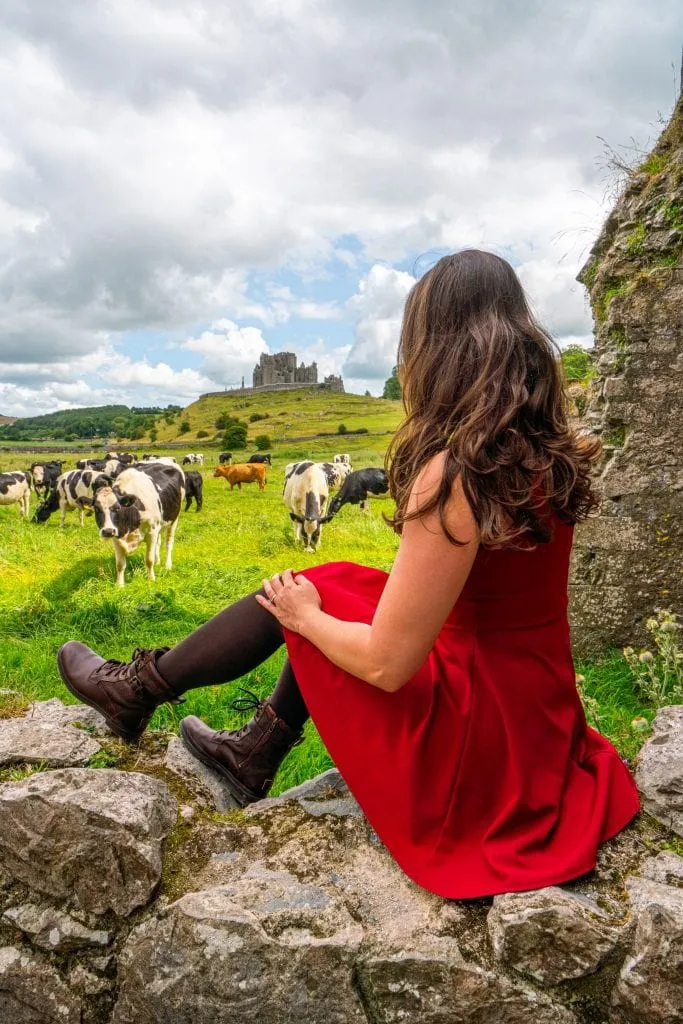 Jackets
First and foremost: any packing list for Ireland requires a rain jacket!
This is mine, and I love and recommend it. It folds up incredibly well to fit into your suitcase, it's comfortable and flattering for photos, and–most importantly–it's completely effective at keeping you dry.
You'll also want another comfortable, light jacket with you in the summer (I brought a very basic one similar to this on our most recent trip).
In the winter, you'll want something a bit heavier–think something like this. It doesn't get extremely cold in Ireland–you won't need a full-on down parka here–but you'll definitely want to bundle up.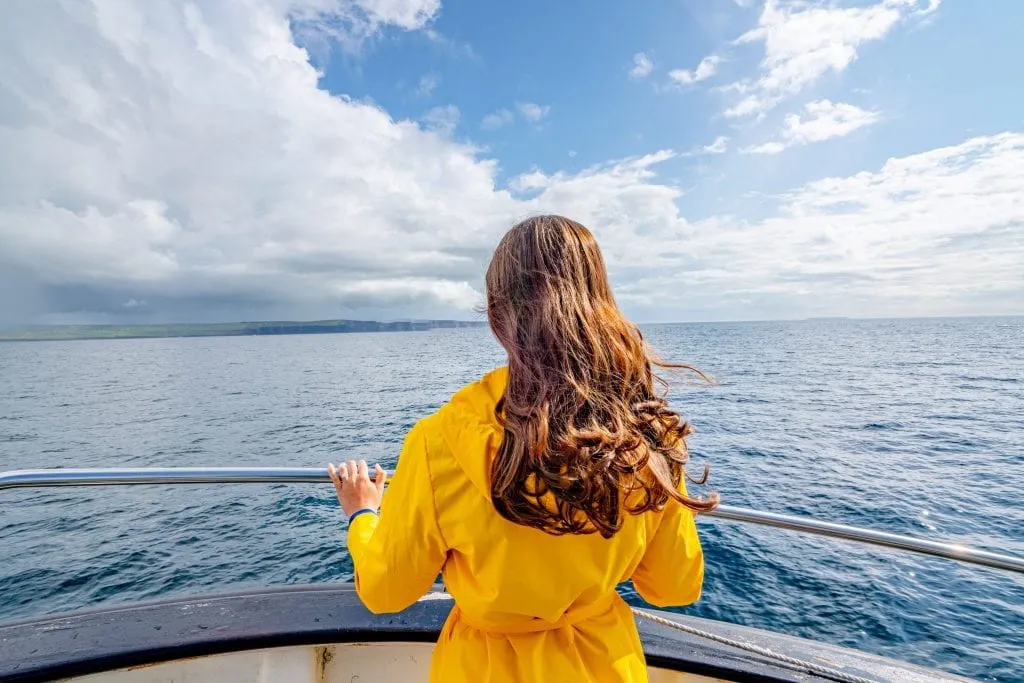 Accessories
For traveling in Ireland outside the summer, a scarf, cozy hat
, and gloves are an absolute must!
Even in the summer, a scarf is a great option to bring along–but keep in mind that souvenir stalls and shops selling Irish wool hats, scarves, and gloves (not to mention sweaters) are absolutely everywhere. If you want to bring home some wool souvenirs, you may want to consider holding off on packing these and simply picking them up while you're in Ireland!
If you're planning on hitting the spa while in Ireland, or you're just far more willing to jump into a chilly ocean than we are, consider bringing a bathing suit along to Ireland as well.
Though they're far from necessary, I also personally love these cuffs to mix up my look when wearing boots.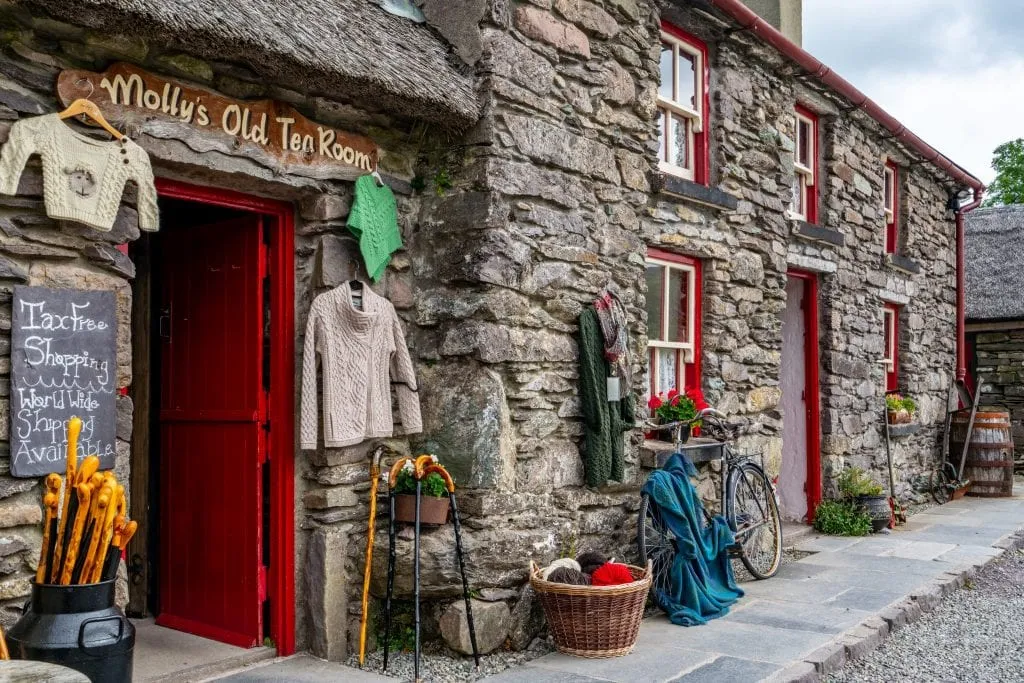 What to Wear in Ireland for Men
Tops
Light sweaters like this and long-sleeved shirts like this are great options for Ireland.
Short-sleeve t-shirts like this are also absolutely fine during the summer and are definitely Jeremy's preference (but maybe throw a light jacket or sweater in your day bag in case of a shift in the weather).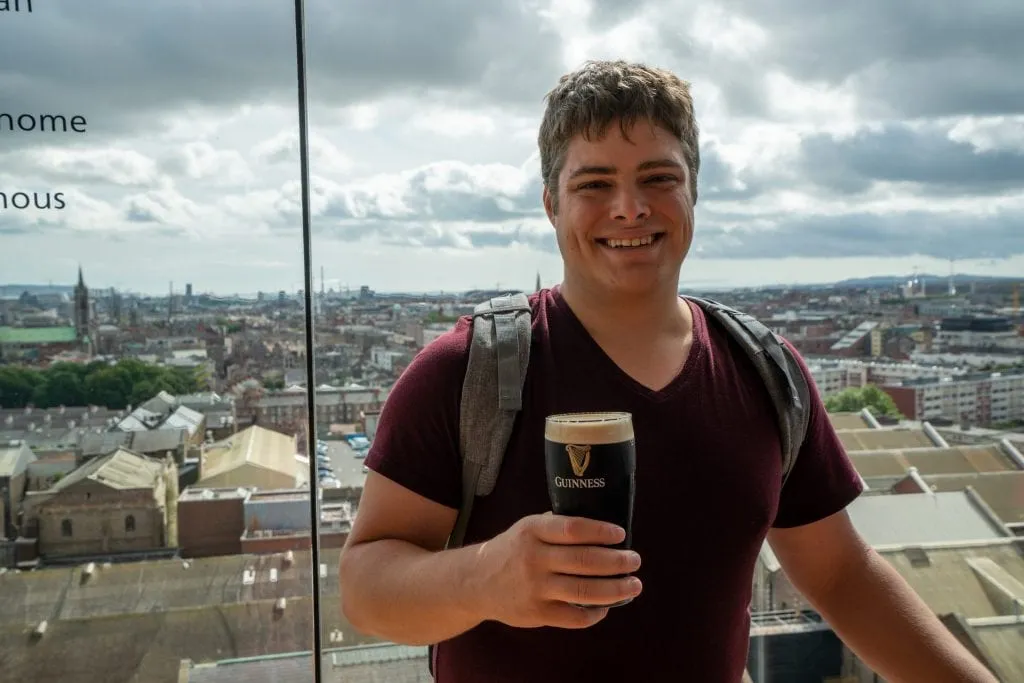 Bottoms
Casual chinos like these and a pair of jeans are just about all you need as far as pants in Ireland go.
If you're wondering what to wear in Ireland in the summer and are considering bringing shorts, you sure can, especially if you tend to get hot–but in a reversal from most of Europe, you'll see the occasional local wearing them, and very few tourists in them!
Generally, it stays cool enough in Ireland year-round that shorts aren't necessary.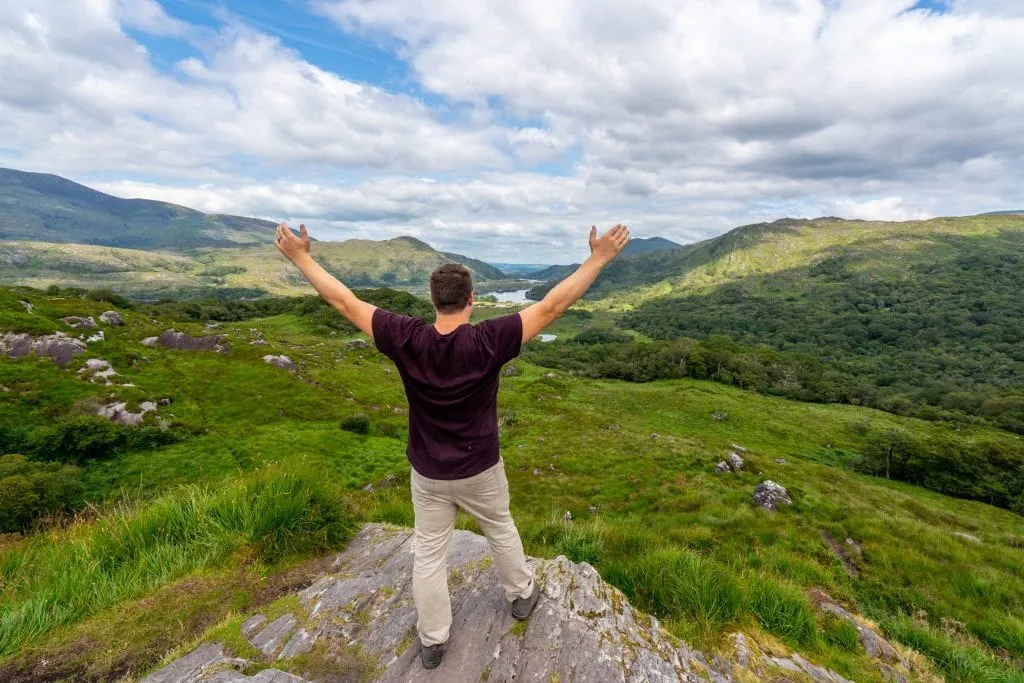 Shoes
You'll definitely want comfortable waterproof boots on your packing list for Ireland: Jeremy wore these for the entirety of our most recent trip and found that they were perfect for all occasions.
Jackets
Ireland's infamously rainy weather calls for a rain jacket: Jeremy opted not to bring one and definitely had plenty of regrets! This one is a great choice.
You'll also want a light, preferably water-resistant jacket (Jeremy likes this one), and if you're traveling in the colder months, a warmer coat as well.
Accessories
If you're packing for Ireland outside the summer months, a warm scarf, hat, and gloves are an absolute must!
If you're planning on hitting the spa while in Ireland, or you're just far more willing to jump into a chilly ocean than we are, consider bringing a bathing suit with you as well.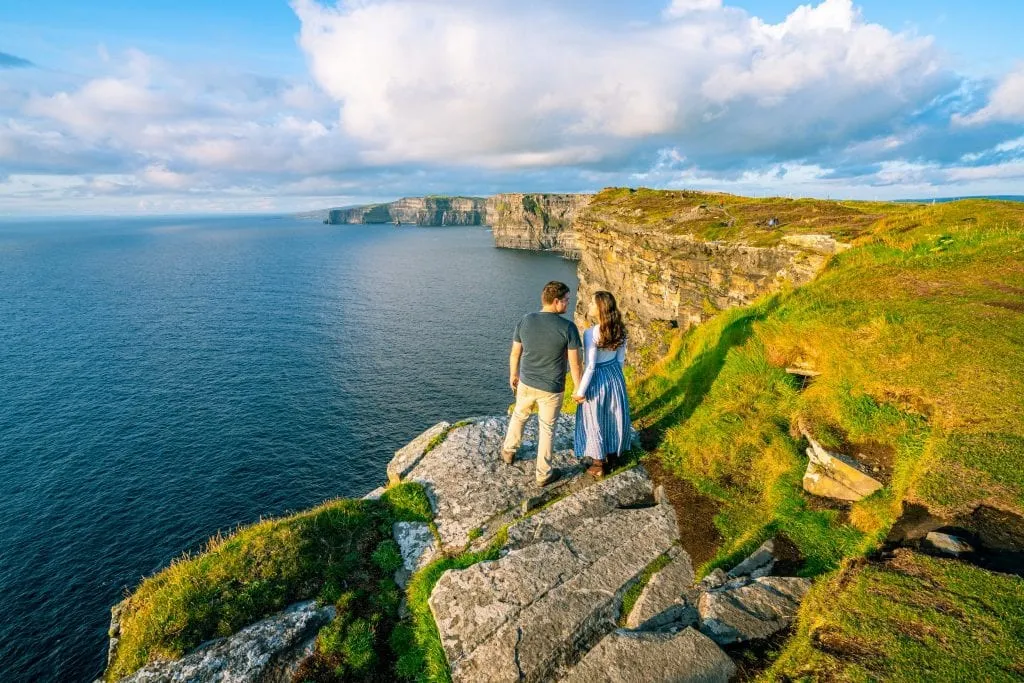 Other Important Items for Your Ireland Packing List
Binoculars — Coastal regions in Ireland are home to all sorts of delightful creatures, including a wide variety of birds (like puffins!) and beautiful dolphins. Binoculars are an inexpensive & easy-to-pack item for your Ireland packing list, and they'll greatly enhance your trip to the coast!
Sea Bands
& Non-Drowsy Dramamine
— Tend toward getting seasick but think that a boat tour or ferry might end up looking like fun during your trip to Ireland?
Definitely plan ahead and pack these as precautions! I'm always so glad to have it along, including on our recent ferry to Inisheer in Ireland.
Tripod
& Wireless Remote
— Though this isn't necessary, Ireland is an amazing place to have a tripod & wireless remote on hand with your camera. The wide variety of beautiful landscapes and ease of getting away from the crowds mean that group photo opportunities abound.
Extra Memory Cards
— You can never have too many, right? These are so small and simple to pack that it's a shame not to bring backups.
Money Belt — This is up to you: we no longer use a money belt, but if you're more comfortable having your passports on your person while exploring Ireland, you can consider bringing one. We used to use this one
and had no complaints. These days, we prefer just to leave valuables in our Pacsafe
during the day.
Travel Journal
— If you want to keep a travel journal during your trip to Ireland but don't want to commit to lots of writing, I can't recommend the One Line a Day Journal
enough–I've been using it for more than two years now and absolutely love it.
Basic Medication — Some people prefer to buy medication for basic headaches, fevers, and stomach aches as needed, but we prefer to bring our own along–no one likes tracking down pharmacies when they're sick, right?
---