Wandering alongside canals lined with half-timbered houses, sampling a delicious rösti in a cozy winstub, and even catching sight of a replica Statue of Liberty: the many fun things to do in Colmar, France are as varied as they are interesting.
Add in the fact that charming Colmar makes for an excellent launching pad for exploring the many picturesque villages and sweeping vineyards of the Alsace region, and it's no surprise that Colmar is one of the most popular getaways in northeastern France.
Colmar (and Alsace in general) is one of those places that we'll never be done re-visiting: it's simply too beautiful of a destination to stay away from.
From the loveliest neighborhoods to explore to the best museums to check out, here's what to do in Colmar, France!
Some links in this post may be affiliate links. If you make a purchase through one of these links, we may earn a small commission at no extra cost to you. Please see our

disclosure policy

for more detail.
The Best Things to Do in Colmar, France
Stroll through La Petite Venise.
La Petite Venise is the neighborhood that gives Colmar much of its fame today and absolutely deserves to be at the top of the list when you're deciding what to do in Colmar.
This section of the city is characterized by colorful, half-timbered houses lining beautiful canals, and the effect makes Colmar one of the most beautiful cities in France.
As idyllic as it may seem today, though, historically, La Petite Venise would have been anything but idyllic–it would have been quite pungent.
Exploring La Petite Venise means passing through what was historically the Tanners District, as well as what was historically the Fishmongers District!
Check out the Musée Bartholdi.
Colmar is the hometown of Auguste Bartholdi, a very famous sculptor whose best-known work lies far away from his native France–in the harbor of New York City!
The Musée Bartholdi is dedicated to the talented artist and celebrated son of Colmar that gave the world the Statue of Liberty, and is a very interesting place to visit.
Housed in the artist's birthplace, the museum shows off much of Bartholdi's work as well as personal effects and details about his long life.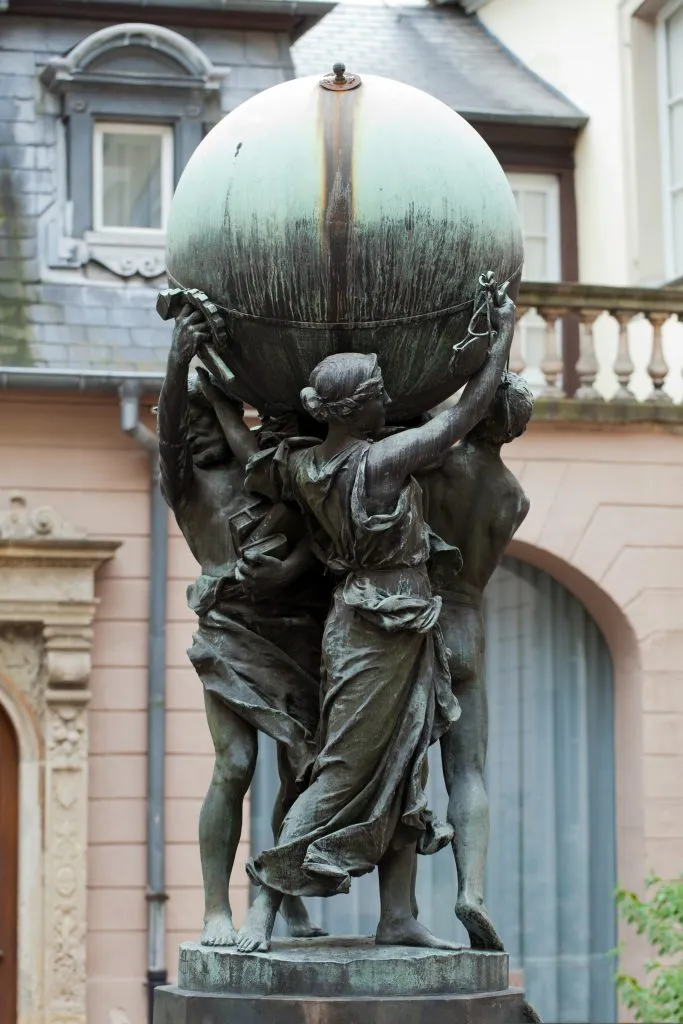 Take a canal cruise.
When it comes to canal cities, there's nothing like experiencing them from the water.
And, yes, a canal cruise in Colmar isn't quite the same as a gondola ride in Venice–but it is a great way to relax and enjoy a new perspective on the gorgeous architecture in Colmar's La Petite Venise!
Canal cruises here take place in small wooden boats and are just as picturesque as they sound.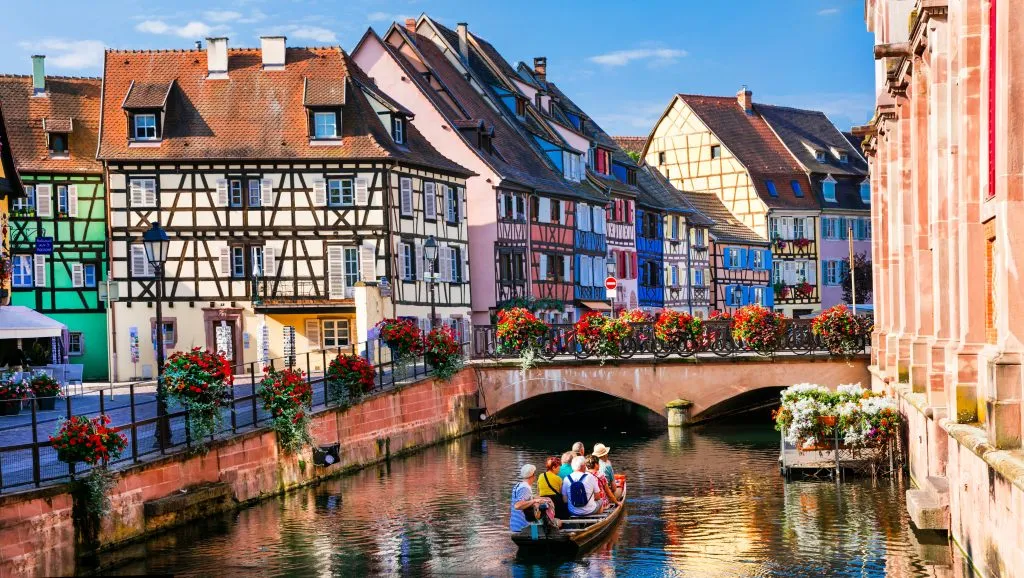 … and Colmar's Statue of Liberty.
Of course, a city that prides itself on being the hometown of Auguste Bartholdi wouldn't miss out on the opportunity to show a replica of his most famous work!
In the center of a roundabout on the north end of town, you'll find a 39-foot-high replica of the Statue of Liberty.
This isn't the easiest statue to photograph–I snapped this photo as a passenger in a moving car–but be sure to keep an eye out if you leave Colmar by car to explore more of Alsace.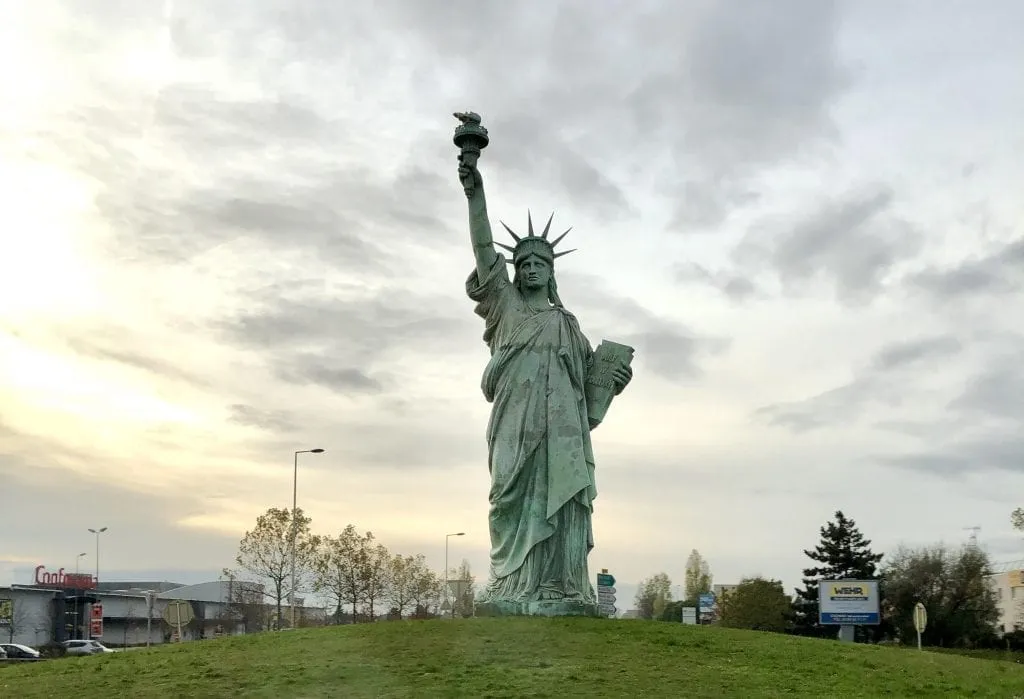 Stop by St. Martin's Church.
This primarily Gothic church located in the heart of town is incredibly beautiful, and a must-see attraction in Colmar!
Like many historic churches in Europe, St. Martin's Church owes its current architecture to a hodgepodge of time periods, including the main structure of the building that dates to the 13th century and its beautiful bell tower that dates to the 16th.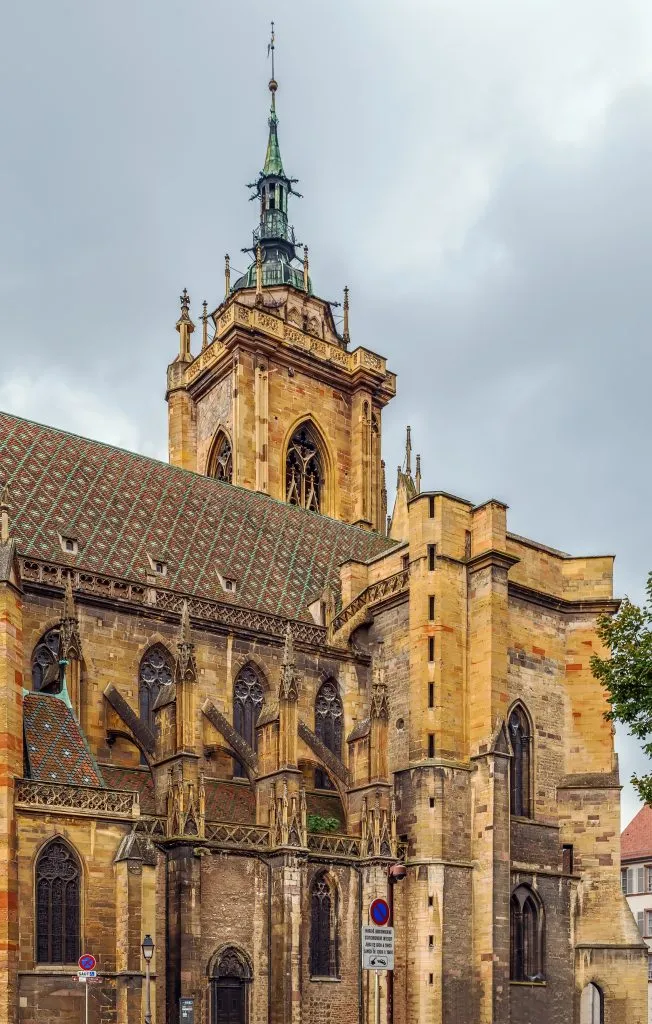 Visit the Covered Market.
It wouldn't be a French city without a market selling everything from vegetables to prepared food!
Located right on a canal near La Petite Venise, this indoor market is fun to visit during your time in Colmar.
If you happen to stop by on a Thursday, you can enjoy the nearby outdoor market as well.
Visit the Alsace Wine Route.
The Alsace region is known for its gorgeous wine country that lies right on the doorstep of its beautiful villages.
With sweeping views, plenty of tasting rooms, and lots of opportunities to the surrounding countryside by biking or hiking, the Alsace Wine Route is a must-see when visiting northeastern France.
While staying out in the countryside for a night or two is wonderful, you can also sample the best of the Alsace Wine Route as a day trip from Colmar!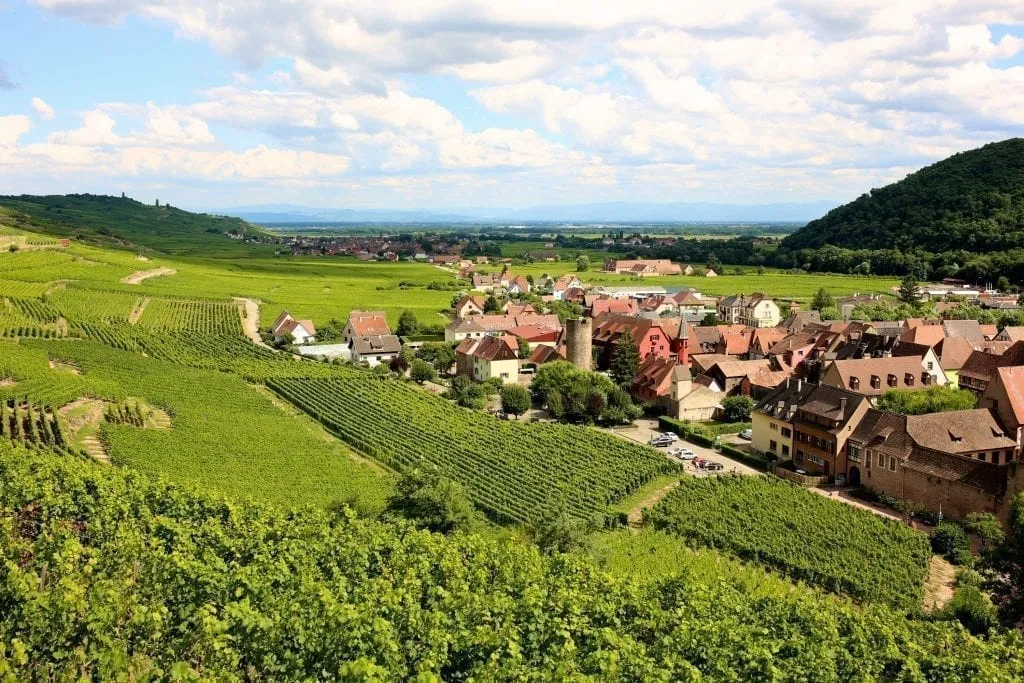 … or other Alsatian villages.
As gorgeous as Colmar is, plenty of still stunning, and yet even smaller, villages are located nearby, and no trip to Alsace is complete without visiting at least a couple of them!
The smaller villages of Alsace are absolutely enchanting, and each one boasts its own unique atmosphere, attractions, and views.
Some of our favorites include Eguisheim (which is conveniently located within bike-riding distance of Colmar), Riquewihr, and Ribeauvillé.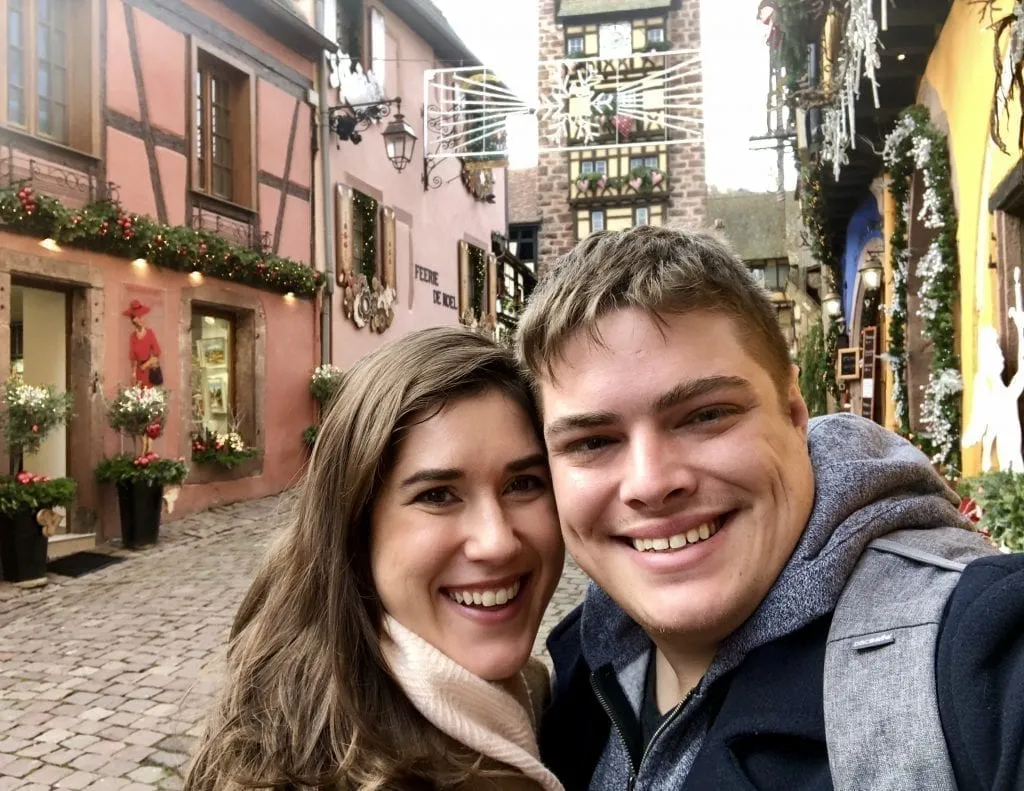 Explore some hearty Alsatian food at a winstub.
Winstubs are traditional Alsatian restaurants, and like Alsace itself, they feel like a cross between German and French cultures, with a little something extra thrown in.
Think of a laid-back German pub–low ceilings, exposed timber beams, low lighting, beer, comfort food like sausages, and pretzels–paired with a French country kitchen.
That's pretty much a winstub: they're cozy, they're relaxed, and they tend to serve incredible food.
It's hard to go wrong with ordering anything in winstub, but personally, we're partial to the hearty roestis–bonus points if they're made with Munster.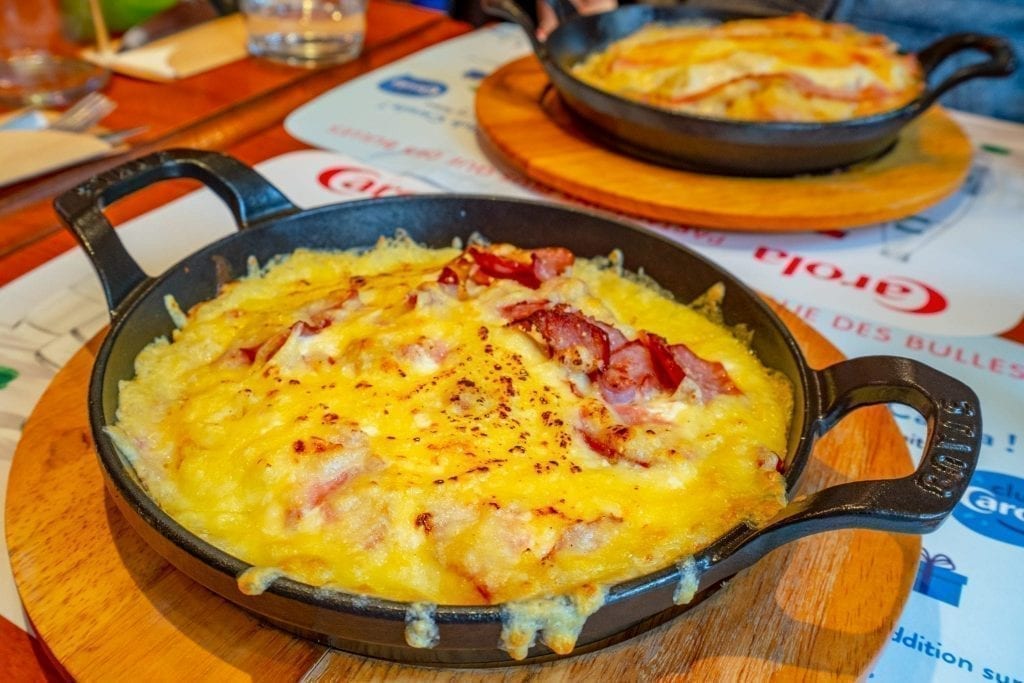 … and at a Michelin-recognized restaurant.
It's a testament to Colmar's status as a foodie destination that despite being home to a mere 70,000 people, 9 of Colmar's restaurants were recognized in the 2022 Michelin Guide in some capacity.
Colmar's foodie scene is packed with interesting options, and eating well at every turn is definitely among the best things to do in Colmar!
For a special treat, consider making reservations at a Michelin-recognized restaurant during your trip.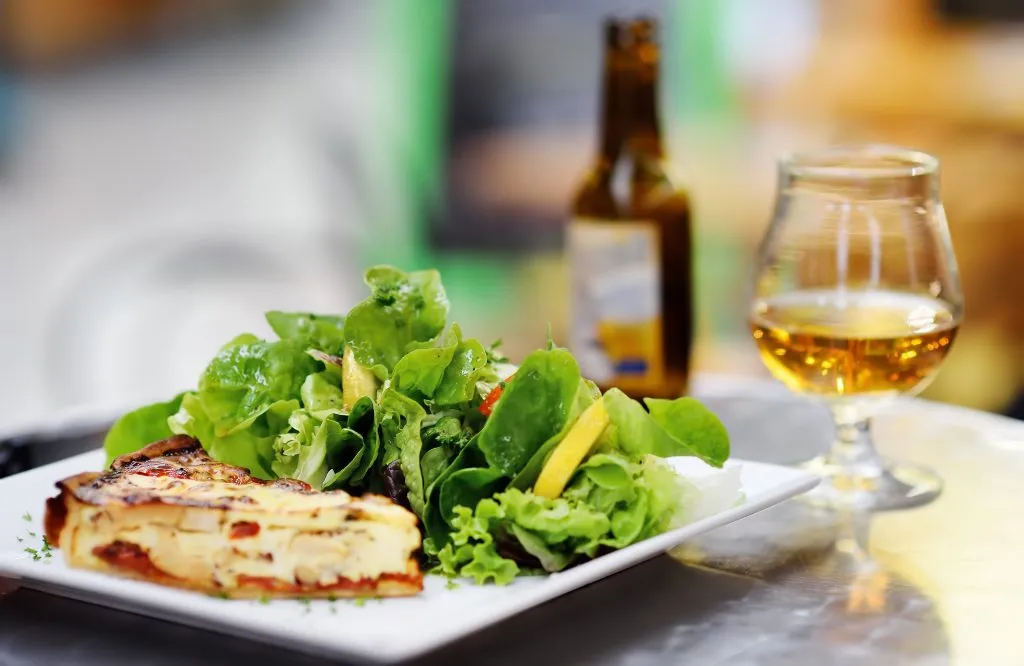 Visit the Unterlinden Museum.
The largest and most-visited museum in all of Alsace is located right in the heart of Colmar and is housed in what was once a 13th-century Dominican convent.
The Unterlinden Museum is home to a wide variety of art and artifacts, with a primary focus on art from the late Middle Ages and Renaissance.
If you're going to make time for one museum in Colmar, this is the one to visit!
Book tickets for your visit to the Unterlinden Museum today!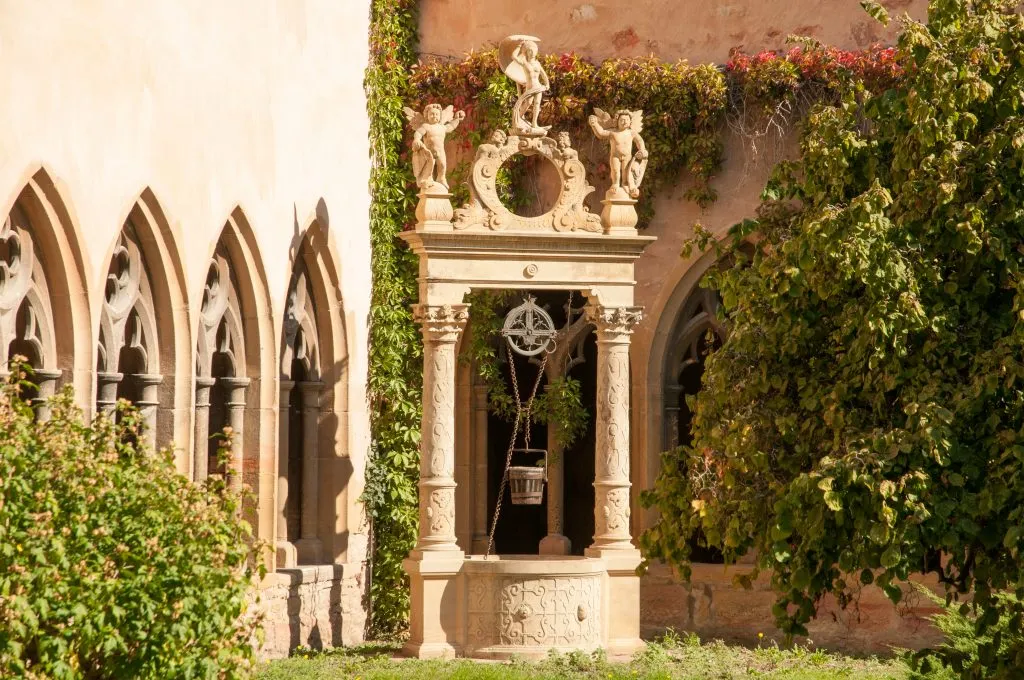 Wander through Colmar's Old Town.
One of the absolute best things to do in Colmar is simply to aimlessly wander it on foot.
You're bound to find something wonderful around every corner, whether that's a particularly unique piece of architecture, a great cheese shop, or a charming cafe.
Here are a few interesting places to visit in Colmar to keep an eye out for as you explore!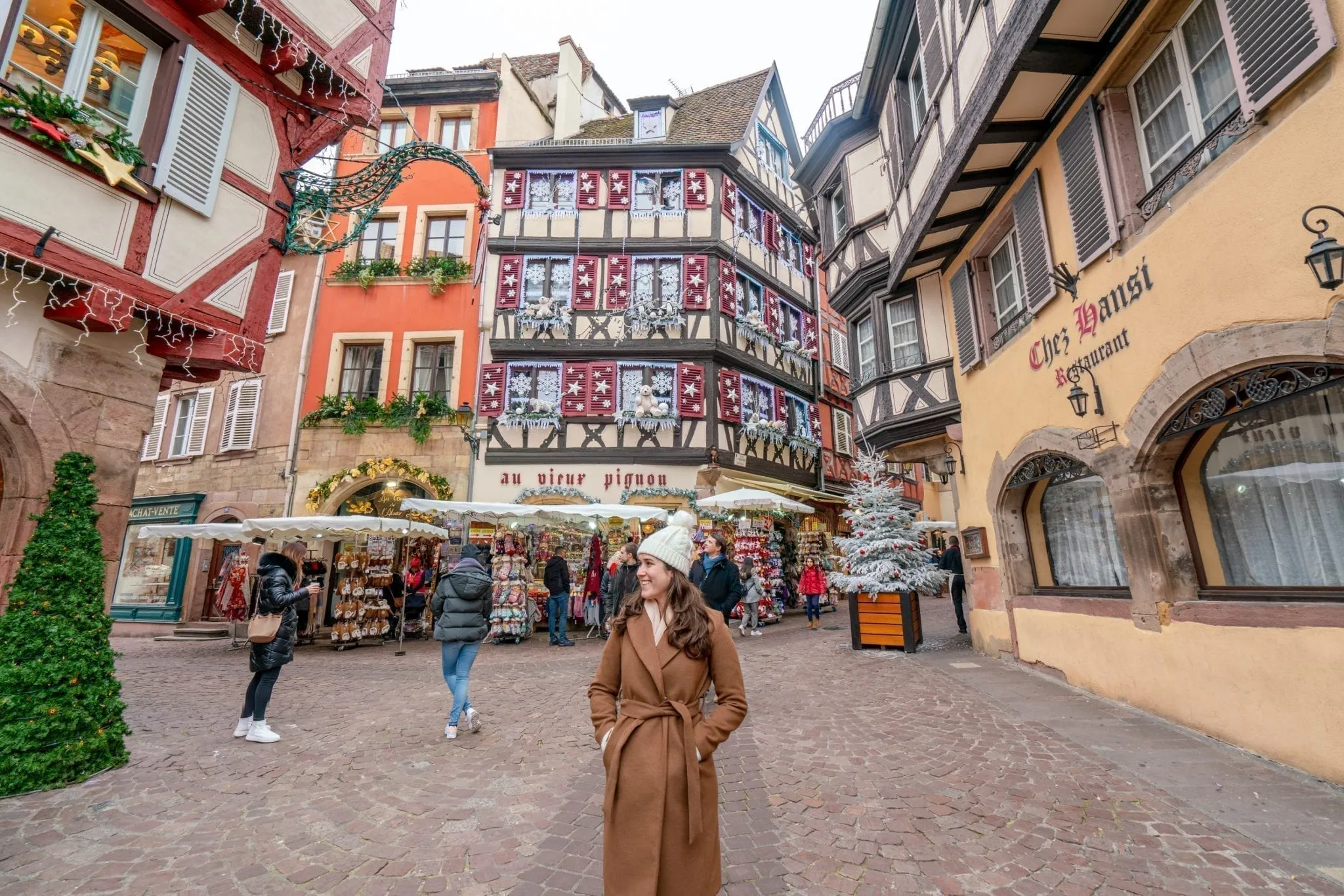 House of Heads
Built in 1609, the House of Heads is covered in downright eerie faces and masks.
It's definitely not a facade you'll forget anytime soon!
Pfister House
Clocking in at nearly 500 years old, the Pfister House is one of the best examples of Renaissance architecture in Colmar, and its painted facade is well worth seeing during your visit!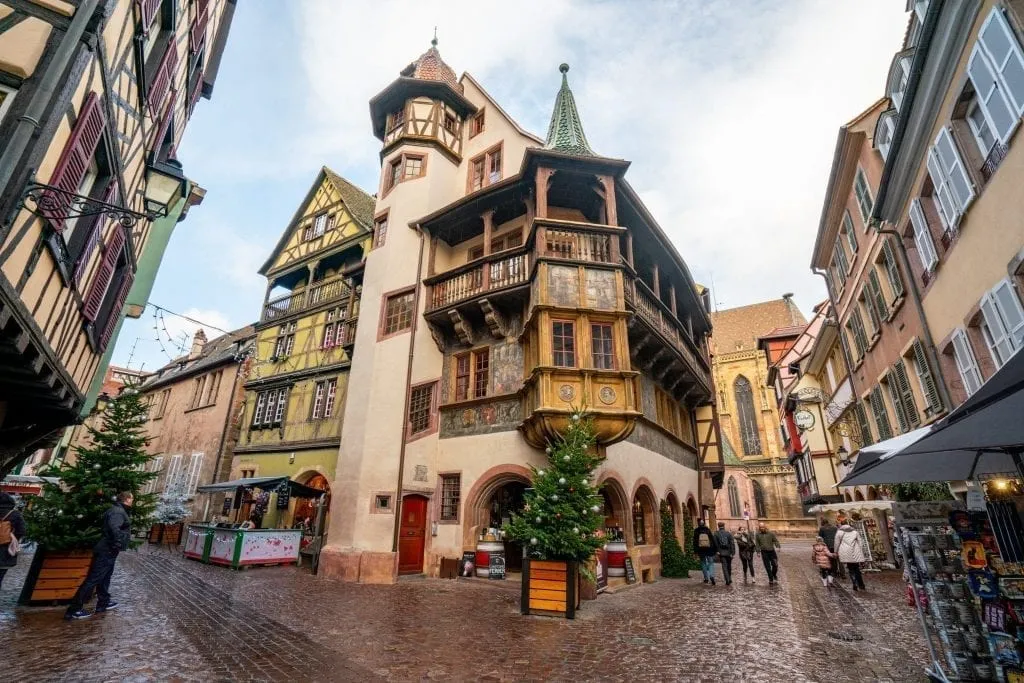 Check out the Toy Museum.
Covering children's toys from the 19th century through the modern-day, Colmar's Toy Museum is a whimsical museum in the city that is definitely worth checking out!
Old Customs House
The distinct tile roof of Colmar's Old Customs House is stunning and easy to find during your time exploring Colmar.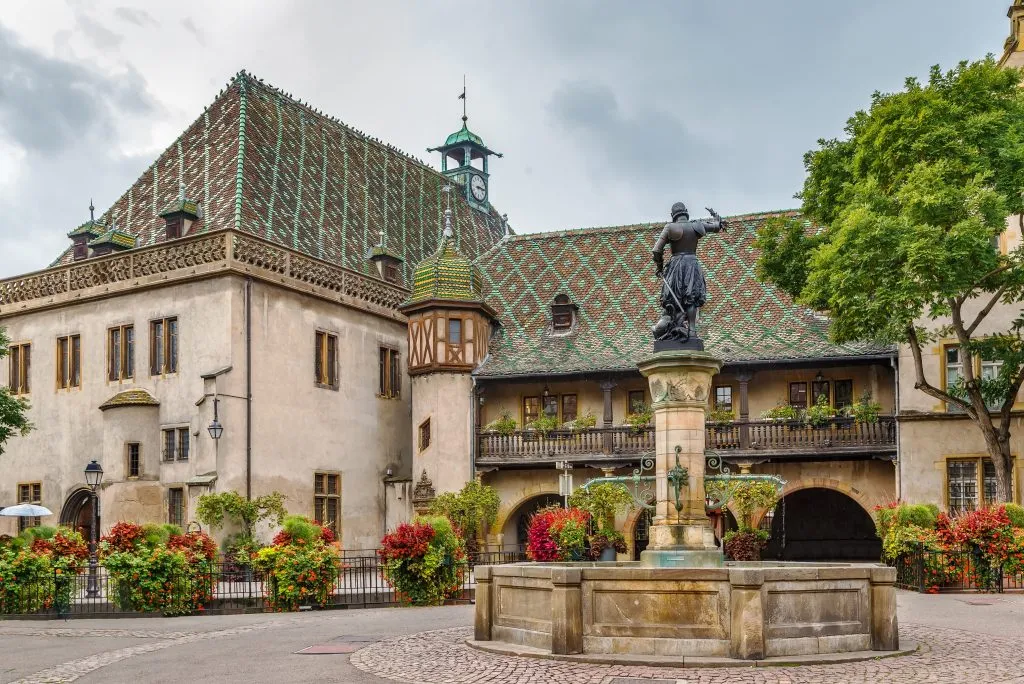 Last but not least: visit Colmar's Christmas markets!
Colmar is well-known for its fairytale-esque Christmas markets that take over the town each November and December, and they absolutely live up to the hype!
Alsace is deservedly famous for its Christmas markets, and Colmar is no exception.
With six markets to visit, countless decorations that go up throughout the town, and plenty of vin chaud to go around, Christmas in Colmar is a delightful experience and one that we highly recommend!
We have a full guide to visiting Colmar at Christmas here.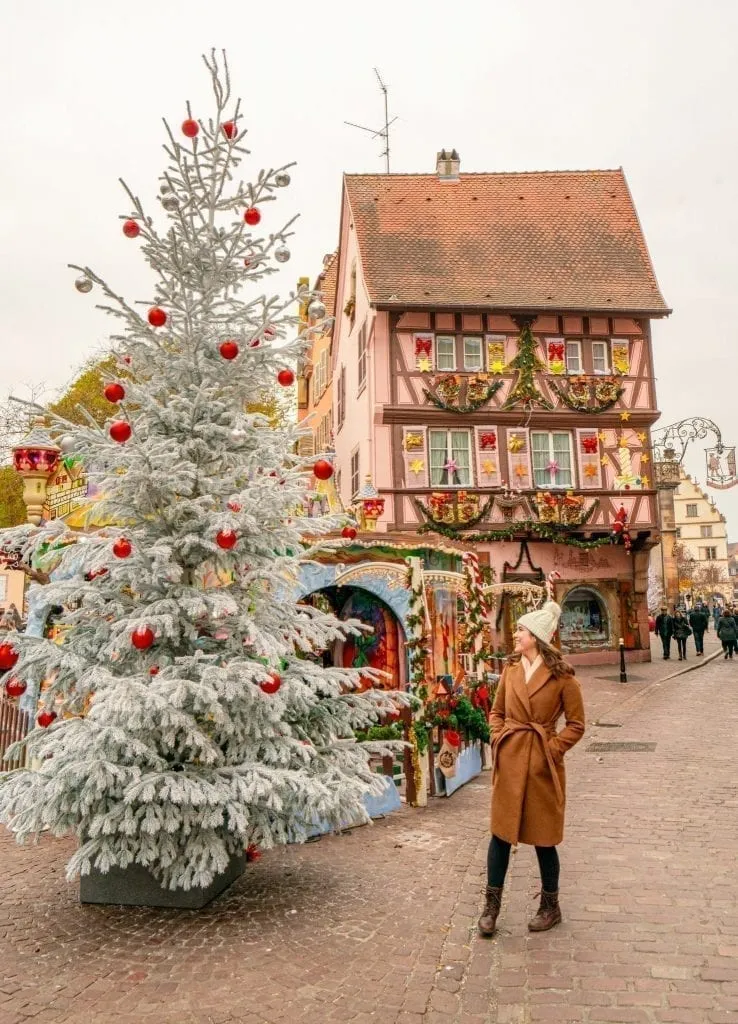 Where to Stay in Colmar, Alsace
Colmar is full of adorable places to stay, and we recommend picking one within walking distance of the city's top attractions.
Staying within the historic center itself is a plus, but not entirely necessary–there are lots of convenient hotels and guesthouses located just outside of the center, too.
Here are a few popular, well-reviewed places to check out when planning your trip to Colmar!
Budget
Ibis Budget Colmar Centre Gare — Basic, clean, and within an easy walk of both Colmar's train station and city center, Ibis is the perfect option for budget travelers visiting Colmar who want to prioritize a walkable location while not breaking the bank.
Mid-range
Paul & Pia Welcome Home Hotel — We loved this hotel in Colmar!
The rooms were spacious and incredibly clean, the staff excellent, the building refurbished to feel brand new, and best of all, the location was perfect.
Located on a quiet street just a short walk from both the train station and Colmar's city center, we couldn't have asked for a better place to stay during our most recent visit to Colmar.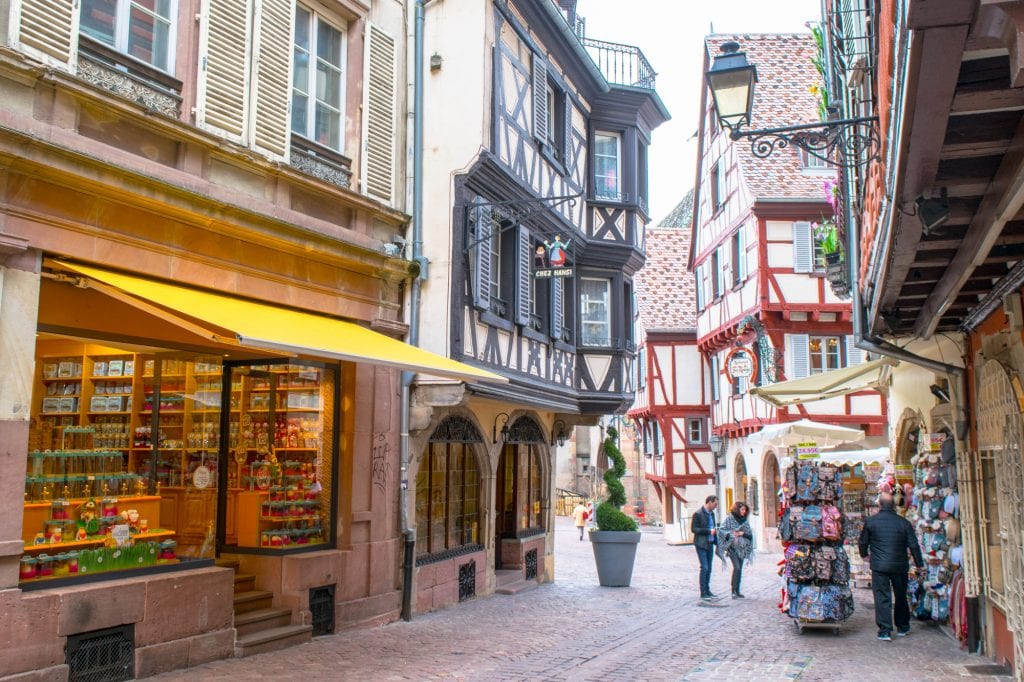 Luxury
Hotel Le Colombier Suites — Located in the heart of La Petite Venise, you can't ask for a more picturesque place to stay in Colmar.
Boasting beautifully decorated rooms, excellent customer service, and a wonderful included breakfast, a stay at Hotel Le Colombier Suites will ensure your trip to Colmar is incredibly relaxing.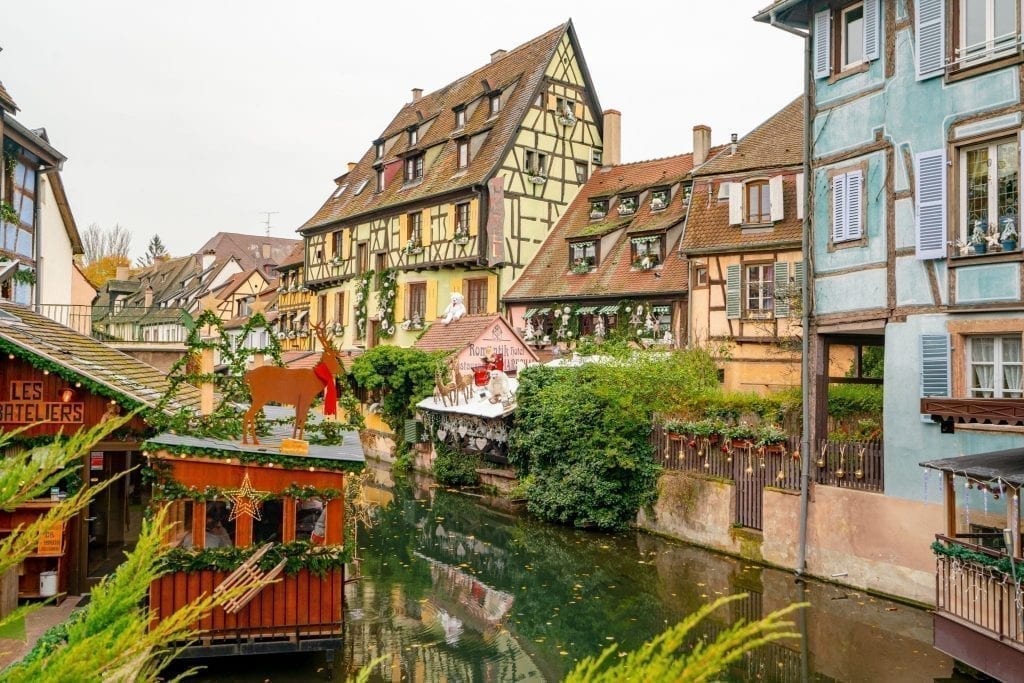 A Sample One Day in Colmar Itinerary
With only one day in Colmar, we recommend heading initially to La Petite Venise for a quick wander before then exploring the Old Town on foot, meandering semi-aimlessly through the beautiful architecture.
From there, pick which Colmar museum appeals to you the most and enjoy a visit.
After that, indulge in a classic Alsatian meal, whether that is at a Michelin-rated restaurant or a cozy winstub.
With only one day in Colmar, try not to get too caught up in traditional sightseeing–the best Colmar attraction is the city itself, and appreciating the atmosphere should be your biggest goal for the day (well, that and enjoying plenty of Alsatian food and wine).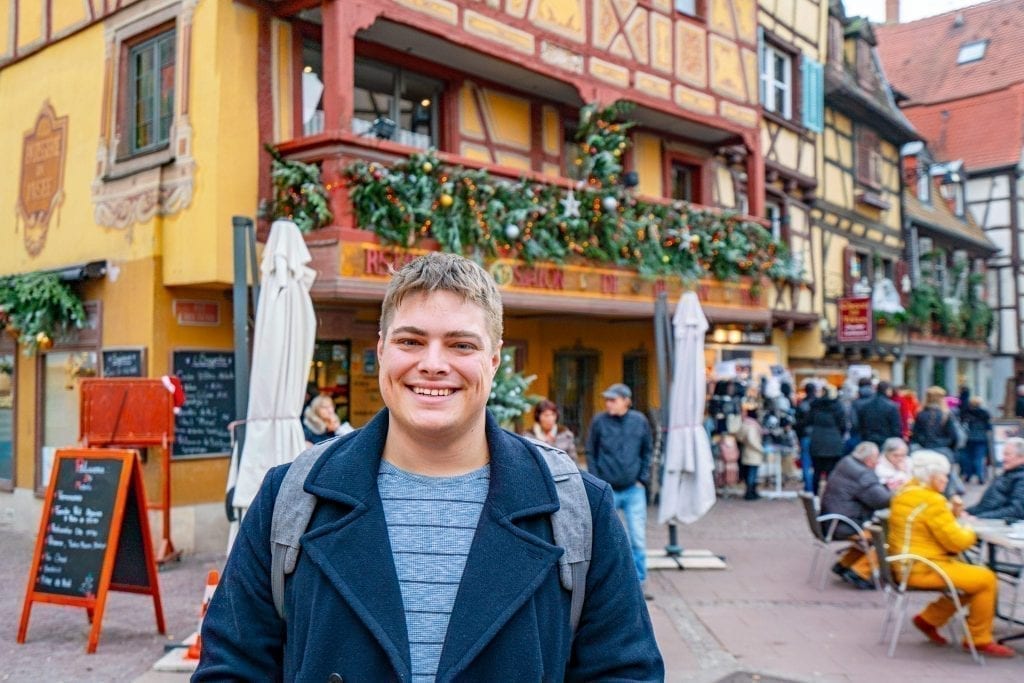 How to Get to Colmar, France
Colmar is easily accessible by train, and for most visitors, it will be the easiest way to enter and exit the city.
Most trains to Colmar will pass through Strasbourg, the capital of Alsace, and another fantastic place to visit.
From Strasbourg, it's another 30 minutes by train to reach the best things to do in Colmar.
However, the plethora of beautiful villages and excellent wineries in Alsace mean that this corner of France is also an excellent road trip destination!
If you're considering the idea of a road trip in France, Alsace is a wonderful option.
Shop train tickets to Colmar today!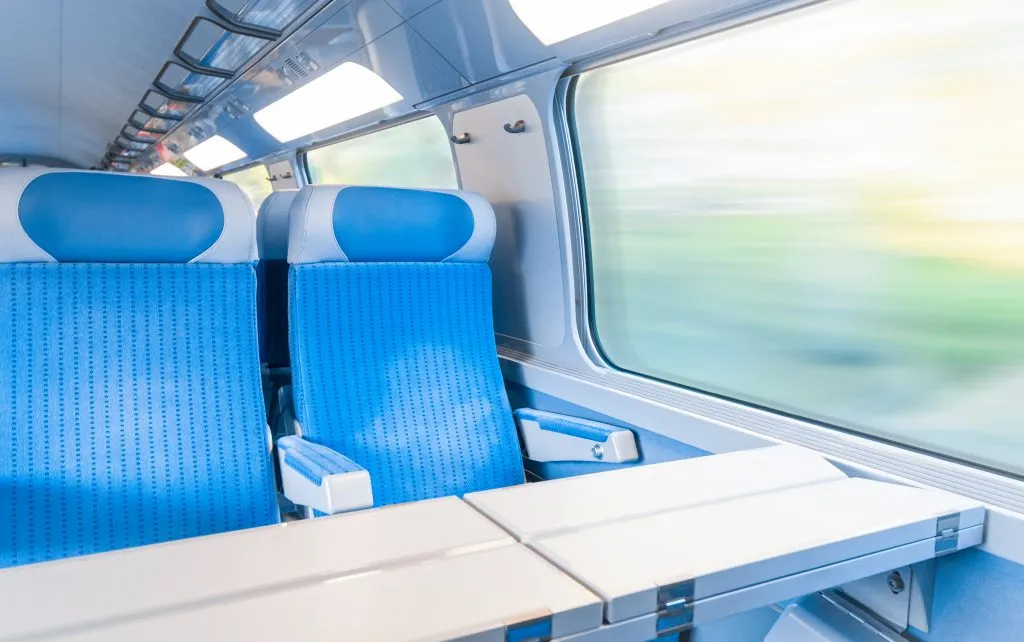 Can you take a day trip to Colmar from Paris?
In theory, maybe, but realistically, not really.
The shortest train rides between the two cities take about 2.5 hours, and most take much longer (and stop in Strasbourg).
Remember, when planning an effective day trip, you need to find a high-speed direct train both in the morning and the evening, and the direct routes between the two cities are very limited.
Driving takes a little over 5 hours each way.
While you can probably pull off a Paris to Colmar day trip if you're absolutely determined to, with so many incredible day trip options closer to Paris that you're better off sticking closer to the capital and saving Colmar for another trip!
Map of the Best Colmar Attractions
Take This Map With You! Click each highlight to pull up the name of the destination. To save this map to "Your Places" on Google Maps, click the star to the right of the title. You'll then be able to find it under the Maps tab of your Google Maps account! To open the map in a new window, click the button on the top right of the map.