As the capital of the delightfully charming Alsace region in northeast France, there is no shortage of fun things to do in Strasbourg.
We have come to love this beautiful French city over the course of our visits: the gorgeous architecture, half-timbered houses, tasty food (I would love to be devouring a tartiflette right now), lovely canals, and fabulous location near both wine country and mountains make it an easy city to love.
Add in a fantastic atmosphere, some of the arguably best Christmas markets in Europe, and a fascinating history, and sightseeing in Strasbourg has never failed to make us want to kick back and stay in the area a bit longer.
Planning a trip and looking for the best things to do in Strasbourg?
Here's what to know before you go.
First: Pick up a Strasbourg City Pass.
In some cities, city passes are not worth the money–but in Strasbourg, that's not the case.
If you're planning on getting panoramic views from the top of the Strasbourg Cathedral, taking a canal tour via boat, and visiting a museum or two–all of which you should definitely add to your list of what to do in Strasbourg, but we'll get into the more below–the city pass will more than pay for itself.
Best Things to Do in Strasbourg
Visit the Strasbourg Cathedral.
Dating to the 13th century, the absolutely stunning Strasbourg Cathedral (also known as Cathédrale Notre-Dame de Strasbourg) is known as one of the best examples of late Gothic architecture, with some visitors even claiming that it's more beautiful than Notre-Dame de Paris.
The building truly is a marvel, and is among the most important points of interest in Strasbourg.
Once you finish admiring the exterior and take a moment to appreciate the interior of the cathedral, here are a couple more things to be sure to do at the Strasbourg Cathedral: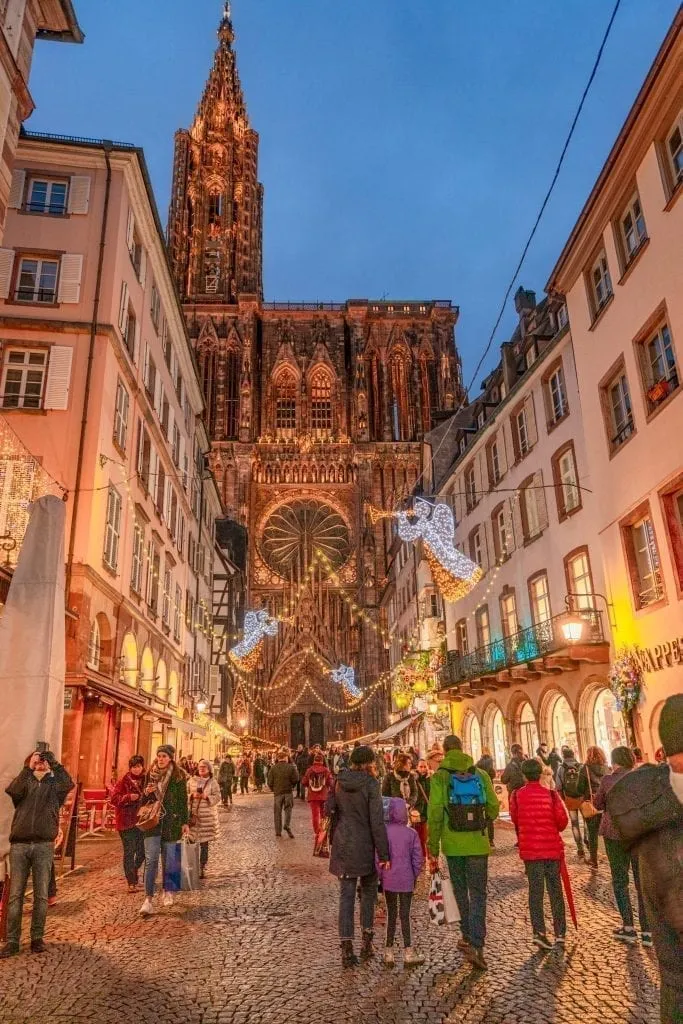 Check out the astronomical clock.
Strasbourg Cathedral's magnificent astronomical clock has a history that reaches back to the 14th century, though the bulk of the incredible clock we see today dates to the 19th.
Check out the clock on the right-hand side of the cathedral's interior, or if you'd like to see it in action, come for the midday show (there is a small fee for this show, but it is included with the Strasbourg City Pass).
Climb to the top for epic views of Strasbourg.
The Strasbourg Cathedral viewing platform boats absolutely phenomenal views over the city, and a visit here is one of the absolute top things to do in Strasbourg.
You do have to earn the view, though–it's a 332-step climb to the platform!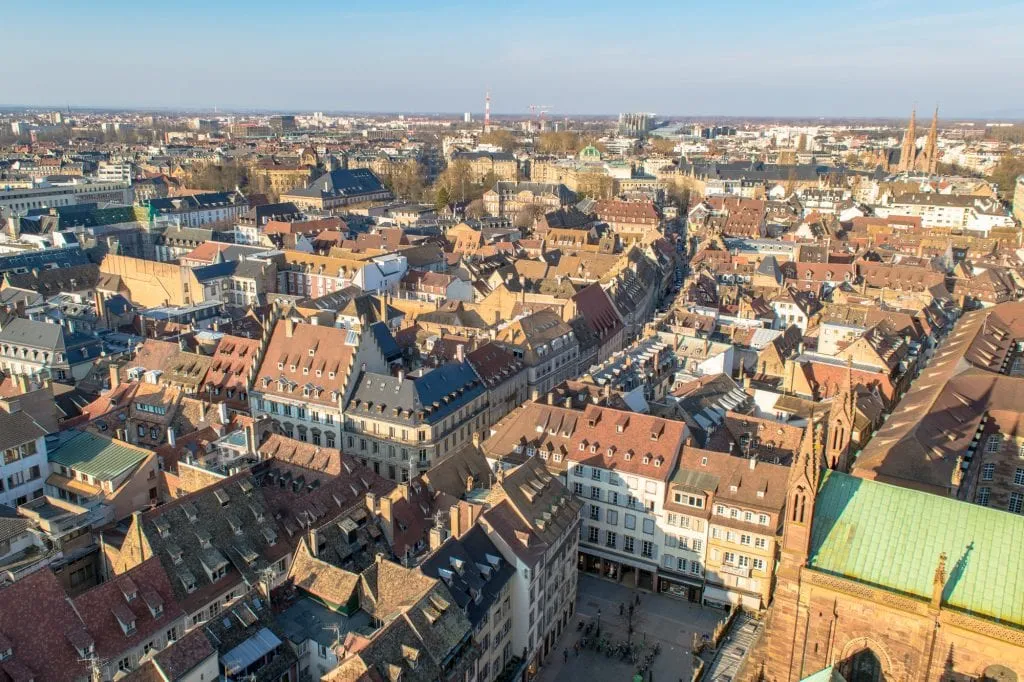 Explore Strasbourg's food scene with a Tasty Trips Pass.
Essentially a self-led food tour of Strasbourg, the Tasty Trips Pass is such a delight to use that after finishing our tour, we immediately wondered why every city didn't have a program like this!
With your Tasty Trips Pass, you can experience a whole slew of typical Alsatian foods and drinks from vendors around the city in a laid-back, scavenger-hunt like environment, with no group, no set schedule, and no worries.
Book yours here and enjoy some of the best things to see in Strasbourg… via your stomach!
Note: The Tasty Trips Pass isn't available when the Christmas markets are open.
Pick up your Tasty Trips Pass today!
Wander through Grande Île.
Home to the historic center of the city, your Strasbourg sightseeing will undoubtedly include plenty of time in this beautiful neighborhood.
Be sure to enjoy the twists and turns of all the small, photogenic streets once you finish visiting highlights of the area like the Strasbourg Cathedral!
Take a boat tour along the canals.
Kicking back for a relaxing boat tour through the canals is a fabulous way to see some of the best points of interest in Strasbourg without needing to seek them out yourself, including the covered bridges, Barrage Vauban, and European Parliament.
As a bonus, the buildings of La Petite France never look prettier than when you're seeing them from the water!
Learn about the Alsatian culture at the Alsatian Museum.
Dedicated to showing typical Alsatian life in the 18th and 19th centuries, the Alsatian Museum originally opened in 1902 as a display of region's unique cultural identity–at the time, the region was part of Germany.
Today, it remains an interesting look into Alsace's history and is the perfect addition to your list of things to do in Strasbourg.
Stroll through La Petite France.
Once the home of tanners, fishermen, and millers (in other words, not the most pleasantly fragrant corner of town), today La Petite France is the most picturesque part of Strasbourg, all canals, half-timbered houses, and beautiful footbridges.
Be sure to spend plenty of time savoring (and photographing) this corner of the city when visiting Strasbourg!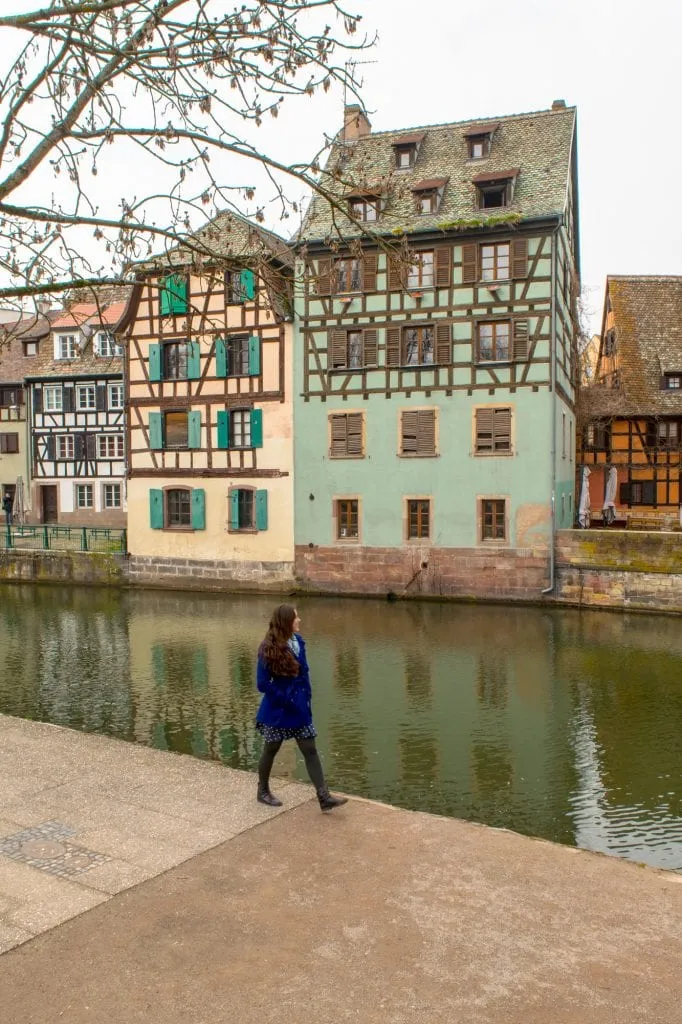 Head out to the Alsace Wine Route.
Stretching 170km from just outside of Strasbourg all the way south past Colmar, the Alsace Wine Route is one of the major draws to the region and one of the best day trips from Strasbourg.
Whether you want to book a biking tour, go on an independent road trip in a rental car (don't forget your designated driver for that!), or book a tour of several villages and/or wineries, there's a way to experience the Alsace Wine Route that's right for you.
And, no matter which option you choose, it's worth getting out of town during your trip to Strasbourg to see what it's all about!
Book a half-day, wine-centered tour of the Alsace Wine Route now!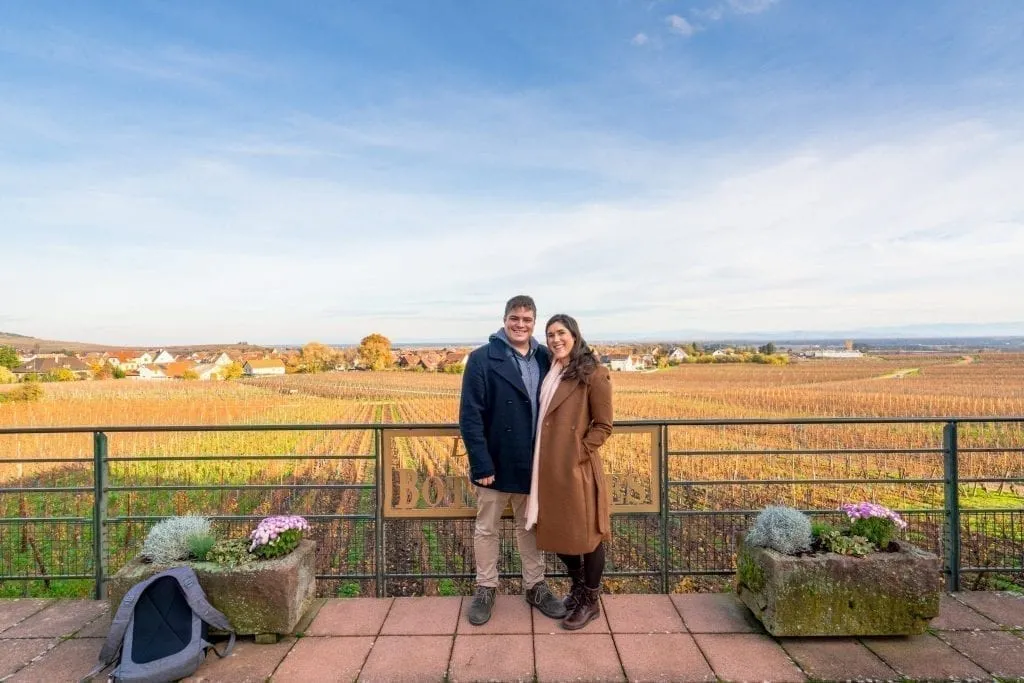 Snap photos at Maison Kammerzell.
Considered one of the most beautiful buildings in Strasbourg and located right on the Place de la Cathedral, this gorgeous house is a must-see when visiting Strasbourg.
Though Maison Kammerzell has served many purposes over the centuries, today it houses a restaurant on the ground floor.
Check out Place Kleber.
As the largest (and main) square in Strasbourg, beautiful Place Kleber is worth visiting year-round.
It's particularly notable during the Christmas market season, when an ice skating rink and the positively gigantic Strasbourg Christmas tree call the square home.
Pay a visit to the European Parliament.
One branch of the EU Parliament is located in Strasbourg–and on certain dates, you can visit!
If you'd like to tour the interior of the European Parliament, check the official schedule here.
Grab dinner in a winstub.
Winstubs are traditional Alsatian restaurants, and like Alsace itself, they feel like a cross between German and French cultures, with a little something extra thrown in.f
Think of a laid-back German pub–low ceilings, exposed timber beams, low lighting, beer, comfort food like sausages and pretzels–paired with a French country kitchen.
That's pretty much a winstub: they're cozy, they're relaxed, and they tend to serve incredible food.
It's hard to go wrong with ordering anything in winstub, but personally, we're partial to the hearty roestis–bonus points if they're made with munster.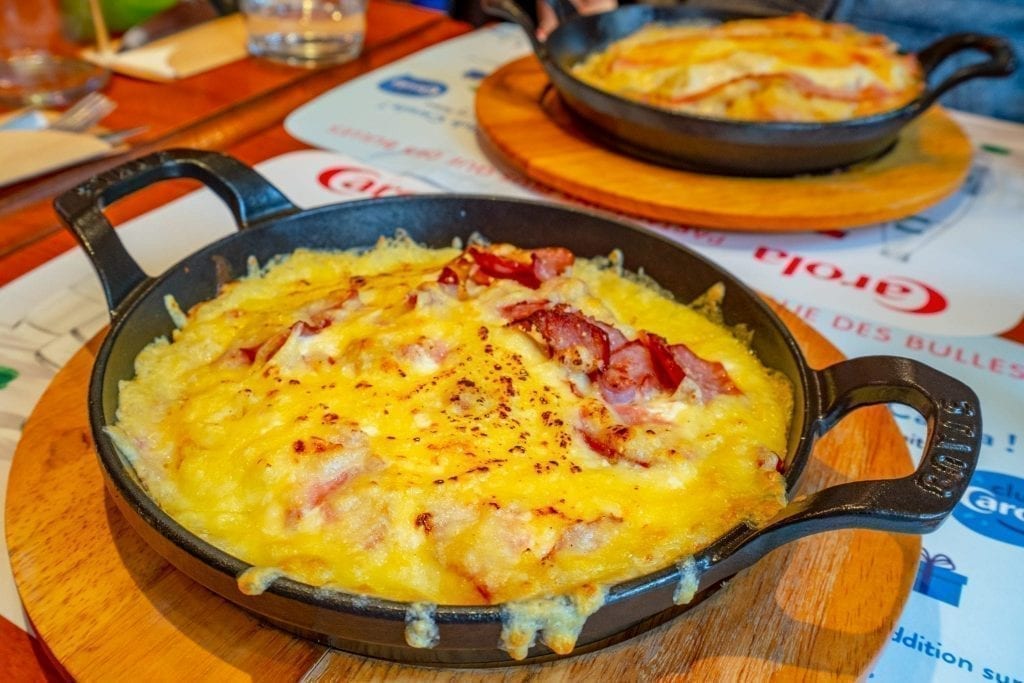 Take a day trip to another village in Alsace.
Alsace, as a whole, is packed with some of the prettiest villages in all of France, and we absolutely never get tired of exploring.
The easiest Alsace day trip to take independently from Strasbourg is Colmar, the fairytale town that's an easy half-hour train ride away.
We adore Colmar–it's one of our favorite places in France, and we don't say that lightly–but if you want to explore even smaller villages (including ones that are a bit more off the beaten path), you'll ideally want to either rent a car to drive yourself or book a tour.
Either option is lots of fun, but if everyone in your group plans to indulge in some Alsatian wine throughout the day, you might want to lean toward a tour.
Some of our favorite nearby villages to consider adding to your list are Eguisheim, Riquewihr, and Ribeauvillé. Obernai is even closer to Strasbourg, and while we haven't had a chance to make it there ourselves yet, we hear good things from friends.
Book a fun tour of Alsace's beautiful villages and wineries today!

Prefer to drive yourself?

Shop Discover Cars to find the best prices & inclusions on rental cars in Strasbourg!
… or to Germany.
As Strasbourg is right on the border of France and Germany, you can easily hop over the border for the day if you like!
Kehl is the closest German city to visit–you can literally bike there from Strasbourg if you're so inclined–but Karlsruhe or even Heidelberg are within day trip distance as well.
Learn the history of the region at the Historical Museum of Strasbourg.
Covering the history of Strasbourg from 1400-1800, the Historical Museum of Strasbourg is one of the best things to do in Strasbourg for someone looking to understand the city's long and sometimes tumultuous past.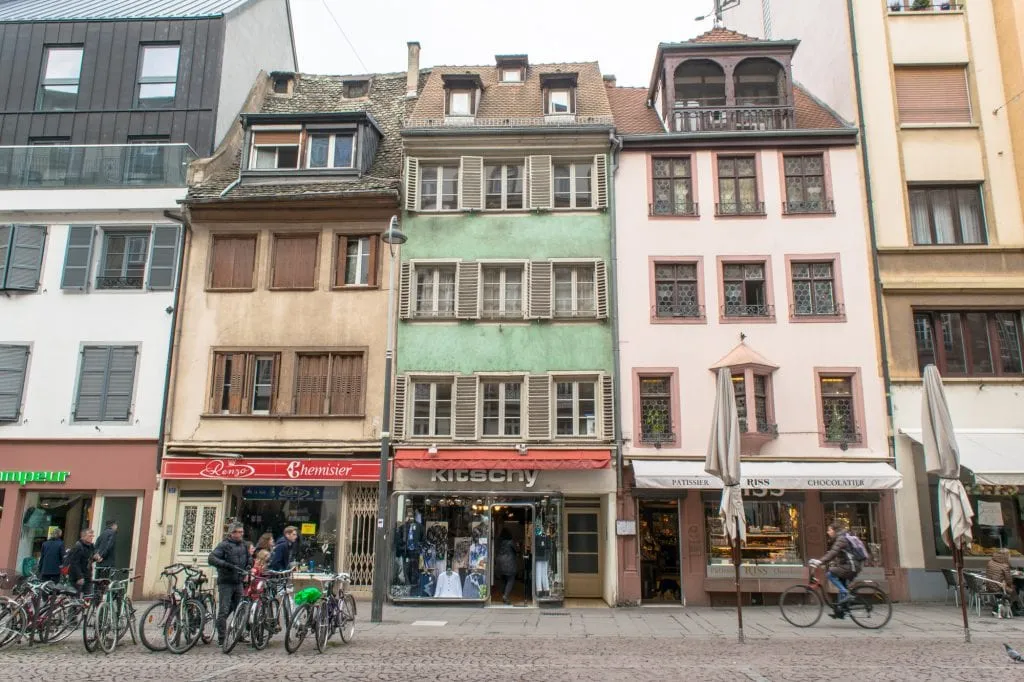 Visit all the Christmas markets.
Strasbourg's Christmas markets rank among the best in Europe, and if you're considering a winter trip to Strasbourg, they should be the #1 reason why!
As the self-proclaimed Capital of Christmas, Strasbourg goes all-out for the holiday season, with 10 Christmas markets, elaborate decorations on its beautiful half-timbered houses, an ice skating rink, Christmas trees, and more.
We absolutely adored our Christmas market trip to Strasbourg and highly recommend a December visit to the city!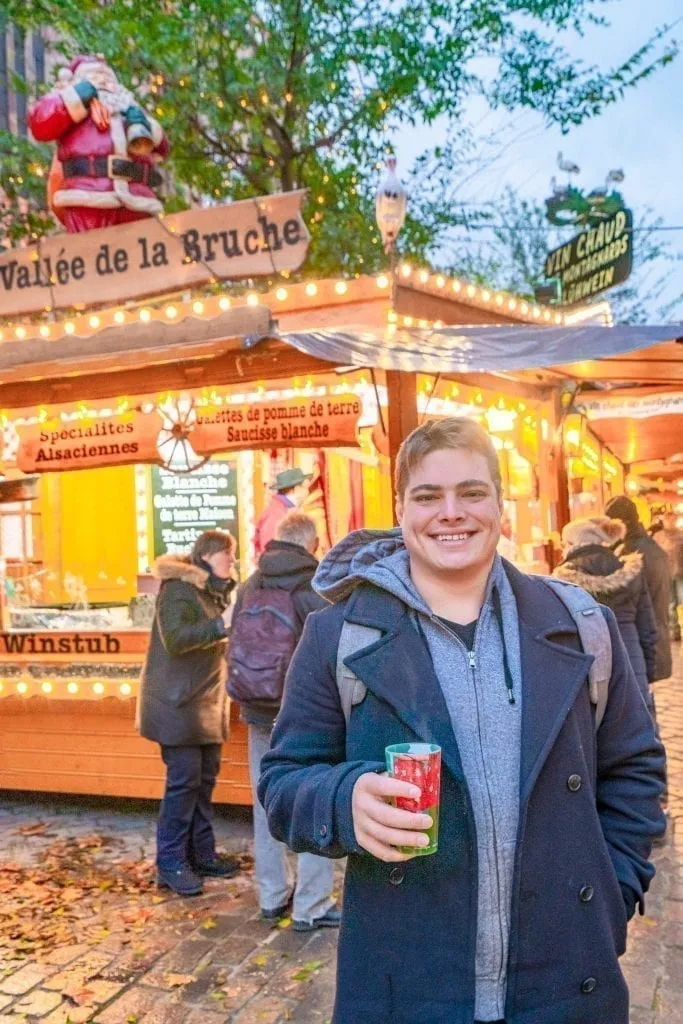 Where to Stay in Strasbourg
Budget
City Résidence Strasbourg Centre — I'll be perfectly honest: Strasbourg, especially during peak season, is far from the most budget-friendly destination.
However, City Résidence Strasbourg Centre offers a (somewhat) budget-friendly choice with solid reviews and an easily accessible location within walking distance of La Petite France, the Strasbourg Cathedral, and plenty of Christmas markets during December, making it a great option for budget travelers visiting Strasbourg!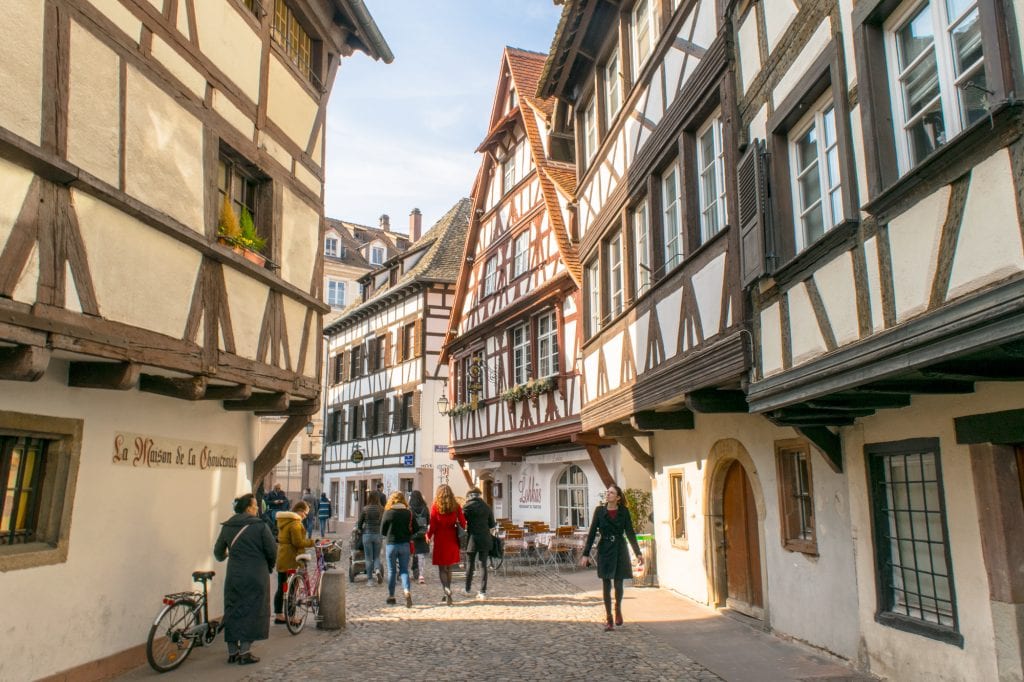 Mid-range
Appartements Le 32 — This is where we stayed on our most recent trip to Strasbourg, and we were completely satisfied with these suites!
Complete with a small kitchenette and located down a quiet street only a few minutes from the Strasbourg Cathedral, these apartments are perfect for mid-range travelers in Strasbourg.
The rooms were impeccably clean and customer service kind and responsive, and we'd be happy to stay again.
Luxury
Hôtel Gutenberg — Featuring spacious, modern rooms, glowing reviews, and incredible views of the Strasbourg Cathedral from the hotel, Hôtel Gutenberg is the perfect place to check into in Strasbourg if you're looking for a luxurious stay!
All of Strasbourg is at your fingertips from the Hôtel Gutenberg, making it an incredible choice for visitors to Strasbourg who don't want to waste a single second of their time in the city with getting into the center.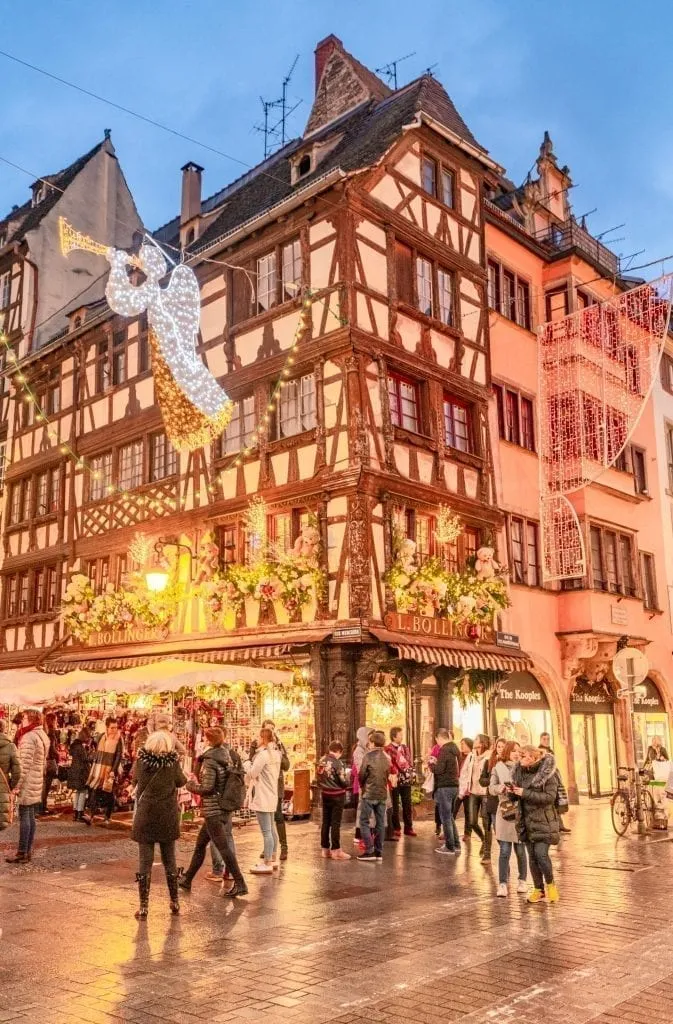 The Best Time to Visit Strasbourg
The fabulous thing about sightseeing in Strasbourg is that no matter what time of year you decide to visit, you'll find plenty of fun things to do in Strasbourg. Truly, this is a year-round destination (as long as you're willing to bring a coat, that is).
That being said, there are two ideal times to visit Strasbourg, and they couldn't be more different from each other.
The first is late spring: the flowers will be blooming, the weather (hopefully) fairly mild, the summer crowds (and hotel prices) not quite at their peak.
The second, obviously, is late November through December, when some of the best Christmas markets in Europe take over the city.
We've visited Strasbourg during both spring (though a bit earlier than ideal–no flowers yet!) and during the Christmas markets, and both versions of Strasbourg are absolutely lovely.
---