A European Christmas market trip is a bucket list vacation for many–and for good reason!
It's hard to imagine a more festive way to celebrate the holiday season than by sipping hot mugs of gluhwein in the cold winter air, shopping for hand-crafted ornaments and gifts at beautifully decorated stalls, or snacking on classic Christmas market treats while under the shadow of a stunning Gothic cathedral at some of the best Christmas markets in Europe.
Trying to narrow down exactly where to go, though, is no easy task–so we asked several other travel writers to team up with us and share their favorite Christmas market cities to create this (gigantic) guide to Europe's best Christmas markets.
Personally, our favorite markets so far are in Germany, Austria, and France–but we fully intend to keep exploring and adding more destinations to our list of favorites in the years to come.
Here is where to find the best Christmas markets in Europe!
After Perusing the Best Christmas Markets in Europe…
… We'd love to help you plan your European Christmas getaway in more detail!
Here on Our Escape Clause, we have well over a dozen guides to visiting Europe for the holidays, and hundreds of posts on visiting specific destinations year-round!
After this Christmas market guide, we recommend checking out our guide to planning a Christmas trip to Europe, as well as our tips on what to buy at Christmas markets.
You can peruse all of our posts about visiting Europe in winter, including during the holiday season, here.
To find posts on specific places, you can use our destinations page or the search bar on the top right of the page (on desktop) or at the top of the pop-out menu (on mobile) to find our content about hundreds of destinations across Europe.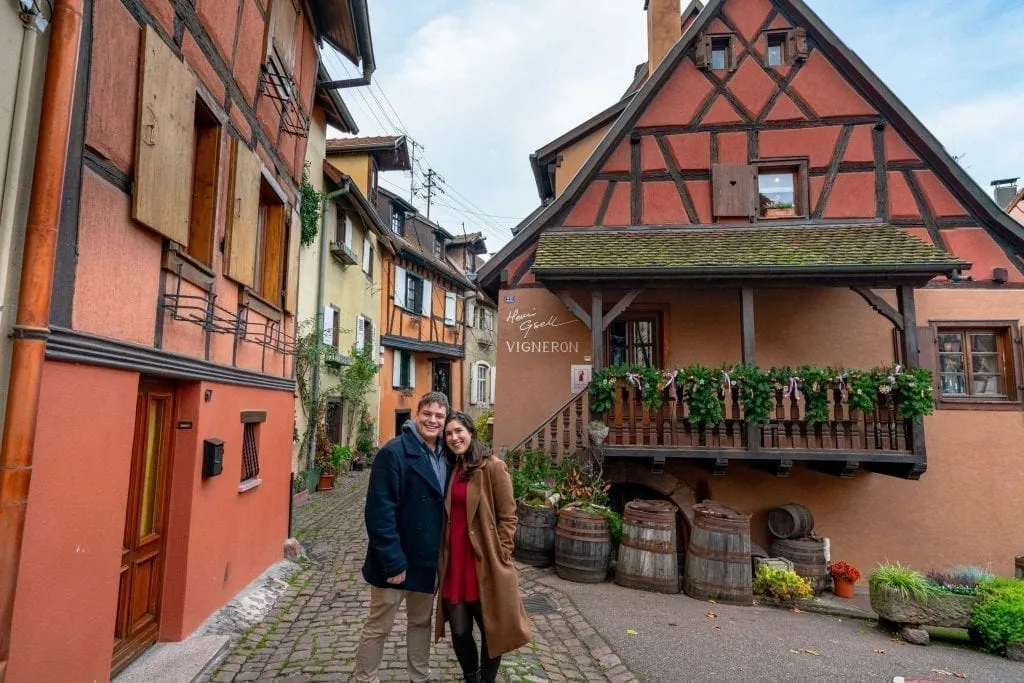 Best Christmas Markets in Germany
Cologne, Germany
During the holiday season, the already-beautiful city of Cologne transforms into a magical winter wonderland, boasting some of the best Christmas markets in Europe!
The city is home to seven markets in total, each bursting at the seams with hot mugs of gluhwein to keep your hands warm and plenty of classic German dishes to eat, along with (depending on the market) all the hand-crafted gifts you could ask for.
Be sure not to miss the iconic Cathedral Christmas market, the positively stunning Old Market Christmas, which boasts some of the most immersive Christmas market decorations anywhere in Europe, or the charming Village of Saint Nicholas market.
The view from the top of the Cologne Cathedral during December is the top photo on this blog post, and as you can see, it's a stunning one!
Nuremberg, Germany
From Rose of Where Goes Rose?
Come November, one of the best things to do in Nuremberg is to visit the world-famous Christmas market.
This market is great for travelers of all ages including families since there is a separate children's market with cultural shows and performances.
At Nuremberg Christkindlesmarkt you can try a variety of traditional German foods made locally for hundreds of years.
Nuremberg bratwurst has been served since 1313 and is deemed by the European Union the first sausage in Europe!
Another famous food originating from Europe is Lebkuchenherze, in other words, gingerbread hearts decorated with names and personal messages.
These have also been served since the 13th century, making them one of the oldest types of gingerbread in the world.
As well as trying other meaty German dishes and sweet desserts, you can sip glühwein, also known as mulled wine. This red wine drink is sweetened with cinnamon, spices, and raisins.
Winter temperatures in Nuremberg drop well below zero and it often snows so you'll need this hearty local drink to warm you up, as well as a scarf, hat, and gloves.
Visit Nuremberg Christmas Market on the first Friday before Advent for a lively opening ceremony with music, carols, and performances.
As well as food, you can shop for Christmas decorations and locally-made souvenirs. You'll find the market right in the city center from late November.
Frankfurt, Germany
From Daniel and Ilona of Top Travel Sights
In Frankfurt, you can find one of Germany's oldest Christmas markets.
The first mentions of the market go back to 1393, and since then, it has transformed from a small seasonal market into an event that attracts around 3 million visitors each year.
The primary market takes place on Römerberg, right in the heart of the city, and sprawls out into neighboring alleys and squares.
On Römerberg, you can also find a giant Christmas tree as well as a stage. If you're lucky and you come on a weekend, you can hear choirs perform Christmas songs.
Besides the primary Christmas market, you can also find the "Pink Christmas" nearby. This is where the LGBTQ+ community meets up, but it's also very popular with all other visitors.
The official theme is "pink", and this small market has quickly developed into one of the corners with the best Christmas food.
While in Frankfurt, make sure to try local specialties. "Bethmännchen" are marzipan cookies you can only find here.
Wash them down with a glass of hot "Apfelwein", a local cider. With the extra spices and sugar, it almost tastes like warm apple juice.
Do you prefer traditional mulled wine?
You can find lots of wineries close to Frankfurt and some of them set up their stalls at the Christmas market. Go to one of them, and you're guaranteed to get the best mulled wine you ever had.
Heidelberg, Germany
From Helene of Helene in Between
A 17th-century castle gazes down upon cobblestone streets, traditional wooden stalls, and even an ice skating rink in the city square: welcome to magical Heidelberg, Germany.
Heidelberg offers one of the best traditional Christmas markets in all of Europe with the Weihnachtsmarkt taking place throughout the city.
Heidelberg is a dream location any time of year, but it becomes a fairy-tale come to life with the Heidelberg Christmas markets.
The main square turns into a winter wonderland when wooden stalls are set up selling steaming Mulled Wine, traditional sweets and candies, toys, trinkets, glass-blowing items, handmade decorations for festive trees
With over 140 stalls and an ice skating rink beneath the castle, it offers a magical ambiance in a family-friendly atmosphere.
You can find markets in Heidelberg in 5 main areas: Kornmarkt, Marktplatz, Universitätsplatz, Anatomiegarten, and Bismarckplatz.
My favorite is in Marktplatz with a carousel, traditional food, beautiful decor, and music playing. Don't forget to eat a delicious frikadella!
Munich, Germany
It's no surprise that the capital of Bavaria and hometown of Oktoberfest would pull out all the stops for the Christmas season, but even with sky-high expectations, Munich still manages to wow visitors with the amount of holiday cheer it packs into its Christmas markets.
Be sure to start at the iconic Christkindlmarkt, located in Munich's main square (Marienplatz), but from there, the options are seemingly limitless, from the classic Neuhausen Christmas market to the far quirkier Wintertollwood Festival, held on the Oktoberfest grounds.
And, of course, it bears mentioning that if you're exploring the best Christmas markets in Munich, you're within day-tripping distance of Bavaria's famous Neuschwanstein Castle.
While parts of the grounds are closed off in the winter due to ice, the castle sure looks stunning covered in snow!
Konstanz, Germany
From Wendy of The Nomadic Vegan
Germany is full of great Christmas markets, but the one in the lakeside city of Konstanz is truly unique.
It's officially known as the "Weihnachsmarkt am See", which means "Christmas market on the lake".
And that's a pretty accurate description because the market stalls are set up not only around the harbor but also on a "Christmas ship" that's moored there!
In addition to local food and craft stalls, on the ship, there's also an ice bar with 360° panoramic views of the stunning scenery of Lake Constance.
This market is deservedly popular and attracts lots of visitors from neighboring countries, especially nearby Switzerland. For this reason, it's a good idea to visit on a weekday if possible to avoid the crowds.
And if you're coming from Switzerland yourself, ask at any Swiss train station about discounted train tickets to Konstanz for marketgoers.
Swiss railways typically run a special promotion that includes up to 50 percent off the train fare as well as a free glass of glühwein and a complimentary souvenir mug.
Most of the food stalls at the market serve traditional German dishes, such as käsespätzle.
Although there are also a few international options, such as Moroccan and Indian stalls, which are better options for vegans and vegetarians.
Magical Christmas Markets in Western Europe
Paris, France
From Elisa of World in Paris
Paris at Christmas time is a great place to be. Despite the cold temperatures, there's a special atmosphere around the city at Christmas.
During the holiday season, the main squares and avenues are dressed up with multi-colored bulbs and Christmas decorations, the shop windows of the main shopping malls make their show, and the opening of the first Christmas Markets around mid-November marks the beginning of the Christmas season in Paris.
There are many Christmas Markets in Paris, especially in central Paris, and they are cool places to hang around for some last Christmas shopping and a jar of spicy hot wine.
Among all the Christmas Markets in Paris, the Tuileries Christmas Marketand the Eiffel Tower Christmas Market are the biggest and also the most popular.
They both propose the classic wooden chalets with all kinds of products but also funfairs, ice skating rinks, and places to eat on-site.
People who don't like the crowds will opt for a smaller Christmas Market and the one around the Church of Saint-Germain-des-Prés (Paris 6) or the Christmas Market in front of Les Halles (Paris 1) are two good options.
Paris at Christmas time is also an excellent base for a day trip to Disneyland Paris which always has a special program for the Christmas holidays. Celebrate Christmas also with your favorite Disney characters!
Deventer, the Netherlands
From Cosette of KarsTravels
Deventer is one of the oldest cities in The Netherlands. It's a Hanseatic city, which is situated on the river IJssel. The medieval old town is perfect for a city trip and for a Christmas event.
Each year on the weekend before Christmas the Dickens festijn (Dickens festival) is held.
For 2 days approximately 950 actors and residents dress up as characters from the stories of Charles Dickens. From Scrooge to Oliver Twist and from Christmas carol singers to chimney sweepers. They're all present.
The festival is in the Bergkwartier, the medieval part of the city, and the entrance is free. You do have to wait in line, which can be up to an hour.
But while waiting in line, you're already entertained by actors dressed up as 19th-century characters from a Charles Dickens novel.
Once inside (the festival is outdoors, but fenced off) you walk a route through several streets. Stalls with food and trade items are manned by actors. There are plays and sketches being performed on the streets. There's not one empty spot.
During the same weekend, there are 2 small Christmas markets. One is in the 'Grote or Lebuinus' church and the other one is outside on the Brink (a square).
Both markets have a great Christmas feeling, and sell food items as well as non-food Christmas items. They're fun to browse over.
The Christmas market inside the church also has Christmas carol singers and a scavenger hunt for children.
Grenoble, France
From Tracey of Pack the PJs
Called the 'Capital of the French Alps', Grenoble is located in southeastern France.
It is a great base for winter sports, but also boasts four Christmas markets across the city center. They run from the end of November through to Christmas Eve.
The markets consist of Place Grenette, focussing on rock music and Afro-Indian crafts. There's also an artisan craft market at Rue Félix Poulat, and then the centerpiece main markets at the Place Victor Hugo.
Here, you'll find lots of hot food stalls (raclette, hotdogs, dumplings, crepes, churros, waffles), hot wine, and hot cider, as well as beer, cheese, and salami sellers and artisan products of the region.
The markets open at 10 am most days, and as Christmas approaches, they stay open later into the evening (until 10 pm some nights).
Grenoble Christmas markets cater to locals more than tourists, making it a genuine experience. In total there are around 100 stalls – small compared to many cities – but this makes it a more relaxing and leisurely experience.
Recommended purchases include high-end artisan jewelry, pocket knives, hats and scarves, local cheese, honey, pastries, and local liqueurs.
Away from the markets, a must-visit attraction is the les bulles (the bubbles), the affectionate name for the Téléphérique de Grenoble Bastille.
This cable car runs from the city center up to the fortified Bastille. Here you'll gain amazing views over Grenoble and the Alps beyond, and is the starting point for many mountain trails.
Luxembourg City, Luxembourg
From Cynthia of Blue Bag Nomads
Luxembourg City may be a small city in a small country, but it is home to some of the best European Christmas markets.
Each market is unique, with different opportunities for savoring amazing food, market stalls, Christmas specialty items, and one even has an ice skating rink: Place de la Constitution, Place d'Armes, and Knuedler on Ice.
All three of these markets are easy to walk to, from each other.
Head to Place de la Constitution for amazing views and carnival rides, including a Ferris wheel.
Cathédrale Notre-Dame is across the street, another destination for your wandering the city.
At Place d'Armes there is an abundance of wood huts full of unique items tempting you to buy them. There is a stage for many local artists to share their musical talents.
Another point of interest in the old town is one of the smallest palaces in Europe, the Grand Ducal Palace.
Then wander a bit further to see amazing views from the fortifications of the city at Dent Creuse along with other historical ruins. There are many panoramic photo opportunities as you walk across the bridge.
The markets open the last week of November and run through Christmas Eve. The Ice Rink is open until early January.
Strasbourg, France
From Chrysoula of Travel Passionate
If you're looking to visit somewhere festive this winter season, why not head to the self-proclaimed Capital of Christmas–Strasbourg!
The capital of Alsace is home to one of the oldest and most famous Christmas markets in the world and the backdrop of traditional timber houses and twinkling Christmas lights make it all the more magical!
Strasbourg has been hosting Christmas Markets since 1570 so they certainly know a thing or two about how to create an epic winter show.
Each year, Strasbourg comes alive with Christmas decorations and 300+ festive stalls that are sure to put you in the mood for celebration.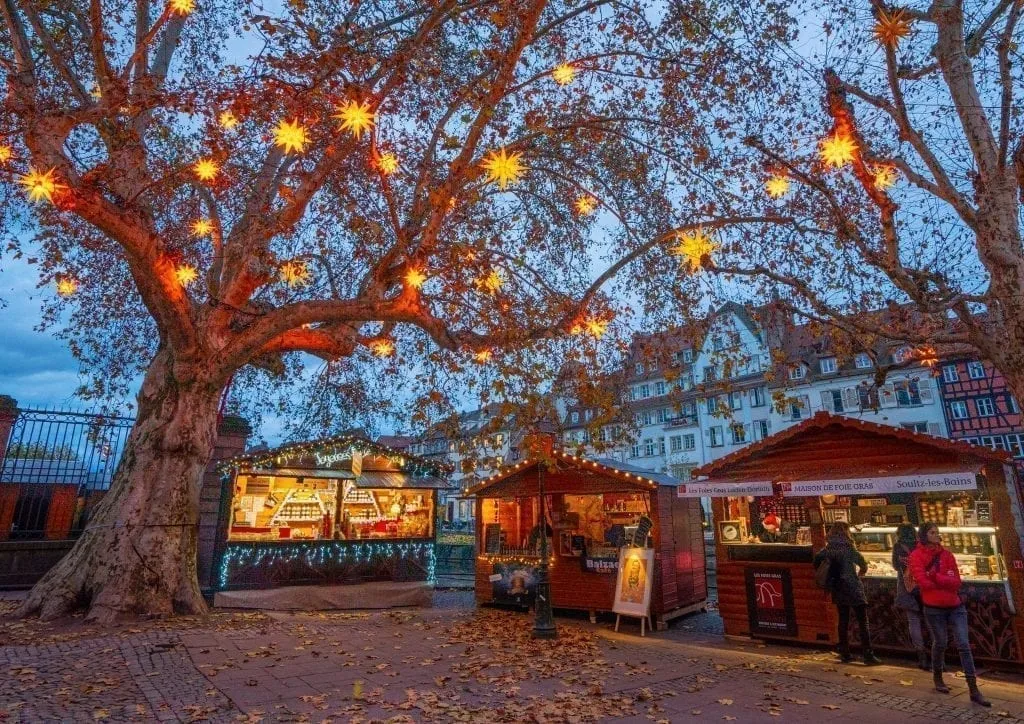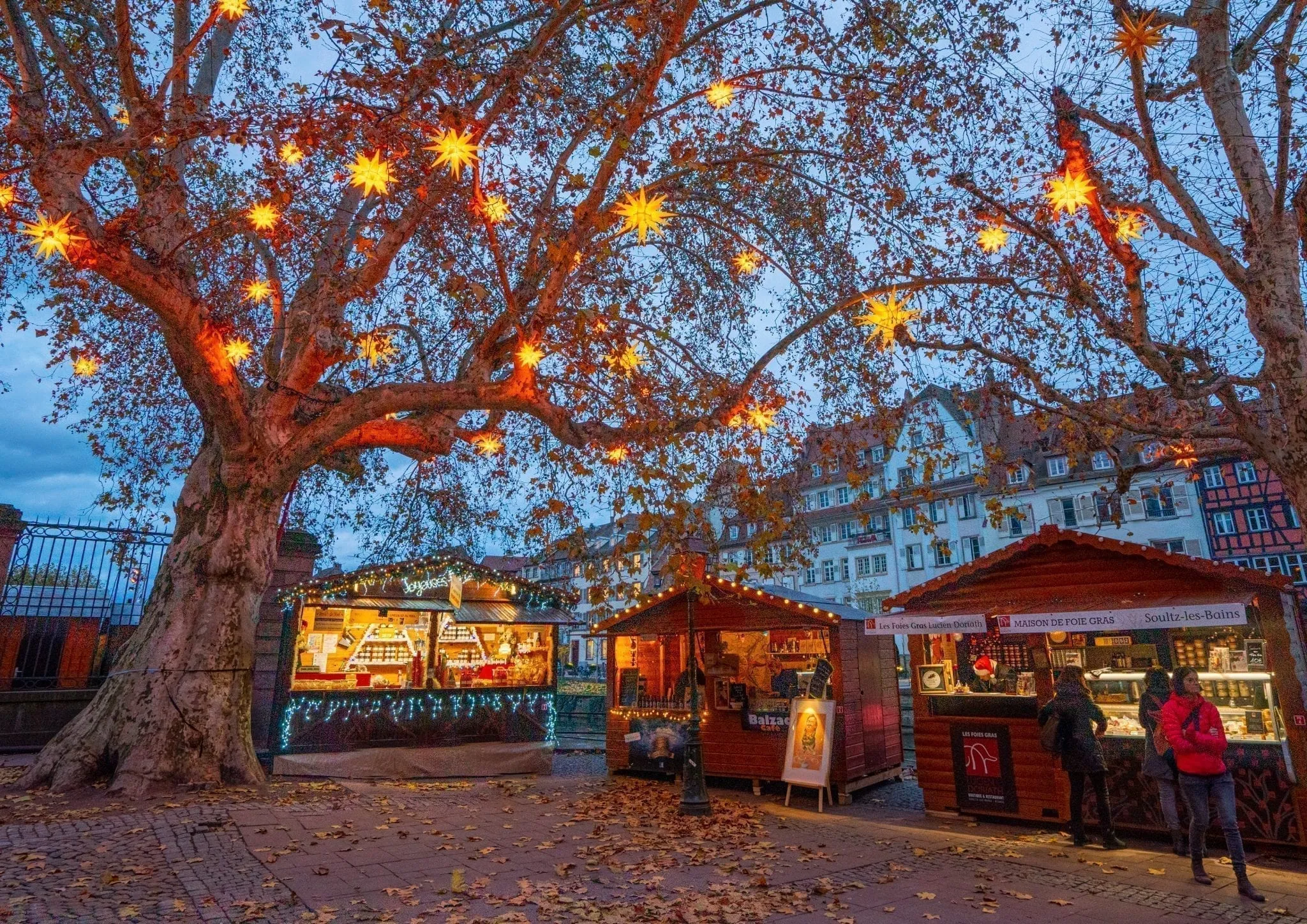 With handmade gifts, mulled wine, freshly baked goods, and festive workshops you're bound to enjoy this winter wonderland.
Wander through the UNESCO World Heritage streets of La Grande Île, take photographs in front of the towering Christmas tree in the Place Kléber, and spend hours making your way through the 10+ different markets that Strasbourg has to offer.
They even feature a changing 'guest country' market each season, highlighting products from different countries.
You could easily make visiting the Strasbourg Christmas Market an annual event knowing there will always be new things to discover!
Bruges, Belgium
From Ella of ManyMoreMaps
Situated in the Flanders region of Belgium, this postcard-perfect city is a huge draw for tourists year-round, particularly at Christmas.
This city looks like something off a Christmas card, especially in winter!
With snow on the ground, cozy Christmas Markets, and the famous Burg Square Christmas Tree, December really is the best time to visit Bruges.
Start your trip in Grote Square, which is transformed every December into Bruges' biggest Christmas Market, complete with gingerbread, mulled wine, and cute wooden huts selling trinkets and Christmas decorations.
At the center of the square is an outdoor ice rink which is popular with both locals and tourists alike.
Surrounding the square, you'll find an assortment of chocolate shops offering up amazing treats and rich hot chocolates to warm you up!
If you're looking for a Christmas Market that's slightly quieter, head over to the one in Simon Stevin Square.
Although fairly similar to the Christmas Market in Grote Square, this one has a much more peaceful and atmospheric feel to it.
If you love huge Christmas Trees, check out the one in Burg Square. This tree is placed right in front of the picturesque Town Hall and Belfry Tower and is decked out in fairy lights.
Visit the tree both in daylight and at night to witness just how beautiful it is, and don't forget to pose in front of the tree for a great Christmas photo!
Most visitors to the city tend to spend only one day in Bruges, but over Christmas, you should visit for at least two full days to ensure you have enough time to see all the Christmas attractions.
Maastricht, the Netherlands
From Daniela of Ipanema Travels
In December Maastricht is all about Christmas. Magical Maastricht is the Christmas fair which is held annually from the last weekend of November till the end of December.
For a whole month, this Southern Dutch city lives with the magic of the most special holiday season.
The Vrijthof Square turns into a real Winter Wonderland! There's a Ferris wheel, a skating rink, a merry-go-round, and a gigantic winter slide in the Christmas Village. Having fun is simply inevitable.
And what's a Christmas market without special Christmas treats?
The Christmas stalls abound in sweet and savory treats, from the typical Dutch poffertjes (mini pancakes) and olibollen (deep-fried dough balls) to the traditional German bratwurst (grilled sausage) and reibekucken (potato pancakes).
Maastricht is perfect for a long weekend during the holiday season! You can wander the narrow, festively decorated streets from shop to shop and get into the Christmassy mood.
However, there is one place, you should absolutely visit, and this is the Dominicanen Bookstore – one of the most beautiful bookstores in the world, housed in a Gothic Church.
For art lovers, there's the Bonnefanten Art Museum or you can do a tour of Underground Maastricht visiting the casemates, the caves, or the St Peter's Fort.
If you are on a Christmas market spree, you can also visit one of the most special Christmas markets in the Netherlands – the Christmas Market in the Velvet Cave in Valkenburg, a small town that is only a 10-minute ride from Maastricht.
Colmar, France
Covered in half-timbered houses, gorgeous canals, and some of the most beautiful Christmas markets in Europe, Colmar is not to be missed when searching for European Christmas markets.
With six markets to choose from, you won't run out of places to visit–our personal favorites are Place de l'Ancienne Douane and Petite Venise, though the ice-skating rink (and snack stand) at Place Rapp, though not technically a Christmas market, deserves an honorable mention too.
Colmar's beautiful Old Town is positively decked out in holiday decor, so be sure to look up as you explore–you just may spot some festive teddy bears hanging from the shop windows!
While visiting Colmar, you'll also be within easy reach of Strasbourg, as well as smaller Alsatian villages like Eguisheim and Riquewihr, all of which are incredible European Christmas market destinations in their own right!
And, of course, the best things to do in Colmar year-round, like admiring the canals of Petite Venise and sampling traditional Alsatian food in a winstub, are a delightful way to take a break from the winter markets!
Lille, France
From Hadas of Luxury Voyager
The city of Lille in the North of France is normally used as a connecting town on the Eurostar. However, Lille should be a destination in itself.
From its beautiful architecture to its Old town and lively Christmas Market, Lille has so much to offer tourists, especially during Christmas.
Lille's Christmas market is widely popular and attracts many visitors from Belgium and the north of France. Located on Place Rihour, the market offers gifts, Christmas decorations, fine arts, and delicious festive food.
The colorful and lighted-up Christmas Market is regarded as one of the best Christmas markets in France due to its fun atmosphere.
When visiting the market, don't forget to eat gingerbread and drink a glass of mulled wine.
If you're already in France during Christmas you must also try the famous French cake "La Galette des Rois" which translates to King's Cake.
Of course, there are many other French Christmas delicacies you could try such as La bûche de Noël.
During Christmas, Lille becomes a beautiful winter wonderland with its festive decorations and sparkles. Therefore, Christmas is indeed the best time of the year to visit Lille.
Brussels, Belgium
From Sarah of CosmopoliClan
The medieval architecture of Belgium's capital forms the spectacular setting for a wonderful wintry weekend in Europe.
All enchanting decors that make up the Brussels Christmas market (officially named the Winter Wonders festival) are interconnected by a trail of twinkling lights.
The Grand Place, the city's picturesque UNESCO World Heritage site, is the focal point of the festivities thanks to its captivating Christmas tree and the entertaining performances of street artists and international choirs.
After dark, the eye-catching sound and light show brings the Grand Place's stately guild houses to life.
Follow the meandering streets to De Brouckère, where you can tie your ice skates and show your signature moves at the skating rink.
When you've worked up an appetite, it's time to hit the shops.
The Belgian chocolate boutiques, with their sparkling window decorations and enticing Christmas-themed gift boxes, are a mandatory stop on every Brussels Christmas itinerary.
Then head over to the intimate decor of Place St. Catherine while sinking your teeth in a fluffy chocolate-topped waffle or another heart-warming treat.
Check out Christmas stalls at the Fish Market before taking a ride on the captivating Ferris wheel, overlooking the illuminated city.
Celebrating Christmas in the heart of Europe even comes with a bonus: Thanks to Brussels' central location, some of Europe's other renowned Christmas markets are just a short train ride away.
Central + Eastern Europe Christmas Markets
Prague, Czechia
From David of Delve into Europe
Prague is home to some of the most magical Christmas markets in Europe. It's a stunning city to visit year-round, especially for its incredible architecture.
When the long winter nights set in and the Prague Christmas markets begin in late November, the Christmas decorations light up the squares.
The fairytale medieval Old Town and Castle district are at their most beautiful, and it's one of the best times to visit Prague.
There are several Prague Christmas markets, and the best of these by far is Prague Old Town Square, Staromestske namesti.
The wooden hut stalls are huddled around the Square and the backdrops are breathtaking – the Gothic spires of the Tyn Church, the Old Town Hall Tower (which is also a great vantage point), and the Baroque St Nicholas Church.
The Christmas market aromas aren't that different from German Christmas markets, with mulled wine and grilled sausages hugely popular, but there are some unique Czech treats to try.
Trdelnik stalls are almost ubiquitous, spit-roasting delicious chimney cakes.
The Christmas market bars also serve excellent Czech beers, albeit at prices considerably higher than in bars outside the city center.
The most commercial of the Prague Christmas markets is in nearby Wenceslas Square (Vaclavske namesti).
There is also a lovely small market in Prague Castle from 10 am to 4 pm daily, between St Vitus Cathedral and St George's Basilica.
Vienna, Austria
From Cindy of Travel Bliss Now
You could enjoy glühwein and gingerbread cookies for days on end if you visit all of the Christmas markets in Vienna.
There are over 20 official markets in the city every year, and Vienna is absolutely home to some of the best Christmas markets in Europe!
The biggest and most popular market is Rathausplatz (Vienna City Hall), which is also a great place to visit in Vienna year-round.
Here, you'll find 150 market stalls filled with treats and decorations. There is an ice skating rink, a Ferris wheel, and thousands of colorful lights.
The two palace markets, Schönbrunn Palace and Belvedere Palace offer quieter markets in elegant settings.
Don't miss the strudel-making show, with samples, at the café at Schönbrunn.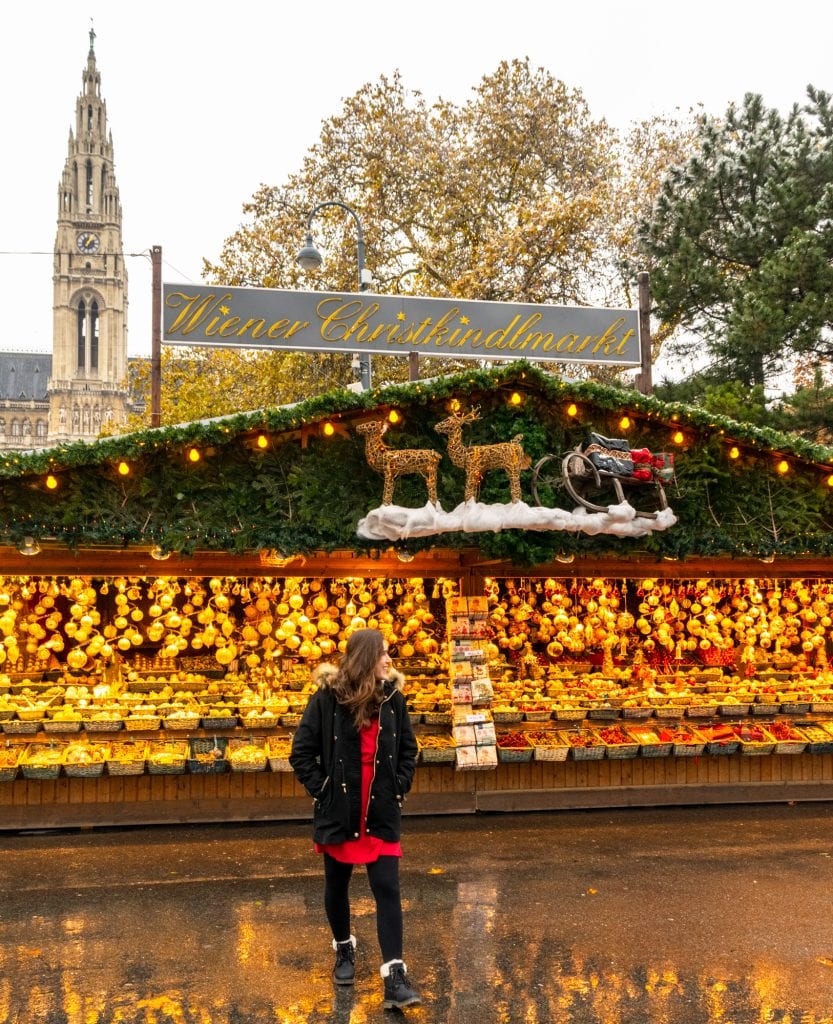 A local favorite is the Spittelberg market which takes place on three narrow, cobblestone streets in a revitalized heritage neighborhood in Neubau.
Elsewhere in the city, be sure to catch the amazing chandelier lights and decorations on Graben and Kohlmarket streets and at the store, Popp & Kretschmer.
If you've always wanted to see the famous Lipizzaner stallions, there are special performances at the Spanish Riding School over the holidays, including one with the Vienna Boys Choir.
With glowing lights throughout the city, this has to be one of the most festive places to visit for the holiday season.
Krakow, Poland
From Ania of The Travelling Twins
With a beautiful castle and charming Old Town, Krakow, Poland is one of the best places to visit for Christmas markets in Europe
From late November till early January the main market square hosts the festive Christmas Fair.
Stepping there feels like stepping into a different slower and more aromatic world.
The omnipresent sounds of carols, the smell of the Christmas tree, and a whole lot of colorful lights, thanks to which you will feel the Christmas atmosphere.
Every year there are about eighty stalls in the Main Square, including many exhibitors from Poland and abroad. You can try different traditional food from Polish, German, Ukrainian, Lithuanian, Czech, and Slovak cuisine.
Polish specialties include dumplings and oscypek (smoked sheep cheese served warm).
The exhibitors will also include craftsmen. Wooden nativity scenes, painted baubles, Christmas decorations and centerpieces, ceramic products, and wooden toys: these are just some of the products that can be found on the Krakow market.
One of the unique things about the Krakow Christmas Fair is a competition (being recognized by UNESCO as a nonmaterial heritage) for the most beautiful Nativity scene.
The Kraków nativity scene is a unique phenomenon in the world. It started in 19th-century Krakow, among the construction workers looking for income in the autumn and winter period.
They started building a small puppet theatre, with the Holy Family on the first floor, in the form of a tower building with elements reminiscent of the architecture of old Krakow.
Since 1937, the competition takes place every year, attracting lots of local artists.
Krakow with kids or without is special any time of year, but during Christmas time Krakow is an extra charming place.
Bucharest, Romania
From Anda of Travel For A While
The Christmas Market in Bucharest is usually open from the end of November to December 30th in Constitution Square, right in front of the iconic Parliament Building.
Bucharest is a vibrant city and all that energy transfers to the Christmas Market during the holidays.
Whatever you're looking for in a Christmas Market, you'll find it here. More than 100 cottages sell anything from traditional baked Christmas sweets to Christmas decorations and from wood sculptures to handmade jewelry.
You can find a last-minute gift for someone close in here or give yourself a present.
Another attraction is the food. Romanian food is very rich and tasty, especially the winter dishes.
You should come hungry to the Christmas Market and try the stuffed cabbage rolls (sarmale) with polenta, sausages, and pickles.
Leave some extra room for a slice of pie or a delicious kürtőskalács. Don't forget the mulled wine to accompany the feast.
The kids will love Santa's House where they can leave their letters to Santa and meet the elves. They can also skate or enjoy the carousel and all the sweets they want.
From Friday to Sunday there are concerts on the large stage in front of the 25 meters tall Christmas tree.
Salzburg, Austria
From Carine & Derek of We Did It Our Way
Salzburg is a beautiful Austrian city to visit all year round. But if you want to experience it beyond its usual magic, December is the best time to explore the city.
Not only can you see many of the "Sound of Music" locations, the birthplace of Mozart, castles, and hills, but there are also some of the most amazing Christmas markets in Europe!
Nestled in the mountains, with a castle sitting atop the hill, during the month of December, the whole city is taken over by various Christmas markets spread all through the city's main squares. This is what Holiday magic is all about!
The city's squares, usually in front of major churches in the city, are adorned with huge Christmas trees, along with a ton of stalls that make up Christkindlmarkts.
Imagine hundreds of stalls opening up, instantly adding life and magical Christmas joy to the city. Best of all, you get delicious whiffs of food and drink as you walk by.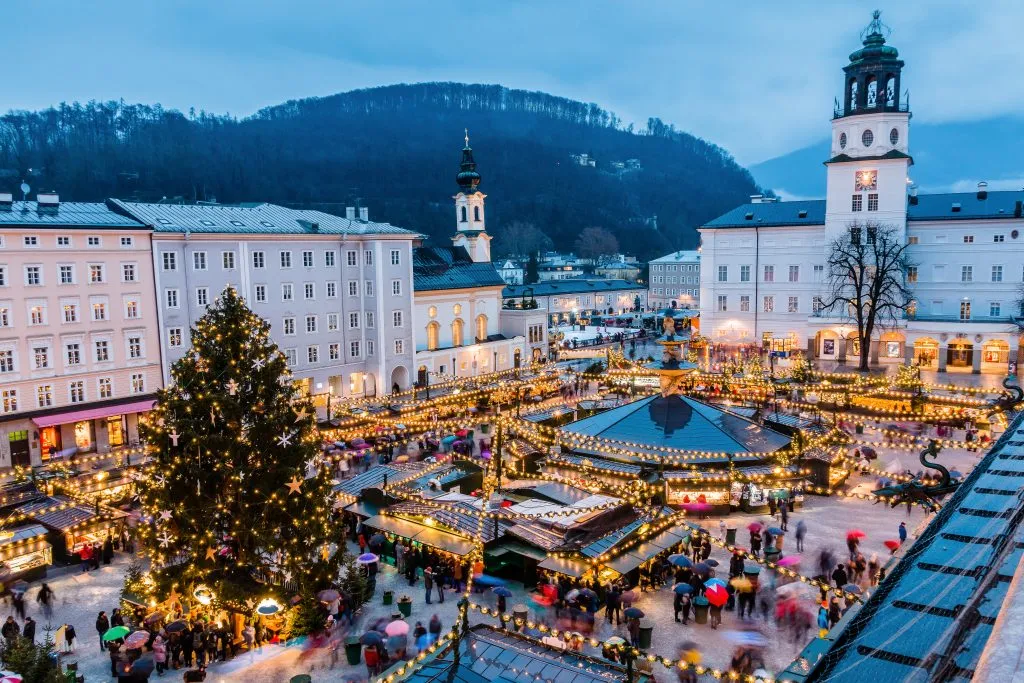 One of the best things about the Christkindlmarkts is all the food and drink you can get there. Stall after stall sells local and traditional fare, from hearty meals to decadent desserts.
Plus, you can 'rent' a souvenir mug that you can fill and refill with mulled wine and apfelpunsch, a boozy apple drink.
When you've had enough, you can return the mug and get your deposit back, or take the mug home as a souvenir. A double win by our books!
These Christmas markets are also a great place to get some local handmade souvenirs if you're looking to bring some gifts home with you.
Regardless, the markets are really fun for trying different foods, people-watching, and getting your fill of holiday magic!
Wroclaw, Poland
From Anna of Come Join My Journey
Wroclaw is a small city in Western Poland that boasts one of the best Christmas markets in Europe. Wroclaw has a picturesque Old Town which is well worth a visit year-round.
From its impressive medieval Old Town Hall to its small gnome statues scattered around town, there are ample things to do when visiting Wroclaw.
Wroclaw is especially charming during Christmas time when the entirety of Wroclaw's Old Town is transformed into a beautiful and whimsical Christmas market.
The market is massive, and attractions can be found along various streets and Wroclaw's Market Square.
The Wroclaw Christmas Market has a fairytale theme which is apparent in every last whimsical detail.
There is a fairytale forest, where you can watch animatronic fairytales. Gnomes are seen meandering around the market and the decorations are so beautifully on point, making this market feel like a fairytale come to life.
Aside from the cute fairytale theme, there are endless stalls to shop at, Christmas-themed rides and games, and over-the-top mulled wine stands.
A trip to Wroclaw can easily be done in one day. Yet, plan on visiting for a weekend to experience the Christmas market.
There are so many unique things to see at the Wroclaw Christmas market, so you will want at least two nights to truly experience it.
Best European Christmas Markets in the UK + Ireland
London, England
From Caroline of CK Travels
London is one of the best cities in Europe to visit during Christmas with many decorative lights and markets dotted around the capital.
The most well-known market to visit during the run-up to Christmas is located inside Winter Wonderland in Hyde Park, a large open-air festival with heaps of festive attractions.
At Winter Wonderland you will find a large traditional German-style outdoor market where you can shop for handmade crafts and gifts and enjoy delicious hearty food and hot drinks including cheese raclette, bratwurst sausages, and mulled wine (glühwein).
As well as the market there are other fun things to do including a Santa's grotto, an ice skating rink, a giant observation wheel, fairground rides, comedy shows/circuses and themed indoor and outdoor bars serving large steins of beer with live music.
There is also a huge outdoor area called the Ice Kingdom with children's film character ice sculptures along with ice sculpting workshops.
It is best to visit Winter Wonderland outside of the busy peak hours (evenings and weekends) as winter wonderland is extremely popular with both locals and visitors.
Some of the attractions need to be paid and booked for in advance so check their official website before you visit.
As well as Winter Wonderland, you'll also find lots of fun things to do in the city at Christmas.
Head over to London's south bank to visit their cute riverside Christmas market with several traditional wooden chalets, as well as a two-story Scandinavian-style house with traditional fire pits, serving authentic Swedish food and hot winter drinks.
Dublin, Ireland
From Emer and Nils of Let's Go Ireland
During the month of December, there are several different Christmas markets taking place in Dublin, Ireland's capital city.
Christmas in the Castle, situated at the heart of the city is definitely one of the best.
Set in the grounds of the historic 13th-century Dublin Castle, this Christmas market is not the biggest that Dublin has to offer, but it has several distinctive highlights that should not be missed.
Soak up the Christmas atmosphere of the castle with live carol singing and charming lights, while sampling scrumptious delicacies from the traditional festive stalls.
With many different unique crafts and handmade gifts on offer, it is easy to find the perfect Christmas presents or special Irish souvenirs.
There is something for everyone in this Christmas market, even the kids will be delighted by the vintage carousel.
There are two additional highlights for this Christmas market that set it apart from the others.
In the evenings, it is possible to have complimentary access to the festively decorated Irish State Apartments.
As the market is also located just around the corner from the Chester Beatty collection of art and cultural treasures, it is well worth stopping by. Admission is free and highly recommended.
Edinburgh, Scotland
From Kim of The Adventure To Me
Scotland is known for its cold weather, making it the perfect place to allow yourself to get fully into the Christmas spirit.
During the festive season, Edinburgh, the capital city of Scotland, comes to life as Hogmanay is one of the world's greatest New Year celebrations and the city holds many events on the lead-up.
Only in 1958 did Christmas become a public holiday in Scotland, and they've made up for the celebrations since.
Princes Street Gardens are overtaken by lights, rides, and an abundance of market stalls, from food to quirky popups, with the market being one of the biggest in the UK.
One of the best things about Edinburgh is that the Christmas markets run from November to January, meaning there is plenty of time to visit rather than be restricted to a few weeks.
For the iconic shot of the market, head to Johnny Walker's bar which overlooks the whole of Princes Street Gardens, it does get busy, but it's worth it for the incredible views.
Beyond the Christmas markets, The Dome is a recommended visit due to the incredible Christmas decorations and gigantic tree, making it the perfect backdrop to enjoy a festive tipple.
Also, The Royal Botanical Gardens is a must-visit as the gardens turn into an illuminated trail, discover the trail at your own pace and even roast a marshmallow on the route too!
Whether you're reveling in the incredible lights on George Street, sipping on a mulled cider while watching live music at the outdoor bar, or visiting The Royal Botanical Gardens, Edinburgh is a must-visit during the festive season as it's a truly magical experience!
Galway, Ireland
From Bruna of Maps N' Bags
As one of the friendliest cities in the world, Galway is the perfect place to get into the Christmas spirit!
That's because the city not only has that fantastic, laid-back Irish vibes but it also has one of the most popular Christmas markets in Ireland.
With over 50 wooden stalls sprawling from the Spanish Arch to the Eyre Square in the city center–which is one of the best places to stay in Galway–the local Christmas market is filled with attractions.
Hop on the Big Wheel and see the city lit up with holiday lights from above. Oh, what a view! Not your jam? Then watch the choirs or carol singing along the market.
For food lovers, worry not–you can feast your way through Galway, from French crêpes to Belgian waffles and German beer to gluhwein (mulled wine).
Keep in mind that the German beer tent in Eyre Square gets jam-packed with people after 5 PM. Arrive early for delicious German snacks, bites, and beer, of course!
Oh, and if you're looking for souvenirs, you might want to shop for food products and Christmas gifts both from local artisans and European traders.
The Christmas market in Galway is a unique place to experience a wonderful winter break in Ireland.
Manchester, England
From Helen of Helen On Her Holidays
The Christmas Markets in Manchester are some of the most popular in the North of England and attract visitors from all over the UK.
The main Christmas Market is in Albert Square, outside the city's Gothic town hall, but you'll also find markets in St Ann's Square, by the Manchester Cathedral, and throughout the main shopping area.
Each Christmas Market includes a large bar where you can get a gluhwein in one of the special Manchester Christmas Markets mugs – the design changes every year.
There are lots of food and drink stalls (Northern Soul Grilled Cheese is a particular favorite) and stalls selling festive gifts.
In recent years Manchester has also had plenty of pop-up and alternative Christmas markets.
The lovely Victoria Baths hold a vegan Christmas market event, while the Hatch food and drink market can be relied on to offer up a typically cool Mancunian alternative to the German-style Christmas market.
The Manchester Craft and Design Center in the Northern Quarter is a great place to pick up unique Christmas gifts.
Other attractions in Manchester at Christmas include the Lightopia Festival in Heaton Park, north of the city center.
It's a magical lantern festival that arrived for the first time in 2019 and was tremendously popular. There's another light festival at Salford Quays, along with an ice rink.
Stunning Christmas Markets in Northern Europe
Gothenburg, Sweden
From Roshni of The Wanderlust Within
Sweden's second city, Gothenburg, is known as the "Christmas City". As well as plenty of Christmas markets in Gothenburg there are also musical concerts, choir singing, and festive events that take place in December.
The most popular Christmas market in Gothenburg is the largest in the country and is found at Liseberg amusement park.
In December, Liseberg regularly pulls in half a million visitors which come to marvel at the large selection of 80 Christmas stalls, selling bespoke gifts and handicrafts as well as Swedish delicacies like cinnamon buns, and to enjoy the amusement rides.
There is also a festive ice-skating ballet show, a traditional Christmas buffet dinner, and of course Santa's workshop, so it's easy to spend a whole day enjoying the festivities.
On top of the fun to be had it's great to know that as Gothenburg is the world's most sustainable city, the five million Christmas lights that decorate Liseberg are sustainably powered by the theme park's own wind turbine.
Gothenburg also has three other Christmas markets, the most traditional is found at Kronhuset, one of the oldest preserved buildings in the city.
The most modern Christmas market only runs for one weekend at the iconic Roda Sten Konsthall but sells independent Swedish-designed goods.
The most quaint and charming Christmas market is found in the Haga neighborhood, which is great for foodies as it's home to the largest cinnamon rolls in Sweden.
Copenhagen, Denmark
From Derek and Mike of Everything Copenhagen
Copenhagen, Denmark comes alive at Christmas.
It is one of Europe's best cities for Christmas markets in Europe because it's full of festive decorations, seasonal foods, and the most amazing Copenhagen Christmas markets.
There are Markets all over the city but one Christmas market you have to visit is at Kongens Nytorv. It's one of the prettiest squares in the city all year round and it glows at Christmas.
You're steps away from iconic Nyhavn (where there is also a market) and in the shadow of D'Angleterre, a luxury hotel that turns its facade into a holiday advent calendar.
Each year the hotel adds an LCD screen to each window and you can count down the days to Christmas on their facade.
Also visit Højbro Plads, in the plaza near Christianborg Palace. It's a crossroads of the main streets in the city center and hosts a very traditional German-style Christmas market.
One Christmas market with a little extra to offer is the one at Tivoli Gardens.
The famous amusement park is decorated like a Hollywood movie set and you feel like you've walked into Santa's Village.
All of the rides are operating during the Christmas season including some new ones like the Polar Express.
Of course, Santa Claus is there himself before he goes back to Greenland on Christmas Eve.
St. Petersburg, Russia
From Rai of A Rai of Light
2022 Update: Sadly, due to the ongoing war and complicated travel logistics, we cannot recommend visiting the St. Petersburg Christmas Markets at this time.
What makes this imperial city stand apart during Christmas is the wonderful atmosphere with a whole host of things to do in St Petersburg at this time of the year.
Considered the cultural capital of the country, it has a long history, dating back to the early 1700s, and has gained a multitude of artistic and architectural treasures.
The city is beautiful in the snow as locals prepare to celebrate the festive season. Think spiced glintwein (Russia's version of gluhwein), troika rides, and snow-capped domes.
Be seduced by beautiful views of frozen canals and rivers while discovering a city full of unique architectural monuments and sculptures.
For Christmas markets, the best among the dozen across the city are the Fair on Ostrovsky Square and Pionerskaya Square.
Winter offers plenty of Russian celebrations, outdoor activities, and cultural events during this time.
From sledding at Victory Park to skiing at Tsarskoye Selo and Ice Hockey at the Ice Palace, there's often an event taking place to celebrate the season.
Stockholm, Sweden
From Lindsey of Seven Day Weekender
Stockholm's Christmas markets are the best places to sample Sweden's holiday traditions.
Taste Swedish seasonal delicacies, including marzipan pigs and pepparkakor (gingersnap cookies), pick up beautiful handmade gifts you won't find anywhere else in the world, sample the regional "delicacy" of smoked reindeer, and–of course–meet Santa!
Be sure to also sample a glass of hot glögg, or Scandinavian mulled wine, which is non-alcoholic at the markets as it's illegal to drink on the streets in Stockholm.
There are a handful of markets scattered throughout Stockholm, which (aside from a couple of exceptions) run from the middle of November through right before Christmas.
The most genuine Christmas experience can be found in the Gamla Stan (Stockholm's Old Town).
It's the most famous and most traditional market in the city, close to the Royal Palace.
In addition to the Gamla Stan market, there are a couple of other markets that you must make a stop by, such as the market at Drottningholm Palace and the market at Skansen (the world's oldest open-air museum).
One of the great things about this market is a large number of skilled craftsmen and craftswomen you can meet, including blacksmiths, candlemakers, straw weavers, and textile producers.
Skansen's market is one of the most beloved traditions in Stockholm. Similar to the other markets in the city you can sample, or stock up on, sausages, cheeses, handcrafted goods, and decorations.
Walking around Stockholm is going to be the best way to take in all of the architecture and holiday decorations, but don't forget about the metro system, which also doubles as an underground art exhibit.
Because Christmas is such a big deal in Stockholm, in addition to the European Christmas markets, experiencing the holiday Julebord (which is a feast where traditional Christmas food and alcoholic beverages are served in the form of a buffet) at the Elite Plaza Hotel is a must!