Rome is one of our very favorite cities in the world, and we adore it during all 4 seasons of the year–but there's something extra special about Rome in winter.
Crisp winter sunlight, the holiday season, and–most importantly–a severe lack of crowds as compared to the rest of the year–all combine to create an incredible experience in the city.
Whether you're visiting for holiday festivities in December, or for the delights of experiencing a downright empty city (compared to most of the year, anyway) in January or February, winter is a magical time to enjoy the Eternal City.
We've been lucky enough to visit Rome in the winter several times, and expect to enjoy many more cold(ish) weather trips to Italy's capital in the future.
Considering a trip to Rome in winter?
Don't hesitate–you should definitely go.
Here's why, plus some of the best things to do in Rome in winter!
The Best Things to Do in Rome in Winter
Visit Rome's top attractions without the usual crowds.
The first time we stepped foot in Rome in December, we were absolutely shocked.
The difference in crowds from when we had last seen in the city in mid-November, just a month earlier, was palpable.
We were delighted and confused–the Piazza Navona was practically empty in the middle of the afternoon? We could walk right into St. Peter's Basilica?
The Colosseum had actually somewhat manageable lines?!
It was amazing–and when we later visited Rome in February, we found more of the same.
No crowds and a beautiful city: we were enamored, and completely recommend a winter trip to Rome based on this alone.
… but enjoy all the usual access to the city while you do.
Unlike smaller resort areas or coastal towns in Italy, hotels and tourism companies and Rome don't tend to close for the winter.
So, other than potentially snagging an off-season deal and enjoying a smaller group experience, you won't find many things different about booking tours in Rome in winter than during the summer.
Enjoy the best things to do in Rome without the summer heat.
Honestly?
The last 2 months we'd choose to spend in Rome if given the choice are July and August, which are also two of the most popular months to visit the city!
Even our June visit to the city had us heading back to the hotel to escape the heat for a bit most days–by comparison, winter in Rome is much more peaceful.
Highlights like the Colosseum, Palatine Hill, and the Spanish Steps are far, far more enjoyable without the sticky, sweltering heat of summer, and are an absolute joy to experience during winter in the Eternal City.
Warm up with a traditional a café at an Italian bar.
Dropping into an Italian bar and downing a café (aka espresso) at the counter is an iconic part of any visit to Rome!
There's something extra special, though, about stepping inside a warm, cozy bar and downing a hot drink is extra delightful when it's cold outside.
If you're curious about Italian coffee rituals, we have a guide to enjoying coffee in Italy here.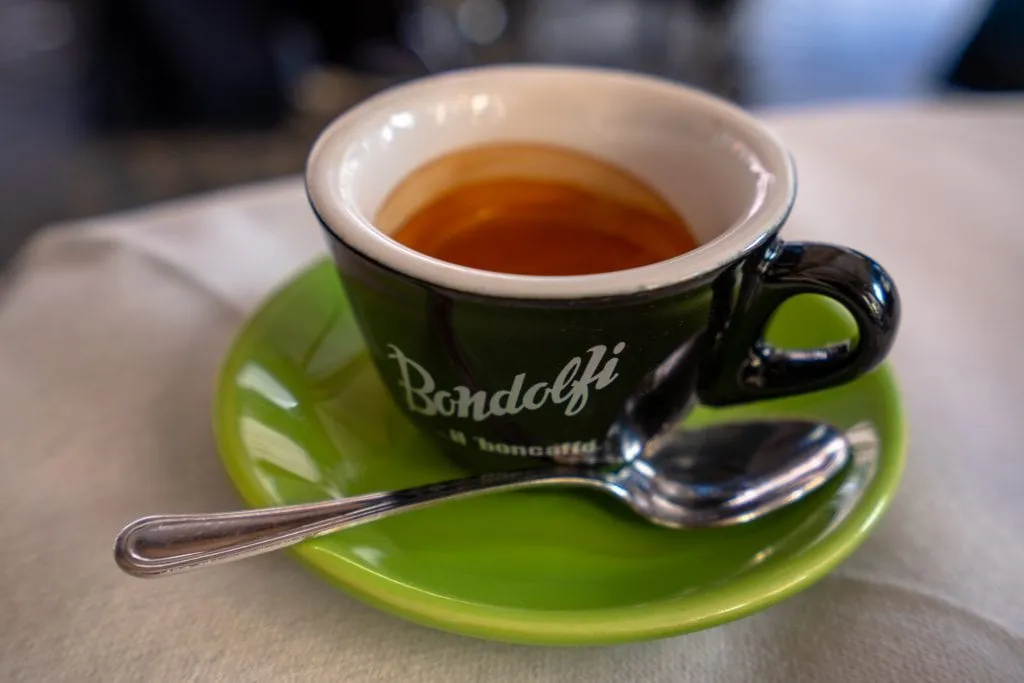 Splurge on a memorable hotel thanks to off-season prices.
It's amazing how much prices for hotels drop in the winter in Rome–it can be like planning a trip to a whole different city compared to the summer!
If you've ever dreamed of staying right in the center of the city or splurging on a luxury property, winter in Rome is the absolutely perfect time to do so.
A couple of memorable options include the Antico Albergo del Sole al Pantheon (which is located right in front of, you guessed it, the Pantheon), and Villa Spalletti Trivelli, which is part of the fabulous Small Luxury Hotels of the World Group.
Take long walks through Centro Storico and Trastevere under crisp winter sunlight.
You'll likely experience more gray skies and yes, occasionally downright dreary weather in Rome in the winter than any other time of year.
… But on the other hand, when the sunlight hits Rome's ruins in winter, it's a beautiful sight.
Learn to cook classic Roman pastas at a cooking class during winter in Rome.
Stay warm and cozy with a Roman cooking class during your getaway!
Winter is the perfect time to expand your skills in the kitchen and enjoy the benefits of a home-cooked meal in Rome.
And, as a bonus, Rome's hearty pastas are the perfect complement to crisp weather.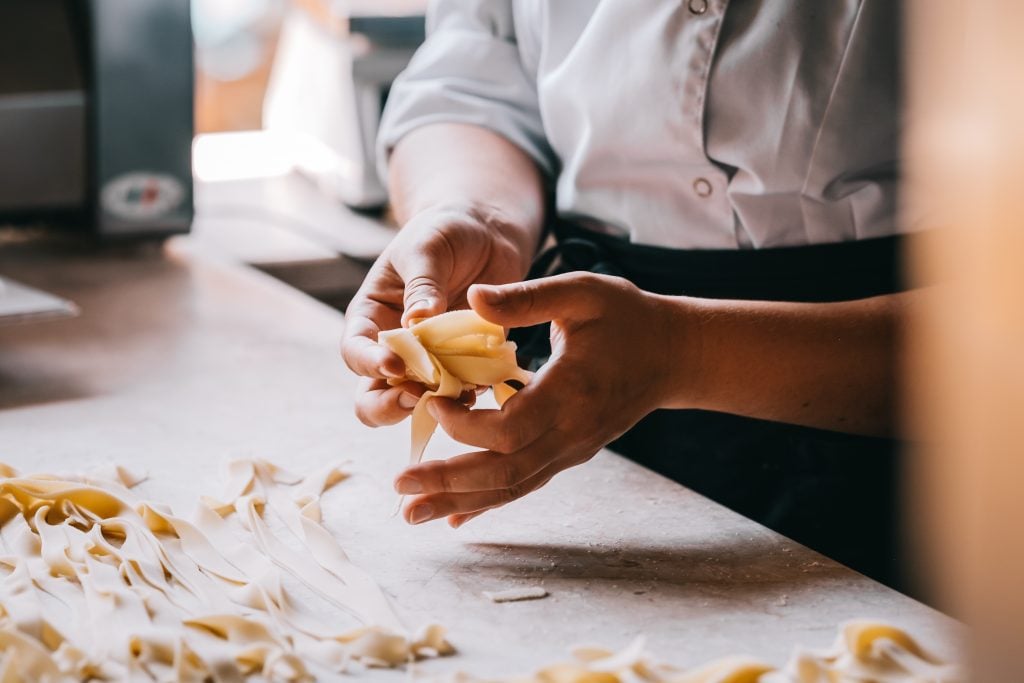 Check out the Christmas decor in front of St. Peter's Basilica.
A giant Christmas tree, glistening winter sunlight, and… a gigantic nativity scene carved out of sand?
The Christmas decor in front of St. Peter's Basilica may be a bit unexpected in some ways (at least last year–other years sometimes boast more traditional scenes), but it's definitely worth checking out!
And, of course, you can always count on a gigantic Christmas tree lighting up the center of the square each year as well!
… and the Christmas decor in the rest of Rome, too.
Rome may not have the gingerbread-style architecture, snow, or markets that add zest to the holiday season further north, but the Eternal City positively comes alive with twinkling lights as Christmas nears!
Head to the Spanish Steps and then head down Via Condotti for a great peek at some of the prettiest Christmas lights in Rome.
Other places to check out for beautiful Christmas decor in Rome (other than St. Peter's Square listed above) are Via del Corso, Piazza Venezia, and Piazza Navona.
You can't go wrong with exploring the many winding and beautiful small streets of Centro Storico and Trastevere, either.
Take advantage of lighter traffic and try your hand at driving a Fiat 500 through Rome.
Always wanted to try your hand at driving a Fiat 500 but are too nervous to try when Rome's traffic is so heavy during the summer?
I can't blame you in the slightest!
Rome is never the easiest place to drive, but if you want to get behind the wheel, doing so when visiting Rome in winter is definitely a more inviting prospect than during the hectic summer.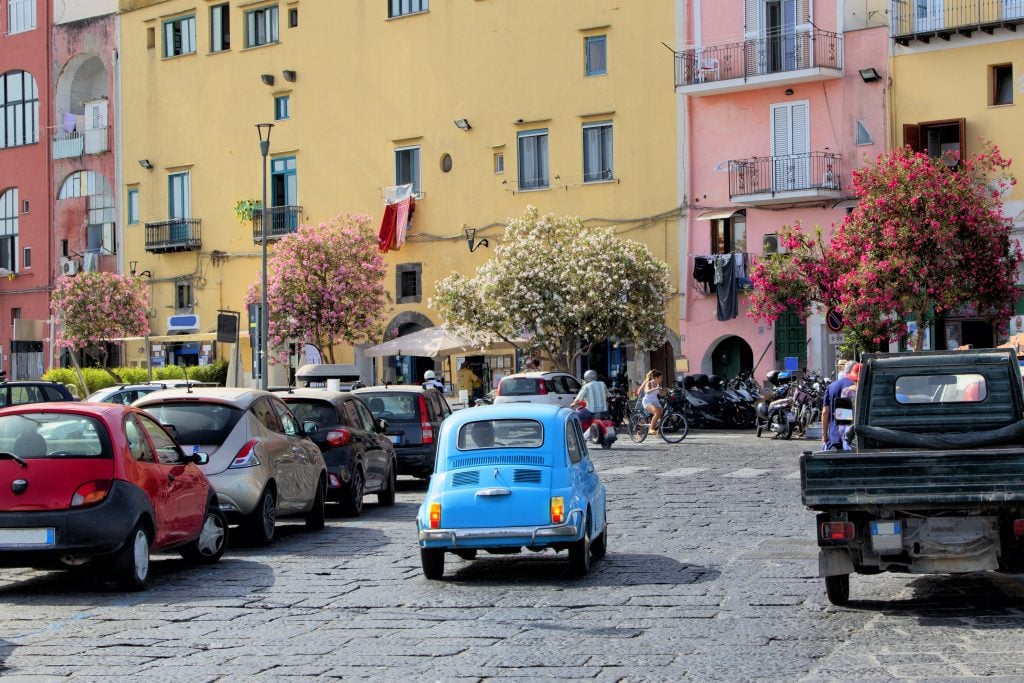 Enjoy a traditional Roman market without worrying about the weather.
The popular market at Campo de' Fiori may be touristy these days, but it's also picturesque and fun to visit!
If the weather isn't cooperating, though, there's a much more local option that makes a great alternative: the Testaccio Market.
Located inside, the Testaccio Market is a great place to explore.
And, if you make the trek out to Testaccio, you'll be near other interesting attractions like the Pyramid of Caius Cestius, too!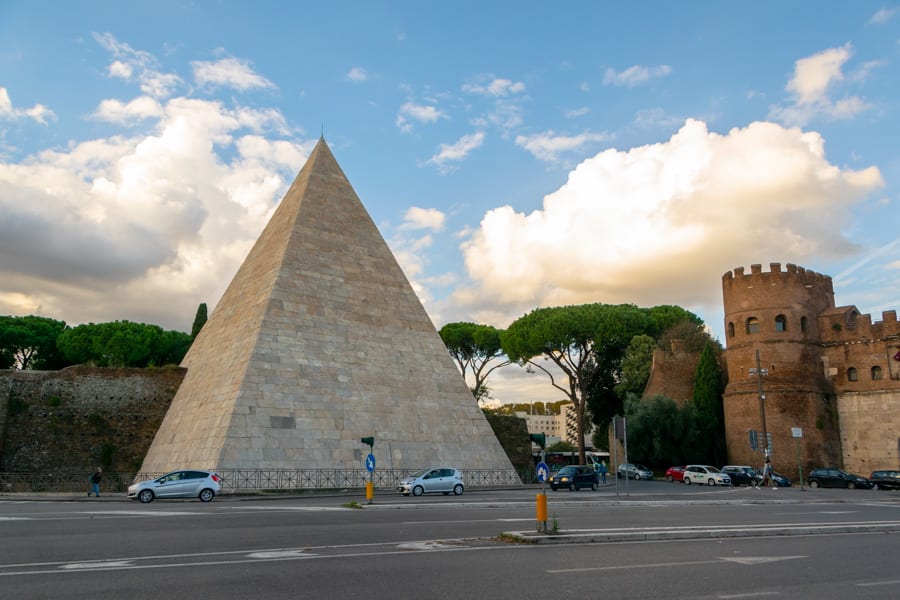 Wander uncrowded streets in Rome's most popular neighborhoods.
Be sure to bundle up and hit the streets when visiting Rome in winter!
The Eternal City is absolutely beautiful at any time of year, but meandering through the streets checking out everything from storefronts to Christmas lights is extra special during the quieter months of December, January, and February.
This is also the perfect time to aimlessly explore two of Rome's most stunning and popular neighborhoods, Trastevere and Centro Storico, without feeling jostled by the crowds.
Celebrate one of the classic winter holidays in the Eternal City.
Christmas is the obvious choice, of course, but ringing in the New Year in Rome or celebrating a romantic Valentine's Day with your beloved are also fabulous options!
Rome is a fairly quiet place for all of these holidays, and in the case of Valentine's Day in particular, it's safe to say that exploring the city is much more romantic without the crowds.
(And on the topic of romance, it's a great time to propose in Italy, too–we know more than one couple who got engaged on vacation in Rome!).
Take advantage of the offseason to take a day trip to Pompeii from Rome.
Pulling off a day trip to Pompeii from Rome is a little tricky–we honestly recommend taking a tour to do so–but if you want to go, winter is a perfect time!
Avoid both the intense heat and the heavy crowds of visiting Pompeii in summer with a winter trip, which is a truly pleasant experience.
Plus, if you know Italy well and want to try to take an independent day trip to Pompeii from Rome, the lack of traffic and crowds will make it easier to pull off during winter than at any other time of year.
This wildly popular day trip is a great way to visit Pompeii from Rome!
Dress up and see a show at the Teatro dell'Opera.
A cold winter night is a perfect time to experience a night out at the gorgeous Teatro dell'Opera in Rome!
You can check performance dates and shop for tickets here.
Try both delicious ways that Romans prepare artichokes in winter.
Artichokes–cooked both Roman-style (carciofi alla romana) and Jewish-style (carciofi alla giudea) are both delicious and are some of the best-known dishes of Rome.
The best restaurants only serve them seasonally, so winter is the perfect time to sample these delicacies in Rome!
Step inside Rome's catacombs.
Rome's catacombs are fascinating at any time of year–but add in fewer crowds and crisp winter air, and the atmosphere is even more impressive.
This popular tour takes you not only to Rome's more traditional catacombs but to the Capuchin Crypt, which ranks among the most striking ossuaries we've ever visited.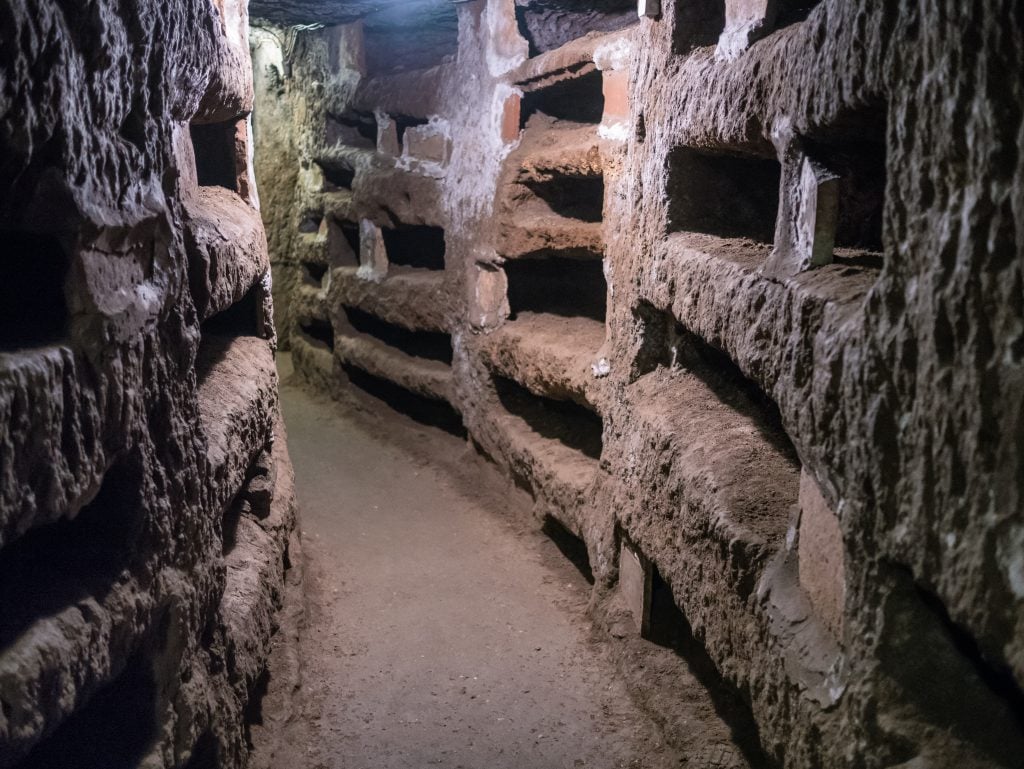 Shop 'til you drop at Rome's winter sales.
Want to indulge in some post-Christmas shopping in Rome?
In much of Europe, including Italy, sales (including on luxury goods) are regulated and can only happen at certain times of year.
In January and February, Rome's winter sales hit the stores, and it's the perfect time to shop.
Take a trip to the countryside to enjoy some of Italy's thermal baths.
Want to spend an afternoon forgetting your worries in a steaming spa?
Take a day trip from Rome to visit one of the countryside's nearby thermal baths!
Indulge in classic Roman pastas at their best.
You should never come to Rome without indulging in lots and lots of pasta, but there's something extra satisfying about tucking into a hearty serving of carbonara when it's chilly outside.
Rome's most traditional 4 pastas (carbonara, cacio e pepe, gricia, and amatriciana) are all must-samples on a winter trip to Rome.
Minestra (pasta and vegetable soup) and pasta e ceci (pasta with chickpeas) are another couple of tasty dishes to try that you can usually only find in Rome in winter.
Tips for Visiting Rome in the Winter
Don't come to Rome for Christmas markets.
There are so, so many reasons to visit Rome in winter, and Rome is one of our favorite cities in the world year-round.
But that being said… don't come here for the Christmas markets.
While they do exist (you can head over to Piazza Navona for a taste), they're not nearly on the same scale as the markets you'll find in Germany or other surrounding Central European countries, or even on the level of the Christmas markets in Bolzano, which are widely considered to be the best in Italy.
Stop by the markets if you're in Rome, sure–but if your objective is visiting Christmas markets, make sure to add some other destinations to your trip.
Dress the part.
Rome's winters may be mild, but if you're busy touring the city, you're still going to spend lots of time walking around outside.
That means you'll want a warm hat
, scarf
, and gloves
–plus a great coat and cozy boots that are comfortable to walk in.
I normally wear a coat like this in Rome in winter, and Jeremy usually wears something similar to this
.
Embrace the gray skies.
Gray skies and rain are more common during winter in Rome than any other time of year, so come prepared for a few dreary days!
That being said, Rome isn't Paris!
You'll likely see the sun some during your trip, but it's better to come prepared.
If you have your heart set on snagging photos of, say, the Colosseum in the sunshine, we recommend heading that way as soon as you see a good weather day coming up during your trip.
… And bring an umbrella out with you.
Don't head out exploring Rome during winter without an umbrella!
You never know when a rainstorm might hit, and they're definitely more common in the winter than in the summer.
Most businesses will run normally during winter in Rome, but double-check.
While winter in Rome is definitely the offseason for tourism, saying that tourism ever really shuts down in Rome is a wild overstatement.
There are always people visiting Rome, and typically speaking, businesses are always going to be around to serve them.
If you have your heart set on a specific experience, though, be sure to check with the company in advance.
That's especially true if you're planning your winter Rome trip around Christmas when some small business owners might be more focused on family than tourists.
The Christmas decor doesn't stay up as long as in other cities.
Rome's Christmas decor is beautiful, but it doesn't tend to stay up as long as in other cities in Europe.
If you want to see Rome's Christmas lights and decor at their most gorgeous, it's best to plan a trip between December 8 (the holiday of Immaculate Conception) and January 6 (the day of the Epiphany).
After that, it'll be all about moving on to focusing on the new year ahead!
Winter Weather in Rome, Italy
Temperatures are generally mild.
Rome's winter highs are generally in the mid-50s Fahrenheit or around 12 degrees Celsius.
In other words, while you certainly won't freeze when visiting Rome in winter, though you'll definitely want to plan on wearing a warm coat, hat, scarf, and boots out each day.
Don't expect snow.
It very rarely snows in Rome–maybe once a year, if that–so definitely don't plan a winter trip to Rome expecting to see the Colosseum draped in a blanket of white.
That being said, if you're lucky enough to wake up in Rome in winter and see snow outside your window, head outside with your camera and start snapping photos immediately!
The days will be shorter than during the summer.
While Rome is far enough south that you won't need to strategize your use of daylight hours nearly as much as in northern European cities like Oslo, you're still only looking at around 9 to 10 hours of daylight each day, and a sunset that takes place before 5:00 PM.
If you're hoping to get photos during the day in Rome, plan accordingly!
On the other hand, if you want to explore Rome at night, there's no more convenient time of year to do so.
Where to Stay During Winter in Rome
For the most part, deciding where to stay during winter in Rome isn't much different than deciding where to stay in Rome during the rest of the year, except that everything will be much cheaper!
We do recommend staying as central as possible to cut down on the amount of time you'll need to walk through the cold when you're heading home at night.
And, since hotel deals are so easy to come by in January and February (and to a lesser extent, in December), that's a much easier ask than in other seasons.
Here are a few of the many wonderful places to stay in Rome, Italy!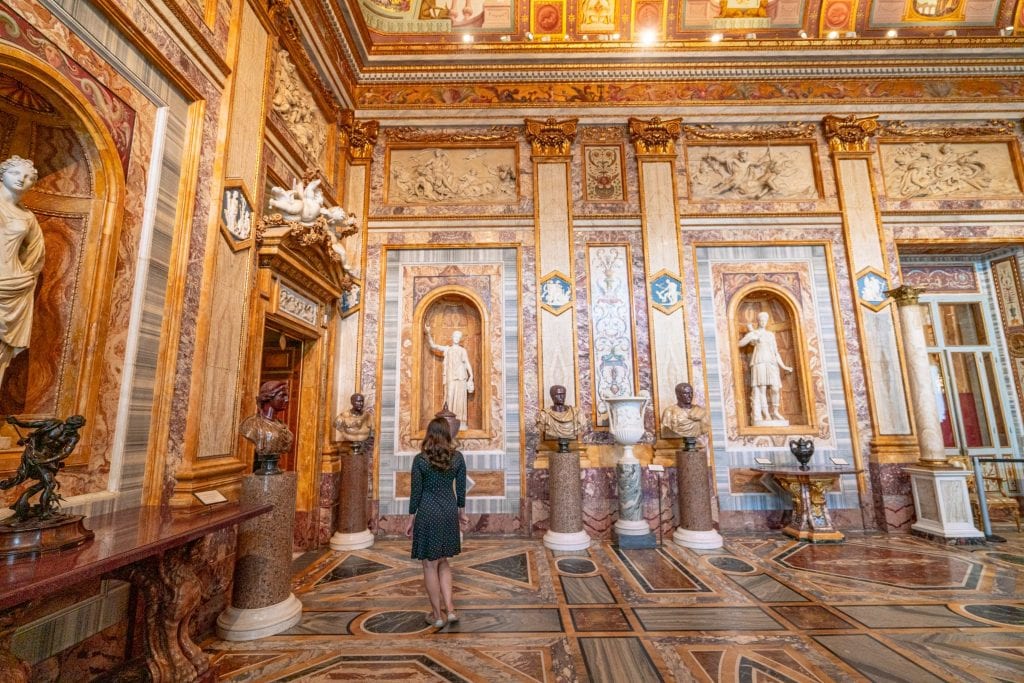 Budget
La Cornice Guesthouse — We loved this little guesthouse! It was extremely clean and comfortable, and very affordable for Rome.
La Cornice is set slightly outside the main tourist areas, but an easy 5-minute walk to the metro and a 20-minute ride got us to the Colosseum and other major sights.
Our favorite part of La Cornice? Eating a nearby Joseph Ristorante for lunch, which we ate at several times on recommendation from the clerk at La Cornice.
Just a 5-minute walk away, their lunch special offered a choice of about 10 main courses plus bread, wine, and one of several desserts for 8 Euros/person–it's hard to beat that!
Mid-range
Hotel Condotti — Located just around the corner from the Spanish Steps (and consequently the Piazza di Spagna metro station), you couldn't ask for a better location in Rome!
Well-reviewed and boasting exceptionally clean rooms, Hotel Condotti is the perfect choice for a traveler with a midrange budget (or luxury traveler–this hotel also holds some impressive-looking suites!) who would like to be within walking distance of the best that Centro Storico has to offer.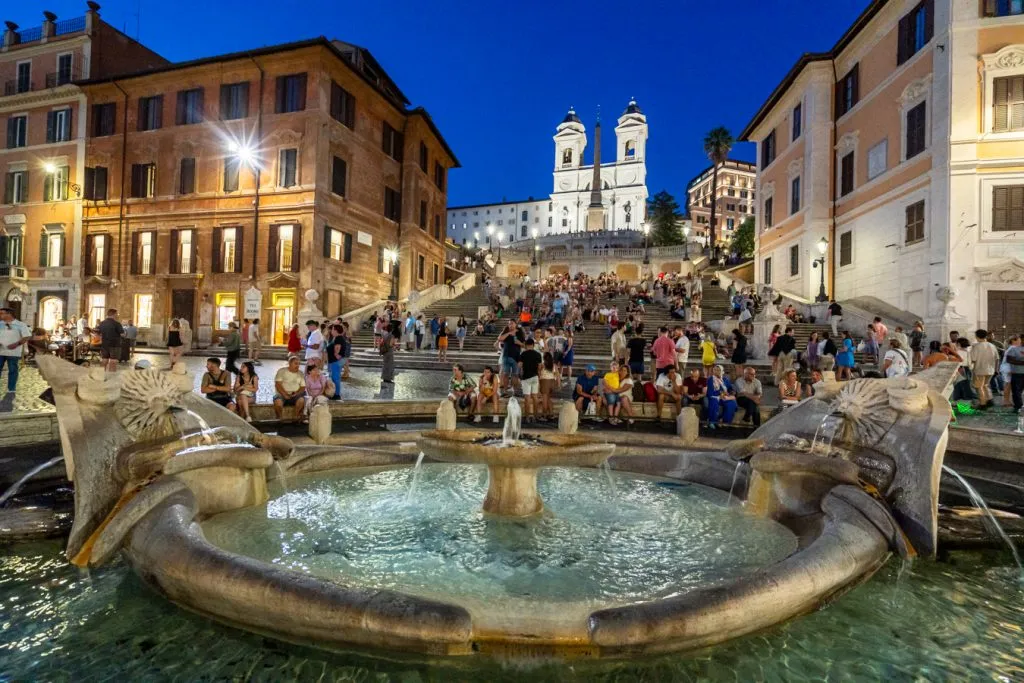 Luxury
Pantheon Inn — If you're looking for a building with classic Italian charm in the heart of Rome, this is it.
Located right behind the Pantheon and within reach, the Pantheon Inn offers a quiet, peaceful escape in the middle of bustling Rome.
You will need to walk a bit to the metro stop–but since the walk will take you through the heart of the beautiful Centro Storico, we doubt you'll mind.