Beautiful, interesting, and easily accessible, Hvar is the perfect Croatian island for visitors looking for a fun and easy getaway from the mainland–and whether your trip is for a day or a week, there are plenty of fun things to do in Hvar to keep you occupied!
We've visited Hvar twice and adored every second of our time there, and a third (and let's be honest, probably fourth) trip is definitely on our list for the future.
Wondering what to do in Hvar?
From Hvar Town to surrounding sights to interesting day trips, here are all the best things to do in Hvar.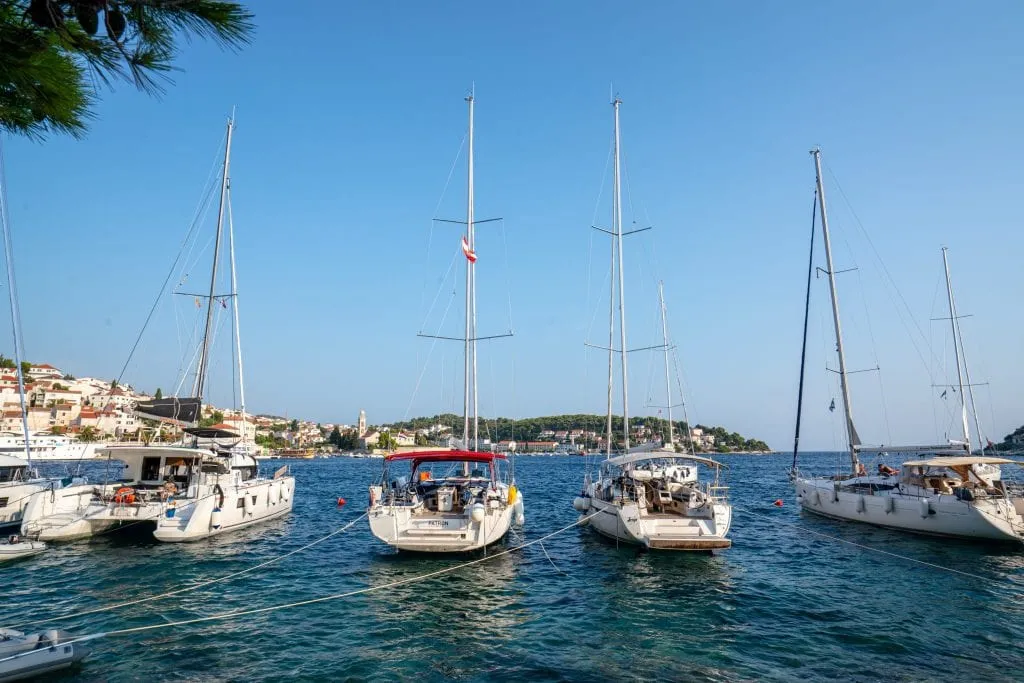 Some links in this post may be affiliate links. If you make a purchase through one of these links, we may earn a small commission at no extra cost to you. Please see our

disclosure policy

for more detail.
Best Things to Do in Hvar
Admire the views from the Spanish Fortress (Fortica).
The view from Hvar's Spanish Fortress is, hands down, one of the best coastal views we have ever seen in our entire lives, and it is worth every single step to the top.
While there has been a structure on the sight of this fortress for thousands of years, the current fortress was a group effort, built and fortified at various points by the Venetians, the Austrians, and of course the Croats.
The fortress itself is interesting and worth checking out–there's a small museum inside, and you can even duck into the prison–but the views are what make it one of the absolute best things to do in Hvar.
If climbing all the way up to the top of Hvar Town sounds completely miserable, the fortress is also accessible by car or taxi.
Check out St. Stephen's Cathedral & square.
Located in the heart of Hvar Town, St. Stephen's Cathedral and the gigantic square that spills out in front of it are absolutely unmissable sights during any trip to Hvar (quite literally–if you walk through town at all, you'll no doubt find it).
Built in a baroque style during the 16th and 17th centuries, the cathedral is beautiful and typical of Dalmatian architecture at the time.
Visit a lavender field.
While not nearly as famous as the fields of Provence, Hvar Island offers some absolutely beautiful lavender fields that are well worth checking out if you visit during the bloom in June and July.
Since the fields are located far outside of town, you'll likely want to take a taxi or book a tour to visit them–but if you'd like a chance to admire the blooms, it's absolutely worth the visit.
Want to visit the lavender fields without dealing with a taxi?

If so, this lavender tour is the perfect choice!
Head to Jelsa for a day.
Far quieter and arguably more peaceful than busy, bustling Hvar Town, the small town of Jelsa is an excellent place to visit (or even base yourself) if you want to experience a slightly less-touristy side of Hvar.
We based ourselves here on our first trip to Hvar, and while it certainly isn't the best place to stay if you want to spend a lot of time hitting Hvar's most popular tourist sights, it's an excellent place to catch your breath and enjoy the natural beauty of the island.
Take a day trip to the Pakleni Islands (Paklinski Islands).
If daydreams of your trip to Croatia include stretching out on a near-deserted stretch of beach and diving into crystal-clear water, hopping on a taxi boat to hit up one of the Pakleni Islands for the day is a must-have experience.
While most of the islands that the taxis run to have at least one beach bar on them, we recommend coming prepared for the day with snacks, plenty of water and other drinks, sunscreen, and towels.
Have a drink at the Hula Hula Beach Bar.
There's arguably no better place to watch the sunset in Hvar than at the popular Hula Hula Beach Bar with a drink in hand.
Jump on a boat tour to explore the blue and green caves.
The otherworldly light of the blue cave is one of the most popular things to see in Hvar.
With an ethereal glow that is hard to find around the world, it's no surprise that visitors flock to the cave.
This popular tour will take you not only to the blue cave but also the nearby green cave and a few epic island swimming spots, making it the perfect way to spend a day in Hvar!

Book your fun boat tour from Hvar today!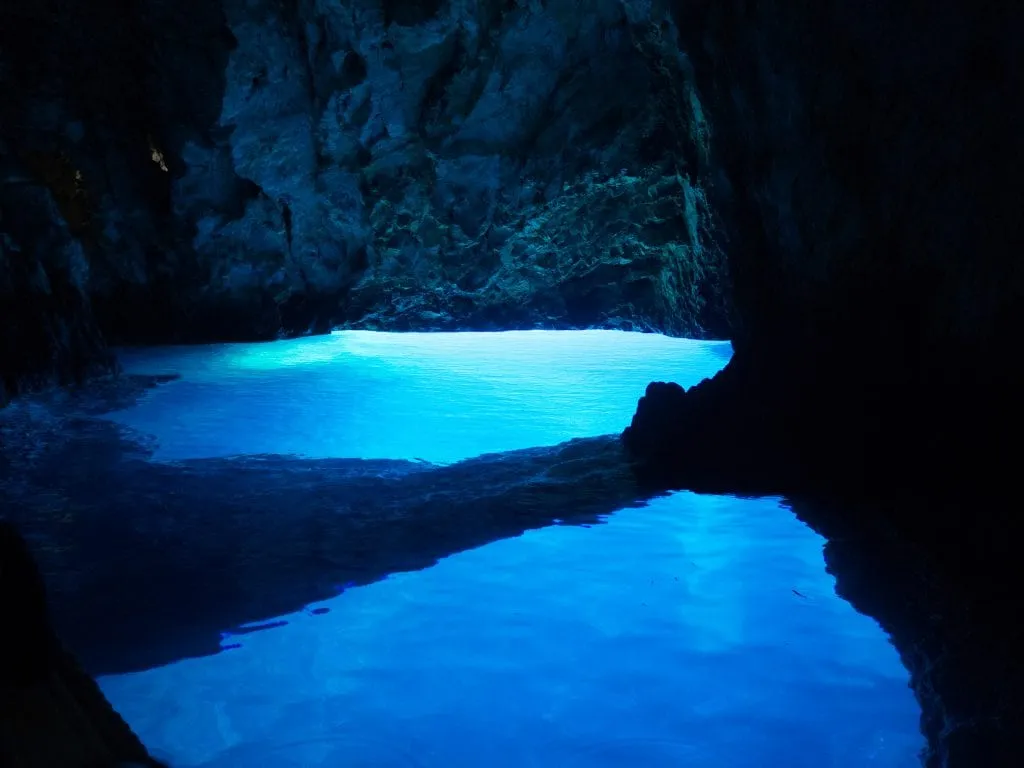 Wander the quiet streets of Hvar Town.
Once you get away from the main streets near the harbor and St. Stephen's Square, even popular Hvar Town is home to some gorgeous, quiet, winding medieval streets that are perfect for exploring.
If you absolutely want to avoid all the crowds, try to get out either before the daytrippers arrive or after they leave for the day, and it just may feel like you have the backstreets completely to yourself.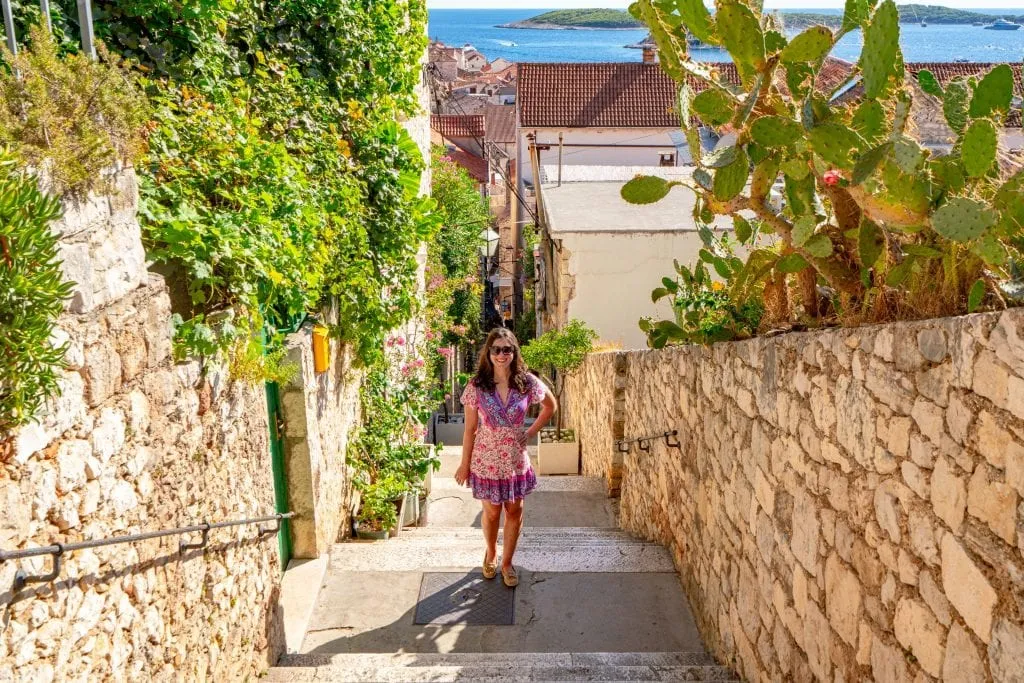 Admire the Venetian loggia and clock tower.
As you stroll up to Hvar Town from the harbor, one of the first things you'll see is a beautiful 13th-century Venetian loggia, with a 19th-century clocktower to its right.
Not only is it pretty to look at, but it's also an excellent example of how the long and varied history of Hvar–many cultures have left a mark here.
Enjoy the view from the terrace of Europe's oldest public theatre.
Built in 1612, Hvar's theatre is the oldest public theatre in all of Europe–and after being closed since 2004, it has recently reopened to the public!
Even if you don't want to go inside, though, it's still worth climbing the staircase to its terrace: the view of St. Stephen's Square and the harbor is both beautiful and free.
Pay a visit to the Franciscan Monastery.
A quiet and peaceful walk along Hvar's waterfront will take you to the town's 15th-century Franciscan Monastery, which has a small museum onsite and also boasts beautiful views of the water.
Rent a boat for the day.
Prefer to avoid operating within the schedule of a tour or taxi boat and want to take off on your own to find out what to do in Hvar?
Consider renting a boat in Hvar!
While renting larger boats requires a license, the smallest boats, which will allow you to reach some of Hvar's less crowded swimming spots as well as the closest Pakleni Islands, don't require any extra licensing to operate.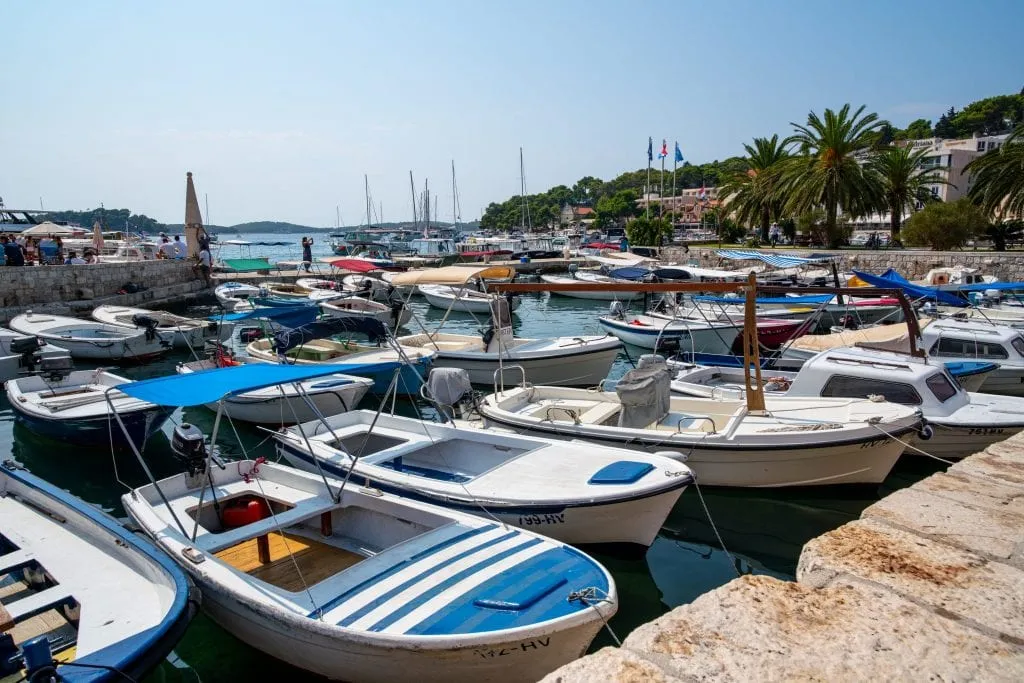 Take a day trip to one of Croatia's most famous beaches.
The "golden horn" of Zlatni Rat beach on the island of Brac is one of the most famous and beautiful beaches in all of Croatia (and unlike most of Croatia's beaches, it's even sandy!).
While taking a day trip here is a popular day trip throughout the region, Hvar is one of the most convenient and close locations to enjoy one.
Enjoy the local food and wine.
From extremely fresh seafood prepared to incredible wines grown and produced right on the island, Hvar is a delightful place to enjoy a meal (especially when you're starving after a long day on the beach!).
A wine tour is an excellent way to discover the local wines without having to worry about logistics or electing someone as a designated driver.
If you're looking for a delicious meal in Hvar Town, we can recommend Dalmatino–we loved it so much we returned for a second helping.
This fun wine tour is the perfect way to explore local vineyards!
Hit the town and enjoy Hvar's nightlife.
If you're looking for a place to get out on the town, Hvar is the island for you: its nightlife is legendary, and while you can easily avoid the noise of the clubs if it's not your scene, its reputation as a party island is for good reason.
Where to Stay in Hvar
We've centered our recommendations on where to stay in Hvar in Hvar Town, which is the largest town and the epicenter of tourism on the island.
However, if you're looking for a quiet getaway and aren't interested in checking off all the best things to do in Hvar, you may also consider staying in a quieter part of the island–we loved our stay in Jelsa!
If you do hope to stay in Hvar Town, and especially if you're traveling during the high season, we recommend you book a hotel as soon as you can commit to dates. Since properties on the island tend to be small and family-run, they book up fast!
Budget
Pension Oaza — Small, clean, and extremely well-reviewed, Pension Oaza's biggest selling point is that it boasts a perfect location at budget (for Hvar Town, that is–this is a pricey place during the high season) prices.
Located just around the corner from St. Stephen's Cathedral on a quiet street, you couldn't ask for a better place to stay in Hvar on a budget.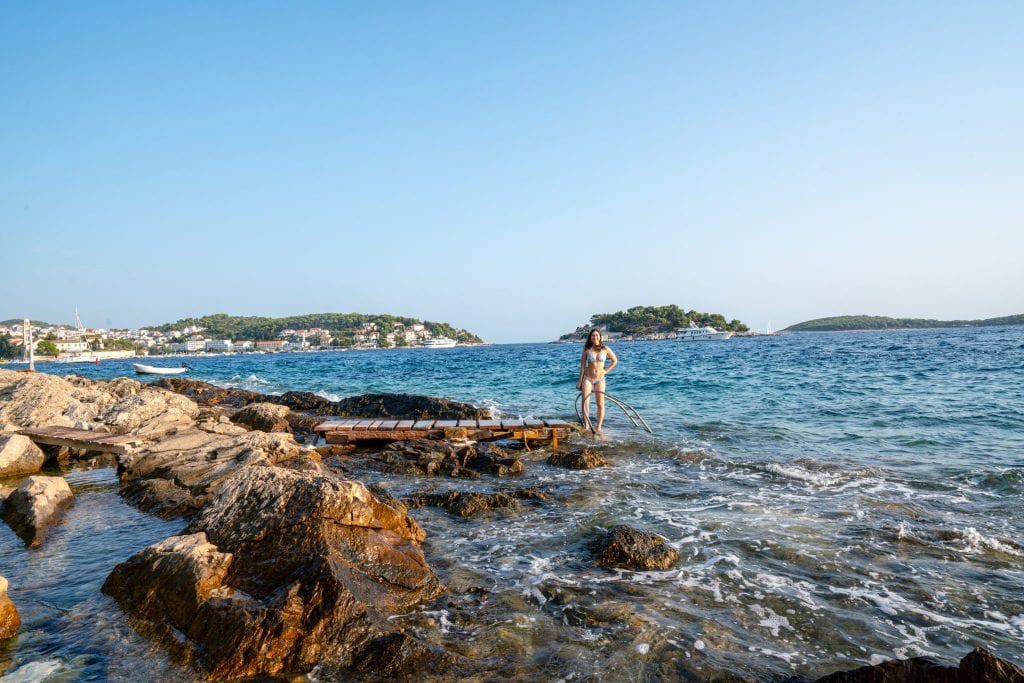 Mid-range
Boutique Room Kaliopi — Boasting absolutely rave reviews for their hospitality and delicious breakfast, Boutique Room Kaliopi is the perfect choice for mid-range travelers in Hvar looking for all the comforts of home in an excellent location.
Luxury
Palace Elisabeth — The 13th-century Venetian loggia that I mentioned at the beginning of this post? Today, that's part of the Palace Elisabeth, Hvar's premier luxury hotel.
Located in an absolutely flawless location between the harbor and Hvar's main square, Palace Elisabeth offers stunning, spacious rooms, impeccable hospitality, a phenomenal breakfast, and near-perfect reviews.
If you're looking to splurge while exploring the best things to do in Hvar, Palace Elisabeth is the place for you!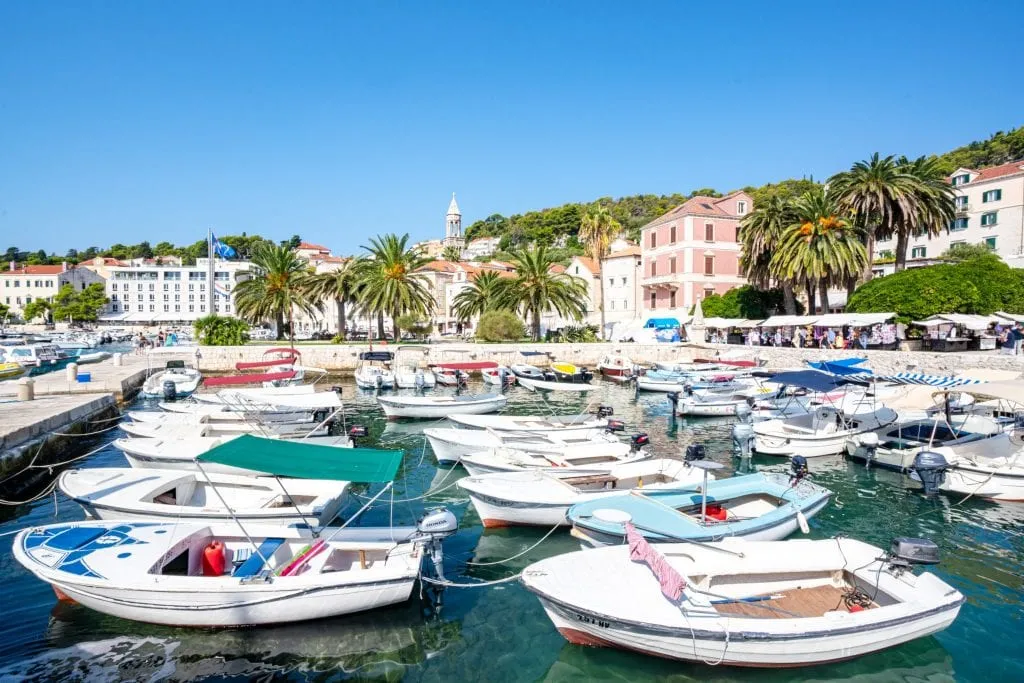 How Long to Stay in Hvar
While you can certainly have an excellent time in Hvar on a day trip–and it's definitely worth the ferry ride out even if you only have one day in Hvar–having a few days to spend in Hvar will make your experience on the island even better.
We spent one glorious week on Hvar on our first trip and managed to have a phenomenal time despite doing virtually nothing other than swimming and eating.
On our second trip to Hvar, we spent several days exploring the island in-depth, visiting the major sights and photographing all of the beautiful viewpoints.
While both trips were very different, they were equally rewarding in opposite ways–so no matter what your travel style, you'll no doubt enjoy spending a few days in Hvar.
Only have time to visit Hvar as part of a day trip?

This epic islands trip is one of the most popular day trips Split has to offer, and it includes time in Hvar!
Best Time to Visit Hvar
Hvar is one of the most popular islands to visit in Croatia, and the island's summer crowds can be intense!
Luckily, Hvar has a long season, and a trip in the shoulder season (April–May or September–October) will allow you to enjoy most of the best things to do in Hvar with far fewer crowds.
If swimming is a priority on your personal list of what to do in Hvar, early fall (when the water has had all summer to warm up) is better than late spring, but if you only want to enjoy the food, views, and town, spring is a less crowded option.
What to Pack for Hvar
Travel Insurance — We don't ever suggest traveling without travel insurance–anything can happen, and an epic trip to Hvar is definitely a case of better safe than sorry. We use and recommend Safey Wing for trips to Croatia.
Travel Adaptors for Croatia
— If you're coming from outside of mainland Europe, you'll definitely need adaptors for your electronics.
Water Shoes — Hvar's rocky coastline is beautiful, but it's incredibly hard on the feet–Jeremy even managed to slice his foot on our most recent trip. You'll be much more comfortable swimming in Hvar (and in most other places in Croatia) if you bring some water shoes along with you!
Sunscreen
— Because sunburns are never a good look in vacation photos.
Swim Goggles
— Goggles are cheap, small, easy to pack, and make swimming so much more fun!
Tote Bag
— Incredibly light and easy to pack, a tote bag can serve as a grocery bag, beach bag, laundry bag, or just about anything else. They're incredibly handy and we recommend adding one to your packing list for Hvar–ours almost always comes to the beach with us while there!
---