March 6, 2019
Guide to Visiting Plitvice Lakes National Park, Croatia
Croatia
Time Allotted: 2 full days
Cost of Park: 26.83 USD pp for a two day ticket (June 2015)
Lodging Type: Airbnb
Transportation: Rental Car
Plitvice Lakes National Park
Let me just start here: this is one of the most magnificent places I have ever visited in my life, and if you have the chance: go. Seriously, go. You will not regret it, and I consider it a must-see on any Croatia road trip.
Plitvice Lakes National Park has been a UNESCO World Heritage Site since 1979. This incredible place is made up of 16 interconnected lakes that are an indescribable color blue. They vary from crisp, clear blue, to turquoise, to an almost green color throughout the day and with light changes–but they are always magnificent.
We spent 2 full days in the Plitvice Lakes, and truly could have used a third in order to explore some of the things outside of the national park itself. Though day trips here are popular from the Croatian coastal towns (including Zadar), I strongly recommend a full side trip while in Croatia if at all possible–one day is simply not enough.
Seven hours each day were happily devoted to hiking. For obvious reasons, be sure to bring plenty of water, as well as food. There are snacks and a small grill available in the park, but the quality is about what you would expect from a small restaurant in the middle of nowhere with zero competition.
The 14 hours of hiking gave us the opportunity to walk around all 16 of the Plitvice Lakes, almost in their entirety. With very limited exception, we did not take any of the trails that led away from the lakes.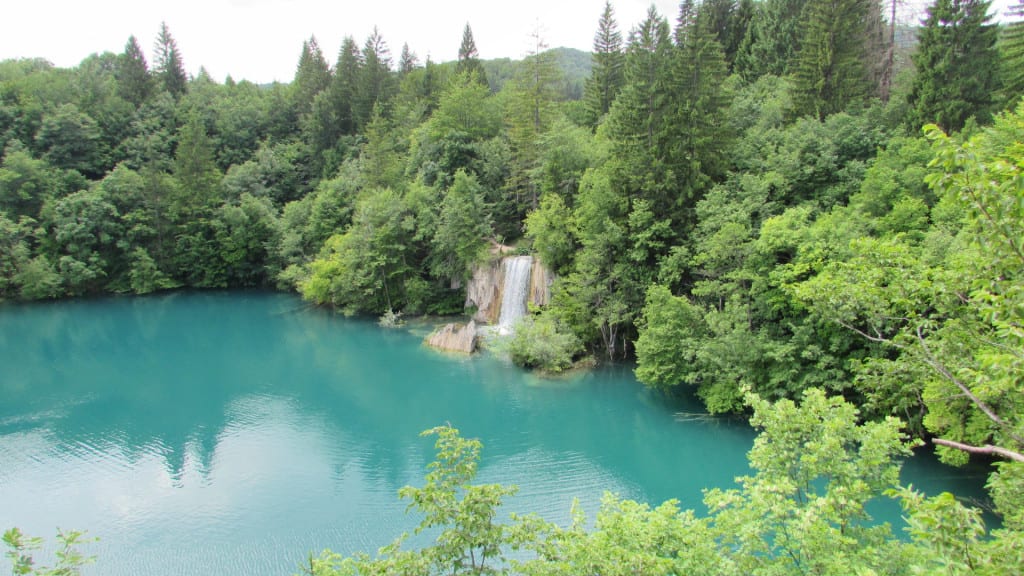 Plitvice Lakes National Park is divided into two sections: the Upper Lakes and the Lower Lakes. On day one, we bought our tickets at the park entrance and immediately grabbed a ferry that took us over to the Upper Lakes. The park employees suggested that we walk up until we got to their station, and then catch the bus back down.
Being mavericks, we were not remotely finished when we reached the place to catch the bus, and so continued on. We made our way back down the lakes ourselves, which was a delightful adventure.
There were trails the entire way, but were very steep in places. I definitely wouldn't suggest walking back if you're not comfortable on reasonably rugged trails. Beware the distance, as well: though we greatly enjoyed the experience, what we thought would be a straightforward walk back was actually much, much (read: a couple hours) longer once we factored in all of the inlets we had to curve around. Worth it, though! Except for 2-3 small groups, we were completely alone with the lakes during this leg of our trip.
In general, the Upper Lakes are quieter than the Lower Lakes, and have just as much to offer–if you're looking to avoid summer crowds at Plitvice, this is the section for you.. If you're a serious photographer of any kind, you'll likely have better luck in this section finding the space and time to set up a human-free shot.
On day two, we hit the Lower Lakes, which include the aptly named Big Waterfall, an awesome cave to climb through, and some beautiful overviews of the lakes. Downside, it's a bit more crowded and more "on the beaten path". Absolutely worth visiting, but a distinctly different environment from the more tranquil Upper Lakes.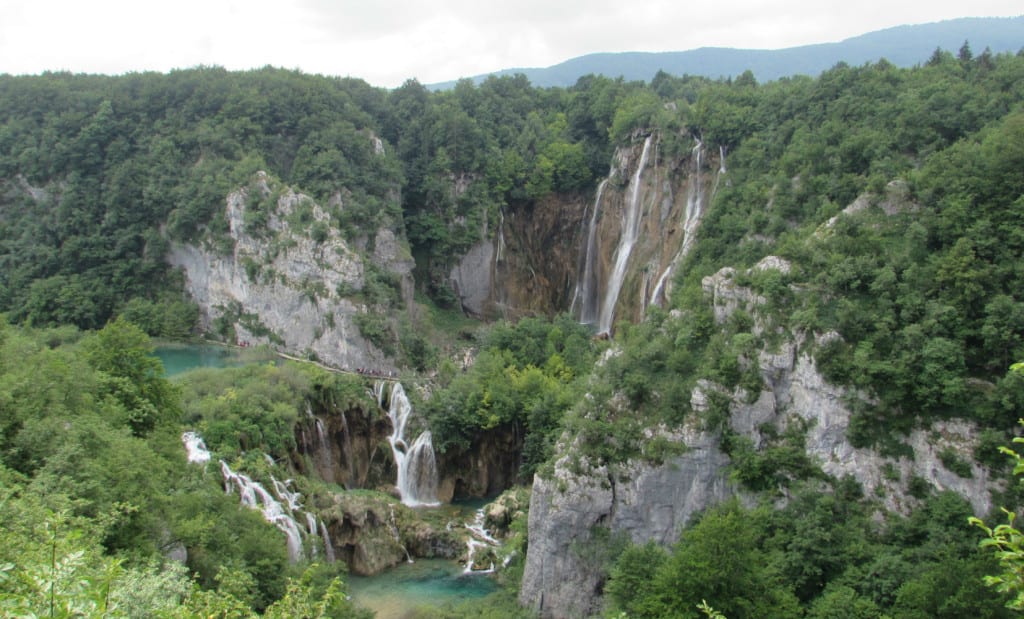 We closed out day two at the Plitvice Lakes by renting a small rowboat on one of the larger lakes–for a whopping 7 USD an hour, it gave us the opportunity to get up close and personal with some of the smaller falls and picturesque scenes that were too far off any trail to get a good view from land.

Food, Lodging & Transportation
The area that the Plitvice Lakes are located in is fairly rural–there's a couple of small grocery stores in town, and a handful of restaurants and inns. Beware the limited hours, especially for the grocery stores. We came ill-prepared on our first night and ended up with no way to stock up on food until the following morning.
We didn't eat any of our meals in restaurants while here, instead opting to spend 42.52 USD on groceries (3 breakfasts, 2 lunches, and 2 dinners for 2 adults). We cooked simple hot meals for breakfast and dinner–nothing complex, but we were definitely starving due to the level of activity.
That being said, there was one exception to our eating-at-home rule: Ledo ice cream in the park. Ledo is a Croatian brand of ice cream that is absolutely delicious–try some whenever you get the chance. Our Airbnb host in Zadar recommended the brand to us later on, stating Croatia was (rightfully) very proud of it–we had already tried it at that point and were hooked.
Lodging is available in the area due to the draw of the park, but options are limited. There are a few hotels within the park, a few outside, and some hostels in the surrounding area. We went with a private room in an Airbnb house. The top floor of the home was dedicated to Airbnb–we had a private room and bath, and a kitchen that we were sharing with one other family (though we never saw them, and never had an issue with room in the kitchen).
Regarding transportation: there are buses that run through the area, but they are not plentiful. I was very glad we had the rental car, and would recommend getting one if at all possible. To properly enjoy the area, it simply doesn't lend itself to public transportation–it is too rural, too sprawling, with too many nooks and crannies to explore, both in and out of the park.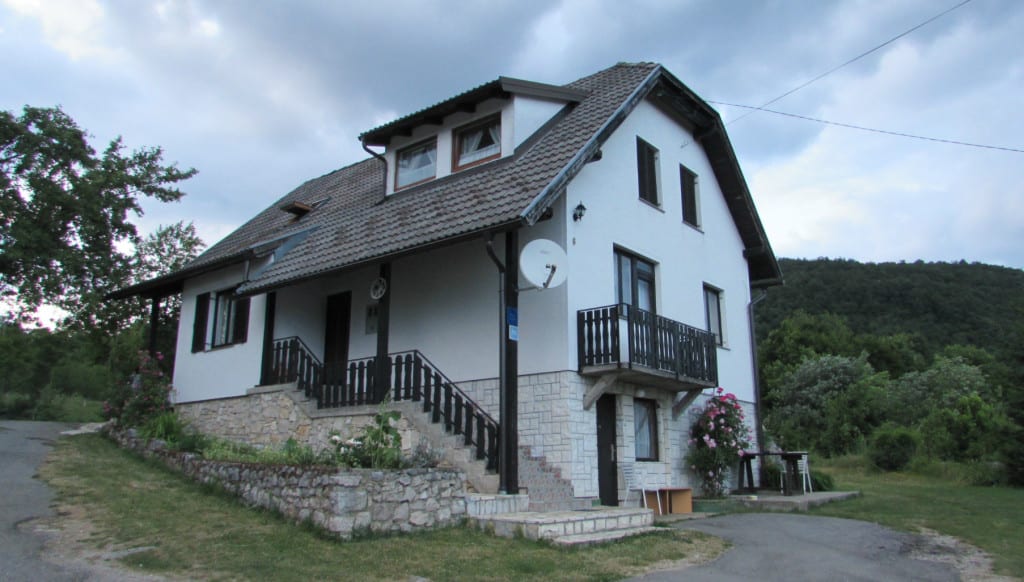 Overall Impression of Plitvice Lakes National Park
In case my opinion isn't clear yet: Plitvice Lakes National park is amazing. I would go back in a heartbeat, and recommend anyone even vaguely interested in the great outdoors makes the effort to travel that way when in the Balkans. The park is a little tricky to get to–but it is reasonably inexpensive once you're there, and breathtaking on many levels.