With its dramatic terracotta rooftops, stunning views of the Adriatic Sea, and explosive international fame thanks to Game of Thrones, it's easy to see why people become infatuated with the Pearl of the Adriatic after spending even one day in Dubrovnik, Croatia.
This is a city that is dripping beauty from every corner and adventure from every crevice–the kind of place where you show up to spend a day and end up staying a week.
Of course, that's not always possible… and that's where this one day Dubrovnik itinerary comes in.
Trying to see as much as Dubrovnik as you can and only have a day to spare?
This is how to absolutely rock your one day in Dubrovnik!
Some links in this post may be affiliate links. If you make a purchase through one of these links, we may earn a small commission at no extra cost to you. Please see our

disclosure policy

for more detail.
A Word on Crowds + Prices in Dubrovnik, Croatia
With Dubrovnik's global, Game-of-Thrones-induced fame has come enormous crowds and enormous prices to match.
Is exploring Dubrovnik in a day worth the trouble?
Absolutely–we adore this city, enough that we plan to return again and again, and our longest trip there lasted two whole weeks.
However, don't make the mistake of thinking of Dubrovnik as a budget destination, nor as an offbeat one.
If you're visiting independently during the summer, we recommend checking the cruise ship schedule and, if you can, planning your 24 hours in Dubrovnik (or less!) for a day when there's not a ship in town.
If you're visiting as a cruise ship passenger… literally run off the boat as soon as you dock (okay be careful, but other than that) and try your best to beat everyone else to Old Town and especially to the town walls.
Your day in Dubrovnik will be so much better for it.
The Perfect One Day in Dubrovnik Itinerary
Start your morning by heading straight to the city walls.
If there's one thing that you absolutely have to add to your Dubrovnik itinerary, it's walking the city walls.
The views of both Dubrovnik and the surrounding Adriatic Sea are absolutely unparalleled from these vantage points (don't forget to climb the Minčeta Fortress while you're up there!) and walking the walls is a truly unforgettable experience.
Like most things in Dubrovnik though, it is both expensive (200 kuna/around 30 Euros per person as of early 2022) and often crowded.
During the summer/on season for Dubrovnik, the walls open at 8am, and we recommend being there right when they open if you can!
There is virtually no shade on the city walls, so be sure to bring sunscreen, a hat, and sunglasses to the top with you.
You can walk the walls in as little as 45 minutes if you move fast, but on both our visits, we were happier with closer to 3 hours up here.
If you don't like to rush, we'd recommend dedicating at least 2 hours of your one day in Dubrovnik to enjoying the city walls.
Explore Old Town… and possibly take a Game of Thrones tour.
Dubrovnik's Old Town is absolutely beautiful and is surprisingly densely packed with things to do considering how small it is.
If you're a Game of Thrones fan, this is the perfect opportunity during your one day in Dubrovnik to take a Game of Thrones tour.
The tours are extremely popular, and since they take you around to so many filming locations that are also genuinely interesting spots in Dubrovnik, they act as a sort of combo Dubrovnik-walking-tour-plus-fun-geek-out-fest.
This popular Game of Thrones tour is very affordable and has been reviewed more than 500 times–it has definitely been tried and tested!
If you're not into dragons and fictional wars, a more general walking tour of Dubrovnik is still a great way to see the sights around Old Town, many of which are easy to miss if you don't know what you're looking for!
This walking tour is a great, non-Game-of-Thrones-themed tour option!
However, if you're more into independent exploration, here are a few things in Dubrovnik's Old Town to be sure not to miss.
Jesuit Staircase
Some say the beautiful Jesuit Staircase is reminiscent of the Spanish Steps in Rome, and there's no doubt it's a beautiful spot.
Though, as a Game of Thrones fan, I have a hard time looking at it without hearing faint echoes of "Shame!".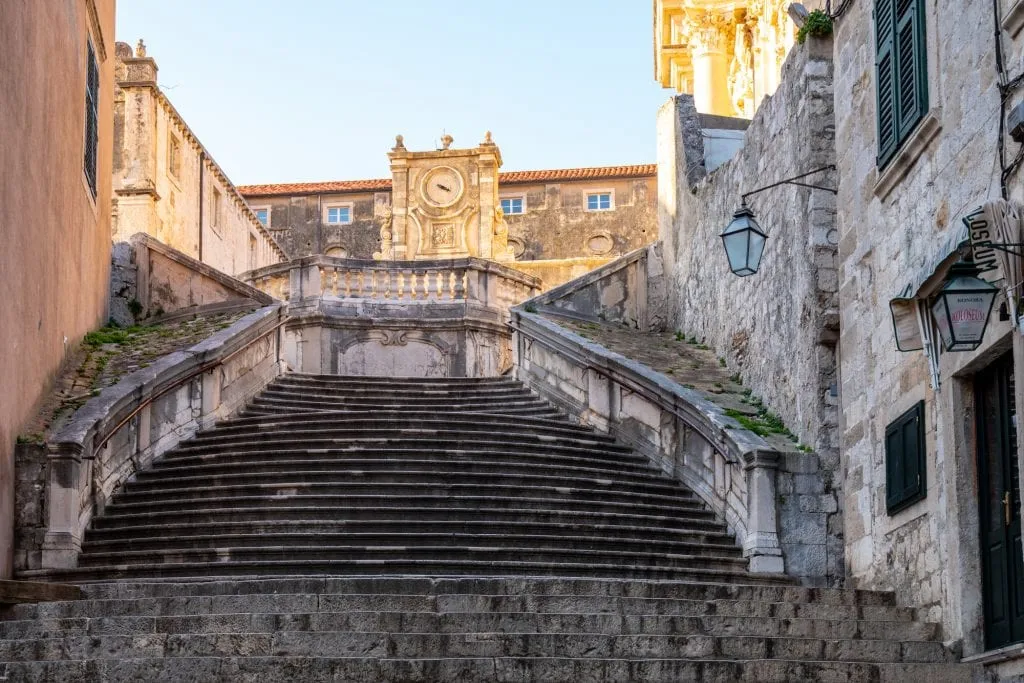 Rector's Palace
This 14th-century palace makes quite an interesting stop during your day in Dubrovnik.
Home to art, an armory, and an infamous prison, you can cover quite a few aspects of tourism during a visit here!
Church of St. Blaise
Be sure to step inside this church to enjoy its gorgeous interior as well as its opulent exterior!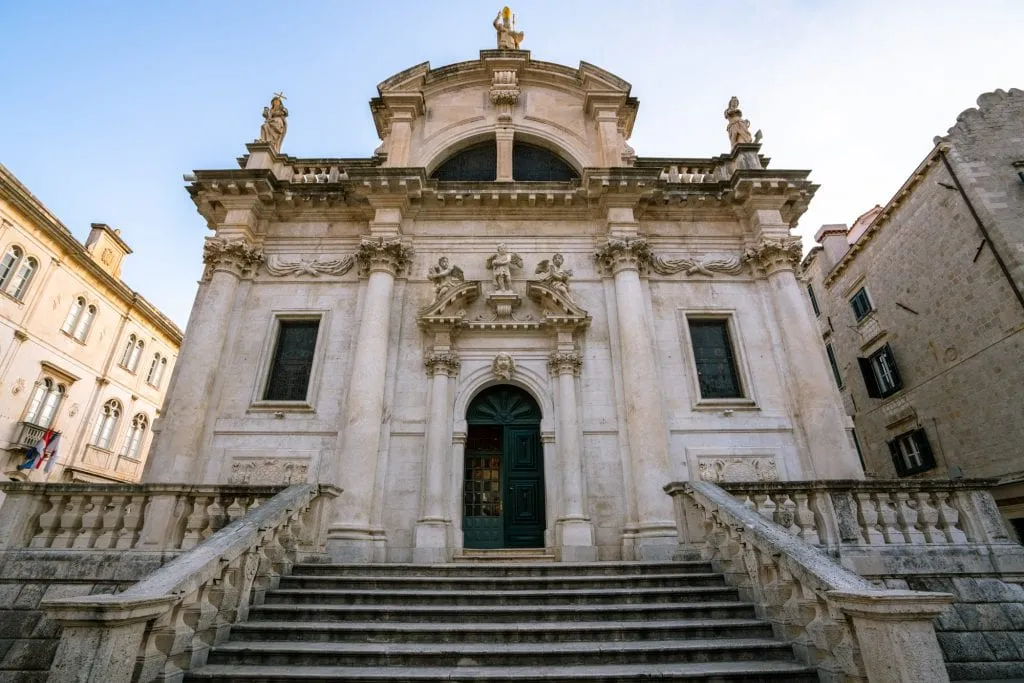 Franciscan Monastery
Tucked into Dubrovnik's Old Town, it's easy to walk right by the Franciscan Monastery without noticing it.
But, if you're interested in visiting a museum to the third oldest pharmacy in the world or just enjoying a bit of peace and quiet for a moment, the Franciscan Monastery is not to be missed.
Dubrovnik Cathedral
Dubrovnik's Baroque Cathedral is quite impressive–as is the Cathedral Treasury located right next door!
If you have time, pay a quick visit to Lovrijenac Fortress.
Depending on what time you finish visiting Old Town, you may or may not have time to squeeze in a quick visit to Lovrijenac Fortress when you're trying to see Dubrovnik in one day.
But, if you have time to spare, consider heading up for another great view of the city, an interesting fort, and a fun walk to the top that takes you past the quirky West Harbour doors (one of many Game of Thrones filming locations in the city).
Your ticket from the city walls will get you into Lovrijenac Fortress as well, so be sure to hold onto it!
Hit the water with a kayaking tour around Lokrum Island.
Our kayaking tour around Lokrum Island is one of our favorite things we have ever done in Croatia!
Sure, our shoulders were sore the next day, but we really can't speak highly enough of the adventure of paddling in the Adriatic Sea, admiring the city from the water, visiting caves around Lokrum Island, and cliff jumping into the beautiful sea.
This kayaking tour is incredibly popular (book ahead of time if you can) and follows a very similar path to the one that we took–it's an absolutely incredible experience!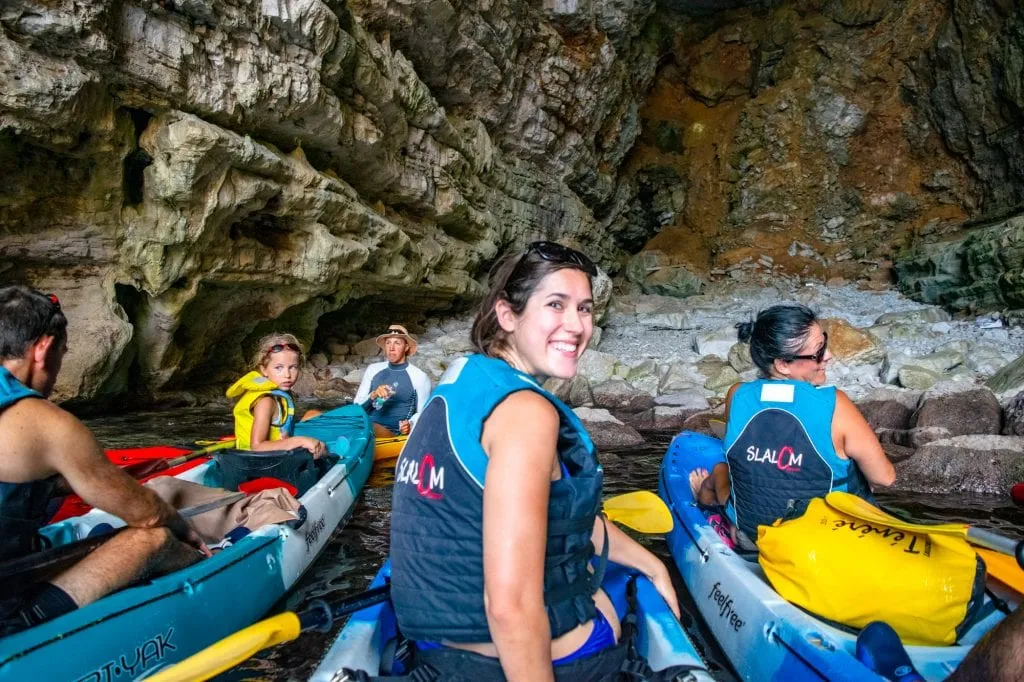 … Or enjoy a quick swim.
However, if the idea of committing to a few hours of physical exertion doesn't sound like your idea of a perfect day in Dubrovnik, you can always soak up the sun another way and hit the beach!
Dubrovnik's beaches are made of pebbles, not sand (they may not be the most fashionable choice in the world, but I'm always much more comfortable on pebble beaches when I bring water shoes along for the ride), but the views are fantastic.
Banje Beach (pictured below) is a popular spot.
Head directly to Mount Srd to watch the sunset over Dubrovnik.
There's no end to amazing spots to watch the sunset over the Adriatic Sea in Dubrovnik, but arguably the best of them all is at the top of Mount Srd.
Ride the cable car up for an absolutely majestic view of both the city and the sunset.
If your wallet is hurting by this point from trying to see Dubrovnik in one day, a more budget-friendly option would be to hit one of Dubrovnik's cliff bars, literally named Buža Bar I and Buža Bar II, for a (fairly) inexpensive drink a gorgeous sunset view.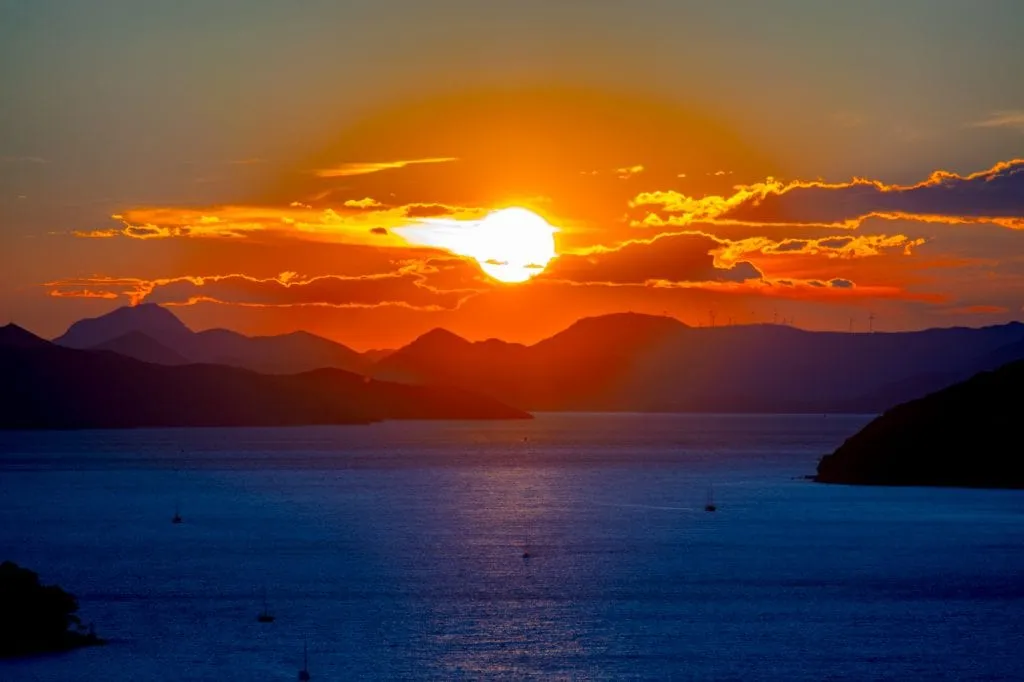 Where to Stay for One Day in Dubrovnik
Budget
Guest House Amalija — You'll need to catch the bus to the Old Town (a must for staying on a budget in Dubrovnik), but Guest House Amalija is the perfect retreat from the hecticness of the city center.
The spacious rooms, fast wifi, and lovely views are all great selling points for the property.
Mid-range
Old Harbour City Center Apartment — We adored staying in this apartment during our second trip to Dubrovnik!
It's set on a quiet street but is a less than 5-minute walk from Pile Gate and the main entrance to the Old Town, and mere steps from the West Harbour.
The apartment was spacious, easy to live in, had a strong wifi connection (a must for us), and we would definitely stay again.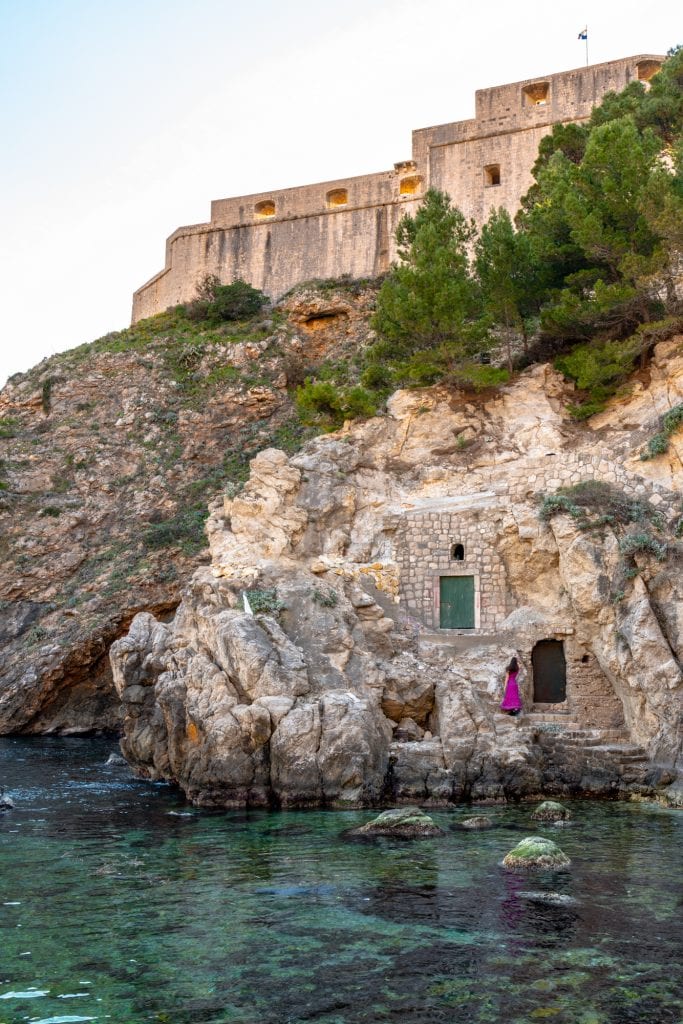 Luxury
Grand Villa Argentina — If you want to feel like royalty during your trip to Dubrovnik, book yourself into the Grand Villa Argentina immediately.
It's hard to say what the best feature of this hotel is, but the palatial atmosphere, the direct access to the beach, the fantastic included breakfast, and the swimming pool with a stunning view of Old Town are all in the running.
A stay here is one that you'll never forget.
More Than One Day in Dubrovnik?
It's impossible to cover all the best things to do in the city with only one day in Dubrovnik, so if you're lucky enough to have longer, you definitely won't be bored!
The day trips from Dubrovnik alone could fill up a week in the city: for example, Montenegro, Bosnia, and the Elafiti Islands are all within easy reach.
Also be sure to consider taking a sunset boat ride, paying a visit to the Trsteno Arboretum, hiking down Mount Srd, heading out to Lokrum Island, and checking out all of Dubrovnik's beach beaches and places to swim.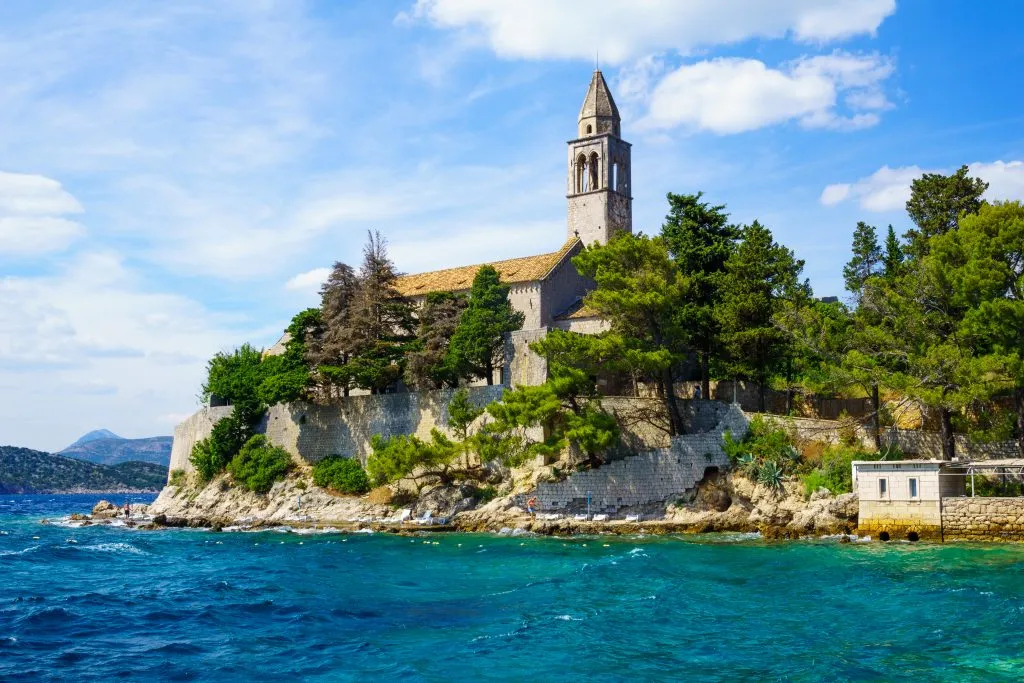 Don't forget about the Dubrovnik Card!
I suspect that these numbers may change again at some point, but as of early 2022, a one-day Dubrovnik Card costs 250 kuna (even less if purchased online!).
The Dubrovnik City Walls, which are included with the purchase of the card, cost 200 kuna, making it easy to get your money's worth out of the card with this one day Dubrovnik itinerary!
The card also allows you to access several other small museums around town (including the Franciscan Monastery I mentioned above), and public transport around the city.
You can check full inclusions, updated prices, and get a discount for purchasing the card online here.
---