A trip within a trip: that's what it felt like when we left the apartment we had rented in Florence for a month to find some amazing things to do in Arezzo with only small backpacks in hand (as opposed to our normal habit of carting around several months worth of belongings at a time).
We set off excited about the prospect of seeing a Tuscan town that we had never laid eyes on before, and Arezzo didn't disappoint: it charmed us immediately with its adorable town square, lovely churches, beautiful main street, and gorgeous views of the Tuscan countryside.
Arezzo made a perfect weekend getaway in Tuscany–we were delighted to go, and would definitely consider going back.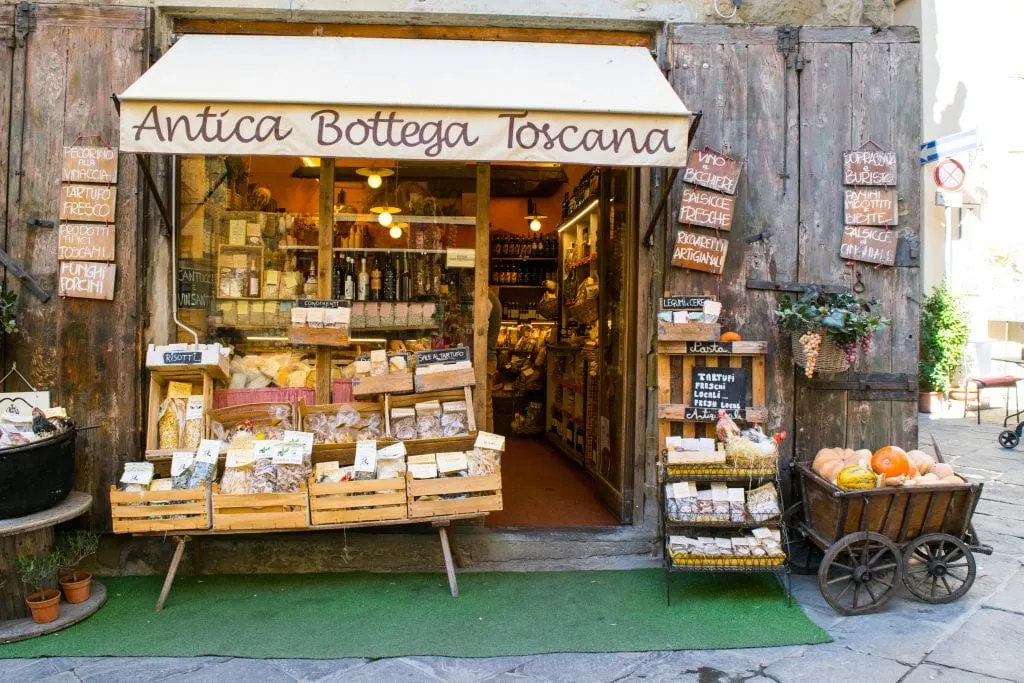 Some links in this post may be affiliate links. If you make a purchase through one of these links, we may earn a small commission at no extra cost to you. Please see our

disclosure policy

for more detail.
7 Amazing Things to Do in Arezzo, Italy
Visit the Piazza Grande.
Arezzo's main square is the perfect place to start exploring things to do in Arezzo: centrally located, surrounded by beautiful buildings, and bustling with life, it makes the perfect first stop during your weekend in Arezzo.
Climb the clock tower at Palazzo della Fraternita dei Laici for wonderful views of Arezzo.
Located in one corner of the Piazza Grande, climbing the clock tower at Palazzo della Fraternita dei Laici is an absolute must while in Arezzo–the views from the top are amazing. Sitting on the rooftop, you can see almost all of Arezzo and into the Tuscan hills beyond the city!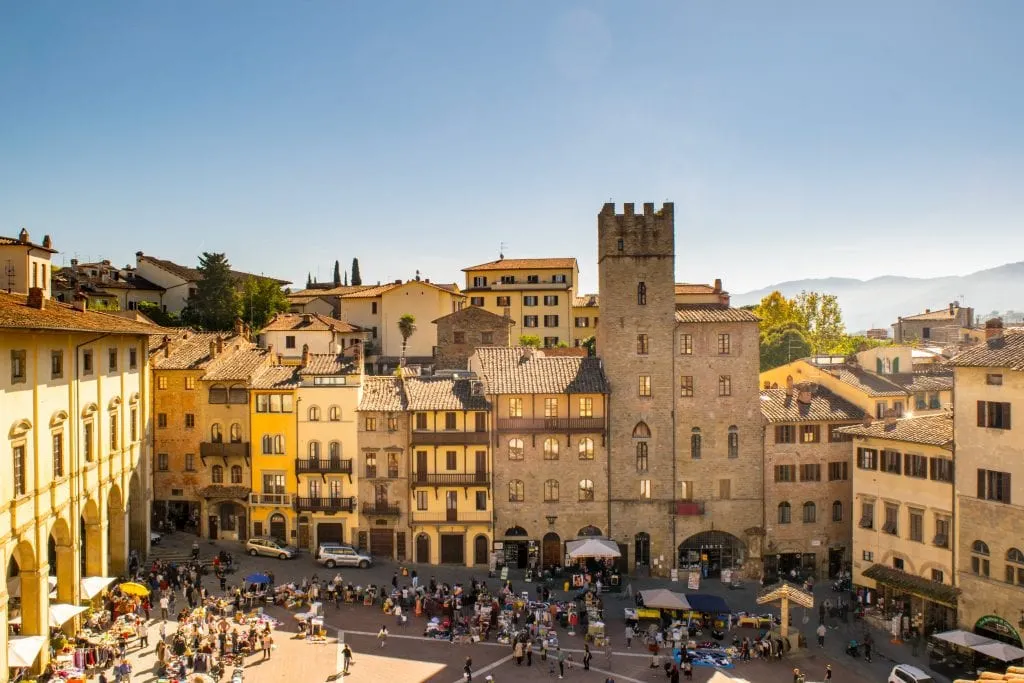 Admire the frescos at the Church of San Francesco.
This church is a must-see for renaissance art lovers: Piero della Francesca completed a series of frescos in this church in the 15th century, and they have remained remarkably preserved.
Though the church is fairly unremarkable on the outside, the inside is definitely quite memorable!
Wander through the archaeological museum.
While Arezzo's collection of artifacts inside the monastery-turned-museum was impressive, our favorite part of our time there was stepping foot into the remains of Arezzo's Colosseum that the museum is now set next to.
When we arrived, the Colosseum grounds were locked, so we assumed it was likely off limits–but when we asked the woman at the front desk if we could see it, her response was simply, "Oh, sure! Just ask them to unlock the gate for you."
Check out the house of Giorgio Vasari.
True renaissance man Giorgio Vasari was born in (and spent much of his life living in) Arezzo, and he decorated his house as only an artist would: by covering the ceilings and many of the walls in elaborate paintings that he completed himself.
We loved this small museum for how unexpected it was–we didn't expect anything nearly as impressive as what we found when we walked in the door!
Go antiquing.
Arezzo is known for its many antique shops–perfect for either window shopping or perhaps a unique souvenir!
Visit the Medicea Fortress and surrounding park.
We loved wandering the grounds of this fortress: the fortress is set at the top of a hill in the city, and from the walls, you can see sweeping views of the Tuscan countryside, pretty views of Arezzo itself, and one of the most unique cemeteries we've laid eye on.
As a bonus, the park outside of the fortress makes a beautiful walk in as you approach–we were lucky to see the very beginning of the leaves changing for fall while we were there!
Where to Stay in Arezzo
We were invited to Arezzo by Alessandro Tarussio and his mother Bianca, who run the wonderful B & B Tarussio, and we adored our time at their small family run bed and breakfast.
Located in the home that Alessandro grew up in, B & B Tarussio consists of just a few rooms (all with private bathrooms), giving it a cozy and intimate feeling. We loved the sturdy furniture, the huge bathroom, the juice and glasses left in our room, and the cozy bed.
Breakfast was simple in the way that Italians prefer–pastries and coffee–but delicious, and we left full every morning from the large portion sizes Alessandro and Bianca provided for us.
Even without all of those benefits, B & B Tarussio would still have a major draw pulling guests in: the location. The bed and breakfast is located a five-minute walk from Arezzo's Old Town and Corso Italia (the main street), set on a quiet road and yet easily accessible to the best things to do in Arezzo.
In other words, you get almost all the benefits of staying close in to the city (no need for transportation other than your own two feet, within a short walk of the train station, close to all the best things to do in Arezzo), without any of the downsides (late night noise from nightlife and a surge in price from being located in the Old Town).
That is exactly the kind of location Jeremy and I are most fond of while traveling, and we tend to seek out similar locations whenever we can–so as you can imagine, we were very excited about this one!
Traveling to Arezzo? Book your room at B & B Tarussio!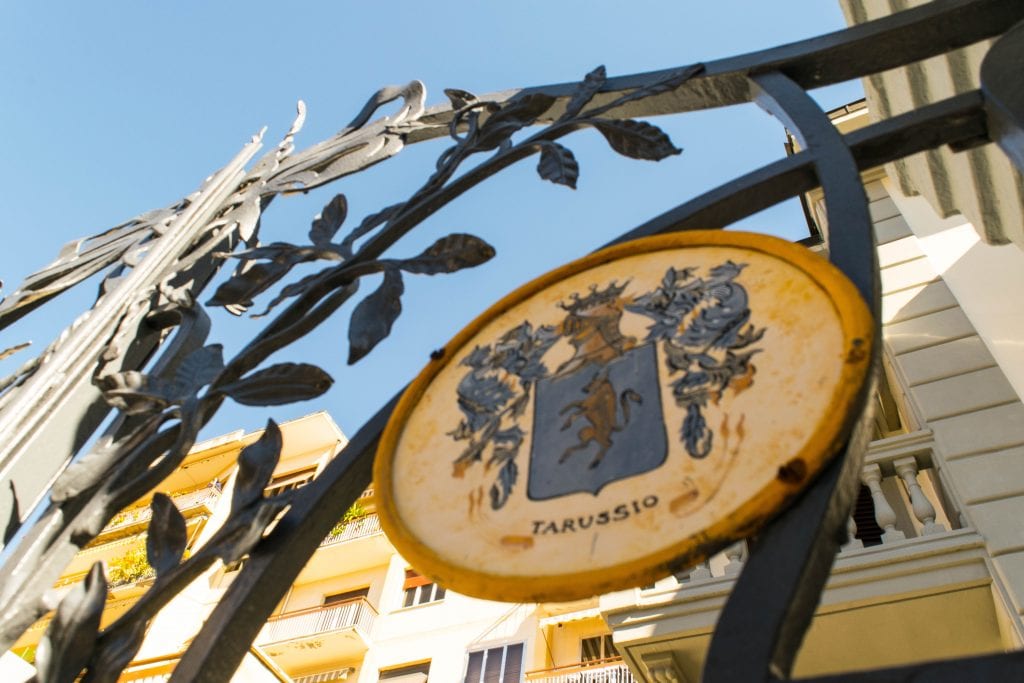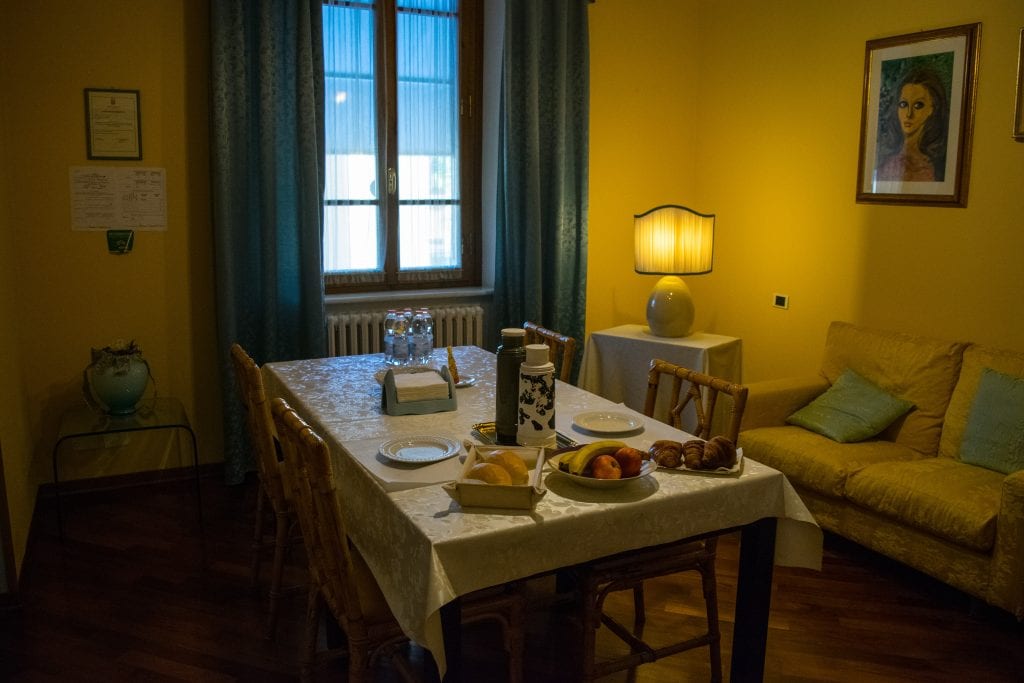 Train from Florence to Arezzo: Getting To & From Arezzo
Since we were returning to Florence after our trip, we took a train from Florence to Arezzo on a round-trip ticket.
Travel from Florence to Arezzo and from Arezzo to Florence was very simple in both directions: roughly an hour's train ride each way, with no changes and plenty of Tuscan scenery to admire along the way.
Thanks to Italy's well-connected train system, you can reach Arezzo easily from most major cities and towns in the surrounding regions, including heading to Arezzo from Rome.
While you can also drive a car to and from Arezzo, unless you're using it as a base and planning on lots of day trips, I wouldn't recommend it. You won't need a car at all to get around Arezzo itself, and parking could be a pain unless you find a hotel with available parking spaces.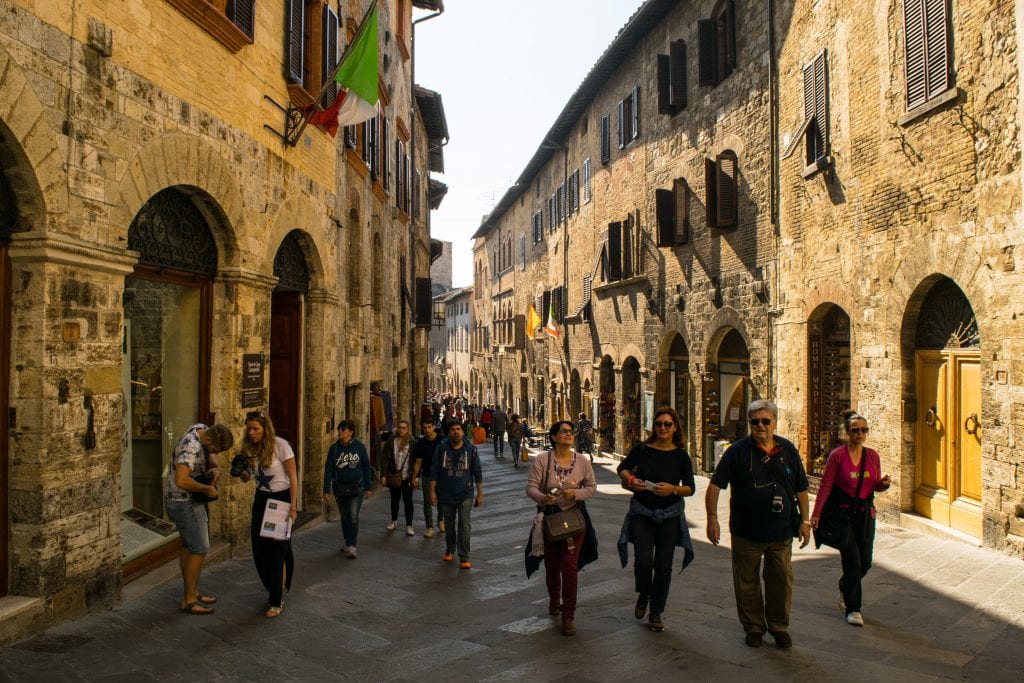 We loved our quick weekend in Arezzo: our stay at B & B Tarussio was delightful, we found more than enough interesting things to do in Arezzo to fill a weekend with, and we loved the chance to get to know yet another one of Tuscany's towns!
If you're looking for a quiet day or weekend trip in Tuscany to a town a little less off the beaten path than Pisa and Siena, a place that feels straight out of a movie that would inspire you to visit Italy, consider making your way to Arezzo.
Don't go to Arezzo without travel insurance! We use and recommend Safety Wing for their affordability, ease of purchasing & the clarity of their contract!
Many thanks to Alessandro and Bianca for hosting us for two nights at B & B Tarussio. We incurred all other expenses during our weekend in Arezzo, and all opinions are, as always, our own.