When it comes to enjoying the best of Tuscany, spring has so much to offer.
From wildflowers to reduced crowds to the spring harvest, visiting Tuscany in spring is a magnificent experience–and one that we've been lucky enough to enjoy many times over!
We've visited Tuscany repeatedly during March, April, and May, and while it's not our absolute favorite season in Tuscany (that would be fall!), it's a time that we absolutely love to be there.
If you're considering a spring vacation in Tuscany (maybe even over spring break) and wondering if it's a good time to visit, here's what to know before you book!
Spring Weather in Tuscany, Italy
Tuscany is a sprawling region, featuring plenty of hills, rivers, coastline, and even some small mountains–and the spring weather in Tuscany can be equally diverse.
However, for first-time visitors planning a classic Tuscan road trip or getaway in Florence, there are a few patterns you can expect.
Somewhere between 7-9 days of rain a month is typically average, with the rainiest spring month being April.
In Florence (which is located in northern Tuscany), high temperatures hover around 61°F/16°C in March and rise throughout the spring until they hit average highs of 76°F/24°C in May.
In Montepulciano, which is much further south than Florence but, as a hilltop town, situated at a higher elevation, high temperatures are an average of 55°F/12.5°C in March, going up to 68°F/20°C in May.
With so much variety based on your exact destination, the month you're visiting, and what the rainfall happens to be during your trip, we'd recommend planning for a variety of weather.
That being said, no matter what kind of weather you get, you'll still be able to have a wonderful trip to Tuscany in spring.
Fun Things to Do in Tuscany in Spring
Wondering what to do in Tuscany in the spring?
While all of the typical Tuscan attractions, from Florence's Duomo to Montepulciano's wine cellars to Lucca's medieval walls, are well worth experiencing in spring, here are a few season-specific things to add to your bucket list!
Meander through the gardens of Florence.
Florence's gardens are a delight to visit year-round, but spring brings a special joy!
The Boboli Gardens, Bardini Gardens, and Rose Garden (and unlike the others, the Rose Garden is free to visit) all offer gorgeous views of Florence's skyline… and beautiful flowers.
The Rose Garden is open from May through October, just long enough to appreciate the blooms.
And, while the Boboli Gardens and Bardini Gardens also both thrive in May, the Bardini Gardens offers a special surprise for those visiting earlier in the spring.
Every April, the Bardini Gardens feature a stunning tunnel of wisteria that can't be missed if it overlaps with your trip to Florence (you can check the status of the wisteria on this live webcam).
Take a wine-focused day trip through the Tuscan countryside.
While sipping wine overlooking vineyards is a must-do in Tuscany year-round, getting to experience the vineyards as they wake up for spring is a special experience!
This incredibly popular day trip from Take Walks (one of our favorite boutique tour companies in Italy) allows you to enjoy the wine while not worrying about the driving–and also enables you to visit San Gimignano and Siena along the way.
If you're looking for a memorable way to enjoy this spring in Tuscany, this day trip is a fantastic option.
See the poppies bloom in the Val d'Orcia.
The mesmerizing rolling landscape of the Val d'Orcia is easily one of the most beautiful places to visit in Tuscany, and well-deserving of its UNESCO World Heritage status!
By visiting the Val d'Orcia in spring, though, you can enjoy an extra feature of the area: blooming red poppies as far as the eye can see.
The poppies generally start blooming in late April and stick around through mid-May, and admiring them is easily one of the best things to do in Tuscany in spring.
Don't miss the beautiful towns of Pienza and Montalcino while you're there, either!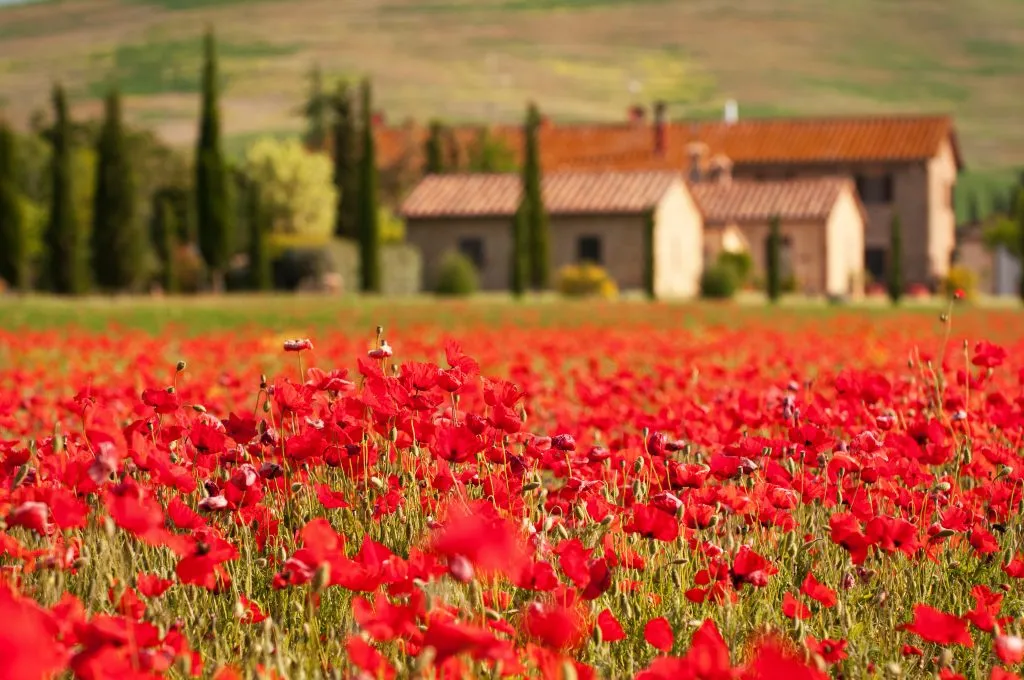 Soak in Tuscany's legendary hot springs.
From the famous hot springs of Saturnia to lesser-known spots like Bagno Vignoni and Bagno San Filippo and beyond, Tuscany has some truly decadent hot springs to enjoy!
While the hot springs are internationally known and very popular with Italians, most first-time visitors to Tuscany don't have a chance to squeeze them in.
If you love spa treatments and relaxation, though, definitely consider adding a hot spring or 2 to your list of things to do in spring in Tuscany.
That being said, there is one decidedly less pleasant thing about the hot springs that bears mentioning: the sulfur smell is strong!
Bring an old bathing suit that you don't mind getting stinky (and ideally, one that you're ready to part with when you're done).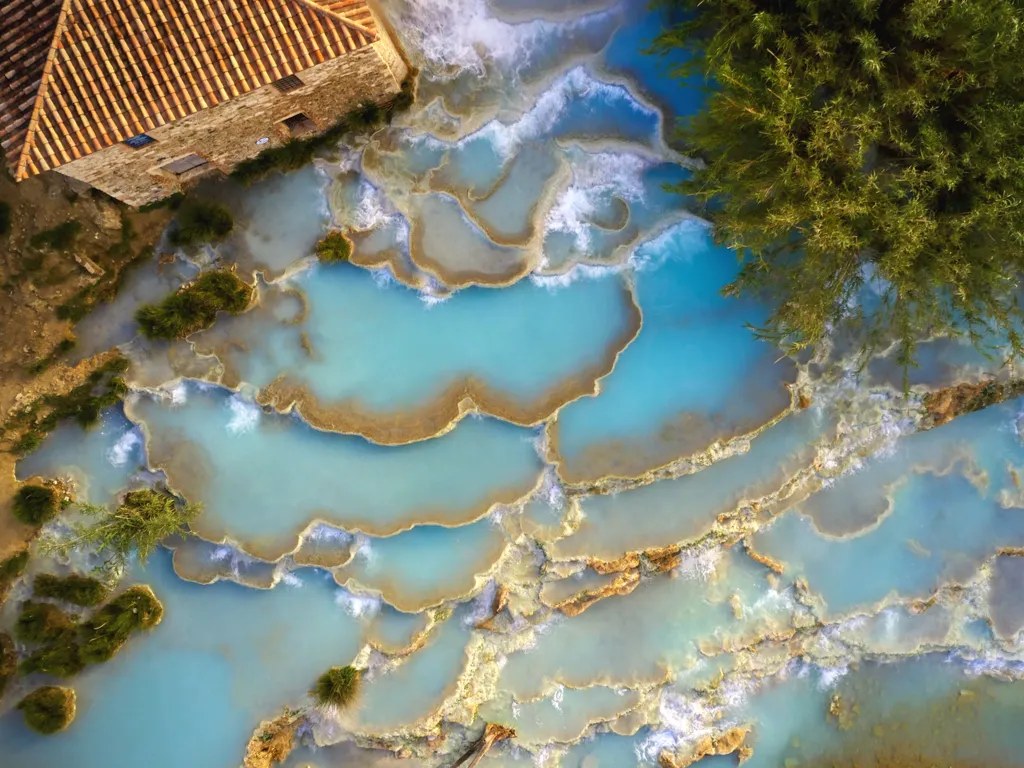 Take a Vespa tour through the countryside.
Zipping around the Tuscan countryside on a Vespa tops many visitor's Tuscan bucket lists for good reason: it is an absolute delight!
We had long looked forward to our Vespa tour before we took one ourselves, and this fun experience exceeded our expectations.
Riding a Vespa on a beautiful spring day while enjoying mild temperatures and endless views of green fields and flowers is an incredible way to spend a day in Tuscany.
Browse the markets.
The spring harvest brings new energy and new options to the many markets across Tuscany!
Whether you're visiting a popular daily market like the Mercato Centrale in Florence or one of the many, many weekly or semi-weekly markets that pop up across Tuscany, shopping for seasonal fruits and vegetables is a delight during the spring months.
You don't even necessarily need to be planning to cook to enjoy the markets, either!
From preserved products like jams to non-food items like handicrafts to eat-right-after-you-buy treats like berries, there's something for nearly every taste at Tuscany's spring markets.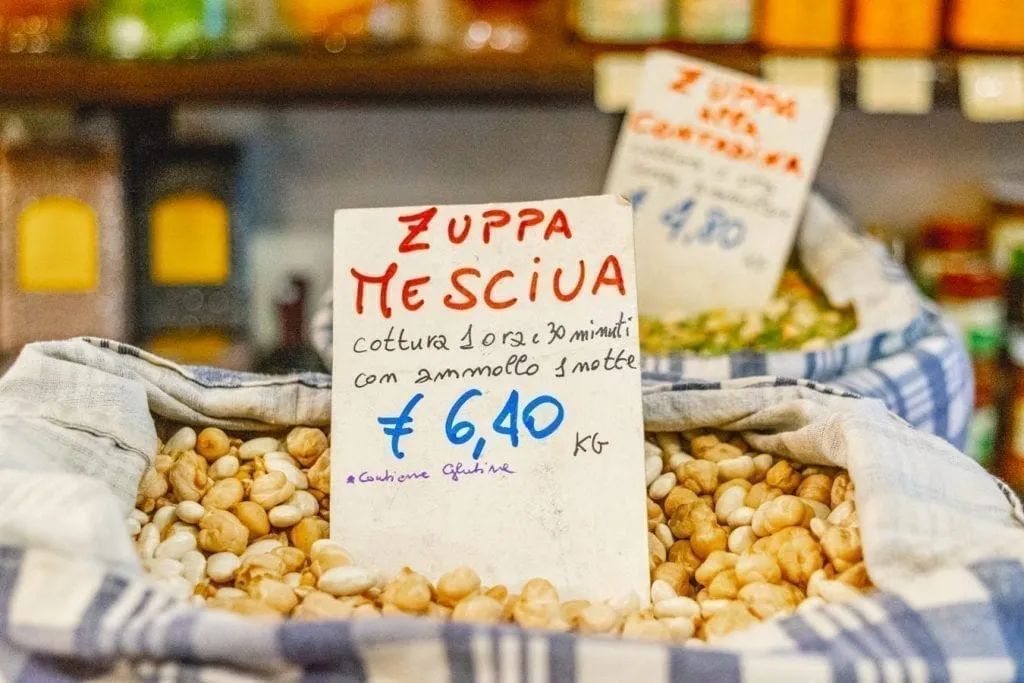 Take a cooking class in Tuscany.
Taking a cooking class is always a fun way to spend a day in Tuscany, but it's especially lovely during the spring when the flowers are blooming and the harvest is coming.
We took this fun cooking class just outside of Florence on a beautiful day in May and had an absolute blast.
(We also left stuffed to the gills and a little tipsy from the generous pours of Chianti, which definitely made for a fun day with our friendly tour group!).
See the Explosion of the Cart in Florence.
If you happen to be visiting Tuscany over Easter, be sure to check out the Scoppio del Carro!
The Scoppio del Carro, or Explosion of the Cart, is an Easter tradition in Florence that has its roots in the 11th century and has more or less happened in the same way since the 15th.
A 500-year-old wooden cart is wheeled to the Piazza del Duomo, loaded with fireworks, and lit up to "explode".
It's quite the spectacle and a memorable addition to a Tuscan spring getaway!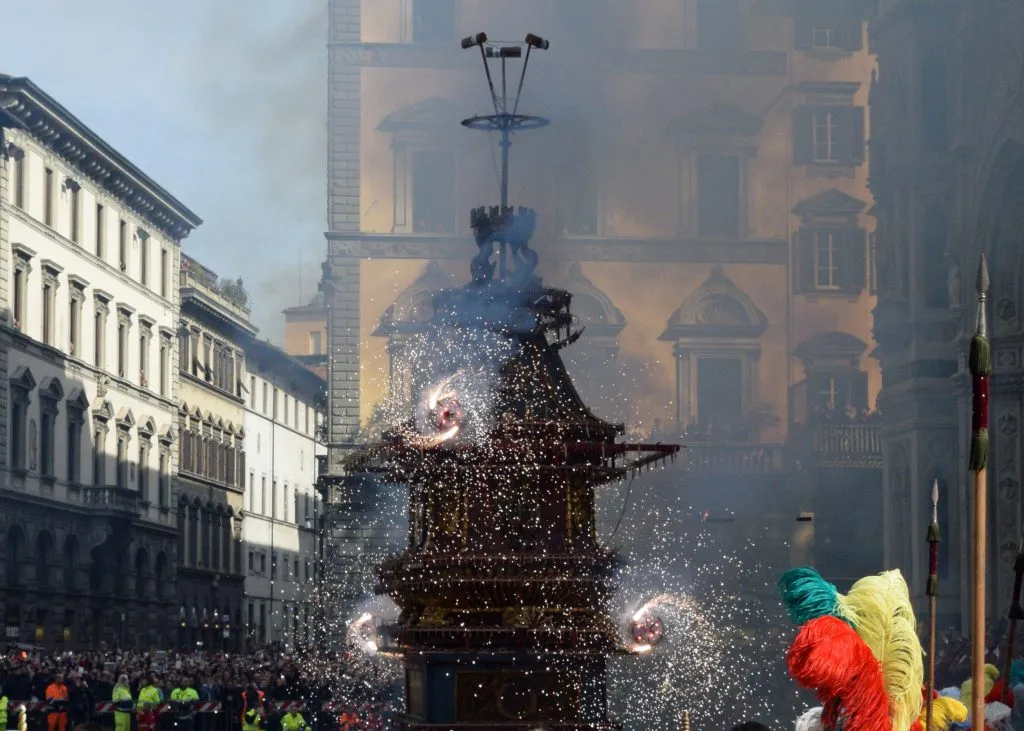 Check into an agriturismo.
Staying in an agriturismo is one of the best things to do in Italy, and staying in one during spring in Tuscany is a special experience!
To be classified as an agriturismo, a property has to offer lodging on a working farm.
In other words, during spring, you can often enjoy meals prepared with ingredients grown right around you!
Add in the potential to enjoy blooming flowers and gorgeous sunsets in the Tuscan countryside, and a few days in an agriturismo makes for a fantastic getaway.
Tips for Visiting Tuscany in March, April, and May
As you're planning your trip to Tuscany in spring, here are a few things to keep in mind!
Prepare for some rainy days.
While spring isn't typically as rainy as late fall or winter is in Tuscany, odds are still high that you'll experience plenty of clouds and a bit of rain during your trip!
Be sure to come prepared with a travel umbrella and plenty of layers, as the weather can vary dramatically from week to week.
Keep in mind that May is not the off-season in Tuscany.
While March is still (barely) off-season for tourism and April is solidly shoulder season in Tuscany, May gets much, much busier–especially in the second half of the month.
Late May often has fantastic weather and plenty of blooming flowers to admire, so that's not to say it's not a good time to visit Tuscany (it absolutely is), but be prepared to book popular tours and attractions in advance and to nab a place to stay early in your trip planning.
Even during our April trip last year, we ended up taking our Uffizi tour a few days later than we initially planned because most options were sold out in advance!
If you're visiting around Easter, book far in advance.
Easter week is a huge deal in Italy (and across much of Europe) as many people have the time off of work and take the opportunity to travel.
If you're from the US like us, you can think of the week of Easter as similar to American spring break in terms of planning travel: prices are exceptionally high, and hotels and attractions book out well in advance.
Check the calendar, and if you're planning to visit Tuscany over Easter, book your hotel, agriturismo, or apartment rental as soon as you can commit to dates!
Try dishes you've never heard of (and ask for advice).
The spring harvest brings all kinds of delightful fruits and vegetables to the Tuscan table, from asparagus to fresh pecorino cheese to zucchini flowers to baccelli (what Tuscans call fava beans) and beyond.
It's a fantastic time to eat in Tuscany–but with so many seasonal dishes that are often so specific that they only exist in a certain city or town, it can be easy to miss out on local treasures if you don't know what to ask for.
Tuscan waiters are generally happy to share any seasonally available dishes or help you pick out a meal, so be sure to ask for advice.
And, of course, signing up for a food tour (we loved this one in Florence) is also a fantastic way to sample local cuisine in Tuscany!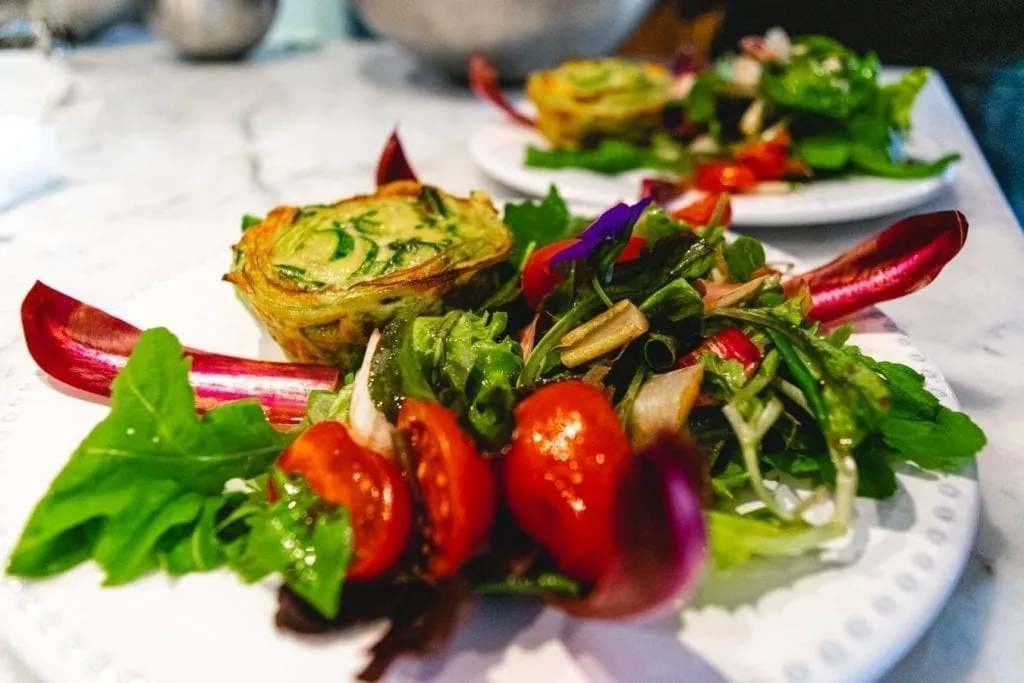 Pack for a variety of weather.
During spring in Tuscany, I've worn everything from peacoats and boots to sundresses, depending both on the month we were visiting and simply the luck of the draw with the weather.
As you're packing for Italy, be sure to keep an eye on what weather is expected during your trip… but be prepared for quickly shifting weather regardless.
A travel umbrella, comfortable walking shoes (I love these sneakers, and these boots are the updated version of my favorite pair), and lots of layers are key to packing for Tuscany in spring.
FAQ About Spring in Tuscany
Is spring a good time to visit Tuscany?
Yes, absolutely!
Between the blooming flowers, mild temperatures, and the fact that Tuscany is fantastic 365 days a year, a spring vacation in Tuscany is an absolute delight.
Be prepared for some rain along the way, but as a trade-off for fewer crowds (especially in March and April), it's well worth it.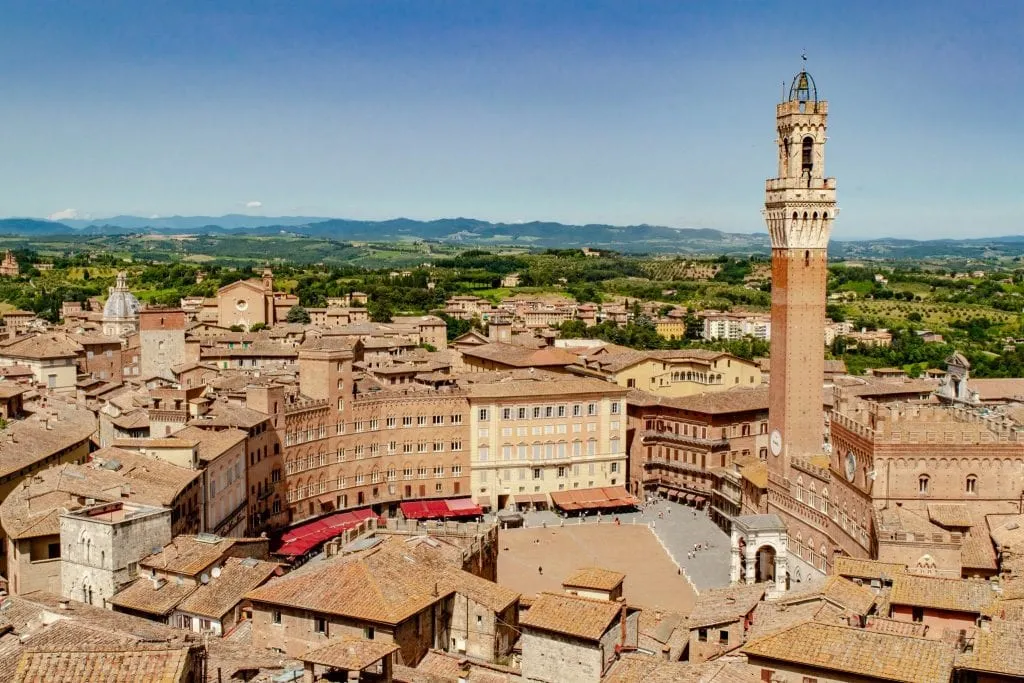 How much does it rain during spring in Tuscany?
While November is typically the rainiest month in Tuscany, spring sees a fair amount of rainfall as well.
In Florence, March, April, and May typically receive between 7-9 rainy days each, with April generally being the rainiest month.
That being said, spring weather is known for being temperamental, and you could certainly have the good luck to enjoy a week with all blue skies or the bad luck to experience daily rain!
Luckily, the rain in Tuscany is often fairly steady, making walking around with a travel umbrella and more or less continuing to sightsee as normal an option, especially in cities.
Is Tuscany warm during the spring?
Whether or not you consider Tuscany warm in the spring depends on a lot of factors, including the month you visit, the luck of the draw with the weather, and even what you consider warm.
However, it's typically closer to warm than to winter temperatures!
You may want a light peacoat if you visit in early spring, but by May, you'll likely find yourself reaching for summer-adjacent clothes (I tend to wear lots of sundresses with light jackets during April and May in Tuscany).
What are the best places to visit in Tuscany in spring?
The majority of the most popular places to visit in Tuscany, like Florence, Pisa, Siena, and the Val d'Orcia, are truly year-round destinations and are wonderful to visit in the spring.
Visiting the Val d'Orcia when the poppies are in bloom or Florence when its gardens are blooming are special experiences that are specific to spring.
Tuscany's coastal and island destinations, like Viareggio and Elba, will still be in their shoulder season throughout spring, though things will start to open up later in May.
Wherever you choose to go, you're bound to have a fantastic time exploring Tuscany in spring!