Of the six Central American countries we visited during our four months in the region, Nicaragua is the one we're in the biggest hurry to get back to–it's beautiful, it's comfortable, and (especially compared to its neighbors to the south, Costa Rica and Panama) quite a bargain!
Two weeks in Nicaragua is the perfect amount of time for an introduction to the country: long enough to hit several of the major sites, as well as get off the beaten path a bit, without feeling too rushed. If you only have one week, though–book the tickets anyway! You won't be sorry. And, of course, you can certainly burn more than two weeks in Nicaragua without being bored.
Looking for an itinerary that will get you excited about two weeks in Nicaragua? This one will do the trick. It works itself through the country from the north to south–perfect for backpackers coming from Honduras and heading toward Costa Rica, but also easy to adapt to flying in and out of Managua. If you're traveling from south to north through Central America, simply reverse the itinerary and go from there.
We stuck with eleven scheduled days on this itinerary for two weeks in Nicaragua, leaving one day at each end of the two weeks for traveling in and out of the country, and one extra day to either work into a favorite destination or count as a "lost day" when traveling between destinations takes up the bulk of your time and energy for the day.
We followed this itinerary for two weeks in Nicaragua fairly closely ourselves, with one notable exception: we spent two weeks relaxing in Granada, though the amount of actual sightseeing we did could easily be condensed to this itinerary during a more direct trip.
2 Weeks in Nicaragua Itinerary
Leon: 2 Days
The Highlights:
People tend to come to Leon for a few things specifically: first, the roof of its UNESCO-World-Heritage-designated cathedral, where you'll think that you've stepped out onto the island of Santorini in Greece–the entire roof is blindingly white, incredibly beautiful, and worth admiring from every angle.
Second, the revolutionary murals found throughout the city (best admired when snacking on street food if you ask me).
And third (and most famously), volcano boarding down Volcano Cerro Negro. Honestly, we were happy to stick with the city itself and not book a volcano boarding tour–we've heard time and time again that it's an activity that is more fun in theory than in actual practice–but if you're excited to add volcano boarding to your list of adventure activities, Leon is where to do it.
Things to Consider:
Leon is a great city for walking around–try booking a hotel or hostel that is fairly close to the main square, and you should be able to reach anything you need on foot (except volcano boarding, of course–you'll need a tour for that).
Where We Stayed in Leon:

Central Lodge Hostel — This small hostel was basic, but exactly what we needed. It was quiet and clean, the a/c worked, and it was just a five minute walk to the main square of Leon.
Granada: 4 Days
The Highlights:
Even though there's plenty to do in Granada after you take in the beautiful square, admire the views from Iglesia de Merced, ogle the colorful buildings, and walk along the lakefront, don't be afraid to let the bulk of your time in Granada be consumed by the things outside the city!
A visit to the Masaya Volcano at night to see lava boiling beneath you is an absolute must, and almost everyone who takes a trip to Laguna de Apoyo (a volcanic lake housed in a crater, whose warm water is full of minerals) raves about the experience.
Things to Consider:
Granada is one of those destinations where you'll meet a lot of expats who say things like, "Yeah, I came for a week back in 2004 and now I own a house here and live in Nicaragua full time…"
In other words, it's an easy place to get stuck: even when you're not checking sites off of a to-do list (which you should definitely do, no shame there!), the experience of being in Granada itself can suck you in and make you excited to take it slow for awhile.
Where We Stayed in Granada:

Our Airbnb in Granada was one of our favorite Airbnbs of all time: it was extremely clean, very modern with plenty of nice finishes, and had a private plunge pool inside the apartment–what's not to love? The owners couldn't have been nicer or more helpful. Never used Airbnb before? Sign up here to get a discount on your first trip!

If we didn't get an Airbnb, we would have stayed somewhere similar to this:

Casa Cuiscoma (9.1 rating on Booking.com) — Within easy walking distance of the city center, complete with wifi, air conditioning, a low price, and a clean private room, Casa Cuiscoma ticks all the boxes we look for when booking lodging in Nicaragua.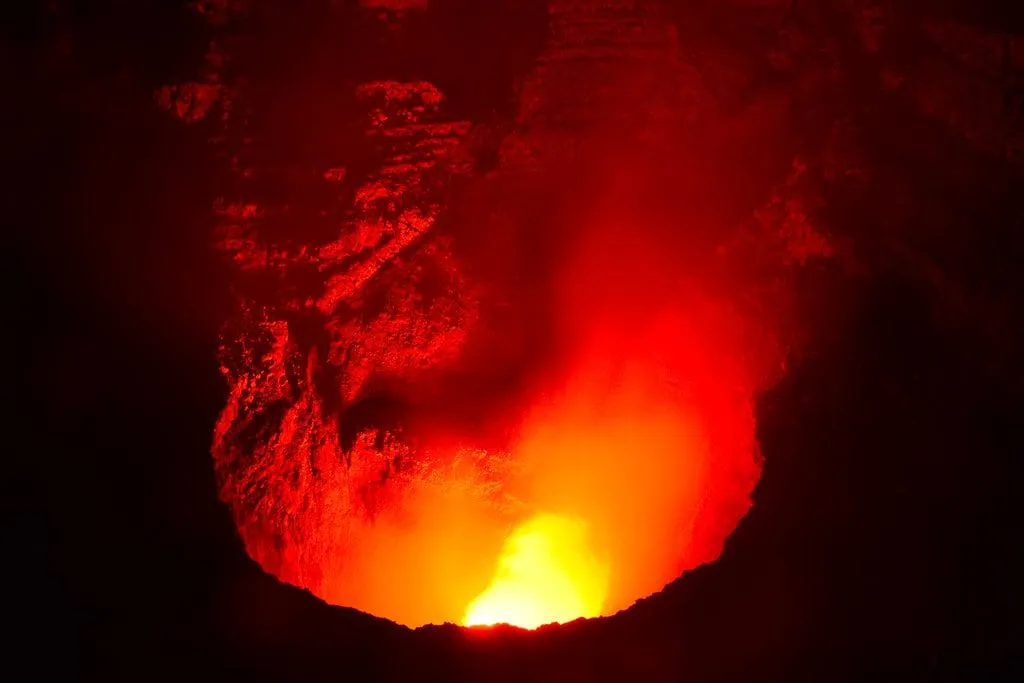 San Juan del Sur: 3 Days
The Highlights:
San Juan del Sur was one of those places we expected to feel "meh" about, but actually adored and plan to see again one day.
While the beaches located 30 minutes to an hour outside the city such as Playa Maderas are considered superior to the beach in town, the hike to the Christ of the Mercy statue overlooking San Juan del Sur will be quick to remind you of why the town popped up around this particular beach–the arch of water viewed from above is magnificent.
Horseback riding along Nicaragua's Pacific Coast is also a must while in town as far as I'm concerned–we spent an afternoon with Rancho Chilamate and couldn't be more thrilled about the chance to wind our way through the hills, gallop along the coast, and ride home under the cover of night.
Things to Consider:
Not everyone likes San Juan del Sur–it is a bit of a party town in its heart-of-hearts, and a bit dirty around the edges, but even non-partiers such as ourselves can find ways to adore the colorful city.
The center of San Juan del Sur's party scene is Sunday Funday, an all-day pool crawl that goes heavy on the booze and debauchery and takes place every Sunday. Depending on whether or not this sounds like a headache or an amazing time, plan your stay accordingly (quiet people should avoid the party hostels that host the party, etc.)
If you don't care to take part in the Sunday Funday, don't feel like you need to avoid San Juan del Sur on Sunday–we actually found the town pretty quiet and relaxed when all the party goers were otherwise engaged.
Also–if you're looking for a great bargain breakfast, the market in the center of town has several comedors inside it, where you can load up on eggs, beans, tortillas, avocado, nica cheese and coffee for just a couple of dollars. Don't miss it!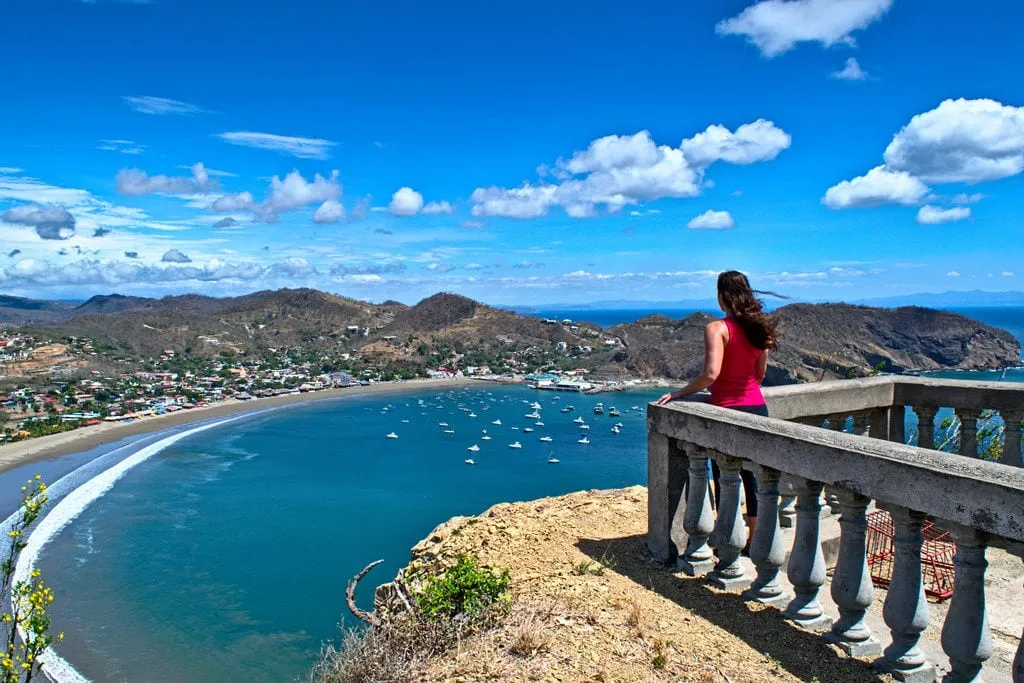 Where We Stayed in San Juan del Sur:

Moke Huhu Guesthouse — We called Moke Huhu home in San Juan del Sur. The property is in a great location, right in the center of town and a short walk from the beach. The first room we were put in here was both cramped and loud, but when we upgraded to a larger room with an ensuite bathroom for an extra $5/night, our experience at Moke Huhu got much better. We wouldn't hesitate to stay here again if we head back to San Juan del Sur and are looking for a budget hotel.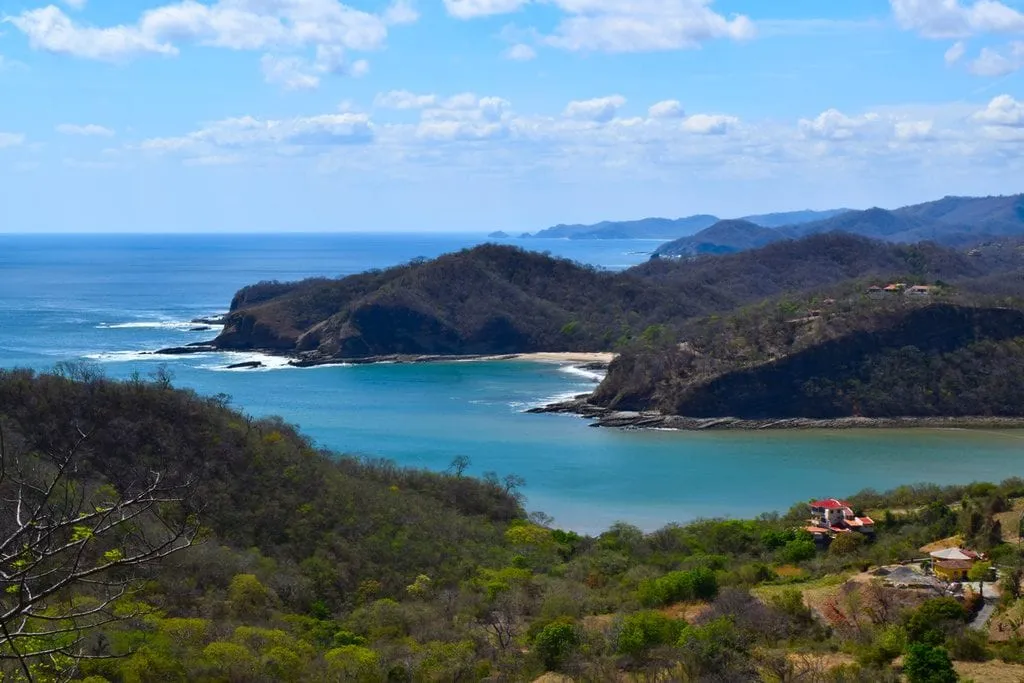 Isla de Ometepe: 2 Days
The Highlights:
The island of Ometepe is made up of two volcanoes in the center of the giant Lake Nigaragua. The island is sparsely populated, and completely peaceful–after running around sightseeing throughout almost two weeks in Nicaragua, Ometepe is the perfect place to unwind and relax.
Waterfalls and swimming holes can be accessed if you know where to look (read: ask the locals or take a tour), and the views over the lake are beautiful from any shore. If the water is low in the lake like when we were there, venture out to "La Punta" to have a chance to walk out so far onto a sandbar that you can turn around and see both volcanoes rising out of the earth behind you.
If you're looking more for excitement than relaxation while on Ometepe, try climbing either Volcano Concepcion or Volcano Maderas. Both are extremely difficult day hikes that require a guide to accompany you, though Maderas is supposed to be slightly more manageable. With memories of climbing Volcano Acatenango in Guatemala still fresh in our minds, we were happy to skip climbing while on Ometepe.
Things to Consider:
Ometepe has very infrequent bus service, very expensive taxis, and attractions that are very far spread out–plan where to stay around what kind of experience you are looking for, and don't expect to see it all.
If you're hoping to pack in as many sites as possible, plan on staying in town and booking a pricey (in Nicaraguan terms) tour to help out with logistics, unless you feel like braving a scooter and have strong enough Spanish to get directions to various points along the way.
The easiest way to get to Ometepe from the mainland is from Rivas, a small town right on the lake. A chicken bus from San Juan del Sur will take about an hour and cost just a few dollars, or for about $20 USD you can find a taxi to take you right to the ferry.
From the Rivas bus station, grab a quick taxi to the ferry (there are plenty of drivers waiting around) and buy your ticket there. You can find the ferry schedule here.
While we saw a lot of talk online about a (reportedly very long, rough, and uncomfortable) ferry to Ometepe directly from Granada, locals and expats told us when we were there in March 2017 that it was not running and hadn't been for a few months.
Where We Stayed on Ometepe:

Hotel La Punta Resort — This hotel wasn't sure what it was trying to be. It billed itself as a resort, but operated more like a hotel–the large dining room was only open for breakfast (even though most restaurants and shops cost $15 USD round trip to access by tuk-tuk and were too far away to walk to). They didn't sell tours, but there wasn't a good place to access any outfitters within walking distance. Essentially, it was a nice, quiet hotel that didn't make any effort to compensate for its beautiful, but remote, location. We will definitely stay closer to town if we visit Ometepe again.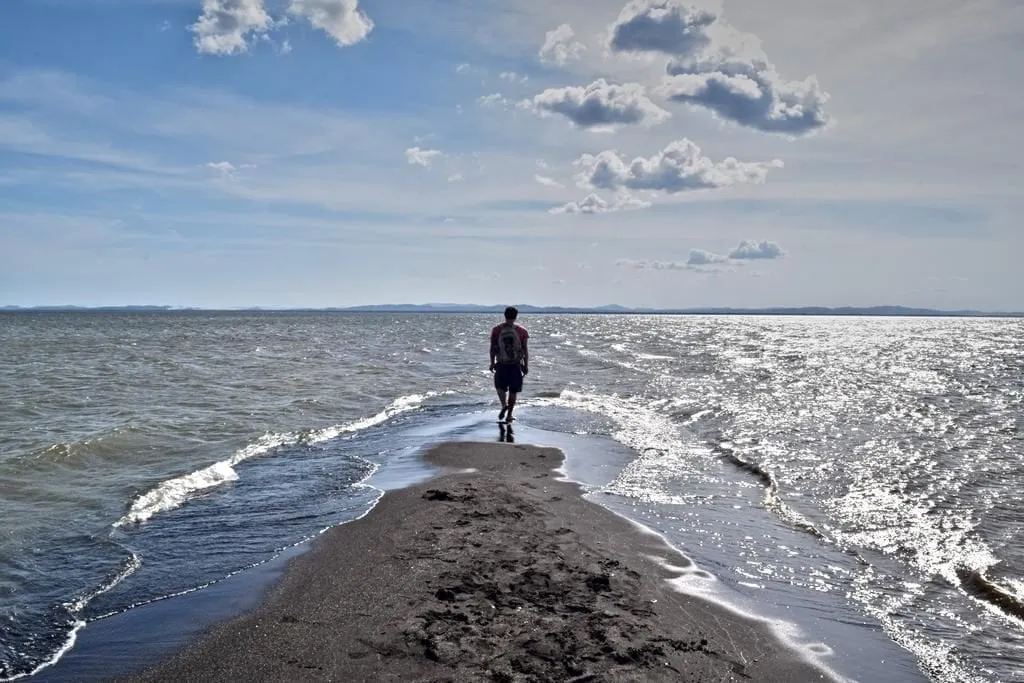 Getting Around During Two Weeks in Nicaragua
In Nicaragua, the easiest way–by far–to get around is by chicken bus. We took chicken buses for several of our city-to-city routes, and they were overall more comfortable than the tourist shuttles we took when chicken buses weren't a viable option for us–sure, the buses get crowded, but at least there's decent air flow!
It's also hard to beat the price–we paid about a dollar/hour per person, making the chicken buses completely affordable. If you're looking for something a little more luxurious, taxis can be negotiated to go just about anywhere.
Frankly, we would never want to drive a car in Nicaragua due to navigation and road conditions, but if you are set on driving yourself, definitely take out insurance on the vehicle! Some World Nomads insurance policies (our preferred travel insurance) cover collision damage while driving a rental vehicle, but be sure to double-check the details with your company before heading out onto the road.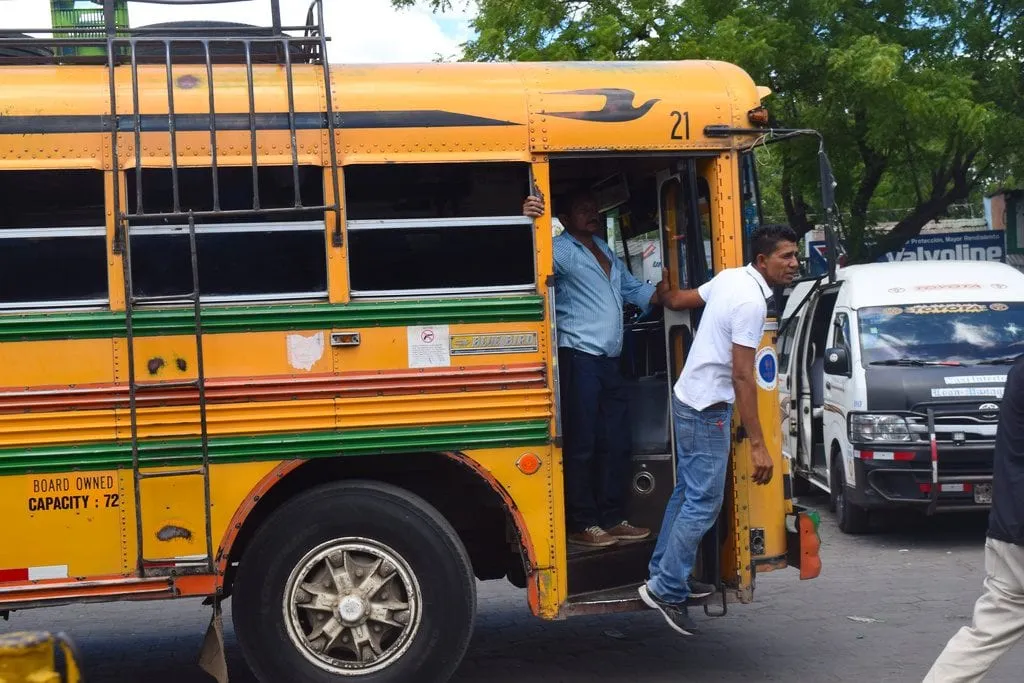 Other Places to Explore in Nicaragua
This is by no means an exhaustive list of places to stop in Nicaragua–in fact, we hope to go back and expect that we'll have very few repeats on things to do when we're there! If you're looking for more to do during two weeks in Nicaragua (or even longer), check out this great Nicaragua bucket list from my friend Allison.
Personally, we're most sad to have missed a chance to hang out on Little Corn Island off the Caribbean coast of Nicaragua, and it is at the top of the list for our next visit.
What to Pack for Nicaragua
Here are a few things we were very glad to have with us in Nicaragua:
SteriPen — To make tap water safe to drink.
Swimsuits
Sunscreen — It will be far more expensive to purchase it at the beach than to bring it from home.

Sea Bands

— To prevent motion sickness during boat and bus rides.
Pacsafe — To protect valuable belongings in your lodging.
Comfortable shoes–I love my

Keen's Whisper Sandals

.