We weren't quite sure what to expect when it came to planning our Slovenia travel budget: we knew that the Balkan countries would likely be a drop in price from our recent travels in Italy, but also knew Slovenia was one of the more expensive Balkan countries to travel in–and, to jump the price up higher, we planned to rent a car for a week while there.
We needn't have worried: as if Slovenia needed anything other than its incredible hiking, lakes, mountains, waterfalls, towns like Bled and cities like Ljubljana to make it one of our favorite countries to date, its low price tag helped add a cherry on top.
Slovenia is not an expensive destination, and our travel budget for Slovenia reflected that: groceries and most restaurant meals were less expensive than in the USA, though the prices predictably jumped in destinations that see a lot of tourists. Lots of simple outdoor activities kept the cost low during most of our exploring, as well.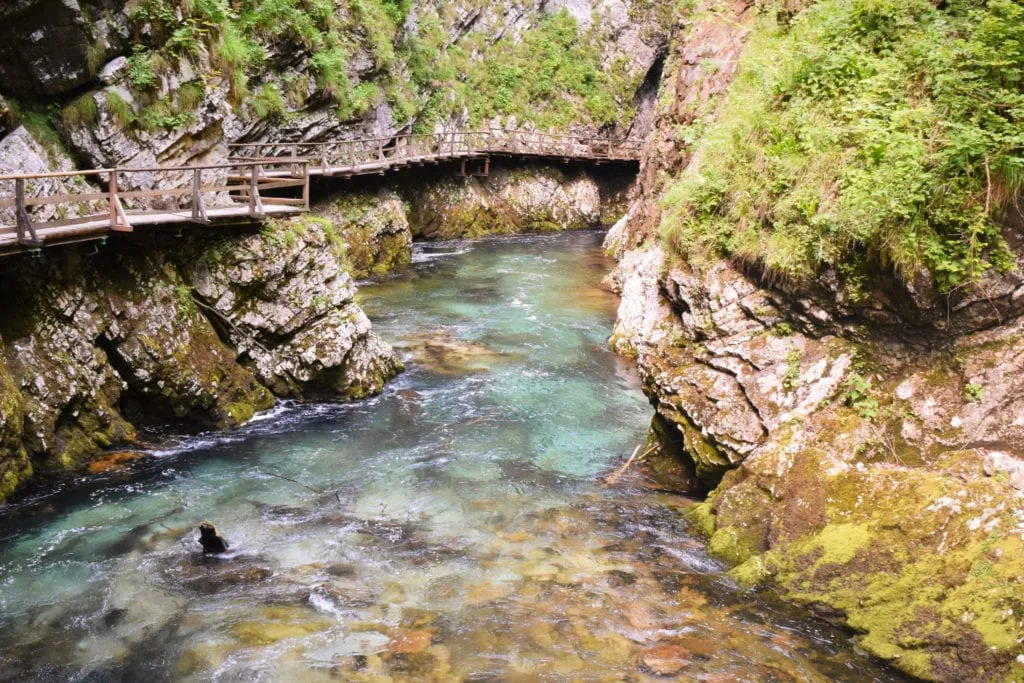 Slovenia Trip Length: 12 full days
Total Cost (excluding transportation in/out): $1310.86, $109.24/day, $54.62 per person/per day
Lodging: $565.43 for 13 nights
At an average of $43.49/night, lodging didn't break our Slovenia travel budget. The most expensive lodging was in Piran–we paid $67.66/night for a private room (and apparently the advertised air conditioning only worked in the hallway… it was a long three nights).
The cheapest was our private Airbnb apartment in Triglav National Park–$32.72/night was a bargain in our opinion, and the fantastic views and amazing hosts made it even better.
Read Next: Guide to Visiting Peaceful Piran
Don't visit Slovenia without travel insurance!

We use & recommend World Nomads for their affordability, ease of purchasing & the clarity of their contract!
Transportation: $393.21
The largest portion of this (okay, basically all of it) was the rental car. We rented the car for seven days, and the daily rate was very low (around $15/day). We raised that price significantly by adding on $0 deductible/excess insurance, which is possibly overkill but was a safety blanket that we wanted.
Gas was expensive, but not unbearable–what did sting was the $37.80 fee that we paid to Hertz for forgetting to top off the tank upon returning the car. Oops.
Restaurant Food: $173.21 
I don't even want to know how much of that total is gelato–I'm guessing maybe $15 worth?
The most memorable restaurant meal, surprisingly, was at a place called Pop's Place Burger Bar on the river in Ljubljana. We weren't expecting anything but a mediocre and overpriced taste of home, but what we got instead was the most delicious cheeseburger that I can ever remember eating.
The service was just as incredible–our waiter felt so bad about forgetting the ketchup that we asked for (and didn't end up needing: it would have been an insult to the burger) that he brought us out free cheesecake. It was an incredibly kind and unnecessary gesture, and the cheesecake was almost as good as the burger itself–and that's really saying something.
At $32.72 out the door (including Jeremy's beer), it was our most expensive meal in Slovenia, but the only thing wrong with the price tag was that we didn't go back and have dinner there again.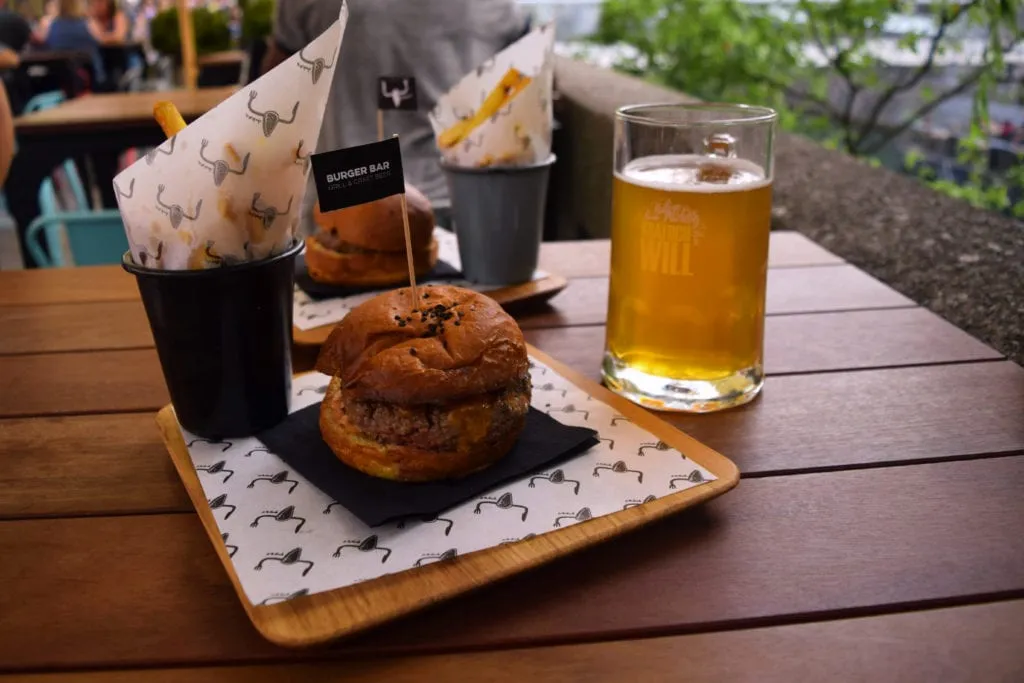 Groceries: $66.69
Groceries were cheap in Slovenia–this amount fed us almost all of our meals for a full week when staying in Triglav National Park, plus some snacks that made it to Ljubljana with us after.
We tried to avoid "American" brands like Pringles, which are popular but extremely overpriced compared the local stuff, and shopped for the cheapest available produce to keep the prices down even further.
Tours & Excursions: $76.71
A full $35.58 of this is made up of our memorable visit to Skocjan Caves, which was worth every penny.
Miscellaneous: $35.61
We only had one miscellaneous cost factored into our Slovenia travel budget: a trip to the camera store. During the first month of our trip, we managed to lose one of our lens caps and were using a sock to keep the lense that we weren't using at the moment safe (we carry two lenses with us). Obviously, this was not a long-term solution.
Our camera was also a bit sandy in some of its creases from its time in the Sahara Desert and generally bouncing around in our backpack, so we picked up a lens cloth and some basic cleaning supplies as well.
Our cost of travel in Slovenia is a great example of utilizing our moderate budget style: we could have done this country much more inexpensively by refusing to rent a car, but we got so much more out of Slovenia by investing the money into getting one, and we fully believe that the tradeoff was worth it.
After crunching the numbers for our Slovenia travel budget, we're completely satisfied with what we ended up spending, and on our next trip to Slovenia (because there will definitely be a next trip!), we think it would be easy enough to stick to this budget again if necessary.
Read Next: 8 Stunning Sights in Slovenia