I've really struggled with how to put our thoughts on Bocas del Toro, Panama into words.
The truth is, blogging about destinations is much easier when we fall in love with them–it's a far simpler task to rave about a place than it is to discuss why you didn't particularly like it–especially when "not particularly liking it" doesn't mean that we hated it… just that we didn't quite get the destination.
That's the quandary I have with Bocas del Toro: we spent almost two weeks there, and while we didn't despise it… we didn't really love it.
Plenty of other people have waxed poetic about Bocas del Toro, though, which leaves us wondering: maybe we just didn't get it?
Some links in this post may be affiliate links. If you make a purchase through one of these links, we may earn a small commission at no extra cost to you. Please see our

disclosure policy

for more detail.
The Basics of Bocas del Toro, Panama
Bocas del Toro is a province in northeast Panama (just a couple of hours south of Puerto Viejo, Costa Rica) that is technically comprised of a small piece of the mainland and an archipelago of islands.
When travelers are referring to going to Bocas del Toro, however, they typically mean that they're headed to Isla Colón (home of "Bocas Town", the main tourist town and the biggest population center on the islands) or Isla Bastimentos (a smaller, more rural island a quick water taxi away from Isla Colón).
Most of Bocas del Toro's best beaches are spread across less populated islands, and therefore, tours to access the different areas are very common.
Fun Things to Do in Bocas del Toro
Starfish Beach
Want to see live starfish in their natural habitat? Come to Bocas del Toro!
At Starfish Beach, we spent an entire afternoon swimming with dozens of starfish, who were happy to hang out under the shallow water as tourists peered at them.
Just don't be one of the jerks who pick them up despite a dozen signs begging you to look and not touch!
Sloth Island
Jeremy and I may have the tiniest sloth obsession (and penguin obsession, but that's a story for a different day), and seeing them in person is definitely among the best things to do in Panama as far as we're concerned.
Lo and behold, Bocas del Toro is home to a place called "Sloth Island", which we were able to approach via boat and check out sloths in the wild!
True, we couldn't actually get on the island itself and the sloths were quite content to hang out high in the trees and far away from us–but that didn't stop me from squealing in delight every time we spotted one (usually with the help of our guides).
Deep Boarding
Deep Boarding is one of those strange, tourist-friendly sports that gets thought up when locations want an attraction of their own… and it is lots of fun.
The theory is basically this: you hold onto a plastic board with both your hands, using your forearms and wrists to guide yourself up and down.
You then attach this board to a boat by a piece of rope, the boat pulls you through the water… and voila! You can dive to the bottom of a (shallow) section of water and come back up fairly easily.
It's unusual, to say the least, and we're never ones to say no to a fun new water activity–after a few minutes of getting the hang of it, we ended up having a great time during our time deep boarding.
Also, be sure to wear a bathing suit that is secure: more than one woman in our group was stripped of part of her bikini during the ride!
The Downsides of Visiting Bocas del Toro
The Weather in Bocas del Toro
Bocas del Toro averages more than 130 inches of rainfall every year–and there is no predictable dry season.
As a comparison, famously rainy Seattle gets roughly 38 inches per year!
It rained on more than half of our days in Bocas del Toro, and when it was dry, 90% of the time thick clouds hung in the sky, robbing the bulk of the beauty of the Caribbean beaches the area is known for.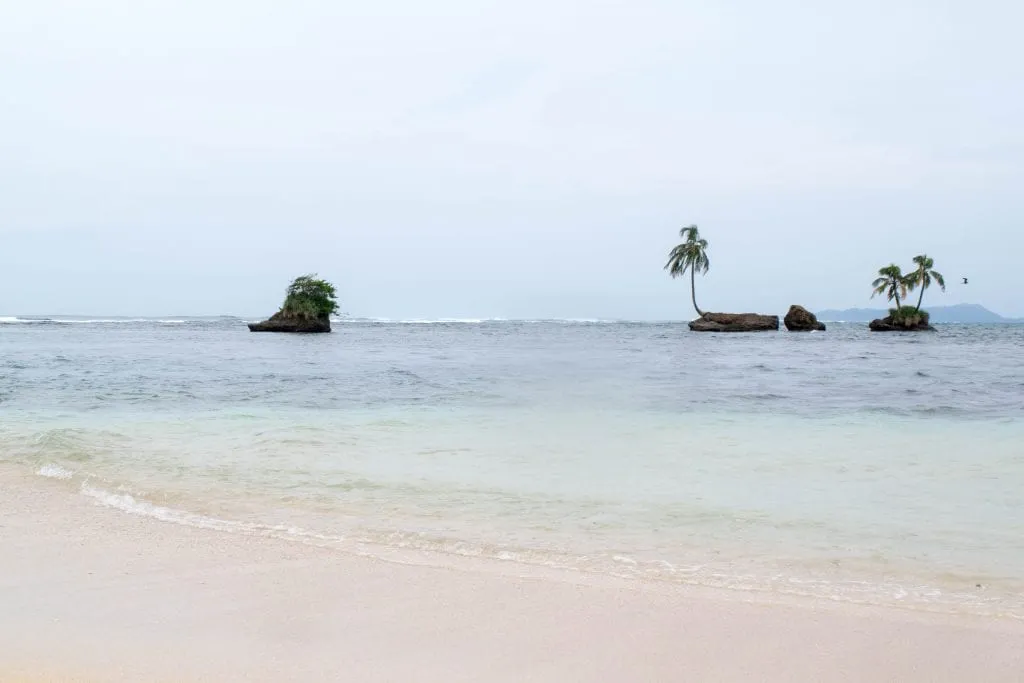 I must admit, we didn't really research the weather in Bocas del Toro before going, and it wouldn't have stopped us. When backpacking through multiple countries, the weather isn't always going to be ideal, and it's not something we will change our plans for.
Bocas del Toro makes logistical sense as a backpacker stopover, there are plenty of fun things to do there, and starfish are a big draw (though we'd definitely never set off on a day trip around Bocas del Toro without a dry bag
).
Would we ever consider taking a more standard one-to-two-week vacation there, or suggest others do the same? Never.
Why would we, when there are so many more places that give you similar experiences with more reliable weather?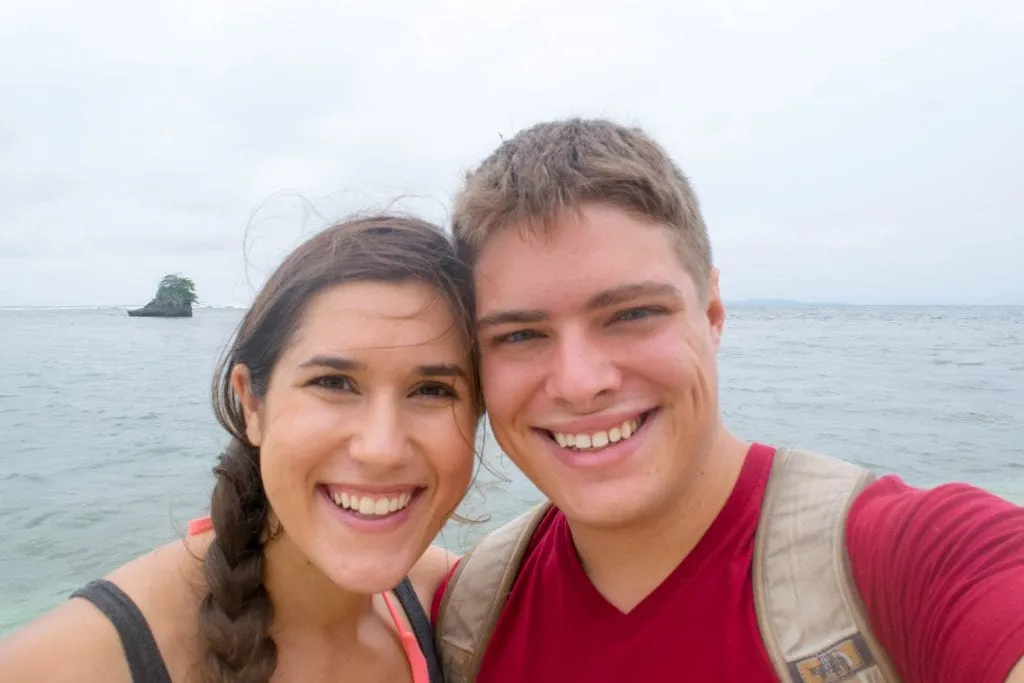 The Logistics of Visiting Bocas del Toro
Bocas del Toro is not really a walkable place: wherever you choose to stay, likely only a handful of attractions (if that) will be within walking distance–and most are a boat ride away.
We stayed in Bocas Town, the most populated, connected area… and other than one small beach, none of the natural attractions were within easy reach.
We did, however, have easy access to plenty of water taxis to get around, tour companies to book from, restaurants and grocery stores for food, as well as souvenir shops if we wanted them–not all of which were readily available to people who stayed further out of town and closer to some of the natural highlights (which were themselves spread out).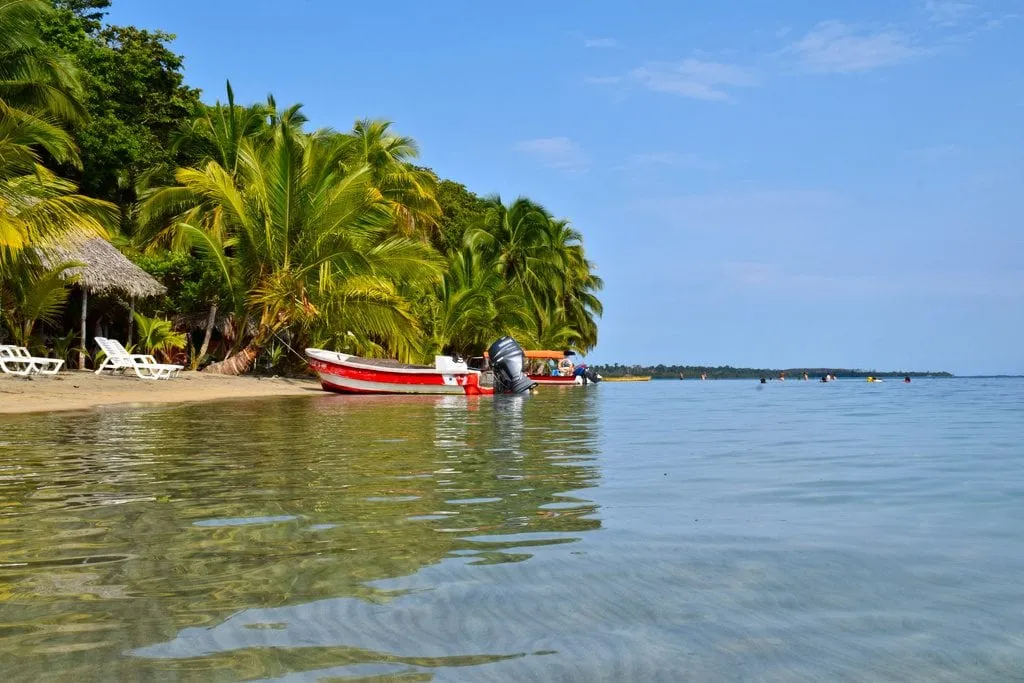 Is Bocas del Toro Worth Visiting?
While we're glad that we saw Bocas del Toro and really enjoyed aspects of our time there (looking at you, sloth island and rare sunny weather)–we can say pretty firmly that we don't plan to go back.
With literally hundreds of other locations to consider in Latin America and the Caribbean, Bocas del Toro just didn't manage to grab us the way that beach locations like San Juan del Sur, Nicaragua, Isla Holbox, Mexico, and Utila, Honduras grabbed us during this trip… or how we hope spots like Little Corn Island, Nicaragua or even other destinations in Panama might grab us in the future.
It's hard not to feel biased, though, making that call (which of course all people inherently are): would we have come to the same conclusion if we had lucked out and the sun shined every day we were in Bocas del Toro?
Considering how much our moods are impacted by the weather, it's a fair question.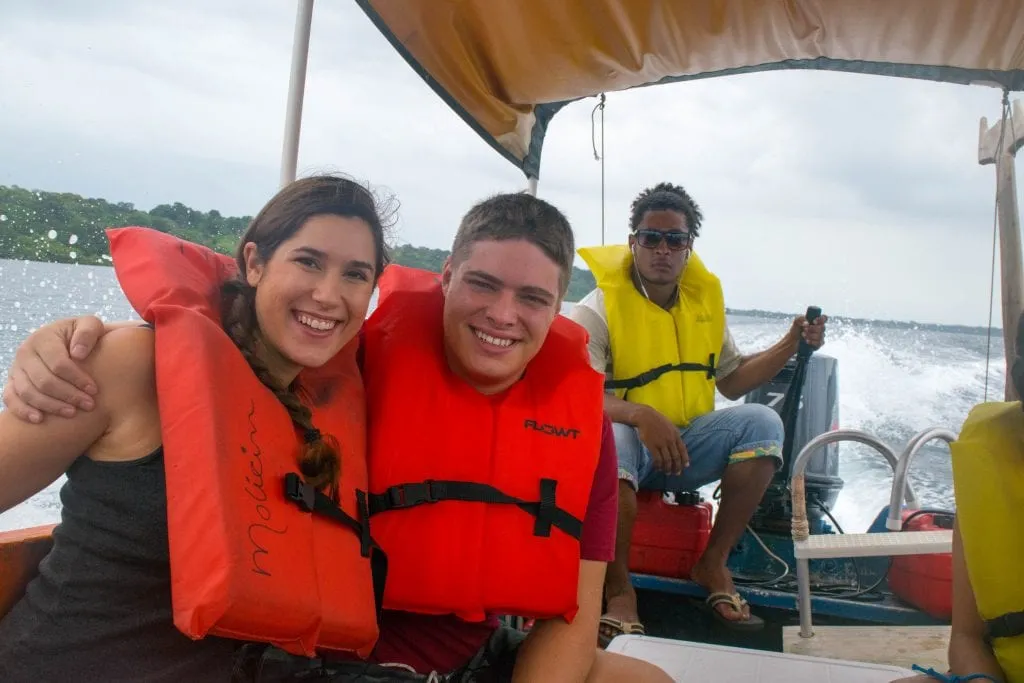 What about if Bocas del Toro was one of our first stops in Central America instead of one of our last? Or if we stayed right on a beach, access to food and tours be damned, and soaked in the natural beauty of the place?
It's impossible to say. I would never make the judgment of saying, then, "backpackers should totally skip Bocas del Toro!"… because there are a lot of reasons that backpackers might decide Bocas del Toro is worth visiting, including as part of a longer Panama trip that builds in stops to places to like the San Blas Islands and Boquete.
For standalone vacations, though, that are short and only include one or two destinations?
Well… personally, knowing the weather in Bocas del Toro, we can quite confidently say that we wouldn't feel comfortable taking the risk.
Where We Stayed in Bocas del Toro
Bocas Condos & Rentals — Other than the fact that the location wasn't perfect (which no place in Bocas del Toro is), we were completely satisfied with our studio.
The kitchen was well-stocked, the apartment was kept very clean, we were within easy walking distance to the restaurants/shops/tour operators of Bocas Town, and the a/c worked very well.
We definitely wouldn't hesitate to recommend this place to anyone passing through Bocas Town!