There are so many things to love about visiting Jordan, from the majesty of Petra to the otherworldly landscape of Wadi Rum to the fact that with even 5 days in Jordan, you can craft a Jordan itinerary that you'll never forget!
Jordan's small size and ease of travel make it a fantastic introduction to the Middle East.
No matter how long you have to explore, you'll no doubt leave some stones unturned… but have even more once-in-a-lifetime experiences along the way.
With less than a week in Jordan, you can visit a wide variety of the country's iconic attractions, including floating in the Dead Sea, exploring some of the best-preserved Roman ruins outside of Italy, camping in Wadi Rum, riding a camel, and hiking through the Lost City of Petra.
… and that's just the beginning.
If you're short on time but hoping to plan an itinerary for Jordan that will leave you with cherished lifelong memories, this 5, 6, or 7 day Jordan itinerary will help!
How We Structured This Jordan Itinerary
We designed this 5-7 day Jordan itinerary as a loop beginning and ending in Amman.
It is primarily intended as a road trip–and yes, you can absolutely road trip Jordan with relative ease!
However, if you don't want to drive, through a combination of organized tours, public transportation, and/or private transfers, you can easily spend a week in Jordan without a car, as well.
This itinerary is intended for travelers enjoying their first trip to Jordan who are hoping to hit up the country's biggest highlights in a very limited time.
And, since Jordan is such a small and easy-to-navigate country, that is quite doable!
If you drove this route straight through without detours, it would include a little over 12 hours of driving in the whole loop.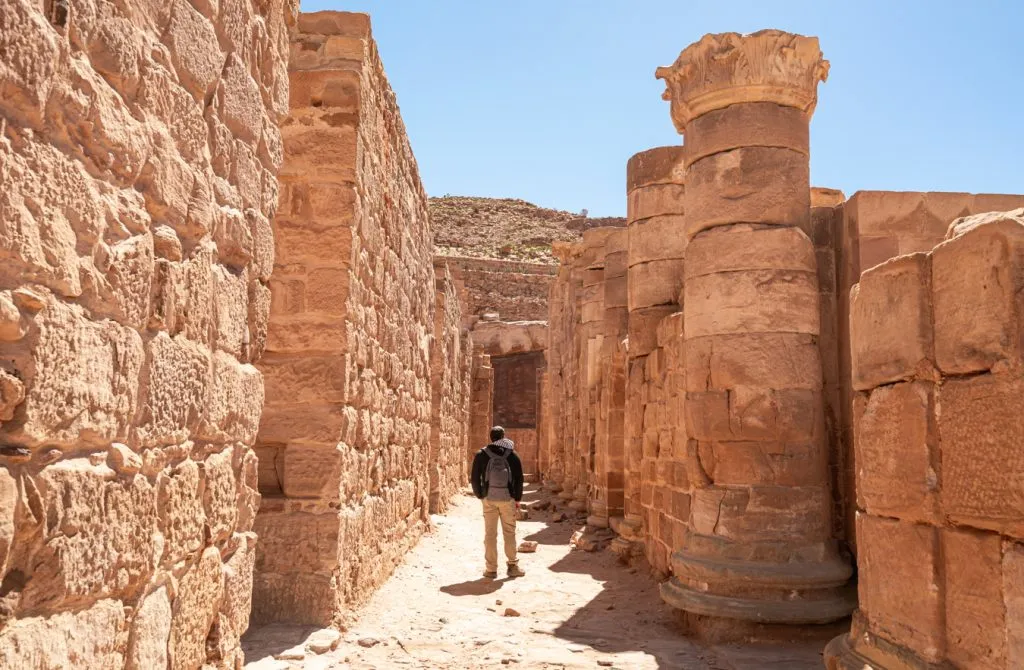 Renting a Car for Your Jordan Road Trip (Or Not)
Taking a road trip in Jordan is an absolute delight, and this itinerary is perfect for doing so!
Jordan's roads are well-marked and (outside of Amman), fairly simple to navigate.
When renting a car in Jordan, we recommend shopping for your rental car through Discover Cars, which will allow you to sift through all your options and choose the right car for you based on price, the reputation of the company that is renting it, and the terms of the rental contract.
Prefer not to drive?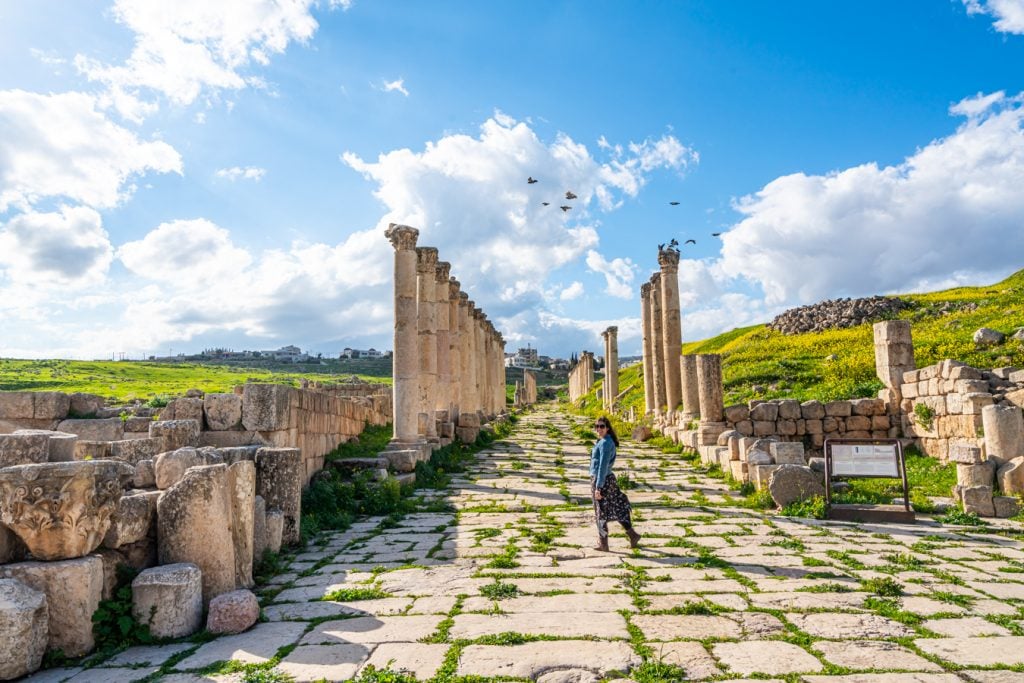 You can still have a fantastic time in Jordan!
While navigating this itinerary via public transportation alone would be cumbersome, guided tours can offer excellent value for money and keep your trip planning simple.
Basing yourself primarily in Amman and booking a multi-day tour like this to see Petra and Wadi Rum, and then supplementing with day trips like this to places like Jerash, is absolutely a valid way to have a fantastic Jordan vacation.
Shop rental cars and/or guided tours for your trip to Jordan today!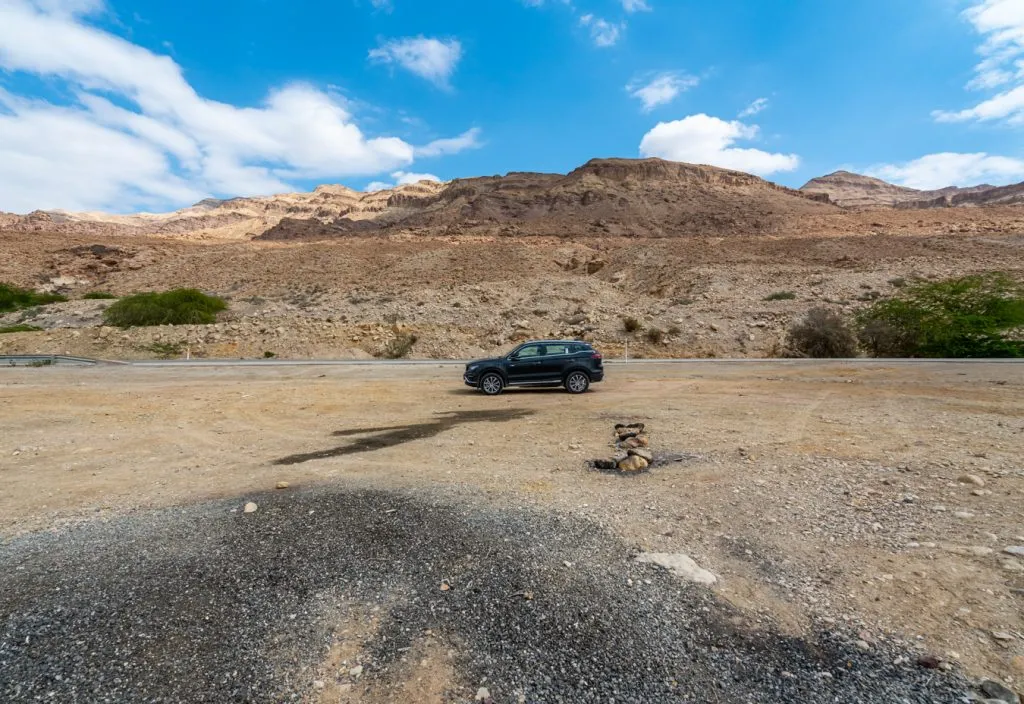 Don't Forget Your Jordan Pass!
For virtually all travelers planning a trip to Jordan based on this itinerary, the Jordan Pass is a must-buy before you go!
The pass is organized by the Jordanian government and includes entrance fees to more than 40 of the top attractions in Jordan, including Petra, Wadi Rum, Jerash, and many more.
It also covers the cost of your visa on arrival!
The pricing of the pass is structured in such a way that once you account for the cost of your visa and entrance to Petra, the pass has already paid for itself, making it an easy win.
However, make sure that you purchase and download your pass before flying into Amman!
When we went through immigration, the family next to us in line ended up having to purchase a separate visa because they only screenshotted their pass confirmation and didn't download it before arriving.
The Perfect 5 Days in Jordan Itinerary
Day 1 in Jordan: Explore the ruins of Jerash and float in the Dead Sea.
If you're trying to see Jordan in 5 days, you'll want to hit the ground running as soon as you land in the country!
After getting your rental car in Amman, drive north to explore one of the best-preserved Roman cities outside of Italy.
Explore the Roman city of Jerash.
Stepping foot inside Jerash is an incredible experience, and it reminded me immediately of exploring Pompeii in Italy (but in Jordan, we got to start our visit with a freshly squeezed pomegranate juice in hand).
Don't miss the magnificent South Theater (climb to the top for the full effect–the acoustics are incredible), Oval Plaza, or Cardo Maximus column-lined street.
You'll also find beautiful temples, including ones dedicated to Zeus and Artemis, in Jerash.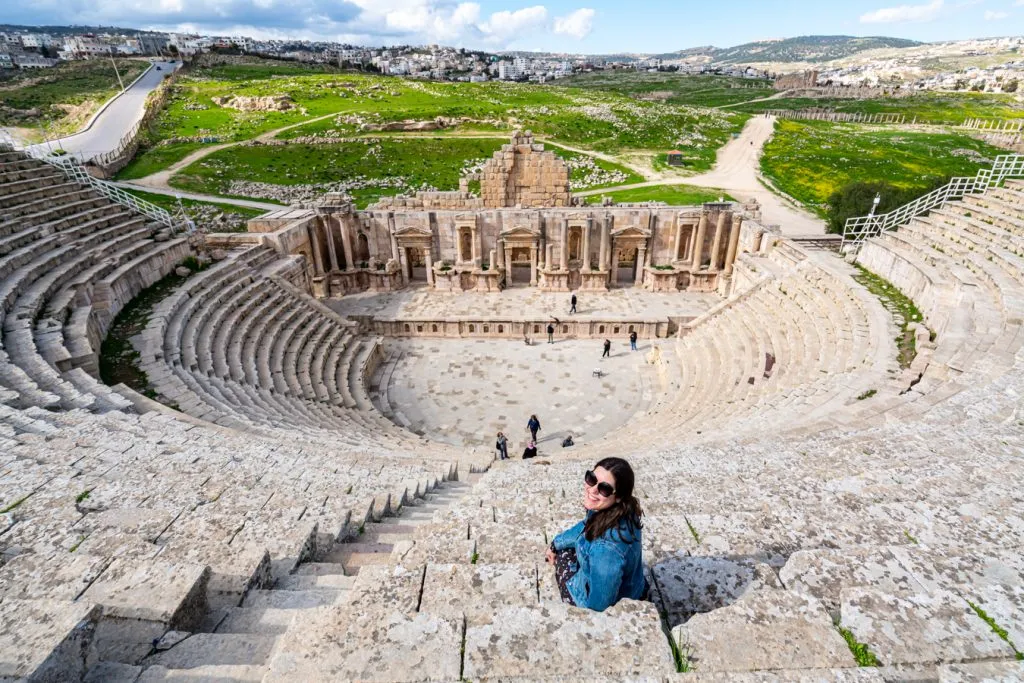 Head to the Dead Sea to float your worries away.
Once you wrap up at Jerash, make your way to the Dead Sea, where you can float your worries away in one of the most unique landscapes on Earth!
Jordan's side of the Dead Sea lends itself to luxurious resorts with private beaches that are more affordable than you might think.
… And, since the Dead Sea is shrinking every year, it's worth a bit of a splurge.
This is one of those "experience-it-while-you-can" attractions!
Plus, floating in the Dead Sea, while iconic, doesn't take very long, making it easy to fit into a 5 day Jordan itinerary.
Due to the salt content in the water, it's recommended to only stay in the water for 15 minutes or so per visit.
We loved our stay at the gorgeous Dead Sea Marriot Resort and would be thrilled to stay again!
Day 2 in Jordan: Spend the night camping in Wadi Rum.
After waking up at the Dead Sea, enjoying the gigantic breakfast spread at the Dead Sea Marriot Resort, and possibly going for a morning float, it's time to head south!
The final destination of your second day in Jordan is the otherworldly Wadi Rum, but consider making a quick detour before you go!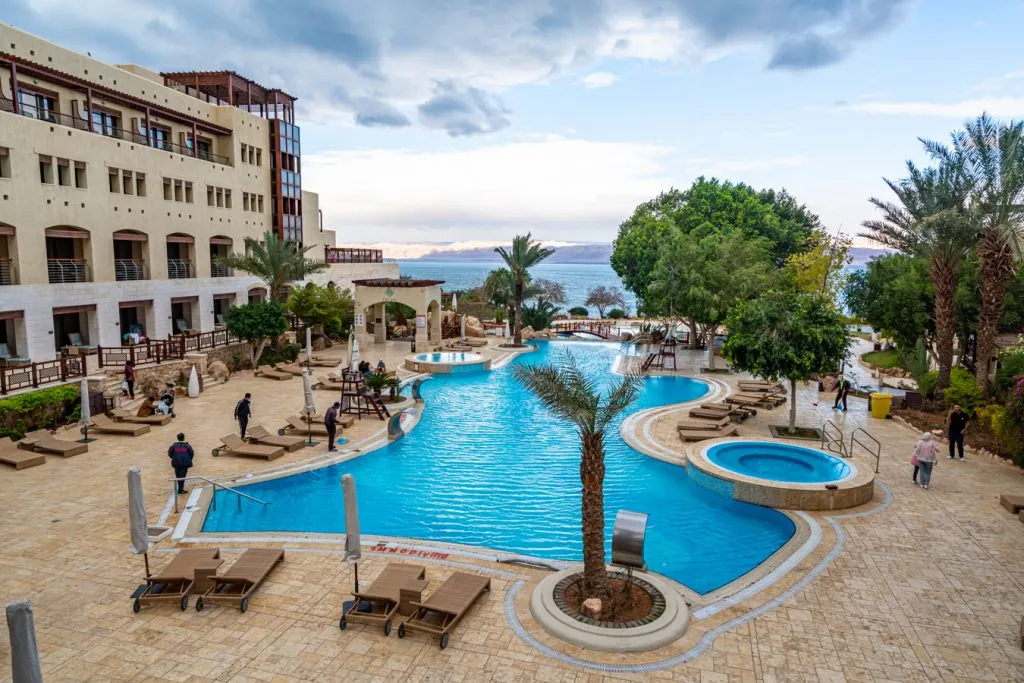 Wander through Kerak Castle.
Kerak Castle (often also written as Alkarak Castle) is one of the largest and best-preserved Crusader Castles in Jordan.
Dating to the 1100s, everything from the castle's structures to the views here are incredible, and it's a fascinating side stop during your road trip in Jordan.
Drive to the incredible Wadi Rum Protected Area.
After seeing the castle, make your way to Wadi Rum for one of the most memorable nights of your life!
The Wadi Rum Protected Area is, more or less, a desert landscape that looks like Mars crossed with Utah.
It's the traditional home of Bedouin people, who host guests like us in their special landscape today.
It's also a popular filming location (see: Lawrence of Arabia, Star Wars, Dune, and many more).
Wadi Rum is a magnificent destination and hands down one of the best places to visit in Jordan.
We've written an entire guide to Wadi Rum to help you plan your trip in detail, but here's the short version: this afternoon, take either a camel or Jeep tour, and then spend the night at a Bedouin Camp.
Camps range from extremely basic to the famous and luxurious Bubble Luxotel.
We opted for the middle-of-the-road Candles Camp and had a fantastic time!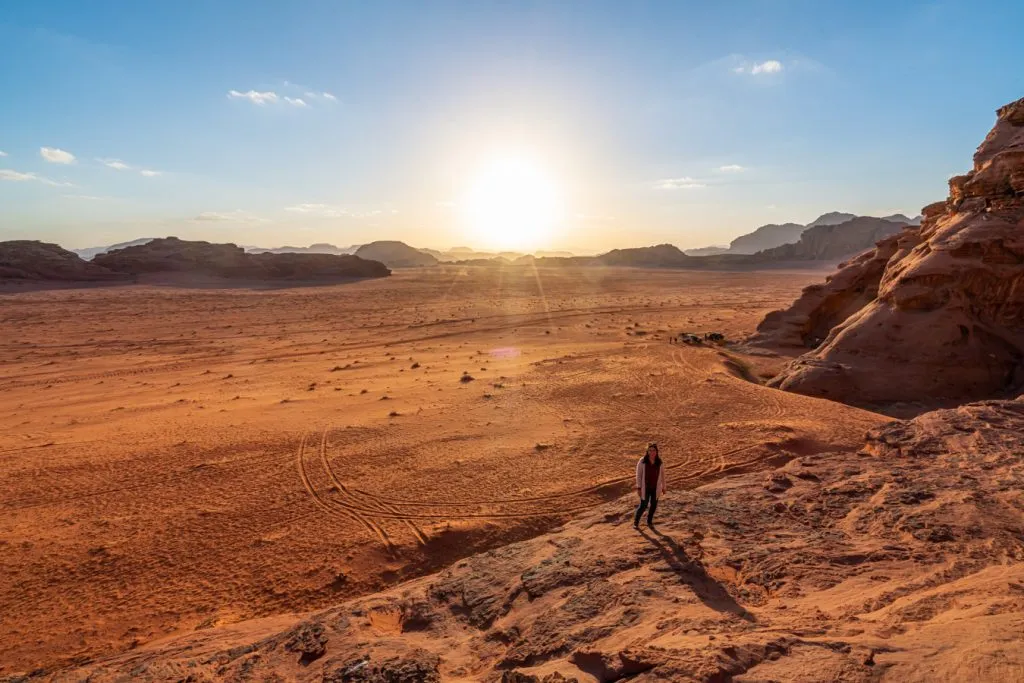 Day 3 in Jordan: Adventure across Wadi Rum and drive to Petra.
We go over this in more detail in our Wadi Rum guide, but essentially, your time in Wadi Rum should absolutely include both a Jeep tour and a camel ride!
The Jeep tour takes much longer and is a great option for this morning (however, you can also do a sunset Jeep tour and sunrise camel tour instead–it all depends on your exact schedule).
Once you wrap up exploring the majestic beauty of Wadi Rum, it's time to drive to Petra!
The drive to Petra (or more specifically, Wadi Musa, the modern village outside of Petra) from Wadi Rum takes a couple of hours, give or take.
In other words, you can take your time enjoying Wadi Rum and plan to arrive in Wadi Musa to settle in for the next day, which will arguably be the busiest of your trip!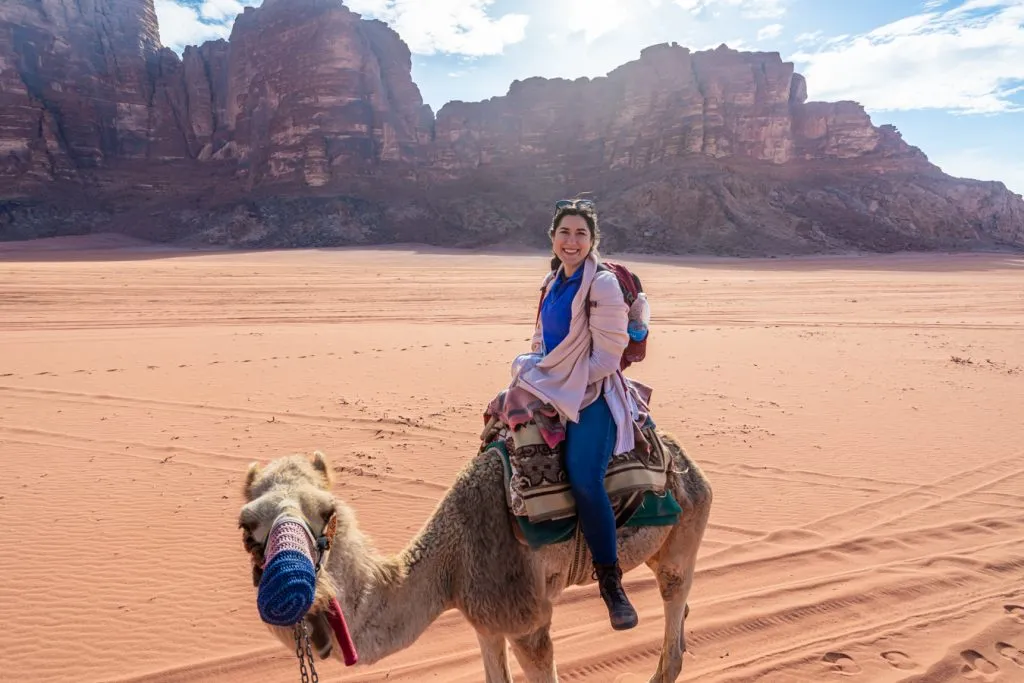 Day 4 in Jordan: Marvel at the Lost City of Petra.
The crown jewel of any trip to Jordan, the Lost City of Petra more than lived up to our sky-high expectations!
While the famous Treasury is just as incredible as described, the full experience of visiting Petra, from the Monastery to the Siq slot canyon to the lesser-known highlights like the Royal Tombs, is beyond words.
Like other incredible ruin sites around the world such as Pompeii, Angkor Wat, Becan, and more, part of the incredible appeal of Petra lies not just in its photogenic attractions but in the fact that you can truly feel the layout of the city as you explore.
While it would be very easy to spend several days exploring all that Petra has to offer, with only 5 days in Jordan to work with, it's realistic to plan for one.
How to Structure Your Day in Petra, Jordan
In order to make the most of your one day in Petra, we highly recommend taking advantage of Petra's lesser-used "back door".
By using the back door, you'll first hike to the Monastery (or Ad Dier) at the back of the park, and then walk to the main entrance in Wadi Musa throughout the day, passing by all of Petra's highlights and saving the Treasury for the grand finale.
You'll also be able to reverse the 800+ step climb to the Monastery and go down the steps instead!
This is an official entrance, though barely used compared to the crowded front gate.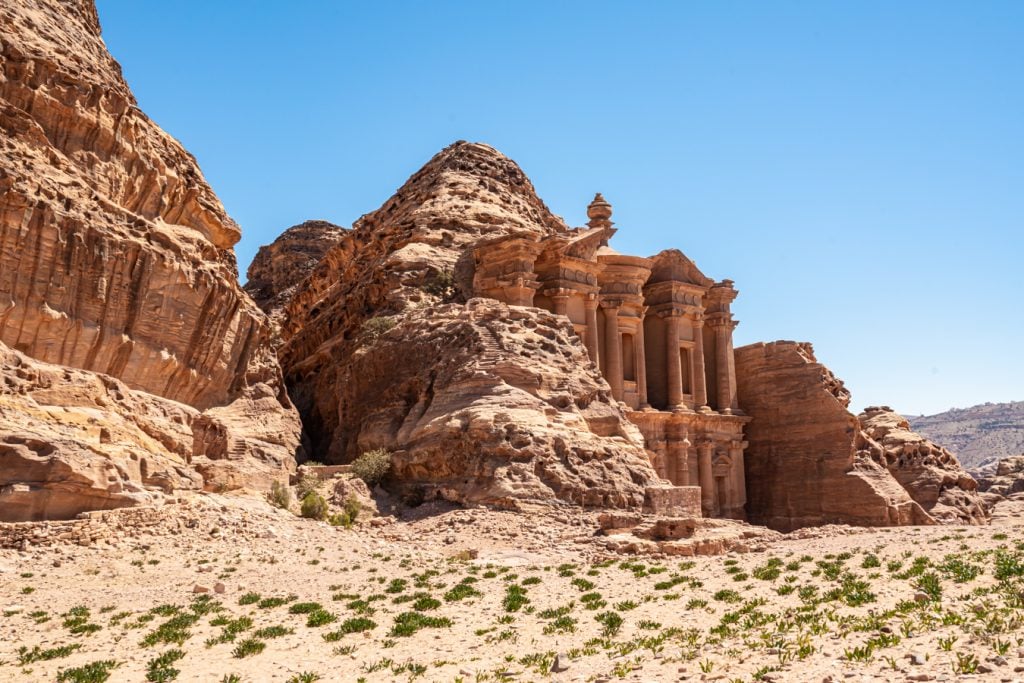 We absolutely adored using this method and felt that we were able to make the most of our time in Petra without feeling rushed, since we knew we didn't have to turn around and hike back out.
Your hotel can help you arrange transport to the back door–we stayed at Petra Aretas Hotel and they were great about arranging a ride for us, with a mini-tour on the way!
Petra Aretas Hotel also served a great breakfast and is located within walking distance of the main entrance of Petra.
We loved our stay and would be happy to check in again.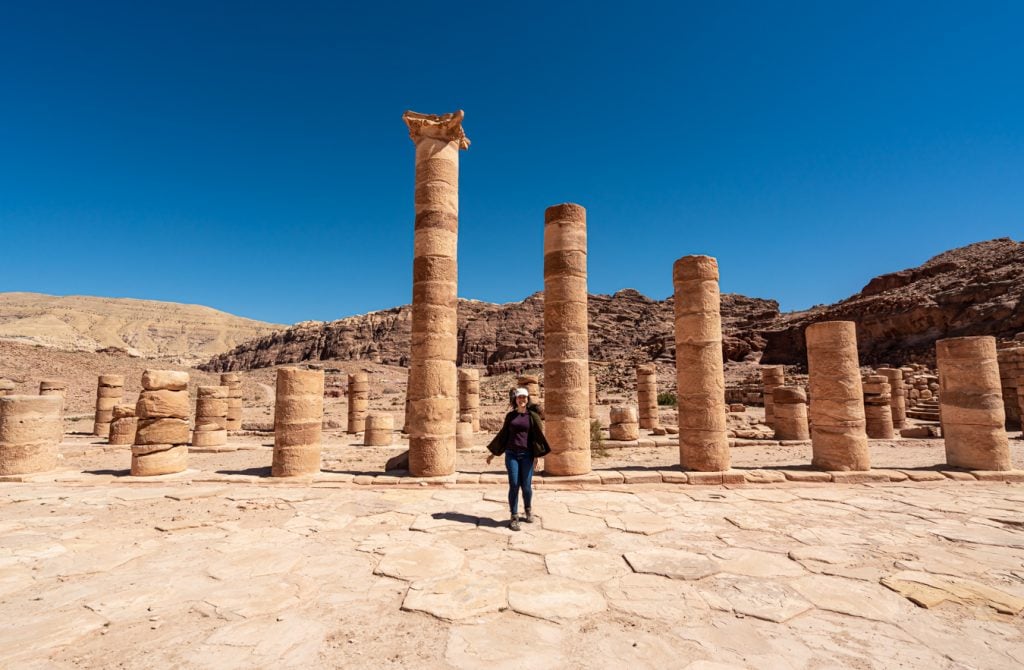 Day 5 in Jordan: Make your way back to Amman (with sightseeing stops).
On the final day of your 5 day Jordan itinerary, it's time to make your way back to Amman.
Assuming you have most of a day to work with, though, you'll find plenty of incredible sightseeing opportunities as you road trip from Wadi Musa back to Amman!
Here are just a few sights to consider adding to your list of things to do in Jordan.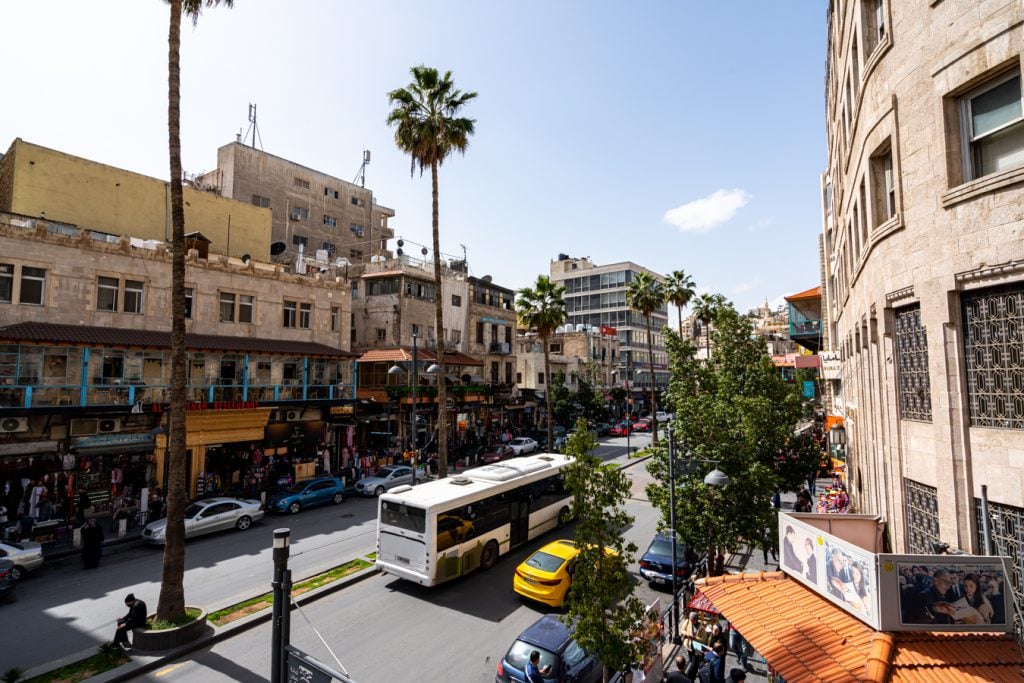 Madaba
To appreciate a different side of Jordan's impressive history, enjoy a quick stop in the charming city of Madaba.
While there are a handful of interesting sights and a shopping street to peruse, without a doubt Madaba's top attraction is the intricate 6th-century mosaic map of the Holy Land, found on the floor of the Church of Saint George.
Known as the Madaba Map, this striking mosaic is considered to be the oldest surviving map of the Holy Land.
The Baptismal Site of Jesus Christ
Just north of the Dead Sea in Jordan, you'll find the reported Baptism Site of Jesus Christ, which for thousands of years has been considered the location where John the Baptist baptized Jesus.
While the site is very popular (you can even be baptized there if you choose), it's also highly managed and a bit–dare I say it–commercialized.
If you'd like to visit, you'll need to join a group tour, and admission is not included in most Jordan Passes.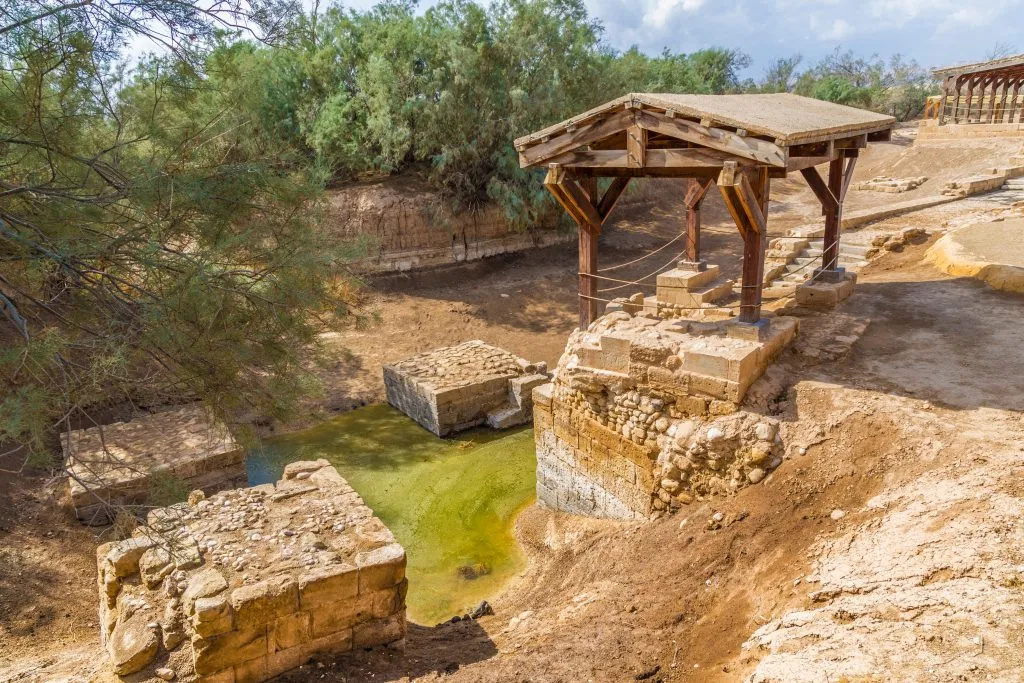 Mount Nebo
Mount Nebo is a highly significant site in the Abrahamic religions and is believed to be the place where Moses glimpsed the Holy Land before he died.
Today, you'll find sweeping views, beautiful memorials, and art from several cultures on top of the mountain–and on a clear day, you can even see all the way to Jerusalem!
The Moses Memorial Church is a striking blend of extremely old (the church originally dates to the 4th century), and the extremely new, with a 21st-century building surrounding historic mosaics.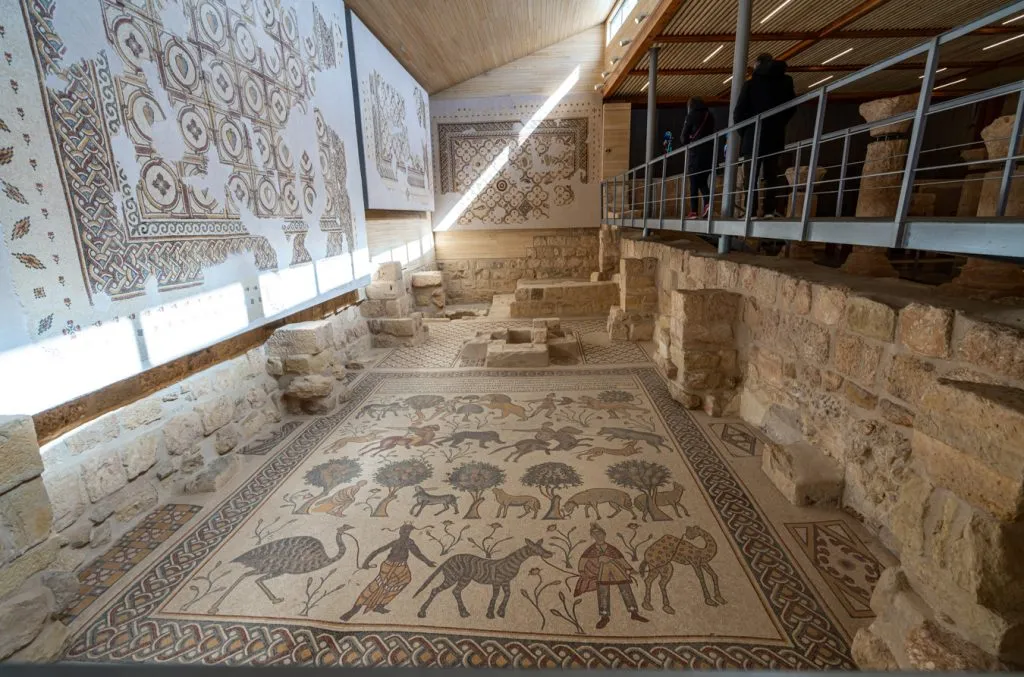 King's Highway Viewpoints
There are two essential roads in Jordan that you'll hear a lot about when planning a Jordan road trip: the Desert Highway (fast, efficient, but a bit dull), and the King's Highway (which takes longer, but is also more scenic).
For this 5-7 day Jordan itinerary, we recommend driving part of the Desert Highway on your way to Wadi Rum (when your schedule is more packed) and then taking the King's Highway all the way up as you head north.
You'll come across plenty of striking viewpoints as you travel, so be sure to safely pull over and snap photos at a few!
We personally found the northern section of the King's Highway more scenic than the southern section.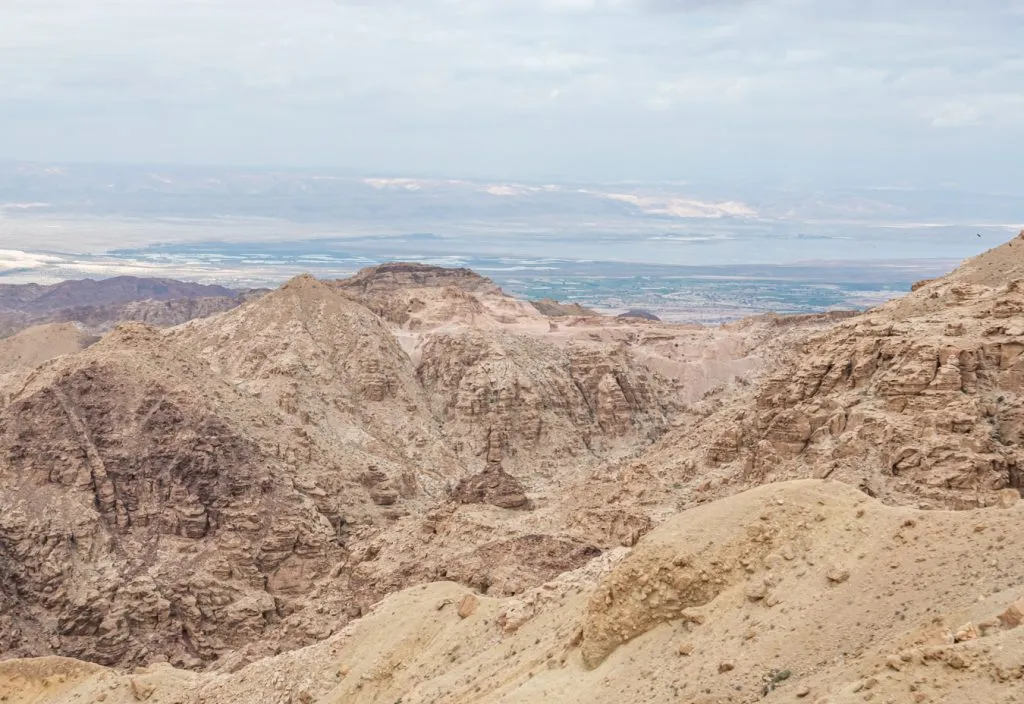 Where to Stay For Your Final Night in Jordan
If your experience is like ours (and for many of your guys flying back out of the region, it will be), your flight out of Jordan will leave very, very early in the morning.
To make life a little easier on ourselves, we checked into this peaceful hotel near the airport for the "night" (our wakeup call to head to the airport was at 1:00 AM).
The rooms were comfortable and the service excellent.
They were even able to call us a taxi and ensure that we were picked up on time, making our bleary-eyed final few hours in Jordan much less stressful.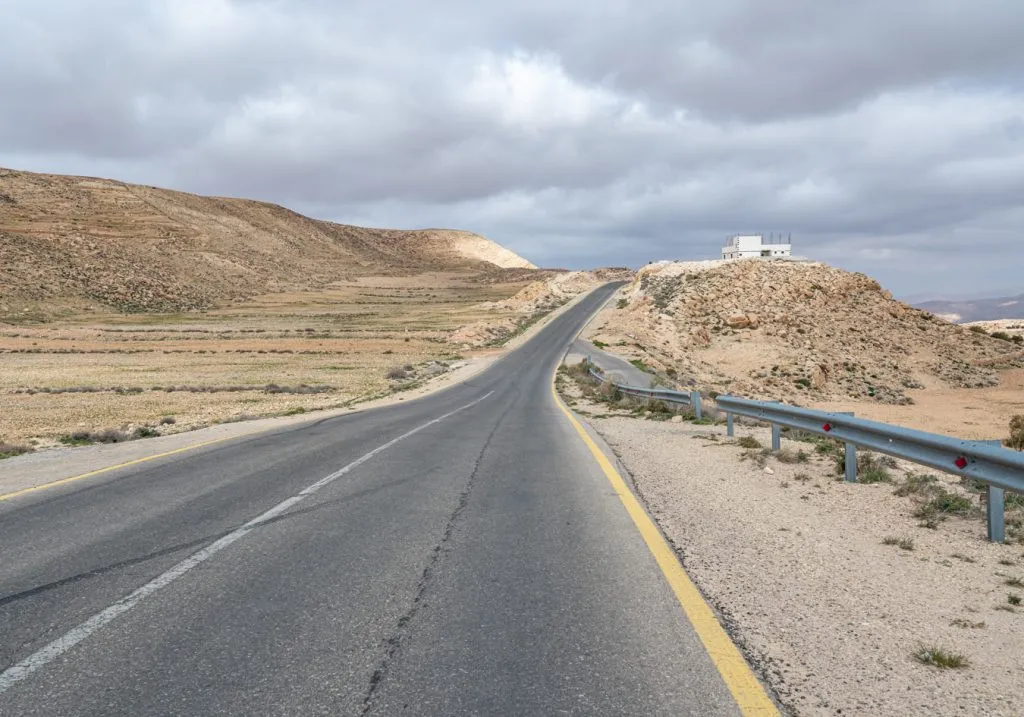 If You Have 6 Days in Jordan…
Add a day in Amman.
With 6 days in Jordan, you should absolutely add a day in Amman!
Jordan's lively capital city offers a chance to see a completely different side of the country than the wild country landscapes and archaeological sites do.
Tour the famous Amman Citadel (and soak in its incredible views), explore the Roman Theater (that is still used for performances!), and visit Rainbow Street.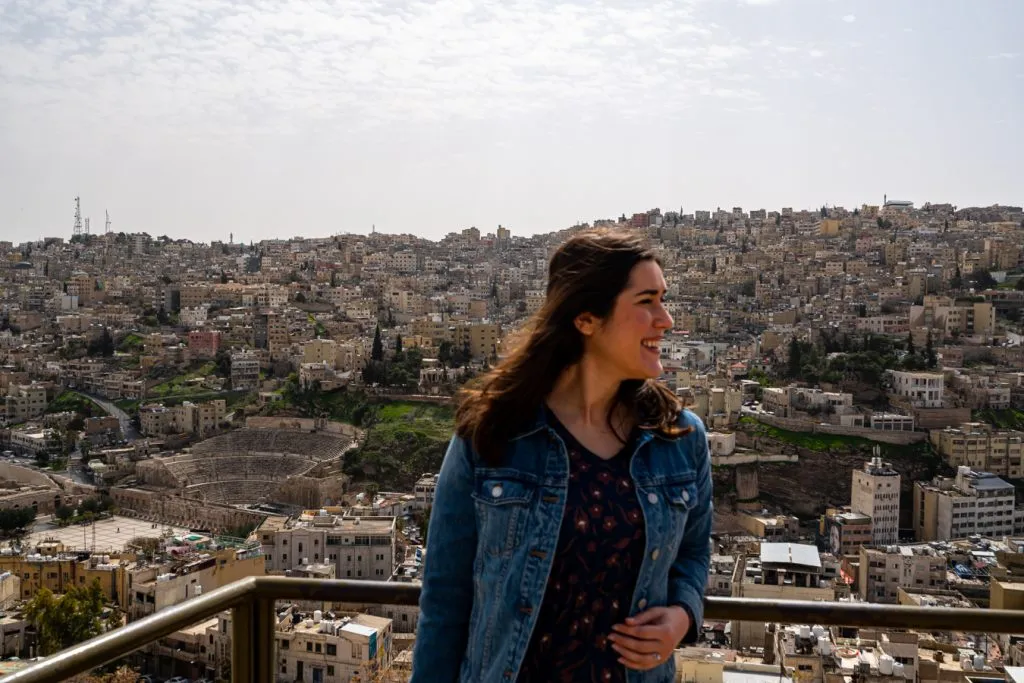 The King Abdullah I Mosque is one of the only mosques in Jordan that non-Muslims can enter, and is also worth seeing.
If it fits into your schedule, the Jordan Museum is also well worth a visit–some of the Dead Sea Scrolls are on display there!
For cheap and delicious eats, don't miss the famous falafel and hummus at Hashem Restaurant, or the delicious kunefe located just up the road at Habibah.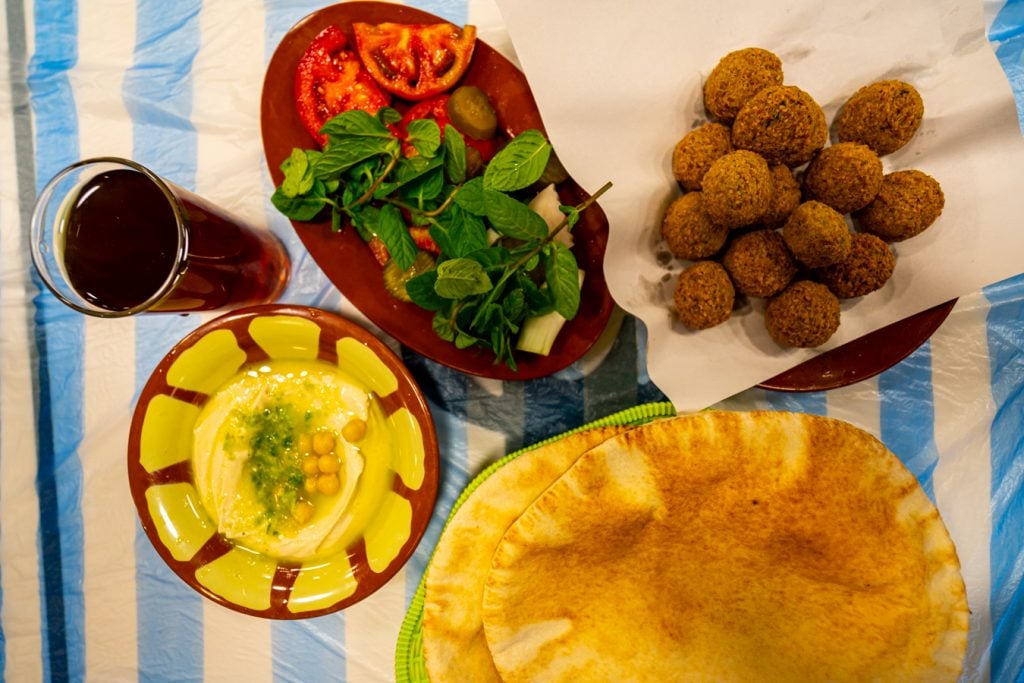 If You Have 7 Days in Jordan…
Slow down or add a day in Aqaba.
Our number one itinerary suggestion if you have a full week in Jordan to work with is simply to slow down!
This suggested route is incredibly packed, and while that's sustainable for 5-6 days in order to pack in Jordan's best sights with very limited time, you can't keep it up forever.
A second day spent in Petra, Wadi Rum, or even the Dead Sea area can add a lot of depth to your trip without having to find yet another hotel to stay in.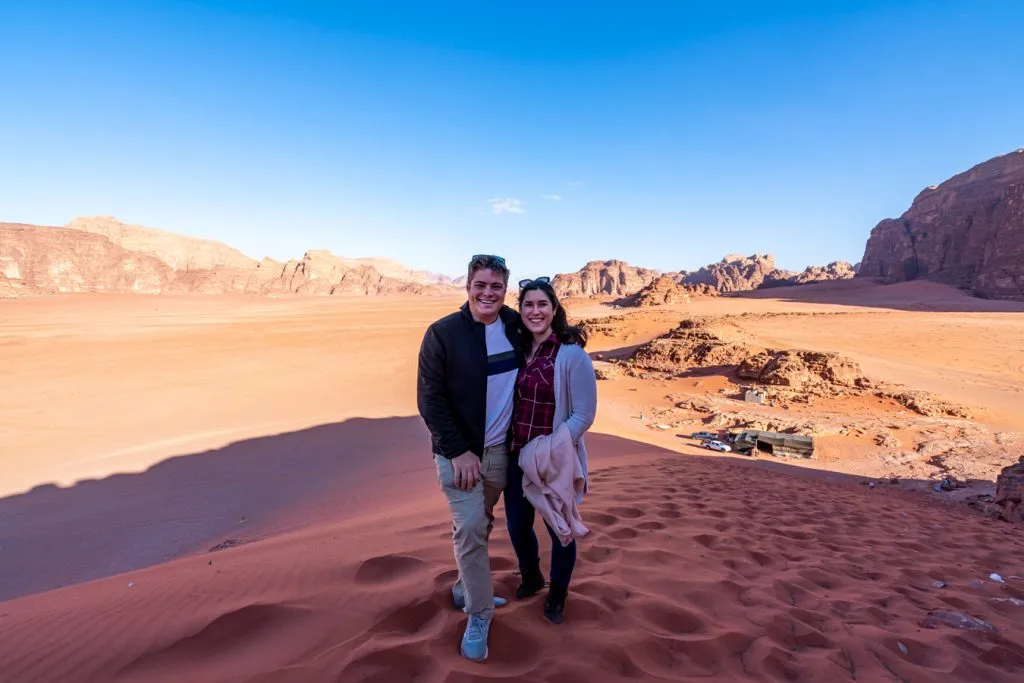 If you're feeling energized, though, a 7 day Jordan itinerary could also be expanded to include a day of scuba diving and/or snorkeling in Aqaba.
Other options include a hike in a slot canyon like Wadi Mujib, time spent in the Dana Biosphere Reserve, or a soak in the Ma'in Hot Springs.
For something more history-focused, visiting another one of Jordan's UNESCO World Heritage Sites like Quesir Amra or Um er-Rasas are also very interesting options.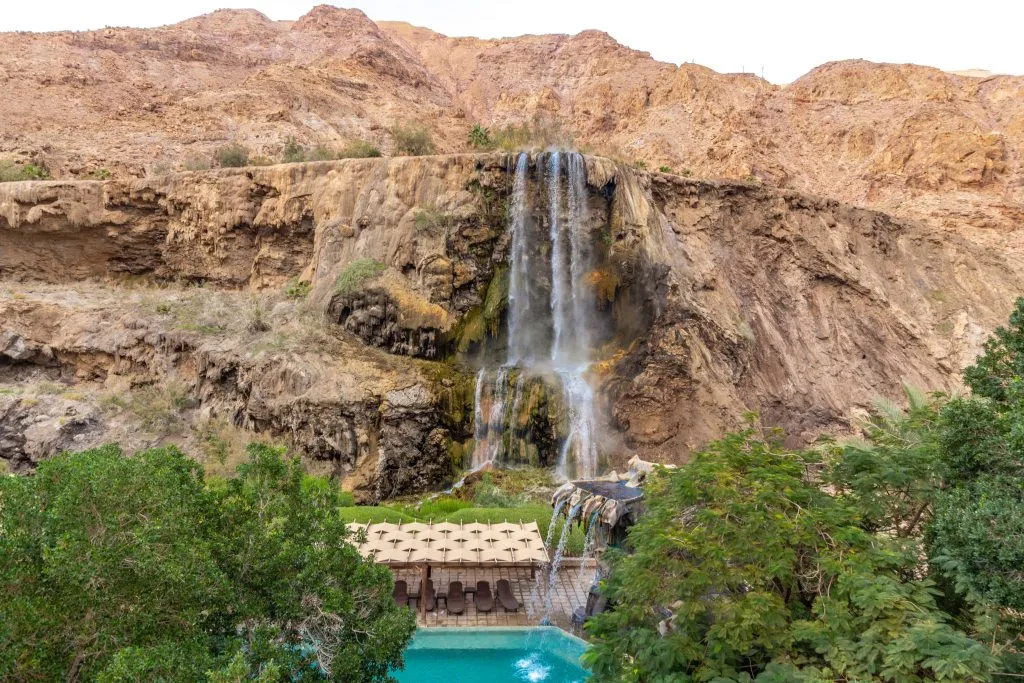 The Best Time to Road Trip Jordan
While you can absolutely enjoy a week in Jordan year-round, spring and fall are considered the optimal times to visit in order to balance crowds and weather.
Summer can be searing hot, however, it's also the best time to go scuba diving down in Aqaba–if you're a diver, you may choose to brave the heat inland in order to optimize your time at the Red Sea!
If you plan a winter trip to Jordan, don't assume you'll stay warm!
Winters in Jordan can definitely get cold, and you may even experience snow in Amman.
We took our Jordan road trip in March and enjoyed excellent, mild weather throughout our trip.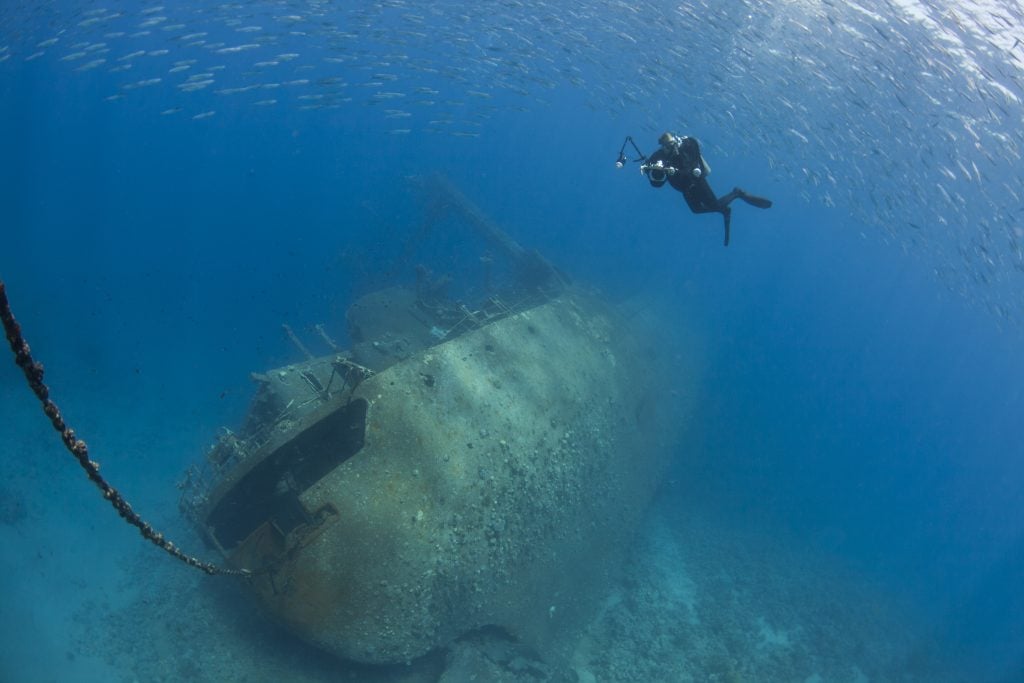 What to Pack for A Week in Jordan
Here are a few essentials that you should definitely add to your packing list as you prepare for 5 days in Jordan (or more!).
Travel Insurance — We don't ever suggest traveling without travel insurance–anything can happen, and a fast-paced road trip is definitely a case of better safe than sorry.
We use and recommend Safety Wing for trips to Jordan.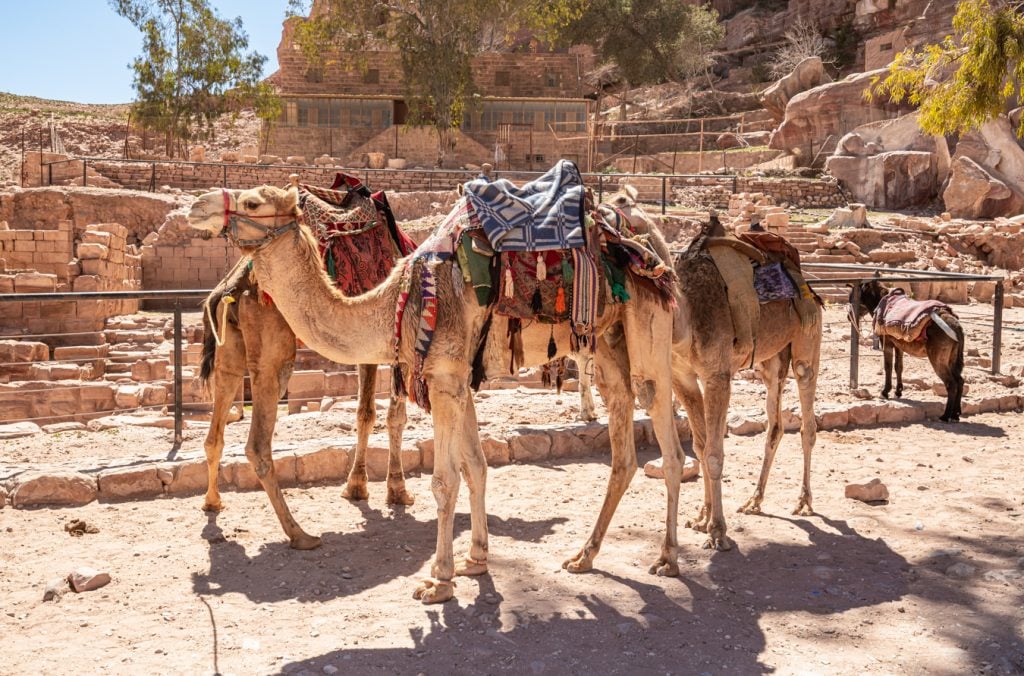 Travel Adaptors for Jordan — Unfortunately, Jordan uses several different kinds of plugs (we saw at least 3 kinds during our trip).
To cover most of your bases, you'll definitely want both European-style adaptors and UK-style adaptors with you.
Many hotels will also supply adaptors in Jordan, as the situation is confusing, but not all do!
Pacsafe — We can't recommend our Pacsafe enough!
This travel safe is affordable, sturdy, easy to pack, and will help keep your valuables safe in your hotel room (not that you should need to worry much about theft in Jordan, but it's better to be safe than sorry!).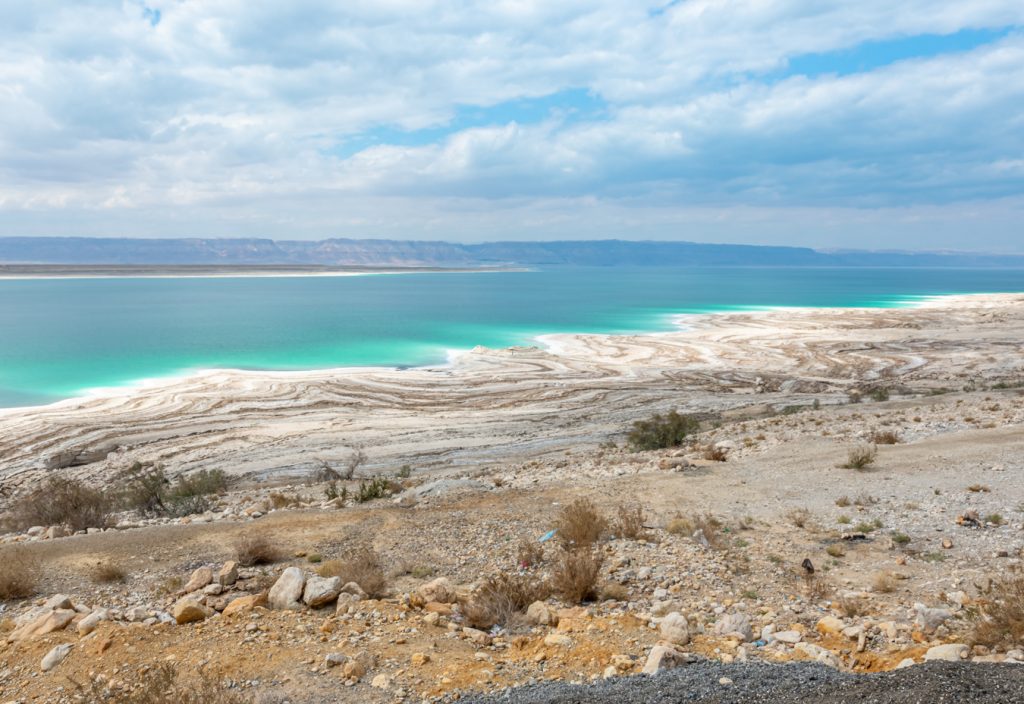 Hands-Free Phone Mount — This is especially important if you don't have a reliable co-pilot: the last thing you want to do is be fumbling with the GPS on your phone during your road trip in Andalucia.
Pack a cell phone holder to attach to the car and you'll be able to drive much more safely!
Jordan Pass — I already mentioned this above, but it bears repeating!
With this itinerary for Jordan, you will absolutely benefit from pre-purchasing a Jordan Pass.
Additional Car Insurance — Whether you purchase a policy that covers car rental (only some do, so double-check!), purchase a policy through the rental car company, or something else, be sure you have coverage: it's worth the peace of mind.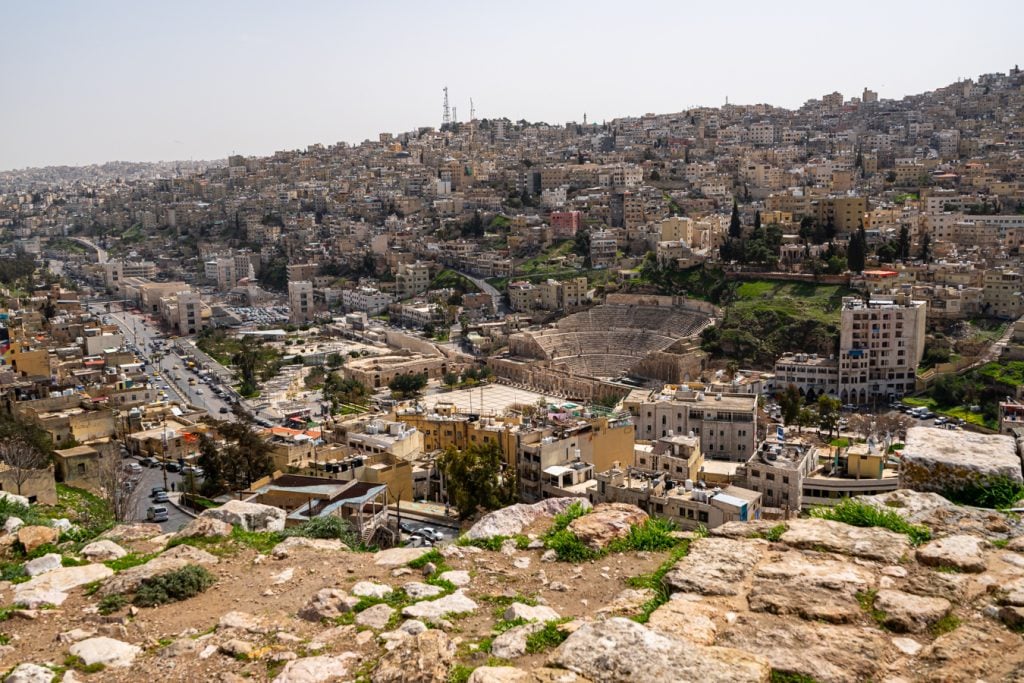 Portable USB Charger — Don't stress about your phone dying when sightseeing or camping!
Our USB charger was a lifesaver during our night camping in Wadi Rum, as the plugs at our camp weren't compatible with our devices.
Camera — We absolutely adore our Sony a7R III, but whatever camera you're comfortable with works.
Just make sure you have something with you to preserve your memories!
5-7 Day Jordan Itinerary Map
Take This Map With You! Click each highlight to pull up the name of the destination. To save this map to "Your Places" on Google Maps, click the star to the right of the title. You'll then be able to find it under the Maps tab of your Google Maps account! To open the map in a new window, click the button on the top right of the map.