Ghent or Bruges: how do you choose between two delightful things?
Truthfully, we had never thought much about visiting Belgium until this fall–but when a detour to Belgium came up as a possibility when researching inexpensive routes from Italy to the USA for the holidays, we were intrigued.
It didn't take long to convince us to give the Flemish part of Belgium a quick visit, and we were thrilled with what we found.
We ended up spending a week in Belgium, splitting our time fairly evenly between Ghent and Bruges.
We're very glad that we visited both, but if you have to pick one, here are some differences between Ghent and Bruges to help you decide.
Ghent or Bruges: Which Flemish City is Right For You?
Choose Bruges If:
… You're looking for fairytale beauty.
Bruges sometimes gets a reputation for being a bit like Disneyland for tourists, but the truth is, Walt Disney only wishes he could have built something as magical as the city of Bruges.
The medieval old town is one of the best preserved in Europe, and is not tiny–it covers about 430 hectares.
Bruges was one of those cities that left our mouths gaping open and our heads constantly swiveling back and forth in an attempt not to miss anything.
… You want to learn the fascinating history of the "Venice of the North".
Romance, war, underdog stories: Bruges has it all. We spontaneously took a "free" walking tour (remember, those guides work only for tips–always tip your guides!), and had enough fun that we found it totally worth freezing in a mid-November light rain to stick around.
… This is your first trip to Flanders.
Bruges is a classic destination, and its touristy reputation shouldn't deter visitors–especially on your first trip to Flanders.
If you've never been to Flanders, Bruges is definitely worth checking out–you'll be glad you did, even if you only have enough time to see Bruges in one day. Ideally, though, you'll want at least a couple of days in the city–and you can never go wrong with a weekend in Bruges!
… You want to check out the Flemish primitives at the Groeningemuseum.
We didn't make it to this museum on our first trip to Bruges, but if you're an art lover and interested in the Flemish primitives, this is the place to see them.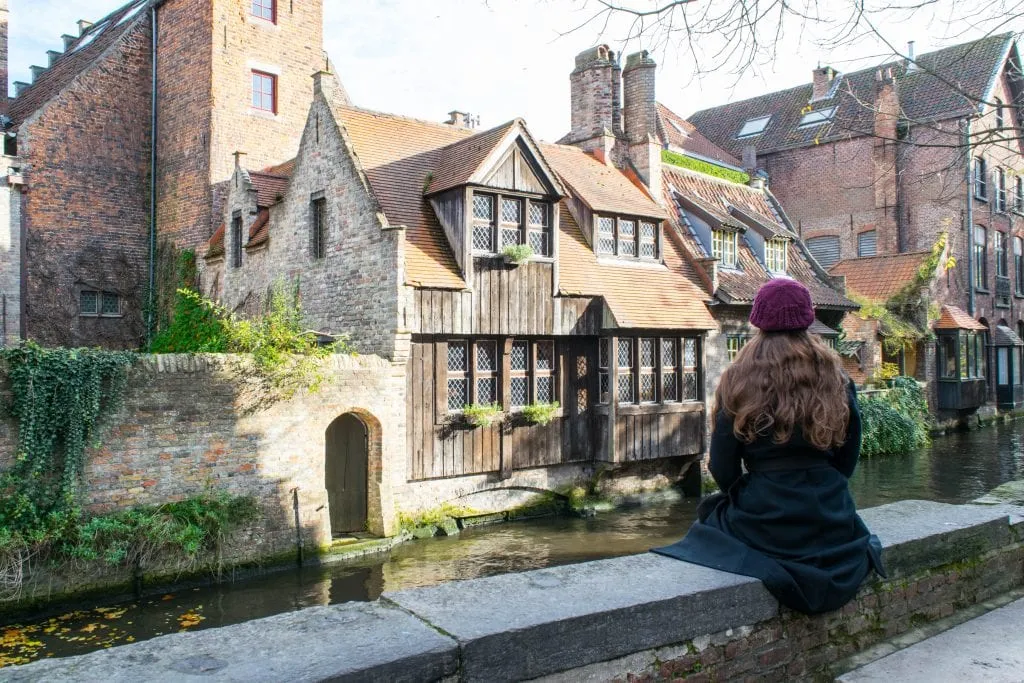 Choose Ghent If…
… You're looking to save a little cash.
Let's be clear: emphasis on a little.
Ghent has a reputation for being Bruges' more affordable next door neighbor, but we found the price difference small–maybe 10% on lodging and food.
We did visit in November, so it is possible that the prices are a little more uneven during the summer season, but definitely don't go to Ghent expecting Central European or Eastern European prices–this is still Belgium.
… You'd prefer a destination that's a little less refined.
Ghent is a university town and has all the trappings of such: plenty of nightlife and plenty of town events catering to the student crowd.
Bruges also has a nightlife, of course, and sees its share of young travelers and backpackers, but Ghent definitely has more of a college town feel.

… You're a vegetarian or vegan.
Probably thanks to the large student population, Ghent is positively booming with vegetarian and vegan restaurants–it seemed like we saw one on every corner!
… You want to check out the street art.
Ghent has a creative solution to melding street art and the desire to protect historical buildings and culture: everything in its place.
Werregarenstraat (or simply Graffiti Street) is an alley in Ghent completely covered in street art, that artists are free to decorate at will.
For visitors to Ghent, it makes for a colorful and fun walk and a great photo op!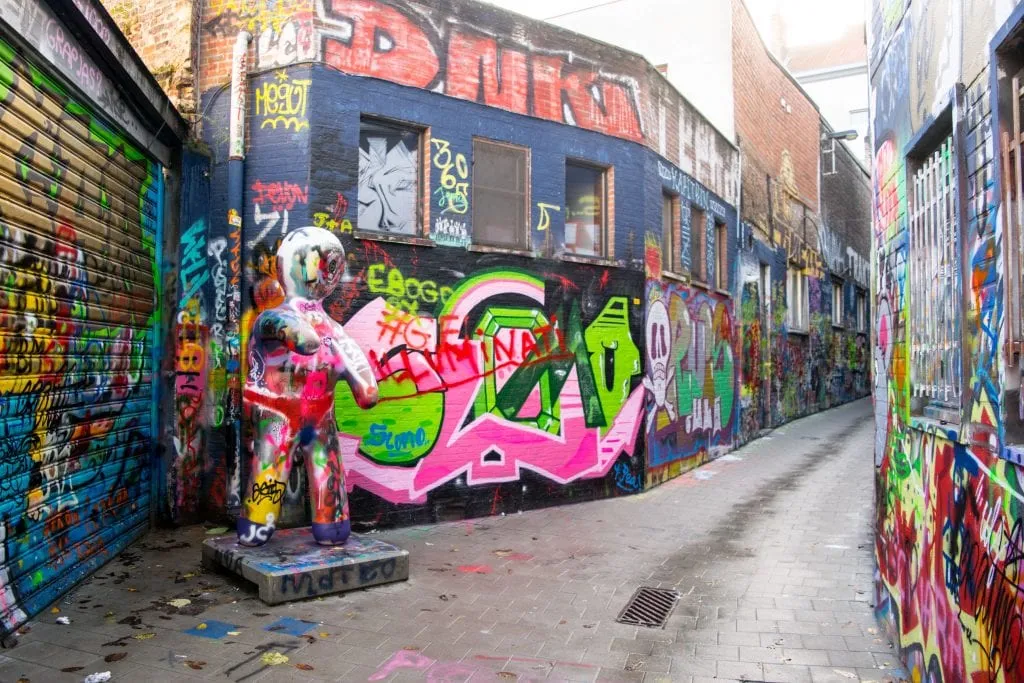 Visit Ghent and Bruges For…
… Views of classic Flemish architecture.
Traditional Flemish architecture, with its characteristic roof lines and beautiful facades, can be found in both Bruges and Ghent, so you won't be missing out in either place.
… Beautiful canal rides through the cities.
What better way to admire a gorgeous city than from its beautiful canals?
We took a canal ride in Bruges and not in Ghent, so we're automatically partial to Bruges' canals, though we have no doubt Ghent is incredibly beautiful from the water as well.
Whichever city you pick (or even if you pick both!), make sure your trip to Flanders includes at least one canal ride–at 7 Euros/ride, it's even a great deal!
… Indulging in the necessary Belgian staples: chocolate, waffles & beer.
You can't visit Belgium without sampling its famous goods: we personally fell in love with fresh-baked street waffles topped with a bit of chocolate–yum!
Ghent to Bruges & Bruges to Ghent: Go By Train
Transportation between Bruges and Ghent is incredibly easy–about 25 minutes each way via train.
From the Brussels airport, you can reach Bruges in about one hour and Ghent in about half an hour–check the train schedule for your times specifically, but all of these routes are incredibly popular and run several times a day.
Can I visit Bruges and Ghent in one day?
Technically, yes–you could visit Bruges and Ghent in one day on a long day trip from Brussels and see both on the same day, but we wouldn't recommend it–you would be incredibly rushed.
Instead, pick one city and enjoy it. You'll be able to spend more time sightseeing and less time in transit that way!
If you're in a hurry and really, really want to see both cities in one day, we would definitely recommend taking a tour so that other people can handle the logistics and make sure you squeeze in as much as humanly possible into one day of travel.
Shop affordable day trips to Ghent and Bruges from Brussels!
Final Choice: Ghent or Bruges?
If we absolutely had to choose between Ghent and Bruges… we'd pick Bruges.
The absolute beauty of the historic town center, our lovely canal ride, and our many walks through the city charmed us completely.
It would be a very, very close call though–we loved Ghent as well, and heartily recommend visiting both cities if possible.
Luckily, Ghent and Bruges are so close together that if you're staying in one, it's incredibly easy to take a day trip to the other!
Planning a longer trip to Belgium? Check out this Belgium travel guide, and don't forget to add time for both Bruges and Ghent in your itinerary!
Where We Stayed in Ghent and Bruges
Ghent: Complete Private Floor — We adored our stay in Ghent! This Airbnb is listed as a private room, though it was actually a private floor, including a bedroom, living room and bathroom. Everything was incredibly clean and well decorated, the bed is one of the most comfortable we slept on all year, and the couple who owns the home took absolutely amazing care of us. Though the property is a bit of a walk from the city center (about 25 minutes), we didn't mind and would absolutely stay here again.
Bruges: Deluxe Room in City Center — This Airbnb experience was… odd. We were ostensibly staying in a private room in someone's home, but the interior felt a lot more like an unlisted B & B. Processes were not explained well, and we never met the host–just a cleaning lady who came by in the mornings. All in all, we estimate about 3-5 rooms were being rented on Airbnb in that house, and that no one was living there permanently. All the other guests who came through were also very confused about what type of establishment we were at!
That being said, the home was very clean, the room huge, we felt safe, and the cereals left out for breakfast were a nice touch. We probably wouldn't stay here again, but wouldn't rule it out in a pinch, either.
Never used Airbnb before? Sign up with our link for a discount on your first stay!
Prefer more traditional lodging? Check out Booking.com for hotels, B&B's, and more!