Nestled between the Netherlands to the north and France to the south, tiny, beautiful Belgium often gets overlooked during trip planning–but that's too bad, because even 3 days in Belgium is an absolute delight!
Due to Belgium's small size, it's easy to see fairly quickly, but it packs a punch, boasting one of the most beautiful canal cities in Europe, stunning architecture, a riveting history, and, of course, delicious Belgian food–most famously Belgian chocolate, Belgian waffles, Belgian beer, and Belgian frites (and don't make the mistake of calling them French fries here!).
With a 3 day Belgium itinerary to work with, you can get a delightful overview of this small but lovely country during a short trip to Belgium.
Here's where to go and what to do with 3 days in Belgium.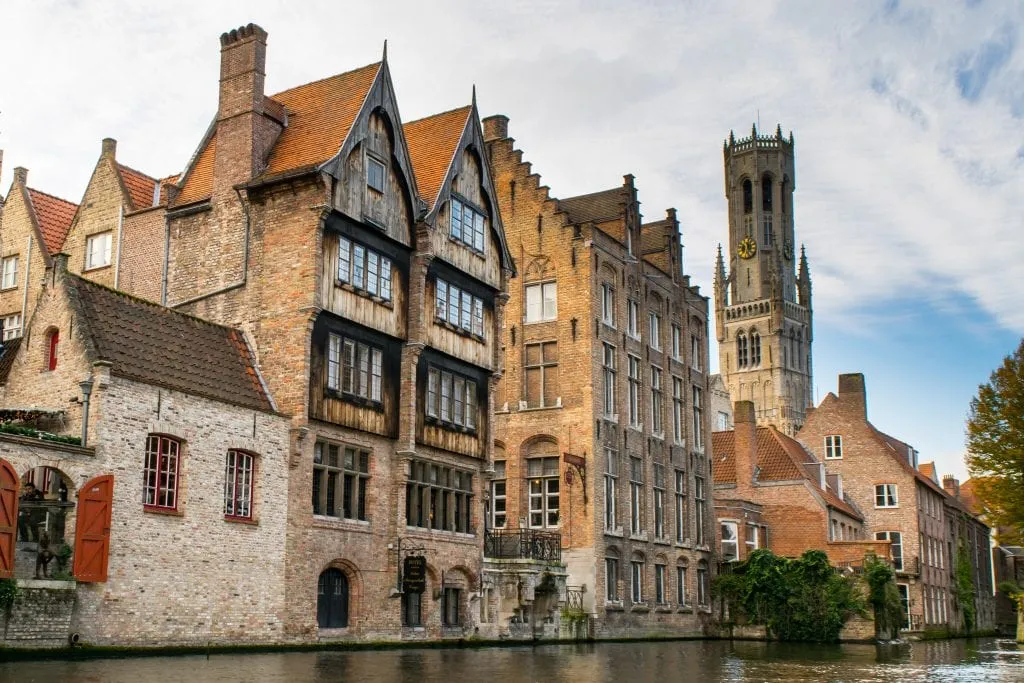 Some links in this post may be affiliate links. If you make a purchase through one of these links, we may earn a small commission at no extra cost to you. Please see our

disclosure policy

for more detail.
The Perfect 3 Day Belgium Itinerary
Day 1 in Belgium: Bruges
Beautiful Bruges is known as one of the loveliest small cities in Europe, and, if you ask some residents, as the "Venice of the North".
It's no Venice, of course, but it is a gorgeous canal city in its own right, and–even with its touristy reputation and crowds during peak season–our favorite place in the country and the perfect way to start your 3 day Belgium itinerary.
Here are some things to be sure to do in Bruges!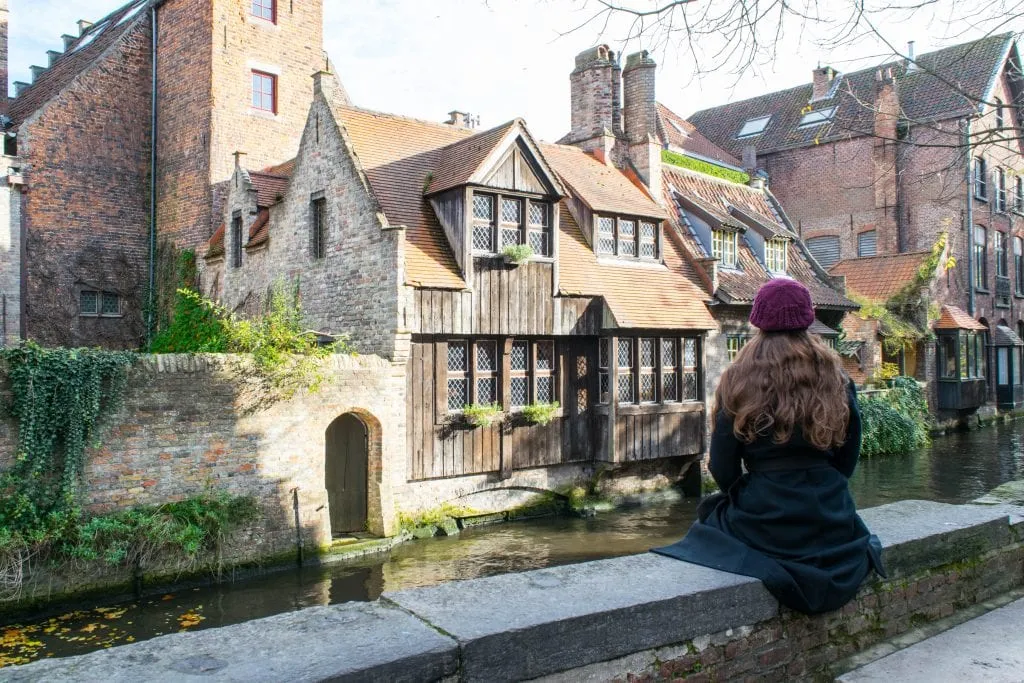 Take a canal cruise.
Bruges' canals are absolutely gorgeous, and like most canals, they're best experienced from the water.
Canal cruises in Bruges are affordable, and due to the small size of the canals, take place in small boats that are peaceful to ride in–nothing like the giant barge-like contraptions you'll find in Amsterdam.
We loved our canal cruise and walked away glad we have chosen to start our own first trip to Belgium with one.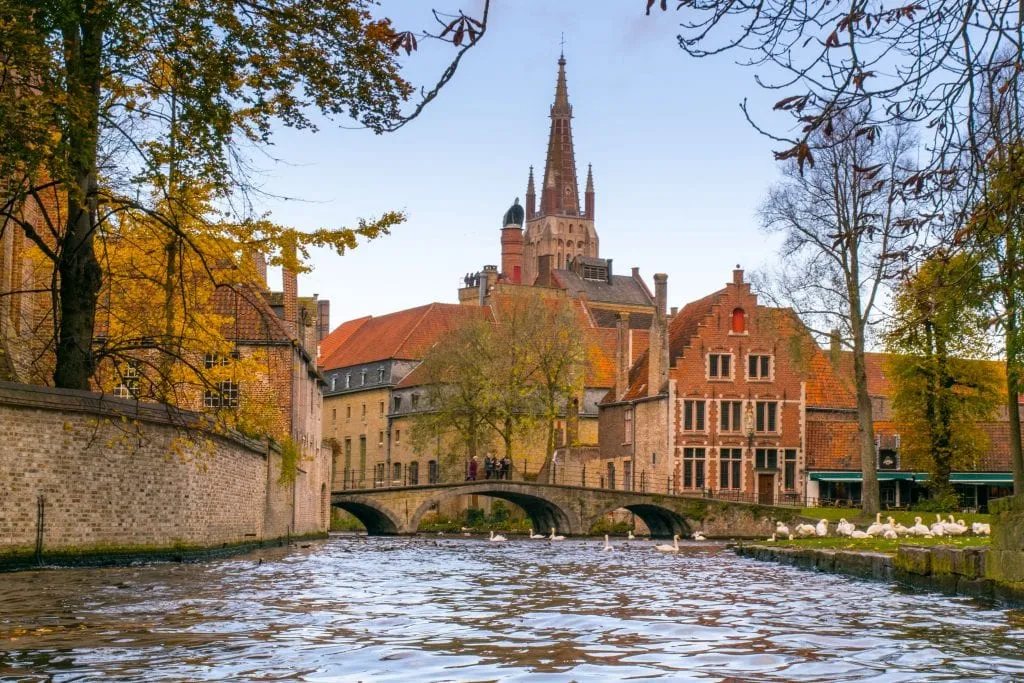 Climb the Belfry of Bruges.
Want beautiful views over the city?
For 14 Euro and a 366-step climb, you can have the best of the best at the Belfry of Bruges.
If you're trying to snap photos of the Belfry itself from the foot of the tower, though, don't be surprised if you can't get the picture quite right–the belfry actually leans to the east!
Meander through Bruges' beautiful streets.
Bruges is ridiculously beautiful, and wandering aimlessly through it is a fantastic way to spend an afternoon.
A few things to keep an eye out for are the Basilica of Holy Blood, Bruges' Town Hall, Bruges' windmills, filming locations from the movie In Bruges (if you need some travel inspiration before your trip to Belgium, give it a watch!), and lovely Minnewater Lake.
Along the way, there are so many quiet corners and lovely canal views to find, so keep your camera out as you go!
Day 2 in Belgium: Ghent
Full of canals, beautiful, quiet corners, and street art, Ghent is a student town at heart, often touted as a (slightly) more affordable and less-touristy alternative to Bruges.
The two cities are quite similar on the surface, but it's true that Ghent has more of an offbeat vibe as compared to Bruges' Disneyland-like picturesque beauty.
Be sure not to miss these spots during your day in Ghent.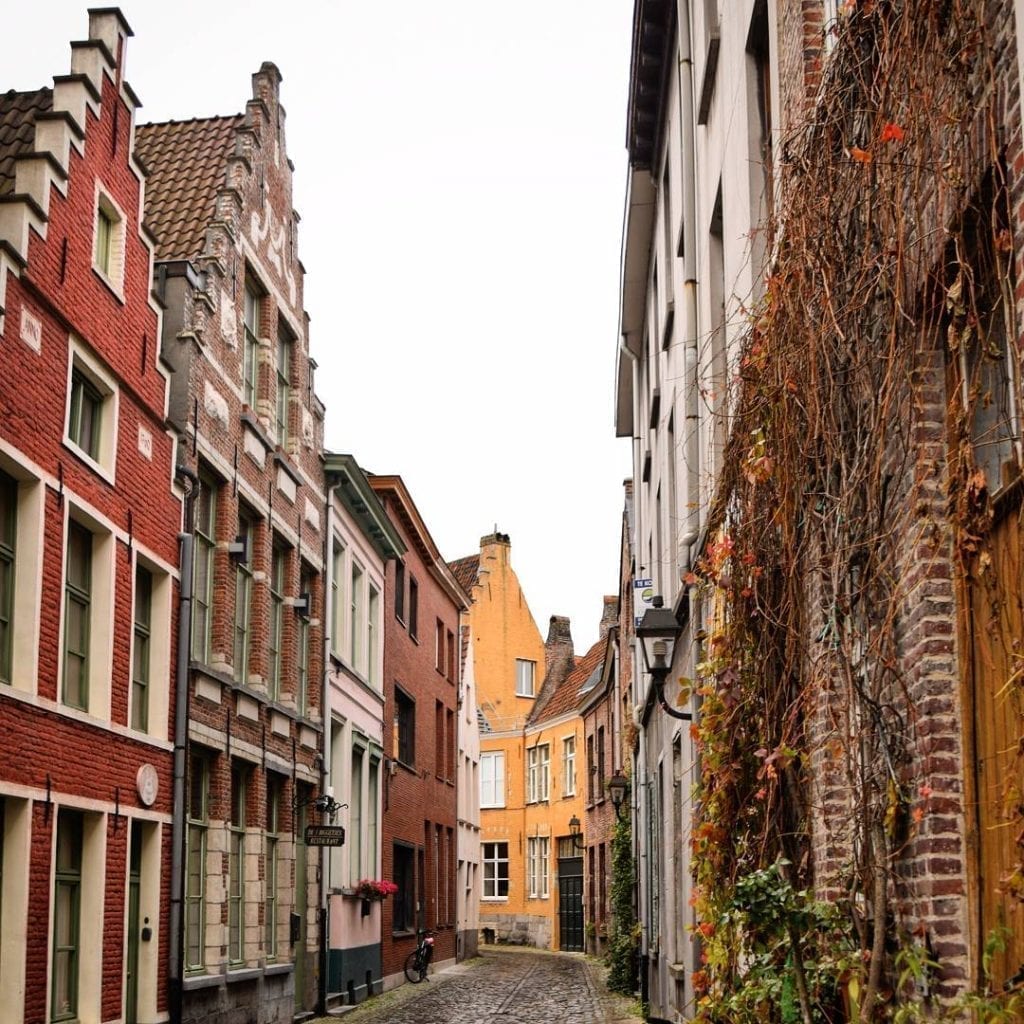 Check out Gravensteen.
If you're looking for a castle that looks like it belongs in a fairytale, look no further than Gravensteen. Dating back to the 10th century and set directly next to one of Ghent's canals, Gravensteen is majestic and impressive to behold.
Visit St. Bavo's Cathedral.
St. Bavo's Cathedral has a gorgeous interior, but is best known for being home to the Flemish art piece The Adoration of the Mystic Lamb.
Admire the Ghent light show.
Ghent doesn't want its magical beauty to fade away when the sun sets–and with a little ingenuity and some clever light installations, it definitely doesn't.
A series of lights work at night to light up Ghent, casting gorgeous reflections into the canals below.
Regardless of whether you spend the night in Ghent as part of your 3 day trip to Belgium, we highly recommend sticking around after dark in order to see the light installations at their best!
Stroll down Werregarenstraat.
What do you do if you want to encourage street art in your city, but also want to protect priceless buildings?
Dedicate an entire street to art, of course!
Werregarenstraat is a walking street home to a bright and ever-changing collection of street art, and is definitely worth a quick peek during your 3 days in Belgium.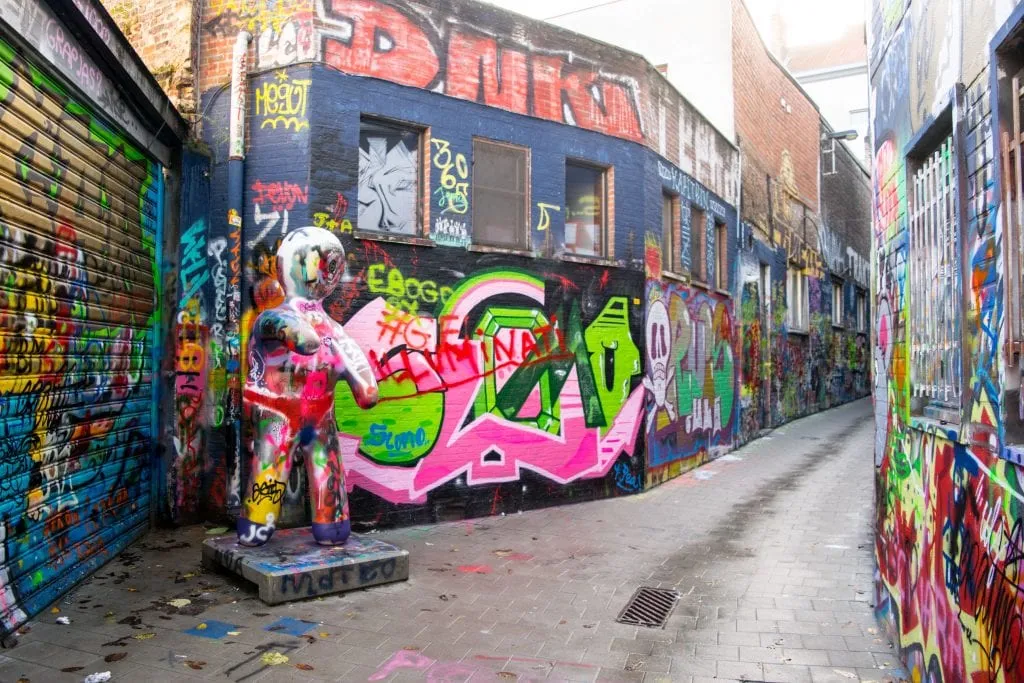 Day 3 in Belgium: Brussels + A Belgian Chocolate Workshop
As your 3 days in Belgium heads toward a close, head to Brussels for a (literal) taste of the capital city.
I'll be perfectly honest: many people find Brussels to be a boring city, and we can't say we entirely disagree–especially when compared to Bruges and Ghent.
That being said, it is worth spending some time exploring it for yourself, and there are some interesting things to see in Brussels, so we recommend spending half a day exploring the city's sights and then closing out your trip to Belgium with a sweet treat–but more on that below.
Marvel at the Grand Place (Grote Markt).
Gilded and glittering, the only word that can accurately describe Brussels' Grand Place is opulence.
Of all the places to visit in Brussels, this one is the most iconic in the city, and a must-see during your 3 days in Belgium!
Home to Brussels' Town Hall, several guildhalls, and the King's House (which now holds the Brussels City Museum), this square literally sparkles with the gold reflecting off the top of the buildings–it is one of the most impressive main squares we've seen in Europe!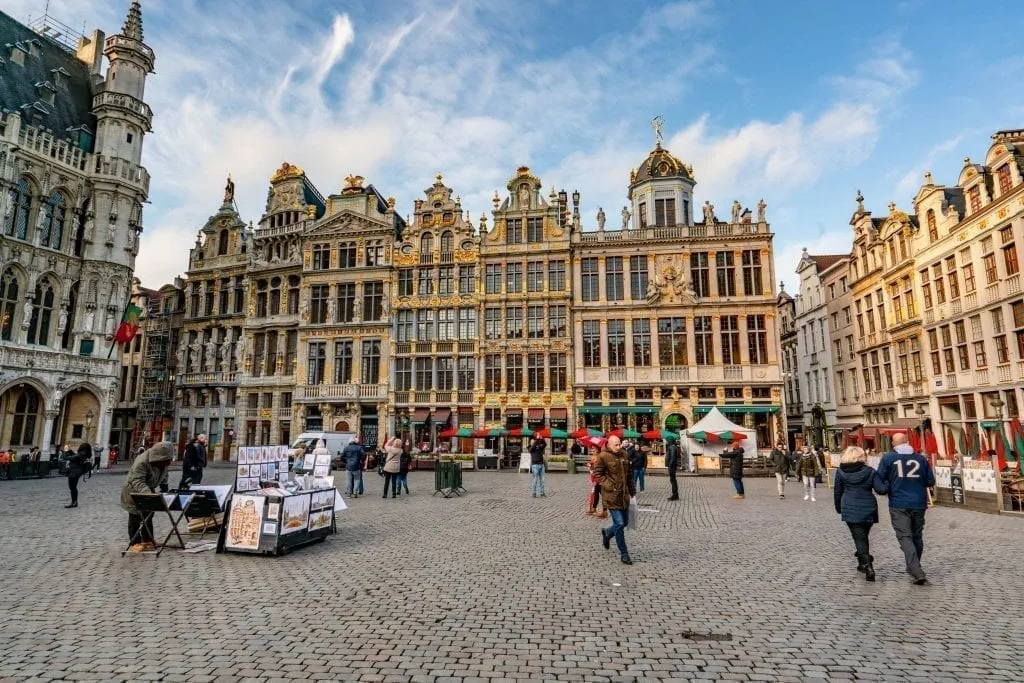 Scratch your head at Mannekin Pis.
If you look up any list of things to do in Brussels, you'll no doubt hear about Mannekin Pis, the 400-year-old statue of a small boy peeing into the basin of a fountain.
Why is it so popular? No idea, but it's a 5-minute walk from the Grand Place and worth checking out for the weirdness alone… and to see if the statue is dressed up as anything at the time, because it often is.
Explore the Comic Book Route.
If you're a fan of Belgian comics–especially of The Adventures of Tintin–don't leave Brussels without checking out the Comic Book Route!
Brussels is decorated with dozens of murals from famous comics, and finding them is quite the entertaining scavenger hunt.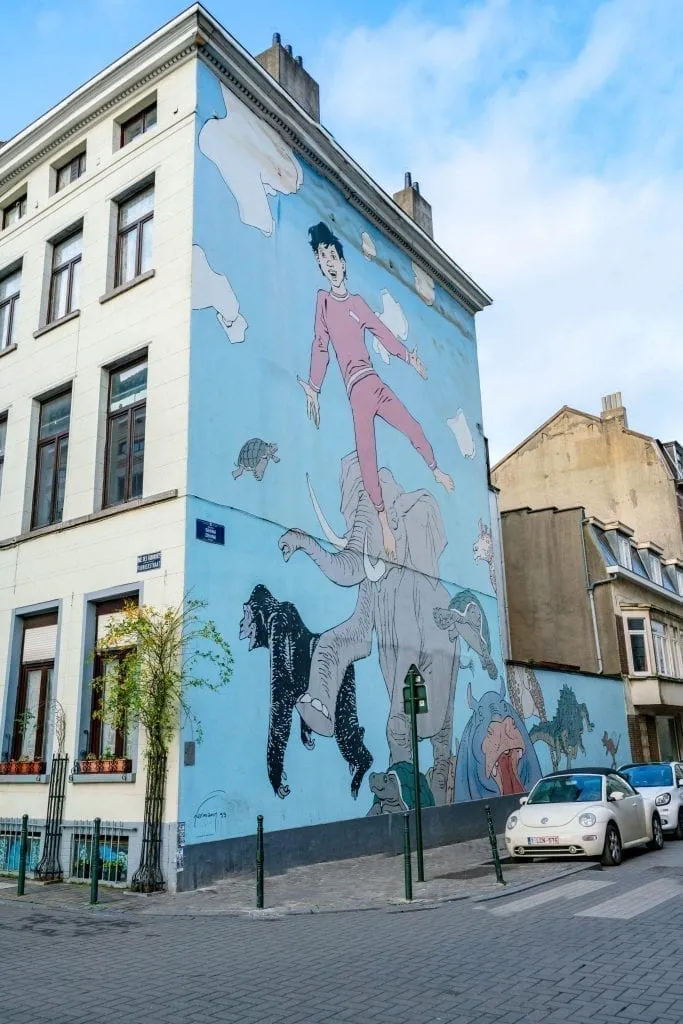 Take a Belgian Chocolate Workshop!
With only 3 days in Belgium, you may end up overdosing on sugar if you try to enjoy every last morsel of Belgian chocolate that your heart desires.
The best way to take some home, though?
Make your own!
So, what better way to close out your trip to Belgium than with a chocolate workshop–aka the perfect way to both eat lots of chocolate and find out what your favorites are… while also leaving with a homemade box of your own.
This popular chocolate workshop will help you learn to make your own delicious chocolates, while also learning a bit about the history of Belgian chocolate along the way.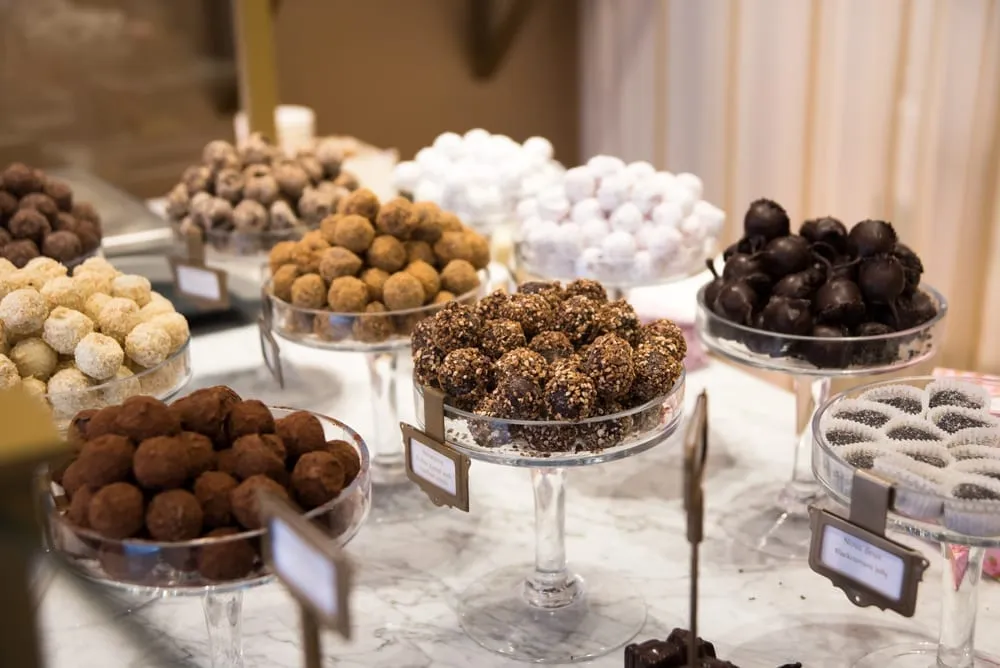 Alternative: not a chocolate fan? Try a beer tour!
Not much for chocolate?
I can't say I understand that, but if you'd rather a different indulgence, a Belgian beer tour is also a fantastic way to close out your 3 day trip to Belgium!
This one gets rave reviews and is a fantastic option.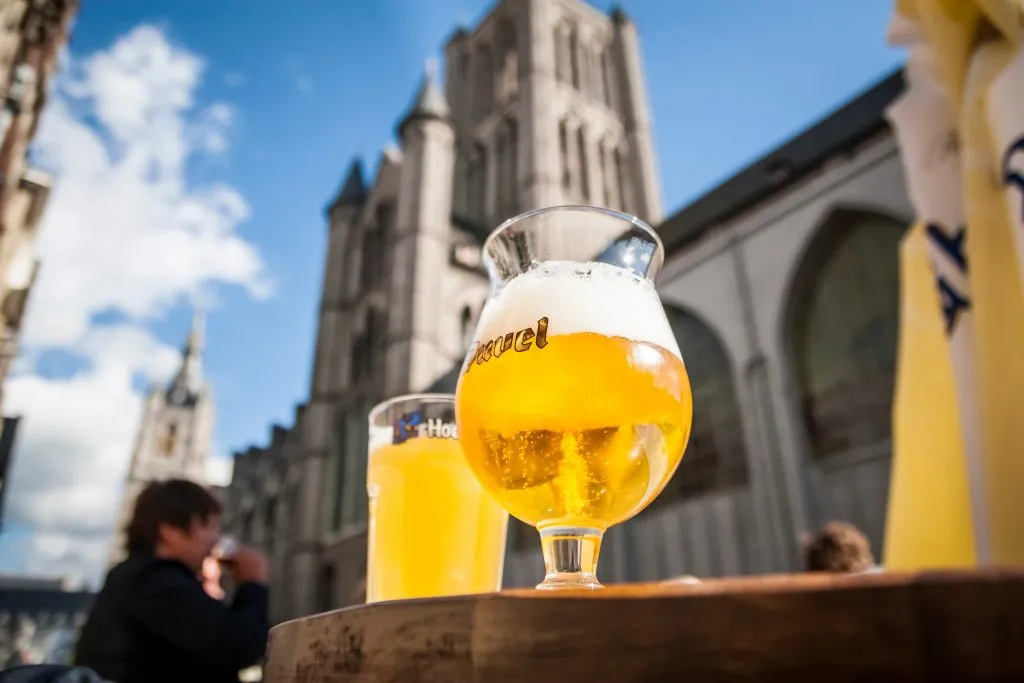 Where to Stay in Belgium
Due to Belgium's small size and excellent train system, you have lots of flexibility when deciding where to stay during your 3 days in Belgium.
You can choose to stay in any one of these cities and day trip to the others, move every night, or take one day trip and stay in two different cities–the choice is yours!
Personally, we'd recommend staying in Bruges: it's the most beautiful city on this list (in our biased opinion), and its popularity with daytrippers means that you'll be able to enjoy the city much more if you're also able to experience it during the quiet(er) evenings.
From Bruges, Ghent is 20-30 minutes away by train and Brussels is about an hour away by train, so there's no need to move around if you don't want to!
Here are some well-reviewed and perfectly located hotels in Bruges to consider for your trip to Belgium.
Budget
Hotel Notre Dame — Cozy Hotel Notre Dame is located within a quick walk of most of Bruges' major sights, including a five-minute walk from Town Hall, and boasts comfortable rooms, an included continental breakfast, and excellent reviews.
Mid-range
The Black Swan Hotel — Housed in a 17th-century building just around the corner from Grote Markt, the popular Black Swan Hotel is perfect for visitors to Bruges looking to stay in a beautiful, centrally-located building without a luxury price tag. Be sure to check out the gorgeous conservatory, where an included breakfast is served each morning!
Luxury
Relais Bourgondisch Cruyce — Luxurious Relais Bourgondisch Cruyce is a stunning boutique hotel located in a prime location within Bruges: not only along a canal, but at the place where two canals meet!
Featuring magnificent rooms decorated with antique decor, wonderful views, and exceptional reviews, Relais Bourgondisch Cruyce is the go-to choice for luxury seekers or those celebrating a special occasion during their trip to Belgium.
Belgium Itinerary Map
Take This Map With You! Click each highlight to pull up the name of the destination. To save this map to "Your Places" on Google Maps, click the star to the right of the title. You'll then be able to find it under the Maps tab of your Google Maps account! To open the map in a new window, click the button on the top right of the map.
Have 4 or 5 days in Belgium?
If you have 4 or 5 days in Belgium rather than 3, you can easily find more fun things to do in Belgium.
The first addition we would recommend is paying your respects at the WWI battlefields near Ypres. You can visit independently, but a tour adds lots of valuable context here–this one leaving from Bruges gets excellent reviews.
You could also add on a day trip to Antwerp (be sure not to miss the city's phenomenal train station, Grote Markt, and Steen Castle!).
Prefer to get a taste of another country? You can easily add a day trip abroad to your Belgium itinerary: Luxembourg, Amsterdam, Paris, and Cologne are all within easy reach.
Of course, there's no reason to stray far if you don't want to! Any one of the cities outlined on this 3 day Belgium itinerary could easily captivate you for more than a day.
Getting Around During 3 Days in Belgium
As I mentioned above, Belgium's small size and thorough train system means that you likely won't need anything other than the trains and your own two feet to complete this 3 day Belgium itinerary.
All of the things to do and see outlined in this Belgium itinerary are located within the walkable centers of each city, and wandering the beautiful streets is half the fun of visiting.
Uber is available and can be used to get to and from the airport and train stations depending on where exactly you are staying during your Belgium vacation.
What to Pack for a Trip to Belgium
Travel Insurance — We don't ever suggest traveling without travel insurance–anything can happen on the road, and traveling abroad is definitely a case of better safe than sorry. We use and recommend Safety Wing for trips to Belgium.
Travel Adaptors for Belgium
— If you're coming from outside of Europe, you'll definitely need adaptors for your electronics when you visit Belgium.
Pacsafe
 — We can't recommend our Pacsafe
enough: this travel safe is affordable, sturdy, easy to pack, and will help keep your valuables safe in your hotel room (not that you should need to worry much about theft from your hotel room during your trip to Belgium, but it's better to be safe than sorry!).
Umbrella
— Option A: Plan on buying an umbrella when it starts pouring down rain. Option B: Plan ahead and buy a (probably much sturdier) umbrella before leaving. Option C: Hope you get lucky with the weather. In our opinion, Option B is definitely the best–we've been rained on more than once during both our trips to Belgium!
Travel Journal
 — If you want to keep a travel journal during your 3 days in Belgium but can't commit to a huge amount of writing each night, I can't recommend the One Line a Day Journal
enough–I've been using it for nearly 3 years now and absolutely love it.
---