With its fairytale architecture, cozy cuisine, and beautiful Christmas markets, a Bruges winter trip is bound to delight!
In fact, Bruges (or Brugge) is our favorite place to visit in Belgium during the winter, and–despite the inevitably cold and gray weather–it's arguably more fun to visit Bruges in winter than in summer.
From the festive cheer and Christmas markets available in late November, December, and January to the wildly uncrowded days of February, Bruges is packed with winter charm.
Here's everything you need to know about visiting Bruges in winter, from what to do to what to pack!
The Best Things to Do in Bruges in Winter
Explore the delightful Christmas markets in Bruges.
Celebrating Christmas Bruges-style means, first and foremost, sampling the markets!
Bruges has 2 Christmas markets in the city center, along with a variety of other winter festival events (more on those in a bit).
The markets are right around the corner from each other–we recommend starting your adventures in the aptly named Market Square (Markt)–and offer up plenty of gift shopping as well as a hearty supply of delicious Belgian food.
While not quite as immersively decorated as the markets you'll find in, say, Salzburg or Colmar, they are absolutely delightful and absolutely feel like "traditional" Christmas markets, with wooden stalls and gluhwein galore.
Check opening dates and updated Winter Glow festival information here!
… and Bruges Winter Glow!
Technically, the Bruges Christmas markets are part of the wide Bruges Winter Glow Festival!
And, while the markets are obviously the best-known part, everything else–from the Light Experience Trail to the Vorst Winter Bar and beyond–is also part of the Bruges winter magic.
You can find the full list of events and attractions here.
Take a canal cruise.
Experiencing the city's idyllic canals by boat is one of the best things to do in Bruges year-round, and that absolutely includes the winter!
Gray weather can't dampen the beauty of Bruges' canals, and we highly recommend prioritizing a cruise during your winter trip.
On your canal cruise, you'll learn some of the city's history while taking in absolutely gorgeous views, including views of Bruges' most famous viewpoint: the Quay of the Rosary.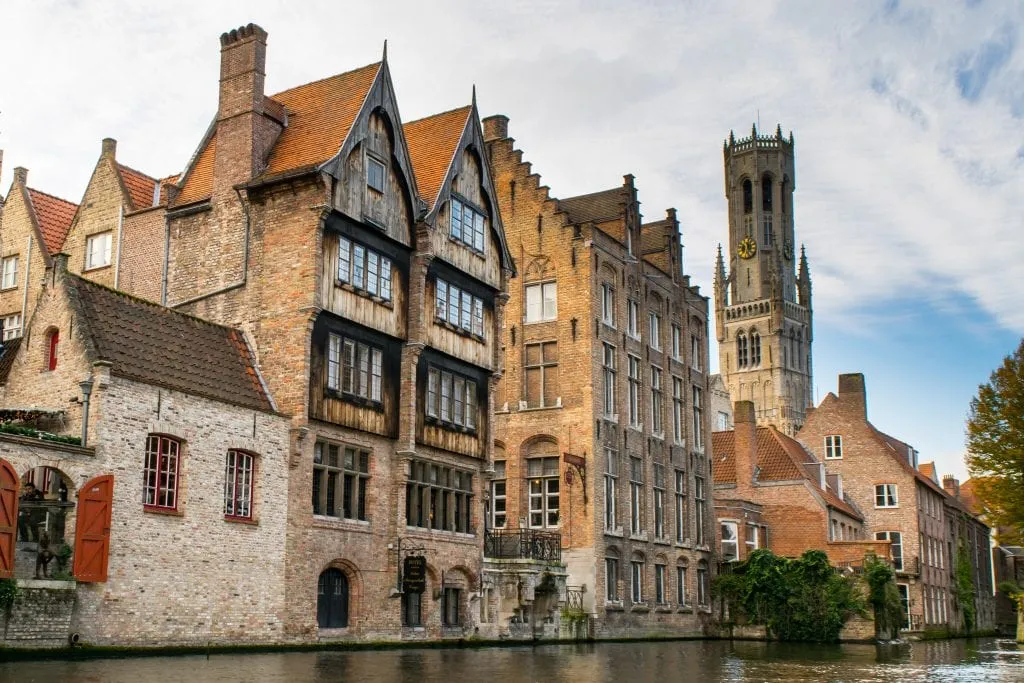 Snap photos at the photogenic Bonifacius Bridge.
Located very close to the Groeningemuseum, the Bonifacius Bridge and the Arents courtyard next to it are arguably some of the most photogenic spots in Bruges–in our opinion, anyway.
The beauty of Bruges' architecture and canals are on full display here, despite the fact that the beautiful bridge was built in the 20th century, making it one of the newest in the city!
Eat your heart out at a Belgian chocolate workshop.
Looking for something extra sweet to enjoy in Bruges this winter?
This Belgian chocolate workshop will leave you warmed up and buzzing on sugar!
After you've eaten all the chocolate you can handle, head to the interactive chocolate museum for even more sweetness.
Love sweets but not chocolate?
This Belgian waffle workshop is a fun alternative!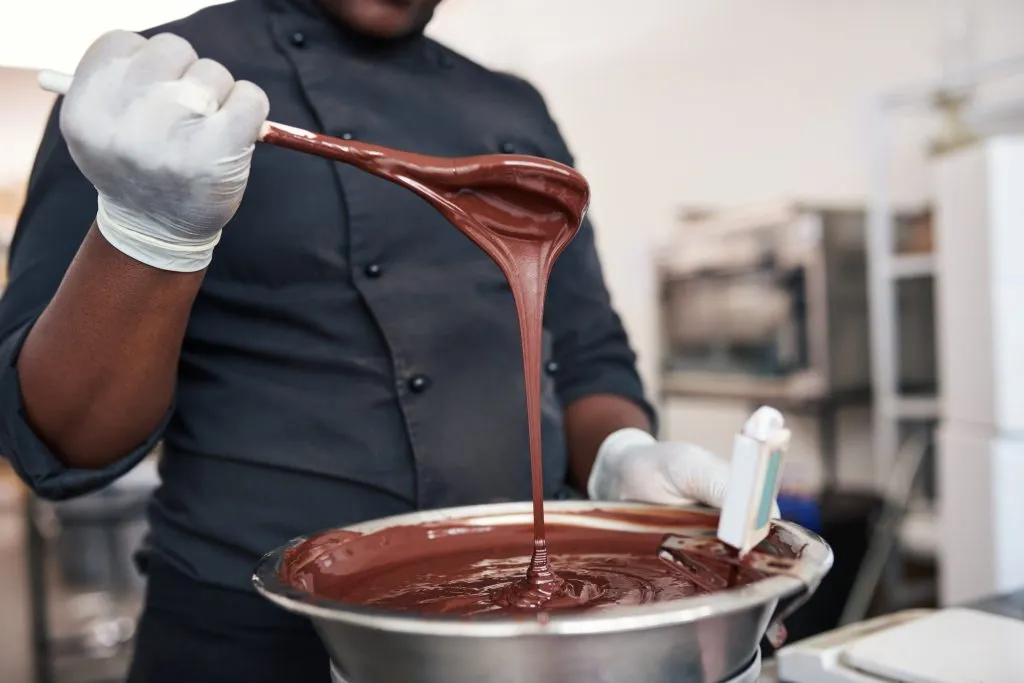 Warm up with some excellent art at the Groeningemuseum.
Best known for its superb collection of Flemish primitives, Bruges' premier art museum houses an impressive amount of Belgian art through the centuries.
When visiting Bruges in winter, you'll undoubtedly get particularly cold exploring outdoor attractions at some point–and that's the perfect time to head to the Groeningemuseum!
Check out Bruges City Hall.
Completed in the 15th century in a late-Gothic style, the Bruges City Hall is truly remarkable to see from the outside.
And since it's practically around the corner from the Markt–aka the center of Christmas in Bruges–it's well worth a quick photo op!
Climb the Belfry for excellent views of Bruges from above.
Want to get amazing views of Bruges from above?
While visiting the Markt, head 366 steps up to the top of the towering Belfry.
Tickets run 14 Euro as of the time of writing this Bruges blog post.
If you're trying to snap photos of the Belfry itself from the foot of the tower, though, don't be surprised if you can't get the picture quite right–the belfry actually leans to the east!
Tilt aside, though, it's safe to say that the view is stunning–but even more so during the Bruges Christmas season, as you'll be able to capture the market in your photos!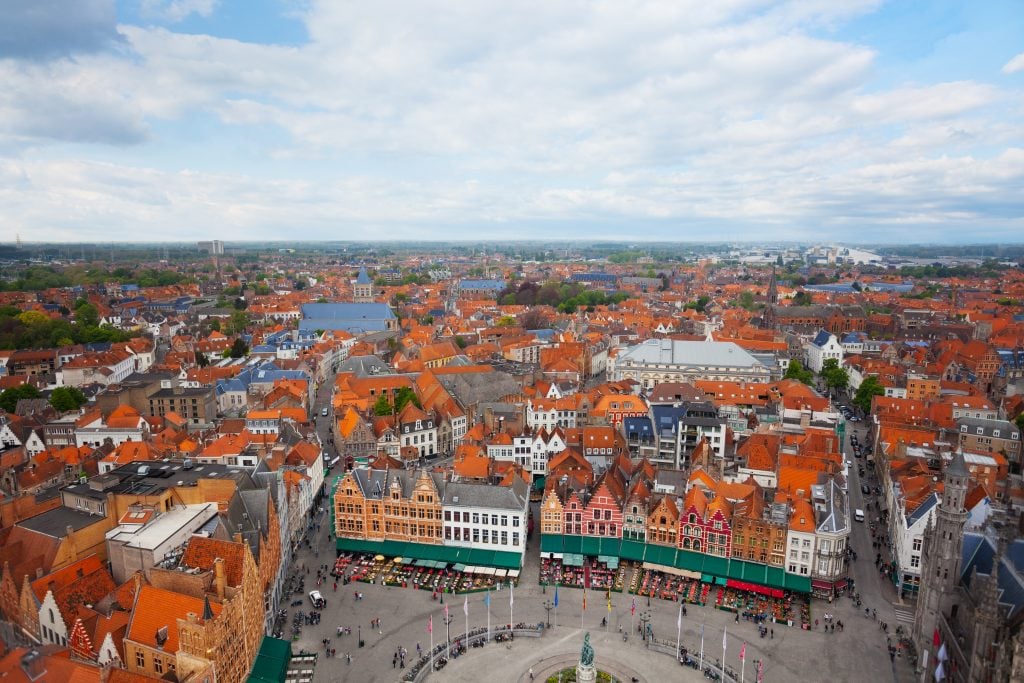 Go ice skating at Minnewater Lake.
While Minnewater Lake almost certainly won't be frozen over during your trip to Bruges (and definitely not enough to skate on), the artificial ice skating rink on the shores of the lake is just the place to lace up some skates!
Also known as the Lake of Love, keep an eye out of the Lovers Bridge while there, and of course for all the beautiful swans that call the park home.
During the Winter Glow, you'll also find a winter bar set up, perfect for enjoying a drink after you skate!
Step inside the Basilica of Holy Blood.
Located in Burg Square, right next door to Bruges City Hall, sits one of the most interesting houses of worship in Bruges.
And, you might walk right by without realizing it was a church at all if you don't know it's there!
The Basilica of Holy Blood contains two chapels: a lower Romanesque one and a neo-Gothic upper one, and it's the upper chapel where the most interesting feature of the chapel lies.
The chapel houses an impressive relic: a vial of blood and cloth that is said to contain the blood of Christ from the time of his crucifixion.
Explore Belgian cuisine on a food tour.
Hearty, delicious, and heavy on both the carbs and the beer, Belgian food is perfect for enjoying on a cold winter's day.
One of our favorite ways to dive into a local food scene is via a food tour like this.
We always recommend opting for a food tour near the beginning of your trip if you can–all the better to know exactly what you like and want to eat again during your time in the city!
Wander through Bruges' many festive streets.
While there are plenty of fun attractions and things to do in Bruges (winter specific and otherwise), simply enjoying the atmosphere is a large part of the city's charm.
Meandering through picturesque streets in the historic center, snapping photos of canal views, ducking into pretty churches, and browsing the many beautiful shops is a delight, and we highly recommend setting aside time during your getaway simply to wander.
Keep an eye out for holiday shops, chocolate shops, and lace sellers (another specialty of the region) as you explore Bruges.
Enjoy a cozy bowl of winter soup.
Belgium is, generally speaking, not the most budget-friendly destination in Europe.
A great way to save a few pennies, though? Soup!
When you're meandering through Bruges this winter, you're never far from a simple soup restaurant where you can order a bowl of soup with crackers and bread, plus sometimes cheese and fruit, for well under 10 Euro (often around 5).
On our first trip to Bruges, we were definitely on a budget and took full advantage of soup restaurants.
And, when we returned a couple of years later with more to spend, we still ended up eating almost daily bowls of soup!
It doesn't have a website that I can find, but there is an aptly named cozy restaurant simply called "Soup" right around the corner from the Belfry–and it's delicious.
Stop by St. Salvator's Cathedral.
Dating to the 10th century (but not without major renovation work throughout the centuries), Bruges' beautiful cathedral is absolutely worth a quick peek during your Bruges winter getaway.
Broadly speaking, ducking into opulent churches is an excellent way to warm up in Europe during winter (or cool off during the summer), and this beautiful cathedral is no exception.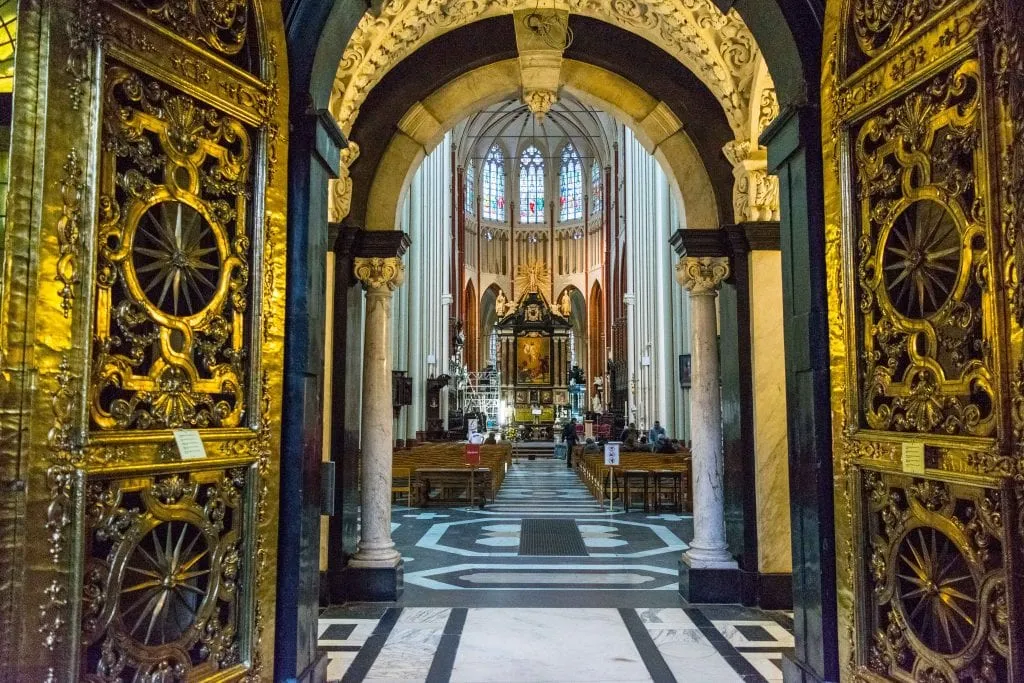 Take a day trip to nearby destinations in Belgium.
Ghent, Antwerp, and Brussels all have their own winter charms to explore and are located within very easy reach of Bruges by train.
While Brussels is the heart of train connections in Belgium, we prefer using smaller and more charming Bruges as a base in winter.
If you'd rather stay in Brussels for the ease of travel, though (and day trips to everywhere from Amsterdam to Luxembourg are very doable from the capital), taking a combined day trip to Bruges and Ghent from Brussels is also a very popular choice.
And, while it is the absolute opposite of a festive destination, it's impossible to leave out Ypres and the surrounding World War I sites when discussing potential day trips from Bruges.
If you would like to explore important World War I history during your trip, this well-reviewed day trip is a great option for that.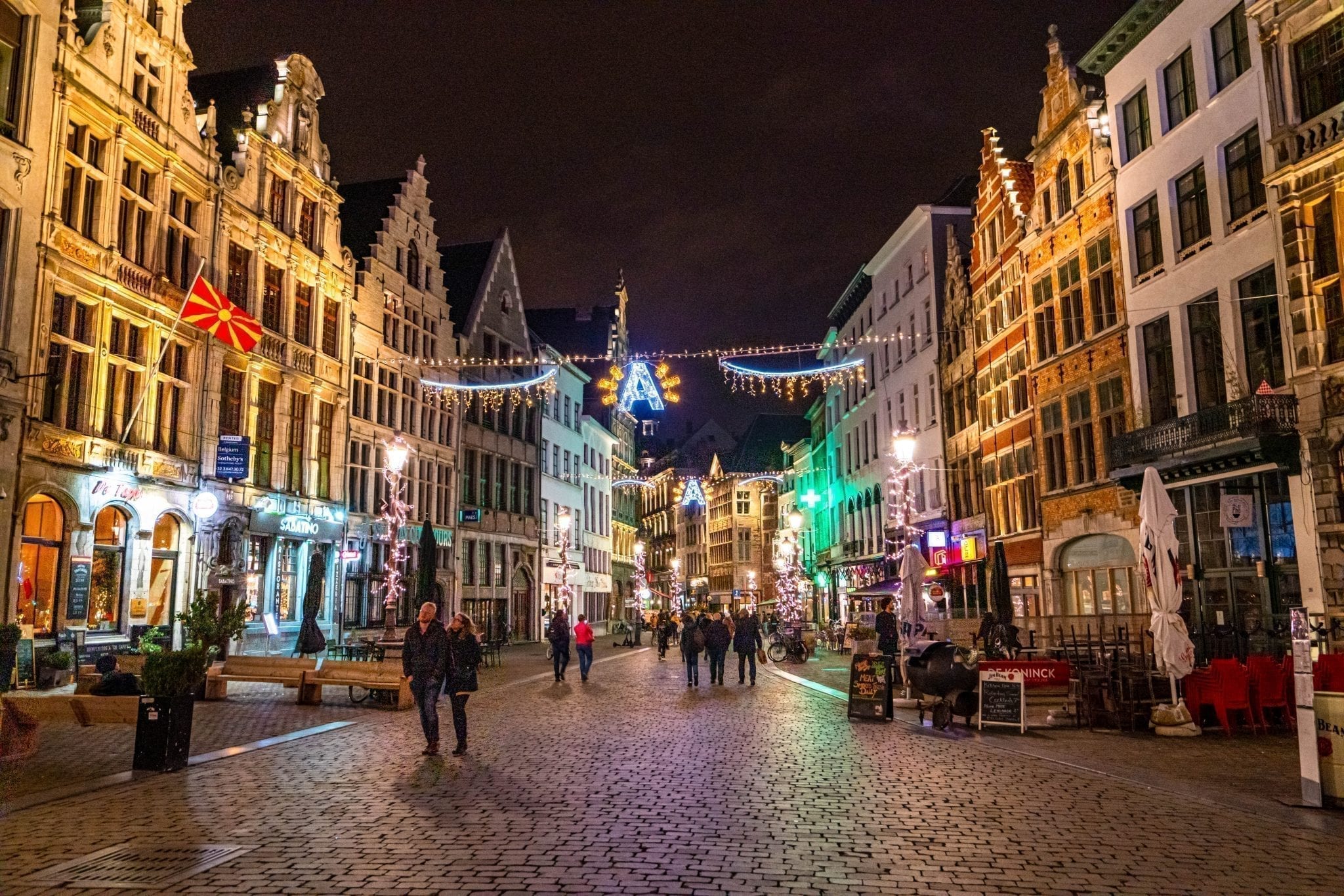 All About the Bruges Christmas Markets
Visiting Bruges in December–or in late November or early January?
Here's what to know about enjoying the Christmas markets in Bruges!
The Bruges Christmas Markets have a fairly long season.
Unlike some places in Europe, where the markets are really only open in December, Bruges has a fairly long season.
The 2022-2023 Winter Glow Festival (which includes the markets) is planned to run from November 25, 2022 through January 8, 2023.
You can check updated dates and information here.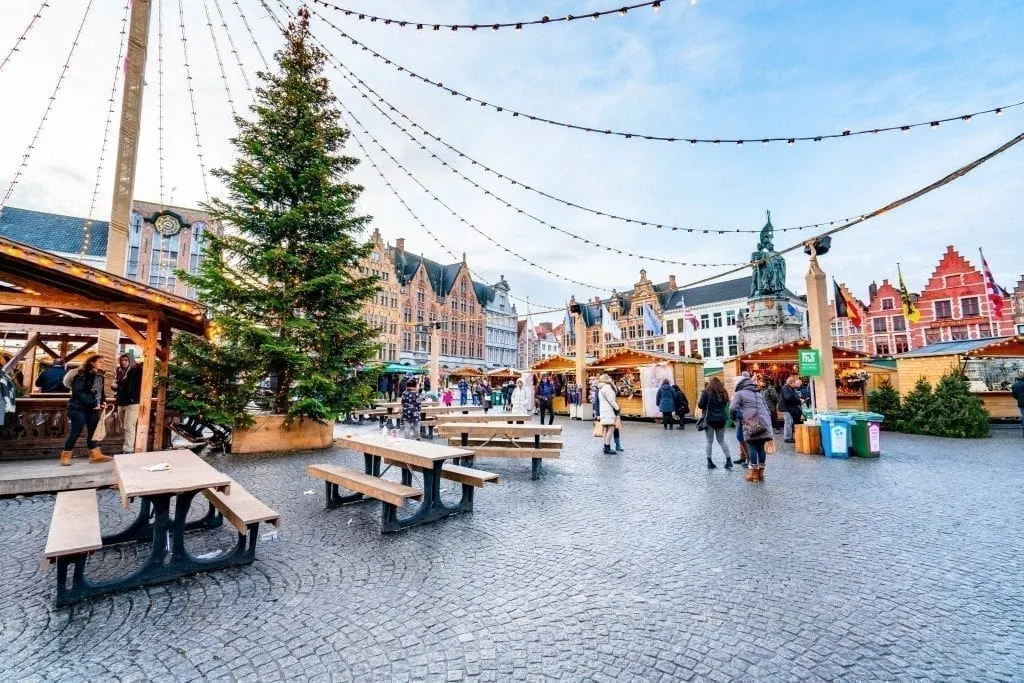 The atmosphere is very kid-friendly!
We found the Christmas markets in Bruges to be noticeably kid-friendly, with plenty of space to run around and even an arcade on-site!
Bruges is still the only place we've seen an arcade at a Christmas market, and we definitely did a double-take when we spotted it.
Expect the markets to be a bit less immersive than some destinations.
When it comes to Christmas markets, Belgium definitely isn't Germany or Austria–but it's a wonderful, festive environment all the same.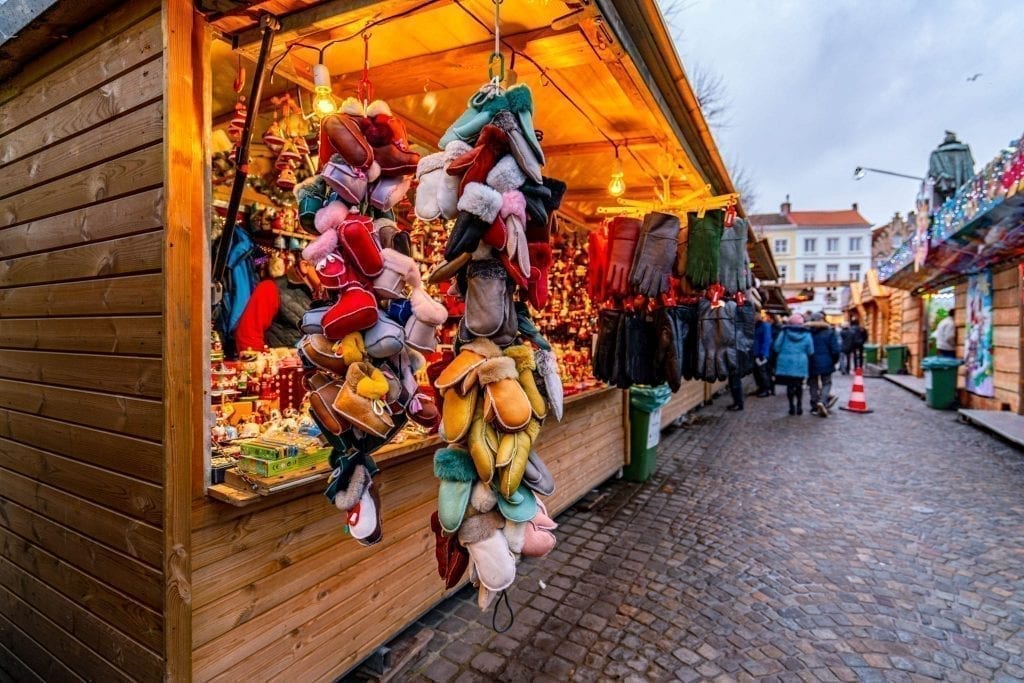 Bring cash, and ideally small bills.
Some stalls do take cards, but not all.
It's best to come prepared with Euros and not risk the possibility of missing out on the perfect souvenir or Belgian waffle!
Don't expect mug rentals.
That's more of a German and Austrian thing!
You will find plenty of gluhwein/vin chaud at the Bruges Christmas markets, though.
… but do expect lots and lots of local treats.
Belgian waffles, Belgian frites, Belgian hot chocolate… sure, Belgium's stick-to-your-ribs snack foods are delicious year-round, but they definitely fit right in at the Christmas markets!
(Side note: Belgium takes their fries so seriously that Bruges is even home to a quirky and fun Frietmuseum!
In other words, expect them to be delicious–just don't call them French fries.)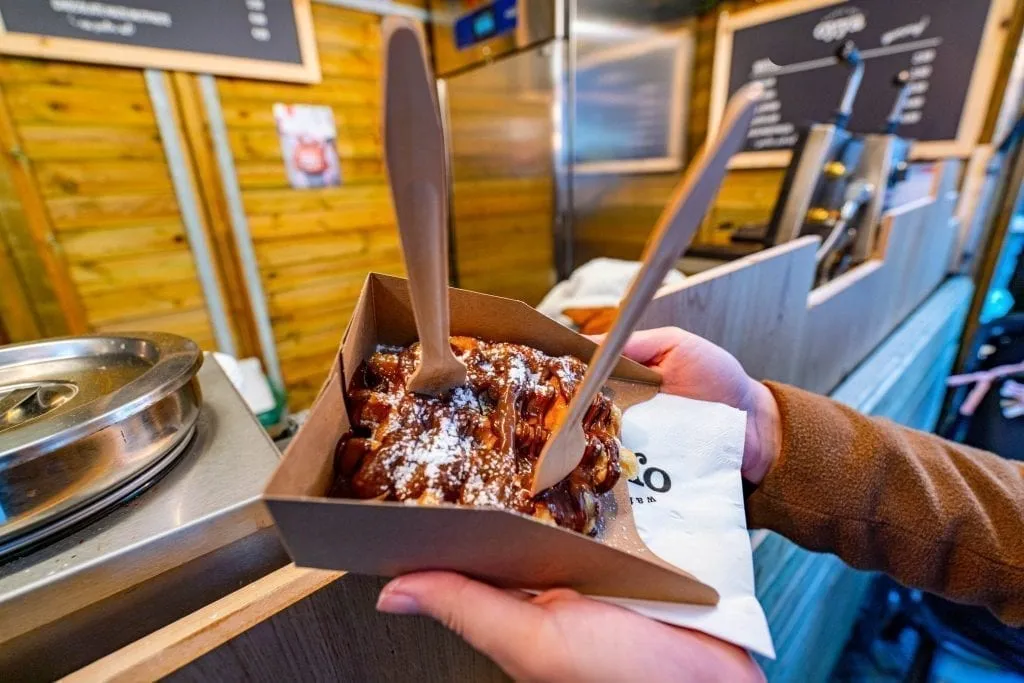 Where to Stay in Bruges in Winter
While we know not that everyone planning a winter trip to Bruges will be able to spend the night, we recommend it if possible!
Small, walkable, and utterly charming, Bruges is absolutely worth more than a day trip.
Here are some of the best places to spend a night (or several) in Bruges!
Budget
Hotel Notre Dame — Cozy Hotel Notre Dame is located within a quick walk of most of Bruges' major sights, including a five-minute walk from Town Hall, and boasts comfortable rooms, an included continental breakfast, and excellent reviews.
Mid-range
The Black Swan Hotel — Housed in a 17th-century building just around the corner from Grote Markt, the popular Black Swan Hotel is perfect for visitors to Bruges looking to stay in a beautiful, centrally-located building without a luxury price tag.
Be sure to check out the gorgeous conservatory, where an included breakfast is served each morning!
Luxury
Relais Bourgondisch Cruyce — Luxurious Relais Bourgondisch Cruyce is a stunning boutique hotel located in a prime location within Bruges: not only is it located along a canal, but at the place where two canals meet!
Featuring magnificent rooms decorated with antique decor, wonderful views, and exceptional reviews, Relais Bourgondisch Cruyce is the go-to choice for luxury seekers or those celebrating a special occasion during their trip to Bruges this winter.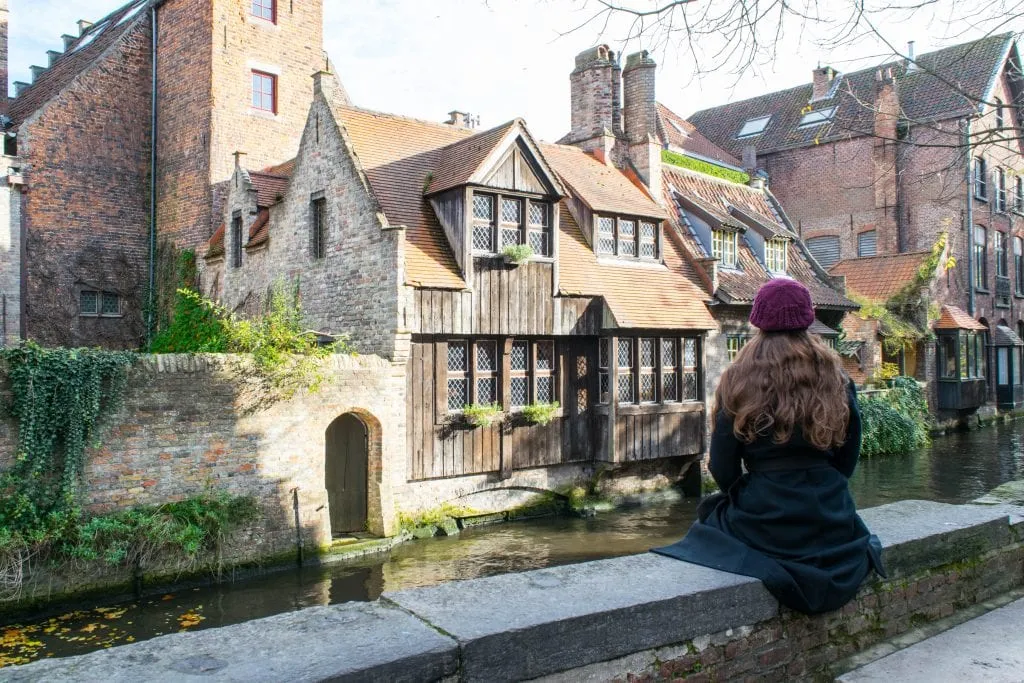 Winter Weather in Bruges, Belgium
Bruges winters are cold, gray, and fairly wet–perfect for cozying up at Christmas markets, but definitely chilly when walking around!
Average high temperatures in December, January, and February are between 44-45°F (or 6-7°C).
Overnight, the temperatures will typically drop to around 36-38°F (2-3°C).
While November is the rainiest month of the year in Bruges, December and January are close, with an average of 12 days of rain per month each.
February is slightly drier, with a typical 9 days of rain.
In other words, you'll definitely want to pack a warm coat and an umbrella for a winter trip to Bruges!
Does it snow in Bruges?
Bruges does get a little bit of snow each year, but it's best not to count on it!
It snows an average of 9 days each winter in Bruges.
If you do happen to get to appreciate the beauty of the city under snowfall, count yourself lucky and snap plenty of photos!
How long are the days during winter in Bruges?
Count on experiencing fairly short days on your winter trip, with roughly 8 hours of sunlight.
During December and January, there are less than 8 hours of sunlight each day, and there is a period of time when the sunsets before 5:00 PM.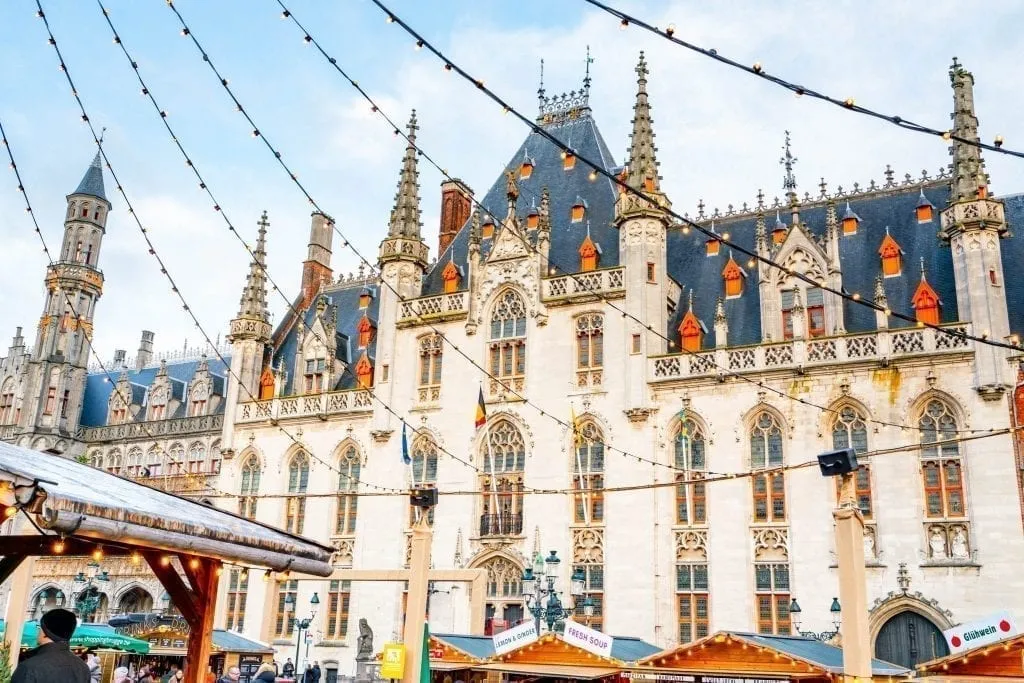 5 Things to Pack For a Bruges Winter Trip
While we recommend taking a look at our full packing list for Europe in winter before your trip, here are 5 essentials that you'll want to be sure to bring to Bruges!
Travel Insurance — We don't ever suggest traveling without travel insurance–anything can happen, and a Bruges winter trip is definitely a case of better safe than sorry.
We use and recommend Safety Wing for trips to Belgium.
Travel Adaptors for Belgium — If you're coming from outside of Europe, you'll definitely want to make sure you can plug in your electronics once you arrive!
A Coat You Love — Whatever winter coat you bring to Bruges will likely end up in almost all of your photos, so make sure you like it!
Reusable Water Bottle — Because you can't drink only gluhwein for days on end, right?
Don't waste money or plastic at the Christmas markets in Belgium–come prepared with a reusable one instead!
You'll be so glad to have it after devouring your first salty snack of the trip.
Comfortable Day Bag — Having a reusable bag of some kind with you is standard when shopping across Europe, and that includes at Christmas markets.
We currently use Pacsafe's sleek anti-theft backpack and love it, but if you don't want to shell out the cash for this trip, that's totally understandable.
Just aim for something comfortable to wear, not flashy, and medium-sized–we used a Northface Jester backpack for years and loved it as well.
How Long to Stay in Bruges at Christmastime
While Bruges is a popular day trip destination from nearby Brussels and even further-flung cities like Amsterdam and Paris, we also happen to think that it makes a great place to base yourself, especially in December!
Bruges is arguably the most beautiful city in Belgium, and it's well-connected by train to destinations like Antwerp and Ghent.
Plus, Bruges' beauty also makes it one of the most crowded cities in Belgium (though much less so in winter than in the summer), and being able to experience it in the mornings and evenings adds to the experience.
Whether you have one day or several to enjoy Bruges in winter, though, you're bound to fall in love with this picturesque city at Christmas!