From canals to cannabis, the Netherlands' most popular city with visitors certainly has a larger-than-life reputation! Spending even one day in Amsterdam will allow you to sample much of what makes the city so incredibly special.
Amsterdam, in many ways, is a city of extremes: the ornate beauty of the architecture dating to the Dutch Golden Age is juxtaposed with the city's party-heavy modern reputation, giving the Amsterdam of today a unique and fascinating flavor.
This one day Amsterdam itinerary deals primarily with the beauty and history of the city, rather than its more modern, shall we say, attractions–though you'll have no problem finding brown cafes or making your way to the Red Light District if you would like!
If your idea of how to enjoy Amsterdam in a day leans more toward canal views, historic highlights, and a museum or two, though, this one day in Amsterdam itinerary is for you!
Some links in this post may be affiliate links. If you make a purchase through one of these links, we may earn a small commission at no extra cost to you. Please see our

disclosure policy

for more detail.
The Perfect One Day in Amsterdam Itinerary
Start your morning in Amsterdam with a Dutch pancake.
Dutch pancakes are an extremely popular breakfast in Amsterdam, and a great way to begin your time in the city!
The pancakes generally come in two forms: pannenkoeken (which are large, full-plate-sized pancakes) and poffertjes (which are small, bite-sized pancakes served in a pile).
Pannenkoeken can be served with either sweet or savory toppings, and poffertjes are generally sweet.
Enjoy a stroll through the 9 Streets.
The 9 Streets are one of the most picturesque parts of Amsterdam, made up of canal-lined streets packed with galleries and unique boutiques.
Whether you're hoping to snap photos, shop for a unique souvenir, or both, it's well worth exploring the 9 Streets during your one day in Amsterdam.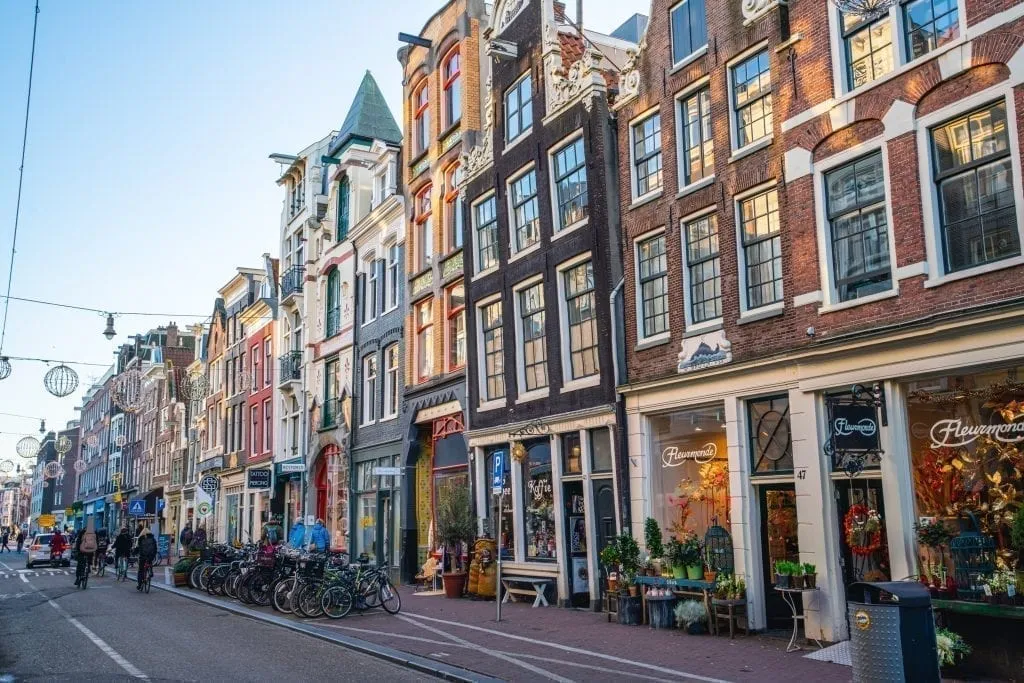 … and Jordaan.
Located right next door to the 9 Streets, the beautiful neighborhood of Jordaan is like the quieter, slightly more residential sibling of the 9 Streets, and a fantastic place to enjoy beautiful canal views in Amsterdam.
Hop on a canal cruise.
Easily one of the most popular things to do in Amsterdam, there's nothing that can make you appreciate the ingenuity of a canal city quite like hopping on a canal cruise.
There's something about admiring the phenomenal Dutch Golden Age architecture of Amsterdam's city center from the water that makes it even more special.
Be sure to plan ahead: the canal cruises do fill up, and not all cruises are created equal.
This one gets excellent reviews and allows you to schedule your cruise in advance.

Book your canal cruise in Amsterdam today!
Wander through Dam Square and past the Royal Palace.
Amsterdam's main square is one of the most popular places to visit in the city, and its central location makes it incredibly easy to visit during your one day in Amsterdam.
Once a market square, and before that an actual dam that was initially built in 1270, today Dam Square is best known for being the home of the Royal Palace and the central hub of Amsterdam.
Check out the Floating Flower Market (Bloemenmarkt).
The Floating Flower Market along the Singel Canal proclaims to be the floating flower market in the world, and it has been brightening the city with colorful flowers and bulbs since 1862.
The market caters almost exclusively to tourists these days, but with a convenient location and bursts of color in every direction, it's still worth stopping by when trying to sample Amsterdam in one day!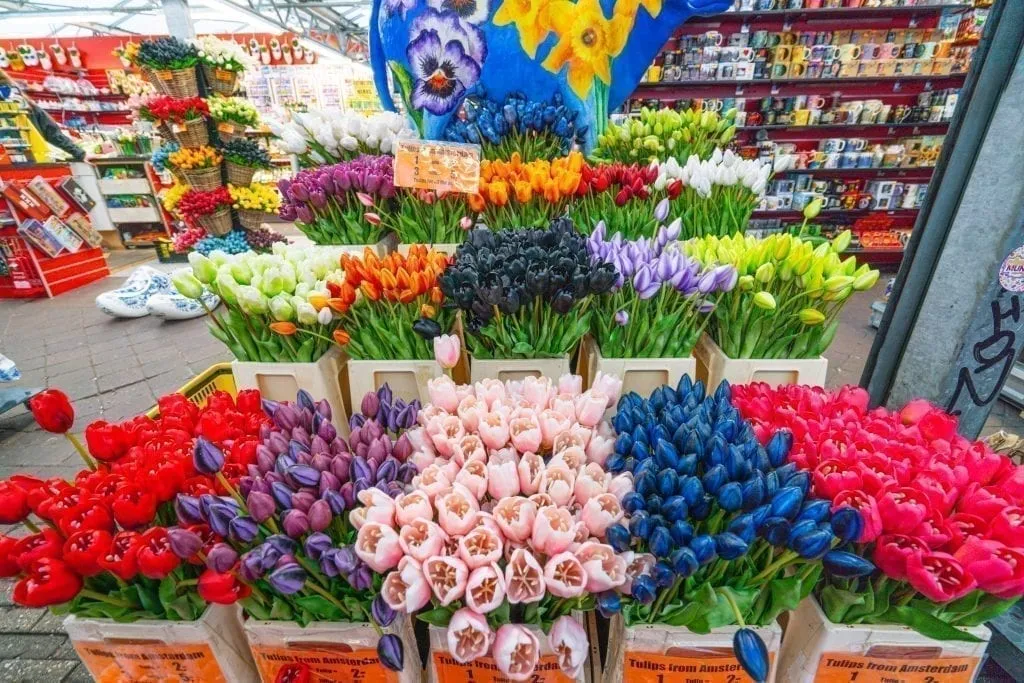 Tour one of Amsterdam's incredible museums.
Amsterdam has hundreds of museums to choose from, ranging from iconic to quirky, but with only one day in Amsterdam, you'll want to choose one of the city's most treasured options.
Keep in mind that these museums are incredibly popular–be sure to book your tickets in advance, regardless of which one you choose to visit.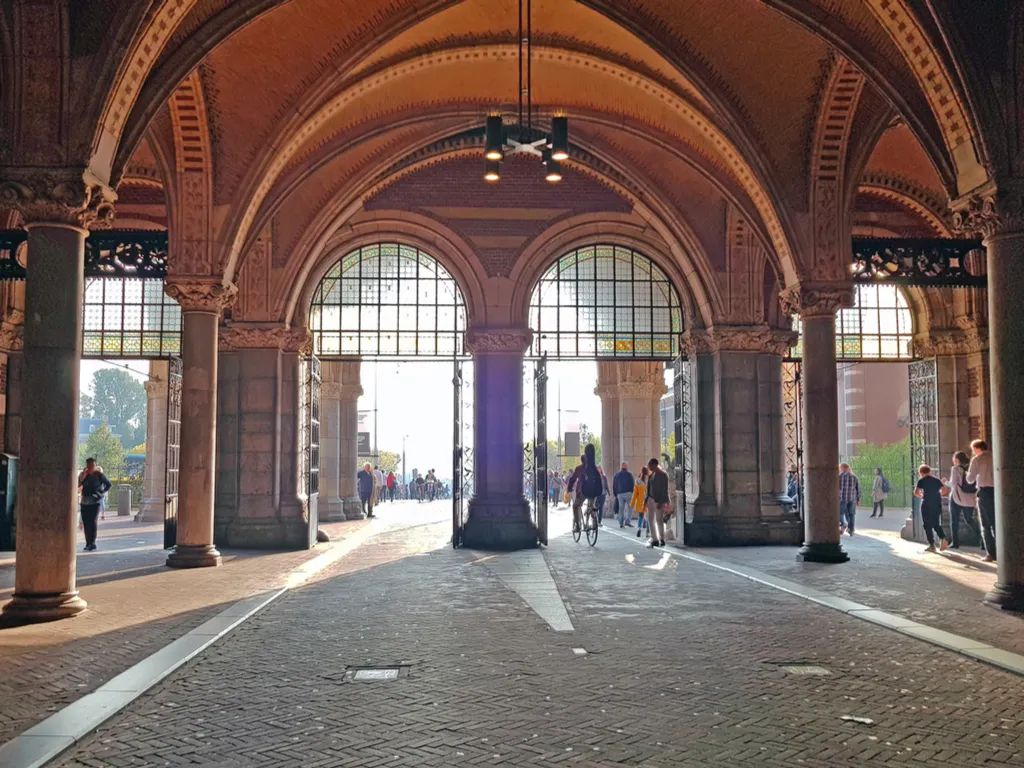 The Anne Frank House
The secret annex where Anne Frank and seven other people hid from the Nazis for more than 2 years is set in an otherwise unassuming building in Amsterdam, right along a canal.
It is an incredibly moving museum, and we highly recommend visiting, but due to the small size of the space, tickets are very limited.
Ticket sales open 2 months before a given date, often selling out quickly, and additional tickets are released each morning for tours that same day.
You can try to nab tickets the morning of your visit, but set your alarm and log in to the site the second the tickets become available. They don't last long!
Shop tickets to the Anne Frank House here.

Can't get tickets, but still want to learn more about Anne Frank's experience in Amsterdam?

This well-reviewed tour is a great way to do so.
Rijksmuseum
Amsterdam's most famous art and history museum is home to some absolute masterpieces of Dutch artwork, perhaps most famously Rembrandt's Night Watch and the incredible collection of art in the Gallery of Honor.
The Rijksmuseum also holds some Van Gogh pieces, including one of his best-known self-portraits.
Book your Rijksmuseum ticket today!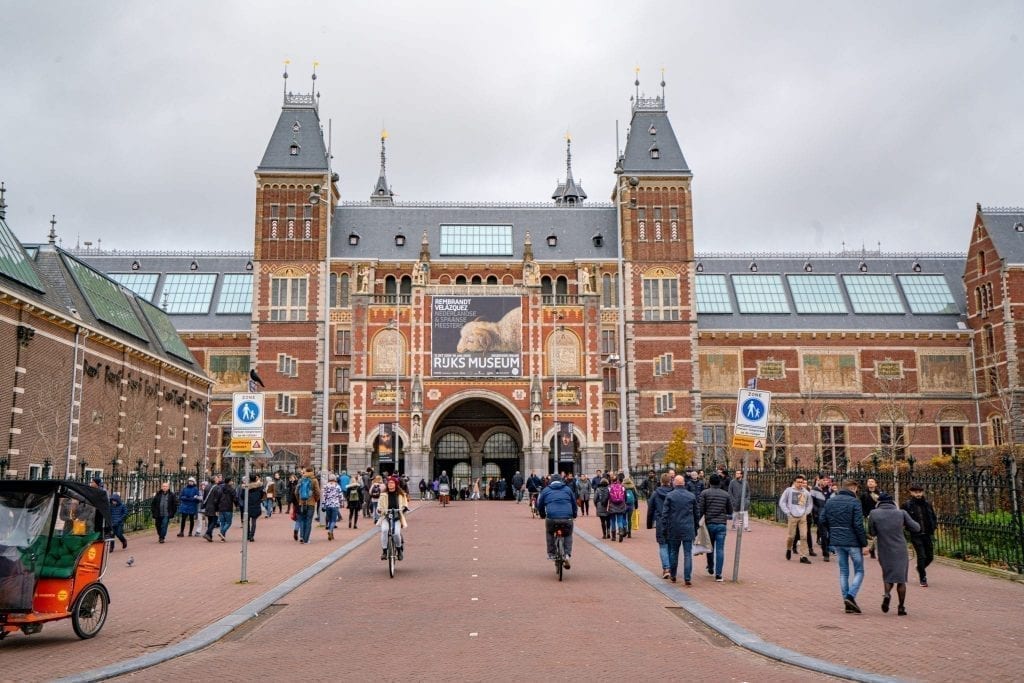 Van Gogh Museum
While the Rijkmuseum has a handful of Van Gogh's pieces, the bulk of his work in Amsterdam, as well as personal effects like letters, can be found at the Van Gogh Museum.
If you're a fan of Van Gogh (or his contemporaries, as he's not the only artist featured), this might be the right Amsterdam museum for you!

Take an evening stroll along the canals.
Without a doubt, one of the best parts of spending a day in Amsterdam is its beautiful canal views, and as the soft light of evening hits, the views become even more magical.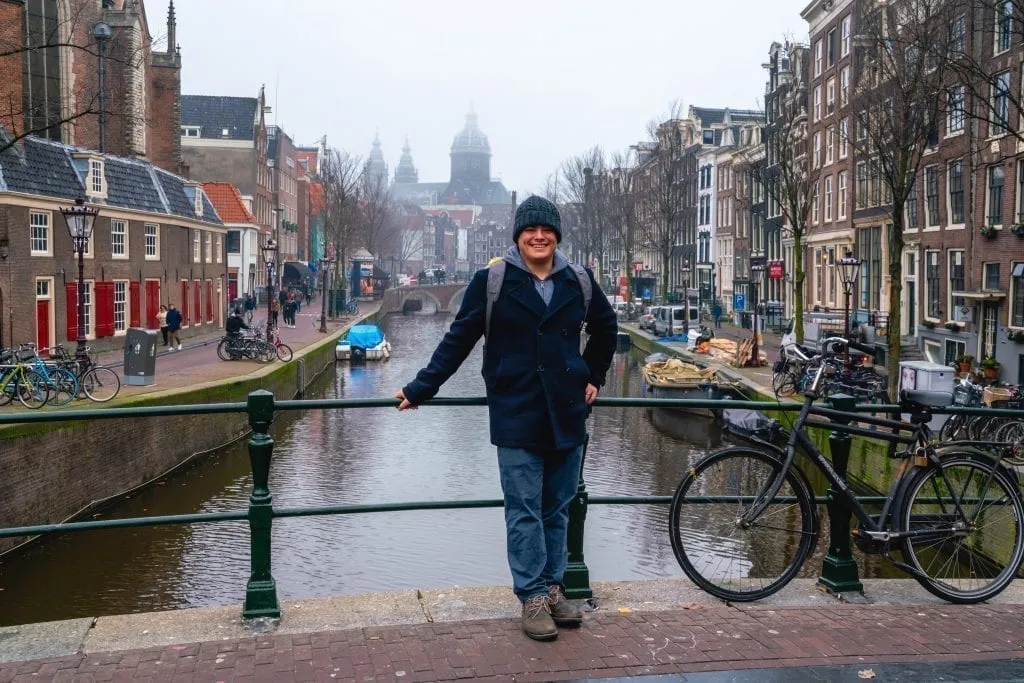 Optional: Visit the Red Light District.
This is up to personal preference, of course, but if you're curious about Amsterdam's (in)famous Red Light District, the best time to visit is after dark when the area comes to life.
One important tip: absolutely do not photograph any of the sex workers that are visible in the windows.
If you'd like to snap photos of the district, aim your camera carefully!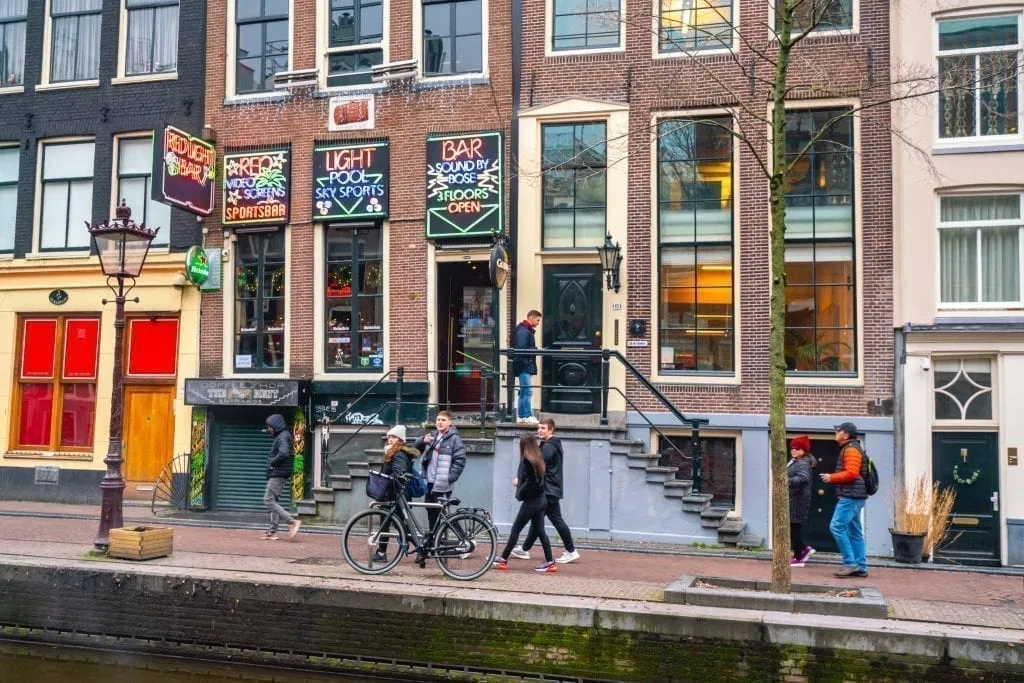 What about the iAmsterdam sign?
Many guides to visiting Amsterdam include a mention of the once-iconic iAmsterdam sign in front of the Rijkmuseum, but the sign was actually removed at the end of 2018.
The sign has been known to make appearances at various events and festivals around town, though, so who knows–maybe you will spot it ahile spending a day in Amsterdam!
There are also other, less well-known versions of the sign that you can still seek out, including at the Schiphol Airport.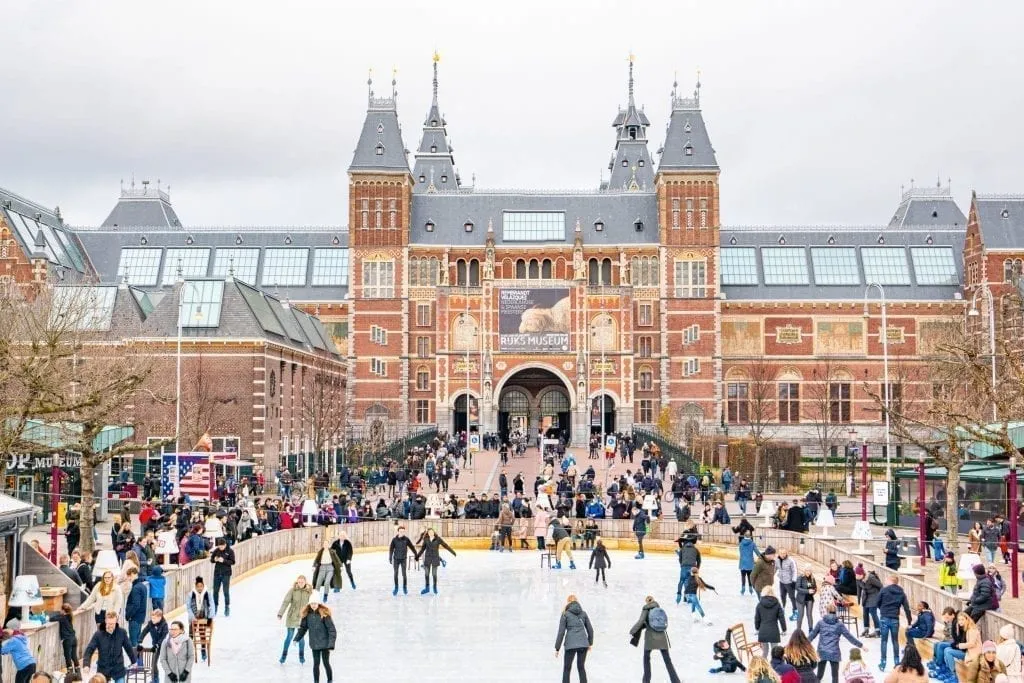 Where to Stay in Amsterdam
There's no way around it: Amsterdam is far from the most affordable city to visit in Europe, and lodging prices, in particular, tend to be quite high, especially if you want to stay in the city center.
Expect to pay more for lodging in Amsterdam than for comparable stays in many other cities in Europe.
If you have mobility limitations, be sure to reach the description of your hotel carefully: very steep staircases are far from unheard of in Amsterdam!
These options all get great reviews, and should give you an idea of what you can expect to spend on lodging in Amsterdam!
Budget
Hotel Abba — For travelers looking for something a bit nicer than a hostel dorm but still hoping to stick to a budget, popular Hotel Abba is a reliable and excellent option!
Located within walking distance of Museum Square and much of central Amsterdam, Hotel Abba features great reviews and an included breakfast each day.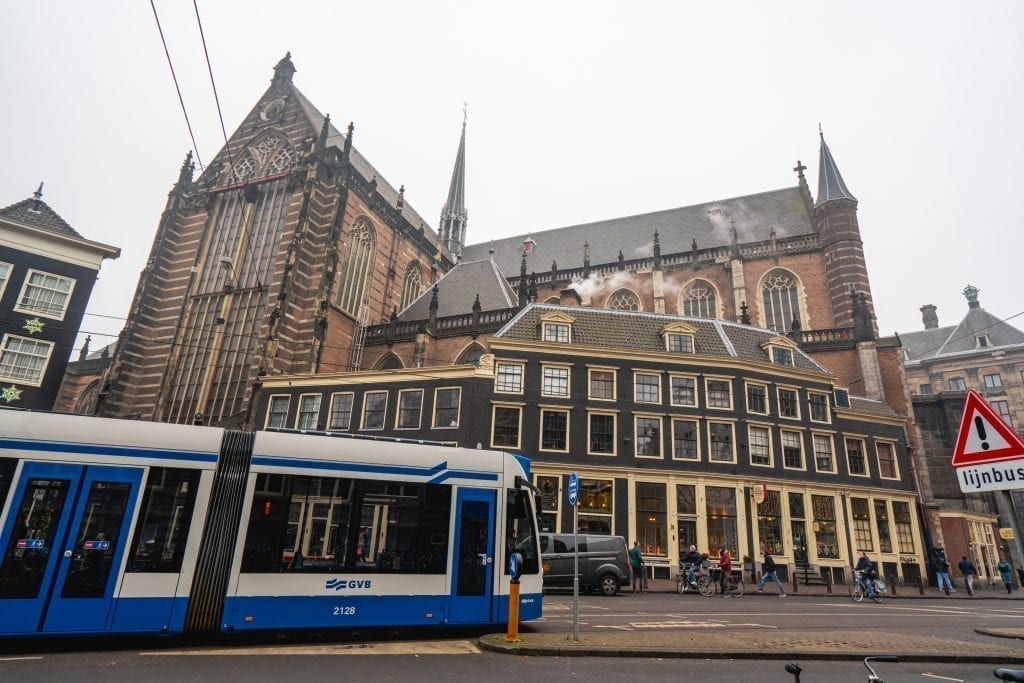 Mid-range
XO Hotels Van Gogh — A comfortable, affordable hotel with a fun design twist: that's what you'll find at XO Hotels Van Gogh, where rooms are decorated with creations inspired by the famous artist's work.
With great reviews and a fantastic location practically next door to the famous Van Gogh Museum, mid-range travelers can't go wrong with a stay here.
Luxury
Pillows Luxury Boutique Hotel — This stunning 30-room property near Vondelpark is the perfect blend of 19th-century charm and modern amenities. Fully updated in 2017, luxury service and luxury amenities are the norm at this charming boutique property!
Getting Around During One Day in Amsterdam
This one day Amsterdam itinerary is designed to be completed primarily on foot–with the exception of the canal cruise, virtually everything on this Amsterdam guide can be completed on foot.
Of course, if you'd like to truly get into the spirit of Amsterdam (or have the opportunity to explore further afield), you can also rent a bike during your day in Amsterdam and enjoy zipping alongside the canals.
If you do choose to rent a bike, be sure to lock the bike carefully when you leave it and to be cognizant of biking etiquette in the city!
Central Amsterdam is also home to a series of trams that can help you navigate the city if you'd like to take a break from walking at some point during the day.
One Day in Amsterdam Itinerary Map
Take This Map With You! Click each highlight to pull up the name of the destination. To save this map to "Your Places" on Google Maps, click the star to the right of the title. You'll then be able to find it under the Maps tab of your Google Maps account! To open the map in a new window, click the button on the top right of the map.
Tips for Exploring Amsterdam in a Day
If you want to visit one of Amsterdam's popular museums, book in advance.
I mentioned this above, but it bears repeating: Amsterdam's most popular museums book up well in advance.
If you'd like to visit the Rijksmuseum, Van Gogh Museum, or Anne Frank House during your day in Amsterdam, be sure to plan ahead!
Plan on paying for most things with a card.
Amsterdam is an incredibly card-friendly city, and in fact, you may find that some establishments you visit don't accept cash at all!
If you're a book lover, plan to peruse plenty of bookshops.
We were absolutely smitten with the number of bookshops in Amsterdam, from large, modern shops to crowded storefronts selling used books.
If you're a bookworm who happens to be visiting Amsterdam on a Friday, also consider adding the city's outdoor book market to your plans for exploring Amsterdam in a day!
Plan for crowds.
Amsterdam is one of the most popular cities to visit in Europe, and that combined with the narrow, canal-lined streets and the fact that many of the city's top attractions are located close together means that Amsterdam deals with very heavy crowds.
Especially if you're visiting in the spring or summer, be prepared to share the city with thousands of other tourists.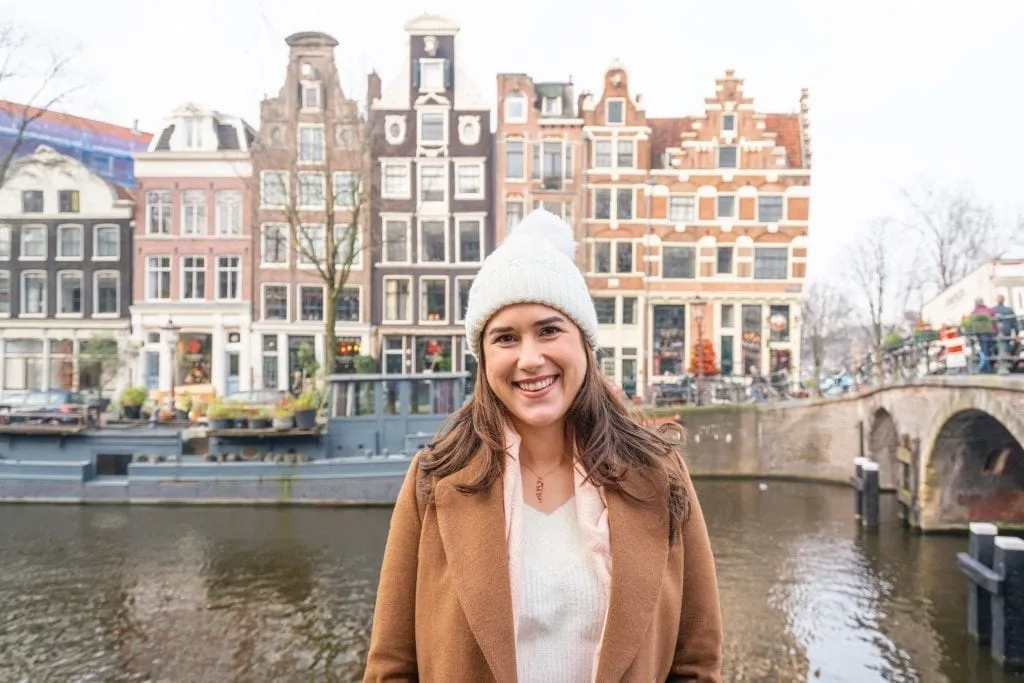 Wear very comfortable shoes–you'll be walking a lot.
Nothing will limit your explorations of Amsterdam quite like sore feet or blisters!
Exploring Amsterdam in a day means spending most of the day on your feet, so dress accordingly! These are my favorite travel shoes.
Stay out of the bike lane!
Amsterdam's bike lanes are taken quite seriously, and traffic moves fast.
Don't risk being yelled at (or even accidentally hit) by impeding traffic in them.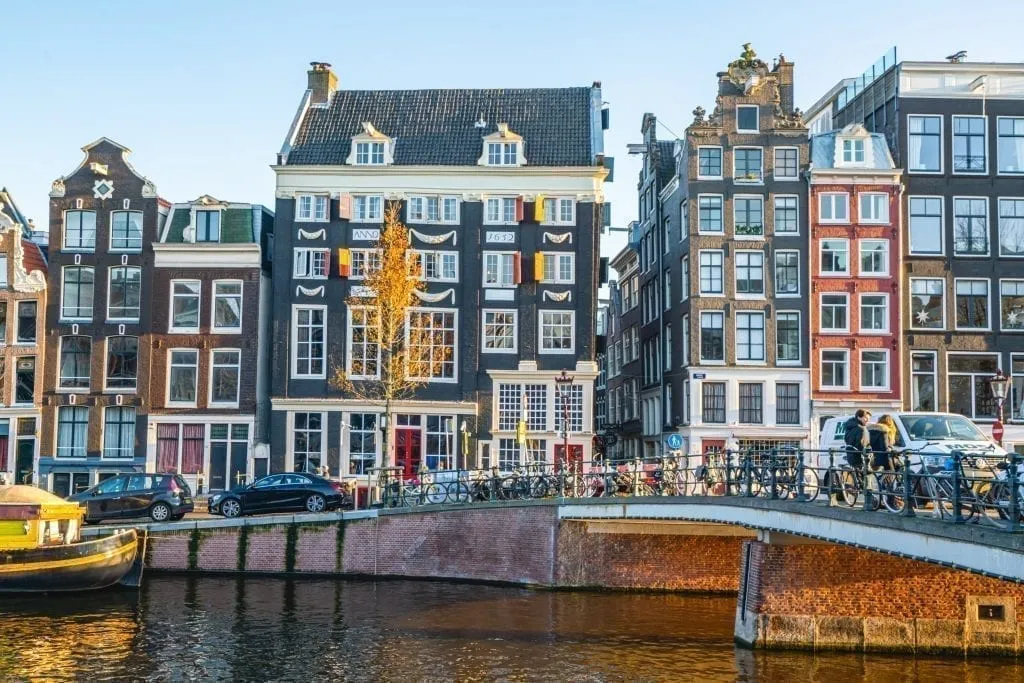 More Than One Day in Amsterdam?
If you have more than one day in Amsterdam, you definitely won't run out of things to do in the city!
Consider visiting the additional museums you don't have time for when trying to see Amsterdam in a day, taking part in the Heineken experience, strolling through Vondelpark (one of the best parks in Amsterdam), meandering down to the Skinny Bridge, and checking out more of Amsterdam's many markets.
In the spring, of course, one of the most popular things to do when visiting Amsterdam is to take a day trip outside the city to see the blooming tulips: Keukenhof is the most popular garden to visit, but there is no shortage of places to admire tulips in the Netherlands!
Other popular day trips from the city include nearby Haarlem, Bruges, Zaanse Shans, and Rotterdam.
That being said, while there's no way to experience everything the city has to offer when exploring Amsterdam in a day, you can definitely make time for a surprising number of the city's highlights with just one day in Amsterdam!
---