Famous for its very late nights and vibrant city life, it's safe to say that there are some truly wonderful things to do in Madrid at night!
Spain's capital is one of those cities that comes to life after dark.
From the music to the food to the crowds of jovial people spilling out of improbably tiny tapas bars, Madrid is at its most lively in the evening.
Many of my favorite Madrid travel memories take place at night: waiting in line for a piano bar that opened at 12:00 AM (yes, that's "early" in Madrid), sipping sparkling wine from a rooftop bar overlooking Gran Vía, munching on churros with friends.
If you're planning a trip to Madrid and looking for evening activities to enjoy during your visit, we have you covered here!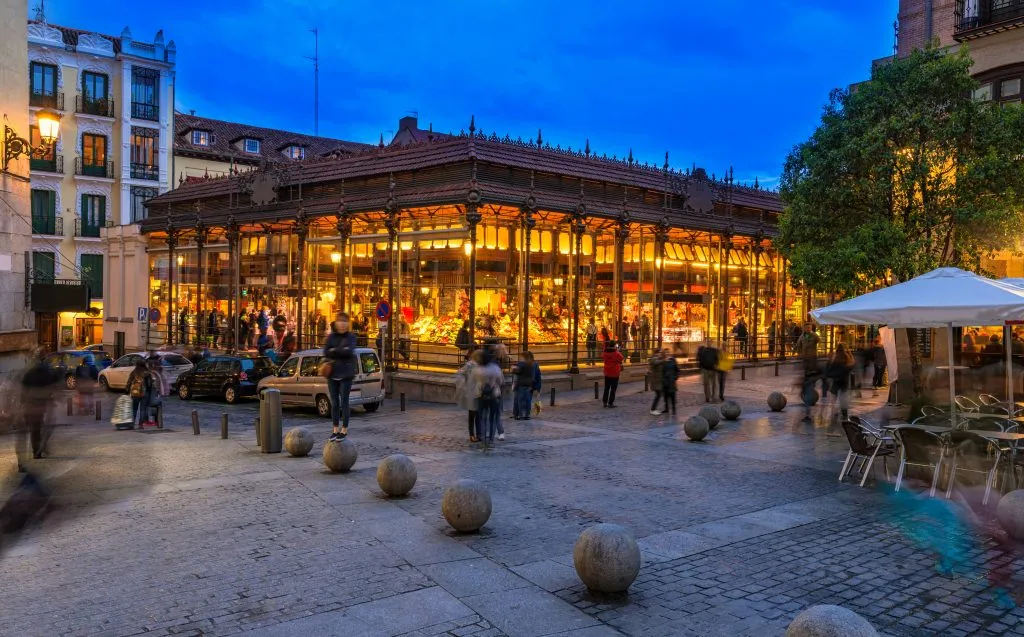 Some links in this post may be affiliate links. If you make a purchase through one of these links, we may earn a small commission at no extra cost to you. Please see our

disclosure policy

for more detail.
The Best Things to Do in Madrid at Night
Watch the sunset over the Templo de Debod.
If you're looking for the perfect way to kick off a fun evening in Madrid, head to the Templo de Debod!
Built in the 2nd century BCE in Egypt, the Templo de Debod was donated to Madrid by the Egyptian government in the 20th century.
The temple is free to visit from the outside and happens to be one of the best places to watch the sunset in Madrid.
The park that the Templo de Debod is located in is also a lovely and peaceful place to visit–be sure to walk to the edge behind the temple to appreciate the views over the Spanish countryside!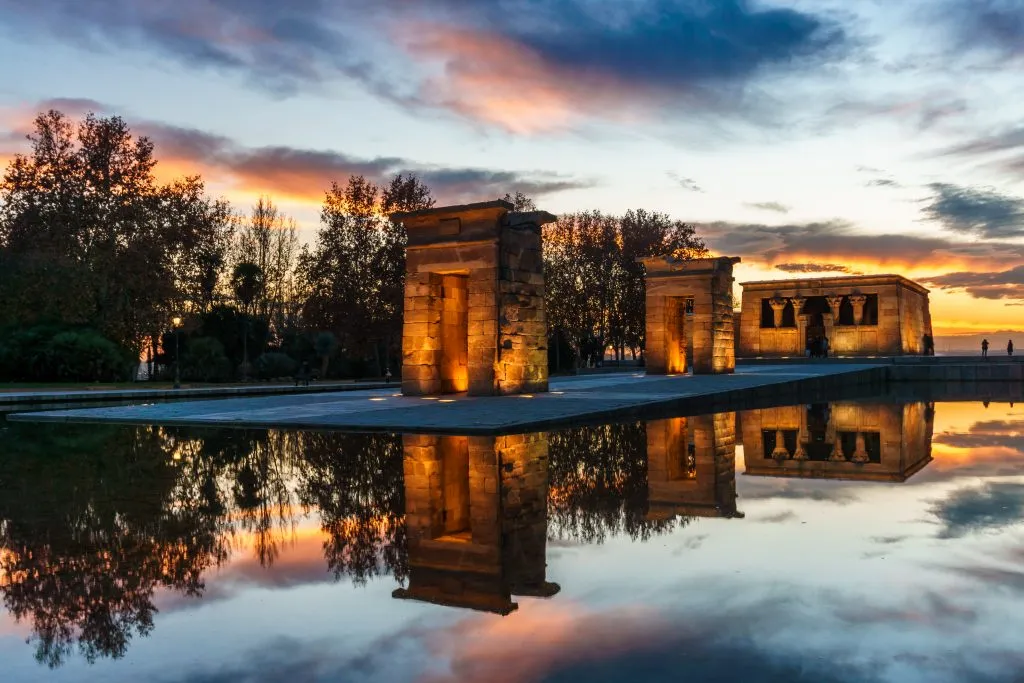 Set off on a tapas crawl and learn about a delicious Spanish tradition.
Madrid's tapas bars are an intimate part of the city's culture, and experiencing them is one of the coolest things to do in Madrid at night!
Tapas–originally a small bite of food that is included with the price of a drink–are traditional in much of Spain, though the name, type of food, and specifics of the tradition can vary from region to region.
Madrid is home to some delicious tapas, and plenty of interesting history to go along with it!
This tapas crawl and history walk, offered by one of our favorite tour companies in Europe, is a fantastic way to get acquainted with Madrid's tapas scene.
We recommend booking the tour early in your trip if you can–that way, you can use your newfound knowledge to confidently order tapas for yourself on subsequent nights!
People-watch in Plaza Mayor.
Madrid's spacious and beautiful Plaza Mayor dates to the 16th century and is a fantastic place for people-watching in Madrid, day or night!
You can sit down and order a little something (generally speaking, this is a touristy area, so we wouldn't necessarily recommend committing to a full meal here), or you can content yourself with wandering around for a bit.
This is a gigantic plaza, and looping around the edges can be a fun way to enjoy part of an evening in Madrid, perhaps in between tapas and dinner.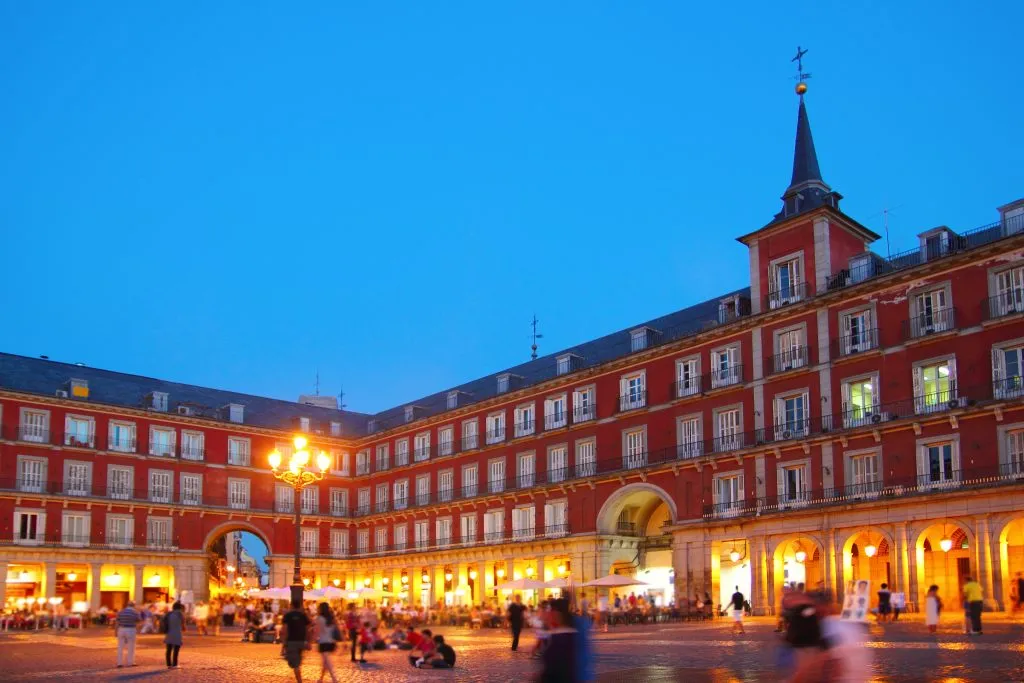 Admire the beauty of Madrid at night from a rooftop bar.
Madrid makes good use of its rooftops!
If you wander through the heart of the city at night, you can easily spot rooftop bars and restaurants from the ground, glowing in the dark and tempting visitors toward their views and festive atmosphere.
While there are plenty to choose from, it's hard to beat the view from Azotea on top of the Círculo de Bellas Artes!
The views of Madrid's iconic Metropolis building (check out the photo at the top of this blog post) are just incredible.
You may have to wait in line to get in, but if you're lucky enough to be on the rooftop at sunset, you won't be sorry.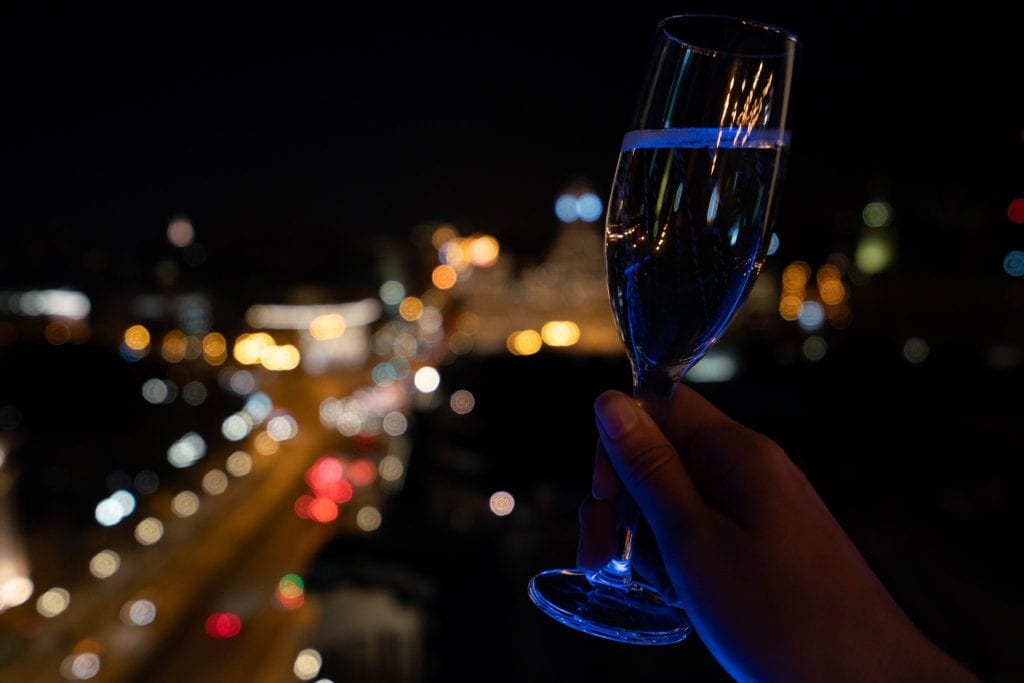 Enjoy a classic flamenco show during an evening in Madrid.
Though flamenco originally hails from southern Spain, not Madrid, the dance has become synonymous with Spain as a whole.
For visitors looking for an introduction to Spanish culture, attending a flamenco show is one the coolest things to do during an evening in Madrid!
This incredibly popular flamenco show is a fun introduction to the dance and a great addition to your list of what to do in Madrid.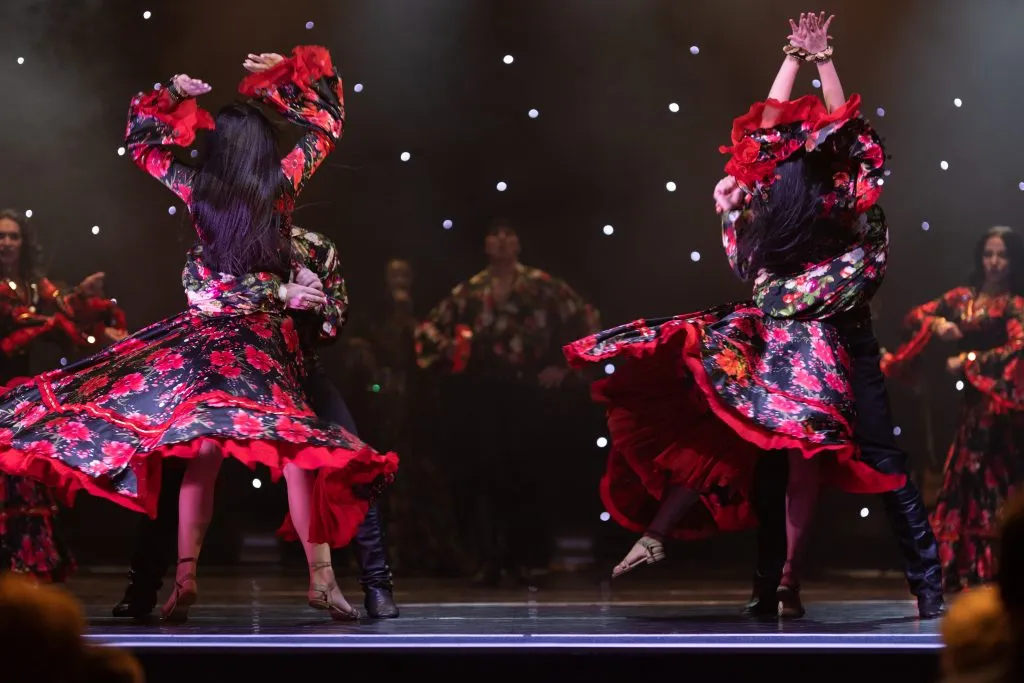 Eat your way through Mercado San Miguel.
Madrid's popular Mercado San Miguel may be crowded with visitors during the day, but when it's time for tapas, you'll notice plenty of Spanish people joining in the fun!
Evening is the perfect time to visit this famous market: the atmosphere is wonderful (though loud), and it's a great way to try tapas, snacks, and drinks from several different vendors without traveling far.
The market doesn't close until midnight (or 1:00 AM on the weekends), giving you plenty of opportunities to stop by as you explore the best of Madrid after dark.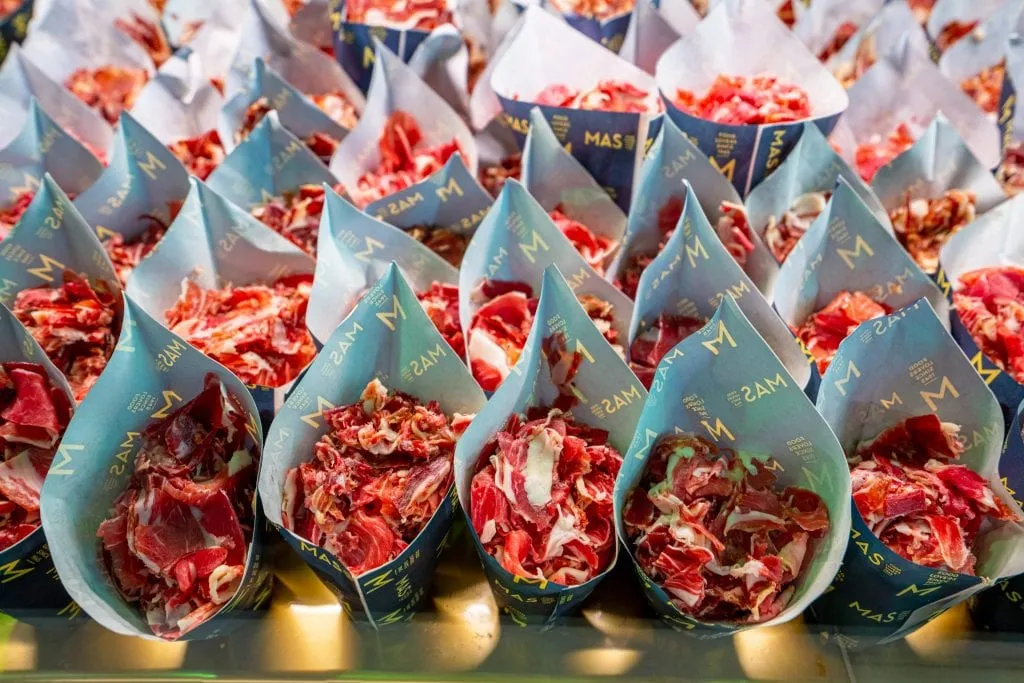 Learn about the dark side of Madrid's history on a Spanish Inquisition tour.
The infamous Spanish Inquisition quietly shaped Spain and the places it colonized for almost 400 years.
While other Catholic countries (notably Portugal) had similar inquisitions of their own, it's Spain's version that lives on in global infamy.
While a very dark and tragic piece of history, it's also inextricably tied to the history of Madrid and of Spain as a whole, and learning more about it is definitely worthwhile when visiting.
We took a Spanish Inquisition tour on our very first trip to Madrid, and the context has stayed with us throughout our many additional trips to Spain.
This popular Spanish Inquisition tour combines history with legend and storytelling, making it a compelling way to spend an evening in Madrid!
Book your Spanish Inquisition History and Legends Tour today!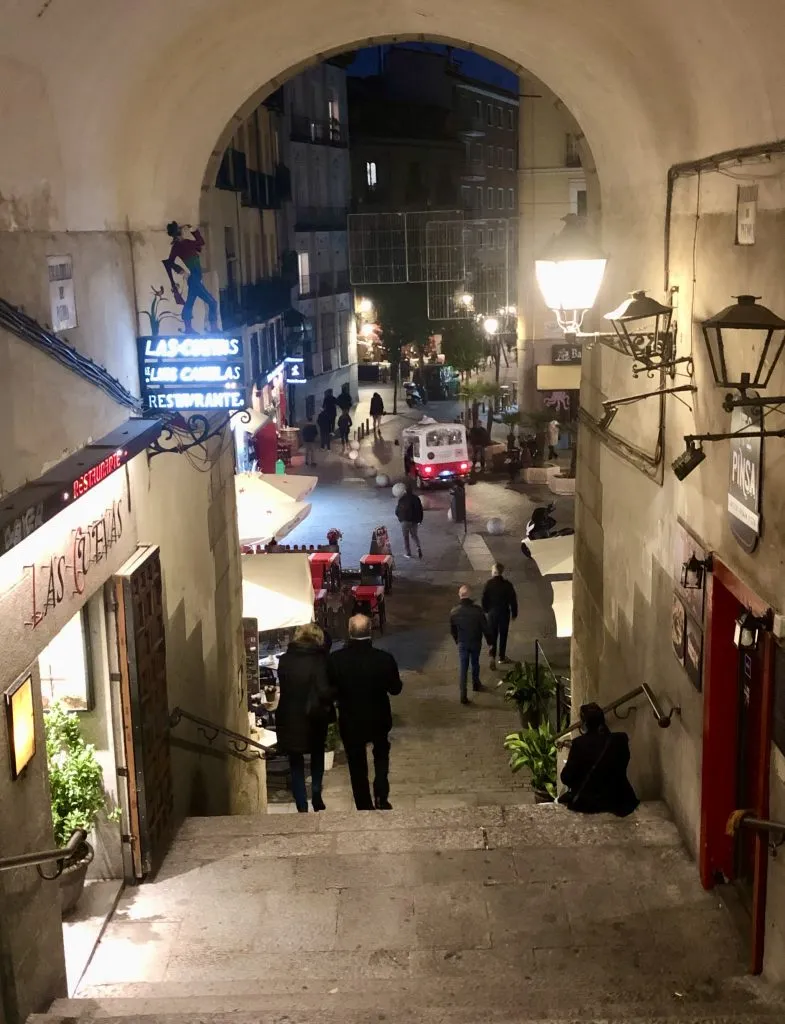 Explore the Reina Sofia at night (for free).
Madrid's Reina Sofia is one Spain's most popular art museums and is absolutely worth seeing.
If you don't want to take up any of your valuable daytime sightseeing hours, though–or if you're traveling Madrid on a budget–consider visiting at night!
Dedicated to 20th-century art, the Reina Sofia is most famously home to Picasso's anti-war painting, Guernica (named for the town of the same name that was brutally bombed in 1937 during the Spanish Civil War).
In addition to plenty of other works by Picasso, you'll also find work by Dalí, Santos, Miró, and more.
As of the time of writing, the Reina Sofia is open until 9:00 PM on Monday, Wednesday, Thursday, Friday, and Saturday–and it's free after 7:00 PM.
Taking a tour of the museum is a worthy use of time (the surrealists tended to be a bit… well, surreal, and a professional interpreter can help), but visiting for free at night also has its perks!
Shadowgate from Novara, ITALY, CC BY 2.0, via Wikimedia Commons
… or check out the Prado during the early evening in Madrid.
Though it closes earlier than the Reina Sofia, the Prado–Spain's national art museum and an absolute treasure–is also open in the early evening!
The Prado is open until 8:00 PM Monday through Saturday, and 7:00 PM on Sunday.
You can visit for free in the final 2 hours before closing each day, making the Prado an excellent final sightseeing stop before shifting focus to what to do in Madrid at night.
The Prado is particularly well known for its incredible collection of Velázquez and Goya paintings, and is home to an extensive collection of European paintings and sculpture.
Root for the home team at a Real Madrid game.
Curious about experiencing the excitement and exhilaration of a football match when visiting Madrid?
Book tickets to a Real Madrid game one night to enjoy a fantastic Madrid cultural experience that is both wildly popular and a bit off the beaten track for first-time visitors.
If you're a football fan curious about the team and there's not a game when you're in town, you can also tour Santiago Bernabéu Stadium during your trip.
However, for a night in Madrid that you won't forget anytime soon, attending a game is a fantastic option.
No matches happening while you're in town?

Touring Santiago Bernabéu Stadium is also memorable!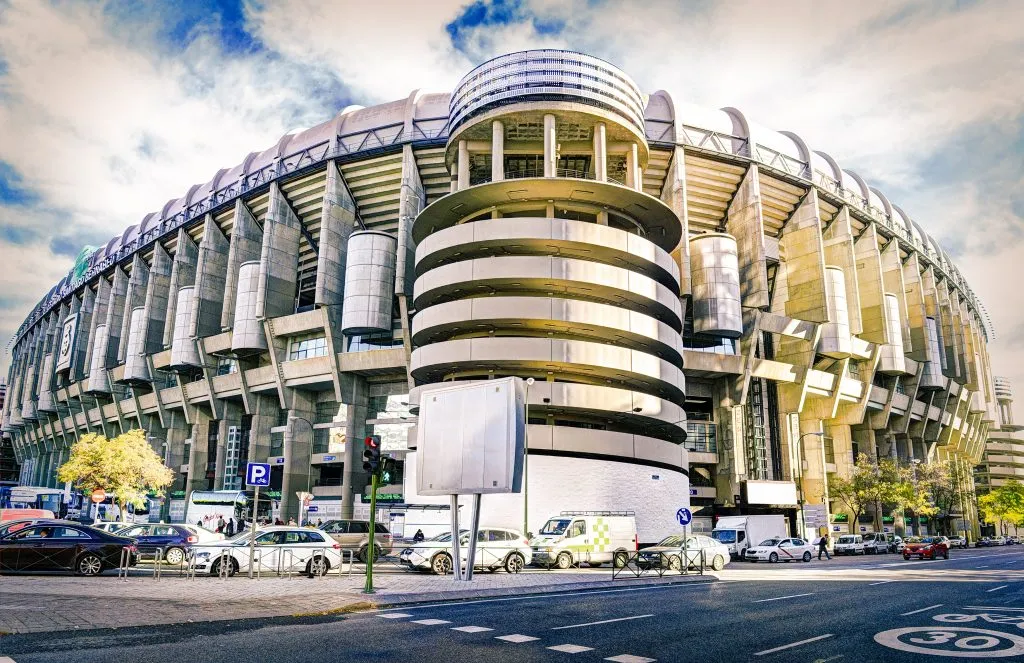 Enjoy a round of late-night churros con chocolate.
Devouring fresh, delicious churros dipped in hot chocolate that is meant to be drunk despite being the consistency of syrup is easily one of the best things to do in Madrid at night!
While churros are popular across Spain (and the world), this particular delicacy originated right here in Madrid.
You can find churros all over the city, but the legendary Chocolatería San Ginés is an absolute institution and worth the lines (don't worry, they move fast).
Plus, they're open 24 hours a day, meaning that you can stop by no matter what time of night the craving strikes!
We try to make it to Chocolatería San Ginés during every trip to Madrid (often right after getting off of a flight).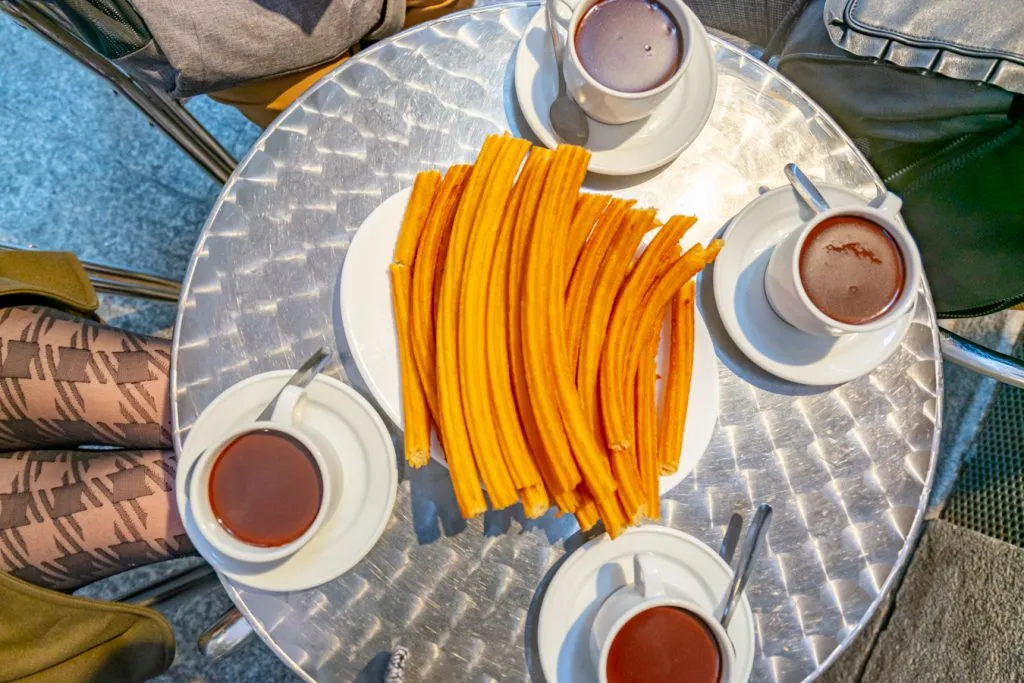 Enjoy a traditional zarzuela show with dinner.
Hoping to enjoy an evening show in Madrid but not sure if flamenco is your thing?
Consider this immersive opera and zarzuela show instead!
Featuring rave reviews and a memorable concept, this dinner theater is performed by the waiters themselves as they move through the crowd.
You can read a bit more about the history of the art form here–it reaches back for centuries.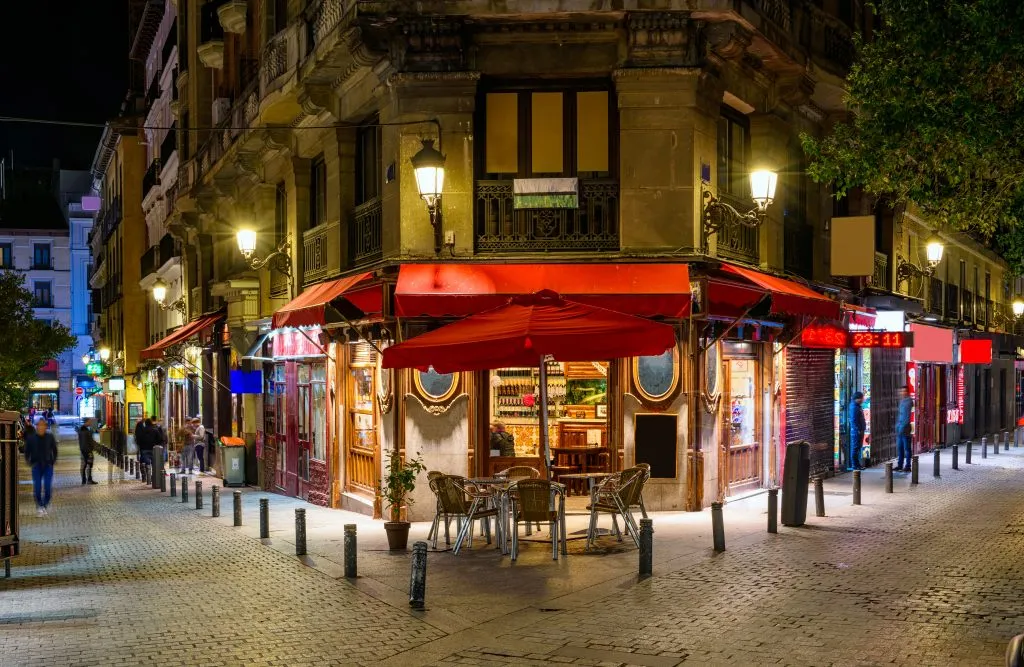 Wander through lively La Latina.
La Latina is one of Madrid's most vibrant, colorful neighborhoods to explore on foot–and that goes for the evening, too!
Whether you're looking for a tapas bar, a flamenco show, a cozy restaurant, or just a bustling place to meander through, La Latina is a wonderful (and centrally located) place to head.
We can highly recommend La Taberna de La Concha for delicious tapas in a very cozy atmosphere!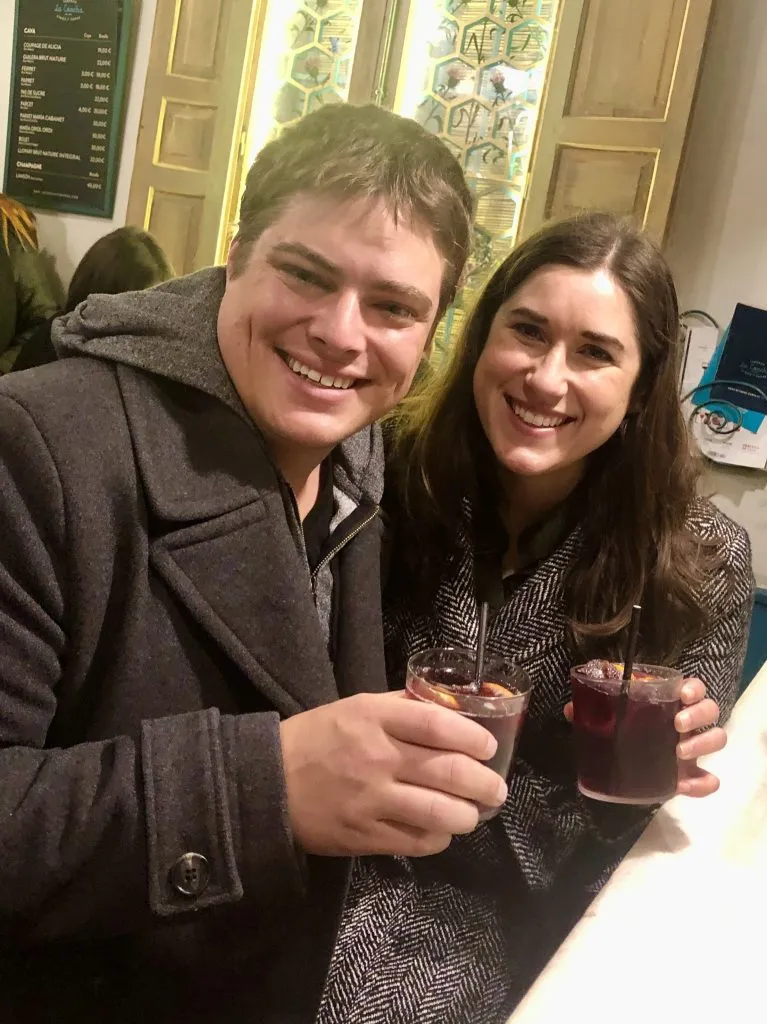 Dance the night away at one of Madrid's legendary nightclubs.
Madrid is famous worldwide for its over-the-top incredible clubs and nightlife scene, so if you're at all interested in going out on the town, this is the place to do it!
A few of Madrid's most famous clubs include the 7-story Teatro Kapital, Fabrik, and Teatro Barceló.
If you want to check out Madrid's nightlife scene, though, be prepared for something close to an all-nighter!
The clubs generally don't until midnight in Madrid, don't get bustling until a couple of hours after that, and don't close down until 6:00 AM or 7:00 AM in the morning.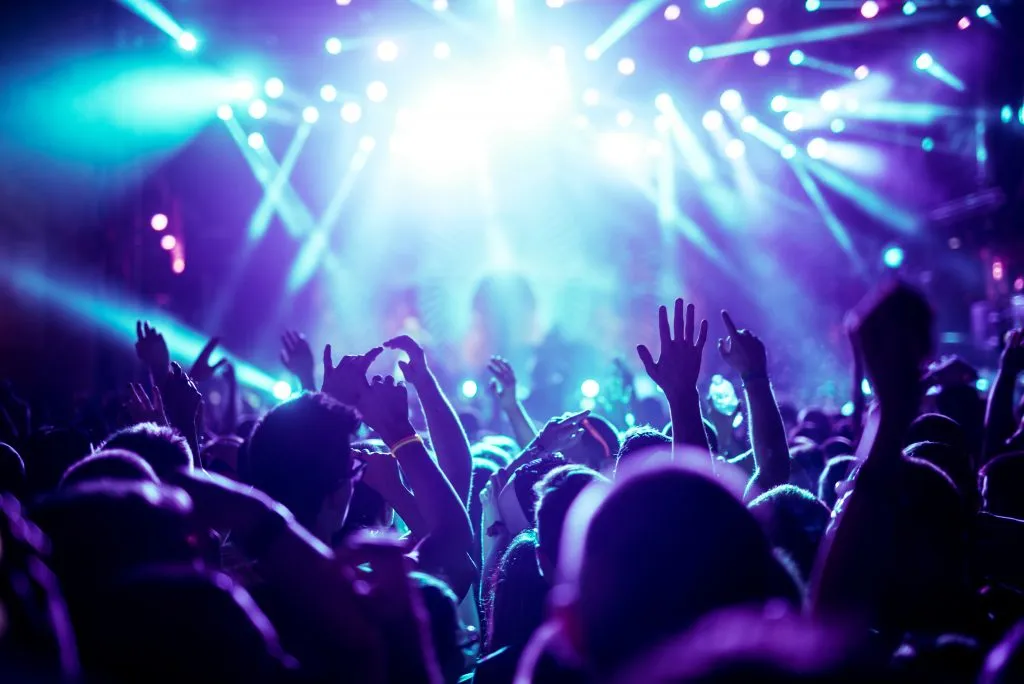 Tips for Enjoying an Evening in Madrid
"Night" in Madrid can last until dawn.
Madrid is famous for the fact that its nightclubs start filling up around the time when other cities start to close down–think 3:00 AM!
While not all of us are going to be dancing at 3:00 AM, though, the general example of how late the evenings run in Madrid influences everything else too.
Compared to most cities in Europe and North America, everything in Madrid happens later, from breakfast to arrival at work to dinner to nightlife.
Adapt to the flow of life in Madrid as much as you can during your trip (that does not need to mean 3:00 AM nightlife!), and you'll have a great time.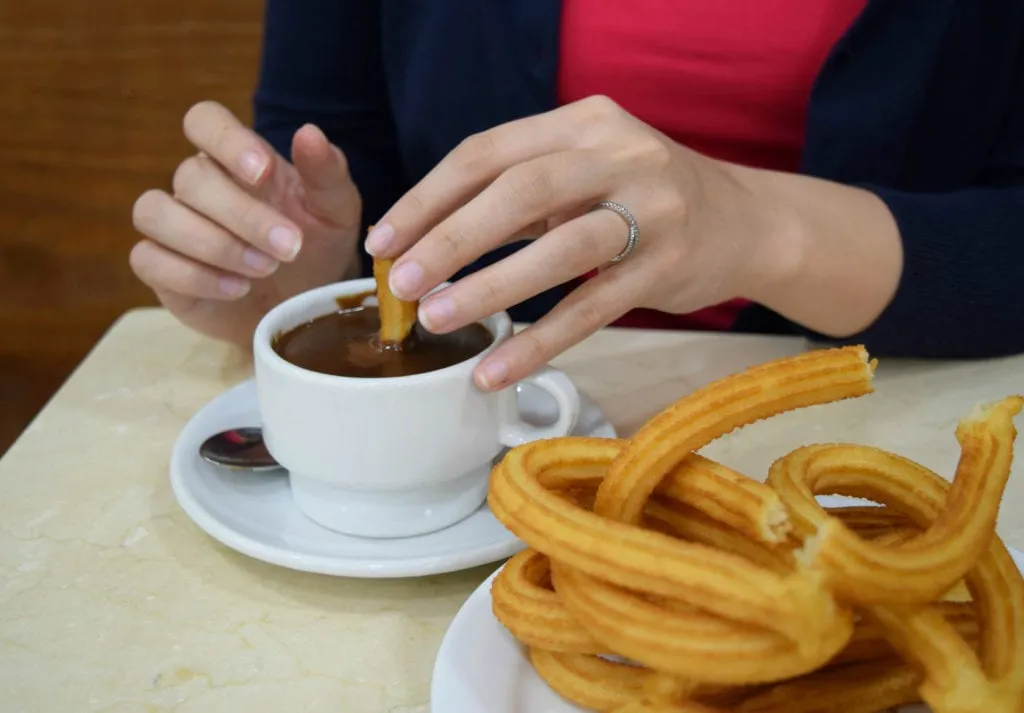 … but the metro does not.
Despite the fact that 2:00 AM is a perfectly reasonable hour to be out and about in Madrid–we have left the dinner table in Madrid after midnight before, and that's not abnormal–the metro doesn't run all night!
The metro technically closes at 2:00 AM, but the trains start making their last run (so leaving their first station for the final time that night) at 1:30 AM.
If you need a cab, FreeNow (like Uber but for calling official taxis) exists in Madrid.
We use the service all over Europe and it's very convenient.
Make dinner reservations (but don't plan to eat early).
Restaurant dinners in Spain tend to be both long and relaxed, and you'll have the best chance of getting a table at your preferred restaurant by making a reservation!
Expect the reservation to be late, too: many restaurants don't open until 8:00 PM or later, and a 9:00 PM or 10:00 PM reservation to start eating dinner is very common.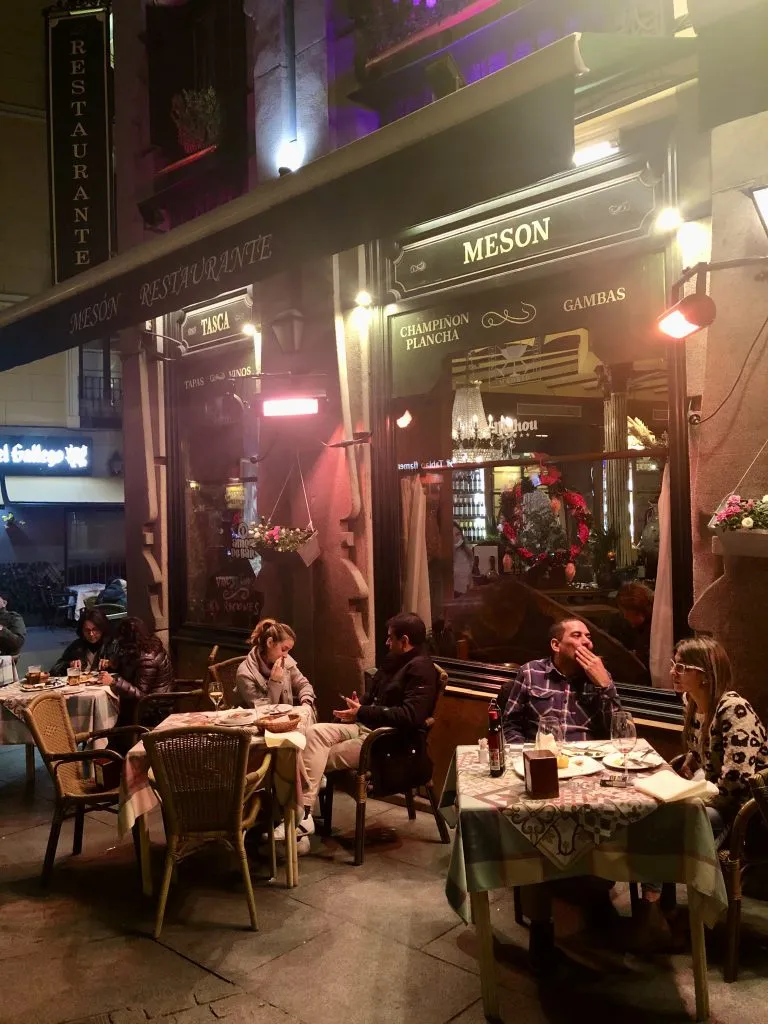 Madrid is generally a safe city, but take the usual precautions at night.
Though the city is generally quite safe and we go out at night in Madrid with no concerns, you'll still want to take all the normal safety precautions that you would in any major city.
In areas that are particularly popular with tourists, such as Gran Vía and Puerta del Sol, be sure to be vigilant when watching for pickpockets.
In general, follow all typical precautions as you explore the best things to do in Madrid at night: be aware of your surroundings, stick to populated, well-lit areas, don't get overly intoxicated, and ensure you have a safe route home.