Planning to spend 2 days in Athens and want to make the most of your time? This Athens itinerary is for you!
The chaotic Greek capital is a deeply interesting and exciting city–but it's not always a beautiful one, and its sprawled-out nature can make it a bit of an intimidating one.
We designed this 2 day Athens itinerary to help you make the most of your time in the city, which for so many people–including us–is their very first introduction to Greece!
Whether you're visiting only Athens itself on a weekend getaway or are using the city as a launchpad to the stunning Greek isles, this Athens itinerary will ensure you leave the city feeling like you've experienced an excellent taste of Greece!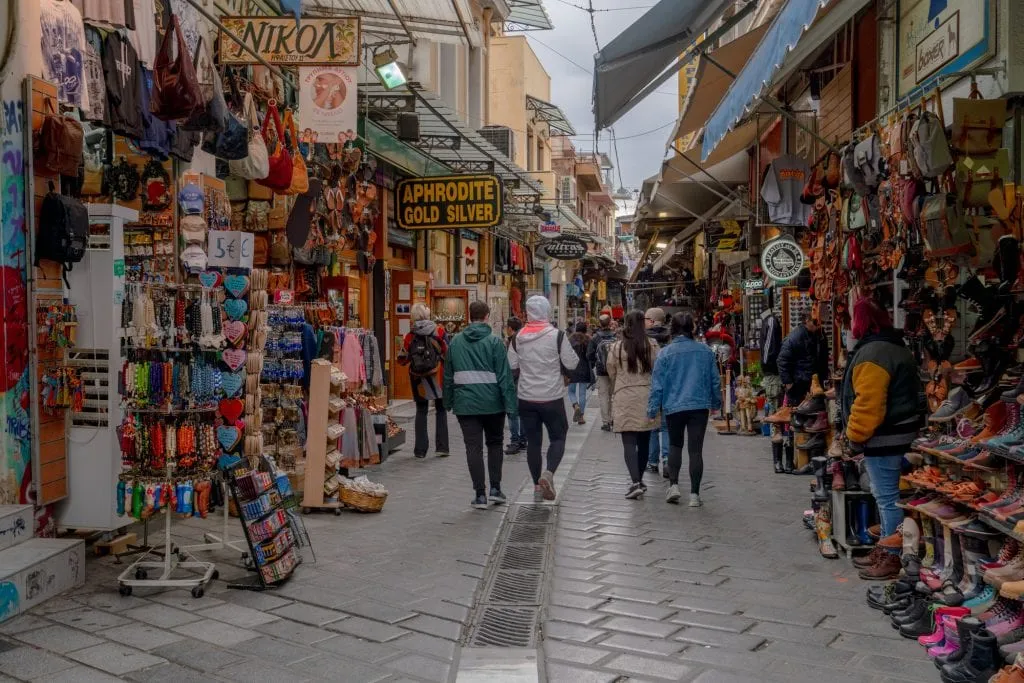 Some links in this post may be affiliate links. If you make a purchase through one of these links, we may earn a small commission at no extra cost to you. Please see our

disclosure policy

for more detail.
Day 1 in Athens: The Acropolis + More Ancient Athens & Syntagma Square
Map of Day 1 in Athens
Take This Map With You! Click each highlight to pull up the name of the destination. To save this map to "Your Places" on Google Maps, click the star to the right of the title. You'll then be able to find it under the Maps tab of your Google Maps account! To open the map in a new window, click the button on the top right of the map.
Start your morning at the Acropolis.
Athens' most famous archaeological site, without a doubt, is the Acropolis: home to the epic Parthenon among many other sites, the Acropolis is the perfect location to kick off your 2 days in Athens.
While you can certainly explore the Acropolis independently, I'll be honest: we really regret not booking a guided tour. The ruins are incredible, but we missed SO much context by not having a knowledgeable guide with us, and we fully intend to book one on our next visit.
In the summer, the sun and heat are also major factors that can impact your Acropolis visit–the entire hill is unshaded, so aim for an early-morning visit and bring a hat, sunscreen, and sunglasses with you.
Book your visit to the Acropolis today!

Prefer to beat the crowds and stay with a small group?

This popular tour gets rave reviews and includes first-entry tickets to the Acropolis to help you avoid the crowds?
Here are just a few of the incredible spots to check out at the Acropolis: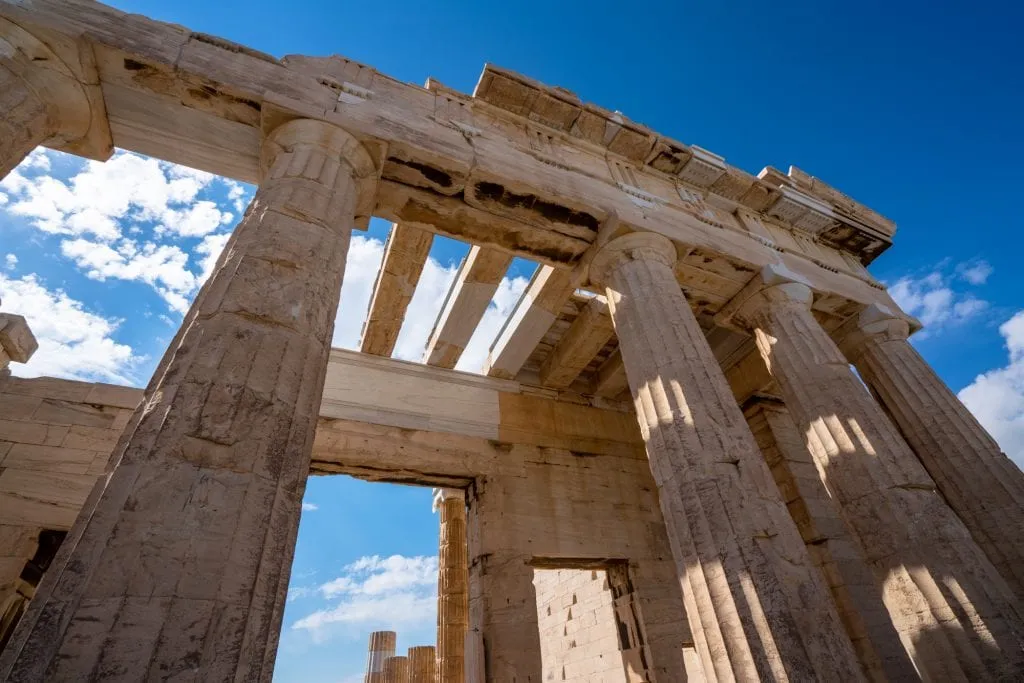 Propylaia
As the magnificent entrance gate to the complex, Propylaia is likely one of the first ruins you'll come face-to-face with during your visit to the Acropolis.
Parthenon
The most majestic and well-known temple at the Acropolis is, of course, the Parthenon.
Built approximately 2500 years ago in honor of the Goddess Athena, the Parthenon is one of the most famous Greek landmarks and an absolute can't-miss site during your 2 days in Athens.
Odeon of Herodes Atticus
Want to see a truly impressive open-air theatre that doesn't look a day over 100 (despite being 2000 years old)?
Check out the Odeon of Herodes Atticus on the southwest slope of the Acropolis.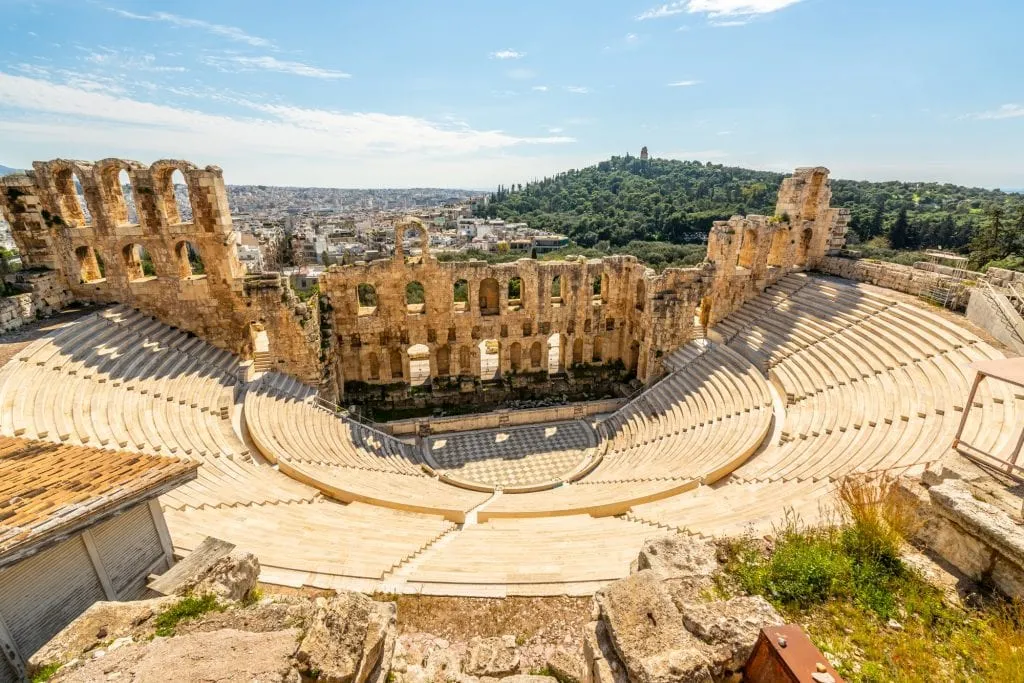 Temple of Athena Nike
Like the Parthenon, the gorgeous Temple of Athena Nike is also dedicated to the goddess Athena–in this temple, the version of Athena that is victorious in war is specifically being honored (fun fact: "nike" translates to "victory").
Theater of Dionysus
Considered to be the first theater in the world, the Theater of Dionysus is set at the foot of the Acropolis and is the perfect place to rest for a moment during your time sightseeing throughout the complex: you can sit on the steps here, allowing you to admire the theater from the same perspective that its audience members once did.
Areopagus/Mars Hill
There are two distinct reasons to visit Areopagus/Mars Hill, and they could not be more different: the first is for the incredible view of Athens itself–the size and breadth of the city are very obvious when admiring it from a perch on Mars Hill.
The second is for those interested in religious history: at this spot, beneath the looming Acropolis, the Apostle Paul is said to have given the sermon proclaiming that "The God who made the world and everything in it is the Lord of heaven and earth and does not live in temples built by human hands" (Acts 17:24).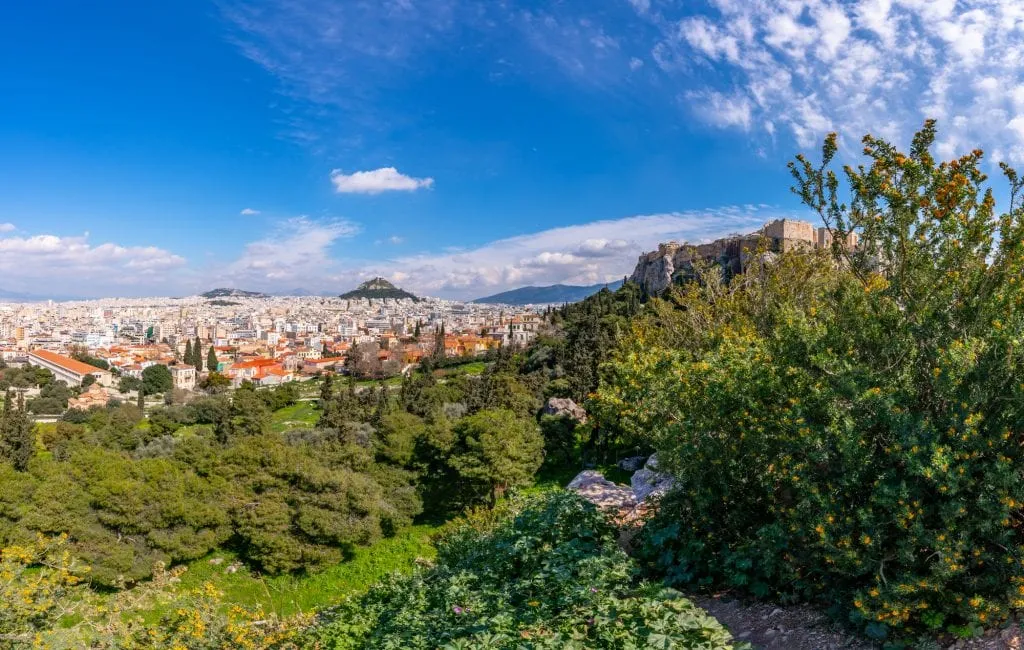 Make your way to Plaka for lunch (and to rest your feet).
Athens' central Plaka neighborhood is located right by the Acropolis and is known for its beauty as well as its plethora of restaurants, bars, and cafes.
Find a great restaurant and tuck into a delicious Greek lunch–we highly recommend starting with a Greek salad and ending with either some baklava or a serving of Greek yogurt with honey (one of my favorite desserts of all time!).
Visit the Temple of Olympian Zeus.
The remains of this once-imposing temple are not only impressive in their own right, they also boast a gorgeous view of the Acropolis in the background!
Sixteen of the original 104 columns of the temple are still present, which is enough to be impressive. Be sure to take note of the one that is fallen–though the Temple of Olympian Zeus was built around 2500 years ago, that column actually toppled during an earthquake in the 19th century!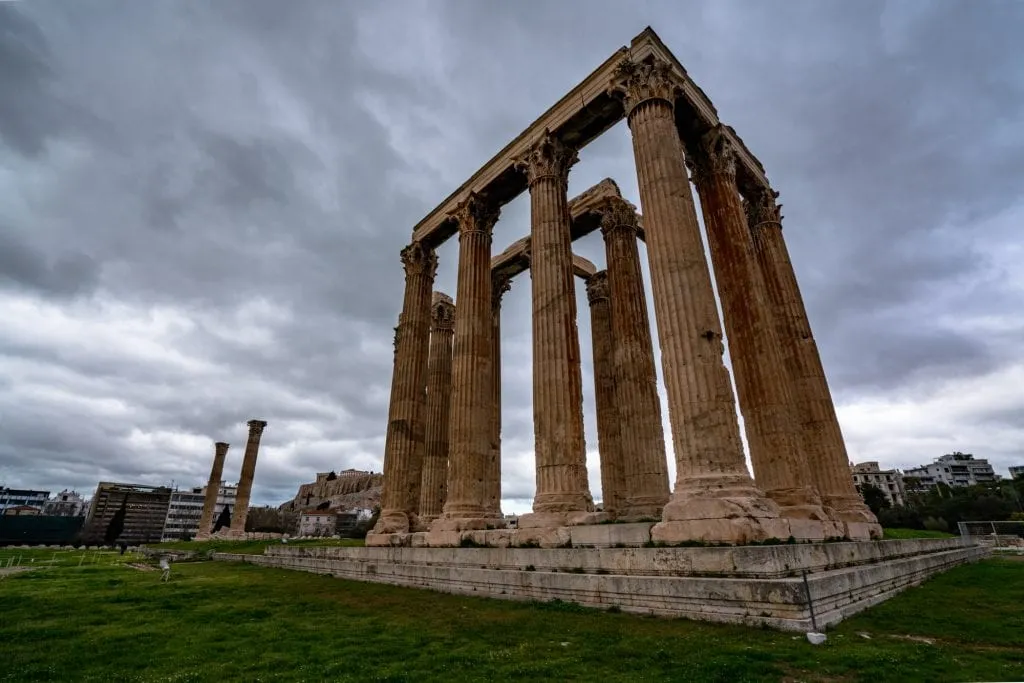 Check out Hadrian's Arch.
Built to honor the Roman Emperor Hadrian, Hadrian's Arch stands along what was once an ancient road that separated the center of Athens from the portion of the city that housed the Temple of Olympian Zeus.
One side of the arch holds the inscription "This is Athens, the ancient city of Theseus", and the opposite side is inscribed with "This is the city of Hadrian, and not of Theseus." How's that for a contradictory statement?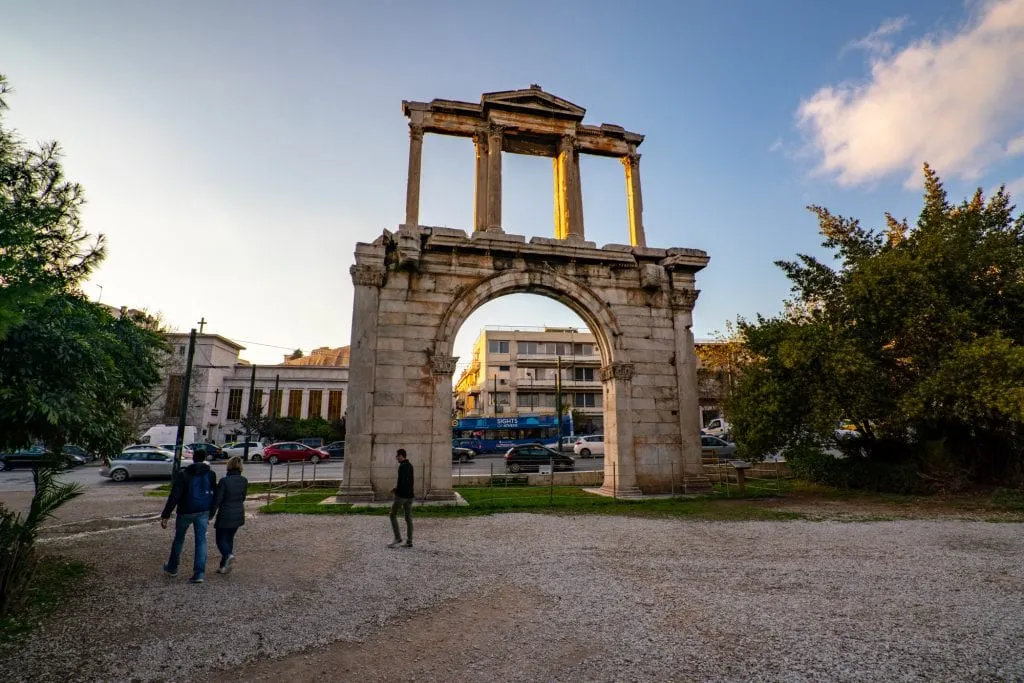 Visit Syntagma Square.
Athens' central square is a great place to stop by to orient yourself to the city (and if you're interested, there's a simple-but-cheap-and-tasty restaurant called Aspro Alogo a few streets away that we really enjoyed).
Syntagma Square is overlooked by the Greek Hellenic Parliament, where you can find the constantly-guarded Tomb of the Unknown Soldier. If you time your visit right, you can even watch the changing of the guard!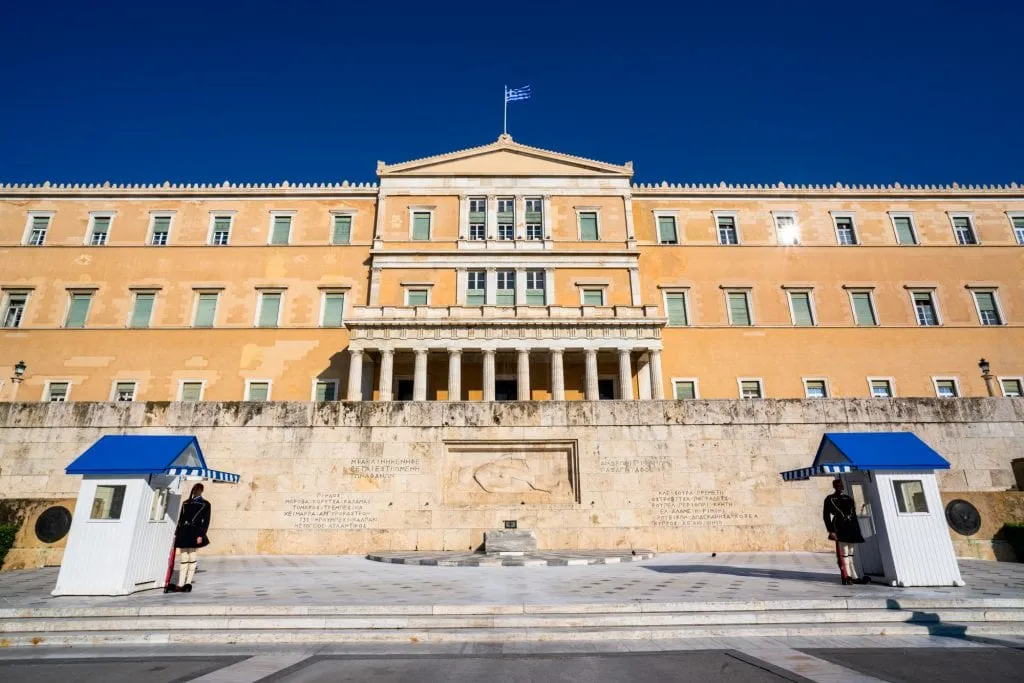 Wander through the National Gardens.
Athens' National Gardens are located directly behind the parliament building, are completely free to enter, and are a quiet and peaceful escape from the crowds you've likely experienced during your morning at the Acropolis.
Take your time wandering through the tranquil gardens, and eventually make your way to the exit located near the Panathenaic Stadium.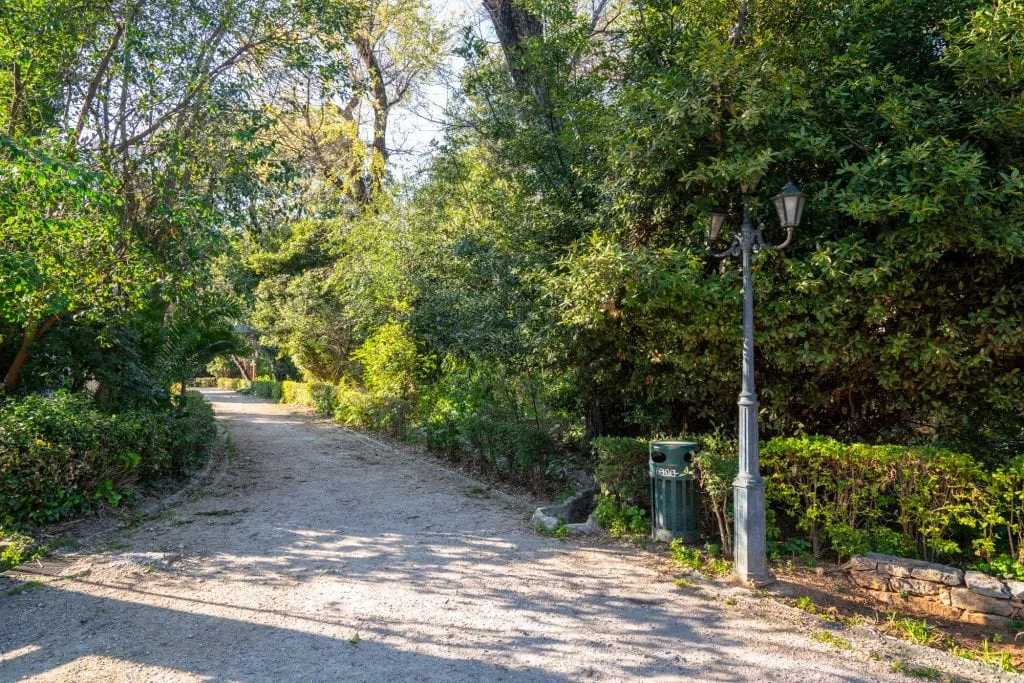 Step inside the Panathenaic Stadium.
Built entirely of marble and standing strong for more than 2000 years, the Panathenaic Stadium is quite impressive–and it was also the location of the first modern Olympic Games in the 19th century!
I love the idea of taking an ancient structure and repurposing it for (semi) modern times–but with a stadium as sturdy as the Panathenaic Stadium, it's easy to see how it stood the test of time.
Day 2 in Athens: Food, Cultural Sights & the National Archaeological Museum
Map of Day 2 in Athens
Begin your second day in Athens with a food tour.
We're huge proponents of food tours: not only are they an amazing way to taste lots of new, exciting, local foods quickly (and without the commitment of ordering an entire portion before knowing if you like it), they're a great way to get an overview of a cuisine.
Greek food is one of our favorite cuisines on the planet, and there's no better way to kick off your second day in Athens than taking a delicious food tour through the city.
We absolutely adored this Athens food tour. The food was delicious, the portions gigantic, the markets we visited interesting, and our guide Dorela was incredibly knowledgeable and charming–we finished our tour completely stuffed and utterly smitten with Greek food.
Book the same Athens food tour that we loved today!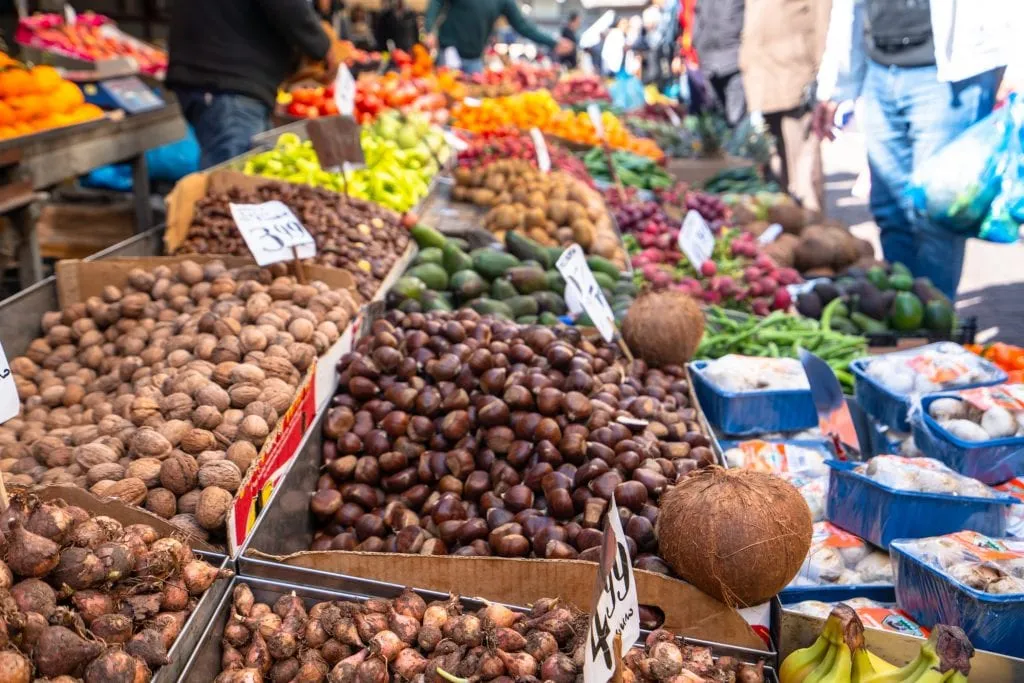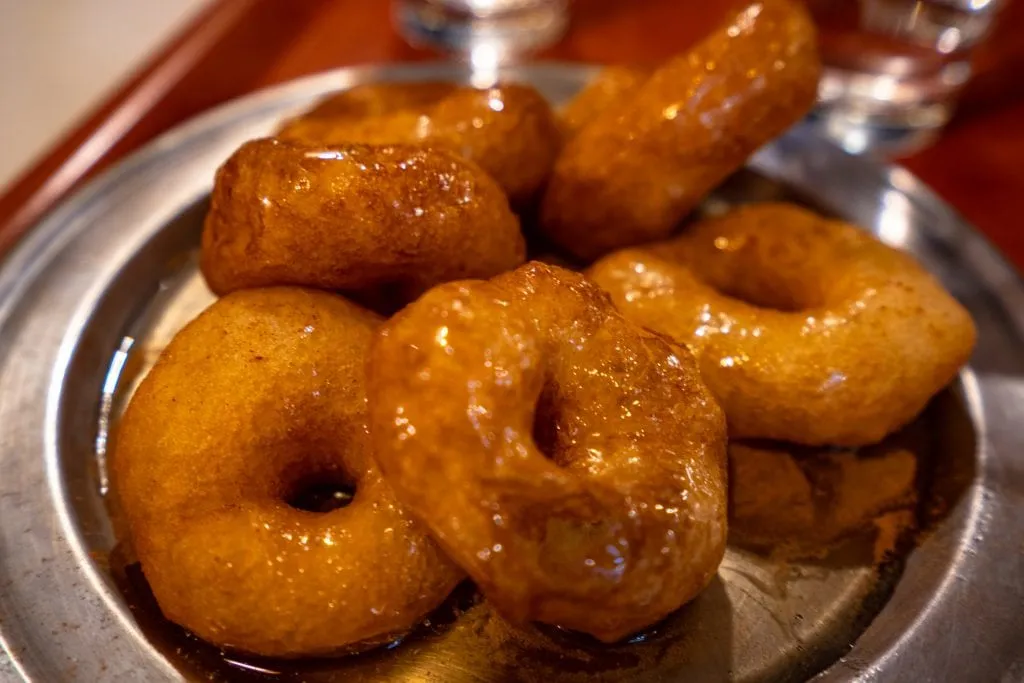 Check out Monastiraki Square.
If you spend your morning on the food tour we recommend above (seriously: it's amazing), you'll finish around midday in Monastiraki Square, which is the perfect place to start some independent exploring!
Whichever direction you turn in the square, you'll be greeted with the opportunity to turn down a compelling side street: whether you're interested in ancient ruins, a flea market, or more typical shopping, you're not far from it… and we'll cover several of those stops during the next part of this 2 day Athens itinerary.
Meander through the Monastiraki Flea Market.
If you're facing the Acropolis in Monastiraki Square and turn right, you'll be greeted with a sign welcoming you to the Athens flea market–and even if you're looking to buy absolutely nothing, we recommend turning this way.
These packed side streets are stuffed with photogenic shops selling everything from kitschy souvenirs to outdated electronics, and are a fantastic place to walk off your food tour gluttony.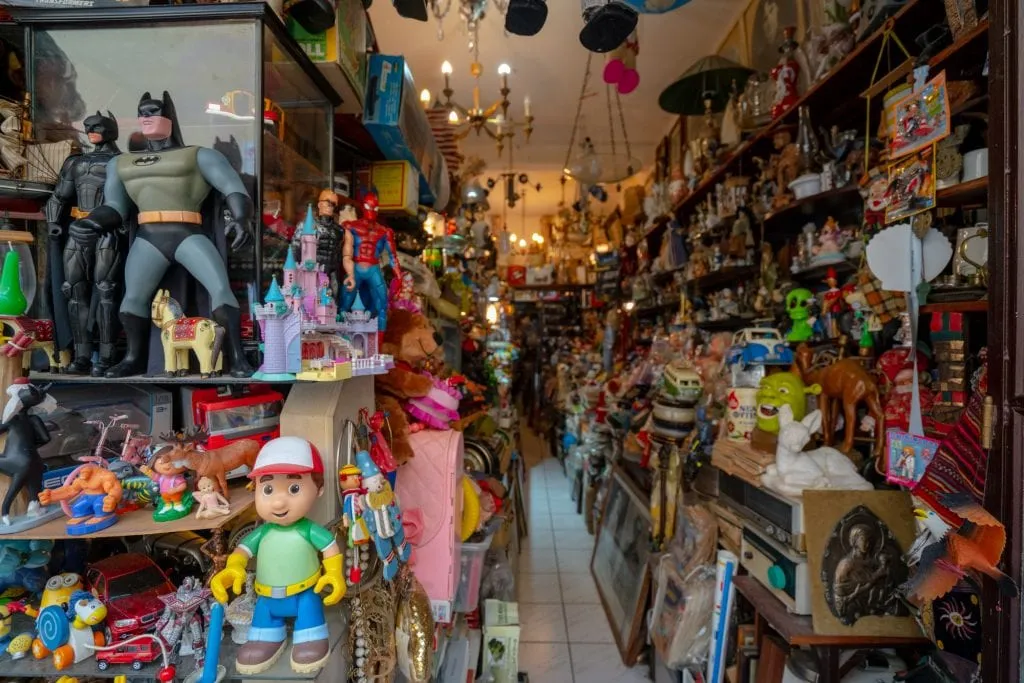 Pay a visit to the Ancient Agora.
As you make your way through the busy, hectic, Monastiraki Flea Market area, you'll arrive at the Ancient Agora–the thriving heartbeat of a much different version of Athens.
The Ancient Agora may look like a beautiful, peaceful, park-like setting now (and it is!), but in Ancient Athens, this was the bustling commercial center of the city, where markets thrived and people would meet to shop, relax, and gossip.
… And then the Roman Agora.
As the Roman Empire reigned in Athens, the original Ancient Agora was eventually overtaken by the Roman Agora located right next door–be sure to step forward a bit in time and pay a visit here during your 2 days in Athens, especially since it's so easy to access!
Duck inside Hadrian's Library.
For bibliophiles like us, it's impossible to wander past the ruins of an ancient library without stepping in: Hadrian's Library is located right off of Monastiraki Square and is an easy, quick, and beautiful set of ruins to check out that also happens to be completely enveloped by the modern city.
After the library was extensively damaged in the year 267, three churches were built on the site as well–the ruins of all four structures are now visible in the Hadrian's Library complex.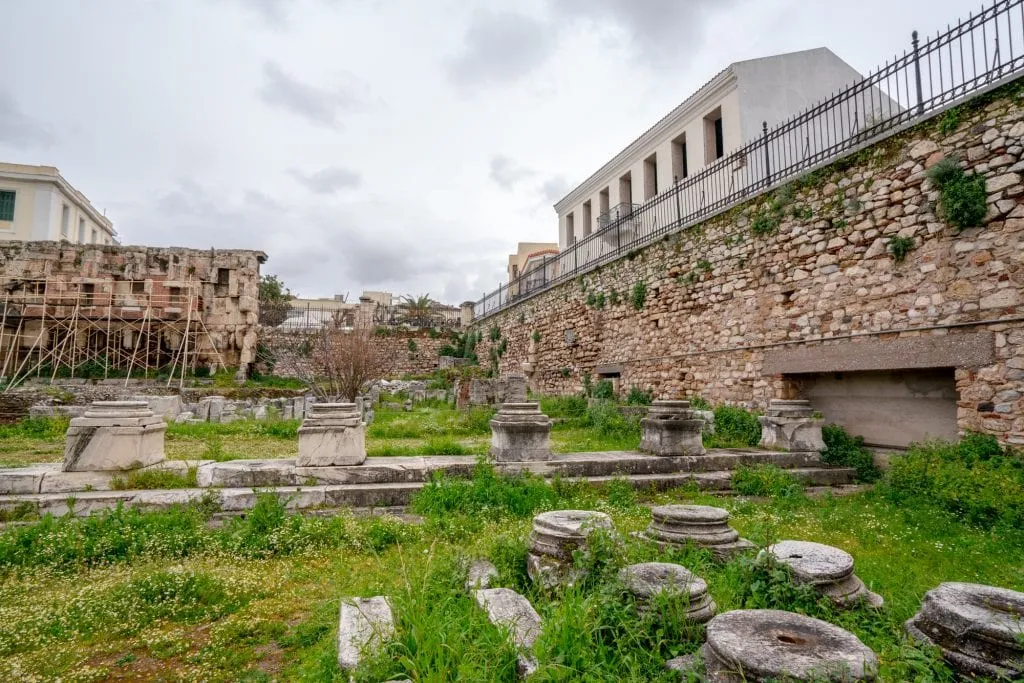 Wander along Adrianou Street.
As the oldest commercial street in Athens, Adrianou Street is the perfect place to explore slowly, enjoying the souvenir stalls, small shops, restaurants, and cafes that spill out into the streets.
If you want to rest your feet, consider grabbing a coffee at one of the cafes and people-watching as you sip your drink while sitting outside!
Head over to the National Archaeological Museum.
While we're hesitant to suggest too much museum time on this 2 days in Athens itinerary, especially since all of the ruins are essentially outdoor museums in and of themselves, the National Archaeological Museum is worth the visit and a great way to close out your trip to Athens.
We've repeatedly heard it said that this is the best museum in Athens, and after spending some time exploring their extensive collection of ancient Greek artifacts, we can see why.
Among other treasures, the original Mask of Agamemnon now calls the National Archaeological Museum home.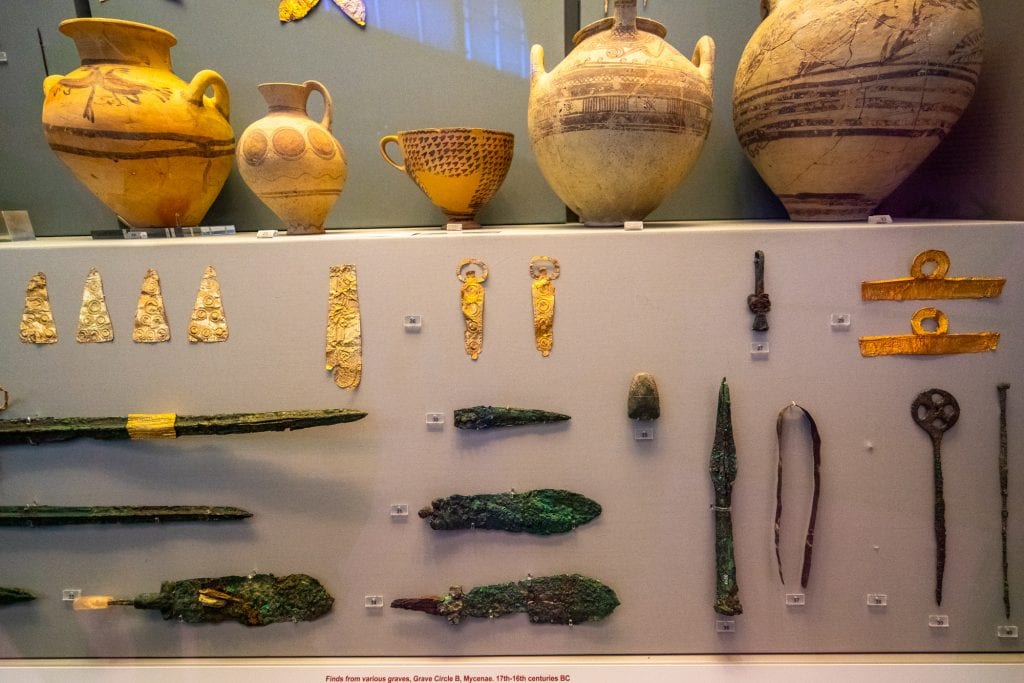 Where to Stay in Athens
Athens is an enormous, sprawling city–and while it is decently connected by public transportation in the center, choosing an excellent location to base yourself in during your 2 days in Athens can absolutely enhance your trip. Here are a few great options!
Budget
Bedbox Hostel — Looking to stay in the heart of Athens without breaking the bank? Bedbox Hostel, which gets rave reviews and offers both dorms and private rooms, is a great option.
Located just a short walk from Monastiraki Square, you can't ask for a better location to stay in during your 2 days in Athens.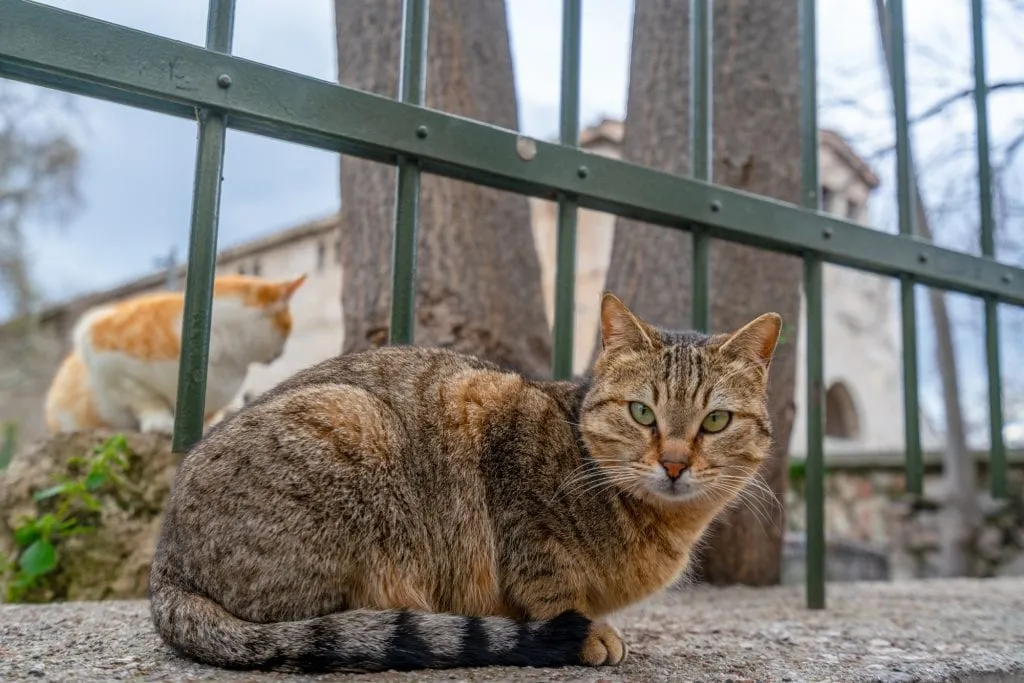 Mid-range
18 Micon Str. — With spacious rooms, an excellent location near Monastiraki Square, a fantastic included breakfast, and incredible reviews, a stay at 18 Micon Str. is sure to make your time in Athens incredibly comfortable.
Luxury
Electra Metropolis — If you want to treat yourself to a luxury hotel in Athens, it should definitely come with an epic view of the Acropolis–and Electra Metropolis delivers. Enjoy gorgeous rooms, a delicious included breakfast, an unbeatable location near Syntagma Square, and best of all, incredible rooftop views of the Acropolis as part of your stay at Electra Metropolis!
More Time in Athens?
If you have more than 2 days in Athens, the first thing we would suggest is to start looking into day trips from Athens: the Temple of Poseidon, Delphi, and a tour of the Saronic islands like Hydra are all popular ways to get out of town.
For an overnight trip, consider beautiful Naxos.
While Meteora is also best experienced as an overnight trip, if you only have one day to work with, you can also visit the epic monasteries as a (long) day trip from Athens.
If you'd like to spend more than 2 days in Athens itself, consider adding on more museums, such as the well-known Acropolis Museum or the Museum of Cycladic Art.
You can also head to the top of Lycabettus Hill for great views of the city, visit the Benizelou Mansion to see the only remaining Ottoman home in Athens, hunt down Athen's best street art, and, of course, and continue to indulge in massive amounts of Greek food, which is one of my personal favorite things to do in the city.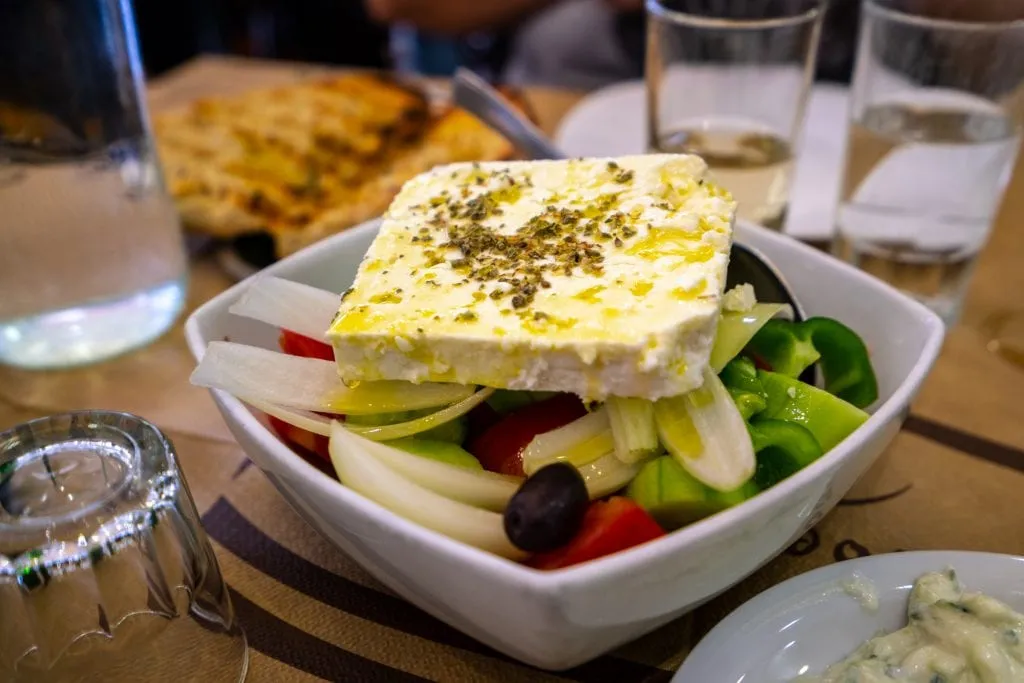 Getting Around Athens
While most of the locations outlined in this 2 day Athens itinerary can be reached from each other by foot, you'll likely need to use public transportation at least a few times while in Athens.
The metro system is clean, fairly efficient, and affordable at 1.4 Euros for a 90-minute ticket.
Alternatively, you can take taxis, which are also affordable (fares start at 1.3 Euros, and most rides we took were under 5 Euros for a 15-minute trip). However, we did have more problems with taxi drivers arguing with us about fares, using the meter, etc. in Athens than we have in most cities, so be on your guard. If you'd like to avoid negotiation, you can use Uber to hail a taxi in Athens, as the app is hooked up directly to the taxi network.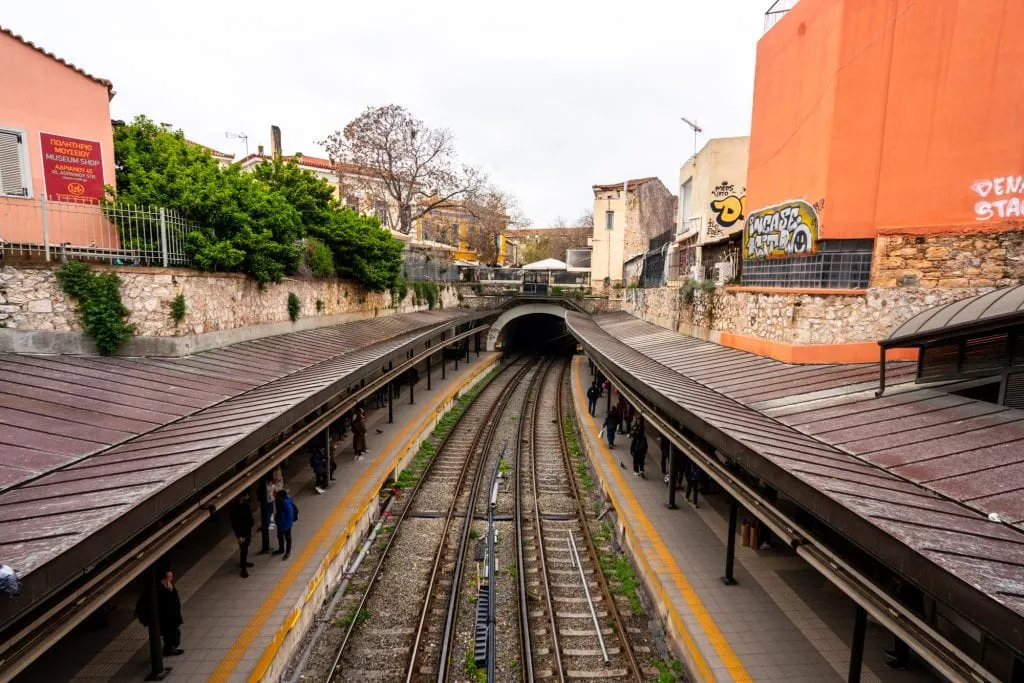 Getting To & From the Athens Airport
If you would like to take the metro from the Athens airport into the city center, the cost is approximately 10 Euros per person and takes about an hour once you board (but the trains only run every half hour).
Alternatively, the flat fare for taxis from the airport to the city center is 38 Euros during the day, but be sure to confirm the cost with your driver before leaving the airport (we had one driver who had a creative definition of "city center" that he decided to share with us 75% of the way through the ride). Driving into the city center from the airport takes about 45 minutes, depending on traffic and your exact location.
If you'd like to spend a bit less than the cost of a taxi and still avoid the hassle of figuring out the metro system as soon as you land in Athens, you can also book a shuttle bus to take you directly to the city center.
What to Pack for Athens
Travel Insurance — We don't ever suggest traveling without travel insurance–anything can happen, and this is definitely a case of better safe than sorry. We use and recommend Safety Wing for trips to Athens.
Pacsafe
 — We can't recommend our Pacsafe
enough: this travel safe is affordable, sturdy, easy to pack, and will help keep your valuables safe in your hotel room (not that you should need to worry much about theft in Greece, but it's better to be safe than sorry!).
Travel Adaptors for Greece — If you're coming from outside of Europe, you'll definitely need adaptors for your electronics.
Nalgene
— You're definitely going to want to carry water with you as you explore Athens (especially during the hot summer). Cut down on plastic waste and bring a reusable water bottle instead!
Travel Journal
 — If you want to keep a travel journal, but can't commit to a huge amount of writing each night, I can't recommend the One Line a Day Journal
 enough–I've been using it for more than a year now and adore it!
Money Belt — This is up to you: we no longer use one, but if you're more comfortable having your passports on your person during your 2 days in Athens, you can consider bringing one. We used to use this one
 and had no complaints. These days, we prefer just to leave valuables in our Pacsafe during the day.
Purell Hand Sanitizer
 — We've never been sorry to have this floating around in our day bag.
---