Beautiful, layered, historic Rome is one of our favorite cities in the world (and at this point, I'm pretty sure I've started at least half a dozen Rome blog posts in a similar way, but it's so true!), and it's a must-see for most visitors headed to Italy for the first time.
Like most cities with thousands of years of history and millions of visitors each year, though, visiting Rome also has its quirks–and that's where these Rome travel tips come in.
After spending months exploring the city, including our most recent trip in the summer of 2022, we've compiled quite the list of travel tips for Rome!
Here's what you need to know before visiting Rome for the first time.
Rome Travel Tips for Sightseeing
Don't try to see the Vatican Museums and Colosseum on the same day.
It's an absolutely exhausting endeavor, and won't leave time for seeing much of anything else that day in Rome!
If you only have one day in Rome, we recommend touring one of the two and seeing the other from the outside.
It's easy and simple to walk through St. Peter's Square or admire the Colosseum from the outside!
Add at least one offbeat attraction to your Rome itinerary.
The well-worn path from the Colosseum to the Roman Forum to the Trevi Fountain to the Spanish Steps to St. Peter's Square is one that we absolutely love and highly recommend to visitors heading to Rome!
But, in a city as layered and beautiful as this one, it pays to step off the beaten track a couple of times, too.
Even if you only have a short trip to Rome planned, make sure you head to a lesser-known spot at least once during your stay.
For example, Palazzo Doria Pamphilj is one of our favorite museums in Rome and is just a 15-minute walk from the Colosseum–but it has only the tiniest fraction of the crowds.
Galleria Spada, the top of the Altar of the Fatherland in Piazza Venezia, and Galleria Sciarra are a few other tried-and-true quiet corners of Rome we love that are easy to access from the most popular spots in the city.
We have plenty more suggestions for getting off the beaten path in Rome here!
Book tickets and tours for popular attractions in advance.
One of our favorite travel tips for Rome is to virtually always book either a tour or skip-the-line tickets before arriving at popular attractions.
This is most important at the Colosseum, the Vatican Museums, and the Galleria Borghese.
And, in a post-2020 world, it's practically mandatory: all over Europe, cities are experimenting with keeping reservation requirements for popular attractions.
It requires a bit of extra planning but honestly makes for a better experience, too.
We book virtually all of our tours and tickets for Rome through either Walks of Italy or Get Your Guide, and highly recommend both companies.
Don't forget about dress codes when sightseeing in Rome.
Many places in Rome, including St. Peter's Basilica and the Pantheon, have a dress code that is enforced–namely, that your shoulders, knees, and cleavage should be covered.
If you're visiting Rome during the hot summer months, the easiest way to make sure you're always ready to enter churches in Rome is to wear a longer dress or pair of long shorts/light pants on days you might want to visit religious sights.
Then, throw a light scarf in your day bag and you're good to go.
If you forget a scarf, though, don't worry–there are always salesmen ready to sell you one as you line up to enter St. Peter's Basilica!
Consider taking a tour of the Vatican Museums.
We've visited the Vatican Museums both independently and with a tour, and the context gained with a tour is truly incredible.
If you have the time and budget for it, one of our best travel tips for Rome is to book a Vatican Museums tour for either the early morning (before the museums open to the public!) or on a Friday night between April and October (the museums don't have Friday evening hours during the low season).
If you prefer to explore independently but still want to avoid the crowds, you can book skip-the-line tickets for those special hours, too.
We took this Friday evening tour of the Vatican Museums and absolutely loved it!
… and the Roman Forum.
Most tours will cover both the Colosseum and the Roman Forum, of course, but while having a tour guide for the Colosseum is a nice addition, it's the Roman Forum where a guide can truly make the location come to life in a way that's hard to do independently.
That's especially true if you don't already have extensive knowledge of Ancient Roman history!
We took this tour and absolutely loved it, and this one gets amazing reviews as well.
Book your tour of the Colosseum + Roman Forum today!
When planning your Rome itinerary, keep museum closures in mind.
When reading through travel tips for Rome (as well as other Italian cities) and planning your itinerary, keep in mind that many museums in Italy close on one day of the week.
The Galleria Borghese, for example, is closed on Mondays, and the Vatican Museums (naturally) are closed on Sundays, with the exception of the last Sunday of the month, when it has free entry and is open until 2:00 PM (the ticket desk closes at 12:30 PM).
The Colosseum is open daily.
Be vigilant when watching for pickpockets.
Rome is infamous for its pickpockets, and while the same general rules you should use in any crowded, large city apply to keep yourself safe, there are a few places you should be extra vigilant.
When you're near the Colosseum, Trevi Fountain, Spanish Steps, Piazza del Popolo, and St. Peter's Square, be very cautious!
Though it's not entirely necessary, we love the peace of mind that our anti-theft backpack brings as we explore.
Taking a day trip to Pompeii or the Amalfi Coast from Rome is hard, but not impossible.
We really only recommend it if you really, really want to see those locations, are too short on time in Italy to do an overnight trip, and book a tour through a well-reviewed company that will handle logistics for you–this tour from Walks of Italy gets rave reviews.
… but there are plenty of other day trips from Rome to consider taking!
Consider hitting the beach at Santa Marinella, perusing the ruins at Ostia Antica, admiring the beautiful hilltop village of Orvieto, or even paying a quick trip to Florence.
We've rounded up some incredible Rome day trip ideas here.
Tips for Eating in Rome
Restaurant reservations are the norm in Rome, especially in the evening.
Romans love reservations, and popular places do fill up, especially in the evenings.
If you have your heart set on a visiting particular restaurant or rooftop bar when traveling in Rome, give them a call to make reservations a few days in advance (or have your hotel concierge help you if you prefer).
Don't have reservations and want to give yourself the best shot at getting a table?
Show up as soon as the restaurant opens for dinner (usually at 7:00 PM or 7:30 PM).
Get your stomach on Roman time.
Generally speaking, we've found that Romans tend to eat later in the day than North Americans.
Here's a vague schedule to keep in mind:
Breakfast of coffee and pastry at the bar when you wake up (pretty flexible, the bars will stay open through the day, though the best pastries can go early-ish).
Lunch between 12-3. Aperitivo between 5-7.
Restaurants open for dinner from 7:30–occasionally 7. They'll really start to fill up around 8:30-9.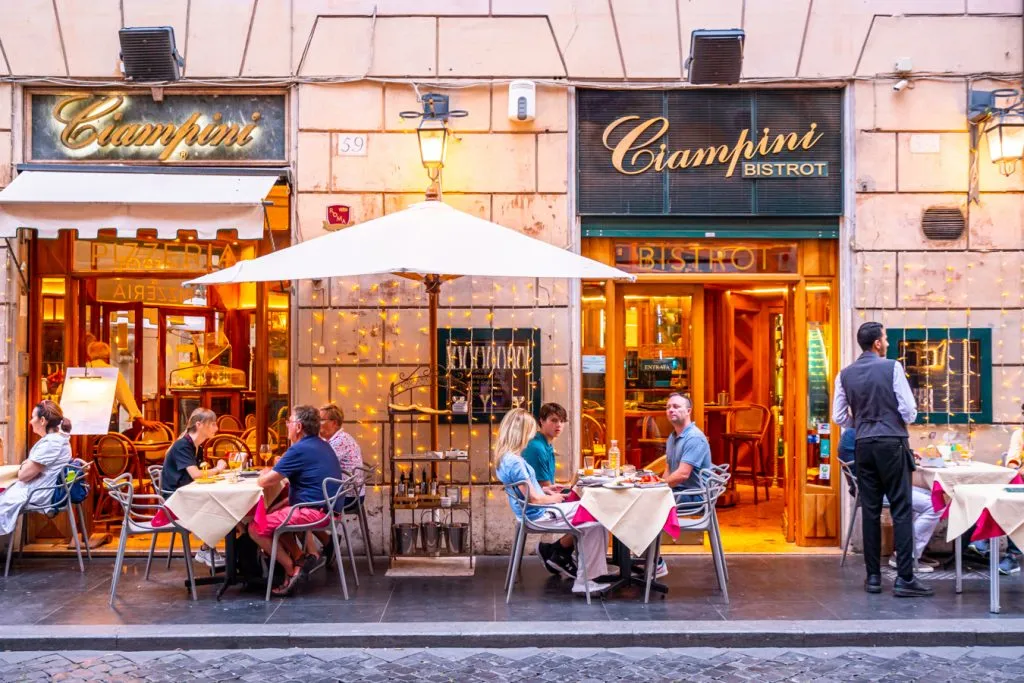 Be sure to try at least a couple of the best pastas in Rome.
Rome is absolutely packed with delicious food, but if you're looking for the most traditional pastas in Rome (and in our totally biased opinions, some of the best pasta in all of Italy and therefore all of the world), look no further than the four dishes.
Carbonara, pasta alla gricia, amaracitiana, and cacio e pepe are all absolutely sublime.
We don't consider a trip to Rome complete unless we've at least sampled a few bites of each!
… and if you're there in the right season, artichokes.
Artichokes in Rome are prepared in two traditional styles: Roman-style and Jewish-style.
Both are delicious, but you'll need to visit Rome in the winter to catch them on menus.
They are an extra-special treat if you happen to be visiting Rome during the low season!
If you see an omelet for sale in Rome, you're at a tourist restaurant.
Breakfast in Rome consists of coffee and maybe a pastry (a cornetto cioccolato is a delightful treat, take advantage of it), consumed standing at the bar and not sitting down at a table.
We have a full guide to coffee culture in Italy here!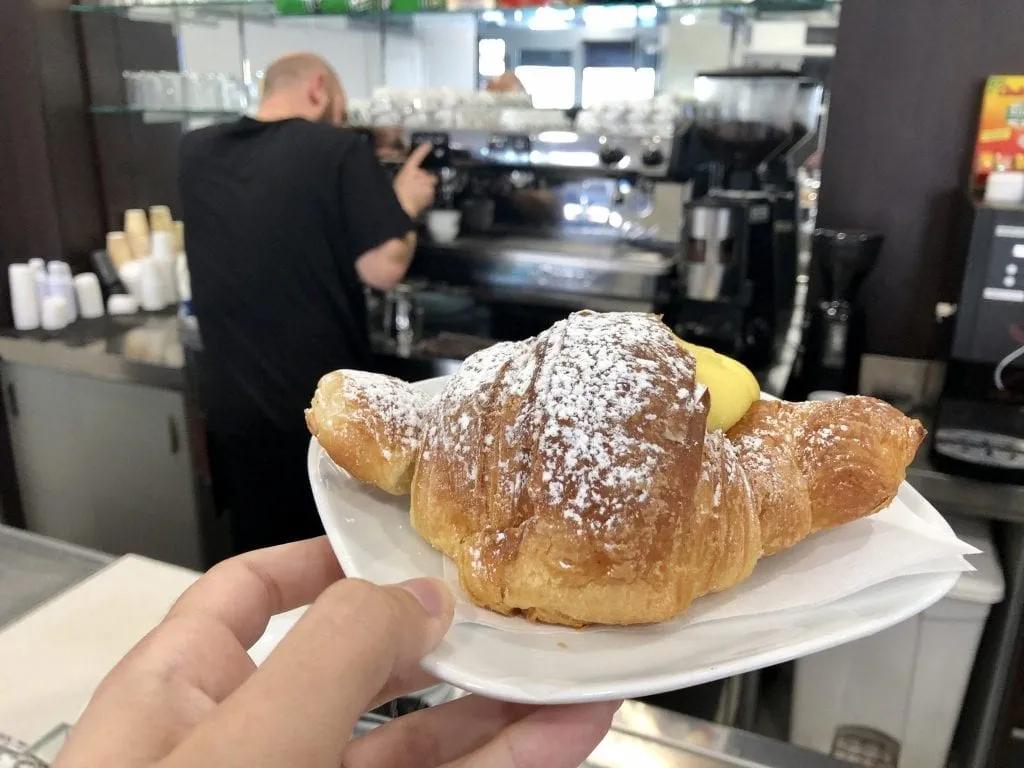 A solid rate for a shot of espresso at the bar in Rome is 1 Euro.
You can easily find espresso for .80 or .90 Euro outside of the tourist zones, though.
Up to 1.2 Euro is acceptable (at least to us) depending where we are and exactly how badly we want coffee at that moment, but if the price is higher than that, we move on.
Of course, these figures are only when you take your coffee standing at the bar–if you sit at a table, it can easily be twice as much!
Don't be afraid to fill up at the water fountains!
The beautiful water fountains that you see all over Rome (and Italy in general) contain potable water.
Bring a reusable water bottle along with you as you explore Rome and fill up for free as you go.
Travel Tips for Getting Around Rome
The metro is useful, but it doesn't go everywhere.
Rome's metro is notoriously limited for a major European city, with very few lines.
This is due in part to the fact that every time they try to build another line, they keep finding more interesting things underground.
That being said, it is extremely useful for getting around Rome, and if you stay near a metro stop (which we highly recommend as part of this Rome travel tips post), you'll no doubt use it regularly.
You can use tap to pay on the metro.
We saw this for the first time in 2022 and loved it!
Now, if you have tap to pay installed on your phone, you don't need to purchase metro tickets separately when traveling Rome.
Simply tap to pay at the turnstile itself, and you're good to go!
We also saw this rolled out in Milan on the same trip–definitely a huge timesaver.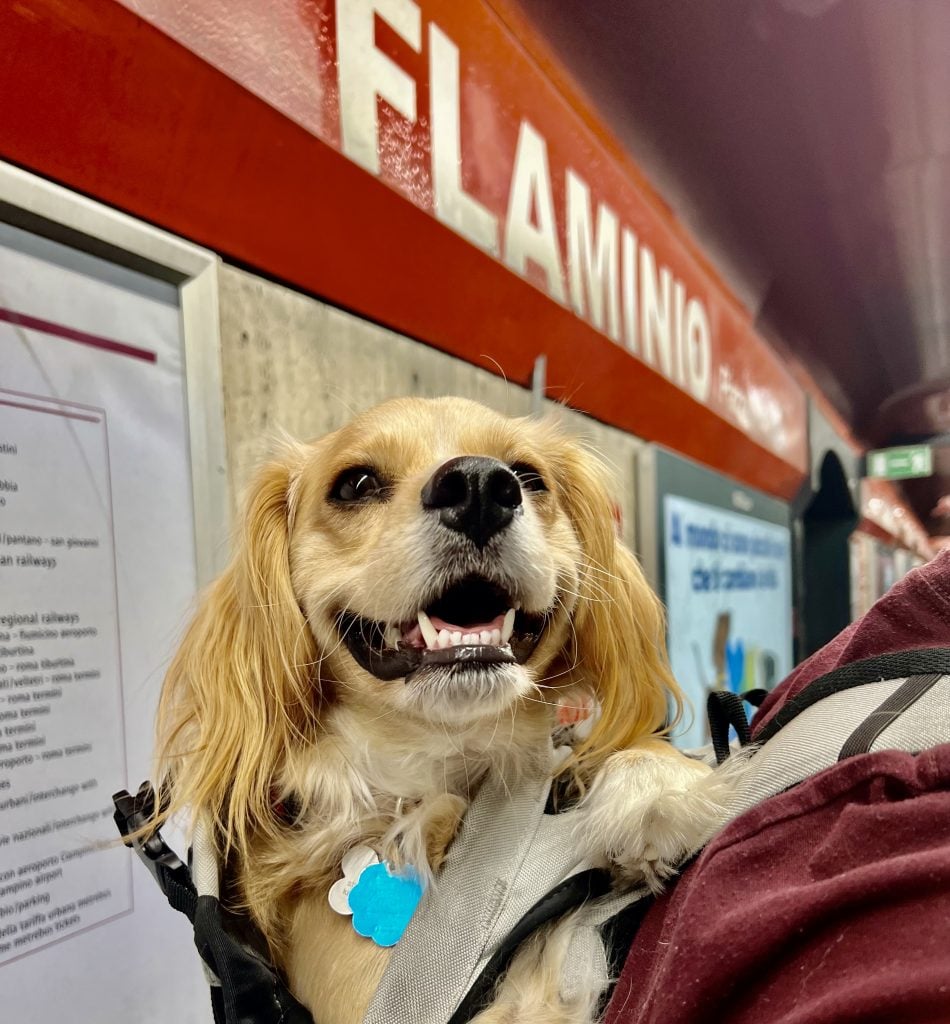 The metro doesn't reach many places in Centro Storico.
There's a stop at the Colosseum, the Spanish Steps, and fairly close to the Vatican, so the metro is certainly useful for sightseeing!
… But if you're not staying in the heart of Centro Storico, there's a good chance you'll have a bit of a hike in and out.
FreeNow is the local taxi app to use to hail taxis.
FreeNow has recently gone through a name change (we originally started using it when it was named MyTaxi), but it's still incredibly useful.
Similar to Uber, it hails taxis and arranges a set price, taking the hassle out of negotiating with taxi drivers.
We use it regularly on trips to Rome (and many other places in Europe).
Avoid driving in Rome if at all possible.
It's truly, truly not worth the headache.
Buy bus tickets before boarding.
Unlike in many cities, you can't buy bus tickets onboard in Rome.
Pick them up at your local tabacchi before you get on, and you'll be good to go.
If your trip to Rome includes a Sunday, be sure to buy enough tickets to get you through it, because you might not be able to buy more if the tabacchi is closed.
The Leonardo Express is the easiest way to get from Rome's FCO airport to Roma Termini.
Roma Termini is Rome's major, central train station, and the Leonardo Express train will deliver you comfortably right from the airport to the center.
However, it's not the cheapest way to get into Rome!
Group bus transfers like this are less expensive but take longer.
Paying for Things in Rome
Always carry cash.
While most major tourist attractions and popular restaurants will take card, you never know when you'll roll up to a cash-only restaurant or tourist attraction.
Plus, in Rome, small purchases like coffee and gelato are virtually always handled in cash.
Be sure to always carry Euros with you!
Rome doesn't have a coperto. Sort of.
An Italian coperto, or cover charge, is expected at restaurants across Italy… except in Lazio, the region where Rome is.
However, Roman restaurants have taken to having a "pane", or bread, charge that covers a very similar purpose.
The fee is usually 1-3 Euro per person, and we go over more details about copertos in Italy here.
If you'd like to avoid the charge in Rome, you can ask for the bread to be removed from your table–that works sometimes, but so does giving into the delicious carbs and enjoying more food in Rome!
… and if there isn't one, consider leaving a small tip.
A 5-10% tip for exceptional service is always appreciated (but absolutely not required), especially if there's not already a coperto being charged.
However, the typical US norm of a 15-20% tip is way too much and absolutely not expected.
You don't need to tip your taxi driver.
However, if you feel the driver provided good service, it's the norm to round up to the nearest Euro.
So, if the fare came to 19.50 Euro, it's not unexpected to hand the driver a 20 and not request change.
Hotel + Apartment Travel Tips for Rome
Centro Storico is the most central place to stay in Rome.
The biggest benefit of staying in Centro Storico when traveling to Rome is–quite obviously, perhaps–its central location.
If you'd like to stay within an easy walk of highlights like the Spanish Steps, you'll very frequently end up staying in Centro Storico.
Of course, the downsides to that are that the area can be quite crowded and expensive!
… but Trastevere is also incredibly popular.
Touted for decades as an "offbeat" neighborhood in Rome, the Trastevere of today is incredibly popular… but without the same volume of hotels to stay in as in Centro Storico, so it can often be difficult to find a great deal on a place to stay.
If you're staying further out, check for metro stops near your hotel.
Of course, Rome has plenty of neighborhoods to stay in, including Monti (student-centered and fairly central), Prato (located beyond the Vatican and one of our favorite places to stay in Rome), Testaccio, and more.
One of our favorite Rome travel tips is to not be afraid to look further out than Rome's most central and famous neighborhoods, especially if you're looking to save money.
However, if you're not staying within walking distance of major sights, be sure that your hotel or apartment is near a metro stop!
… and you'll need to pay the tourist tax.
These tourist taxes are paid to your hotel or Airbnb, and are calculated per person, per night of your stay when traveling in Rome (or most other major European destinations, for that matter).
They're typically not included in pre-booked rates and are generally expected to be paid in cash.
You can read a bit more about them here if you'd like to know your exact rate before starting your Rome vacation.
Leaving your room key at the hotel is common.
It's not done 100% of the time, but it's a very common practice when visiting Rome (and Italy as a whole) to drop your key off at the front desk as you head out for the day and to pick it up when you come back to the room.
Your passport information will be taken when you check-in.
Generally, your hotel will either make a copy of your passport or take a photo of it.
This is very normal and done for tax purposes, so remember these Rome travel tips when you check-in and don't stress about it!