September 18, 2018
2 Days in Rome: The Perfect Itinerary
Italy
Here's the thing about Rome: whether you're spending 2 days in Rome or 2 weeks, you will 1) never run out of things to do, and 2) have plenty of time to see the highlights.
While it's true that Rome is chock full of enough things to do (and eat) that it can occupy a traveler for as long as they have to stay, Rome is actually a very easy city to get an overview of on a short trip. Its main attractions split very cleanly into a 2-day itinerary, making it easy to see Rome's most famous and incredible spots very quickly.
Planning a short trip to Rome, particularly as a first timer to the city? Check out our 2 days in Rome itinerary!
This itinerary intentionally moves at a somewhat leisurely pace, both because we strongly believe it makes cities more enjoyable not to overwhelm yourself, and because Rome is so often the first stop on an Italy trip–it would be terrible to get burned out at your first destination.
Plus, this is Italy, and Italy moves at a somewhat leisurely pace overall: best to embrace it immediately! When in Rome, right?
P.S. — Don't forget to pack some comfortable walking shoes! With this Rome itinerary, you'll need them.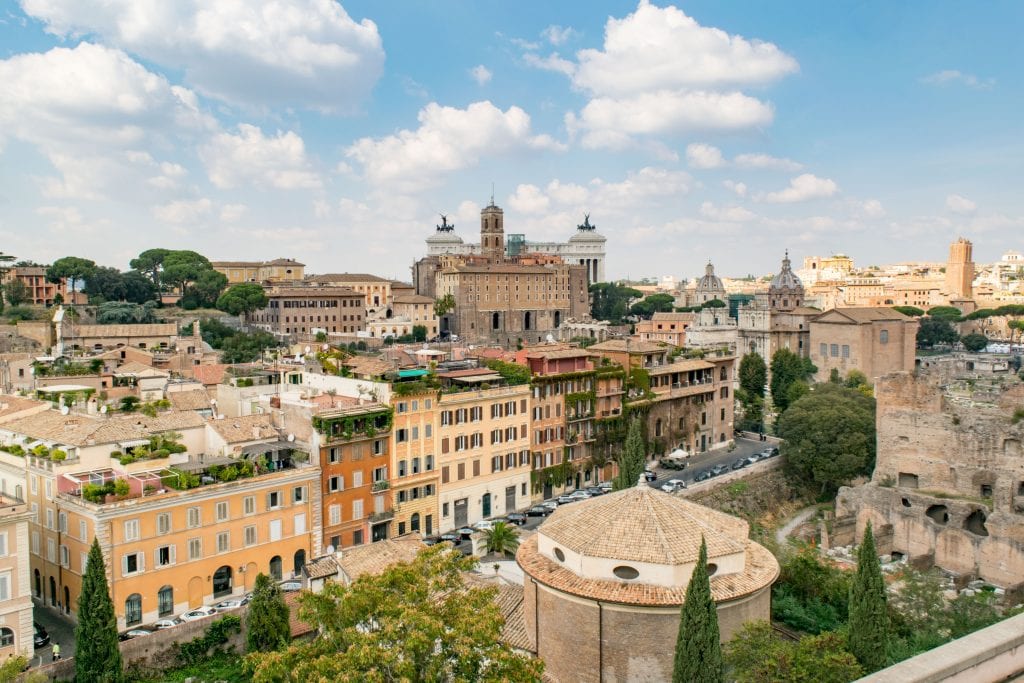 2 Days in Rome Itinerary
Day 1 in Rome
Start with the Colosseum.
First things first: you've come all this way to Rome, and you want to see its most iconic sight ASAP, right?
After ducking into a bar (aka coffeeshop) for a traditional Italian breakfast of a cappuccino and a pastry, head directly to the Colosseum to soak in some incredible history!
It's impossible to get lost heading here–take the metro to the stop marked "Colosseum", and it will practically smack you in the face as you walk out of the station.
On a short trip to Rome, we would definitely recommend purchasing a tour in order to skip the line: on a longer trip, you may prefer to pocket the cash instead, but with only 2 days in Rome, time is of the essence!
Shop inexpensive skip-the-line tickets to the Colosseum here!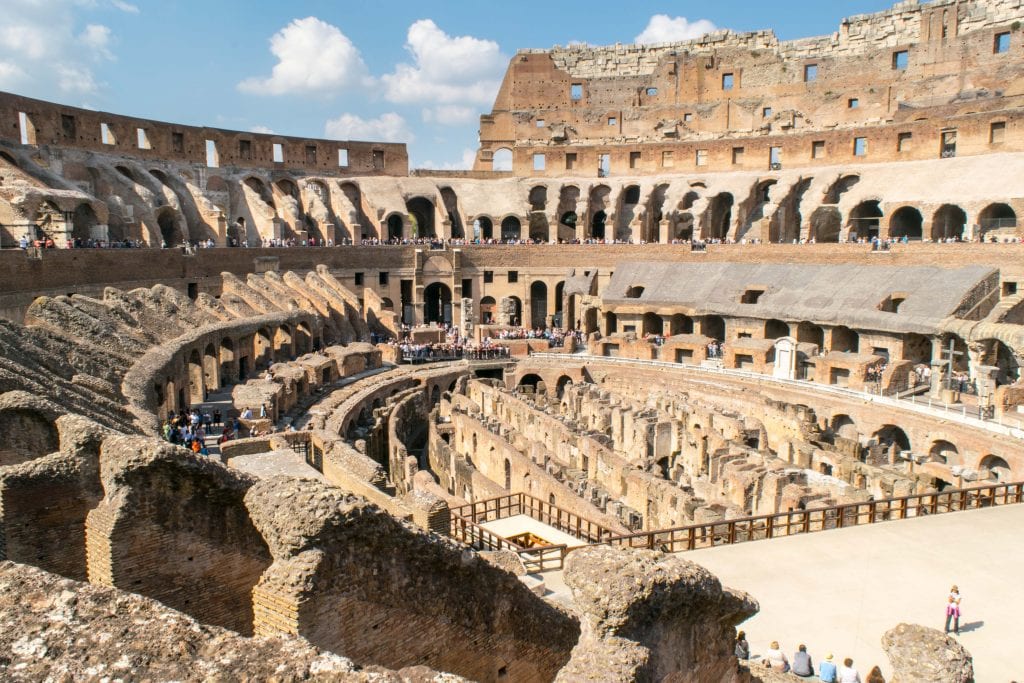 Make your way over to the Roman Forum.
Right next door to the Colosseum sits the impressive Roman Forum!
We were blown away by how big the forum was–walking through it, it was fun and surprisingly easy to imagine what it must have looked like in all of its glory during the height of the Roman Empire.
Climb Palatine Hill.
Within the complex of the Roman Forum sits Palatine Hill, where a short climb will reward you with even more ruins and incredible Roman history, but also gorgeous views of the Roman Forum, the Colosseum, and the city of Rome itself–including a view of St. Peter's Basilica sitting in the distance.
The climb is easy, short and well worth the time spent. Definitely don't forget to bring your camera up there!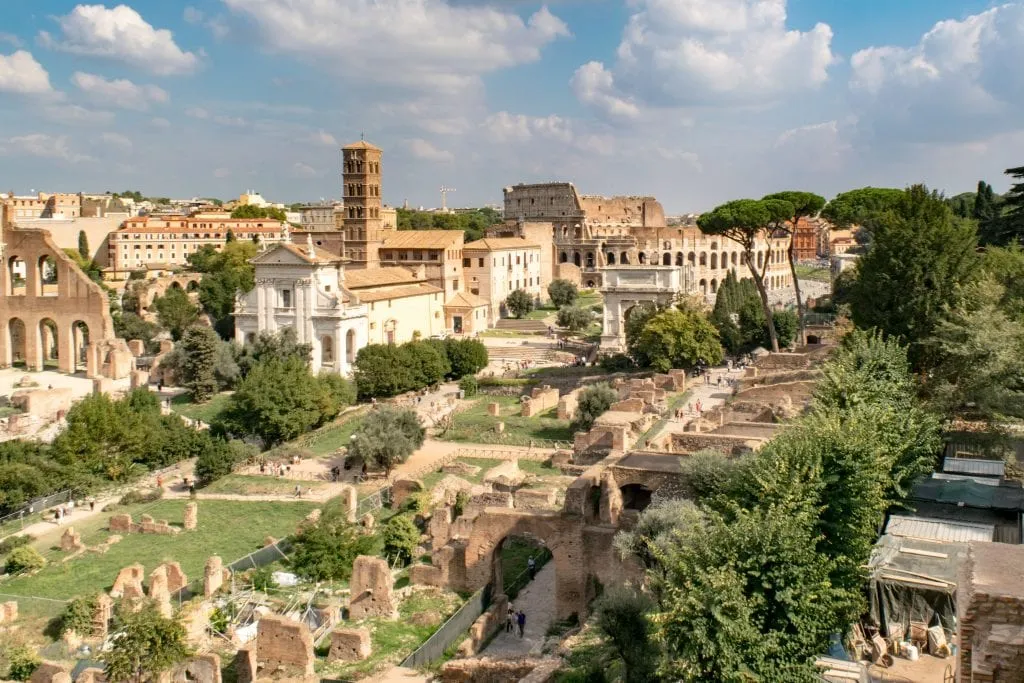 Throw a coin in the Trevi Fountain.
Why? So you'll be guaranteed to see Rome again, of course.
I'll be honest: this fountain was incredibly high on my list of things I wanted to see in Rome, beating out even more "worthy" historical sites.
And… it was worth it.
The architecture is just so incredible, and the brightly colored water is magnificently beautiful set against the white stone. We spent close to half an hour here, admiring the view, snapping photos, and tossing coins!
Yes, we did share that lovely view with hundreds of our closest friends, but it was surprisingly easy to snag a prime location near the front to get up close and personal with the Trevi Fountain.
If you'd prefer to avoid the crowds, consider rearranging your schedule to come here at dawn–word on the street is that the fountain is pretty deserted then!
The walk to the Trevi Fountain takes about 25 minutes from Palatine Hill, but the walk is sightseeing within itself: enjoy the views of the lovely Roman architecture, bustling streets, and adorable cafes–this would be a great time to stop for lunch, too, if you're getting hungry!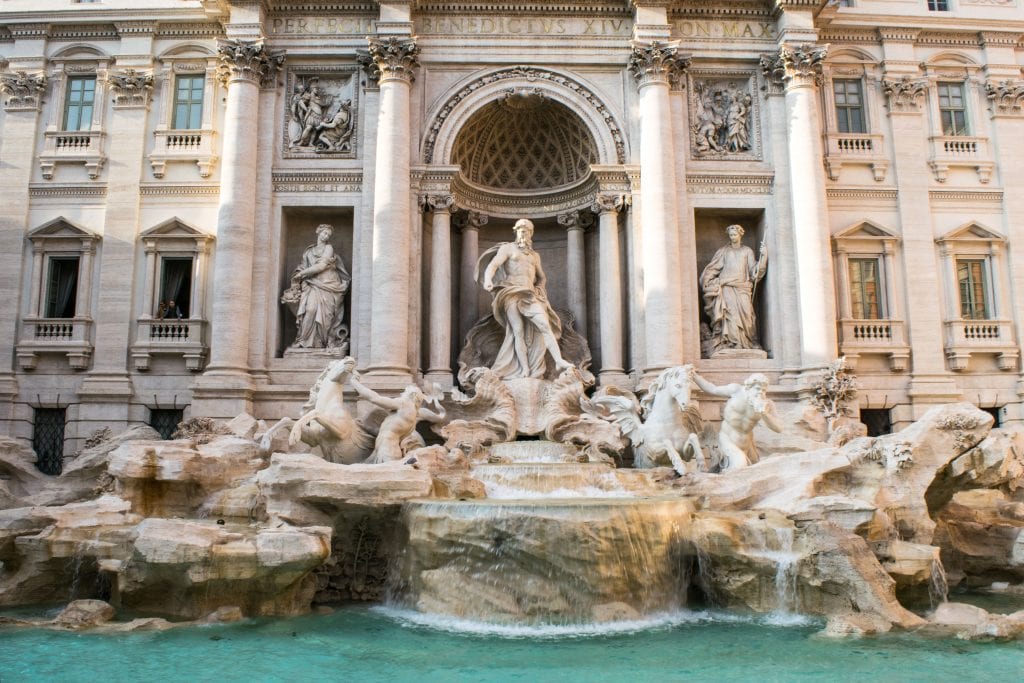 Stroll to the Spanish Steps.
These steps straddle two gorgeous Roman piazzas: Piazza di Spagna at the base and Piazza Trinita dei Monti at the top.
Take a seat, enjoy the view, and take some time for people watching–after all the walking and touring earlier in the day, you've earned it.
Day 2 in Rome
Head straight to the Vatican Museums.
Like the Colosseum the day before, the Vatican Museums are something that you're going to want to work out scheduling for in advance: whether that's scheduling directly with the Vatican Museums website (which needs to be done days in advance, perhaps even further out during the summer), or buying a "skip the line" ticket or tour from a third party, the line for the Vatican Museums is formidable and not how you want to spend what could be hours out of your 2 days in Rome.
That being said, the headache of making arrangements is worth it.
These museums were absolutely beautiful, from the statues and art, to the globes, to the map room that we will never forget.
Then, of course, there's the crown jewel: Michelangelo's Sistine Chapel, which is so marvelous that it was worth nearly being suffocated by the enormous crowds as we were herded into it (by far, the 300 yards or so walking toward the Sistine Chapel as we got close to it was the most congested crowds we have ever seen in our travels. It was worth doing… once).
On your way out of the museums, be sure to stop by the Vatican City post office to send something to yourself from the smallest country in the world if that's something you're interested in!
There's also a cafe in the museums, and while we didn't eat there, the prices looked reasonable–if you worked your way through the museums at a slower pace and are starving at this point, consider stopping for a snack or lunch.
Shop inexpensive skip-the-line passes and tours for the Vatican Museums & Sistine Chapel here!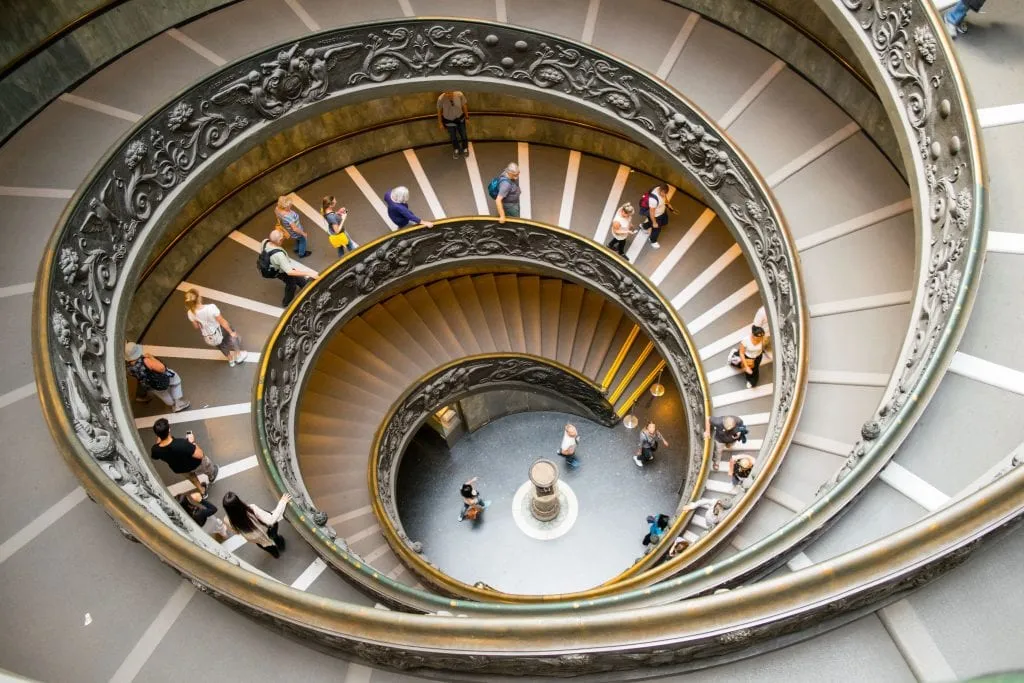 Exit toward St. Peter's Square.
The first thing that struck us about St. Peter's Square was simply how big it was: it put the footage of Pope Francis' inauguration, for example, in a whole new light.
Feel free to wander around the square, and when you're ready, jump into line to head into the Basilica itself!
If you're interested in seeing the Pope, public addresses are given most Wednesday mornings when he is in town. Tickets are required, but supposed to be fairly easy to get–be sure to plan this one in advance!
Head to the Pantheon.
Ah, the mysterious Pantheon: a Roman-temple-turned-church, the famous Pantheon is home to many mysteries, such as exactly how old it is and what it is made out of!
Even with the omnipresent crowds, we loved wandering around and gawking at the elaborate and gorgeous Pantheon.
Unlike many places in Rome, this one is free to enter, so no need to open your wallet!

Right outside the Pantheon sits the beautiful Piazza della Rotonda–while you're there, be sure to take a few moments to admire the view of the Pantheon from the piazza and the piazza itself.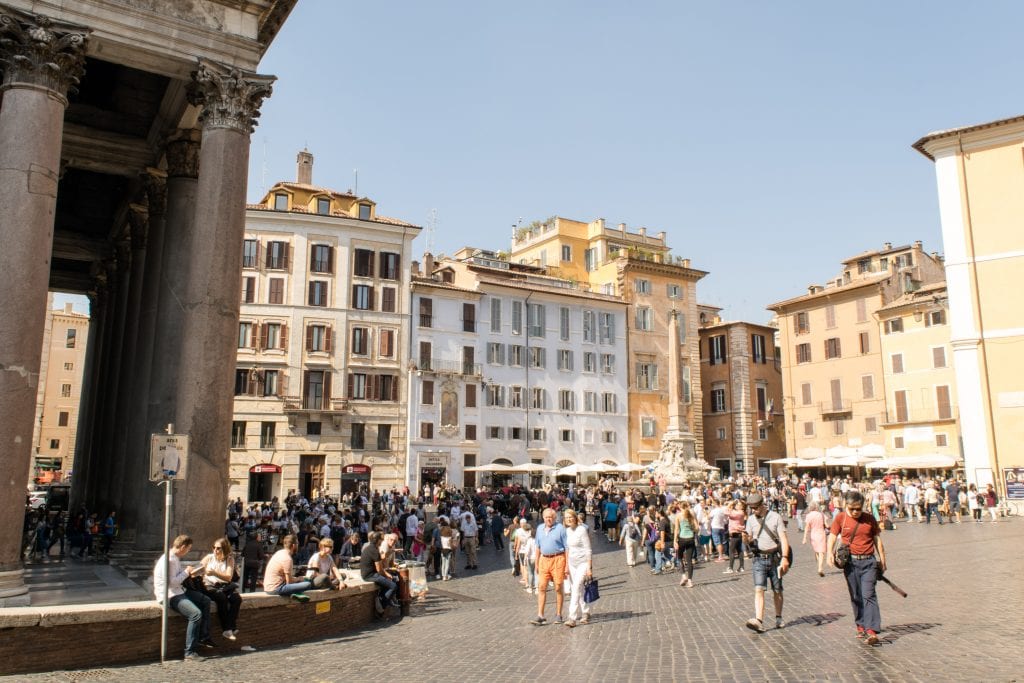 Stroll to Piazza Navona.
Once upon a time 2,000 years ago, the Romans built a stadium named Circus Domitianus.
Over time, the stadium was torn down, the area paved, Baroque fountains were put in, markets gathered, Popes ordained summer splash pools… and eventually, out all of this activity and change, the area eventually became what is now known as Piazza Navona.
Set just a short stroll away from the Pantheon and Piazza della Rotonda, be sure to stop during your 2 days in Rome–perhaps with a gelato in hand.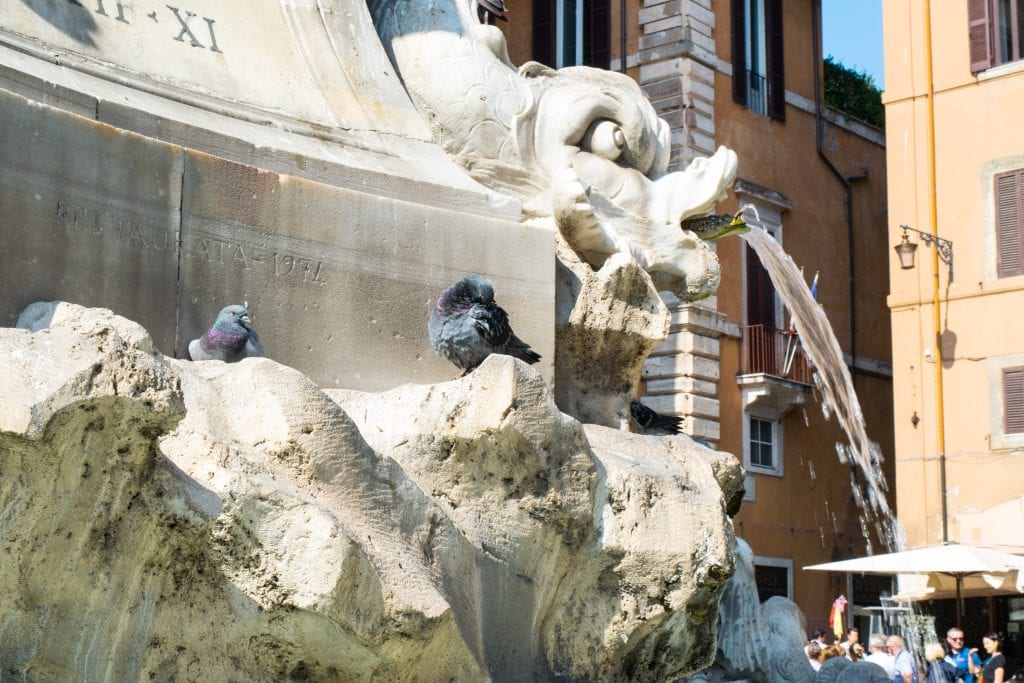 Getting Around Rome
While there are plenty of opportunities to walk through the city on this 2 days in Rome itinerary, ultimately, Rome is not a completely walkable city like some smaller European cities such as Florence.
Rome is enormous, and very spread out, so prepare to use a combination of the Metro, buses, and trams to get around–all of which are part of the same transportation network.
You can purchase single tickets, daily passes, or weekly passes for the transportation network. We stayed several Metro stops away from the center of the city, but still didn't find the passes worth it–ultimately, we found it cheaper to simply buy tickets as we needed them.
If you're considering a pass, be sure to add up how much you'll use it first!
Taxis and Uber are also available, however, Rome's traffic is notoriously bad, so you may find that public transportation or even walking might be faster, depending on where you are headed.
This Rome itinerary groups sights geographically, so once you get yourself to the first location of the day, you should find it comfortable to walk to all other destinations unless you have physical limitations.
True, there are a couple of 20-30 minute walks thrown in there, but there is plenty of Roman life to admire along the way!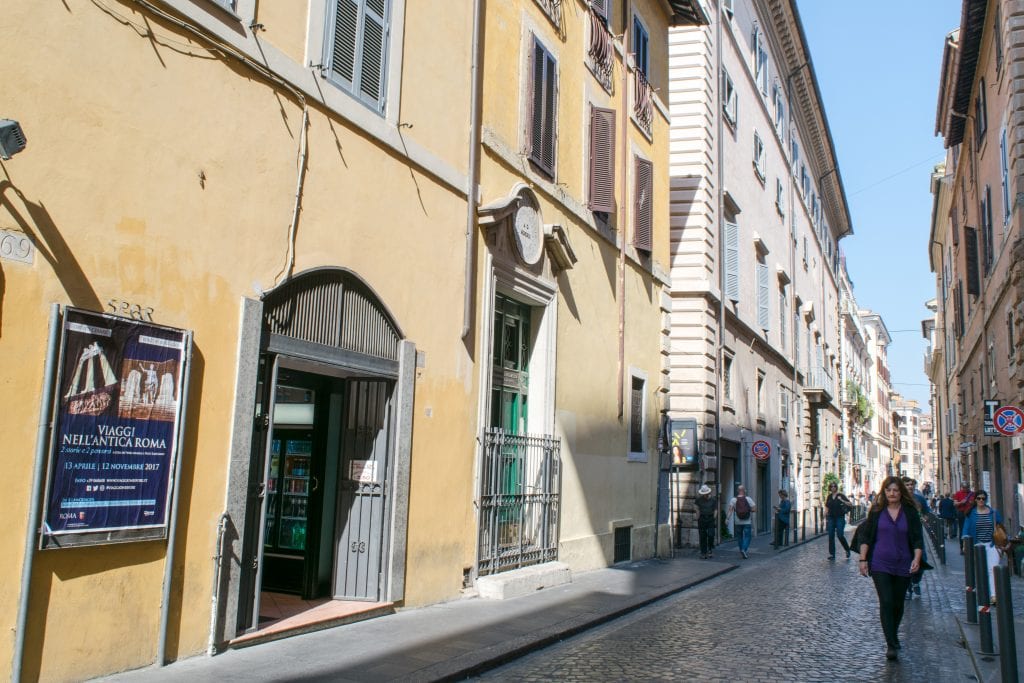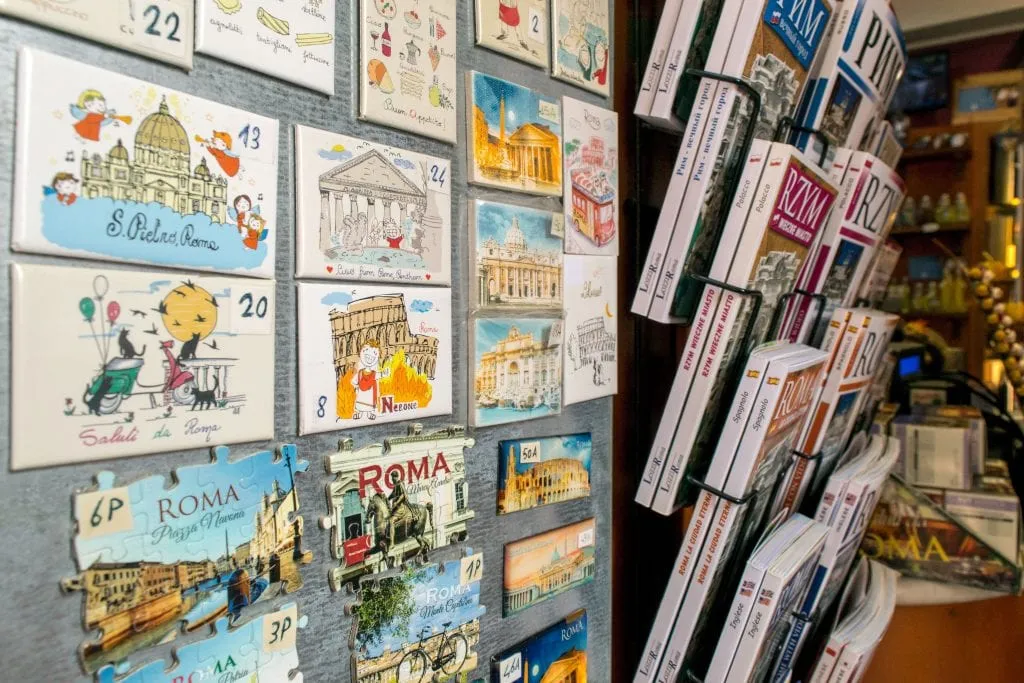 How Many Days in Rome?
For a full Italy trip that is covering multiple Italian cities in a short time (2 weeks or less), we believe 2 days in Rome is the perfect amount–it's enough to hit all of the major highlights with plenty of time in your schedule leftover for leisurely meals, randomly wandering down streets, or adding in another couple of highlights if you're the sightseeing-from-dawn-to-dusk type!
Since most Italy trips will include stops in multiple cities–on a first trip, that would likely be Florence, Venice, and maybe Milan–there's no need to overwhelm yourself in any one place.
However, if you have time to kill, of course there are endless things to do in Rome.
If you have more than 2 days in Rome (or just want to pack your itinerary as full as it can be), consider adding on a visit to the Galleria Borghese for some incredible art, a visit to the catacombs for some very interesting history, or a trip out to the Appian Way to combine a history lesson with some time in a beautiful park!
And, of course, if visiting churches in Rome is your thing, you can essentially throw a stone anywhere in Rome and hit a very impressive one.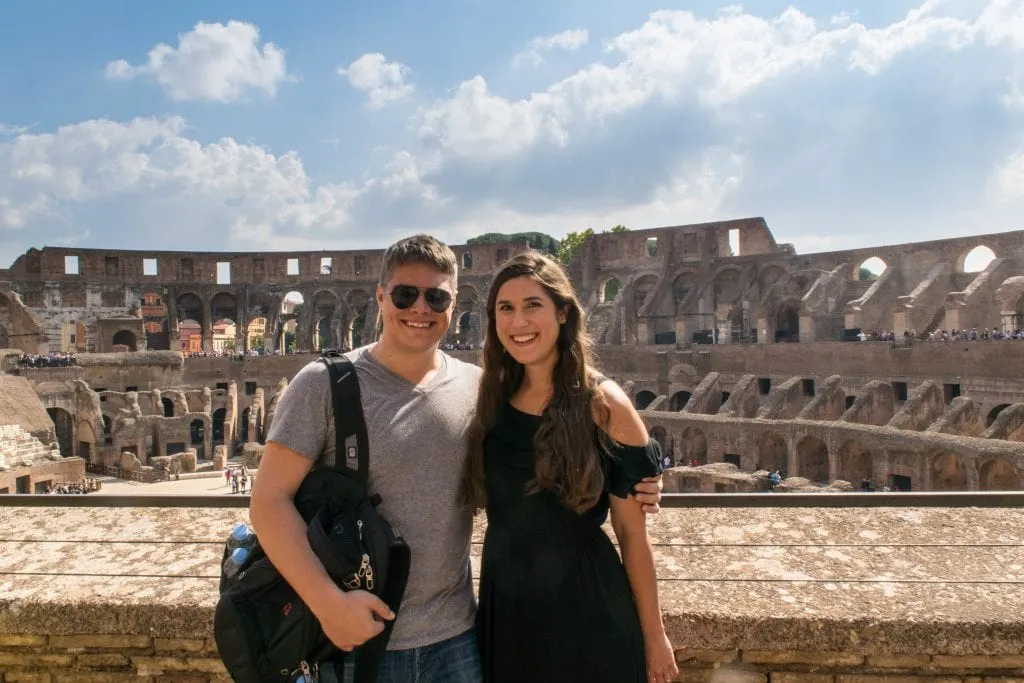 The Omnia Card and Roma Pass: Are They Worth It?
Like most travelers to Rome, we compared the very expensive Omnia Card and not-as-expensive Roma Pass, and ended up buying… neither.
While city passes can be a great deal in some destinations, we ultimately found both of these overpriced for what you get in return, and we weren't interested in some of the benefits offered (like a hop on/hop off bus tour).
That being said, it may be the right fit for some travelers–if you're considering purchasing either the Omnia Card or Roma Pass, we recommend reading this article to get a clear understanding of the similarities and differences.
When to Visit Rome
Let's face it: as one of the most popular cities on the globe, Rome will always be crowded… but it's more crowded at some points than others.
We visited Rome in the early fall and couldn't have enjoyed the timing more: the weather had cooled off significantly from the oppressive summer heat that Rome is known for, and the crowds had thinned.
If we go back, we'll aim for early fall or late spring again–shoulder season is the perfect season in Rome as far as we're concerned.
If you'd like the lowest prices and smallest crowds, consider a winter trip to Rome in January or February–after Christmas, before Easter, and during the dead of winter will ensure you have Rome as much to yourself as you'll ever be able to.
Where to Stay in Rome
La Cornice Guesthouse — We loved this little guesthouse! It was extremely clean and comfortable, and VERY affordable for Rome.
La Cornice is set slightly outside the main tourist areas, but an easy 5-minute walk to the metro and 20-minute ride got us to the Colosseum and other major sights.
Our favorite part of La Cornice? Eating a nearby Joseph Ristorante for lunch, which we ate at several times on recommendation from the clerk at La Cornice. Just a 5 minute walk away, their lunch special offered a choice of about 10 main courses plus bread, wine, and one of several desserts for 8 Euros/person–it's hard to beat that! The food wasn't anything fancy, but it was very tasty and an amazing deal for the price.
We loved our time at La Cornice Guesthouse (and its reasonable cost in notoriously pricey Rome), and we would definitely stay here again.