Here's the thing about visiting Rome: whether you're spending 2 days in Rome or 2 weeks, you will both never run out of things to do, and have plenty of time to see the highlights.
While it's true that Rome is chock full of enough things to do, see, and eat that it can occupy a traveler for a lifetime (ourselves included), the city is actually a fairly simple one to get an overview of on a short trip.
The Eternal City's top attractions split very cleanly into a 2 day Rome itinerary, making it easy to see Rome's most famous and incredible spots very quickly.
… Even if you'll do so by passing by approximately a million interesting sights along the way that will leave you dying to plan a return trip to the Eternal City immediately.
We are unapologetically obsessed with Rome, and it ranks among our favorite cities in the entire world–and with every trip, we have made it our mission to get to know the Eternal City better and better (and update this blog post along the way).
We've spent months exploring Rome in-depth over several years, on visits ranging from a few days to two visits where we rented an apartment for a month each time.
Our goal with this 2 day Rome itinerary is quite simple: show you the best of the city–all of those highlights that are world-renowned and utterly unmissable during your first trip to Rome–and also help you fall in love with the city so much that you leave already planning to come back.
Planning a short trip to Rome, particularly as a first-timer to the city?
We've got you covered with this 2 days in Rome itinerary.
After Planning Your 2 Days in Rome…
We'd love to help you plan your trip to Rome (and Italy overall) in more detail!
Here on Our Escape Clause, we have been writing about Italy travel since 2016, and have amassed a collection of 100+ Italy blog posts available for free on this website, covering everything from the best hidden gems in Rome to what a coperto is (and why you should expect to pay one).
Once you finish this post, you may also want to check out our posts on what to eat in Rome, where to find the best views of Rome, and our top Rome travel tips!
If you happen to have more than a couple of days in Rome, our 4-day Rome itinerary goes into even more detail than this one.
I'll continue linking relevant blog posts about Rome throughout this itinerary, but of course, I could never hope to add links to them all!
You can scroll through all of our Italy blog posts here.
The Perfect 2 Day Rome Itinerary
Day 1: The Colosseum, Ancient Rome + Trastevere
Start your 2 days in Rome with the Colosseum.
What better place to start your couple of days in Rome itinerary than at one of the most iconic sights in the world?
Step inside the Colosseum and marvel at the ancient history beating inside–but before you do, be sure to climb the steps on the north side of the Colosseum (turn left after exiting the Colosseo metro stop) and get those classic photos in front of the Colosseum's exterior.
Before starting your day at the Colosseum, you'll want to book tickets ahead of time to skip the (legendary) line.
Trying to decide whether or not to take a guided tour?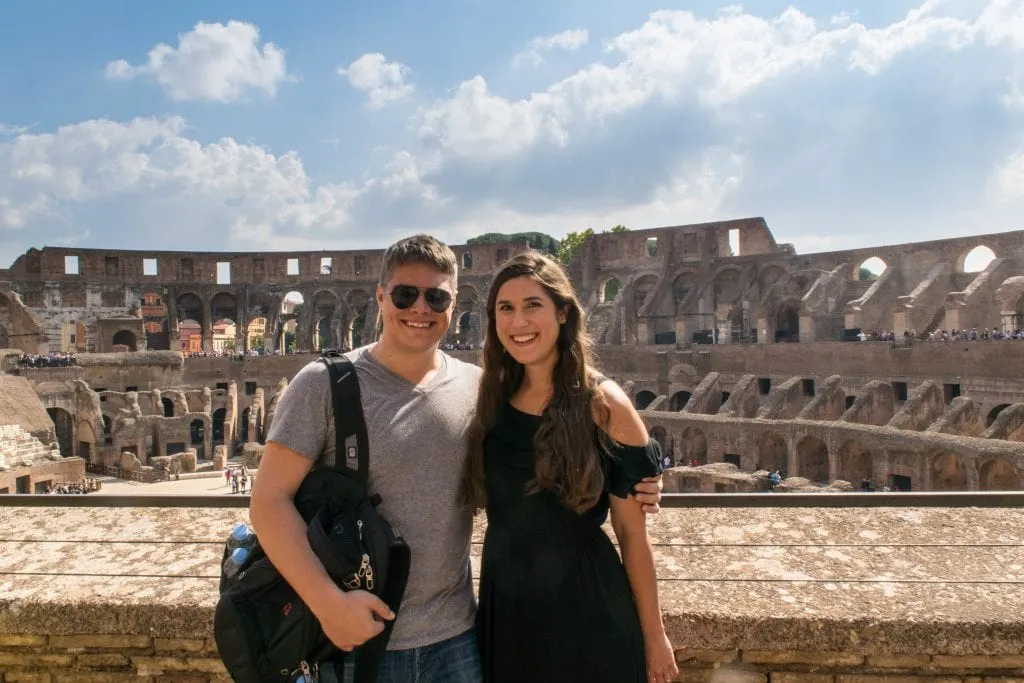 Guided tours are typically sold as a package that includes the Colosseum, Roman Forum, and Palatine Hill.
Our personal take is that the tour of the Colosseum isn't as necessary… but it's absolutely worth it to have a guide for the Roman Forum and Palatine Hill, and therefore we recommend signing up.
This is the tour we took and greatly enjoyed (though fair warning, our guide's passion meant that the tour did run past its predicted time).
And, while we didn't structure this itinerary for Rome this way, I do want to mention that we have also toured the Colosseum at night and loved it–if that's something that appeals to you, you can easily adjust this itinerary to accommodate it (this is the tour we loved).
Book your tour of the Colosseum, Roman Forum, and Palatine Hill today!

Prefer to explore independently?
Make your way over to the Roman Forum and Palatine Hill.
Right next door to the Colosseum, you'll find the impressive Roman Forum.
From senate houses to public squares to palaces, these areas are archaeological and historical treasure troves.
We were blown away by how big the forum was on our first trip–when strolling through the remains of the buildings and avenues, it is fun and surprisingly easy to imagine what it must have looked like in all of its glory during the height of the Roman Empire.
However, it was our second trip to Rome where we truly fell in love with the Forum: having a guide during our second visit allowed the Forum to come to life in a way we simply weren't able to accomplish on our own.
Within the complex of the Roman Forum sits Palatine Hill, where a short climb will reward you with even more ruins and incredible Roman history, but also gorgeous views of the Roman Forum, the Colosseum, and the city of Rome itself–including a view of St. Peter's Basilica sitting in the distance.
The climb is easy, short, and well worth the time spent.
After touring the Roman Forum and Palatine Hill both with a guide and without, we strongly believe that the context given by a guide is well worth the cost during your 2 days in Rome.

We used and loved this tour–and while the Colosseum guide was less necessary, having the Colosseum skip-the-line portion and tour included definitely helped justify the cost!
Stop by Piazza Venezia and Piazza del Campidoglio.
As you make your way toward the heart of Rome's Centro Storico neighborhood, stop for a peek at two particularly memorable piazzas!
The Piazza del Campidoglio in particular is one of my personal favorite piazzas in Rome.
Shaped into a perfect oval and surrounded by beautiful buildings, it is a peaceful place to relax for a moment and take in the fact that you're in Rome.
If you stop by on a Saturday as we did during one of our trips to Rome, you'll likely also have the chance to admire lots and lots of wedding parties!
The piazza's beauty isn't particularly surprising when you know who designed it: Michelangelo himself.
On your way to the Piazza del Campidoglio, you'll also pass right by the Piazza Venezia, with the impressive Altar of the Fatherland (the enormous white building topped with chariots that is visible from just about every viewpoint in Rome) dwarfing everything around it.
Since you were just on Palatine Hill, climbing it isn't necessary–but it is home to one of the best views of Rome if you'd like to see it for yourself!
The monument was built in honor of Victor Emmanuel II, the first king of unified Italy.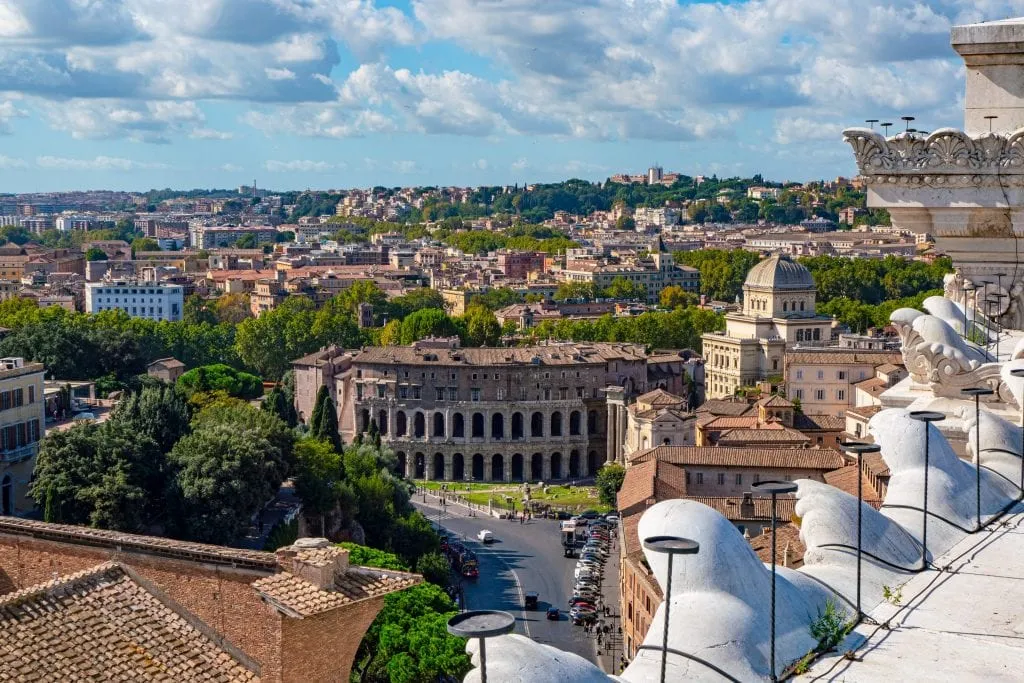 Pay a quick visit to the Largo di Torre Argentina.
You won't need long here, but the Largo di Torre Argentina is a quick and interesting side stop during your time visiting Rome!
This set of ruins is home to two points of interest that are wildly different from each other: the place where Julius Caesar lost his life, and a cat sanctuary.
The ruins are open-air, laid out in the center of the square, and are made up of the remains of several temples as well as part of Pompey's Curia–the Roman Senate–where Julius Caesar perished just under 2,000 years ago.
As if that wasn't enough of a reason to stop by during your 2 day itinerary for Rome, the archaeological site doubles as a cat sanctuary.
There's an organization onsite that works to feed and care for them, and I can only imagine that they have a delightful life living in what is essentially the world's most elaborate set of cat trees!
I'm sure it will come as no surprise to cat lovers that we've seen more than one cat perched on top of the remains of surprisingly tall columns.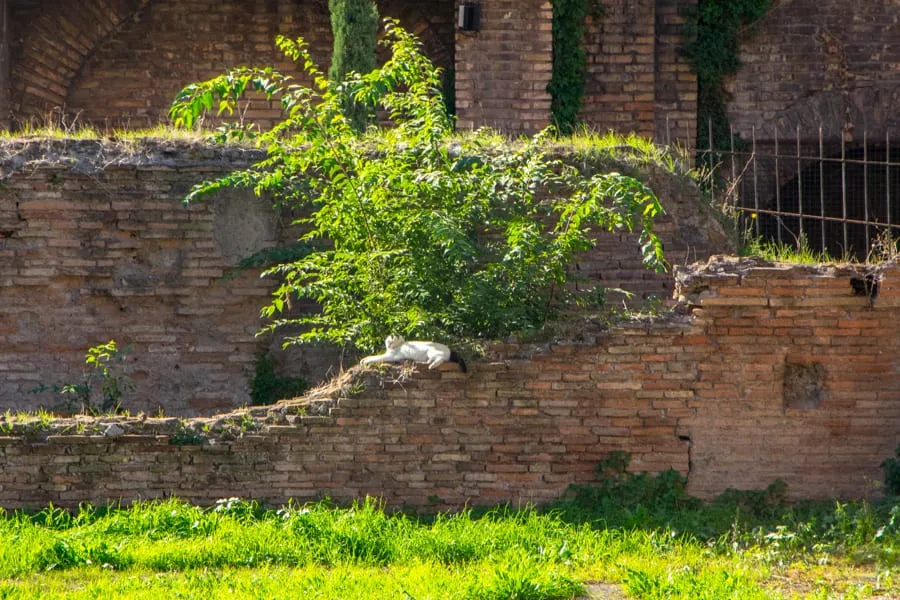 Stop by Campo de' Fiori.
This market square may be touristy, but it's also beautiful, bustling, and worth stopping by during your 4 days in Rome.
Markets are some of our favorite aspects of any city trip, and Rome is among the best of the best.
Of course, if you choose to purchase any Rome souvenirs or a meal at the market, you will pay a slight upcharge.
If you're particularly hungry, we did once have tasty, if somewhat overpriced, pasta carbonara at (where else?) La Carbonara on the edge of the Campo de'Fiori.
If you're looking for something more local, Da Sergio is just around the corner and a great option, but get there when they open, because it fills up (Address: Vicolo delle Grotte, 27, 00186 Roma RM, Italy).
And, if you want to step off the beaten path for a second, the cool Passetto del Biscione is just around the corner from Campo de' Fiori and only takes a second to see!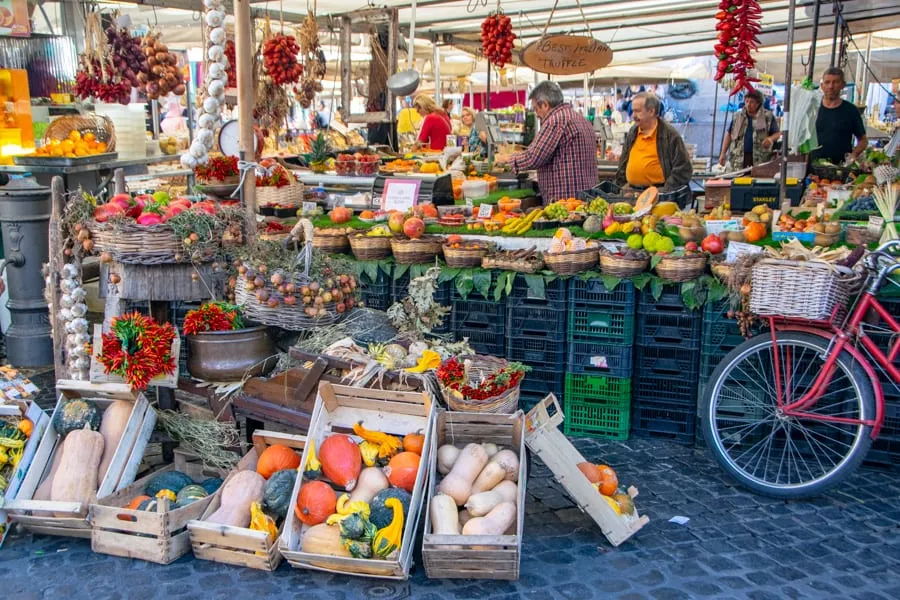 Head across the Tiber for a visit to Trastevere.
Colorful Trastevere is one of Rome's most picturesque and beloved neighborhoods, and it's well worth visiting as part of your 2 day Rome itinerary!
We have a full guide to visiting Trastevere here, but be sure not to miss stepping inside the beautiful Basilica of Santa Maria in Trastevere, stopping by Piazza Trilussa, and merely wandering through the gorgeous streets, camera in hand.
Vicolo del Cinque, Vicolo della Luce, Vicolo del Buco, Via dell'Arco di San Calisto, Vicolo del Piede, Via Titta Scarpetta, and Via in Piscinula are just a few of the prettiest streets in Trastevere, but there are dozens to choose from!
Don't fill up on snacks, though, because the perfect way to end your first day in Rome is…
Eat your way through Trastevere on a food tour.
We're big fans of opening trips with food tours–off the top of my head, we've taken at least 6 in Italy alone–as they are not only a wonderful way to get to know a city, they also help you gain a lot of confidence with ordering local food!
And, when it comes to Roman cuisine, Trastevere is the perfect neighborhood to dive into on a short trip.
We loved this food tour in Trastevere and can confirm that after taking it, you will walk away with a solid base knowledge for ordering food throughout the rest of your trip to Rome… and be extremely full.
From wine to cheese to Rome's classic pastas to contorni (sides) to obligatory (incredible) gelato, every bite is a delight.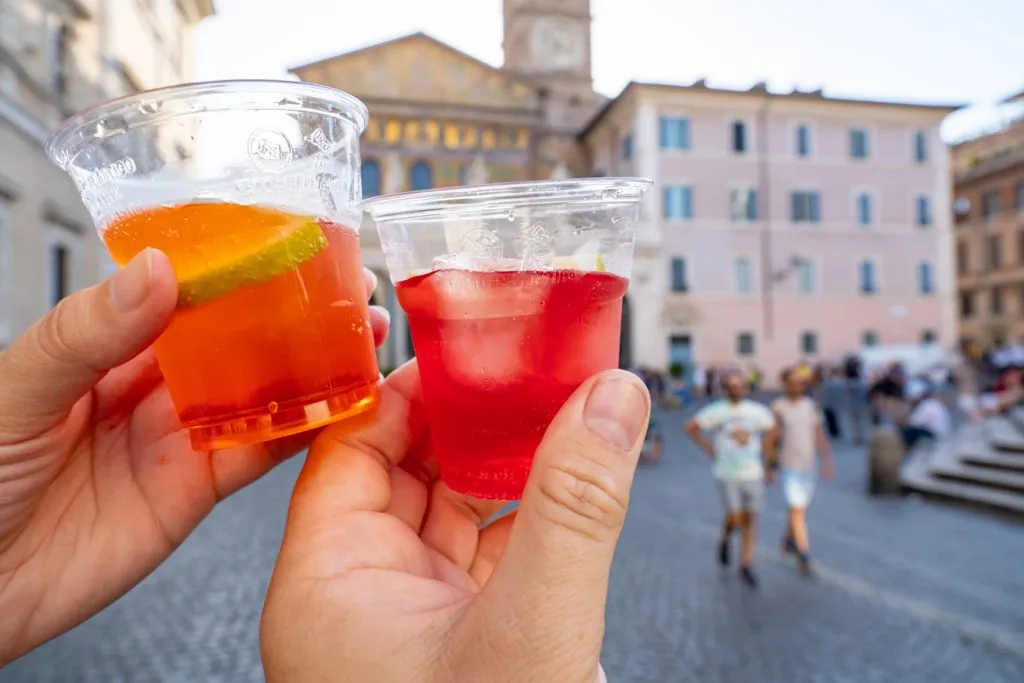 Day 2 in Rome: The Vatican + More Centro Storico + Beyond
Head straight to the Vatican Museums.
The Vatican Museums, with their magnificent art treasures, incredible map room, spectacular Sistine Chapel, and more, are an absolutely unmissable experience when planning to experience Rome in 2 days.
Plus, as a bonus, visiting means that you'll actually be able to say you visited a whole other country!
Due to the severe crowds and ridiculously long lines, it is nearly essential to pre-book your visit to the Vatican Museums.
If you'd like to brave the odds on a rainy day in February, may the force be with you, but we once walked by the line to the museums nearly daily for a month as October bled into November, and the lines stayed at "Wow, okay, I'll give that scalper whatever he wants to end this wait" levels.
Definitely book ahead to help your 2 day Rome itinerary go more smoothly!
If you're particularly interested in seeing the Sistine Chapel without a few hundred of your new closest friends, we've had friends of ours absolutely rave about the experience of the early access tour, where you can gain access to the museums and Sistine Chapel before they officially open for the day.
While it is a pricier option, word on the street is that if it's in your budget, it's 100% worth both the money and the effort spent getting out of bed early in the morning.
After personally touring the Vatican Museums both independently and with a guide, we're personally of the opinion that a tour (especially one that takes place outside of peak hours) is enormously beneficial, and can highly recommend this one for an early-morning experience.
Also, bear in mind when planning your 4 days in Rome itinerary that the Vatican Museums are closed on Sundays, with the exception of the last Sunday of the month, when the museums are open and free to visitors who are able to enter before 12:30 PM (they then close at 2:00 PM).
From April to October each year, the Vatican Museums are also open on Friday nights, and we personally loved our Friday night tour.
Book your early morning or evening tour of the Vatican Museums today!

Prefer to explore independently?

Book skip-the-line tickets to the Vatican Museums and Sistine Chapel!
Step inside St. Peter's Basilica.
The first thing that struck us about St. Peter's Square was simply how big it was: it put the footage of Pope Francis' inauguration, for example, in a whole new light.
Feel free to wander around the square, and when you're ready, jump into line to head into the Basilica itself.
It's easily the most stunning one we have seen in Italy, and you definitely shouldn't skip it during your 2 days in Rome (the line moves faster than you think).
The Basilica is free to enter, but there is a charge for climbing up to the top of the dome (which, unless you get very claustrophobic or don't think you can handle the climb, we highly recommend.
Keep in mind that St. Peter's Basilica has a dress code that is enforced, so cover your shoulders and knees before entering.
If you're interested in seeing the Pope, public addresses are given most Wednesday mornings when he is in town.
Tickets are required, but are supposed to be fairly easy to get–and you can always book a tour guide if you'd like to make things simple.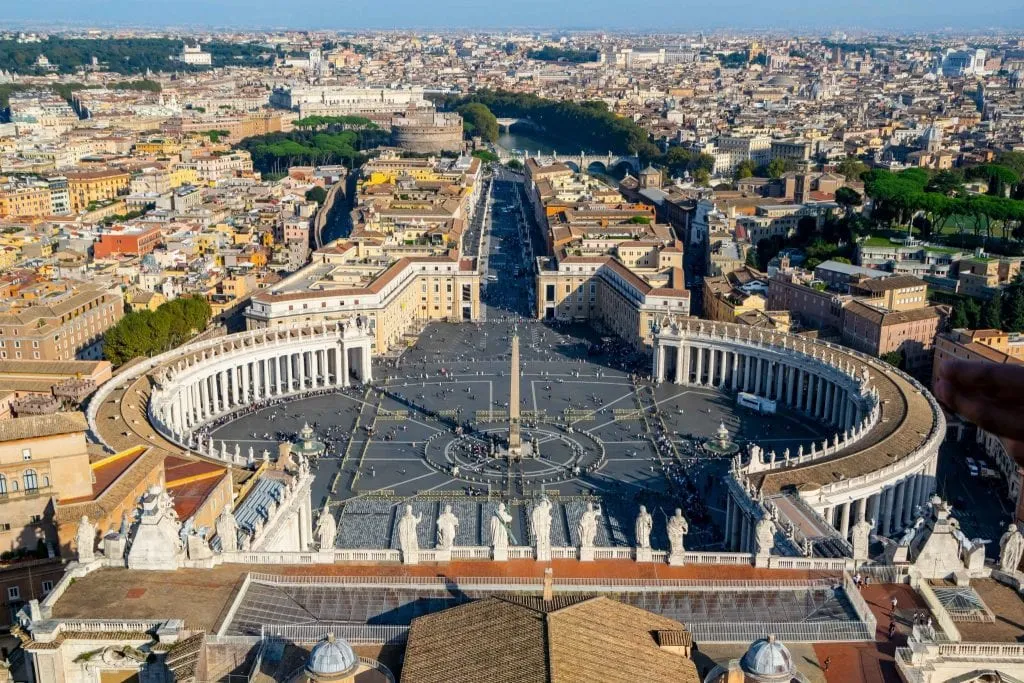 Make your way to Castel Sant'Angelo.
Castel Sant'Angelo, despite its name, was never built to be a castle at all, but a mausoleum.
As the tomb of Emperor Hadrian and some of his family, Castel Sant'Angelo (in its original form, anyway), is an impressive nearly 2,000 years old–and it, combined with the Ponte (bridge) Sant'Angelo that sits in front of it, are absolutely worth seeing while in Rome.
Whether or not you choose to duck inside the castle as part of your 2 days in Rome (it's a very interesting place, but personally, we don't think it's necessary to go in with only a couple of days in Rome), be sure to enjoy the views of the Tiber River from in front of it.
Some of the best buskers in Rome are virtually always playing outside the castle, near the entrance to the bridge, which makes for a wonderful environment!
Once you're ready, go ahead and cross the gorgeous Ponte Sant'Angelo–which will lead you directly into Centro Storico, one of Rome's prettiest neighborhoods, and the next stop on your 2 day Rome itinerary.
Stroll to Piazza Navona.
Once upon a time 2,000 years ago, the Romans built a stadium named Circus Domitianus.
Over time, the stadium was torn down, the area paved, Baroque fountains were put in, markets gathered, Popes ordained summer splash pools… and eventually, out of all of this activity and change, the area eventually became what is now known as Piazza Navona.
Today, it remains one of the best-known and most popular piazzas in Rome!
It is a must-see during your 2 days in Rome itinerary–perhaps with a gelato in hand.
Head to the Pantheon.
Ah, the mysterious Pantheon: a Roman-temple-turned-church, the famous Pantheon is home to many mysteries, such as exactly how old it is and exactly what it is made out of!
Even with the omnipresent crowds, we loved wandering around and gawking at the elaborate and gorgeous Pantheon.
Unlike many places in Rome, this one is free to enter, so no need to open your wallet!

Right outside the Pantheon sits the beautiful Piazza della Rotonda–while you're there, be sure to take a few moments to admire the view of the Pantheon from the piazza and the piazza itself.
Head to the Trevi Fountain and toss in a coin.
Why? So you'll be guaranteed to see Rome again, of course.
I'll be honest: years ago, this fountain was incredibly high on my list of things I wanted to see on our very first trip to Rome, beating out even more "worthy" historical sites.
And… it was worth it.
The architecture is just so incredible, and the brightly colored water is magnificently beautiful set against the white stone.
We make it a point to return to the Trevi Fountain every time we're in Rome (given its extremely central location, it's not that difficult!) and never tire of admiring its beauty.
Yes, you will inevitably share the lovely view with hundreds of others, but it is surprisingly easy to snag a prime location near the front to get up close and personal with the Trevi Fountain.
If you don't mind sitting back a bit, you can often grab a seat on the steps of the Church of Santi Vincenzo e Anastasio a Fontana di Trevi to relax for a minute.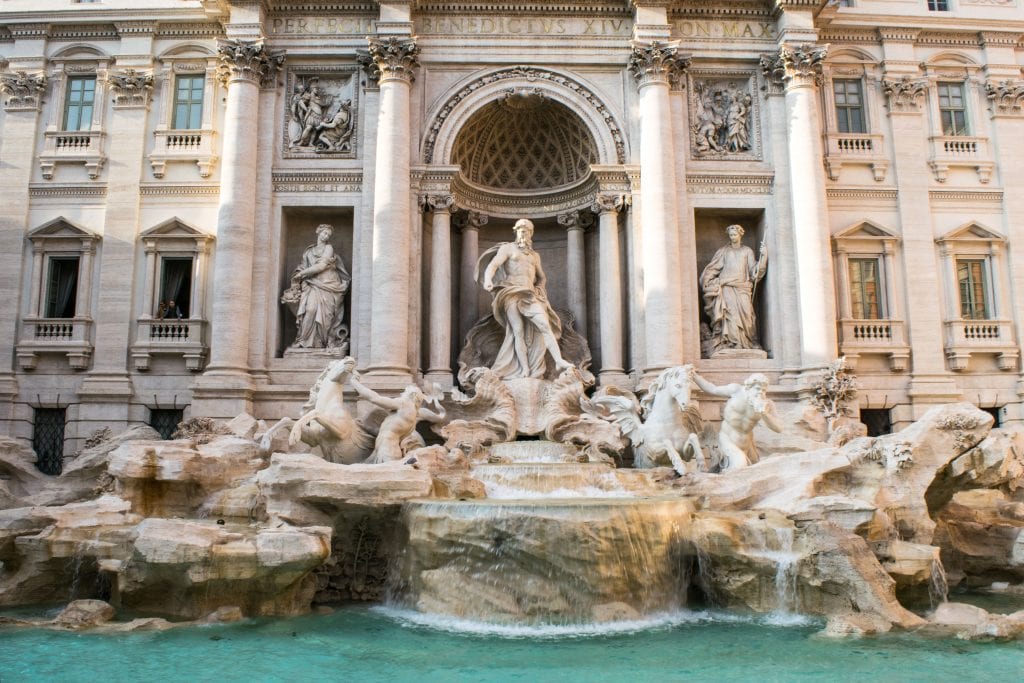 Drop by the Galleria Sciarra.
is small courtyard is not only absolutely beautiful, but it's also an easy way to sneak a less-touristed spot into your 2 day Rome itinerary because it is just down the street from the Trevi Fountain!
The Galleria Sciarra is free to enter during business hours (the building itself is used for offices today), but the Art Nouveau frescoes painted by Giuseppe Cellini in the late 19th century that adorn the walls are an excellent example of how beauty and exceptional artwork is truly around every corner in Rome.
The frescoes have a specific theme: women, or even more specifically, female virtues.
Feel free to take a moment to admire them for yourself–the courtyard will probably feel incredibly quiet and peaceful after the hectic crowds at the Trevi Fountain!
Stroll to the Spanish Steps.
These steps straddle two gorgeous Roman piazzas: Piazza di Spagna at the base and Piazza Trinita dei Monti at the top.
While sitting on the Spanish Steps has unfortunately been outlawed recently, ending a decades-long tradition of lounging there, the good news is that it is now easier than ever to snap photos of the steps!
Definitely come by the piazza to enjoy the view and to take some time for people watching–after all the walking and touring earlier in the day, you've earned it.
While visiting the Spanish Steps is fun at any time of day, bear in mind that it is frequently crowded.
The only time we've had the steps to ourselves was by waking up at dawn in February, so be prepared to share the view with many others!
Make your way to the Piazza del Popolo.
Walking from the Spanish Steps to the Piazza del Popolo is a lovely stroll in its own right, but even if it wasn't, the destination would be worth it.
Piazza del Popolo is easily one of the prettiest piazzas in Rome–and it's also very historically significant.
You've probably heard the phrase that "all roads lead to Rome"–and specifically, they all led to Piazza del Popolo, which was once a traditional entrance point to the city.
The "twin churches" of Santa Maria in Montesanto and Santa Maria dei Miracoli that stand at one end of the piazza are beautiful, of course–but it's the comparatively plain exterior of the Basilica of Santa Maria del Popolo on the other side of the piazza that art lovers should keep an eye out for, because it's home to 2 Caravaggio paintings.
Be sure to climb up to the Pincio Terrace while you're there for a gorgeous view of Piazza del Popolo and of Rome itself from above.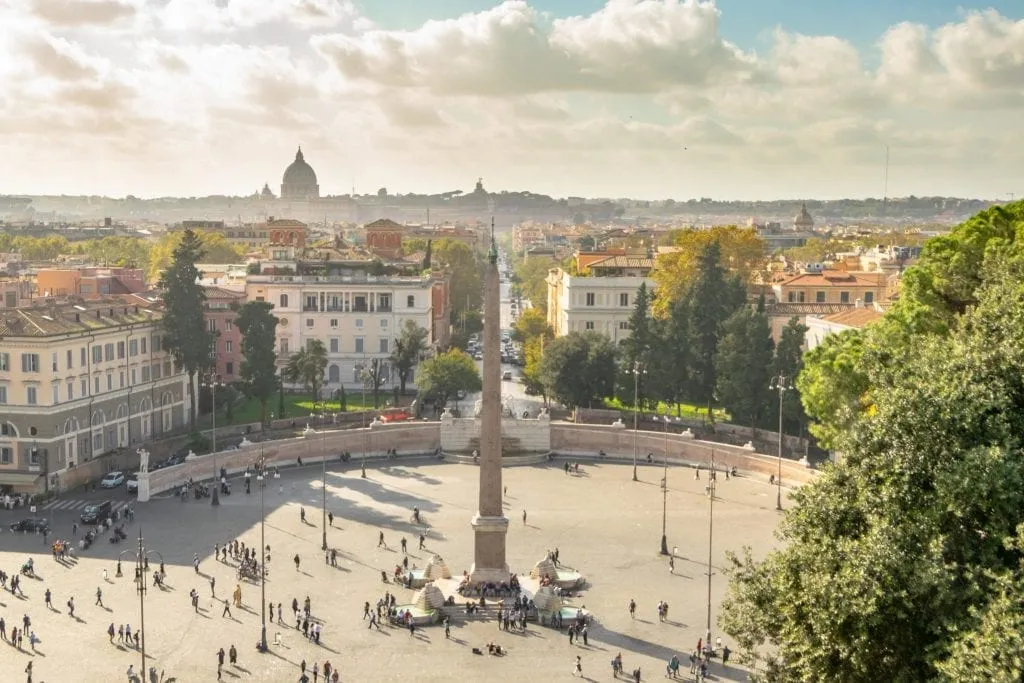 Where to Stay For a Couple of Days in Rome
Where to stay for your 2 days in Rome depends a lot on your priorities.
Do you want to be surrounded by a beautiful neighborhood? Trastevere is the place for you.
In the center of the action? Head to Centro Storico.
Save money? The furthest reaches of the metro lines.
With 4 days in Rome, though, we consider access to the rest of the city to be the most important deciding factor when deciding where to stay–in other words, choose somewhere within no more than a 10-minute walk to a metro stop.
However, if it's within your budget, we find Centro Storico or fairly close to it (the closer edges of Trastevere, Monti, or Prati/Vaticano, for example), to be the most convenient place to stay for this Rome itinerary.
When choosing a hotel or apartment, looking at its distance from Piazza Navona and the Pantheon is a good rule of thumb–in a perfect world, you'll be within walking distance of those.
That being said, we've stayed all over Rome and loved each corner for different reasons!
Here are a few well-reviewed properties to keep in mind when deciding where to stay in Rome.
Budget
La Cornice Guesthouse — We loved this little guesthouse back in our budget backpacking days! It was extremely clean and comfortable, and very affordable for Rome.
La Cornice is set slightly outside the main tourist areas, but an easy 5-minute walk to the metro and a 20-minute ride got us to the Colosseum and other major sights.
Our favorite part of La Cornice?
Eating a nearby Joseph Ristorante for lunch, a restaurant we have returned to for years–and it all started with a recommendation from the clerk at La Cornice.
Just a 5 minute walk away, their lunch special offered a choice of about 10 main courses plus bread, wine, and one of several desserts for 8 Euros/person–it's hard to beat that!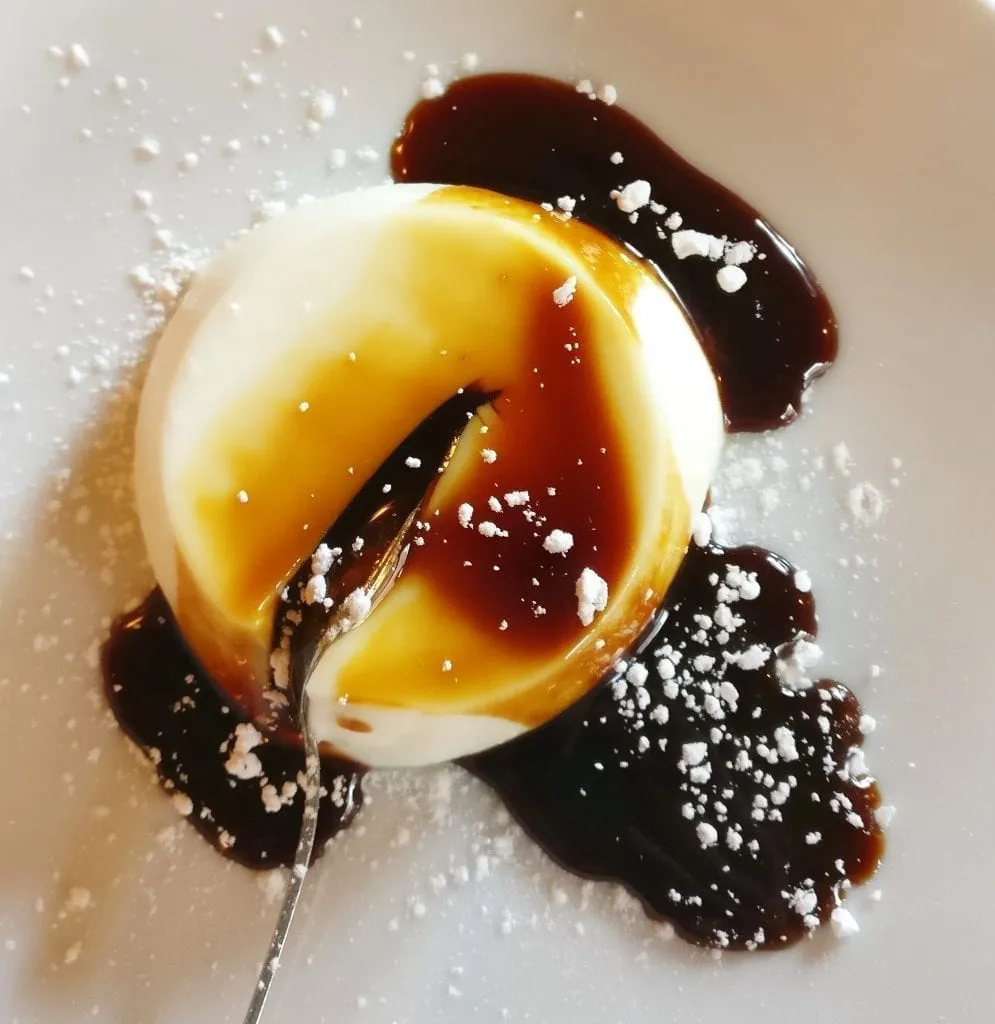 Mid-range
Hotel Condotti — Located just a couple of blocks from the Spanish Steps (and consequently the Piazza di Spagna metro station), you couldn't ask for a better location in Rome!
Well-reviewed and boasting exceptionally clean rooms, Hotel Condotti is the perfect choice for a traveler with a midrange budget (or luxury traveler–this hotel also holds some impressive-looking suites!) who would like to be within walking distance to the best that Centro Storico has to offer.
Enduringly popular and perfectly positioned, you can't go wrong with checking into Hotel Condotti.
The Wesley — We adored this amazingly located hotel!
You can't ask for a better location for exploring Rome, as it literally overlooks the Castel Sant'Angelo and is a short walk away from all the major Centro Storico sights.
It is a bit of a hike to a metro stop–you'll probably need to take a taxi when you arrive/leave with luggage–but the location made it worth it for us.
For a mid-range property, The Wesley is a fairly simple one–expect small and extremely simple rooms, and shared bathrooms for some rooms.
Essentially, The Wesley as a guesthouse floats somewhere between budget and mid-range, with a luxury-status-worthy location.
Because of the fantastic combination of more affordable rates and a fabulous location, The Wesley sells out fast–if you want to stay there and see it's available on your dates, we recommend booking immediately!
Luxury
Pantheon Inn — If you're looking for a building with classic Italian charm in the heart of Rome, this is it.
Located right behind the Pantheon and within reach, the Pantheon Inn offers a quiet, peaceful escape in the middle of bustling Rome.
You will need to walk a bit to the metro stop–but since the walk will take you through the heart of the beautiful Centro Storico, we doubt you'll mind.
Getting Around When Visiting Rome, Italy
We designed this 2 days in Rome itinerary to be as walkable as possible, grouping destinations by geography where we could.
Even still, Rome is large enough that you will need to use other methods of getting around, especially if you don't stay right in Centro Storico.
The easiest option is simply to use the metro–though Rome's metro has a mere 3 lines (only 2 of which will likely be of interest to you as a visitor), it connects directly to many of the city's highlights, including the Colosseum, Trevi Fountain, Spanish Steps, and more.
If you can swing it, your 2 days in Rome will be highly enhanced by staying within a short walk of a metro stop, or by staying in the Centro Storico neighborhood where you will be within walking distance of highlights like the Trevi Fountain, Spanish Steps, Pantheon, and more.
Rome's bus system is also an option, though it can be slightly confusing and you cannot purchase tickets onboard.
Pick them up at a nearby bar or metro stop before hopping on, or aim for simplicity and purchase a multi-day pass to the transport network.
Taxis are present in Rome, but Rome's heavy traffic and their high prices make these options best avoided if possible when traveling between these more popular (and therefore congested) sights in Rome.
For the same reason, we don't generally recommend Hop On/Hop Off bus tours in Rome.
If you are planning on getting off the beaten path in Rome or you are staying somewhere not well-connected to public transportation, we use the Free Now app in Rome (and throughout much of Europe).
Think of Free Now as a local Uber option, except instead of calling private drivers, it calls official taxis.
More than 2 days in Rome?
For a full Italy trip that is covering multiple Italian cities in a short time (2 weeks or less), we believe 2 days in Rome is a sufficient amount.
It's enough to hit all of the major highlights with plenty of time in your schedule leftover for leisurely meals, randomly wandering down streets, or adding in another couple of highlights if you're the sightseeing-from-dawn-to-dusk type!
Since most Italy trips will include stops in multiple cities–on a first trip, that would likely be Florence, Venice, and maybe one additional place–there's no need to overwhelm yourself in any one place.
However, if you have enough time to justify a longer trip to Rome, of course, there are endless things to do in the Eternal City!
Some of our other favorites include touring the Palazzo Doria Pamphilj, taking the views of Rome from the top of the Altar of the Fatherland, exploring the fascinating Capuchin Crypt, seeking out interesting spots in lesser-explored neighborhoods like Testaccio (the 2000-year-old Pyramid of Caius Cestius, Non-Catholic Cemetery, and Testaccio Market are great places to start out there).
You can also consider a visit to some of Rome's many catacombs, tour the interior of the Castel Sant'Angelo, a trip out to Appian Way, or a day spent hitting up quirky spots around town like the Keyhole on Aventine Hill, the Mouth of Truth (though it's a bit overrated in our opinion), or the Quartiere Coppede neighborhood.
And, of course, if visiting churches in Rome is your thing, you can essentially throw a stone anywhere in Rome and hit a very impressive one–the city is home to a mind-boggling 900 churches in total!
We recommend checking out our guide to the best hidden gems in Rome to find many more incredible (and uncrowded) places to explore.
And, of course, if you're based in Rome for quite some time, taking one of the best day trips from Rome is a fantastic way to spend a day in Italy!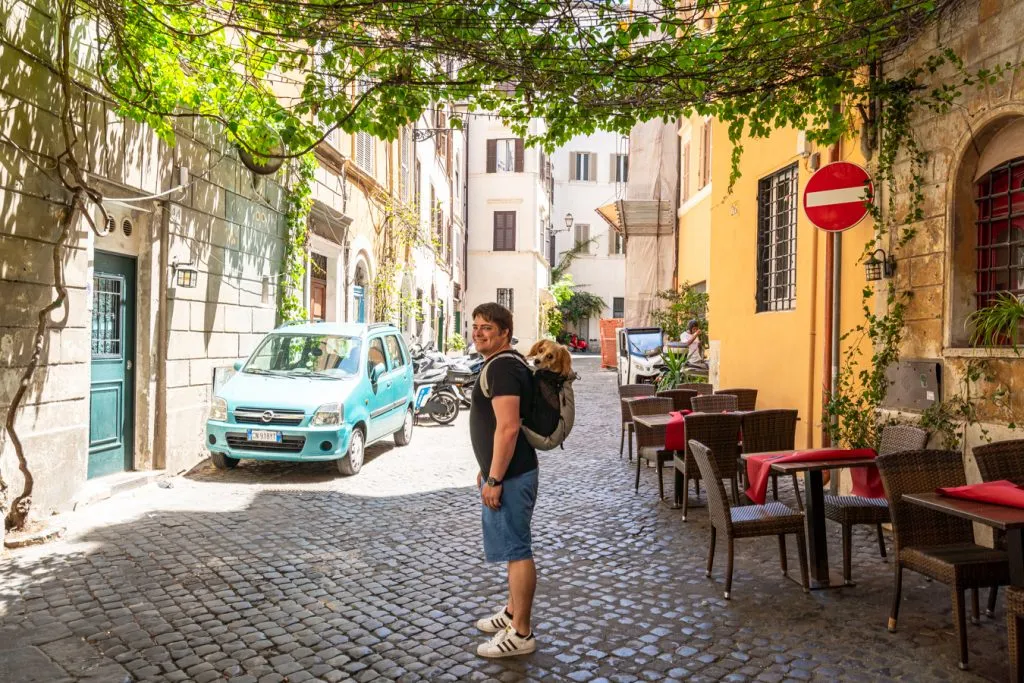 The Omnia Card and Roma Pass: Are They Worth It?
Like most travelers to Rome, on our first visit to Rome, we compared the very expensive Omnia Card and the not-as-expensive Roma Pass, and ended up buying… neither.
While city passes can be a great deal in some destinations, we ultimately found both of these overpriced for what you get in return, and we weren't interested in some of the benefits offered (like a hop-on/hop-off bus tour).
That being said, it may be the right fit for some travelers–if you're considering purchasing either the Omnia Card or Roma Pass, we recommend reading this article to get a clear understanding of the similarities and differences.
When to Visit Rome
Ultimately, there is no bad time to visit Rome–except perhaps July and August, if you are trying to avoid the heat!
After visiting Rome in almost every month of the year, our favorite time to visit Rome (and Italy overall) remains the spring or fall–shoulder season is the perfect season in Rome as far as we're concerned.
With only 2 days in Rome, you may want to stick to months like September or October as opposed to the riskier months like December, when the chance of rain soars.
If you'd like the lowest prices and smallest crowds, consider a winter trip to Rome in January or February–after Christmas, before Easter, and during the dead of winter will ensure you have Rome as much to yourself as you'll ever be able to.
Staying Safe When Visiting Rome For 2 Days
Despite Rome's international reputation as a pickpocket hotspot, it is, on the whole, a very safe city.
Yes, you should definitely keep a careful watch on your bags and pockets when in crowded areas (pay especially close attention in crowded metro stops like Termini and at tourist hotspots like the Spanish Steps and Trevi Fountain), but we've never had so much as a close call during our visits to Rome.
You will see scammers present in Rome's more touristy areas, including men presenting women with roses to try to elicit payment from their companion, "friendship bracelet" offers for bracelets that are free (until they're tied on your wrist), etc.
It's best to ignore these scammers entirely and brush them off with a polite but firm "no" if necessary.
Also, keep in mind that buying and selling fake designer goods is illegal in Italy as both a consumer and a seller.
Don't be tempted by "designer" bags and sunglasses being touted on blankets in tourist areas, no matter how convincing the wares might look from across the piazza!
What to Pack for Rome
Don't forget to include these important items when you pack for Rome!
Travel Insurance — We don't ever suggest traveling without travel insurance–anything can happen, and this is definitely a case of better safe than sorry.
Pacsafe — We can't recommend our Pacsafe enough: this travel safe is affordable, sturdy, easy to pack, and will help keep your valuables safe in your hotel room (not that you should need to worry much about theft when visiting Rome, but better safe than sorry!).
Travel Adaptors for Italy — If you're coming from outside of Europe, you'll definitely need adaptors for your electronics.
Swiss Army Knife — Want to open wine bottles in your hotel room, slice cheese from the market, or cut up that focaccia from the bakery? You'll be so glad you brought along a Swiss Army Knife!
Umbrella — Option A: Plan on buying an umbrella when it starts pouring down rain. Option B: Plan ahead and buy a (probably much sturdier) umbrella before leaving.
Option C: Hope you get lucky with the weather (but fair warning, we've never been to Italy and avoided rain entirely!).
Travel Journal — If you want to keep a travel journal, but can't commit to a huge amount of writing each night, I can't recommend the One Line a Day Journal enough.
I've been using it for almost the full 5 years now and adore it!
Your 2 Day Rome Itinerary Map
Take This Map With You! Click each highlight to pull up the name of the destination. To save this map to "Your Places" on Google Maps, click the star to the right of the title. You'll then be able to find it under the Maps tab of your Google Maps account! To open the map in a new window, click the button on the top right of the map.
More Rome Travel Tips
Heading to Rome for a couple days soon?
Rome is one of our favorite cities in the world, and we have written about it (and Italy as a whole) extensively.
You can browse 100+ Italy blog posts here, or check out some more of our guides to Rome (we have more than 20):