Looking to kick back and relax in nature? If so, the best things to do in Acadia National Park are waiting to welcome you!
Maine's Acadia National Park, more than any other national park that we've visited in the United States, brings to mind the word leisure.
In many ways, Acadia feels less like a national park in the way that we are accustomed to thinking of the word (rugged, challenging, remote, full of difficult hiking opportunities), and more about a beautiful place to relax, like a neighborhood park you would like to have a picnic in.
Just, you know–a lot more majestic and quite a bit bigger.
Sure, you can hike in Acadia–but as its tallest mountain tops out at a modest 1529 feet, this is not a place you should compare to the likes of the Rocky Mountain National Park or Yosemite.
That being said, there are still plenty of amazing things to do in Acadia NP.
Take a leaf out of the books of the Rockefellers and other wealthy families who used to patron the oldest of the United States National Parks east of the Mississippi: the best things to do in Acadia National Park are about taking a step back to relax and bask in the beauty of the place.
Here's what to do in Acadia National Park!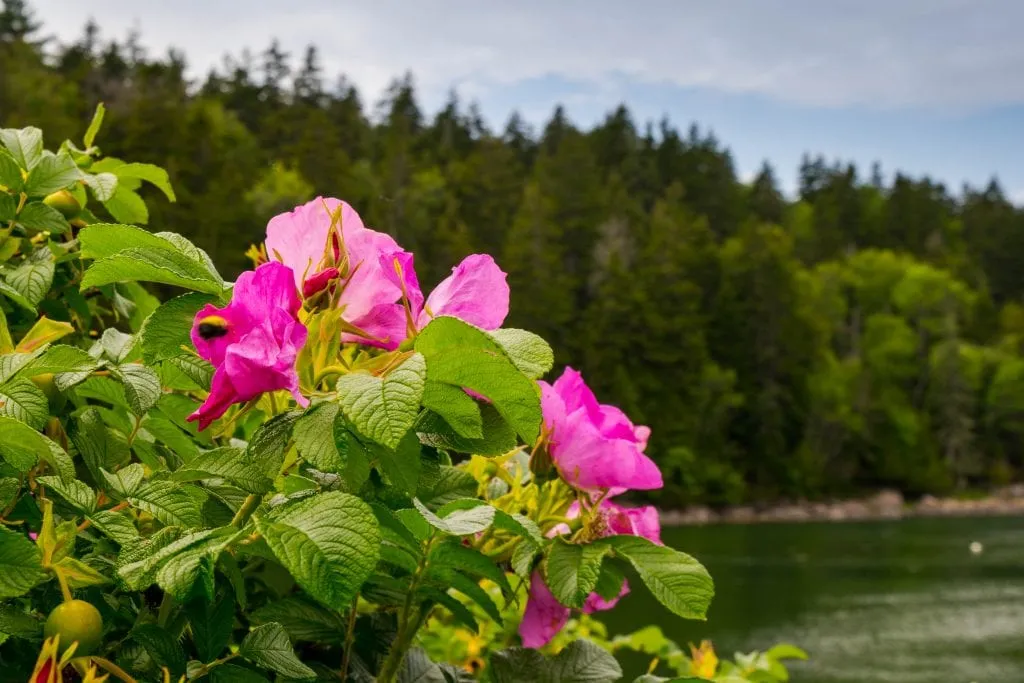 Some links in this post may be affiliate links. If you make a purchase through one of these links, we may earn a small commission at no extra cost to you. Please see our

disclosure policy

for more detail.
The Best Things to Do in Acadia National Park
Take in the view from the top of Cadillac Mountain.
If you've seen a picture of Acadia NP, it has probably been taken from the top of Cadillac Mountain, with the small islands off the coast showing in the distance.
It's a gorgeous spot–hike or drive up to catch the views, and don't plan on being in a big hurry to come back down.
In the fall and winter months, this spot is the first place where the sun rises in the United States, and watching those sunrises is one of the most popular things to do in Acadia National Park.
Come catch the first sunrise in the country, or, if you're like us, sleep in and catch the sunset instead.
If you're willing to hike rather than climb, you're also in for a treat: Cadillac Mountain is one of the best hikes in Maine.
Drive Park Loop Road.
There are very few times in my life I've ever considered using the phrase "pleasure drive", but of all the things to do in Acadia National Park, this may be the most classic!
The 27-mile Park Loop Road drives right past most of Acadia's most well-known sights, making it an efficient way to take in the breathtaking views–not to mention a great addition to any New England road trip itinerary.
Simply pull over on the right-hand side of the road whenever a trail, a view, or anything else catches your eye: in most places, parking is incredibly easy to come by, though there can be some traffic congestion at popular spots.
Many of the best places to visit in Acadia NP can be easily accessed from Park Loop Road!

Admire changing leaves in the fall.
Sadly, we didn't get to witness this beauty ourselves as we visited in July, but I have no doubt that the view from Cadillac Mountain when the trees are bursting with autumn color is absolutely breathtaking, and could rank as one of the best New England fall road trips!
It will be the first item on our list of things to do if we ever visit Acadia National Park at the "right" time of year!
See if you can catch the thunder at Thunder Hole.
A small inlet in Acadia's rugged coastline gets regularly slammed by the ocean waves as the tides change: at lucky moments, the crash sounds just like thunder.
Thunder Hole wasn't performing for us when we were there–the tide has to be coming in just the right way–but definitely check for ideal times to try to hear the phenomenon and swing by during that window if you can.
Eat blueberry everything.
During our weekend in Acadia National Park, we managed to have blueberry pie, blueberry muffins, blueberry pancakes, blueberry tea, and blueberry habanero sauce (which was surprisingly good!).
At the Jordan Pond House, we counted no less than seven blueberry-themed drinks on the menu: suffice it to say, Maine (not to mention New England as a whole) takes their blueberries seriously.
Considering how delicious they are, though, that's hardly a surprise!
We highly recommend basking in the wide variety of blueberry-centered foods and enjoying as many versions as you can during your vacation in Acadia National Park.
Check out Sand Beach.
Bright, clear water, colorful picnic blankets, families sprawled on the beach, and children shrieking while they swim… it definitely sounds more like a scene from Florida than Maine, but that's Sand Beach!
Of course, the fact that the water is freezing and the weather was only 65 degrees in July makes it very clear why only people under the age of 10 tend to think that swimming is a good idea there… but the beach is still beautiful and worth seeing when you're seeking out the prettiest places in Acadia NP.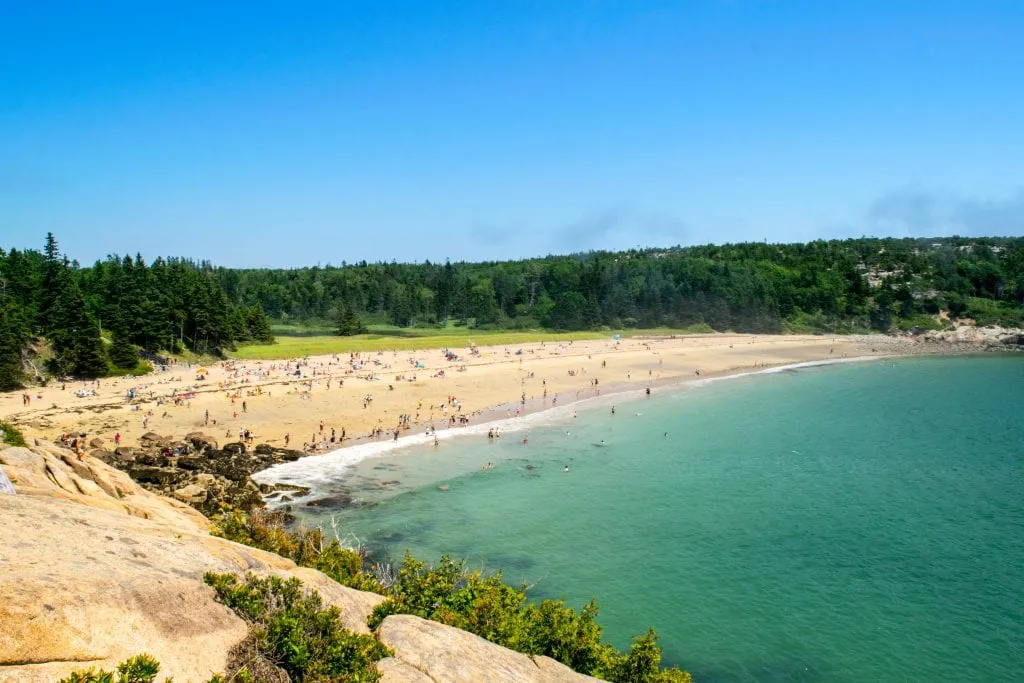 Eat a lobster roll.
What's a trip to Maine without a lobster roll?
Lobster pounds (aka hole-in-the-wall places that serve primarily lobster) are everywhere around Mt. Desert Island and are an essential addition to any Acadia itinerary.
Lobster rolls come in two varieties: cold with mayo, or hot with butter.
We tried Charlotte's Lobster Pound, which serves cold lobster rolls, and while we can now confidently say that cold lobster rolls are not our thing, the blueberry pie was amazing.
Head into Bar Harbor for the day.
Packed with adorable bakeries and shops, great bed and breakfasts, museums, whale-watching tours, and more, the small town of Bar Harbor, Maine is located just minutes from the entrance to Acadia NP.
While it's tempting to spend all of your time in the park itself, Bar Harbor is also worthy of your attention while in the area!
Watch the sunset at the Bass Harbor Head Light.
Is there anything more quintessentially Maine than a rocky Atlantic coastline paired with an adorable lighthouse?
I doubt it.
No Acadia itinerary is complete without a stop at this iconic lighthouse!
The Bar Harbor Head Light is one of the most photogenic places in Acadia NP, and the perfect place to have a sunset photoshoot.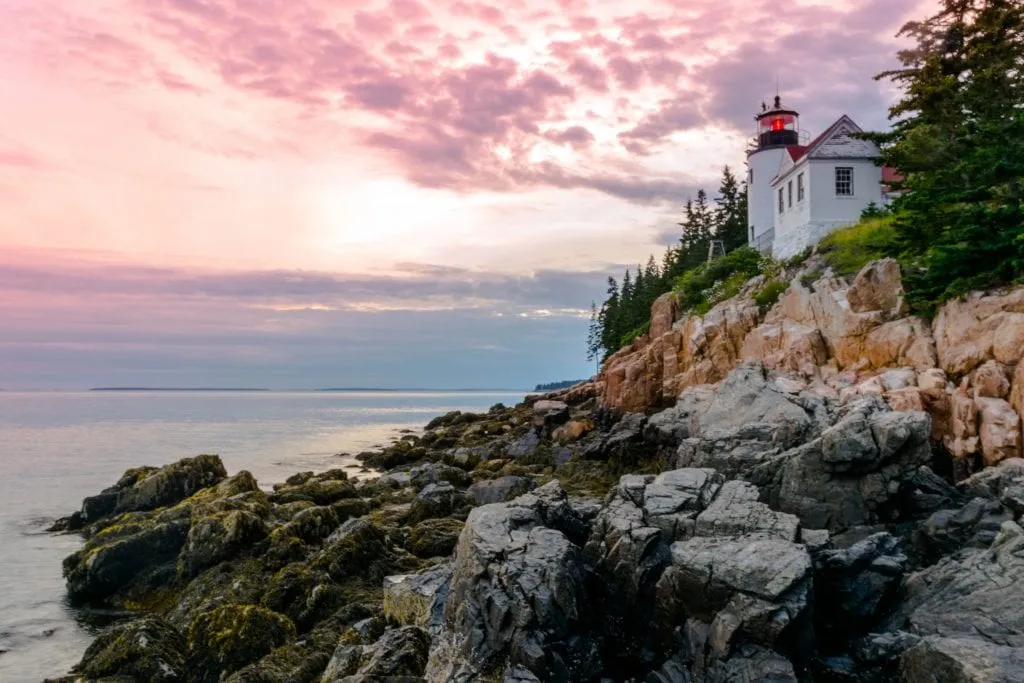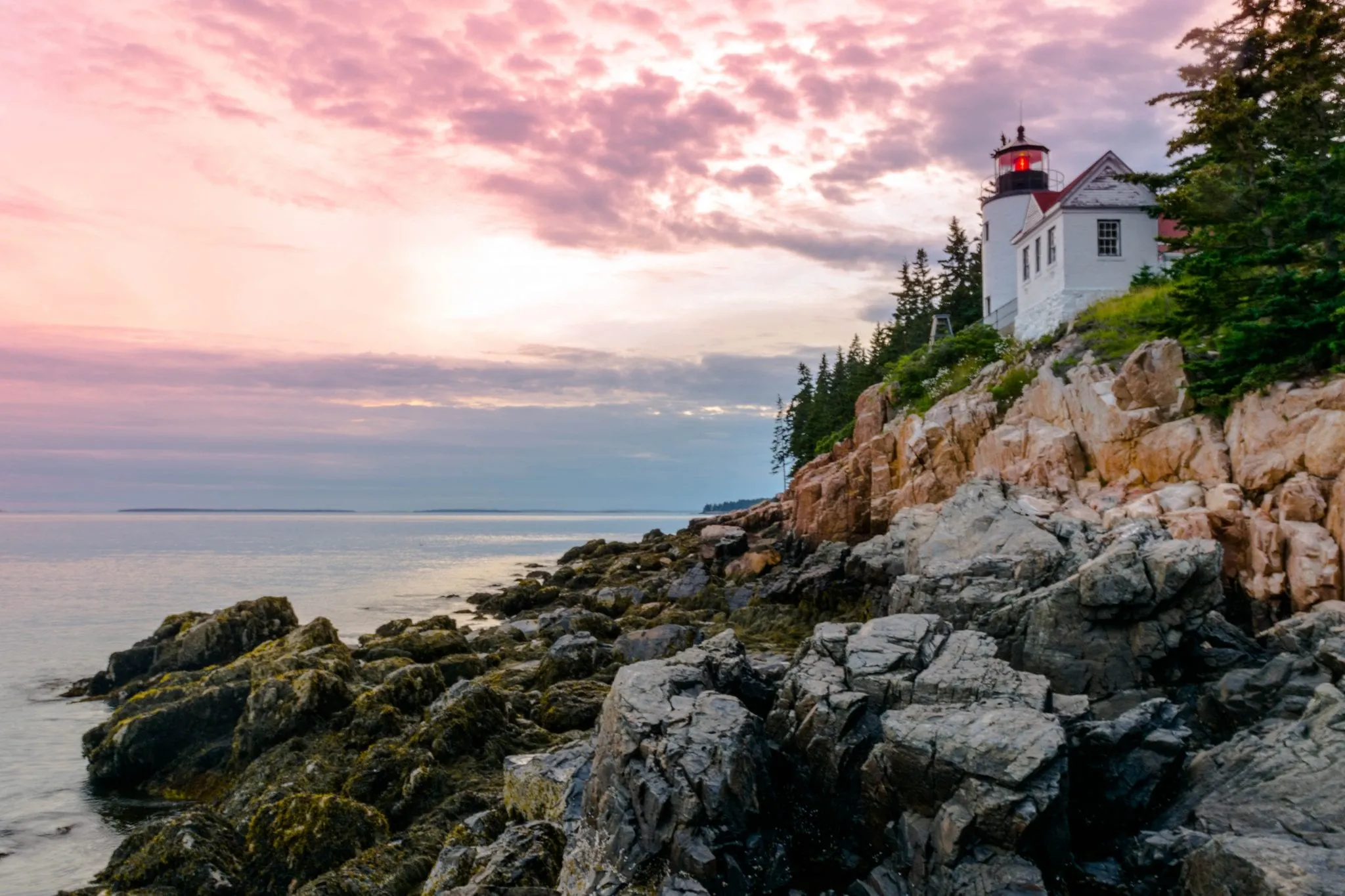 Take a stroll around Jordan Pond (after you eat).
The Jordan Pond House has been serving popovers (a sort of hollow bread roll served with butter and jam) for more than a hundred years… but it's not the only thing they know how to make.
Stop by for lunch or afternoon tea to have a meal, perhaps a glass of wine, and stare out over the restaurant's lawn to Jordan Pond itself.
While we were there, they closed down the lawn for dinner and only had people eat inside or on the porch–for that reason, I recommend going for an earlier meal.
Plus, that leaves you time in the day for a relaxing 3.2 mile walk around Jordan Pond after you're finished–you'll need the walk to digest.
Explore the Carriage Roads.
You can thank John D. Rockefeller for this: in the first half of the twentieth century, he financed the production of 57 miles of carriage roads in Acadia. No cars are allowed on these roads, but they're perfect for walking, biking, and horseback riding.
If you are feeling a bit old-fashioned, consider taking part in one of the most iconic things to do in Acadia National Park: ride in a horse-drawn carriage along the roads, similar to how the wealthy patrons of Acadia explored it long ago.
Climb along the coastline.
Acadia's rocky coastline makes for a wonderful jungle gym for adventurous souls: simply pick a place and (carefully) climb down to the shore: listening to the waves lap at the rocks and checking out all of the tidal pools near the water are worth the effort to get down there.
Hike the Beehive Trail.
The Beehive Trail is on my personal bucket list for Acadia National Park–but considering that I'm terrified of heights and that this Acadia hike includes lots of exposed edges and iron rungs to climb, it may take quite a while for me to cross it off!
For those who complete the short 1.4-mile trail, though, they'll be rewarded with absolutely stunning views over Sand Beach and Mt. Desert Island in general.
Have a picnic.
On the rocks by the sea, near Jordan Pond, at a random grassy pullover, along a trail, in a field with flowers… it doesn't matter where!
Any quiet corner of Acadia National Park is a great place for a picnic.
Soak in the views from Otter Cliff.
Staring out over the Atlantic Ocean from Otter Cliff is an incredible experience, and one of the best things to see in Acadia NP!
Should You Rent a Car in Acadia?
While shuttles during the busy summer season mean that it is technically possible to visit Acadia without a car, we wouldn't recommend it: this is a place for exploring, and you'll want the freedom to drive.
Plus, Acadia makes an epic conclusion to one of the best road trips in the USA!
The best way to find your rental car is to search through Discover Cars, which will sift through dozens of companies to find the best combination of low prices and reasonable rental terms for your road trip to Acadia National Park!
Browse rental cars for your Acadia road trip today!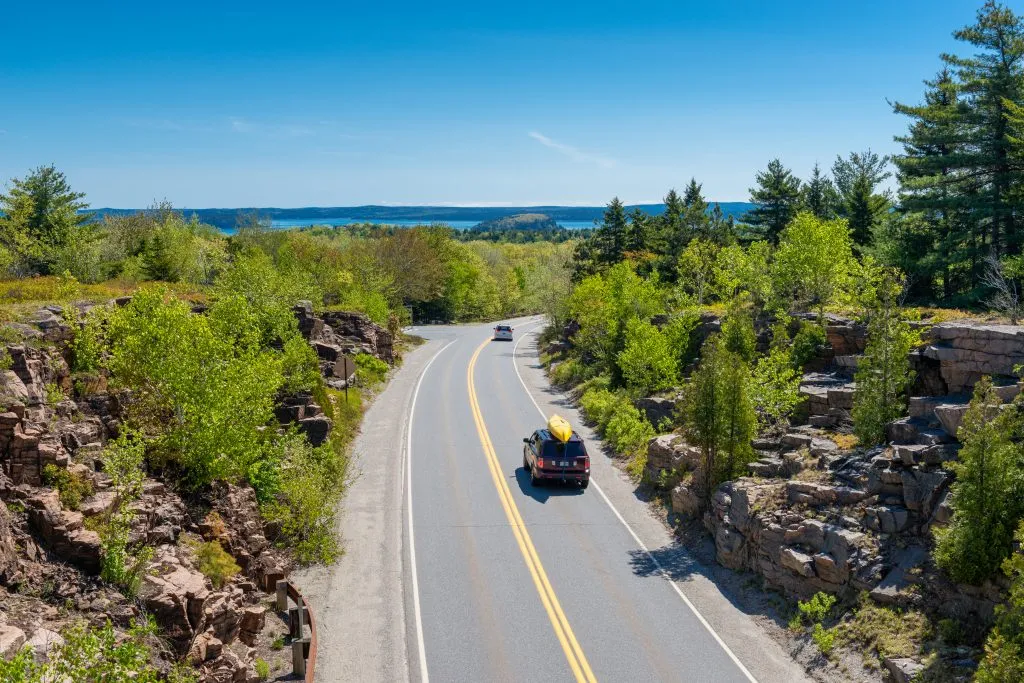 Where to Stay When Visiting Acadia National Park
Generally, whether you're looking for an adorable bed and breakfast a New England vacation rental, a standard hotel, or an RV park, the best place to stay when exploring the best things to do in Acadia National Park is in or near Bar Harbor.
Here are a few popular properties that are perfect for enjoying an Acadia NP vacation!
Budget
High Seas Motel — For travelers looking for a clean, well-reviewed property in Bar Harbor on a budget, you can't beat the High Seas Motel!
Featuring free on-site parking and a pool, the High Seas Motel is a great option for visiting Acadia National Park!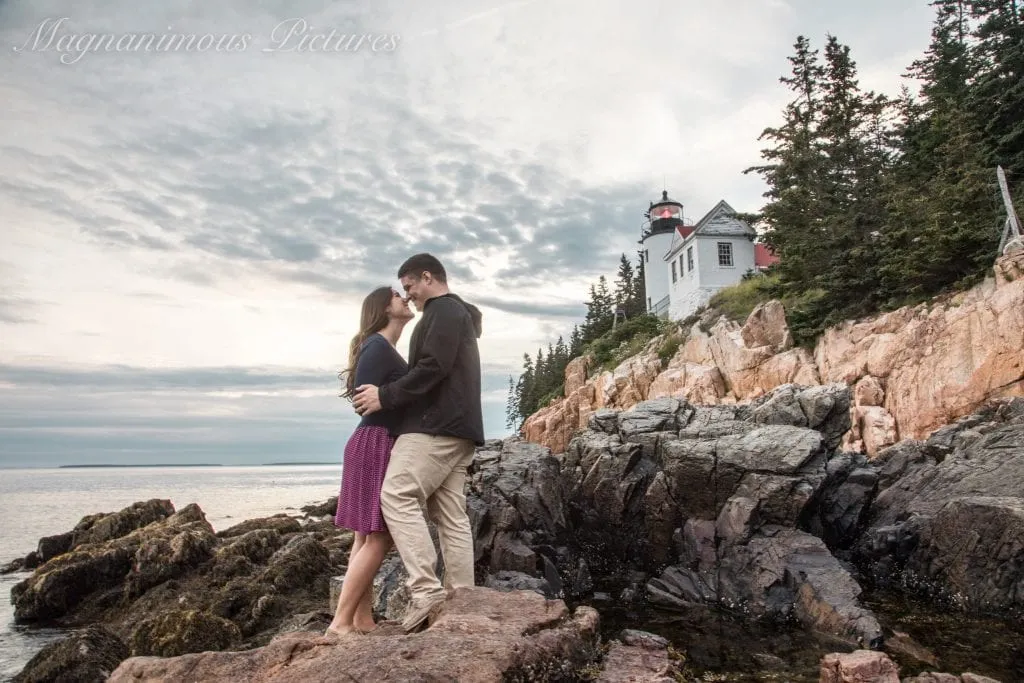 Mid-Range
Acadia Inn — This beautiful and extremely popular inn is located just outside of Bar Harbor, less than a mile from the entrance to Acadia National Park!
With excellent reviews, cozy rooms, an included breakfast, and an Acadia NP shuttle stop right outside during the summer months, you can't beat at stay at the Acadia Inn when it comes to convenience when visiting Acadia National Park!
Luxury
The Inn on Mount Desert Island — Featuring luxury amenities, spacious rooms, an included breakfast, and more within a short walk of both the waterfront and downtown Bar Harbor, the gorgeous Inn on Mount Desert Island is a delightful place to stay when visiting Acadia National Park.