March 10, 2019
39 Incredible Things to Do in Boston
United States
As soon as we touched down in Boston, we both loved it. It just felt good. The city was homey and exciting and relaxing and new and familiar all at the same time, in the very best ways.
We were ecstatic, and started exploring Boston immediately with every second that we could spare while hunting for a summer sublet.
This was all a bit surprising to us, because we never really had a fierce desire to visit New England.
Sure, we eventually wanted to see all fifty United States, and we had vague aspirations of seeing the fall foliage in this part of the world, but New England was always one of those "meh, we'll get around to it" destinations for us–nothing we had a goal to see in our twenties or even our thirties.
Boston received even less attention from us than New England as a whole: it seemed to us to be an expensive city set in a cold area of the country–not our typical MO.
When we learned, then, that we would be living in Boston for 2.5 months while Jeremy got ready to take his new position 100% remote, we were a bit uncertain about how much we would enjoy our surroundings for the summer.
We shouldn't have worried.
Immediately, we were head over heels for Boston.
We quickly set to work making an aspirational list of all the things to do in Boston that we hoped to accomplish over our 2.5 months here, knowing even then that there was no way we would make it to all of them.
We made a heck of an effort, though, and have ended up with an amazing list of things to do in Boston that no one should miss.
Looking to plan a trip to one of the USA's most historical and fascinating cities? Start here.
39 Incredible Things to Do in Boston
Walk the Freedom Trail.
First things first: Boston's 2.5 mile long Freedom Trail covers 16 incredible historical sites, primarily centering around the American Revolution. Check out Paul Revere's House, stand at the site of the Boston Massacre, climb aboard the USS Constitution, and visit the Old North Church–just to start. There's a reason this is at the top of everyone's lists of things to do in Boston!
Some of the sites require a small entrance fee, but outside of that, the Freedom Trail is completely free–which, of course, doesn't stop enterprising companies from selling pricey Freedom Trail tours online.
Unless you particularly want to have someone in 18th-century garb show you around the city, don't feel remotely pressured to buy a tour of the Freedom Trail.
You can easily walk the Freedom Trail independently, but a guided tour is relatively inexpensive and can add lots of context to the sights–especially if you're not from the USA or haven't cracked open a US History book since high school.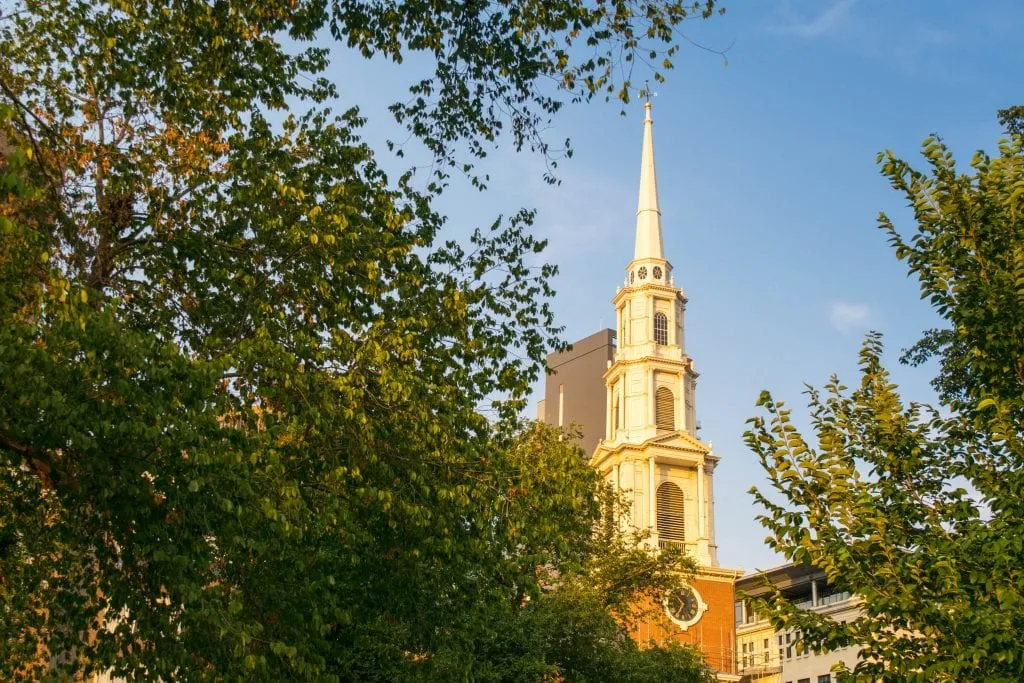 Explore Back Bay.
Beautiful mansions, plenty of trees, and trendy restaurants: what more could you want? Be sure to stop by Copley Square while you are there!
For brunch, we ate at Buttermilk & Bourbon and absolutely loved it–if you go, you must order the biscuits.
Back Bay is also home to Newbury Street, home to high-end shopping boutiques. Whether you feel like splurging on designer pieces or simply window shopping, definitely stop by.
Wander through Beacon Hill.
Beacon Hill is one of the USA's oldest and prettiest neighborhoods. Be sure to check out Louisburg Square for some idyllic homes, and Acorn Street for oodles of photo opportunities.
Charles Street in Beacon Hill is also home to plenty of boutiques and restaurants, making this a great place to stop for a meal.
Visit the USA's first public beach at Revere Beach.
Growing up in suburbs in the USA, we still occasionally get excited by all the different things that can be accessed by public transportation around the world–and we get even more excited when that variety happens at home in the United States.
In Boston, you can take the T directly to the United State's first public beach–you can't ask for an easier way to access Revere Beach!
Ride the oldest subway in the USA.
The Green Line on "the T" (Boston's subway and tram system) is the oldest in the country: specifically, the area between the Boylston and Park Street stops. Luckily, this is right in the middle of Boston's tourism center, so you'll almost certainly end up here without trying while exploring the many things to do in Boston.
Stroll along the Harborwalk.
No visit to Boston could be complete without seeing a piece of its gorgeous Harborwalk. Enjoy both views of the city and views of the harbor itself while walking along the coastline.
Tour the Samuel Adam's Brewery.
Want to try free beer? Add the Samuel Adam's brewery tour to your list of things to do in Boston!
True, there is a suggested $2.00 donation (which you should definitely give, as it benefits Boston charities), but that's still not bad for a tour of what the company calls its "research and development hub" and the chance to try a few beers!
For obvious reasons, make sure you bring your ID with you to this tour.
Walk through the Boston Public Garden.
The Boston Public Garden is one of our favorite spots in the city: it's gorgeous, it's peaceful, and it's the perfect place for either a walk or a picnic. Be sure to check out the Make Way for Ducklings
statue, put in place for the famous children's book.
If you'd like to check out the view from the water, the swan paddle boats are an amazing deal in the heart of Boston: $3.00/ride.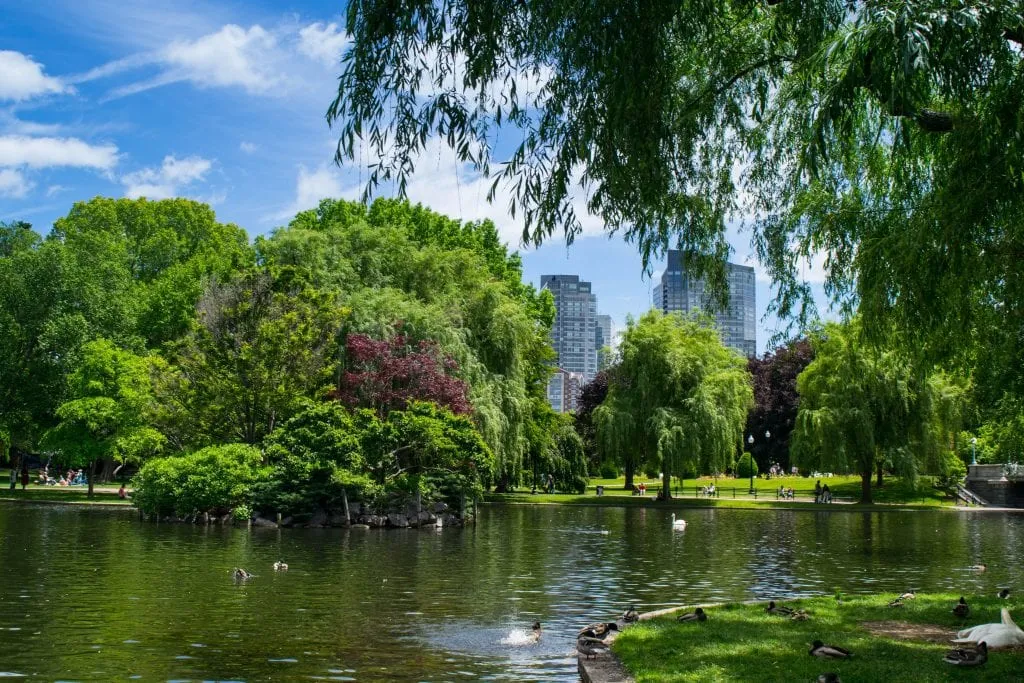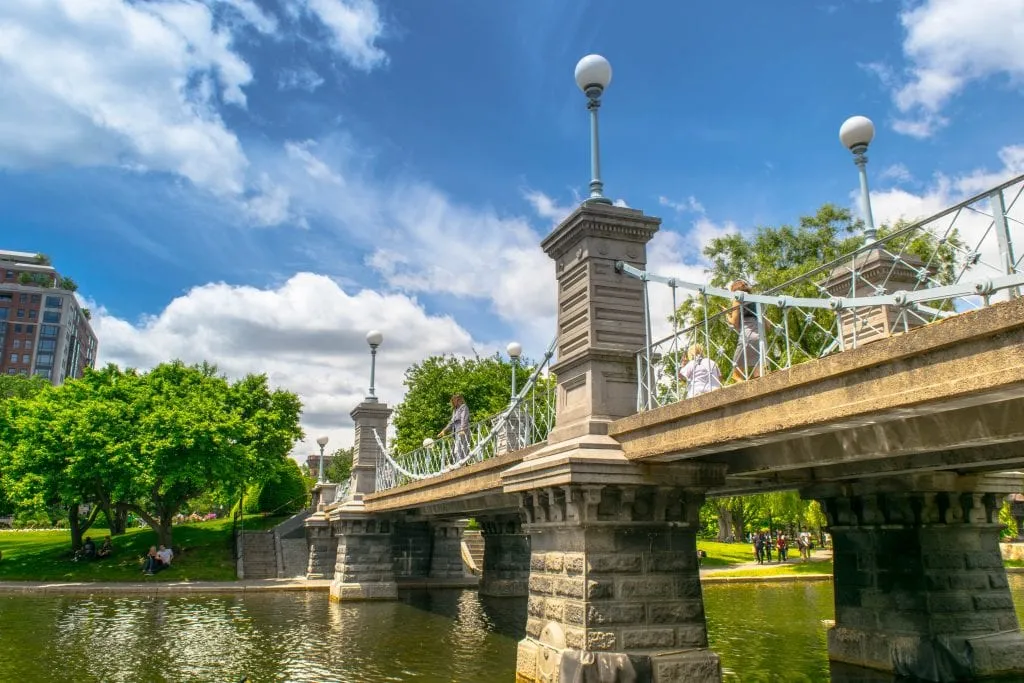 Check out the Arnold Arboretum.
Want to get away from the hustle and bustle of the city for a bit? Head to the Arnold Arboretum: belonging to Harvard University and acting as the second largest "link" in the Emerald Necklace that surrounds downtown Boston, this is a beautiful place to unwind.
Spend an afternoon in the Boston Common.
Boston Common is impossible to miss on a list of things to do in Boston, if only because of what surrounds it: Beacon Hill, the Massachusetts State House, Park Street Church, and the Boston Public Garden are all visible from it, and Downtown Crossing, the Theater District, Back Bay, and more are all just a short walk away.
Even better, Boston Common is a destination in its own right: the green lawns are perfect for flopping, the food stalls sell (admittedly overpriced) snacks, and you can almost always find a performance going on during the weekends, whether it's as elaborate as Shakespeare in the Park or as simple as one person with an instrument.
Be sure to check out the Frog Pond: this shallow (less than a foot deep) pool is a splash pool for children in the summer, but in the winter, it turns into an ice skating rink–that will be our first stop if we ever return to Boston in the winter!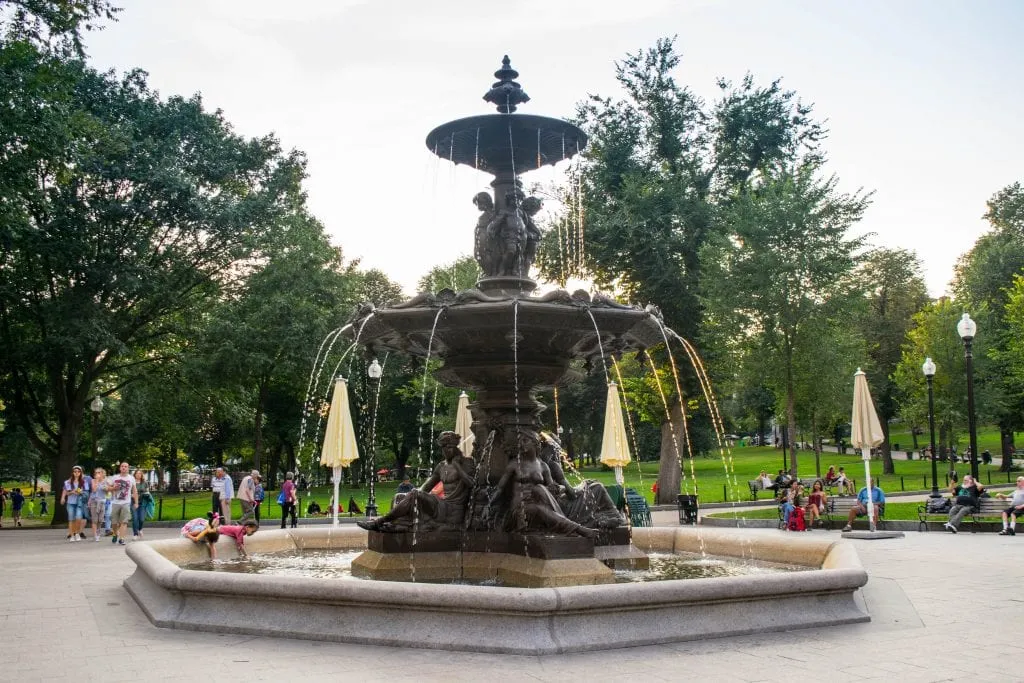 Take sailing lessons on the Charles River.
Sadly, we didn't get a chance to cross sailing lessons off of our things to do in Boston list this summer–with how much traveling we wanted to do on the weekends, we knew it would be too ambitious to try to fit it in. Whenever we pass by the small student boats bobbing on the water, though, we feel a pull toward them!
If the weather is right, be sure to try your hand at sailing while in Boston. Sailing packages of all sizes are available right on the Charles River.
Walk along the Charles River Esplanade.
The Charles River Esplanade stretches along the southern bank of the Charles River, near Back Bay. It's the perfect place for a jog, a picnic, a long walk, or–on the Fourth of July–to watch the fireworks from.
We opted to watch the fireworks in Cambridge rather than fight the crowds on the Esplanade, but there's no doubt that if you're willing to secure a place early, you'll have a great time watching the Boston fireworks from the Charles River Esplanade.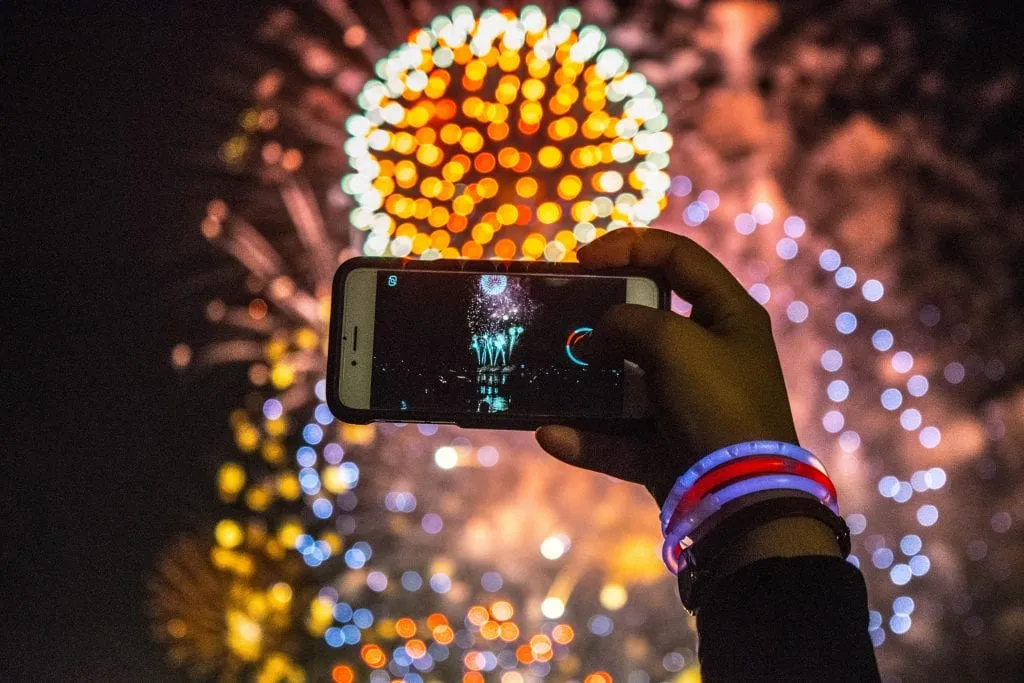 Take a Duck Tour.
Cheesy and touristy beyond belief, if you're looking for a fast and easy way to get around Boston and see some of the historical highlights quickly, a Duck Tour is worth considering.
Why is it called a Duck Tour? Because the truck you ride in… is also a boat. Part of the tour takes place throughout Boston's roads, and the rest of it takes place from the harbor itself.
Plan ahead: buy tickets to Boston's duck tour now!
Explore the North End.
The North End is Boston's most famous neighborhood, known for its Italian charm. Though the tourist trap restaurants outnumber those serving genuine Italian food these days, the neighborhood itself is still incredibly beautiful and charming to walk through.
Be sure to stop into one of the Italian grocery stores, grab some sweets (we can attest to how tasty Modern Pastry is), and visit Paul Revere's house and the Old North Church while here!
Check out the Boston Public Market.
Don't make the mistake of going to the Boston Public Market with anything but a completely empty stomach: this is a place that you eat your way through. Whether you're craving a bagel, a pastrami sandwich, a Union Square Donut, ice cream, gourmet popcorn, or something else entirely, there will be plenty to eat here.
If you're headed home afterward, feel free to pick up some meat, cheese, fresh produce, or any number of other products to take home as well.
Visit Haymarket.
On Fridays and Saturdays, the outdoor Haymarket opens for business next to the Boston Public Market. Piles and piles of fresh fruits and vegetables are sold at competitive prices–just as they have been since 1830.
Pause to reflect at the Holocaust Memorial.
The New England Holocaust Memorial is not only incredibly beautiful, somber, and well put together, it is right in the heart of the city–the memorial is across the street from the famous Bell in Hand Tavern, and if you're hitting major tourism hot spots along the Freedom Trail, you'll undoubtedly be very close by.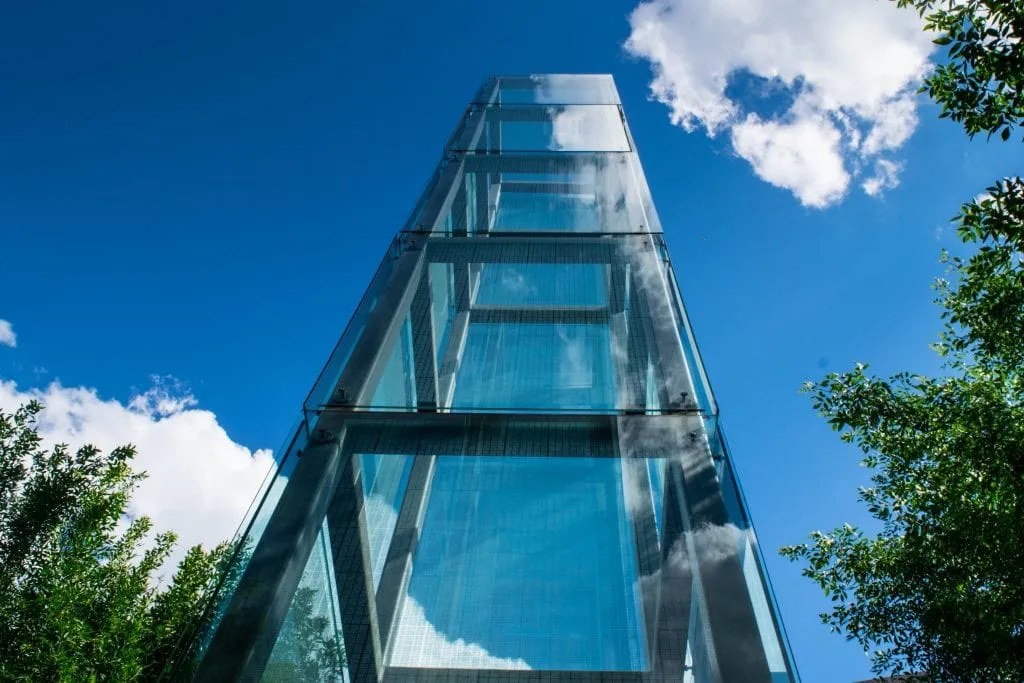 Wander through the Isabella Stewart Gardner Museum.
The Isabella Stewart Gardner Museum is a beautiful place that is home to remarkable art… and an interesting story.
In 1990, 13 works of art were stolen from this museum in a heist that sounds like something out of a movie: two thieves posed as Boston Police Officers, outwitted the guards, locked them in the basement, and made off with their bounty.
To this day, empty frames hang symbolizing where the stolen art should be displayed, and the museum is offering a $10 million dollar reward for return of the art.
Grab a drink at the Bell in Hand Tavern.
The Bell in Hand Tavern holds the distinction of being America's Oldest Tavern, having poured its first drink in 1795. The Tavern is famous for its ale, and the burgers and Boston Creme Pie aren't bad, either!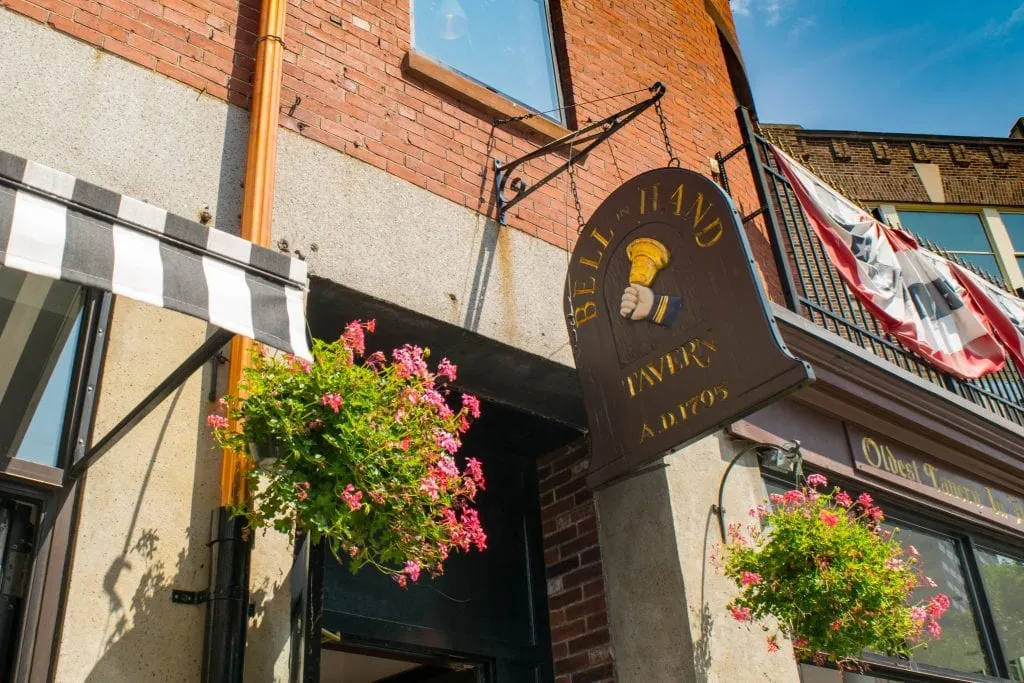 Grab afternoon tea at the Boston Public Library.
The Boston Public Library (including its awe-inspiring reading room, intricate architecture, and delightful courtyard) is indisputably gorgeous and worth a visit. Less well known is the fact that The Courtyard Restaurant, located on-site, serves a beautiful afternoon tea!
Make reservations for Monday-Saturday, 11:30-3:30, for an unusual library experience.
Take a Harbor Cruise.
Boston's skyline is beautiful from the water, and taking a cruise on the harbor is a perfect way to appreciate it! Go on a basic group cruise to experience the sites, opt for a luxurious private, catered cruise at sunset, or anything in between!
For a less expensive harbor cruise, this sunset cruise is a great option!
Visit the crypt under the Old North Church.
Underneath the famous Old North Church lie 37 tombs that were built between 1732 and 1860, and the crypt that houses them is open for visitors.
Climb down the cramped staircases to learn about how and why this crypt was used–definitely a different atmosphere than walking into the Old North Church sanctuary above it!
Visit the New England Aquarium.
The New England Aquarium is now arguably our favorite aquarium in the world, and visiting it is one of our favorite things to do in Boston. It's also an unmissable experience if you're visiting Boston with kids!
Not only does it use water from the harbor in some of its exhibits and have an enormous focus on conservation, it's also home to our favorite marine animal of all time: penguins.
The New England Aquarium is home to 3 different species of penguins, and they are all absolutely adorable. Be sure to stop by at penguin feeding time (11:00 AM and 2:30 PM) to see these guys get really excited!
After, be sure to head up to the top of the 4 story Ocean Life tank–see if you can spot Myrtle the sea turtle while you do!
Want to avoid waiting? Purchase a skip the line aquarium ticket before you get there!
Planning a trip to Boston? Get the Boston CityPASS!

The Boston CityPASS covers entrance into the New England Aquarium, the Skywalk Observatory at the Prudential Center, the Boston Science Museum and either a harbor cruise or entrance into the Harvard Museum of Natural History.

Unlike some city passes that cause you to go out of your way to get your money's worth, this one focuses on only a few of Boston's best attractions: if you're headed to Boston, you need this pass!
Dump tea in the river at the Boston Tea Party Ships & Museum.
We love quirky museum ideas, and this one definitely fits that bill: in the Boston Harbor sits a ship designed to look like one from the 18th century.
Take a tour of the ship and adjoining museum to learn all about the history and implications of the Boston Tea Party, and end the occasion by channeling your inner colonist and participating in one of the most famous things to do in Boston (at least historically speaking): dumping tea into the harbor!
There is also a cafe on site serving, what else, the types of tea tossed into the harbor all those years ago, so stop in if you feel like tasting some!
See a show.
From elaborate theater productions, to the ballet, to the symphony, Boston has no shortage of shows to see. Check what's in season when you're coming to Boston, and set aside one night to enjoy a show!
During our summer in Boston, we saw Wicked at the Boston Opera House. The Boston Opera House is incredibly gorgeous, more than I would have even imagined–it would not look out of place in any European capital city.
We also hit the park one night for Shakespeare in the Park, and saw (for free!) a wonderful production of Romeo & Juliet in the Boston Common. If Shakespeare in the Park is going on during your visit, don't miss this awesome free show in Boston!
Stargaze at the Coit Observatory.
Most Wednesday nights (weather permitting), the Coit Observatory at Boston University opens to the public to let people learn about astronomy and observe the night sky using telescopes and binoculars available on location.
Even better? This is a free event–providing you can get tickets. The events do "sell" out, so be sure to book in advance through the observatory's website when you're planning what to do in Boston!
Take a day trip to the Boston Harbor Islands.
Boston's Harbor Islands are a great place to go to feel away from the city (but not so far away, as you can see the skyline from some islands!).
Enjoy a trail, hang out on a beach, or climb to the top of the lighthouse–whatever island and activity you choose to add to your list of things to do in Boston, the Boston Harbor Islands are sure to make a great, quick escape from the bustle of the city.
Get great skyline views.
There is no shortage of opportunities to get great views of Boston's skyline! Most popular (and included in the Boston CityPASS) is the top of the Prudential Center (or "the Pru").
Also making the list are the 14th floor of the Atlantic Wharf Building (it's free, but be sure to bring ID!), the view from the Longfellow Bridge, and the view from the top of the Bunker Hill Monument, which is where the below photo was taken from.
Whatever view you pick, make sure you add a skyline view to your list of things to do in Boston!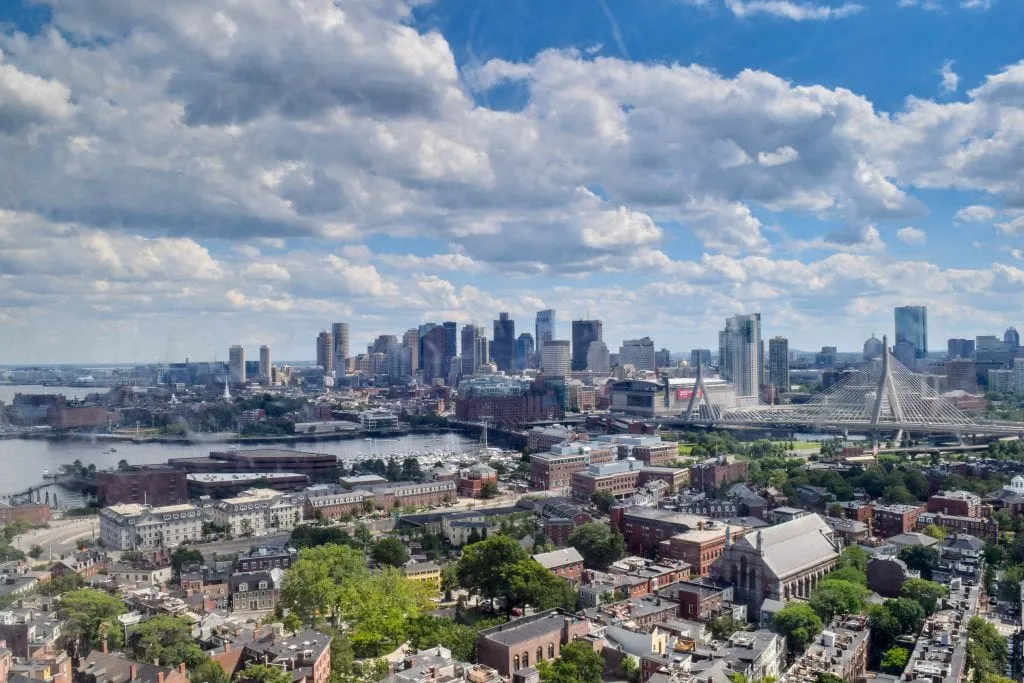 Visit the Brattle Book Shop.
Brattle Book Shop is a fantastic stop for anyone who loves independent bookstores: on nice days, their bargain books are all set up outside in an empty lot next to their building, with a simple pricing structure: $1, $3, or $5 per book, depending on the color of the sticker.
If you head inside, you'll not only find even more books, you can check out the posters for the rare books that are for sale as part of their collection.
Ever considered spending $150,000 on a book? Me either, but apparently someone did: that book's poster had a "sold" sticker on it.
Try the original Boston Creme Pie & original Parker House rolls at the Omni Parker House.
In the heart of downtown Boston lies the oldest continuously operating hotel in the United States, which is dripping with opulence and worth stepping inside just to see it. The Omni Parker House has played host to guests such as Charles Dickens and Nathaniel Hawthorne.
Its carbs, however, are the real highlight: Parker's Restaurant is the birthplace of both Parker House Rolls and the Boston Creme Pie, both of which were delicious when we tried them in their original home.
Go see Faneuil Hall & Quincy Market.
… But you're probably not going to want to buy anything. These historic markets and their surrounding area are about as touristy as you can get: high prices, gimmicky items for sale, questionable quality of food.
However, the buildings are beautiful and the history neat–since they are located right on the Freedom Trail, be sure to stop in and have a look!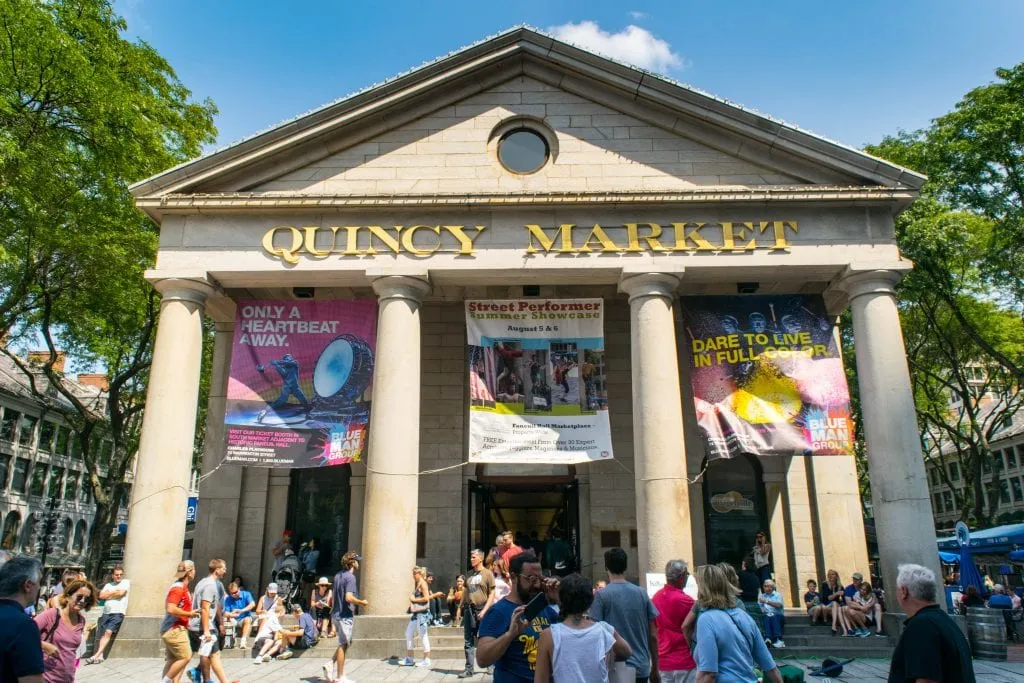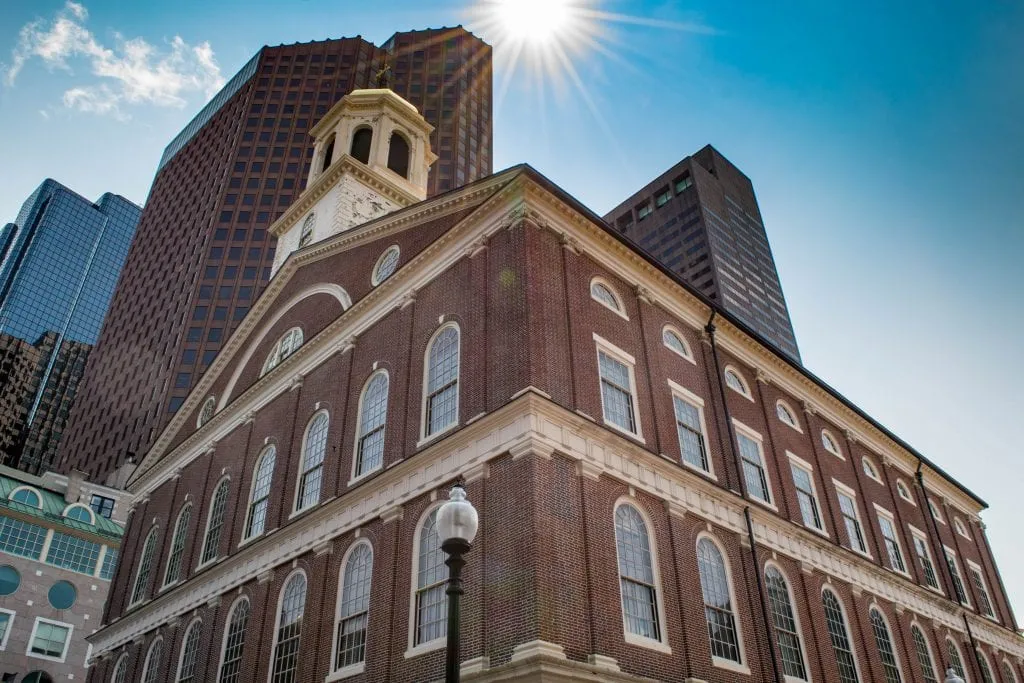 Take a tour of Harvard.
Whether you choose a student-led tour or you download Harvard's free walking tour from their website to add to your list of things to do in Boston, don't miss a chance to walk around one of the most famous educational institutions in the world! While you're over there, make the time to spend the day in Cambridge–even off-campus, Cambridge has plenty to offer!
Tours of Harvard are surprisingly inexpensive–if you want a guide, this is a great place to have one!
Visit the Boston Science Museum.
In a city home to legendary educational institutions such as MIT and Harvard, it makes perfect sense that the Boston Science Museum would be top notch, and it definitely is.
From robotics to space to fossils to the Hall of Human Life and beyond, the Boston Science Museum covers a vast array of topics and is sure to have something to interest anyone with an even slightly curious mind.
Tour the State House.
Massachusetts' beautiful gold-domed State House is free to tour on weekdays from 10:00 AM to 3:30 PM, though you will need to make reservations in advance! If you're interested in the history of the building, be sure to put this on your list of things to do in Boston.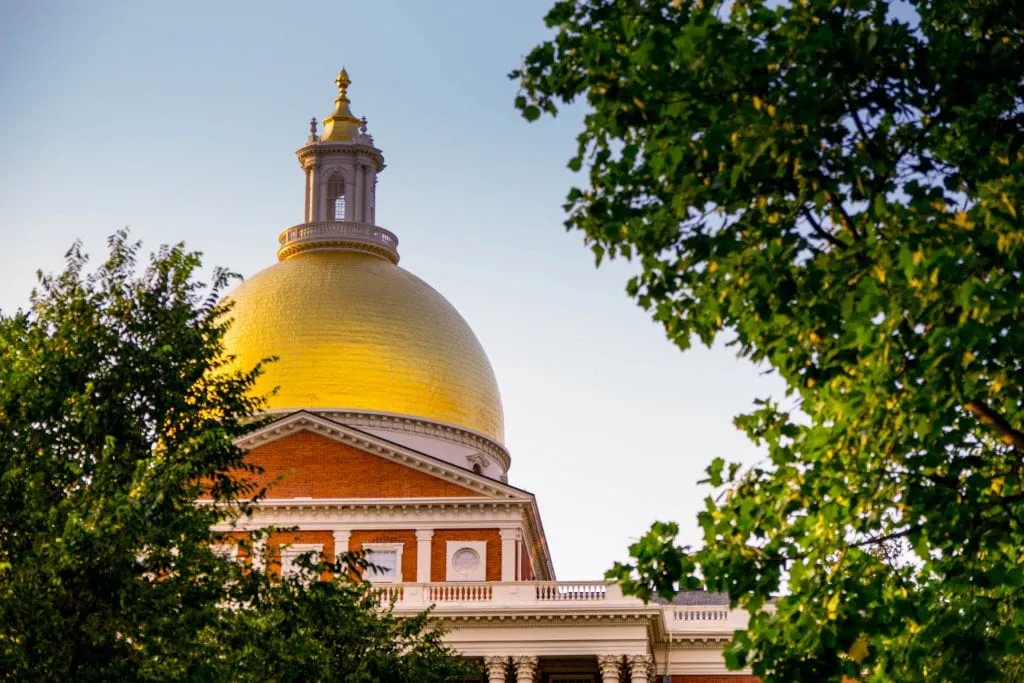 Visit the Boston Museum of Fine Arts.
The MFA is one of the biggest art collections in the USA: home to nearly 500,000 works of art, it's a must-see for any art lover passing through Boston.
Go see the Mapparium at the Mary Baker Eddy Library.
If you're a travel nerd, a map nerd, a history nerd, a geography nerd, or all of the above, definitely make time to visit the Mapparium.
The Mapparium is an odd exhibit: it's a gorgeous (and giant) stained glass globe, designed to show all of the continents in their true proportions, unlike typical maps… and you view this globe by standing on a bridge inside of it.
The geographical map is frozen in time to when the Mapparium was created in 1935: the number of countries that have changed names and/or borders in that time is incredible, and Jeremy and I had a blast picking out places we had been that had changed in that last 82 years.
Truthfully, we weren't sure whether or not this visit would be worth the time, but it far exceeded expectations. Sadly, they don't allow photos inside–all the more reason to visit and see it for yourself!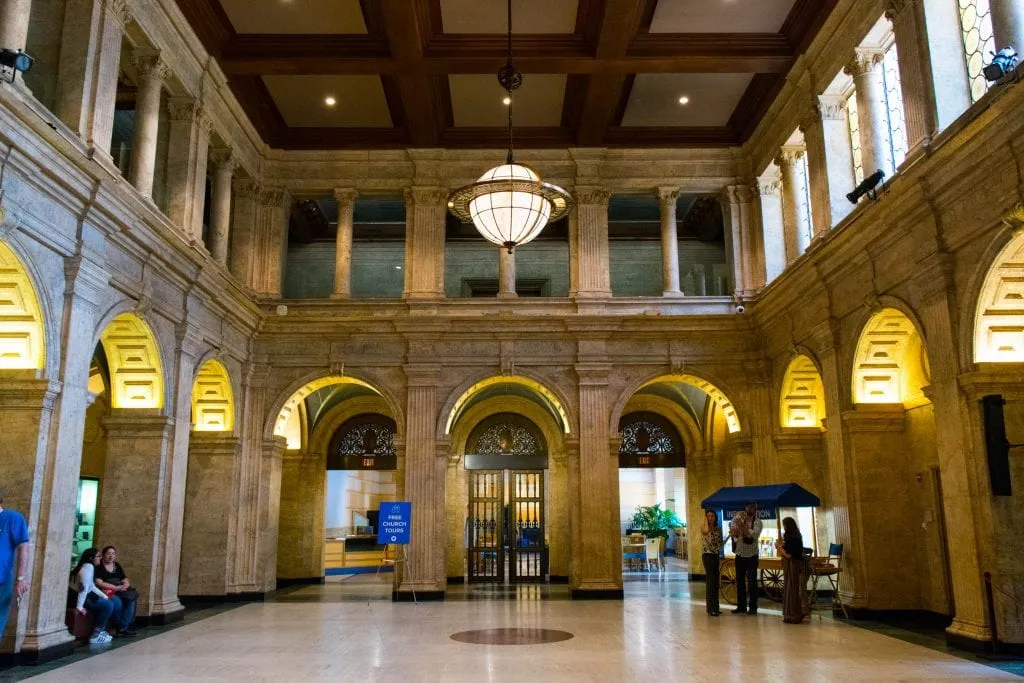 Pay a visit to MIT and the MIT Museum.
If you're inspired by scientific discovery, it's hard to imagine a better place to explore in Boston than MIT and the MIT Museum.
Start with walking through the famous campus, either on a guided or self-led tour (information for self-led tours is available for free on MIT's website), and then follow it up with a visit to the MIT Museum for incredible exhibitions on cutting-edge scientific research, as well as the history of science!
Check out the Spite House.
Also known as the "Skinny House", the Spite House is not only a fun site to see, it has a great story to go with it.
As the story goes, during the American Civil War, two brothers inherited some property. One brother was away serving in the military, and the other brother took the opportunity to take over the inheritance, building a house big enough that he was certain his brother wouldn't have room for a home of his own.
When the second brother returned from the war, he built the narrow "Spite House" on what was left of the property, blocking light and views from reaching his brother's house.
The Spite House is located directly across the street from the Copp's Hill Burying Ground, so if you're walking the Freedom Trail, you won't miss it!
Want to learn some of Boston's darker secrets? Check out this ghosts & graveyards tour–Boston is easily one of the best cities in the USA to take a ghost tour in!
Catch a ball game at Fenway Park.
Boston's Red Sox are famous: loved by some, hated by others, they remain one of the most famous baseball teams in the United States.
Head to Fenway Park for one of the most classic things to do in Boston: catch a game and eat a Fenway Frank. Be sure to check the game schedule and buy tickets before the day you plan to visit!
Read More About New England: 12 Amazing Things to Do in Acadia National Park
Getting Around Boston:
Boston is a walking city at heart–expect to be on your feet a lot when you are exploring things to do in Boston. Its walkability is one of our favorite aspects of the city!
When you're not walking, you'll likely be on a train (or perhaps a bus): pick up single tickets, a one-day link pass, or a seven-day link pass at any T station. Charliecards (which are what the locals use) are available only at some stations–you need to get them directly from an MBTA employee.
For a short trip, however, I wouldn't worry about it: just pick up a pass. Single rides are $2.25 one way, so if you're going to be hopping around sightseeing, a one day pass ($12.50) or seven-day pass ($21.25) will almost certainly be a better deal.
Uber and Lyft both have a presence in the city, though Uber is much more prevalent and has many more drivers. Cabs, of course, are available as well.
One thing we would not recommend in Boston? Driving. The streets are not laid out in a typical grid pattern, making it confusing to get around. Traffic is congested. Parking is incredibly expensive. Just… don't drive, unless you're heading out of Boston to some of the small towns in Massachusetts. It's not necessary!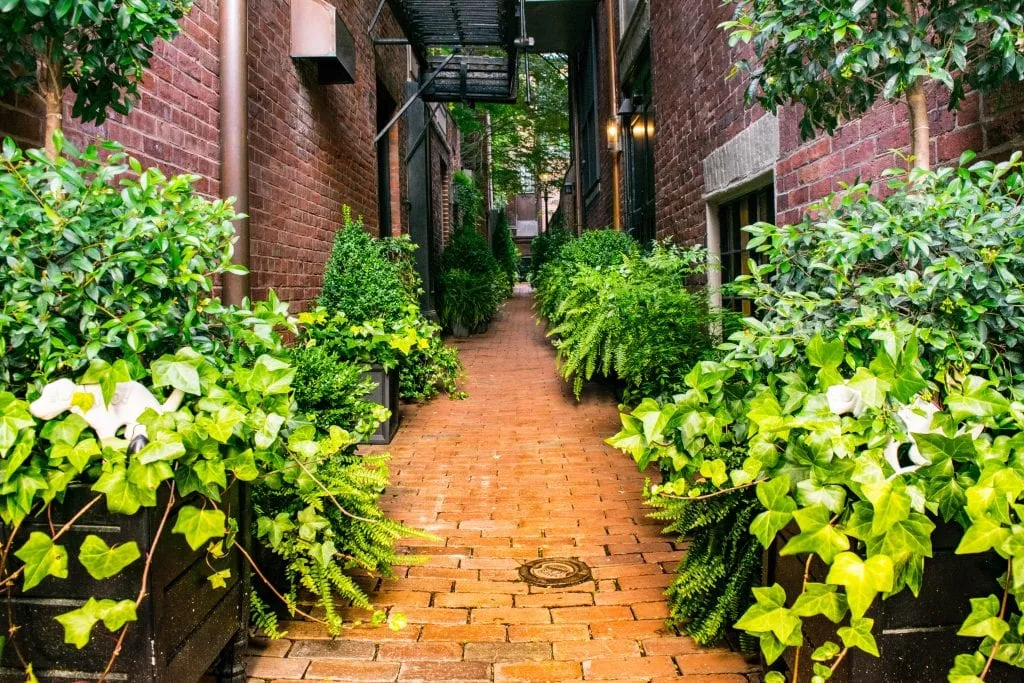 We have grown incredibly passionate about Boston over the summer: it is a beautiful city, it's packed with more US history than arguably anywhere else in the world, it is home to delicious food, and is overall an inviting and fascinating place.
True, we're not in a hurry to move here and contend with the prices and the winter on a full-time basis, but Boston is now ranked among our favorite cities in the world, and we will definitely be back. After all, there's no chance of us running out of incredible things to do in Boston!
Even this very long rundown of things to do in Boston doesn't cover it all–no one post possibly could–but there's more than enough here to fill up a first trip, second trip, and beyond.
Where We Stayed in Boston:

Ramada Boston — Coming from Central America, EVERYTHING in Boston looked expensive when we came to search for sublets. We wanted to balance budget consciousness with a location that wouldn't require us to rent a car, and Ramada Boston ticked both boxes. The hotel itself was very standard: clean, with a decent included breakfast. Though it was not located in the center of the city, the Ramada Boston runs a shuttle every half hour to and from the red line and the airport, making it very simple to hop on a train and head anywhere into the city. We wouldn't hesitate to stay here again, and it's a great option for Boston travelers on a budget.