When it comes to exploring our backyard, there's no kind of trip that Americans hold nearer and dearer to our hearts than the delights of summer vacations in the USA.
There's an exhilarating freedom that comes with hitting the open road in the US in June, July, and August, no matter how many years it has been since you were in school and actually had an assigned summer break.
And, if you're like a lot of us, summer vacation in the US often means heading to your family's classic spot at least once (for us, that's Atlantic Beach, NC and the surrounding area).
The call of new destinations, though, can be just as strong–no surprise, considering how many fantastic places there are to go in the United States over the summer!
If you're hoping to mix it up this summer, whether it's with a long weekend in a new-to-you city or a road trip to one of America's best national parks, we have some ideas here for you!
We teamed up with several other travel bloggers to round up some of the best places to visit in summer in the USA.
Here are some unforgettable travel destinations to add to your 2023 summer wish list!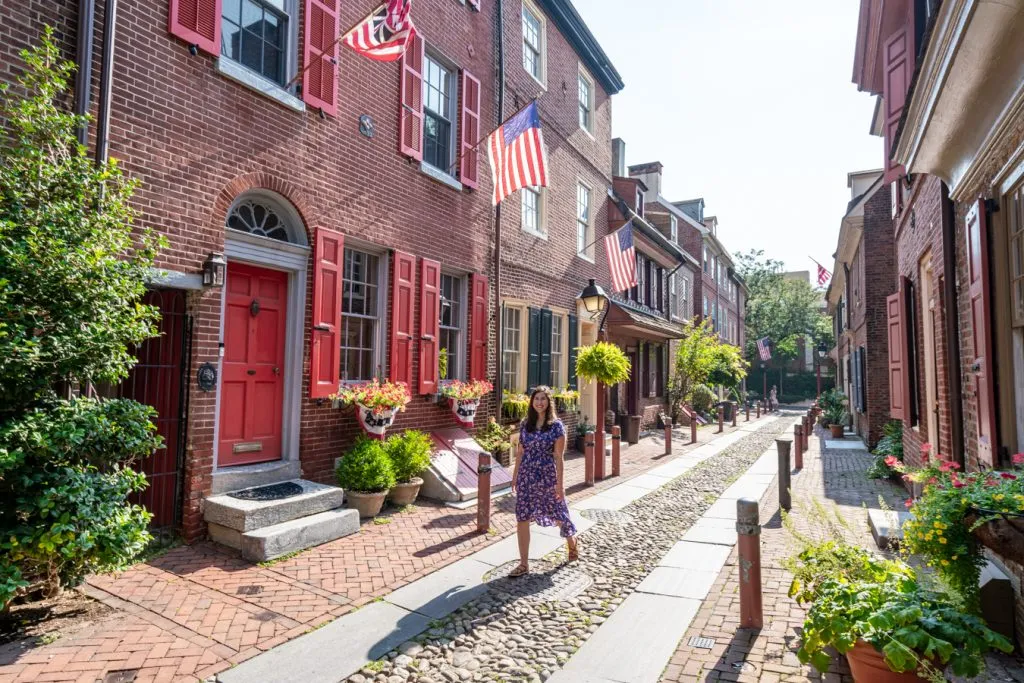 Cool Cities to Visit During Summer in the USA
Boston
As the largest city in New England and the birthplace of the American Revolution, Boston is undoubtedly one of the absolute best places to visit over the summer in the USA.
With its coastal location, gorgeous architecture, a dizzying array of distinct neighborhoods, and world-class museums (not to mention universities), you'll never run out of incredible things to do in Boston.
That being said, thanks to the city's dense historic center and easy-to-access attractions along the Freedom Trail, spending even one day in Boston can be incredibly rewarding.
We've been obsessed with Boston since we spent a summer living there, and will forever count it among our favorite cities.
During your trip, be sure to walk the Freedom Trail, relax at the Boston Public Garden and the Common, and enjoy the views from the water on a whale-watching cruise.
When it comes to neighborhoods, make sure to visit the picturesque North End, fashionable Back Bay, and grand Beacon Hill–three Boston neighborhoods you absolutely can't miss.
Summer is also the perfect time of year to enjoy a Red Sox game at historic Fenway Park, one of the best baseball stadiums in America.
And, thanks to Boston's many connections to the American Revolution, you'd be hard-pressed to find a city that celebrates the 4th of July with more flair!
If you're planning an early July vacation in the USA, be sure not to miss the reading of the Declaration of Independence from the balcony of the Old State House or the phenomenal fireworks display when visiting Boston.
Where to Stay in Boston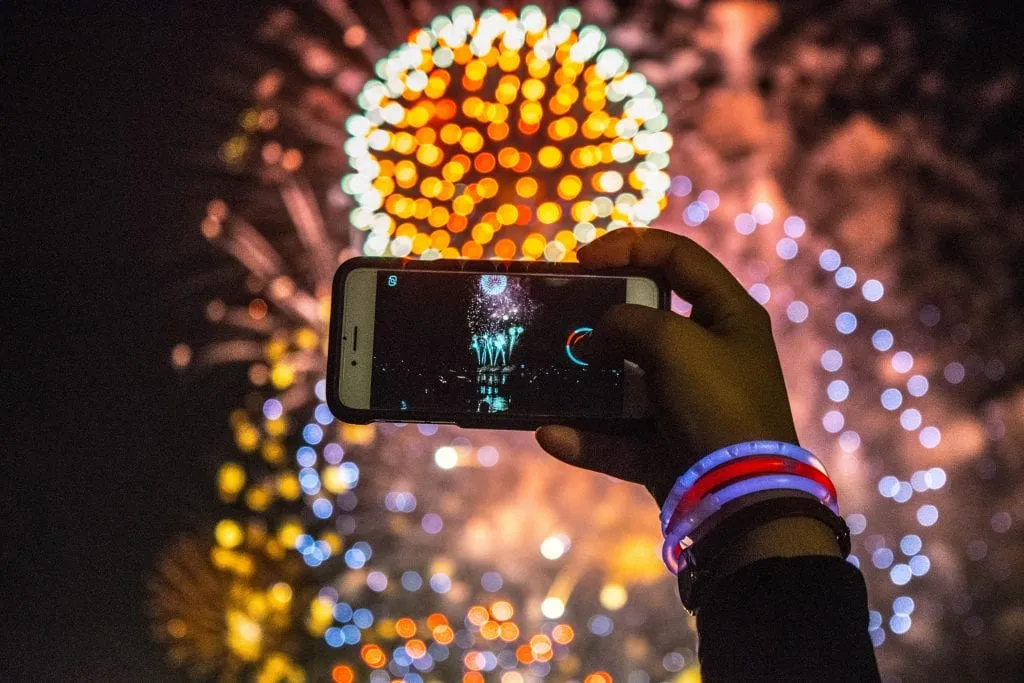 Chicago, Illinois
From Alyssa of An Apple a Plane
From an infamous skyline to countless outdoor activities, Chicago, Illinois, is without a doubt an incredible summer vacation.
Visitors love traveling to Chicago over the summer for its many festivals, from the Chicago Blues Festival in June to Windy City Smokeout in August and beyond.
No trip to Chicago is complete without exploring iconic architecture like "The Bean" at Millenium Park and walking along Lake Michigan at Navy Pier.
Consider riding the famous Ferris wheel, or dining at a rooftop restaurant or viewpoint of your choice to catch Chicago's city views from up above.
Be sure to also stroll along Michigan Avenue for world-famous shopping, and snap a photo at the iconic Chicago Theater sign.
Escape the heat in the evening by enjoying a famous show like Blue Man Group or a musical.
After a few days in Chicago, summer travelers can escape the bustle by chasing waterfalls at Starved Rock State Park and Matthiessen State Park located 2 hours by car in Oglesby, Illinois.
Travelers looking to cross a national park off their list can get their outdoor escape in just over an hour by car at Indiana Dunes National Park.
Where to Stay in Chicago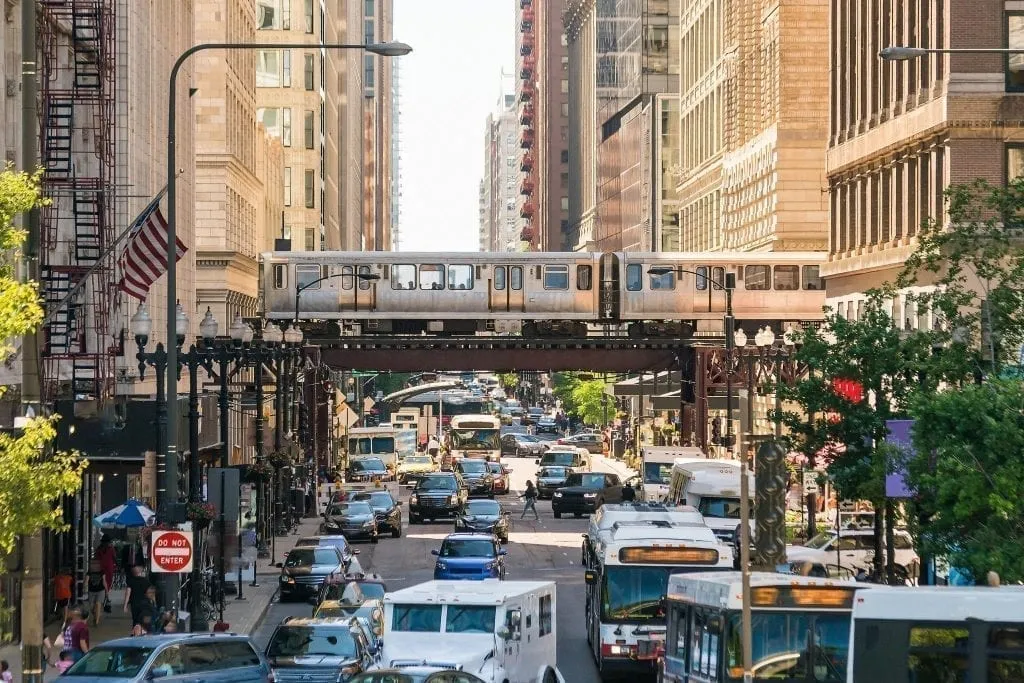 Portland, Maine
From Brittany of Travel By Brit
Portland, Maine, is undoubtedly one of the best places to visit in the United States in the summer.
If you love rocky coastlines, fresh seafood, gorgeous lighthouses, and craft beer, you'll be especially drawn to this gem in New England!
June, July, and August are ideals time to visit—the balmy temperatures that hover around 75°F and cool breezes are perfect for enjoying all the best things to do in Portland, Maine.
While you're in Portland, you can't miss the chance to see the Portland Head Light, the most photographed lighthouse in the United States, and go on a whale-watching cruise or sunset cruise in Casco Bay.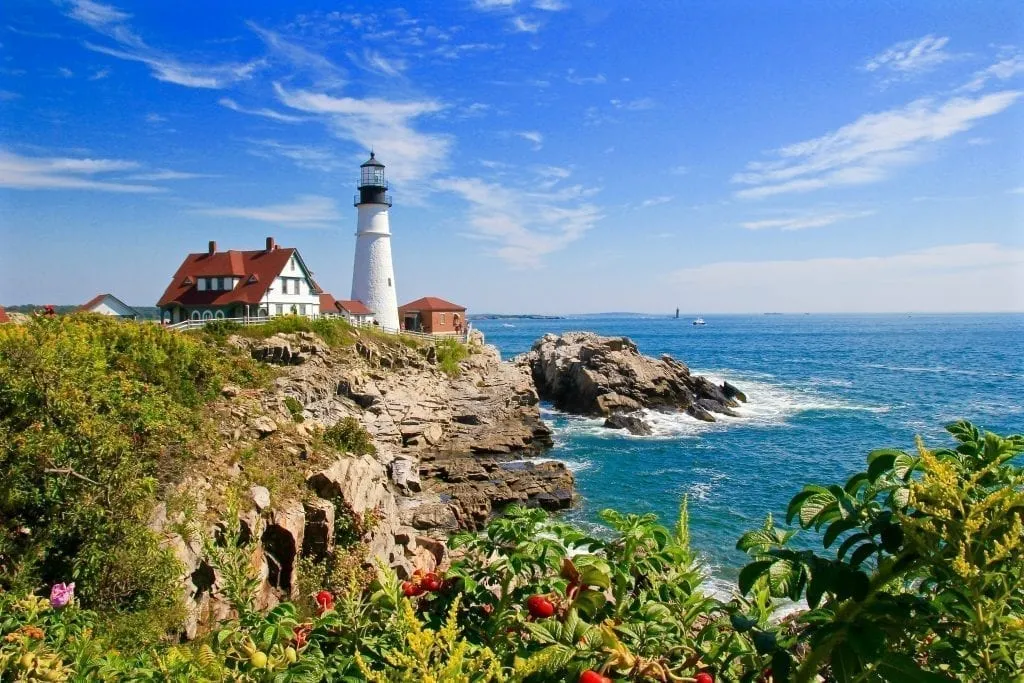 Portland is home to a slew of craft breweries, so visiting local favorites like Allagash Brewing Company, Foundation Brewing Company, and Oxbow Blending & Bottling is a must.
The Holy Donut, Duckfat, and Eventide Oyster Co. are some of the best places to eat in Portland, offering inventive donuts, gourmet dipping sauces, fries, and delicious lobster rolls, respectively.
Portland is a walkable city, so if you want to stay close to the restaurants, shops, and attractions in Old Port, book a room at the Portland Regency Hotel & Spa.
Where to Stay in Portland
San Diego, California
From Kristin of Global Travel Escapades
Arguably one of the best places to visit during the summer for a classic American beach vacation is sunny San Diego.
With its gorgeous beaches and plenty of outdoor activities available, San Diego has everything you need to have a great getaway.
San Diego is most known for its many picturesque and inviting beaches.
From Del Mar to Mission Beach, there are plenty of options for those looking to sunbathe, swim in the ocean, or surf along some clean waves.
But for those looking to do something outside of the beaches, consider hitting one of San Diego's many hiking trails.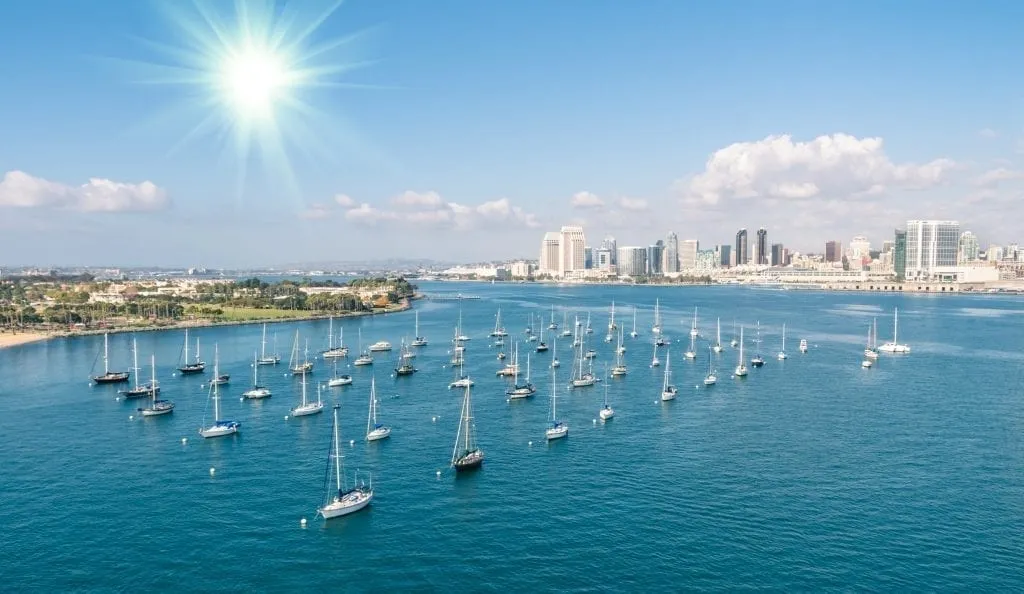 For instance, Torrey Pines State Park offers lots of easy-moderate trails for hikers who prefer to appreciate the beaches from above.
Alternatively, those interested in doing longer trails can hike to the famous "Potato Chip Rock"!
And if you just want to relax and take in the sights, there's no better spot than downtown San Diego.
There, you'll find the Gaslamp Quarter, Little Italy, Seaport Village, and several other fun neighborhoods!
So if you're looking for a travel destination with endless activities, great weather, and stunning views, then San Diego is the ideal place for your US summer vacation.
Where to Stay in San Diego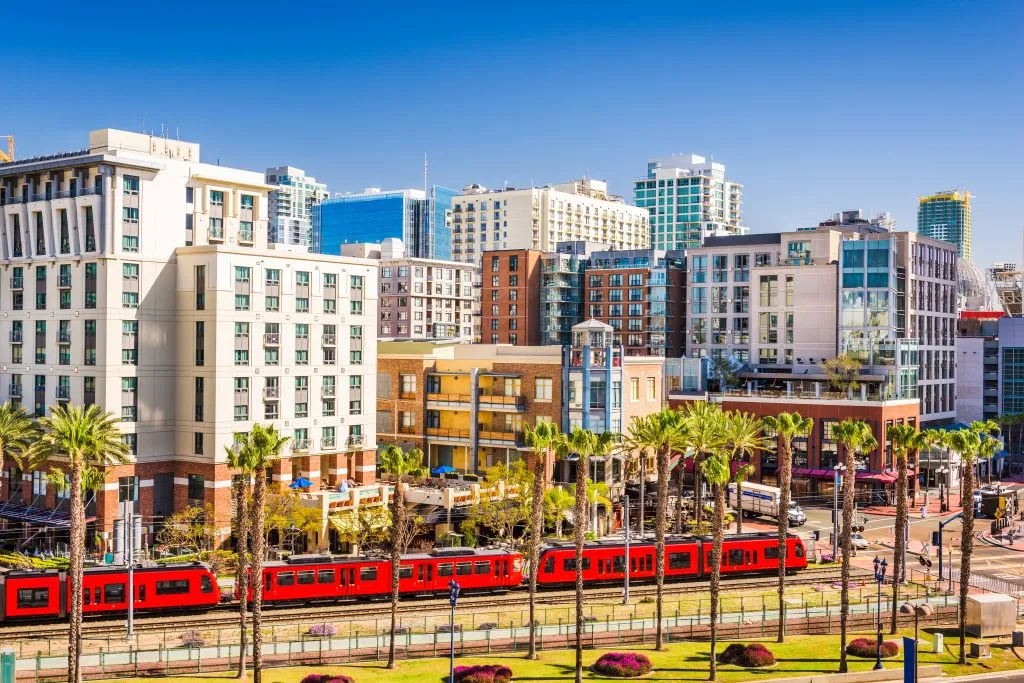 New York City
From Sam of Find Love and Travel
One of the best places to enjoy a summer trip in the USA over the summer is easily New York City.
In fact, summer is the city's most popular time to visit due to the warm weather since it is a great walking destination.
June, July, and August provide the perfect opportunity to really browse the busy streets and embody that city lifestyle.
With a week in New York, you have a plethora of options for things to do beyond the usual first-timer sights, including enjoying a beach day in Coney Island or hanging out in Williamsburg.
If it is your first time in New York, you can't pass up strolling around Times Square and being engulfed by the chaos of giant billboards and classic yellow cabs on your way to a Broadway show.
Additionally, don't forget to enjoy the summer days walking around the famous Central Park, visiting the Metropolitan Museum of Art, and experiencing Soho's cobblestone streets and art murals.
Summer nights in NYC are just as amazing. From attending a show to drinking at rooftop bars, or hitting up the club scene, there will be something for everyone!
An NYC travel tip to keep in mind is to wear comfortable shoes because you will be walking a lot!
Where to Stay in New York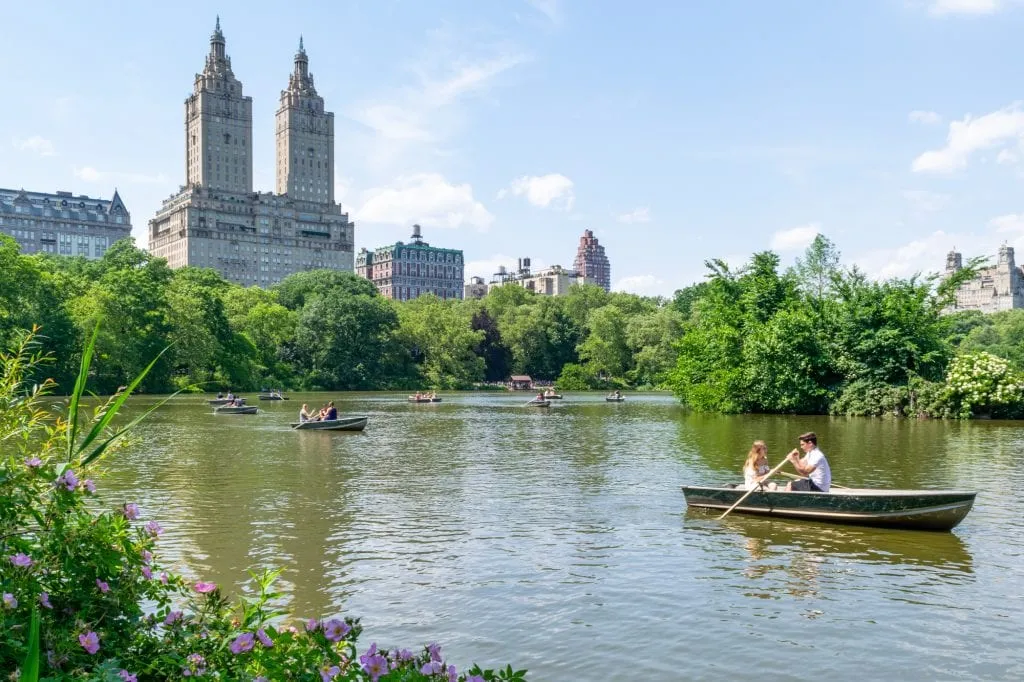 Los Angeles, California
From Catrina of 24 Hours Layover
Los Angeles is a brilliant place to spend a summer vacation in the United States.
It is an incredible city full of varied things to do and there are so many Instagrammable places in LA!
You can spend a week exploring as it is a huge metropolis with many attractions spread out across the city.
Summer is the best time to visit Los Angeles as it is warm and dry.
The mornings and evenings feel very comfortable, but the afternoons are warm, which is the perfect time to head to one of the many beaches and cool down in the water!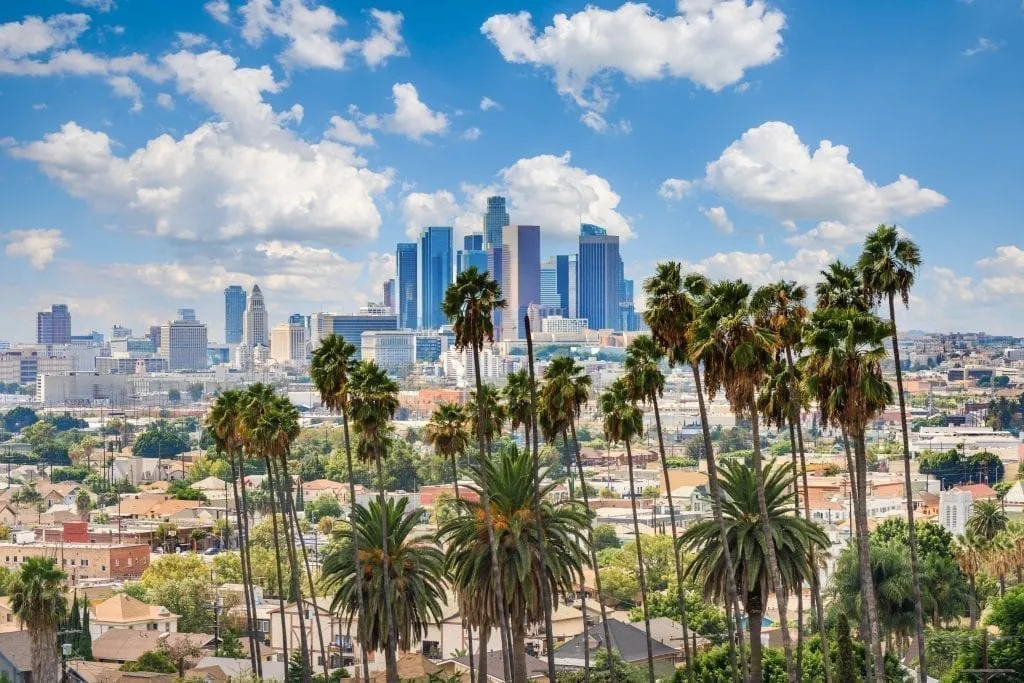 Whether it's Malibu Beach, Laguna Beach, or Huntington Beach – there's a beach to suit every taste in Los Angeles.
Make sure to visit the Venice Beach boardwalk and the 'Venice' sign, as well as the 'End of the Route 66' sign and the amusement park at Santa Monica Beach.
And when you're feeling cultural, head to the Los Angeles County Museum of Art to see the impressive Urban Lights installation!
Don't miss heading up to the Griffith Observatory and hiking to the 'Hollywood' sign where you'll get a fabulous panoramic view of the LA skyline.
Where to Stay in Los Angeles
Milwaukee, Wisconsin
From Lisa of Waves and Cobblestones
For an exciting Midwestern getaway, Milwaukee, Wisconsin is a terrific choice for summer break in the United States.
There are many amazing things to do in Milwaukee, whether you like museums, sporting events, or live music!
Summer is the best time to visit Milwaukee, as you can pack a lot of activities into the long summer days.
Take the family out to enjoy America's favorite pastime and watch the Milwaukee Brewers play baseball at the American Family Field.
If you love live music, you'll definitely want to attend Summerfest!
Summerfest is the largest music festival in the world, featuring hundreds of bands performing across eleven stages. Summerfest is held in Milwaukee over three weekends in June and July.
Don't forget about all of the great museums in Milwaukee, either!
Admire the unique architecture of the Milwaukee Art Museum as well as its massive collection of over 30,000 works of art.
For a one-of-a-kind experience, visit the world's only Harley-Davidson Museum or the National Bobblehead Hall of Fame.
Where to Stay in Milwaukee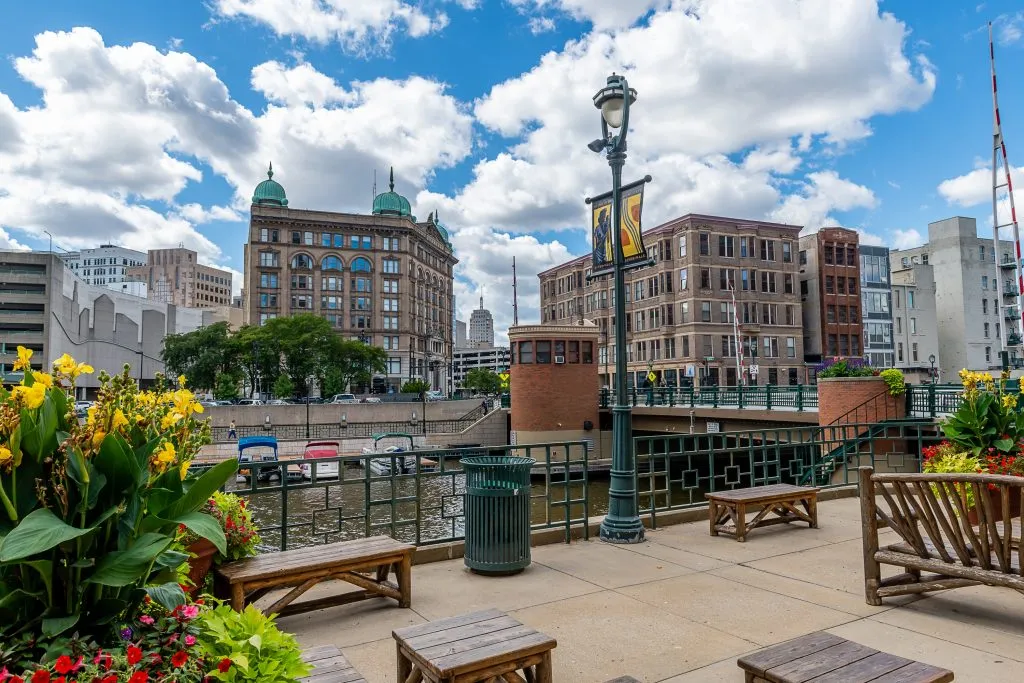 Beaches + Islands for Classic Summer Vacations in the US
Cape Cod, Massachusetts
From Samantha of New England Wanderlust
One of the best summer beach vacation destinations on the East Coast is Cape Cod in Massachusetts.
Not only does it have some of the most beautiful coastline in the United States, but it's also home to 15 unique and charming towns to explore, incredible seafood, and stunning scenery.
The best thing to do in this area in the summer is to explore the Cape Cod National Seashore, which is made up of 40 miles of the most scenic beaches, lots of nature trails, and dramatic sand dunes.
One beach you won't want to skip at this park is Coast Guard Beach, which is regarded as one of the top beaches in the entire country.
You can often spot seals swimming along the coastline here, too!
Spending a day in Chatham should be on everyone's itinerary, which is the most charming and picturesque town on Cape Cod.
A few things you can't miss here are the iconic Main Street for shopping, Chatham Lighthouse, and the beautiful hydrangea displays in July.
For a completely unique experience, you'll want to head to Provincetown, which is located at the very tip of Cape Cod.
Provincetown is like no other place in the world because it not only has a relaxed, beach town vibe, but also a very lively nightclub and cabaret scene.
It's something you truly have to experience for yourself!
While strolling through Provincetown, you'll want to visit the shops along Commercial Street, pop into the art galleries, and grab lunch or dinner at the iconic Lobster Pot restaurant.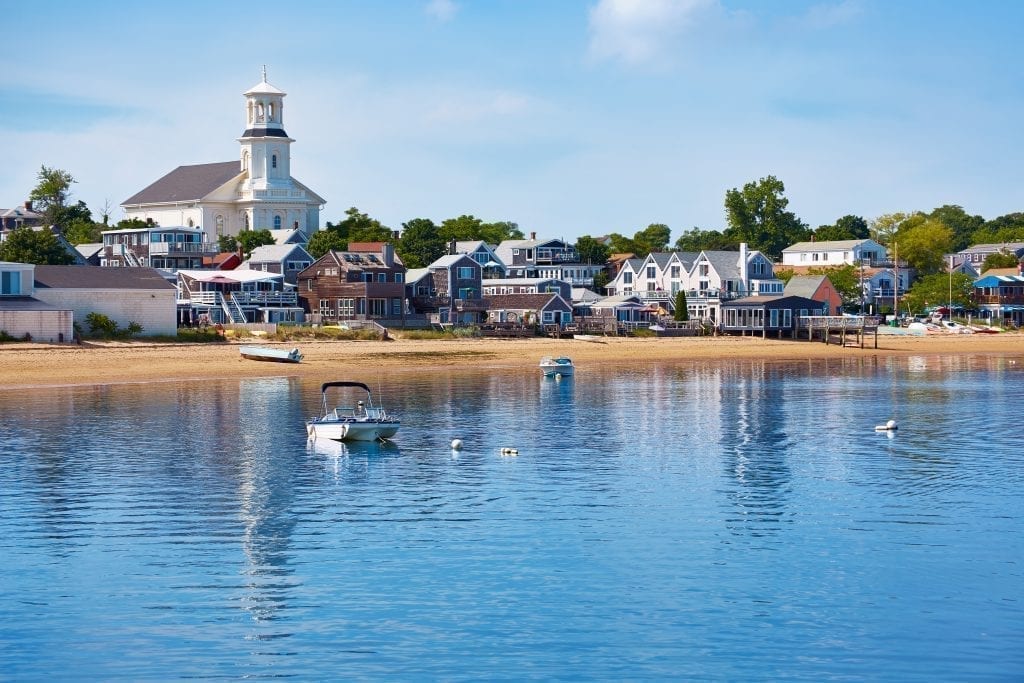 Monterey, California
From Dhara of Roadtripping California
Monterey, on the Central California coast, is an excellent beach town to visit during summer break in the USA, especially in conjunction with nearby Carmel-by-the-Sea and the spectacularly beautiful Big Sur coast.
Monterey Bay is known for its temperate weather.
Expect daytime highs in the high 60s and low 70s, perfect for enjoying outdoor activities, and no rain.
You may run into a little fog in the mornings, but that's part of the charm of the laid back coast, and it usually burns off by noon.
The long daylight hours and plethora of outdoor adventures in the region make for a great summer break.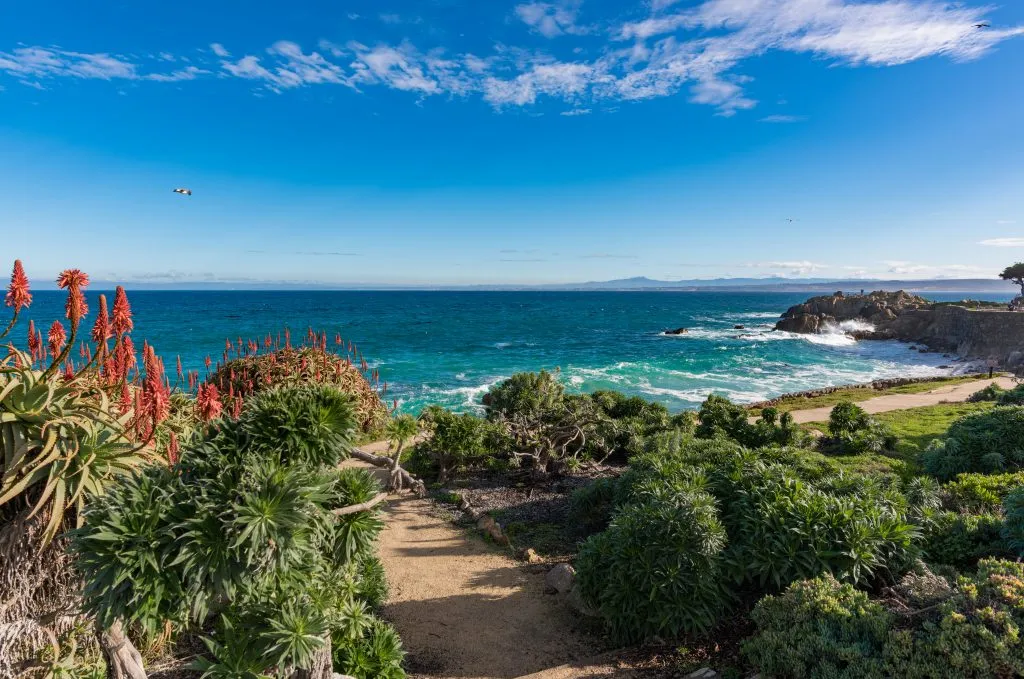 Go whale watching, or enjoy paddling the calm Monterey Bay.
Stroll the charming village of Carmel-by-the-Sea, known for its boutiques and art galleries, and go wine tasting and enjoy dining at the many fine restaurants in the region.
Do the popular 17-Mile drive, with its ocean views and the chance to soak in the sun at beautiful Spanish Bay Beach.
Explore Big Sur, where you will find no less than six state parks with beautiful hiking trails.
The drive itself, with the many scenic overlooks, is worthy of a full day or more. The trails at Point Lobos State Natural Reserve are particularly scenic.
Where to Stay in Monterey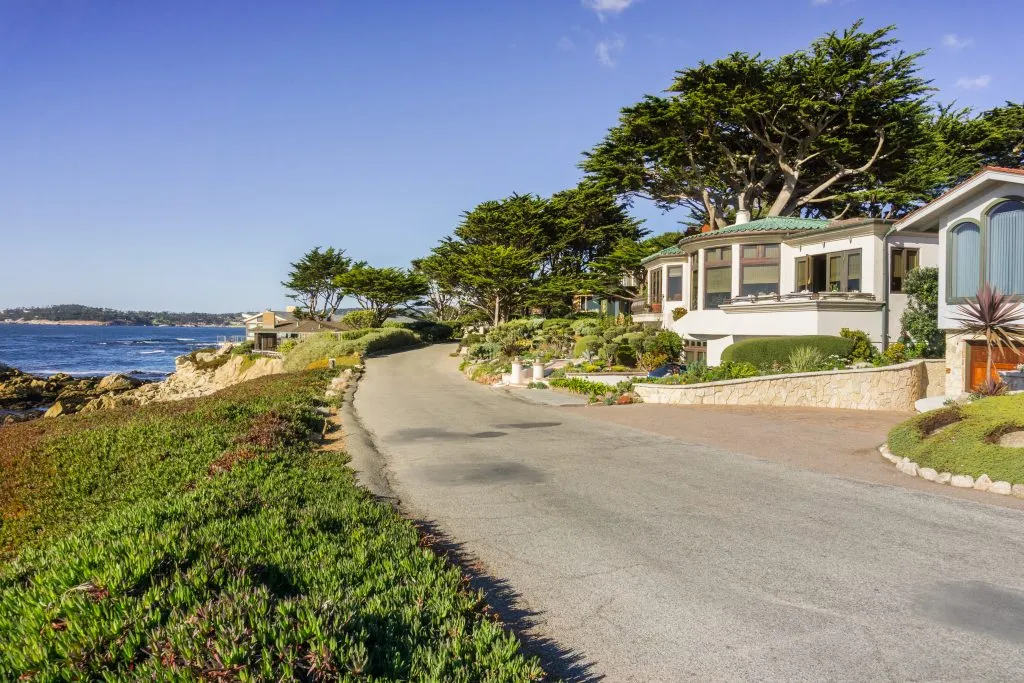 Oahu
From Marcie of Hawaii Travel Spot
One of the best summer vacation destinations in America is the beautiful island of Oahu.
This is the most popular Hawaiian island and where you'll find Pearl Harbor and Waikiki Beach.
One of my biggest Oahu travel tips is to plan to visit for at least 7 days.
There are so many amazing things to do on Oahu for all interests that you'll need at least a week to do a few activities, explore Oahu, and have time to relax.
People who love adventure will definitely want to schedule an ATV tour at Kualoa Ranch.
Joining a Hawaii Bucket List Tour is also a great option for Oahu first-timers as a local will take you to any place on your personal bucket list.
Foodies will definitely want to stop by Kahuku Farms in North Shore Oahu for the freshest farm-to-table dining.
Summer is a great time to visit Oahu because the weather is typically perfect.
That means there's a low chance your scheduled activities will be canceled or postponed due to weather, which happens frequently in winter months.
Where to Stay in Oahu
Naples and Marco Island, Florida
From Lori of Travlinmad
If you're looking for a perfect beach destination in the USA for a summer getaway, the Paradise Coast in southwest Florida boasts two great locations just minutes apart: beautiful Naples and Marco Island.
A vacation here is great to just kick back and enjoy the sun and sand as both places have some of the best beaches in Florida.
You can enjoy the warm waters of the Gulf by renting a stand-up paddleboard or kayak, and there are plenty of boat tours for watching a fiery sunset, dolphin or manatee watching, or a day of saltwater fishing on the water.
For nature and outdoor lovers, Naples and Marco Island are the gateways to the Ten Thousand Islands and Florida Everglades for abundant hiking, birding, and taking an exciting airboat ride through the Glades.
For shoppers, high-end boutiques, art galleries, and souvenir shops can be found throughout both cities.
And when it comes to dining, both Naples and Marco are renowned for great restaurant choices.
From pizza shops and food truck parks to specialty fine dining, there's something for every appetite.
Summer in southwest Florida is sunny and hot, and the Gulf of Mexico is warm and calm. Crowds are also at their lowest so dinner and tour reservations are easy to score.
Where to Stay in Naples and Marco Island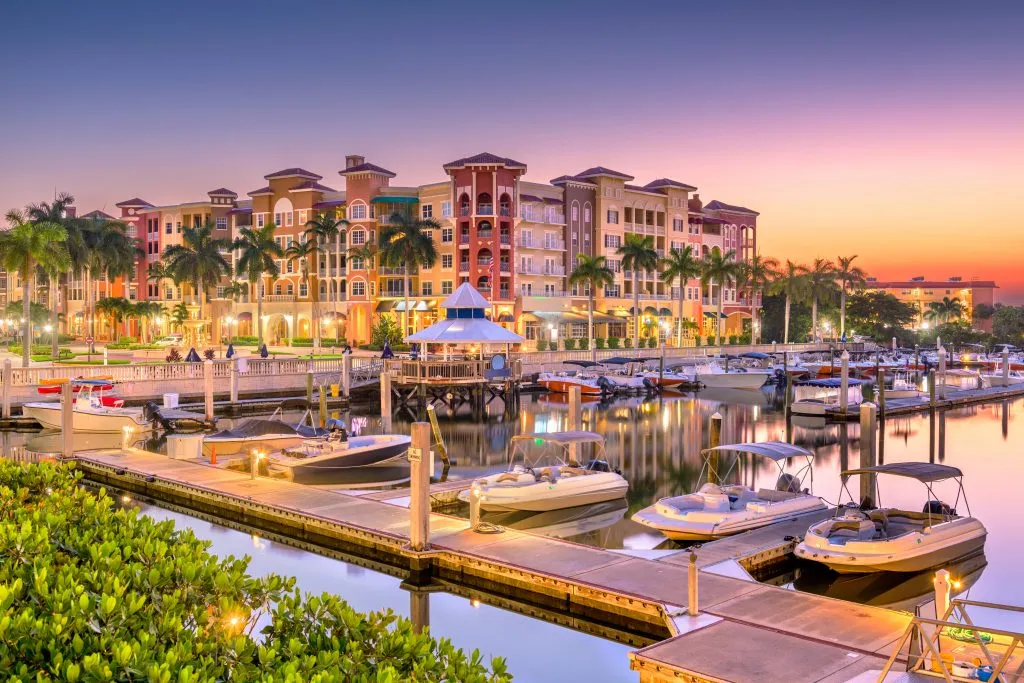 Mackinac Island, Michigan
From Linda of Midwest Explored
If you're looking for great summer vacation ideas in the USA, then consider beautiful Mackinac Island.
This picturesque island in Lake Huron sits right in between the upper and lower peninsulas of Michigan and is a Midwestern favorite for summer getaways.
It's an ideal vacation spot for anyone who enjoys a bit of old-world charm since the island is totally car-free and filled with historic Victorian houses that overlook the lake.
Horse-drawn carriages also fill the streets since people use them to enjoy all of the best things to do on Mackinac Island.
Take time to explore Fort Mackinac, visit two different butterfly conservatories, and experience a bit of culture at the Richard & Jane Manoogian Mackinac Art Museum.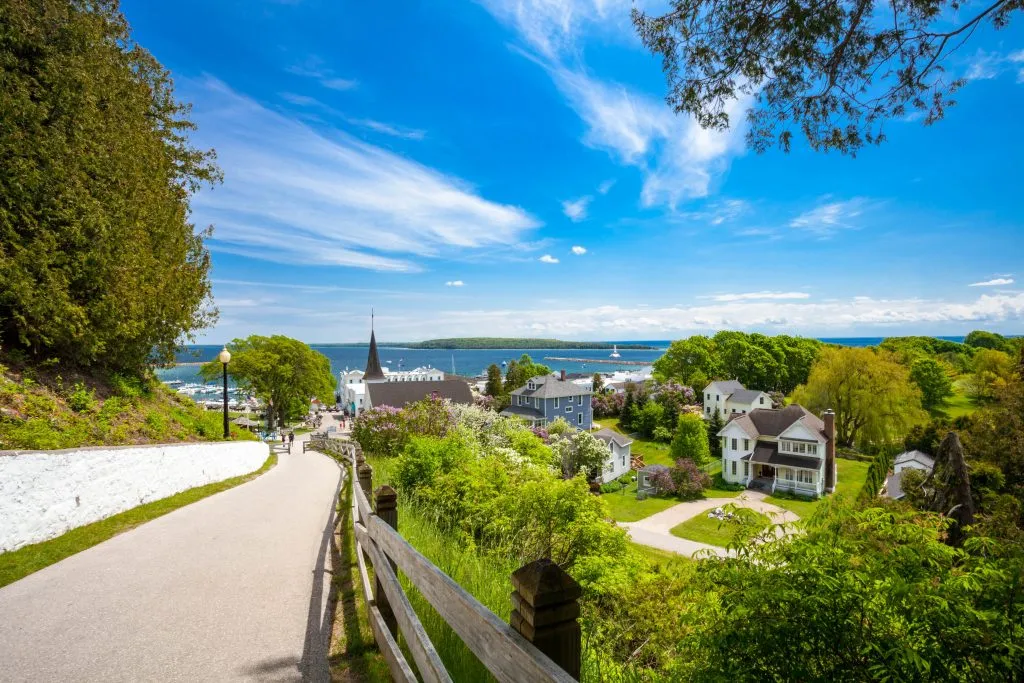 However, no trip to this amazing island would be complete without a stop at Arch Rock.
Located in Mackinac Island State Park, this incredible natural rock formation is amazing to behold since it sits 146 feet above the lake.
Feel free to use either Arch Rock Bicycle Trail or Arch Rock Road to access this amazing landmark.
Both options are fairly easy to navigate and are only about one mile long each way.
Then, make the most of the idyllic summer weather and book a kayak tour around the island to enjoy views of Mackinac Island from a completely different perspective.
Where to Stay in Mackinac Island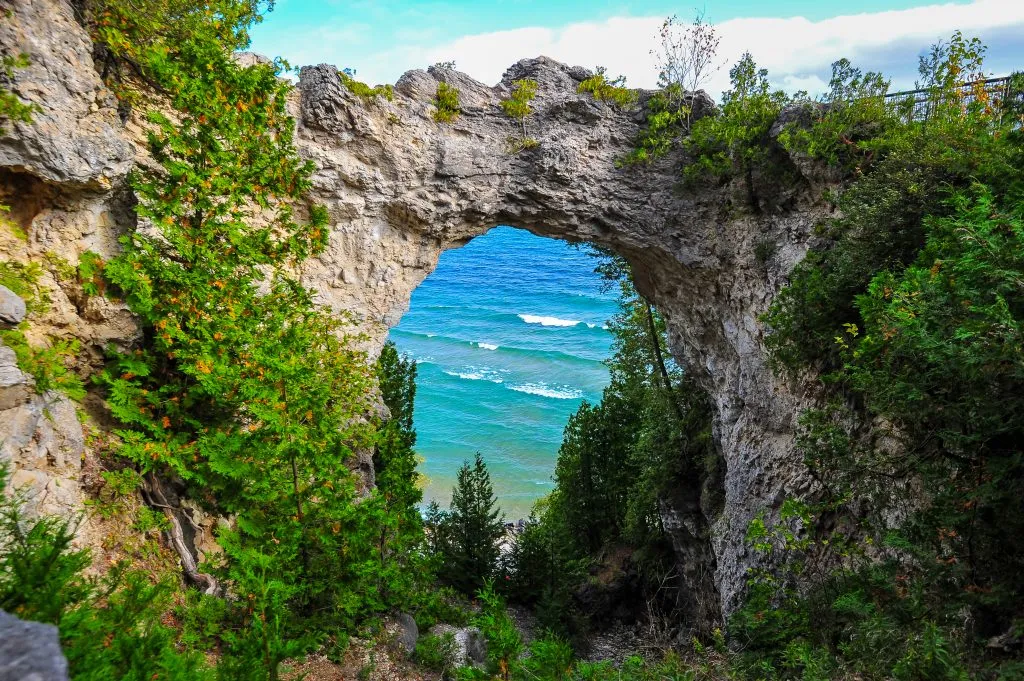 Outer Banks, North Carolina
From Pamela of The Directionally Challenged Traveler
There really is something for everyone in North Carolina's Outer Banks, making it one of the best summer vacation ideas in the USA.
From stunning white sand beaches to historic towns, from family-friendly activities to nightlife, there is so much to see and experience.
The Outer Banks region is located along the northern part of North Carolina's coast.
During the summer, the water offers plenty of activities!
Kayaking, sailing, fishing, swimming and surfing, are among the activities enjoyed by visitors.
Horseback riding, paragliding, hiking, biking, and golfing are also popular.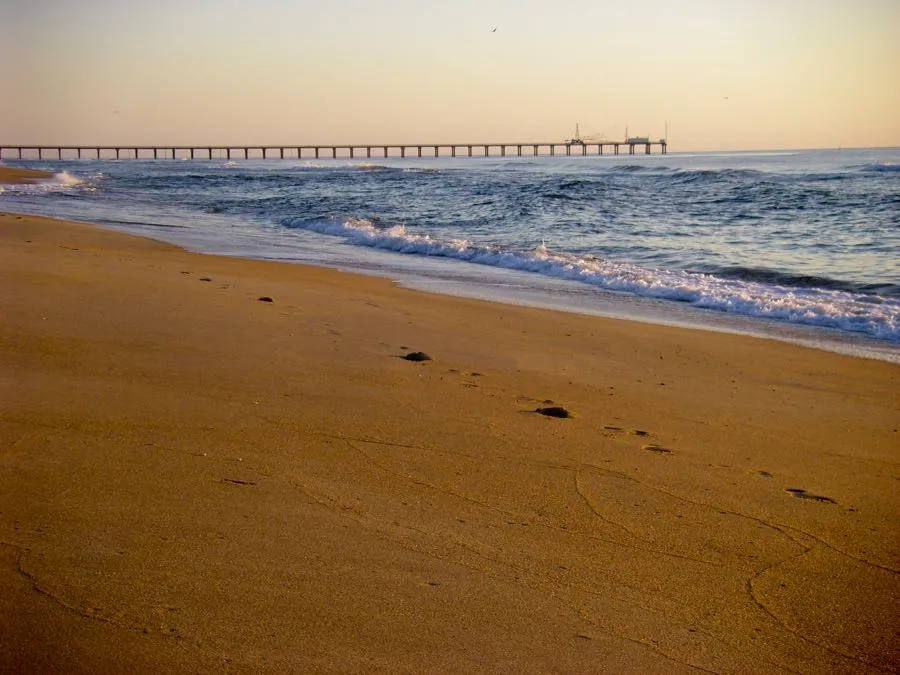 Visitors can choose between quiet seclusion or bustling activity.
If you're looking for history, the Outer Banks has plenty of compelling sights, including the Wright Brothers Memorial at Kill Devil Hill where the first flight was taken, and Fort Raleigh National Historic Site.
Toward the southern part of the islands is the beautiful Cape Hatteras Lighthouse!
If you're traveling with a group or family, head up north on the coast for some fun activities.
There are so many things to do in Corolla, Outer Banks, where you'll find wildlife refuges, the famous OBX wild horses, the historic Whalehead Club, and lighthouses to explore.
Pick up some souvenirs at Timbuk II shops while you're in town!
Whatever you choose to do on your trip to the Outer Banks will be a memorable experience.
Where to Stay in Outer Banks
30A, Florida
From Roshni of The Wanderlust Within
Situated on the Panhandle, just off the Gulf of Mexico, the hidden gem of 30A in Florida is one of the best places for a classic US summer beach vacation.
There are 26 miles of pristine beaches lined with white sand derived from quartz crystal, and emerald green waters, that are especially warm in summer!
30A is split up into 16 neighborhoods, all with their own individual charms.
Watercolor Beach is a favorite amongst families, whereas couples enjoy the serenity of Rosemary Beach, especially if they stay at The Pearl Hotel (voted the most romantic hotel in Florida).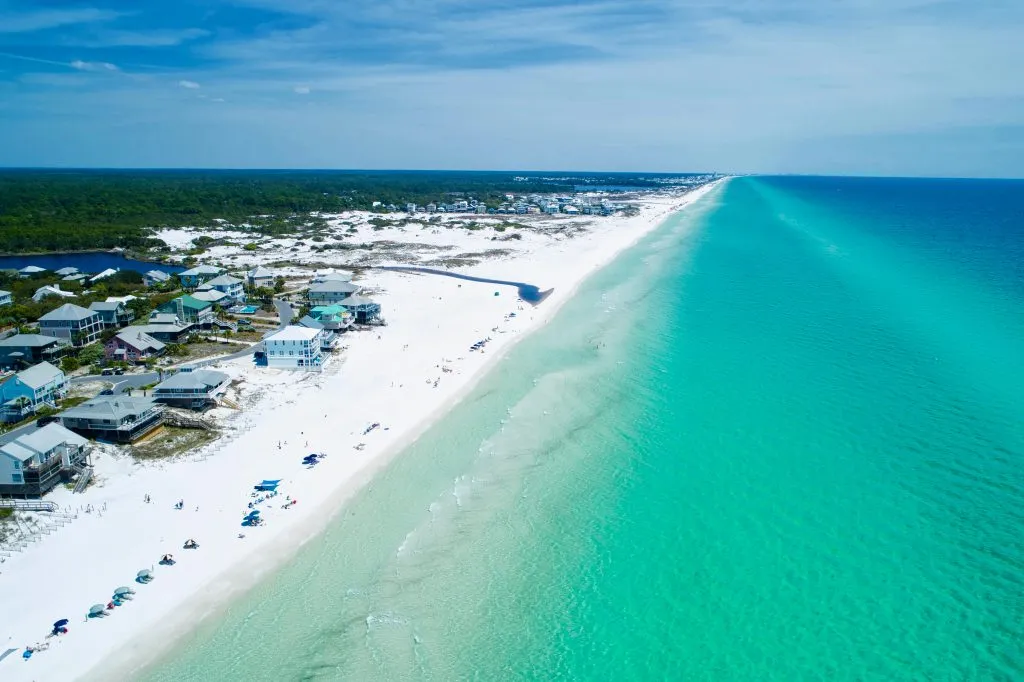 If diving is more your thing then Santa Rosa Beach is perfect, you can visit the free underwater sculpture park located a mile off the coast.
However, if you prefer kayaking or paddle boarding, then explore the unique coastal dune lakes at Grayton Beach and spot the wildlife.
30A also has plenty of art galleries, boutique shopping, cycling trails, and distillery tours making it easy to spend a week at this coastal destination, especially as the temperatures in summer are usually in the high 80s!
One of the best places to stay no matter who you are traveling with is Sandestin Golf and Beach resort, it has luxury condos, hotel rooms, and villas so everyone is catered for.
National Parks To Visit for USA Summer Vacations
Glacier National Park, Montana
From Nina of Where in the World is Nina?
For an absolutely epic USA summer vacation, it doesn't get much better than Glacier National Park!
Unsurprisingly, hiking here is the thing to do if you want the best views and animal sightings. The most recommended hikes in the park include Iceberg Lake, Redrock Falls, and Hidden Lake Trail.
Iceberg Lake, a 9-mile trail, is popular for a reason!
Not only will you be rewarded with the gorgeous azure Iceberg Lake at the end, but your chances of seeing bears along the trail are also pretty high (which is both terrifying and exciting).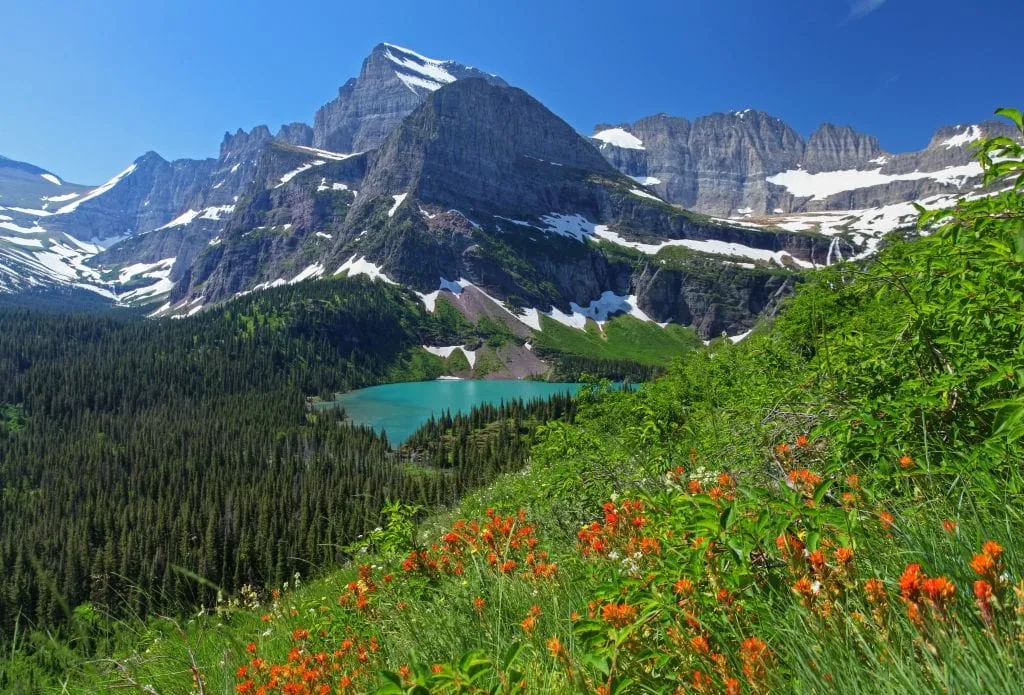 Redrock Falls Trail is a nice easy stroll to some small falls you can dip your feet in, and if you want to extend it, continue along the Swiftcurrent Pass trail for more gorgeous vistas.
Hidden Lake Trail is a popular trail just behind the visitor center, offering beautiful views as well.
There are tons of waterfall stops, a stunning drive along Going-to-The-Sun Road, and more to enjoy during your time in Glacier.
The park is spread across nearly a million acres, and considering hiking is the best thing to do and where some of the most worth-it places to visit are, you're going to need to spend your 5-7 days here to make your summer trip here worth it.
One of the best tips is to make sure you're choosing where to stay in Glacier National Park in advance, as places fill up quickly in summer.
If you happen to be visiting later in the year, do keep in mind some campsites, accommodations, and even Going-to-the-Sun Road close up for the season.
Where to Stay in Glacier National Park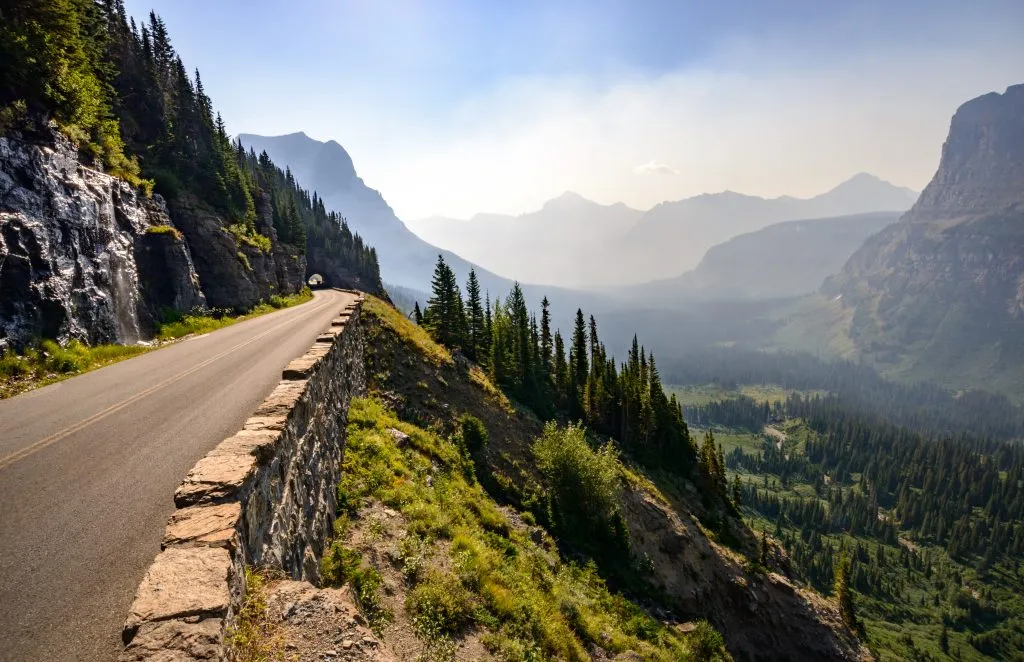 Yellowstone + Grand Teton National Parks, Wyoming
From Stef of Open Road Odysseys
If you're looking for an American summer vacation that includes breathtaking scenery, geothermal wonders, lots of wildlife, and remarkable attractions, look no further than a visit to Yellowstone National Park and Grand Teton National Park.
These two national parks are located only a short distance apart and are a classic USA summer vacation.
With warm, sunny weather most of the season, as well as lots of hiking trails and outdoor activities, summer is a fantastic time to visit.
In Yellowstone, you can't miss Grand Prismatic Spring, Old Faithful Geyser, Upper and Lower Falls on the Yellowstone River, and Mammoth Hot Springs.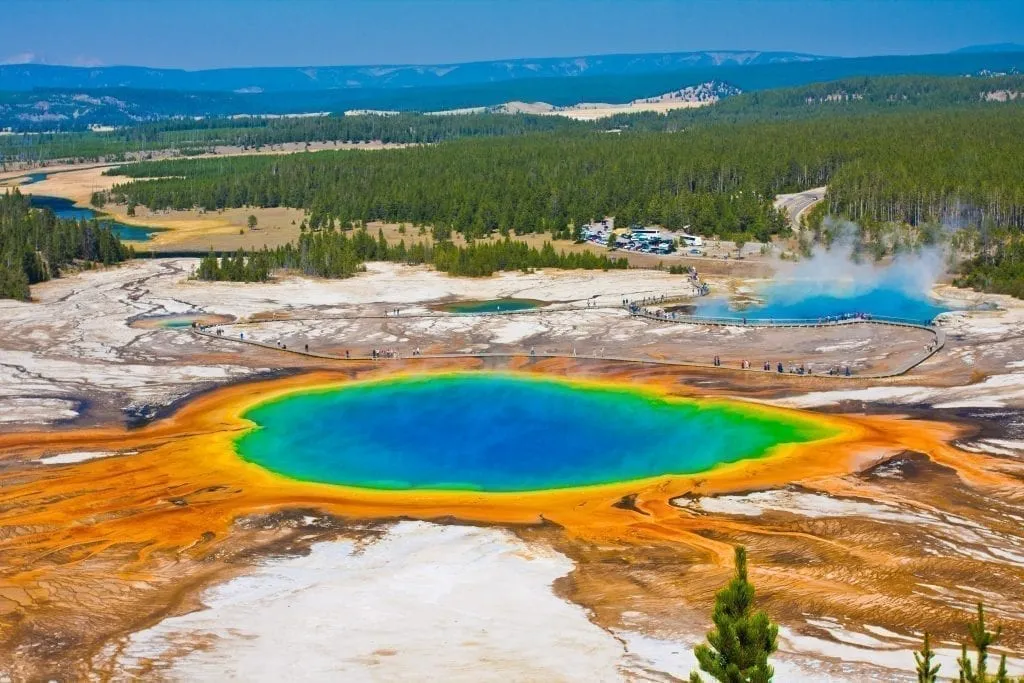 There are several geyser basins that are worth walking around and seeing if you can catch an eruption.
You'll also see lots of wildlife, including bison, antelope, and elk. You may also be lucky enough to see a moose or a bear (from a safe distance, of course–hiking with bear spray is strongly recommended).
When you head to Grand Teton National Park, make sure you drive around and stop at the dozens of lookouts, including Mormon Row, Schwabacher Landing, and Oxbow Bend.
If you like to hike, a great choice is Jenny Lake Trail to Hidden Falls and Inspiration Point.
And don't forget to spend a bit of time in the town of Jackson, where you'll find lots of choices for food and shopping!
Where to Stay in Yellowstone + Grand Teton National Parks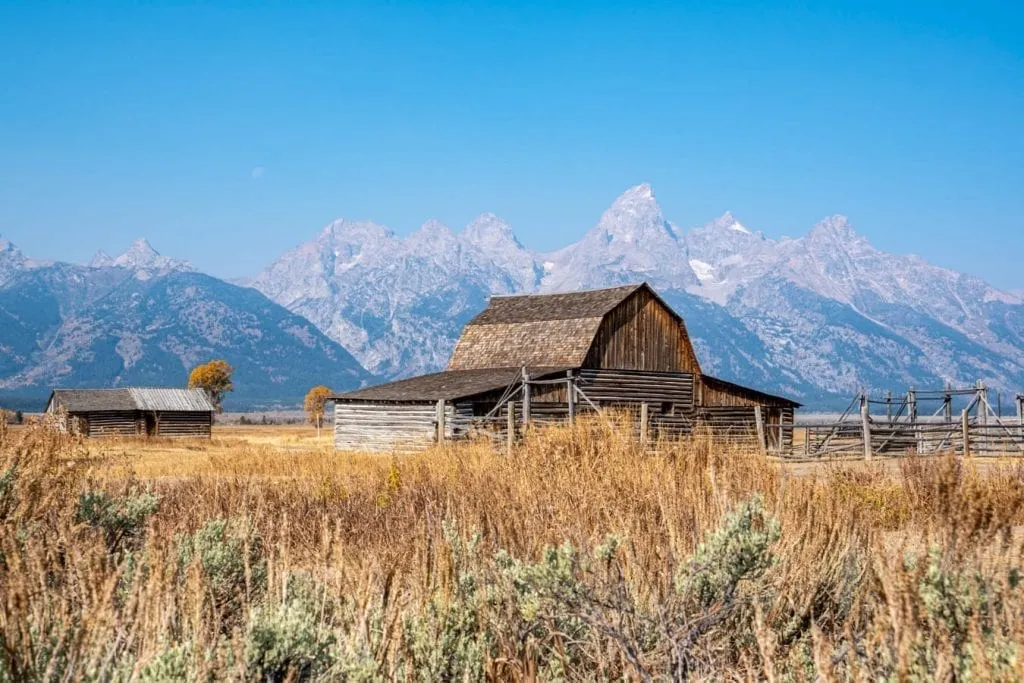 Acadia National Park, Maine
From James of Parks Collecting
Acadia National Park is the perfect place to visit for a summer vacation in the US.
The park is spread over parts of Mount Desert Island (reached by a short bridge from the mainland), the tiny Isle au Haut, and the nearby Schoodic Peninsula, and as a result, it's surrounded by water.
The park itself is covered in wooded hills, which are perfect for hiking.
The trails are their best in summer, when temperatures are ideal.
There are several iconic 'iron rung' hikes in Acadia – for part of the trails, you need to climb up iron rings embedded into the cliffs for part of them, as well as clamber along narrow ledges.
It can be a little scary, but the reward – spectacular views over the hills and surrounding islands – is well worth it. The most famous of these hikes is The Beehive, which is not to be missed.
Summer is also a great time for swimming in Acadia NP.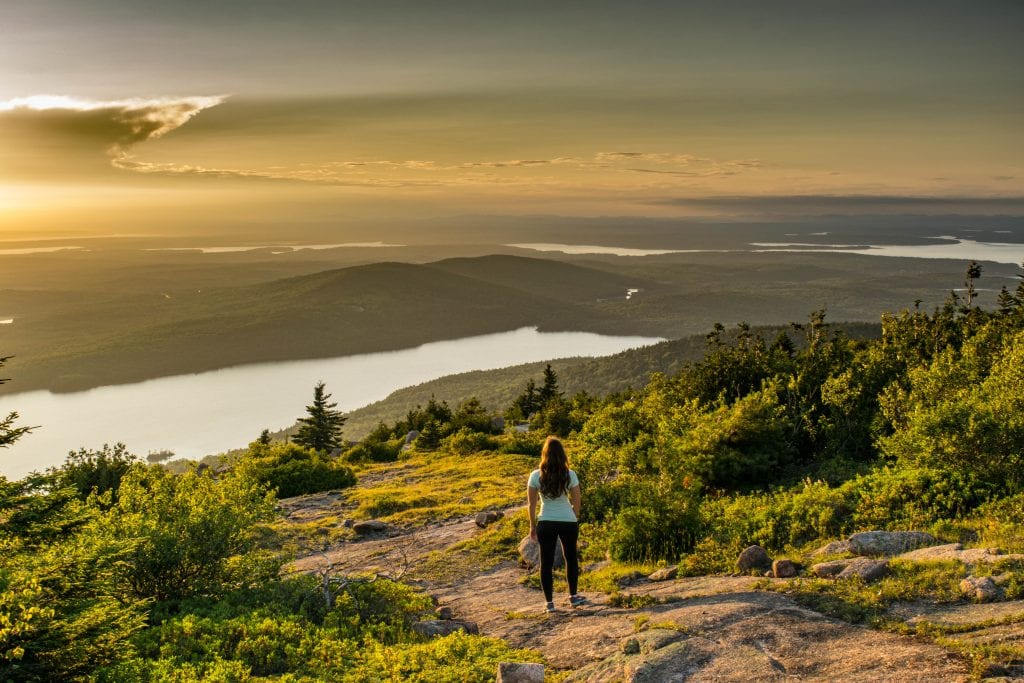 The only ocean beach, appropriately named Sand Beach, is chilly even in summer, but nearby Echo Lake has perfect temperatures for swimming.
There are also plenty of water sports, including kayaking and sailing, to enjoy. Plus, summer is when puffins come to nearby islands to nest, and whales are often seen swimming in the surrounding seas.
June, July, and August are also perfect times for outdoor dining.
Don't miss having popovers at Jordan Pond House! Tables are set up on the lawn, overlooking the beautiful Jordan Pond, and it's a perfect way to while away a summer afternoon.
The national park is also laced with miles of historic carriage roads. Take a horse drawn carriage ride (only available in the warmer months) or rent a bike in nearby Bar Harbor and spend several hours cycling through the woods, cooling off in tiny streams along the way.
There is so much to do in Acadia that it makes the perfect summer vacation destination.
Where to Stay in Acadia National Park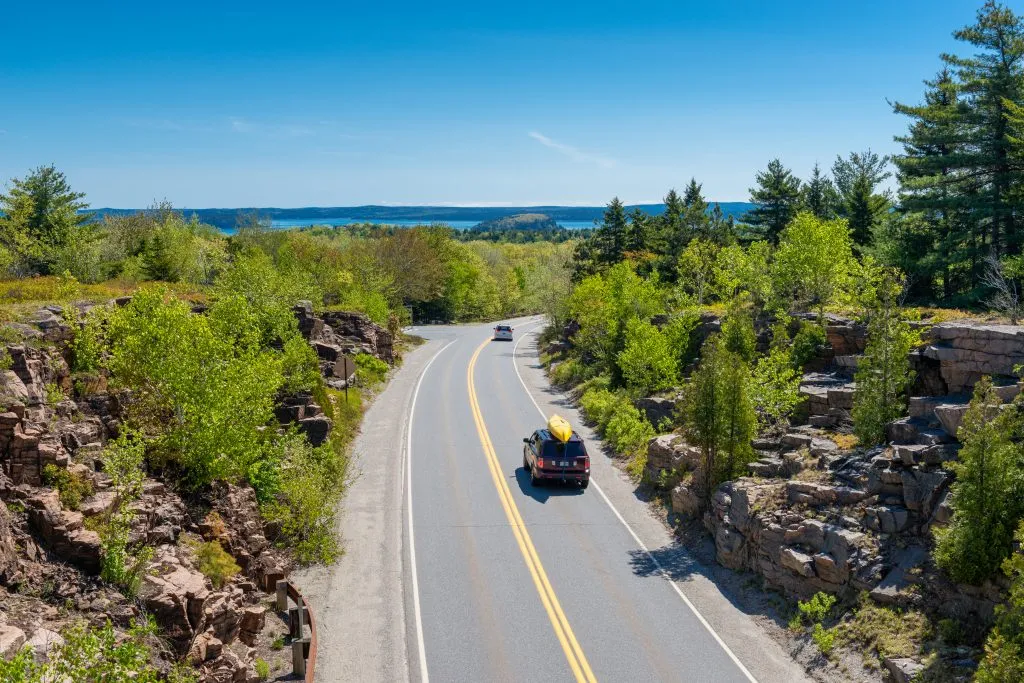 Yosemite National Park, California
From Nina and Garrett of California is for Adventure
Spending 5-7 days checking out all the things to do in Yosemite National Park is a dream trip for many, and for very good reason!
Yosemite National Park is deserving of at least a few days, but a week is ideal and will offer you a great overview of one of the country's most popular destinations.
While visiting Yosemite in summer will certainly bring the crowds, this is still a great USA summer vacation spot!
If you come outside of summer, you risk some of the roads being closed and some of the best areas to visit totally inaccessible—most notably, Glacier Point Road.
Glacier Point Road is a highlight of Yosemite National Park and deserving of a day or two during your summer visit.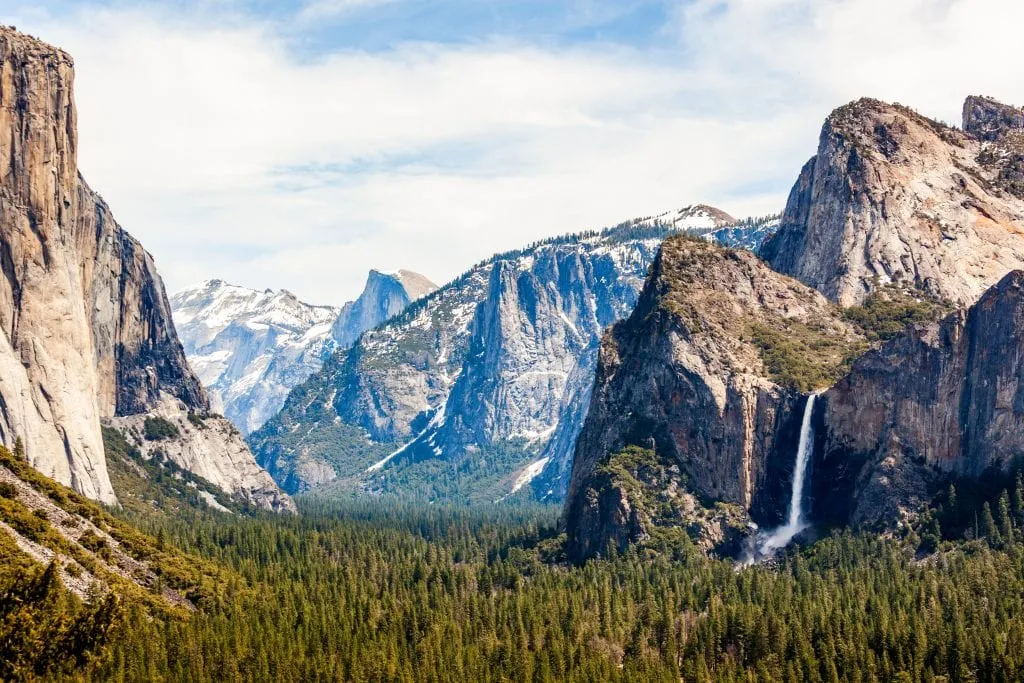 The road is typically open for the summer season starting in late May, though it can vary based on conditions.
Hike up Sentinel Dome and Taft Point for a great leg stretcher and epic views of Half Dome.
Glacier Point at the end of the road is a stunning area to wander with some of the park's best views.
In Yosemite Valley, hiking up Vernal Falls is a must, and if you can, continue on to Nevada Falls for a more challenging hike (and thinner crowds).
Wandering The Valley and stopping at the viewpoints and roadside waterfalls are also some nice leisurely activities during your visit.
Other days can be spent expanding into the giant sequoia forests at Merced Grove or taking a relaxing dip in Tenaya Lake!
Where to Stay in Yosemite National Park
Epic USA Summer Road Trip Routes
Summer Road Trip Through Vermont
From Emily of Emily Embarks
To enjoy one of the best places to visit over summer break in the USA, take to the trails in Vermont!
Known for its picturesque landscapes and rustic charm, Vermont is undoubtedly one of the best USA summer vacation destinations.
Preferably explored over the course of 5-7 days (though you won't be sorry if you have some more time to spare), you can start your journey in the Green Mountain State with a full day at the Killington Ski Resort.
No, there's no snow come July and August, but that's what makes it perfect for day hiking and epic views across the Appalachian Mountains.
Be sure to get a celebratory drink at the mountaintop bar and reward yourself with a stunning gondola ride back down to the valley below!
From Killington, head an hour north to the beautiful capital of Montpelier.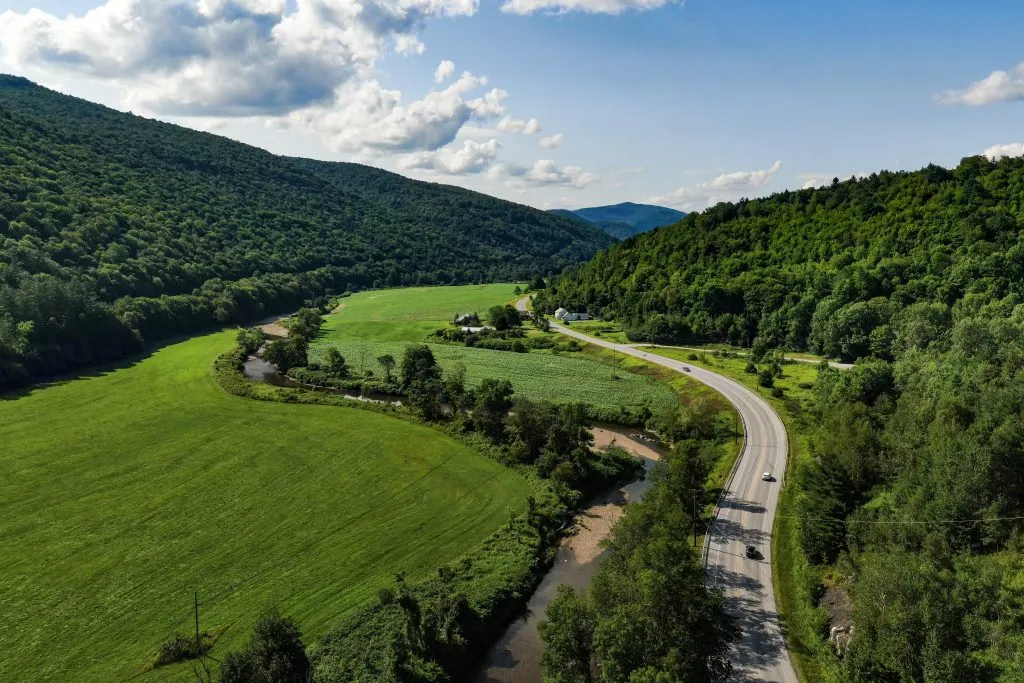 Here, you'll find an impressive collection of local independent stores and plenty of delicious restaurants and breweries.
If you're looking for an activity, take a kayaking or canoeing tour down the Winooski River and enjoy being surrounded by untamed nature.
Or, if you prefer to go for a leisurely stroll, don't miss the city's vibrant farmers market that takes place on State Street every Saturday in the summer months.
After spending a night or two in Vermont's iconic capital, head 30 minutes north to Stowe where you'll find a small town overflowing with antique shops, art galleries, decadent chocolate stores (be sure to check out Laughing Moon Chocolates), and amazing breweries (Von Trapp Brewery & Bierhall is a personal favorite).
From Stowe, you can finish off your itinerary with a drive south towards Woodstock if you'll be leaving the state, or you can continue your journey north to the beautiful city of Burlington which overlooks Lake Champlain.
To combine your classic American summer trip with an international one, you can also hop across the border to Montreal or Quebec City–just be sure to pick up some currency and brush up on your French prior to heading into Canada!
Where to Stay in Vermont
National Parks of Washington State Road Trip
From Kassidy of The Hiking Helper
If you're looking for one of the most beautiful road trips in the country to take this summer, then look no further than a Washington National Park road trip.
You'll hit three of the country's national parks plus the state's largest city, Seattle.
Summer is the perfect time to pay a visit to these parks because there will be little to no snow on the trails, which doesn't happen often when you're tucked away in the mountains.
Starting with Mount Rainier National Park, embark on popular trails such as the Skyline Trail or Naches Peak Loop, search for mountain goats, and see Myrtle Falls.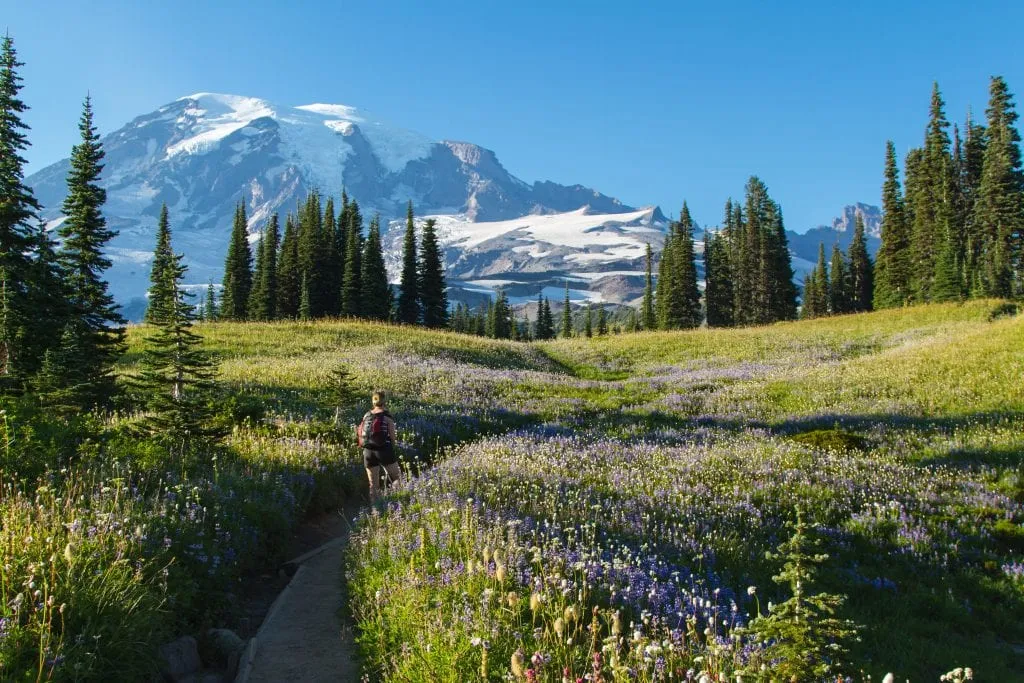 Next will be Olympic National Park, on the Pacific coastline.
When planning your Olympic National Park itinerary, make sure to leave room for some time exploring the Hoh Rainforest, one of the country's few rainforests, time to search for tide pools at Rialto Beach, and time to enjoy the views from Hurricane Hill.
Before heading off to the final national park, make a stop in Seattle for some seafood and explore Pike Place Market and highlights like the Space Needle.
Lastly, North Cascades National Park offers remoteness, jagged mountain peaks, and beautiful hikes such as Maple Pass and Blue Lake.
Combined, these beautiful national parks easily rank among the best places to visit in the USA on a summer vacation.
Where to Stay in Washington State
Classic Route 66 Road Trip
From Kylie of Between England & Everywhere
A fantastic USA summer vacation idea is taking a road trip along Historic Route 66.
Route 66 is officially 2448 miles long, stretching from Chicago, Illinois to Los Angeles, California.
Popular side trips from the route include Grand Canyon National Park and Las Vegas.
A solid 2-3 weeks is a reasonable amount of time to spend traveling Route 66 but it could be made a little shorter or longer depending on flexibility!
When traveling through the 8 states included on Route 66 (Illinois, Missouri, Kansas, Oklahoma, Texas, New Mexico, Arizona, and California), there are hundreds of things to do and attractions to see, ranging from interesting parks to quirky roadside attractions.
Highlights include the Blue Whale in Catoosa, OK, Cadillac Ranch in Amarillo, TX, staying in a wigwam in Holbrook, AZ, and seeing the wild Burros along the Oatman Highway, AZ.
Those traveling with kids (or adults that are big kids at heart!), may enjoy Route 66's connection to the Disney Pixar Cars movie.
Radiator Springs doesn't actually exist as an individual town, however, real-life people and places along the whole of Route 66 inspired many of the characters and businesses in the fictional town.
Where to Stay on Route 66
Blue Ridge Parkway, Virginia and North Carolina
From Victoria of Southern Trippers
One of the best summer vacation ideas in the USA is to enjoy an amazing road trip along the Blue Ridge Parkway.
This incredible 469-mile drive will take you through the Blue Ridge Mountains and past amazing mountain landscapes as you make your way from Charlottesville, Virginia to Asheville, North Carolina.
And while there are many places to stop along the way, major attractions include Humpback Gap, Natural Bridge State Park, the Blueridge Music Center, and more.
Just be sure to give yourself plenty of time since the speed limit on this road is often just 45 mph.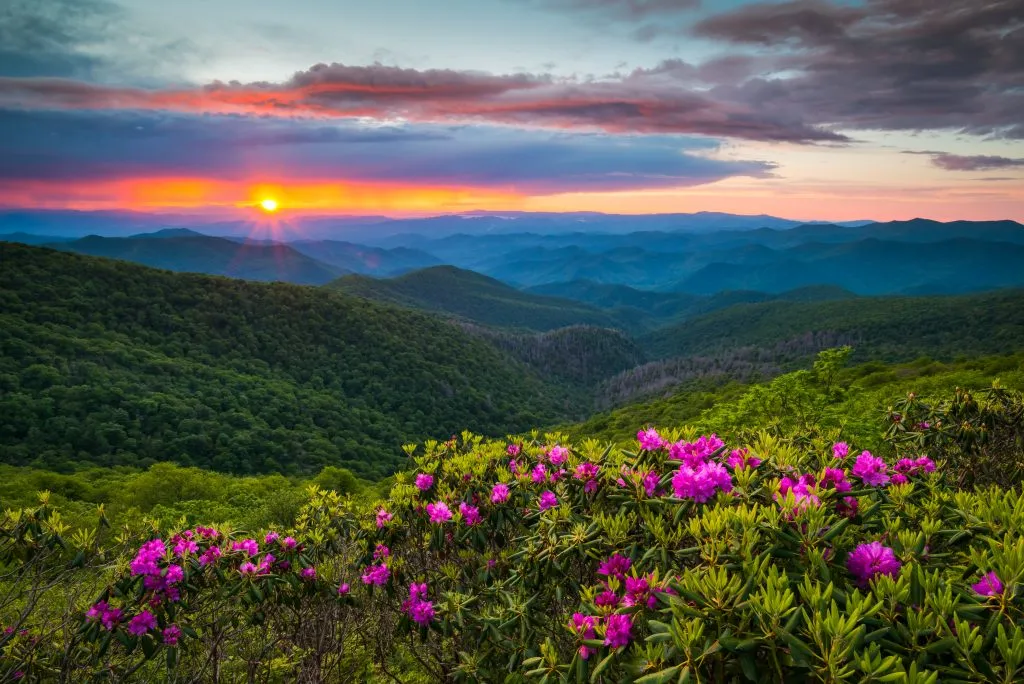 With enough sightseeing along the way, this short road trip could easily take you upwards of a week to complete.
You also cannot do this trip without making a well-deserved pit stop at Rough Ridge Overlook. Not only are the views incredible but you can enjoy a fun hike to Linville Falls too.
And then when you finally make it to Asheville, don't forget to visit the Asheville Art Museum and the idyllic Biltmore Estate.
Then, grab a pint of amazing craft beer at Wicked Weed Brewing Pub before checking out some stellar panoramas of the mountains at the historic Omni Grove Park Inn!
Where to Stay on Blue Ridge Parkway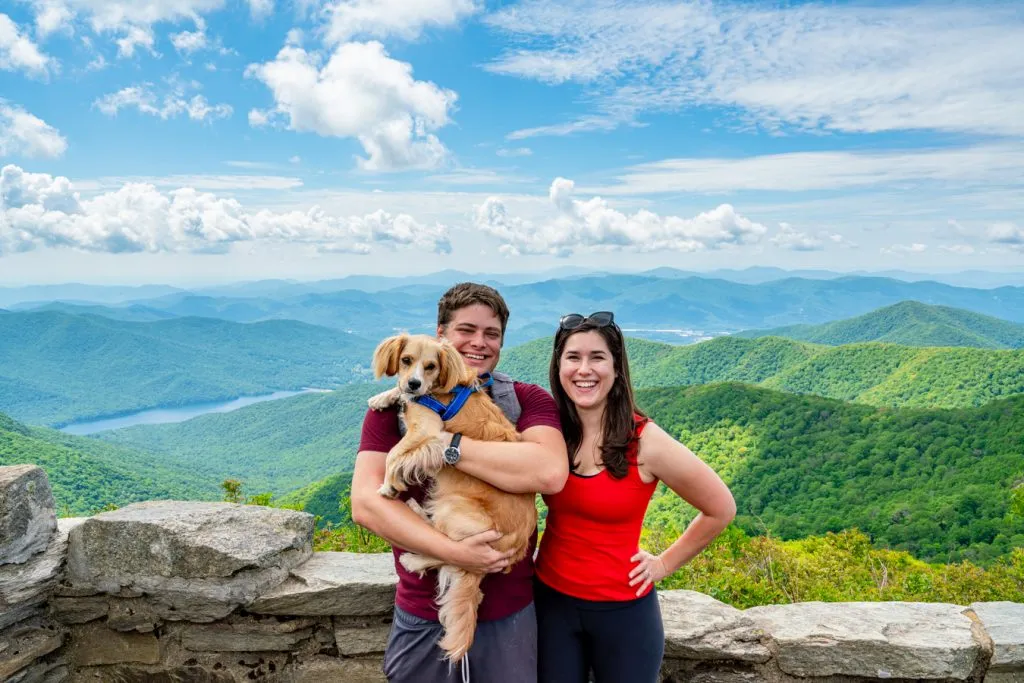 Oregon Coast Road Trip
From Jac of Weekend Path
Road-tripping the Oregon Coast is a quintessential summer vacation in the United States.
With wild beaches, forest-filled hikes, and delicious food and craft beer to sample, you certainly won't get bored on the Oregon Coast!
Summer is the best time to visit the Oregon Coast if you want to experience good weather; during other seasons, it can be pretty rainy and cold.
There are lots of different routes you can take, but if you have 5-7 days for your trip, one of the best driving loops starts in Portland.
From Portland, you can drive to Astoria, Cannon Beach, Newport, and Florence before looping back to Portland via the inland I-5 freeway.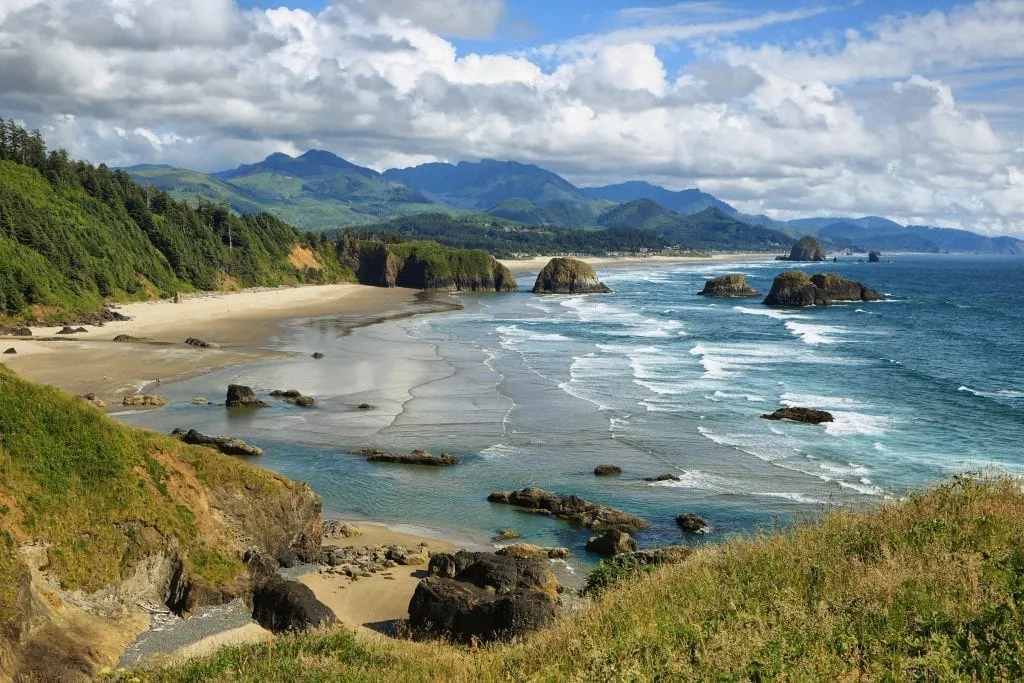 Highlights along an Oregon Coast road trip include Ecola State Park, Short Sand Beach, and Cape Perpetua.
For food stops along your trip, don't miss Pelican Brewing in Cannon Beach and the Tillamook Cheese Factory in Tillamook.
You'll find plenty of hotel options in the major towns along the Oregon Coast, but an even better option is to go camping!
In addition to regular campsites, most of the Oregon Coast State Parks have yurts you can rent.
Make sure to book ahead, though, as campsites and yurts are both popular in the summertime.
Where to Stay on Oregon Coast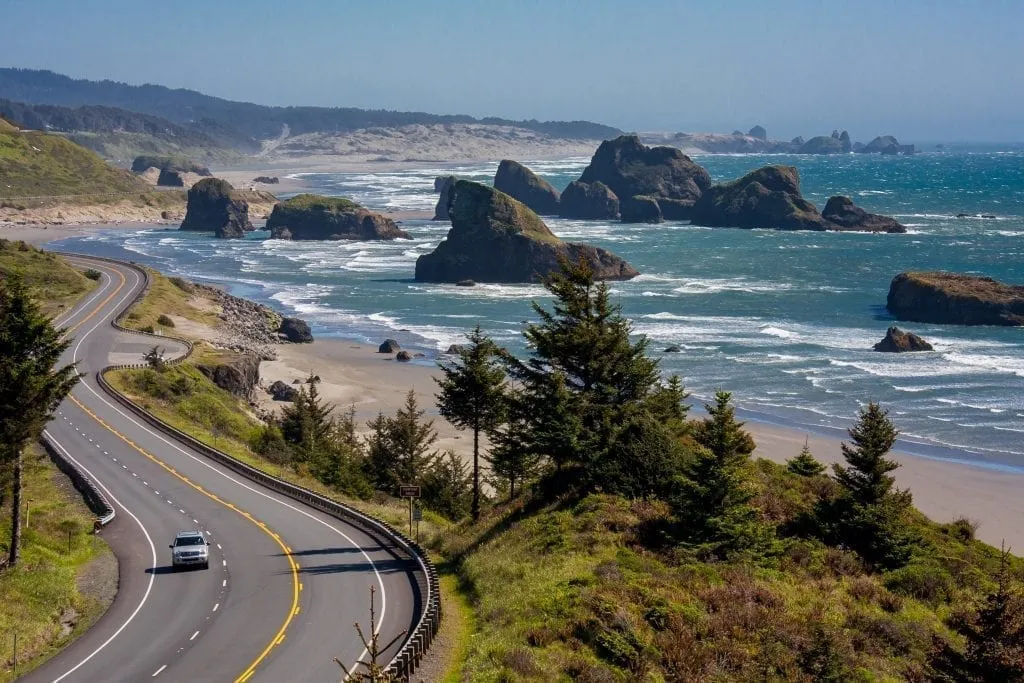 South Dakota Road Trip
From Kristin of World on Wheels
South Dakota is one of the best USA summer vacation destinations because it has so much to offer.
You can explore Badlands National Park and Wind Cave National Park, and enjoy the amazing scenery that South Dakota has to offer.
Custer State Park is a large and incredible area not to be missed during your trip.
It has mountains, lake views, plenty of hiking opportunities as well as tons of wildlife.
Make sure to look for Bison, Pronghorn, Big Horned Sheep, wild donkeys, and more during your time in the park.
In fact, many people choose to stay in one of the campgrounds or lodges located within the park for convenient access to all the area has to offer.
You can also add Mount Rushmore and the Crazy Horse Memorial to your summer vacation itinerary.
If you are visiting these locations from Custer State Park, make sure to take the scenic tunnel drive to get there.
This drive will take you through rocky tunnels which perfectly frame Mount Rushmore as you drive through them.
Kids will love visiting Bear USA, and the Mammoth Site, an active archeological site where you can see actual Mammoth bones.
You can also tour an old gold mine and learn more about the Gold Rush era.
The best part of visiting South Dakota is that all the activities listed above are in the same area and can make for a fabulous weeklong vacation in the USA.
Visiting in the summer will also give you incredible weather for exploring.
Choose to visit in the early or late summer (May-June or late August-early September) for fewer crowds and to avoid the hottest weather.
Where to Stay in South Dakota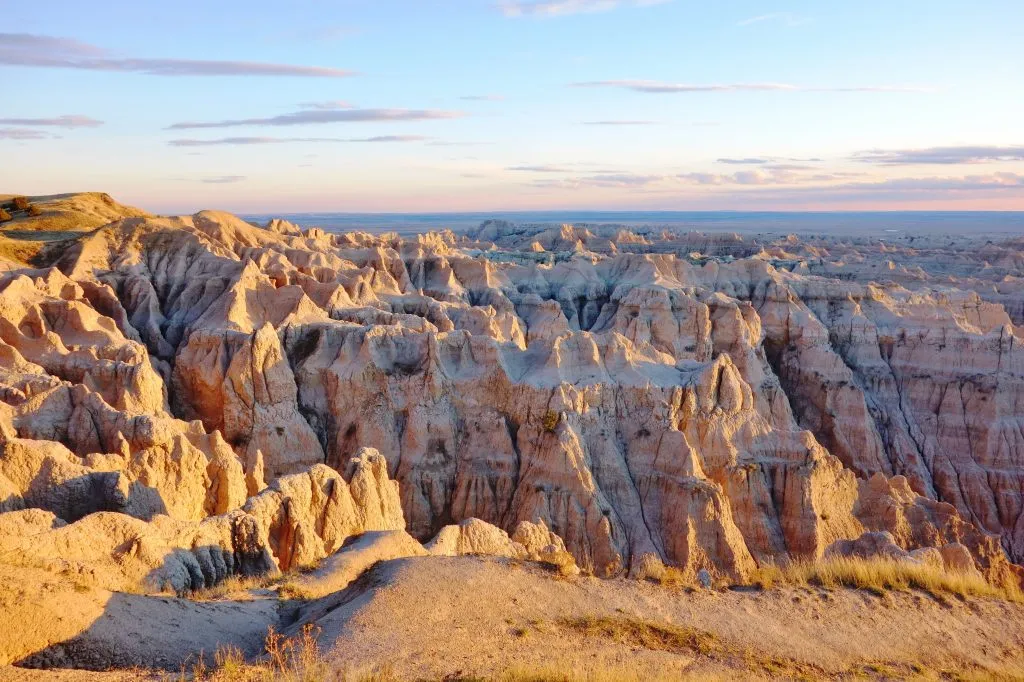 Florida Springs Road Trip
From Victoria of Florida Trippers
A Florida Springs road trip is an incredible trip for anyone looking for some great USA summer vacation ideas.
After all, this great state is home to more freshwater springs than any other spot in the country!
So, make the most of this and cool off from the intense summer heat with a fantastic road trip to some of the best natural springs in Florida.
To start, head north of Tampa and check out the Weeki Wachee Springs.
And while the spring itself is stunning, there's a cool mermaid show in an underwater theater that is unlike anything you've ever seen.
Next, ditch the hordes of tourists and experience Three Sisters Springs in Crystal River Natural Wildlife Refuge before renting a kayak and seeing what Manatee Springs has to offer.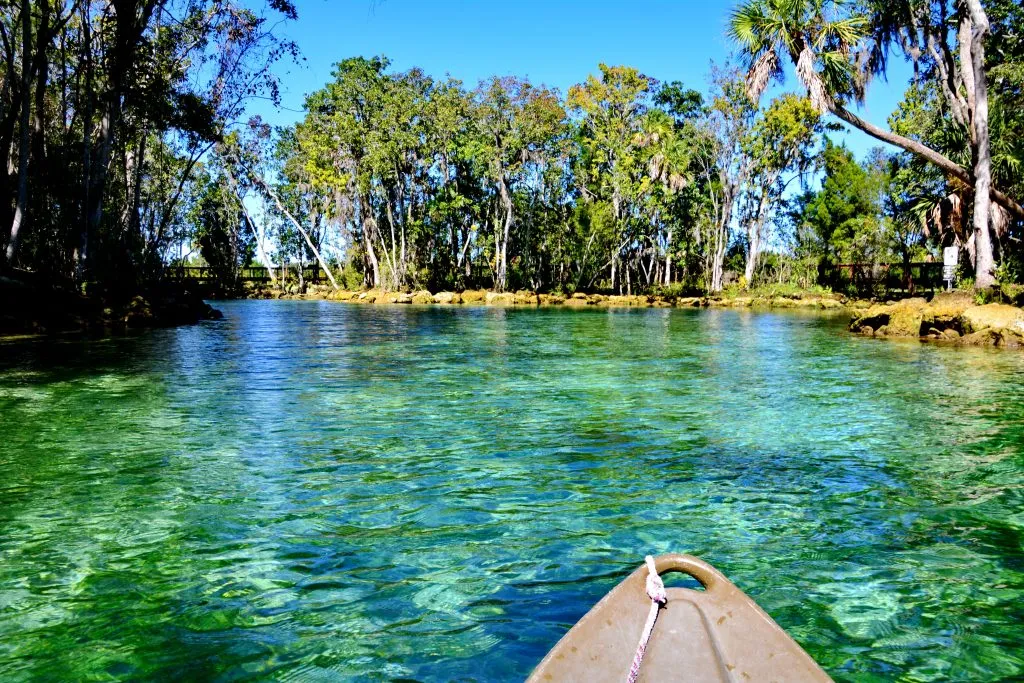 Just know that while this is a great place to see manatees, there are typically only seen in the waters here during the winter months.
However, if you love the great outdoors then be sure to add Ginnie Springs to your itinerary. It features amazing camping spots and is a great place to go tubing on the river.
But, for a truly unique experience head to Devil's Den in central Florida. This spring is incredibly memorable since it is completely subterranean.
You'll have to walk down a long wooden staircase beneath a cavern if you want to access the cool waters here!
Where to Stay in Florida Springs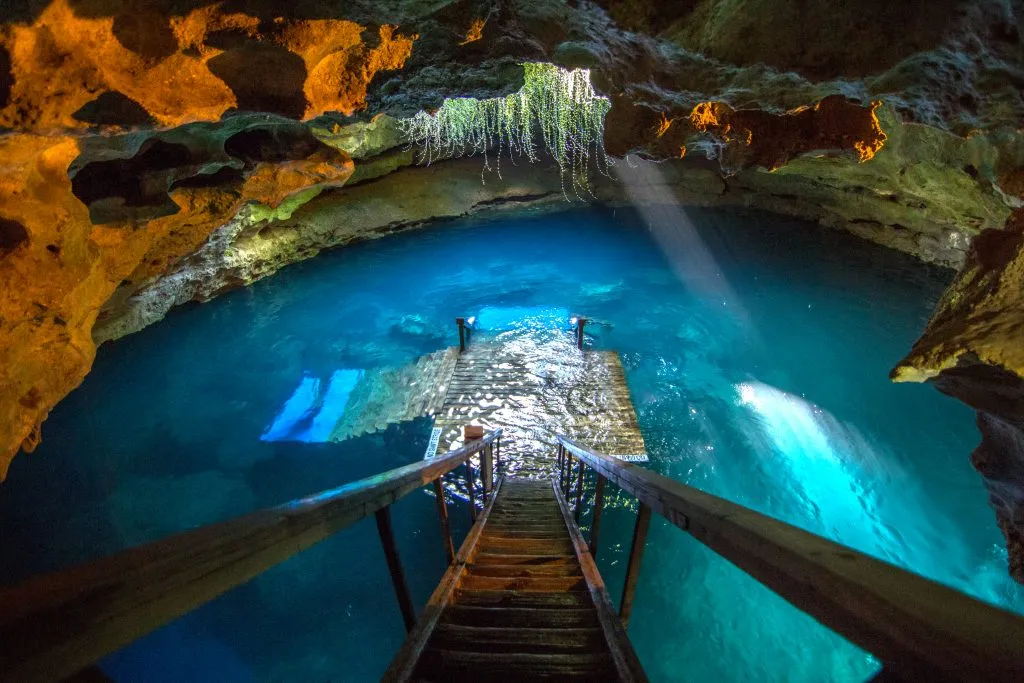 Grand Circle Road Trip, Nevada, Utah, and Arizona
From Jennifer of Glasses and Boarding Passes
If you're looking for the best USA summer vacation ideas, nothing is more classic than a road trip around the Grand Circle, which includes Utah's five national parks and Arizona's Grand Canyon!
From sprawling canyons to otherworldly red rocks, the landscapes of the southwest can't be beaten.
Start your trip in Las Vegas and drive the Grand Circle clockwise to Zion National Park, where you can pick from two of the most famous hikes in the world: Angel's Landing or the Narrows.
Head to Bryce Canyon for an epic sunrise over the hoodoo-filled valley.
Next, stop at Capitol Reef National Park for an off-road adventure to visit the white rocky monoliths of the Temple of the Sun and Moon.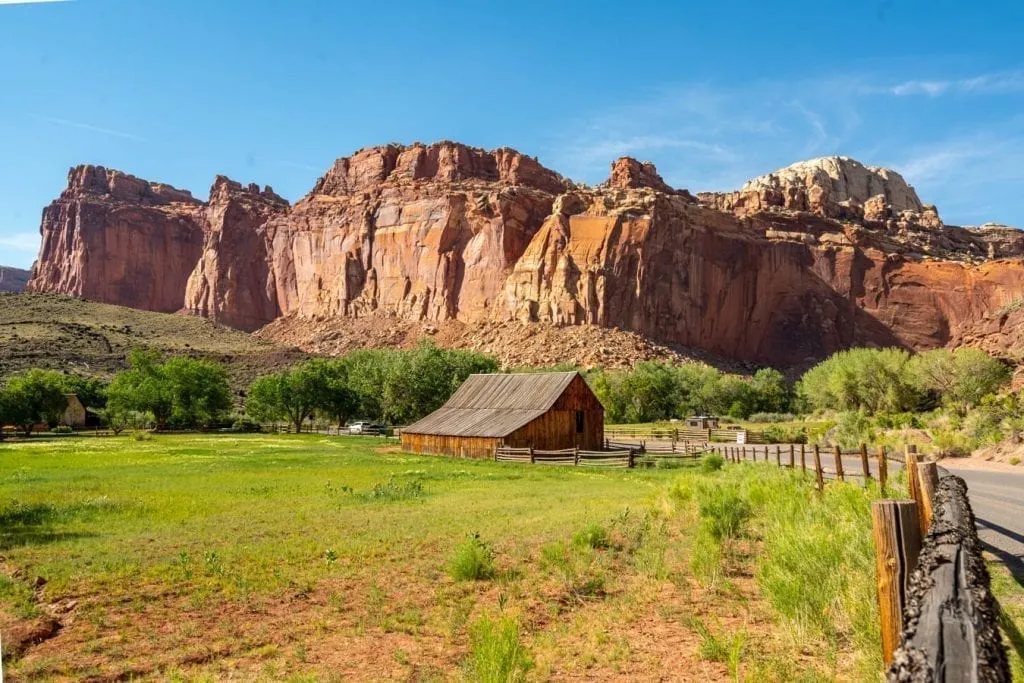 In Arches National Park, don't miss a visit to the aptly-named Delicate Arch.
At neighboring Canyonlands, enjoy the sunrise at Mesa Arch and grab that famous sunburst photo.
Finally, round out your trip with a hike around the rim of the Grand Canyon for some truly breathtaking views.
While the long, sunny summer days make it a great time to see these parks, don't underestimate the heat in the desert.
Always pack plenty of water, wear sunscreen, and hike in the morning where possible!
Where to Stay on a Grand Circle Road Trip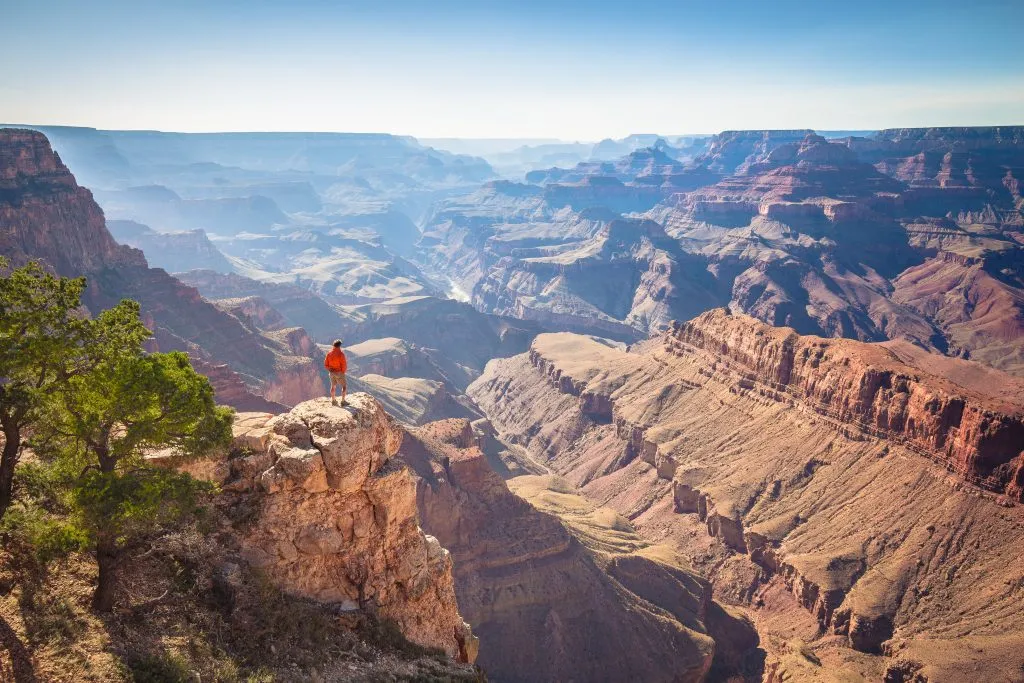 Northern California Road Trip
From Anu of Destination Checkoff
Northern California is a treasure trove of incredible places to visit in the USA, and summer is a great time to embark on a Northern California road trip.
The weather is excellent during the late summer (June can be rainy in the Bay Area), and the daylight hours are longer giving you more time to explore.
San Francisco is a great base to start and end your road trip as you can fly from pretty much anywhere to San Francisco.
Spend a few days in San Francisco and check out the popular San Francisco neighborhoods like Fisherman's Wharf, Golden Gate Park, Haight-Ashbury, Sausalito, Ferry Building, and Embarcadero.
Be sure to also see the famous Golden Gate Bridge, and consider a day trip to Muir Woods to be amazed by the redwood trees.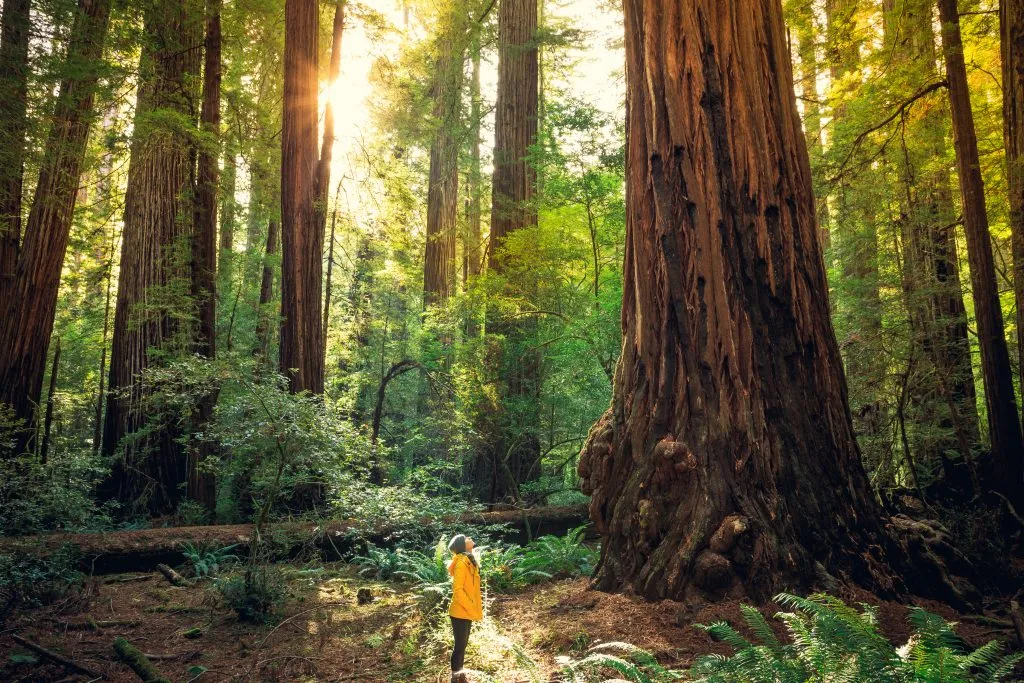 Mendocino and Fort Bragg are great coastal cities on the Northern California Pacific Coast.
From there you can drive to Mount Shasta and enjoy some great hiking.
Lassen National Park is a great volcanic park with geothermal activity, and nearby Burney Falls is also worth a visit.
From Lassen make your way to Lake Tahoe, a picturesque lake with lots of recreational activities like hiking, parasailing, canoeing, and swimming at the many beaches. Spend at least a couple of nights in Lake Tahoe.
Finally, drive back to San Francisco from Tahoe to conclude your USA summer vacation.
Plan for at least 10 days for this road trip so that you can spend a couple of days or more at each of these incredible places on the way.
Where to Stay in Northern California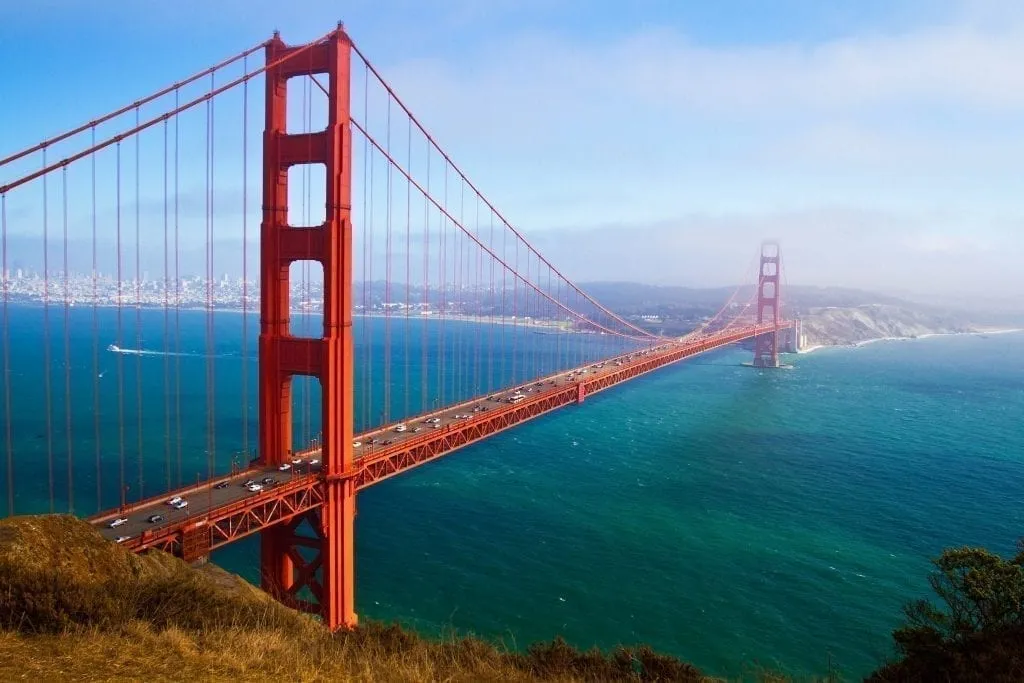 Colorado Rockies Summer Road Trip
From Sierra of Island + Alpine
The stunning Colorado Rocky Mountains are easily one of the best places to to visit in the USA over summer!
Summer is the perfect time to visit as the weather is warm but mild, the roads are clear of the winter snow, and the land is alive with the colors of wildflowers and opportunities for outdoor adventures.
Denver is the gateway to the Rockies in Colorado and its airport makes for a great place to start a trip through the mountains.
The mile high step on the Capitol building, the street art in the RiNo district, a Rockies baseball game, and numerous breweries are all great activities to enjoy before heading out of the city.
Rocky Mountain National Park is located right by Estes Park, just north of Denver, neither should be missed!
The historic downtown is charming, and it is just minutes to the gate into the park.
The park offers incredible scenery when driving Trail Ridge Road and picking up a souvenir in the Alpine Visitor's Center, a beautiful hike to Emerald Lake and Alberta Falls, the easy walk around Bear Lake, as well as the chance to see wildlife at dusk each evening.
Located within a couple hours of Estes Park, several other incredible mountain towns can be enjoyed as day trips or home bases for other legs of the trip.
In Breckenridge, summer provides the opportunity to take the free BreckConnect gondola up to Peak 8, ride the alpine slide down the mountain, mine for gems, hike the many trails from town, discover the Breckenridge Troll, and many other adventurous activities.
Check out Steamboat Springs for white water rafting, hot springs, and hiking to Fish Creek Falls.
Georgetown is also a great stop with its Georgetown Loop Railroad complete with outlaws, stunning views, and a silver mine tour.
No matter which mountain towns you choose to explore, the options are endless for a summer vacation in the Colorado Rockies!
Where to Stay in Colorado Rockies
More of the Best Places to Visit in Summer in the USA
Lake Tahoe, California and Nevada
From Meg of Fox in the Forest
Easily one of the best USA summer vacation ideas, Lake Tahoe is a stunning alpine lake that straddles the border between Nevada and California in the Sierra Nevada Mountains.
As a result, there are a ton of incredible things to do in this oasis of natural beauty all summer long.
Highlights include hopping aboard a catamaran and cruising through the lake with Action Water Sports before taking a ride on the Heavenly Mountain Gondola so that you can admire sweeping panoramic views of the area all around you.
Next, make the most of the beautiful weather and enjoy one of the best Lake Tahoe hikes since many of these trails become totally impassable in the winter.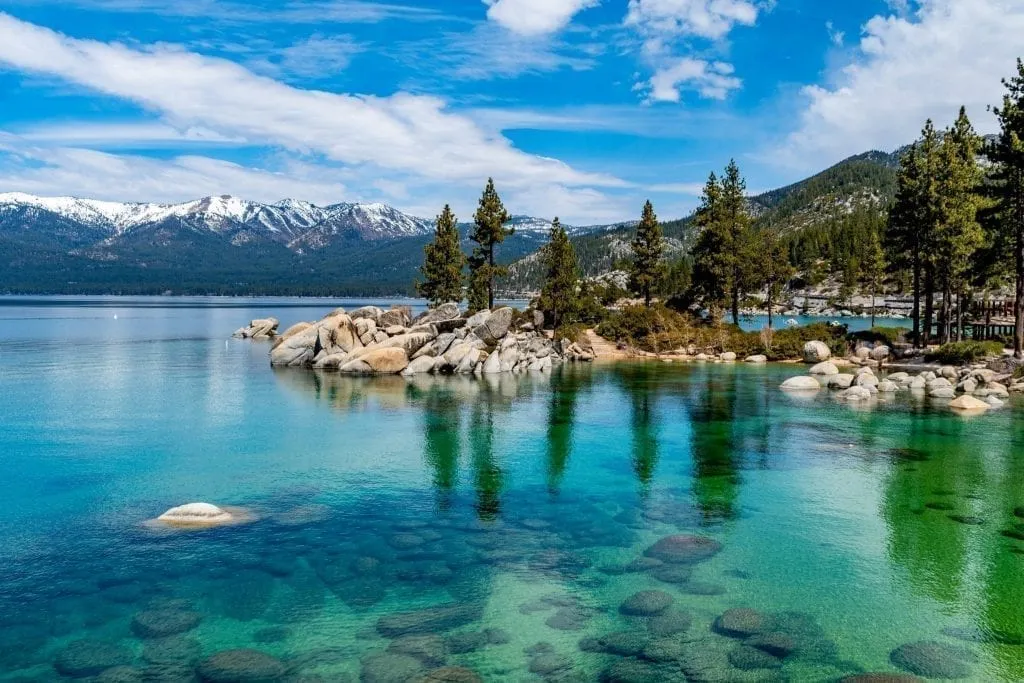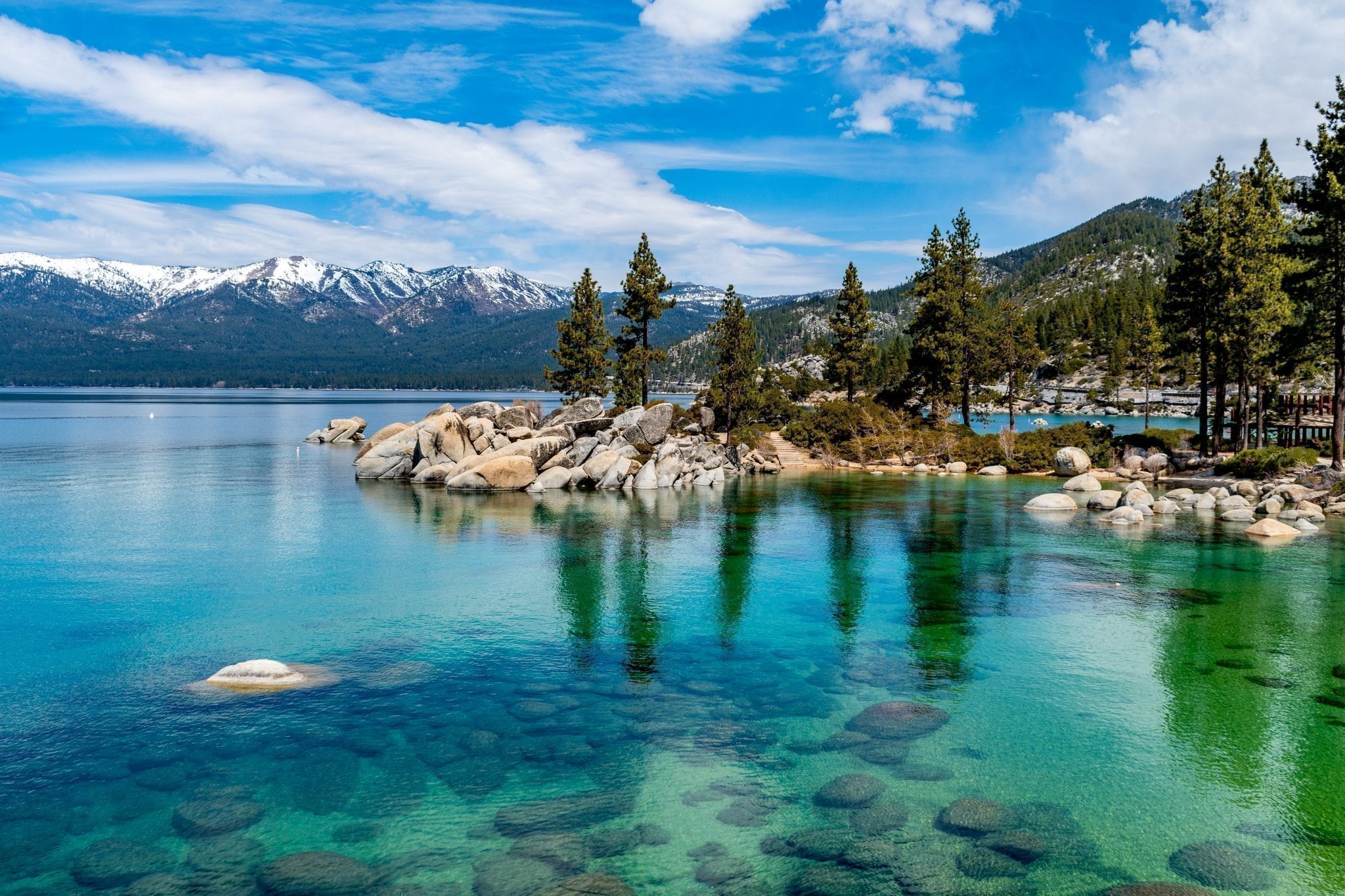 Amazing hikes in the area include Cave Rock, the Eagle Falls hike, Marlette Lake, Mt. Rose, and the Emerald Bay hike.
For the latter, be sure to bring a bathing suit since there are plenty of places to swim along the way.
And if you still want to do a bit more swimming, then you can always visit amazing local beaches like Sand Harbor, Emerald Bay, and Zephyr Cove.
Whatever you do though, don't leave without visiting Bonsai Rock, a cool natural rock formation in the lake that is well worth a stop for a photo.
Where to Stay in Lake Tahoe
Door County, Wisconsin
From Theresa of The Local Tourist
There are a lot of reasons Door County, Wisconsin, has long been a summer getaway destination for Chicagoans and other Midwesterners.
One of the biggest is its outstanding natural beauty. The peninsula is home to five state parks and nearly thirty county parks.
With three-hundred miles of coastline, it's a popular spot for boating and fishing.
One of the coolest things to do in Door County is kayak to Cave Point and float into the caves.
It's also fun to take a guided boat tour and learn the history of the area, and why there were so many shipwrecks. (But don't worry; it's safe now.)
If you want a relaxing vacation, there are sandy beaches.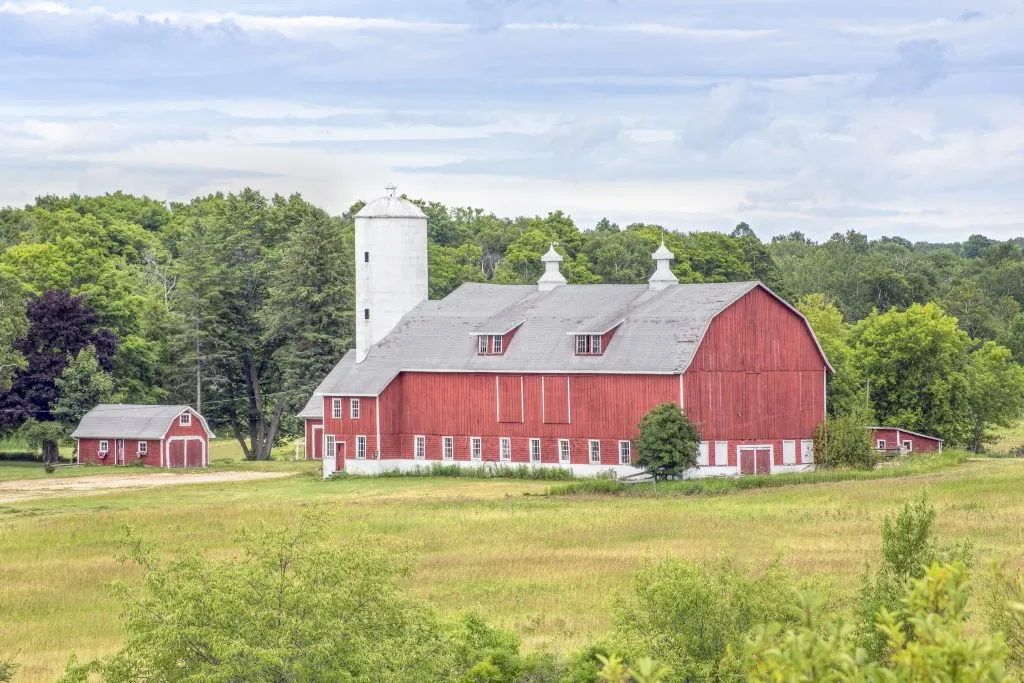 There are no chain stores or restaurants in the quaint harbor towns that line the shores, so you're sure to find unique shopping and dining.
One of the most well-known restaurants is Al Johnson's. While the Swedish cuisine is good, the goats on the roof are what really draw attention.
A Door County dining experience you'll definitely want to experience is an authentic fish boil. It's dinner and a show rolled into one.
Don't forget to finish it off with a giant ice cream sundae at Wilson's.
A unique place to stay on the peninsula is Schoolhouse Inn. It's an intimate hotel in the former Baileys Harbor Schoolhouse.
Where to Stay in Door County
Southwest Colorado
From Caitlin of Twin Family Travels
If you're looking for an unforgettable summer road trip, then southwest Colorado is the perfect destination.
With its dramatic mountain scenery and abundance of outdoor activities, you'll be able to enjoy a wealth of amazing experiences.
Whether you're hiking, biking, or simply taking in incredible views, you're sure to have a memorable time.
Taking a classic USA summer vacation is a great way to explore southwest Colorado.
The weather is warm and the days are long, providing plenty of time to enjoy all that the area has to offer.
Another advantage of summer is that you will not need to worry about poor road conditions caused by the weather.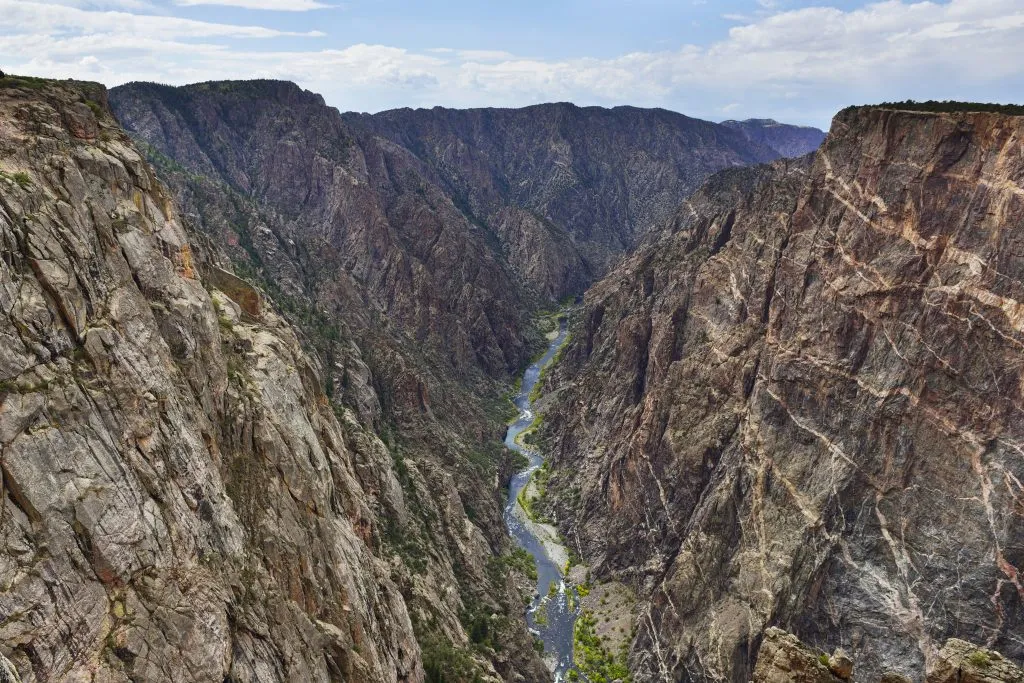 There are plenty of scenic drives to take including the San Juan Skyway Scenic Byway.
Take a train ride in Durango, a mine tour in Silverton, soak in hot springs and hike to waterfalls in Ouray, ride the free gondola and do some shopping in Telluride.
Don't miss the hiking and biking trails at the amazing national parks! Sled and summit a dune at Great Sand Dunes.
Be sure to tour the ancient cliff dwellings at Mesa Verde. Drive the mesa top loop and stay at the lodge to get sunset views.
Enjoy the sights along the South Rim Scenic Drive and hike the rim of the canyon at the epic Black Canyon of the Gunnison.
If you're looking for an adventure this summer, be sure to add southwest Colorado to your list!
Where to Stay in Southwest Colorado
Boundary Waters Canoe Area Wilderness, Minnesota
From Stephanie of The Unknown Enthusiast
If you're looking for an offbeat getaway this summer, the Boundary Waters Canoe Area Wilderness in northern Minnesota is a fantastic summer destination in the USA.
This wilderness area is wild and pristine and is perfect for anyone who loves an outdoor adventure and spending quality time in nature.
The Boundary Waters area is absolutely chock full of lakes, so visiting the Boundary Waters is a multi-day canoe trip filled with exploring forests, waterfalls, and, of course, beautiful lakes.
Most people spend several hours each day paddling across the lakes to reach their next campsite and portaging to cross between lakes.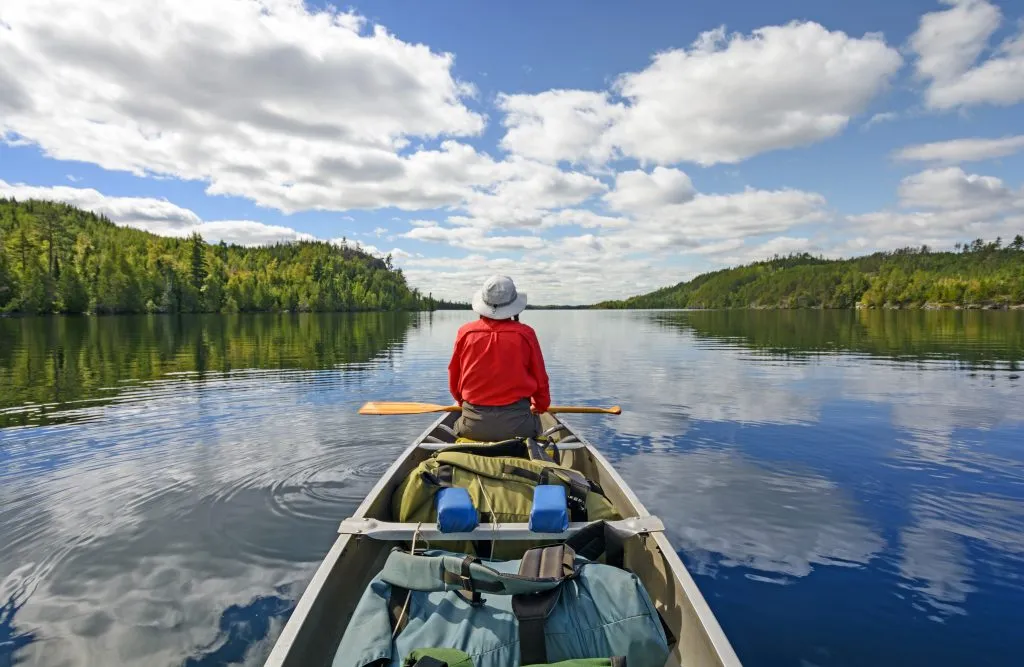 Once you're done canoeing, go swimming or cliff jumping, go fishing, explore the area (there are hikes and waterfalls you can climb), watch birds and wild animals, or just relax at your campsite.
Permits are required and limited in number, and campsites are very spread out, so you will hardly see another person while in the Boundary Waters.
The water is crystal clear and the views are incredible!
Thanks to its far north location, this trip can really only be done in summer, so put it on your calendar now!
Where to Stay in Boundary Waters Canoe Area Wilderness
Hocking Hills State Park, Ohio
From Jenn of Those Johnson Boys
If you love the outdoors, Hocking Hills State Park in Ohio should definitely be on your radar this summer!
Located about an hour southeast of Columbus, Ohio, you'll be able to unplug, immerse yourself in nature, and enjoy the warm, Midwest summer weather.
When visiting, you won't want to miss the hiking trails. Each trail is unique, with varying length and difficulty.
Some are even handicap accessible and pet friendly, so everyone can enjoy this beautiful area.
When you head out on your hike, you'll soon feel like you were transported to a different world, as you'll be surrounded by huge rock formations, towering trees, and lush greenery.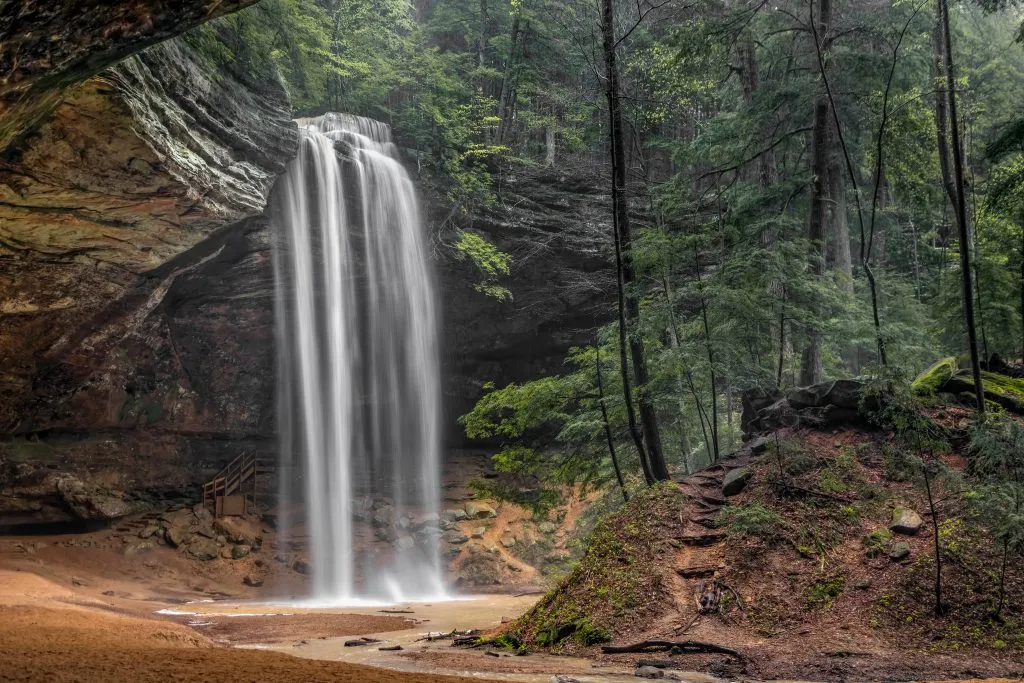 While Hocking Hills is known for the hiking trails, there are plenty of other fun things to do in the area to keep you busy.
You can visit the college campus of Ohio University, do a wine tasting at Hocking Hills Winery, check out a couple of the breweries nearby, enjoy some time at the spa, attend a blown glass workshop, or stargaze at the John Glenn Astronomy Park.
When choosing accommodation, aim to stay in the heart of Hocking Hills to really get the full experience.
Where to Stay in Hocking Hills State Park
Lake Placid, New York
From Samantha of PA on Pause
Sometimes forgotten about, tucked away in the Adirondack Mountains of upstate New York, Lake Placid is a great destination for a USA summer vacation.
There are nearly endless outdoor activities and things to do in Lake Placid in summer, best experienced when the snow has finally melted from the high peaks.
You can climb to the top of Mount Marcy, the tallest point in the state of New York, or the 45 other 4,000+ footers in the Adirondack Mountains.
If this sounds too adventurous, you can still experience the views from a high peak by driving to the top of Whiteface Mountain.
Views from the access road are stunning, and there are plenty of pull-offs to stop and enjoy.
Once you reach the end of the road, you can enjoy the views from there or continue on a few hundred yards over uneven, rocky stairs to reach the actual summit.
Spend your days out chasing waterfalls, and evenings enjoying a delicious dinner by the lake on one of the outdoor restaurant patios. Rent a kayak or paddleboard and float the day away on the lake.
Don't forget to explore some of the historic Olympic sites from the 1980 games. Travel to the top of the ski jump ramp and see the views that jumpers have just before flying downhill, or try out the bobsled track experience.
You won't be bored on your summer vacation in Lake Placid!
Where to Stay in Lake Placid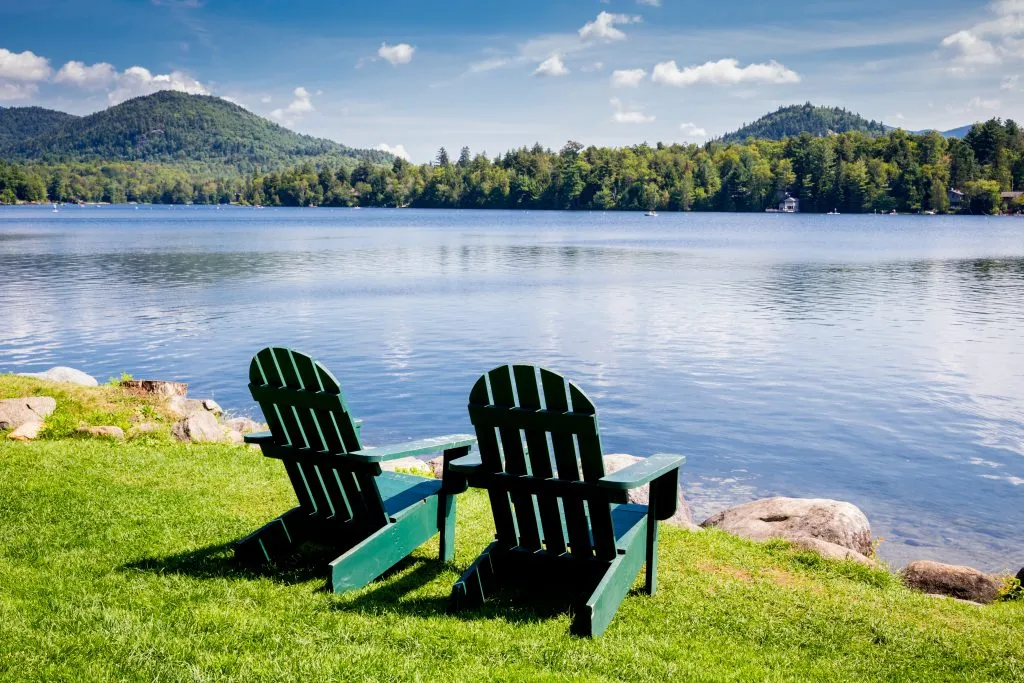 Bayfield, Wisconsin
From Jenny of Traveling in Focus
Summertime in Bayfield, Wisconsin, is truly special.
Nestled on the shore of Lake Superior, Bayfield offers a variety of activities to enjoy and makes for a memorable summer vacation in America.
One popular activity is taking an apostle boat tour, which takes you around the Apostle Islands National Lakeshore to see its spectacular sea caves, lighthouses, and cliff formations.
Keep a lookout for bald eagles and snow that still clings to the cliffs even in summer.
Drive the "fruit loop" and visit all the fruit farms in the area.
Whether your preference is cherries, strawberries, or some other berry, you are sure to find it here.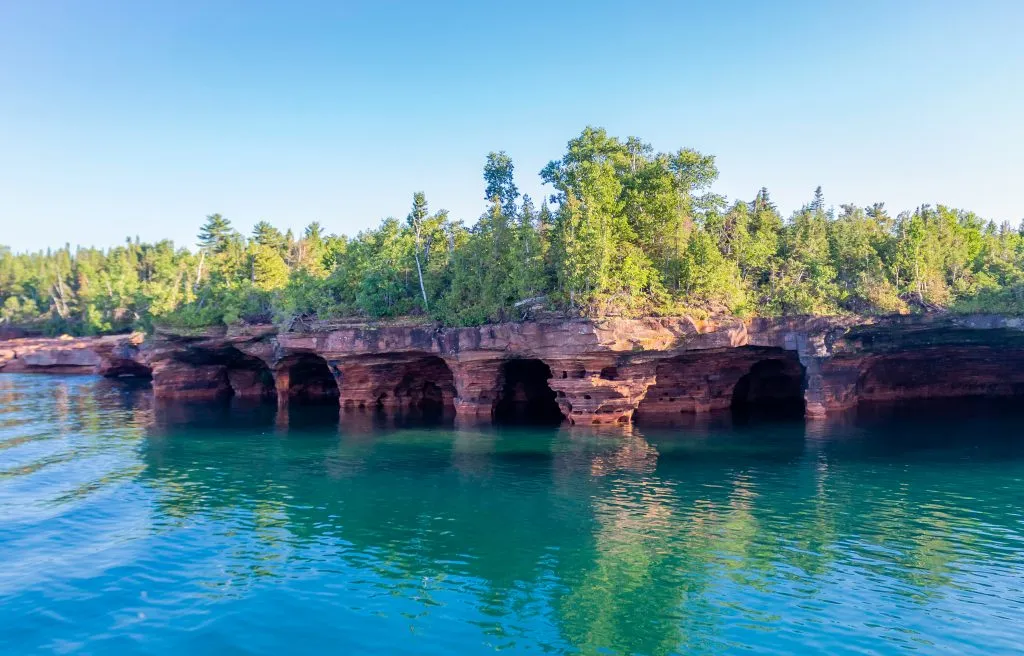 One of the best things to do is hop on the ferry to Madeleine Island for the day.
Rent a bike or moped to get around the island and visit Big Bay State Park, the stunning beaches, and wander through the shops in town.
And there is nothing better than grabbing an ice cream cone and sitting along the waterfront.
June is incredibly picturesque when the city celebrates "Bayfield In Bloom." This annual event sees thousands of vibrant daffodils on display all over town.
Take a self-guided tour through the blooms that add a splash of color and beauty to the streets.
With so much to do in summer, don't miss your opportunity to visit one of the best small coastal towns in the US.
Where to Stay in Bayfield