Small town America is absolutely inseparable from the charms of traveling in the USA as a whole.
Whether you're looking for a casual beach town, a mountain village, a picturesque town remnant of the Wild West, or an east coast beauty boasting colonial architecture, the best small towns in the USA have something to offer.
From sea to shining sea and everywhere in between, we've rounded up more than 25 of the most beautiful small towns in the US here!
All of them are unique and fascinating in their own way and are so diverse that the only attribute tying each and every place together is that they are a delightful slice of small-town USA.
Here are some of the best options for your next getaway to a small American town!
Best Small Towns in the American West
Cayucos, California
From Carole of Weekend Adventures Update
Located on California's scenic central coast, the tiny little beach town of Cayucos is home to fewer than 3,000 people, but its status as one of the best small towns in the USA means that it has plenty more room for overnight visitors in its array of old-time motels.
A wide main street evokes the past with well-maintained historical buildings repurposed into boutiques, antique shops, and a very popular cookie bakery known for its brown butter cookies and fresh-from-the-oven free samples.
The town is justly famous for a calm surf and sandy beach as well as a long pier with night lights and permit-free fishing.
Free outdoor showers and a colorful playground are also provided. Surfers are usually seen doing their thing out in the waves, and tide pooling is rewarding.
Watching the sunset while strolling the beach is a memorable experience, and is especially so when followed by cocktails and a seafood dinner at the beloved and rustic Schooners Restaurant.
Estes Park, Colorado
From Meg of Fox in Forest
Estes Park is home to some amazing mountain views, alpine adventures, and more.
This charming mountain town is nestled just an hour outside of Denver next to Rocky Mountain National Park, one of the best national parks in the United States.
Spend your time exploring the town's cute shops and delicious eats or opt to spend the day in Rocky Mountain National Park.
Try exploring some of the best hikes in Rocky Mountain National Park and then take a scenic drive along Trail Ridge Road, a famous roadway that passes through the Continental Divide and goes across the park.
Keep in mind although you can visit Estes Park throughout the year, Trail Ridge Road does close seasonally for snow so always check conditions before you go.
Throughout the park, you can spot wildlife such as bears, ram, elk, moose, and more.
Estes Park, Colorado isn't an unknown spot so be sure to start your adventures early in order to beat the crowds.
As one of the best mountain towns in Colorado, Estes Park also offers an excellent jumping-off point for a Colorado road trip as a spot to make an extended stay.
Its stunning scenery, friendly people, and ample opportunity for outdoor recreation make it one of the best small towns in the USA.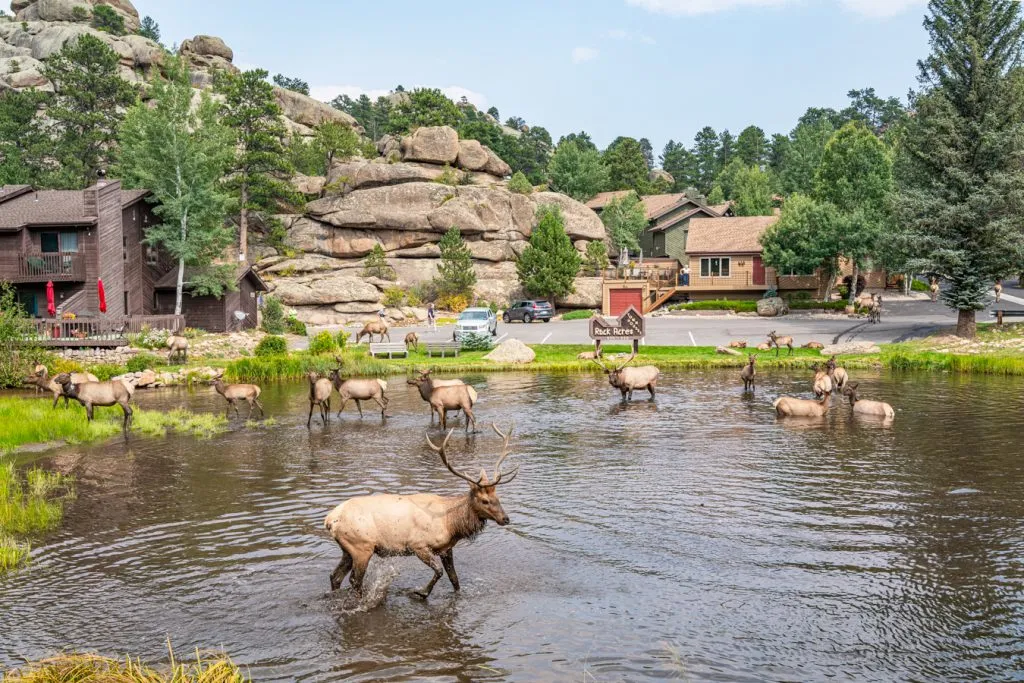 Where to Stay in Estes Park
Wimberley, Texas
Set less than an hour from the state capital of Austin, the delightful town of Wimberley, Texas is well-known in the Texas Hill Country for its artistic vibe, and many whimsical touches (including 30 uniquely painted boot statues spread around town).
Wimberly is also famous for its stunning natural swimming holes, and its proximity to many Hill Country vineyards and distilleries.
The best things to do in Wimberley include going for a swim in the infamous Jacob's Well or Blue Hole during the summer (both of which you'll need to snag advance reservations for).
Be sure to also spend some time browsing art and antiques, doing a wine tasting (or several), and climbing Mount Baldy for excellent views of the Texas Hill Country.
Wimberley is easily combined with a trip to Austin or even San Antonio and is within close proximity of other central Texas highlights like Fredericksburg, Johnson City, and Canyon Lake.
Friday Harbor, Washington
From Dan Bagby of Cabin Critic
Friday Harbor is a picturesque US small town with a population of around 2500 located in the San Juan Islands, some of the most beautiful islands in Washington state.
Being situated on an island, the only way to get to the town is by ferry or seaplane.
The ferry ride from Anacortes Ferry Terminal to the island itself is one of the highlights of a trip to the town taking visitors through the scenic area.
Once in Friday Harbor, the most popular thing to do is whale watching.
A whale-watching tour will take you to see marine life like sea lions, sea otters, porpoises, and seals, but the main attractions are the whales which include orca whales, humpback whales, minke whales, and gray whales.
Around the town, you can walk the streets to check out the local shops and enjoy one of the restaurants like San Juan Bistro or enjoy some ice cream at Friday Harbor Ice Cream Co.
Moab, Utah
From James of Travel Collecting
Moab, Utah is one of the best small towns in the USA, and a great place to visit if you like national parks and/or adventure sports.
It is the gateway to Arches National Park (5 miles away), Canyonlands National Park (30 miles), and Dead Horse State Park (33 miles), and makes an ideal base for all three.
It is also one of the best places in the United States for adventure sports such as rock climbing, canyoneering, and mountain biking.
More of the best things to do in Moab include white water rafting and jet boat tours; hummer tours and jeep rentals; and zip-lining and hot-air ballooning.
There are also plenty of great hikes outside of the national parks to consider, like the Corona Arch trail or the short hike to Faux Falls.
The town itself has plenty of great restaurants, bars, and gift stores. There is even a food truck park!
There are plenty of places to stay in Moab, ranging from Airbnb rentals, motels, and luxury resorts to in-town tent campsites and nearby RV sites.
Moab has a great, laid-back vibe, a stunning setting, and all the amenities you need for a great small town USA vacation.
Where to Stay in Moab, Utah
Stanley, Idaho
From Megan of Megan & Aram
Stanley is one of America's smaller towns but perhaps has more to do than those with more people living in them.
Stanley, Idaho is located in Custer County and is the gateway to the Sawtooth Mountains and various other remarkable spots in the region.
With only 69 residents, the town still boasts plenty of places to eat and relax, such as Mountain Village Resort or the Stanley Baking Co. & Cafe. They are great places to start the day before heading into the wilderness.
Stanley Lake is nearby, but if you're looking to get a bit further into the forests and mountains, you can take one of the several hikes that the area is home to.
Redfish Lake, Alice Lake, and Alpine Lake are all wonderful destinations that are reached by a network of hiking trails.
If you're really wanting to escape reality, embark on the famous Iron Creek Trail to Sawtooth Lake in the middle of the national forest.
In addition to the many lakes that Stanley is a base to, travelers can visit Boat Box Hot Springs or Sunbeam Hot Springs, two springs in the area that are worth the trip to.
If you need a day to unwind from nature and hiking, you can visit the Gerheim Gallery or Stanley Museum within the town for better insight into the local history or artwork inspired by the surrounding scenery.
There are many things to do in Stanley for those visiting and it is the ideal base for exploring the Sawtooth Mountains and several other renowned sights in this part of Idaho.
Trinidad, California
From Julie of Family Travel Lifestyle
The northern California coast is dotted with beautiful American beach towns, but few are as charming as Trinidad.
Just half an hour north of Eureka, Trinidad is a small village that hosts gorgeous ocean views, a historic lighthouse, and fabulous restaurants.
Trinidad could be a quick stop on a long road trip or a relaxing getaway, but either way, it needs to be on your California itinerary.
It's also close enough to the Redwood National and State Parks to be a home base while you visit.
The town is perched on a hillside overlooking the harbor with great views for whale watching.
Things to do in Trinidad include hiking some of the many trails in the nearby state parks and beaches, visiting the tide pools, or touring some of the historic sites like the lighthouse or the recreated Native American village in Patrick's Point State Park.
Catching the sunset over the ocean and eating some amazing seafood in town provides the perfect ending to a day in Trinidad.
Breckenridge, Colorado
From Dymphe of Dym Abroad
One of the best small towns in the USA to visit is Breckenridge, Colorado.
Even though this picturesque town is a great place to go to throughout the year, the place becomes even better during the winter season. There's so much to do and see in Breckenridge!
Of the best things to do in town, skiing and snowboarding are definitely among the best.
There are so many pistes that are great for everyone, whether you just started doing it or already have years of experience.
Besides that, there is more to do in Breckenridge! For example, you can walk through the main street.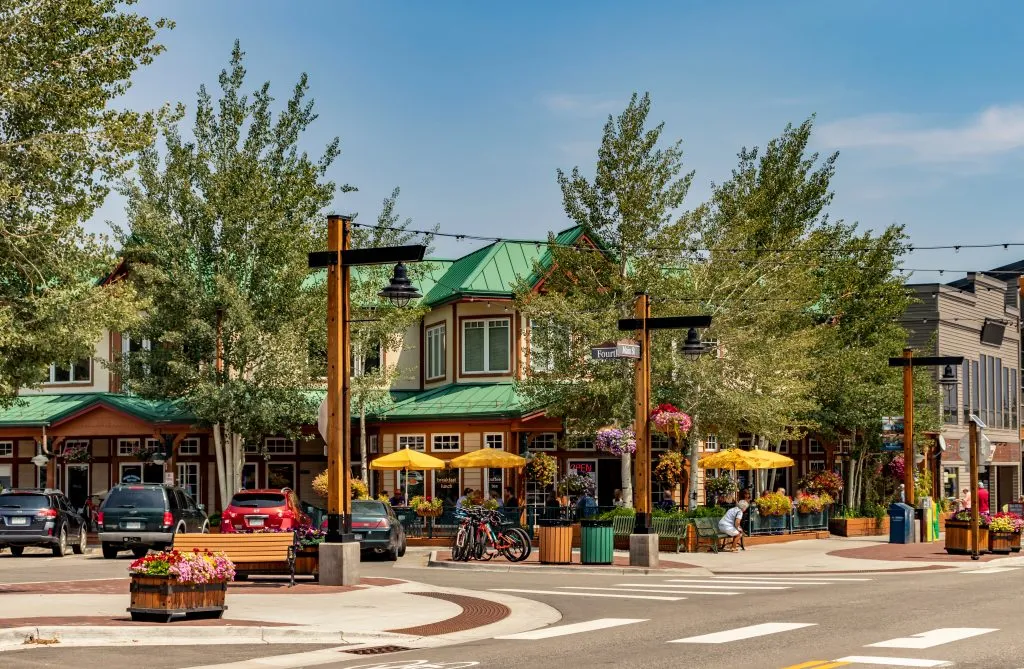 This is the place where most of the shops and restaurants of Breckenridge are, and the atmosphere is lovely. Furthermore, there are beautiful Christmas lights in this part of town.
Another great thing you should not miss out on is the guided snowmobile tours.
During these tours, you go on many trails and explore the beauty of Breckenridge's surroundings and learn a lot about the history of the town.
Something that is also worth your time is going for a sleigh ride with horses while having dinner at the same time.
This is a unique experience to have in this charming American ski town!
Where to Stay in Breckenridge
Whitefish, Montana
From Margie of DQ Family Travel
Whitefish is a great small mountain town to visit if you are planning on enjoying the outdoors.
Located about 30 minutes away from West Glacier, it makes for the perfect home base to enjoy Glacier National Park and so many other natural areas.
The town itself is a classic western mountain town in America that provides scenic mountain views at every turn.
There are plenty of local shops and restaurants in the main downtown area to keep visitors entertained and well-fed throughout their stay.
Also in town are Whitefish Lake, Sandy City Beach, and Whitefish Lake State Park, which all have boat launches and picnic areas.
Just outside of town is Whitefish Mountain Resort which has beautiful ski and mountain bike trails.
Glacier National Park is also located within a short drive of Whitefish and makes for a perfect day trip.
Some of the most popular nearby hikes include the Avalanche Lake Trail and Hidden Lake Trail.
Driving Going to the Sun Road (only open in the summer months) is the most famous attraction in the park and an unforgettable experience.
Regardless of what you do in the area, Whitefish is a quaint small town with a big personality.
Where to Stay in Whitefish
Leavenworth, Washington
From Kay of The Awkward Traveller
Leavenworth is a small Bavarian-style village nestled in the mountainous center of Washington state.
It is famous for its picturesque buildings that transport visitors directly to southern Germany, and for being one of the best small towns in the USA!
There are many cultural festivals, and the town puts all of its energy into providing the best experience possible for visitors.
Maifest and Oktoberfest, which happen in May and October respectively, are Leavenworth's biggest festivals and offer visitors authentic Bavarian, German, and Maibaum traditional dances, food, beer, and music.
However, winter in Leavenworth is also magical, as the town lights up with thousands of Christmas lights and boutique shops and stalls in a Christmas Market fashion.
No matter the season though, Leavenworth will greet you with small-town charm and lots of family-owned restaurants.
The most common accommodations are one of the many cozy cabins in Leavenworth that have stunning views of the surrounding mountains, perfect for romantic excursions, family getaways, and everything in between.
Cannon Beach, Oregon
From Disha of Disha Discovers
There are so many beautiful small towns in America and Cannon Beach, Oregon is one of them.
Cannon Beach is a quaint coastal town located 90 minutes west of Portland. It was even used as a filming location in Twilight, Point Break, and The Goonies.
Cannon Beach is named one of the world's 100 most beautiful places by National Geographic and you'll see why after visiting.
The coastline is stunning and there are so many other natural wonders nearby, and the town itself is an adorable beach village that's brimming with art galleries, shops, restaurants, and more.
The best thing to do in Cannon Beach is to explore the beaches and parks.
It's home to the iconic Haystack Rock which rises 235 feet at the edge of the shoreline. Ecola State Park is also a fun place to explore and offers hiking trails and picnic areas.
This is a great spot to do whale watching. Another fun thing to do is explore the waterfalls and caves at Hug Point.
Where to Stay in Cannon Beach
Sedona, Arizona
From Michelle of The Wandering Queen
One of the most picturesque small towns in the US for outdoor adventure is the beautiful town of Sedona, Arizona, which is located about 2 hours north of Phoenix.
It is a fantastic spot for a weekend getaway with many outdoor activities for the whole family. It's also one of the best places to visit in Arizona!
One of the most popular things to do in this town is to hike.
Sedona is well known to have some beautiful treks for beginners and advanced hikers.
Some of the popular ones include Cathedral Rock Trail, Soldier Pass Trail Sedona, Devil's Bridge Trail, Bear Mountain Trail, Airport Mesa Trail, and Boynton Canyon Trail.
The Devil's Bridge trail is the most popular hike in the area, so it is highly recommended to attempt this hike during sunrise.
Cathedral Rock Trail is another favorite in the town, and it is very short but challenging.
Another popular activity is to take a Pink Jeep Tour. It is a great way to experience Sedona's famous red-rock landscape on a crazy off-roading adventure. 
Where to Stay in Sedona
Jackson, Wyoming
From Melissa of Parenthood & Passports
Jackson, Wyoming is not only a picturesque mountain town, this gateway town to Grand Teton and Yellowstone is also one of the most unique small towns in America due to its Wild West roots.
Western Wyoming was once the North American hub for the fur trade industry. And the reminisce of this unique history is still evident today.
But even if you find this now outdated trade disturbing, Jackson's beauty and quaint, relaxed vibe make the town well worth visiting.
With covered, wooden sidewalks and a variety of locally-owned shops and art galleries downtown Jackson is a great place to window shop year-round.
Antler-adorned arches greet visitors from every corner of the town square.
And from spring through fall, visitors can gather and watch the longest continually running gunfight in US history.
The Town Square Shootout is free to watch Monday-Saturday at 6 pm. Put on by the Jackson Hole Playhouse, this reenactment of a Wild West shootout is a long-standing tradition in the town since 1957. It is a must-watch if visiting Jackson Hole with kids!
Of course, no trip to Jackson, Wyoming is complete without checking out the nearby national parks, the National Elk Refuge, or if visiting in winter, skiing at Jackson Hole Mountain Resort. 
Where to Stay in Yellowstone + Grand Teton National Parks
Healdsburg, California
From Sierra of Free to Travel Mama
When it comes to the best small towns in the United States, Northern California is full of them, but none of them bring quite as much charm, natural beauty, and delicious meals as Healdsburg.
Located in the valley of Sonoma County, this gem of a town is surrounded by miles of vineyards, aisles of redwoods, a winding river, and tree-lined mountains.
Outdoor lovers will love to kayak the Russian River, hike in the Healdsburg Ridge Open Space Preserve, picnic in the redwoods of Riverfront Regional Park, or zipline through them just a short drive away with Sonoma Canopy Tours.
Healdsburg's downtown is an adorable plaza square lined with boutiques and tasty restaurants with amazing menus.
The BBQ is mouthwatering at Kinsmoke, the cinnamon bread at Costeaux Bakery is always worth the visit, and you can't go wrong with anything on the menu at Willi's Wine and Seafood Bar.
Visitors to Healdsburg rarely leave home without a bottle of wine for the road.
Drive through the green Dry Creek Valley for views that can't be beaten as you wind through the historical vineyards.
You can check out Ferrari-Carano with gorgeous views that match the tasting room quality or Truett Hurst for a lovely picnic spot by the river while you sip.
Picturesque Small Towns in the US East
Annapolis, Maryland
From Neha of Travelmelodies
Annapolis, the capital of Maryland is a quaint little all-American town. Located by the Chesapeake Bay, it is a great place to visit if you want to run away from the hustle and bustle of big cities.
This charming town is home to the US Naval Academy and the visit is incomplete without taking a walking guided tour of the Academy.
The interesting stories, the photographs of grit, the grandeur of the memorial hall, the beautiful chapel, keeps you intrigued all the time.
Besides the USNA, take a stroll through the Annapolis historic downtown, visit the St. Anne's Church or enjoy the city dock.
Annapolis's red-brick Main Street is a place for shopping lovers and art enthusiasts. The charming area has boutiques, galleries, and cafes to help satisfy shopping and food desires.
The best part is that it makes for a great day trip from Philadelphia, Washington DC, and Baltimore.
Annapolis, with its history and beautiful architecture, is easy to fall in love with.
Chincoteague, Virginia
From Megan of Virginia Travel Tips
There are so many reasons to visit Chincoteague, Virginia and it is definitely one of the most underrated and fantastic small towns in the US.
Chincoteague sits on the Eastern Shore of Virginia on Assateague Island National Seashore – a long strip of sandy beaches that are shared with Maryland.
This small Virginia town was made famous from the book Misty of Chincoteague, a children's book written by Marguerite Henry in 1947 that focuses on one of the wild horses that the island is known for.
Today, it attracts thousands of visitors annually that come to see the popular wild horses that roam the island and are gathered during the annual Pony Swim.
However, there is more to Chincoteague than just wild horses.
Visitors looking for what to do in Chincoteague will be greeted by a plethora of activities from kayaking to nature cruises to museums and more.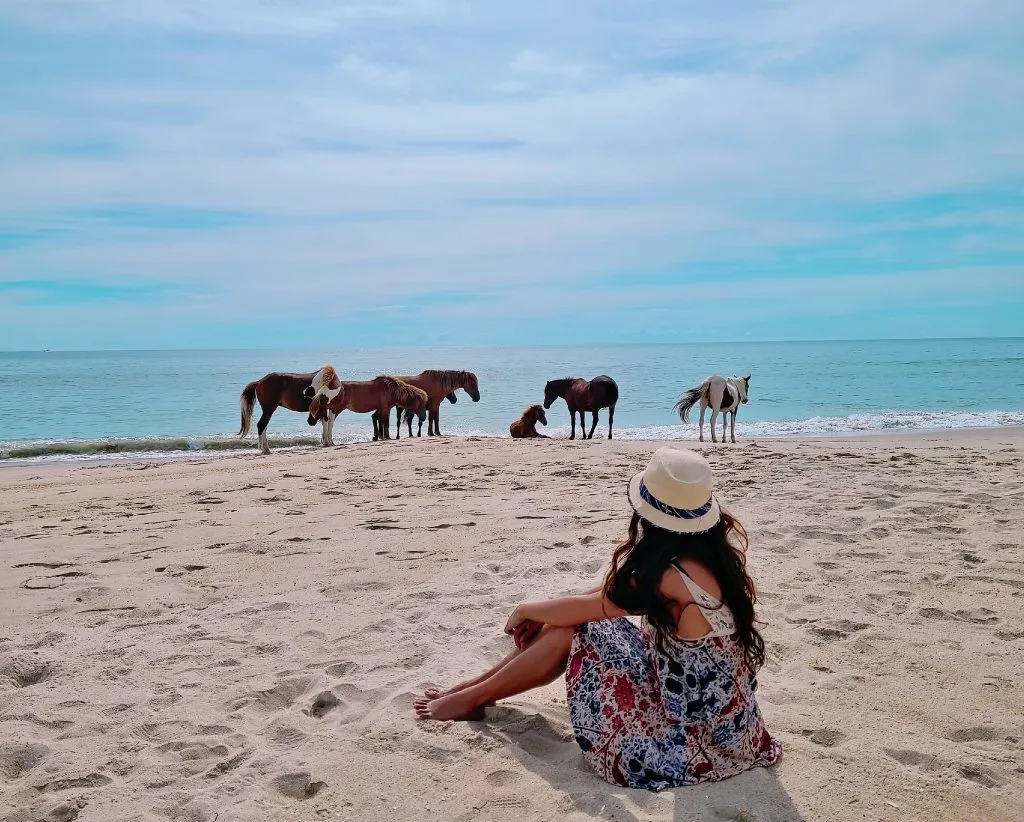 The island is home to the Chincoteague National Wildlife Refuge and Assateague Lighthouse, two of the most popular attractions.
Another popular place to visit in Chincoteague is the NASA Wallops Island Visitor Center. You can learn more about the center and space exploration at the visitor center.
If you're lucky, there may even be a rocket launch when you're in town that you will have the chance to witness from Chincoteague.
There have been over 16,000 rocket launches from Wallops Flight Facility since it was founded in 1945.
There are so many things to do in Chincoteague that travelers will fall in love with the peaceful town on Virginia's Eastern Shore.
Stowe, Vermont
From Jessie of Pocket Wanderings
Stowe is a beautiful alpine New England town that looks as though it's been lifted straight out of a storybook.
Situated in Northern Vermont and home to Stowe Mountain Resort, it is a haven for outdoor lovers and adrenaline seekers.
In the winter, visitors are spoilt for choice with alpine activities.
Generally considered to be the best ski resort in Vermont, there are a variety of slopes for downhill skiing and snowboarding, as well as an abundance of backcountry trails for cross-country skiing.
Other winter activities on offer include snowshoeing, snowmobiling, dog-sledding, and ice skating.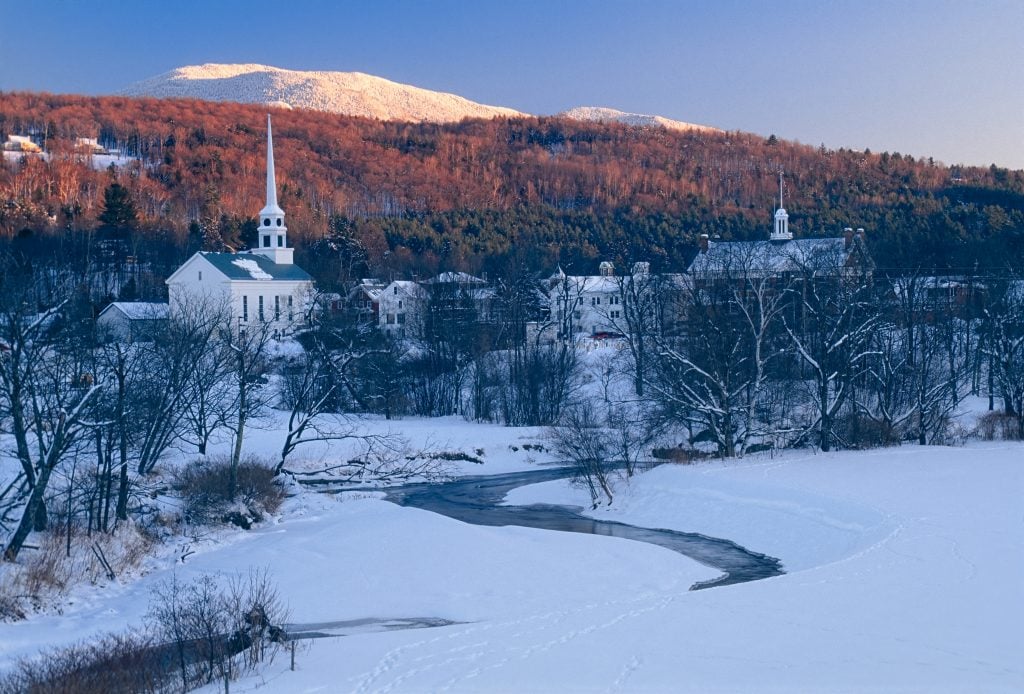 In the summer months, rock climbing and mountain biking keep adrenaline junkies occupied.
There are also a number of beautiful hikes, as well as an extensive golf course.
Autumn is also a wonderful time to visit, with the region becoming engulfed by enchanting red and golden foliage.
The town itself offers plenty to do, with arts, museums, galleries, and chic shopping provisions.
A quintessential American small town, Stowe is a charming year-round destination.
Bethlehem, Pennsylvania
From Victoria of Tori-Leigh.com
Bethlehem, PA is a quaint city in the Lehigh Valley with a rich history and a big holiday spirit.
Bethlehem became prominent during the Industrial Revolution; Bethlehem Steel (now closed) was second only to Pittsburgh's US Steel in production.
Today, visitors can tour the SteelStacks and peruse the National Museum of Industrial History.
More well known, Bethlehem has been called Christmas City since 1937, when the city was uplit with lights above the Historic Hotel Bethlehem.
Holiday tourists can stay at the hotel and participate in the numerous Bethlehem Christmas events.
Some of the most popular include carriage rides, historic strolls, Christmas City Village, shopping at Bethlehem's Christkindlmarkt, or grabbing holiday cocktails at the 1758 Sun Inn.
As you stroll downtown, don't miss Moravian Book Shop. Founded in 1745, it is the oldest bookstore in America and the oldest continually operated bookstore in the world.
During the holidays, shoppers will find eclectic and Bethlehem-themed gifts while year-round, the shop houses books and Moravian College items.
Though Bethlehem has a tourist presence all year long, the city comes to life during the holidays to showcase a truly one-of-a-kind small town in America.
Bar Harbor, Maine
From Deanne of Scenic and Savvy
Bar Harbor, Maine is a scenic small town located on Mount Desert Island.
Known as the gateway to Acadia National Park, many people visit this coastal town for its stunning mixture of mountain and ocean scenery.
Bar Harbor boasts charming boutiques, fresh seafood restaurants, quaint lodging, and plenty of outdoor adventure.
At low tide, you can walk across a sandbar to Bar Island and hike up through the trees for a picturesque view back at Bar Harbor.
Timing is everything, though, since this part of Bar Harbor is only accessible for a few hours a day.
Venturing into Acadia National Park you'll find a variety of hiking trails, swimming spots, scenic overlooks, and carriage roads perfect for biking.
Early risers flock to Cadillac Mountain for the sunrise since it's the first place in the country to see the sunrise from October to March.
Bar Harbor is a small town not to be missed, as it provides charm, beauty, and adventure around every corner.
Newport, Rhode Island
From Pamela of The Directionally Challenged Traveler
Located on Aquidneck Island, Newport is a quaint American town surrounded by breathtaking beaches and sea cliffs.
Best known for its opulent Gilded Age mansions, Newport is also surrounded by natural beauty.
Take a stroll along the Cliff Walk to take in the nature of the area. There are a few parking areas so you do not have to do the whole thing if you're short on time.
Park near The Breakers, one of the most famous mansions so you can do that when nearby. The Gilded Age mansions of Newport are famous for their history and architecture.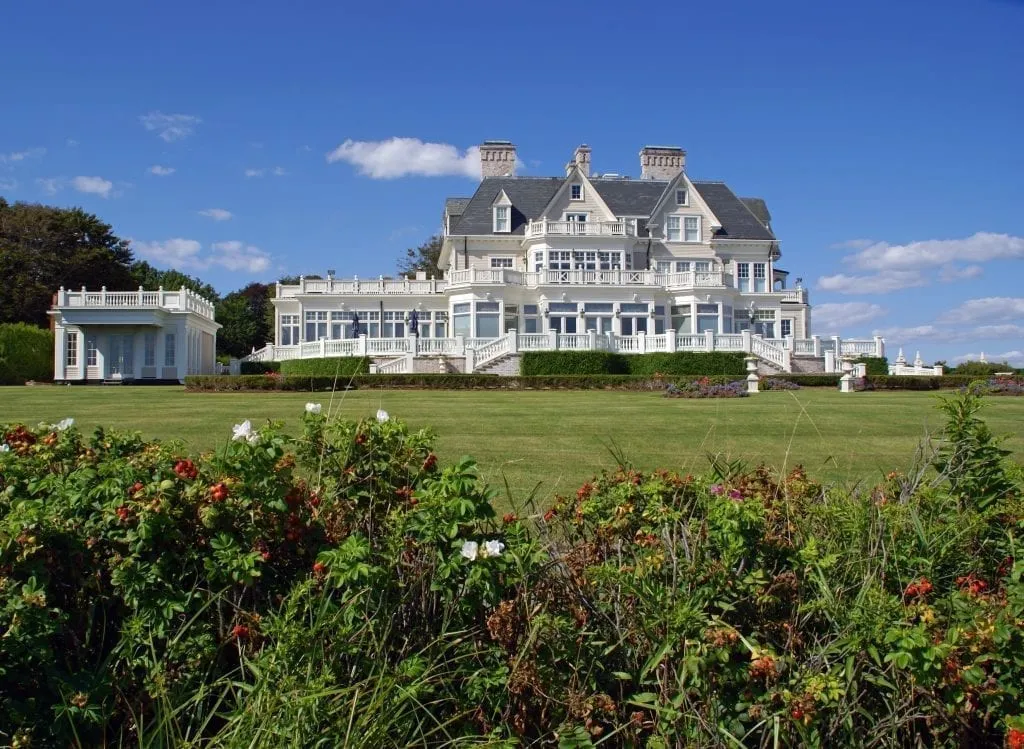 Any visit to Newport wouldn't be complete without delicious food!
If you arrive in Newport for breakfast, head to Cru Cafe near the Audobain Museum: the blueberry stuffed french toast is delicious!
For lunch, visit the Fifth Element for classic American fare with a New England twist. It wouldn't be New England without a seafood meal.
Tennis fans would enjoy a tour of the International Tennis Hall of Fame. Be sure to get some fresh seafood at the Lobster Shack.
A wonderful mixture of nature, history, and food makes Newport one of the best small towns in America.
Hatteras, North Carolina
From Maria of Maptrekking
Located on Hatteras Island on the Outer Banks of North Carolina, the small fishing village of Hatteras is perfect for slow traveling to relax and experience nature.
It was named after the earliest inhabitants of the Outer Banks, the Hatteras Tribe of Native Americans.
Though its year-round population is about 500, the summer season means there are visitors from all over America. They come for incredible deep-sea fishing, lots of different watersports, beautiful beaches, and fresh, delicious seafood.
Geographically, Hatteras is located so far out into the Atlantic Ocean that it is the point where the Labrador Current meets the Gulf Stream.
The island is also separated from the mainland by the Pamlico Sound, one of the largest estuarine systems in the world.
The currents combine making Hatteras one of the best surfing spots on the East Coast and one of the best places for deep-sea fishing.
Having the Pamlico sound on the opposite side of the island provides other fun activities like windsurfing, kayaking, kiteboarding, etc.
More Beautiful Small Towns in America
Lahaina, Maui
From Sarah of Cosmopoliclan
Lahaina, once the royal capital of the Hawaiian kingdom, is the liveliest seaside town on Maui.
When the whalers made it their resting place, Lahaina town became an entertainment hub. When the whalers left, the bars and businesses remained.
To this day, Lahaina's Front Street is the beating heart of this seaside town.
In addition to the restaurants, cafes, and the most popular Hawaiian luau locations, dozens of art galleries dot the street. The paintings, sculptures, ceramics, and woodwork make it a colorful sight.
The true eye-catcher is the giant banyan in front of the Lahaina Courthouse.
When this Indian tree was planted 150 years ago, it was 8 ft tall. Today, it's a 60 ft high masterpiece with 16 trunks and a canopy that spans an entire block.
It's the perfect place for a break before or after joining one of the many excursions that leave Lahaina Harbor, such as whale-watching tours, submarine experiences, snorkeling tours, and even the Lanai ferry.
Lahaina is the starting point for many land-based Maui activities and tours as well.
The only thing this cool town lacks is a wide beach, that's why most visitors choose to stay in Kaanapali, the popular resort town just north of Lahaina.
Broken Bow, Oklahoma
From Derek and Mike of Robe Trotting
One of America's most enchanting small towns is Broken Bow, Oklahoma.
The charming enclave is located in the southeast portion of the prairie state of Oklahoma at the convergence of Mountain Fork River and Broken Bow Lake, hours from the state's capital, Oklahoma City.
Broken Bow is a popular weekend getaway from Dallas, OKC, or Tulsa!
It's an area of the state that's hilly, covered in forest, and known for outdoor attractions.
The perfect way to explore the area is to book one of the many Broken Bow cabin rentals and enjoy the natural and in-town attractions.
Once in Broken Bow, you can experience hiking, fishing, boating, and swimming. Boats and kayaks can be rented from numerous companies in town.
You'll also find a cozy winery called Girls Gone Wine in Broken Bow.
A wine tasting is perfect for a laid-back afternoon or a rainy day when you can't enjoy the outdoors.
Along Route 259 you'll find a few other wineries and breweries to occupy your time like Beavers Bend Brewery and Vojai's Winery.
Another great stop is the Gardner Mansion and Museum, home to pioneer and Choctaw Native American artifacts.
Fish Creek, Wisconsin
From Lindsey of Have Clothes, Will Travel
Fish Creek is a quaint little town located in Door County, Wisconsin.
It has a wonderful selection of family-owned shops and fantastic restaurants that are all within walking distance of each other. It's also home to many outdoor activities.
Peninsula State Park is one of the main reasons to come to Fish Creek. It's a 3,776-acre state treasure! Here you can hike, bike, boat, fish, golf, and swim.
And in winter, you can cross-country ski, snowshoe, sled, and snowmobile.
Camping and nature programs are also offered year-round. There are five campgrounds with a total of 468 family sites here!
If camping is not your style, don't worry – there are plenty of great Door County, Wisconsin Airbnbs, and also cute bed and breakfast stays in the area too.
Be sure to also check out a fish boil for dinner while here. It's unique to the area, and they're not only delicious, but it's a fun process to watch!
Grand Marais, Minnesota
From Jennifer of Travel With a Plan
Grand Marais, Minnesota, is a quaint American small town located along the shoreline of Lake Superior, the world's largest freshwater lake.
As one of the coolest small towns in the USA, Grand Marais is home to epic "Up North" scenery, the state's highest waterfall, and an endless list of year-round outdoor activities.
Their humble shoreline restaurants feature locally sourced fish, produce, and delicious brews.
As one of the must-see stops on the North Shore Scenic Drive (a nationally designated All-American Roadway), Grand Marais is bustling with visitors looking to take in the local beauty.
Popular look-out spots include Artist's Point and the Grand Marais Lighthouse, as well as Pincushion Mountain Overlook.
To add to its accolades of being one of the best USA small towns, Grand Marais is home to the iconic "World's Best Donuts" red and white bakery shop.
Having been in business for over 50 years, visitors flock here for a chance to sink their teeth into their delicious donuts.
Hilo, Hawaii
From Noel of Travel Photo Discovery
There are so many unique small American towns to visit and explore around Hawaii, and one of the most unique is Hilo.
This small village on the Big Island of Hawaii is friendly and typical of the laid-back vibe that most people equate with visiting Hawaii.
It's lush and green, with lots of beautiful waterfalls just around town and small beaches that line the coastline around the outskirts.
The historic downtown area is old western and Hawaiian style with beautiful galleries, boutique stores, restaurants, and one-of-a-kind small mom-and-pop shops that cater to a tourist crowd and locals alike to enjoy the downtown scene.
There are nice coastal walks and parks, small islands with bridges to cross over and so many wonderful hidden and historic places of interest that exude a place in time that hasn't changed in Hawaii and is not as commercialized as Honolulu or Waikiki.
If you are looking for that small-town Hawaiian appeal and a family-friendly atmosphere, check out Hilo.
Traverse City, Michigan
From Sherry of Travel-Mi
Traverse City, Michigan is located in the northwestern part of the Mitten State.
It is definitely one of the most beautiful small towns in America as the lakeside city heralds itself as the Cherry Capital of the World!
Each July, the National Cherry Festival celebrates all things cherry.
The festival draws over 500,000 visitors each year for a breathtaking air show, cherry spitting contest, cherry pie eating contests, city bike rides, colorful cherry apparel, and entertaining cherry-themed parades.
Traverse City, Michigan is very proud to be the Guinness Book of World Records holder for the World's Largest Cherry Pie Pan!
Grab a selfie in front of the pan while visiting this quaint lakeside city!
Even beyond the city, there is so much to see in Northern Michigan!
When visiting Traverse City, visitors will enjoy driving the scenic Old Mission and Leelanau Peninsulas for unparalleled wine tasting, exquisite views of the rolling vineyards, and outstanding farm-to-table restaurants.
While exploring the Old Mission Peninsula, be sure to drive to the northernmost tip to visit Mission Point Lighthouse.
You can tour the lighthouse and relax on one of the many benches to enjoy spectacular views of the Grand Traverse Bay in this small town in the USA!