With its beautiful, extremely clear water and bucket-list-worthy status as the only place on the planet where you can swim between two tectonic plates, it's safe to say that a Silfra snorkeling tour is among the most unique Iceland travel experiences.
From marveling at the magnificent views to knowing what exactly it feels like to snorkel in such icy water, our experience snorkeling in Silfra fissure in Thingvellir National Park is not one that we'll forget anytime soon.
If you're planning a trip to Iceland and hoping to experience Silfra fissure for yourself, here's everything you need to know before you go!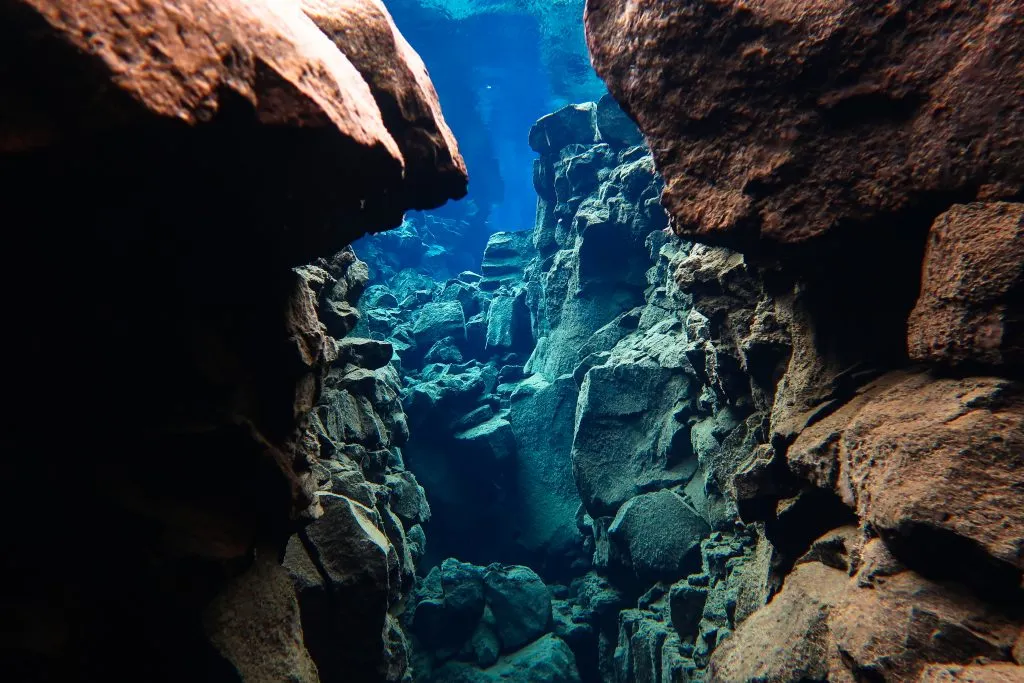 Some links in this post may be affiliate links. If you make a purchase through one of these links, we may earn a small commission at no extra cost to you. Please see our

disclosure policy

for more detail.
What's it like to snorkel Silfra?
There are two facts that sum up our experience snorkeling between tectonic plates in Iceland: it was extremely beautiful and unique, and it was fairly physically uncomfortable.
The water in Silfra is cold— between 2°C and 4°C, or 35°F and 39°F–year-round.
And, while dry suits and other snorkeling gear can keep you safe, they won't exactly keep you cozy!
That being said, floating through the water in Silfra, carried gently along by the very calm current, and staring into the depths below was a mesmerizing experience.
We're very glad we took a Silfra snorkeling tour (this is the one we booked–more details on that below!), but honestly, when we return to Iceland, it's probably not an experience we'll undertake again.
Like other memorable but uncomfortable travel experiences, such as climbing Volcano Acatenango in Guatemala, snorkeling Silfra fissure falls solidly under the category of "once was exactly the right number of times" for us.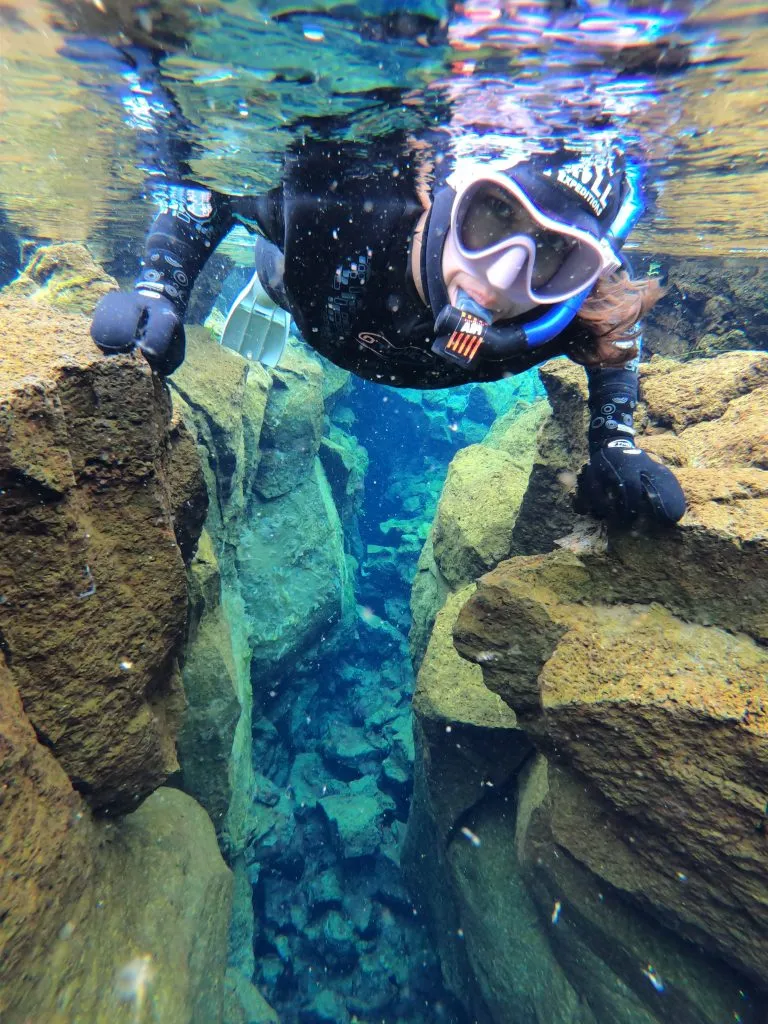 Our Silfra Snorkeling Tour
We booked this popular tour in order to snorkel Silfra, which included everything from the necessary safety gear, to photos of ourselves snorkeling Silfra, to providing much-needed hot chocolate after we got out of the water.
Most importantly, our tour included an excellent, thorough guide who constantly checked on our comfort and safety every step of the way, from the process of suiting up to the actual Silfra experience to handing our gear back in and warming up after the fact.
Even the souvenir photos came quickly: we had them by the end of the day!
We wouldn't hesitate to recommend our tour in the slightest for visitors hoping to enjoy a Silfra snorkeling experience.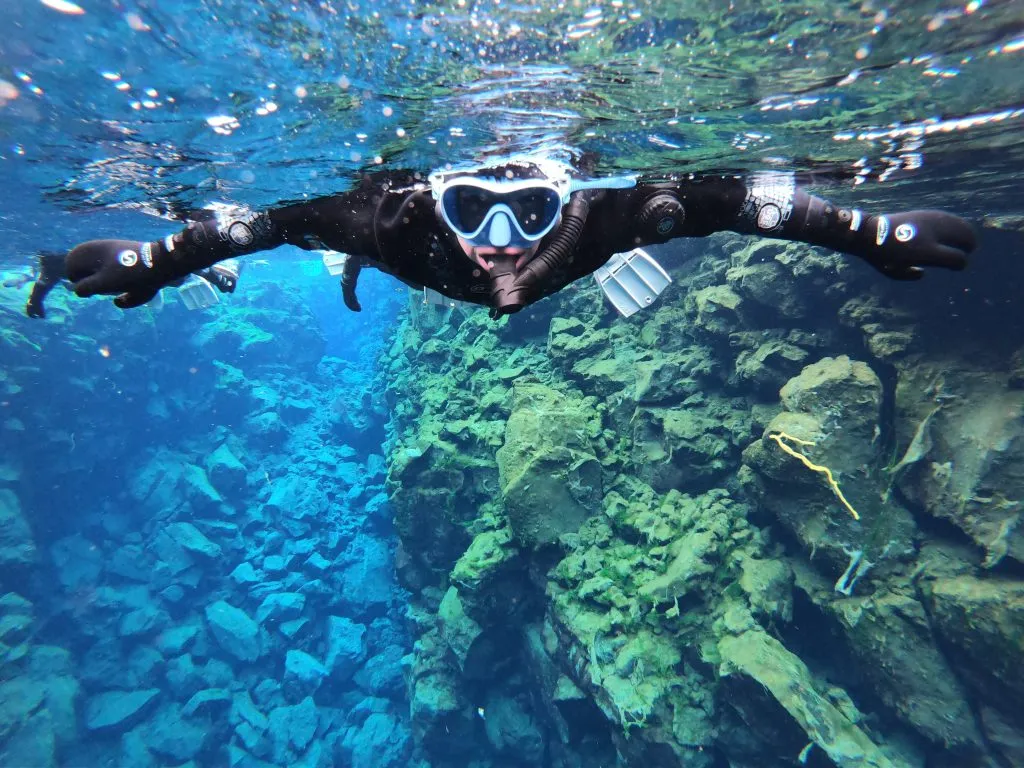 What exactly is Silfra?
Silfra is a fissure between two of the Earth's tectonic plates, located in Þingvallavatn Lake in Thingvellir (in Icelandic, Þingvellir) National Park.
In other words, it's located less than an hour from Reykjavik and right along Iceland's popular Golden Circle.
The fissure is located between the Eurasian and North American tectonic plates, and is the only place in the world where you can snorkel between tectonic plates!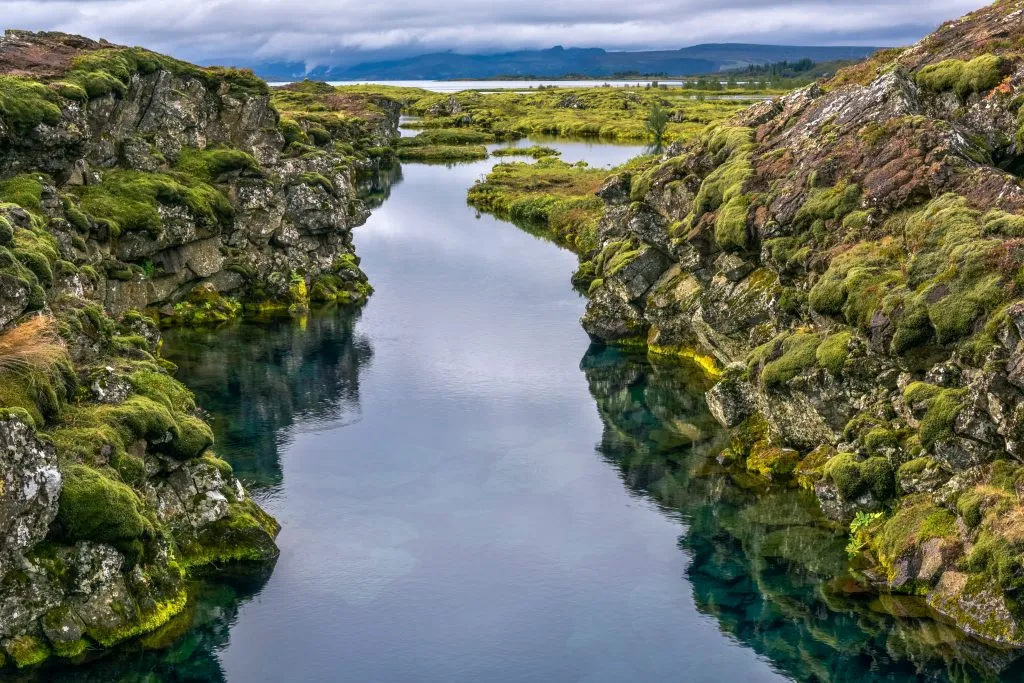 The water that fills Silfra is melted from Langjökull Glacier (the second-largest glacier in Iceland), and after leaving the glacier, it is filtered through lava rock for 30-100 years before reaching the fissure.
As a result, Silfra is famously home to some of the cleanest and clearest water in the world, with a visibility of about 100 meters at any time!
And, as your tour guide will no doubt tell you, the water is perfectly safe to drink, and you're more than welcome to take a few sips during your tour.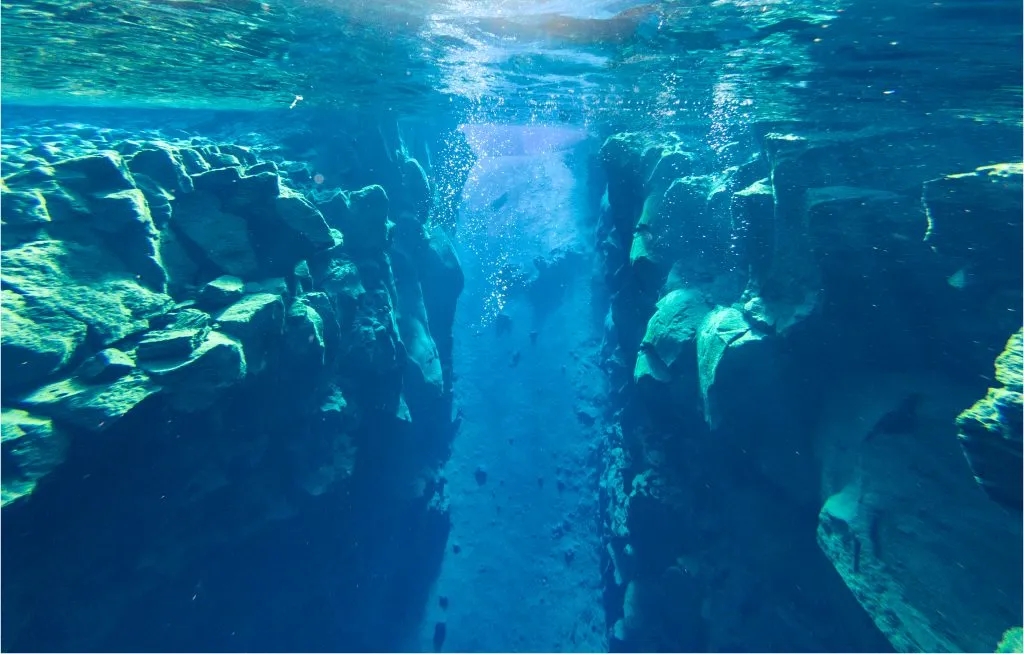 9 Important Silfra Snorkeling Tips
Be prepared to be uncomfortable.
From standing around for almost an hour putting on piece of gear after piece of gear to being cold in the water, snorkeling Silfra is exciting but not, shall we say, cozy.
I'll admit, I don't have much cold tolerance, so I'm a bit biased here–but Jeremy tends to do great in the cold, and by the end of our Silfra snorkeling experience, he was more than ready to be out of the water and warming up.
Is this a reason to skip snorkeling in Thingvellir National Park?
I don't think so: snorkeling between tectonic plates in Iceland is an incredibly unique experience, and it's worth the discomfort!
But, as I mentioned above–we don't plan to go a second time.
Some things are meant to be experienced exactly once in a lifetime!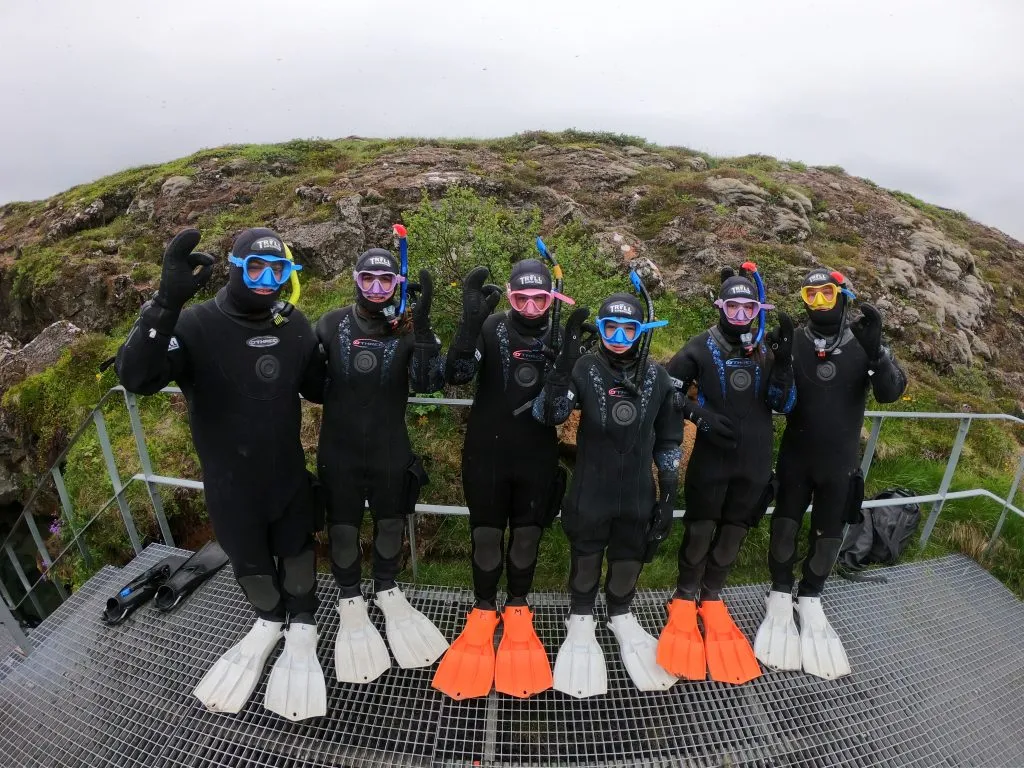 Book your Silfra snorkeling tour in advance.
As one of the most popular things to do in Iceland, Silfra snorkeling tours book up fast–especially in the popular summer season.
We highly recommend booking your Silfra tour as far in advance as you can if you're traveling during high season!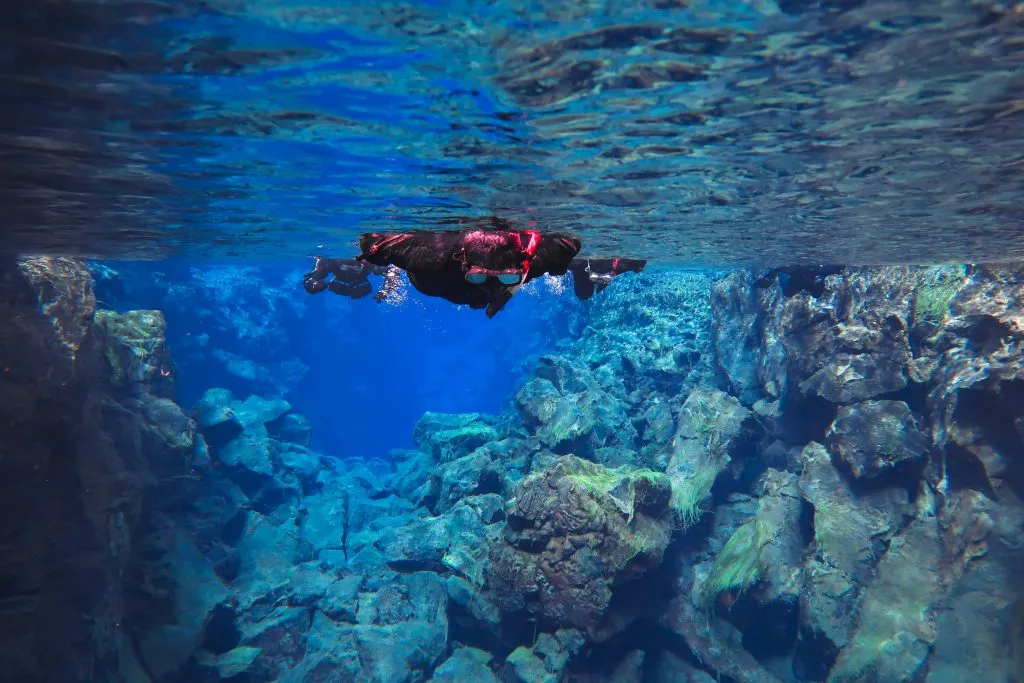 Wear the right clothes.
The best clothes to wear to Silfra are thin, warm layers–think thermal underwear like this and wool socks.
I wore these fleece-lined leggings, which offered a bit of much-needed extra warmth.
You want the clothes to be thin, as you'll layer many things provided by your tour company on top of them, starting with a soft, thermal bodysuit–but start with something warm.
Be sure to also bring layers to put on after you get out of the water.
You'll want to warm up as soon as possible once you take off your drysuit!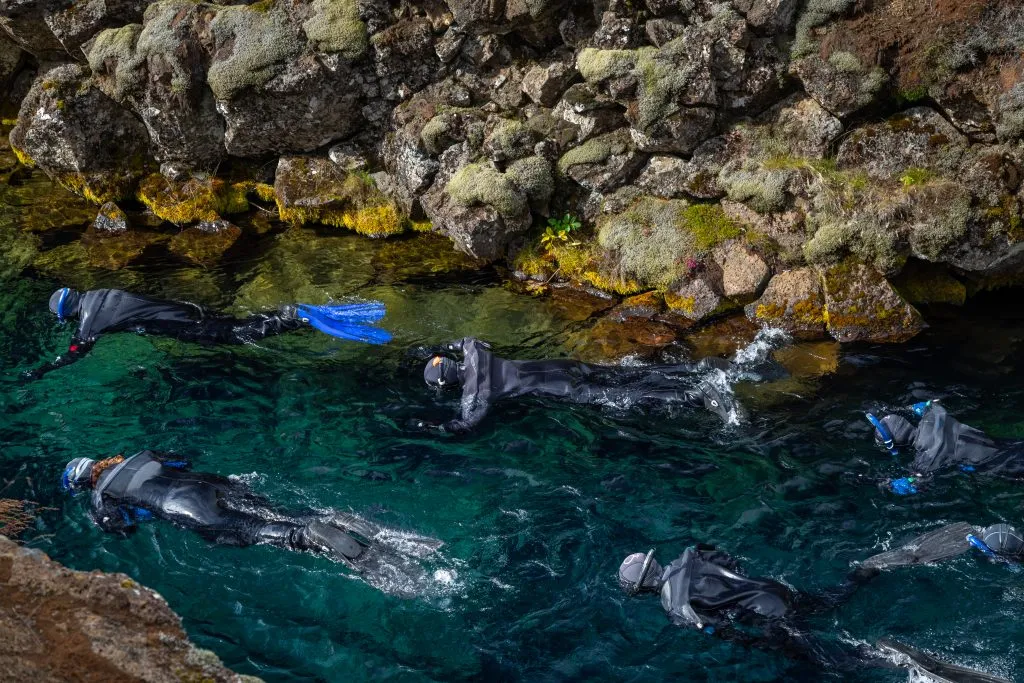 You'll only be in the water for about half an hour.
You'll notice that most Silfra snorkeling tours will note that they take 2+ hours to complete–but most of that time is not spent in the water, it's spent getting ready.
Your guide will need to check each person's gear, piece by piece, and help ensure that it's properly fitted. With a bigger group, this takes time!
You'll also need to walk a short distance to and from the staging area to the metal steps leading into the Silfra fissure.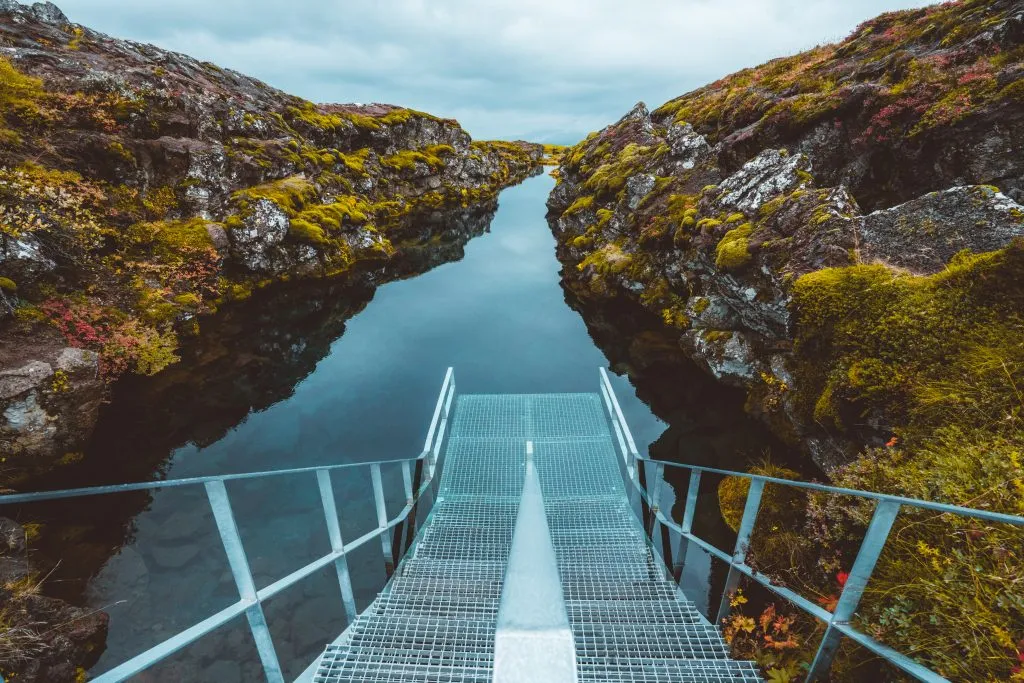 … But I promise, it's enough!
The time you spend in Silfra itself is generally plenty for most participants, us included.
The fissure is incredibly beautiful and a literally unique place, but it's not a particularly varied landscape. Half an hour or so is more than enough to soak it up!
At the end of the fissure, there's a fairly shallow area where our guide offered to let participants spend another 10 minutes or so snorkeling–and only a couple of people took him up on it.
Most of us were ready to get warm by that point!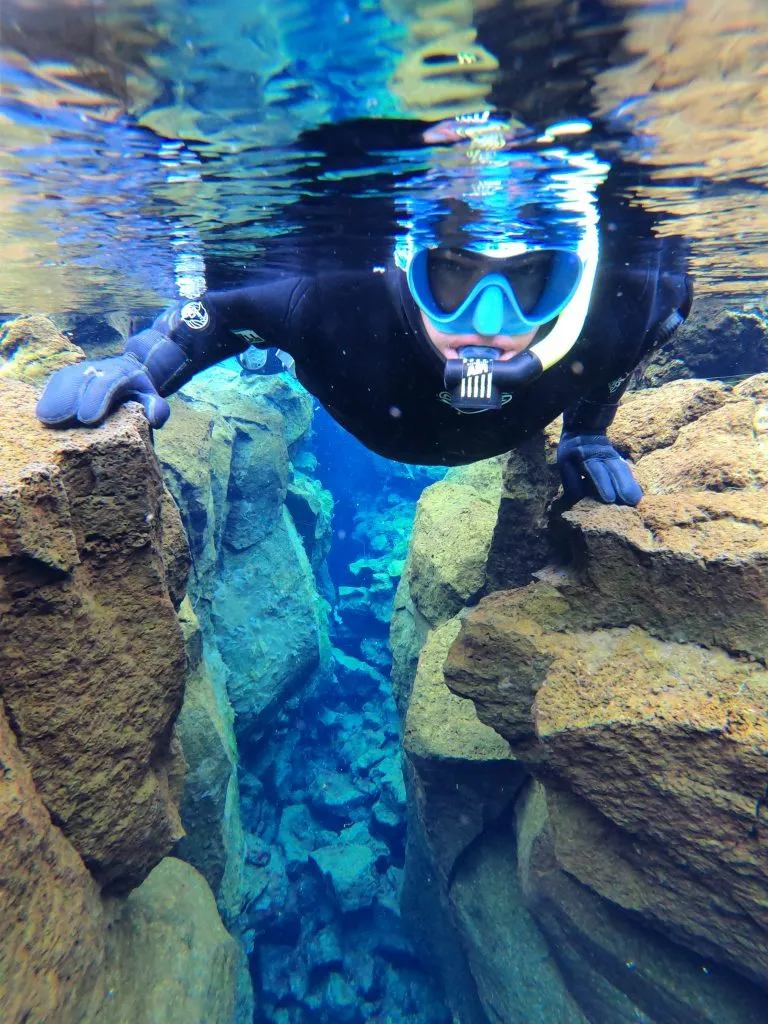 You can't back out.
Once you step flipper-first into the waters of Silfra fissure and let the (very gentle) current start carrying you away, that's it: you're committed to snorkeling Silfra.
There's nowhere to exit the fissure throughout the duration of your tour, as the surrounding area is a protected landscape.
You'll have a chance to turn around right when you get in the water if you absolutely must, but after that, sit back and relax, because there's no other option.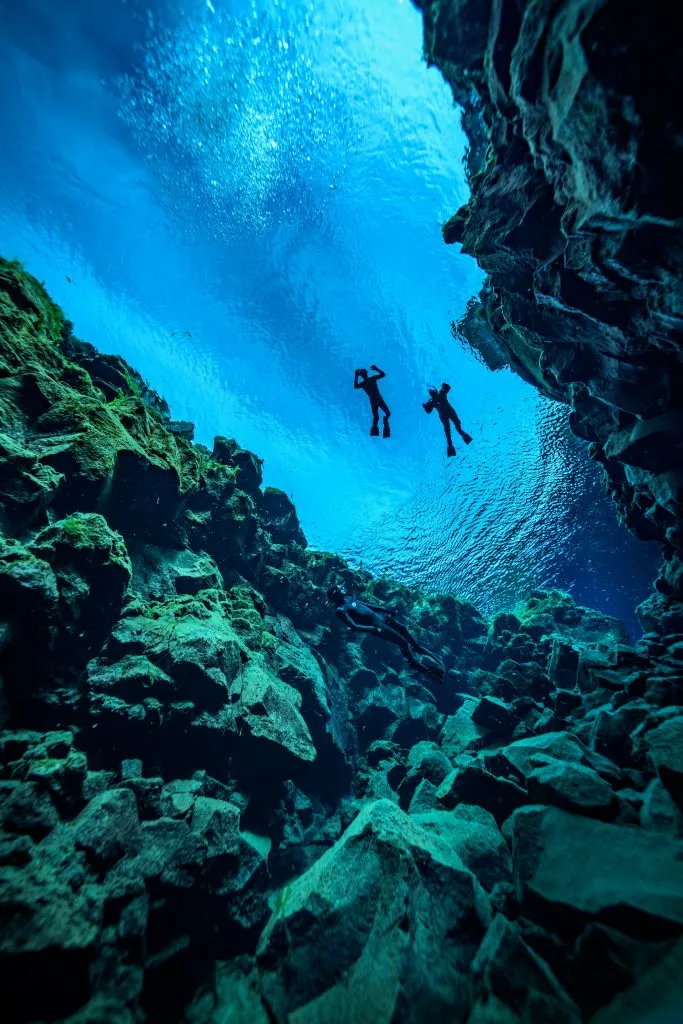 Speak up as you're getting your gear on.
If something is too tight, too loose, or feels generally uncomfortable as you get ready to snorkel Silfra, be sure to say something right then!
Once you're in the water, it's too late.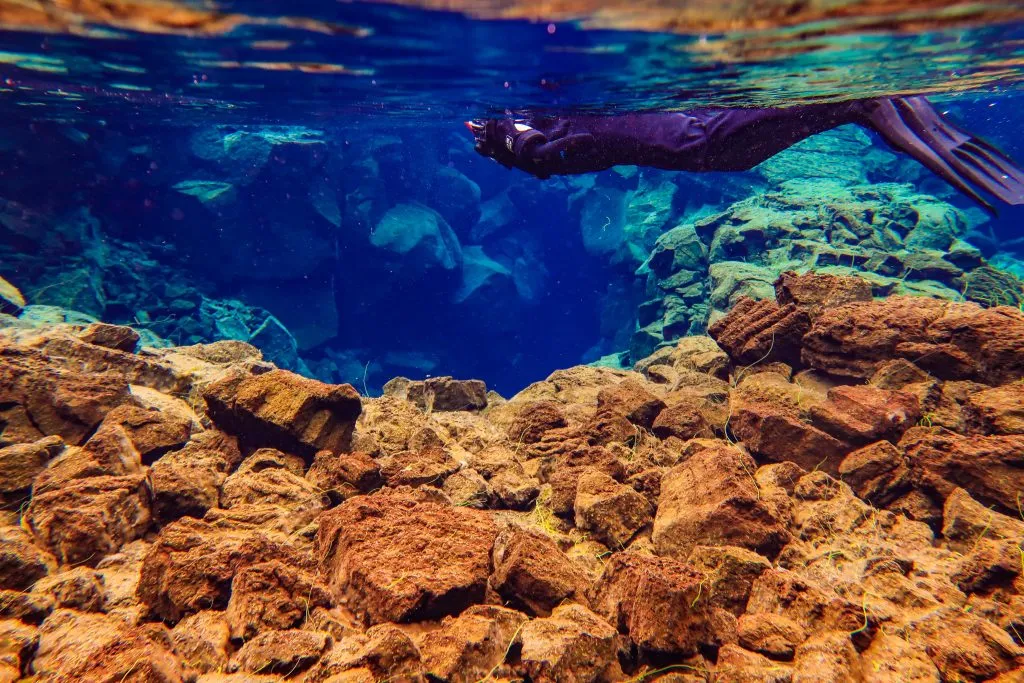 If you want photos of yourself snorkeling Silfra fissure, book a tour that includes them!
You can't effectively take photos while taking a standard Silfra snorkeling tour–many of the photos in this Silfra blog post are stock photos for that reason–but you can book a tour that includes photos!
We're so glad that we have photos of our Silfra experience, even if–to be quite honest–the combination of dry suits and neoprene hoods means that we had to look fairly closely at the underwater photos to pick ourselves out in half of them, let alone identifying other people.
Our guide took photos on a GoPro and sent them to us by the end of the day.
It's a fantastic way to relive what is, for us, most likely a once-in-a-lifetime experience snorkeling in Iceland.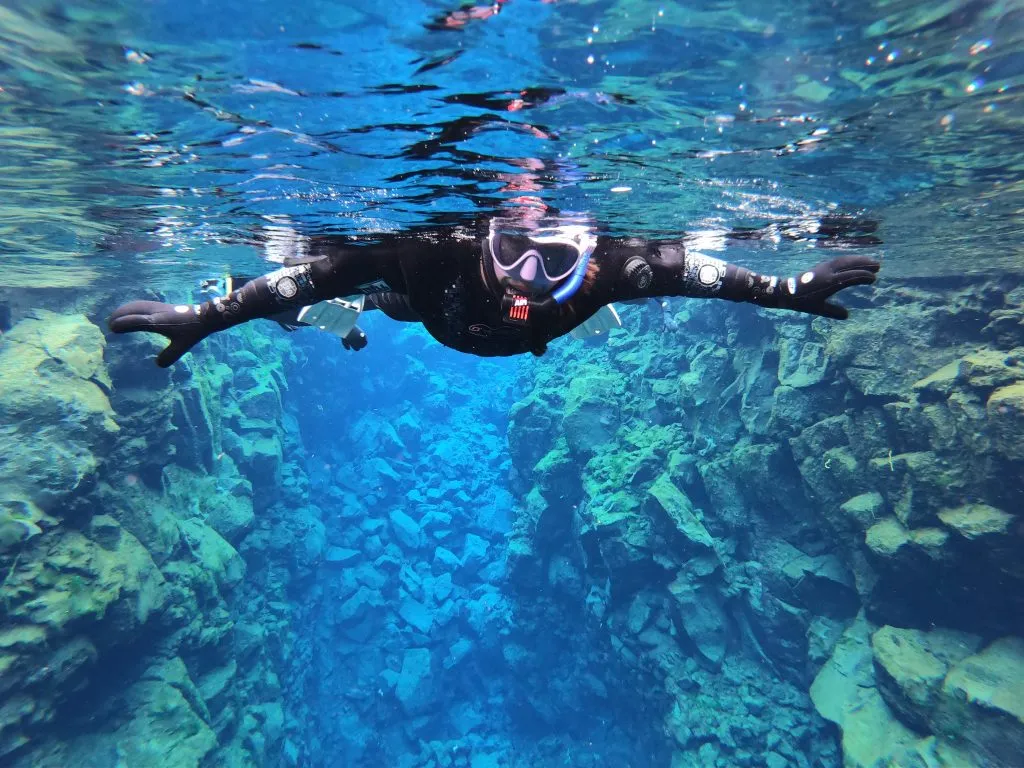 Keep the (lack of) bathroom access in mind.
From the time you start putting on gear until after you've completely finished your tour, you won't have access to a toilet.
This appears to be a common issue, as the guides continually reminded people about it as they checked in for their Silfra snorkeling tours, and strongly encouraged one last bathroom break before starting to get dressed.
In other words, don't down a few cups of coffee and then immediately head off to Silfra!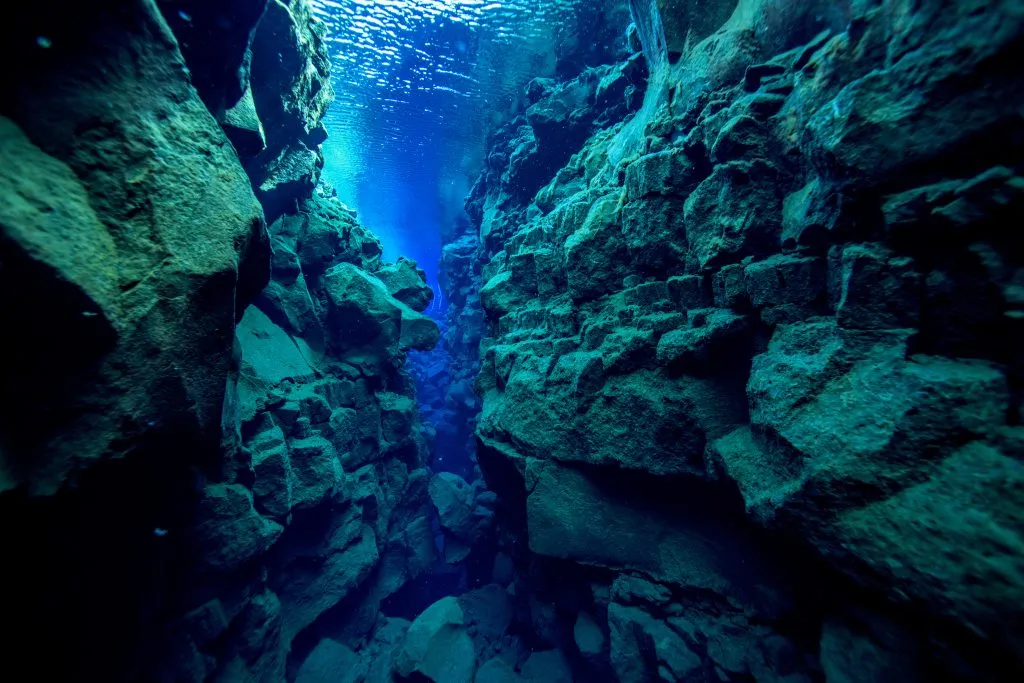 FAQ About Snorkeling Silfra in Iceland
Can you visit Silfra as a day trip from Reykjavik?
Yes, you absolutely can!
Silfra is located less than an hour from Reykjavik by car, making it very doable to swim between tectonic plates even if you have very limited time to explore Iceland.
If you're renting a car in Iceland, you can easily book a snorkeling tour and drive to Silfra yourself (keep in mind that you will need to pay for parking in the national park).
If you're not renting a car, this popular Golden Circle day trip leaves from Reykjavik and includes a Silfra snorkeling experience, as well as other popular Golden Circle sights like Geysir and Gullfoss!
Book your Silfra day trip from Reykjavik today!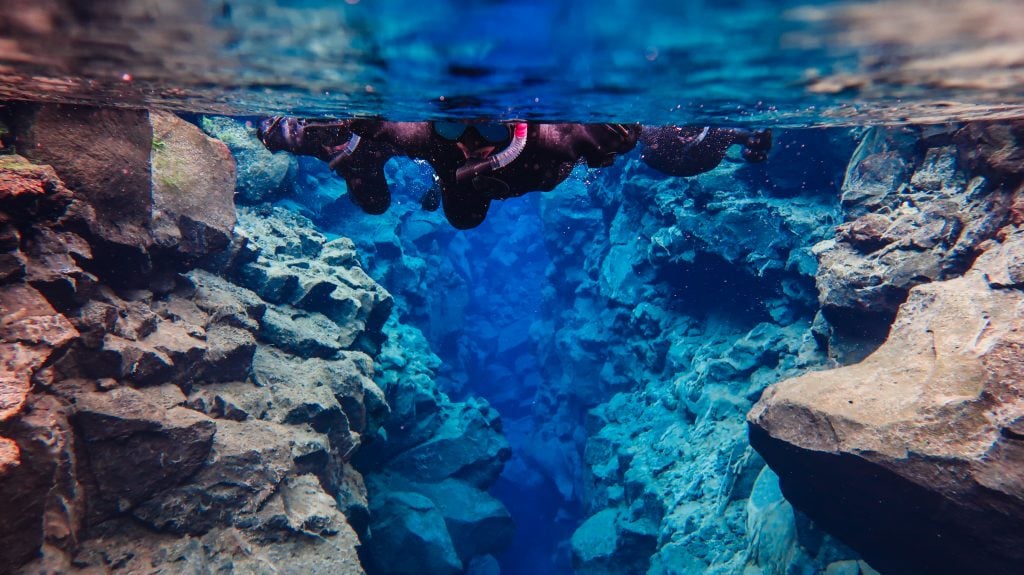 What do you need to bring when snorkeling Silfra?
Not much!
Beyond the warm, thin clothing we discussed above, you'll also want to bring additional layers to wear before and after snorkeling, a towel to get rid of any excess water, and maybe some snacks for after you finish.
You'll need to leave your shoes, any bags, and/or any valuables like your phone in a locked chest with the tour company before walking over to the Silfra entry point.
It's best to bring as little with you as possible!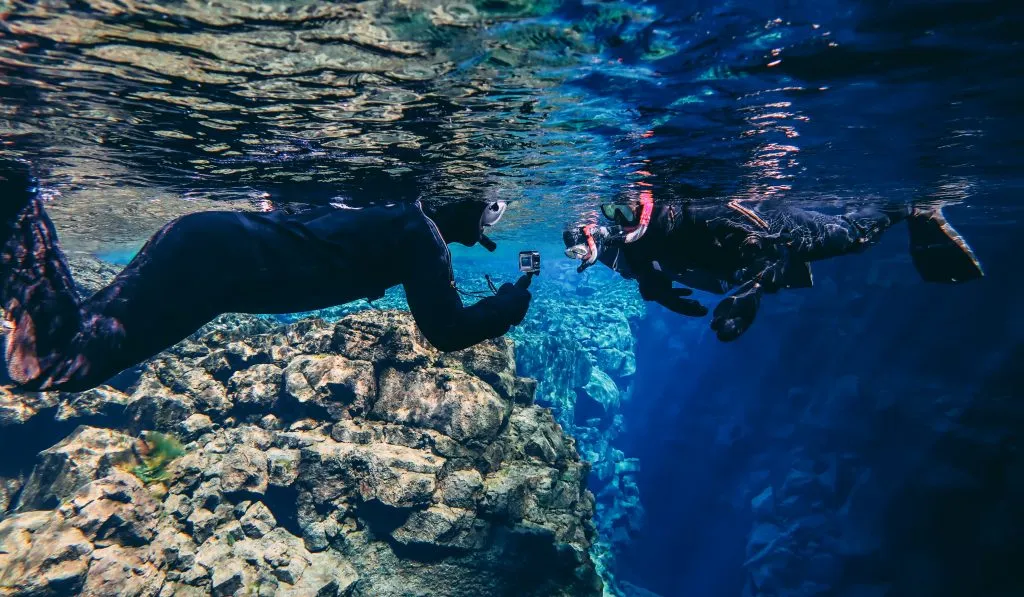 What about diving Silfra instead?
For divers with 10 logged dry suit dives or a dry suit certification (or who are willing to spend a couple of days in Silfra to get one), you can also scuba dive Silfra instead of snorkeling it!
While the views look extraordinary, general advice seems to be that, due to the small space that makes up Silfra, the diving experience isn't extremely different from the snorkeling one.
We felt no desire to spend the time to get dry suit certified in order to experience the same fissure from a deeper vantage point–and quite honestly, as we were snorkeling Silfra, the prospect of diving deeper into the icy water was not exactly appealing.
That being said, if you're a passionate diver who already has their certification, you may want to book a tour to dive Silfra instead of snorkeling it!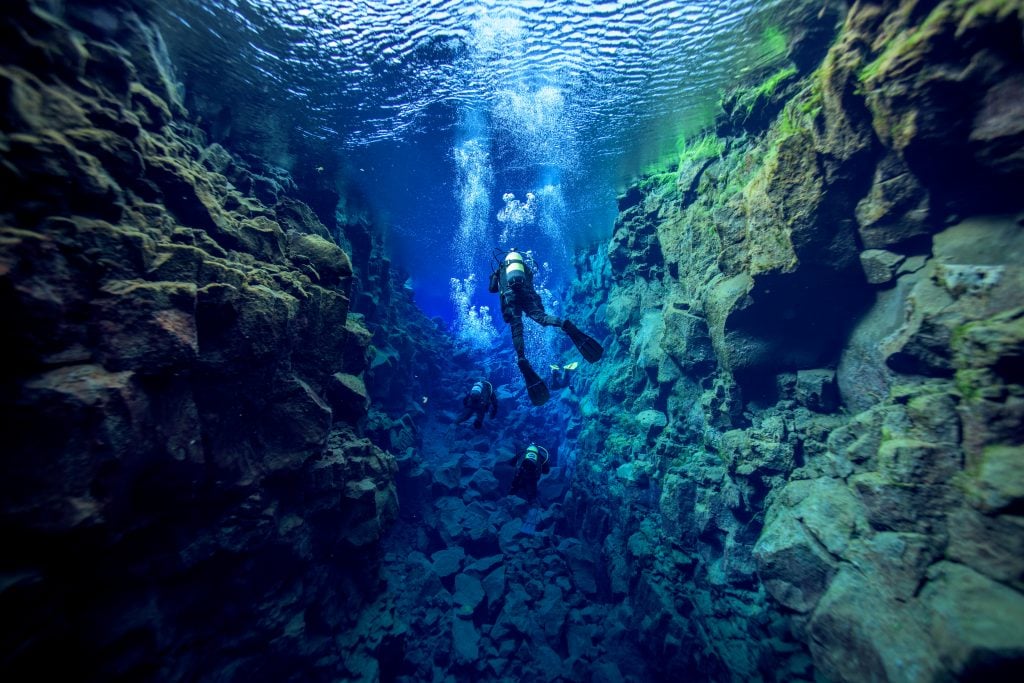 Can you take a Silfra snorkeling tour in winter?
Yes, you can!
Personally, I hate being cold so much that I may or may not agree to take one, but the water in Silfra never freezes, and the tour we took is offered year-round.
Our friend Amanda and her husband took a Silfra snorkeling tour in November, and she loved it (he was reportedly a bit put-off by the cold).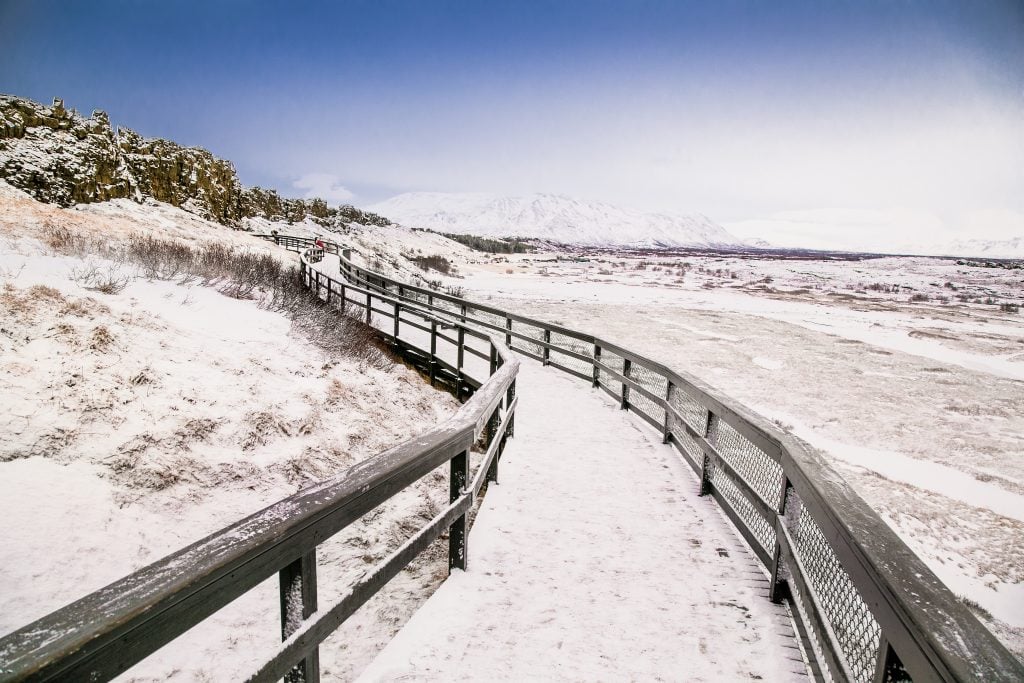 How long is a Silfra snorkeling tour?
Most Silfra snorkeling tours advertise themselves as lasting between 2 hours (without transport) and 4 hours (with transport).
When planning a trip to Iceland, we recommend dedicating half a day to a Silfra snorkeling experience.
---