From glacier hikes to black sand beaches and beyond, there is absolutely no shortage of unique things to do in Iceland!
For a relatively small island country, the Land of Fire and Ice packs quite the punch when it comes to the number of incredible adventures it offers.
While no single vacation can possibly cover every possible Iceland bucket list experience (in part because many of them are strictly seasonal), even a few days in Iceland is enough to experience some true once-in-a-lifetime adventures.
As you plan your trip, here are some of the absolute best things to do in Iceland to inspire your adventures!
The Most Iconic Things to Do in Iceland
Take a dip in the famous Blue Lagoon.
From Trijit of Dog Travel Buff
Don't miss swimming in the Blue Lagoon when visiting Iceland!
It's not only one of the most iconic things to do in Iceland but one that you shouldn't miss.
Located between Reykjavik and Keflavik airport, the Blue Lagoon is a unique geothermal spa where you can enjoy the heated water rich in mineral salts, algae, and silica mud.
Entrance to the Blue Lagoon does sell out ahead of time, so don't forget to book ahead!
After hiking and exploring other sightseeing, a visit to the Blue Lagoon is the perfect way to relax in the heated pool and soothe the aching muscles. It also features a spa, bar, and several restaurants.
The water of the lagoon is heated around 38-40 degrees Celcius year-round.
The white Silica mud is a natural exfoliant that is great for your skin and it is completely free.
Apart from swimming in the Blue Lagoon, you can purchase a drink or a massage package.
Don't forget to bring your camera here! Lockers are available, so you can take as many pictures as possible for your Instagram feed.
You can also have your lunch at Lava Restaurant which is built on a lava cliff, and you can get an amazing panoramic view of the lagoon and its surroundings.
Walk behind a waterfall at Seljalandsfoss.
From Melissa of Parenthood and Passports
Iceland may be known as the land of fire and ice, but the island nation is also home to as many as 10,000 waterfalls.
Seljalandsfoss, located in south Iceland, is one of the only waterfalls in Iceland that you can actually walk behind, and exploring it is one of the best things to do in Iceland!
It is usually the first stop on many guided tours of the southern tourist route in Iceland. This picturesque waterfall cascades 200 feet into a pool of water.
But the most stunning feature of this exquisite natural landmark is the walking path that extends behind the waterfall.
You'll want to be sure to add a rain jacket to your Iceland packing list if you plan to visit Seljalandsfoss!
Although you won't get soaked, the mist behind the waterfall is enough to get your clothes wet, so a waterproof outer layer is essential.
If you prefer not to walk behind the waterfall or have mobility challenges that prevent you from doing so, there is also a path that takes you in front of the waterfall for a different view and another beautiful perspective.
Snorkel between two tectonic plates at Silfra.
Without a doubt, one of the most unique things to do in Iceland is to snorkel in the Silfra Fissure.
This is the only place in the world where you can snorkel between two continents, as the tectonic plates separating Europe and North America are extremely close together here.
The experience of snorkeling (or, if you're dry suit certified, diving) Silfra is absolutely unforgettable.
And, since Silfra is located in Thingvellir National Park right along the Golden Circle, you can even visit on a day trip from Reykjavik!
Fair warning, though: we found snorking Silfra to be fairly uncomfortable–the dry suits will keep you safe, not cozy, in the frigid water.
For such an incredible travel experience, though, it's worth being a bit uncomfortable!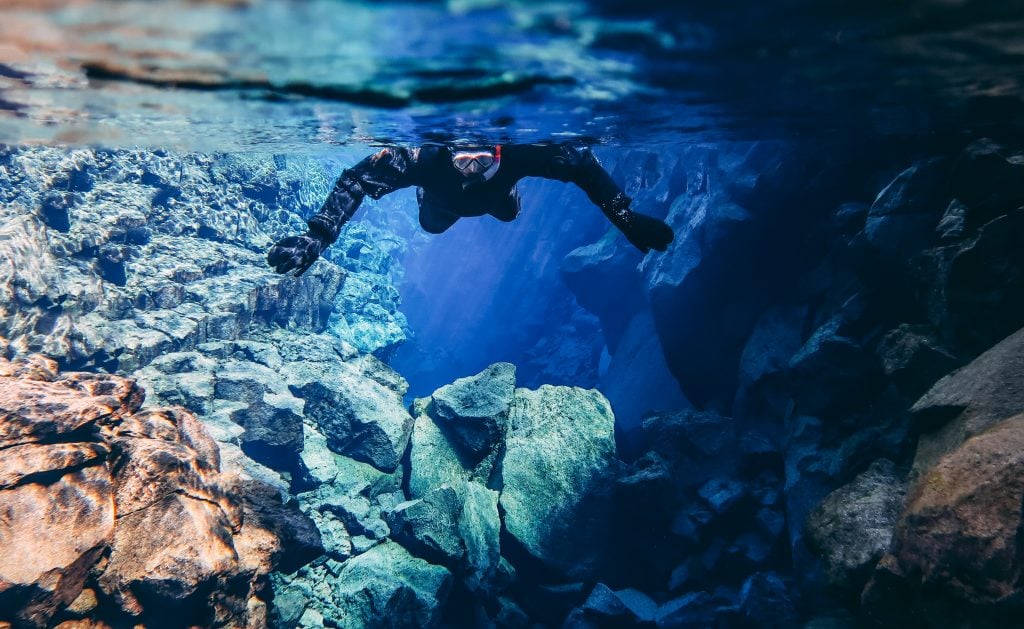 Marvel at the beauty of Diamond Beach.
From Kris of Nomad By Trade
Diamond Beach is yet another one of Iceland's stunning natural wonders, one of the most famous attractions in Iceland.
Located where Jokulsarlon Lagoon feeds out to the sea, this beach is littered with pieces of ice and mini icebergs that have washed ashore.
It's also one of the most dramatic and popular black-sand beaches in Iceland!
Spend a few minutes watching the waves pounding boulder-sized chunks of blue-tinted ice ashore – it's spectacular and gives you a sense of the ocean's power.
Smaller pieces can be found everywhere, especially in winter when air temperatures are colder, and you can pick up ice that has been frozen for hundreds of years.
The mesmerizing shapes and contrast between the ice and sand make this area a dream for photographers and you'll find it hard to put your camera away.
The beach is located on the south side of the Ring Road in the southeast area of Iceland.
There is a large parking area for the beach, and even more spaces available on the north side of the road near Jokulsarlon.
There are no amenities at Diamond Beach, but nearby Jokulsarlon has bathrooms and limited food.
Be sure to dress for the weather and check road conditions, particularly in the winter.
While far from strenuous, walking along the beach does require navigating uneven sandy surfaces.
Go hiking on a glacier.
From Lavina of Continent Hop
When it comes to hiking, nobody provides hiking opportunities quite like Iceland–and hiking on a glacier is definitely one of the most unique attractions in Iceland.
It is one of the most memorable activities you'll ever do in your life and you need to include it when you visit Iceland.
There are only a few places around the world where you can do this, and Iceland is one of the best!
To ensure you don't miss your chance, book a tour in advance as only a few spots are reserved every day to ensure the footfall is controlled.
Also wear warm clothing especially if it's autumn and winter and preferably leggings, tights or trousers.
You will need to wear a helmet and hiking gear so also make sure your shoes are one where you can fit spikes comfortably.
The hike itself isn't too challenging as long as you're careful and follow the lead of your guide, but the views are out of this world.
You won't be able to carry luggage while hiking so only get essentials with you or you could leave them in your car/bus.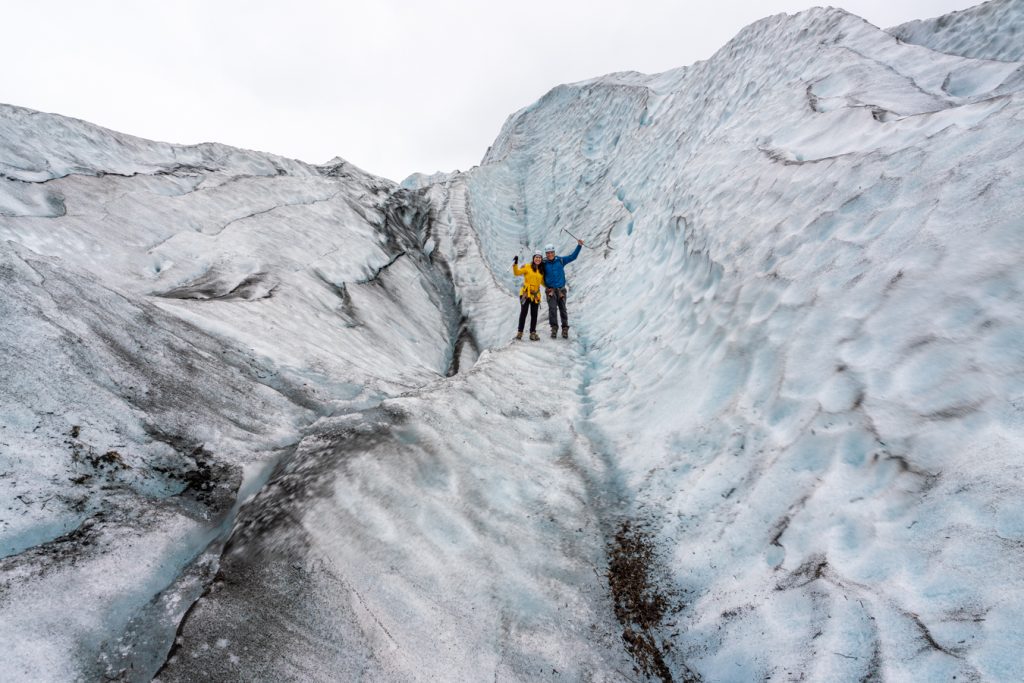 Glide along the surface of a glacier lagoon.
From Martha of May Cause Wanderlust
Visiting a glacial lagoon is one of the best things to do in South Iceland, and you can really enhance your experience by taking a boat ride on the lagoon.
The two most accessible lagoons are Fjallsárlón and Jökulsárlón, and you can do boat rides on both, but the best option is Jökulsárlón.
At Jökulsárlón, boat rides are available more often, there is a choice of two kinds of boats and the lagoon is bigger, so there's more to see.
The biggest boat available is an amphibian boat tour, but the smaller, inflatable zodiac boat is more fun: you will whizz around the lagoon at speed – it is so exhilarating!
You will head towards the snout of the glacier, weaving around enormous floating chunks of ice, keeping a safe distance in case any ice calves off and creates a wave.
Being so close to these ancient and beautiful icebergs is breathtaking!
If you're lucky, you also may spot a seal or two.
Before you get on the boat, you'll be required to change into a bright yellow floatation suit, which will help if you fall into the icy water.
Heads up: watch out for the arctic terns which may swoop at you as you head to your boat!
Basing yourself in Reykjavik?

This day trip is a fantastic option for experiencing Jökulsárlón Glacier Lagoon!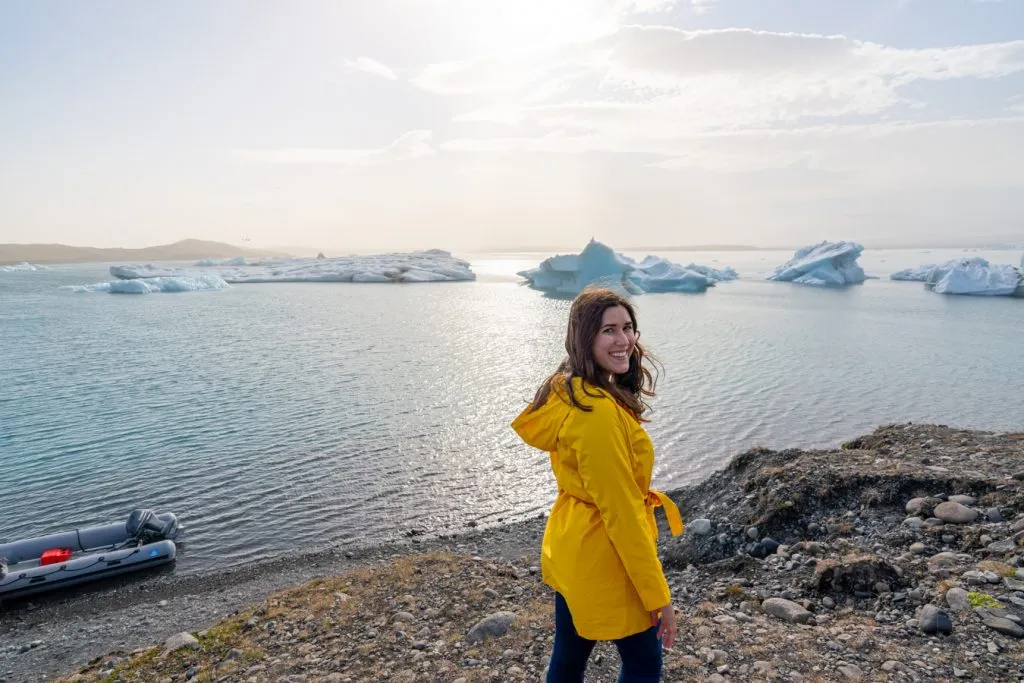 Enjoy a whale-watching cruise.
From Mal of Raw Mal Roams
One of the one-in-a-lifetime must-do experiences in Iceland is going whale watching!
Iceland's cold and hot sea currents mix together and its shallow fjords make for the perfect whale feeding grounds.
Thanks to those unique sea conditions, visitors can spot over 20 species of whales in the Icelandic sea waters!
Minke whales are the most popular species that exceed 9 meters in length and can be spotted on most tours.
Humpback whales, which are more curious and famous for their acrobatic behavior around humans, can be seen in more northern towns like Husavik.
The most popular whale watching tours leave Reykjavik, but some leave from Hauganes, Olafsvik, and Husavik.
If you're planning to book a whale watching tour, the best time of the year to see these gentle giants is between April and September, with the absolute ideal months being June to August.
Tours last from a few hours to a whole day, and some of them combine puffin watching, which is also an amazing activity!
Step inside a glistening ice cave in Iceland in winter.
From Victoria of Iceland Trippers
If you are looking to visit ice caves in winter, Iceland is the perfect place to cross this off your bucket list!
This is truly one of the most unique things to do in winter in Iceland, as the ice caves only exist during the cold months.
Once it warms up, it isn't safe to go inside the ice caves and they melt until the next year when you can visit them again.
No two ice caves in Iceland are the same, even year after year, as they will melt and refreeze again!
Now, you cannot just drive up and visit a glacier cave on your own.
There are many Iceland glacier tours to choose from and you must take one for safety.
You will go with a local guide who will prepare you in the proper gear, teach you about safety, and guide you every step of the way.
Glaciers are very dangerous and if you don't know where is safe and where isn't, things can go wrong very quickly!
You will hike with proper gear and an expert guide to go inside most of the ice caves in Iceland.
There are many options to pick from and some that include ice climbing when you are done!
Book your ice cave tour today!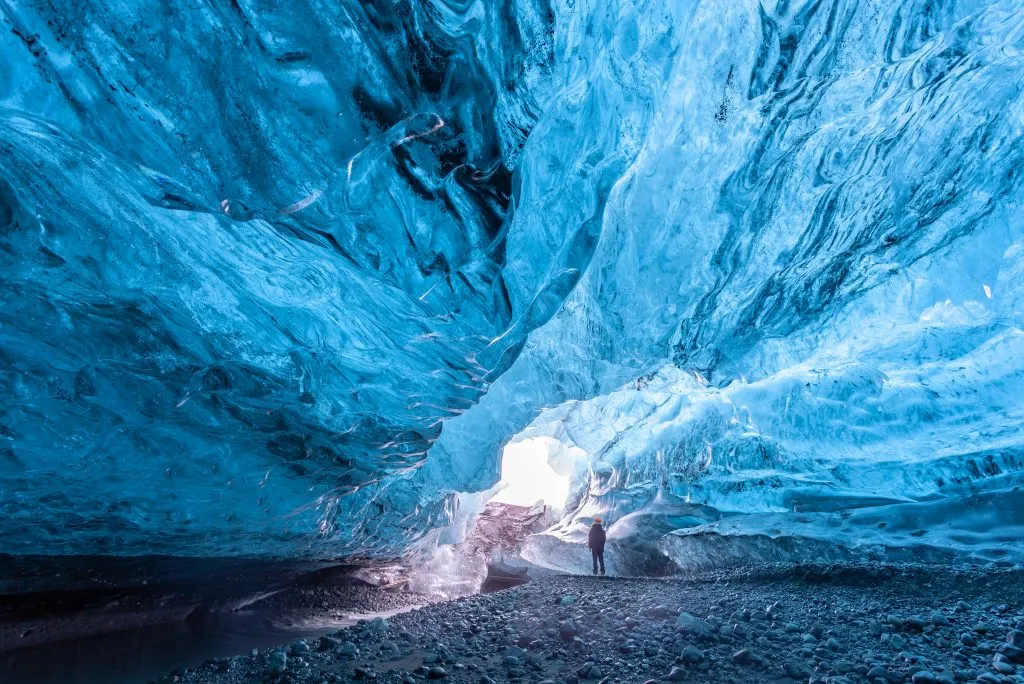 Ride an Icelandic horse.
From Karen of Outdoor Adventure Sampler
The Icelandic horse is an amazing sight in any travel through Iceland.
Farms with pastures full of these handsome horses abound.
While snapping a photo of these cute horses is a delight, a trail ride through the Icelandic landscape is even better.
Stables throughout the country offer horseback riding tours for all ages.
These tours are typically 1 to 3 hours long. Multi-day trail rides for more experienced riders are also available.
The Iceland horse breed is unique for its gait called the toit.
The smooth gait related to the trot is a highlight of riding these purebred horses.
The other highlight is the marvelous scenery on the trail ride.
Some stables feature rides through volcanic features while others take trails into the backcountry with mountain views and wild berries in season.
Beginning riders can enjoy these well-behaved horses.
A lesson and tips on communicating with the horse begin each trail ride, and all the proper riding gear is provided.
Just don't forget to take photos of you and your horse in the paddock after enjoying this magnificent Iceland travel experience!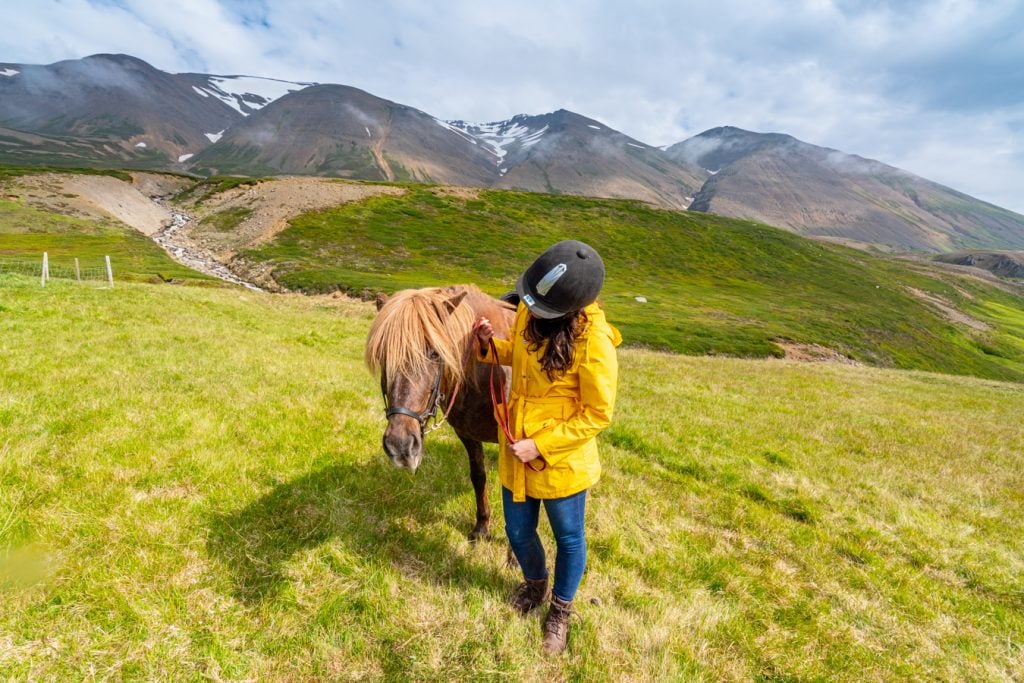 Adventurous Attractions in Iceland to Visit
Add ice-climbing to your Iceland bucket list.
From Paula of Paula Pins the Planet
If you are looking for a real bucket list activity to do in Iceland, consider swapping upgrading your glacier hike to include some ice-climbing!
This exciting activity will get your adrenaline pumping and is a must-try for people seeking adventure travel in Iceland.
Before you go ice-climbing, make sure to read up on essential tips for ice climbing in Iceland.
For example, it is recommended to hire a professional guide through one of the tour operators, because it is not safe to go ice-climbing on your own. The glaciers are constantly moving and transforming.
Plus, you will need permits and all safety gear, and when you go with certified guides, you will be provided with it all.
One of the best places to go ice climbing in Iceland is at the Sólheimajökull Glacier, which is only 2-hours from Reykjavik.
You don't need a 4×4 to get there, a cheap car rental is enough.
If you don't want to rent your own car, you can ask for transport for a reasonable price when you book your tour.
You can choose to go on a short version of 3-hours up to 12-hours, which also includes glacier hikes, ice caves, and even waterfalls and the glacier lagoon.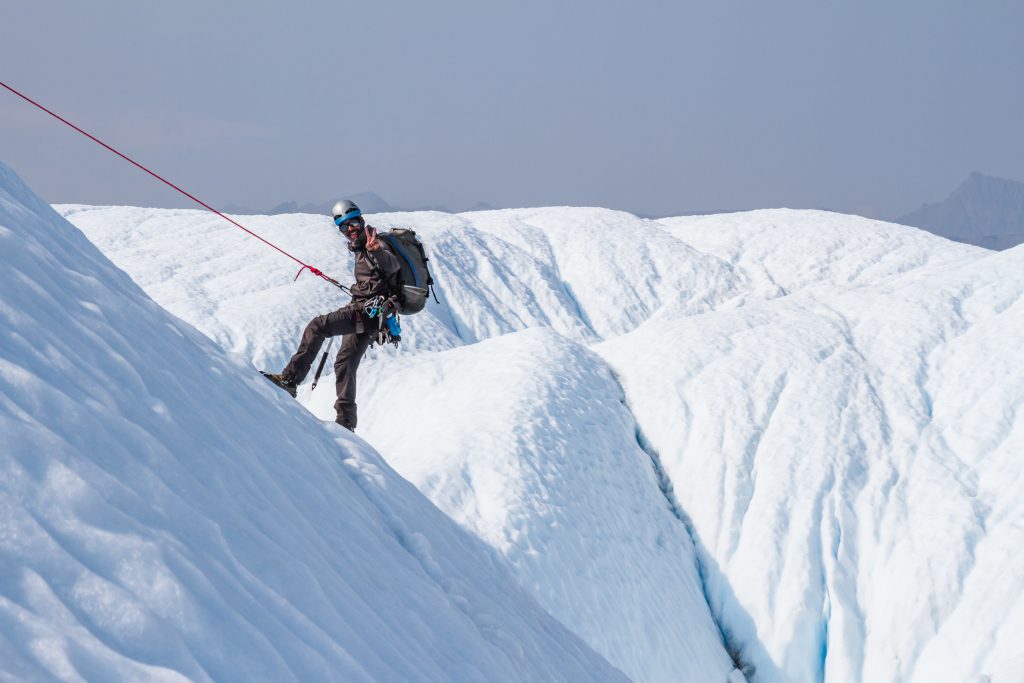 Get off the beaten path and go hiking in Landmannalaugar.
From Theo of Waffles & Lamingtons
Landmannalaugar may not be the easiest place to reach, but if you're looking for an adventure, hiking in Landmannalaugar and exploring the less-traveled areas is one of the best things to do in Iceland.
Nestled deep in the Iceland Highlands, Landmannalaugar is arguably known for some of the best hiking in Iceland.
While the landscapes of Landmannalaugar are famous for their colorful sulphuric peaks, the area is also home to fields of endless lava, some of the best views in Iceland, and perhaps best of all, hot springs to recover in after a long day of hiking.
Being part of the highlands, Landmannalaugar is only accessible during the summer months from late June to early September (depending on the seasons).
Reaching Landmannalaugar requires the use of F-roads meaning a 4×4 vehicle is required.
However, Landmannalaugar is accessible by bus, car, and tour, so if you don't want to rent a 4×4, you can still visit!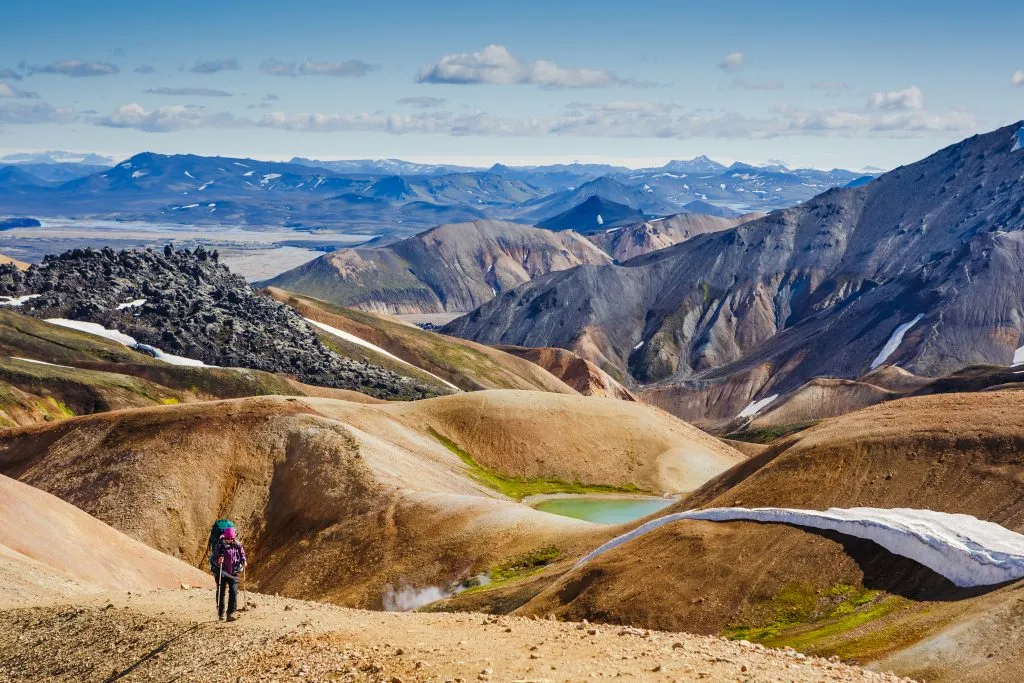 Hike to the Reykjadalur Thermal River.
From Stephanie of The Unknown Enthusiast
Hiking to the Reykjadalur Thermal River is an incredible travel experience in Iceland, because both the hike up and the destination itself are epic.
It takes about an hour to hike from the parking lot to the thermal river.
On this hike, you'll first pass bubbling mud pots (you'll smell them before you see them!), and then ascend into the rolling hills covered in moss.
You'll get sweeping views over valleys, canyons, and waterfalls, with steam rising in the distance from the numerous hot springs in the area.
You feel like you are walking through a fantasy landscape.
You'll know you've reached the bathing section of the Reykjadalur thermal river when you hit the boardwalk, which extends for quite a ways up the river.
The farther back you go, the hotter the water gets!
There are some "changing rooms" which are very much not private at all (just have a friend hold a towel up for you and you'll be fine).
Then, hop down into the babbling stream and enjoy some 100-degree temperatures.
It is such a bucket list Iceland experience, sitting in a stream, with the steam rising up all, and the hills standing sentinel around you.
You can't miss it when exploring the best things to do in Iceland!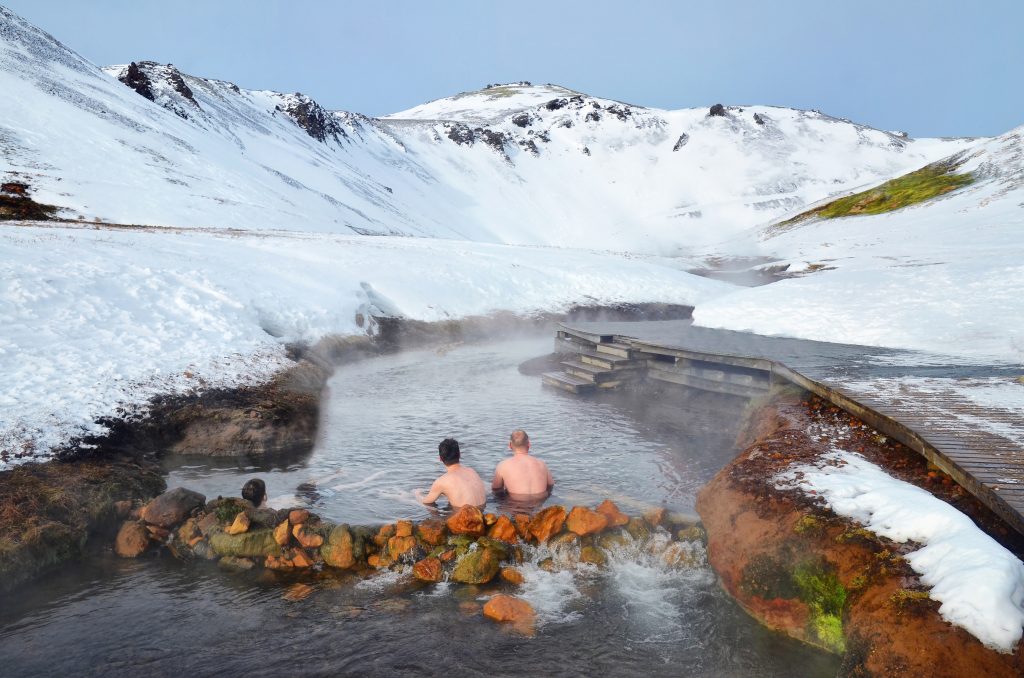 Complete the iconic the Fimmvörðuháls Trail.
From Katie of Two Wandering Soles
For avid hikers traveling to Iceland, there are few better trails to fit into your itinerary than the Fimmvörðuháls Hike.
Often listed as one of the best day hikes in the world, this 15-mile trek isn't for the faint of heart.
But for those who prepare and do their research, it will likely be a highlight of their entire time spent traveling Iceland.
Called the "Fimm Hike" for short, this trail takes trekkers past 26 waterfalls, over snowfields, past a mountain hut and into a lush valley.
It is rare to experience such a vast change in scenery on a single-day hike.
This hike is without a doubt one of the best in all of Iceland, but it does require a bit of planning and preparation.
Being that this trail is more than 15 miles one way, hikers must arrange transportation at the endpoint to bring them back to their vehicle.
Additionally, you must be sure to bring enough warm layers, food, and plenty of water, as there are no places to stock up along the way.
Hike to the famous DC3 Plane Wreck.
From Paulina of UK Everyday
The DC3 Plane Wreck hike is one of the top things to do in South Iceland.
The stunning contrast between the rusty elements of the plane and black sand makes this place look like it's from another world.
The path to DC3 Plane Wreck is very easy to walk and follow. You can get there in less than one hour, however, it is not recommended to visit during less than ideal weather.
There are plenty of reasons to visit Iceland in winter, but keep in mind that miles of open terrain can be really dangerous when it is snowing.
On a sunny day, you can get inside the plane to take some incredible photos or admire the spectacular waves of the ocean.
Most of the tourists snap a few pictures and then return to the long beach trek.
Visiting DC3 Plane Wreck is definitely something to tick off from your Iceland bucket list.
It is located nearby many other attractions and offers unforgettable experiences.
There are not many places in the world where you can see a plane wreck in such surreal surroundings.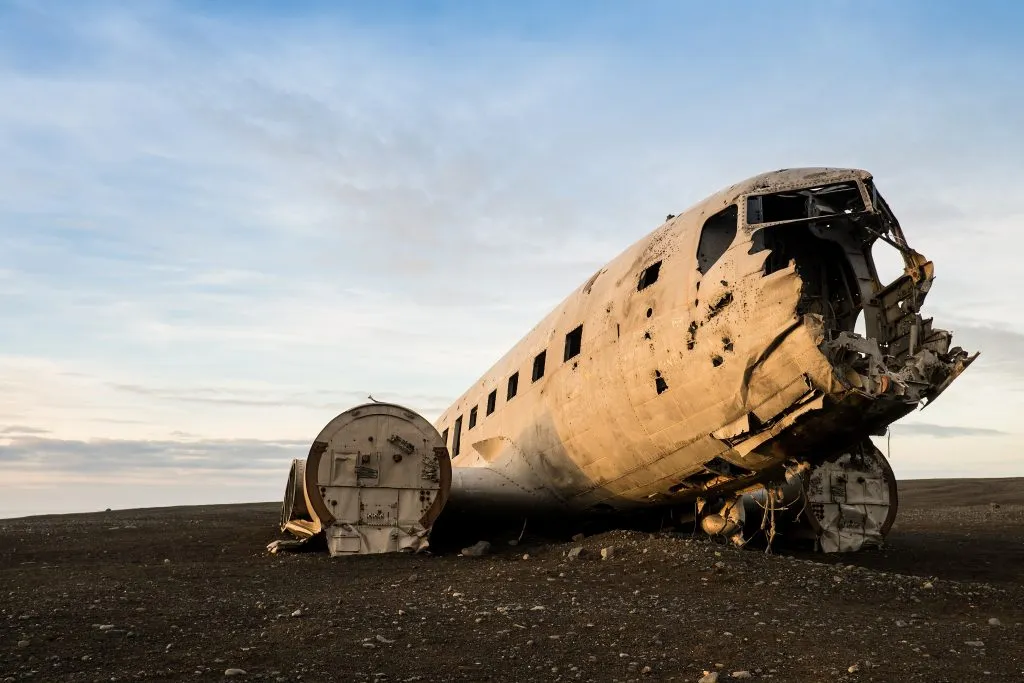 Soar above Iceland's top attractions on a helicopter tour.
From Yulia of Miss Tourist
There are so many incredible activities you can do in Iceland but nothing quite comes close to the incredible experience of taking a helicopter tour over some of the most unique landscapes in the world!
With many different options to choose from, you can soar to new heights above active volcanoes, meteor craters, wild waterfalls, and glistening glaciers.
The possibilities are endless in Iceland!
Helicopter tours are the perfect way to see the country if you have limited time or see your favorite sights from a different angle if you have visited Iceland before.
What's more, there are options that start right from your hotel in Reykjavik so you don't even need to travel far to experience the magic of flight.
Note that helicopter tours cannot fly in adverse weather conditions so it's best to allow a few extra days of flexibility in your itinerary in case your tour is delayed, especially outside of the summer season.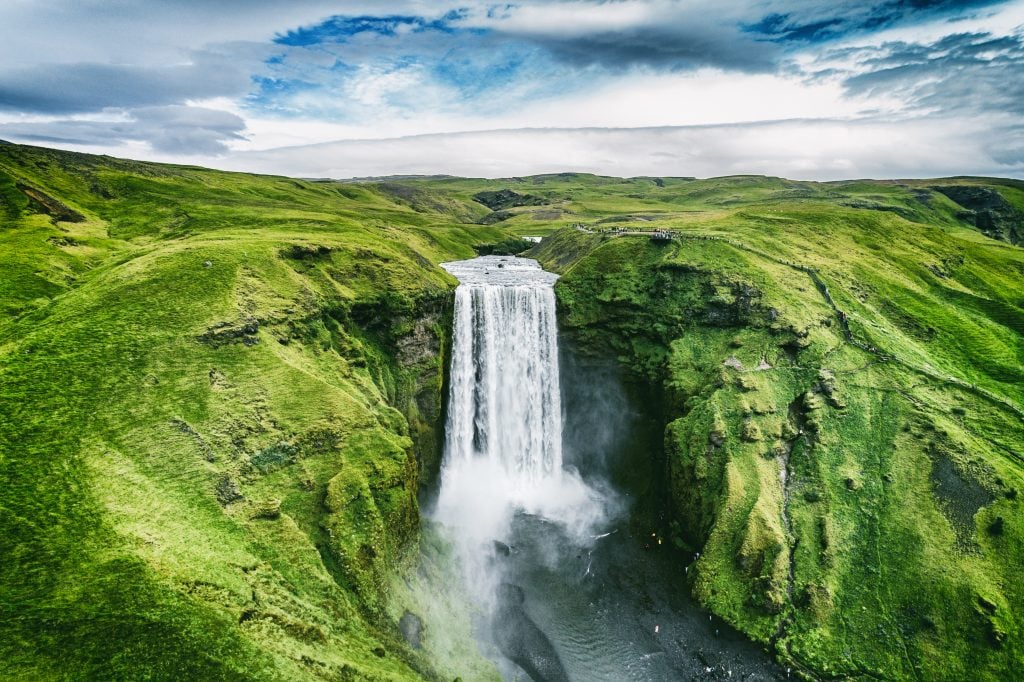 Hike to Hengifoss.
From David of The World Travel Guy
Even though Iceland is full of waterfalls, some of them really stand out from the others–and that includes Hengifoss Waterfall.
Located in the eastern part of the country, this is a giant 130-meter waterfall (one of the tallest in the country) with lines of bright red clay sandwiched between the rock layers on each side, giving it such a bizarre, unbelievable look.
It's like a waterfall from Mars!
The hike to Hengifoss takes about 1 hour and 300 meters of elevation gain.
As an added bonus, you get to see another nice waterfall along the way called Litlanesfoss, which is surrounded by basalt rock columns. Two incredible waterfalls in one short hike!
The Hengifoss waterfall is located in East Iceland, about 700 kilometers from Reykjavik, but it's not hard to reach from the Ring Road.
You don't need 4 wheel drive or any special vehicle to reach the parking area.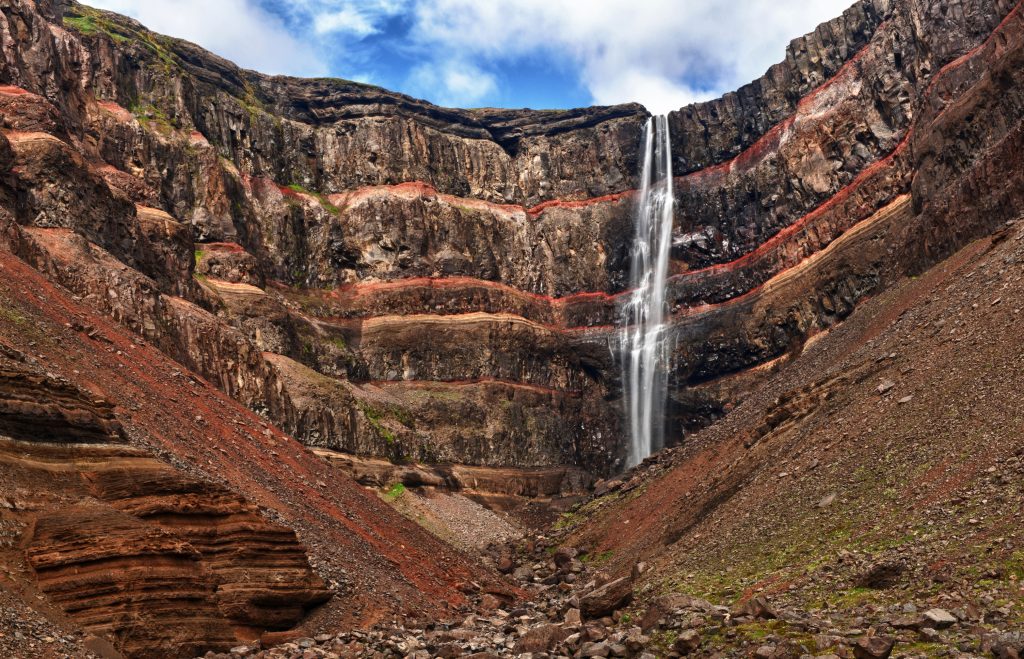 Take an ATV tour to the DC Plane Wreck.
From Megan of MeganStarr.com
One of the best things to do in Iceland is to take a quad biking tour along the South Coast's beautiful black sand beaches and all the way to the famous DC plane wreck at Sólheimasandur.
The journey will start at the famous Mýrdalsjökull Glacier somewhat close to Vik.
You will receive a safety briefing and change into some warm (and waterproof gear) before taking to the ATVs.
After the Iceland ATV tour starts, you will cross a river flowing from the Katla volcano, see whale bones on the black sand beaches, drive on sand dunes, and eventually make your way to one of Iceland's most famous attractions, the Sólheimasandur DC Plane Crash.
The 2-hour tour ends at the foot of Mt. Heiðarhorn where you'll cross the Jökulsá River before making your way back.
This tour is an excellent (and easy) way to see the famous plane crash but it is also a good option for adventurers looking for something different to do while exploring the South Coast.
Please note that in order to drive the ATVs, you must have a valid driver's license (you can be a passenger without).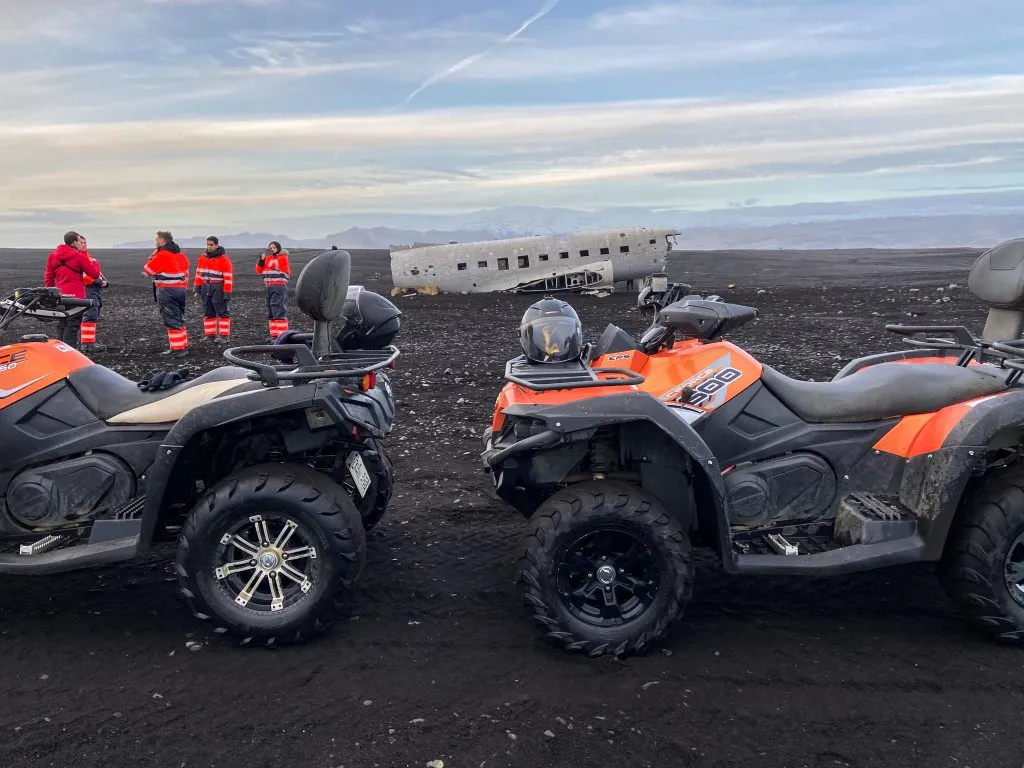 More Fun Iceland Bucket List Ideas
Observe puffins in their natural habitat.
Black, white, orange, and darling all over, spotting puffins tops Iceland bucket lists for bird-watching enthusiasts and casual wildlife observers alike!
These small, adorable birds are iconic in Iceland, and if you're planning a summer trip to Iceland, observing them is a must.
Puffins spend most of their life on the open ocean, returning to land only to breed during the summer months.
Peak puffin-observation season runs from May to mid-August each year.
You may also get lucky and spot them slightly outside of these times, though as with all natural wildlife encounters, spotting them is never a guarantee!
Some of the best options for spotting puffins in Iceland are on Akurey and Lunday near Reykjavik, on the Westman Islands, and at Borgarfjörður Eystri in the east (where this puffin photo was snapped).
Explore Icelandic cuisine in Reykjavik.
From Talek of Travels With Talek
One of the best things to do in Iceland is to explore Icelandic cuisine in the capital city of Reykjavik.
While some of the Icelandic specialties like whale steak, fermented shark and fish jerky may not make your mouth water in anticipation, Reykjavik has a surprising collection of fine restaurants where you can sample the city's other culinary delights.
To make the most of your time spent exploring Icelandic food, signing up for a popular food tour like this is a fantastic idea.
The Arctic Charr at Messinn or the shellfish soup in a bread bowl at Icelandic Street Food is guaranteed to make your Icelandic foodie dreams a reality.
And, one of the best Iceland travel tips is to try any of the fine restaurants that line the harbor.
No trip to Reykjavik is complete without a visit to Baejarins Betsu Pylsur which loosely translates to "The best hotdog in the world."
This little hotdog stand in the center of Reykjavik is frequently included in Reykjavik food tours.
The hotdogs are so good that even celebrities like Bill Clinton stop by for a taste when they visit.
Soak in Seljavallalaug Hot Springs.
From Paige of For the Love of Wanderlust
Seljavallalaug Hot Springs, located on Iceland's South Coast, is a must for anyone looking for a little adventure with a lot of rewards.
The "little adventure" comes from the one-mile hike that it takes to get to the hot spring.
It's a very easy trail, but it's worth it as a hike alone because of the stunning landscape.
Unlike many of the spa-style hot springs, Seljavallalaug is a fairly primitive experience, as it's a local-maintained swimming pool fed by the geothermal river that comes down from the Eyjafjallajökull Volcano.
Because it is maintained by locals, the burden of tourism falls on them, so it's important to leave this place better than you found it that way it will be open to travelers forever.
The trailhead to Seljavallaug Hot Springs is just off of Route 1 and very near to the famous waterfall Skogafoss, so this makes a beautiful addition to any day of adventure along the South Coast.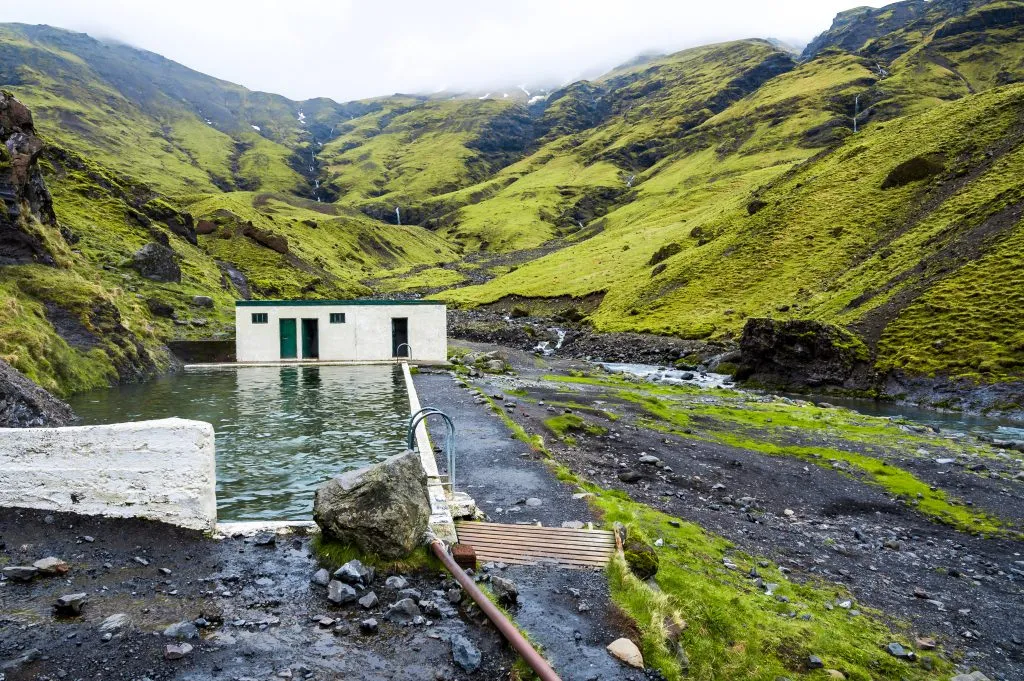 Explore Iceland's abandoned "Viking village".
From Natasha of Planes, Trains, and Karcz
If you've ever wondered what Iceland would have looked like during its famous Viking era, there's an abandoned "village" that's open to the public where you can find out exactly that!
Located in southeast Iceland is an inoperative movie set that never saw its film to fruition.
Nestled amidst the base of towering Mount Vestrahorn and the crashing Atlantic Ocean, these weather-worn buildings offer something unlike anything else in Iceland; an opportunity to travel back in time.
To get there, you'll take the first exit after passing the town of Hofn on Highway 1 (the Ring Road), and follow the gravel path to the modest Viking Cafe.
Head inside to purchase your admission pass for 800kr/approximately $6USD, which you'll need in order to open the gate that leads down to the village.
From there, it's a scenic yet flat walk to the village where you can actually enter into and climb through the buildings and their remnants – including an underground dungeon!
Whatever you do, don't forget to pack your camera as this unique attraction is one of the best things to do while visiting Iceland, and you'll surely want to document every moment!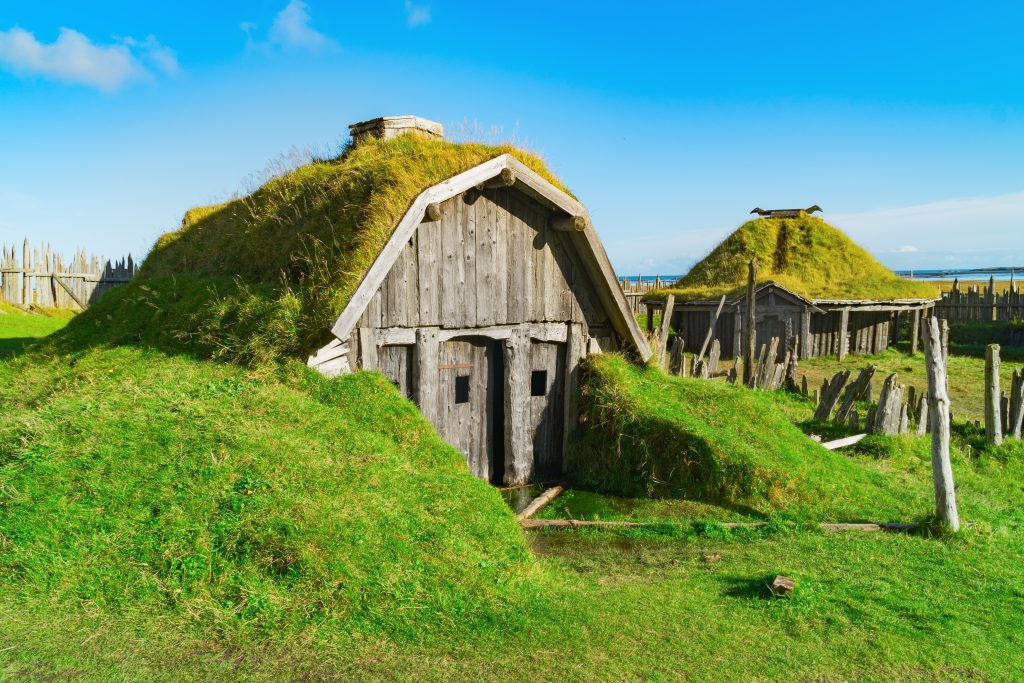 Soak in the "Blue Lagoon of the North".
From Victoria of Iceland Trippers
If you are looking for the best activities in Iceland, look no further than Myvtan Nature Baths!
They are located in North Iceland, have blue water, and are cheaper to visit than the iconic Blue Lagoon near Reykjavik.
If you have your heart set on the "real" Blue Lagoon in the south of Iceland but don't want to spend that much money, or want to visit two blue lagoons in Iceland, head north to Myvatn Nature Baths.
One of the best tips for Myvatn Nature Baths is the explore all of the different soaking options they offer.
For example, the main pools are warm, but not hot. But there are hot troughs that you can sit in where the water is really hot.
The baths are still very warm all around and make for a lovely soak no matter what time you visit Iceland.
These are naturally heated with geothermal activity and the on-site saunas and steam rooms are geothermal powered too.
There are a few on-site dining options as well as lockers and showers for getting ready. In all, it is a really nice day to explore and relax in the northern part of Iceland!
Stroll along Vik's beautiful black sand beach in Iceland.
From Sam of Find Love & Travel
One of the best things to do in Iceland is to visit Vik's famous Black Sand Beach, also referred to as Reynisfjara Black Sand Beach.
Located on Iceland's South Coast in the town of Vik, the beach is just about 187 km from Reykjavik.
During a trip to this epic volcanic beach, you can expect unworldly soft black sand, dramatic cliffs, and the beach's famous basalt columns you have likely seen all over Instagram!
During the summer months, you may even have the opportunity to see puffins hanging out on the columns.
While you are not allowed to swim here, seeing the basalt columns, walking the beach, and visiting the town of Vik is more than worth it!
Because the currents are so strong here, an important Iceland travel tip to keep in mind is to never turn your back to the water and keep a safe distance.
Iceland is notorious for having unpredictable waves that have pulled people into the water.
Be sure to always keep safety in mind when enjoying the best activities in Iceland!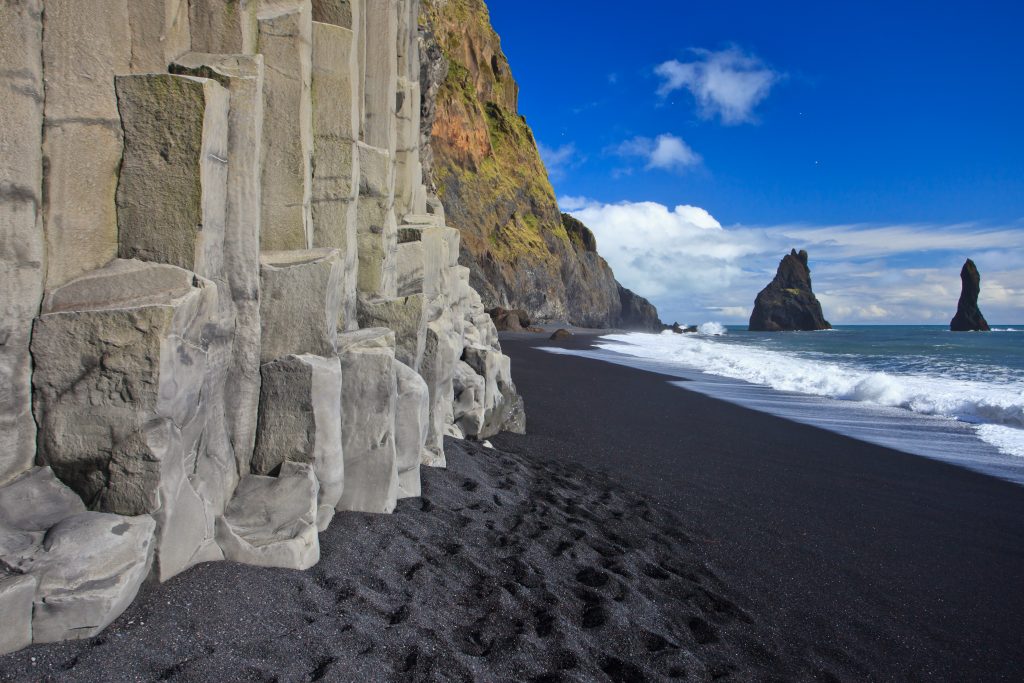 Discover the Secret Lagoon.
From Mayuri of To Some Place New
Iceland is one of the most beautiful and interesting countries in the world.
And what better way to explore it than by visiting its natural hot springs?
Imagine a natural hot spring in a lava field in the middle of nowhere–that's Secret Lagoon and it is a must-add for every Iceland bucket list.
Secret Lagoon is a geothermal spa located in the small town of Flúðir, just a short drive from Reykjavík, and it offers a one-of-a-kind swimming experience.
The entry fee to the lagoon is very nominal at 1750 ISK per adult per night ($14 USD).
The lagoon is set in a beautiful location surrounded by mountains and glaciers, making it the perfect place to relax and unwind.
There is parking space at the complex, as well as change rooms and a nice cozy restaurant on-site.
The Secret Lagoon has been around since 1891 and it is considered to be one of the oldest in the country.
It's the perfect natural pool for anyone who wants to relax in a peaceful setting surrounded by nature.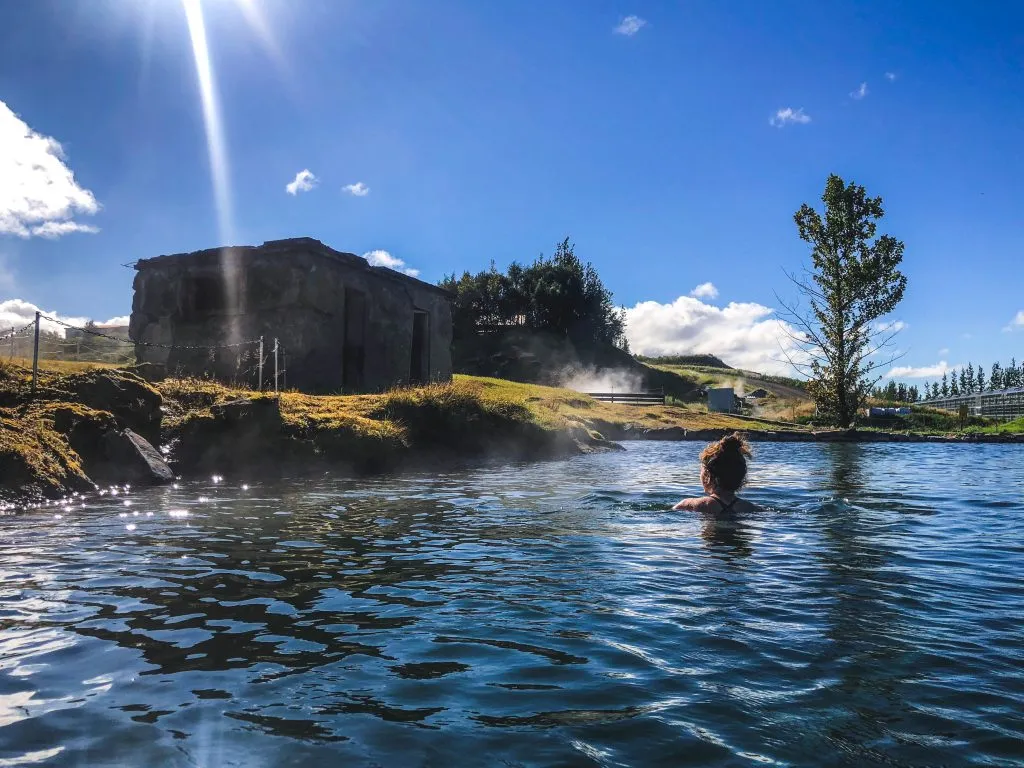 Learn about Icelandic history and culture on a free Reykjavik walking tour.
From Ania of The Travelling Twins
Iceland is an expensive country, so when we learned about the free Reykjavik tour when we were visiting Reykjavik with kids, we didn't think twice, and we signed for it.
Reykjavik is a city like no other, and it is worth exploring on foot with a local guide to fully appreciate it.
At first sight, the town feels small and not attractive, but when you have a local guide to show you around and explain the city, its history slowly grows on you.
The trip starts at Tjörnin (the Pond), strolling through the small streets towards Hallgrímskirkja church which towers over the area; you learn various facts about Iceland and its history.
During the trip, we visited popular attractions such as Harpa Concert Hall, Skólavörðustígur street and we learned where to eat the best Icelandic Hot Dogs, or which pub is best to visit for a pint of lager.
Keep in mind that while the tour is marked as "free", it's really more of a pay-as-you-wish Iceland travel experience.
The guides work for tips, so be sure to pay them for their work introducing you to some of the fun things to do in Iceland!
---