Thundering waterfalls, soothing geothermal springs, glistening glaciers, and snowcapped peaks: these are just a few of the otherworldly things to see on a 10 day Iceland Ring Road trip itinerary!
Iceland's landscapes absolutely blew us away: this magnificent island is home to some truly awe-inspiring scenery and wildlife.
Add in easily accessible adventure activities like hiking on a glacier, snorkeling between two continents, and horseback riding through magnificent landscapes, and you have a recipe for a destination that truly deserves the moniker "once in a lifetime experience" (until you get tempted into booking your next trip back, anyway).
Planning to spend 10 days in Iceland and want to conquer the full (and iconic) Iceland Ring Road (technically named Route 1)?
I won't lie–it's an ambitious plan, and you'll be exhausted by the end.
But it is doable (especially with the help of Iceland's famous midnight sun), and we'll show you exactly how to plan your itinerary for Iceland's Ring Road to ensure you can make the most of your 10 day trip.
Given the amount of information needed to plan 10 days in Iceland, this turned into one of the longest travel guides on our site!
Feel free to use the table of contents below to navigate as you plan your road trip in Iceland.
Here's exactly how to have a blast driving the Ring Road in Iceland in 10 days!
How We Structured This Iceland Ring Road Itinerary
We've structured this Iceland Ring Road itinerary as a counter-clockwise loop.
You'll start with some of Iceland's most iconic attractions, like the Golden Circle and South Coast, before exploring the less-touristed north and east of the country.
At the end, you'll loop back around and take a minor detour from the Ring Road to experience the gorgeous Snaefellsnes Peninsula.
For each day of the trip, we detail the top places to visit on the Ring Road (and nearby) that you'll want to prioritize!
You can easily reverse this itinerary if you prefer–in fact, we actually drove it the opposite way–but we personally recommend getting the "wow" factor of Iceland's postcard sights within the first few days.
We spent a lot of our road trip anticipating those views, and in retrospect, I wish we had done them first before settling into the more leisurely pace of other areas.
It also would have been nice to experience fewer crowds as our Ring Road trip in Iceland wore on, rather than visiting the most crowded sights on our final days in the country.
A Note On Seasonal Iceland Travel
Iceland in travel is extremely seasonal, so keep that in mind as you plan!
This Iceland Ring Road itinerary is designed for the summer months of June, July, and August.
We personally took the Iceland road trip that we designed this itinerary around over the course of the first 2 weeks of July and absolutely loved it.
Most of this itinerary, with the possible exception of seeing the puffins at Borgarfjörður Eystri, will still be viable in the shoulder season months of April, May, September, and October (excluding random weather events, which–this being Iceland–are always possible).
In the winter, though?
We'd recommend sticking to the western and southern parts of the coast (and definitely sign up for an ice cave tour for an incredibly unique winter experience)!
Basing yourself in Reykjavik in winter and using it as a base for day trips is a low-stress way to have some incredible adventures in Iceland.
Getting Around During Your 10 Day Iceland Road Trip
Given that it's an island in the middle of the Atlantic, it's safe to say that just about everyone reading this Iceland blog post will need to rent a car for their road trip!
We highly recommend booking your rental car for Iceland as soon as you possibly can–essentially, as soon as you confirm your flight dates!
That is even more true if you happen to need an automatic car.
While Iceland is accustomed to plenty of visitors, it's still a fairly small country at the end of the day, and there are only so many rental cars to go around.
Add in the extra complications from disruptions in the industry over the last couple of years, and you have a recipe for visitors who scramble at the last minute to get the cars they need for their Iceland Ring Road trips!
To compare prices and inclusions for several rental companies at once (including local outfits), we recommend searching through Discover Cars.
You don't need a 4×4 for this Iceland itinerary, especially assuming you're visiting in the summer, but if you think you'd like to visit some more rural spots located on Iceland's F-roads (AKA 4×4 only roads), you certainly can.
We had a 4×4 for our road trip and made good use of it.
Check prices & shop rental cars for your Iceland road trip today!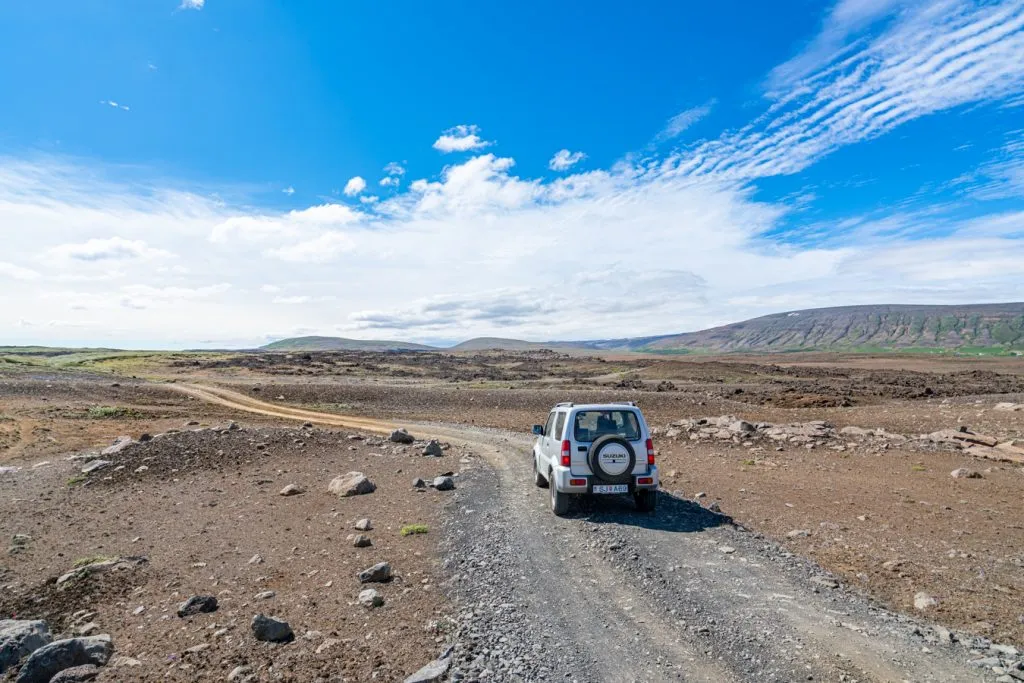 The Ultimate 10 Days in Iceland Ring Road Itinerary
Day 1: Arrive in Reykjavik and enjoy the city.
The thrill of landing in Reykjavik to kick off your 10 day Iceland trip is incredible!
This itinerary assumes that you are landing in the morning, as most international flights do.
Unlike many of our road trip itineraries here on Our Escape Clause, I recommend picking up your rental car right away if you're getting it from the airport.
You'll be able to park it overnight while spending one day in Reykjavik, and it will save you time doubling back (KEF Airport is about 45 minutes south of the capital, and out of the way to head back to), as well as serve as your transportation into the city.
If you happen to be picking up your car from a branch in the city, you can take a bus to the center.
Once you get into Reykjavik, shake off the jetlag and enjoy a day of sightseeing!
While it's tempting to skip over the city and head right to Iceland's famous natural beauty, it's really worth spending a day getting to know the capital (and it will allow you to rest up before driving too far).
Here are a few things to do during your one day in Reykjavik!
Visit Hallgrímskirkja Church and climb the tower.
If you've seen photos of Reykjavik, you've no doubt seen photos of–and from–the remarkable Hallgrímskirkja Church.
Be sure to climb to the top for its impressive view of the city!
Consider visiting a museum.
From the National Museum of Iceland to the (in)famous Icelandic Phallological Museum, Reykjavik has some extremely memorable museums to choose from.
This itinerary for Iceland is fairly light on museums overall, but if you're looking for an indoor activity and/or hoping to gain some context on the country before exploring it in-depth, a museum can make for an interesting introduction.
Stroll down the waterfront to see the Sun Voyager and Harpa Concert Hall.
These remarkable features of modern Reykjavik are definitely worth a look, and walking there will allow you to enjoy views of the city (possibly with a stop in one of the many excellent coffee shops you'll find along the way).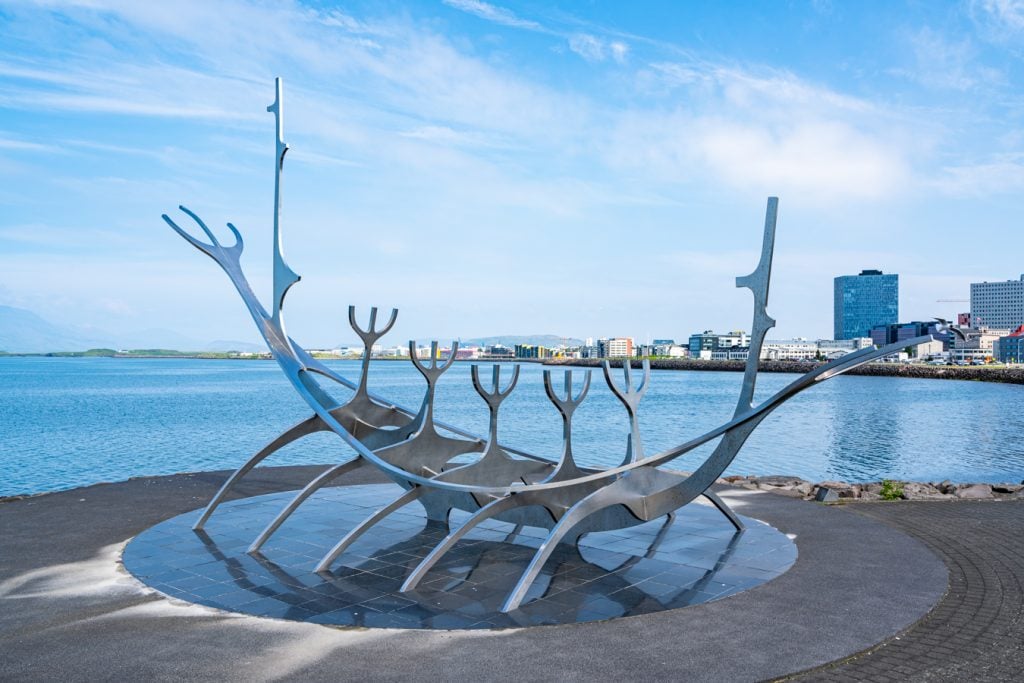 … or go for a soak in Sky Lagoon.
Iceland's famous Blue Lagoon is much closer to the airport than to central Reykjavik, and partially for that reason, we're saving it for the grand finale of this Iceland itinerary.
However, if your idea of the perfect first day in Iceland is a relaxing soak in a geothermal spring, consider checking out the incredible Sky Lagoon!
This newer destination is only a short drive from central Reykjavik and is undoubtedly the most laid-back way to spend your first day (or afternoon) in the country.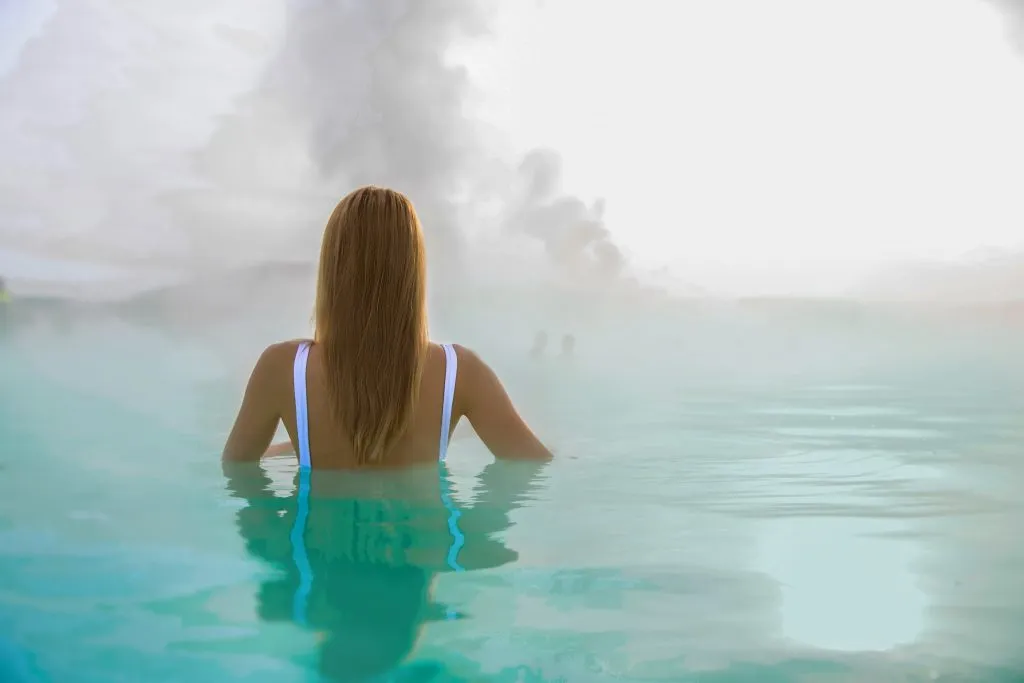 Where to Stay in Reykjavik
When deciding where to stay in Reykjavik, ideally you'll want a hotel that is both in a walkable location and has parking on-site or available nearby.
We chose to stay in the popular 22 Hill House and had an excellent experience!
The crisp, clean room, excellent hotel breakfast, and location near the best things to do in Reykjavik made for a fantastic stay, and we'd definitely be happy to stay again.
Amount of Driving As Written
About 45 minutes (50 kilometers), not including visiting Sky Lagoon.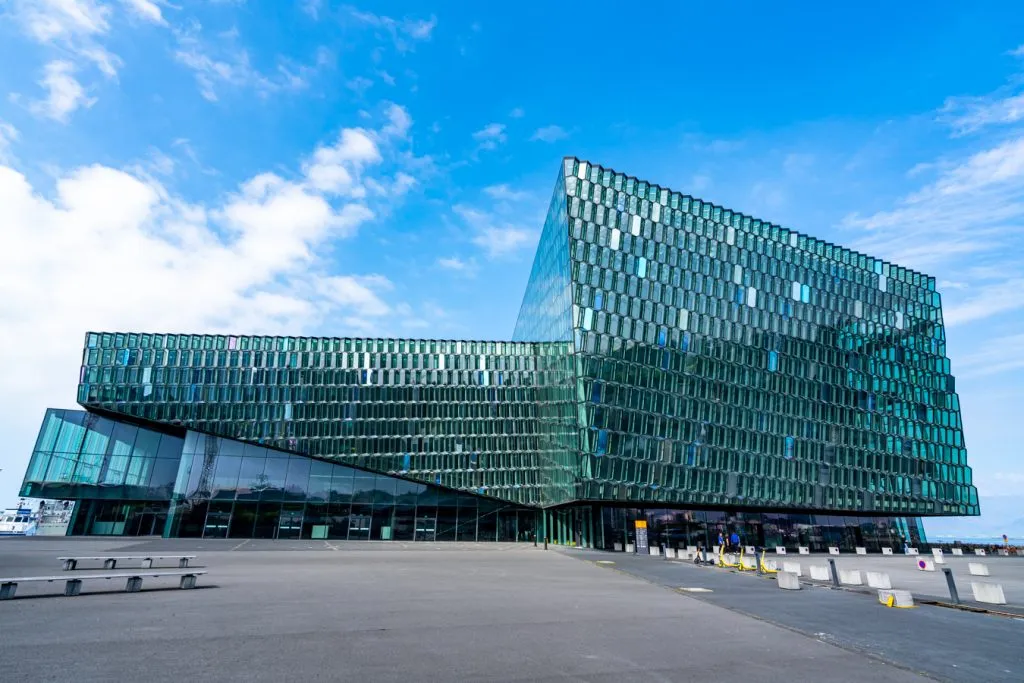 Day 2: Explore the Golden Circle (and go snorkeling in Silfra Fissure).
As you head out of the city to start your road trip in Iceland, you won't have to wait long to have a thrilling adventure!
Your first stop is less than an hour outside the city…
Snorkel between two continents.
Snorkeling Silfra Fissure inside Thingvellir National Park is–no hyperbole–one of the most unique things to do in Iceland!
Here, in a narrow fissure, you'll float between the Eurasian and North American tectonic plates, and the experience is absolutely unforgettable!
It's also–fair warning–a bit uncomfortable, but completely worth it.
We have a full guide to the experience here, and this is the tour we took and recommend!
Check out more of Thingvellir National Park.
While Silfra fissure is located inside Thingvellir (Þingvellir) National Park, it's far from the only thing to see in this remarkable UNESCO World Heritage Site.
Thingvellir National Park is known as the origin of Iceland's culture and government and was the seat of Iceland's government (with various levels of power) from 930 until the 18th century.
A scenic drive past Þingvallavatn lake is incredibly memorable, and with enough time, you could go for a short hike, stop at Hakið Visitor Center, and see Öxarárfoss Waterfall.
Marvel at the Geysir geothermal area (Haukadalur Valley).
As you've been planning your trip to Iceland, odds are that you've come across plenty of mentions of Geysir (a magnificent geyser) as one of the top spots to visit on the Golden Circle Route.
While this is technically true, unfortunately, you probably won't see it at its most impressive: Geysir isn't very active these days, and last erupted in 2016.
Luckily, Haukadalur Valley where it is located is home to plenty of other geysers, mud pots, and more that make it worth visiting in order to experience Iceland's famous geothermal activity.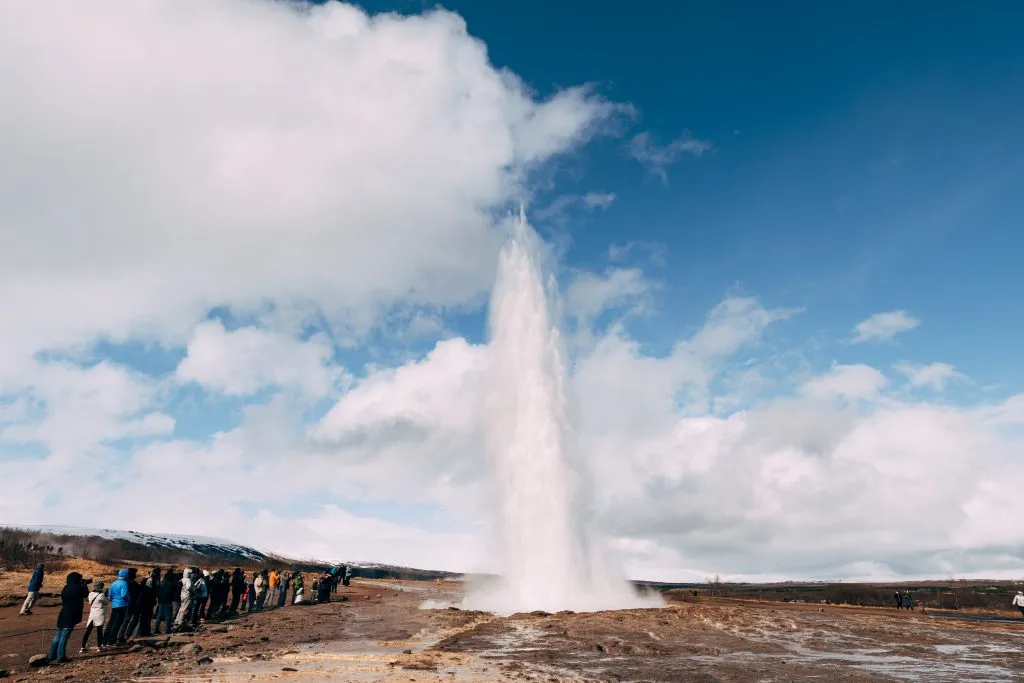 Admire the power of Gullfoss.
The first of several iconic waterfalls that you'll visit on your Iceland road trip, Gullfoss is known for its beauty and power.
"Gullfoss" is translated to "Golden Waterfall".
Depending on when you visit it, you may see that the water has taken on a distinct "gold" (or yellow, but that doesn't sound as lovely) color.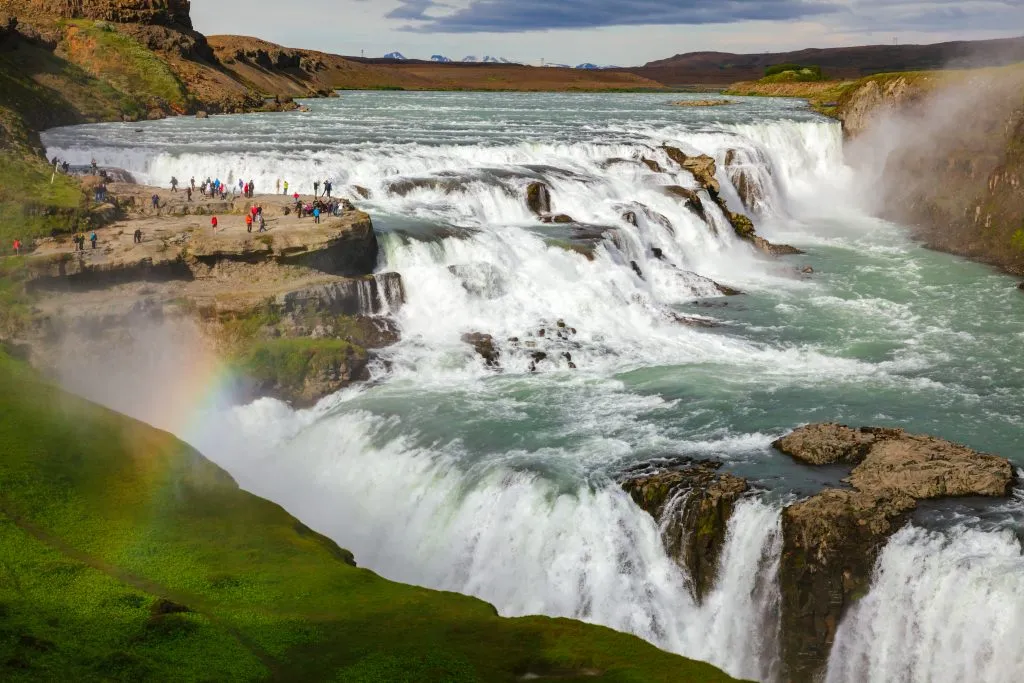 Where to Stay on Day 2 of Your Iceland Road Trip
Ideally, we recommend traveling all the way to Vik on the South Coast to check into your next place to stay in Iceland.
We loved our stay at Hotel Vík í Mýrdal!
The layout of the hotel was slightly confusing, but the rooms were comfortable, the location and included breakfast excellent, and the customer service was lovely.
While driving all the way to Vik will mean doubling back a bit on Day 3 in order to visit Seljalandsfoss (or, if you have the energy, you can squeeze it into Day 2–more on that below), it will also allow you to spend 2 nights in one place.
Checking into and out of several hotels is an unavoidable part of driving the Ring Road in 10 days, but it's best to stay 2 nights in one place when you can!
Amount of Driving As Written
About 4.5 hours (300 kilometers).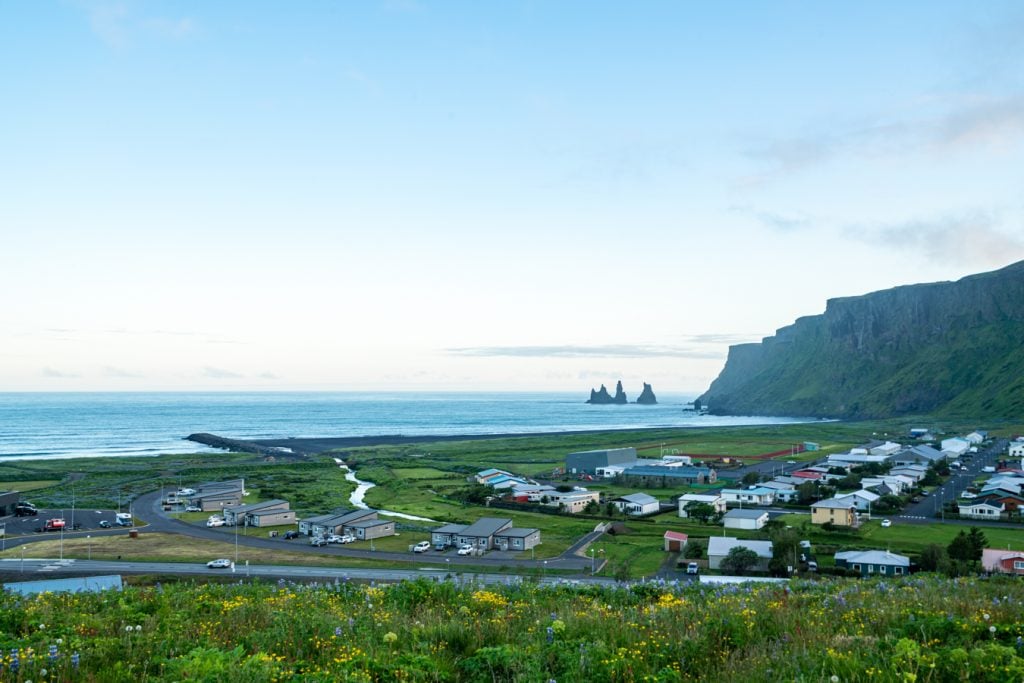 Day 3: Visit the South Coast and some of Iceland's most iconic beaches and waterfalls.
Iceland's mesmerizing South Coast is where you'll find some of its most famous attractions, from black sand beaches to iconic waterfalls like Skogafoss.
The furthest western point on this day as written is Seljalandsfoss and Gljufrafoss, which are about 1 hour and 15 minutes from Vik.
If you have the time and energy, you can shave off a small amount of driving if you move these waterfalls to the second day of this Iceland itinerary!
Here are the best stops on the third day of your Iceland road trip!
Explore the charming town of Vik.
The small town of Vik is one of the most popular places to stay in Iceland, and it deserves a bit of your attention!
Be sure to stop by the beautiful Vik Church, and admire the stunning views of the surrounding area (if you're visiting during the summer, there are also plenty of lupines up here!).
You'll also want to visit Dyrhólaey Peninsula to soak in its incredible views–and if you get lucky, spot some puffins.
Vik is also a great place to stock up on any groceries and gear you might want, as it's the largest town you'll be seeing for several days!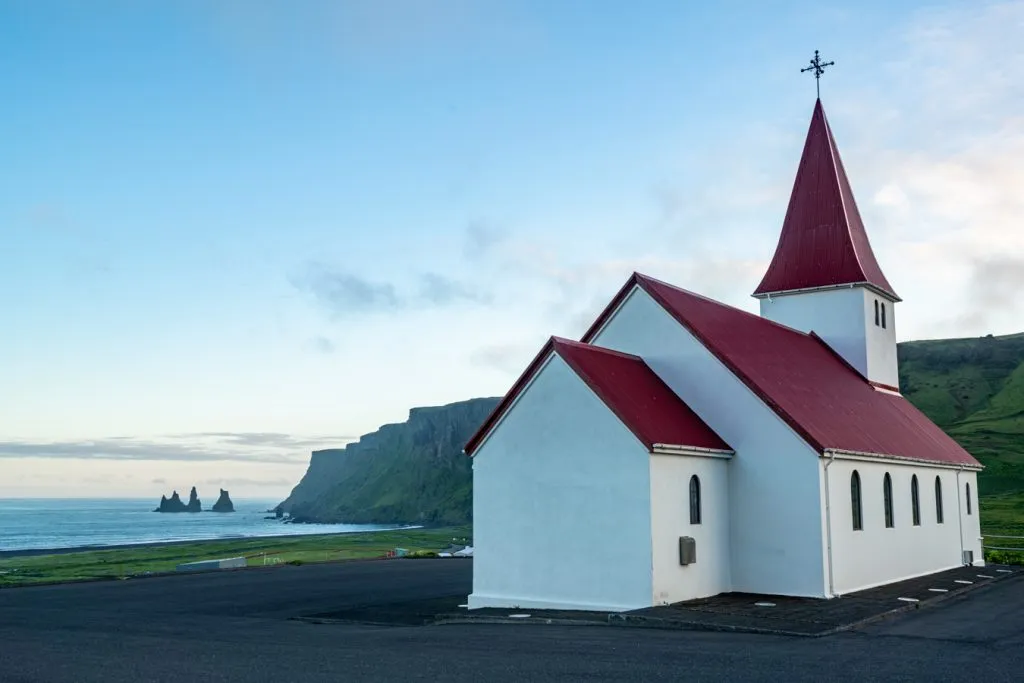 Stroll along Reynisfjara Black Sand Beach.
Visiting he famous Reynisfjara Black Sand Beach is one of the best things to do in Vik–in fact, you'll probably be able to walk there from where you're staying–but it deserves a separate mention.
If you've seen photos of dramatic black sand beaches framed with basalt columns from Iceland… you've almost certainly seen photos of Reynisfjara.
Take your time to savor this gorgeous place with plenty of long walks. It's truly something special.
That being said, absolutely do not try to enter the water here–the currents make it very dangerous.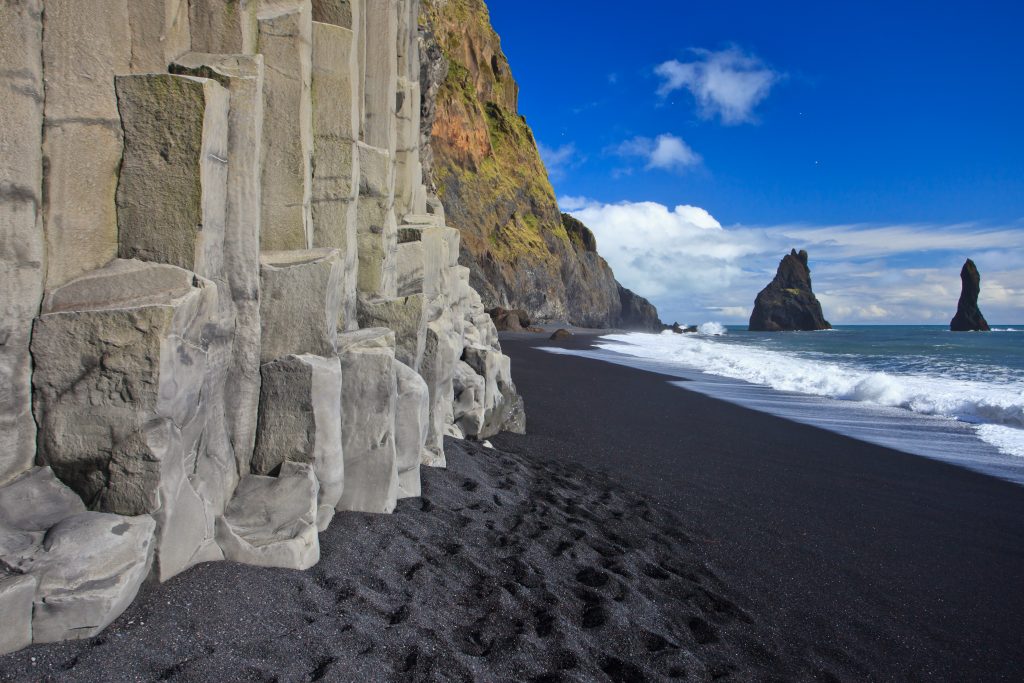 Walk behind Seljalandsfoss.
Seljalandsfoss is incredibly famous, in large part because it's one of only a few waterfalls in Iceland that you can walk behind!
If you visit on a sunny day, there's also a very good chance that you'll be treated to rainbows glittering near the falls as you do so.
Visiting Seljalandsfoss exceeded our high expectations!
That being said, prepare to step very carefully on the slippery ground and get wet from the mist.
You won't get fully soaked, but be sure to protect your cameras and phones as you snap photos.
… and check out Gljufrafoss.
Accessed from the same parking lot as Seljalandsfoss, Gljufrafoss is not nearly as famous–but it is incredible.
Tucked into a small canyon, most of Gljufrafoss is hidden at first, which is part of its charm.
It's well worth the short stroll to visit this remarkable waterfall, whether you duck into the canyon it hides in or not.
Visit the iconic Skogafoss.
Falling for a whopping 60 meters (197 feet), the powerful Skogafoss Waterfall is one of the most–if not the most–famous waterfalls in Iceland.
Here, you can walk right up to the base of a true natural wonder (and yes, you will absolutely get soaked while doing so).
If you want to admire Skogafoss from a different angle, you can even climb up the steps to the right of the waterfall and admire it from above!
Regardless of which angle you choose, there's no doubt that time spent at Skogafoss is deeply memorable.
Optional: Explore the abandoned DC3 Plane Wreck.
Iceland's famous abandoned plane wreck on the beach is quite the sight–but it requires a bit of a commitment to get to for what is essentially a photo op.
To visit, you'll need to park about 2 miles from the wreck, and then walk (it's–somewhat shockingly for Iceland–not a scenic walk), bike, or take a shuttle bus (assuming you're visiting in the summer) to the plane and back.
Alternatively, you could book an ATV tour like this!
If the focus of your Iceland road trip is on natural beauty, this probably isn't a must-see, but if you're fascinated by the eerie view of the 1973 crash (it is striking), you can build it into your trip.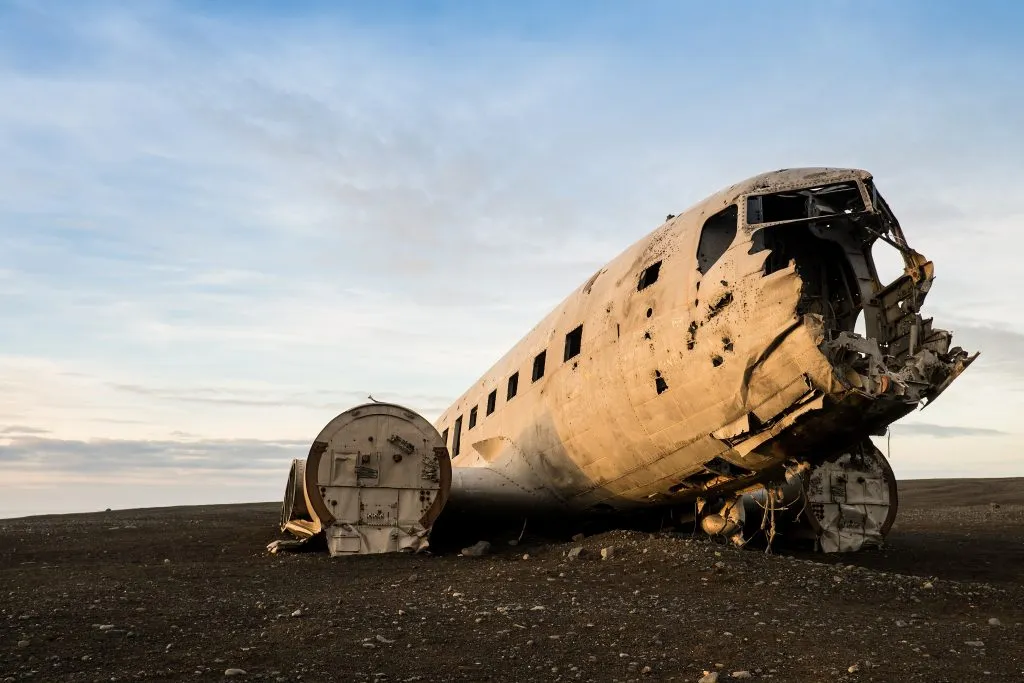 Where to Stay on Day 3 of Your Iceland Road Trip
Tonight, sleep in Vik for the second night in a row–that's right, no need to repack and unpack again.
We loved and recommend staying at Hotel Vík í Mýrdal.
Amount of Driving As Written
About 1 hour, 45 minutes (125 kilometers).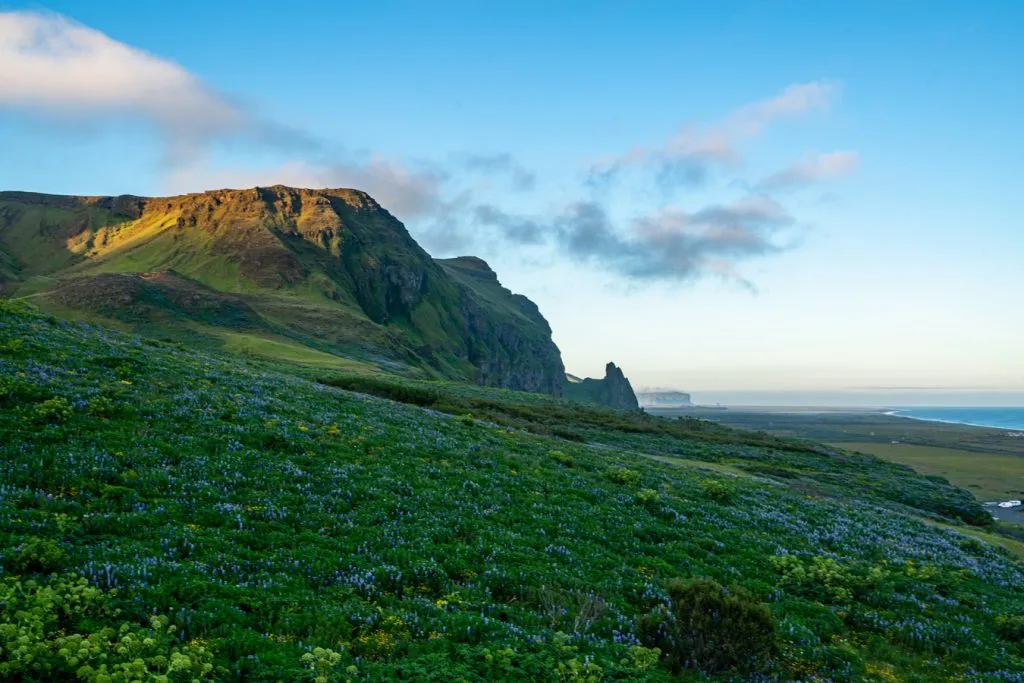 Day 4: Put the ice in Iceland with a glacier hike + explore the glacier lagoons.
As you continue to travel east along Iceland's South Coast, you'll soon be treated to several more of the best things to do on the Ring Road–including a glacier hike!
Peer into Fjadrargljufur Canyon (Fjaðrárgljúfur).
Your first stop of the day is the famous Fjadrargljufur Canyon–another one of Iceland's iconic photo spots!
Like a surprising number of Iceland attractions, you'll find it just off the Ring Road, with no hike required to reach it.
You can stroll along the top to enjoy the incredible views, but note that you can't climb down as close to the edge as was once possible.
The closest edges of the canyon have been blocked off (no doubt for safety reasons), but the views from a bit further back are stunning all the same.
Optional: Take a short hike to Svartifoss.
Not everyone driving Iceland's Ring Road in 10 days will want to build in a trip to Svartifoss–but those who do will love it!
Unlike the waterfalls yesterday, Svartifoss requires a fairly short hike (30-45 minutes each way) to reach.
Considering the next activity on this list, if you're not an avid hiker, it may not be for you!
Svartifoss is stunning, though, framed by basalt columns on either side, and is located in Vatnajökull National Park, not far from where you'll meet up with your glacier hiking group.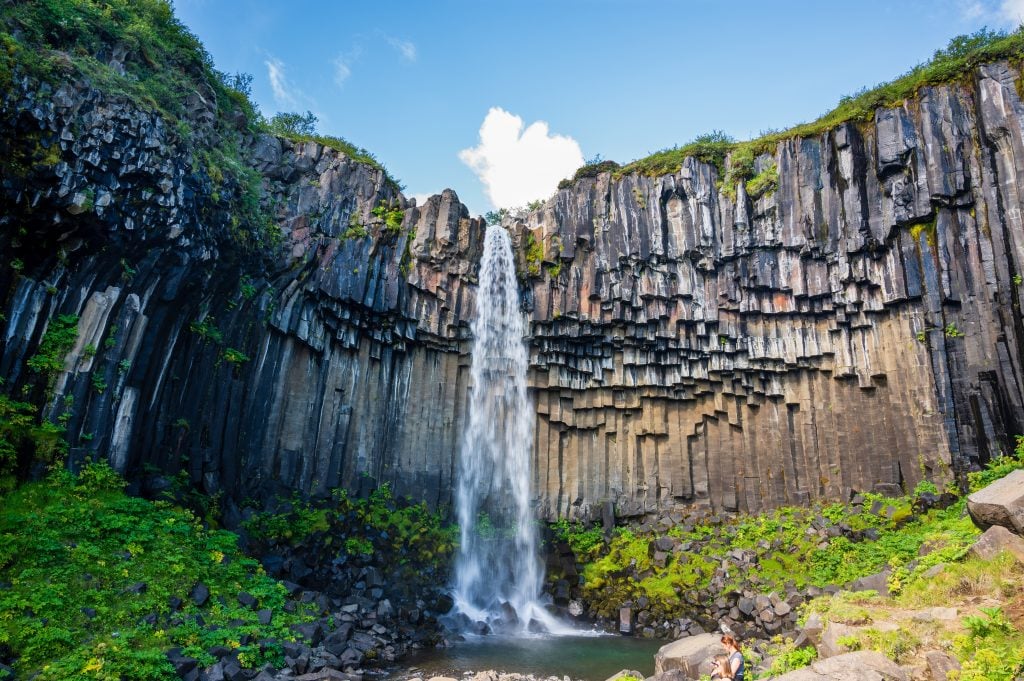 Hike on the largest glacier in Europe.
A glacier hike is one of the top Iceland bucket experiences on this itinerary and barring any physical limitations, you should absolutely prioritize it!
Skaftafell, located in a southwestern section of the gigantic Vatnajökull National Park, is a popular spot for glacier hikes and where you're headed today.
Despite the name, a glacier hike in Iceland is a fairly tame activity, with tour groups being highly regulated and focused more on admiring the incredible landscape than physical exertion (if you want something more adrenaline-pumping, consider ice climbing!).
We took this 3-hour glacier hiking tour and absolutely adored it.
Fair warning, though: like at Silfra, a large chunk of the tour time is dedicated to sorting out gear, putting on crampons, etc.
If you want more time on the glacier, you may want to skip Svartifoss and opt for a 5-hour glacier hiking tour instead.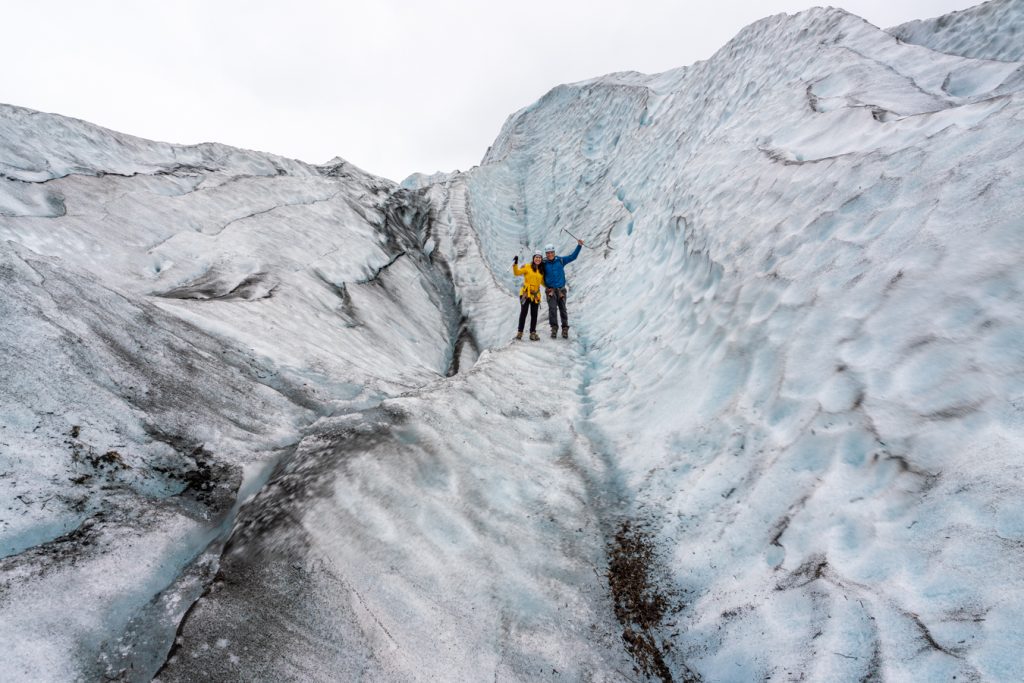 Where to Stay on Day 4 of Your Iceland Road Trip
We loved our stay at the extremely comfortable Fosshotel Nupar, which is a short drive west (ie, out of your way) from Skaftafell, and can highly recommend it.
In order to avoid doubling back, though, and to better position yourself for sightseeing tomorrow, we recommend instead staying at the also highly-rated Fosshotel Glacier Lagoon!
Amount of Driving As Written
About 2.5 hours (180 kilometers).
Day 5: Marvel at glacier lagoons, puffins, and the East Fjords on your Iceland road trip.
As you reach the halfway point of your Iceland 10 day itinerary, it's time for one of the longest days of driving included on this route.
There is a very, very good reason, though: puffins!
Here's how to make the most of your fifth day in Iceland–and yes, you'll want an early start.
Optional: Visit Fjallsarlon Glacier Lagoon.
Honestly, I'm quite hesitant to include Fjallsarlon Glacier Lagoon on this itinerary, simply because there is barely time for it!
However, this slightly-lesser-known glacier lagoon is gorgeous and right on your route, so if you get an early start and are hoping to see as much as possible, you can squeeze in a quick stop!
The lagoon itself is smaller than Jokusarlon (which you'll visit next), but having such an impressive view of the glacier itself makes Fjallsarlon an incredible destination!
Admire Jokusarlon Glacier Lagoon (Jökulsárlón), and maybe take a boat ride.
If you've seen photos of Iceland's incredible glacier lagoons, you've probably seen Jokusarlon.
This magnificent lagoon is dotted with icebergs that have broken off from Breiðamerkurjökull Glacier and are–slowly–making their way out to sea.
The lagoon is growing as the glacier continues to recede, and like many of Iceland's natural attractions, will likely look quite different a few decades from now.
While admiring Jokusarlon from the shore is an incredible experience itself, if you'd like to get even closer to the magnificent icebergs, you can sign up for a zodiac boat tour of the lagoon while you're there!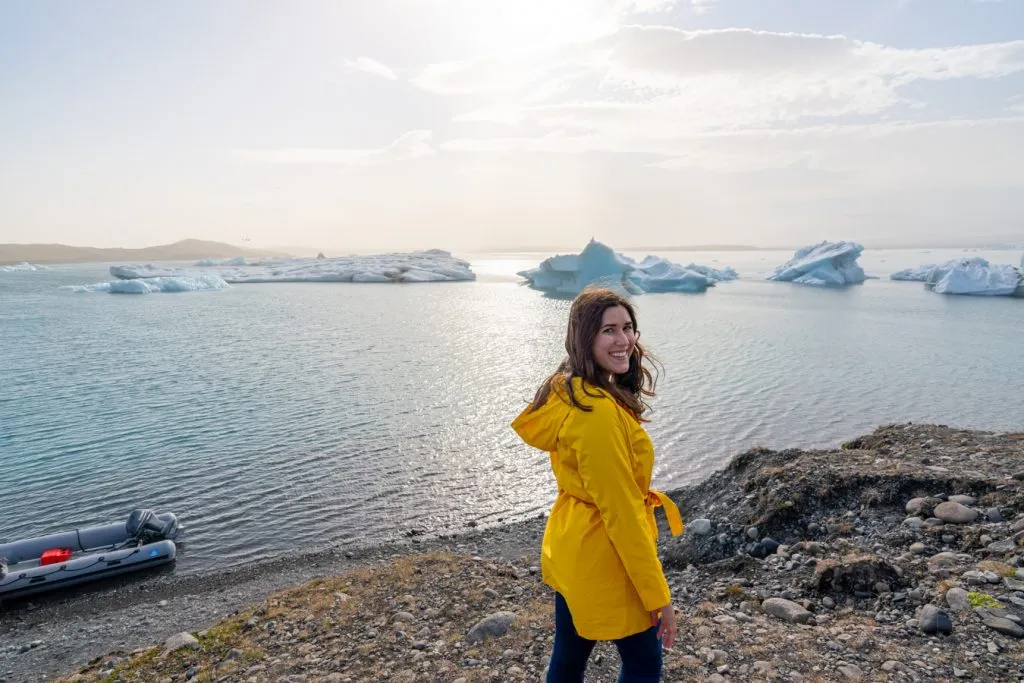 Soak in otherworldly views at Diamond Beach.
Located right across the street from Jokusarlon, the wildly photogenic Diamond Beach is where the icebergs from Jokusarlon eventually congregate at the end of their long journey out to sea.
Here, you can famously see chunks of ice–sparkling like diamonds, hence the name–nestled on the black sand, and even being jostled by the waves.
Diamond Beach is one of those special Iceland travel experiences that is probably unlike anything you've ever seen before!
Hang out with puffins Borgarfjörður Eystri.
Borgarfjörður Eystri is a long drive from your starting point this morning, nestled up in northeast Iceland.
It's also one of the furthest places from the Ring Road on this Iceland itinerary… and it is so, so worth the effort.
At the edge of a fjord by the same name, the small village of Borgarfjörður Eystri plays host to 10,000 mated pairs of puffins from mid-April to mid-August each year.
It's widely considered one of the best places to see puffins in Iceland, and visiting was one of the highlights of our Iceland road trip!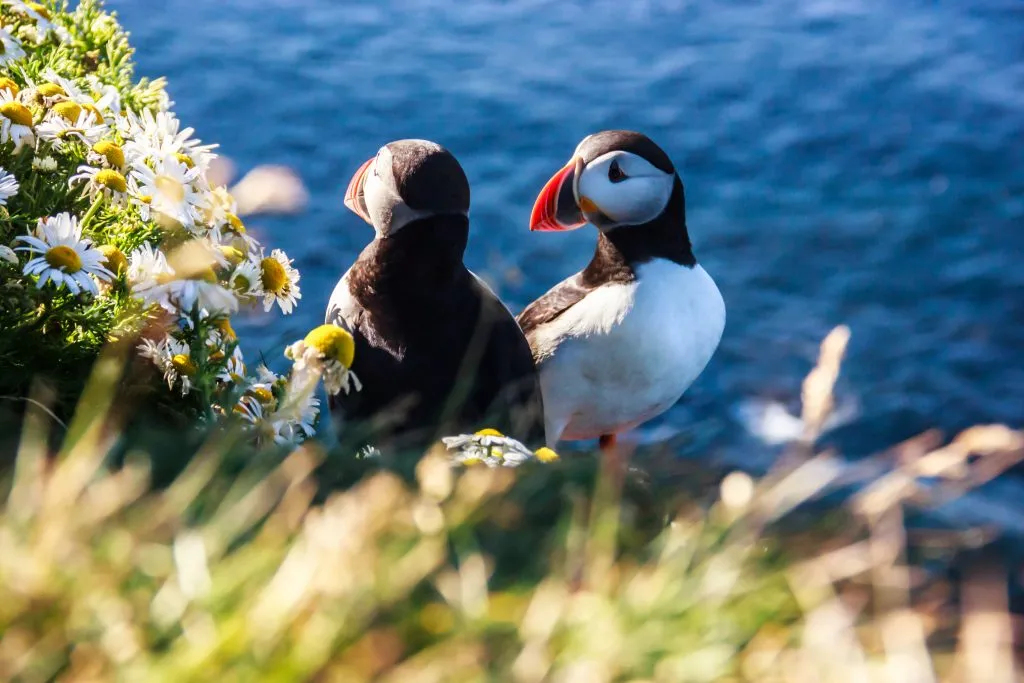 The drive there is fantastic as well, with magnificent scenery in all directions.
Once you arrive to view the puffins, you'll be able to park and walk a short distance to a series of boardwalks and platforms (free of charge), where you'll be able to admire the puffins to your heart's content.
There are a couple of restaurants in town, as well, so it makes for a good place to grab dinner before continuing on.
Drive back to the Ring Road and head to Seydisfjordur (Seyðisfjörður).
Known for its picturesque location on one of Iceland's eastern fjords, its whimsical rainbow street, and its historic 19th-century wooden buildings, Seydisfjordur is a fantastic place to base yourself in Iceland for a night!
The drive from your puffin-watching extravaganza to Seydisfjordur will bring you back much closer to the Ring Road once again, with plenty of waterfalls, glaciers, and more to admire along the way.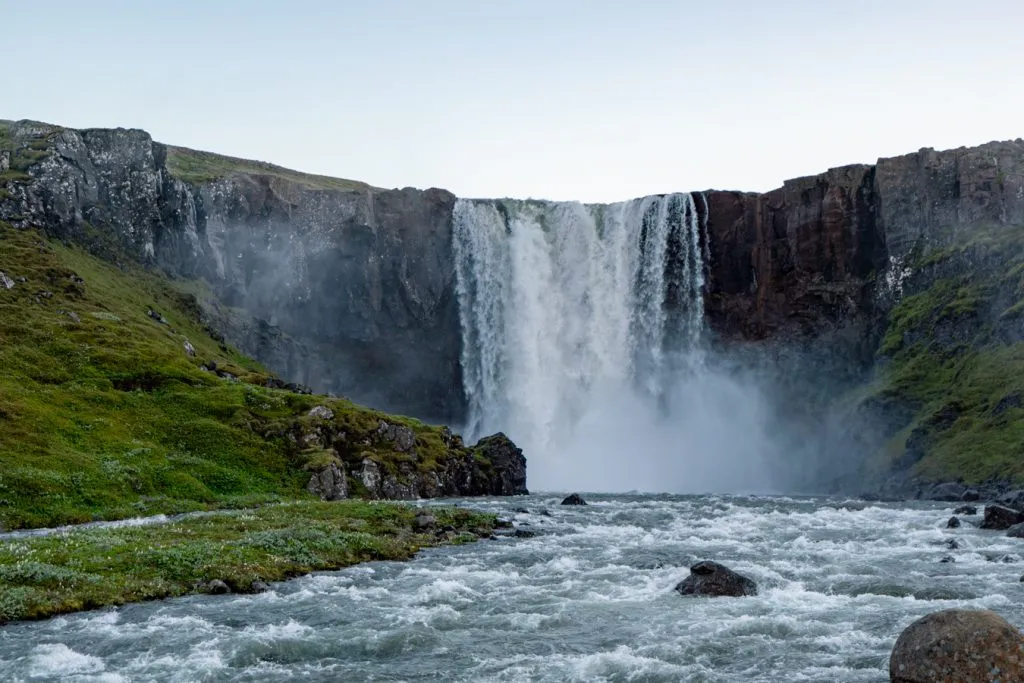 Where to Stay on Day 5 of Your Iceland Road Trip
We had a comfortable stay at the cozy Media Luna Guesthouse in Seydisfjordur and would have no problem recommending it based on availability.
However, we'd also love to stay in one of the traditional wooden houses in Seydisfjordur!
They were sold out for our trip, but when we return, we'd love to check into the gorgeous Við Lónið Guesthouse (which also happens to be one of the highest-rated guesthouses in town).
Amount of Driving As Written
About 6.5 hours (450 kilometers).
Day 6: Drive the southern edge of the Diamond Circle to Myvtan.
On day 6 of your Iceland Ring Road trip itinerary, you'll start working your way back west across the country, this time exploring the north.
Along the way, you'll visit a few–but not all–of the sights clustered around Iceland's northern "Diamond Circle" route.
Enjoy the morning in Seydisfjordur.
Before heading west, enjoy a leisurely breakfast and stroll through the colorful town of Seydisfjodur.
Don't miss the town's famous Rainbow Street!
(Not that you're likely to–the town is quite small).
There's also a grocery store in Seydisfjordur where you can restock food for the drive if you like.
Explore Stuðlagil Canyon.
The wildly beautiful Stuðlagil Canyon is exactly the sort of destination that Iceland is famous for: striking, unexpected, and absolutely gorgeous.
Here, the mesmerizing turquoise river is framed by soaring basalt columns, for incredible contrast.
It's a bit of a pain to get there–if the photos don't move you, consider skipping it–but we loved our visit and were so glad to have visited.
You can visit either the west side (for a view from above) or the east side (to approach the river).
We recommend following these directions.
Stare in awe at Dettifoss and Selfoss.
Dettifoss (often called the most powerful waterfall in Europe) and Selfoss (its more elegant counterpart), are two of the most popular stops on the Diamond Circle.
Selfoss is beautiful, but in the context of just how many beautiful waterfalls there are in Iceland, it's the powerful Dettifoss that makes these waterfalls worth going out of your way to visit.
The only word I can use to describe Dettifoss is mesmerizing: it's simply hard to look away from.
To visit, you can choose to visit the west or east side of the falls. We picked the west (and more popular) side.
It's about a 2.5-kilometer walk round-trip to visit both falls.
While these are undoubtedly among the top waterfall destinations in Iceland, visiting will add over an hour to your drive today–so if you're feeling burned out, this might be a good place to pass on.
Stroll through the Namafjall Geothermal Area.
Bubbling mudpots, brilliant colors, and a landscape unlike most others on this planet: the Namafjall Geothermal Area is located right off of the Ring Road/Route 1, and is a great, quick stop during your 10 day Iceland vacation!
… and you'll want it to be quick, too!
The smell of sulfur is incredibly strong here, and not particularly pleasant.
Where to Stay on Day 6 of Your Iceland Road Trip
Modern, spacious, and boasting an absolutely fantastic breakfast spread, we adored our stay at Hótel Laxá and would happily rebook when visiting Myvatn again.
Amount of Driving As Written
About 4 hours, 45 minutes (315 kilometers).
Day 7: Soak in the Myvtan Nature Baths and take a whale watching tour.
After several days in a row of long drives and packed schedules, today is designed to be slower-paced… for the most part.
The day's schedule will also see you driving almost completely around Lake Myvatn, offering up stunning views and side stops along the way.
Have a long, relaxing soak in the Myvatn Nature Baths.
After plenty of active sightseeing, it's time to relax.
Head to the Myvatn Nature Baths for a long, steamy soak in a geothermal spring, complete with views of the Hverjfall volcano crater and Lake Myvatn.
Often called the "Blue Lagoon of the North", you'll find a cafe on-site and not much of a reason to leave for at least a couple of hours.
Admire the power of Godafoss.
Gorgeous Godafoss is located just off of Route 1, an easy stop as you drive the Ring Road from Myvatn to Akureyri.
Curved like a horseshoe and absolutely stunning, Godafoss is one of the most popular waterfalls in Iceland!
Take a whale watching tour from Akureyri.
A whopping 11 species of whale call the water around Iceland home, and the north part of the island is the best place to see them!
Set out from Akureyri for a magnificent whale-watching excursion.
In the summer, boats leave as late as 8:30 PM, making whale-watching easy to fit into your busy itinerary for Iceland's Ring Road.
Where to Stay on Day 7 of Your Iceland Road Trip
We had a very comfortable stay at Lava Apartments & Rooms in Akureyri!
Here, we enjoyed the benefit of free parking on-site while also being in the center of town, within walking distance of plenty of shops and restaurants.
Some options also come with kitchens.
Amount of Driving As Written
About 1 hour, 30 minutes (110 kilometers).
Day 8: Ride a unique Icelandic horse and learn local history.
Today begins with a very memorable ride and will end with the final (very) long drive of your trip!
To fuel up, grab a delicious brunch at one of Akureyri's many trendy cafes before getting started.
We can heartily recommend the brunch at Cafe Berlin!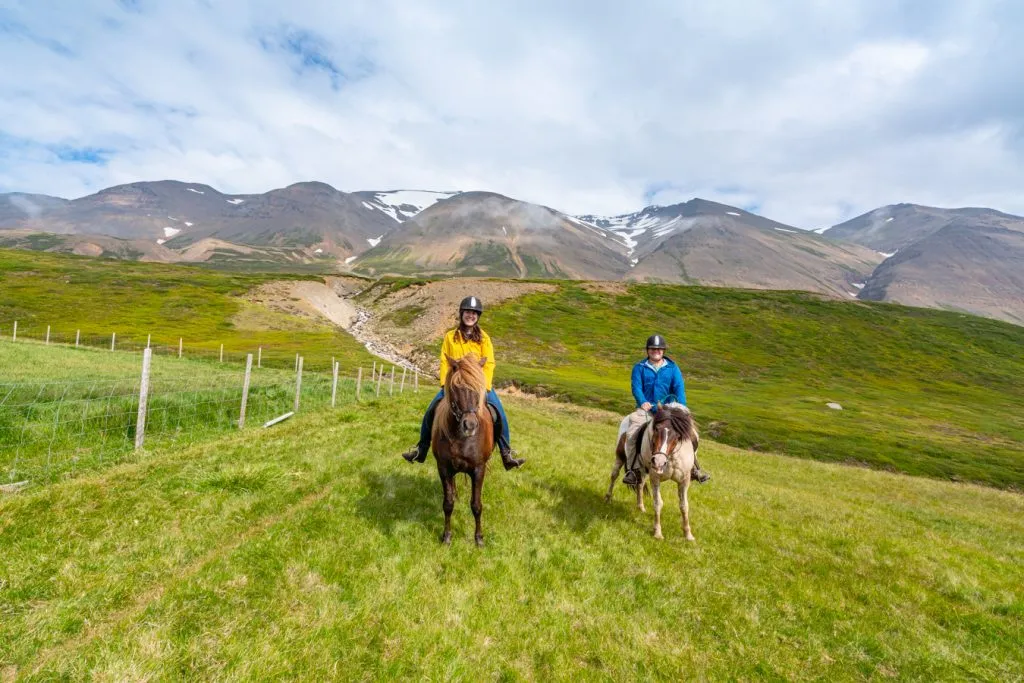 Ride an Icelandic horse and experience the unique "tölt" for yourself!
Small, fluffy, and utterly charming, Icelandic horses are a unique breed that is perfect for a ride through some of the world's most stunning scenery!
Icelandic horses famously have 5 gaits rather than 3 or 4, and most visitors will be able to experience the "tölt"–think of it as a smoother form of a trot–during their ride.
We adore riding horses wherever we go in the world, but whether you love to ride or are hoping to try it out for the first time, Iceland is a fantastic place to do so.
There are many wonderful farms throughout the country, but we can't recommend Polar Hestar near Akureyri enough.
Our ride with them was one of the most memorable trail rides of my life, and one of our absolute favorite Iceland travel experiences.
Learn some Icelandic history at Old Farmhouse Laufas (Turf House).
Less than 30 minutes north of Akureyri, you'll find a fascinating example of Iceland's traditional turf houses!
While the current building (which you can explore the interior of) dates to the 19th century, the site has been occupied for around 1000 years.
It's a fascinating peek into traditional Icelandic culture and well worth a visit if you have time to add it to your itinerary for Iceland in 10 days.
Check hours and entrance information here.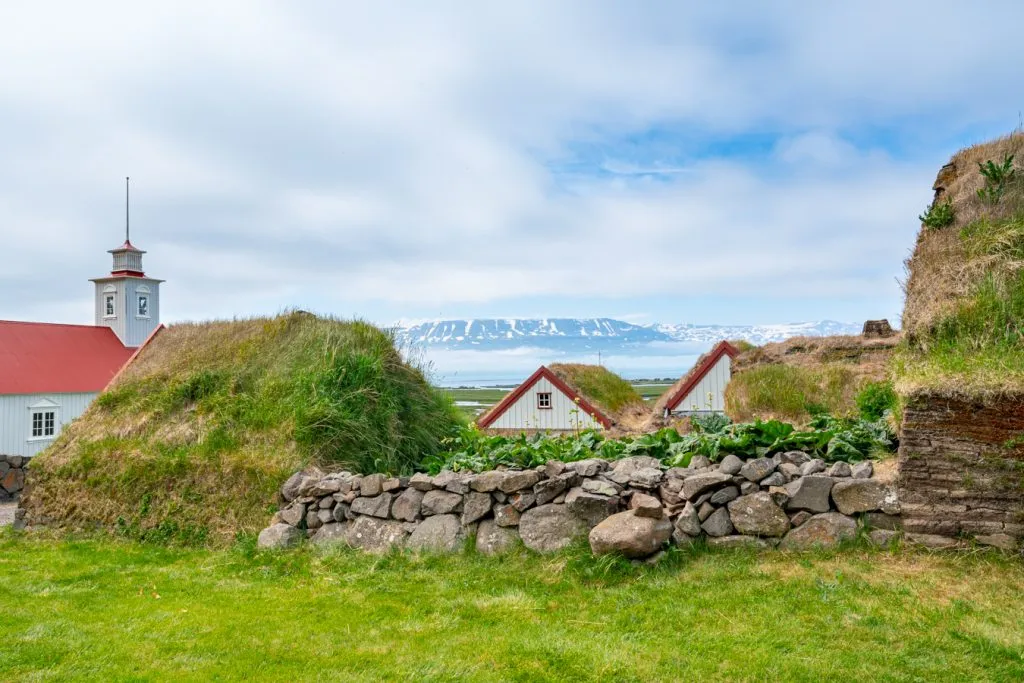 Drive to the Snaefellsnes Peninsula.
After an exciting horseback ride and a dose of Icelandic history, it's time for the last long drive of your trip.
Head to the Snaefellsnes Peninsula–more on where to stop below–in order to position yourself well for exploring more of the best things to do in Iceland tomorrow.
You likely won't have the time or energy for more detours at this point, but if you do, the fishing village of Stykkishólmur is considered one of the most picturesque in Iceland and would be a fun place to grab dinner.
Where to Stay on Day 8 of Your Iceland Road Trip
Essentially, your goal for tonight is to find a comfortable place to stay that is very close to Kirkfujell.
The areas Grundarfjordur and Stykkishólmur (the surrounding area, not necessarily the center, as it's out of your way) are good places to look.
This charming guesthouse, as well as this one, are both excellent options that are extremely highly rated.
Amount of Driving As Written
About 5 hours, 45 minutes (440 kilometers).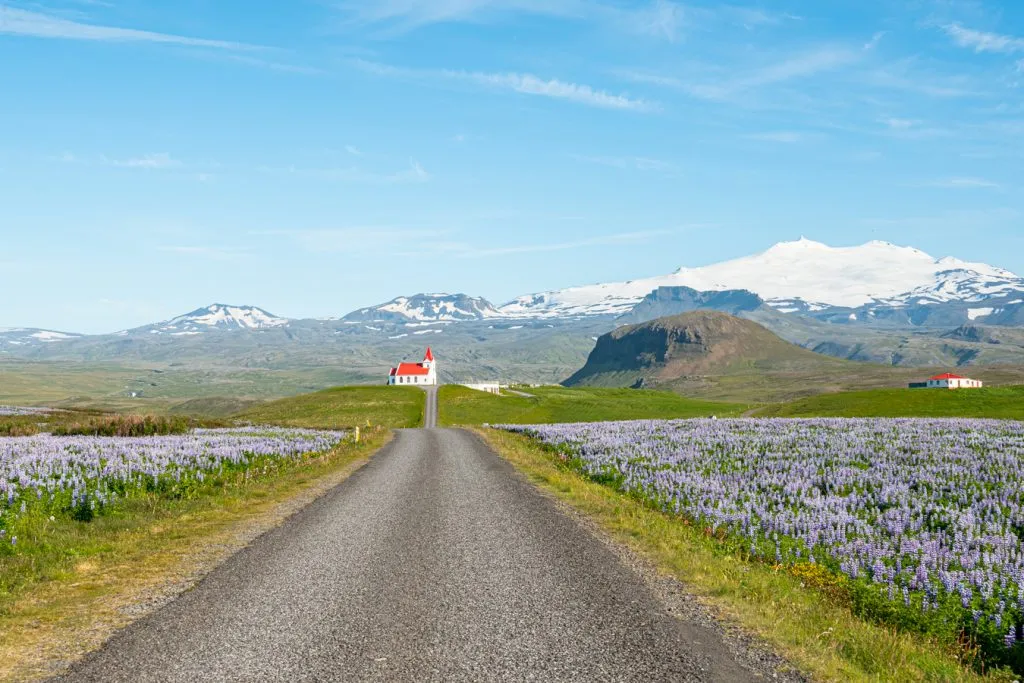 Day 9: Round out your trip by exploring the Snaefellsnes Peninsula and Kirkjufell.
The Snaefellsnes Peninsula is often referred to as "Iceland in Miniature", and is home to some magnificent sights, including the famous Kirkjufellsfoss, arguably Iceland's most famous photo spot.
It's technically not on the Ring Road, but it's special enough to warrant being featured during your road trip in Iceland regardless!
I've outlined the top don't-miss spots below, others you may want to add on include Bjarnarfoss, Budakirkja (a charming Icelandic church), and Ytri Tunga (also known as Seal Beach).
As you drive, you'll be treated to plenty of gorgeous views of Snæfellsjökull, the peninsula's scenic glacier.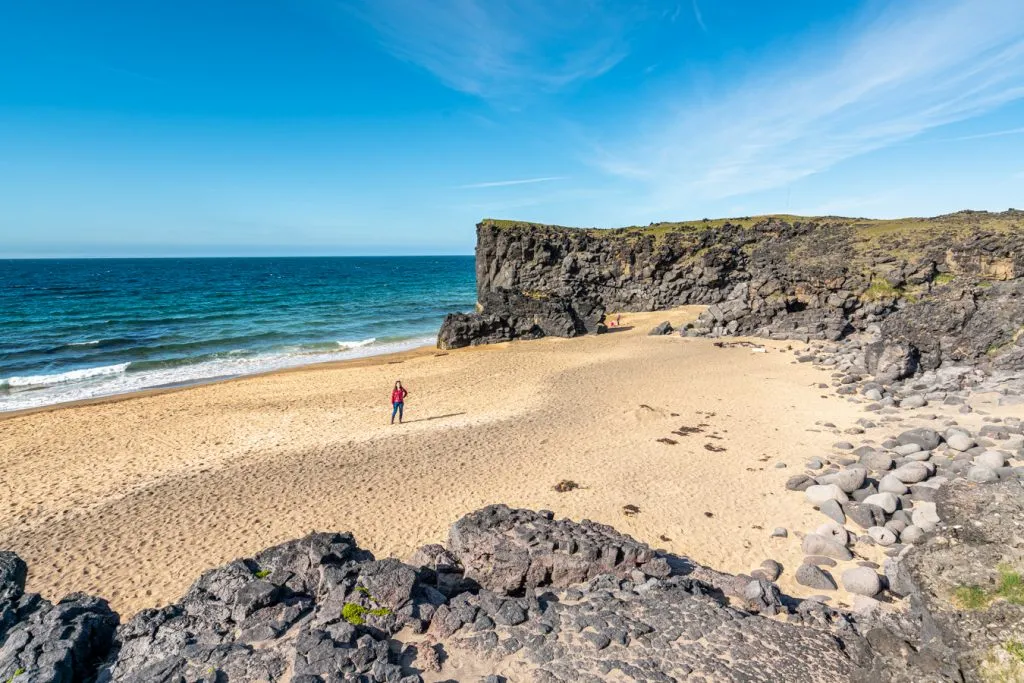 Snap photos at the Iceland icons of Kirkjufell and Kirkjufellsfoss.
Kirkjufell (the mountain) and Kirkjufellsfoss (the waterfall) pictured here are famous, in large part, because of how they fit together.
While both sights are beautiful individually, it's really the combination of them both in one frame that has caused this to explode into being one of the most famous places to photograph in Iceland!
While climbing the mountain requires quite a bit of skill and isn't done by the average visitor, it's extremely easy to walk the short path from the road to this incredible view on an Iceland road trip!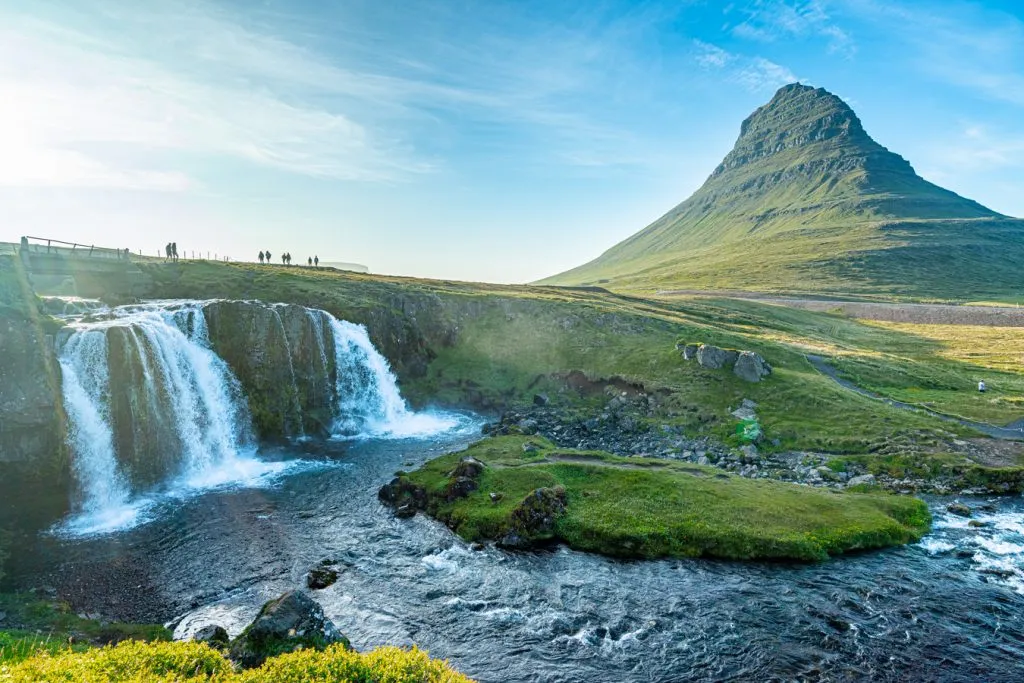 Drive to the end of the world and visit the Svortuloft and Ondverdarnes Lighthouses.
As you drive out to the Svortuloft and Ondverdarnes Lighthouses on the northwest corner of the Snaefellsnes Peninsula, you may feel like you're approaching the end of the world!
While these spots are fairly popular, many travelers skip them in favor of a more direct route.
All that means, though, is that the views are even more rewarding for those who make the trek.
Along the way, you'll also pass the golden Skarðsvík Beach, which is also worth a stop!
While both lighthouses are striking and feature excellent views from the surrounding area, the sea cliffs next to Svortuloft made it our personal favorite of the two.
Stroll along Djúpalónssandur.
One of Iceland's most famous black sand beaches, this was once a popular fishing port.
Today, you can either admire the beach from the viewpoint above or walk through the black sand to the water's edge.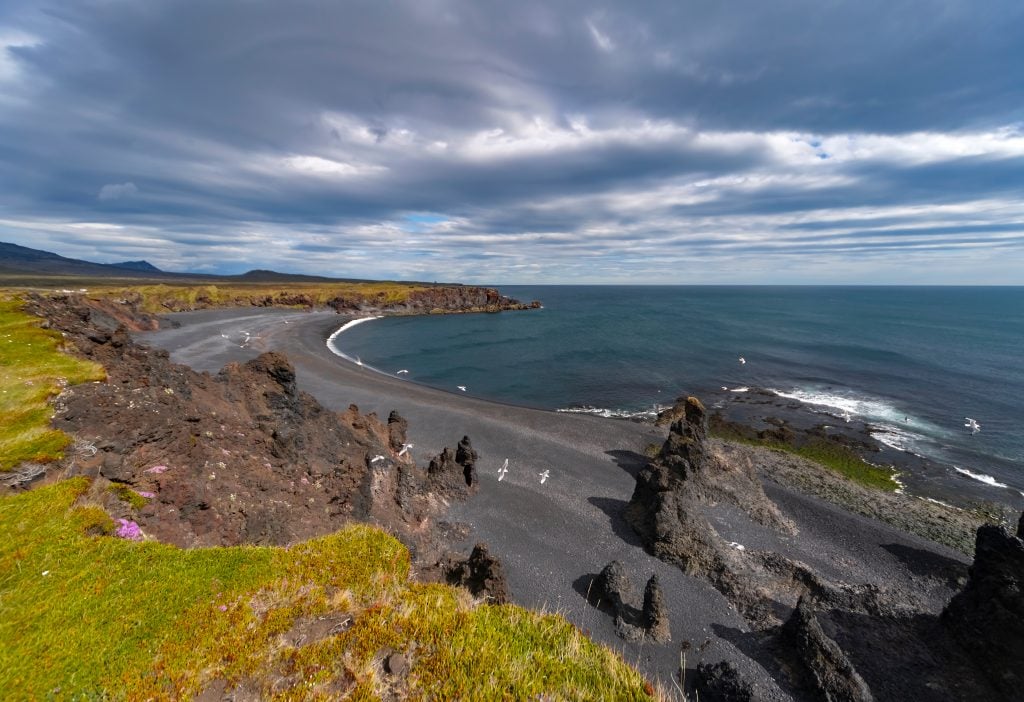 Pay a visit to Arnarstapi and the Arnarstapi Cliffs.
The small village of Arnarstapi is home to some of western Iceland's most scenic (and easily accessible) coastline.
From basalt columns to arches to dramatic beaches to swoopng birds, this cliff walk is a can't-miss stop on an Iceland road trip.
Technically, the cliff walk runs for 2.5 kilometers each way, from Arnarstapi to Hellnar, but most people stick around the Arnarstapi section, which is considered the most scenic area.
Plus, you may be in Hellnar soon enough anyway…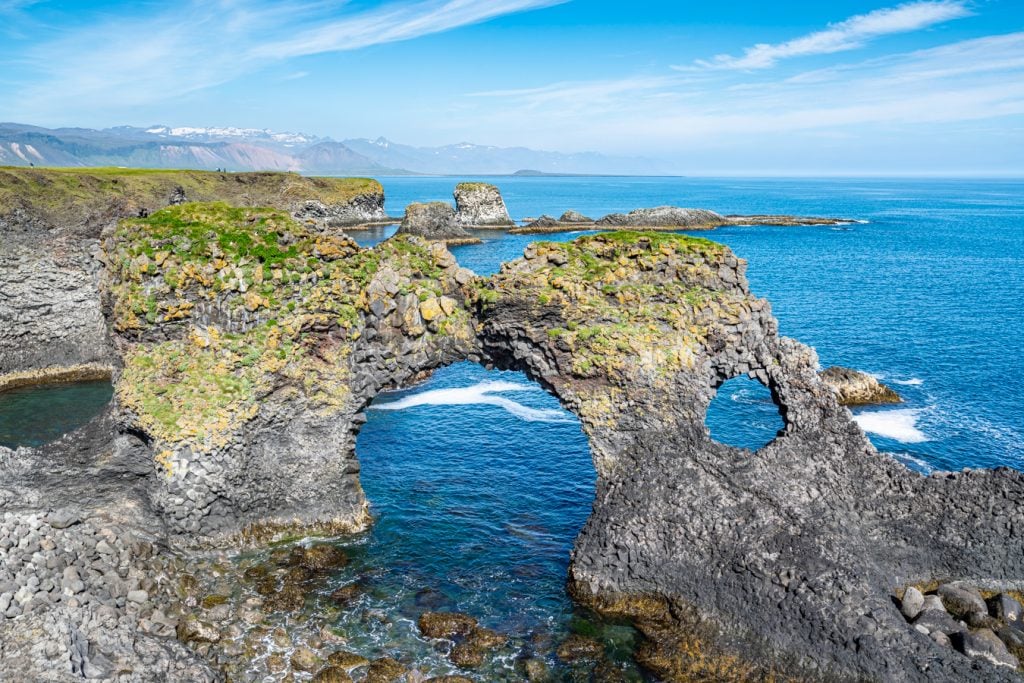 Where to Stay on Day 9 of Your Iceland Road Trip
If your flight doesn't leave until late tomorrow night or the following morning, you may want to simply stay on the southern side of the Snaefellsnes Peninsula!
If so, the Fosshotel Hellnar is a popular, well-reviewed option just a short drive from Arnarstapi.
It also belongs to the same brand as the hotel from the Skaftafell/Jokusarlon area!
Alternatively, if your flight leaves earlier in the day tomorrow, you may want to sleep by the airport–this is the airport hotel we stayed in (more on that below).
Amount of Driving As Written
About 2 hours (95 kilometers).
Day 10: Say goodbye to Iceland with a soak in the Blue Lagoon.
On the final day of your Iceland road trip, your priorities are simple: get close to KEF Airport with enough time to spare so that you're not stressed… and experience one of the top attractions in Iceland.
Relax at the Blue Lagoon.
Iceland's iconic Blue Lagoon is one of its most famous landmarks, and since it's much closer to the KEF Airport than it is to Reykjavik, it makes the ideal way to say goodbye to Iceland.
Whether you have 2 hours or 6, the Blue Lagoon is worth your time–especially as you're no doubt exhausted after spending a full 10 days road tripping Iceland.
You can also add on extras, such as massages, if you feel like treating yourself before heading home.
Be sure to book your tickets well in advance, especially during peak season.
The Blue Lagoon is known to sell out!
Where to Stay on Day 10 of Your Iceland Road Trip
If you need a hotel room by the airport as you prepare to say goodbye to your 10 days in Iceland, we stayed in and can recommend the Aurora Hotel at KEF.
The interior is a bit dated, but it's comfortable enough for one night and–most importantly–is within walking distance of both the terminal and car rental offices.
In other words, you can turn in your rental car once you check in to the hotel, and not have to worry about handling it before your flight.
The covenience can't be beaten, and we'd happily use this hotel again.
Amount of Driving As Written
About 3.5 hours (260 kilometers) if you're starting from the Snaefellsnes Peninsula.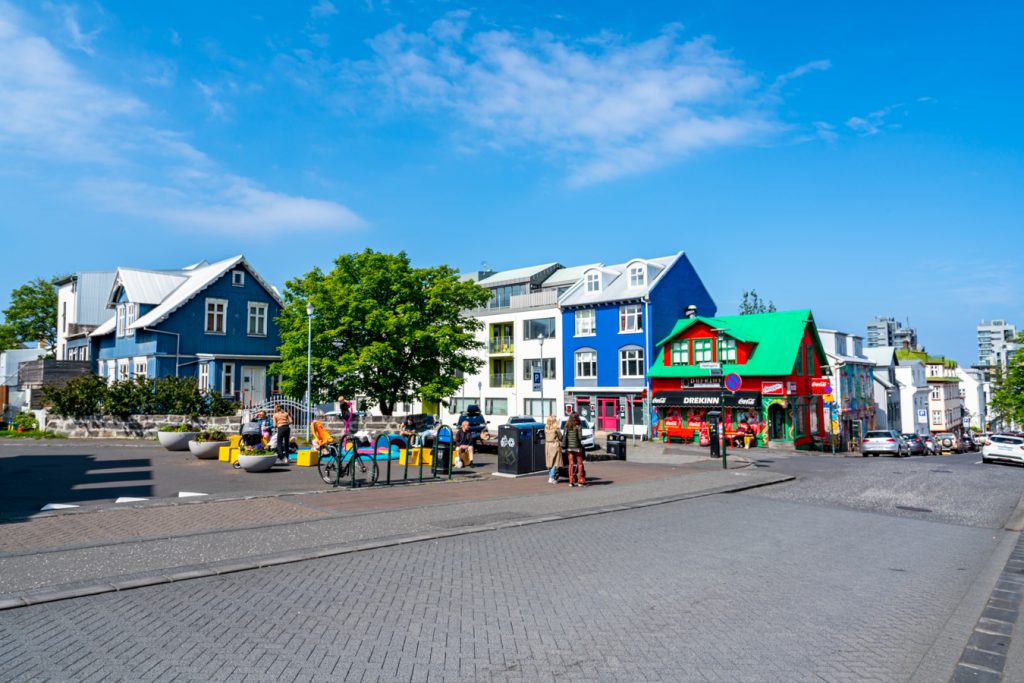 Other Destinations to Add to Your Iceland Itinerary
While this 10 days in Iceland itinerary is jampacked as it is, if you're lucky enough to have 2 weeks or more to explore Iceland, you'll find plenty of other adventures to enjoy!
Here are a few more incredible places to visit in Iceland that would be excellent additions to a Ring Road trip.
Husavik
Located on the north coast of Iceland, charming Husavik is known as the Whale Capital of Iceland (and now, for being featured in the 2019 Netflix movie, Eurovision).
We chose to include a whale watching tour from Akureyri on this Iceland itinerary instead of Husavik, as Akureyri is located on the Ring Road and it's hard to justify any more extra driving on this already long road trip!
However, Husavik is a delightful place to visit and is about 45 minutes (57 kilometers) north of Myvatn, so if you'd like to swap something else on this itinerary out in order to visit Husavik, you absolutely can.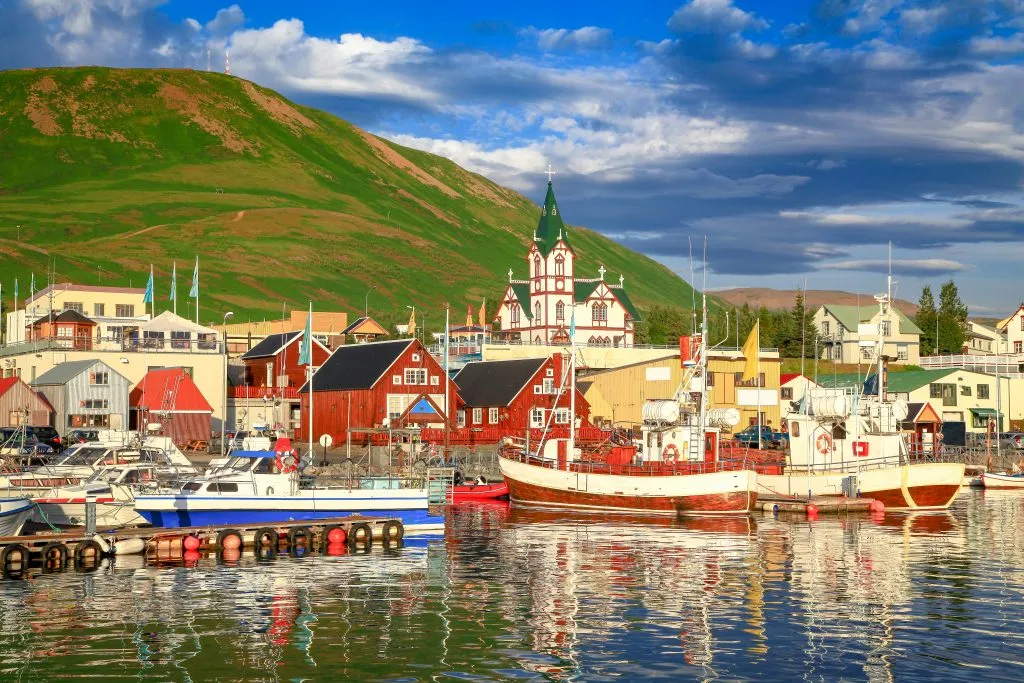 The Highlands
By definition, an Iceland Ring Road itinerary skips the center of the country.
If you have time to venture further inland, though, that's where you'll find the wild and wonderful highlands.
The highlands are primarily accessible during the summer months, and you will need either a 4×4 vehicle or a guided tour in order to access them.
With one day to explore, incredible Landmannalaugar, with its rainbow-colored hills, is a popular destination.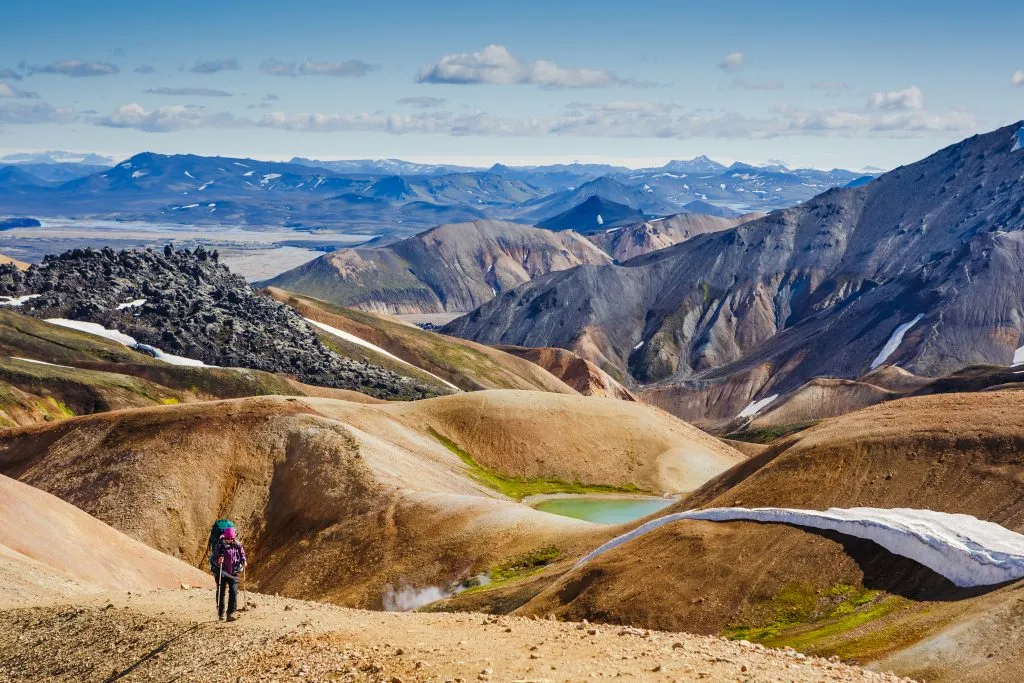 Fagradalsfjall Volcano
In 2021, Iceland gained a new tourist attraction with the incredible eruption of the Fagradalsfjall Volcano, which lasted a whopping 6+ months.
Though the eruption is now officially over, the volcano–thanks in part to its proximity to Reykjavik–is still a very popular addition to Iceland itineraries.
Several guided tours have popped up to help visitors find the best (and safest) hikes and viewpoints at this new destination. This tour is among the most popular.
Glymur Waterfall
At almost 7 kilometers long, hiking the Glymur Waterfall Trail is the longest hike mentioned in this Iceland travel guide!
However, it's also gorgeous and the second-tallest waterfall in Iceland!
If you have 3-4 hours to spare (plus a bit of drive time) when traveling from the Snaefellsnes Peninsula back to Reykjavik/KEF, hiking Glymur Waterfall is an incredibly memorable stop on your last day in Iceland.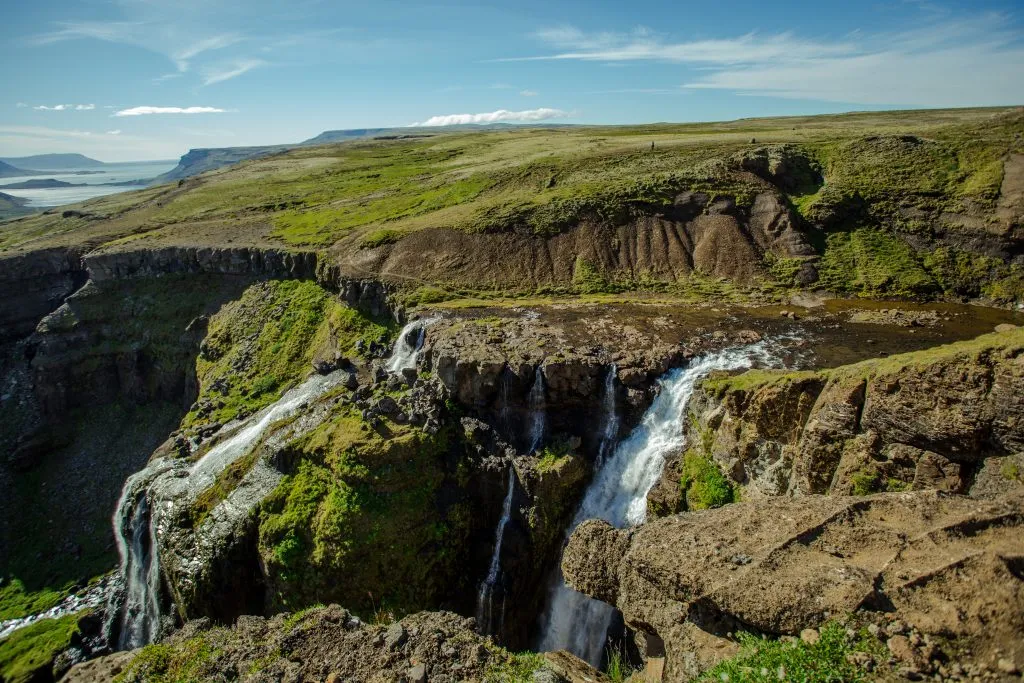 Aldeyjarfoss
Aldeyjarfoss is about an hour and a half south of Myvatn, and while I couldn't find a way to justify the drive when putting together this 10 day Iceland itinerary, we absolutely loved visiting!
This remote waterfall is far less crowded than many of Iceland's most popular spots and is incredibly striking.
Note that–especially if you want to visit the lesser-visited side pictured here–you will need a 4×4.
Tips for Making the Most of 10 Days in Iceland
Less is more.
Driving the full Ring Road in Iceland in 10 days is doable… but extremely ambitious.
Essentially, it's the minimum amount of time that most travel writers would recommend driving the full loop in, as opposed to focusing on the easier-to-access South Coast and Snaefellsnes Peninsula.
As a result, I've written this 10 day Iceland itinerary for an ambitious and excited traveler who is hoping to see it all–which means taking advantage of Iceland's midnight sun in the summer in order to maximize sightseeing.
Long story short? You'll be exhausted by the end.
If there are certain stops that don't appeal to you, or days where driving an extra 40 minutes to look at your 50th waterfall just doesn't sound as good as an early night, don't sweat it!
Seeing absolutely all of the best places to visit in Iceland in one trip is never going to be doable (many of them aren't even listed here due to time!), so focus on what you can do rather than on what you can't squeeze in.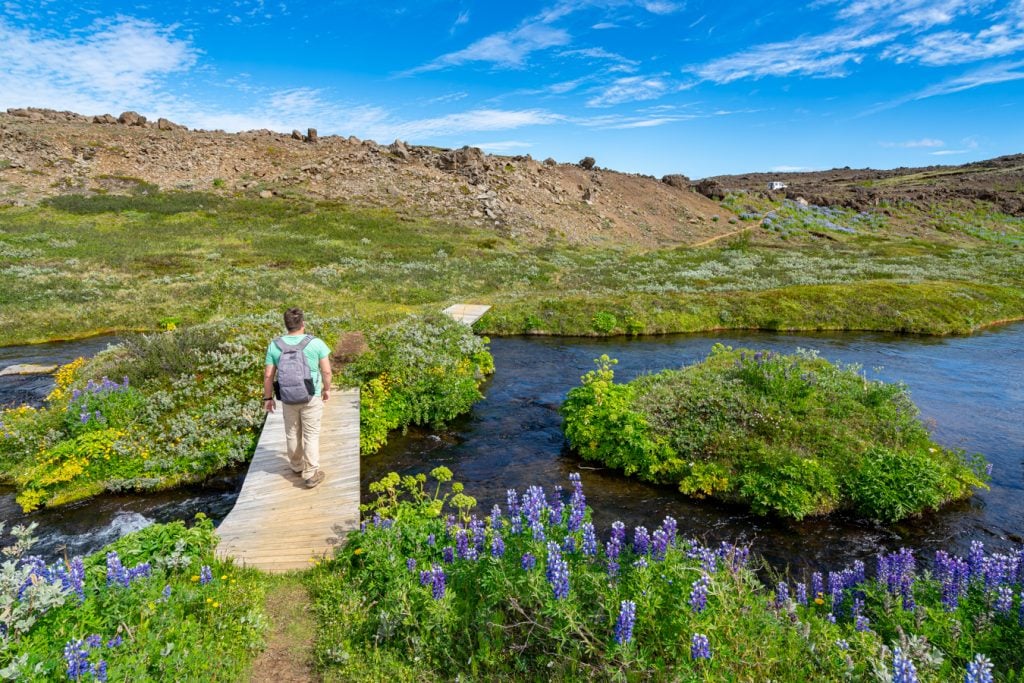 Keep an eye on the clock.
This is essential when road tripping Iceland in the summer.
It is very, very easy to look down at the dashboard and suddenly realize that you're visiting a waterfall at 9:30 PM when you planned to check into your hotel by then!
The photo of Seljalandsfoss with bright blue skies behind it that is at the top of this blog post?
We snapped it at 8:37 PM.
Be flexible with what you see.
Weather not cooperating? Tours sold out?
Run out of time and have to skip a few Iceland road trip stops?
Don't worry too much!
A simple reality of traveling in Iceland is that its remarkable environment is remarkably unpredictable, and things can certainly go sideways!
The good news is that there's always another otherwordly viewpoint or magnificent waterfall around the next corner, so you're essentially guaranteed to have plenty of wonderful and unforgettable experiences while traveling Iceland.
Bring a sleep mask.
… And make it a good one!
I'll be honest: we found the midnight sun very daunting during our summer road trip in Iceland.
It's beautiful, of course, and incredibly cool to photograph waterfalls at 9:30 PM… but when it's time to go to sleep, that same daylight can be painful!
And, unfortunately, the fantastic metal shutters that are popular throughout much of Europe and block out all light while sleeping aren't easy to find in Iceland (which definitely took us by surprise!).
Jeremy loved this sleep mask, though he said he wishes it was slightly thicker, and I used this handy one that doesn't press against your eyelids.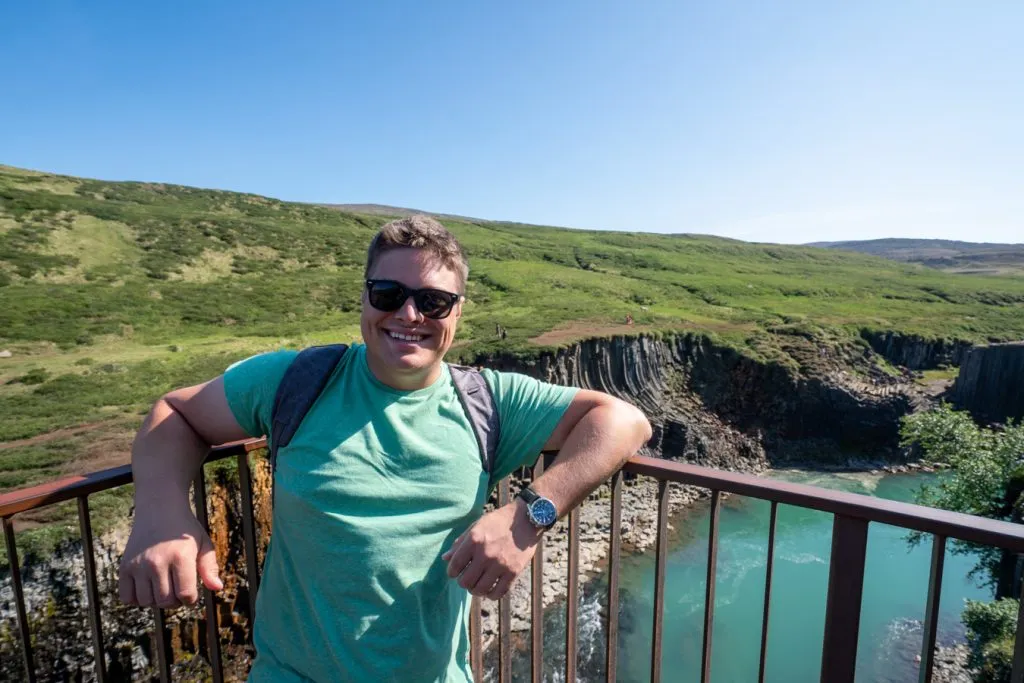 Keep an eye on the weather.
Iceland's weather is famously intense, and it is absolutely worth planning your 10 days in Iceland around!
If you have a clear morning and a chance of clouds in the afternoon… get up as early as possible to make the most of what clear weather you have.
Don't plan on getting anywhere fast.
Long driving distances combined with sublime scenery and a temptation to pull over to take photos or admire the view every 800 feet or so does not result in a very efficient road trip!
It does result in a very memorable one, though.
FAQ About Taking an Iceland Ring Road Trip
How's the driving?
In the summer, driving the Ring Road in Iceland is quite simple for confident drivers!
The Ring Road, while popular, is also very long–so while you may deal with some congestion around iconic attractions, you'll also spend plenty of time amongst wide open spaces.
You will absolutely want a GPS for navigation, though.
Check prices & shop rental cars for your Iceland road trip today!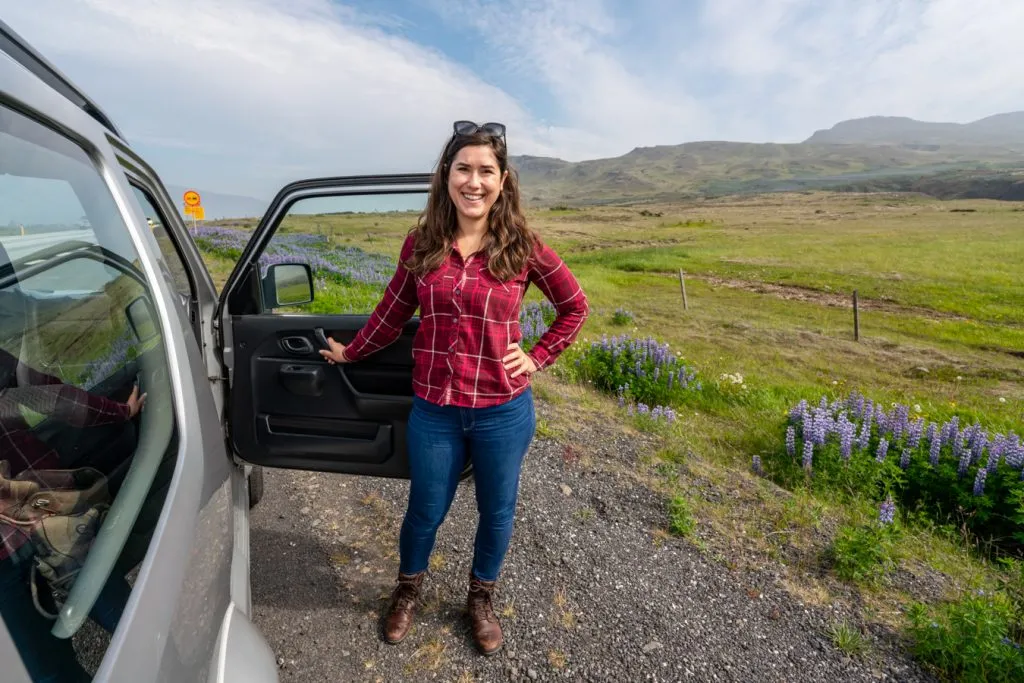 How far in advance should you book your Iceland Ring Road trip?
As soon as you possibly can!
Iceland contends with 3 distinct challenges–for lack of a better word–that all add up to a fairly competitive tourism environment where you want to claim your rental car, lodging, and even tours as soon as possible.
First, it's extremely popular!
Second, even with a flurry of construction as its fame has risen in the last couple of decades, Iceland is ultimately a fairly rural place outside of its major cities, and there's only so much accommodation to go around.
And third, this extremely popular place condenses the vast majority of its tourism into a very short time period, as the summer weather for a "traditional" Iceland trip only sticks around so long.
All of this adds up to visitors having a much more fun–and far less stressful–trip to Iceland if they're able to plan ahead.
Is driving the Ring Road possible during winter in Iceland?
Technically it is, but it's not recommended for travelers who aren't a) used to driving in snowy, difficult conditions and b) very comfortable with unpredictability, as you never know when a storm will hit.
For most visitors taking their first trip to Iceland, it's best to stick with the summer months for driving Iceland's Ring Road.
Should you drive the Iceland Ring Road clockwise or counterclockwise?
Both are wonderful options, but we recommend doing it counterclockwise!
… And we say that because we actually did it clockwise and (mildly) regretted it.
It would've been nice to kick off our road trip in Iceland with some of its most iconic sights, rather than spending 10+ days anticipating them before arriving!
Plus, by starting with the most popular destinations, you'll slowly lose the crowds as you make your way around the Ring Road, which certainly beats the alternative.
Try not to overthink this too much, though–it is a circle, after all.
Either way works!
Do you need a 4×4 to drive the Ring Road in Iceland?
No, you don't!
In the summer, you can drive the full Ring Road, including all of its most iconic stops, without a 4×4.
That being said, if you want to visit some hidden gems and more offbeat spots, you may want to have one.
We had a 4×4 for our Iceland road trip and enjoyed having the extra freedom.
What to Pack for Your 10 Day Iceland Itinerary
Don't forget these essentials when packing for your 10 days in Iceland!
… But don't worry if you forget something, either.
You'll find well-stocked clothing and outdoor shops throughout your trip, particularly in Reykjavik, Vik, and Akureyri.
That being said, clothing and equipment in Iceland are–like virtually everything else in the country–very expensive, so it's best to come prepared!
Travel Insurance — We don't ever suggest traveling without travel insurance–anything can happen, and an epic Iceland Ring Road trip is definitely a case of better safe than sorry.
We use and recommend Safety Wing for trips to Iceland.
Iceland Guidebook — It's pretty rare that we choose to carry a paper guidebook these days, but Iceland was an exception!
Long, difficult-to-pronounce (for English speakers) names and attractions literally around every corner meant that having a guidebook with us as we explored came in handy!
We used Lonely Planet Iceland during our trip.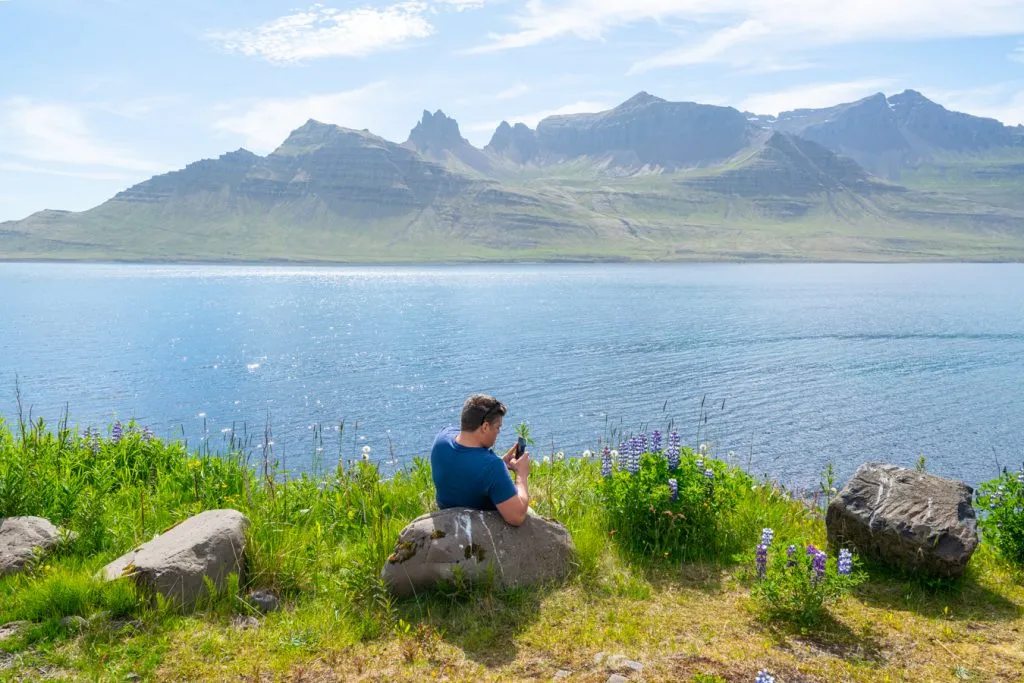 Travel Adaptors for Iceland — If you're coming from outside of Europe (or from the UK), you'll definitely need adaptors for your electronics.
We use these and have never had any issues.
Waterproof Jacket — A must in Iceland, for both practical and photography reasons!
I love this yellow rainjacket that I've had for a few years, and Jeremy loves his Marmot waterproof jacket.
Layers — Layers are key when visiting Iceland, even in the summer!
We had exceptionally good weather during our trip, and most days I still stuck with a long-sleeve shirt or light sweater, with a jacket to throw over it.
Sometimes I also included my favorite Northface fleece that has been with me for 10 years and counting.
Comfortable Walking Shoes — Depending on exactly what you plan to do during your 10 days in Iceland, you may want a pair of comfortable walking shoes and a pair of hiking boots.
I mostly stuck with my trusty Ugg Kesey Motorcycle Boots, which are waterproof, warm, and extremely comfortable. I've been wearing them for years!
For activities like glacier hiking, I switched to hiking boots.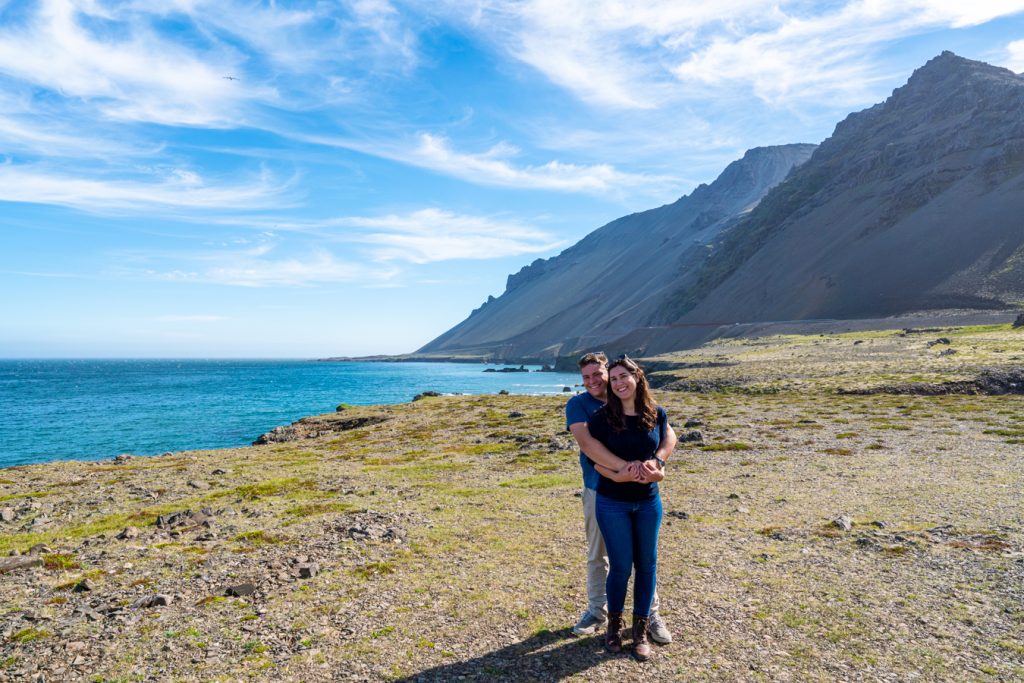 Bathing Suit — When thinking about bundling up with plenty of layers in July, it's easy to forget that you'll also want a bathing suit with you in Iceland!
Waterproof Pants — While we didn't use these as much as we feared we would need to (we got very lucky with the weather on our July trip!), they came in very handy for our glacier hike and were very comfortable.
I used these pants, and Jeremy wore these.
Eye Mask — We mentioned this above, but getting good sleep when contending with the midnight sun was a challenge for us during our time driving Iceland's Ring Road.
You will absolutely want a good sleep mask like this with you during your summer trip to Iceland.
Sea-Bands + Non-Drowsy Dramamine — If you get motion sickness like me, you'll definitely want to come prepared for any and all boat rides in Iceland (like whale watching tours, for instance).
Binoculars — Iceland is home to all sorts of delightful creatures, including a wide variety of birds (like puffins!) and, of course, whales.
Binoculars are an inexpensive and easy addition to your Iceland packing list, and they'll greatly enhance your trip to the coast!
Iceland Ring Road Trip Itinerary Map
Take This Map With You! Click each highlight to pull up the name of the destination. To save this map to "Your Places" on Google Maps, click the star to the right of the title. You'll then be able to find it under the Maps tab of your Google Maps account! To open the map in a new window, click the button on the top right of the map.
---