Nestled amongst the iconic vineyards of southwest France, discovering the best things to do in Saint-Emilion is a feast for all the senses.
From its underground church carved of stone to its bell tower that we had to lock ourselves into to climb, and from its world-famous wines to its quiet corners, Saint-Emilion, France (also written as St. Emilion) is an easy place to love.
While it's popular to take a day trip to Saint-Emilion from Bordeaux–and it's certainly worth doing if you only have a day to spare–we delighted in taking a full five days to savor this medieval village.
Here are the best things to do in Saint-Emilion, plus what you need to know to plan a trip to this magical corner of France.
A Quick Note on Saint-Emilion: Jurisdiction vs Town
As you're planning your trip to Saint-Emilion, you'll likely find references to it in three different ways.
First, there's the Jurisdiction of Saint-Emilion, which is a UNESCO World Heritage Site that includes the town itself, surrounding villages, and–most importantly–the unique landscape of world-class vineyards.
Then, there's the famous Saint-Emilion wine produced by the aforementioned vineyards.
And, finally, there's the medieval town of Saint-Emilion, France, which this blog post primarily focuses on.
That being said, you can't visit the town of St. Emilion without also enjoying the broader Jurisdiction, so both are referenced in this post!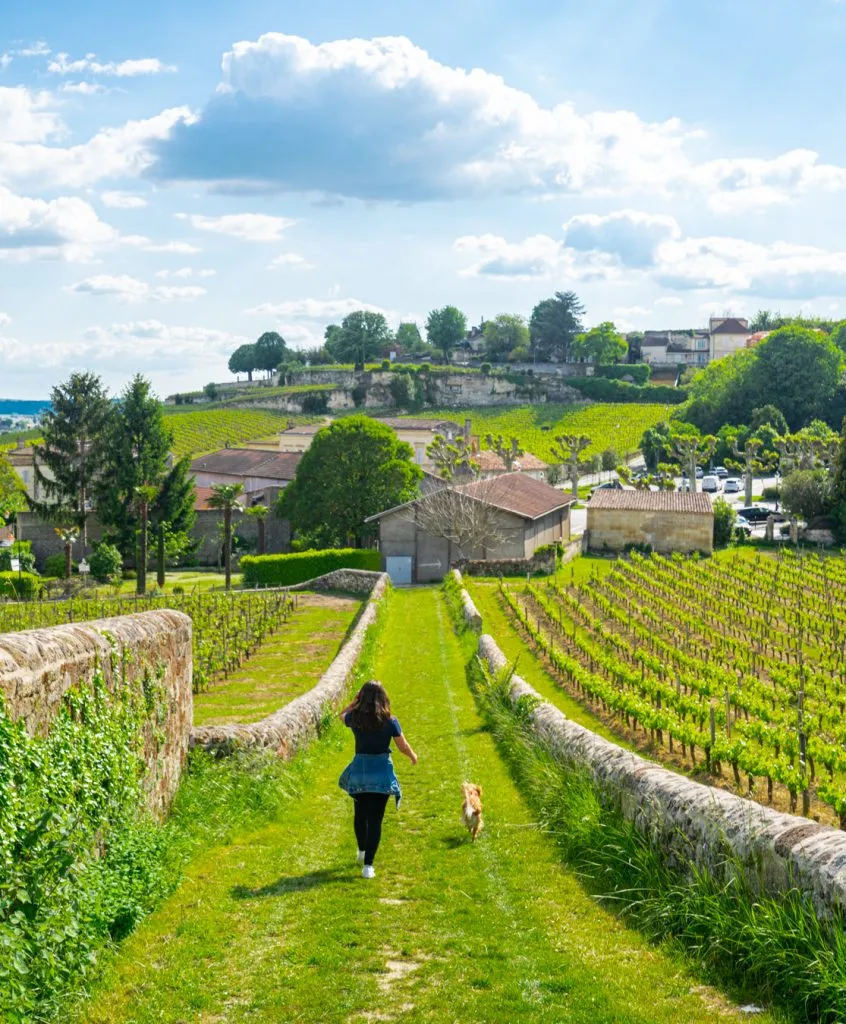 Your First Stop When Visiting St. Emilion
Whether you're visiting St. Emilion on a day trip or for several days, if you want to visit the town's most famous historical monuments, head directly to the tourism office once you arrive.
The tourism office is where you'll book your tour of the Monolithic Church and other underground monuments (well worth it–more on that below), and get access to the bell tower to climb it if you choose (also worth it).
If you want information on which chateaus to visit, they can help with that as well.
As a tour of the Monolithic Church can only be booked in the tourism office (and only some tours are given in English), it's essential to claim your spot quickly if you have your heart set on visiting!
The tourism office is located at the "top" of town, right across from the bell tower.
The address is Place des Créneaux Le Doyenné, 33330 Saint-Émilion, France.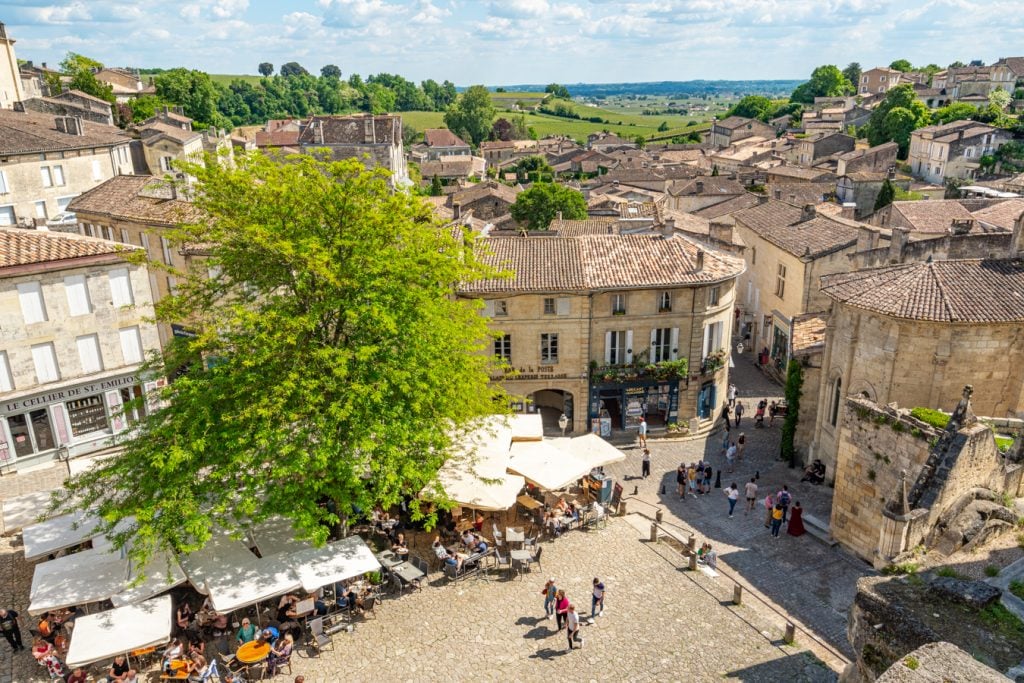 The Best Things to Do in Saint-Emilion
Tour Saint-Emilion's Monolithic Church and underground monuments.
Did you know that the largest underground church in Europe is located in Saint-Emilion?
Legend has it that the entire Monolithic Church was carved from a single, solid stone–and it is truly an incredibly impressive sight.
In the 8th century, a monk named Emilion (hence the name of St. Emilion!) moved into the area and set up a hermitage in a cave there.
Over time, additional spaces including a chapel, catacombs, and of course the Monolithic Church (carved over time between the 9th and 13th centuries) were added to the city's underground treasures.
Add in the fact that the Monolithic Church is a pilgrimage stop along the famous Camino de Santiago, and it's easy to see why it's one of the best places to visit in Saint-Emilion.
No photos are allowed inside, but you absolutely will not regret visiting.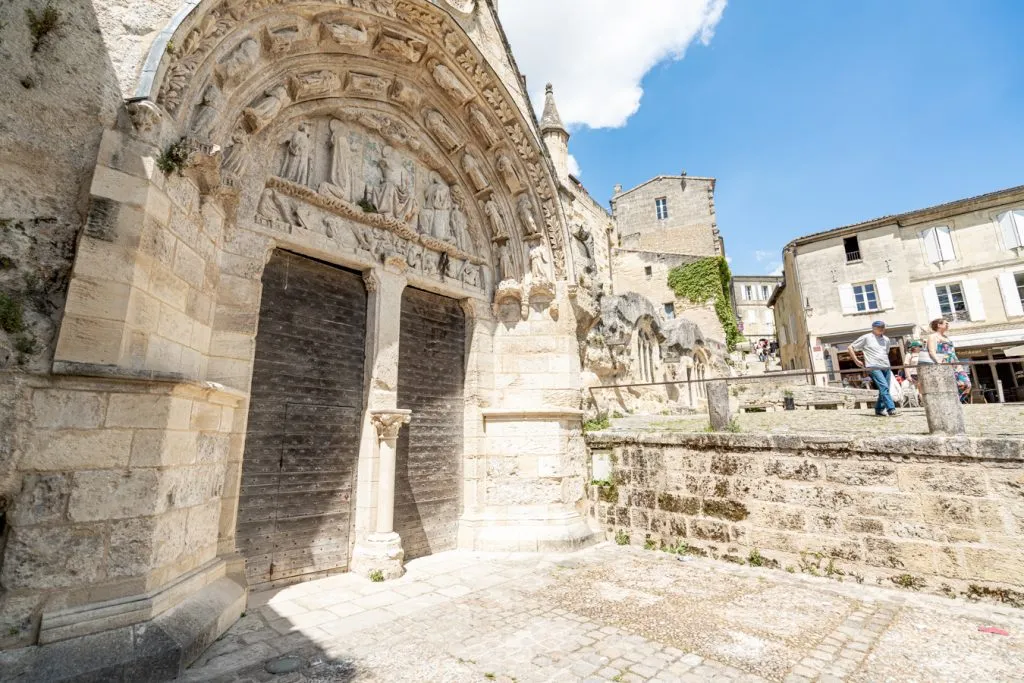 Tips for Visiting the Monolithic Church
As I mentioned above, the only way to tour the Monolithic Church and other monuments today is via a guided tour booked in person through the tourism office.
As of May 2022, tours in English are given Monday-Saturday at 2:00 PM, and they do sell out (we had to book a couple of days in advance for ours).
Tours take between 45 minutes and an hour and include stops in what might have been Saint-Emilion's hermitage (complete with a stone chair that legend says grants fertility), a chapel, catacombs, and the church itself.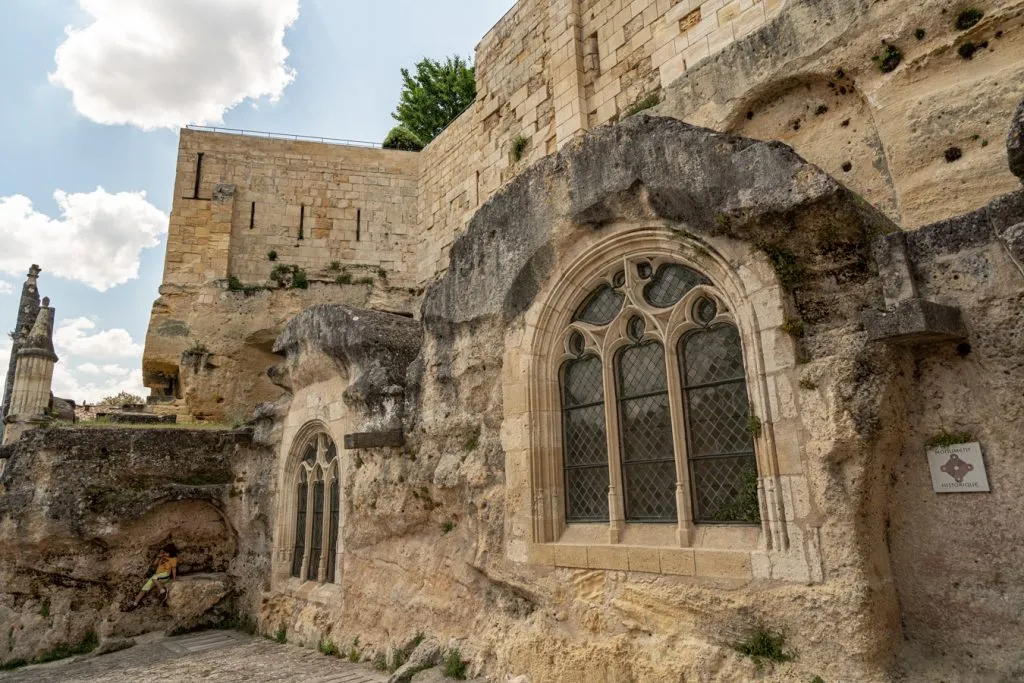 Lock yourself inside the bell tower.
The bell tower of the Monolithic Church stretches 68 meters into the air, and offers the highest vantage point of Saint-Emilion.
Climbing its 196 steps and admiring the view at the top is one of our absolute favorite things to do in Saint-Emilion, and I cannot recommend it more!
To enter the bell tower, you'll need to pay a couple of Euro to the tourism office, where they'll give you a key to the bell tower.
When you enter, you'll be instructed to lock yourself in before beginning the climb.
Not only is locking yourself into a centuries-old bell tower incredibly memorable, but the need to go to the tourism office before accessing the monument also keeps the crowds down (we only saw a couple of other people during our climb).
The stone steps are situated in a tight spiral, and the wooden steps you can see from the ground are not part of the climb.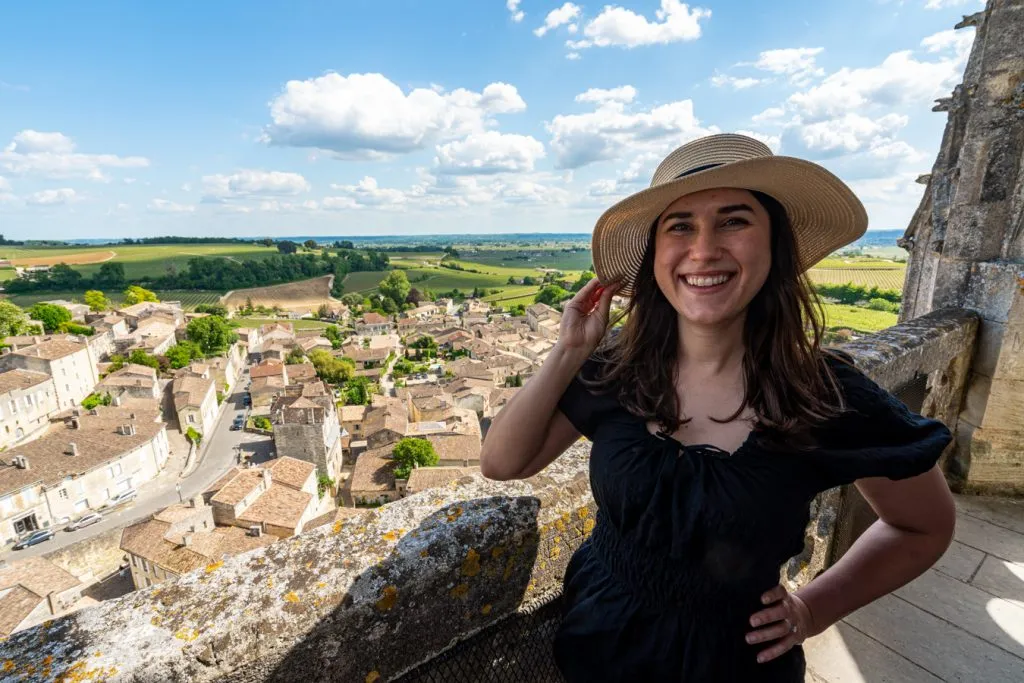 Take a chateau tour (or three).
One of the absolute top attractions in Saint-Emilion–and the reason that many visitors travel here in the first place–is the many, many wine-producing chateaux.
As you drive, stroll, or bike your way through this famous countryside, you'll be treated to stunning chateau after stunning chateau, each surrounded by a seemingly neverending number of rows of picturesque grapevines.
Touring St. Emilion's chateaus in order to learn about the wine-making process is a blast, whether you're a true wine nerd, simply interested in admiring the views, or somewhere in between.
Each chateau has its own personality and spin on the tradition of Saint-Emilion wine tours, with some offering picnics, wine tastings, and even playgrounds for children.
Many Saint-Emilion chateaux also have tours that can be booked online!
Have a picnic at Les Cordeliers.
Housed in a former monastery located a short walk from just about anywhere in Saint-Emilion, Les Cordeliers boasts a centuries-long history.
The charming cloister where you can now sip the famous Crémant de Bordeaux (local sparkling wine very similar to champagne) started its life as a Franciscan monastery in the 14th century.
Fast forward past the 100 Years War, the French Revolution, and a 19th-century idea to use the quarries underneath the monastery to create sparkling wine, and you have the Les Cordeliers of today.
With a guided tour, you can visit the tunnels underneath the former monastery where the famous Crémant de Bordeaux is created.
Alternatively, you can load up a picnic basket with local products, purchase a bottle of wine, and enjoy an afternoon in the shade of the historic cloisters.
… Or, ideally, you can do both!
Admire the ruins of Ursuline's Convent.
Unlike Les Cordeliers, Ursuline's Convent was not repurposed after the French Revolution caused the nuns to shut their doors.
Founded in 1620, though, Ursuline's Convent has a long history in Saint-Emilion.
While the convent was founded for the purpose of educating local girls, the nuns are well remembered today for another reason… inventing the Saint-Emilion macaroon!
On the edges of town, you can still spot the ruins of the convent (though be sure not to wander into private fields to take a closer look–we spotted a few "no trespassing" signs as we strolled).
For a beautiful view of the ruins of the convent, climb to the top of the King's Keep, where we took the below photo.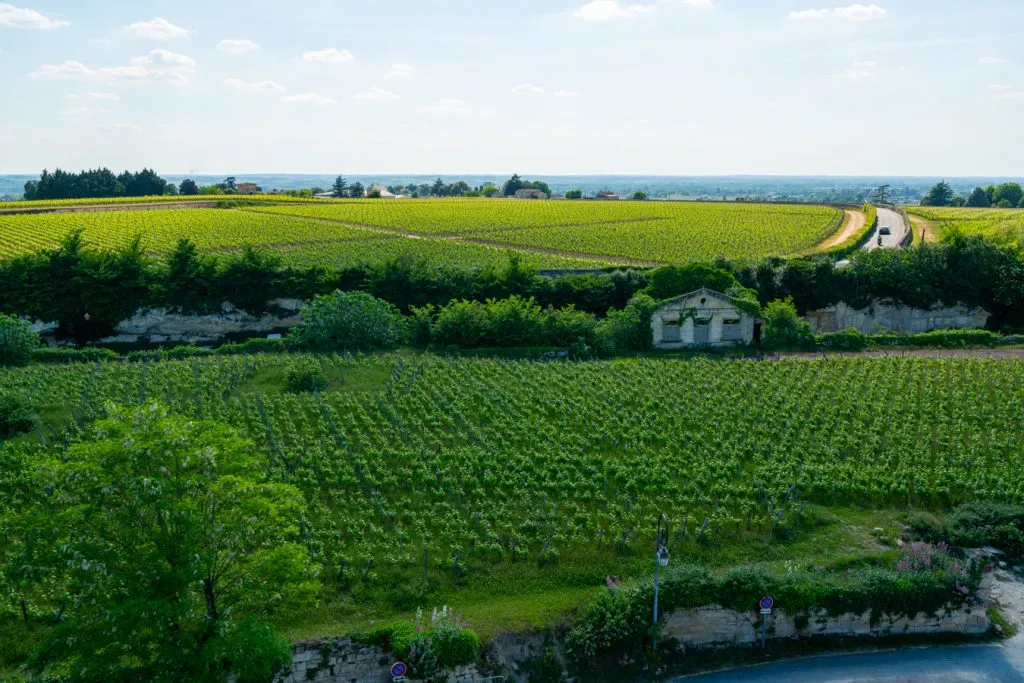 Sample the original macaroons.
The delicious macaroons that were created by the sisters of Ursuline's Convent can still be found in town today, and tasting them belongs on any list of what to do in St. Emilion!
This delicious almond cookie is the forerunner of the famous French macarons we enjoy today, though the original is a bit different.
Here, you'll find one cookie served plain, rather than two sandwiched together with ganache.
You'll find versions all over today, but Nadia Fermigier is considered to serve cookies that are directly descended from the original.
We can confirm that they are delicious!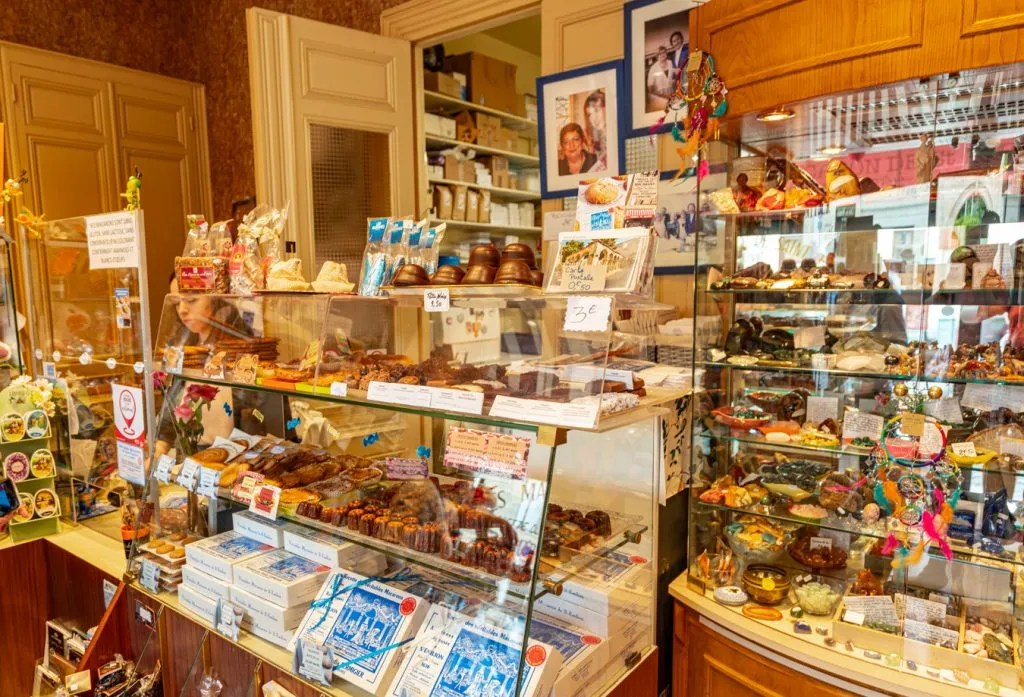 Keep an eye out for Porte Brunet.
Located along the ramparts of St. Emilion, Porte Brunet is one of the only remaining visible gates left of 12th-century fortifications that once defended the city.
Wars, time, and 19th-century development all played a role in the loss of the several other gates that once marked the entrances to the city, but Porte Brunet still stands tall as a way to peek into the history of St. Emilion.
… and Porte de la Cadene.
Not only is this historic gate beautiful in its own right, but it's also located right next to the last timber-framed house in all of Saint-Emilion!
The home dates to the 16th century and is well worth a quick look when visiting Saint-Emilion.
Climb to the top of the King's Keep.
While the views from the top of the King's Keep (sometimes called the King's Tower) aren't quite as exceptional as those from the top of the bell tower, they come close!
For a small fee, you can climb the 118 steps to the top of the 13th-century tower, and enjoy the magnificent view at the top.
In addition to a beautiful view of the village, you'll also be treated to views of surrounding vineyards, the winding roads leading out of town, and even the ruins of Ursuline's Convent.
Even if you don't have a chance to climb to the top of the tower, though, it's worth walking up to the base of it: the views of Saint-Emilion are almost as lovely from there as they are from the top.
Ranger loved the grassy lawn here, so we watched the sunset from the base of the King's Keep almost every night of our trip!
Keep an eye out for the "secret" (not really, but it takes a moment to spot it) staircase leading up to the base of the tower, as well.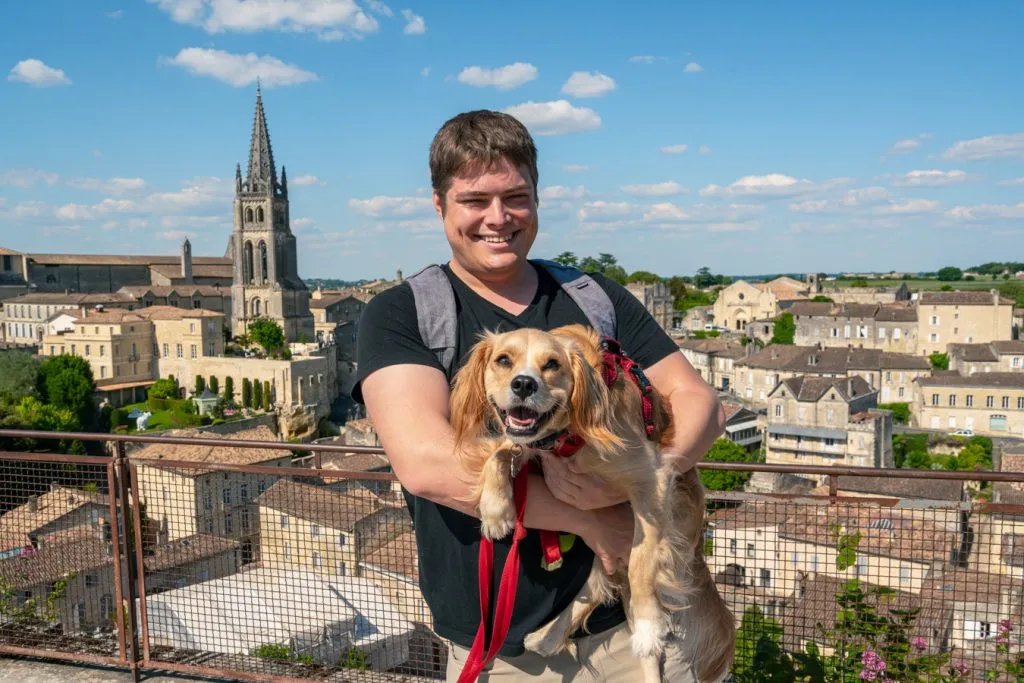 Shop for delicacies at the market.
Of course, no trip to one of France's small towns is complete without perusing the market!
As of May 2022, Saint-Emilion's market takes place on Wednesdays (I understand that it used to be Sundays too–we'll see if they bring that back at some point) and is a must-see if your trip coincides with it.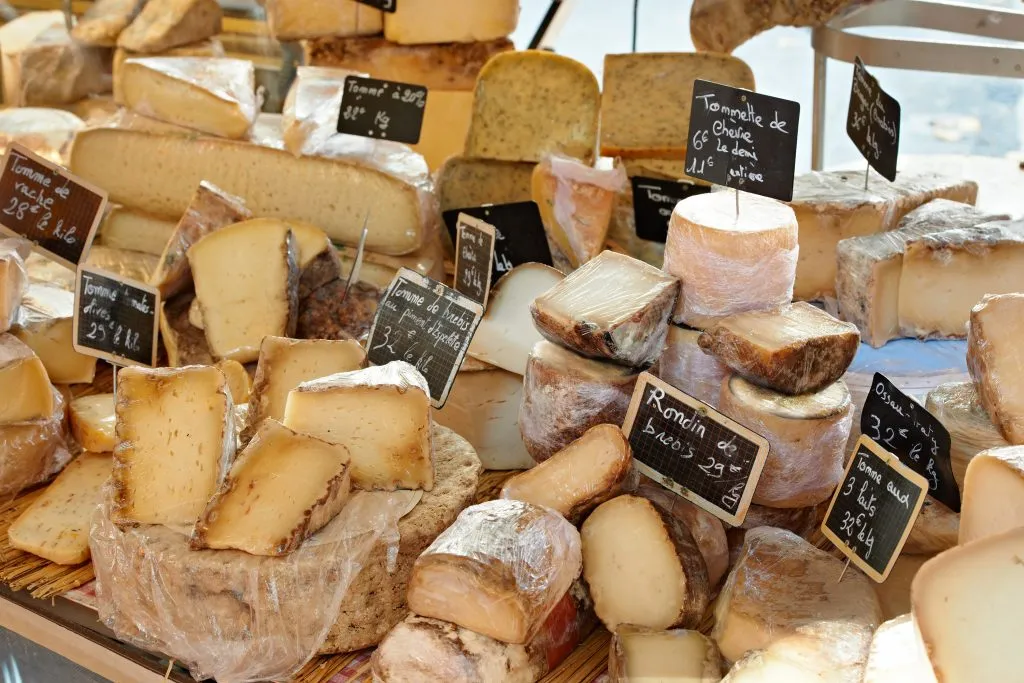 Get lost amongst the cobblestone streets.
Even away from its famous monuments and idyllic viewpoints, Saint-Emilion is simply stunning to look at it.
From bakeries to churches to cobblestone streets to wine shops (so many wine shops!), it is a delight to get lost both in the town center and along its perimeter.
After all, when standing in the center of Saint-Emilion, you're never more than a 15-minute walk from seemingly neverending fields of grapevines!
Some of our fondest memories from our time spent visiting Saint-Emilion involve wandering aimlessly and stopping (sometimes literally) to smell the roses.
Enjoy some canelés.
Difficult to describe but utterly delicious, canelés are a French pastry that is, vaguely, like a creme brulee that holds its shape.
That description doesn't do these morsels justice, but nothing but trying one will!
Canelés (also written as cannelés–the story behind the spelling and history is long but interesting) hail from nearby Bordeaux, and you can find them in just about every bakery in Saint-Emilion as a result.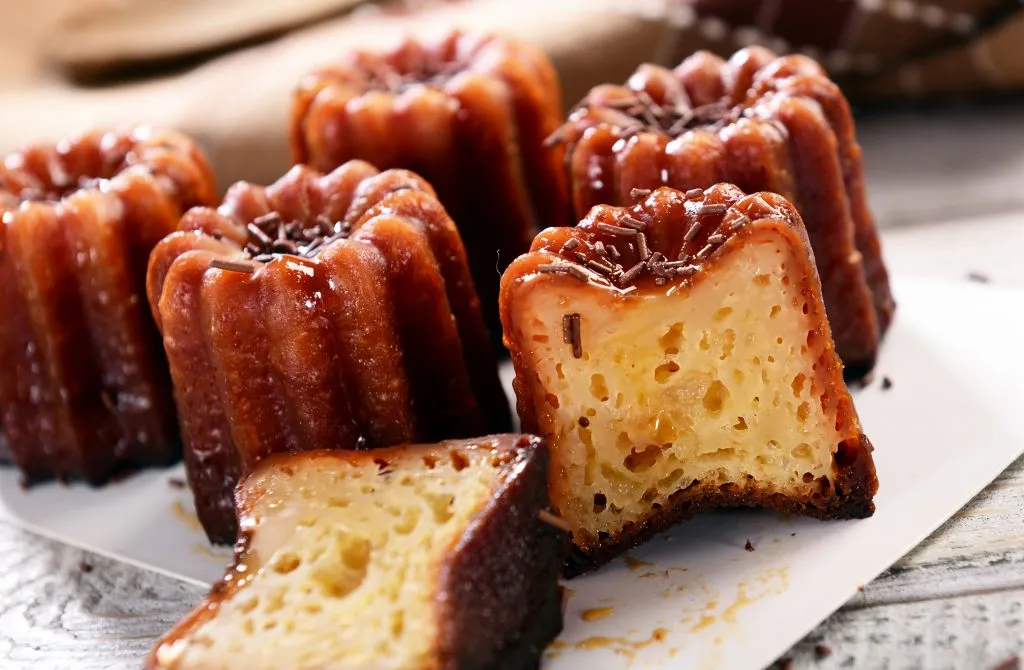 Check out the Wash Houses of Saint-Emilion.
Saint-Emilion is surrounded by underground water, which has long provided wells to the city.
In the 19th century, two such spots (Fountain of the King and Fountain of the Place) were turned into washhouses, where women of the city would come to rinse their laundry.
Today, as you enjoy all the Saint-Emilion activities and adventures, you'll no doubt pass by at least one of these washhouses.
They don't take long to see, but if you're looking for a shady spot to rest for a few minutes, they're a great place to take a break!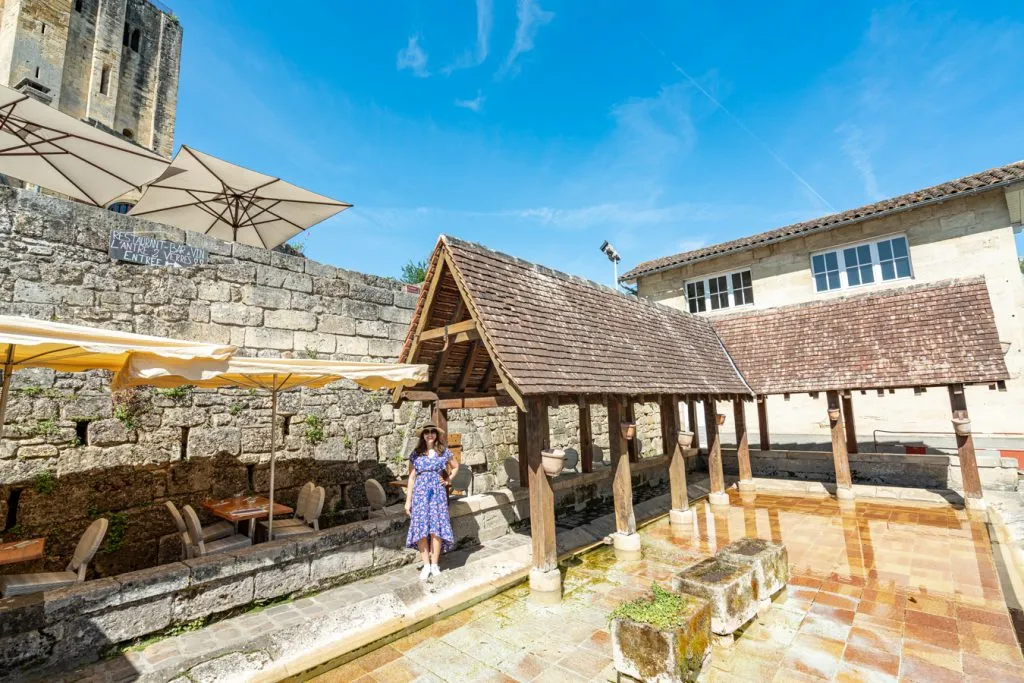 Buy some Saint-Emilion wine to remember your trip by.
Of course, you can't go to a world-famous wine region without taking some wine home!
You truly cannot throw a stone in Saint-Emilion without hitting a magnificent wine shop staffed by a knowledgeable sommelier who will happily ship your wine home for you (wherever home might be).
We had a wonderful experience at Saint-Emilion Boutique Wines (address: 9 Rue de la Prte Bouqueyre, 33330 Saint-Émilion, France), and my grandparents had a full case shipped back to their home in the USA.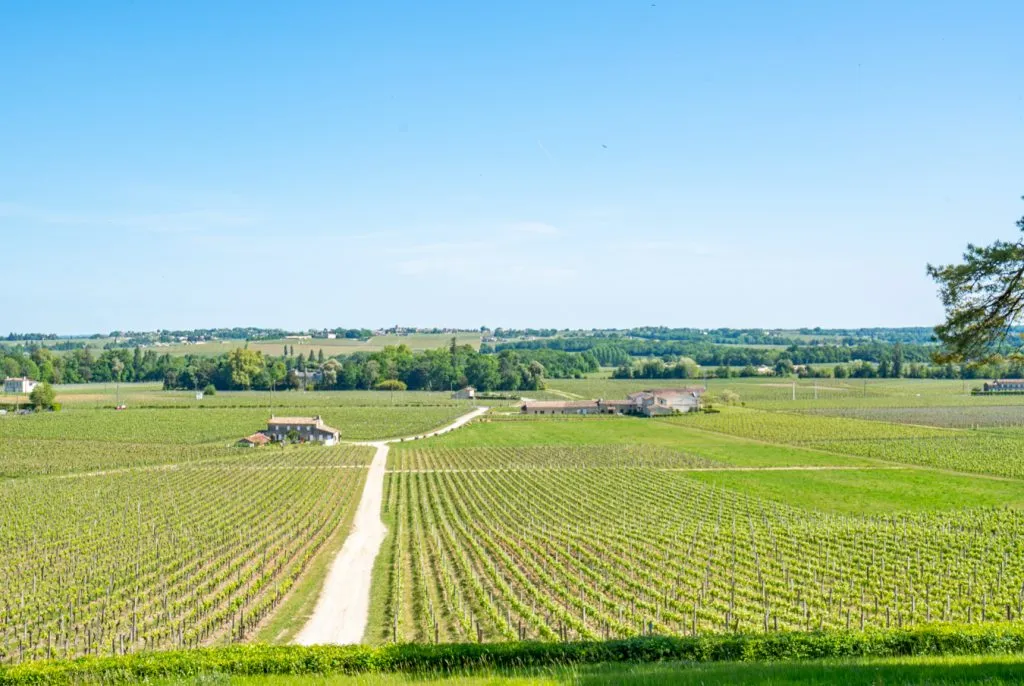 How to Get to St. Emilion, France
Saint-Emilion is located about 50 kilometers–give or take–east of the city of Bordeaux.
There are pros and cons to visiting by either tour, train, or car–here's what to know before you book!
By Tour
Planning a day trip to Saint-Emilion from Bordeaux and want to make the most of your limited time?
A tour can help you with that!
A well-reviewed tour like this will handle your transportation to and from Bordeaux, arrange for wine tours and tastings, and give you a glimpse of the beautiful village of St. Emilion.
If you only have one day in Saint-Emilion and want to enjoy maximum impact with minimum stress, this popular tour will help.
Have even less than a day? This half-day tour is another excellent option.
By Train
Taking the train from Bordeaux to Saint-Emilion is quite simple (there are plenty of trains daily and the ride takes about 35 minutes)… with one catch.
The Saint-Emilion train station is more than a kilometer outside of town, and you'll be looking at a 20-minute walk up the road to reach the medieval village once you disembark.
On a beautiful day, this isn't too much of a chore–and yes, there are plenty of grapevines to look at–but you will have a slight uphill walk.
Alternatively, if available, you could take a tuk-tuk or taxi from the train station to the village.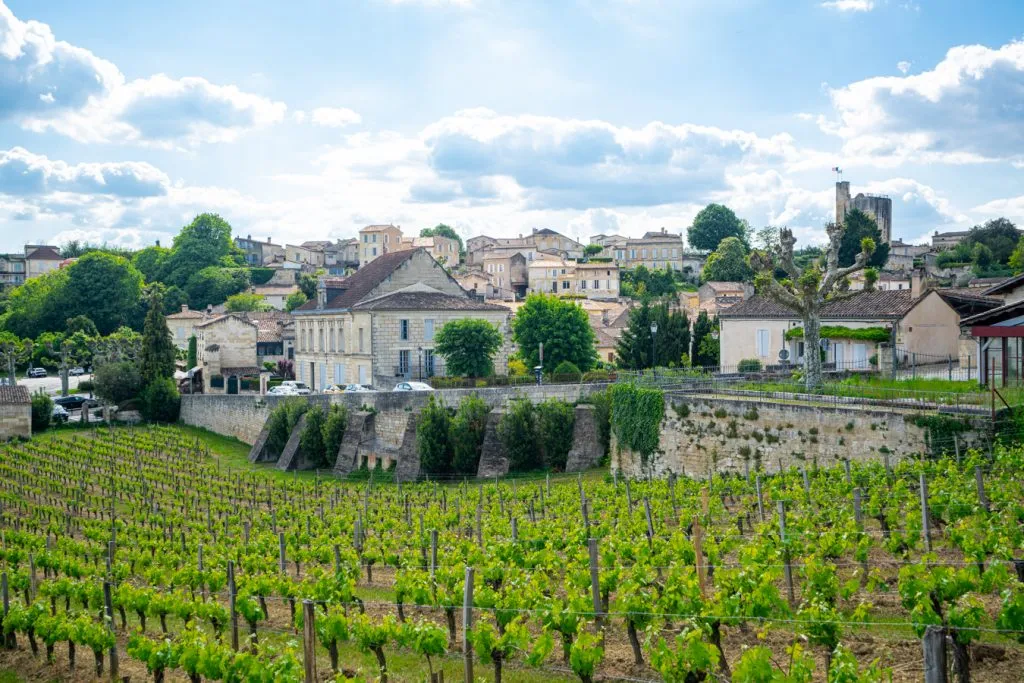 By Car
While the town of St. Emilion itself does not require a car, if you'd like to visit villages and chateaux that are a bit further away, it can come in handy!
We personally drove to Saint-Emilion simply because we were visiting as part of a broader road trip in France.
Parking is plentiful on the outskirts of town, and not difficult to find.
If you'd like to rent a car for your visit, we recommend shopping for your rental through Discover Cars, which will help you compare prices and rental requirements from multiple companies.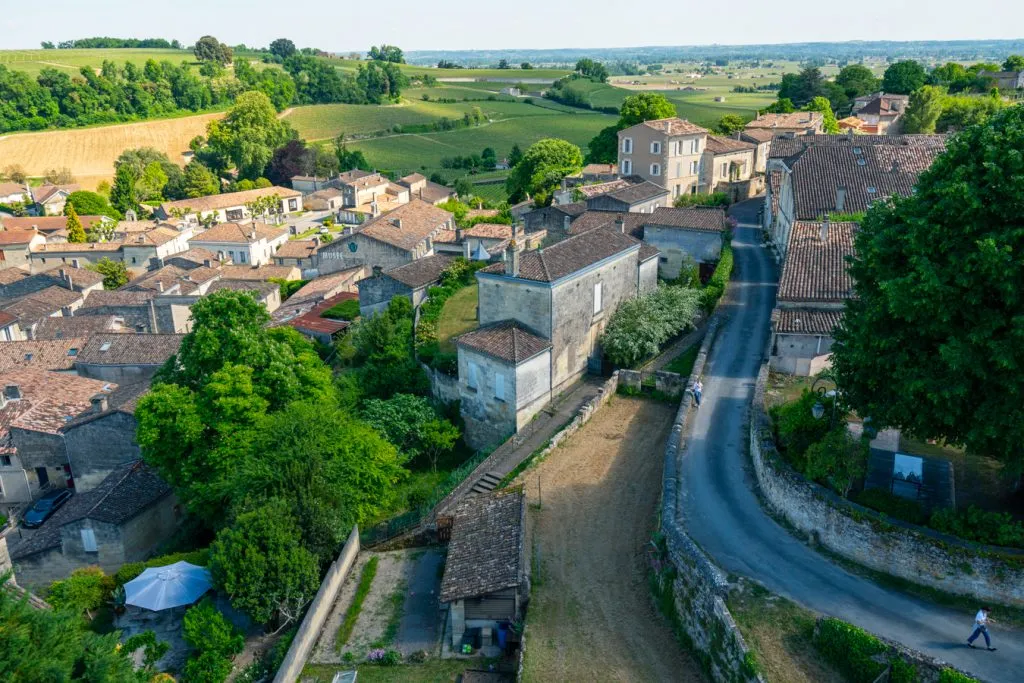 Where to Stay in Saint-Emilion
From boutique hotels to apartments to luxurious stays in historic properties, there is no shortage of amazing places to stay in Saint-Emilion!
We had an incredible experience at Hotes de Saint-Emilion, which offered a sublime location in the center of the city and a spacious room that was somewhere between a hotel and a studio apartment.
Most memorably, the building is owned by the couple who runs the wine shop downstairs, and in addition to a wonderful tasting, they were able to take us to tour a chateau that is typically closed to the public, which was a dreamy experience!
Badon Boutique Hotel, and–for a dash of luxury and sublime views–Hotel de Pavie are also fantastic options in the heart of Saint-Emilion.
Looking for a property with a gorgeous pool to cool off in on hot afternoons?
Check out the popular Au Logis des Remparts!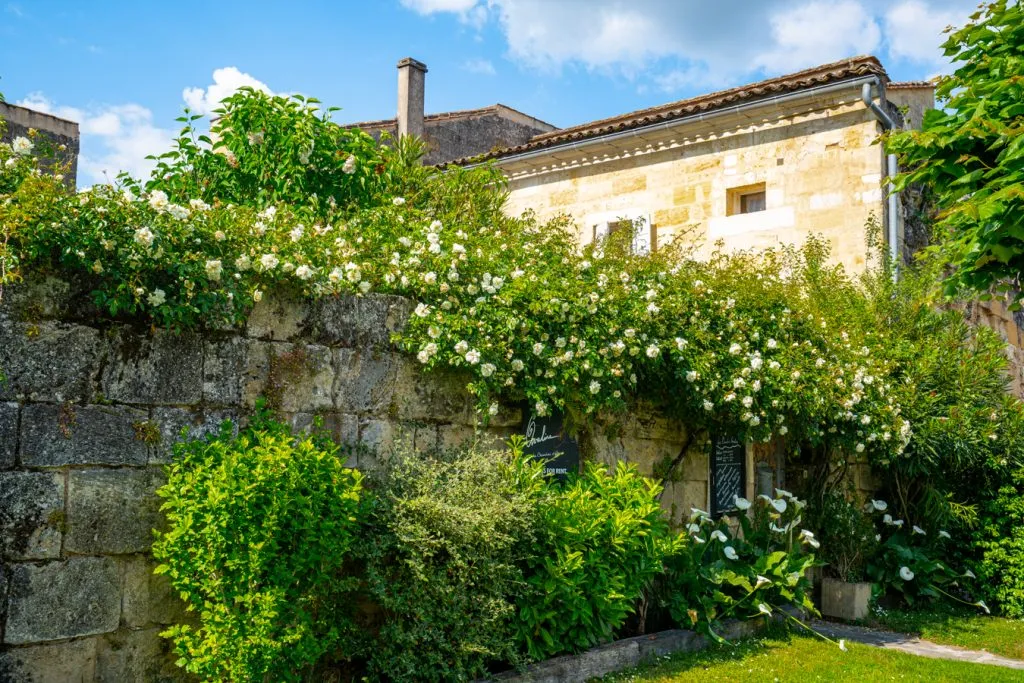 Getting Around Saint-Emilion, France
Within the village of Saint-Emilion, walking is by far the best way to get around!
If you have a car with you, parking is fairly simple, with several lots scattered around the edges of the medieval town, both paid and unpaid.
From there, you can easily drive between chateaus (with a designated driver, of course).
For a more romantic form of travel, you can rent bikes to ride amongst the chateaus, or even book a full chateau day trip by bike!
Is a day trip to Saint-Emilion enough?
There's no doubt that Saint-Emilion is one of the most popular day trips from Bordeaux–but is one day long enough to appreciate this dramatic landscape?
While we certainly encourage a longer trip if possible, we firmly believe that if a day is all you have to work with, you won't regret taking a day trip to Saint-Emilion.
If you have your heart set on touring a chateau or two, a guided day trip like this can offer excellent value, as it saves you the time and energy of scheduling chateau visits with limited time in the city.
And, while you won't be able to enjoy all of the incredible things to do in Saint-Emilion, France, in a single day, you can certainly see enough to ensure that you leave enchanted with this remarkable UNESCO-recognized area!
---