Our 4 days in Lisbon were a new experience for us in a few exciting ways.
Visiting Lisbon marked our first time in Portugal, our first stop on the Atlantic coast of Europe (unless you count Tarifa, Spain, which straddles the Mediterranean and the Atlantic), and our first time using a free airline stopover to add a quick detour to our plans before heading off to our intended destination.
It was a great success: the stopover process through TAP Air Portugal went off seamlessly, and we loved getting a quick taste of Portugal during our 4 days in Lisbon.
Here's what we got up to during our first trip to Portugal!
Some links in this post may be affiliate links. If you make a purchase through one of these links, we may earn a small commission at no extra cost to you. Please see our

disclosure policy

for more detail.
What Happened After Our 4 Days in Lisbon, Portugal
We originally published this Lisbon blog post in 2018, after our first very taste of this incredible city–and then a few years later, we moved here!
As of late 2022, we've now spent more than a year living in Lisbon full-time, and have covered Lisbon and Portugal as a whole extensively here on Our Escape Clause.
We've preserved this first Lisbon blog post primarily as we wrote it back then to provide a personal account of a first trip to the city, and also for our own nostalgia!
If you're looking for a fun take on what to do on your first Lisbon trip, we hope this blog post captures the excitement of stepping foot in Portugal for the first time.
On the other hand, if an extremely detailed travel guide with step-by-step instructions is what you're after, our 3 day Lisbon itinerary has you covered.
Similarly, our 10 day Portugal itinerary has all of our recommendations for planning your first trip to Portugal!
You can read all of our other Portugal blog posts here (we have many, including one on our best Lisbon travel tips, and regularly publish more).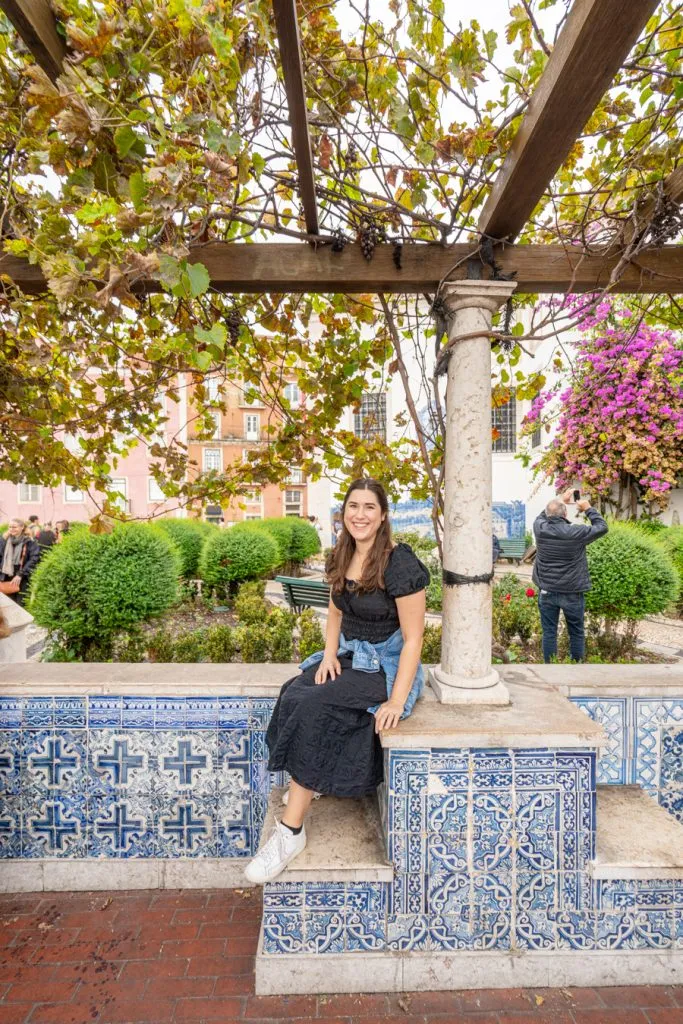 How We Fell in Love With Lisbon in 4 Days
We went crazy over pasteis de nata.
Our flight from the USA landed in Portugal at around 6:30 AM local time–and to say the jetlag hit us hard was an understatement.
We had a 10:30 AM food tour scheduled and knew we couldn't allow ourselves to go to sleep, so after dropping our bags off at the hotel, we stumbled into the nearest cafe that looked interesting–and boy, did we get lucky.
Lisbon is known for, among many other things, its iconic and delicious pastéis de nata, and that's exactly what we found!
Fabrica da Nata specializes in making pastel de nata, a puff pastry filled with a cream that is typically made of milk, sugar, eggs, vanilla, and cinnamon, and is typically served with coffee.
On that first morning in Lisbon, we found that our pastéis de nata tasted best washed down with two espressos each.
2022 Update: We were luckier than we knew then, wandering into Fabrica da Nata at random during our first morning in Lisbon! They make one of the top 10 best pastéis de nata in the city, and we still visit that location semi-regularly.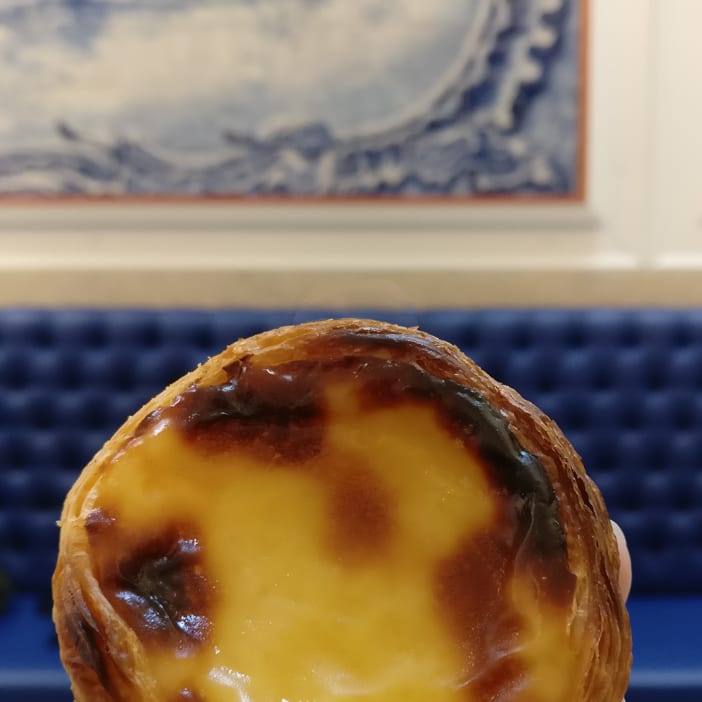 The Alfama District occupied our attention for hours on a beautiful day.
Lisbon's oldest district is considered one of the best photo spots in Lisbon and is the perfect place to wander around in search of those classic Lisbon views!
Bright yellow streetcars, tiled buildings, coastal views, and winding roads are in abundance here.
We spent an entire afternoon during our 4 days in Lisbon walking aimlessly around Alfama (which–unsurprisingly given that it's Lisbon–involved climbing lots of hills), ducking into churches, stores, and coffee shops along the way.
All of the climbing ended up paying off in a big way: we found two of our favorite views of Lisbon in the Alfama District.
The Miradouro de Santa Luzia and the Miradouro da Graça both charmed us completely!
Under bright sunny skies, the beautiful blue-tiled walls at the Miradouro de Santa Luzia, in particular, were exactly how we had pictured Lisbon when planning our trip there.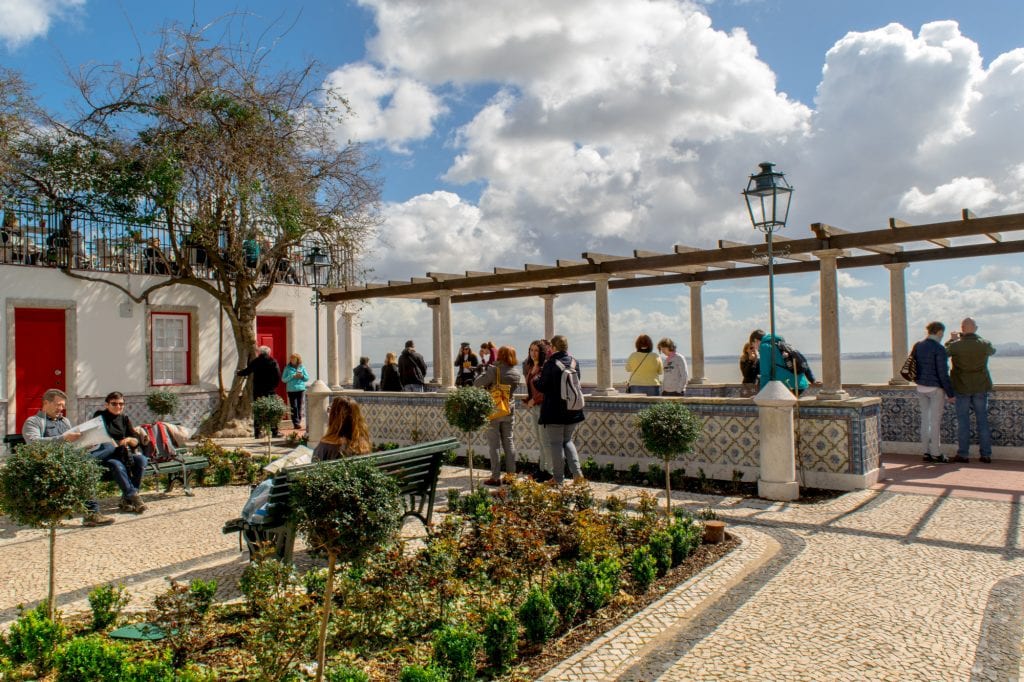 We saw the sunset over Lisbon from the world's most perfect vantage point: a sailboat.
A glass of wine, some sea breeze, a sunset, and a sailboat–how's that for the perfect way to end a day?
During our 4 days in Lisbon, we had the chance to experience a beautiful Lisbon sunset from the water, and it was absolutely amazing.
Not only did we get to watch the sunset in Lisbon from one of the best vantage points imaginable, but we also got to see some of Lisbon's most famous spots from the Tagus River!
Our tour took us right across Lisbon's waterfront to the Praça do Comércio, then back under the red 25 de Abril Bridge (which looks remarkably like the Golden Gate in San Francisco), and to the Belem Tower and the Monument of the Discoveries.
Our captain was laid back and friendly, regaling us with trivia about Lisbon, answering everyone's questions along the way, and was happy to let us (carefully) head to the bow of the boat to some of the best views.
Jeremy and I ended up spending at least half the trip up at the bow, as we just couldn't tear ourselves away.
We loved getting to see Lisbon's landmarks from the water, but even more than that we loved being on the boat itself: it was unbelievably relaxing to sit back with a drink and a view and enjoy the light breeze floating across our faces.
The next time we go back to Lisbon, we'll definitely be hitting the water again.
Our continued desire to see as many epic bookstores as possible took us to LX Factory.
Unique and interesting bookstores are one of our favorite things to find while traveling, so when we heard about Ler Devagar (translation: "read slowly"), a bookstore housed in a former printing space in the LX Factory, we knew we had to visit.
The bookstore itself was just as charming as expected!
Not only can you peruse hundreds of books there, some of the old printing press equipment is still present upstairs, as is a hobbyist inventor, excited to show off his eclectic inventions.
Regardless of whether or not you're looking to buy a book or two, Ler Devagar is still worth stopping by while in Lisbon… as is LX Factory in general.
LX Factory is a revitalized manufacturing space, once forgotten, and now a thriving hodgepodge of restaurants, specialty stores, coffee houses, and more.
It's the perfect setting for a bookstore like Ler Devagar, and though we visited on a dreary day, we would love to spend hours exploring the area in the sunshine.
2022 Update: Bibliophiles visiting Lisbon for the first time will also enjoy visiting Livraria Bertrand, the oldest still-operational bookstore in the world!
We explored Lisbon's cuisine.
Portuguese food is not something we were very familiar with before our 4 days in Lisbon, though we assumed it involved a lot of seafood (spoiler alert: we were right).
We loved sampling food throughout the city, starting with our morning spent on a food tour in the Campo de Ourique neighborhood with Taste of Lisboa.
Throughout the tour, we tasted everything from green wine (aka young wine) to pork sandwiches to mussels to the world's best chocolate cake–plus plenty of beer and wine, of course.
We left the tour with plenty of new foods under our belt and a desire to keep eating Portuguese food for the rest of our time in Lisbon, a challenge that we happily took up.
2022 Update: We loved this tour, and love Campo de Ourique in general (we live a short walk away). However, this food tour focuses on trendy Portuguese food with modern updates. If you prefer to stick with the classics, we love this food tour too.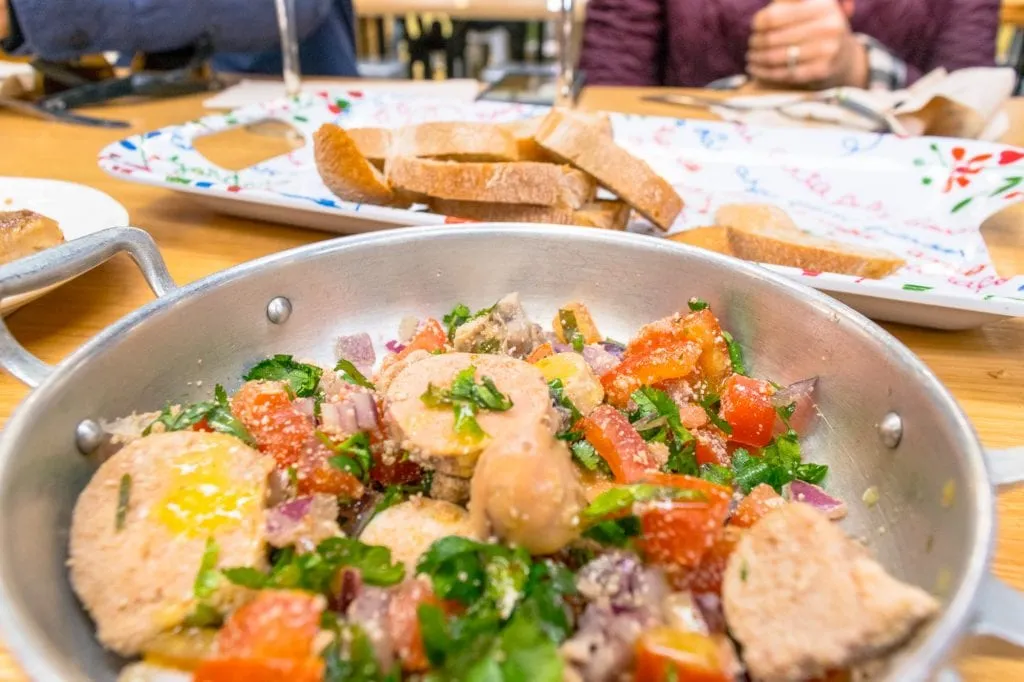 We took a day to visit Sintra.
About 40 minutes outside of Lisbon by train sits Sintra, the adorable small town that is famous for its many castles and palaces.
The most famous of the palaces in Sintra is the iconic Pena Palace.
Set high on a hill overlooking the Portuguese countryside and painted bright yellow and red, Pena Palace is impossible to miss.
We were enamored with this palace, and ended up spending even more time here than we anticipated.
While the exterior is remarkable, the interior of the palace and the views from it also deserve some attention–we were blown away by the unique decor and the jaw-dropping views from the windows and balconies.
While visiting Pena Palace, don't forget to walk 20-30 minutes to the Cruz Alta viewpoint to get one of the best views of the palace itself!
Quick travel tip if you plan to visit Pena Palace: even on a weekday with iffy weather in the shoulder season, we ended up waiting for quite a while to purchase tickets to get into the park.
If we visit again, we'll buy tickets in advance and would recommend one to anyone planning to visit!
2022 Update: We strongly stand by this recommendation. Sintra, and Pena Palace in particular, seems to get more popular every year–it's stunning, but possibly the most crowded attraction in Portugal.
These days we would never visit without booking tickets in advance!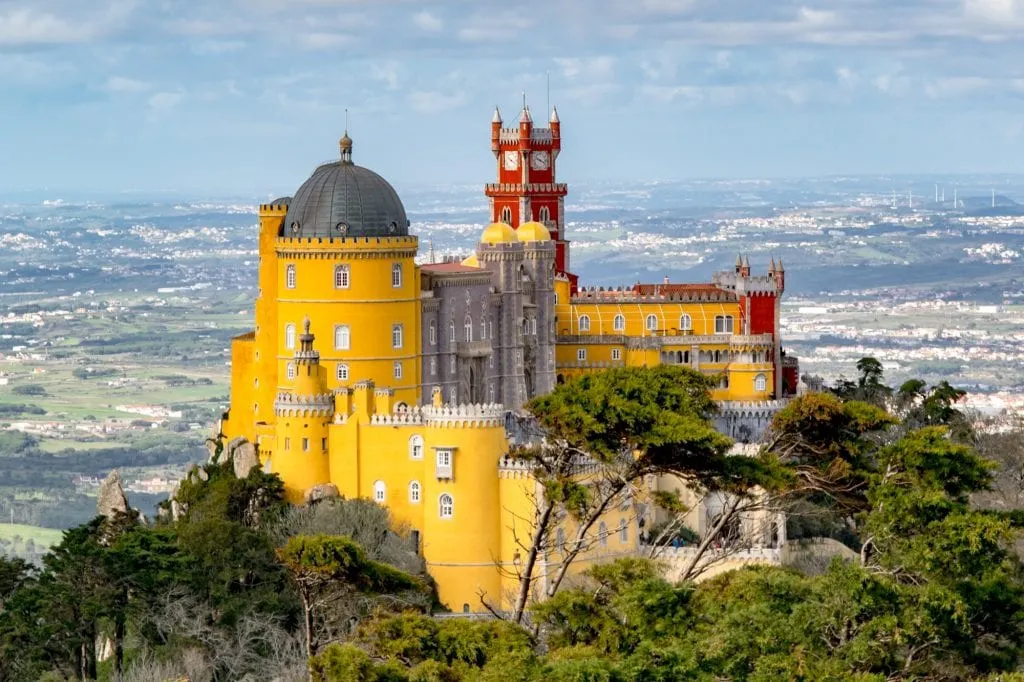 Last but not least, we obsessed over Lisbon's streetcars and tiled buildings.
So much of Lisbon's city center looks exactly like we imagined it would: tiled buildings, bright colors everywhere, and adorable streetcars whizzing by.
Like all cities, not every inch of it is as ideal as a postcard, but wide swaths of Lisbon's historic center… pretty much are.
During our 4 days in Lisbon, we came to view the entire city as having a vibe that was sort of half-elegant-European-capital-and-half-beach-town–and there aren't even any beaches directly in town!
The laid-back nature of Lisbon, though, paired with its sunny weather and vibrant decor, gave it a casual, relaxed vibe that made us immediately wish for summer to arrive.
Our 4 days in Lisbon did exactly what we expected them to: helped convince us that we need to spend more time in Portugal!
Our first trip to Lisbon gave us a taste of a city and a country that we would love to return to for a longer stay in the future–preferably during warmer weather when Portugal's famous beaches will be at their best.
Did we check off all the things to do in Lisbon during our first visit? Not by a long shot.
Just off the top of my head, we still need to see the pink street of Lisbon, visit the Belem Tower up close, check out the National Tile Museum, and visit São Jorge Castle, among many others.
We also still have so much to do in the country overall, like seeing the beaches in Lagos and the charming city of Porto, just to start (maybe a Portugal road trip is in order?).
But that's okay–there's always our next trip to Portugal.
2022 Update: Or, as it turns out, the chance to get to live here!
Where We Stayed on Our First Trip to Lisbon, Portugal
Pensao Elegante — We had a great experience at Pensao Elegante–the room was clean and cozy, and the location solid–but the bathroom situation was the strangest we have encountered!
Our room had a sink and shower in the room itself (not private, so not ideal for friends or family traveling together), but the toilet was outside the room and shared.
We didn't mind and knew we had signed up for a shared bathroom, but the layout was definitely memorable.
We would be happy to consider staying here again on a return trip, especially due to its convenient access to many of the best attractions to see in Lisbon in 4 days.
But, there are also plenty of other amazing places to stay in Lisbon, from Lisbon's many party hostels to its incredible luxury properties!