The secret is definitely out: visiting Lisbon, Portugal is an absolute delight!
While this sunny, colorful capital city may have been under the radar a decade or two ago, today it is deservedly popular with travelers near and far.
As beautiful as Lisbon is, though, there are definitely some quirks to keep in mind when visiting–which is why we've rounded up the best Lisbon travel tips to keep in mind as you plan your first trip to the "Queen of the Sea".
As American ex-pats who have spent a year calling Lisbon home (and hosted many family and friends along the way), we have quite a bit of advice for traveling Lisbon well!
Here are our top tips for visiting Lisbon for the first time.
Tips for Visiting Lisbon's Top Attractions
You don't necessarily need to go into the Belém Tower.
As you've started planning your Lisbon travels, it's practically guaranteed that you've come across photos of the famous Belém Tower along the way.
The tower is one of the most recognizable landmarks in Lisbon, a prime example of the Manueline architecture that the city is famous for, and is absolutely beautiful.
… but for travelers with only a short trip to Lisbon planned, there's no reason to go inside.
While the exterior of the tower is definitely worth seeing (it's gorgeous, free, and quick to visit), the interior is comparatively plain.
Getting to see the details of the tower up close is nice, but the rooms of the tower are empty, you can get equally stunning views from dozens of other viewpoints in Lisbon, and it is far too small to accommodate the number of visitors it gets each day.
If your visit goes as ours did, you'll end up waiting in line to access each separate level of the tower–and none of them are really worth the wait.
Buy tickets in advance for the most popular attractions.
The top attractions in Lisbon, including the Jerónimos Monastery and Castelo de São Jorge, get extremely crowded, and it will make your life much easier to purchase tickets in advance!
This Lisbon travel tip goes for nearby Sintra, too, especially at the iconic Pena Palace and the dreamy Quinta da Regaleira.
We tend to book most of our tickets for Lisbon in advance through Get Your Guide or Tiqets, both of which are reputable and easy to use.
There's no reason to wait in line for the Santa Justa Lift.
The striking Santa Justa Lift, designed and built by a student of Gustave Eiffel, is one of the most popular landmarks in the city.
Originally built as public transportation to connect Baixa to Chiado/Bairro Alto, today riding the lift is the definition of a tourist trap, drawing long lines at all hours of the day.
However, if you're standing in the shady Largo di Carmo, facing the roofless church (which is absolutely worth visiting), you'll notice a small street to the right that leads along the side of the church.
Follow it, and in less than a minute, you'll find yourself at the top of the famous Santa Justa Lift!
You can walk out onto the lift for free at this point, and enjoy the exact same views that the visitors waiting in line down in Baixa are waiting for–but without cost or having to wait.
The view is beautiful, too, especially when standing out on the lift and facing Castelo de São Jorge.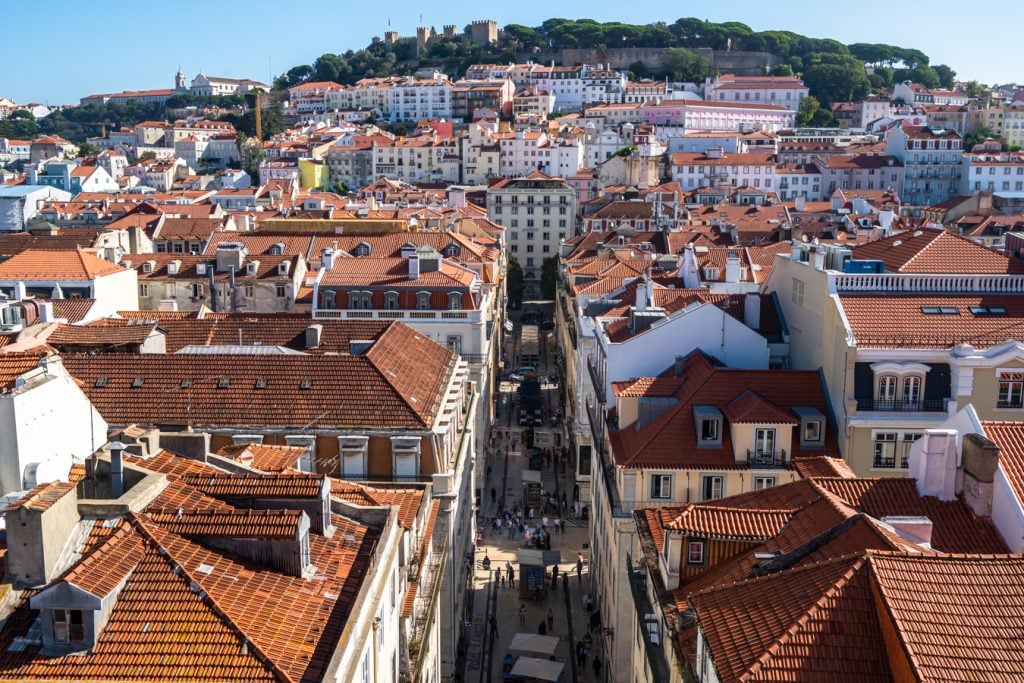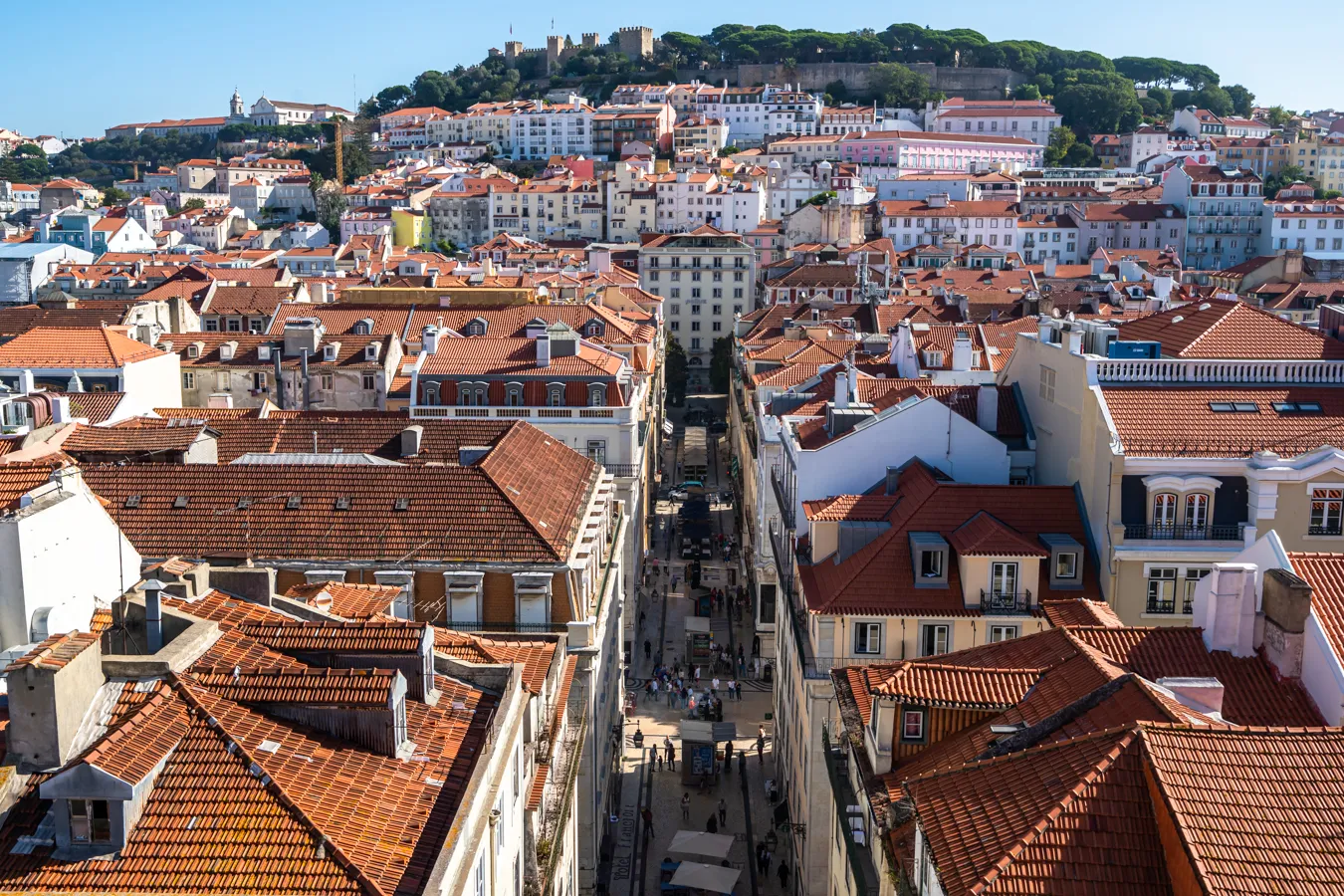 Lisbon's hidden gems are truly worth the effort.
While the city's top attractions definitely tend toward being very crowded today, there are hundreds of incredible things to do in Lisbon that draw a fraction of the visitors despite being well worth a visit.
A few of our favorites include the Monastery of São Vicente de Fora (beautiful azulejos and incredible views from the roof), the National Museum of the Azulejo (famous yet uncrowded as it's a bit out of the way), the National Coach Museum, and the Calouste Gulbenkian Museum.
The sky is truly the limit when it comes to less-visited museums and monuments in Lisbon, though!
Other incredible options include the National Pantheon, the Ajuda Palace, and the garden of Quinta dos Azulejos.
You can read our guide to Lisbon's secret spots here.
Don't buy a Lisbon Card without planning your trip first.
Buying a Lisbon Card is a popular option for people visiting Lisbon for the first time, but we recommend not buying one until you plan your trip in a bit more detail!
The biggest reason to buy the card has less to do with the attractions, and more to do with the ease of navigating Lisbon's public transportation system.
With a Lisbon Card, you'll be able to travel around with Lisbon's buses, trams, metro, and trains (including the train to Sintra) for one price.
This is definitely appealing, but how much actual cash value having a Lisbon Card is worth depends heavily on how much public transportation you plan to use (and whether you're comfortable buying tickets in a more traditional way).
While the Lisbon attractions included with the card are certainly worth visiting, beyond the Jerónimos Monastery, most of them don't typically feature on a first-timer's Lisbon itinerary.
And, they're not even all in Lisbon!
Alcobaça Monastery and Batalha Monastery, for example, are some of my favorite places in Portugal… and are located more than an hour outside the capital.
We're certainly not saying that you shouldn't buy the Lisbon Card–it can be a great fit for some travelers–but don't assume it's an obvious advantage, either.
Also, note that while you can purchase the card online, you'll still have to pick up the physical card during your Lisbon travels before you can redeem it.
Group your sightseeing by neighborhood.
Many of the Lisbon neighborhoods that travelers like to visit on their first trip to the city are quite spread out from each other.
This is especially true for Belém, which feels completely separate from Lisbon's center despite being home to some of the city's most popular attractions.
When planning a trip to Lisbon, be sure to note which attractions are near each other and plan your days based on geography.
For example, planning a day in Lisbon that includes visiting the Castelo de São Jorge, the Jerónimos Monastery, and the Carmo Convent back-to-back is a frustrating strategy.
Our recommended 3 day Lisbon itinerary conquers the city neighborhood by neighborhood, making it easier to see more with less time!
… and start at the highest point.
Climbing steep hills is an unavoidable fact of life when visiting Lisbon, but you can give your knees a break by starting at the highest point in any given neighborhood!
A couple of destinations that make great starting points to head downhill from include the Miradouro da Graça, the Miradouro de São Pedro de Alcantara (one of our favorites in the city), and the Castelo de São Jorge.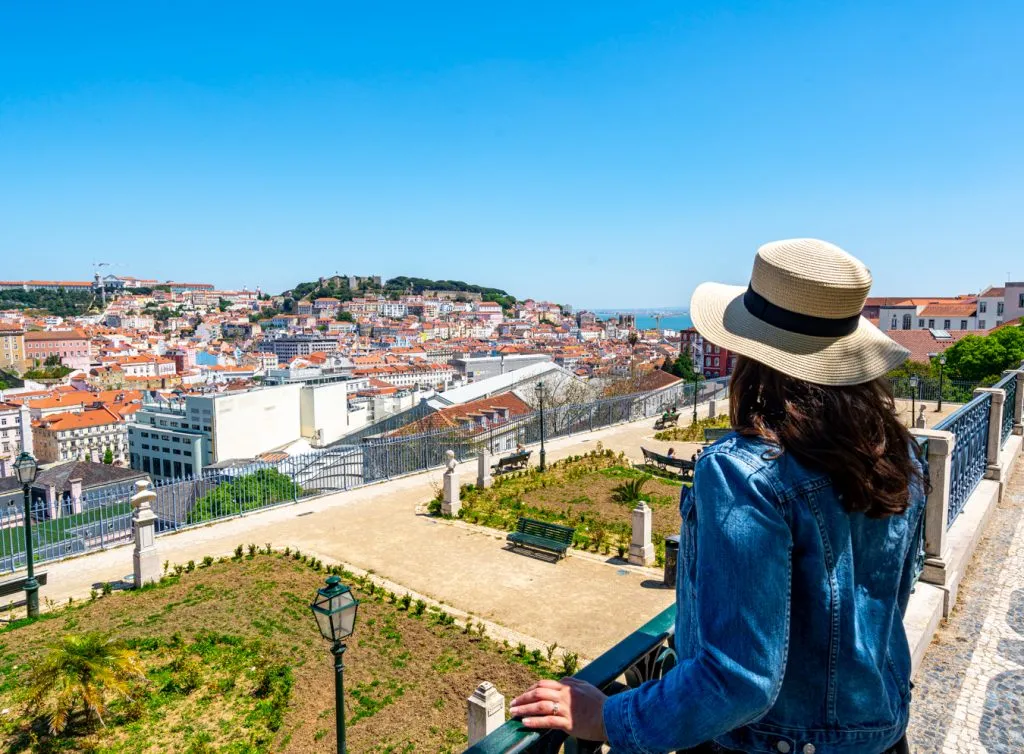 Don't expect an interior when visiting Castelo de São Jorge.
Lisbon, and Portugal in general, is lousy with opulent palaces built and decorated to the hilt throughout the centuries… but the famous Castelo de São Jorge is not one of them.
Today, the castle is famous for its views and for the fact that you can stroll around the top of its ramparts, soaking in the views and imagining what once was as you do.
Though the hill that Castelo de São Jorge sits atop is incredibly important to the history of Portugal (to start with, the country was founded on this spot in 1143 when the Portuguese conquered the city from its Islamic rulers), the actual structure on the hill has been rebuilt many times.
That's not to say that the castle isn't worth visiting, but don't expect details like throne rooms or furnishings here (there are, however, lots of peacocks).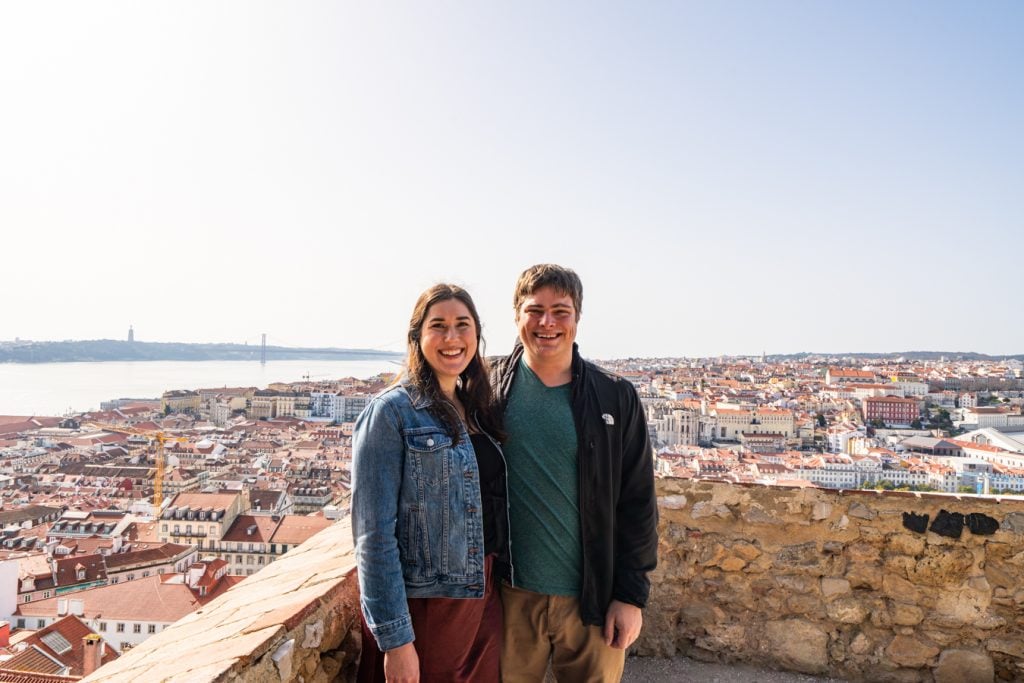 Picking a neighborhood and wandering is a great way to visit Lisbon.
While targeted sightseeing is a must if you want to experience the best things to do in Lisbon in a short amount of time, be sure to leave plenty of time in your schedule for wandering, too!
Lisbon's many neighborhoods are a delight to explore on foot.
Beautiful areas like Alfama, Chiado, Bairro Alto, Belém, Cais do Sodré, and Baixa are lovely, and you'll no doubt experience them when visiting Lisbon.
If you want to go a bit further afield to wander, though, consider also sampling Campo de Ourique (don't miss the beautiful Prazeres Cemetery), Estrela (the Jardim da Estrela will forever be one of our favorite places in Lisbon, and the basilica is stunning too), Arroios, Príncipe Real, and Graça.
A sailboat cruise on the Tagus is a great travel experience in Lisbon.
The views of Lisbon from the Tagus are wonderful, and there's nothing quite like experiencing the city from the water.
Lisbon's history and culture are deeply tied to the Tejo and to the wide open sea that lies beyond it, and relaxing on a sailboat is a fantastic addition to any visit to Lisbon.
Plus, it's simply lots of fun, and more affordable than you might expect!
Most Tagus River cruises leave from Belém, and you can easily add a cruise to your time there.
Personally, we're partial to sailboat cruises (as opposed to large tourist boats), and if you can arrange your Lisbon trip so that you can enjoy the Tagus at sunset, all the better.
Most Lisbon churches are free to visit, so be sure to step inside!
While the Lisbon Cathedral and the Carmo Convent (though that one is a museum rather than a working church today) have modest entry fees, virtually every other church in Lisbon is free and easy to enter.
That even includes the stunning Church of Santa Maria de Belém that is attached to the popular Jerónimos Monastery (which holds the tomb of Vasco da Gama, among others).
Some of my favorite churches in Lisbon to visit include the Church of São Domingos, the Church of São Roque (a must for anyone who enjoys over-the-top opulent churches), and St. Anthony's Church (don't miss the crypt).
The Lisbon Cathedral is a bit controversial among travelers: historically important and rebuilt several times, the interior is much plainer than many expect, especially considering it is one of the only churches in Lisbon to charge an entry fee.
It's beautiful, but very different in style to most in the city–if you're on the fence about it or short on time, you can skip it.
Lisbon Travel Tips for Getting Around the City
Don't expect to be able to walk everywhere.
While Lisbon's various neighborhoods tend to be very walkable in their own right, the city as a whole is fairly dispersed.
You'll need transportation other than your own feet to travel between many neighborhoods–and luckily, Lisbon has plenty of options!
Lisbon's taxis are generally plentiful and very easy to use, trams of course are popular, and the metro goes to a fair number of places, too (including the airport, though taking a taxi into the city is faster).
We're not exaggerating about the hills.
You will absolutely get a workout when visiting Lisbon for the first time and sampling the city's major sights!
Opt for very comfortable, sturdy shoes with a grip on them, and be prepared to work for your views.
If you'd like to avoid climbing many hills, structure your days carefully and budget for plenty of taxis (rates start at 3.50 and we regularly travel across the city for under 10 Euro).
Lisbon's funiculars, Bica, Glória, and Lavra (the last being the least touristy) can also help out with the steep climbs in a few places.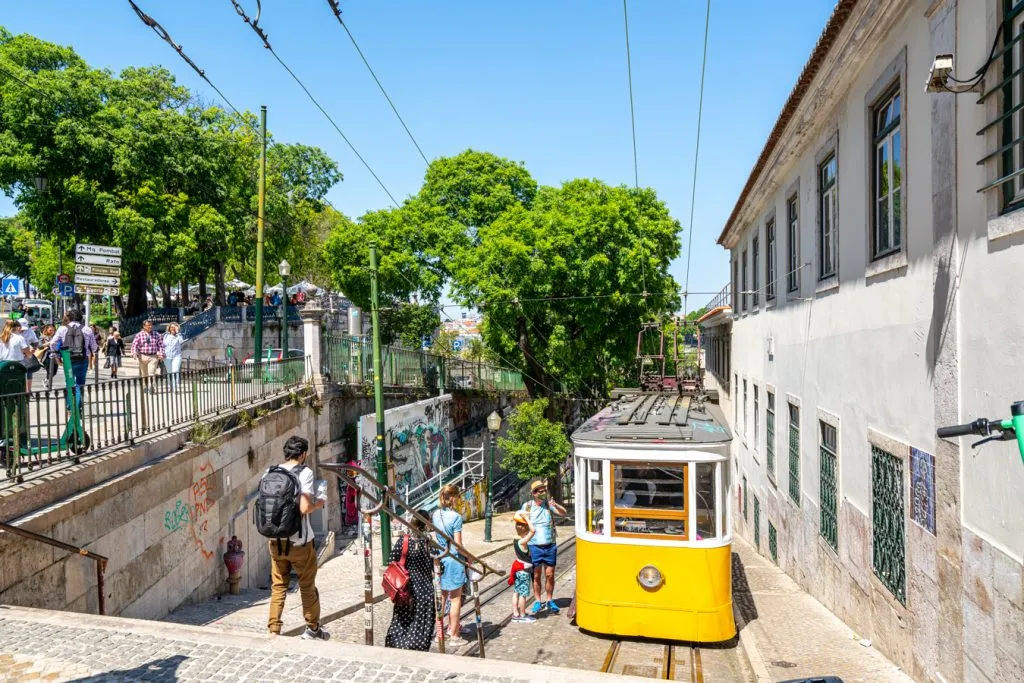 The fastest way between Baixa and Chiado is through H&M.
Funiculars aren't the only way to shave a climb off your route!
The multi-story H&M store on Rua do Carmo has a series of escalators that make for an excellent shortcut between the neighborhoods of Baixa and Chiado, each of which is home to some of the top things to do in Lisbon.
Tram 28 is not necessarily the best way to get around the city.
Long ago, someone wrote that riding Lisbon's classic Tram 28 was a cheap, easy, and local way to see the best of the city.
This was undoubtedly great advice at the time, but it's long outdated.
True, the Tram 28 route only costs 3 Euro (or is included with a Lisbon Card), and trundles right past many of Lisbon's top landmarks, including past the Praça do Comércio, through Alfama, right by top viewpoints like the Miradouro de Santa Luzia, and more.
On the other hand, it's ridiculously crowded, the best views of the tram are actually from the outside, and it's a bit of a magnet for pickpockets these days.
If you love trams, it may be worth riding for the experience–but if you just want to get across Lisbon, there are plenty of other ways to do so.
Taxis are the fastest way to get to the city center from the airport.
There's a well-organized taxi stand right outside of the arrivals hall at the airport, and it's the fastest way into the city.
Riding the metro is also doable and more budget-friendly, but it takes quite a bit longer.
Unlike some cities, there is no set fare for a taxi ride from the Lisbon Airport (technically named the Humberto Delgado Airport or Portela Airport) to the city center, however, the fare should run roughly 15 to 20 Euro.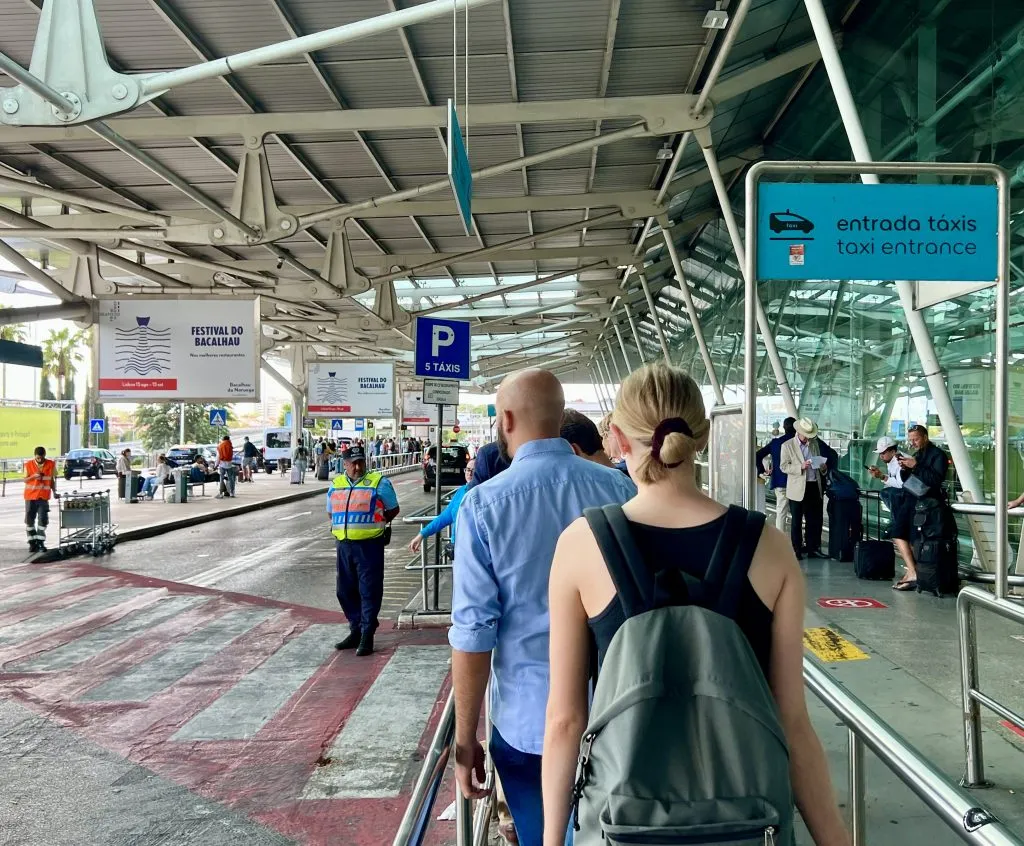 Download FreeNow for calling taxis.
FreeNow isn't specific to Lisbon, but we use it here all the time!
Think of this app as Uber for official taxi rides.
It's popular in many cities across Europe and comes in very handy both in Portugal and beyond.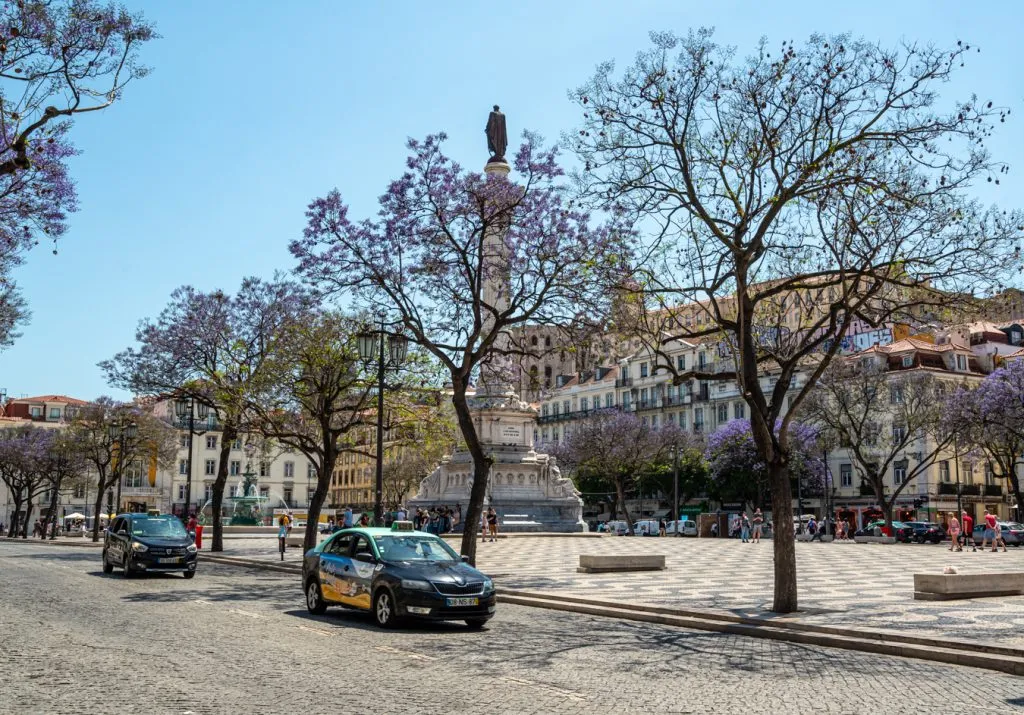 Tips for Taking Day Trips from Lisbon
Sintra is wonderful, but it's not Lisbon's only day trip option.
When you're planning a trip to Lisbon, you'll no doubt hear about a thousand times that you have to take a day trip to Sintra.
Located less than an hour outside of Lisbon, Sintra is a beautiful place, filled with interesting and sometimes downright bizarre palaces.
Once a retreat for wealthy people ranging from Portuguese royalty to British aristocrats to an American socialite, Sintra's palaces are well worth visiting.
… but they're also very crowded, and far from the only day trip worth taking from Lisbon!
Honestly, I believe that Lisbon has better day trip options than the vast majority of European cities because there is simply so much variety!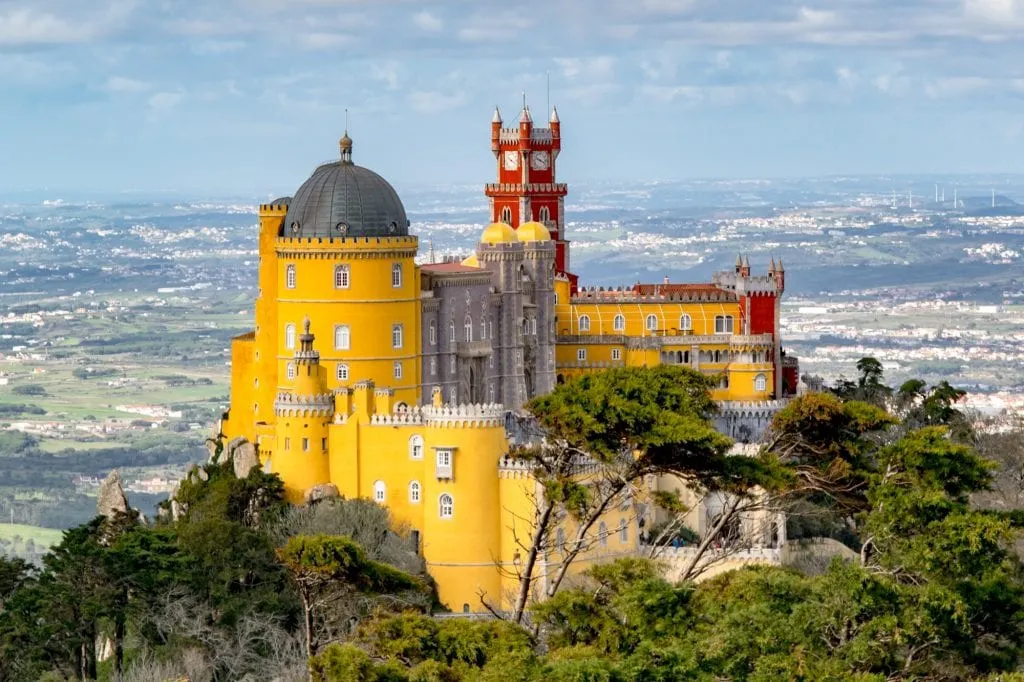 Want a beach town? Go to Cascais.
A stunning hike along the coast? Arrabida Nature Park.
The most beautiful monasteries you've ever seen? Alcobaça Monastery, Batalha Monastery, and Tomar's Convent of Christ are waiting.
A medieval town to explore? Go walk the walls of Óbidos.
I could keep going, but essentially, don't default to Sintra when planning a trip to Lisbon if another kind of day trip appeals to you more.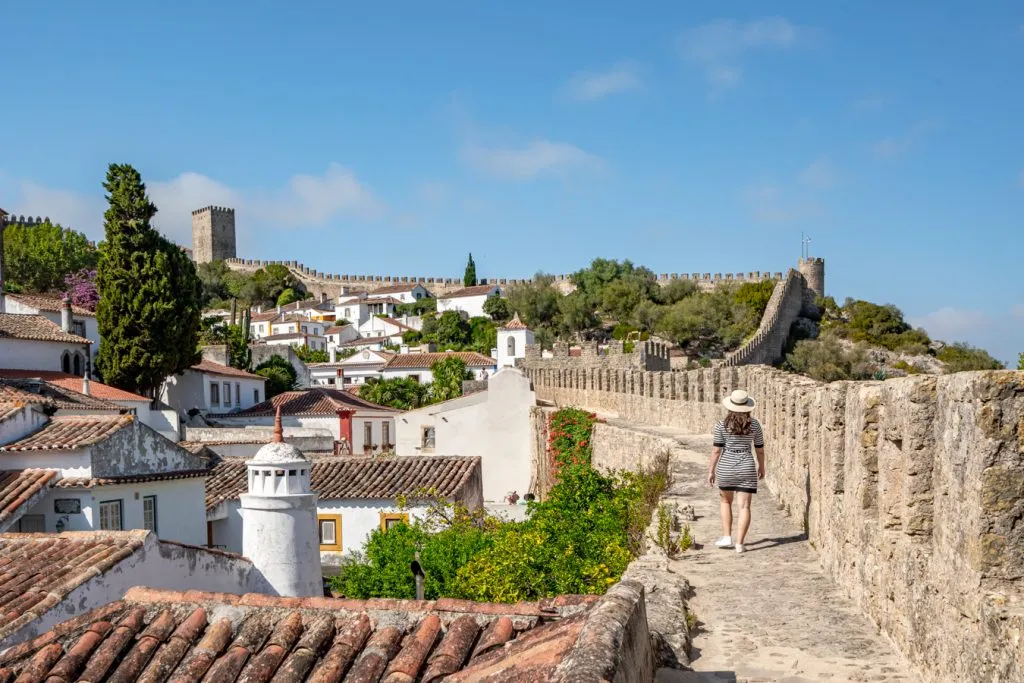 Lisbon has more than one train station, so double-check which one you need.
If you're planning to travel away from Lisbon by train, whether on a day trip or further afield, be sure to check which station you need to leave from!
For example, most trains running from Lisbon to Porto leave from Santa Apolónia Station, while trains to Sintra leave from Rossio Station and trains to Cascais leave from the Cais do Sodre Station.
None of these stations are particularly far from each other, but you don't want to end up heading to the wrong one during your Lisbon travels!
Trains are excellent, but taxis are often faster.
For many of Lisbon's nearby day trips, a great compromise–especially when traveling with a group–between the comfortable but often slower trains versus the hassle of parking a rental car can be to take taxis.
You'll spend a bit more, but you'll often save quite a bit of time, too!
For nearby spots like Cascais and Sintra, we'll often take the train on the way to our destination, and then call a taxi or Uber to go home when we're ready.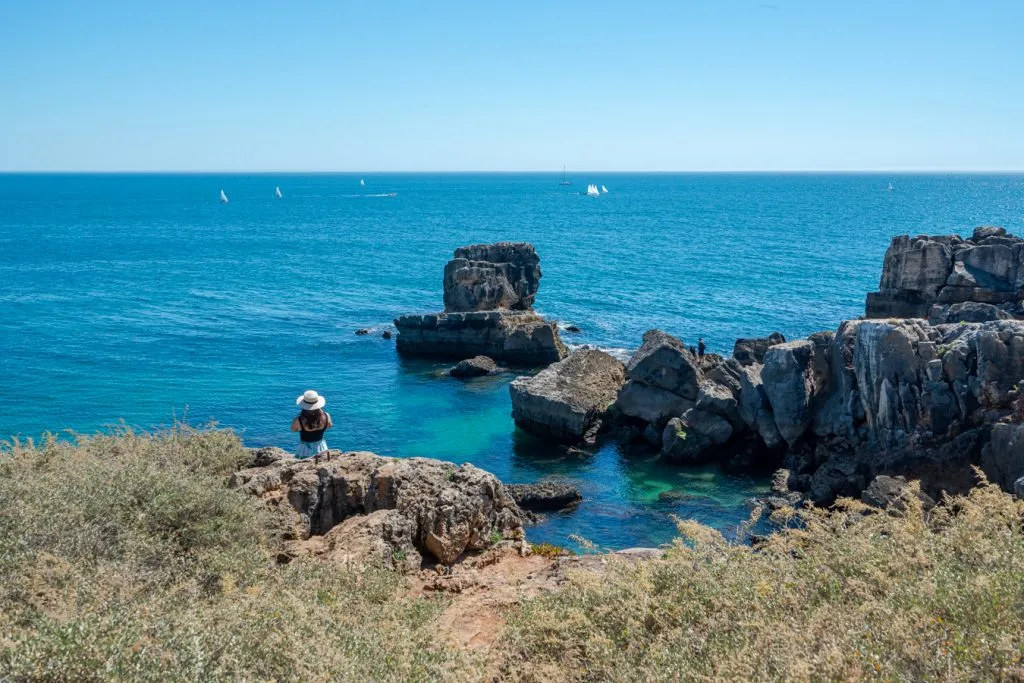 Not all trains have a/c, and they often trap heat.
… and when the trains do have a/c, it isn't necessarily strong enough to cool the trains down to a comfortable temperature!
Lisbon tends to have fairly mild weather, so this isn't often a problem, but if you happen to be visiting during a heat spell in the summer, keep it in mind when planning day trips.
On hot, sunny days, it can be hotter inside a running train than it is outside.
Don't plan a day trip to Porto.
We know that trying to decide whether to visit Lisbon or Porto is a hard choice–and we love them both.
Resist the temptation to plan a day trip between them, though!
Even on a high-speed train, the 2 cities are simply too far apart to be good day trips from each other, especially because there are dozens of other worthy places to visit within an hour or 2 of each city.
(That being said, we have received enough questions about this that we have put together a guide on how to take a day trip to Porto from Lisbon for travelers who are determined to go!)
There aren't beaches within walking distance of Lisbon's center, but you can reach them.
Despite being located temptingly close to the water, there aren't beaches in Lisbon's city center (technically there's a tiny patch of sand in front of Praça do Comércio at low tide, but it doesn't really qualify as a beach).
You can reach the many beautiful beaches near Lisbon fairly easily, though!
Costa da Caparica, Estoril, Sintra, and Cascais all have wonderful beaches to choose from.
For a large, tried and true beach very close to Lisbon, Praia de Carcavelos is a local favorite.
Tips for Visiting Lisbon's Restaurants + Snack Bars
A food tour is absolutely worth the effort when visiting Lisbon.
We're big proponents of food tours around the world: combining traditional local food with a chance to take a walking tour of a city is a fantastic way to get acquainted with a new place!
We've taken a few Lisbon food tours over the years, all wonderful, but on your first trip to Lisbon, there's none that I recommend more highly than this food and wine tour.
With a convenient starting point that is very close to the Church of São Domingos, this food tour is filling, delicious, and informative.
Best of all, it focuses primarily on introducing you to classic Lisbon cuisine, which will help you with ordering in restaurants for the rest of your time in Portugal.
Perhaps the biggest endorsement we can offer is that we have returned to several of the included establishments since, including bringing our friends and family to some of them when they visit Lisbon!
Book your Lisbon food tour today!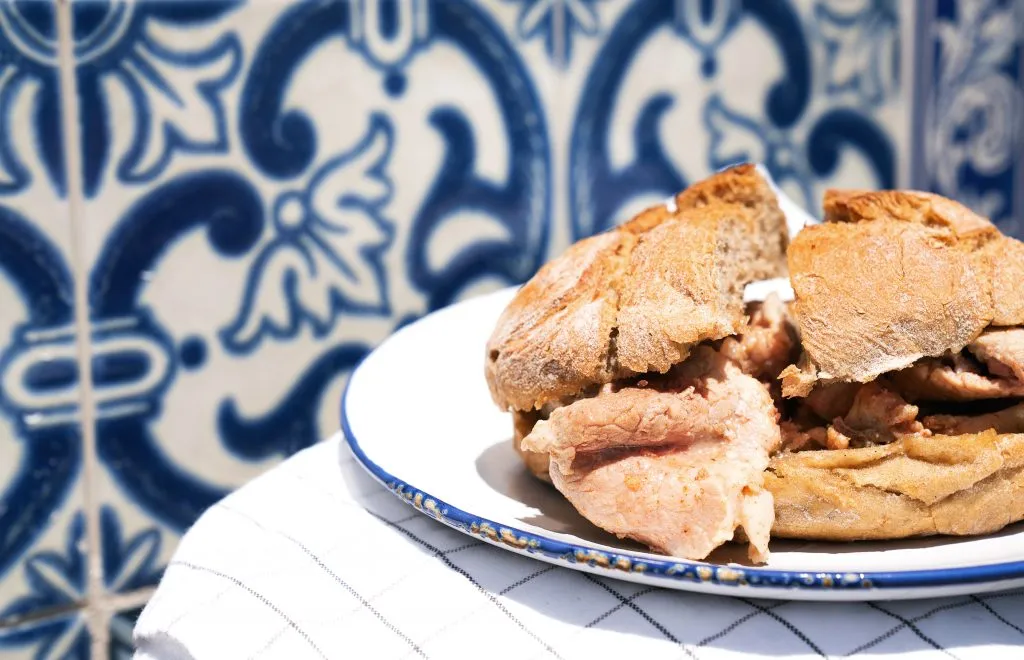 Don't eat a francesinha in Lisbon if you're also visiting Porto.
There's probably no more (in)famous Portuguese sandwich than the francesinha, which is essentially what happens when you take a croque-monseiur and ask "you know, how can we make this dramatically more unhealthy?"
Bread, ham, sausage, steak, more sausage, cheese, more bread, all smothered in a tomato and beer sauce: these are the general ingredients behind the francesinha.
The sandwich is generally served with fries and sometimes topped with a fried egg–and yes, it's quite gluttonous.
Is it worth trying when in Portugal? Sure, once in a very long while.
If you're also heading to Porto, though, skip the francesinha while in Lisbon.
While you can find them on menus here, the sandwich was invented and is much more common in Porto–you'll find plenty of delicious options up there!
Be cautious with port (and ginjinha).
Port is delicious, well worth sampling while in Portugal, and very strong.
At 20% alcohol (as opposed to around 12% on standard wine drunk in the USA), it is very easy to overindulge in port's sweet taste without realizing it, even if you're used to drinking.
Keep an eye out as you indulge in Portugal!
This goes for ginjinha, too (around 18% alcohol content), but as ginjinha is served in tiny cups and is treated more like a spirit, it's not quite as easy to overdo as port is.
The key to appreciating pastéis de nata is eating them all.
More or less every bakery in Portugal has its own taking on the iconic pastel de nata, and trying a wide variety is a must when visiting Lisbon!
Some of the most popular bakeries include Pastelaria Santo António, Manteigaria, Confeitaria Nacional, Fábrica da Nata, and of course, the iconic and original Pastéis de Belém.
Everyone has their own favorites, and they can change from day to day, but you won't go wrong with a pastel de nata (or 2, who's counting?) from any of these spots.
Don't forget to sprinkle the top with cinnamon and/or powdered sugar at least once!
Everyone has their own opinion on the sprinkling, too, but during your first trip to Lisbon, we'd recommend trying a bite each way.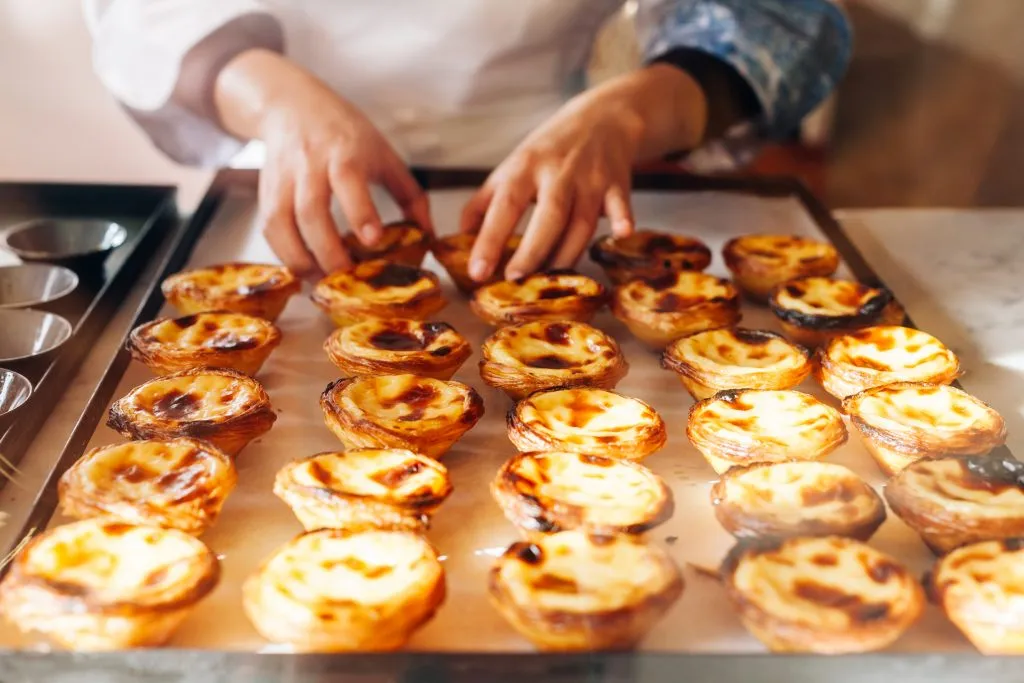 … but at Pastéis de Belém in particular, consider getting a table.
The iconic Pastéis de Belém is known for its extremely long lines, but here's the thing: the line for table service is generally much shorter than the one for takeaway orders!
And, as a bonus, it's more fun to eat in the dining room!
The interior is spacious, allows you to order a drink, and the building itself is also fun to walk through (you may even catch a glimpse of people hard at work in the kitchen cooking up an endless number of pastéis de nata).
Alternatively, if you are visiting Lisbon for a longer period of time and aren't squeezing lots of attractions into each day, consider heading to Pastéis de Belém on Mondays, when the nearby Jerónimos Monastery is closed and therefore the Belém neighborhood as a whole is much quieter.
We once waited less than 5 minutes for a box of pastéis de nata to takeaway when visiting on a Monday!
Make reservations for dinner.
When it comes to dinner, Lisbon is a city that loves its reservations.
If you have your eye on eating in a particular place, be sure to make a reservation in advance!
Generally, reserving a table the day before or even during lunch service the day that you plan to eat dinner there is fine.
However, if you have somewhere particularly popular in mind or if you're heading out on a weekend, consider booking a bit further in advance.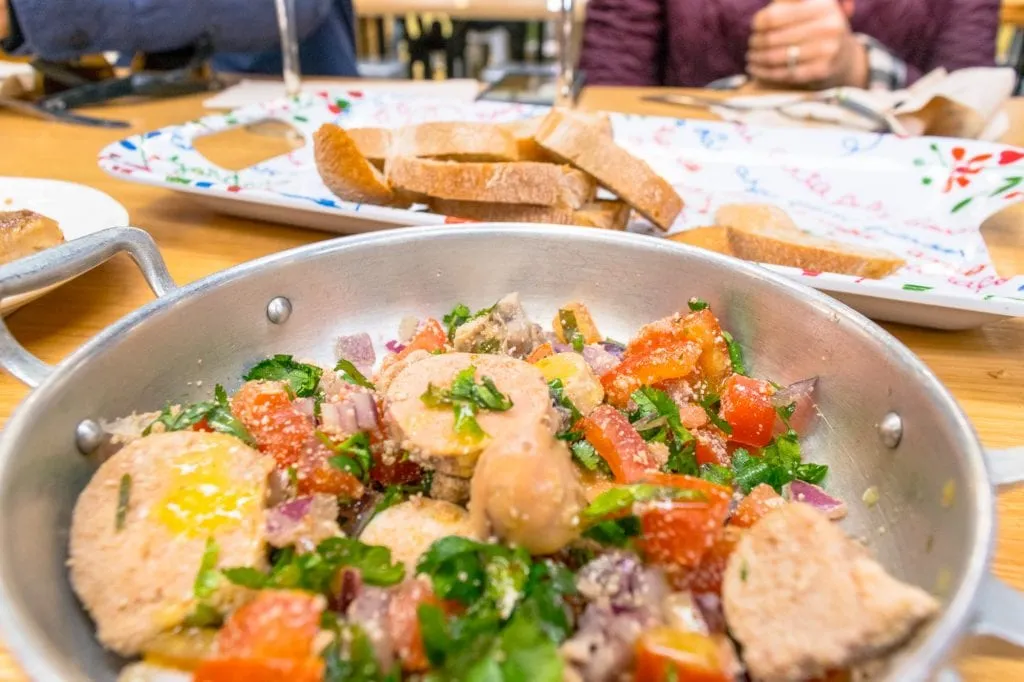 … and don't plan to eat early.
People in Lisbon don't eat as late as, say, those in Madrid, but they still tend toward eating on the late side!
Most restaurants open for dinner around 7:00 PM or 7:30 PM, and they won't really start to fill up until after 8:00 PM.
Other Tips for Your First Trip to Lisbon
Bring very sturdy shoes.
Not only does walking in Lisbon require climbing lots of hills, but it's also a bit hard on your feet in other ways.
The distinctive Portuguese pavement (or calçada portuguesa) that you'll see throughout the city offers its challenges: these walkways are both beautiful and a bit of a hazard in the rain.
Here's the thing… they're incredibly slippery when wet, especially if they happen to have fallen leaves sitting on them.
Watch your step, especially on hills, and opt for shoes with some grip on them!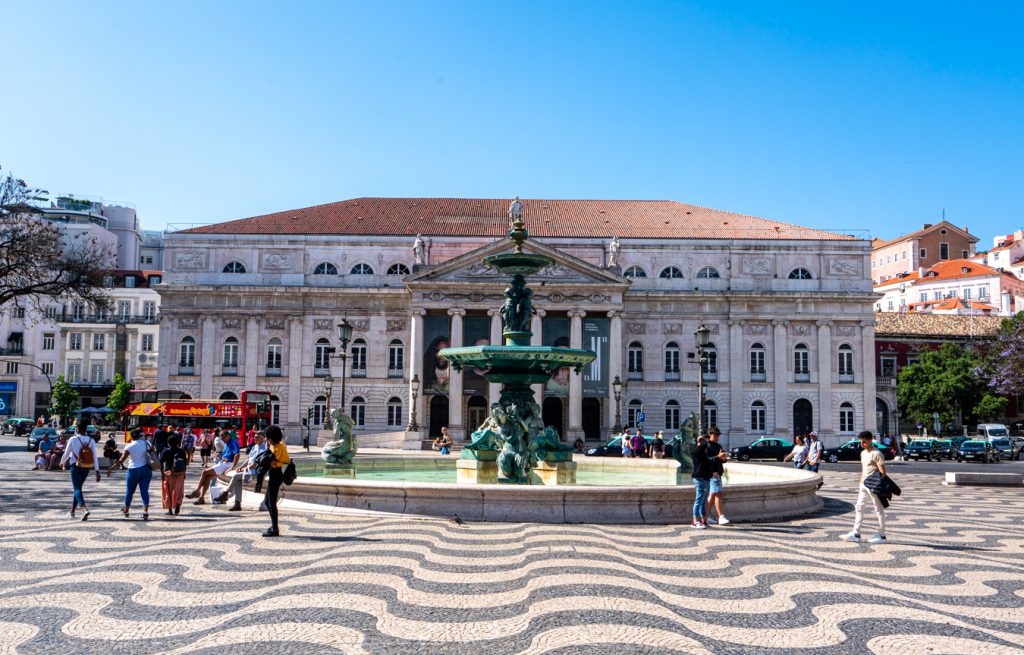 When it doubt, take a ticket.
In Portugal, it's very common to use a ticket-based system rather than a traditional line/queue in order to serve customers.
If you see several people standing around in a shop, look around for a ticket machine: that's how you wait your turn.
You'll see this everywhere from train stations to butcher shops to banks when visiting Lisbon, Portugal.
Don't stay in Bairro Alto or Cais do Sodré unless you're looking for nightlife.
Bairro Alto and Cais do Sodré are popular, centrally located neighborhoods with plenty of hotels and hostels… and they're also the center of much of Lisbon's nightlife.
If your value peace and quiet after dark, these are not the right neighborhoods for you to stay in!
Make note of whether your hotel has air conditioning and/or heat.
Lisbon's typically mild climate means that not all hotels (especially budget hotels) have air conditioning or heat–but you may want it!
That's not solely because of temperature control, either.
For example, Lisbon struggles with dampness, mildew, and mold in many of its buildings over the winter months.
It's not a huge problem for visitors, but if you're concerned about dampness in your room or you have allergies, it's best to keep it in mind when deciding where to stay in Lisbon.
Learn a few Portuguese phrases before visiting Lisbon.
While you'll find plenty of English speakers in the city, it's still a good idea to learn a few Portuguese phrases before your trip to Lisbon!
Not only is it polite, but it can also be helpful (in our experience, taxi drivers, for example, rarely speak English in Lisbon).
A simple por favor (please) and obrigado/obrigada (thank you from a male speaker/thank you from a female speaker) can go a long way when visiting Lisbon!