The moment that we sat down at 10:30am for a giant slice of what is reported to be the world's best chocolate cake, I knew this was going to be our kind of food tour.
On our very first morning in Portugal, we partnered with Taste of Lisboa to try out their Campo de Ourique Food Tour & Cultural Walk, and let me just say this: we are so glad that we fought through the jetlag produced by our 6:30am arrival from New York to experience the neighborhood of Campo de Ourique through its food.
This is why.
Some links in this post may be affiliate links. If you make a purchase through one of these links, we may earn a small commission at no extra cost to you. Please see our

disclosure policy

for more detail.
The Neighborhood of Campo de Ourique
A laid-back, easygoing neighborhood, Campo de Ourique is known as a great family spot in Lisbon: this is the place where you come to relax with your kids, eat in tasty, up-and-coming restaurants, and sample foods from the beautiful market.
Built primarily in the late 19th century, Campo de Ourique has two major claims to fame for Lisbon tourists: 1) the famous tram-28 has its last stop here, and 2) the aforementioned (delicious) chocolate cake.
In recent years, Campo de Ourique has started to make a name for itself as a foodie destination in Lisbon, with new and innovative restaurants opening up and thriving.
We were lucky to be led through the neighborhood by the hilarious and knowledgeable Madalena –she made sure to pepper plenty of cultural facts into the tour in between stuffing our faces, which is how we learned that the cemetery in Campo de Ourique that we met at to begin the tour (the Prazeres Cemetery) is the final resting place of some of Portugal's most beloved figures, and that the beautiful cathedral that stands near the market was built by authoritarian leader Antonio de Oliveira Salazar as a symbol of Portuguese strength.
Our Favorite Foods on the Campo de Ourique Tour
Seven stops and two very full bellies later, Jeremy and I each had a set of favorite foods from the tour.
Mine were chocolate cake, soft pork sandwiches, and vinho verde (though the phrase literally translates as "green wine", it means "young wine"–made from young grapes, with a delicious, crisp taste).
I'll keep most of the restaurants we stopped at to ourselves–don't want to give away all of Taste of Lisboa's tour secrets–but I will share this one: that incredible chocolate cake? It can be found at the shop titled "O Melhor Bolo de Chocolate do Mundo"… which translates as, "The Best Chocolate Cake in the World."
Talk about a name that says it all!
Jeremy's favorite foods from Campo de Ourique were all–no surprise–seafood.
Portugal is well-known for its love of seafood (with all that coastline, it makes sense), and he loved the mussels, the tinned sardines, and the bacalhau a bras (Portuguese comfort food–cod, onion, and shredded potatoes made into a patty and fried).
Most Unusual Foods We Tried
Unusual is, of course, a relative term–all foods are "normal" somewhere, but a couple of these Portuguese foods caught us by surprise!
First, fish egg sacs–cut into round pieces, these egg sacs look almost like sliced sausages.
We tried them in a traditional Portuguese dish, a cold salad in which the egg sacs are mixed with tomato, bell pepper, onion, olive oil, and cilantro.
In some ways, the dish reminded us of pico de gallo, simply based on the ingredient list and appearance–but the taste was all Portugal.
Second, while we knew we would be eating plenty of seafood in coast-heavy Portugal, we weren't expecting to eat bones!
Tinned sardines, a staple of Portuguese cuisine, were served with bones in them–granted, the bones were so small and thin we could barely tell we were there, but it was an interesting experience all the same!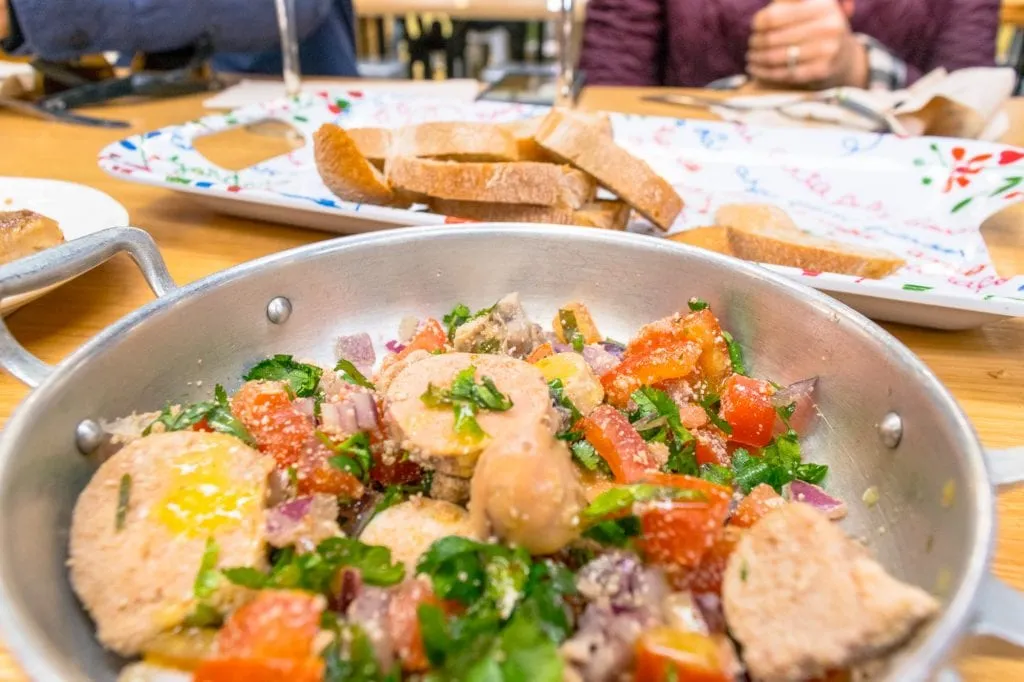 Come Hungry!
The most important advice we can give before coming on the Campo de Ourique food tour and exploring what to eat and drink in Lisbon? Don't eat breakfast beforehand (okay, maybe coffee–we may or may not have downed a couple of espressos each before the 10:30am start time due to our jetlag), and don't plan on lunch after!
Like most food tours we have been on around the world, you'll leave this one completely full, which is a very satisfying experience after filling up on such a wide variety of foods.
We had a blast exploring Campo de Ourique with Madalena and the rest of our easygoing tour group. I can't think of a better way to start our first day in Portugal, and our Campo de Ourique food tour set the stage well for a fantastic visit to Lisbon.
Many thanks to Taste of Lisboa for hosting us on our food & cultural walk through Campo de Ourique! All opinions are, as always, our own.