Traditional fado music, beautiful sunsets, and the clinking of glasses as people sip Portuguese wine: these are just a few things you'll find when looking for the best things to do in Lisbon at night!
While Lisbon's traditional tourist attractions tend to be more focused on the daytime hours, evening activities in Lisbon tend to be more focused on relaxation, ambiance, and good times among even better company.
We've rounded up this guide to help you decide what to do in Lisbon at night–especially for those hoping to find options beyond Lisbon's famous nightlife/club scene (though there are certainly plenty of ways to enjoy that, as well).
Here are some of the most memorable experiences to have after (or while) the sun sets in Lisbon, Portugal!
The Best Things to Do in Lisbon at Night
Set sail on the Tagus River with a sunset sailing cruise.
To date, this remains one of our absolute favorite things to do in Lisbon at night!
The views of Lisbon from the Tagus are wonderful, and there's nothing quite like experiencing the city from the water.
Lisbon's history and culture are deeply tied to the Tejo and to the wide open sea that lies beyond it, and relaxing on a sailboat is a fantastic way to reflect on your trip to Portugal so far.
Plus, it's simply lots of fun, and more affordable than you might expect!
… or enjoy sunset views from the banks of the Tagus River.
Love the idea of enjoying views of the Tejo and its many sailboats, but don't want to board one yourself?
If so, consider simply pulling up a spot along the riverfront to enjoy the views!
A couple of popular places to watch the sunset in Lisbon along the river include from the front of (or top of) the Museum of Art, Architecture, and Technology (MAAT) in Belém, and from the Cais das Colunas near the Praça do Comércio.
You'll also find outdoor restaurants, bars, and food/drink stands along the riverfront–some seasonal and some not–that can be wonderful places to pull up a chair and soak in the sunset views!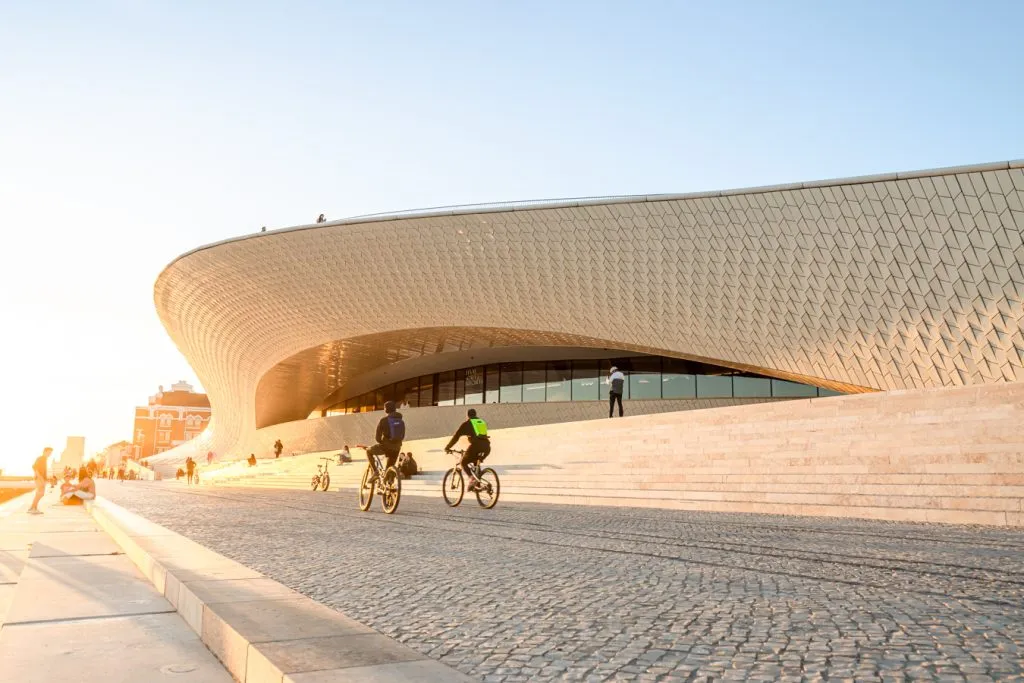 Soak in the atmosphere of classic Portuguese fado music.
Fado, Lisbon's most iconic form of music, is near-synonymous with the city.
Deeply heartfelt and nostalgic, fado is traditionally performed with a female singer and a male guitarist, each performing with deep emotion that is described in Portuguese as saudade.
Melancholic nostalgia is a fairly close translation, but it's one of those words that can't quite be defined in other languages–only through Portuguese music.
This popular fado show in Chiado is a popular, easy introduction to fado over the course of a one-hour performance and a great addition to your trip to Lisbon.
Chiado, in addition to being one of our favorite neighborhoods in Lisbon, is also located right next door to both Bairro Alto and Príncipe Real, making it easy to combine this fado show with other popular places to visit in Lisbon at night!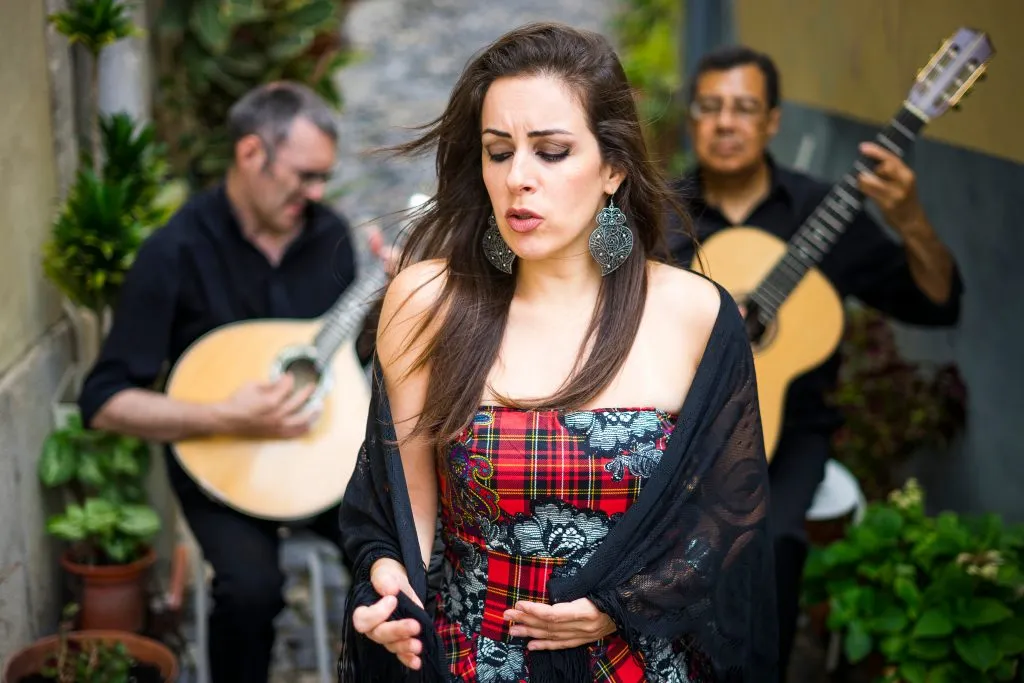 Grab dinner in trendy Príncipe Real.
Known for its trendy restaurants and shopping, plus beautiful views, Príncipe Real is a beautiful Lisbon neighborhood that thrives in the evenings.
It's also one of our favorite places to grab dinner in Lisbon!
Restaurant options abound, from traditional Portuguese fare to international cuisine, so whatever you're in the mood for, Príncipe Real has you covered (just be sure to make reservations–it's a very popular place to eat!).
You'll be spoiled for choice among restaurants here, but consider Atalho Real for steak (don't skip the garlic bread–and they have a beautiful back garden, too), A Cevicharia for casual seafood, or Tapisco for incredible petiscos (Portuguese tapas).
Watch the sunset from one of Lisbon's iconic miradouros.
Lisbon is famous for its hills… and the flipside of that is that Lisbon has absolutely incredible viewpoints over the city.
Called miradouros–which is a delightful word to keep an eye out all over Portugal–many of the city's viewpoints rank among the top things to see in Lisbon.
For a different perspective (and often fewer crowds), though, consider visiting at night!
A few miradouros to consider include the Miradouro das Portas do Sol, the Miradouro de São Pedro de Alcântara (the perfect next stop if you have dinner in Príncipe Real), and the Miradouro da Graça.
The famous Miradouro de Santa Luzia loses a bit of its beauty at night (it's harder to capture both the azulejos and view at the same time after dark), but it's still worth a visit!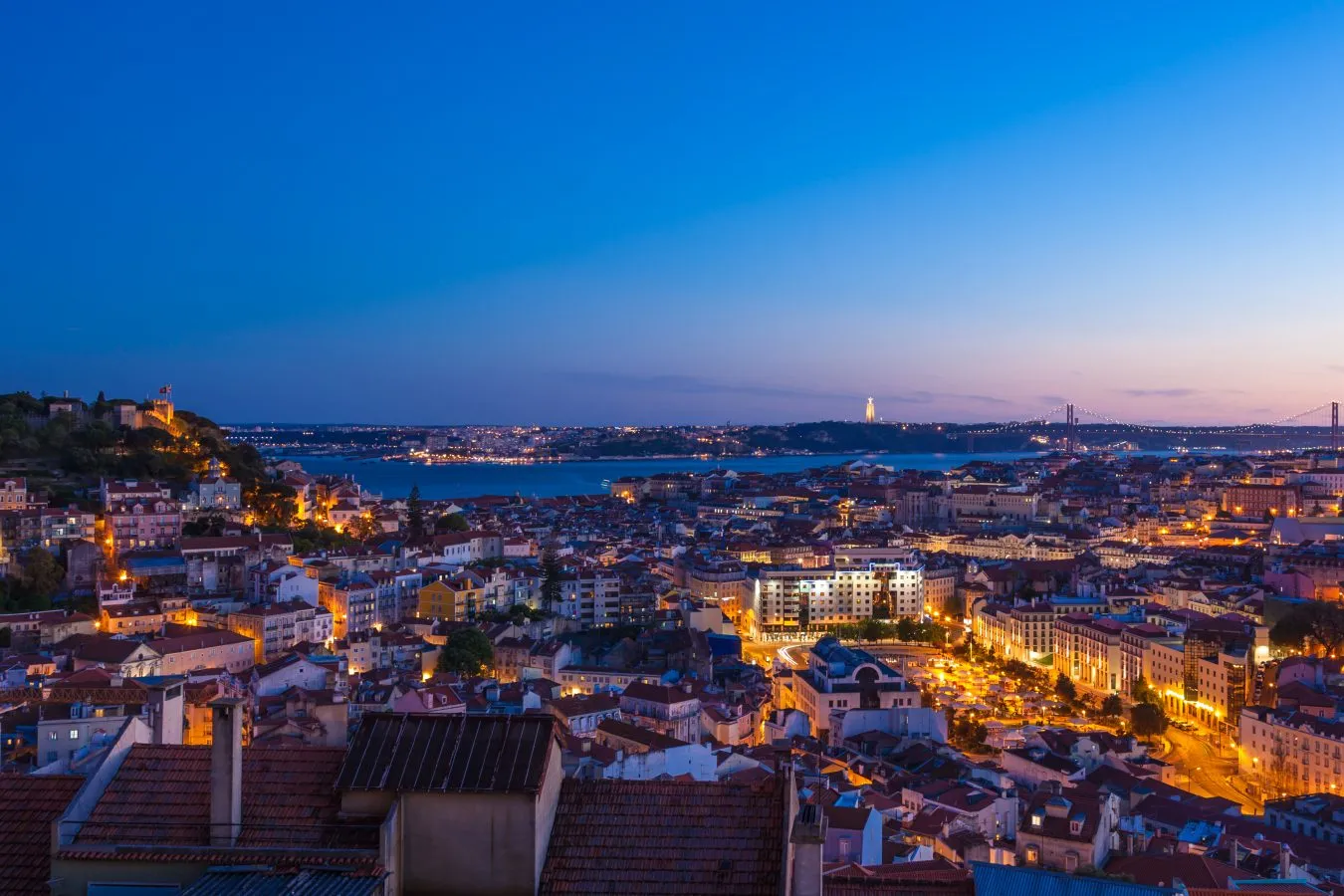 Learn about Portuguese cuisine on a food tour.
We're big proponents of food tours around the world: combining traditional local food with a chance to take a walking tour of a city is a fantastic way to get acquainted with a new place!
We've taken a few Lisbon food tours over the years, all wonderful, but on your first trip to Lisbon, there's none that I recommend more highly than this food and wine tour.
With a convenient starting point that is very close to the Church of São Domingos, this food tour is filling, delicious, and informative–and you definitely won't need to eat dinner afterward.
Best of all, it focuses primarily on introducing you to classic Lisbon cuisine, which will help you with ordering in restaurants for the rest of your time in Portugal.
Perhaps the biggest endorsement we can offer is that we have returned to several of the included establishments since, including bringing our friends and family to some of them when they visit us in Lisbon!
Book your Lisbon food tour today!
… or enjoy a tapas and wine tasting.
Don't want to wander around or get overly full, but do want to explore Portuguese cuisine through the lens of an expert?
This popular tapas and wine tasting is perfect for wine and charcuterie lovers who want to learn what makes Portugal's local wine, cheese, and meat special.
Portugal makes one of our absolute favorite cheeses in the world, not to mention excellent wine–if you ask us, it's definitely worth familiarizing yourself with!
(Want to skip the cheese and meat and just stick with the wine? This budget-friendly wine tasting is a great alternative!)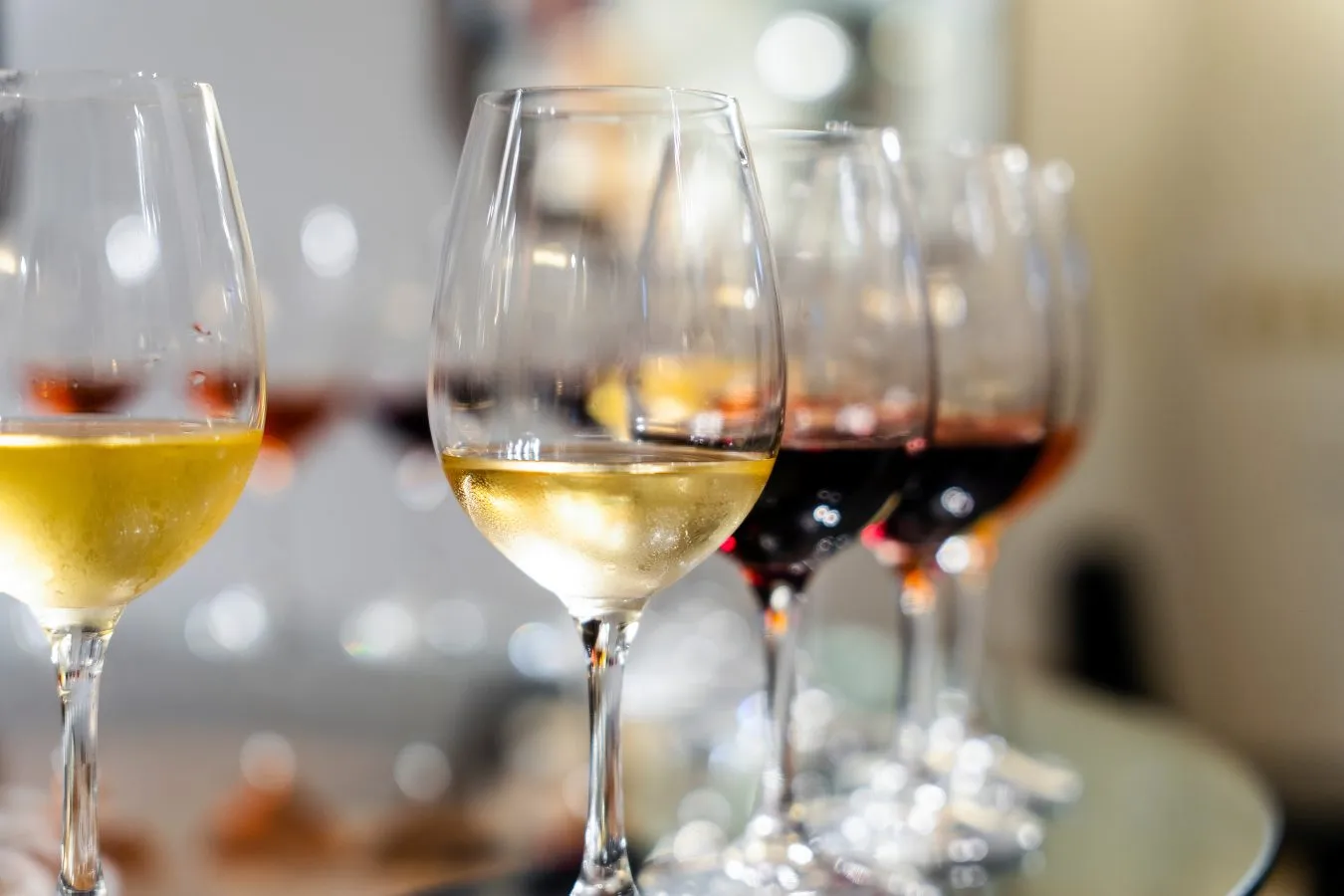 Head over to LX Factory to experience a different side of Lisbon.
A one-time industrial complex that was given new life as a center for food, art, and more, LX Factory offers a chance to see a fun and modern side of Lisbon.
Packed with restaurants, shops, bars, and even offices (not that you'll need to visit those!), LX Factory stays busy well into the evening, making it one of the best places to visit in Lisbon at night.
Bibliophiles like us shouldn't miss Ler Devagar, one of Lisbon's most beloved bookstores (it's open until 10:00 PM on weekends and 9:00 PM on weekdays).
Step inside the Carmo Convent.
Looking for early evening activities in Lisbon–perhaps something to do right before dinner Príncipe Real?
Consider paying a visit to the roofless Carmo Convent, which closes at 7:00 PM!
Construction broke on the magnificent, Gothic-style Carmo Convent in 1393.
Fast forward a few centuries, and the church collapsed in the infamous earthquake of 1755.
And fast forward a couple more centuries, and you have the fascinating Carmo Convent of today: a roofless church stretching out over the Lisbon skyline.
The Carmo Convent was partially restored after the earthquake, but its roof was never put back on–and the resulting atmosphere is worth a visit.
In addition to the church itself, the small Carmo Archaeological Museum features artifacts from both Portugal and around the world, including 2 Peruvian mummies.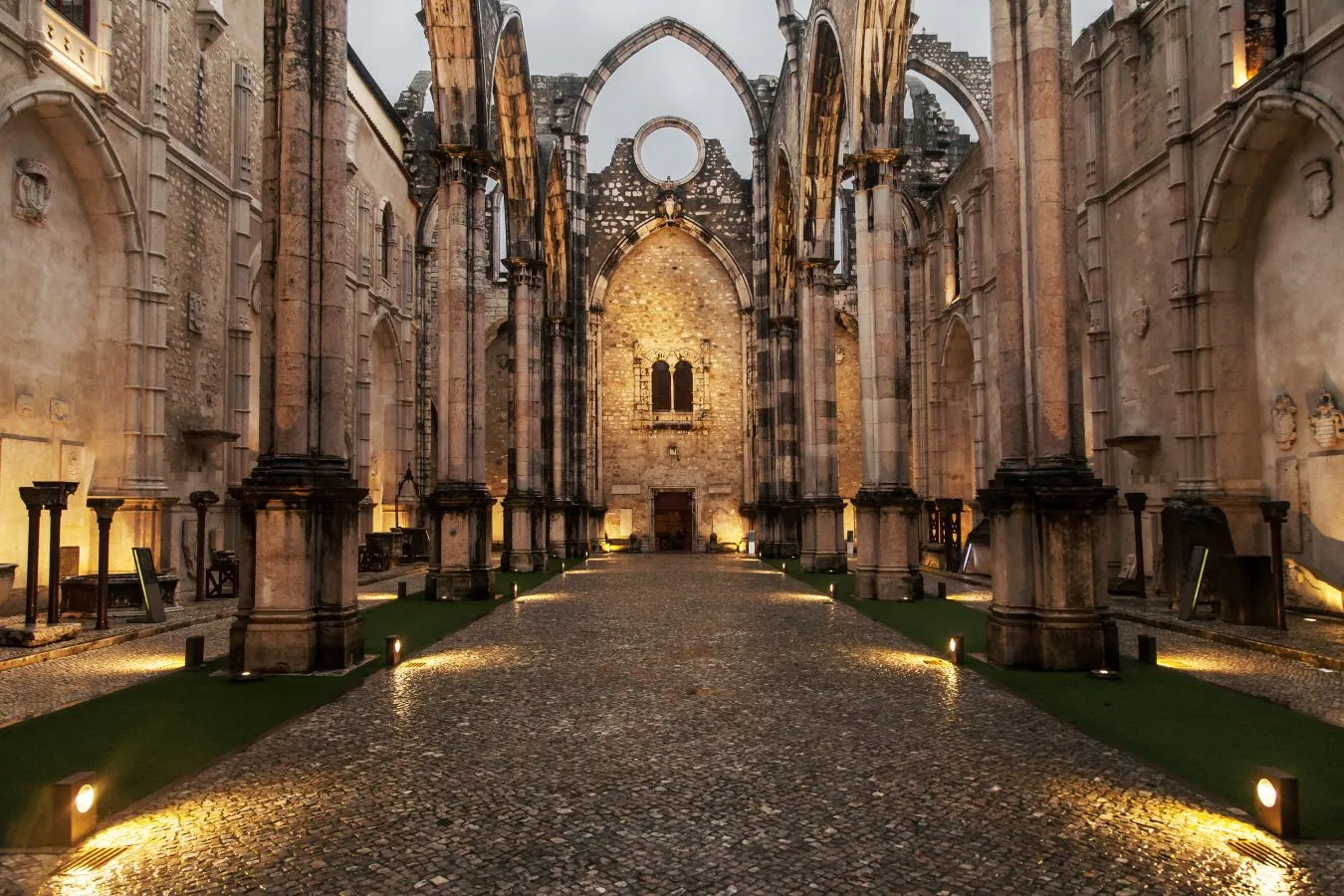 Join a pub crawl through one of the best nightlife neighborhoods in Lisbon.
Hoping to explore Lisbon's bar scene in Bairro Alto and beyond, but not sure where to start?
If so, this popular pub crawl is a great way to get to know this iconic nightlife neighborhood.
And, as a bonus, it's the perfect way to meet other like-minded travelers as you explore!
Book your Lisbon pub crawl today!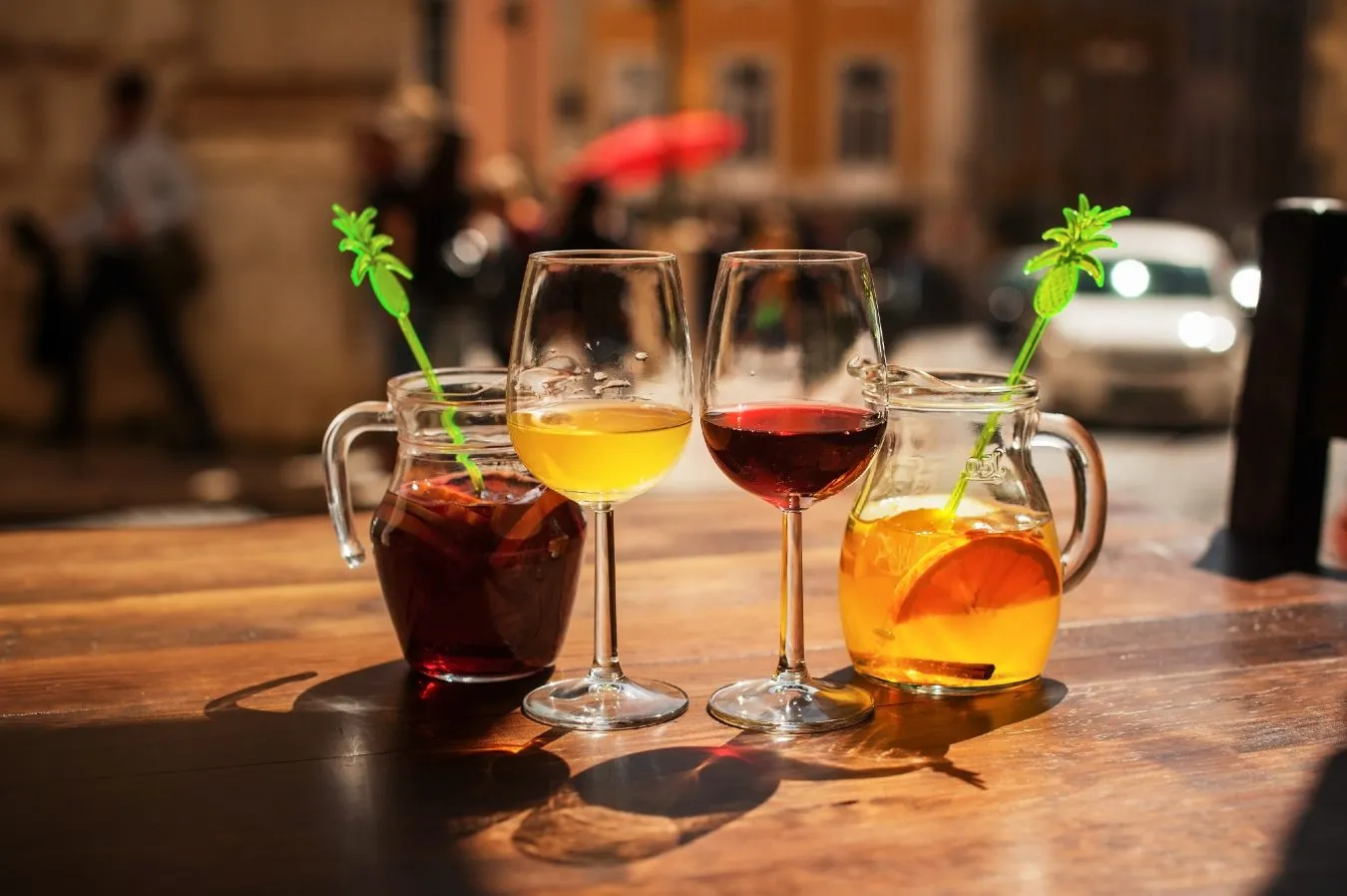 … or combine history and nightlife on a drunken history tour.
Love the idea of a bustling pub crawl with new friends, but want to learn a bit about Lisbon's more scandalous history while you're at it?
This drunken history walking tour gets excellent reviews and offers the best of both worlds.
Meander through Baixa and stop by A Ginjinha for a drink.
Ginjinha, also known as ginja, is Portugal's most popular liqueur.
And, as someone who typically doesn't care for liqueurs, let me say–this one is absolutely fantastic.
Made with morello cherries among other delights, ginjinha is served in a small, shot-sized glass (which is sometimes made of chocolate), but it is meant to be sipped.
We've tried many brands in Lisbon, Obidos, and beyond, but remain partial to Ginjinha Espinheira (it's fabulous).
For a memorable place to sample this local drink, head to the popular and centrally located A Ginjinha bar in Baixa, which also happens to be a great neighborhood for walking around Lisbon at night!
… and head to the top of the Rua Augusta Arch.
The gorgeous Rua Augusta Arch, which stands at the edge of Praça do Comércio and at the entrance to Rua Augusta in Baixa, is one of Lisbon's best hidden gems (granted, one that's hidden in plain sight).
While just about everyone who visits Lisbon admires the arch from below, very few people enjoy the view from the top of the arch.
I've never seen a line here and personally walked right in when I climbed it.
For a small fee (3.5 Euro at the time of writing), you can head to the top of the arch via a combination of elevator rides and stairs.
The Rua Augusta Arch doesn't close until 7:00 PM, which means that during part of the year, you'll be able to enjoy views of Lisbon at night–or even, with the right timing, at sunset!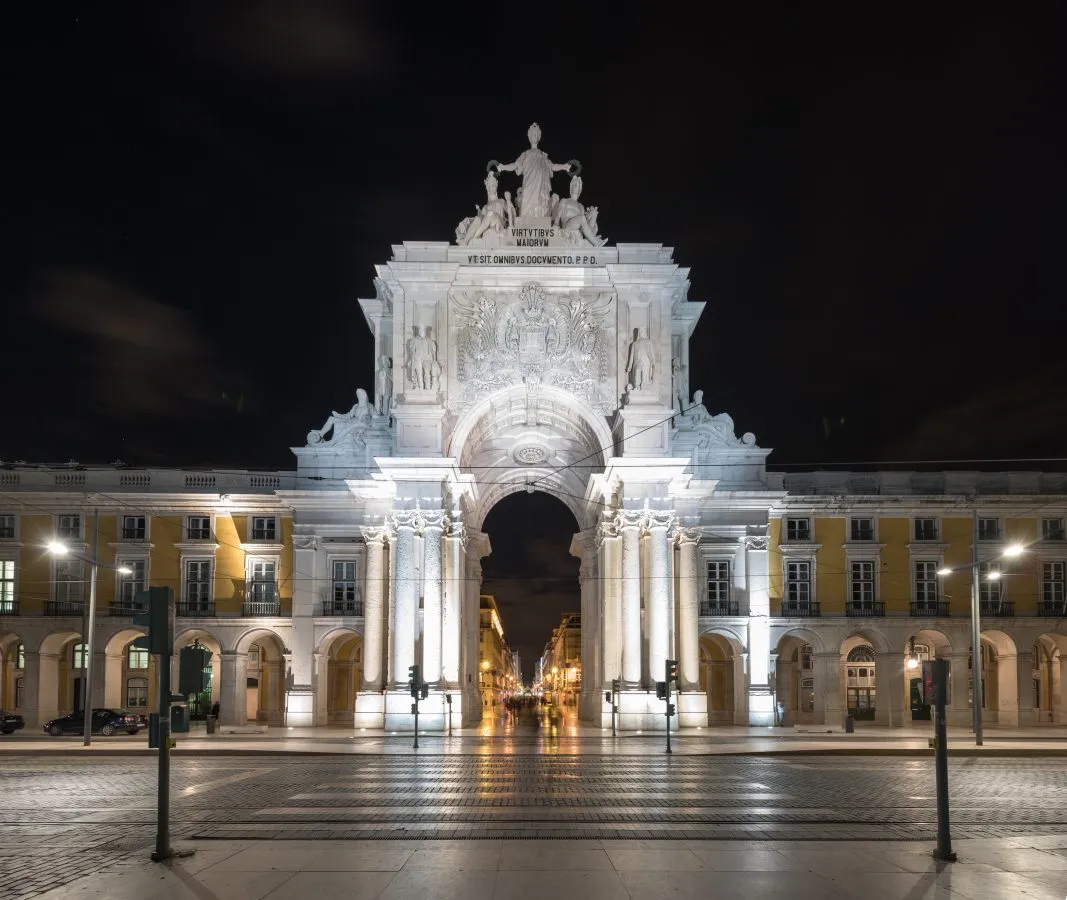 Visit the iconic Time Out Market in Lisbon after dark.
Lisbon's famous Time Out Market is one of the most popular places in the city, but daytime isn't the only option for visiting!
For a different Time Out Market experience, head over in the evening (it's open until 12:00 AM, though some stalls may keep different hours) and eat dinner via a selection of stalls featuring some of Lisbon's most beloved restaurants.
Once you finish, you'll also find yourself just around the corner from Lisbon's iconic pink street, which makes an excellent next stop for exploring Lisbon at night.
Grab dinner on Lisbon's green street (Rua da Silva).
Sure, you've probably heard about Lisbon's famous pink street–but what about its green one?
This narrow, charming street is full of decor, including the many plants perched on the edges of windows and balconies that give Rua da Silva its nickname of Green Street.
At night, small tables spill out into the streets as restaurants and bars take over the area, making for a relaxed but lively evening atmosphere.
We can heartily recommend A Obra for a tasty dinner while you're there!
See an opera at the Teatro Nacional de São Carlos.
Hoping to enjoy a beautiful opera during your time in Lisbon?
The 18th-century Teatro Nacional de São Carlos in Chiado has you covered!
You can check show dates and ticket prices on the opera house's website.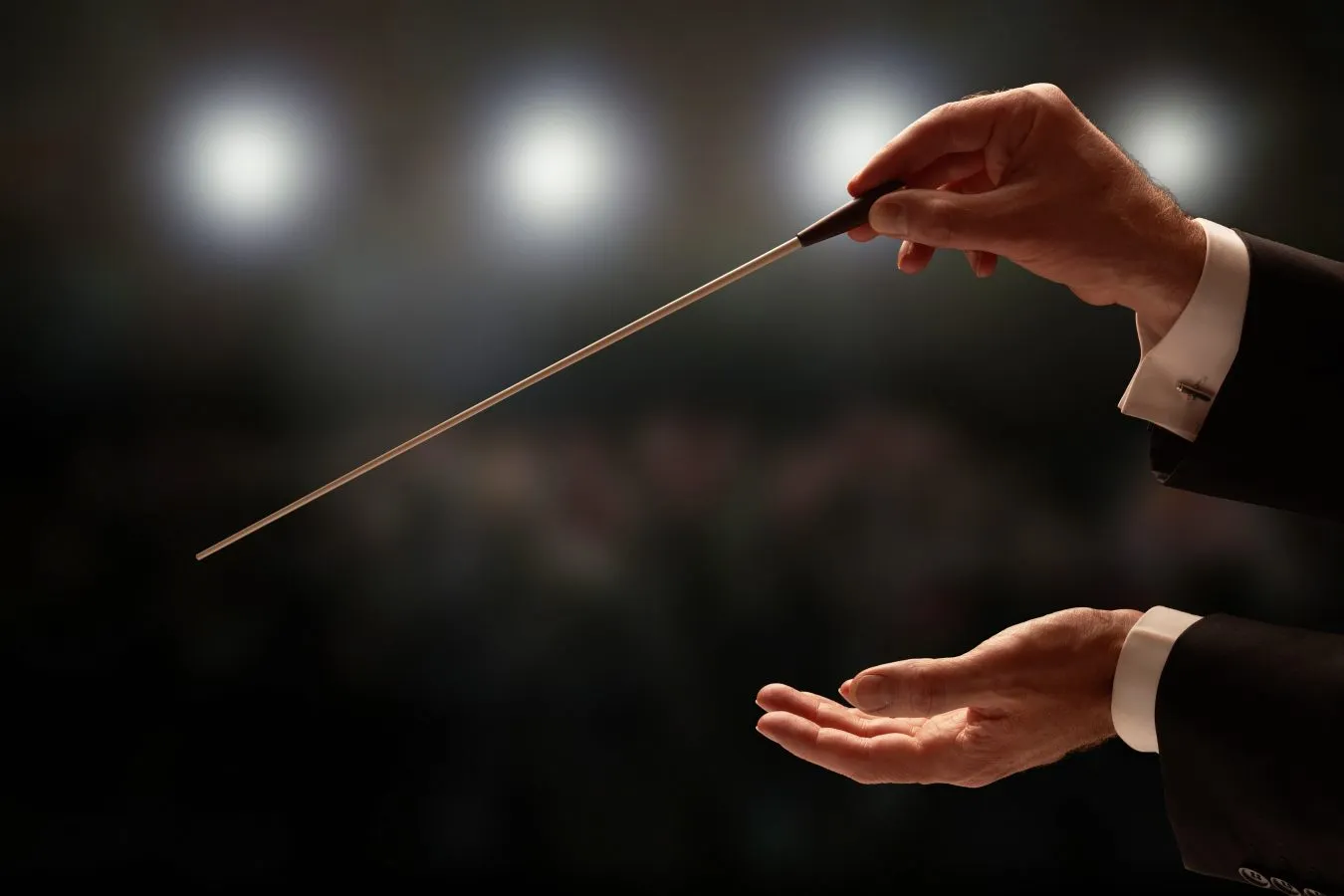 Tips for Exploring Lisbon at Night
If you're planning to be out late, keep an eye on the metro hours.
Lisbon's metro system closes at 1:00 AM, which is well before most bars and clubs do–so if you're planning to be out late, have a plan on how to get back to your hotel (usually a taxi is easy enough to find).
Some minor stations close before 1:00 AM, and while that's unlikely to impact you in central neighborhoods it's best to double-check when planning your night out in Lisbon.
Make dinner reservations in advance.
Restaurant reservations are the standard when dining out in Lisbon at night, so it's best to plan ahead!
This can be as simple as calling (or even simpler these days, setting an online reservation) during lunch hours to schedule an evening visit.
If you're headed to a particularly trendy place (especially on a weekend) or are dining with a large group, you may want to plan a bit further ahead.
It helps to be flexible with your eating schedule, too: early dinner reservations are usually easier to make than ones for later in the evening!
Don't expect to visit a lot of official museums or attractions.
While many European cities keep their museums open after-hours, even if only for specific guided tours, that's not something that's typically done in Lisbon.
There are a handful of attractions that close as late as 7:00 PM, as we highlighted above, but generally speaking, sightseeing in museums and historic monuments is a daytime-only event in Lisbon.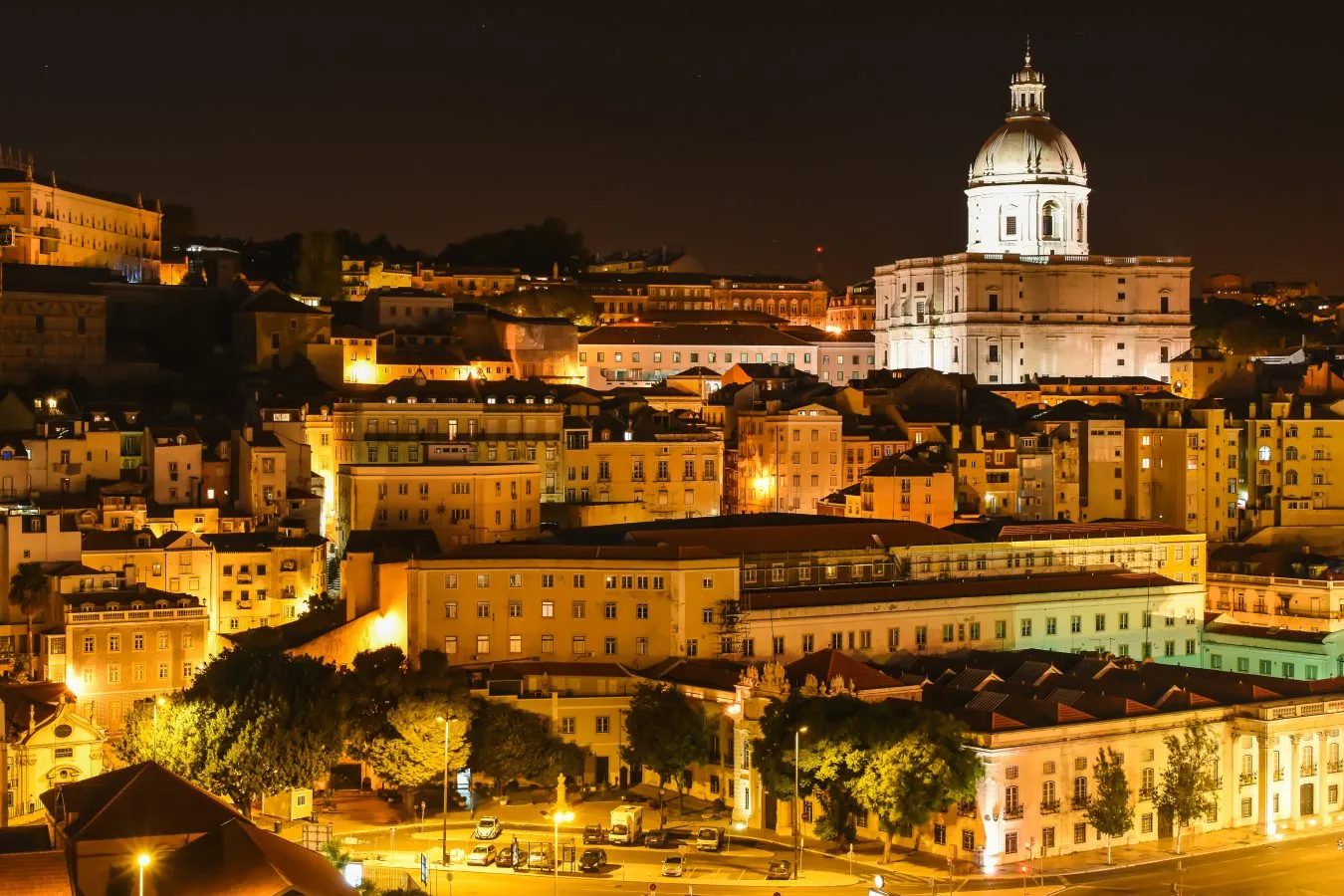 FAQ About Enjoying Evenings in Lisbon
What are the best neighborhoods for nightlife in Lisbon?
For traditional nightlife (clubs, bustling bars, etc.), Bairro Alto, Cais do Sodré, the Santa Amaro Docks on the Tagus, and Parque das Nações are popular neighborhoods.
What time do people eat dinner in Lisbon?
While dinnertime in Portugal tends to be on the early side when compared to their famously late-dining next-door neighbors in Spain, Portuguese people do still tend to eat later than those of us from the US!
8:00 PM or 9:00 PM is a standard time to eat dinner in Lisbon.
Restaurants tend to open for the evening around 7:00 PM, though they tend to be rather quiet and empty then–which can be an advantage for early diners (it's easier to get reservations).
Of course, this all goes out the window with extremely famous or trendy restaurants–they'll stay busy for much longer!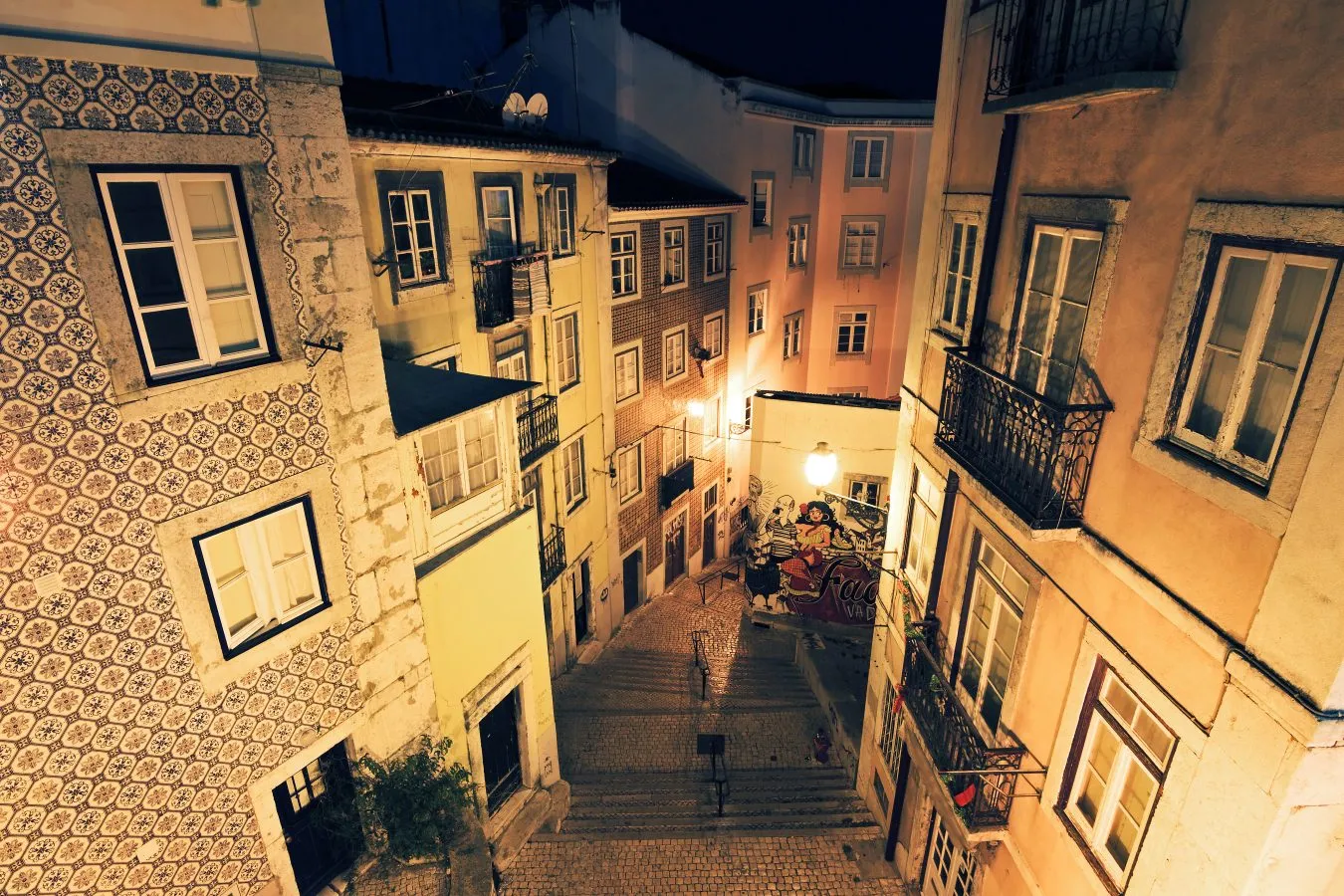 What's the best way to get around Lisbon at night?
The best ways to get around Lisbon at night are more or less than same as during the day: walking, taxis (or Ubers), the metro, and trams are all popular options.
Keep in mind that trams stop running earlier than the metro (which closes at 1:00 AM).
The popular Tram 28 stops running around 11:00 PM on weekends and 10:30 PM on weekdays, and some other routes stop earlier.
Can you walk around Lisbon at night?
Yes, you can definitely walk around Lisbon at night!
Like any major city, you'll want to take standard precautions (be aware of your surroundings, watch your inebriation level, don't wander down mysterious dark alleys alone, etc.), but Lisbon is generally considered to be a very safe city.
Central neighborhoods like Alfama, Baixa, Chiado, and Bairro Alto are popular places to walk at night.
What are the best neighborhoods to visit during the evening in Lisbon?
If you're looking for cozy atmospheres, historic architecture, excellent food, and fado, Alfama and Chiado are both deservedly popular with visitors, as is Baixa to an extent.
For trendy, upscale restaurants, Príncipe Real is hard to beat (it's one of our favorite neighborhoods for evenings out in Lisbon).
Campo de Ourique and Estrela, though a bit further out, are beautiful neighborhoods with excellent restaurants.
If you're looking for nightlife, Bairro Alto, Cais do Sodré, and the Santa Amaro Docks on the Tagus are popular.
Parque das Nações is too, though further from downtown Lisbon.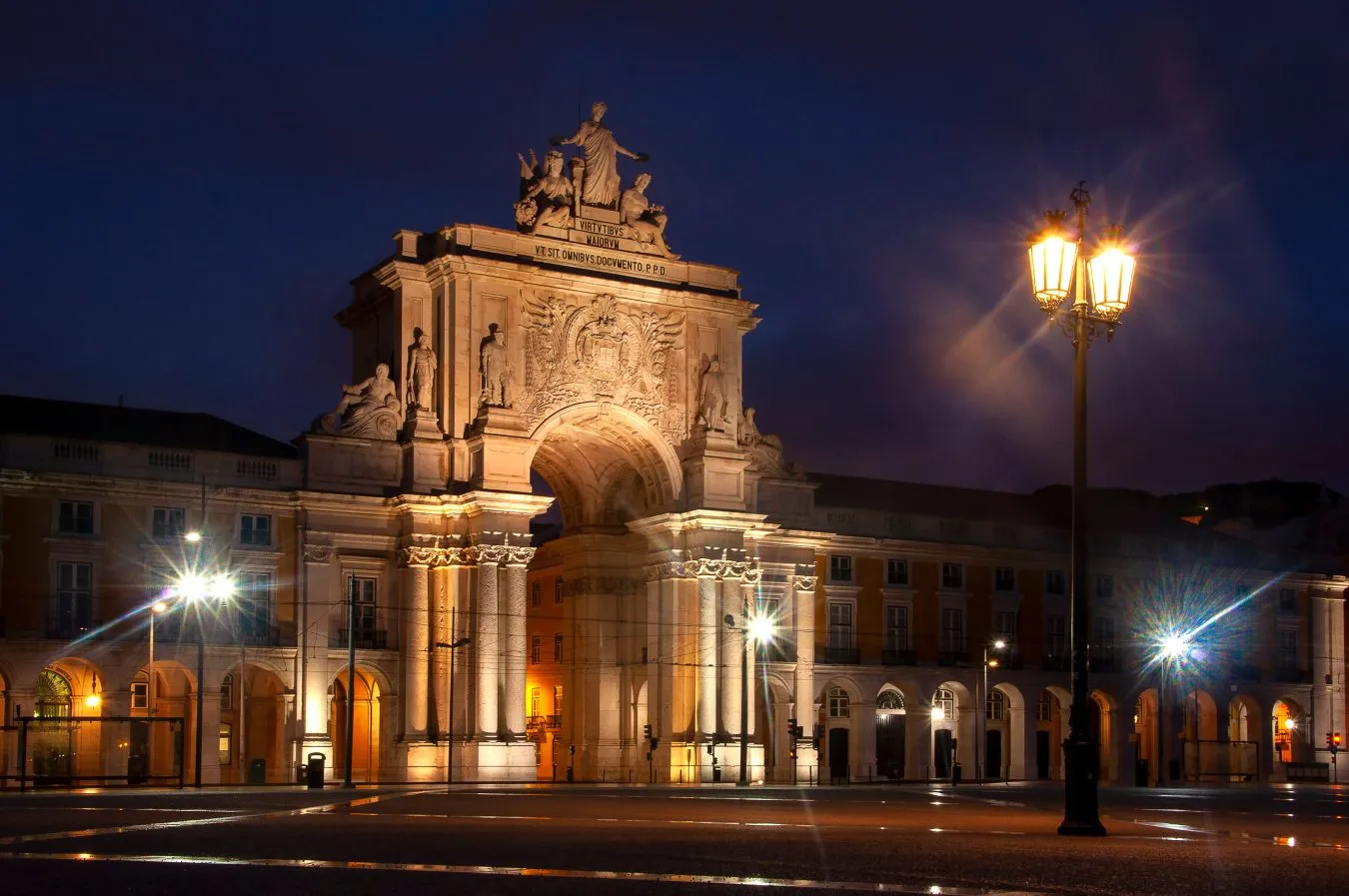 Is Lisbon lively at night?
Lisbon's central neighborhoods are very lively at night and are generally filled with people enjoying food and music in all forms.
If you're looking for a relaxed evening of fado music, a late-night club scene, or anything in between, Lisbon has tons of options to offer.
One thing nighttime in Lisbon really doesn't offer much of, though?
Official tourist attractions, like museums.
When dinnertime hits, the attractions close and the relaxing and socializing begins.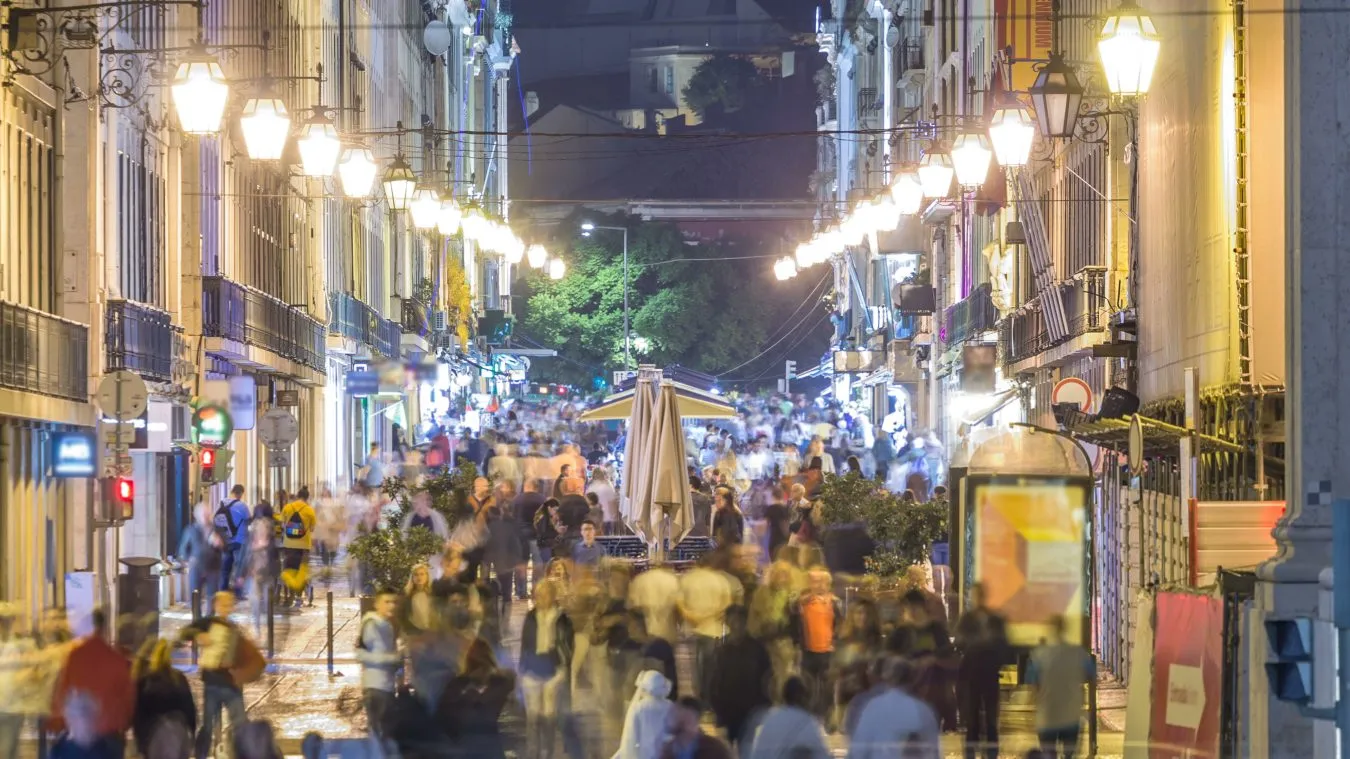 Read More About Visiting Lisbon (and Portugal)
Planning a trip to Lisbon and want to keep reading?
You can browse our many Portugal blog posts here, or check out these guides: