Here's a sentence I never expected to write: our visit to Budapest in November just might have been our favorite trip to the city yet–and we love Budapest year-round!
There's just something about Budapest during the cold, blustery fall-bleeding-into-winter weather that makes the city feel even more special than during its hot-and-sticky summer.
If you're considering a visit to Budapest in November, you're in for a real treat (but yes, definitely pack a heavy coat–more on that below).
Here are the best things to do in Budapest in November, plus tips for visiting!
9 Reasons to Visit Budapest in November
Two words: Christmas markets!
Budapest's Christmas markets are an absolute delight.
Festive, beautiful, and full of lovely crafts and delicious treats, they're among some of our favorite Christmas markets that we've seen in Europe!
Add in the setting of regal Budapest itself in the background, and you have the ingredients for a perfect Christmas celebration.
And, since Budapest's Christmas markets open on the early side (often as soon as the third week of November for the biggest ones), they're the perfect option for travelers hoping to kick of the holiday season early.
We loved spending hours perusing the markets during our trip to Budapest in November, and we will definitely see them again one day!
Hungarian food is even more delicious when it's cold outside.
I could easily make this post into a 30-item list of reasons to visit Budapest in November by simply calling out every one of the incredible Hungarian dishes that's made even more delicious by the blustery weather outside, from goulash to langos to palacsinta to chicken paprikash.
Quite honestly, we dedicated a large portion of our November trip to Budapest to methodically eating our way through the city, from tasty Budapest brunches to cozy dinners and everything in between, and we have absolutely zero regrets.
If you're a foodie planning a trip to Budapest, you can't go wrong with a visit during cold weather.
Looking to sample Hungary's wine scene?
This wine, cheese, and charcuterie tasting remains one of the most memorable tastings we've ever enjoyed–and it takes place in a cozy cellar, perfect for November!
You can kiss the crowds goodbye.
Budapest's Christmas markets are increasingly popular and well-known (as are most European Christmas markets, honestly), which does draw some visitors.
But in November, your visit will fall before most of the Christmas market tourists arrive, and after the bulk of Budapest's other tourists have left for the year.
In other words, you can definitely expect a little more elbow room at Fisherman's Bastion than you would in June!
Paying a visit to Parliament is much easier than during the summer.
As a direct result of there being fewer crowds in Budapest during November, it will be easier than ever to tour the magnificent Hungarian Parliament if you're so inclined.
You'll still want to book ahead of time… but unlike summer visitors, you won't necessarily have to worry about the tickets being sold out far in advance.
There's no better season for soaking up Budapest's cafe culture.
Budapest is well-known for its opulent coffee houses, and they're one of my personal favorite features of the city.
New York Cafe, Central Cafe, and Cafe Gerbeaud are just a few of the city's spots famous for their beautiful interiors, tasty cakes, and lovely (if somewhat expensive) coffee.
I'd say there are fewer things more fun about visiting Budapest in November than grabbing a corner table at Central Cafe and tucking into a coffee and a slice of Esterhazy Cake!
It's ice skating season!
Ever wanted to go ice skating in front of a castle?
In Budapest, you can!
Each winter, Budapest opens an ice rink directly in front of Vajdahunyad Castle in City Park, creating a picture-perfect winter wonderland right in front of one of the most popular castles in Hungary.
Once you get done skating, be sure to head over to the castle itself!
Originally built of cardboard in 1896 to celebrate Hungary's 1000th birthday, Vajdahunyad Castle ended up being so popular with locals that it was eventually rebuilt into the permanent structure you see today.
It's a great time of year to catch a concert.
Want to see a ballet or an opera during your visit?
If so, plan a November trip to Budapest!
While the Hungarian State Opera House is gorgeous and worth touring any time of year, it's even more special to see a show there.
It's hard to think of a better way to spend an evening in Budapest in November than at the theatre!
In November, Budapest's thermal baths are even cozier.
Budapest's famous thermal baths are relaxing year-round–but there's no denying that the colder it is outside, the more enjoyable they become.
If you've ever dreamed of watching steam rise over the famous outdoor baths at the Szechenyi Spa without battling endless crowds, your trip to Budapest in November is the perfect opportunity.
If you're the type who just can't get enough of any kind of spa treatment, you can even go beyond Budapest's thermal baths when treating yourself during your November trip to Budapest.
Consider booking yourself into a hotel with a steam sauna or even a dry heat sauna (such a contrast to the weather outside!), or splurge on a massage or three.
A long walk along the Danube is cold… but still beautiful.
There's something so peaceful about walking along the Danube in the brisk November air.
The crowds are much thinner than during the summer, the river seems a bit calmer, and the buildings and views are still just as lovely.
We found ourselves drifting toward the river, crossing the Chain Bridge back and forth more than once, constantly during our November visit to Budapest.
Where to Stay in Budapest, Hungary
Budget
Jackquaters — Located right next to Vaci Utca and only 100 meters from the Danube, Jackquaters is the perfect location for anyone visiting Budapest.
Budapest highlights like the Chain Bridge and Great Market Hall are within easy walking distance!
Mid-range
Hotel Erzsébet — With Central Market Hall and Vaci Utca at your fingertips, you definitely won't go hungry while staying at the beautiful Hotel Erzsébet!
Luxury
Hotel Mika Superior — Hotel Mika Superior offers beautiful rooms, fabulous service, and a delicious included breakfast.
It's also located in the old Jewish Quarter of the city, near the Dohany Street Synagogue and Hungarian Opera House.
This is one of our personal favorite neighborhoods to stay in visiting Budapest!
Tips for Visiting Budapest in November
Check opening dates for the Christmas markets before booking tickets.
Budapest's Christmas markets tend to start opening earlier than in some cities–by our mid-November visit, we had plenty to choose from!
Some of the most popular markets in the city, though, like the St. Stephen's Basilica Christmas market, open later in the month.
If you have your heart set on touring the markets, plan your trip for as late in November as possible, and double-check opening dates before committing!
Pack accordingly.
I'll include some specific packing suggestions below, but for a November trip to Budapest, definitely plan on bringing a warm coat, boots, cozy hat
, scarf
, and gloves.
I
n other words, you'll want to bundle up!
When we visited Budapest in November we had been traveling in warmer climates for months beforehand–and the first place we headed after landing in the city was to shop for warm clothes.
We didn't want to wander around without them for even an hour!
Plan to make more use of public transportation than during the summer.
Budapest is a fantastic city to walk around for hours on end, but when visiting Budapest in November, there's no doubt that you're going to want to take a few more breaks from walking and board trams or the metro instead!
Budapest has a great public transportation network comprised of trams, a metro, and buses.
You can buy single tickets, a group of 10 tickets, a 24-hour pass, a 72-hour pass, or a 7-day pass to the transportation system.
In November, you'll want the passes!
If you're planning to visit several museums and attractions during your trip to Budapest, you may want to price out the Budapest Card as well–it includes unlimited public transportation!
Definitely bring an umbrella.
With an average of nearly half the days in November bringing rain to Budapest, be sure to bring an umbrella out with you each day.
This travel umbrella
travels all over the place with us and is a great option!
What to Pack for Budapest in November
Travel Insurance — Never travel without insurance! You never know what's going to happen, and travel insurance is an affordable way to take a lot of the stress out of your trip to Hungary.
Check prices and inclusions with Safety Wing for your trip to Budapest!
Travel Adapters for Hungary — If you're coming from outside the EU, you'll need to purchase travel adaptors to make sure your electronics work in Budapest.
Winter Coat — Even though November isn't technically winter yet, a warm winter coat is essential to enjoying Budapest in November.
On our trip, I wore one like this and Jeremy wore one similar to this
, and we were both very comfortable!
Hat
, Scarf
& Gloves — You won't be sorry you brought these–trust me.
Winter Boots — Make sure that your boots are comfortable enough that you can walk and stand in them for most of the day.
I wore ones similar to these
on our November trip to Budapest (I actually bought mine in Budapest the day we arrived!) and the lining kept my feet incredibly warm.
Fleece Leggings — I wore fleece leggings constantly while in Budapest in November and can't recommend them enough! Such an easy way to stay cozy when traveling.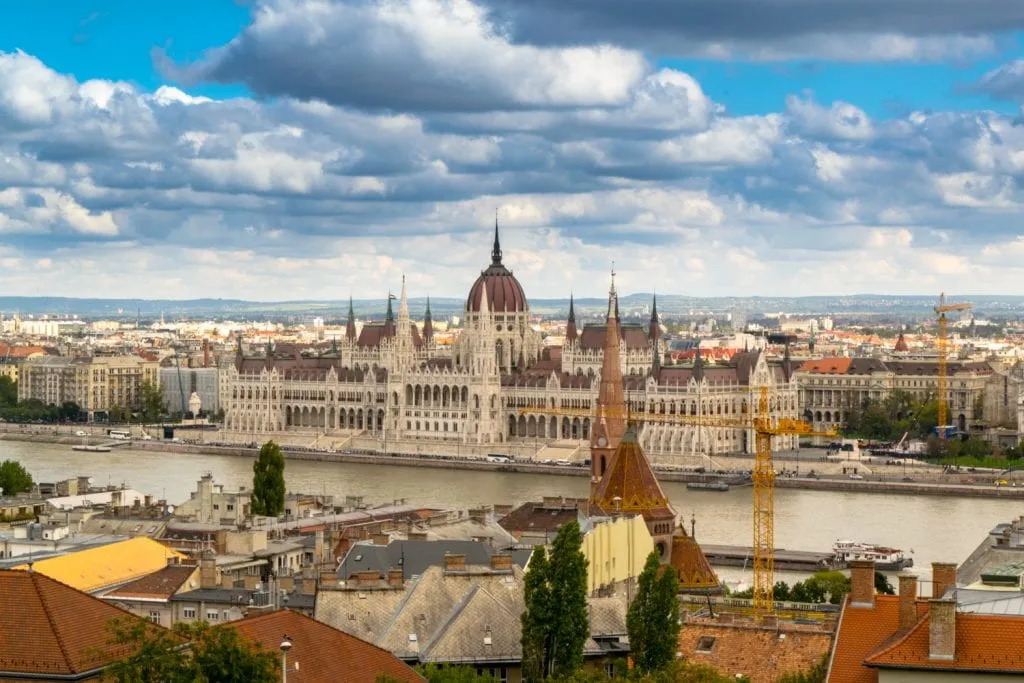 Travel Journal
 — We can testify that travel memories that aren't written down quickly can often fade–especially the small details that may not seem special now, but will mean a lot more five or ten years down the road.
If you don't want to commit a lot of time to writing each night, I'm a big fan of this One Line a Day Journal
that allows you to easily track your experiences over five years.
I'm now working on my second volume and still loving it!
November Weather in Budapest
Visiting Budapest in November means blustery days, limited sunshine, and cold-but-not-freezing temperatures (average temperatures hang out around 5 Celsius/40 Fahrenheit).
You can expect rain on nearly half the days of November, too–in other words, damp, gray weather is to be expected.
Don't come to Budapest in November expecting snow (a little further into Budapest's winter, though, is a different story), but don't expect to walk around only in a light jacket, either!
As with any destination, be sure to check and double-check the weather in Budapest before your particular travel dates, as you never know when a heatwave or cold snap could jolt things in a different direction!
Read More About Visiting Budapest (and Beyond)
Planning a trip to Central Europe soon, and eager to keep reading?
You can browse our Hungary blog posts here, or check out these guides: