Drenched in American history, architectural charm, and a delicious food scene that is all its own (hello Philly cheesesteaks and whoopie pies!), spending a long weekend in Philadelphia makes for an excellent short trip.
In some moments, Philly is reminiscent of both Boston and New York, but ultimately, the "City of Brotherly Love" and first capital of the USA absolutely holds its own as a weekend getaway.
Whether you're primarily interested in art, food, American Revolutionary War history, or simply having some fun running up the Rocky Steps, you'll have a blast spending 3 days in Philadelphia, PA.
We've designed this Philadelphia weekend getaway guide for first-time visitors hoping to get a varied and interesting introduction to the city, hit up Philly's top attractions, learn some history, and eat well along the way.
Here's how to make the most of a 3 day weekend in Philadelphia!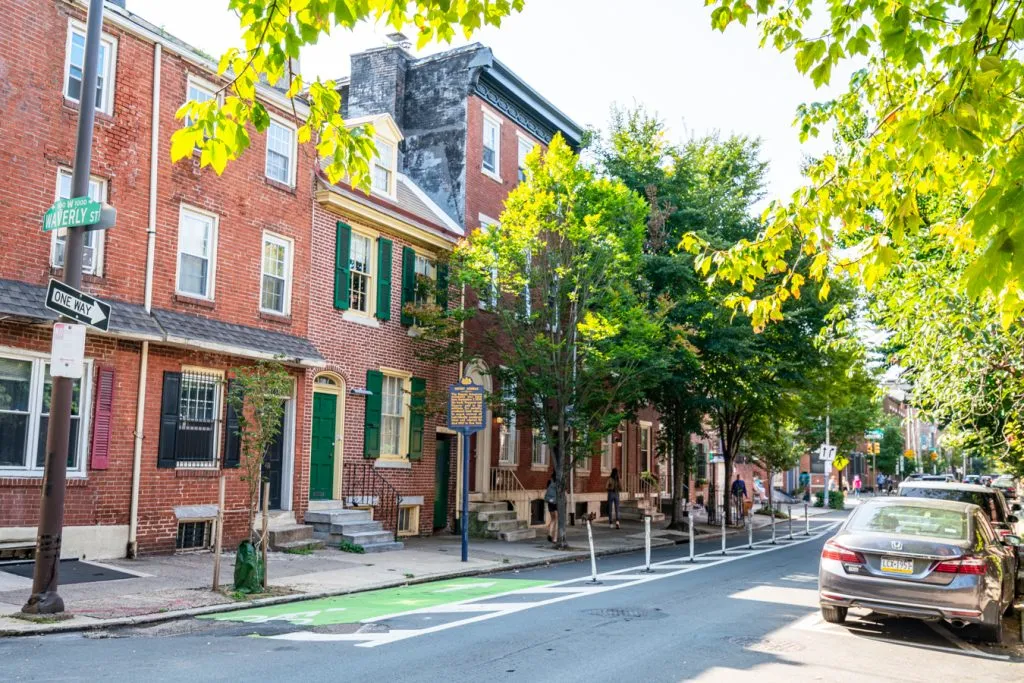 The Perfect 3 Day Weekend in Philadelphia Itinerary
Day 1 in Philadelphia: Explore the Revolutionary War Era + Old City
Start your weekend in Philadelphia at Independence Hall.
Where else could you kick off your 3 days in Philadelphia than at the city's most famous building?
Considered the birthplace of America, Independence Hall was built as the State House of the original Philadelphia Colony and witnessed the rise of our modern US government.
While Independence Hall is most famous for being the location of the signing of the Declaration of Independence, it witnessed far more, including the signing of the Consitution, numerous debates over both documents, and the adoption of the Articles of Confederation.
No first trip to Philadelphia is complete without a stop here!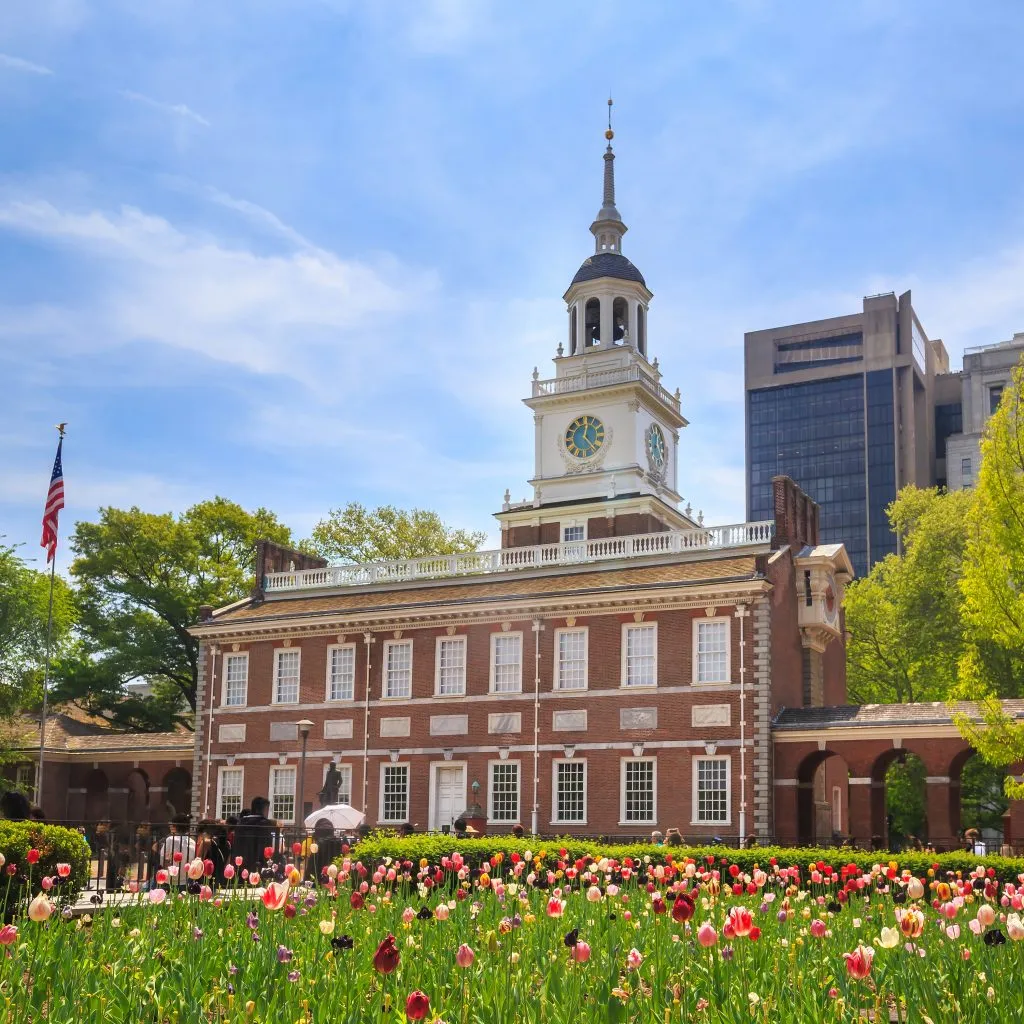 Prefer the context of a guided tour?
I've outlined this first day in Philly as a self-guided tour of many of the city's most iconic Revolutionary War sights.
However, if you prefer more historical context and don't want to worry about navigating yourself, all of these places (and a few more!) are covered on this popular Founding Fathers Walking Tour that gets excellent reviews.
Book your Founding Fathers Walking Tour in Philadelphia today!
Say hello to the Liberty Bell.
The Liberty Bell, which once hung at the top of Independence Hall, is one of the most iconic symbols of freedom in our collective American mythology.
The bell itself dates to the mid-18th century, but it didn't adopt its cultural importance until the 1830s.
Its inscription, though, makes it clear why Americans of many generations would be inspired by it: "Proclaim Liberty Throughout All the Land Unto All the Inhabitants thereof".
Abolitionists, suffragists, and more were inspired by the bell.
Today, the bell–with its iconic crack–no longer hangs from Independence Hall but can be visited in a building out front.
Visiting is free but hours vary, so check the schedule when planning your trip to Philadelphia!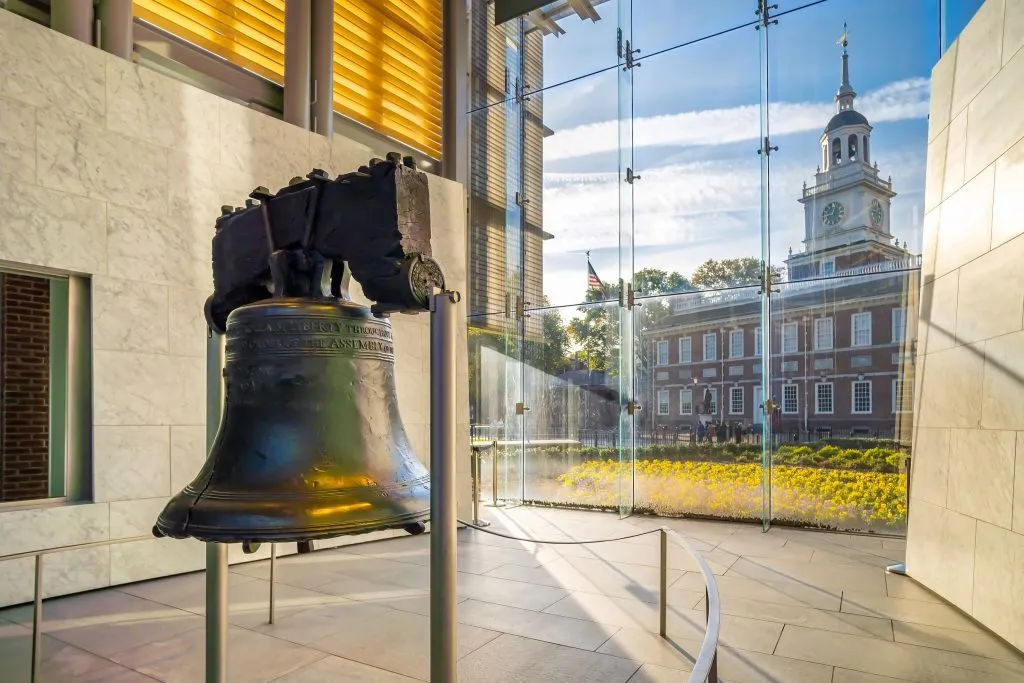 Check out (what's left of) the Presidential Home of George Washington and John Adams.
One block north of Independence Hall, you'll find the location of the Presidential Home of George Washington and John Adams, occupied during the brief decade from 1790 to 1800 that Philadelphia served as the US capital.
Though the building has been demolished, a layout has been preserved, along with lots of complex materials examining Washington's relationship with slavery.
The information focuses on Washington's time in Philadelphia, where he (temporarily, to avoid accidentally freeing them under Philadelphia law at the time) relocated 9 enslaved people with him from Virginia.
The exhibit is open-air, free to visit, and adds important context to Philadelphia's–and the USA's–history.
Visit Christ Church and the final resting place of Benjamin Franklin.
As you make your way north from the Presidential Home of George Washington and John Adams, you'll quickly come across Christ Church.
Founded in 1695, this church was the birthplace of American Episcopalianism and counted many notable 18th-century names among its early members, from Benjamin Franklin to Betsy Ross.
It's also the burial place of Benjamin Franklin, and as you explore the burial ground, you'll be able to pick out his grave quite easily: there's a tradition of leaving pennies on top of it, in honor of Franklin's saying "a penny saved is a penny earned".
While the church and burial ground are both well worth a tour, if you got a late start or simply aren't interested in going inside, it's worth pointing out that you can see Benjamin Franklin's grave from Arch Street regardless of whether or not you go in.
See the Betsy Ross House.
Just a short walk along Arch Street from the Christ Church Burial Ground you'll find the Betsy Ross House–which is very hard to miss, as a gigantic replica of a Betsy Ross flag hangs on one side!
The iconic Betsy Ross flag is considered to be the earliest forerunner of our current US Flag.
Whether or not Betsy Ross actually sewed the flag at the direction of George Washington has not been confirmed by history, but the flag–and the woman herself–have earned a place in the collective American origin story nonetheless.
Today, you can tour Betsy Ross' home and learn about the life behind the legend!
Snap photos in picturesque Elfreth's Alley.
Recognized as a National Historic Landmark for being an "exceptional example of early American structures built between 1720 and 1830", Elfreth's Alley just might be one of the most picturesque streets in Philadelphia!
This small street–or alley, if you will–was once the home of working-class merchants.
Today, it remains primarily a residential community (so please be respectful!), but you can also pay a visit to the Elfreth's Alley Museum inside houses 124 and 126.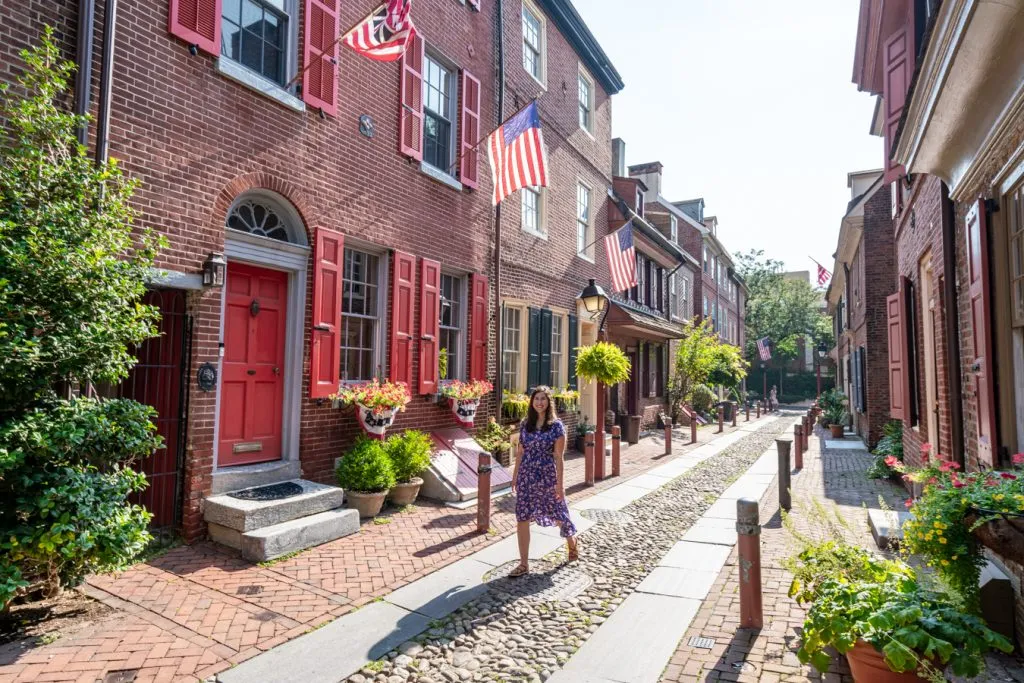 Explore the Museum of the American Revolution.
If you've ever had an interest in the American Revolution–what led to it, how it unfolded, and why history was shaped in the way it was–exploring the Museum of the American Revolution is one of the best things to do in Philadelphia this weekend.
With thorough exhibits that manage to tackle complex topics without being dry, this is an extremely well-done museum experience that we thoroughly enjoyed!
Don't miss the Washington's Tent presentation, either–it is well worth the time spent.
Book your timed entry tickets the Museum of the American Revolution now!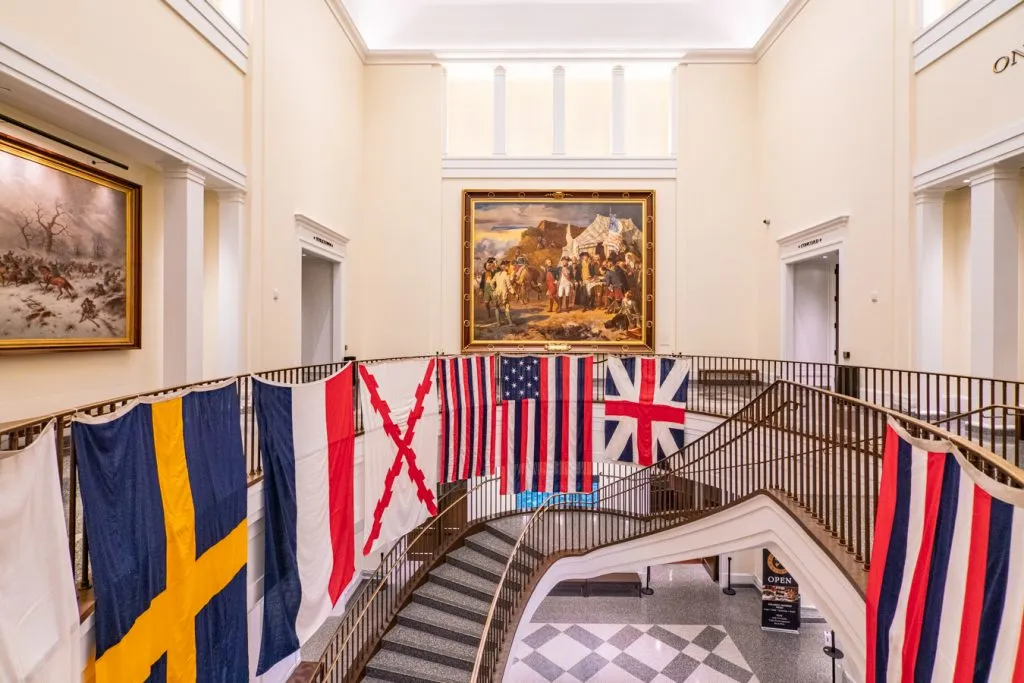 Stop by the B. Free Franklin Post Office.
Just a short walk from the Museum of the American Revolution, you'll find the B. Free Franklin Post Office, which is part of the Independence National Historical Park.
It's also the only place where you can send legal mail in the USA with the "B. Free Franklin" stamp that has its origins in the 18th century!
While Benjamin Franklin didn't work in this building, he did famously serve as the postmaster of Philadelphia.
This post office has limited hours and services, but is an only-in-Philadelphia travel experience that's worth a few minutes of your time if they are open!

Ben Franske, CC BY-SA 4.0, via Wikimedia Commons
Day 2 in Philadelphia: A Food Tour, A Museum + Some Twisted History
Start your morning with a visit to one of Philadelphia's museums or explore Chinatown.
On the second day of your Philadelphia weekend trip, we're leaving Old City and the Independence Hall area behind and heading a bit further west (but not too far–we are sticking with Center City).
Start your morning with either a trip to the Mutter Museum–or, if it's not for you–check out Chinatown.
The Mutter Museum is a love-it-or-hate-it, extraordinarily memorable museum that ranks among the most downright unique things to do in Philadelphia.
It centers around anatomical specimens–that is, human body parts–dating from as early as the 7th century BCE but primarily from the 19th and 20th centuries.
It's a fascinating place, but also quite disturbing.
If looking at tumors and abnormal skeletons isn't your thing, consider starting your morning with a stroll around Philadelphia's nearby, bustling Chinatown instead!
The beautiful Chinatown Friendship Gate is located at the corner of 10th and Arch Street, not far from the Reading Terminal Market.
Marvel at Philadelphia's impressive City Hall.
Striking from all angles, City Hall is a must-see during your few days in Philly!
Completed in 1894, the City Hall is the largest free-standing masonry building in the world and an icon of the city.
It still serves as the city's main municipal building, and the views of it from the various streets surrounding the building are among the most popular places to take photos in Philadelphia.
In the Before Times, you could also head to the top of the building for a fantastic view of the Philly skyline, but the tower has been closed since 2020.
Check here to keep an eye on any possible reopenings in the future!
Dive into Philadelphia's food scene with a delicious food tour.
One of our absolute favorite things to do in any city–including Philadelphia–is to take a food tour.
We signed up for the delicious (and informative!) Flavors of Philly tour and had a blast eating our way through classic local foods while learning some history along the way.
I won't spoil everything, but stops included a former bank vault turned steakhouse, a classic pizza joint, a Philly cheesesteak (of course), and chowing down on the famous Beiler's Doughnuts at Reading Terminal Market.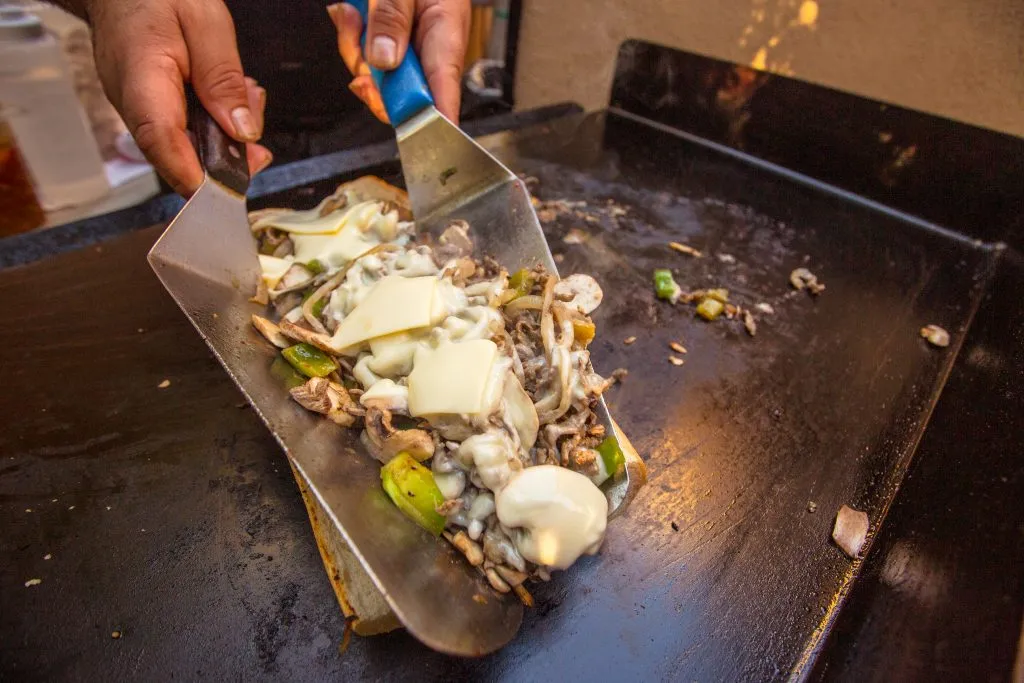 We also enjoyed some non-food stops, such as the famous Eagle statue in the historic Macy's location near City Hall (which we learned, thanks to our tour guide, that locals use as a meeting point–"Meet me at the Eagle!").
We had a fantastic time and would heartily recommend the tour!
(And as always, we paid our own way–nothing sponsored).
Explore Reading Terminal Market.
Bustling, fun, and packed with everything from fresh meat to whoopie pies, Reading Terminal Market is one of the best places to visit in Philadelphia!
If you take the Flavors of Philly food tour, your tour will end in the market–and while you'll get a nice introduction with the tour, it's well worth wandering around yourself.
Reading Terminal Market has its roots in Philadelphia's 17th-century outdoor markets, though it itself only dates to 1893.
The market is open 7 days a week, but the traditional Pennsylvania Dutch merchants close up their stands on Sundays, so it's worth making sure you come by on a different day, too!
We happened to stay right across the street from Reading Terminal Market when visiting Philadelphia (Home2Suites By Hilton, which we can definitely recommend), and loved having such easy (read: daily) access to the market!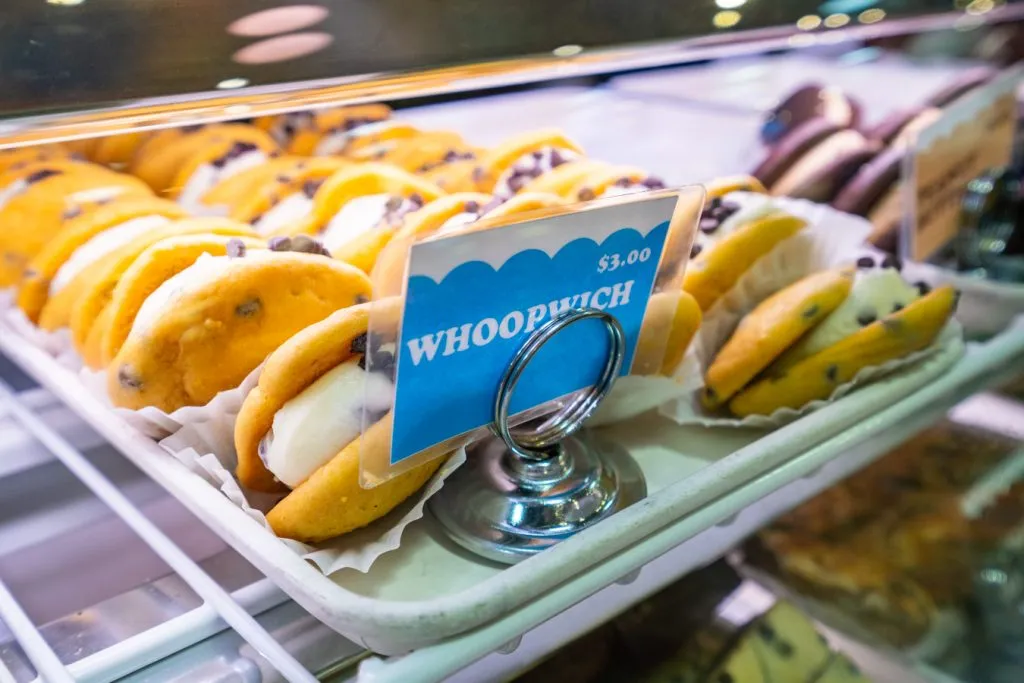 Stroll through Rittenhouse Square.
Shady and beautiful, Rittenhouse Square is a delightful place to relax and rest your feet when spending 3 days in Philadelphia.
As one of the city's five original town squares, Rittenhouse Square dates to the late 1600s.
Today, it's full of art and charm, and is a popular place to visit for locals and tourists alike.
The houses surrounding it are also worth a peek–as some of the most exclusive real estate in Philadelphia, they're absolutely stunning!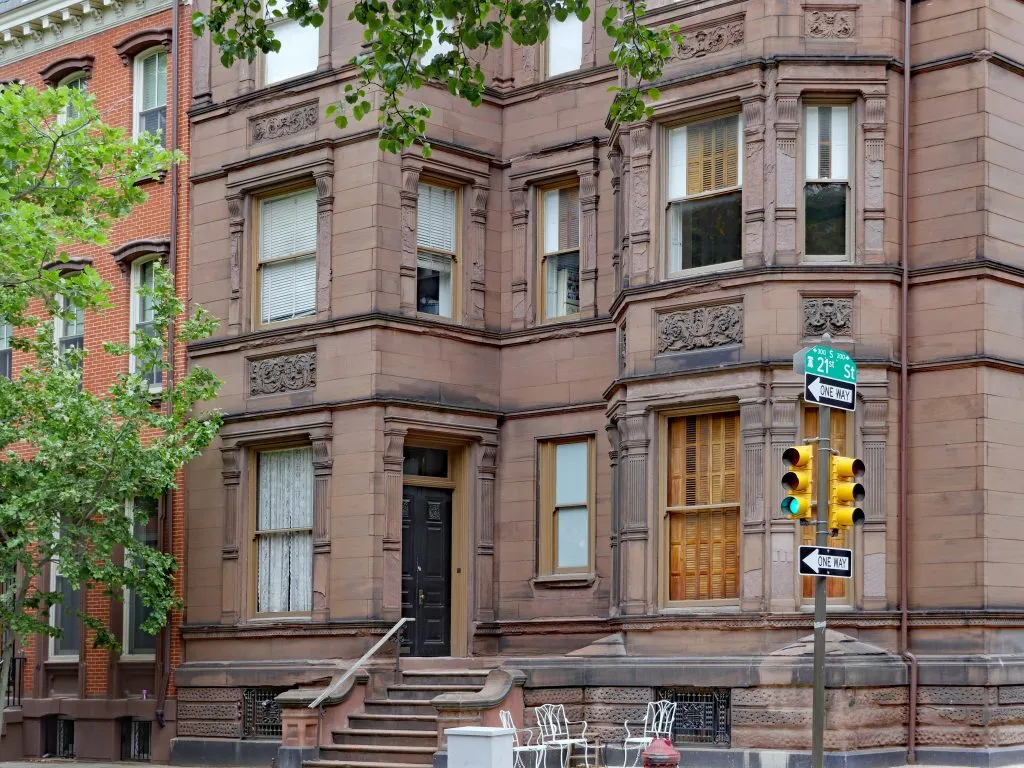 Learn some of Philadelphia's darker history on a night tour.
Yesterday, you got to see the American history classes of your youth come to life (in the absolute best way)… tonight, get a bit beyond that.
With Philadelphia's Twisted History Tour, you can get to know a side of the city that didn't show up in textbooks.
This fascinating tour was designed by historian Joe Wojie, who even got to bring Anthony Bourdain along on one of his tours!
We had a blast with our guide on the Twisted History Tour, diving into everything from brothels to legends… at least until it started pouring down rain and we sadly had to cut our evening short.
Weather notwithstanding, though, we highly recommend Philly's Twisted History Tour as a way to dive into the city's more scandalous history.
Book your spot on Philadelphia's Twisted History Tour today!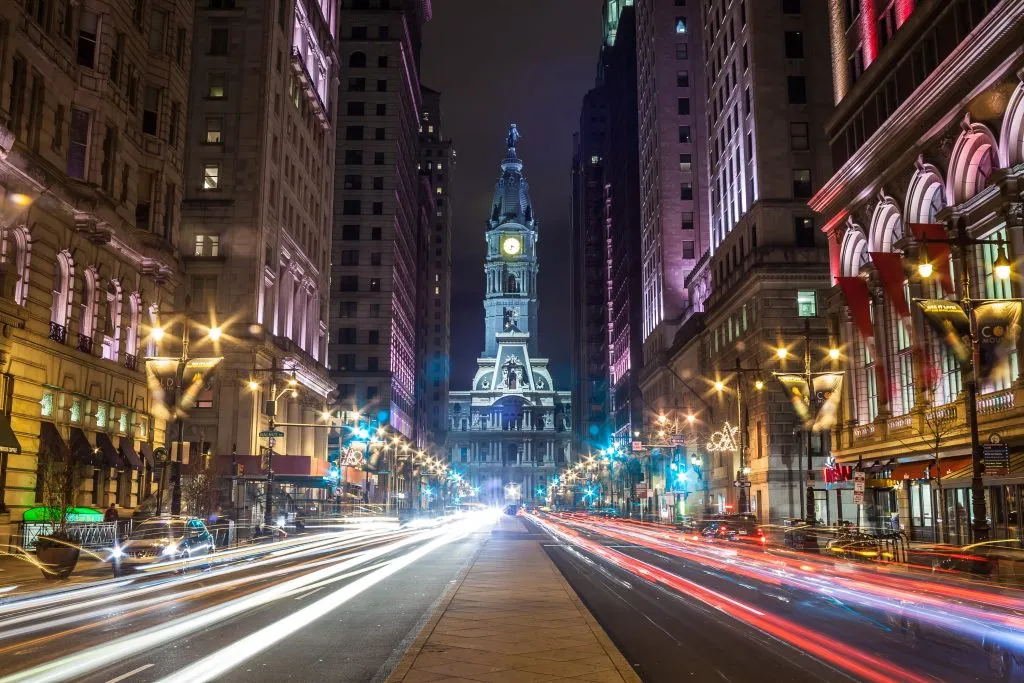 Day 3 in Philadelphia: Benjamin Franklin Parkway, Rocky Steps + Eastern State Penitentiary
Start your last day in Philly with a little Love.
Philadelphia's famous Love statue has called the aptly named Love Park home–minus one detour or two–since the US Bicentennial in 1976.
It's an iconic Philadelphia photo spot, and is also in a fantastic central location that makes for a great start to the final day of your trip to Philly!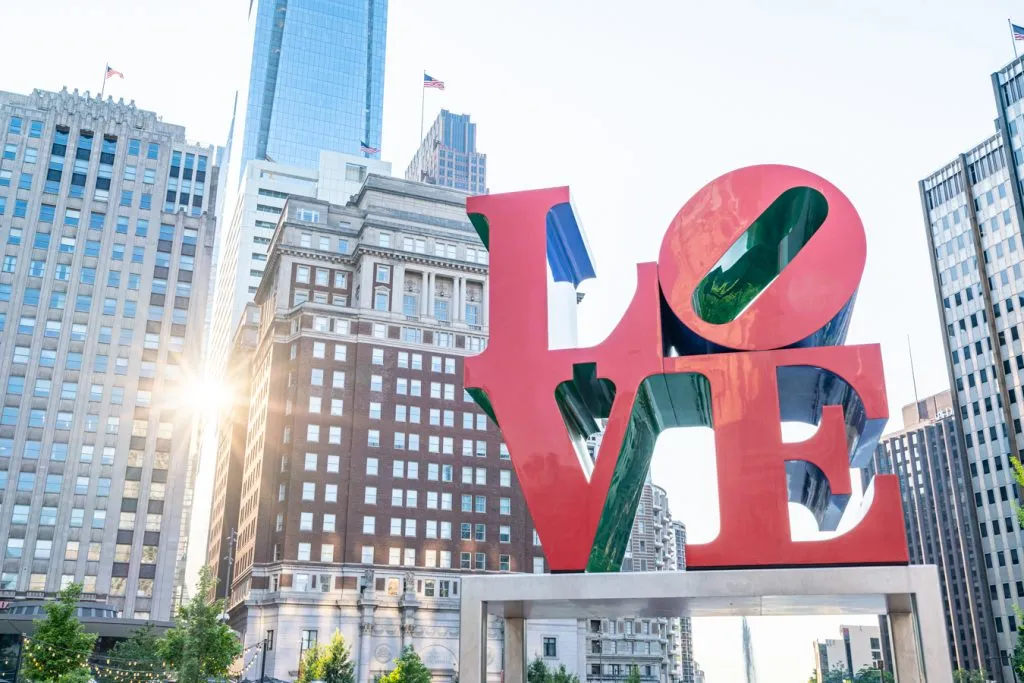 … and Amor.
Just a short walk from the famous Love statue, you'll find its Spanish (and Latin) counterpart: the Amor statue!
Also created by Robert Indiana, this time to commemorate Pope Francis' visit to Philadelphia in 2015, the Amor statue now lives permanently in Sister Cities Park.
In the immediate area, you'll also see Logan Circle and the beautiful Cathedral Basilica of Saints Peter and Paul, which you can see in the background of our photo below.
Make your way up the Benjamin Franklin Parkway.
As you continue to stroll up the famous Benjamin Franklin Parkway–a walk you started when making your way from the Love statue to the Amor statue–you'll find yourself in the vicinity of many of Philadelphia's most highly regarded museums.
The street itself is also a bit of a destination in its own right!
Look closely, and you may notice the inspiration: the Benjamin Franklin Parkway was heavily inspired by the Champs-Elysees in Paris.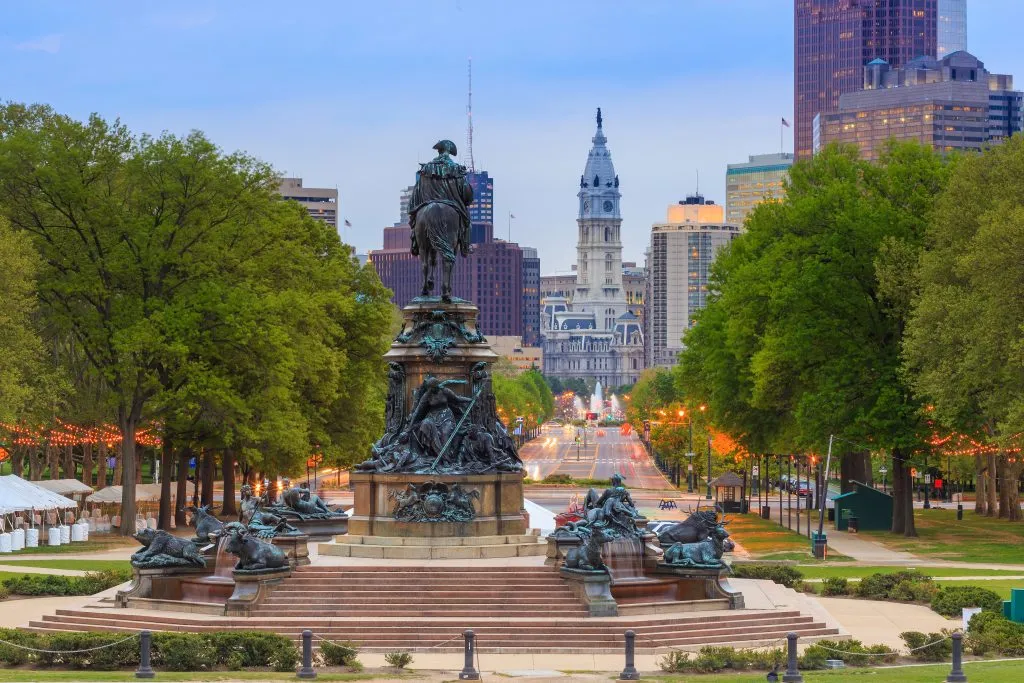 Explore another one of Philadelphia's fascinating museums.
While you won't have time to visit all of the city's incredible museums during your 3 days in the city, we recommend adding one more!
Here are some of the best museums you'll find along Benjamin Franklin Parkway, each of which is well worth a visit during a Philadelphia weekend getaway.
We highly recommend checking to see if you need advance reservations before arriving!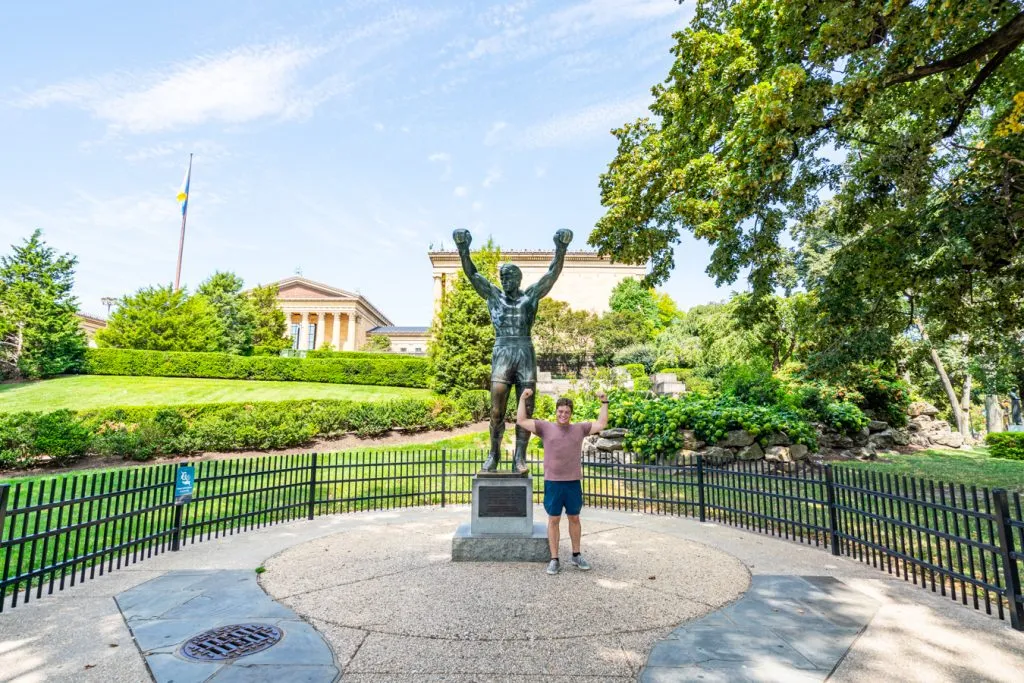 Philadelphia Museum of Art
Philadelphia's premier art museum is a classic and worthy choice when it comes to where to spend time during a weekend in Philadelphia!
The Philadelphia Museum of Art also happens to be one of the most recognizable buildings in the city and home to the famous Rocky Steps–more on that in a bit.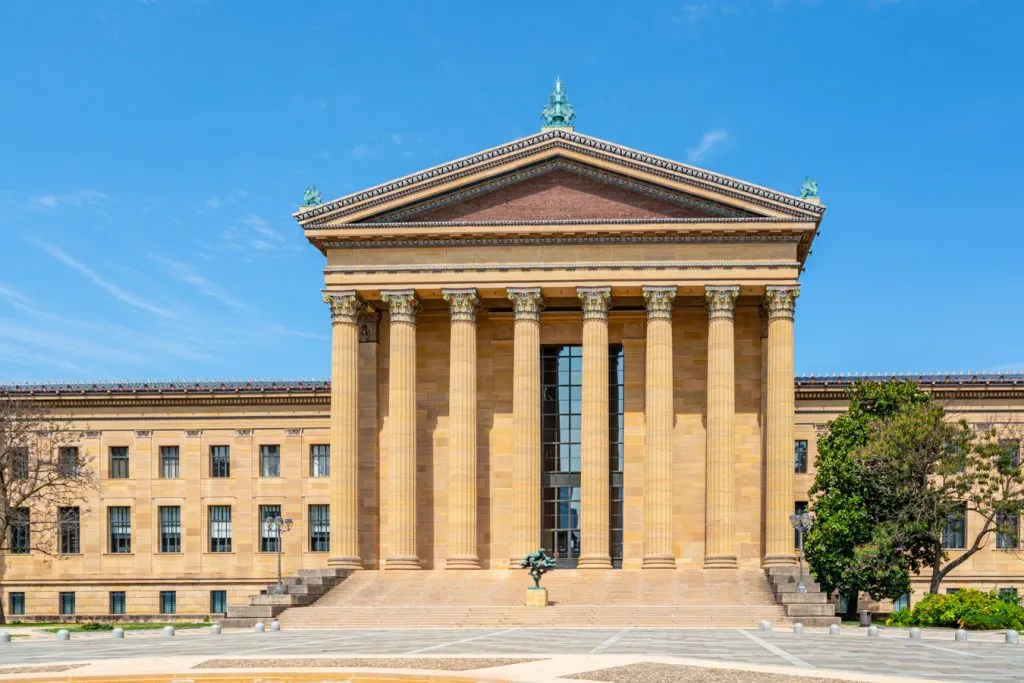 Barnes Foundation
The Barnes Foundation is an expansive and impressive art and history museum right off of Benjamin Franklin Parkway.
They're best known for their modern European paintings, with a large focus on the impressionists (181 Renoir paintings call the Barnes Foundation home!).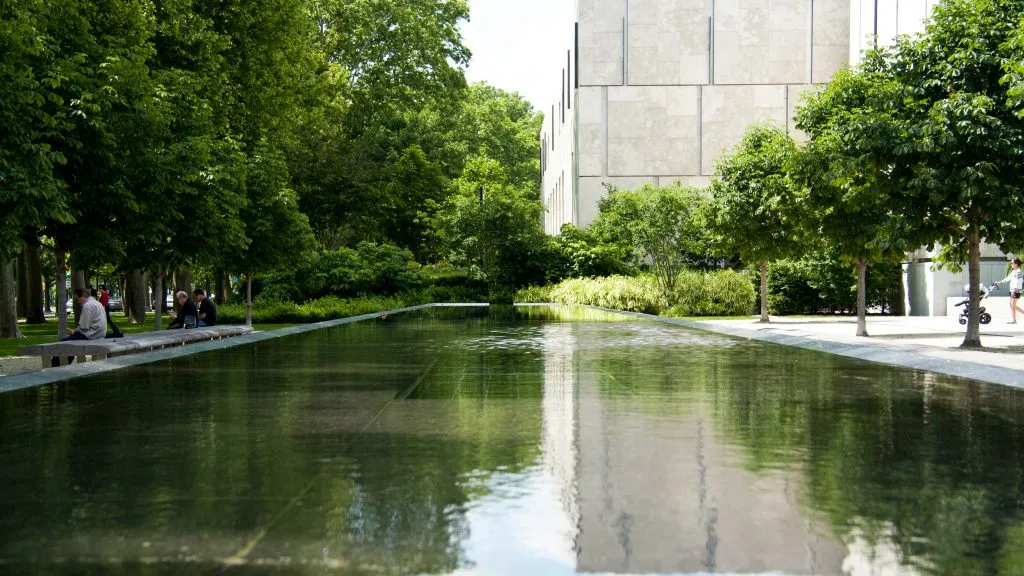 The Franklin Institute
Named in honor of Benjamin Franklin, is it any surprise that the Franklin Institute is a science museum–and a wonderful one at that?
From rotating exhibits to an incredible planetarium, the Franklin Institute is a classic Philadelphia museum to visit.
Rodin Museum
Unlike the other art museums on this list, the Rodin Museum focuses on one artist: the prolific French sculptor Auguste Rodin.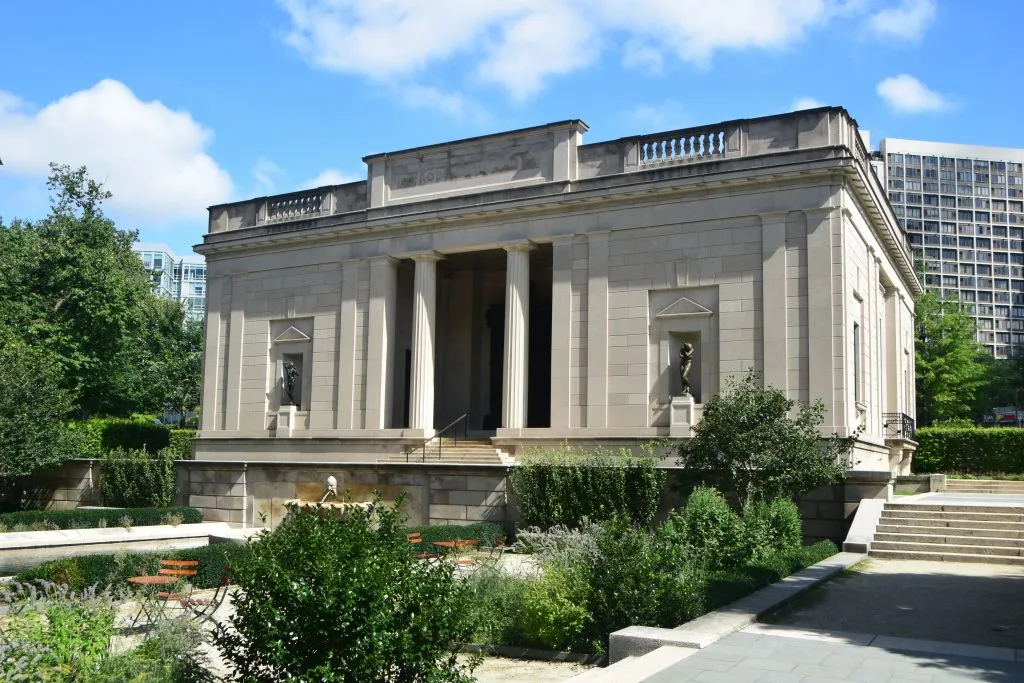 Run (or walk) up the Rocky Steps.
Running up the 72 steps leading up to the east entrance of the Philadelphia Museum of Art is one of the most popular activities in Philadelphia, all thanks to Sylvester Stallone.
Before heading up, though, be sure to head over to the Rocky Statue to say hello–and take the classic photo with your arms up!
The statue was originally commissioned for Rocky III and then donated to the City of Philadelphia after the movie premiered.
Once you reach the top, you'll no doubt want to catch your breath–which will leave you with plenty of time to appreciate the gorgeous views of Philadelphia's skyline that you've just earned.
Tour the fascinating Eastern State Penitentiary.
One of the most unique, interesting, and thought-provoking attractions in Philadelphia is none other than the abandoned–and once-notorious–Eastern State Penitentiary.
From 1829 to 1970 (which was, incidentally, 5 years after the functioning prison was designated a National Historic Landmark), Eastern State Penitentiary oversaw 141 years' worth of prisoners ranging from the infamous (Al Capone) to the bizarre (a dog).
Most importantly, it was the penitentiary behind the development of the Pennsylvania System–in short, isolation–that changed how penitentiaries operated around the world.
Its history could fill many books, and the conversations its stories provoke surrounding crime, punishment, and society, are tangled and intense.
Visiting Eastern State Penitentiary is definitely among the most memorable places to visit during a weekend in Philadelphia.
Where to Stay for a Weekend in Philadelphia, PA
When deciding where to stay in Philadelphia, we recommend sticking with Center City.
Ideally, you'll want to be located within walking distance of the bulk of Philadelphia's main tourist attractions, which tend to be conveniently close together!
Here are a few well-reviewed properties perfect for your long weekend getaway in Philadelphia.
Budget
Apple Hostel — Sleeping in Philadelphia on a budget isn't the easiest thing in the world, but the popular Apple Hostel is a fantastic choice!
Offering both dorms and private rooms, as well as tons of opportunities to meet new friends, budget travelers will love the convenience of staying in Old City.
Dorms and private rooms are available.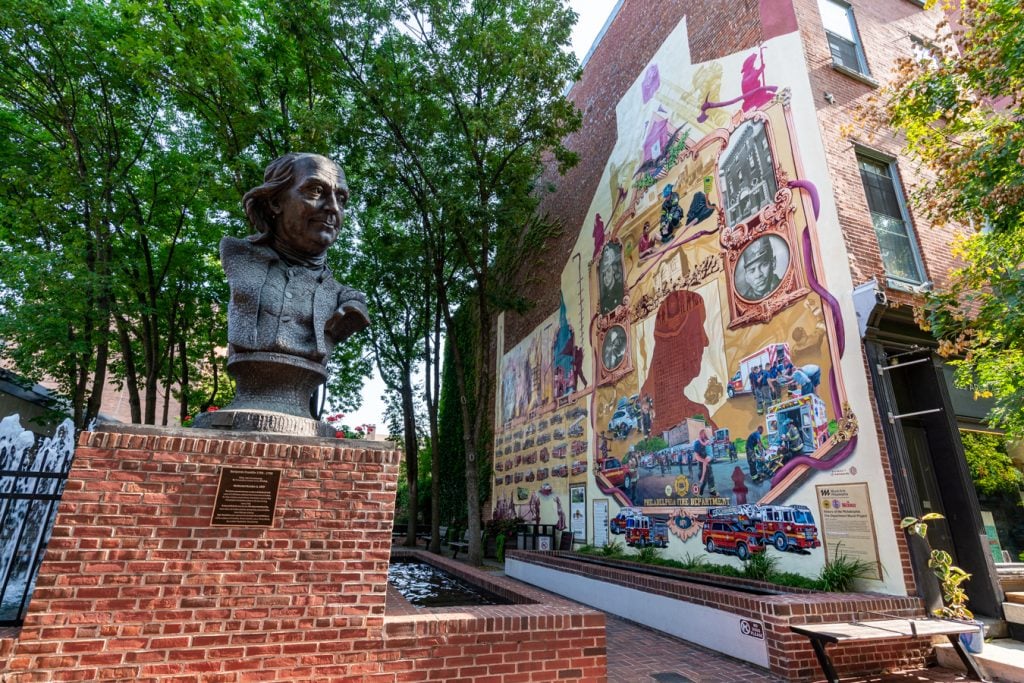 Mid-range
Home2Suites By Hilton — We had a great stay at this convenient hotel located literally right across the street from Reading Terminal Market!
The Home2Suites concept of combining the appeal of a hotel and an Airbnb into one property was excellent (our spacious room had a kitchenette), and the customer service was great.
We'd be happy to check in again!
Luxury
Morris House Hotel — Located right by Washington Square and a short walk from Independence Hall, Morris House Hotel is both a National Historic Landmark dating to the 18th century and a popular boutique hotel!
For a cozy, memorable place to stay in Philadelphia, you can't go wrong with checking into the Morris House Hotel.
Getting Around During a Philly Weekend Getaway
If you stay in a centrally located hotel like the ones we outlined above, you won't need a car during your weekend in Philly!
That being said, you will definitely want to take a few Ubers/ride shares during your trip, so be sure to have an app downloaded and ready to go.
For the most part, though, each of these 3 days in Philadelphia are very walkable as outlined!
Don't like the idea of walking?
A hop on/hop off bus pass may be right for you!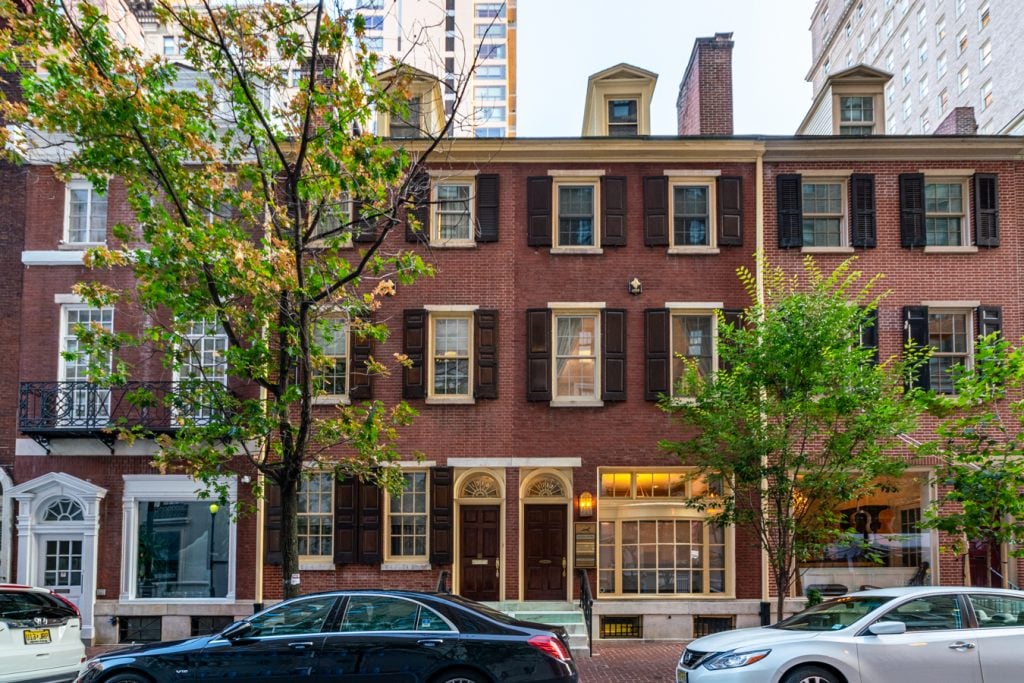 Philadelphia's hop on/hop off bus will help you zip between the vast majority of the attractions on this 3 day Philly itinerary with ease.
If you think you'll take ample advantage of the hop on/hop off tour, you may want to run the numbers on the 3 Day Philadelphia Pass, too (as of the time of writing, you're unlikely to save money with the pass with this itinerary as written if you're not using the hop on/hop off bus).
Check prices and shop tickets for Philadelphia's hop on/hop off bus tour!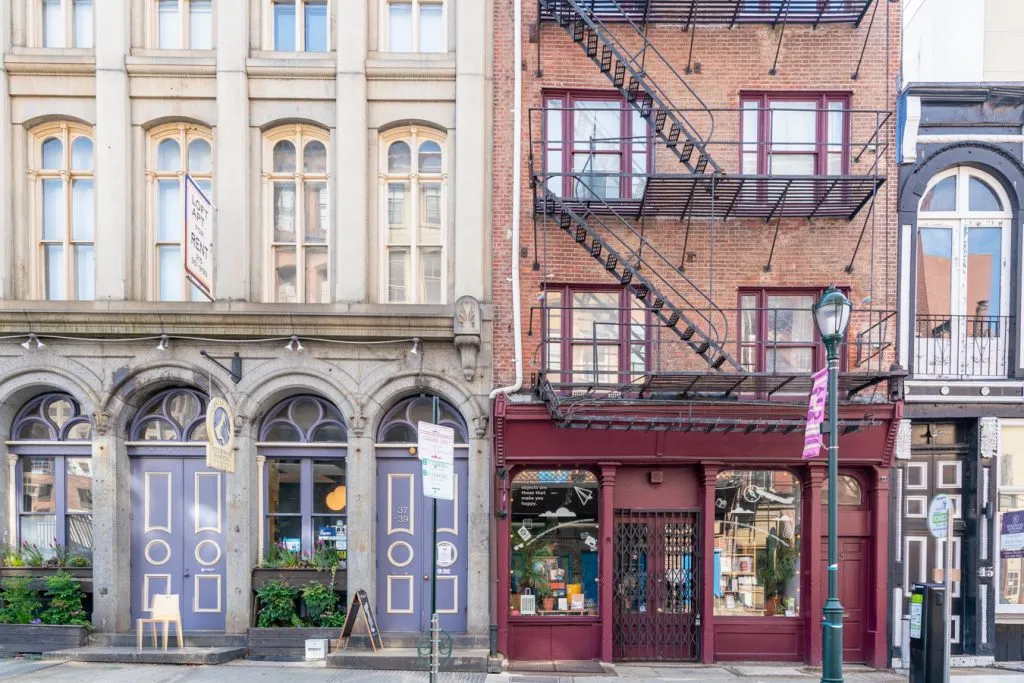 More than 3 Days in Philadelphia, Pennsylvania?
Lucky enough to have more than a few days in Philadelphia?
You'll find plenty more Philly attractions to enjoy!
With more time in the city, consider adding on another museum or two (perhaps starting with the Ben Franklin Museum, checking out the fascinating mosaics at Philadelphia's Magic Gardens, or even heading out to see the Phillies play a game.
Other options include visiting Penn's Landing on the river or checking out the historic Boathouse Row (which is within walking distance of the Philadelphia Museum of Art.
If you're a street art fan, the Mural Mile routes are also worth a stroll!
We intentionally left the famous Pat's vs Geno's debate out of this Philadelphia weekend itinerary, as these famous cheesesteak places are out of the way and tend to attract long lines.
(Plus, according to the locals we spoke with, the cheesesteaks aren't the best anyway.)
If you want to see the iconic dueling cheesesteak facades, though, you can definitely add them in with more time!
3 Day Weekend in Philadelphia Itinerary Map
Take This Map With You! Click each highlight to pull up the name of the destination. To save this map to "Your Places" on Google Maps, click the star to the right of the title. You'll then be able to find it under the Maps tab of your Google Maps account! To open the map in a new window, click the button on the top right of the map.