From redwood forests in the north to vast deserts in the south, a stunning coastline in the west to the craggy mountain peaks and alpine lakes in the east, the sheer diversity of the most beautiful places to visit in California is mind-boggling.
With more national parks than any other state in the USA and hundreds of must-explore state parks, the Golden State offers visitors an unparalleled experience when it comes to getting close to nature.
The most captivating towns and cities to visit in California are no less enticing.
Cities like San Francisco and LA are home to renowned landmarks, world-class museums and gardens, distinctive neighborhoods, and excellent eateries.
Coastal towns like Monterey, Mendocino, and Morro Bay will charm you with their relaxed coastal vibes and the opportunity to look for marine life.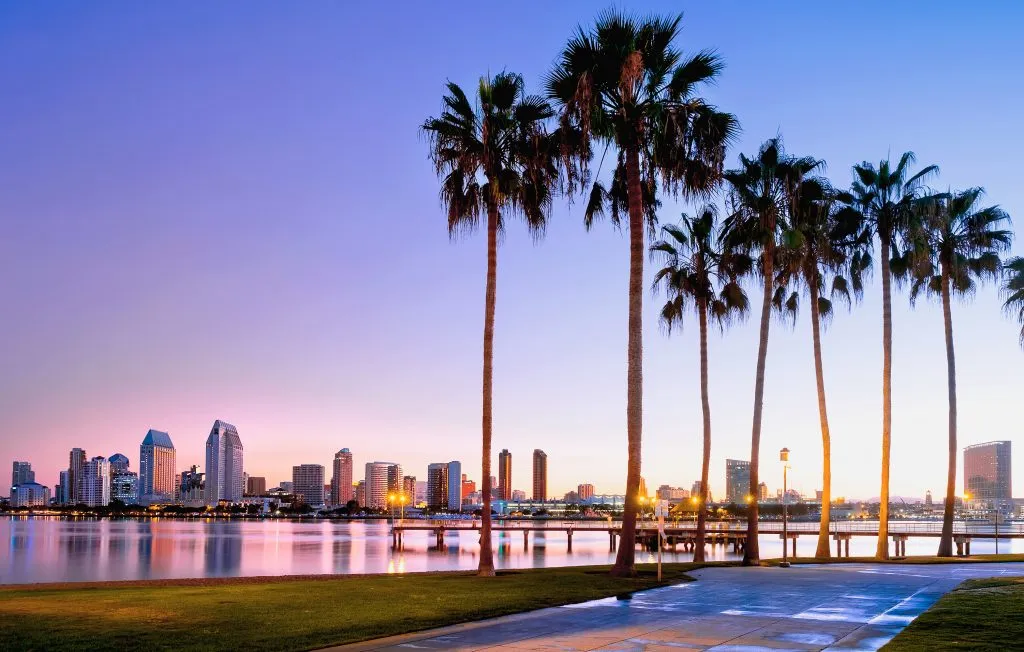 Whether you choose an epic California road trip as a means to explore the best of the state, or you choose one (or a few) places to visit, the Golden State will wow you at every turn.
While covering every fantastic weekend getaway in California would require a book, not just a blog post, we've curated this guide to include some of the best California vacation spots from every category, from major cities to national parks.
Here are some of the absolute best places to visit in California!
This California travel guide was written for Our Escape Clause by Golden State local Dhara from Roadtripping California. Thanks for joining us, Dhara!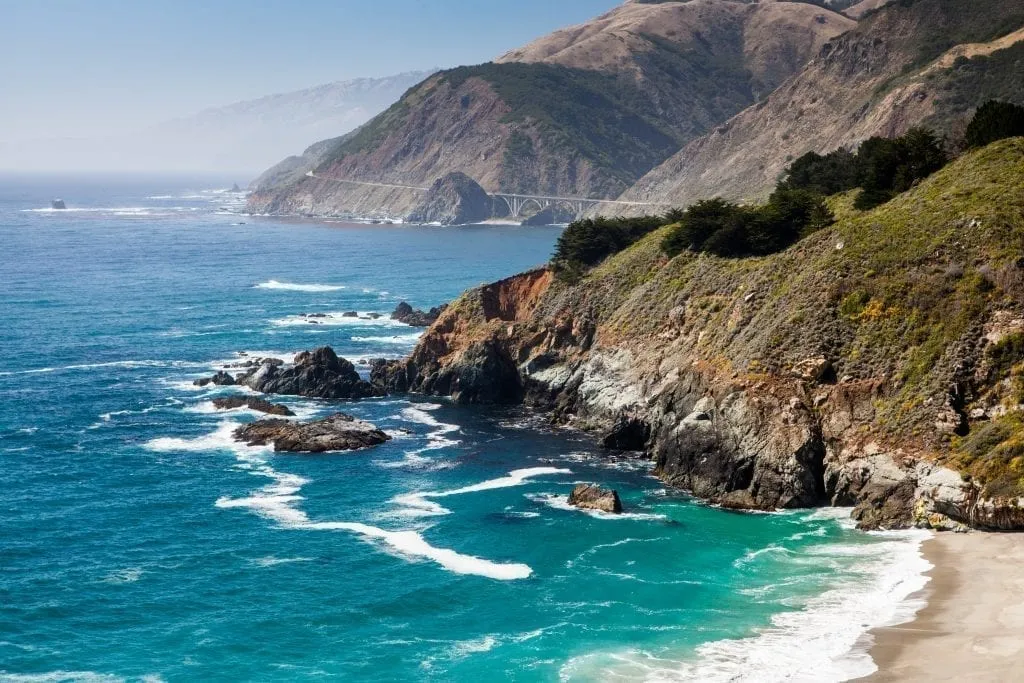 The Best Nature Getaways in California
Big Sur
One of the most spectacular stretches of coastline on the planet, Big Sur is definitely among the best places to visit in California.
Hiking is one of the most popular things to do in Big Sur.
As you walk, enjoy the jaw-dropping vistas and wildflowers in season, and look for birds and wildlife.
Stop to snap photos of the striking Bixby Creek Bridge and the picture-postcard McWay Falls.
Look for purple sand at Pfeiffer Beach, have lunch with a view at Nepenthe Restaurant, and walk among the redwoods in Pfeiffer Big Sur State Park.
Yosemite National Park
One of the country's most-visited national parks, Yosemite National Park is famous for its towering granite domes and rock formations, and its many breathtaking waterfalls.
Tunnel View and Glacier Point, two of the most visited vista point in the park, offer fabulous views of some of the park's best features, including Half Dome and El Capitan.
Walk the easy trail to the bottom of Yosemite Falls.
From the viewing area at the base, you can see both the Lower Fall and the Upper Fall, a total length of 2,425 astonishing feet!
Yosemite offers many epic hiking trails, including to the top of Half Dome, rock climbing, biking, scenic driving, and camping.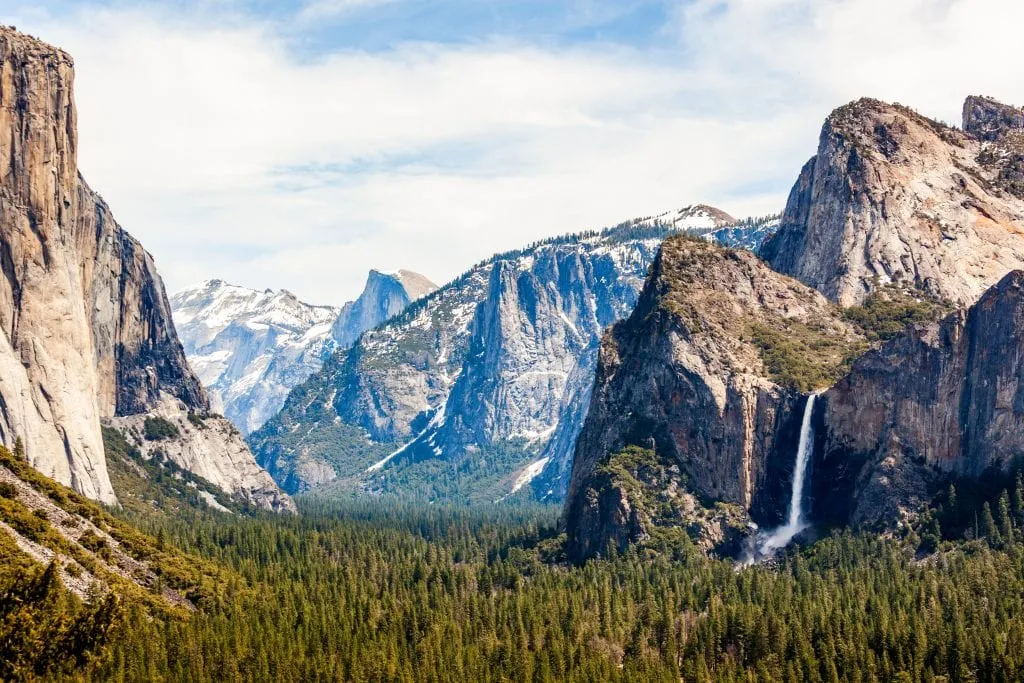 Lake Tahoe
The largest alpine lake in the country, Lake Tahoe straddles the California-Nevada border and offers a variety of recreation opportunities in all four seasons.
Visit in the winter for world-class downhill skiing and snowboarding, and other winter sports like snowshoeing, cross-country skiing, sledding, and snowmobiling.
In the warmer months, you can relax at one of the many beaches along the shore, hike, drive the scenic road around the lake, go kayaking or stand-up paddleboarding, or take a cruise.
Surrounding places like South Lake Tahoe and Tahoe City make excellent bases and rank among the best mountain towns in California.
Regardless of what time of year you visit, there's no doubt that Lake Tahoe is one of the top California vacation spots!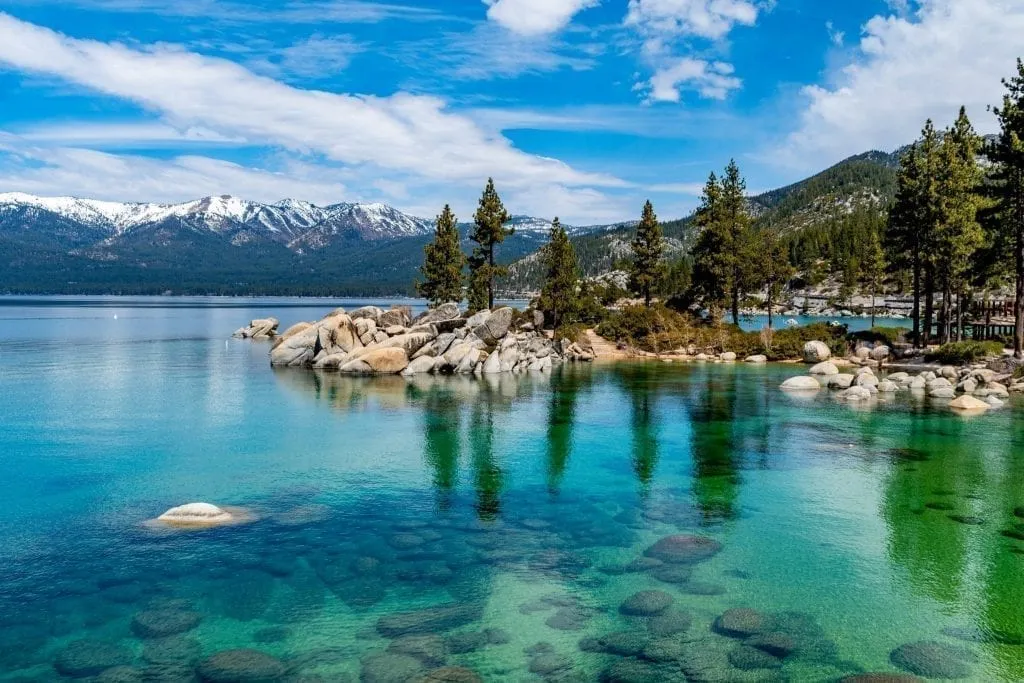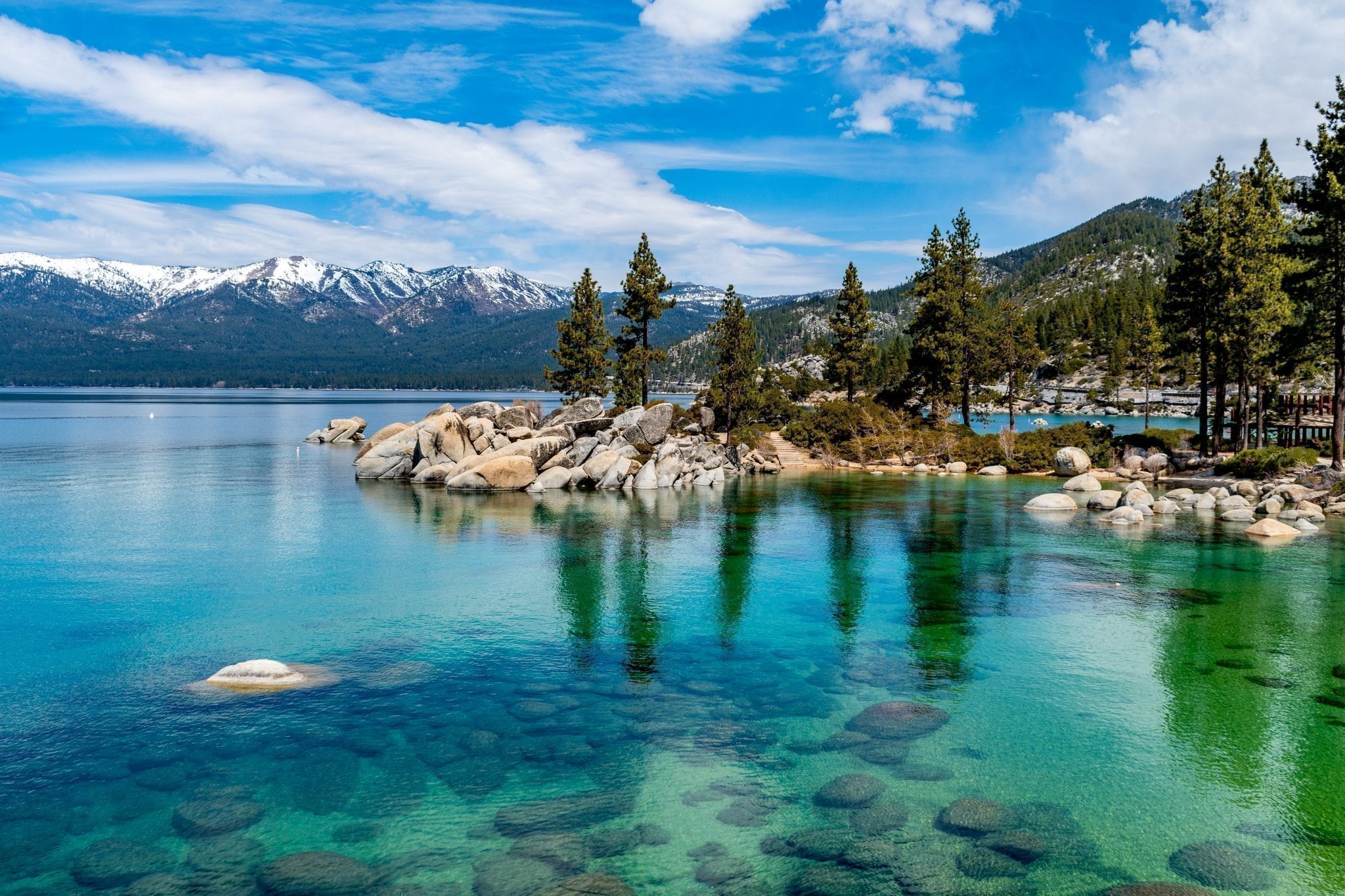 Death Valley National Park
Home to the lowest point in North America, and famous as the hottest place on earth, Death Valley National Park is a must-visit for its majestic landscapes.
Sunrise is a wonderful time to visit Zabriskie Point, to watch the sun's rays paint the badlands gold.
Also, be sure to drive up to Dante's View for panoramas of the valley.
The enormous salt flat at Badwater Basin, the multi-hued mineral deposits of Artist's Palette, and the sand dunes at Mesquite Flat are other unmissable sights in the park.
Given its infamy as one of the hottest places on Earth, Death Valley NP is best visited in the winter.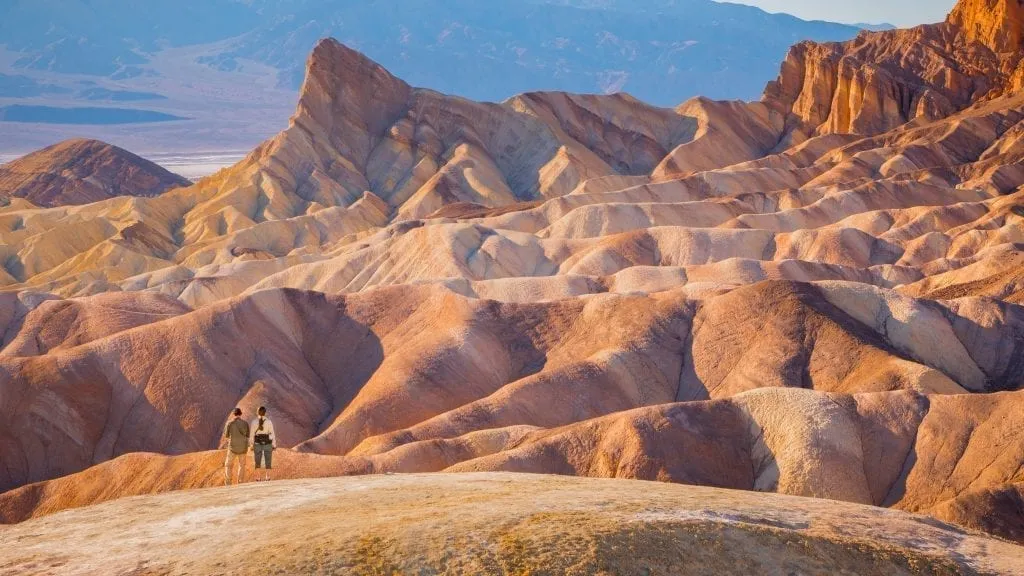 Sequoia and Kings Canyon National Parks
At Sequoia and Kings Canyon National Parks, prepare to gape in amazement at the size of the giant sequoias!
The General Sherman Tree, in Sequoia National Park, and the General Grant Tree, in Kings Canyon National Park, are the two largest trees in the world.
Both parks offer stunning scenery, with rock formations, mountains, canyons, and waterfalls, and the road that connects the two parks is very scenic.
Joshua Tree National Park
A hugely popular rock scrambling (and climbing) destination in Southern California, Joshua Tree National Park is famous for its magnificent rock formations and its namesake Joshua trees.
Straddling two deserts, the Colorado and the Mojave, Joshua Tree National Park has many hiking trails, varying in length and difficulty, to help you experience the park's scenery, flora, and fauna up close.
You can also tour Keys Ranch, the former homestead of Bill Keys, one of the area's prominent early settlers, and take in the panoramic views at sunset from Keys View.
Don't miss the otherworldly sunrises at the Cholla Cactus Garden while you're there–this is one of the most unique places in CA to visit!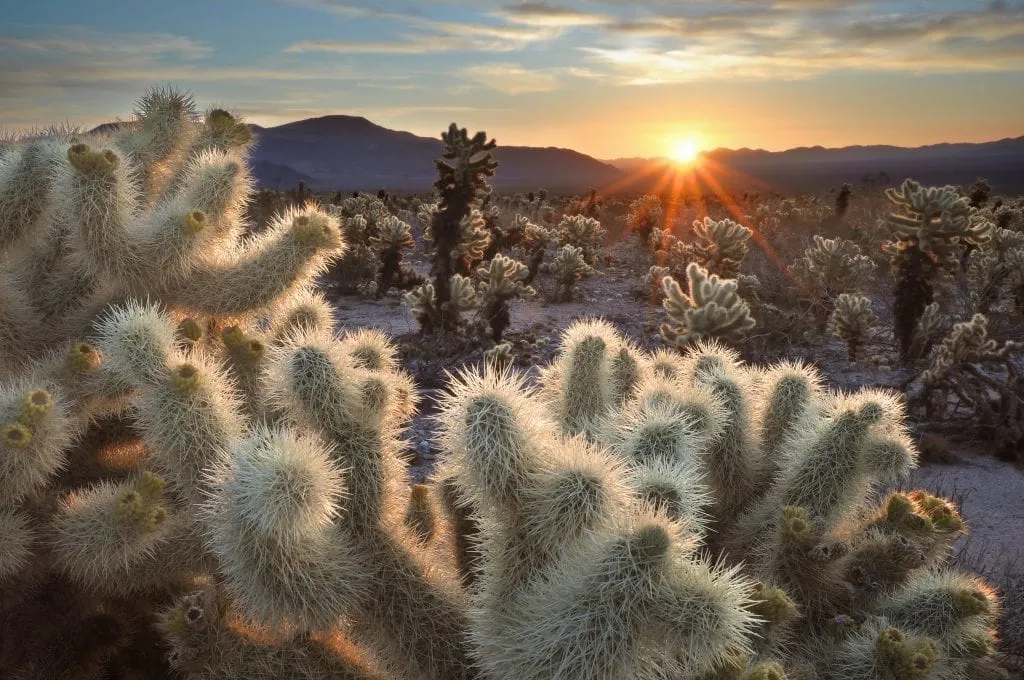 Iconic California Cities For Weekend Getaways
San Francisco
San Francisco's iconic landmarks, such as the Golden Gate Bridge and Alcatraz, should definitely top your San Francisco weekend itinerary if you are visiting for the first time.
Fisherman's Wharf is touristy, but it makes for a fun stroll, with the many shops and restaurants, the street performers, and the cute sea lions at Pier 39.
Be sure to explore San Francisco's vibrant neighborhoods as part of your visit!
Wander through the largest Chinatown outside Asia, enjoy great Italian cuisine in North Beach, or take in the 60s vibes in Haight-Ashbury.
And allow plenty of time for Golden Gate Park during your trip to San Francisco.
Visit the Conservatory of Flowers and the Japanese Tea Garden and tour the de Young Museum and the California Academy of Sciences, too.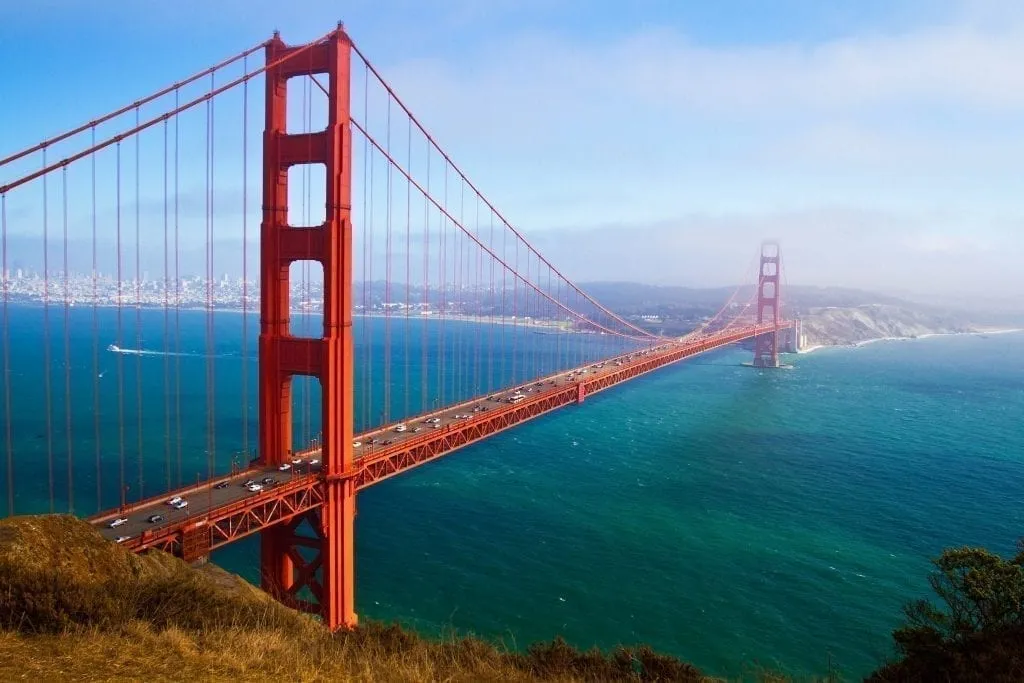 Monterey
A city that has the charming vibes of a coastal town, Monterey is one of the best places in the world to go whale-watching.
And on a cruise, you will very likely see other marine life as well: dolphins, porpoises, sea lions, and more.
In downtown Monterey, Cannery Row is touristy but makes for a fun stroll.
Once upon a time a center of sardine canning (the street is named after Steinbeck's Cannery Row), today it boasts shops, restaurants, hotels, and even a couple of beaches.
Visiting the aquarium is one of the top things to do in Monterey.
Huge tanks offer stunning views of the flora and fauna of the ocean.
It's a very popular attraction, so time your visit for a weekday or early in the day.
Be sure to include the scenic 17-Mile Drive through Pebble Beach on your itinerary for Monterey.
With its spectacular ocean views, it is one of California's most scenic drives.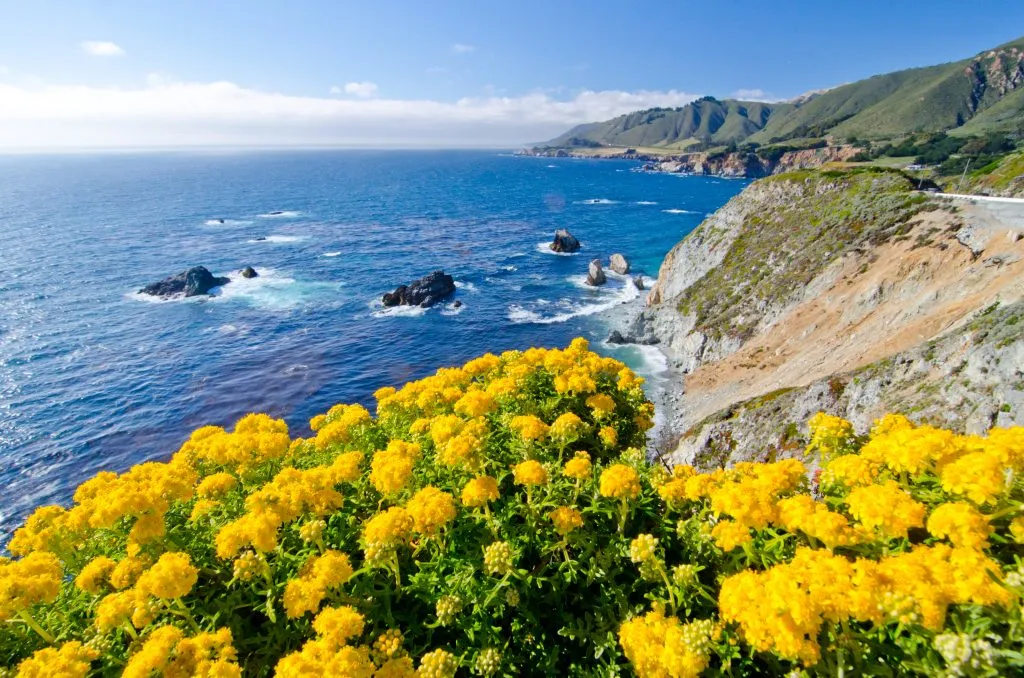 Santa Barbara
Gracious Santa Barbara is one of California's must-visit vacation spots.
Its Mediterranean tiled roofs have earned it the nickname of the "American Riviera."
Downtown Santa Barbara is both lively and elegant.
Stroll State Street for shopping, wine tasting, and dining.
You'll find more top-notch restaurants and wine tasting in the nearby Funk Zone, where you can also admire the street art.
The Santa Barbara County Courthouse is a must-visit, both for the beautiful murals and tile work inside, and for the superb 360-degree views from the Clock Tower.
Old Mission Santa Barbara is one of the most beautiful Spanish missions in California.
Also do not miss the Presidio, the fort built by the Spanish, where you can see two of the original adobe buildings.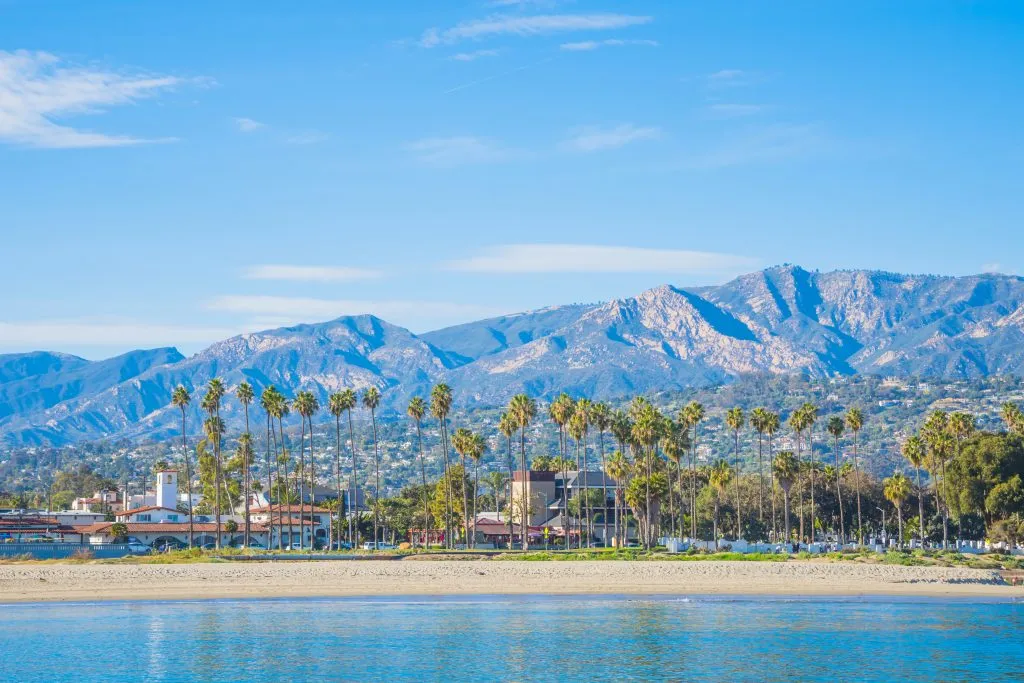 Los Angeles
From the glamor of Hollywood to the beaches of Malibu and the vibrant vibes of downtown LA, there is no doubt that the City of Angels is one of the best places to visit in California.
But it's also true that Los Angeles traffic is the stuff of nightmares.
So plan your sightseeing wisely, sticking to one area each day, to minimize time spent just sitting in traffic.
Hollywood is a must if it's your first visit, although it isn't as glamorous as it used to be.
Visit the Hollywood Walk of Fame, and snap a photo of the TCL Chinese Theatre.
Visit the Griffith Observatory for stunning views over the city. You also have a great view of the Hollywood Sign from the observatory!
Head to Santa Monica to admire the giant Ferris wheel and stroll the bluff path at Palisades Park.
Nearby Venice Beach offers excellent people watching on the boardwalk, where you can also watch street performers, shop, and eat.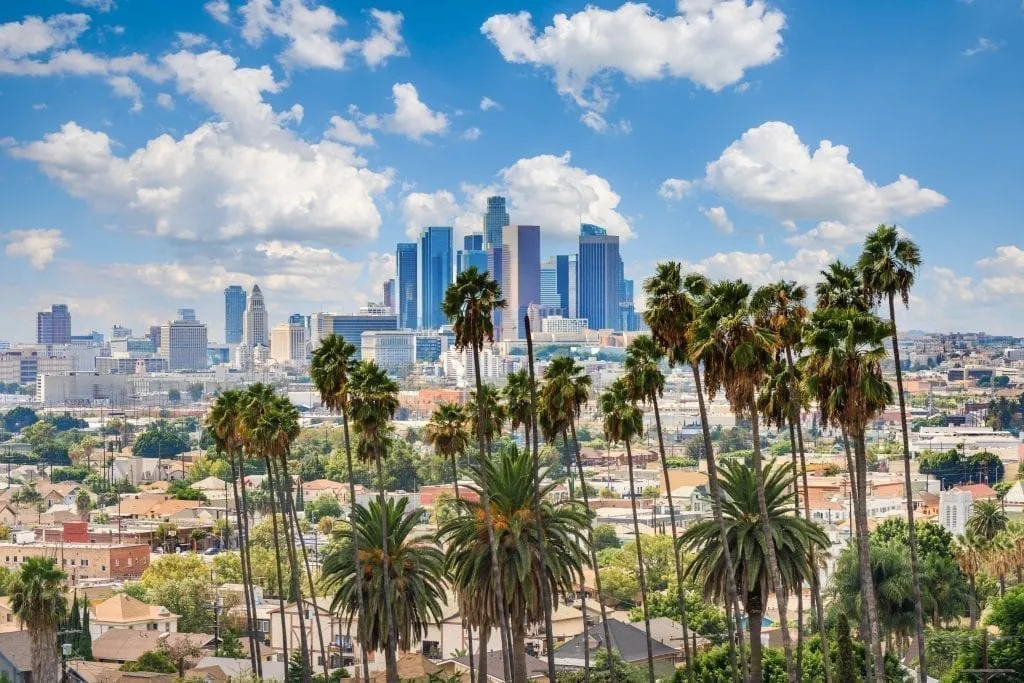 San Diego
Known for its year-round beautiful weather, San Diego is one of the best vacation spots in California for couples, families, solo travelers, or groups.
It has something for everyone!
The sprawling Balboa Park, in the heart of downtown, offers multiple gardens and museums.
All but one of the gardens are free, and the beautiful architecture invites wandering.
Take the ferry to Coronado Island, where you can enjoy the beautiful silver sand beach and stroll the little town.
Be sure to leave room in your itinerary for two of San Diego's most lively neighborhoods: Gaslamp Quarter, and Little Italy.
Both areas boast exceptional eateries and excellent people watching!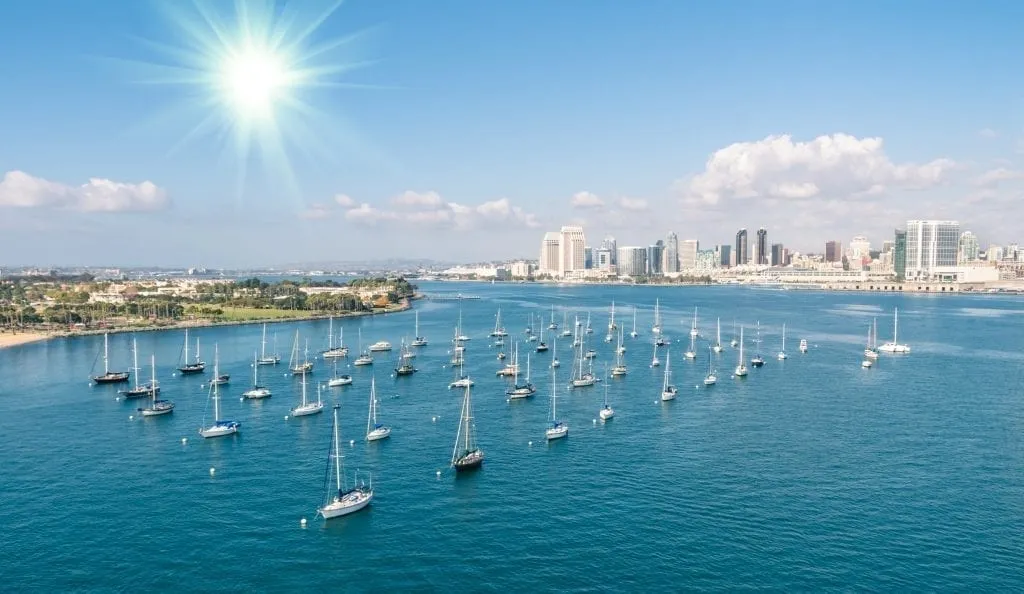 Palm Springs
The gateway city to the California desert, Palm Springs is known for its many resorts, golf courses, and spas.
But it is also a great destination to enjoy the outdoors!
Taking the aerial tram to the upper station on Mount San Jacinto is one of the best things to do in Palm Springs.
The views over the desert floor are breathtaking, and there are several hiking trails to walk at the top.
Hike one or more of the palm oases at Indian Canyons or the Thousand Palms Oasis Preserve. Tour the beautiful desert gardens at Sunnylands.
Enjoy the shops and restaurants on Palm Canyon Drive, and stop to take a tour of the mid-century modern homes and buildings.
And be sure to enjoy a date shake while you are in Palm Springs!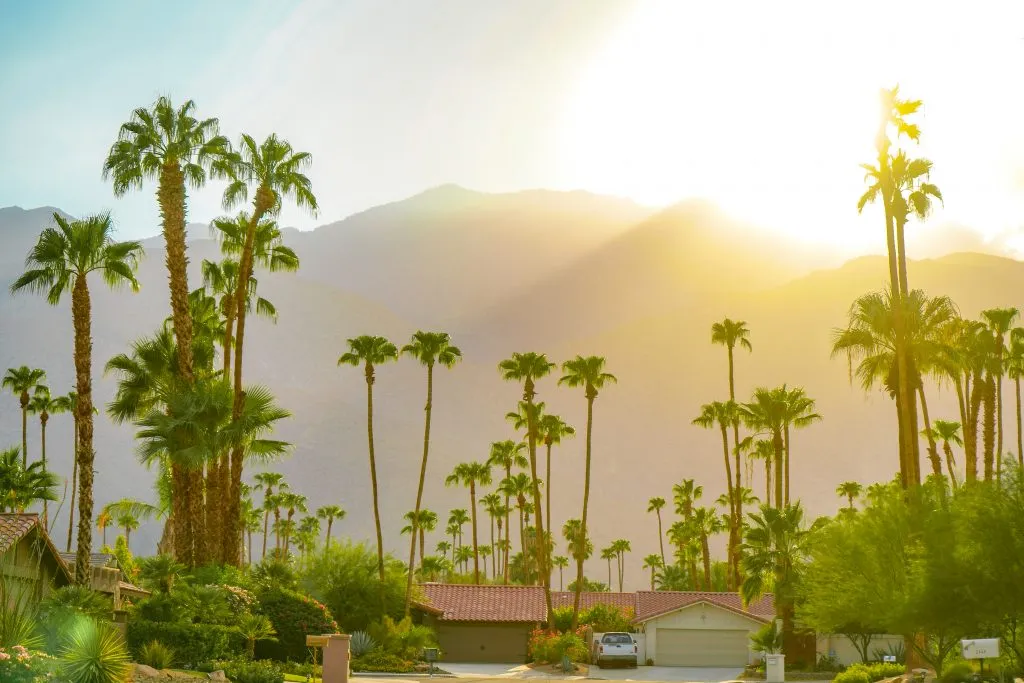 The Best Small Towns in California to Visit
Arcata
Located just south of Redwood National and State Parks in Northern California, Arcata offers history, charm, and oodles of natural beauty, from redwoods to sand dunes.
Admire Jacoby's Storehouse, the only building left from the original structures built by early settlers in the mid-19th century.
Today, it houses shops and restaurants.
Enjoy a movie at the Minor Theatre, which dates back to 1914!
Stay in the historic Hotel Arcata, which is listed on the National Register of Historic Places and also dates to the early 1900s.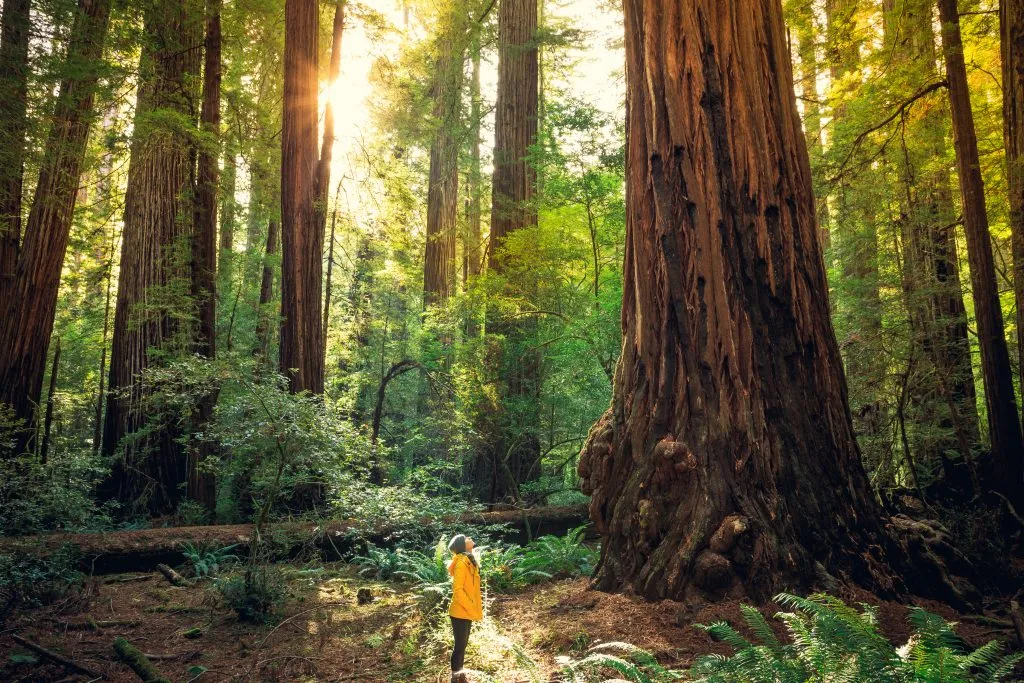 Mendocino
Located along the rugged Northern California coast, charming Mendocino is one of the most beautiful coastal places to visit in CA.
While the village makes for a pleasant wander, take the time to explore the many state parks around the town.
You can walk among redwoods, hike through pygmy forests, and enjoy stunning ocean views.
At Glass Beach in nearby Fort Bragg, look for colored glass honed by the waves from bottles tossed into the ocean as trash years ago.
Sonoma
The captivating town of Sonoma is located at the southern end of Sonoma Valley, one of California's top wine country destinations.
It boasts a historic plaza and excellent farm-to-table restaurants.
Sonoma State Historic Park is an aggregation of several sites, some of which you can see right along the plaza in downtown Sonoma.
Also in the plaza is the historic (and photogenic!) Sebastiani Theatre.
There are several beautiful wineries you can tour in and around Sonoma, not only for their wine but also for their architecture and gardens.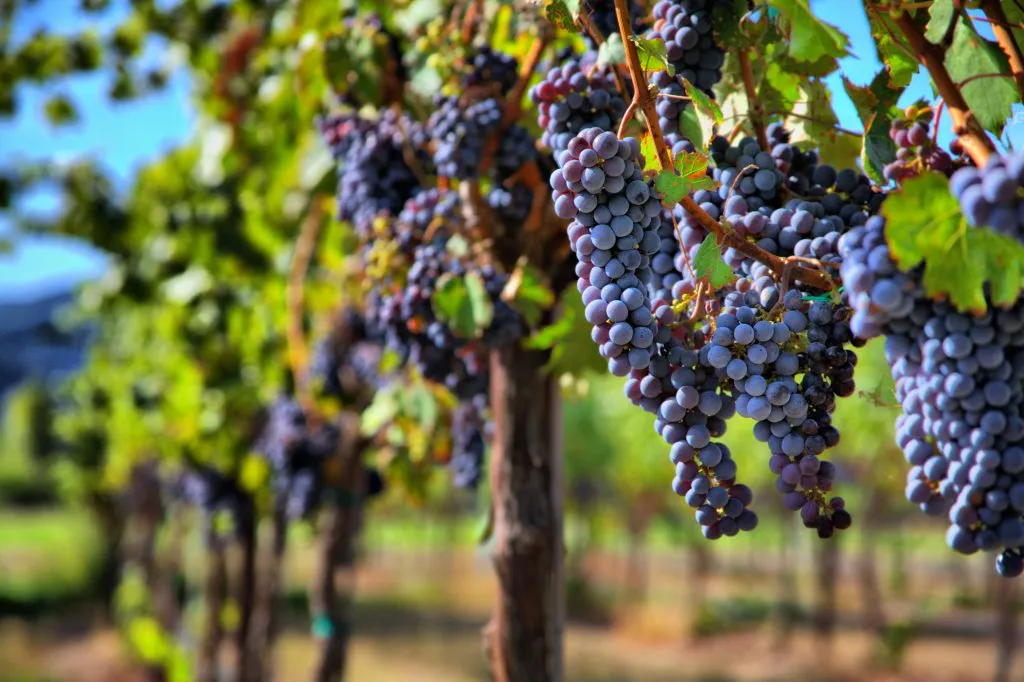 Calistoga
A quaint town located at the northern end of California's famed Napa Valley, Calistoga is best known for its mud baths and thermal mineral pools.
It even has a geyser!
Downtown Calistoga makes for a nice walk, with many boutique stores, art galleries, eateries, and wine tasting rooms.
Shop for artisanal foods like olive oils, honey, and teas.
You'll find many beautiful wineries around Calistoga if you want to do a tasting tour!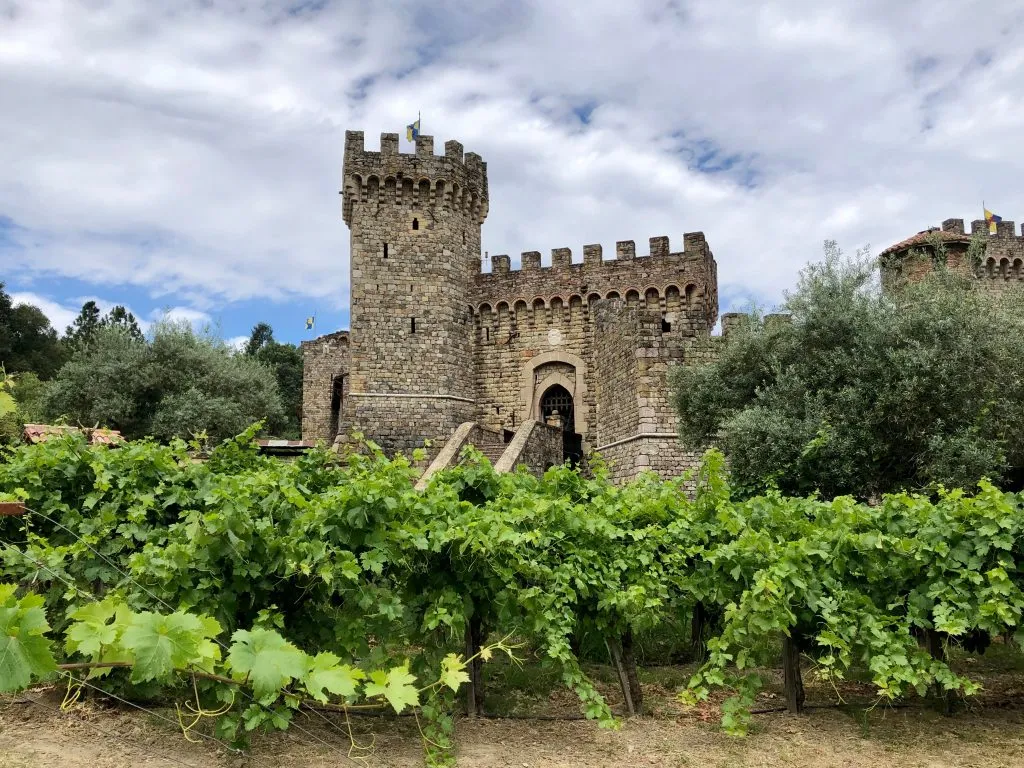 Capitola
A small coastal town located just south of Santa Cruz in Central California, Capitola is known for its colorful Instagram-worthy facades and beautiful beaches.
If you're looking for a colorful, whimsical beach town, add Capitola to your list of California vacation spots to visit soon.
Sandy Capitola Beach is popular and can get crowded, but drive a short distance out to New Brighton State Beach for an equally beautiful but less crowded experience on nice weather days.
Stroll Capitola Village to browse the many cute boutique shops and art galleries.
Snag a table with a water view for dinner!
Many restaurants have patios with amazing views of Monterey Bay.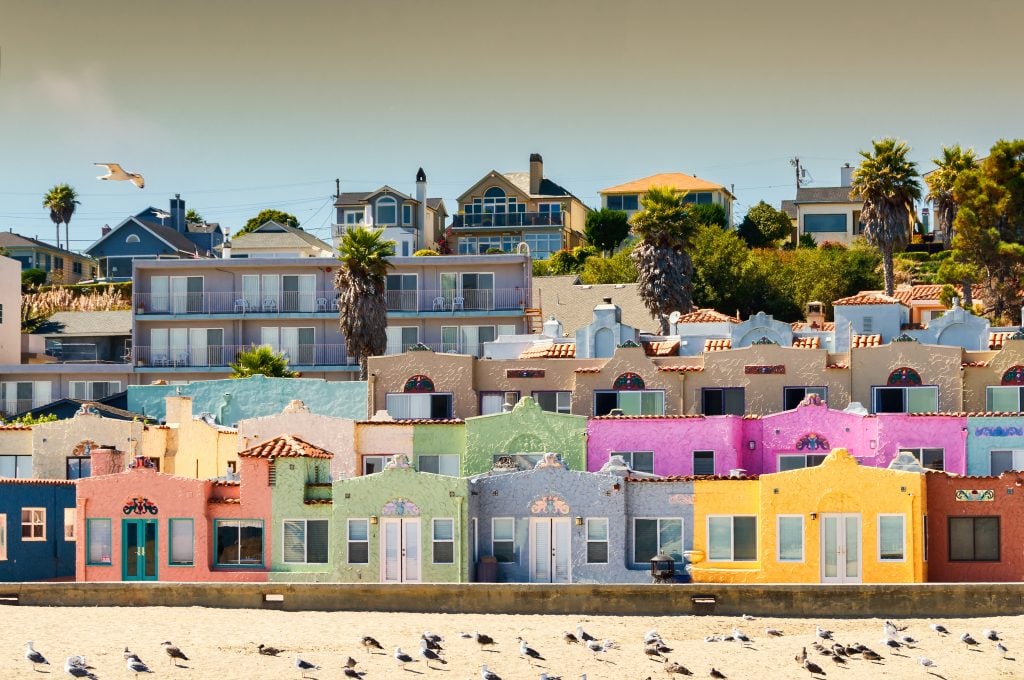 Carmel-by-the-Sea
Just one square mile in size, Carmel-by-the-Sea is one of the cutest places to visit in California.
You'll find European-style boutiques, many art galleries, and excellent dining and wine tasting in the village.
Carmel Beach is a gorgeous stretch of white sand that's perfect for a long walk.
Scenic Road, just above the beach, makes for a beautiful walk or drive as well.
Just south of Carmel, Point Lobos State Natural Reserve is one of the most scenic state parks in California, with many nature trails with views of the ocean.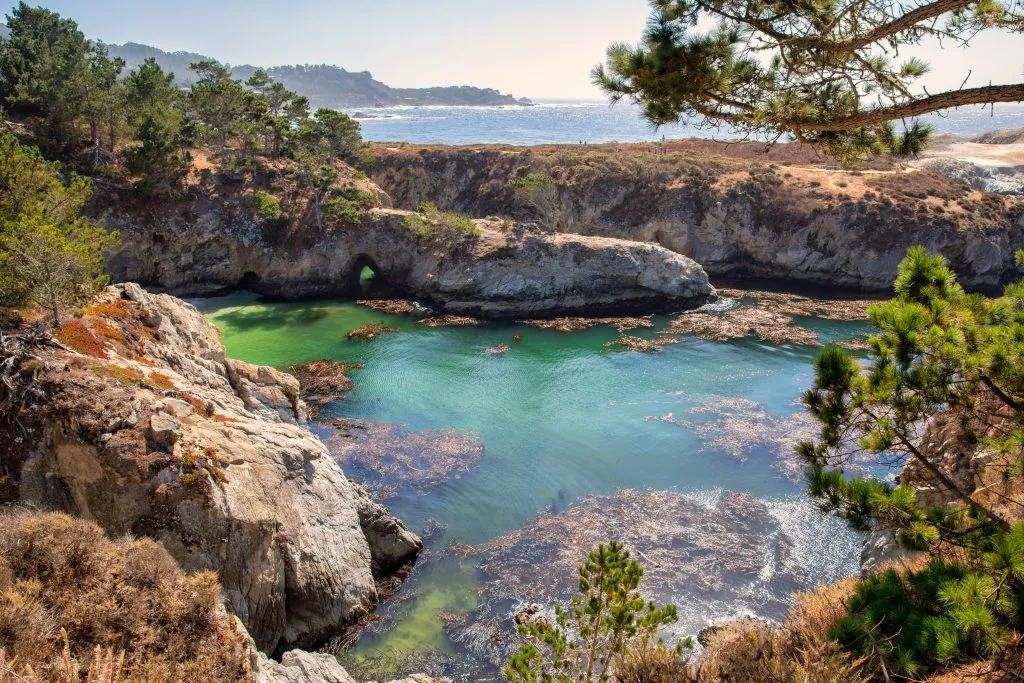 Morro Bay
Morro Bay has a charming fishing village feel.
It offers great beaches, scenic hiking trails, and some of the best wildlife viewing and birdwatching along the California coast.
Admire Morro Rock, a giant volcanic plug that lies just offshore and towers over the little town.
You can walk right up to the rock and look for nesting peregrine falcons.
In town, enjoy fresh-caught seafood at one of many waterfront eateries.
Browse the shops and galleries along the Embarcadero, and admire the many murals.
Solvang
The Danish-themed village of Solvang is part of the picturesque Santa Ynez Valley, known as a wine country destination just outside Santa Barbara.
In downtown Solvang, snap photos of the beautiful Danish architecture, look for Denmark-inspired landmarks (including a Little Mermaid!), and sample aebleskivers.
There are several Danish bakeries if you want to indulge your sweet tooth and numerous wine tasting rooms.
From Solvang, you can also tour plenty of local California wineries.
Where to Stay in Solvang, California
Hotel Corque: This stylish boutique hotel is a short walk to Old Mission Santa Inés. Rooms are colorful and spacious, and there is a pretty garden to enjoy drinks.
The Winston: Beautifully decorated, luxurious and perfectly located to explore the town.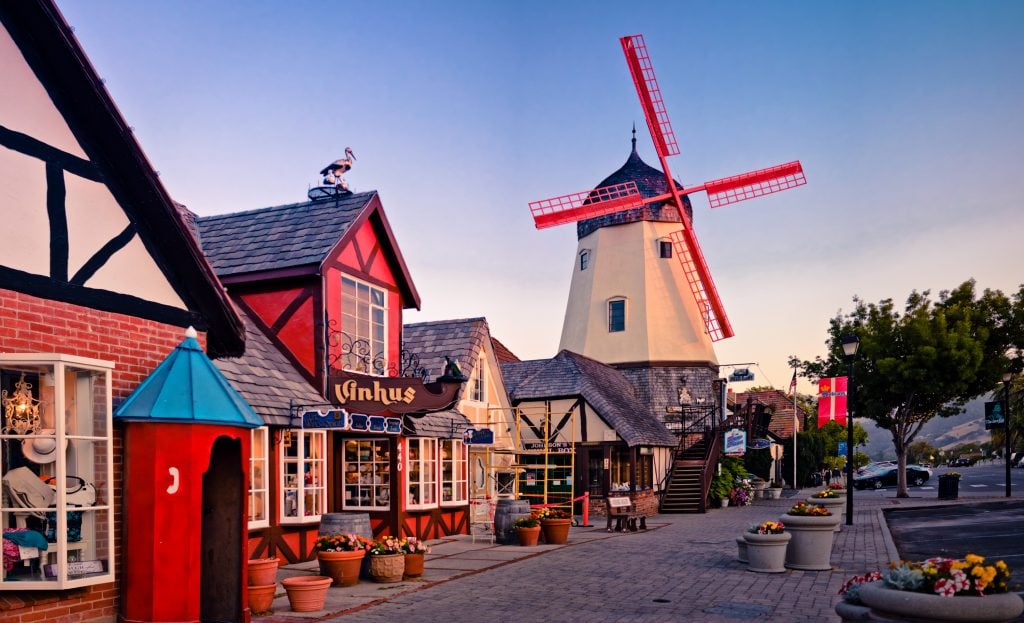 Laguna Beach
One of the prettiest beach towns in Orange County, Laguna Beach has that perfect laid-back California coastal town ambiance.
But there's also plenty to do here!
Crystal Cove State Park has more than three miles of pristine beach.
But also across the road from the water, the park contains many acres of beautiful wilderness, with trails offering stellar ocean views.
Laguna Beach is known for its public art installations.
Grab a map at the visitor center and go on a self-guided tour to enjoy it!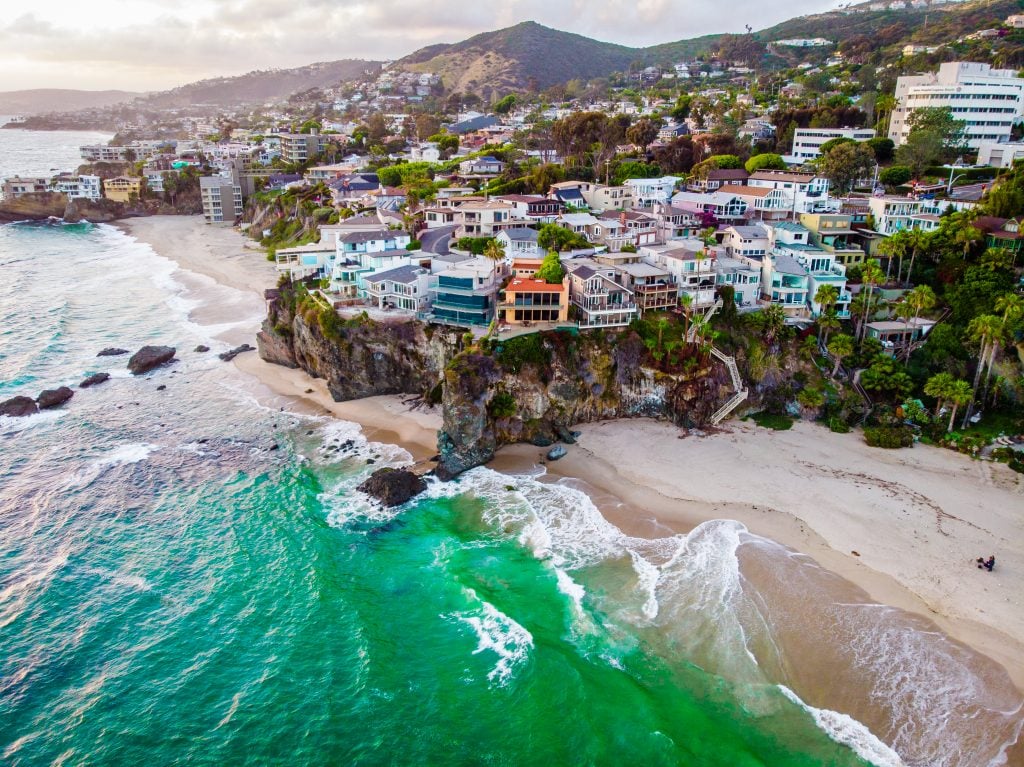 Avalon
Avalon is one of two towns on Santa Catalina Island, one of the Channel Islands that lie off the coast of Southern California.
Accessed by ferry, Avalon makes for a wonderful California getaway.
Avalon offers a wealth of recreational activities in or on the water.
Go swimming, scuba diving, snorkeling, or take a kayak out to enjoy the scenery from the water.
On land, you can hike, bike, golf, or laze the day away on a sandy beach or in a spa.
Be sure to join a guided tour to explore less-developed parts of the island!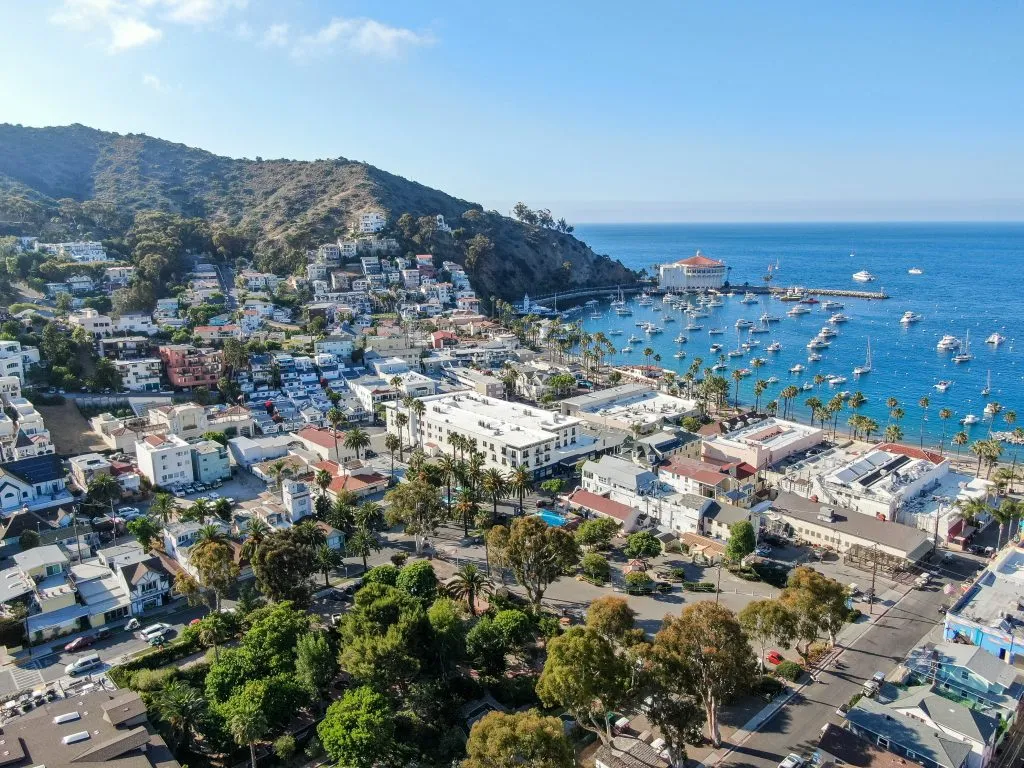 La Jolla
Just north of San Diego, La Jolla is known for its beautiful beaches and its cute sea lions.
But from murals to museums, and hiking to hang gliding, La Jolla offers much more to see and do.
Torrey Pines State Natural Reserve is one of the most beautiful state parks in California.
Hiking one of the ocean view trails here is a must!
Go shopping on Prospect Street, popularly known as the Rodeo Drive of San Diego.
You'll find many boutiques and art galleries to browse, as well as great dining.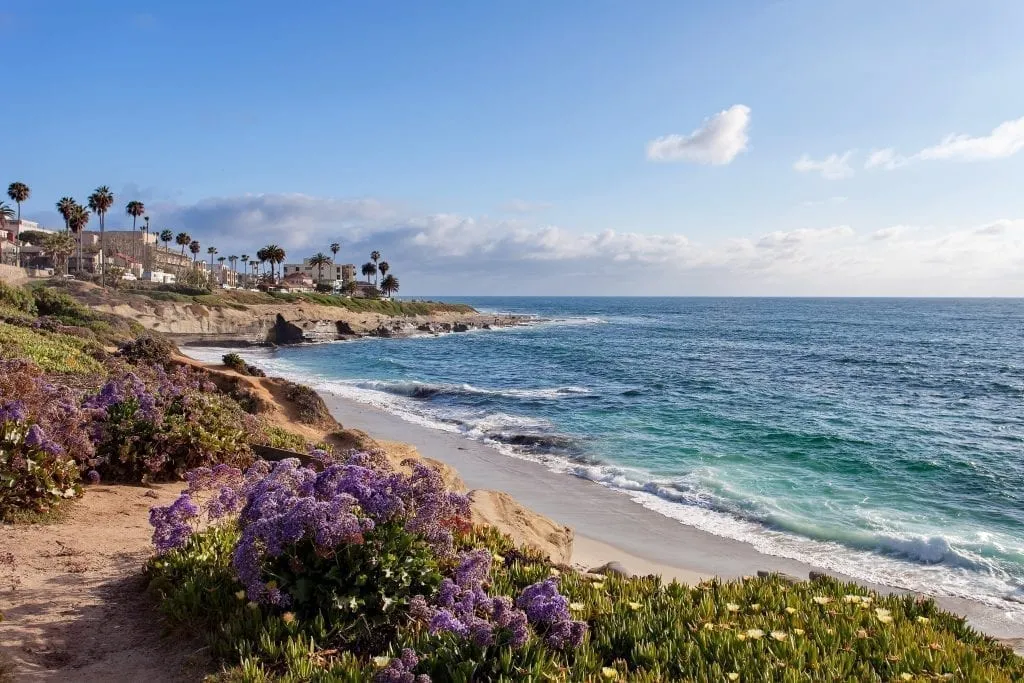 Mammoth Lakes
Mammoth Lakes is a popular ski resort town in the Eastern Sierra of California, but it makes for a wonderful getaway in any season.
The scenery, with tall mountains and jewel-blue alpine lakes, is spectacular.
While you're there, take the scenic gondola to the top of Mammoth Mountain for panoramic views.
Be sure to also go boating on one of the many lakes, and hike some of the trails around the lakes and into the mountains.
In the summer and early fall, Devils Postpile National Monument is a must-visit, not only for the unique formation of basalt columns but also for Rainbow Falls, one of the most beautiful waterfalls in the state.
Nevada City
Want to take a step back in time to the California Gold Rush era?
Nevada City is one of several Gold Rush-themed towns you can visit in California's Gold Country.
In downtown Nevada City, admire the old west facades and the many historic buildings, including a much-photographed firehouse from 1861 and the state's oldest continuously operated hotel.
Just a few miles out is Empire Mine State Historic Park, the site of one of the richest gold mines in California. You can tour some of the mine buildings, and the historic home and gardens of the mine's owner.
For travelers interested in the famous Gold Rush, Nevada City is definitely one of the best places to visit in California.