There's nothing quite like the sparkle and allure of exploring the City of Lights after dark–but when it comes down to deciding what to do in Paris at night, it can be hard to narrow down just where to go and what to see.
If you're looking for the best things to do in Paris at night, from museum visits to nightlife to the most classic of all options–climbing the Eiffel Tower–we've rounded up the best ideas here.
Some links in this post may be affiliate links. If you make a purchase through one of these links, we may earn a small commission at no extra cost to you. Please see our

disclosure policy

for more detail.
What to Do in Paris at Night
Explore the Louvre.
We've visited the Louvre several times at this point, including two visits at night, and visiting the Louvre after dark is far superior to visiting during the day in our opinion. It easily ranks among our favorite things to do in Paris at night!
On Wednesdays and Fridays, the world's most popular museum stays open until 9:45 PM, allowing plenty of time to explore after dark.
The Louvre takes on a more romantic quality at night–there's something special about exploring as the crowds thin, leaving you with plenty of space to admire magnificent art where only a few hours earlier you would have been fighting crowds.
You can certainly visit the Louvre at night independently–don't forget to pre-book your skip-the-line tickets to ensure you get in!–but it's also incredibly special to take a tour of the Louvre at night.
Book your tickets for the Louvre now!

Prefer the context of a tour?

This popular evening tour gets great reviews and includes a wine tasting!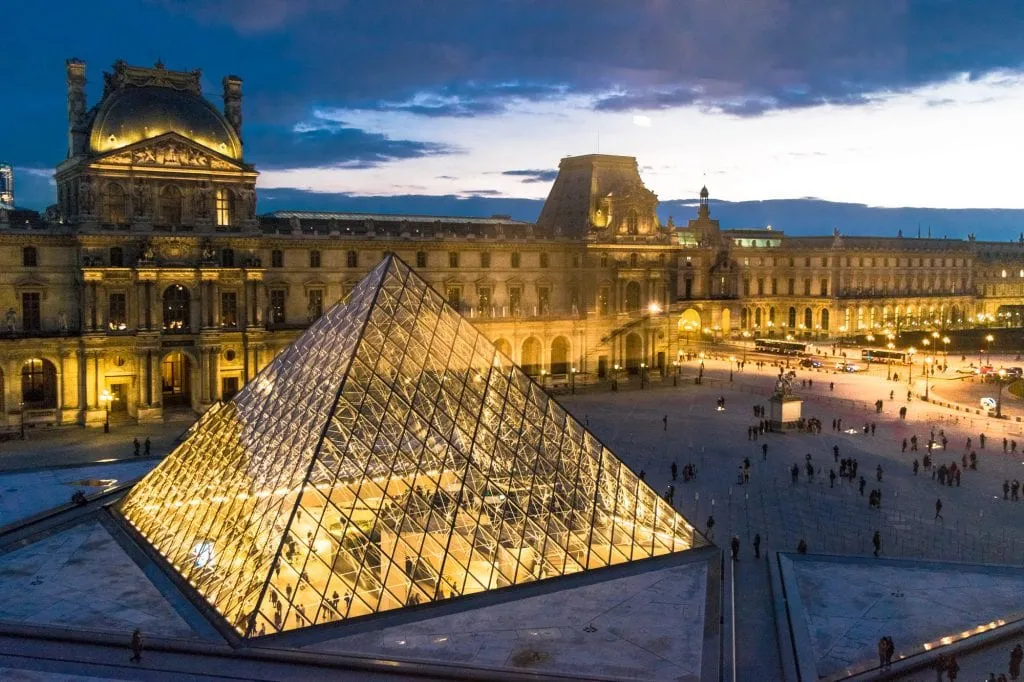 Stroll along the Seine.
If you've seen any movie ever made about Paris, odds are you've seen at least a few shots of someone strolling along the Seine at night.
It's an incredibly lovely experience, especially on a beautiful night.
We recommend starting near Il de la Cite, where you'll have plenty of other people around (not too crowded, but also not creepily deserted), checking out the views of Notre Dame, and then perhaps heading all the way down to the Louvre and crossing the Pont Neuf along the way.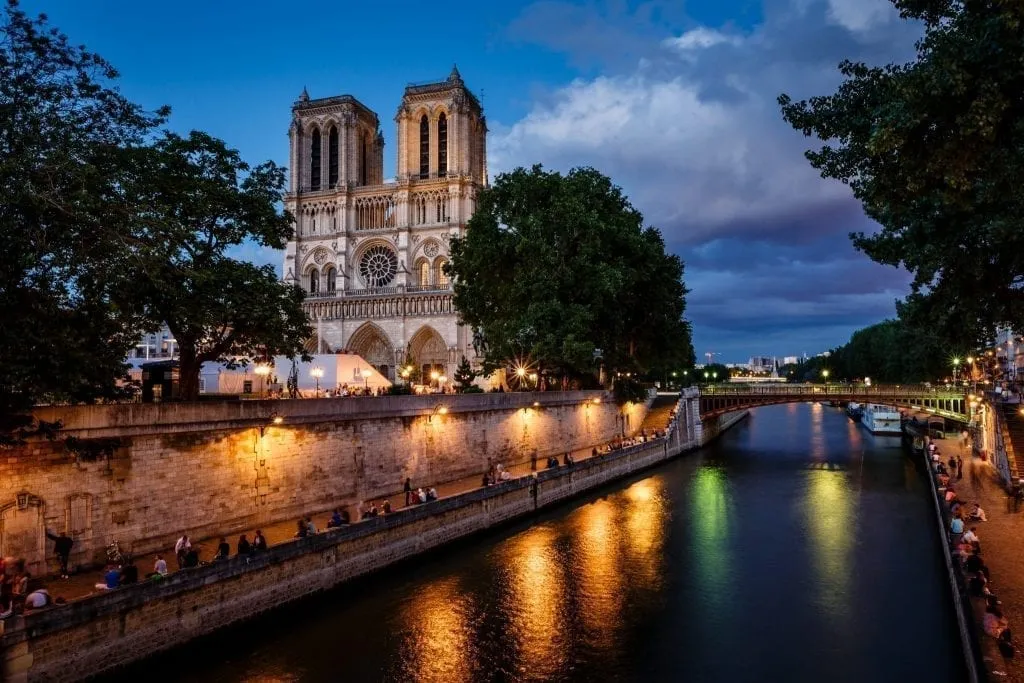 Enjoy a glass of wine in a cozy wine bar.
Paris is full of tiny, comfortable wine bars, perfect for sampling French wines in close quarters–and especially when the weather turns cool or rainy (which, let's be honest, it often does in Paris), this is the perfect place to spend an evening in Paris.
See a cabaret show.
Paris' cabaret shows are legendary–just look at the enduring fame of the Moulin Rouge for proof–and while they are often considered a bit touristy these days, isn't that part of the fun of visiting Paris?
If you've always dreamed of seeing a Parisian cabaret show (or just spent a lot of afternoons binging Moulin Rougeas a teenager), consider adding a cabaret show to your list of what to do in Paris at night!
Book a night out in Paris at the Moulin Rouge today!

Prefer a bigger night out?

This popular tour not only includes the Moulin Rouge, but also a 3-course dinner, a Seine river cruise and views from the Eiffel Tower!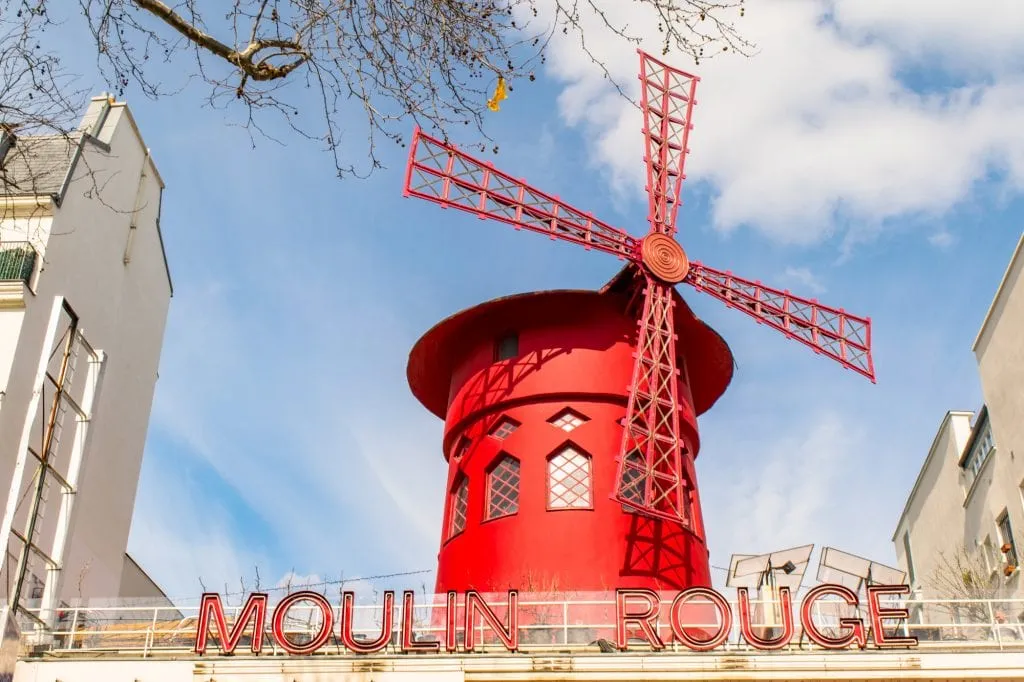 Admire the Eiffel Tower light show.
After dark, every hour, on the hour, the already lit-up-and-beautiful Eiffel Tower greets Paris with a stunning display of beautiful, twinkling lights that add a little extra magic to the already gorgeous Parisian cityscape.
Be sure to make time during your Paris evenings to admire this gorgeous light show at least a couple of times during your trip!
… or head to the top of the tower.
I'll admit, we're not personally smitten with the idea of heading to the top of the Eiffel Tower (what's the Paris skyline without the Eiffel Tower in it, after all), but if you're trying to decide what to do in Paris at night and have long dreamed of visiting the top of the Eiffel Tower, nighttime offers a special ambiance and is the perfect time to go.
Don't forget to book your tickets in advance–as one of the most popular things to do in Paris, tickets to reach the top of the Eiffel Tower tend to book up fast!
Book your tickets to visit the Eiffel Tower today!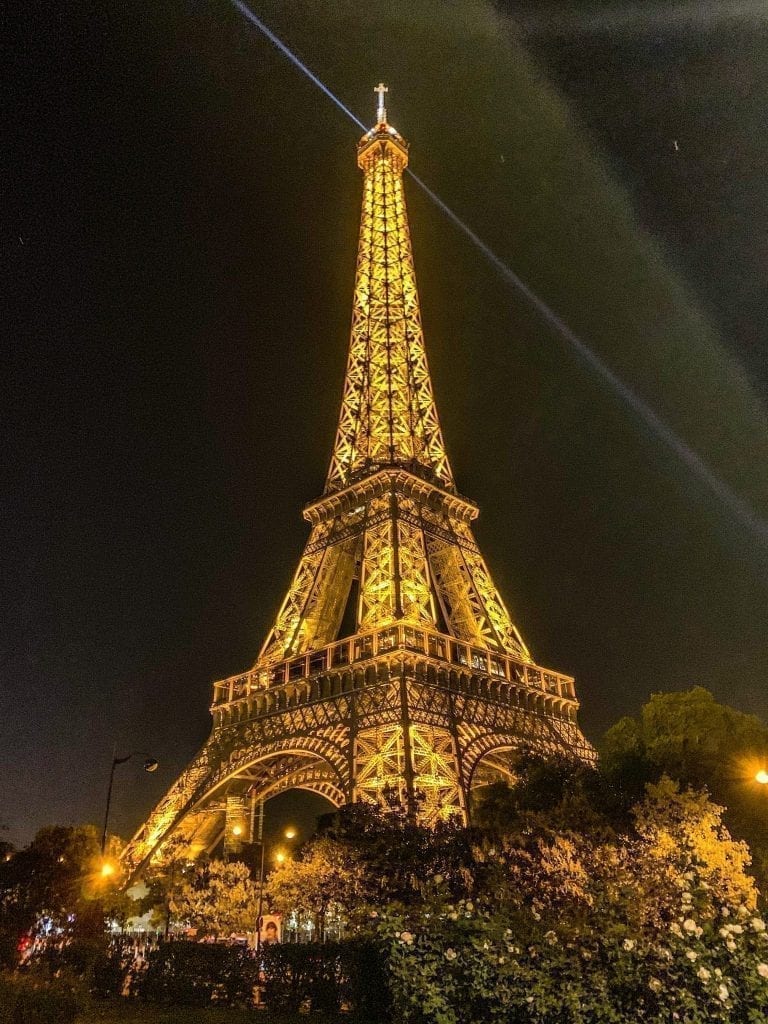 Descend into the Paris catacombs at night.
Paris' catacombs are fascinating and a bit creepy to explore at any time of day, but with an 8:30 PM closing time, there's plenty of time to add them to the early side of your evening in Paris as well–and there's no doubt that they're a bit more fascinating at night.
Set beneath the city in Paris' former quarries, the Paris catacombs hold roughly 6 million former Parisians whose skeletons were relocated there in the late 18th to mid-19th centuries when many of Paris' cemeteries were emptied due to health concerns.
Completely fascinating and definitely one of the most unique things to do in Paris at night, it's not likely you'll forget a trip to the Paris catacombs anytime soon.
Pre-booked tickets for a specific time slot are highly encouraged and bordering on required (the line to enter the catacombs is often hours long), but they're even more fascinating with a tour–this well-reviewed tour has an evening option on some days and is a fantastic way to experience the catacombs.
Check availability & book your skip-the-line tickets for the Paris catacombs now!

Prefer a tour? This one is extremely well-reviewed and is a great option!
Take a classic Seine river cruise.
Of all the fun things to do in Paris at night, taking a Seine river cruise is probably one of the most enduringly popular ones with tourists–and while touristy, it's also lots of fun and a fabulous way to spend an evening in Paris.
Sunset is the perfect time to take a Seine river cruise. It's far more beautiful to admire the views as darkness settles over the city and the lights of the cityscape start to come on than during the day.
Cruises are available at several different price points, but this popular dinner cruise is a great option for people looking for an unforgettable evening on the Seine!
Check prices & availability for your Seine dinner cruise today!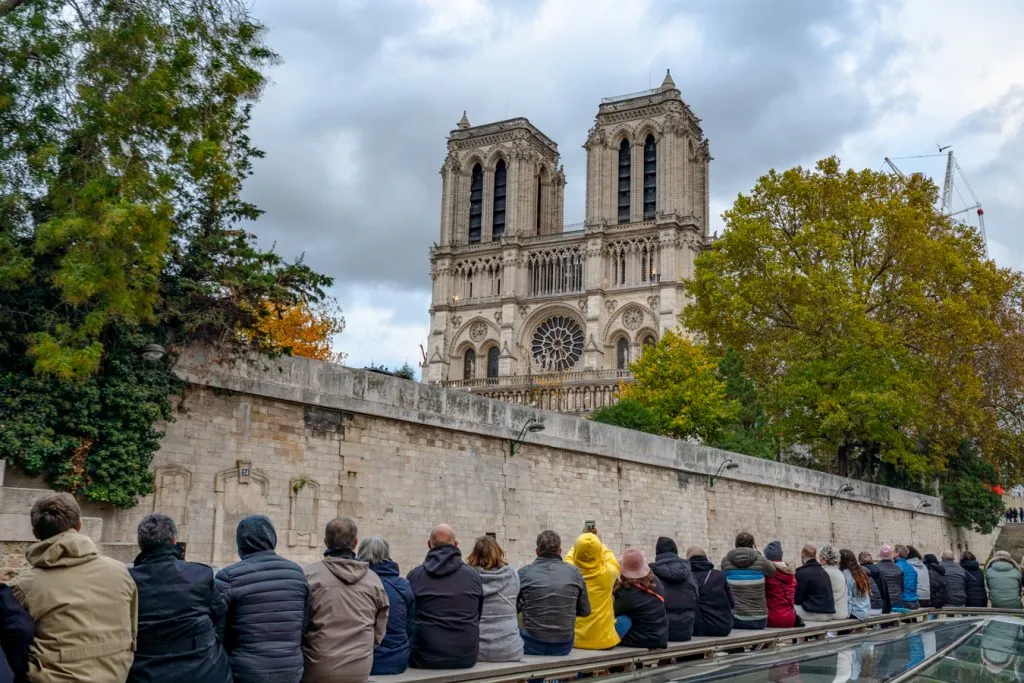 See an opera.
Touring Paris' stunning Opera Garnier is magnificent during the day, of course–but if you want a truly unforgettable evening in Paris, book tickets to see a show (and don't forget to dress up when you go!).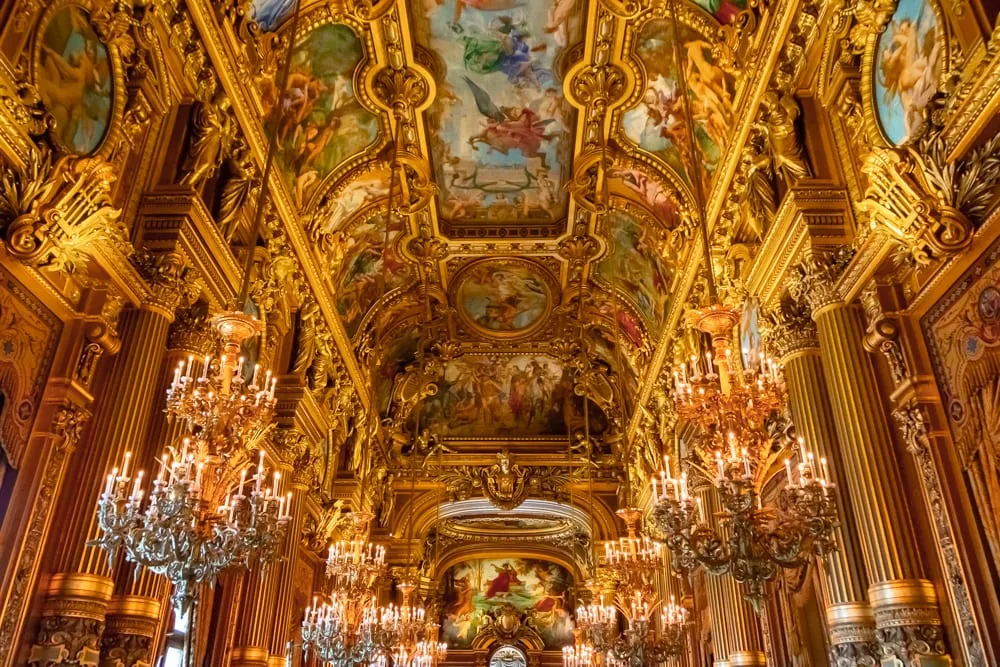 Sip champagne at a rooftop bar.
Want to admire views of the Eiffel Tower in Paris at night, but want to do it from a comfortable table rather than a long walk?
Head to a rooftop bar in Paris!
… or enjoy a wine tasting.
Wine lovers visiting the City of Lights will no doubt want to learn a bit more about the masterpieces that are French wines during their trip.
Book a wine tasting in a local wine cellar and you can enjoy several French wines, learn about their production, and enjoy a beautiful evening in Paris–all without leaving the city or using up one of your precious days in Paris on an indoor wine tasting.
Schedule your wine tasting in Paris now!
Hit a movie at a classic Parisian theater.
Paris is dotted with classic movie theatres dating back to the early 20th century, complete with stunning interiors and opulent decor–and several of them are still open for business!
As a bonus, many of the theatres show classic movies in their original language, so even if you don't speak French, there's a chance to enjoy a little bit of old Hollywood-style glamour when enjoying a night in Paris.
Admire city views from the Arc de Triomphe.
The top of the Arc de Triomphe is home to our favorite views of the Paris skyline (it used to be more or less tied with Notre Dame, but alas–Notre Dame's rooftop is out of commission for the foreseeable future).
Add in the sparkling lights from the night skyline and the twinkling brilliance of the Eiffel Tower visible in the distance, and there's no doubt that the views from the top of the Arc de Triomphe are worth adding to your list of things to do in Paris at night.
Buy your skip-the-line tickets for the Arc de Triomphe now!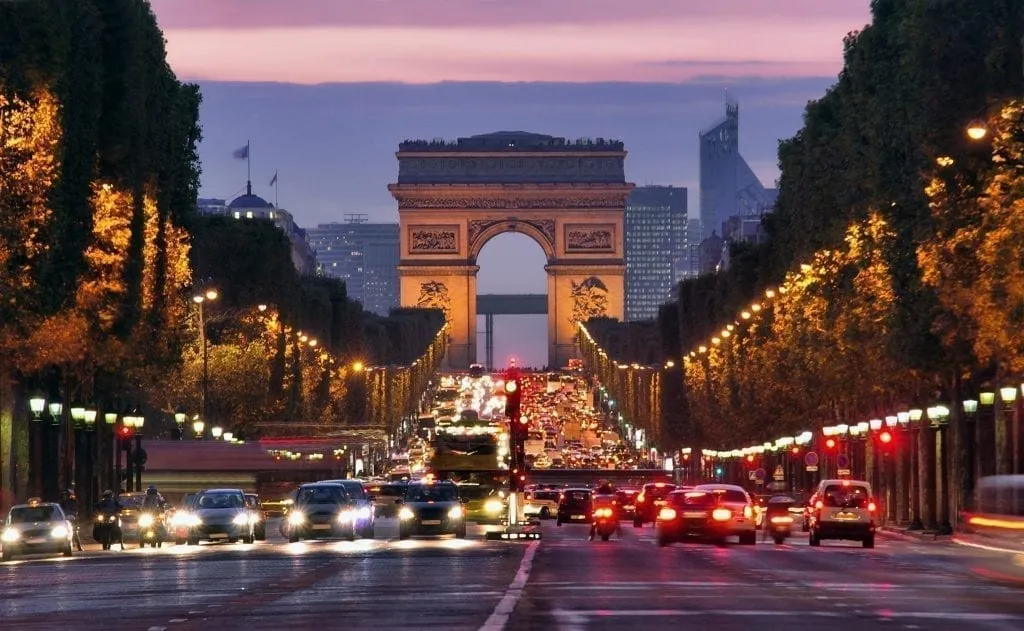 Walk down bustling Rue Montorgueil.
Packed with bars, restaurants, cafes, and shops, the popular Rue Montorgueil (located in both the 1e and 2e) is the perfect place to sample several different spots in Paris at night.
Perhaps start with a pastry from the oldest bakery in Paris at Stohrer (it closes at 8:30 PM), then head to a nearby cafe for a glass of wine.
After that, move on to a restaurant for dinner, while enjoying the hectic atmosphere of countless Parisians and tourists alike out for a fun night in Paris along the way.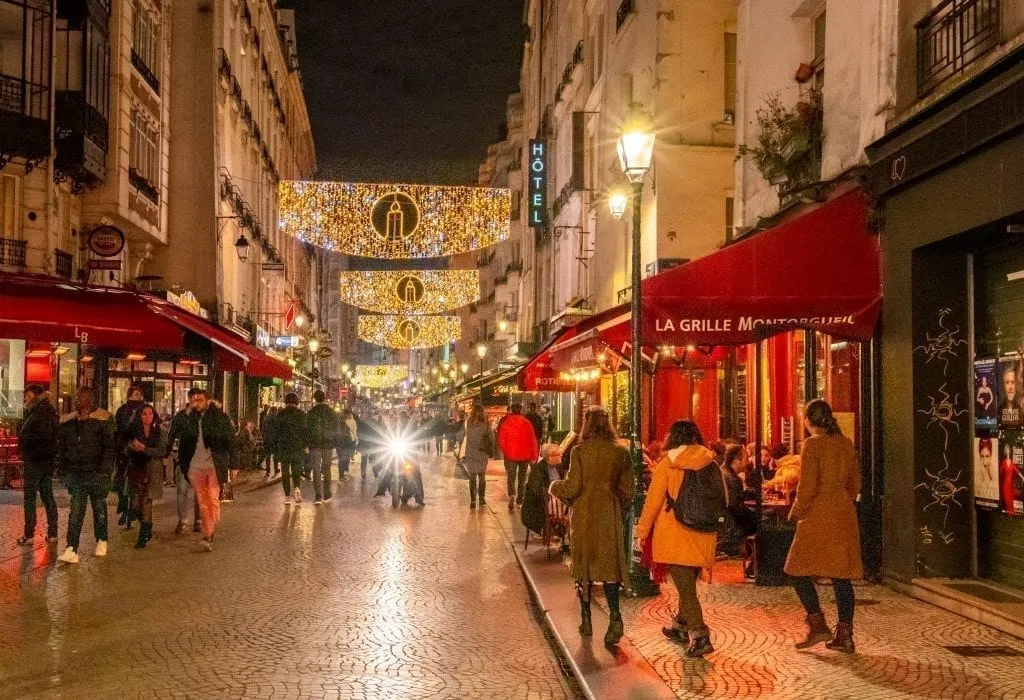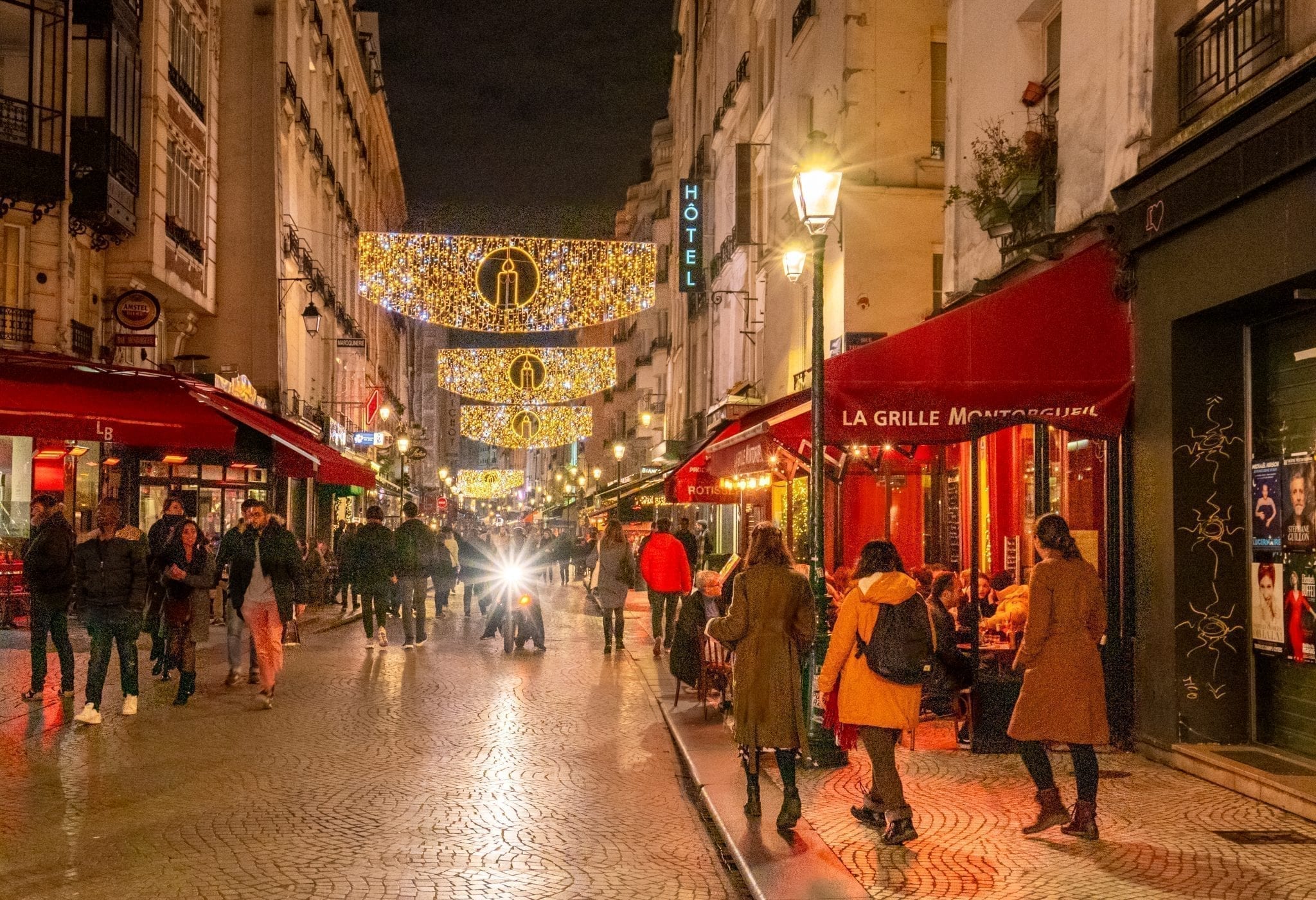 Go for a dip in Piscine Pontoise.
Want to add a more offbeat option to your list of things to do in Paris at night?
Within the Latin Quarter, you'll find the indoor, Art Deco Piscine Pontoise open at night and ready to welcome you in for a late-night swim!
Watch the sunset over Paris.
There are endless beautiful places to watch the sunset over Paris, of course, from the top of the Eiffel Tower or Notre Dame to beautiful rooftop bars to the roof of the Galeries Lafayette.
If you're looking for a free, stunning, reliable option, though, it's hard to go wrong with an evening spent watching the sun go down while sitting in front of Sacre Coeur in Montmartre.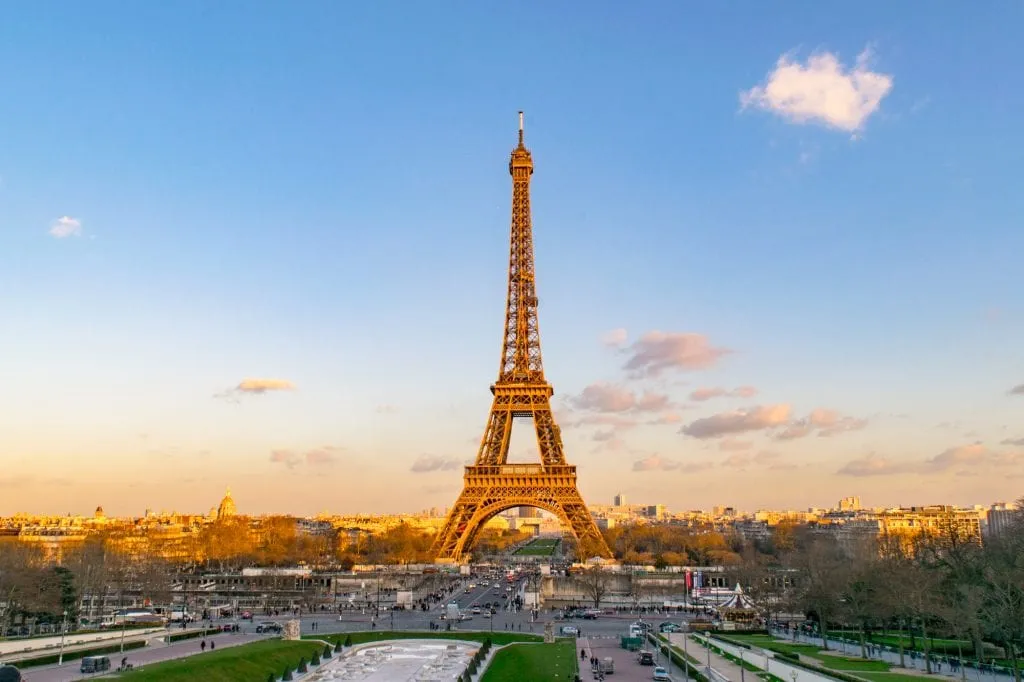 Visit the Musee d'Orsay after dark.
Much like the Louvre, there's a special quality to visiting the Musee d'Orsay as one of your Paris night activities: you can admire the sparkling lights of the Paris skyline through the museum's famous clock windows (you can see all the way to Sacre-Coeur in some spots!), and it's a delight to peruse the museum as it slowly empties for the day.
The Musee d'Orsay is open until 9:45 PM on Thursdays.
Reserve tickets for an evening visit to the Musee d'Orsay today!
Experience the best of Parisian cuisine with a Michelin Star meal.
With over 100 restaurants boasting at least one Michelin Star, Paris is the perfect destination for foodies–and what better way to spend an evening in Paris than tasting some of the best food in the world?
… or cozy up at a bistro for more casual, traditional fare.
Prefer something a bit more casual and/or cheaper for dinner?
When deciding what to do in Paris at night, don't rule out a small, cozy bistro serving up tasty Parisian food in a warm and comfortable atmosphere!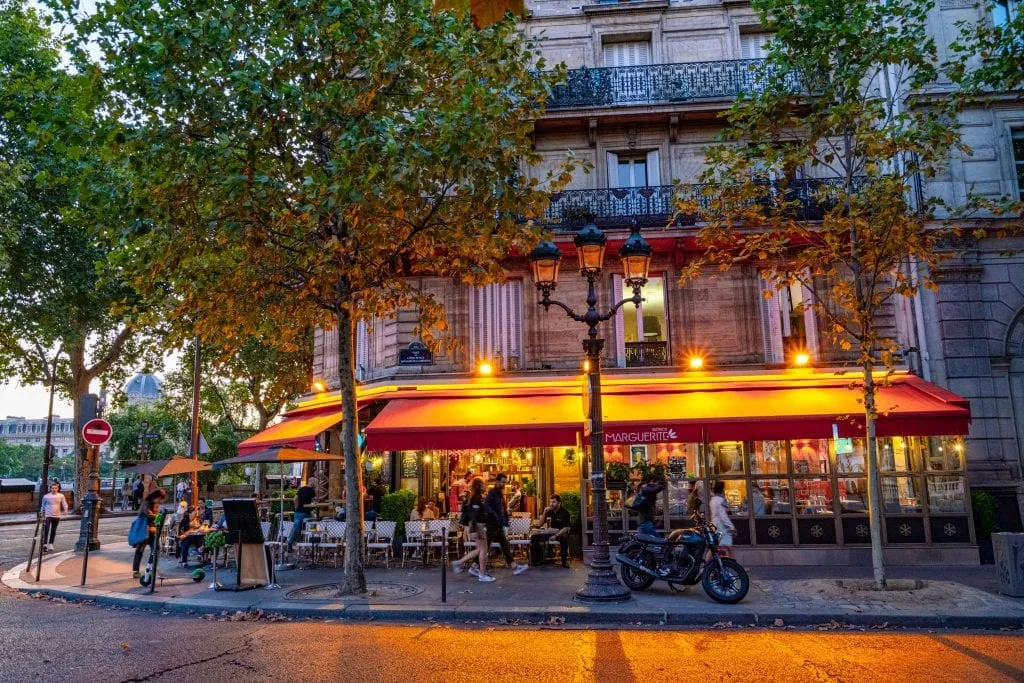 Tips for Exploring Paris at Night
Pay attention to metro hours!
Paris' metro, while incredibly reliable during the day, is not available 24 hours a day.
On weekdays, the metro generally closes around 12:30 AM, with some lines staying open as late as 2:00 AM on the weekends.
If you're planning a late night out in Paris, make sure you're prepared to walk or catch an Uber/cab home in case the metro isn't available.
Paris is generally a safe city, but take all typical safety precautions.
While it's very unlikely you would run into a dangerous situation when sightseeing in Paris at night, you should definitely take the safety precautions in Paris that you would in any large city.
For example, leave valuables at home when possible, Uber or take a cab home if walking feels unsafe and/or takes you through a fairly deserted area, travel in groups when possible, and avoid being too intoxicated on the street.
Don't let fear of exploring Paris at night keep you inside, but exercise due caution, as well.
Keep in mind that exploring after dark in winter will come early.
When deciding what to do in Paris at night, keep in mind that what season you travel in will have a large impact on what time your after-dark Paris adventures can take place–in the winter, that might mean admiring the sunset from Sacre-Coeur or the Arc de Triomphe before 5:00 PM!
Watch your bags and pockets, especially in crowds.
What's better than crowds of tourists when you're a pickpocket? Crowds of somewhat inebriated tourists under the cover of dark.
For obvious reasons, if you're headed to crowded and/or touristy places in Paris at night, be extra careful with your belongings to avoid an unpleasant end to your evening in Paris.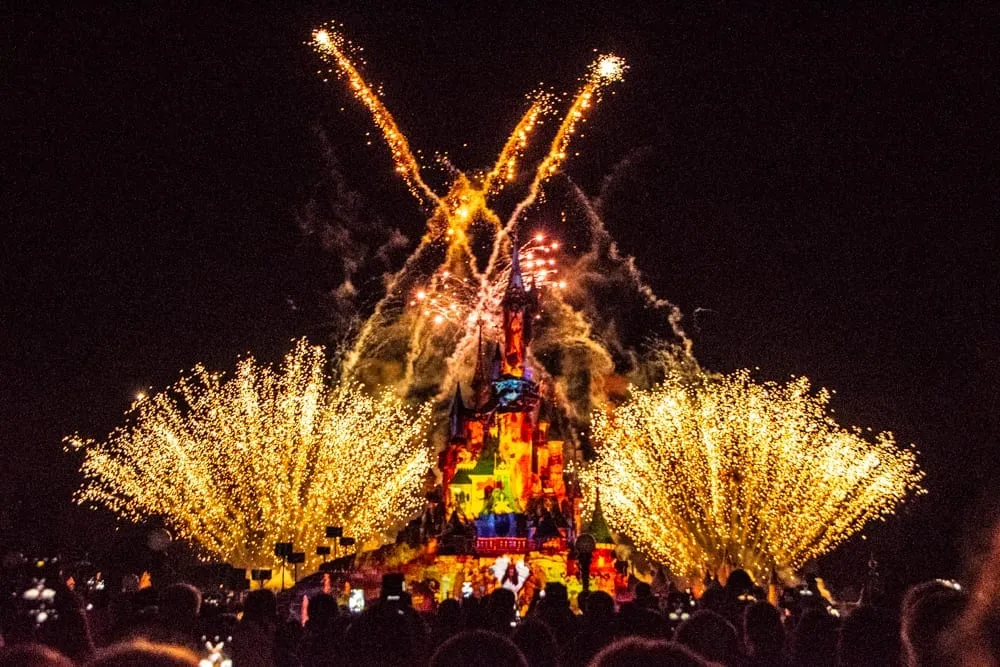 Make reservations if you have your heart set on a particular meal.
Popular restaurants in Paris–especially those that have an additional claim to fame, like a great view of the city or a Michelin Star rating–often get booked up, and Parisian restaurants are generally happy to take reservations.
If you have your heart set on eating somewhere specific, be sure to make reservations in advance.
Making reservtions for an evening in Paris is generally done via phone (though an increasing number of restaurants have online options these days), but if you're unsure of how to get started, your hotel concierge will generally be happy to help.
---