From admiring the Eiffel Tower to exploring world-class art in the Louvre to buying your first croissant in a true Parisian boulangerie, there are countless wonderful things to be excited about when planning a trip to Paris–and that includes shopping for the best Paris souvenirs!
The City of Light is synonymous with fashion, art, and all things très chic, making deciding what to buy in Paris, France absolutely delightful to contemplate.
We're lucky enough to get to visit Paris semi-regularly and hope to continue enjoying the city for the rest of our lives.
Our budget has changed a bit since our first trip to Paris in our early twenties–but our enthusiasm for both exploring the French capital and collecting trinkets to remind us of our travels there has not.
If you're hoping to brainstorm memorable things to buy in Paris, here are some of the best options to add to your Paris shopping list!
The Best Foodie Souvenirs From Paris
French food is rightfully famous worldwide–and when shopping for souvenirs in Paris, you can bring a small taste of it home with you!
Macarons
Of all the French foods to bring home from Paris, perhaps none is as iconic as the macaron!
Delicious, beautiful, and fairly easy to transport, a gorgeous box of macarons makes for the perfect souvenir (and they make great gifts from Paris to bring back for loved ones, too!).
You can find tasty macarons all over the city, but some of the most beloved can be found at Jean-Paul Hévin, Pierre Hermé, Fauchon, or the ever-famous Ladurée (though of course, this list is far from exhaustive).
Want to bring home the skill to be able to make your own French macarons instead of just a box?
We loved this macaron baking class and can highly recommend it!
French Cookware
If you love to cook at home, there may be no better souvenir to buy in Paris than a piece of quality French cookware!
Le Creuset is an iconic option, of course, but brands like Staub, De Buyer, and Mauviel, are just a few of the many other incredible options for cookware to buy in France.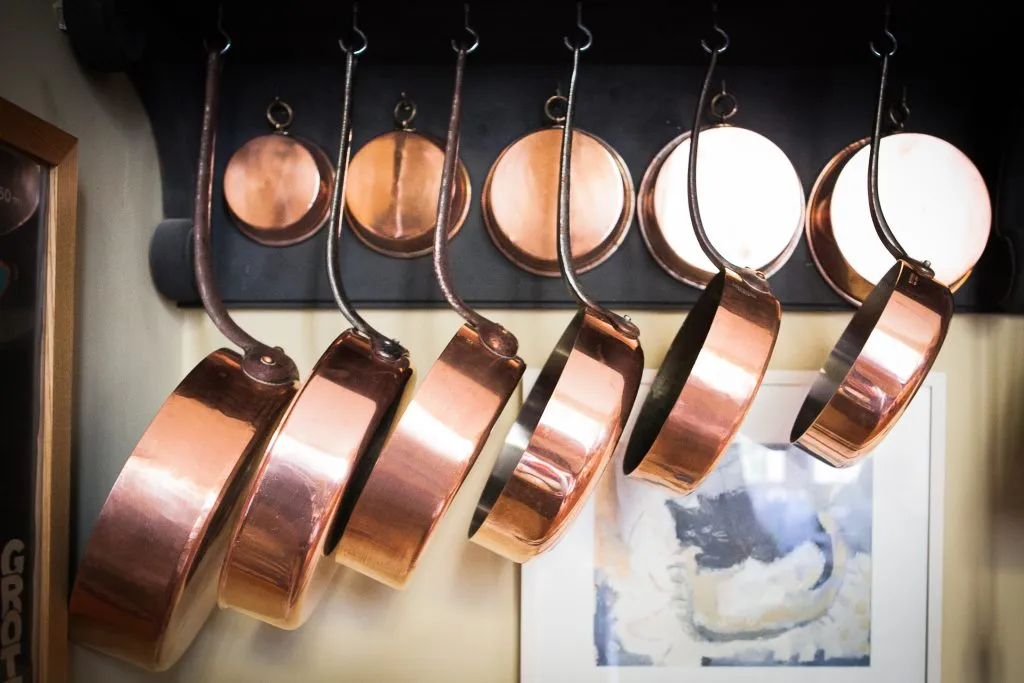 Wine
What's a trip to Paris without sampling France's famous wine?
While you can buy delicious French wine everywhere from a supermarket to a charming cave à vins, if you want to learn a bit about local wine before deciding what to buy, a wine-tasting class like this is a fun addition to any trip to Paris!
Technically, if you want to go hyper-local, you can even buy wine made right in Paris.
Le Clos Montmartre is the last vineyard left in Paris, and while you can't typically tour it, you can pick up a bottle of their wine in the gift shop of the Montmartre Museum.
The grounds of the museum (which is one of the best small museums in Paris) also have a beautiful view of the small vineyard.
A French Cookbook
If you fall in love with Parisian food, consider picking up a French cookbook as a souvenir from Paris!
Learning the ins and outs of French cooking is definitely a marathon, not a sprint (as Julia Child famously showed a generation), but for the right person, it's definitely a challenge worth taking on.
And, where better to be inspired to start the journey than Paris?
Chocolate
Luxurious and delicious while still being easy to transport, artisan French chocolate definitely belongs on your list of what to buy in Paris!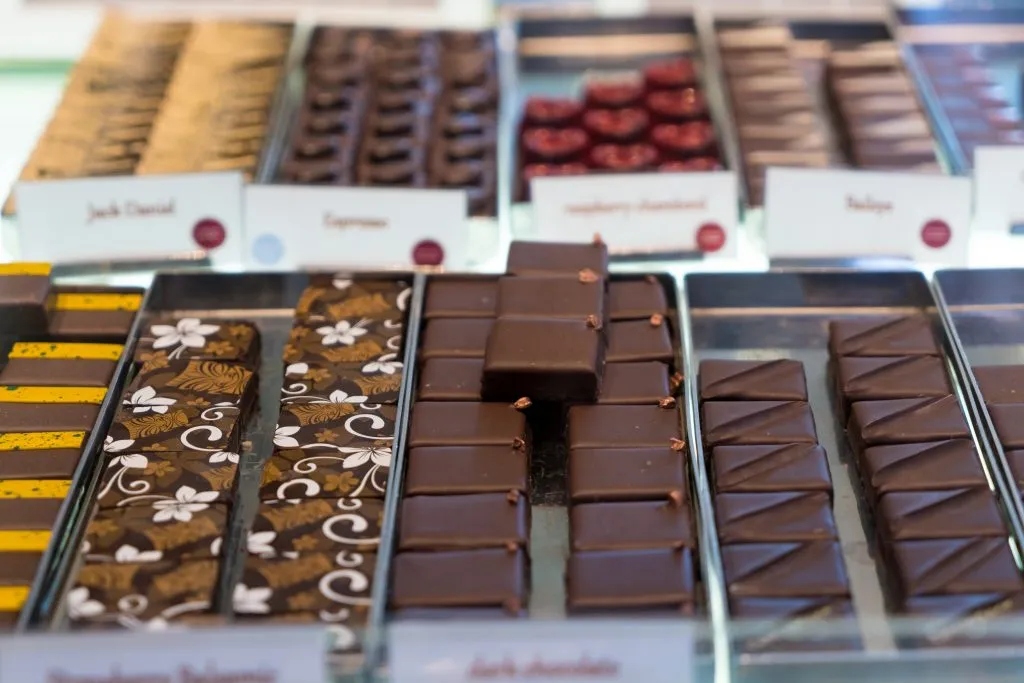 Cheese
French cuisine (rightfully, in my opinion) elevates cheese from a food to an entire food group–what else would you expect from a country with literally hundreds of cheeses to choose from?
From iconic options like camembert and brie to hyper-local favorites, French cheese (traditionally served as a separate course with dinner) is unforgettable.
Any Parisian fromagerie will be happy to help you pick out a few cheeses to bring home as souvenirs, and the experience of buying them will also be a delightful travel experience!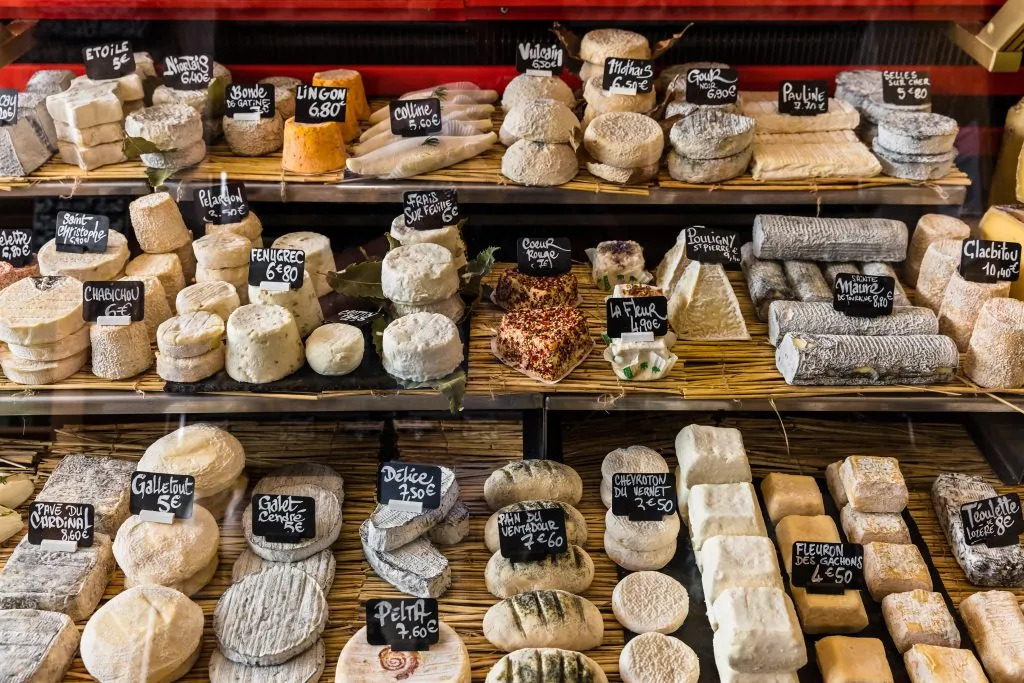 Angelina Hot Chocolate Mix
Angelina is rightfully famous for its delicious hot chocolate, and in addition to serving it in-store and to go/for takeaway, they also sell mix!
For a cozy Paris souvenir, pick up a hot chocolate mix at Angelina to bring a taste of Paris home with you to warm up on a cold winter's day.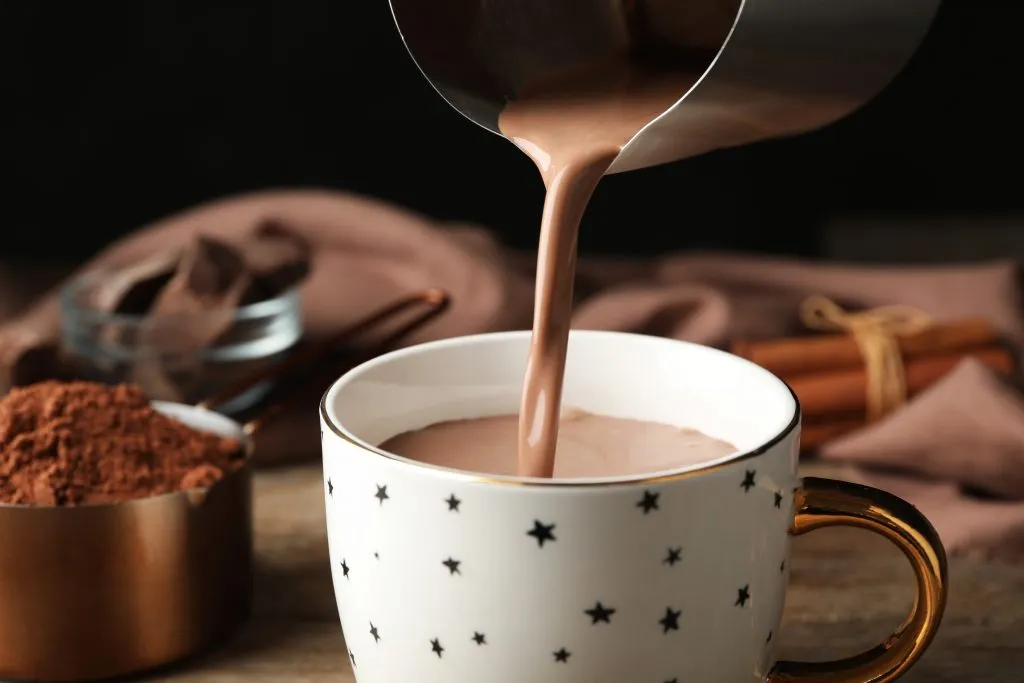 Decor + Collectibles to Buy in Paris
Does your idea of the perfect gift or souvenir run more toward home decor than anything else?
If so, these souvenirs from Paris might be right for you!
Small Antiques
There is no shortage of fun and funky antiques to go shopping for in Paris!
From perusing small antique shops to hitting up one of the many brocantes (flea markets) that visit the city, Paris is a great place to seek out vintage decor.
If something larger than your suitcase catches your eye, be sure to ask about shipping, too–many sellers are happy to help.
A Portrait from Montmartre
Having your portrait drawn in Montmartre is a classic Paris souvenir option!
While you'll see artists of varying skill levels roaming around, for the best results, carefully choose one of the artists that are seated in Place du Tertre whose work you like.
And, of course, be sure to confirm the price beforehand!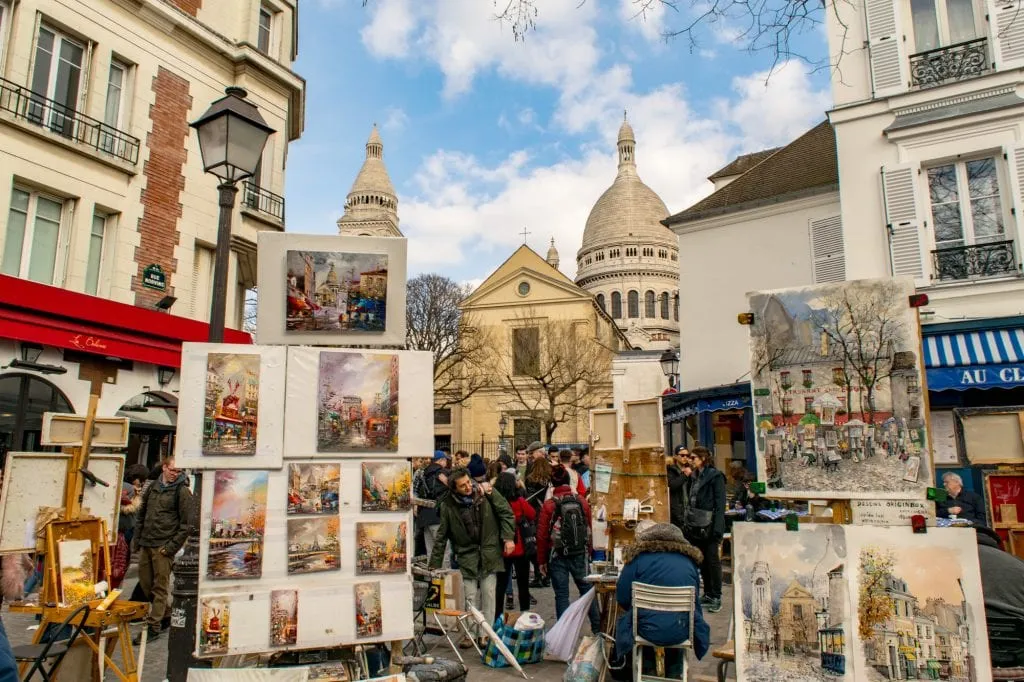 Original Art
Hoping to bring home a memorable piece of artwork from your trip to Paris, but don't necessarily want it to be of yourself?
You can find beautiful and unique original art all over the city, at all price points.
Montmartre, with its tradition of playing host to artists of all kinds, is a popular place to shop, though far from the only one!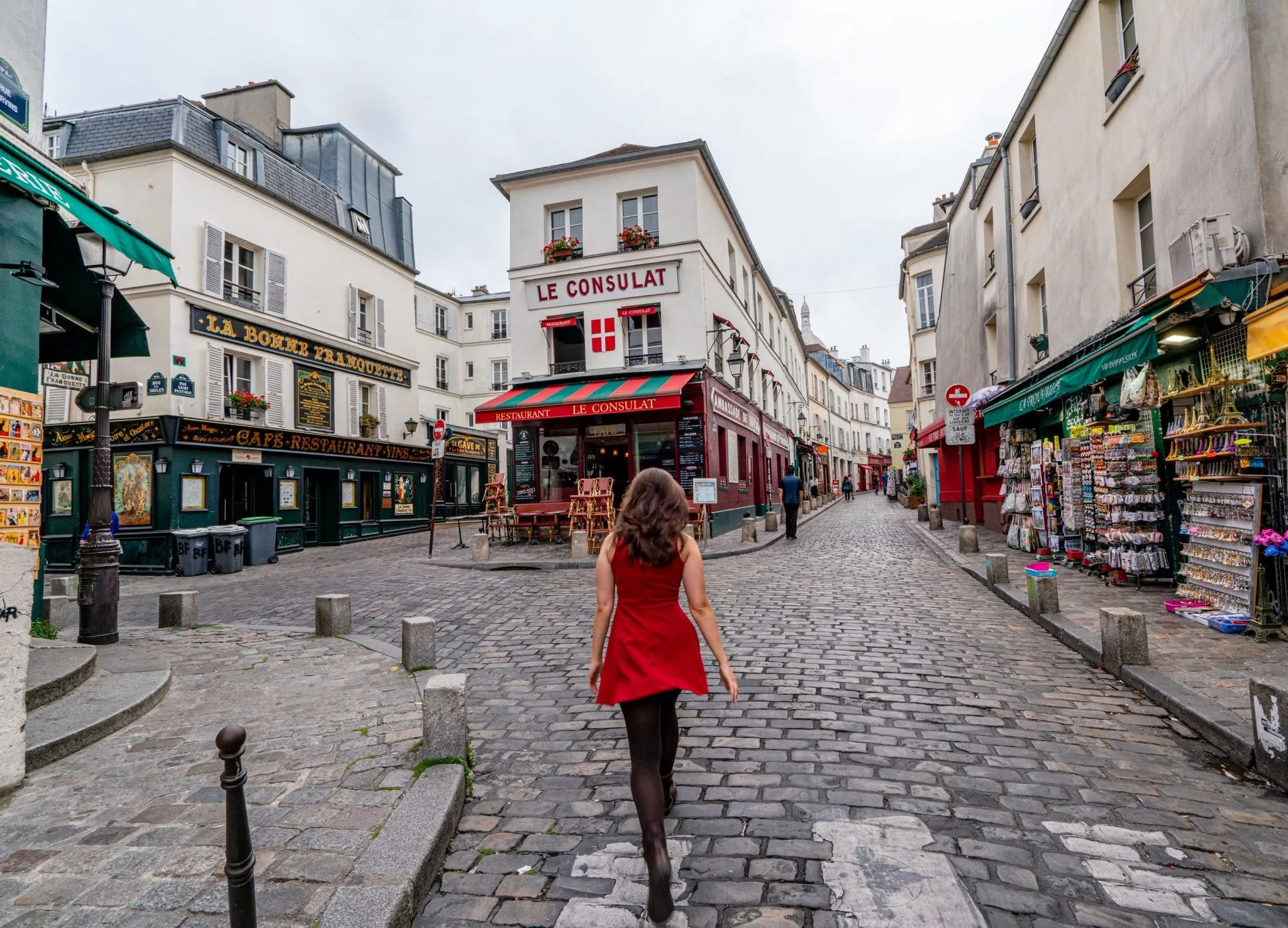 Best Paris Souvenirs to Wear
In a city as famous for being fashionable as Paris is, it's safe to say that shopping for Paris souvenirs that you can wear is an excellent choice!
Here are a few popular options.
A Beret
A bit cheesy? Yes, absolutely.
… But there's also a no more iconic souvenir from Paris than a traditional beret!
Available in all colors, qualities, and price points, virtually anyone who's looking for one will be able to find the perfect beret for themselves (or to give as gifts) when shopping in Paris.
Scarves
Easy to pack and available in infinite styles and price points, scarves are one most versatile options for mixing up your outfits in the City of Light (and they're great to bring home, too).
French Beauty + Skincare Products
Caudalie, L'Occitane, La Roche-Posay, Yves Roche… the list of beloved French beauty and skincare brands is a mile long!
And, if you have any French products in your beauty repertoire (or want to try some out), there's no better place to stock up than in Paris, where the availability is high and the prices (comparatively) low.
Perfume
Paris has a long tradition of crafting exquisite perfume, and you can find an incredibly wide variety of beautiful scents when visiting the City of Light.
For a truly unique souvenir from Paris, you can also consider having your very own scent created!
Signing up for a perfume creation workshop can be an excellent complement to shopping for perfume in Paris, too, and teach you a lot about the work that goes into gorgeous scents.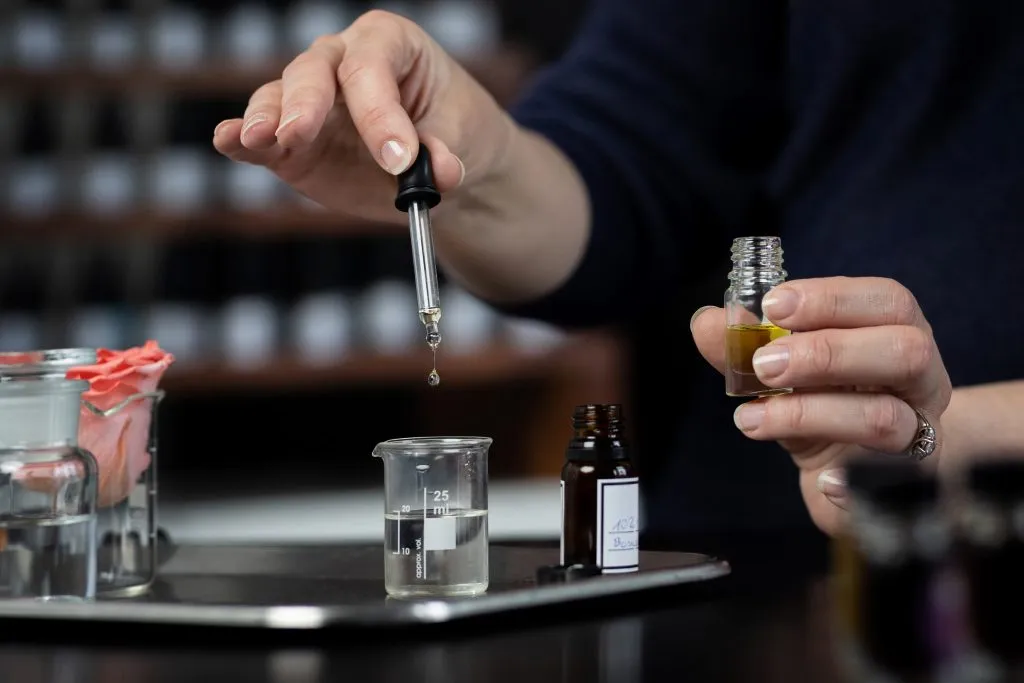 French Clothes + Shoes
French fashion is iconic, and you can find beautiful clothes and accessories at all price points in Paris.
Luxury Goods from French Designers
From household names like Chanel and Dior to more niche labels, it's safe to say that France does luxury fashion exceptionally well.
If you're looking to splurge on any items by French designers soon, from clothing to shoes to bags, consider waiting and buying them in Paris!
French luxury goods are significantly cheaper in France than outside of it (and especially outside the EU).
Add in the fact that non-EU residents can get a tax rebate, and you can get amazing deals as compared to shopping at home, with the added bonus of getting to remember shopping in Paris every time you reach for your new Chanel bag.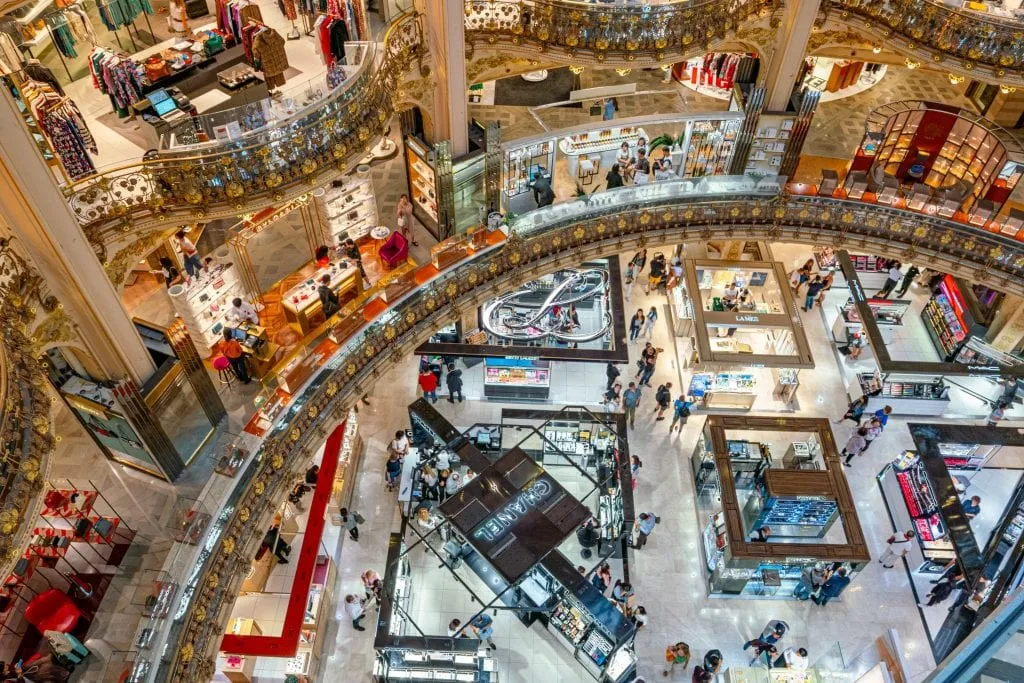 French Jewelry
If you're looking for luxury gifts from Paris for yourself or someone special, a timeless piece of jewelry from a famous French brand like Van Cleef & Arpels or Cartier may be just the ticket!
You don't have to opt for luxury prices to shop for beautiful jewelry in Paris, though: the City of Light offers gorgeous pieces at all price points to those looking to splurge.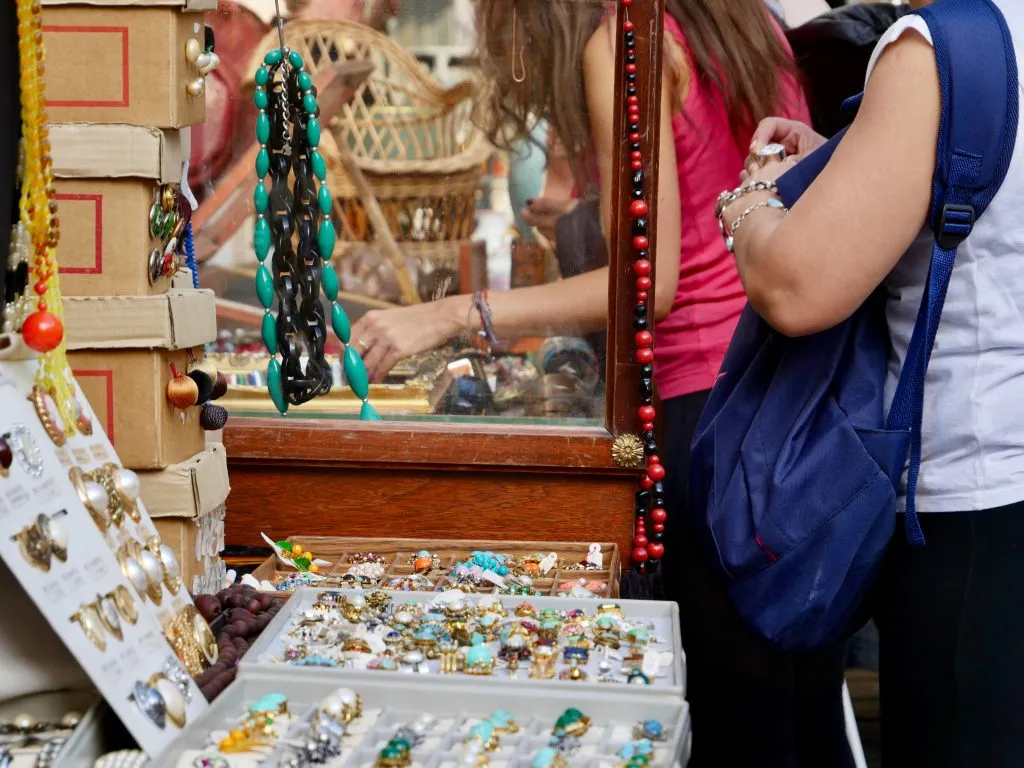 Miscellaneous Things to Buy in Paris
Books
Whether you buy vintage books at a brocante or a brand new book, there's no doubt that books are among the best things to buy in Paris!
Shakespeare & Company is the most famous English language bookstore in Paris, and visiting is a travel destination in its own right.
Books purchased here will be stamped with the store's seal, making them an extra-special option for shopping for books in Paris.
Buying books by Lost Generation authors like Hemingway and Fitzgerald that once spent significant time in Paris is a popular option, as are books set in Paris and in France overall, but any book that catches your eye will work as a souvenir from Paris.
Other beautiful English-language bookstores in Paris include Abbey Bookshop and San Francisco Book Company.
Souvenirs from Les Bouquinistes
Les bouquinistes, the traditional Parisian booksellers that line the banks of the Seine, make for the perfect place to shop for souvenirs in Paris!
While they traditionally sell books, you'll also find lots of vintage posters, postcards, and advertisements here, which are easy to transport and can make for delightful souvenirs.
Le Chat Noir-Themed Items
The famous Le Chat Noir club in Montmartre has gone through many iterations over the last 100+ years, but the iconic images of black cats perched against the sky have remained associated with the club throughout all of its changes!
A nod to the "shadow theater" that the original Le Chat Noir was famous for, these charming cats can be found printed on all kinds of Paris gifts and souvenirs.
If you're a cat lover or have one in your life, Le Chat Noir-themed items might make the perfect purchase to remember your trip to Paris by!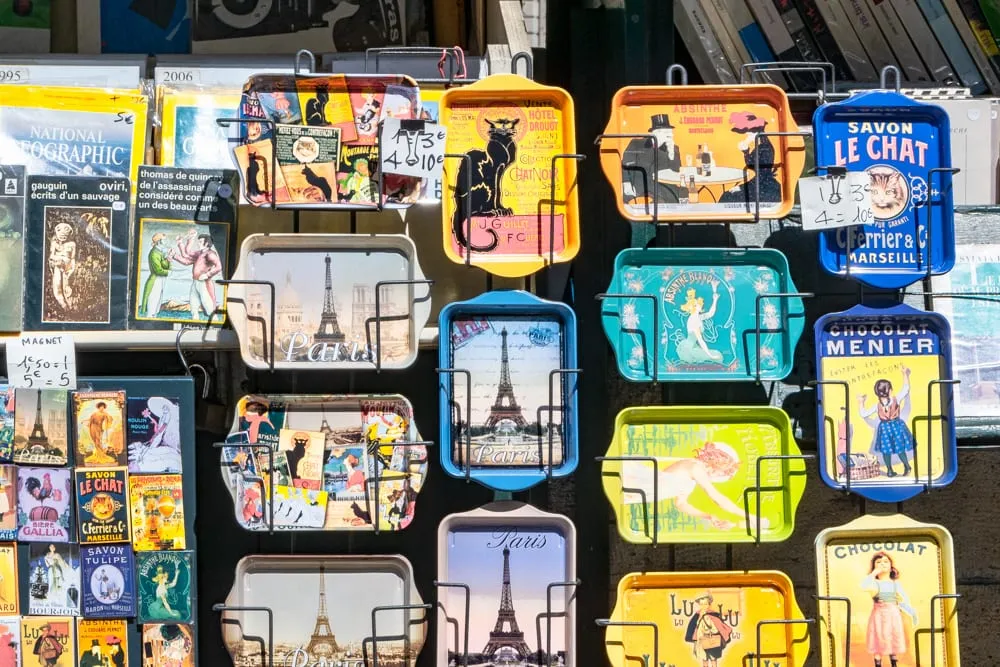 The Little Prince-Themed Items
Antoine de Saint-Exupéry's classic story is beloved all over the world, and you'll see that reflected in things to buy in Paris!
From mugs to placemats to, of course, beautiful copies of The Little Prince, you'll find all kinds of variations on the classic for sale throughout the city.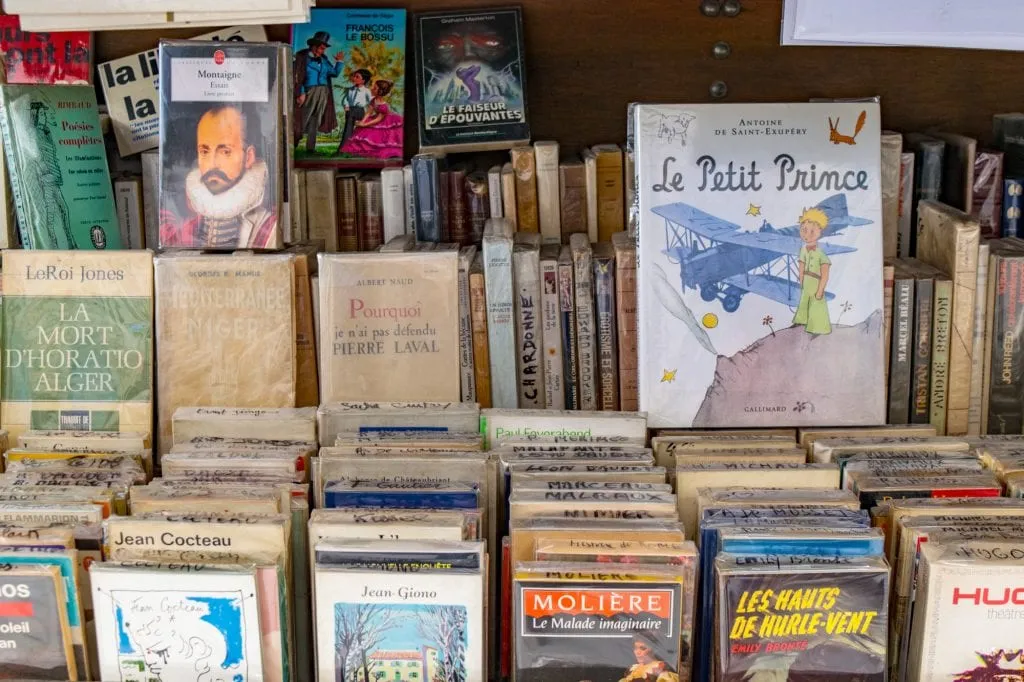 Inexpensive (But Fun) Souvenirs From Paris
Looking for something small, affordable, and easy to transport that you can bring home from Paris?
These easy-to-find items might belong on your Paris shopping list!
A Model Eiffel Tower
Sure, it's kitschy, but it's also practically a travel right of passage to buy a small model of the Eiffel Tower on your first trip to Paris!
You can buy small versions of the tower from just about any hawker or souvenir shop in the city, often for as little as a few Euro.
We wouldn't necessarily recommend buying a large or expensive one, but a small rendition can be a fun addition to your collection of souvenirs from Paris.
Magnets
A ubiquitous souvenir choice all over the world, Paris-themed magnets are inexpensive, extremely easy to find, and very simple to pack on your way home.
There is a huge variety of magnets for sale in Paris, so if you'd like to buy one, I'd recommend waiting until you see one that really sticks out to you.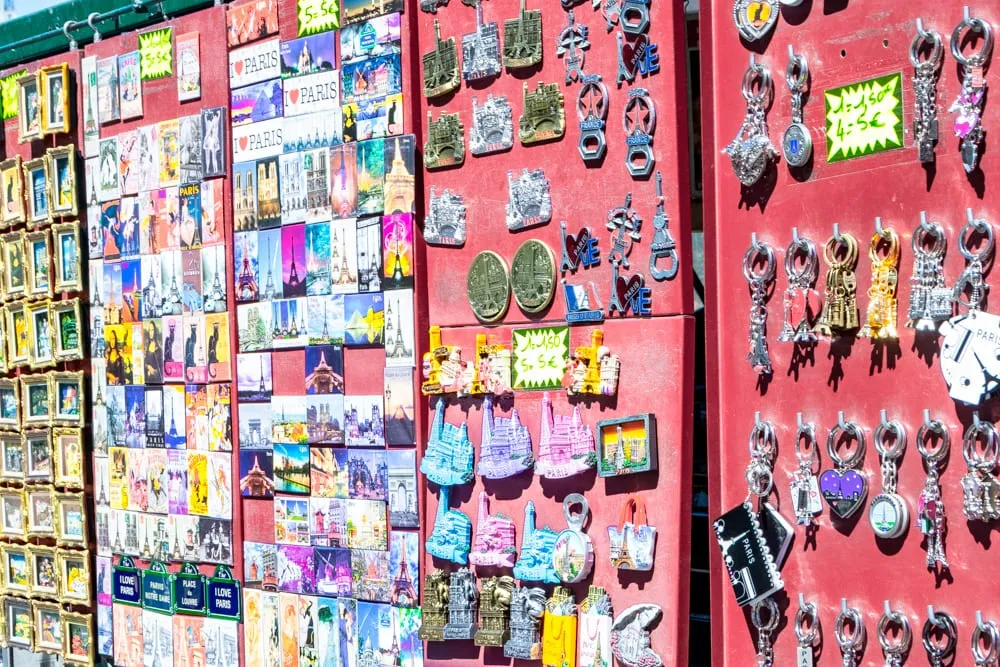 Tea Towels
Easy to find, easy to pack, and highly visible in your day-to-day life, tea towels can make a fun option for remembering your trip to the City of Light.
Mugs
What better way is there to reminisce about your vacation than to be reminded of it every time you go to make a hot drink and pull your mug from Paris out of the cabinet?
(It's the perfect way to enjoy hot chocolate made with a mix bought from Angelina, too).
Postcards
Postcards are the ultimate combination of inexpensive, easy to pack, and easily personalized, making them one of the best budget souvenirs from Paris!
They tend to run .50 to 1 Euro each, but if you're up to spending an extra couple of Euro on top of that, consider filling a postcard out with your memories of the day right then and there.
Then, you can send it to yourself so you can relive your Paris memories as you return home.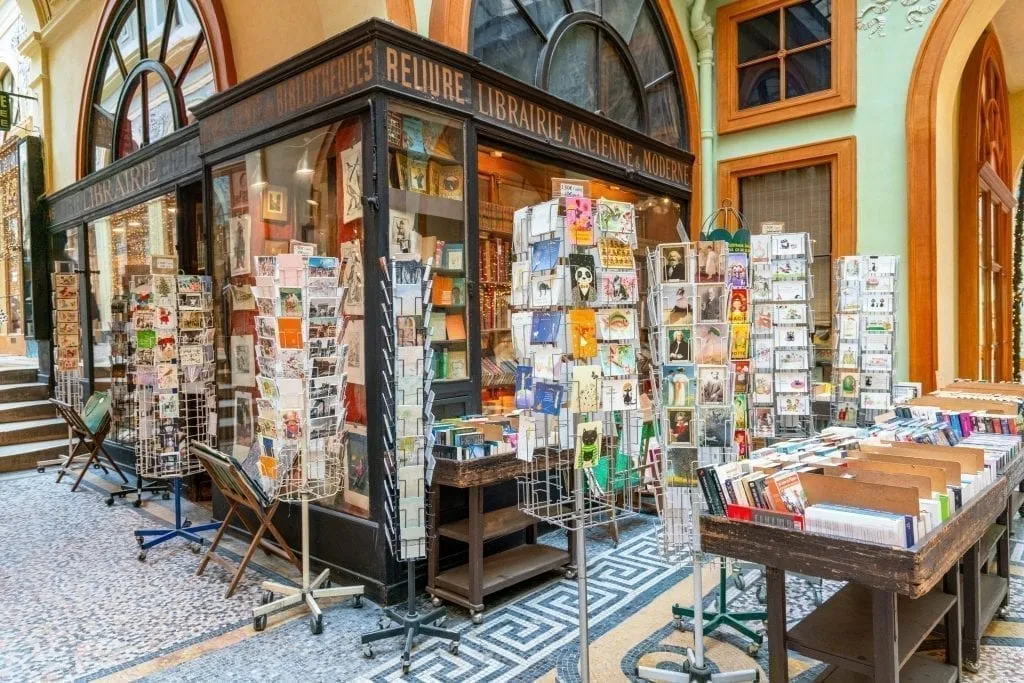 Placemats
Placemats are easy to pack and easy to find uses for at home, making them an excellent option when looking for the best souvenirs from Paris.
Though we listed them in the budget souvenirs section, really, you can find placemats in Paris at all price points, from cheap plastic ones at souvenir shops to beautifully made linen ones in boutiques.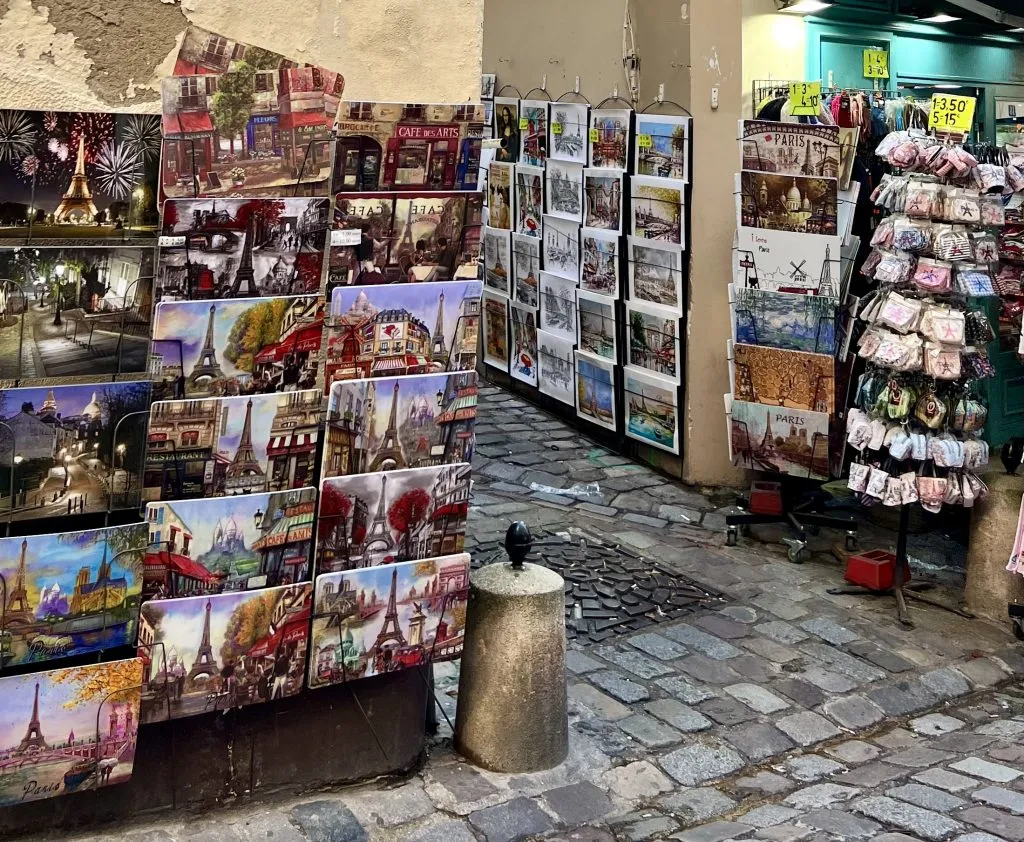 Reusable Shopping Bags
Want to be reminded of your trip to the City of Light every time you go to the grocery store?
Pick up a couple of Paris-themed reusable bags when shopping for souvenirs in Paris!
Christmas Ornaments
Obviously, if you're visiting Paris at Christmas and hoping to visit the Christmas markets, this is a must-buy souvenir!
You'll find ornaments for sale year-round in Paris, though, and they make excellent small souvenirs.
We tend to pick up Christmas ornaments around the world, including on our very first trip to Paris many years ago, and it always makes us smile to unpack them once a year.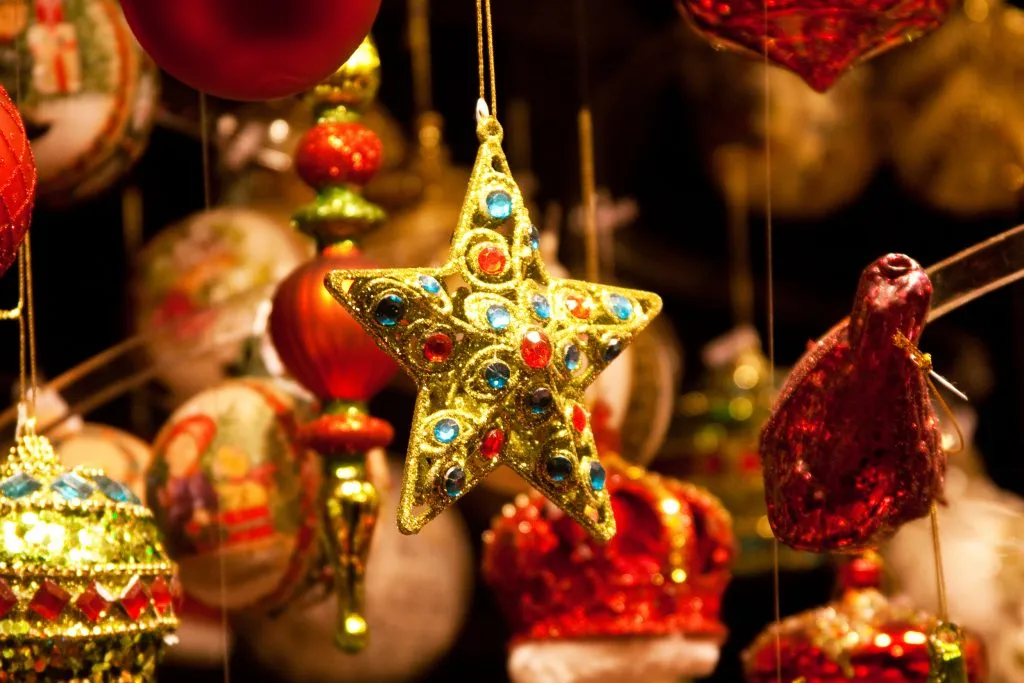 Tips for Shopping in Paris, France
Stock up on French brands you love.
From skincare brands like Caudalie to luxury designers like Chanel and everywhere in between, one thing holds true: it's almost always cheaper to buy French brands in France than anywhere else (especially anywhere outside the EU).
Whether you want to stock up on soap from L'Occitane, splurge on a Louis Vuitton bag, shop for clothes at Sandro, or even buy Maille mustard, France is the place to shop.
Have a plan for what to buy in Paris before you arrive.
You won't need to stick to your plan exactly, of course–shopping spontaneously can be part of the fun of travel!
But, that being said, having a general idea of what you want to look for when shopping in Paris can help add structure to your browsing, and in some cases, help limit indecisiveness (for me, anyway!).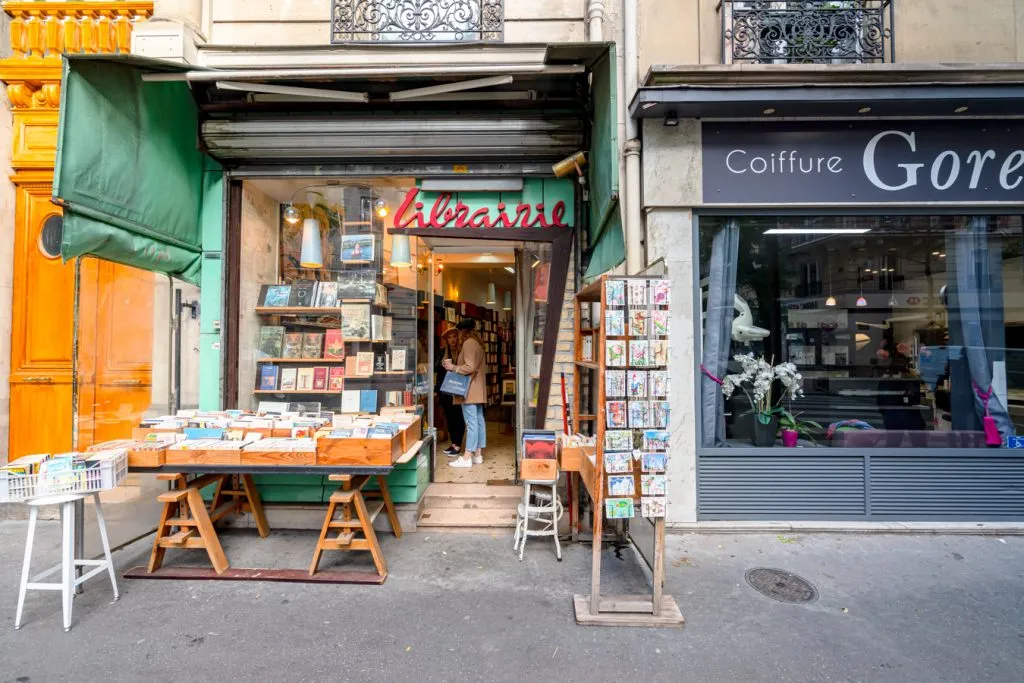 Always greet the shopkeeper when shopping in Paris.
When walking into a Parisian shop (or anywhere in France and throughout much of Europe), it's considered polite to greet the person working the store.
A simple "Bonjour, monsieur" or "Bonjour, madame" as you step inside can go a long way to receiving the best customer service when shopping in Paris.
This is less of a factor when in large stores like Galeries Lafayette (though you should always greet the person behind a particular cosmetics counter you're perusing, etc), but for small shops, it's absolutely the best practice.
Don't necessarily touch the merchandise.
In small boutiques, particularly in upscale areas, it's impolite to touch the items for sale before being asked to do so.
In the USA, for example, it's very normal for shoppers to collect an armful of clothing to haul to the dressing rooms, but this is not the norm in France (except perhaps in large department stores, though that can vary).
The shopkeeper will be happy to help you choose sizes and items, whether you're shopping for sweaters or cheese.
Consider quality over quantity.
When deciding what to buy in Paris, less can be more.
It's incredibly easy to end up buying more French souvenirs than expected, and ending up with more knick-knacks than you really need.
In our experience, it's much better to buy 1-2 truly memorable souvenirs than a whole slew of less memorable ones!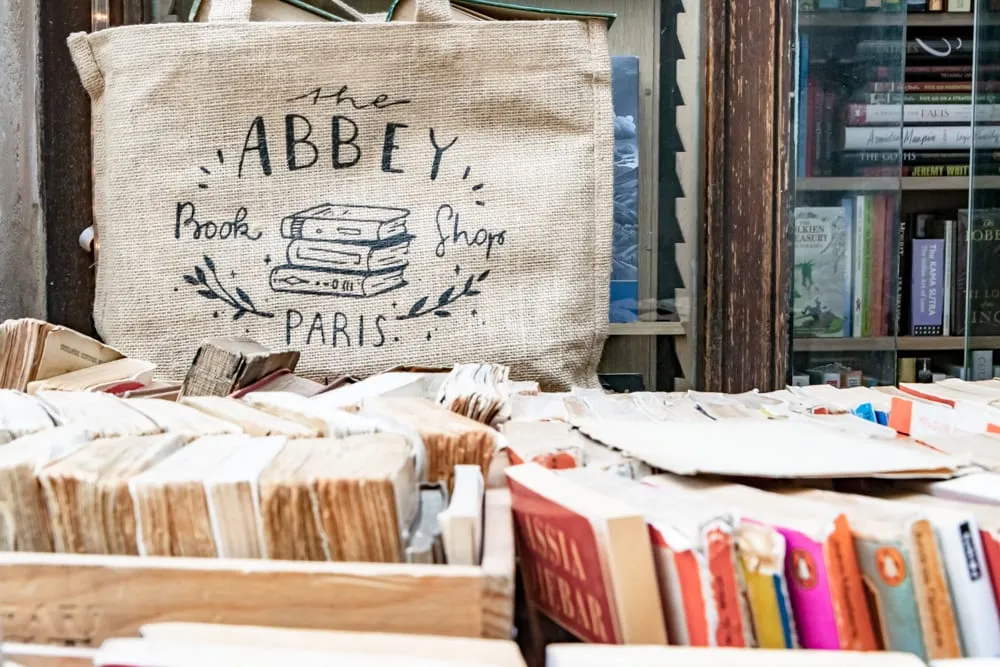 Check transportation regulations where applicable.
If you're traveling outside the EU after your trip to Paris, you'll need to keep an eye on any import regulations–especially for food.
For the majority of these souvenirs from Paris, there is absolutely no issue with bringing them back yourself in your checked luggage.
For food items, though, be sure to double-check any necessary regulations before packing up to leave France (and for anything not allowed, well–now you have a good excuse to eat them during your trip!).
For Americans like us, check the USDA regulations here.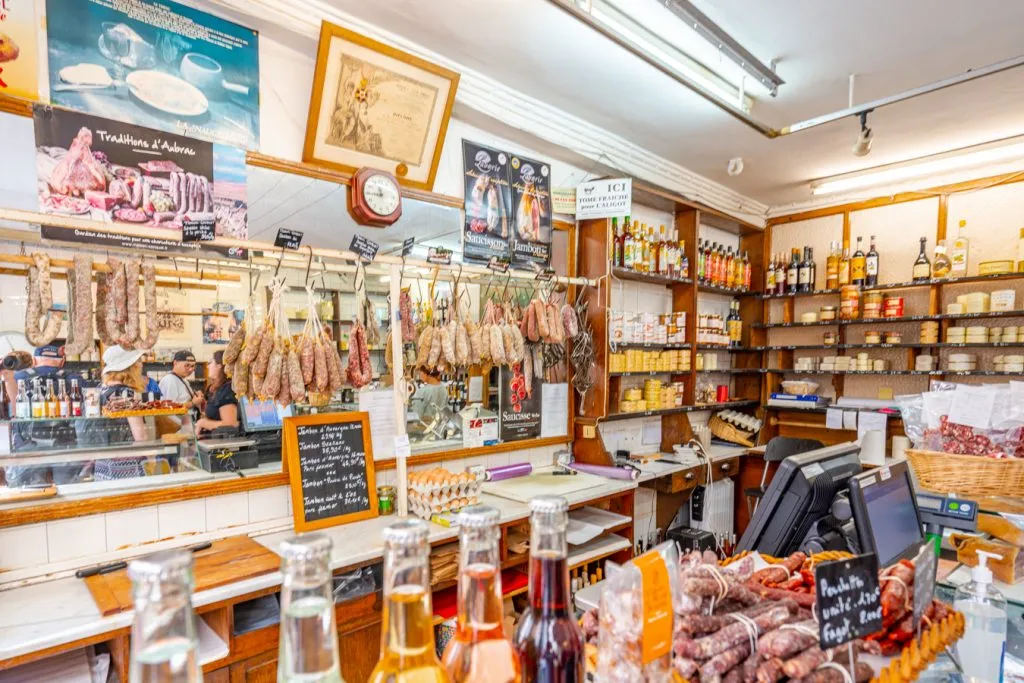 Note the date of purchase on your Paris souvenirs.
Of, course, this won't work for every item cataloged in this guide to what to buy in Paris, but where it makes sense, this sort of in-place journaling is a fun way to remember your trip.
You may find it easy to remember when and where you purchased your beautiful souvenirs from Paris now–but give it a decade or 3, and you may be very glad you noted the year of purchase with the item!
We tend to add these details to the bottom of home decor pieces or Christmas ornaments and love the tradition of it (especially now that we're almost a decade out and counting from our first Paris trip).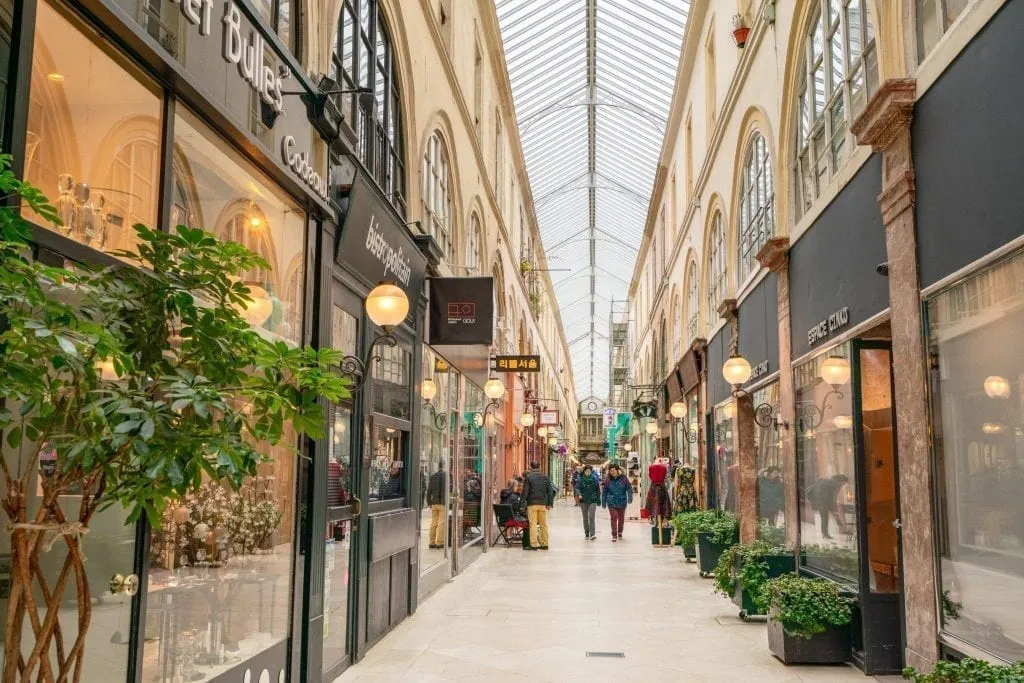 Remember that you can ship things you buy in Paris back home.
If any of the things you buy in Paris are particularly fragile, heavy, or potentially regulated, it's definitely worth at least inquiring about the cost of shipping!
Many small businesses and artisans in France are able and willing to ship their goods abroad.
… but still, leave extra space in your luggage for souvenirs from Paris!
It's hard to imagine a trip to the City of Light that doesn't involve at least a little bit of shopping temptation along the way, whether you're in the market for luxury goods, affordable trinkets, or both.
It's definitely worth leaving an extra outfit or two at home to make sure that you have enough room in your luggage to accommodate a couple of the best souvenirs from Paris on your way back!