Visiting Pompeii and Mount Vesuvius is at the top of many Italy bucket lists: Pompeii is one of the most impressive archaeological sites in the world, and there is nothing like reliving such hauntingly powerful history in such a well-preserved place.
Peering into the crater of Mount Vesuvius and strolling the streets of Pompeii are both absolutely unforgettable experiences–but logistically, they require a few steps to pull off an excellent visit.
This guide to visiting Pompeii and Mount Vesuvius will cover everything you need to know before you go, how to get there, and also give advice on one of the most popular questions asked about visiting: should you book a tour for visiting Pompeii and Mount Vesuvius?
Some links in this post may be affiliate links. If you make a purchase through one of these links, we may earn a small commission at no extra cost to you. Please see our

disclosure policy

for more detail.
What is the significance of Pompeii and Mount Vesuvius?
Have you heard the name Pompeii crop up when planning your trip to Italy and aren't quite sure why it is such a big deal? No worries–this is the (very) short version why.
In the year 79 AD, Pompeii was a thriving, middle-class Roman city of around 15,000 people–until it wasn't.
That summer, nearby Mount Vesuvius erupted, burying the city of Pompeii and 2,000 of its inhabitants, effectively preserving the city in its entirety as part of a massacre.
When Pompeii was rediscovered in 1748, it provided scientists and eventually tourists with an incredible window into middle-class Ancient Roman life. In nearly 2,000 years, Pompeii hadn't been updated, taken over, evolved, or altered in any way–it was, and still is, literally a way to look back in time.
Today, Pompeii and the crater of Mount Vesuvius are both extremely popular tourist attractions in Italy and are absolutely unmissable if you're going to be stopping anywhere near Naples on your trip.
What to Know Before Visiting Pompeii
First, know Pompei from Pompeii.
Pompei with one "i" is the modern city that is still home to around 25,000 people. Pompeii with two "i"s is the ancient city and is noted as "Pompei Scavi" on maps in the modern town.
You'll want to dedicate several hours to Pompeii.
We naively expected that visiting Pompeii would be a lot like visiting other Roman ruins scattered across the former empire: impressive, but requiring a bit of imagination to imagine how things once stood.
That is not the case in Pompeii.
Pompeii is almost disturbingly well-preserved, and as a result, it takes hours to cover properly–you are exploring a former middle-class city, after all! Not only can you visit the forum, the courthouse, and the amphitheater, Pompeii is full of treasures like a fast-food restaurant, brothels, homes, kitchens, various other businesses, and even a (still-functioning) vineyard!
We recommend spending 3-4 hours in Pompeii if you take an average interest in history, and if you're particularly interested in the history of Ancient Rome or Pompeii in particular, you'll want to consider dedicating even more time.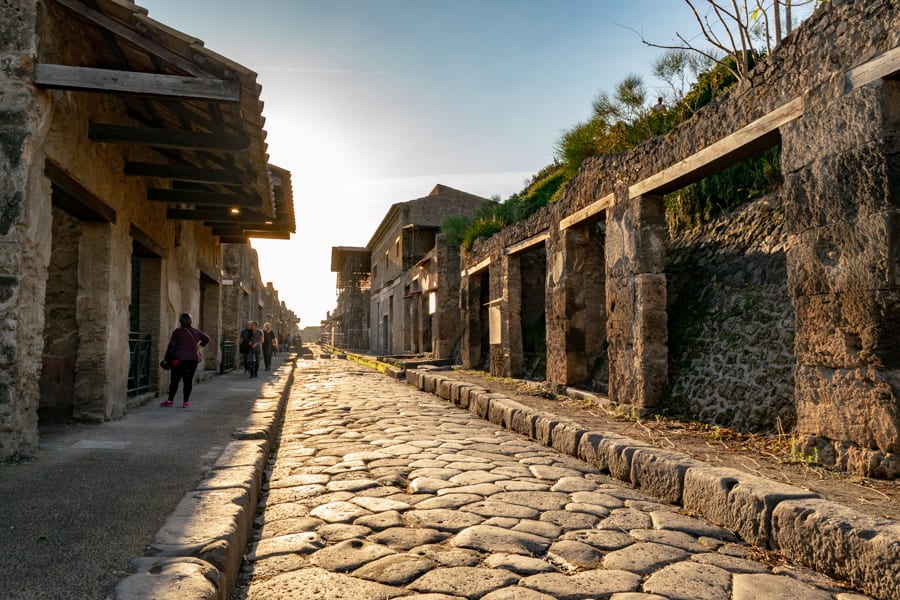 If you don't go on a guided tour, still make sure you have context for your visit.
It's imperative to have some kind of context-giving material with you (preferably beyond the map with important sites marked given at the entrance) to get the most out of visiting Pompeii.
We personally downloaded the (free) Rick Steves Pompeii tour, and it was interesting but lacked as much detail as we would have preferred. You can also rent an audio guide at Pompeii for 6.5 Euros.
Wear comfortable shoes.
Visiting Pompeii requires quite a bit of walking, and the streets are full of deep crevices from the cobblestones. Save your feet and wear shoes that you're comfortable walking in all day (especially if you're going to be visiting Mount Vesuvius on the same day–more on that below).
If possible, eat before you arrive or bring your own food.
Unsurprisingly, the restaurants surrounding Pompeii are not known for their quality or competitive prices.
There is a picnic area in Pompeii, so if you're going to be hungry during your visit, consider packing snacks!

If you get desperate, there is a restaurant in Pompeii that is located near the forum.
Bring water, especially in the summer.
There isn't a lot of shade on the streets of Pompeii, and the heat over the summer can get intense! Be sure to bring water with you when you set out to visit Pompeii. We love our Nalgene
and bring it with us just about everywhere, Pompeii included.
Start from the Porta Marina entrance.
This will allow you to experience Pompeii in the most natural way and is also the starting point of many audio tours.
We made a mistake when visiting Pompeii and started at the amphitheater, and while we still had an amazing time, it definitely took us a bit longer to get our bearings by starting there.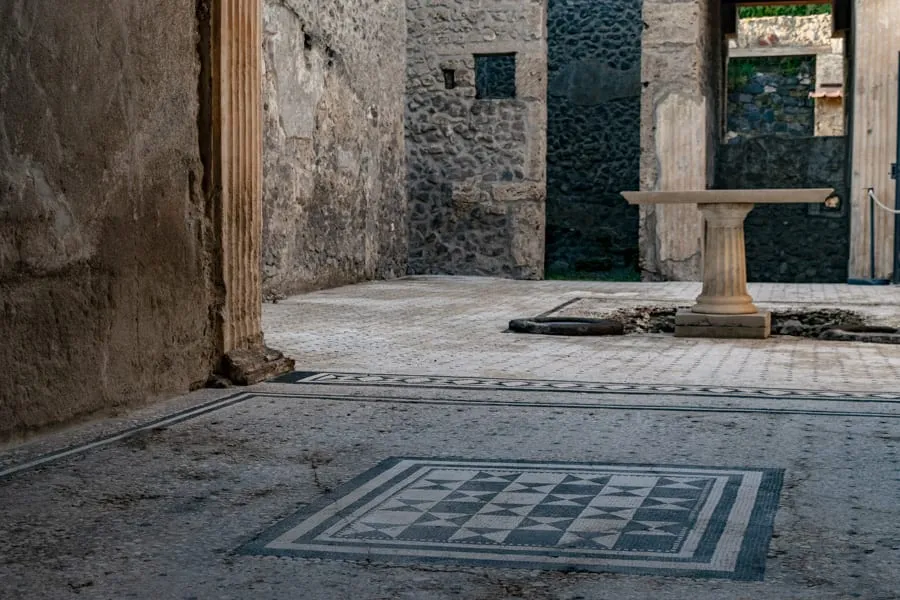 Be prepared to be overwhelmed.
Pompeii is not only big, it's also dense–there's something new and fascinating around each cobblestone corner, and you can easily spend an entire day there without seeing every last inch!
If you come with the knowledge that you won't see everything–and perhaps a list of what you don't want to miss–you'll be much more likely to walk away from your visit to Pompeii feeling like you made the most of the experience.
If you want to be sure not to miss a thing, consider joining a guided tour with an archaeologist, as well!
For the history buffs among us, book a guided tour of Pompeii with an archaeologist today!
What to Know Before Visiting Mount Vesuvius
The climb from the bus stop/parking lot isn't difficult, but be aware of it.
If you get dropped off at the bus stop for Mount Vesuvius (which is where public transport, shuttles, and tours will bring you, and also the location of the parking lot), it's about a 20-minute ascent to the crater of Mount Vesuvius, give or take.
On a clear day, the views of the Bay of Naples below are gorgeous, but the loose sand on the path means that you'll want to avoid sandals and shoes that make it easy to slip and fall.
As for climbing Mount Vesuvius from the bottom: it's theoretically possible for experienced hikers, though online information is scarce, but… why? I assure you that Italy, and even Campania itself, has far, far more beautiful and exciting hikes available.
Be prepared for a change in temperature, and bring an extra layer or two along with you.
Mount Vesuvius has its own, somewhat unpredictable micro-climate, so regardless of what the weather is in Pompeii or nearby Naples, be prepared for a shift when you visit the crater.
Though you may not need it, consider bringing a light jacket with you even in the late spring and early fall, as it is often much cooler at the crater than down below.
Aim to visit on a clear day.
The views of the Bay of Naples, the surrounding islands (including Capri), and the Amalfi Coast from the crater of Mount Vesuvius are stupendous.
On a clear day, it's hard to say whether the views are better peering into the crater or staring out!
Mount Vesuvius closes for inclement weather and unsafe conditions.
This can include snow or ice blocking the path to the crater–so be warned that in winter especially, Mount Vesuvius may not always be open for visitors.
After you finish visiting the crater, reward yourself with a special glass of wine.
Italian wine is one of the delights of visiting just about everywhere in the country, and that includes Mount Vesuvius–wine is grown right on the side of the volcano!
There's no better way to finish up a trip to the crater than with a glass of this very local wine that you can sip right on the volcano where it is grown.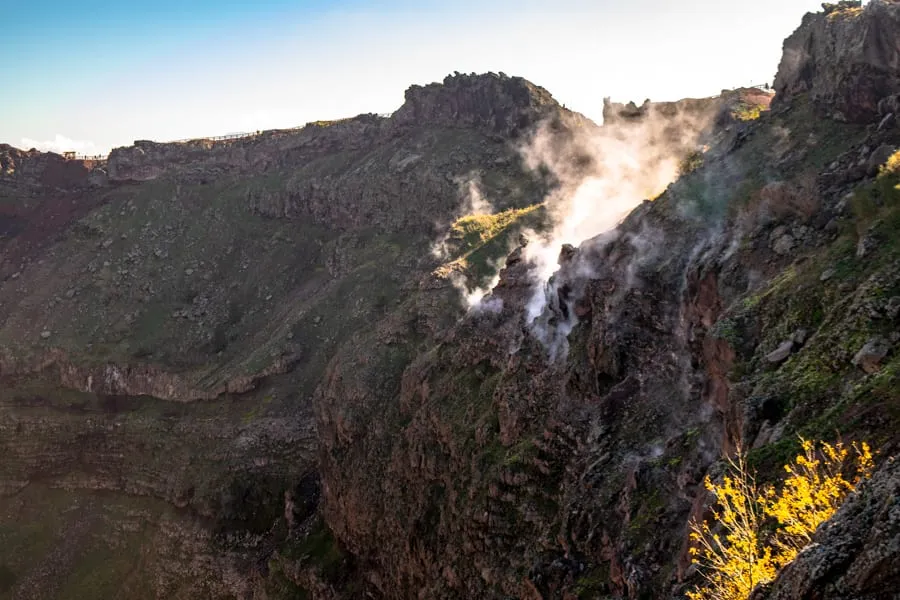 Don't forget about Herculaneum!
At roughly 1/10 the size of Pompeii, Herculaneum is the lesser-known, but still remarkable, cousin of its famous neighbor, and was actually rediscovered a full decade before Pompeii.
Originally a Greek town (fancy a guess as to which figure from Greek mythology it was named for?), Herculaneum was buried by the same eruption of Mount Vesuvius that destroyed Pompeii, but it was even better preserved–a feat that is difficult to imagine when walking the streets of Pompeii.
Herculaneum was also a wealthier town than Pompeii, so many of its homes and buildings are grander than middle-class Pompeii.
If you're interested enough in Ancient Roman and Greek history to want to visit both sites, or if you're short on time and don't think you can do justice to Pompeii, consider visiting Herculaneum.
Herculaneum is even easier to combine with Mount Vesuvius than Pompeii is if you're hoping to see two of these incredible places in one day.
We've visited them both and loved each–you can't go wrong with a visit to either!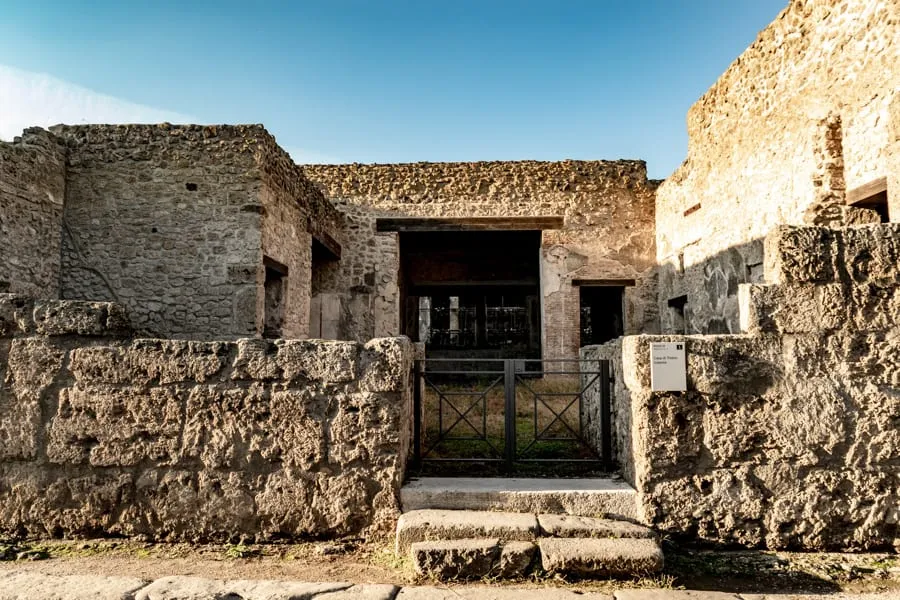 Which should you visit first, Pompeii or Mount Vesuvius?
We personally chose to visit Mount Vesuvius first, and then headed to Pompeii in the afternoon, and were satisfied with that option. However, the opposite is totally doable as well, and there are pros and cons to both.
If you're visiting in the summer–well, essentially pick which place you're willing to deal with more heat at, and visit that one second!
Mount Vesuvius has no shade and requires a bit of physical exertion, so if you're visiting in the height of summer, you should absolutely arrive as early in the morning as possible!
If heat is less of an issue when you visit, consider visiting Pompeii first, as the crowds will likely be heavier there as the day goes on.
Should you buy a guided tour for Pompeii and Mount Vesuvius?
If you're staying in Naples, it is absolutely possible to visit Pompeii and Mount Vesuvius independently (more on that below), but if you would rather not deal with the hassle of handling your own transportation or would like the context that a tour provides, booking a day trip is an excellent option.
If you're visiting from Rome, a tour is a near necessity from a logistics standpoint and we absolutely recommend booking one, though a shuttle is a slightly more budget-friendly option if you'd prefer not to have a guide.
This tour is extremely popular with over 2000 reviews on Walks of Italy, and is absolutely a safe bet if you're looking to take an incredible, if long, day trip from Rome.
However, while that tour is considered among the best in the business for Pompeii day trips from Rome, it includes a drive along the Amalfi Coast instead of a trip to Vesuvius or Naples–which depending on your plans, might be an enormous benefit or a bit of a distraction.
If you'd rather visit Vesuvius than the Amalfi Coast, this tour is also incredibly well-reviewed and has been reviewed over 1200 times on Get Your Guide.
We personally chose to visit Pompeii and Mount Vesuvius independently while we were staying in Naples, and while we had an excellent time, there were a couple of snags that a tour would have solved for us: getting to Mount Vesuvius took a few steps and was a bit confusing, and we would have loved the extra context that a good tour guide could have provided in Pompeii.
When we visit again, we'll be sure to book a tour at least for our time in Pompeii!
Book your day trip to Pompeii and the Amalfi Coast OR your guided day trip to Pompeii and Mount Vesuvius today!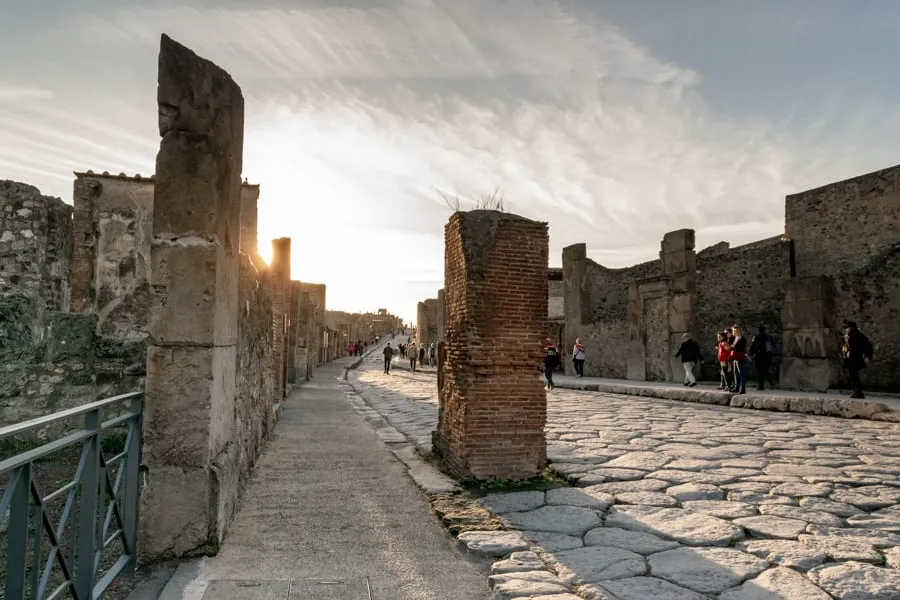 Getting to Pompeii and Mount Vesuvius from Naples
By Public Transport and/or Shuttle Service
To get to Mount Vesuvius, take the Circumvesuviana train from Napoli Centrale (technically it's a separate station attached to Napoli Centrale, but the two are attached) to Napoli Garibaldi.
You'll need to buy your Circumvesuviana tickets directly from the counter–this train is not part of the larger Trenitalia system, and you'll need to pay cash. The tickets are sold by region, and you'll want to buy one for Ercolano Scavi, and then board the next train bound for either Sarno of Sorrento.
Once you reach the Ercolano Scavi station, turn to the left as you exit the station and you'll see the small storefront for Vesuvio Express, the shuttle service leaves every 40 minutes for the entrance to the crater of Mount Vesuvius. The bus ticket also covers your entrance fee for Mount Vesuvius.
From the drop-off point of Mount Vesuvius, you can catch a public bus after your visit to the crater to Pompeii roughly every 50 minutes.
Alternatively, if you're planning on visiting Pompeii directly from Naples you can take the Circumvesuviana train to the Pompeii station, and then take a public bus or tourist shuttle to Mount Vesuvius after your visit.
By Car
Parking is available both near the top of Mount Vesuvius and in front of Pompeii and requires a small fee in each place. You'll also hit a toll driving between the two, so be sure to bring plenty of small bills with you if you choose to drive between Pompeii and Mount Vesuvius!
With a Tour
If you aren't planning on driving and don't want to deal with the headache of public transportation, consider visiting Pompeii and Mount Vesuvius by booking a tour! While the price will obviously be higher, a tour of Pompeii and Mount Vesuvius severely improves the logistics of your day, eliminates the risk of getting lost and wasting precious sightseeing hours, and usually comes with a guide who can add invaluable context to the sights.
Book your guided day trip to Pompeii and Mount Vesuvius today!