Naples, more than any other city we have seen in Italy, surprised us–and even if you only have one day in Naples, we want it to surprise you in all the best ways too!
Sadly, of all the Italy trip itineraries that make it to the Campania region, very few of them leave time for Naples: sure, maybe they'll spend a night in the city en route to Pompeii or the Amalfi Coast, but Naples itself is often overlooked, and that is a shame.
Yes, Naples is a bit "dirtier" than many Italian cities. Yes, it feels distinctly different than northern Italian cities like Florence and Milan.
Yes, it is chaotic and hilly and layered and hard to get a handle on–and all of that makes it absolutely wonderful.
Some links in this post may be affiliate links. If you make a purchase through one of these links, we may earn a small commission at no extra cost to you. Please see our

disclosure policy

for more detail.
Naples is also incredibly historic: its recorded history dates to 7th century BCE, and the history likely dates back further than that. Naples has been a notable city on the European stage for more than a thousand years, both conquering and being conquered as the centuries passed, and in recent history, endured the most severe WWII bombings seen in Italy.
Give Naples a chance (actual Naples, not just its jaw-dropping neighbors), and you may be surprised at just how much you enjoy this epic city.
Here's our suggested one day in Naples itinerary–follow this, and you'll experience a little bit of everything the city has to offer, from historic castles to waterfront views to abandoned tunnels and–of course–classic Napoli pizza.
The Perfect One Day in Naples Itinerary
Start at the Piazza del Plebiscito.
The Piazza del Plebiscito is not only beautiful and centrally located in Naples, it's also surrounded by significant buildings and can essentially be considered the main square of the city.
Here are just a couple of interesting things you'll find there–if you'd like to go in either and experience the interior, be sure to get an early start to the day–this one day in Naples itinerary will keep you busy all day long!
Church of San Francesco di Paola
As one of the most iconic buildings in Naples, the 19th-century Church of San Francesco di Paolo dominates a large portion of the Piazza del Plebiscito and is built to be somewhat reminiscent of the Pantheon in Rome.
Palazzo Reale
Originally built in the 18th century for a royal visit that never materialized, the Royal Palace eventually played host to several rulers over the centuries, including King Charles III of the Bourbons and Ferdinand I who ruled over the Two Sicilies.
Today, you can tour the opulent interior of the palace, including the private apartments of the queens.
Book your visit to Palazzo Reale today!
Head to Caffe Gambrinus.
Opulent, gorgeous, and home to delicious coffee served on their iconic china, Caffe Gambrinus is both the perfect place to grab a Neapolitan-style breakfast and get sufficiently caffeinated enough to tackle Naples in one day, and it's also a piece of history.
This gorgeous cafe was an iconic feature of the city during the Belle Epoque, pulling in writers, artists, and intellectuals from all over Europe.
Times changed, however, when Mussolini came to power, and Caffe Gambrinus was closed for being anti-fascist.
Post-Mussolini, the cafe reopened and is a popular spot in Naples to this day.
Due to its beauty, fame, and prominent home next to the Piazza del Plebiscito, you will pay a bit more for coffee at Caffe Gambrinus than elsewhere in Naples–but it's still worth stopping by.
Munch on a sfogliatella.
You can grab one of these delicate, layered pastries either at Caffe Gambrinus or at one of the stalls near Galleria Umberto I if you want to save a bit of money–but either way, be sure to sample one!
Light, sweet, and stuffed with a variety of treats (cream, fruit, and cheese are all popular), sfogliatelle are native to the Campania region and a must-have breakfast staple in Naples.
Not all pastries taste as good as they look, but sfogliatelle definitely do.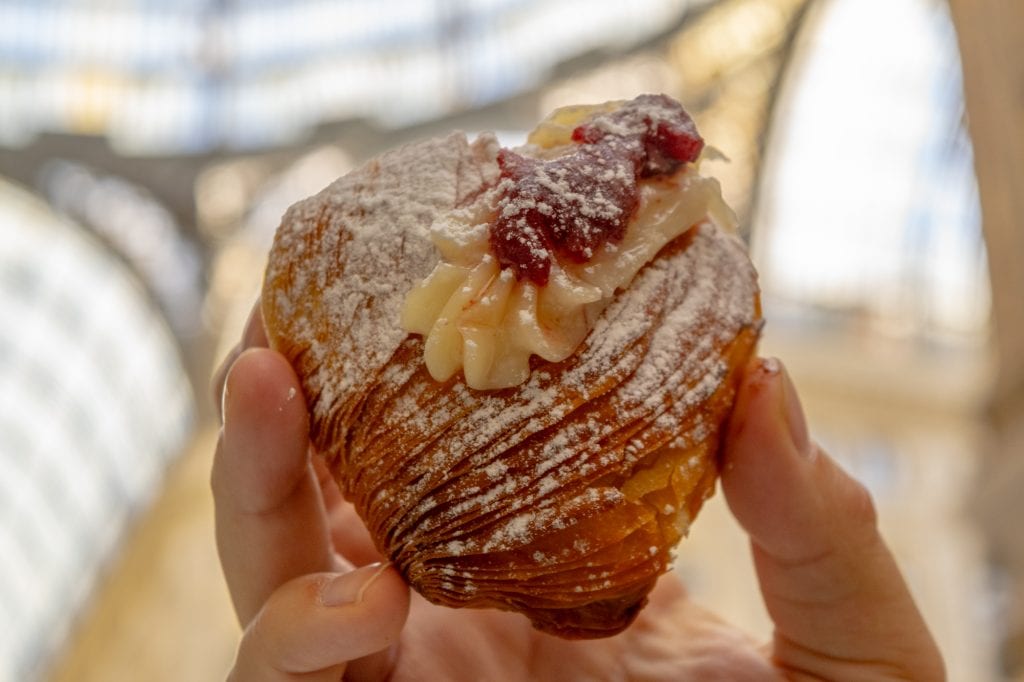 Duck into the Galleria Umberto I.
If you've traveled to Italy before (or just scrolled through Italy-themed hashtags on Instagram), odds are that you've seen the Galleria Vittorio Emanuele II in Milan, the famous mall topped with a glass dome.
Well, the Galleria Umberto I in Naples looks… pretty much exactly like that.
The architect who designed it in the late 19th century, Emanuele Rocco, was, shall we say, heavily inspired by the masterpiece in Milan.
Though the Galleria Umberto I is smaller and has not been as well looked after as Milan's Galleria Vittorio Emanuele II (though there is hope: the Galleria Umberto I is currently being restored), it is still absolutely worth adding to your one day in Naples itinerary!
Optional: Tour the San Carlo Theatre.
The beautiful San Carlo Theatre, which is home to gorgeous operas and predates even the famous La Scala Theatre in Milan, is high on the list for many theatre buffs visiting Naples, but with only one day in the city, you may or may not be able to enter.
Guided tours are given a few times per day, so plan ahead if you want to visit–but know that tours are often shut off for needs of the theatre, including rehearsals.
Descend into the Bourbon Tunnel.
Naples, in general, is a city with plenty of (literally) buried secrets.
Tunnels, caves, and catacombs all abound under the city, and no one day in Naples could be complete without ducking below the surface at least once.
The Bourbon Tunnel may make for a slightly unorthodox addition to a one day Naples itinerary, but it's definitely worth making the effort to visit: touring this tunnel is incredibly memorable and absolutely fascinating for anyone even slightly interested in either history of disappearing underground.
Very long story very short, the Bourbon Tunnel has served as part of an aqueduct system, as an (incomplete) royal escape route, as an air-raid shelter, as a military hospital, and as an impound lot–and those are just the highlights!
Remains of each era of the tunnel are immediately evident throughout the tour, and I found myself captivated by the entire experience.
Since the tours are guided and happen at specific times, be sure to check the schedule before starting your day in Naples! If you are the adventurous sort and plan ahead, adventure and spelunking tours are also offered.
If you'd like to get underground in Naples but the Bourbon Tunnel doesn't appeal to you, you can also take a look at the more well-known Naples Underground or the San Gennaro Catacombs… but after visiting, I think there's very little chance that you'll regret a foray into the Bourbon Tunnel.
Book your visit to the Bourbon Tunnel today!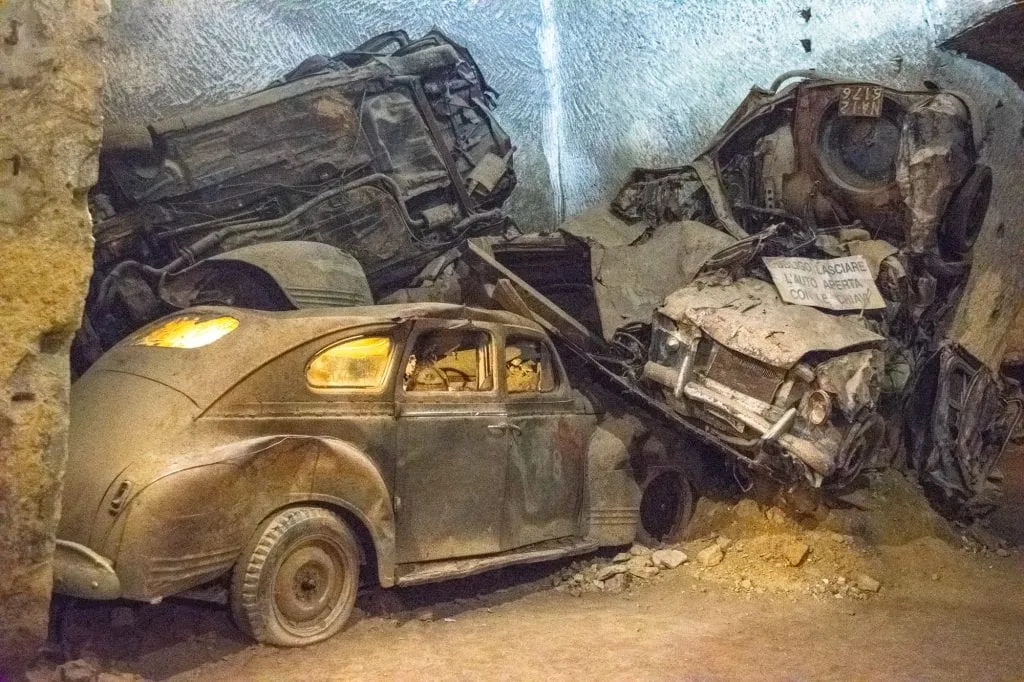 Check out the Castel dell'Ovo.
A castle set against the sea: it's hard to imagine anything more picturesque!
This site–though not the exact building–has been important to Naples and the surrounding area for thousands of years, and even played host to a very memorable (and unwilling) occupant during his exile–the last western Roman Emperor, Romulus Augustulus.
Today, Castel dell'Ovo is set along a beautiful promenade, and a walk along it will give you a chance to admire not only the castle but the Bay of Naples and powerful Mount Vesuvius standing tall on the other side of the water.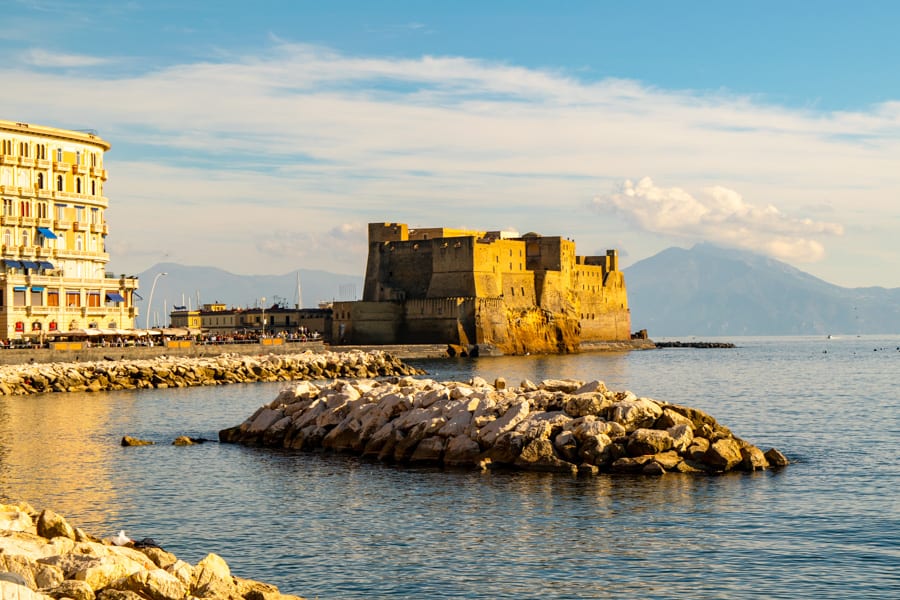 Enjoy a pizza lunch.
If there's one food that Naples is known for, it's pizza–and even with only one day in Naples, two rounds of pizza wouldn't be a bad thing! Start with lunch, and, well–we'll see what you feel like for dinner.
To find the best pizzerias in Naples, we created our own, self-led Naples pizza tour. Our favorites included L'Antica Pizzeria da Michele and Pizzeria Brandi (where margherita pizza was invented), but there are plenty of pizzerias to choose from in Naples!
If you'd rather learn than simply eat, consider taking a pizza-making class–you may have to trim something else from your one day in Naples itinerary to squeeze it in, but if you're a pizza lover or cook at heart, it's hard to think of a better way to spend an afternoon!

Book your pizza-making class in Naples now!
Head up Via Toledo.
Via Toledo is one of the main arteries of Naples: this is where you'll find colorful buildings, endless shopping, and plenty of small restaurants and cafes.
A stroll up Via Toledo is a great way to get a taste of life in Naples, whether you're planning on shopping or not.
Technically, you could walk all the way up the (very large) hill to the National Archaeological Museum to finish out your one day in Naples, however, that is a very long, steep walk.
We recommend walking as far as the Via Toledo metro stop and then hopping a train the rest of the way–not only will you save your feet, it'll give you an opportunity to view what has been called one of the most beautiful metro stations in Europe.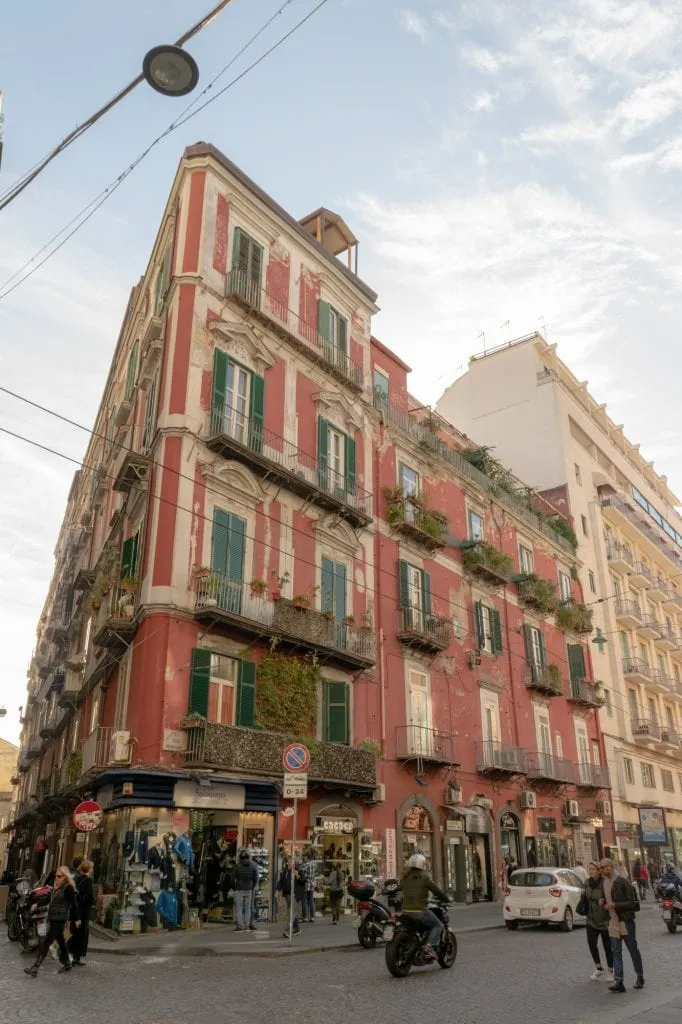 Detour into San Domenico Maggiore Church.
This beautiful Gothic church is definitely worth a quick peek inside during your one day in Naples, however, the detour isn't just to see the church: it's also to see the piazza of the same name, as well as give you an opportunity to wander the surrounding streets, including the gorgeous Spaccanapoli.
Fall in love with Spaccanapoli.
The narrow street of Spaccanapoli is absolutely, unequivocally, iconically Naples: crowded, beautiful, and exciting, this street is home to shops and restaurants crowding every corner, salesmen selling just about anything imaginable every few feet, lovely architecture, the occasional car improbably trying to make its way across the crowds, and even laundry hanging outside apartment windows.
Every level and every layer adds together to make Spaccanapoli overwhelming delightful to the senses.
Pay a visit to the National Archaeological Museum.
Want to see some of the best treasures found in Pompeii?
Well, they're not in Pompeii–many of the best pieces were moved to the museum in the 18th century per the request of then-King Charles III.
King Charles III also moved several other archaeological artifacts, many of which he had inherited, to the museum, and eventually, the pieces were added to and the museum became the impressive place it is today.
The museum is large, so be sure to pick your focus depending on your interest–gemstones? Ancient Roman history? Ancient history in Naples?
Whatever part of Naples' (or even Italy's!) history you are interested in, you can find it at the National Archaeological Museum.
Get your ticket for the National Archaeological Museum today!
More Than One Day in Naples?
No one day in Naples itinerary could hope to cover everything there is to see in the city–if you're lucky enough to have more time in Naples, consider paying a visit to Castel Nuovo, checking out the San Gennaro Catacombs and the Naples Underground, ascending to Castel Sant'Elmo for amazing views, or taking yourself on a tour of Naples' best pizzerias like we did!
Theatre buffs may want to spend an evening taking in a show at the San Carlo Theatre (plan ahead as much as possible for that), and history lovers can be charmed by the interior of the Palazzo Reale.
And, of course, many of the truly magnificent things to do in Naples stand just outside its borders: take a day trip to the island of Capri, peer into the crater of Mount Vesuvius, stroll along the streets of Pompeii and Herculaneum, and road trip along the iconic Amalfi Coast.
Getting Around Naples
While this one day Naples itinerary is primarily designed to be walkable, keep in mind one fact about Naples when planning your trip: it is absolutely covered in hills.
The bulk of this Naples itinerary focuses on attractions near sea level, but in the afternoon, you will ascend quite a bit.
Plan on using the Naples metro a few times throughout your stay, especially after visiting Via Toledo and possibly to get to and from your hotel, depending on where you stay.
Where to Stay in Naples
Looking for the perfect Naples accommodation? The city is packed with options at all budgets–we recommend looking for a fairly central location that's easy to get in and out of (keep Naples' many steep hills in mind as you choose a place to stay!).
Budget
GuestHouse Marcanto — If you're looking for a clean, basic place in Naples to lay your head at night, GuestHouse Marcanto is an excellent option!
There are escalators nearby that make ascending and descending to and from the guesthouse to the lower section of Naples a breeze, and the guesthouse itself is comfortable–just be sure that you are able to contact the owner once you arrive, as the entrance is in a courtyard and a bit hard to spot.
Mid-range
Le Ortensie — Located in the heart of Naples and right around the corner from several restaurants, Le Ortensie is perfect for the traveler looking for a central location and a friendly, helpful staff. Rates also include a basic breakfast–but be sure to save room for at least one sfogliatella later in the morning, too!
Luxury
Palazzo Alabardieri — Elegant, beautiful, and located a short walk from many of the stops on this one day Naples itinerary, this extremely popular hotel is the perfect way to treat yourself to a bit of luxury while in Naples (and Naples is the perfect city to splurge, as your money goes further here than in Venice or Rome!). At Palazzo Alabardieri, the beautiful rooms, impressive breakfast spread, and perfect location all get rave reviews.