With its cascading cliffs, bright water, and postcard-worthy villages, it should come as no surprise that the Amalfi Coast tops bucket lists around the globe, and this 3 day Amalfi Coast itinerary is designed to help you experience the best of it.
With just 3 days on the Amalfi Coast, you'll have time to experience exactly what makes this part of the world so very special, and why it has captured the hearts of everyone from Roman Emperors to movie starts to hikers to artists of all flavors.
There's no doubt that the Amalfi Coast is a special (and pricey!) place.
Here's how to make sure your 3 day Amalfi Coast itinerary shows you the best of the region.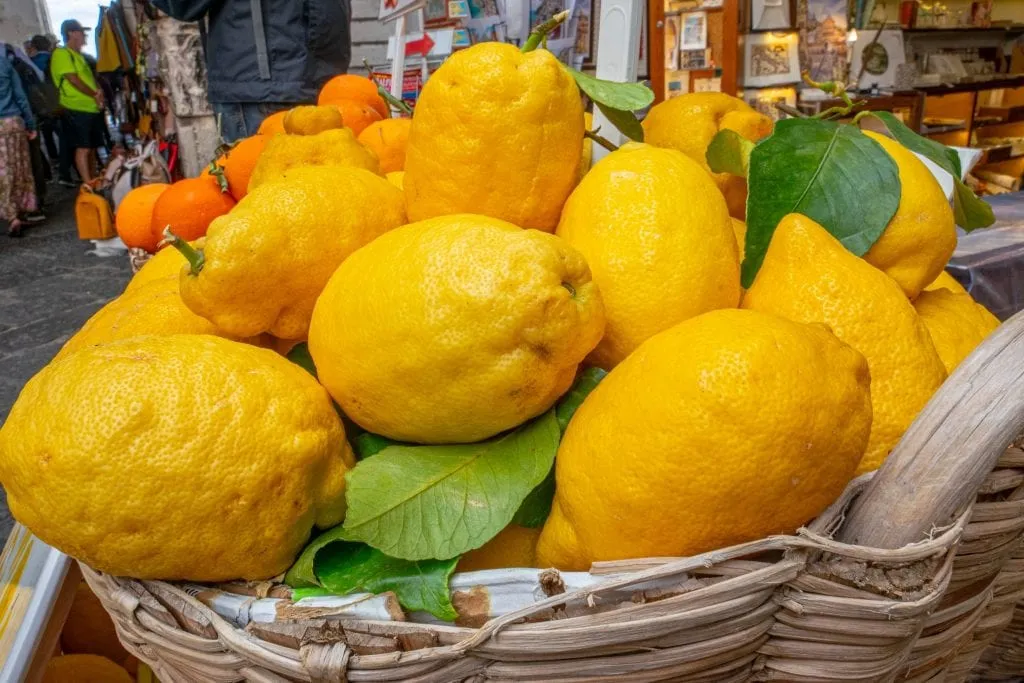 Some links in this post may be affiliate links. If you make a purchase through one of these links, we may earn a small commission at no extra cost to you. Please see our

disclosure policy

for more detail.
Where Exactly is the Amalfi Coast?
The Amalfi Coast is the roughly 50-kilometer coastline that runs along the southern portion of the Sorrentine peninsula in Campania, Italy. It is framed by the Tyrrhenian Sea, or more specifically, by the Gulf of Salerno.
Technically speaking, places like Capri, Sorrento, and Salerno are not part of the Amalfi Coast, and of course, neither is Pompeii.
However, the winding highway on the peninsula that runs from Sorrento to Salerno is considered the gateway to the Amalfi Coast.
Most people putting together a 3 day Amalfi Coast itinerary expect to spend time outside of the "true" Amalfi Coast–Sorrento is even frequently touted as the best base for first-time visitors to the area, despite not being on the Amalfi Coast at all!
For this reason, this 3 day Amalfi Coast itinerary is designed with a first-time visitor to the area in mind–someone who wants to experience both the Amalfi Coast itself and its incredibly famous surrounding sights.
For ease of writing, though, we're going to stick with calling this an Amalfi Coast itinerary.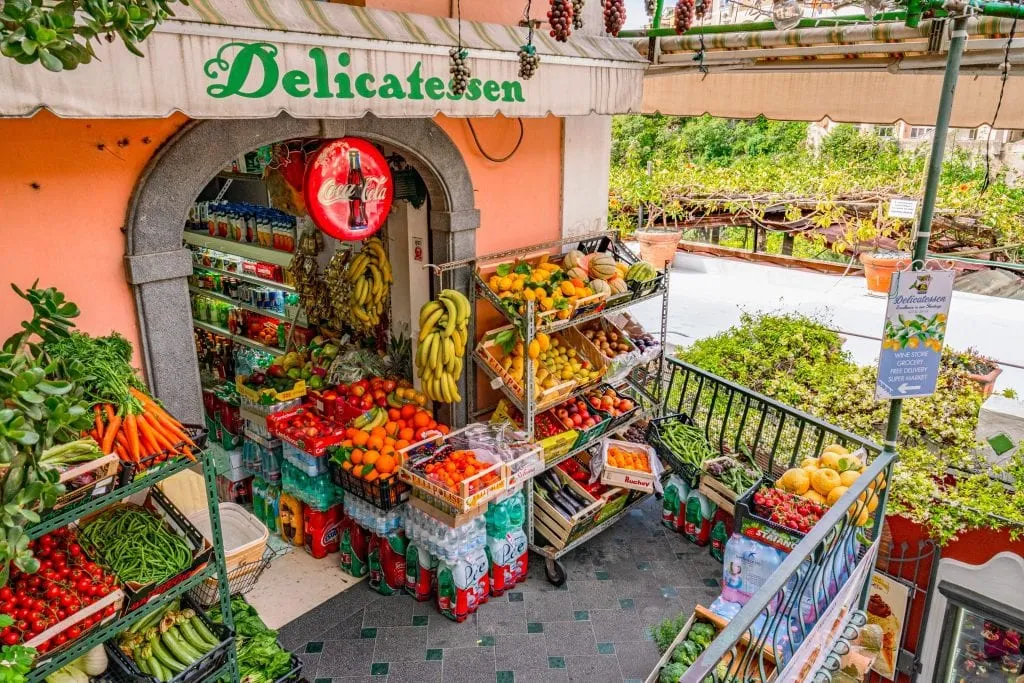 Day 1: Positano, Amalfi & Ravello
Where else to spend your first day on the Amalfi Coast than in the coast's undisputed best-known towns?
There's no better introduction to an Amalfi Coast itinerary than these places!
Positano
Start your morning in Positano and watch postcards come to life: this is probably one of the most photographed towns in all of Italy, and there's a good reason why!
Browse through the many shops, grab a coffee overlooking the beach, and consider renting an umbrella and stretching out under the sun for a couple of hours.
You could also take a boat tour near Positano (or just rent a small boat to captain yourself), and enjoy the magnificent views from the water.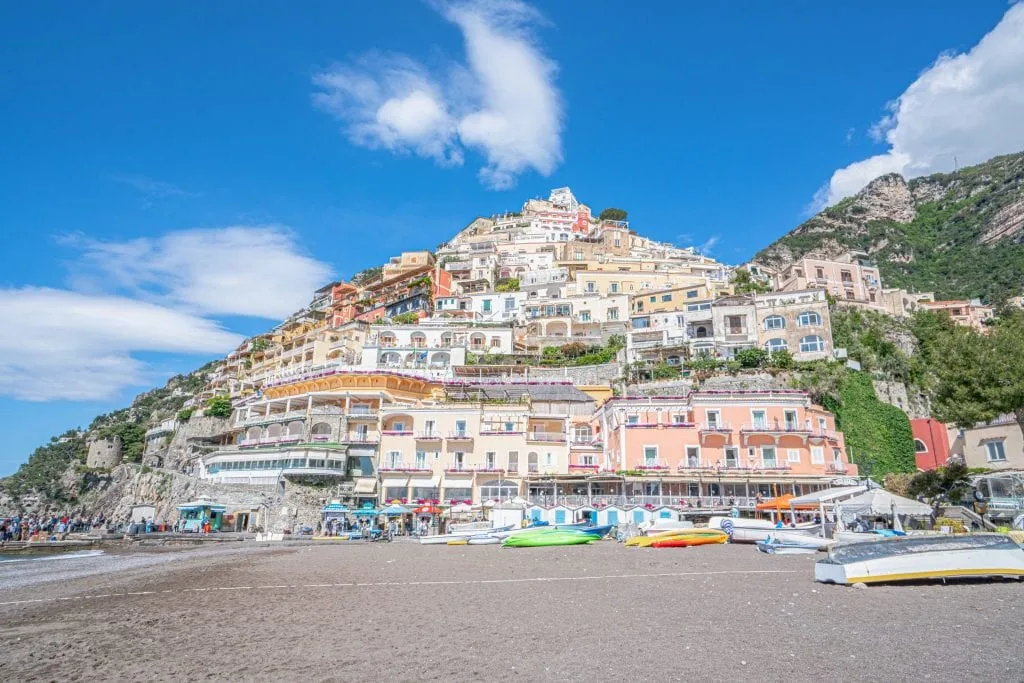 Ravello
Perched high in the cliffs of the Amalfi Coast is Ravello, known for its beautiful architecture, stunning views of the sea and coast, and its quiet, lovely atmosphere.
When you arrive, make a beeline for Villa Rufolo and its incredible gardens, which boast an absolutely amazing view of the Amalfi Coast.
If you have time, be sure to stop by Villa Cimbrone as well, as well as wander through Ravello's beautiful streets.
Amalfi
It should come as no surprise that Amalfi, namesake of the Amalfi Coast itself, is the largest town along the coast, as well as one of the busiest!

Close out the first day of your Amalfi Coast itinerary here with a visit to the city's gorgeous cathedral (just don't walk up the many stairs hand-in-hand with your partner, or legend says you'll never get married!).
While you're in Amalfi, be sure to also consider visiting the lovely Chiostro del Paradiso, and exploring the town's lovely streets. As the largest and also one of the most level towns on the Amalfi Coast, it's a less challenging exercise to meander here than, say, in Positano.
Want to make your first day on the Amalfi Coast easy and delightful?

Book a fun Amalfi Coast tour that covers Positano, Ravello, and Amalfi today!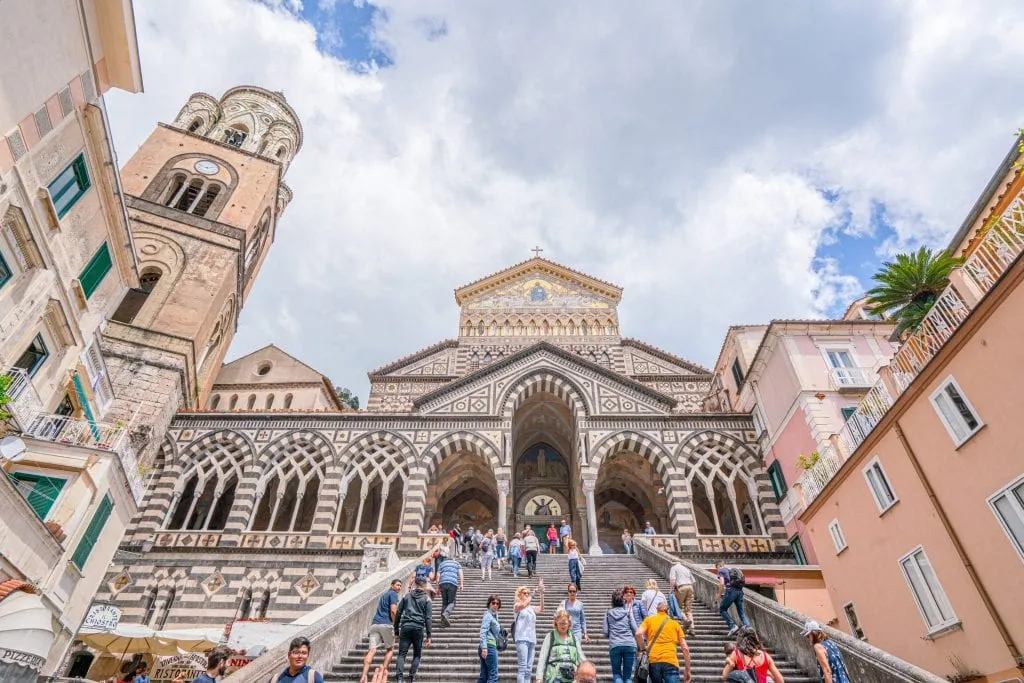 Day 2: Day Trip to Capri
Glamorous Capri is among the best-known and most magnificent sights near the Amalfi Coast, and a 3 day Amalfi Coast itinerary would absolutely not be complete without a trip there!
Day tours to Capri are an excellent value, and we highly recommend considering one (we took one similar to this from Sorrento and had a fantastic time), but whether you choose to go with a tour or visit independently, absolutely make sure that Capri is part of your Amalfi Coast trip!
Take a cruise around the grottos of the island (just don't bother going inside the Blue Grotto–it's an expensive time suck). Be awestruck by the views from Mount Solaro and the Garden of Augustus. Sip an Aperol Spritz in the Piazzetta. Stroll through Via San Michele.
On a sunny day, it's hard to imagine any place on this planet more stunning than Capri.
Book your day tour to Capri today!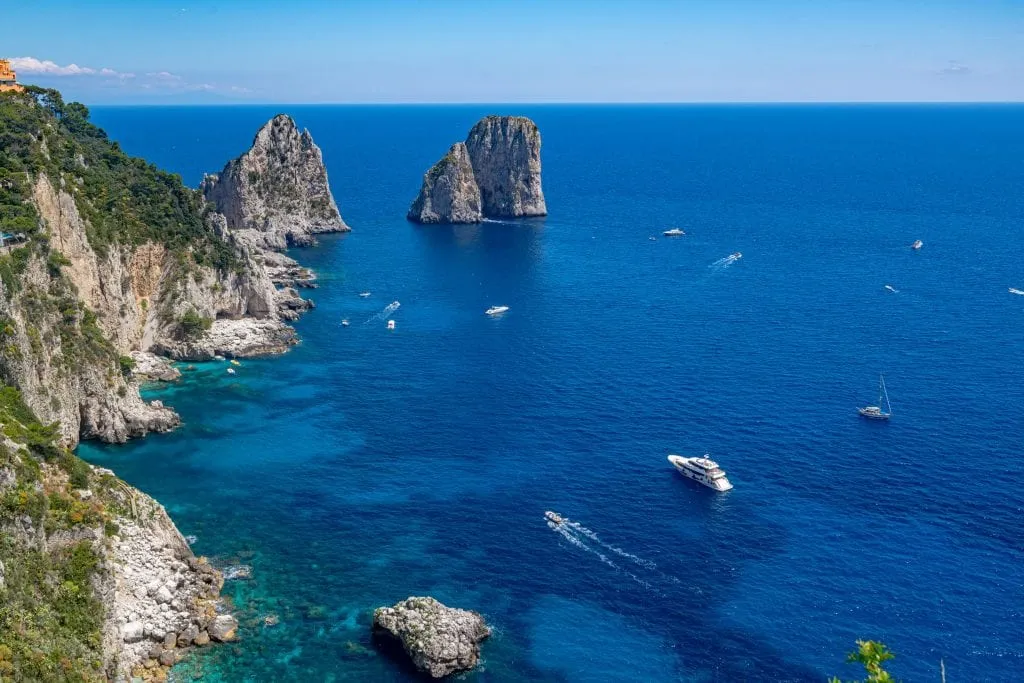 Day 3: Relax on the Amalfi Coast OR See Pompeii
With only a few days in the area to work with, any 3 day Amalfi Coast itinerary will require a little bit of sacrifice–so depending on your preferences, mood, and the weather, here's our choose-your-own-adventure suggestions for the final day of your Amalfi Coast itinerary!
Day 3 Option 1: Nature & Relaxation
If your idea of the perfect final day on the Amalfi Coast is to enjoy beautiful views and relax outside, we recommend starting your day by hiking the Path of the Gods from Bomerano to Positano.
Once you get down all those many, many stairs to reach Positano, reward yourself with a hearty seafood lunch, a sfogliatella or three, and head to the beach to relax the afternoon away.
If you choose this option, we heartily recommend starting your hike as early as possible in the morning in order to avoid any congestion on the trail!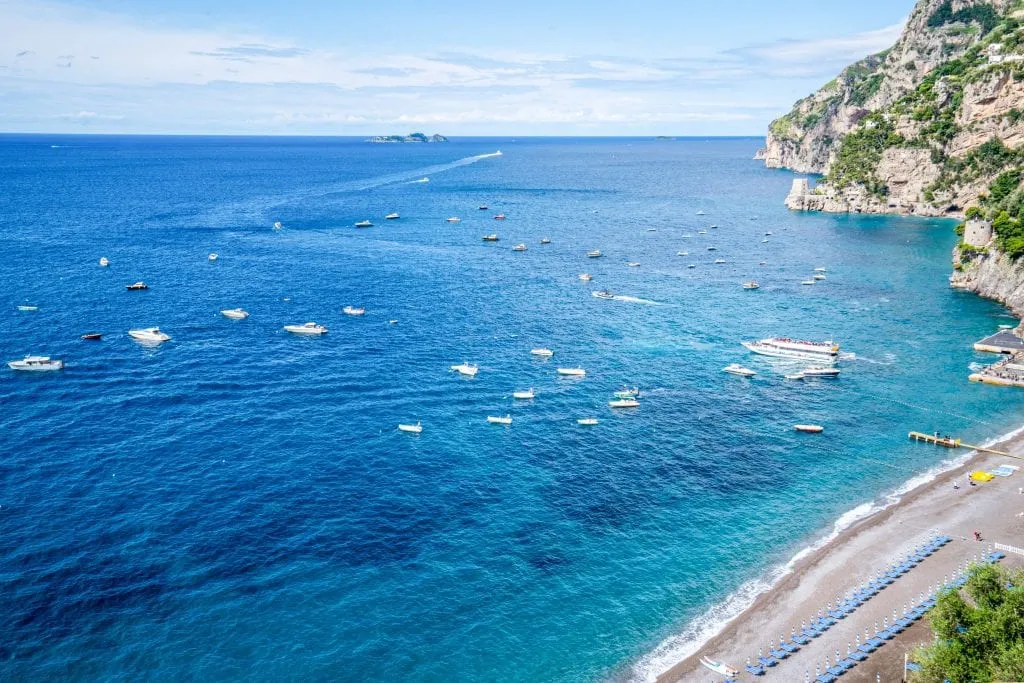 Day 3 Option 2: History & Sightseeing
If you're more of a history buff than a hiker–or you simply wake up to cloudy weather and less-than-ideal hiking and beach conditions–another fantastic option for closing out your Amalfi Coast itinerary is to pay a visit to Pompeii.
Pompeii is one of the most famous archaeological sites in the world, and it truly defies words: you will not be squinting at ruins and imagining what might have been in Pompeii. You will be strolling down roads as well maintained as many modern ones, walking in and out of intact buildings, and truly walking through a ghost town–a thriving city that one fateful day in 79 AD, simply stopped.
No day spent at Pompeii could ever be considered wasted, and if you get an early start, you'll also likely have time to visit the crater of Mount Vesuvius (eerie and incredibly interesting, with stunning views of the coast), or Herculaneum (a smaller, wealthier city than middle-class Pompeii that met the same fate as its more famous neighbor, and is considered to be even better preserved).
This day trip is perfectly doable independently if you're staying in Sorrento, but a guide truly does add so much context to these places–so for that reason and ease of transportation, definitely consider booking a guided tour of Pompeii.
Book your tour of Pompeii and Mount Vesuvius today!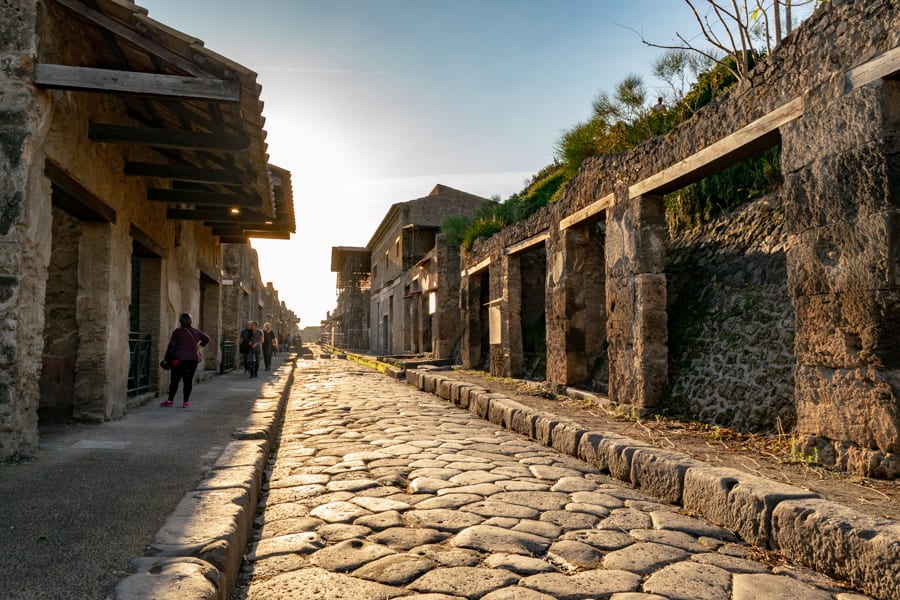 Where to Stay on the Amalfi Coast
Deciding where to stay when visiting the Amalfi Coast is often one of the most difficult parts about booking a trip. Not only is the area spread out and not incredibly simple to get around (it takes roughly an hour by bus to get from Positano to Amalfi, for example–it's not exactly a hop, skip, and a jump away), and prices are high!
Sorrento is often touted as the best place for first-timers to the coast, and where we chose to stay on our first visit. If you're hoping to visit Pompeii or want to easily arrive independently from Naples via train, we would definitely recommend it–but looking back, staying right on the Amalfi Coast probably would have been a better fit for our needs.
If you want to focus most of your time exclusively on the coast, Positano and Amalfi are the most iconic (and easily accessible) places to stay on the Amalfi Coast. Other spots like Praiano are also solid options, but be prepared to spend a lot of energy managing your transportation and/or renting a car for the duration of your stay.
I've outlined a few properties below to give you an idea of the kinds of prices and locations you're looking at when visiting the Amalfi Coast–all of these places boast excellent reviews, but finding a location that is right for you is absolutely a matter of personal preference when designing your 3 day Amalfi Coast itinerary!
A quick word of advice: given that the Amalfi Coast is a destination that trends toward small towns and small buildings–and therefore small hotels and boutique properties–if you find somewhere you hope to stay, book it!
Popular hotels along the Amalfi Coast tend to sell out well in advance, especially during the summer in Italy, so if you have your heart set on staying in a particular property or town, we recommend staking your claim ASAP.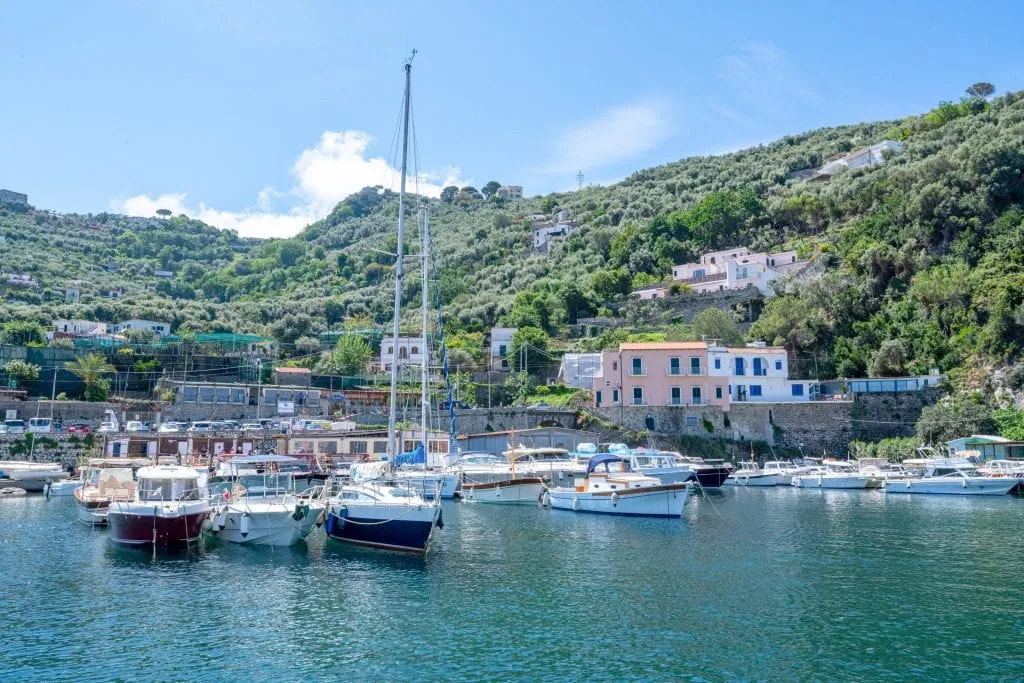 Budget
Ulisse Deluxe Hostel (Sorrento) — Though this property is called a hostel, it feels much more like a spacious hotel, with private rooms and a huge (but expensive) breakfast spread–especially by Italy standards.
This is the property we stayed at during our first trip to the Amalfi Coast, and overall we were quite satisfied–the customer service was great, the room spacious and clean, the wifi decent.
It is a bit of a long walk (20 minutes or so) from the Sorrento train station, but the walk goes through the bulk of Sorrento and is pleasant enough!
Mid-range
Hotel Floridiana (Amalfi) — Located in the heart of Amalfi less than a 5-minute walk from each the ferry terminal, bus stop, and main square of the city, you couldn't ask for a more central location in Amalfi than Hotel Floridiana.
Boasting near-perfect reviews and an excellent included breakfast, Hotel Floridiana is perfect for the mid-range traveler who is hoping to stay in the middle of the action of the Amalfi Coast without paying a luxury price tag.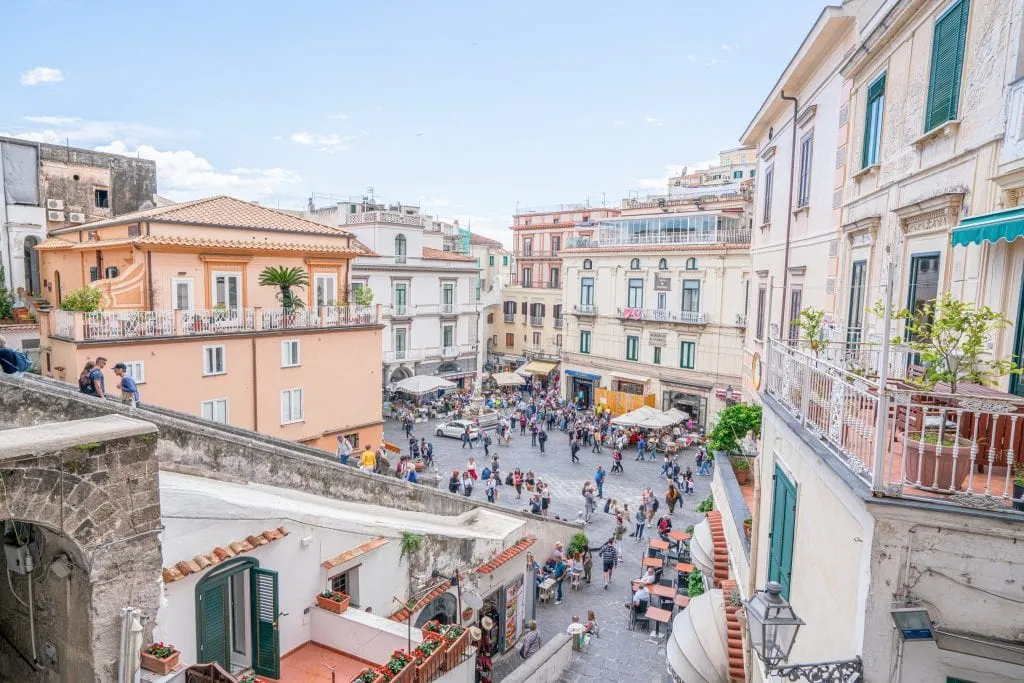 Luxury
Le Sirenuse (Positano) — One of the most iconic hotels along the Amalfi Coast, and arguably one of the most famous hotels in all of Italy, is the dreamy Le Sirenuse.
Home to truly magnificent views, a perfect location in Positano, first-class amenities, and the Michelin-starred La Sponda restaurant, Le Sirenuse is the perfect place to stay on the Amalfi Coast for those looking for a splurge–if you're planning your 3 day Amalfi Coast itinerary as part of a honeymoon or anniversary trip, this just might be the hotel for you!
P.S. — If Le Sirenuse and La Sponda aren't in the budget this trip but you still want to check out the views from this amazing property, head over to popular Franco's Bar for a drink on their terrace!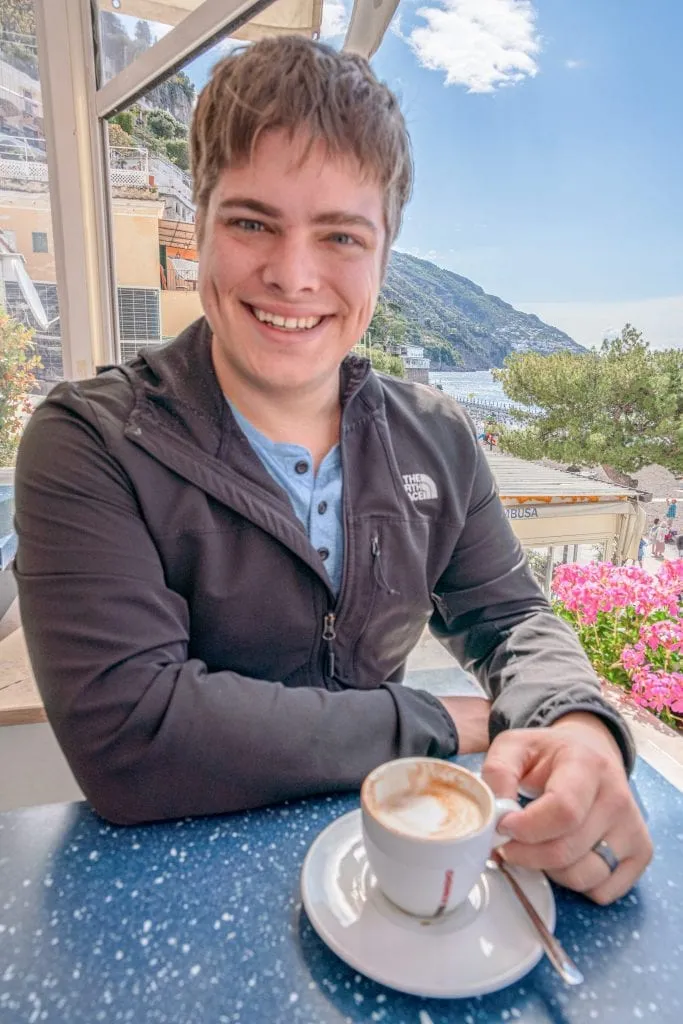 Getting Around the Amalfi Coast
Somewhat surprisingly, given the general ease of traveling around Italy, getting around the Amalfi Coast region is still a bit tricky to navigate.
Here's the biggest thing to be aware of: trains do not exist on the Amalfi Coast. You can take a train as far as Sorrento or Salerno, but from there, you'll need to travel by bus, boat, car, or tour.
You can take the train (specifically the Circumvesuviana) from Sorrento to Pompeii if you're planning on visiting Pompeii, but that will be the extent of train rides during this 3 day Amalfi Coast itinerary.
Also, sidenote: the Circumvesuviana train is a well-known pickpocket hotspot, and we've personally seen the aftermath of someone getting their phone taken there–so be very careful!
Bus
A day pass to ride the public buses along the Amalfi Coast for the day is the most cost-effective way to tour the coast… but it comes with significant drawbacks.
Not only do you have to be cognizant of the bus' schedule, but you also have to contend with the fact that the buses fill up, and that you'll often have to wait for several rounds (sometimes up to or over an hour) to actually board a bus.
And once you get on? Standing room only is definitely a possibility.
Because of these challenges, with only a 3 day Amalfi Coast itinerary to work with, we recommend looking into another option if it is available, especially when exploring multiple spots in one day along the Amalfi Coast. Alternatively, wake up very early and get the bulk of your travel done before most visitors arrive for the day!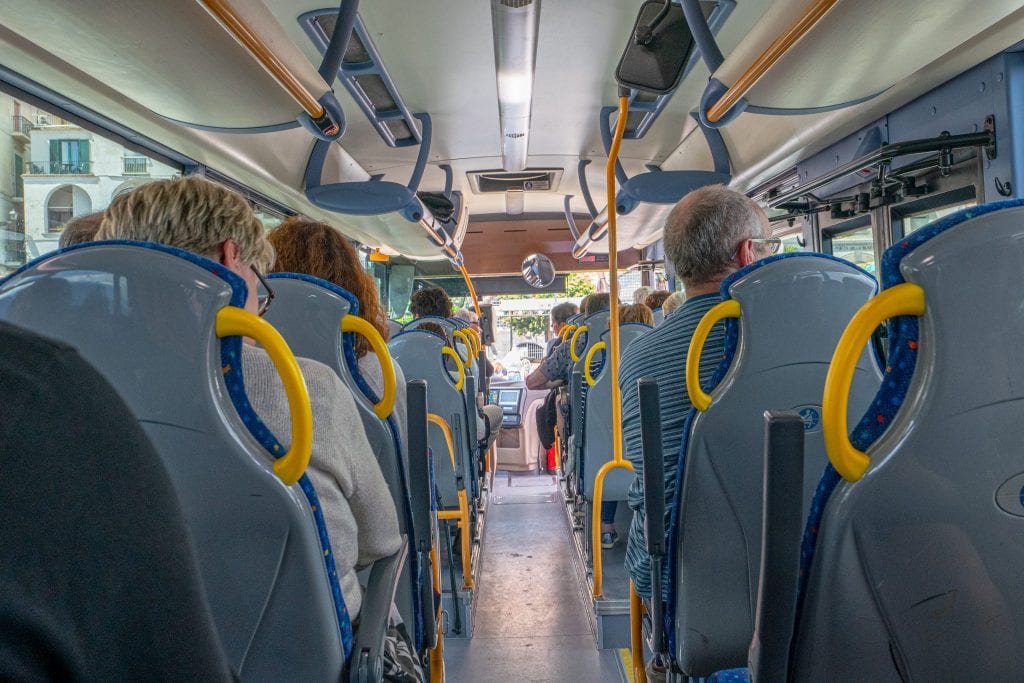 Boat
Ferries run between Positano, Amalfi, Capri, Sorrento, and Salerno, as well as other destinations along and near the Amalfi Coast.
However, the boats are season and weather dependent, so double-check what's running the day of your visit (and preferably have a back-up plan).
Reaching Ravello by ferry is, of course, impossible due to its location high in the cliffs.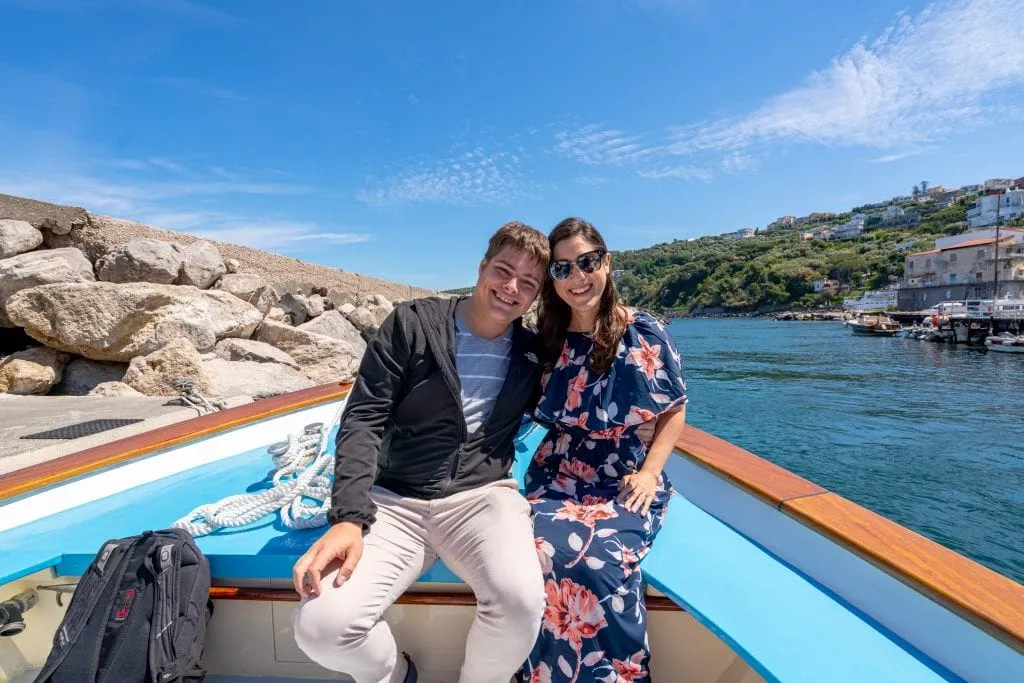 Car
Self-driving the Amalfi Coast by car (or even by Vespa!) is definitely an option–but only one we'd recommend to people who are very comfortable driving on narrow Italian roads with giant buses for company. The Amalfi Coast is not an easy drive.
Alternatively, you can hire a driver to take you on a private tour via car during the day.
Book a driver now to easily visit the Amalfi Coast!
Tour
Booking a tour to destinations on or near the Amalfi Coast is an excellent option if you don't want to self-drive or navigate the area's limited public transportation options (ie, risk waiting a long time for a bus and/or being stuck standing on a bus for an hour's drive).
For the first day of this 3 day Amalfi Coast itinerary, for example, this tour is extremely popular, very well-reviewed and is an excellent and easy way to see all Positano, Amalfi, and Ravello in one day.
Book your tour of Positano, Amalfi, and Ravello today!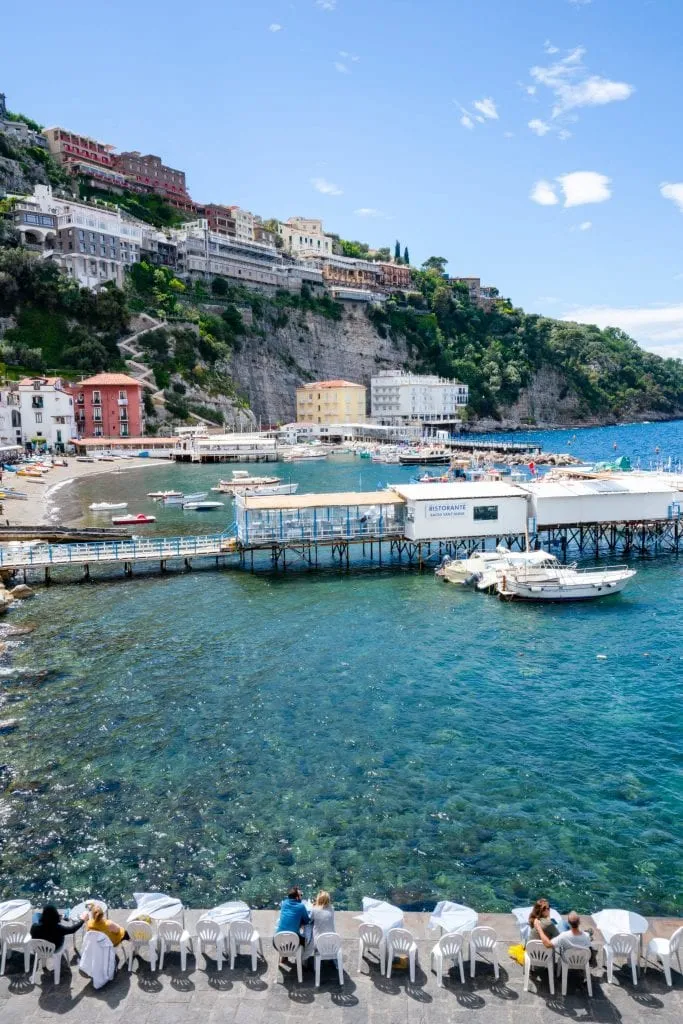 More Than 3 Days on the Amalfi Coast?
If you're lucky enough to have longer than 3 days on the Amalfi Coast, you're in for even more of a treat!
Consider adding a visit to Sorrento to your Amalfi Coast itinerary, which is a beautiful and relaxed town with incredible views of the Bay of Naples and Mount Vesuvius.
You could also consider visiting Naples which, while fairly considered to be a far less luxurious location than the Amalfi Coast, is an interesting and vibrant city that we love dearly–not to mention the home of some of the best pizza you will ever eat in your entire life.
The islands of Ischia and Procida, though a bit lesser-known than Capri, are also both gorgeous nearby escapes that make fabulous day trips during your trip to the Amalfi Coast area.
And, of course, there are plenty of things to do on the Amalfi Coast itself, especially if you're looking for a more leisurely trip!
Consider chartering a boat from Positano for the day and admiring the famous city from the water, soaking in the views from Praiano, renting a Vespa to drive along the winding road of the Amalfi Coast yourself (though this is absolutely not for the inexperienced or faint of heart), or visit Italy's only fjord, the Fiordo di Furore.
What to Pack for this 3 Day Amalfi Coast Itinerary
Travel Insurance — We don't ever suggest traveling without travel insurance–anything can happen, and this is definitely a case of better safe than sorry. We use and recommend Safety Wing for trips to Italy.
Comfortable Day Bag — Aim for something comfortable, medium-sized, and not flashy. If you want extra security (especially recommended if you plan on spending time in Naples and/or taking to Circumvesuviana train), I've heard great things from friends about Pacsafe's backpack
.
Money Belt — This is up to you: we no longer use one, but if you're more comfortable having your passports on your person when visiting the Amalfi Coast, you can consider bringing one. We used to use this one
 and had no complaints. These days, we prefer just to leave valuables in our Pacsafe during the day.
Swim Goggles
— If you're hitting the beach, definitely add swim goggles to your Amalfi Coast packing list–they're cheap, small, easy to pack, and make swimming so much more fun!
Dry Bag
— Any trip that includes time on the water can benefit from a dry bag to keep your camera and cell phone safe (without leaving them behind)–and that definitely includes trips to the Amalfi Coast.
Sea Bands
 & Non-Drowsy Dramamine
— If you're prone to motion sickness like me, I strongly recommend adding Sea Bands to your Italy packing list. I use them on all boats and the occasional bus, and if things get really bad, take some Non-Drowsy Dramamine as well.
I was thrilled to have these along both during our boat cruise around Capri and when riding the bus along the Amalfi Coast's winding roads.
International Driving Permit — If you're coming from outside the EU and plan to rent a car when in Italy, you'll need to make sure to acquire an International Driving Permit in your home country, before coming to Italy. It is required for all car rentals in Italy, including along the Amalfi Coast. While the rental company may not ask, it's not worth the risk of being refused a car once you arrive or getting a fine if you're pulled over to be without one.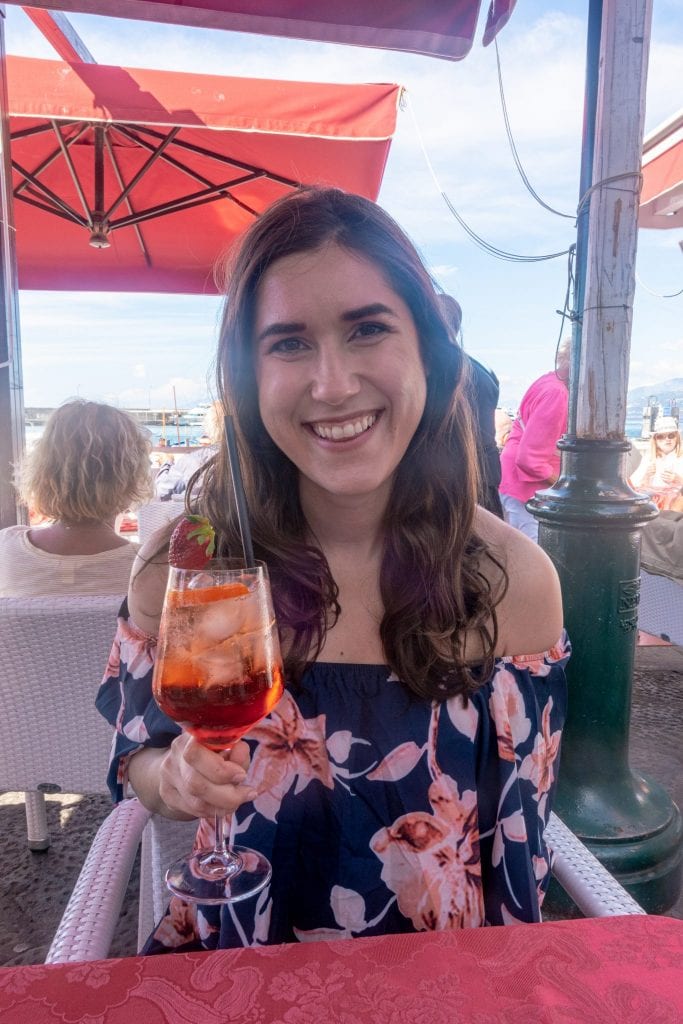 Travel Adaptors for Italy
 — If you're coming from outside of Europe, you'll definitely need adaptors for your electronics.
Pacsafe
 — We can't recommend our Pacsafe
 enough: this travel safe is affordable, sturdy, easy to pack, and will help keep your valuables safe in your hotel room (not that you should need to worry much about theft in Italy, but it's better to be safe than sorry!).
Reusable Water Bottle
— You're definitely going to want to carry water with you as you explore the Amalfi Coast (especially during the hot summer). Cut down on plastic waste and bring a reusable water bottle instead!
Sunscreen
— Because sunburns are never a good look in vacation photos, and definitely have no place in this 3 day Amalfi Coast itinerary!
Travel Journal
 — If you want to keep a travel journal, but can't commit to a huge amount of writing each night, I can't recommend the One Line a Day Journal
 enough–I've been using it for more than a year now and adore it!