Foliage, festivals, and Thanksgiving: there are plenty of reasons to plan a vacation to one of the best places to visit in November in the USA!
But that being said, planning a November vacation in the US can be a bit of a balancing act.
Sandwiched between the peak fall month of October and the festive month of December, it can take a bit of strategizing to find a travel destination that shines in the weeks leading up to Thanksgiving.
Luckily, in a country as big as ours, there are plenty of options.
We teamed up with several other travel bloggers to share some of the best places to go in the USA in November.
Whether you're looking for somewhere warm, somewhere where the foliage still clings to the trees, or somewhere where you can get an early jump on December holiday festivities toward the end of the month, there's a US November travel destination here that meets your needs.
Here are some of the best places to visit in November in the US!
Cool Cities + Towns to Visit in November in the USA
New York, New York
From Megan of Your Brooklyn Guide
New York City is one of the best destinations for USA travel in November.
Not only do you have the opportunity to catch the fall foliage in the city's beautiful parks like Central Park, Brooklyn Bridge Park, and Prospect Park among many others, but you also have an opportunity to visit the city before the busy and booming holiday season December brings.
November is also when the annual Macy's Thanksgiving Day Parade takes place, which requires some planning, but if you prepare ahead of time you can snag a hotel in NYC with a view of the parade.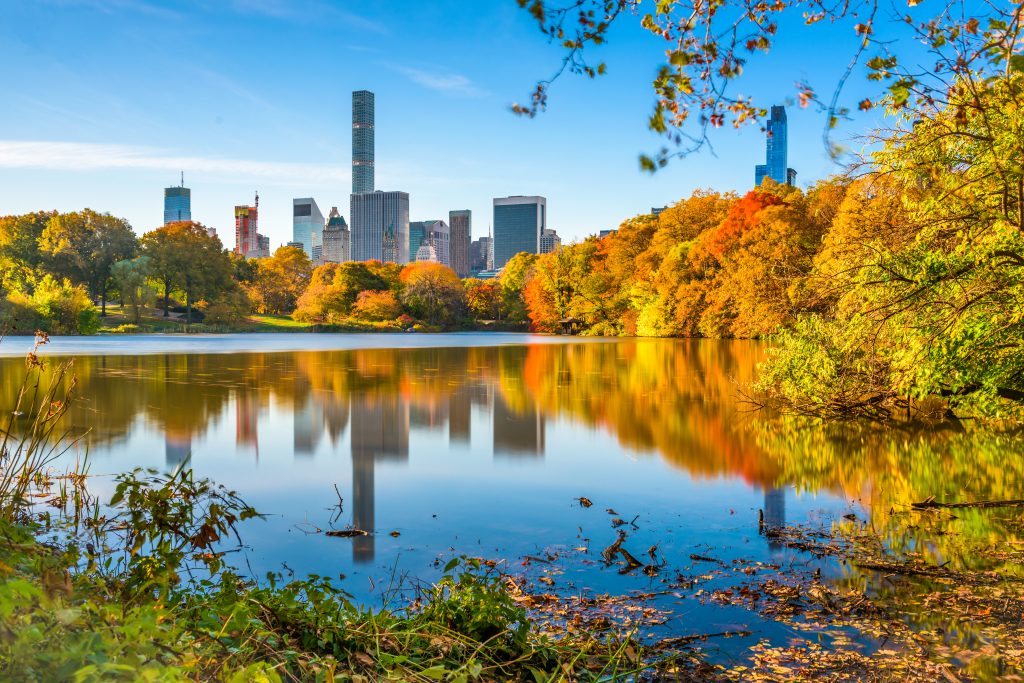 Even if you can't snag a view of the parade itself, you could still choose a hotel with a room that has an incredible view of the city skyline or the fall foliage in Central Park where you don't even have to leave your bed for a view.
Planning a visit before the Thanksgiving festivities means that some of the city's most iconic tourist attractions will be easier to get tickets and experience without as many people.
From popular observatories like the Edge which is always bursting at the seams with crowds, to soaking in the iconic views from the Empire State Building or Top of the Rock, to walking the Brooklyn Bridge, there's a definite advantage to bundling up, avoiding the crowds, and enjoying the best things to do in NYC on a fall vacation.
Where to Stay in New York
Nashville, Tennessee
From Lance and Laura of Travel Addicts
Nashville makes a great fall vacation, and November is particularly good.
The autumn is festival season in Music City and the weather is particularly good. Combined, you've got a great November vacation.
November in Nashville means only one thing: awards season!
In Nashville, November is dominated by the annual Country Music Awards (CMAs).
Surrounding this massive spectacle are a number of smaller artist showcase events, charity benefits, listening lounges, and young hopefuls playing music on the street and hoping to catch someone's ear.
There is no shortage of music and entertainment (and even parties to crash) in Music City in November.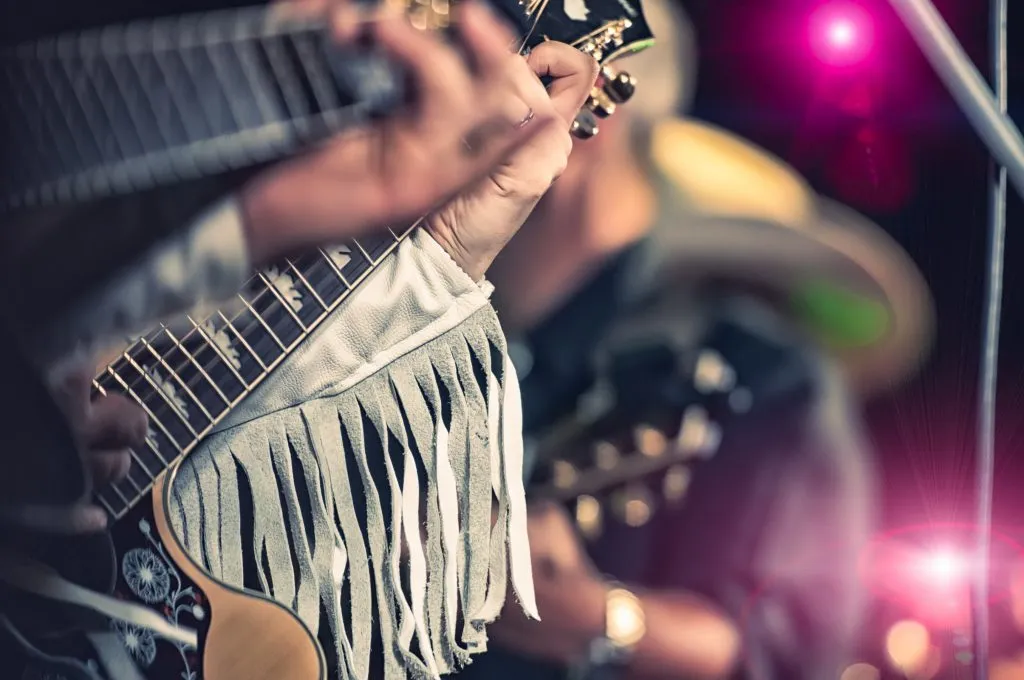 But the music scene isn't the only thing happening in Nashville. There are lots of great Nashville attractions to fill your days.
Yes, there's the Grand Ole Opry and the Country Music Hall of Fame. But there are also historic mansions and important Civil Rights monuments.
And…there's food. From BBQ and hot chicken to incredible Mexican and Asian fusion, there's something for everyone.
Be sure to check out some of the great bars, breweries, and distilleries in town.
Where to Stay in Nashville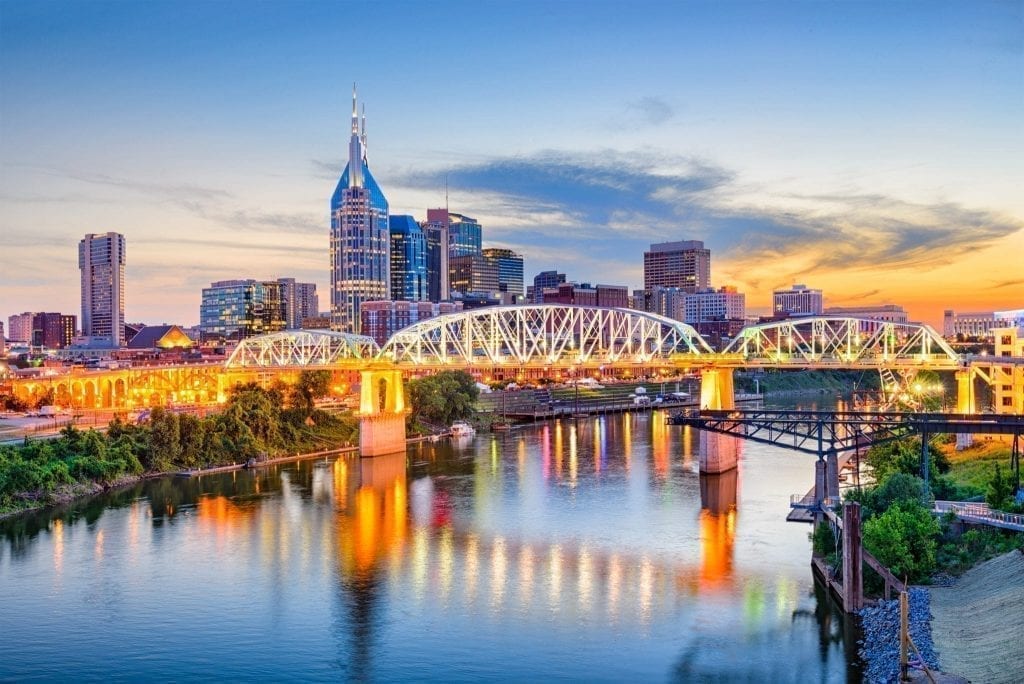 Phoenix, Arizona
From Brittany of Travel By Brit
When the rest of the country is bundling up and savoring the last moments of fall, residents of Phoenix, Arizona, are emerging from their homes to enjoy the most beautiful weather of the entire year!
With an average temperature of 75 degrees Fahrenheit and only two days of rain, Phoenix is the perfect November vacation in the US for those looking to experience an eternal summer.
You can challenge yourself with some of the best hikes in Phoenix, like Camelback Mountain and Piestewa Peak, or shop for local goods at the farmer's markets in the area, like Uptown Farmers' Marker and Downtown Phoenix Farmers Market.
If you're looking to relax, you can stay at a luxury resort in Scottsdale (just a 20-minute drive from Downtown Phoenix), where you can lounge by the pool with a cocktail in hand.
If you're feeling adventurous, take a day trip to Sedona to experience more awesome hikes, beautiful autumn colors, and of course, the picturesque red rocks!
No matter how you choose to spend your November vacation in Arizona, you're sure to be met with beautiful weather and plenty of fun things to do outdoors.
Where to Stay in Phoenix, Arizona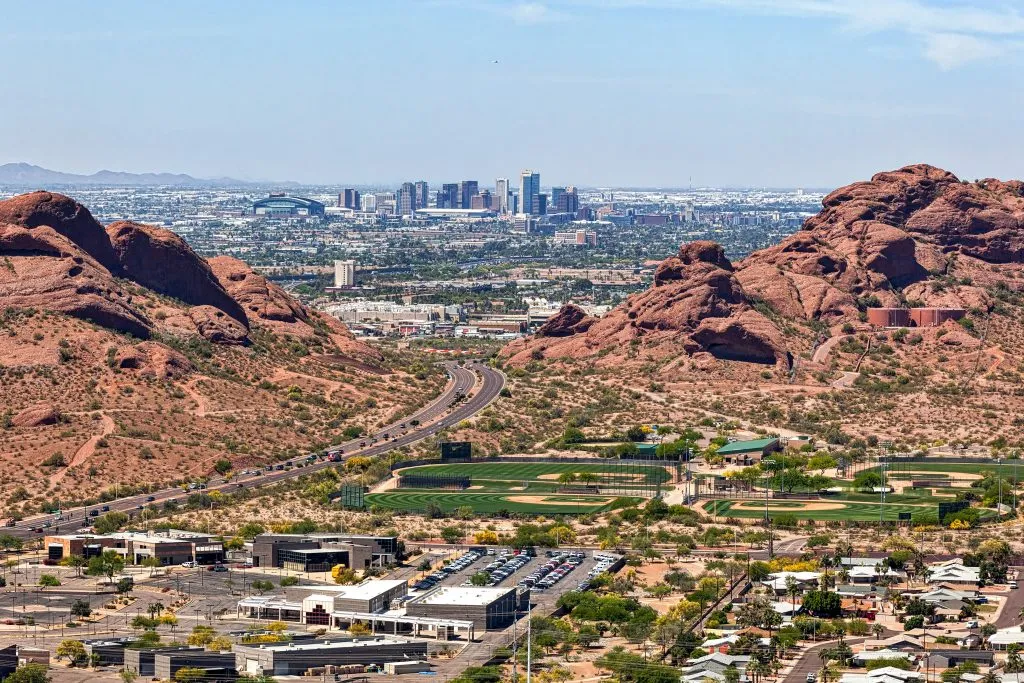 Plymouth, Massachusetts
From Keri of Bon Voyage With Kids
One of the best places in the USA to visit in November is Plymouth, MA.
Located south of Boston, right on the coast, Plymouth is a beautiful small New England seaside town that is a wonderful place to visit for its beauty and most notably, its history.
It is the spot where the Pilgrims landed in the 17th century, on a journey from England to escape religious persecution, and also where the first Thanksgiving took place.
You can visit Plimoth Pawtuxet (formerly Plimoth Plantation – and spelled differently than the town of Plymouth) to walk back in history and experience an English colony.
Actors take on the roles of real colonists and through conversation and demonstration will teach you about the Pilgrims' journey, what life was like at the time, and how they collaborated with the native Wampanoags.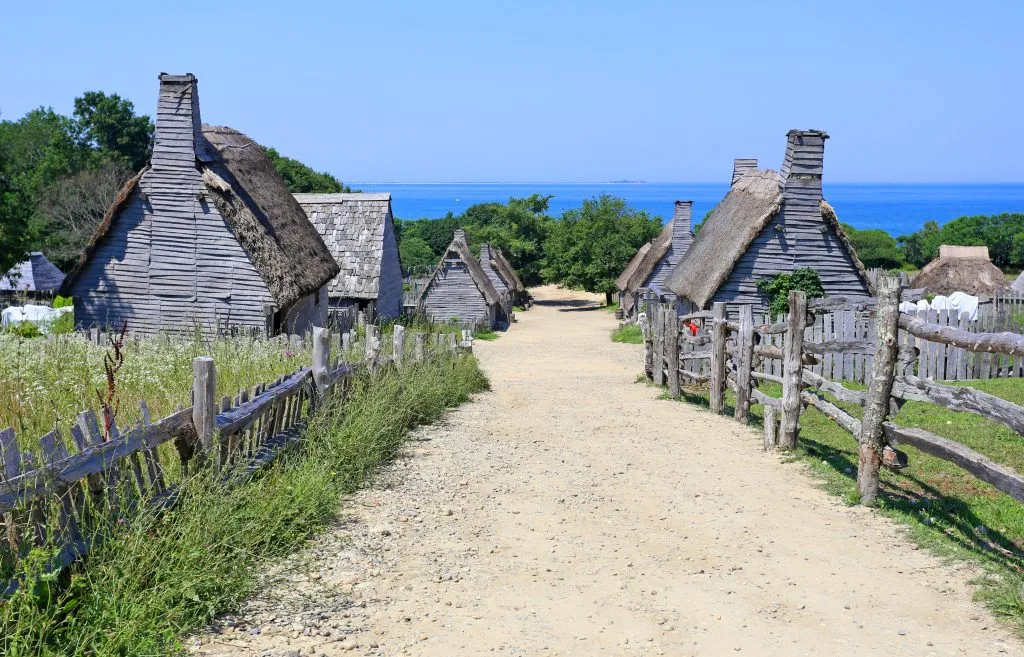 You can also explore a Wampanoag homestead, and learn about housing, tools, food, and what life was like for them during this time period, as well as their history and culture.
But take note, the guides of this section are modern-day members of the Wampanoag tribe in Massachusetts, not actors.
In addition to exploring Plimoth Pawtuxet, you can actually enjoy a traditional harvest feast on Thanksgiving, making it a uniquely special experience in the USA.
Nearby attractions also include the site of Plymouth Rock and the replica of the Mayflower ship, which is what brought the Pilgrims to what became America.
Where to Stay in Plymouth, Massachusetts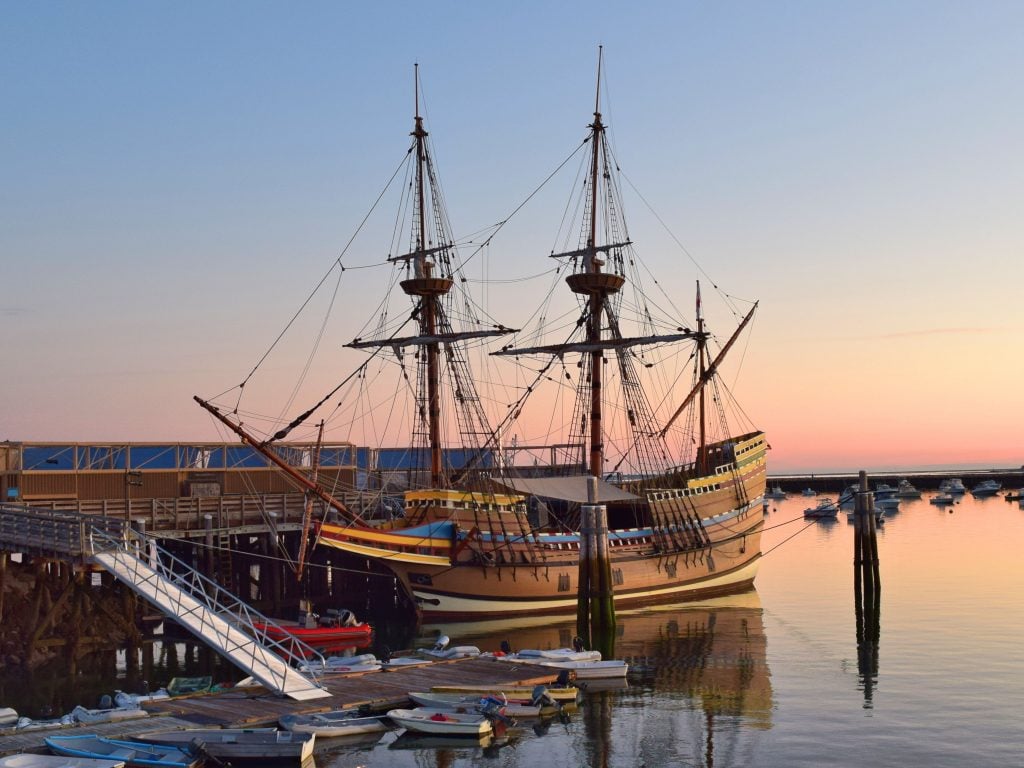 San Diego, California
From Sophia Bawany and Aamir Ghaffar of Fly Eat and Repeat
When November rolls around, almost everyone is gearing up for the holiday season.
If you are looking for a place to relax before the Thanksgiving food coma, the sunny San Diego is the spot for you!
With some of the most pleasant weather in the country all year round, fall is especially scenic with views of San Diego's Peninsular Ranges that wind through the county with spectacular fall color displays.
The city offers a perfect mix of culture, food, and just the right amount of classic California relaxation.
Immerse yourself in the city's rich history and celebrate the Day of the Dead in San Diego's Old Town.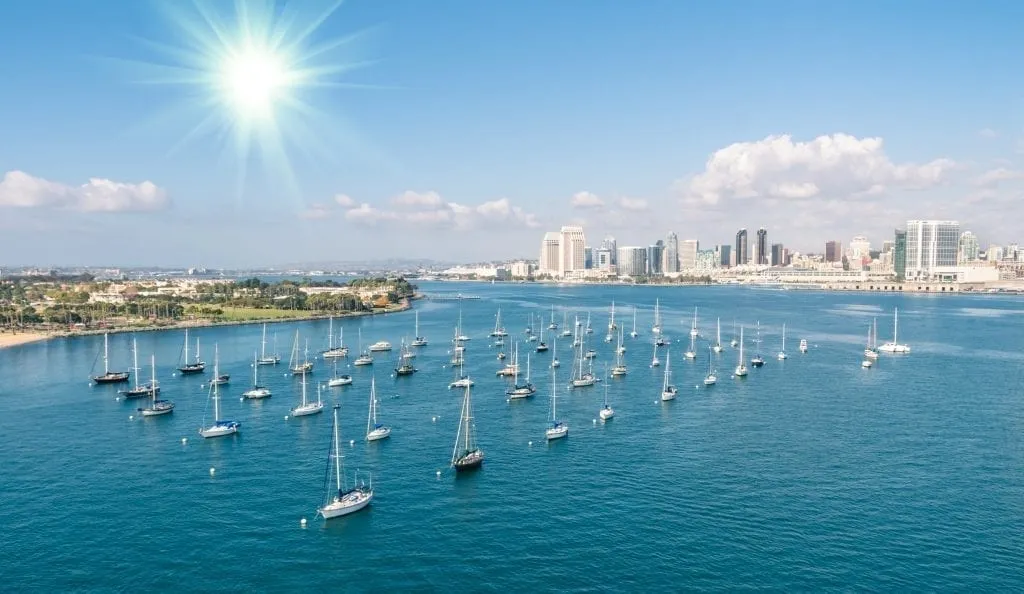 If you are a beverage connoisseur, you will have a great time during San Diego Beer Week where there are over 150 independent craft breweries from November 6-15.
The 10-day celebration is packed with events throughout the county at participating breweries, bars, restaurants, and more!
If you are planning to visit, know that the average temperature in San Diego in November during the day is around 69 F and rarely drops below 54 F, so a light jacket for during the day should suffice.
There is always something going on in beautiful San Diego and there really is no bad time to visit but with the fall colors in full bloom, November is extra special.
For a mix of city and sea, San Diego is a great USA November vacation spot.
Where to Stay in San Diego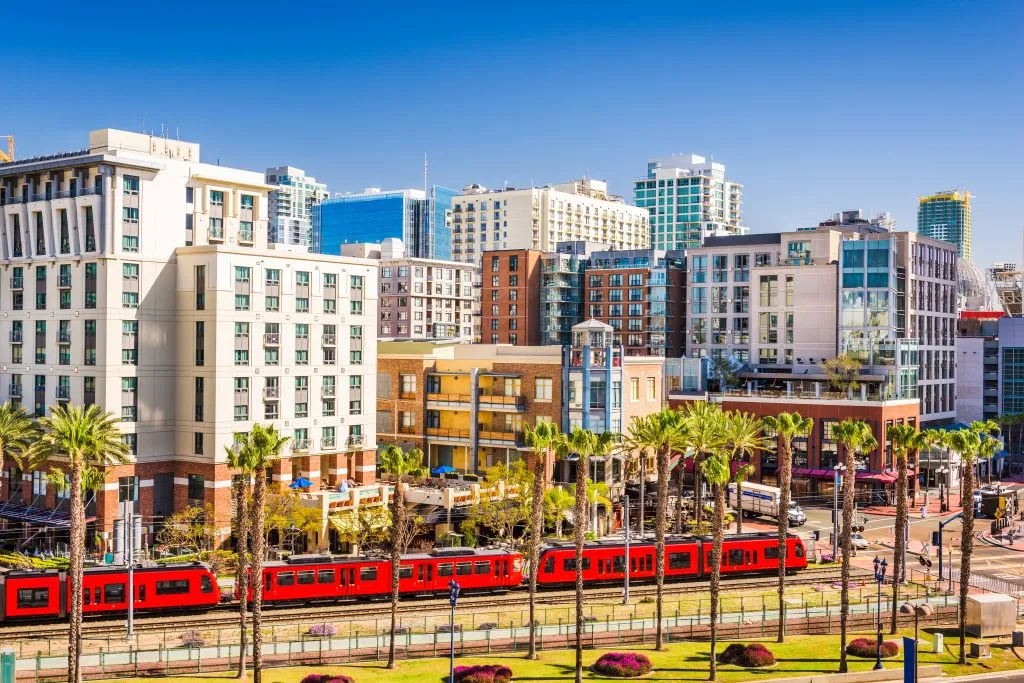 Portland, Oregon
From Wendy of Empty Nesters Hit the Road
With cooling temperatures and colorful fall foliage (at least early in the month), Portland, Oregon is the perfect US vacation destination in November.
During the day the weather is usually nice for running, hiking, or biking, but at night when it gets cold there are plenty of cozy restaurants and bars to warm up and chill out.
Home to the enormous new and used bookstore, Powell's, Portland has long been known as a book lovers city.
But in November, Powell's gets even better with the Portland Book Festival.
Hear your favorite authors speak, attend writing workshops, or just browse a large selection of books, many from lesser-known writers.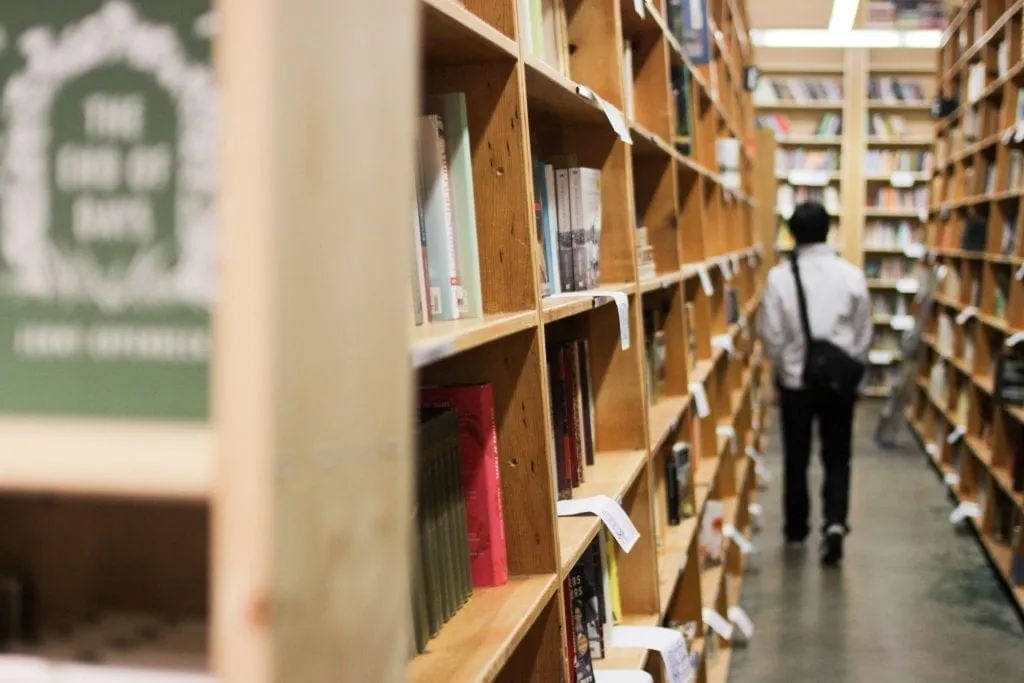 Book shopping in Portland is some of the best in the country, making this the perfect November getaway in the USA for bibliophiles!
Books aside, probably the best thing to do in Portland is to eat.
Well known for its young chefs and cutting-edge restaurants, Portland is all about the food.
One of the best ways to experience the cuisine is at food cart pods (typically referred to as food trucks in other cities).
This is an excellent way to sample a variety of food for one meal. One of the best food cart pods is Portland Mercado, offering an array of Latin American food carts.
Where to Stay in Portland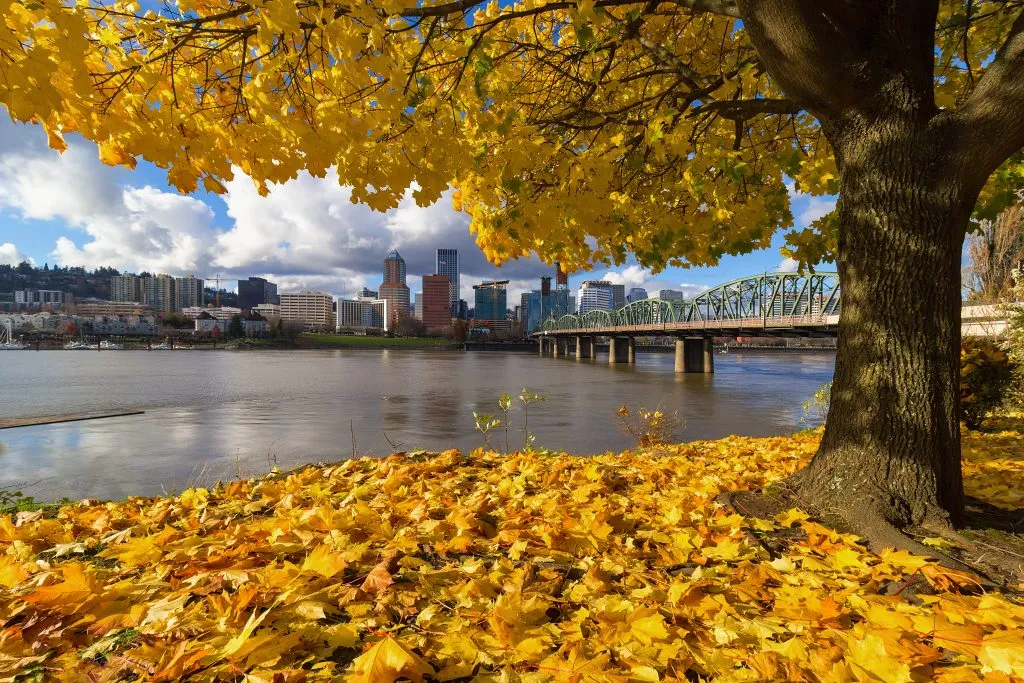 Asheville, North Carolina
From Alison of Exploration Solo
November is the perfect time to visit Asheville and explore the mountain towns of North Carolina.
The fall colors remain beautiful at lower elevations (the Chimney Rock area often peaks in November), and you'll avoid the crowds.
Another benefit to November is the opportunity to see the crisp, bold blue giving the Blue Ridge its name.
The colder air pushes out the haze that often blurs the view in warmer months, offering some of the most magnificent views that you'll see in the region all year!
Outdoor adventurers will enjoy the many hikes in the area without the annoying bugs that plague North Carolina in the spring and summer.
Enjoy an early morning hike watching your breath and hearing the crunch of leaves below your feet.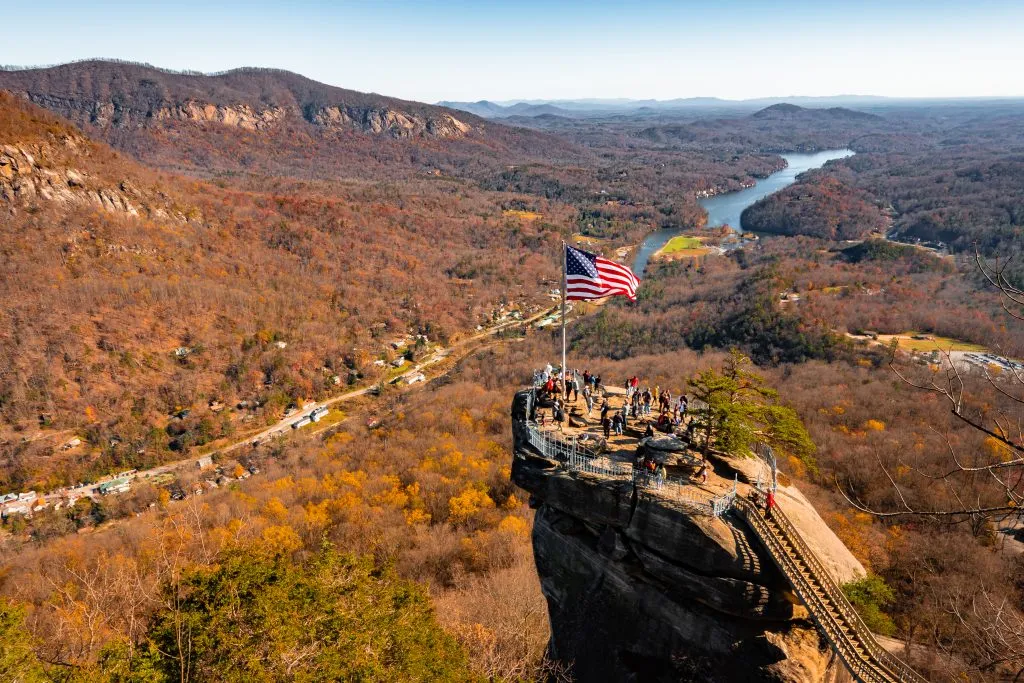 Evenings call for a jacket, and you'll want to bundle up and enjoy one of the late-night ghost tours.
Asheville has its darker history, and the guides are more than happy to tell the tales.
Downtown Asheville offers a fun day of exploring local stores and enjoying hot drinks.
When you're feeling hungry, there are several restaurants in town from casual to white linen. Many of the microbreweries also serve food that pairs with their beers.
Asheville offers something for everyone, and while you could come for a weekend, there's so much to do, you'll want a week.
Where to Stay in Asheville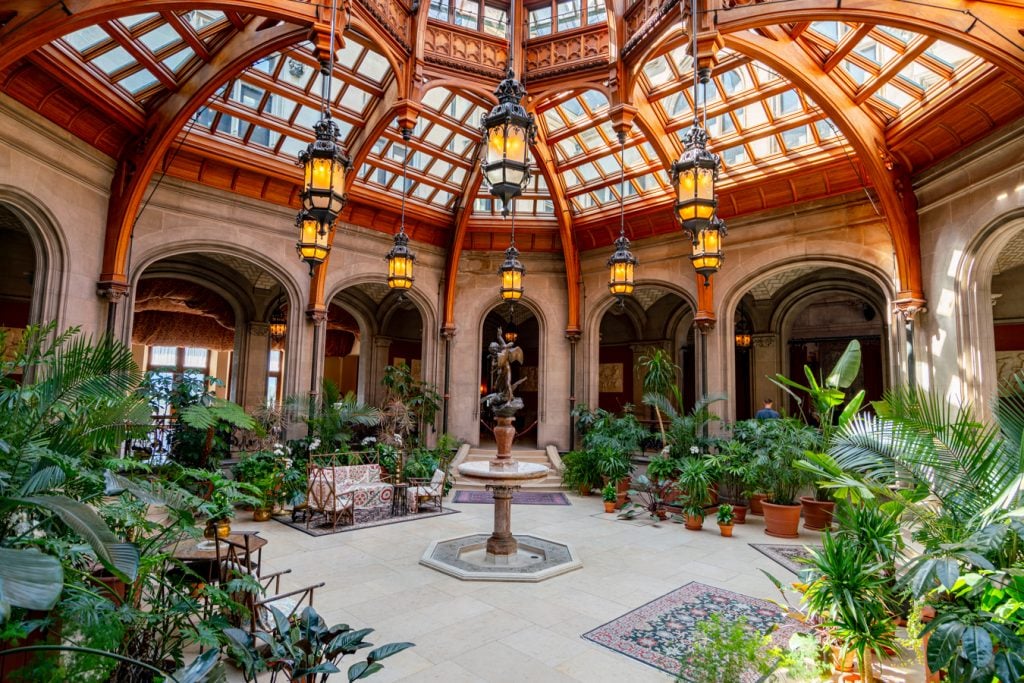 San Francisco, California
From Haley of Haley Blackall Travel
If you're looking for the absolute best time of year to visit San Francisco, you can't beat the fall!
From September to November, the Bay Area typically experiences mild temperatures, mostly sunny days with some light rain here and there.
November is considered shoulder season in the City of Fog.
Crowds have completely dispersed from the height of summer (ironic, considering the weather is actually warmer during fall!), resulting in a more local and authentic experience.
November also brings the Illuminate SF Festival of Lights starting Thanksgiving weekend.
Over 40 light installations can be viewed throughout the city by world-renowned artists.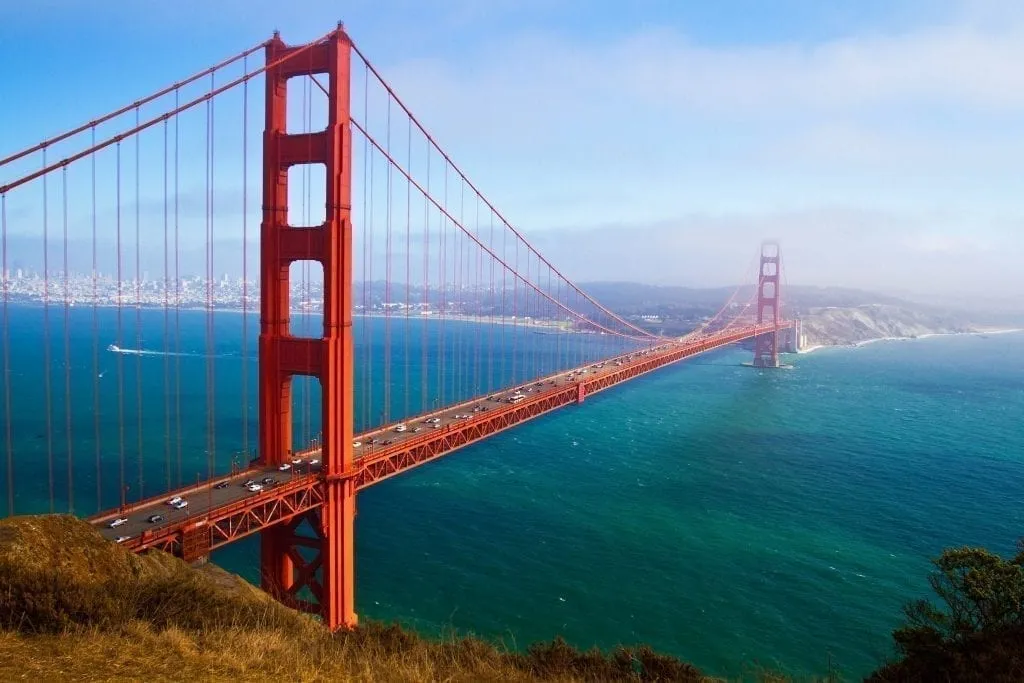 When visiting in November, you can also experience the incredible Day of the Dead SF procession in the Mission District.
Classic things to do in San Francisco are still enjoyable during November.
Try renting a bicycle and taking a ride over the Golden Gate Bridge to the charming town of Sausalito.
Also, while perusing the famous Pier 39, pop into the Ferry Building marketplace and try some local delights.
Where to Stay in San Francisco
Austin, Texas
While visitors to other US cities may be packing coats and scarves by November, in the Live Music Capital of the World, locals and visitors alike are rejoicing that it's finally cooling off a bit!
If you're looking for a November vacation in the USA that includes a bit of foliage, plenty of sunshine, and mild temperatures (the average high is 71°), look no further than Austin, Texas.
Even a weekend in Austin is long enough to head down to South Congress for fabulous food, eclectic boutiques, and incredible street art, and to "Dirty Sixth" for some unforgettable nightlife (or alternatively, Rainey Street or Guadalupe Street for a different vibe).
Of course, this is the capital of Texas, so save some time during your November trip to Austin for some more typical cultural highlights, like visiting the Texas State Capitol and the historic (and possibly haunted) Driskill Hotel.
November is also foliage season in Texas, so keep an eye out for changing leaves in Zilker Park, the Greenbelt, and the surrounding area.
Since Austin is surrounded by the stunning Texas Hill Country, no trip there is complete without going for at least one hike in Austin and taking a day trip to beloved nearby towns and wineries–Wimberley and Fredericksburg are both favorites.
Where to Stay in Austin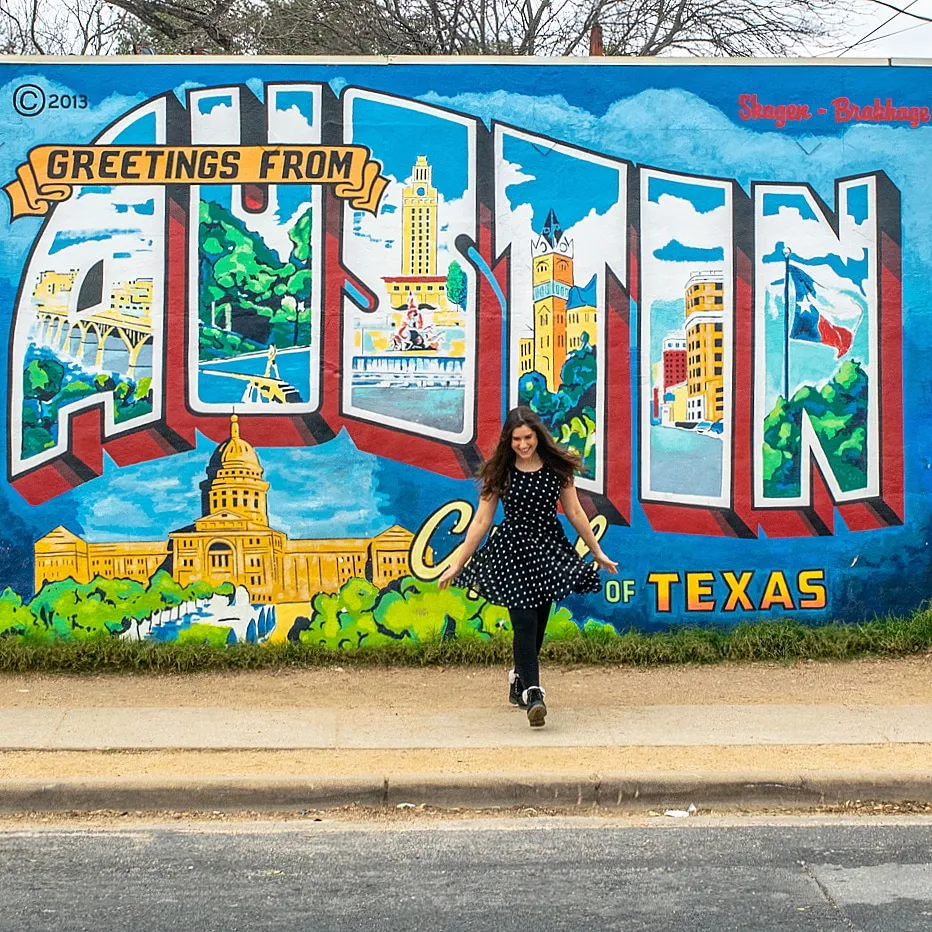 Richmond, Virginia
Recommended by Erin of Go Hike Virginia
There's no question that Richmond is a fantastic fall travel destination in the USA.
This vibrant capital city wows with a dynamic public art scene, diverse dining options, a rich history, and loads of outdoor adventures, like hiking and kayaking.
A brand-new food hall in Richmond's Manchester neighborhood, The Hatch Local Food Hall, is well worth adding to your itinerary, boasting seven food concepts, two bars, a market, and live music.
Once you get your fill, take a self-guided tour of gram-worthy murals.
Spearheaded by the Richmond Mural Project, more than 100 colorful murals can be found on city walls all across town.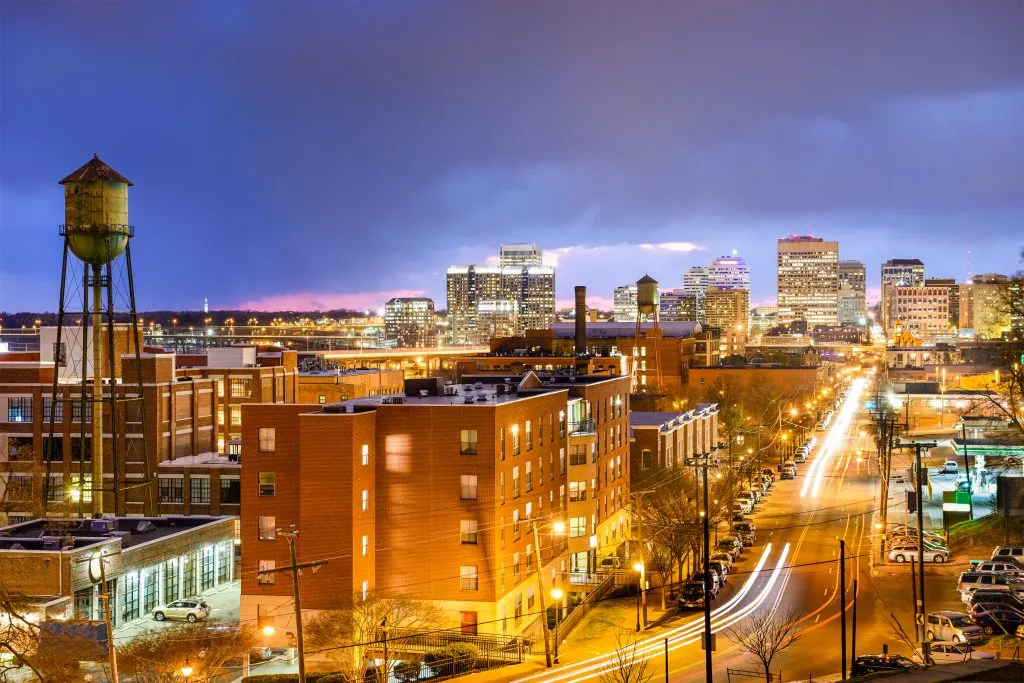 Keep the fun outside on Richmond's urban trails. A favorite hike guides visitors along Texas Beach in James River Park.
This leafy hike wows with colorful foliage, rock scrambles, a historic gristmill, and even colorful artwork courtesy of the James River Hikers.
Located a short two hours from Washington, DC, simply drive south along I-95 all the way to Richmond.
Arrive ready to eat since there are loads of delicious restaurants, like Mama J's Kitchen for James Beard-nominated soul food. For breakfast, 521 Biscuits & Waffles is divine.
Where to Stay in Richmond, Virginia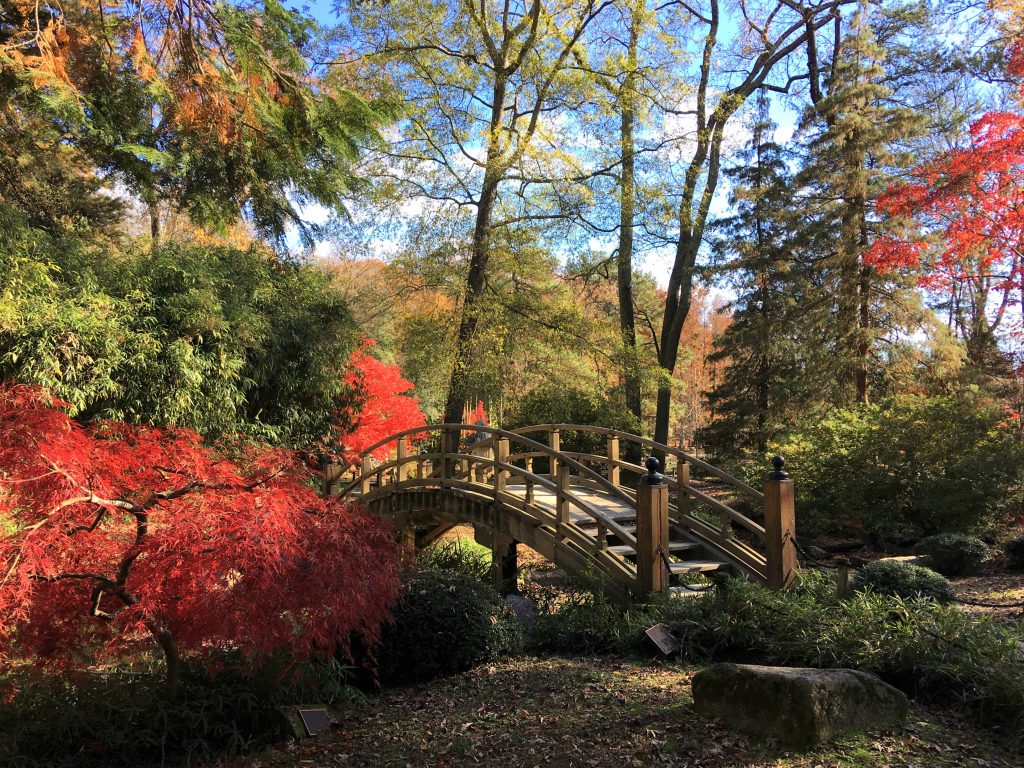 Los Angeles, California
From Dymphe of Dym Aabroad
One of the best destinations in the United States to visit in November is Los Angeles.
The city is known for Hollywood, Venice Beach, Santa Monica, and the city's relaxed atmosphere.
Furthermore, you find many interesting museums in the city, including The Getty.
For photographers on the prowl, there are many Instagrammable places in LA that are great if you want to take photos.
One of the reasons to visit Los Angeles in November is great is the weather.
The average temperature during this month is 73°F and it rains, on average, only 2 days in November.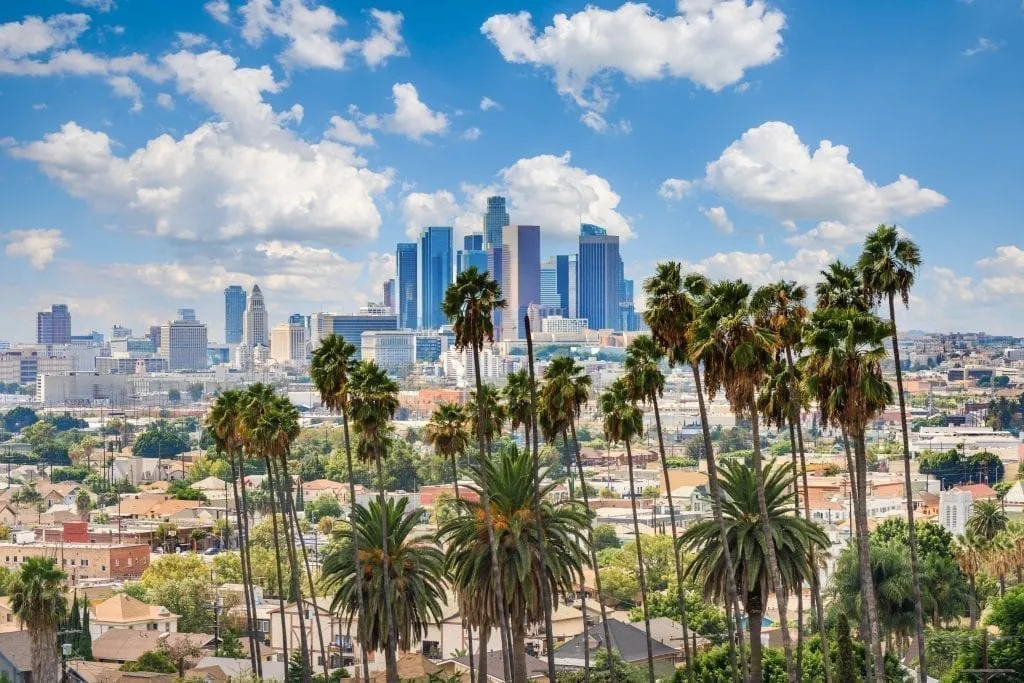 The month is also heavy on events in Los Angeles, another reason to choose it for your vacation this November!
For example, the Great Los Angeles Walk takes place then. This is an event where many people hike through the city together.
Another event is "Enchanted: Forest of Light". During this event, which starts in November, you can walk a route where you can see light art installations along the way.
Where to Stay in Los Angeles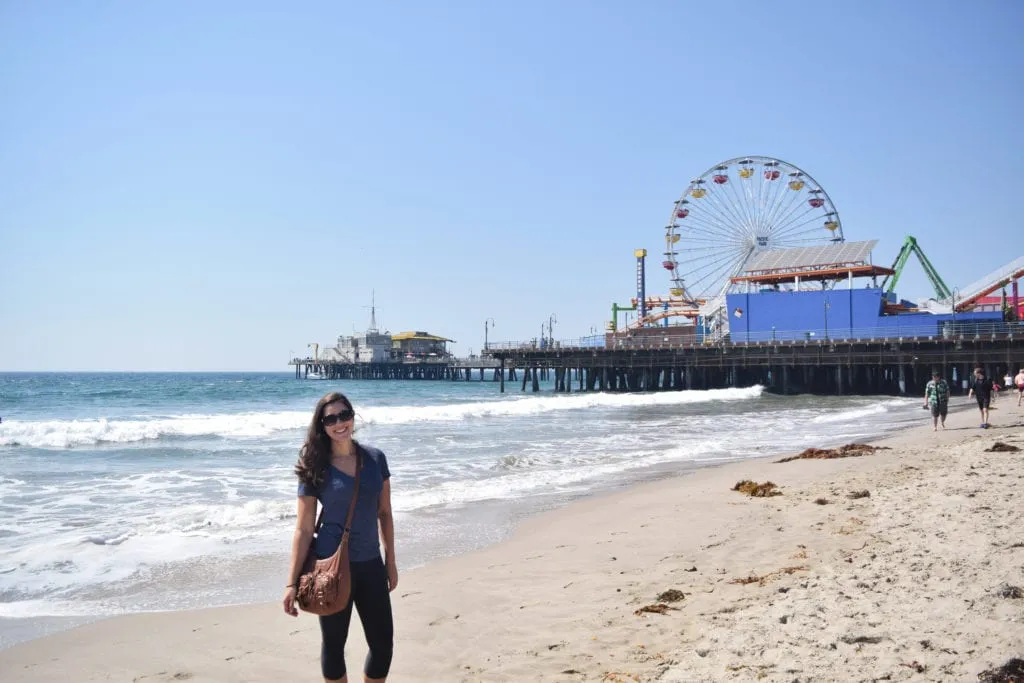 USA November Travel Destinations for Natural Beauty
Lake George, New York
From Megan of Bobo and Chichi
One of the most beautiful areas to visit in the fall is the popular resort town, Lake George in the Adirondack Mountains in Upstate New York.
By the time November comes around you may have missed the peak of fall foliage, but there are still amazing things to do in Lake George that make visiting in November worth your while.
This is a very popular destination in the summer and early fall meaning that the hotels and cabin rentals are extremely competitive to get.
By November, some of the best rentals in the area are up for grabs again to plan an outdoorsy getaway in one of the most beautiful mountain ranges on the East Coast.
Check out some of the hiking around Lake George and keep an eye out for wild bald eagle sightings.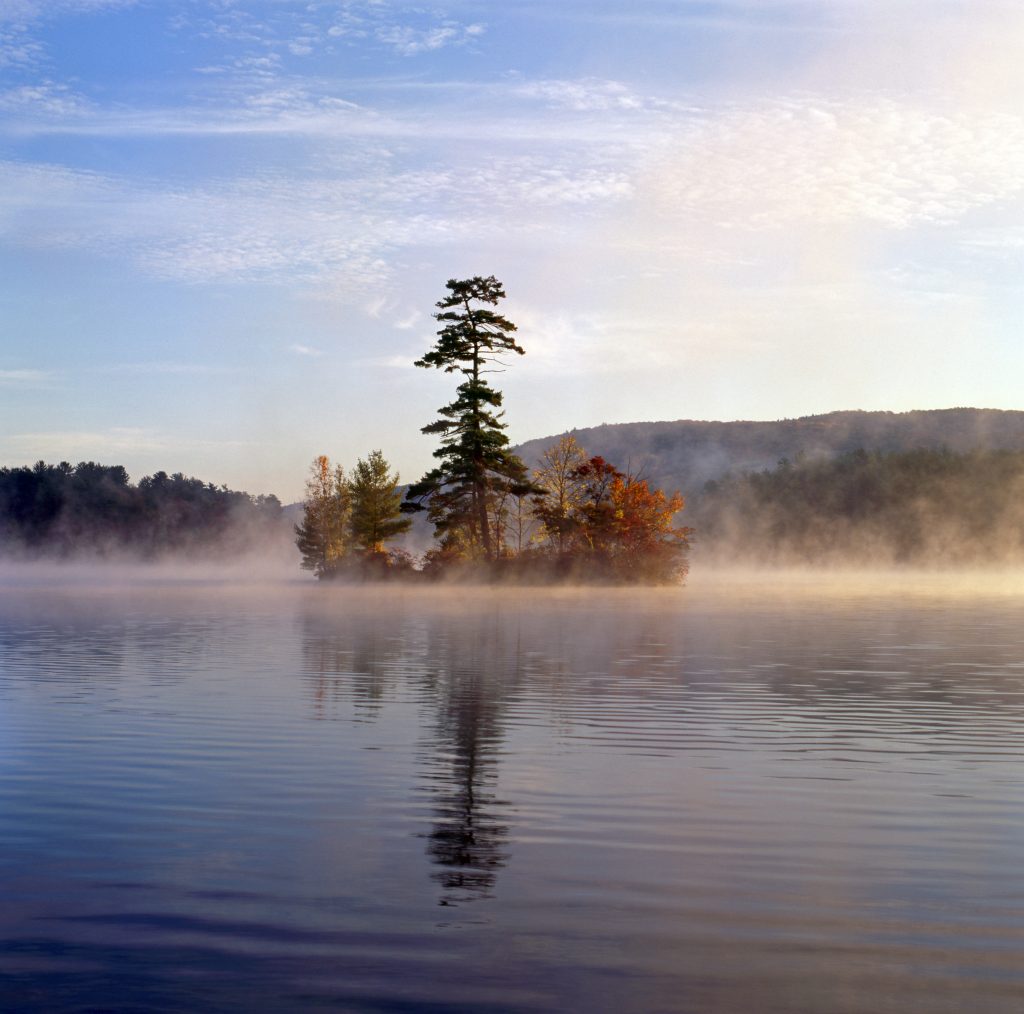 There are hikes ranging all levels from the 100-mile views from the vista of Prospect Mountain to waterfall hikes like Shelving Rock Falls that are great for beginners.
If you're a sports enthusiast you can catch an Adirondack Thunder Hockey game!
If you're looking for family-friendly fun, check out the many different mini-golf courses around Lake George too, some of which are open year-round.
History lovers can enjoy a tour of Fort William Henry, the British fort that was used as a strategic military base between 1755-1757 during the French and Indian War.
Last but not least, there are several breweries and distilleries to check out during your visit too, one of the most popular is Bolton Landing Brewing Company.
Where to Stay in Lake George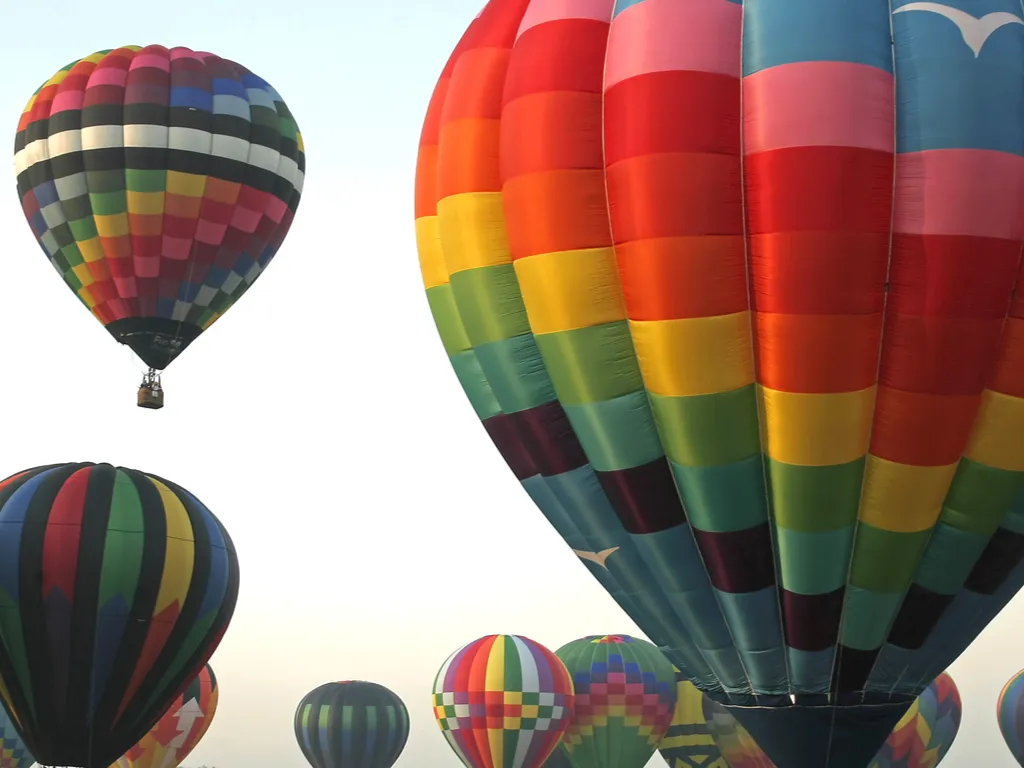 Vero Beach, Florida
From Cortney of Tin Can Living
Vero Beach is a beautiful coastal city located on Florida's Treasure Coast.
Vero Beach has been called "the world in miniature," because it offers visitors a taste of the tropics, the Caribbean, and the Mediterranean all within walking distance from one another.
Vero Beach's beaches boast warm water temperatures year-round with an average high of 86 degrees Fahrenheit in November, making it among the best warm places to visit in November in the USA.
Vero Beach also offers amazing shopping at many unique boutiques as well as dining opportunities that will please every palate!
The city offers art in the park expos every other Sunday during the winter months.
There are tons of fun things to do, including visiting the botanical gardens and the Museum of Art.
If you are looking for a fantastic place to rest at night, check out Costa d'Este Beach Resort located downtown and right on the beach. The restaurant and bar make this location a fantastic lodging option.
Visiting Vero Beach in November is the perfect opportunity to enjoy a Florida vacation!
Where to Stay in Vero Beach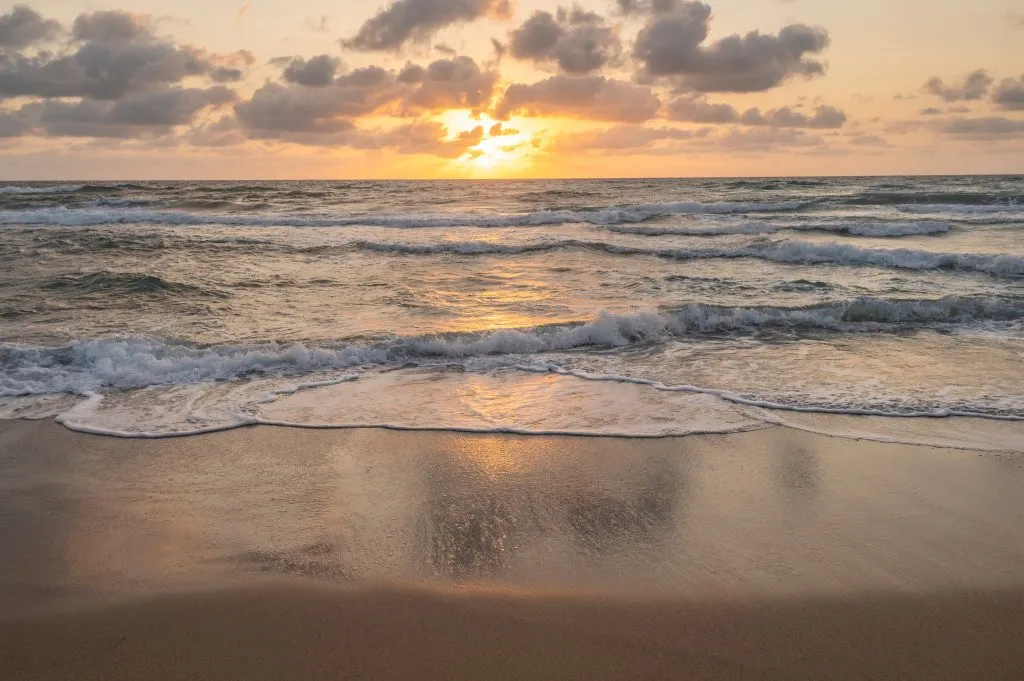 Grand Canyon National Park, Arizona
From Jennifer of National Park Obsessed
With cooling weather and lessening crowds by the time mid-fall hits, Grand Canyon National Park is a wonderful national park to visit in November.
While the North Rim is closed for the season, the more popular South Rim is open year-round.
The temperatures on the South Rim are cool and crisp and the Inner Canyon is mild and snow is unlikely.
The crowds have thinned from their summer high, a big advantage when visiting one of the most iconic national parks on the planet!
Visiting in November is also a great time for sunrise, sunset, and star viewing.
The sunrises aren't at an unholy hour in the morning, and the sunset is early so it's easy to see both without having a super long day.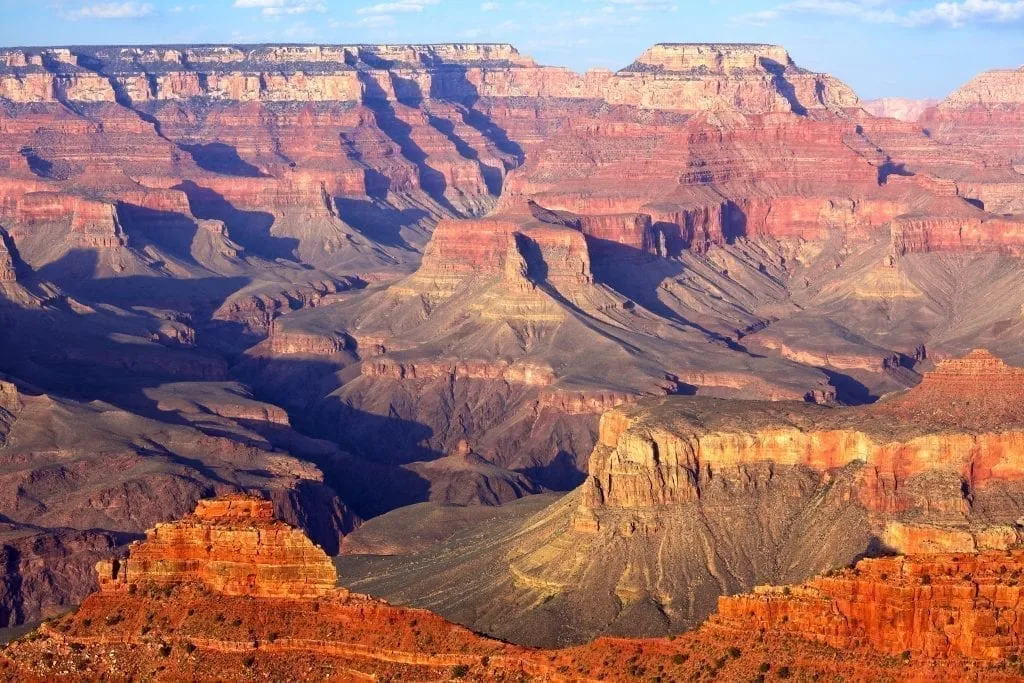 Plus the early sunset means that the stars come out early in the evening!
The Grand Canyon is an International Dark Sky Park so its star viewing is spectacular.
In addition to the sky viewing, November is a great time to enjoy popular hiking trails such as Bright Angel or South Kaibab Trail.
The mild temperatures also make managing your water consumption a lot easier, a constant challenge when in the desert.
Be sure to dress in layers as the temperature increase as you hike down into the canyon.
Where to Stay at the Grand Canyon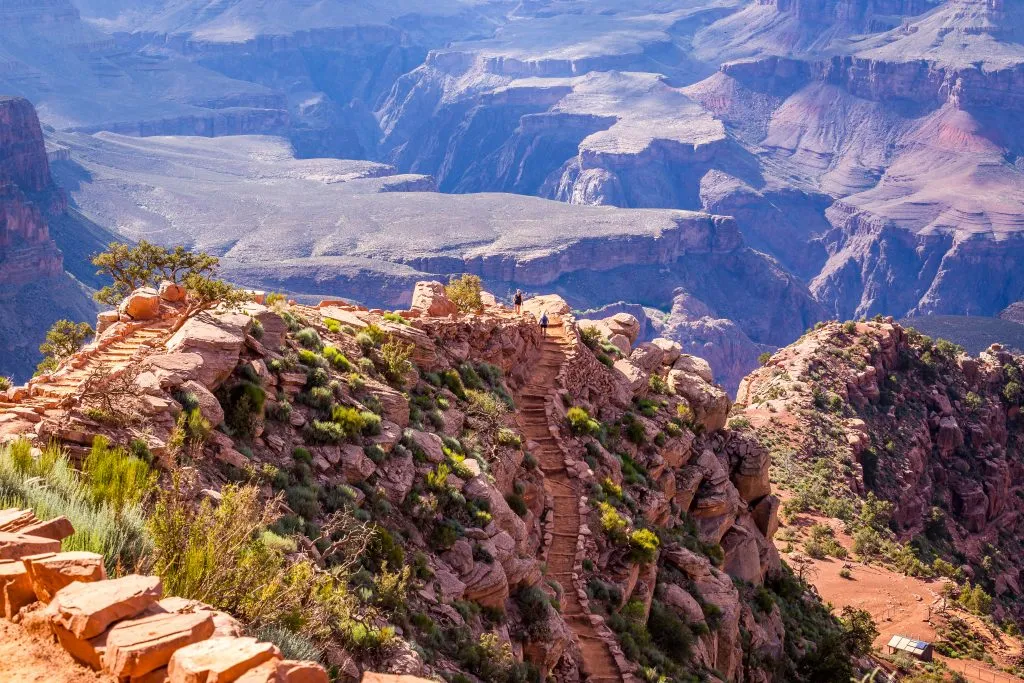 Columbia River Gorge, Oregon and Washington
From Adria of The Emerald Palate
The Columbia River Gorge is a breathtaking place to visit in November for vacation.
This 90-mile stretch of canyon was created millions of years ago by lava flows and now separates Washington and Oregon state.
The cliffs range from zero to 4,000 feet above the Columbia River raging at the bottom of the canyon, which makes for stunning views, hikes, and waterfalls.
November is a great time to visit the Columbia River Gorge because it's less crowded than in the peak summer months, and the area is dotted with beautiful foliage.
Plus, it's only about 45 minutes to the many Mt. Hood skiing areas, which typically have snow starting in mid-November.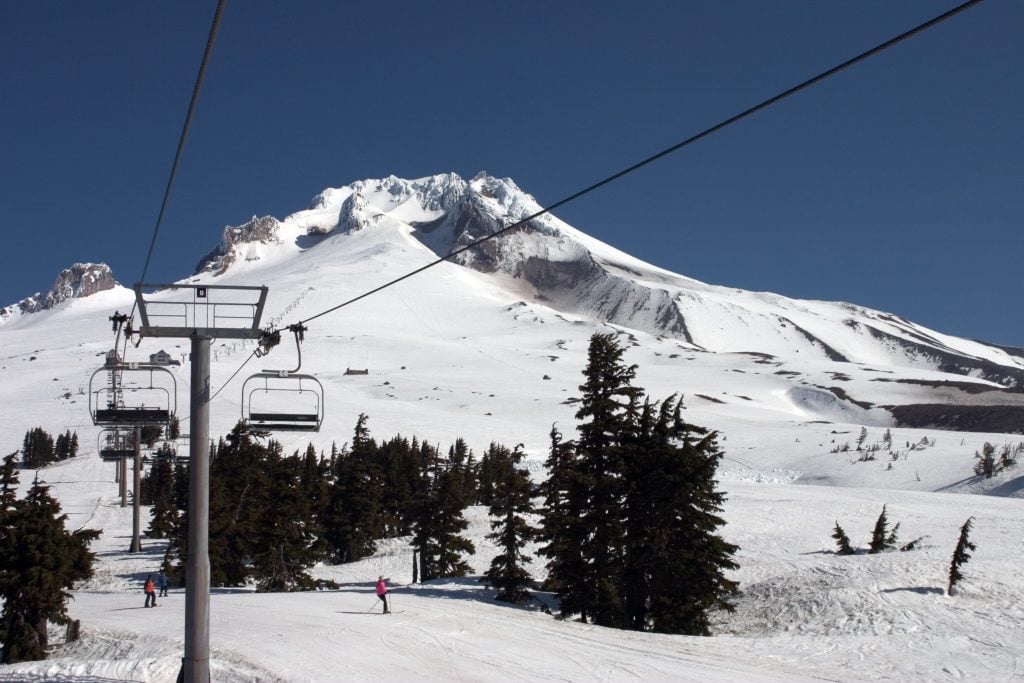 Here are must-see places during your November trip. Starting from Portland, head about 35 minutes east to Vista House.
This architectural beauty was built in 1915 as a free spot for weary travelers to rest and take in views of the Gorge.
From there, head about 10 minutes to Latourell Falls and the famous Multnomah Falls.
Both can be seen after a relatively short hike. You can even see Multnomah Falls with a historic bridge spanning its center from the highway!
Stop in Hood River, Oregon to try one of the many area breweries, or check out the many wineries in the Columbia River Gorge AVA.
When you need a break between tastings, cross into Washington and check out Catherine Creek, another stunning area that lets you meander mostly flat trails right along the cliffs.
Where to Stay at the Columbia River Gorge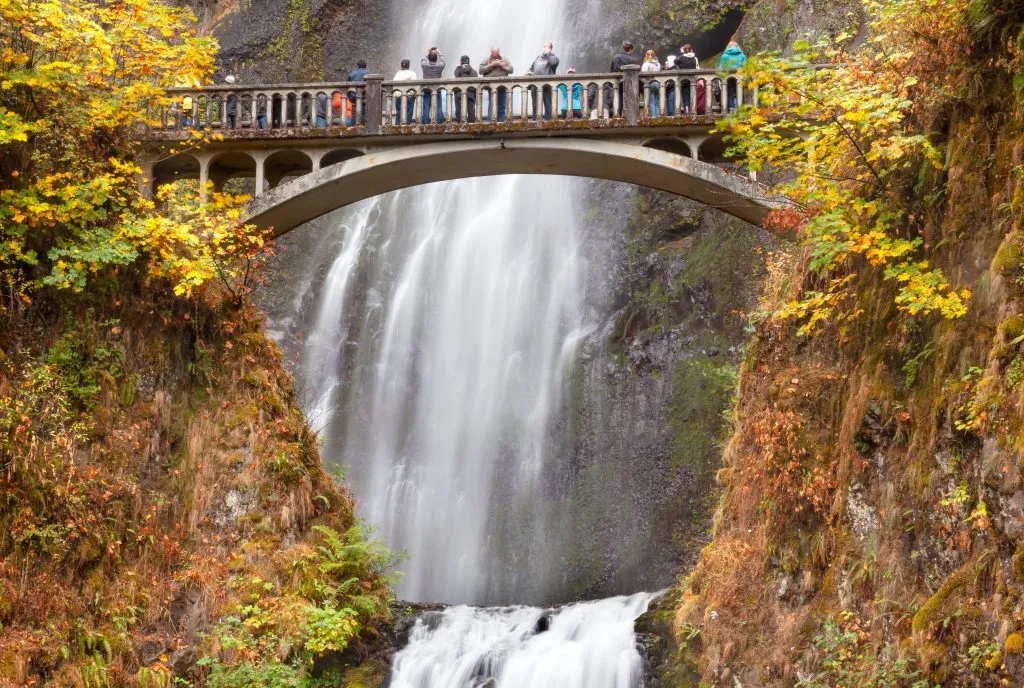 Death Valley National Park, California and Nevada
From Ale of Sea Salt & Fog
Given its name, you'd assume that Death Valley National Park is a barren landscape, but that couldn't be further from the truth.
While the park does have dangerously high temperatures in the summer months, the late fall brings beautiful, mild weather, making this unique landscape one of the best (and still warm) places to go in the US in November!
Death Valley is stunning, with colorful desert landscapes, uninterrupted starry night skies, and out-of-this-world natural formations.
The park is home to the lowest point in all of the US: Badwater Basin, a large salt flat area that makes for cool photos.
Similarly, Artists Palette is an easy, picturesque drive where the mountains appear painted in striking colors.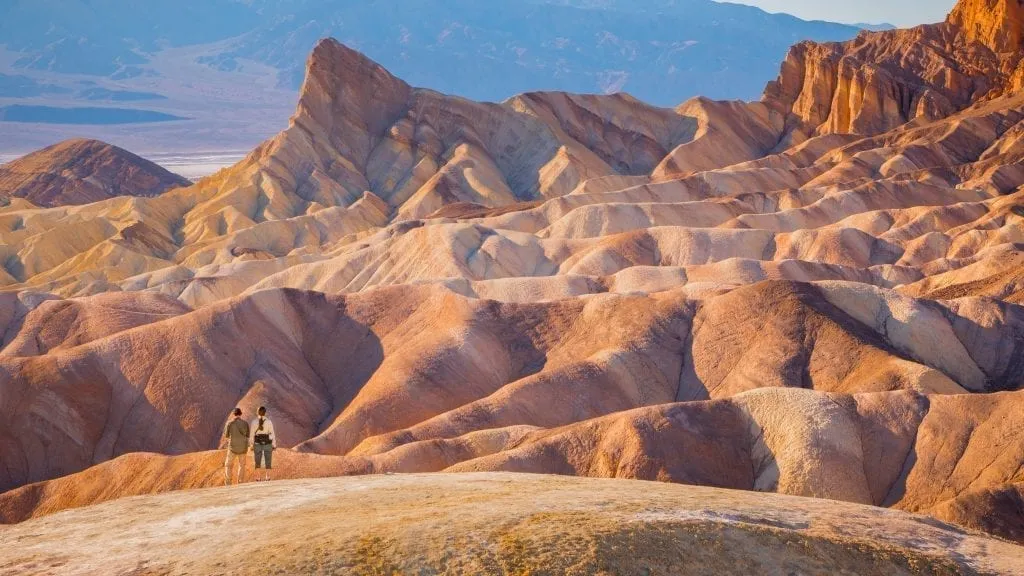 Another must-do in Death Valley is watching the sunrise from Zabriskie Point where the mountains come alive in lovely, soft shades of pink and purple.
For sunset photos, the sand dunes are the place to be.
The stargazing here is some of the best in the US thanks to Death Valley's remote location.
Plan to spend at least one day in Death Valley, though 2-3 is even better!
Death Valley National Park is an easy weekend trip from Los Angeles or Las Vegas.
No matter how much time you spend here, Death Valley is sure to be a delight.
Where to Stay at Death Valley National Park
Stick around in the park after dark or go camping in Death Valley and you'll have unspoiled, dark desert skies all to yourself.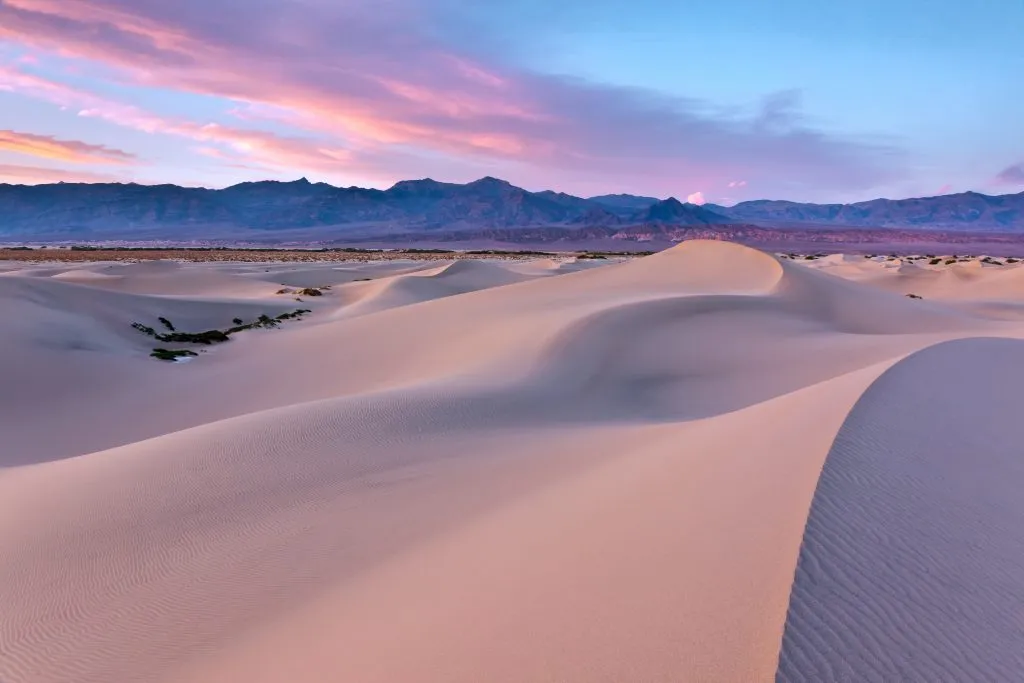 Sanibel Island, Florida
From Lori of Naples Florida Travel Guide
Among the Gulf Coast barrier islands off the coast of Fort Myers, Sanibel Island is one of the most popular destinations in southwest Florida.
November is the perfect time to visit as well when the summer humidity has finally gone, temps are a balmy 80 degrees (F), and the winter seasonal crowds have not yet arrived.
Getting to Sanibel is super easy with Southwest Florida International Airport (RSW) just minutes away.
You won't find high-rise hotels, fast food chains, or glitzy clubs on Sanibel.
In fact, the island is more wildlife than nightlife, and is best known for its fiery sunsets and the thousands of colorful seashells that wash up on its shores each day.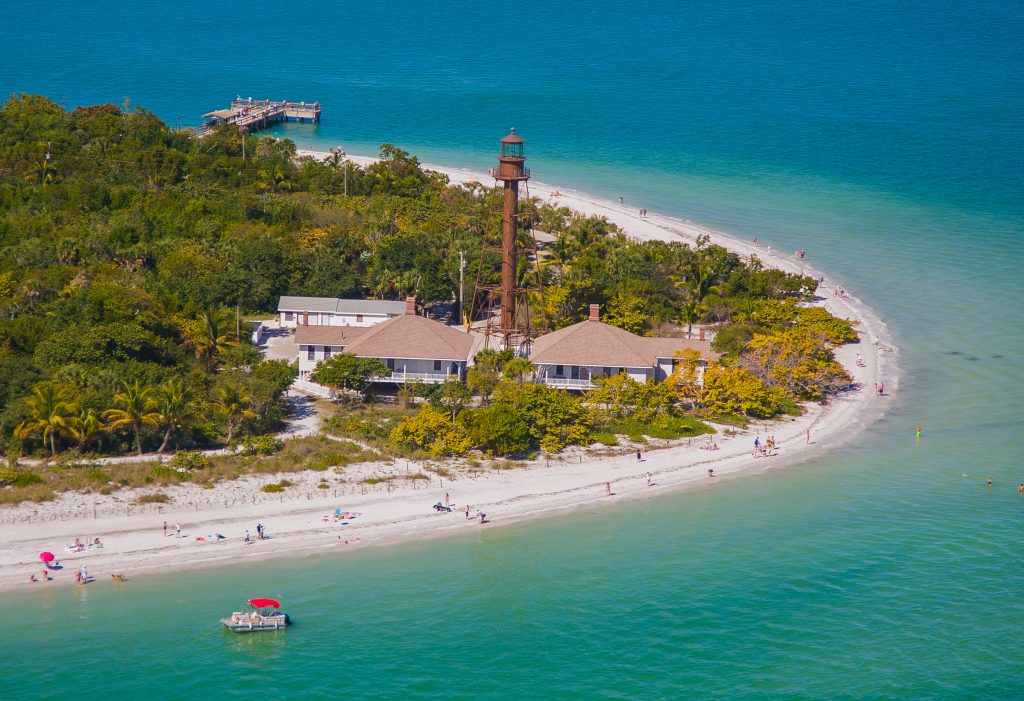 It's a natural island experience, highlighting coastal Florida before mass development.
The beaches here are largely uncrowded with gorgeous, soft white sand, and the J.N. "Ding" Darling Wildlife Preserve offers outdoor lovers a chance to experience the local flora and fauna without the crowds.
Or you can explore the entire island on 2 wheels on a dedicated bike path that runs the entire length of the island.
If you're longing for a Florida island getaway in November without the crowds, Sanibel Island is a perfect choice!
Where to Stay in Sanibel Island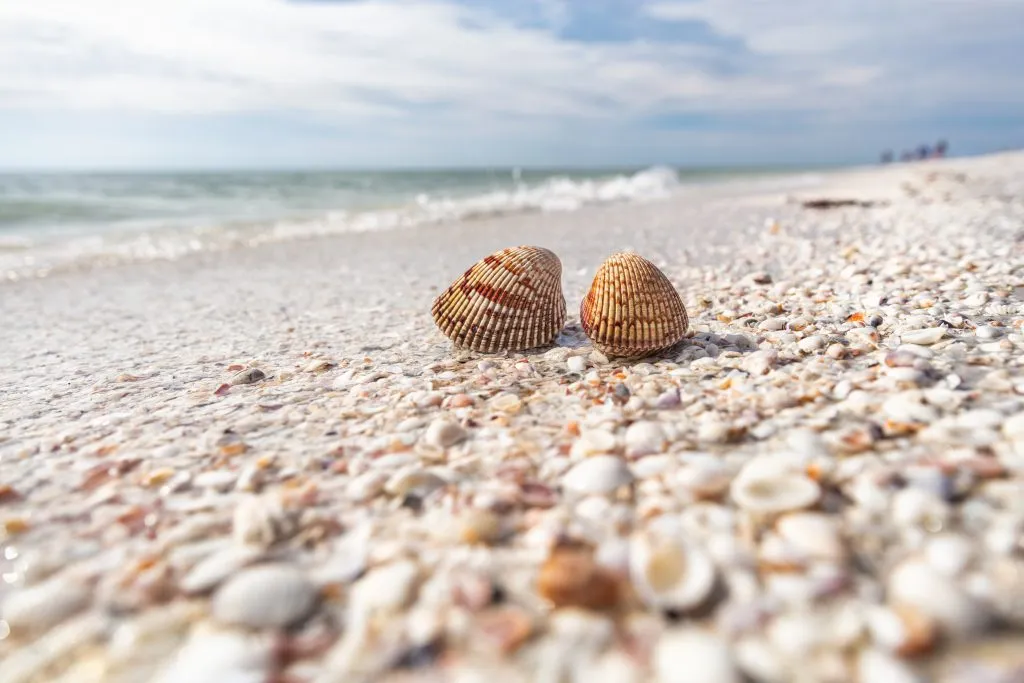 Sedona, Arizona
From Heather of Wanderlust in Real Life
With its desert landscape and focus on the outdoors, Sedona, AZ is a great place to visit in November.
The temperatures are moderate and it typically still doesn't get below freezing.
The weather is absolutely perfect for hiking, and the hiking in Sedona is abundant!
Some of the best hiking trails include Devil's Bridge, Cathedral Rock, Little Horse Trailhead, Birthing Rock, and Bell Rock (which is a hike and also a vortex!).
Other than hiking, some great things to do in Sedona include driving the Red Rock Scenic Byway on AZ179 where there are many opportunities to pull off and admire the stunning views.
The best times to enjoy the byway are sunrise and sunset, though the middle of the day is still spectacular.
Another great view during sunset is the lookout at Airport Mesa.
The crowd can be large at sunset, so be sure to be there early to claim your spot!
If you want to take in the scenery of the red rocks but not necessarily put in serious mileage hiking, the popular Pink Jeep Tours are a really fun option.
They drive you around the back roads and you are able to experience the gorgeous more remote Sedona scenery.
Where to Stay in Sedona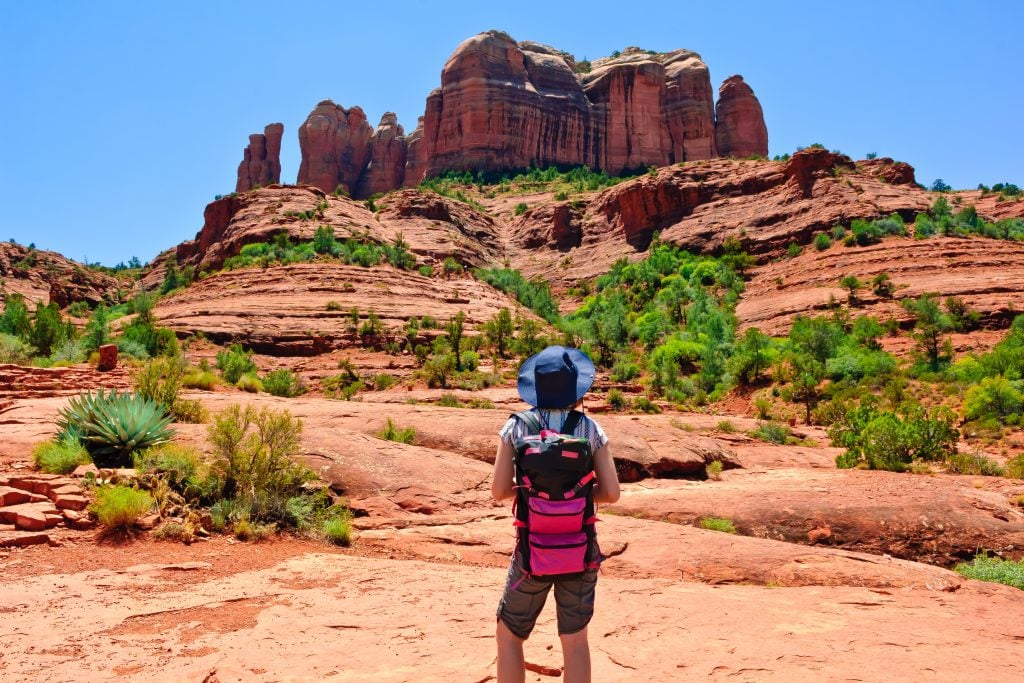 Cedar Key, Florida
Vicky of Buddy The Traveling Monkey
One of the best destinations in the USA in November is Cedar Key, Florida.
This charming town is located in North Central Florida on the Gulf of Mexico. It has a laid-back attitude and it's a perfect place to relax and wind down.
In November, the average high temperature is 71° and the low is 58° which is great for being outdoors.
Cedar Key is known for its outdoor activities like fishing, kayaking, camping, and hiking.
The Cedar Key National Wildlife Refuge is also a fun place to explore, especially if you are a birder.
If you want to spend some time indoors, there are also many shops and restaurants in the downtown area. Steamer's is a popular restaurant known for its seafood and Key Lime pie.
If you want to learn more about Cedar Key and its interesting history, you should definitely visit the Cedar Key Historical Society Museum.
The museum is made up of two buildings that house artifacts that date back to prehistoric times.
Where to Stay in Cedar Key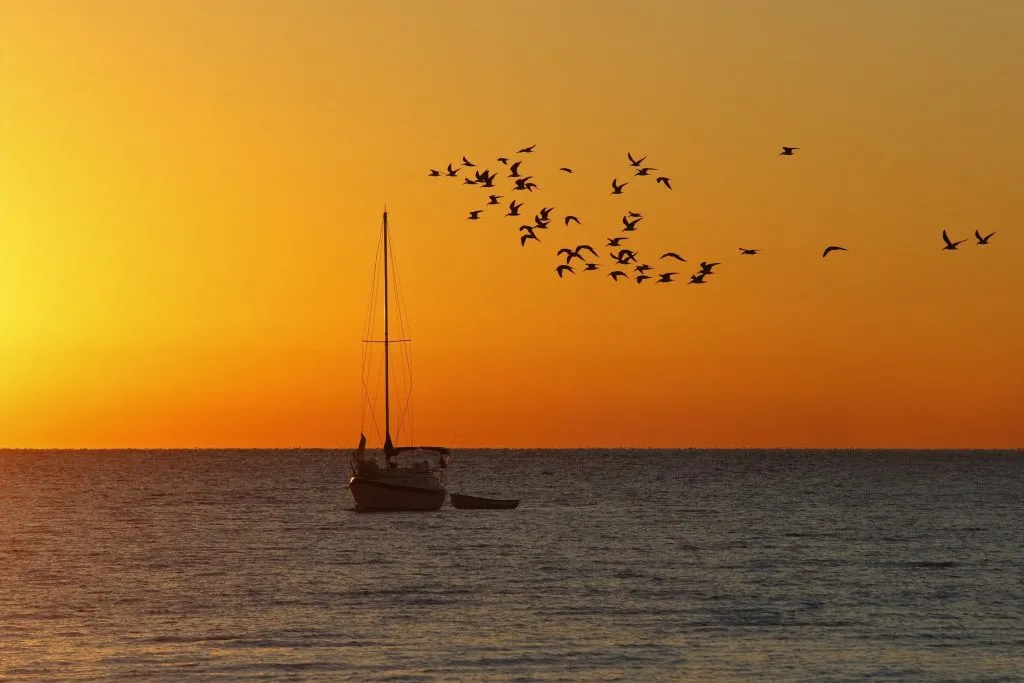 Bend, Oregon
From Allison of She Dreams of Alpine
If you love outdoor adventures, the PNW mountain town of Bend, Oregon makes a fantastic fall destination in November.
While Bend offers tons of fun all year round, in November you can hit the sweet spot of cooler temps without the summer crowds.
Smith Rock State Park is a must-visit when in Bend, and November is a perfect time to explore this desert-like landscape.
The weather will usually be just about perfect for hiking around the impressive volcanic rock formations, and if you're a rock climber, you can climb to your heart's content in the sun.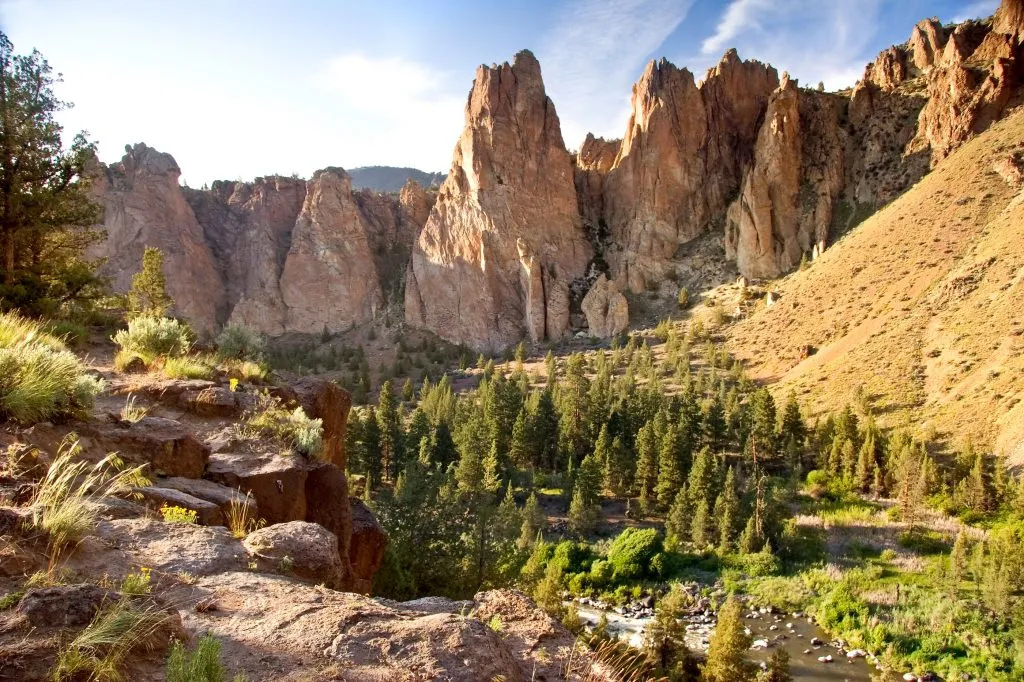 Another amazing attraction near Bend is the Tamolitch Blue Pool.
This serene and stunning lake is a lovely 4-mile day hike, and if you go in early November, you might still catch it surrounded by colorful fall foliage.
In late November, it will turn into a winter wonderland in the snow.
Finally, one of the best things to do in Bend is to relax in one of the many natural hot springs in the area, and that's the perfect way to stay nice and cozy on a crisp fall day.
Where to Stay in Bend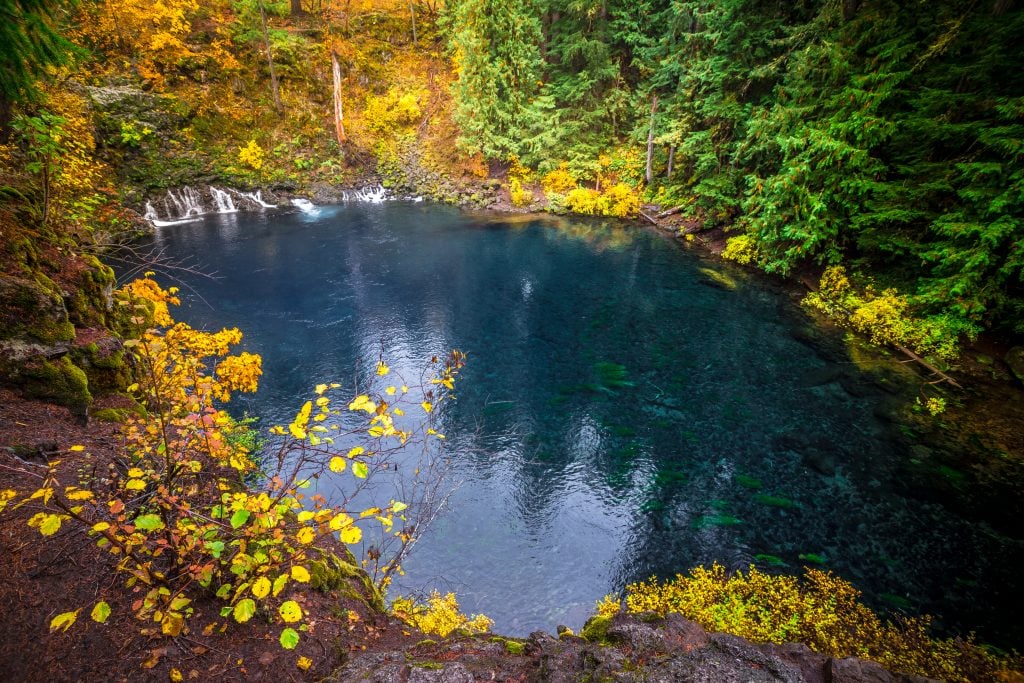 Moab, Utah
From Daria of The Discovery Nut
As the gateway to both Arches National Park and Canyonlands National Park, Moab is one of the most popular destinations in Utah among visitors.
Summers are the busiest in Moab, which is when thousands of tourists come to enjoy its national parks, raft in the Moab River, and mountain bike in the stunning red-rock country, among many other activities that Moab has to offer.
Besides the sweltering temperatures that can make spending time outside, let alone hiking downright difficult, summer is also arguably the worst time to visit this part of Utah.
Ironically, summer is also the most expensive time to visit!
From hotels to restaurants and adventure tours, everyone is trying to make the most money during the busiest season in Moab.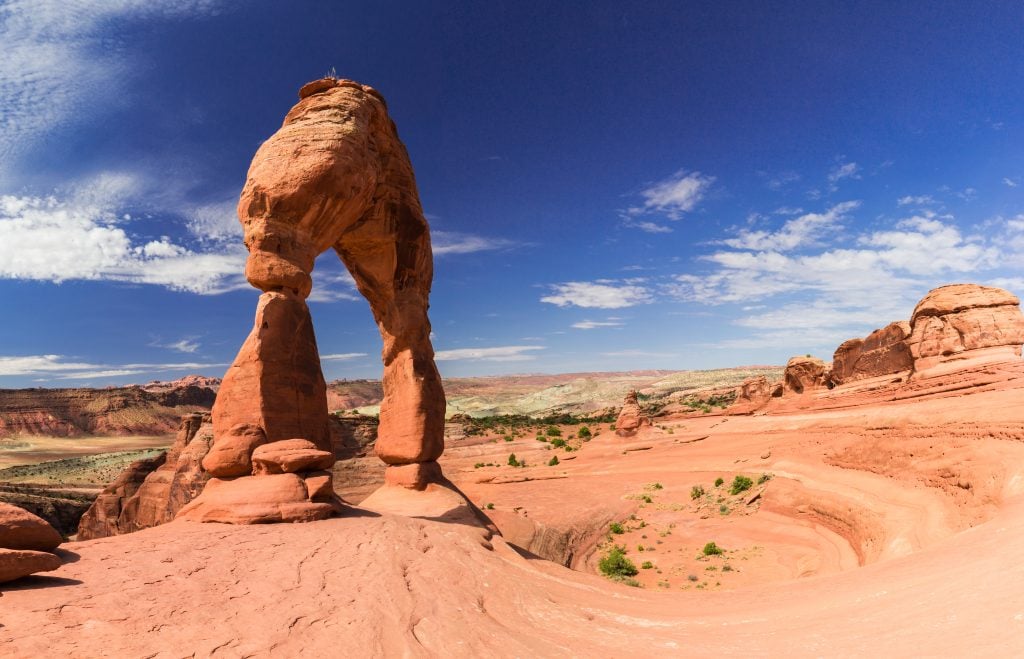 With that in mind, fall is the perfect time to visit Utah's red rock country.
The crowds are gone, and the temperatures are mild to the point where you can spend time outdoors and score a deal on tours.
The downside of the colder season is that certain restaurants and businesses might be closed, but there are still plenty of places to eat and adventure in Moab, so you will not run out of places.
However, make sure to bring warmer clothes, as it's not uncommon for Moab to see some snow in November.
Still, temperatures hover around the high 50s during the day and dip into the 20s at night.
Where to Stay in Moab, Utah
More of the Best Places to Visit in November in the US
Texas Hill Country
Cool(er) weather, fall foliage, wineries, and delicious food all make the Texas Hill Country one of the best places to visit in November in the USA!
While fall foliage is fading in much of the country by November, it's when Central Texas' leaves burst with color.
Lost Maples State Natural Area is one of the absolute best places to experience fall foliage in Texas, and nearby Garner State Park shouldn't be missed, either.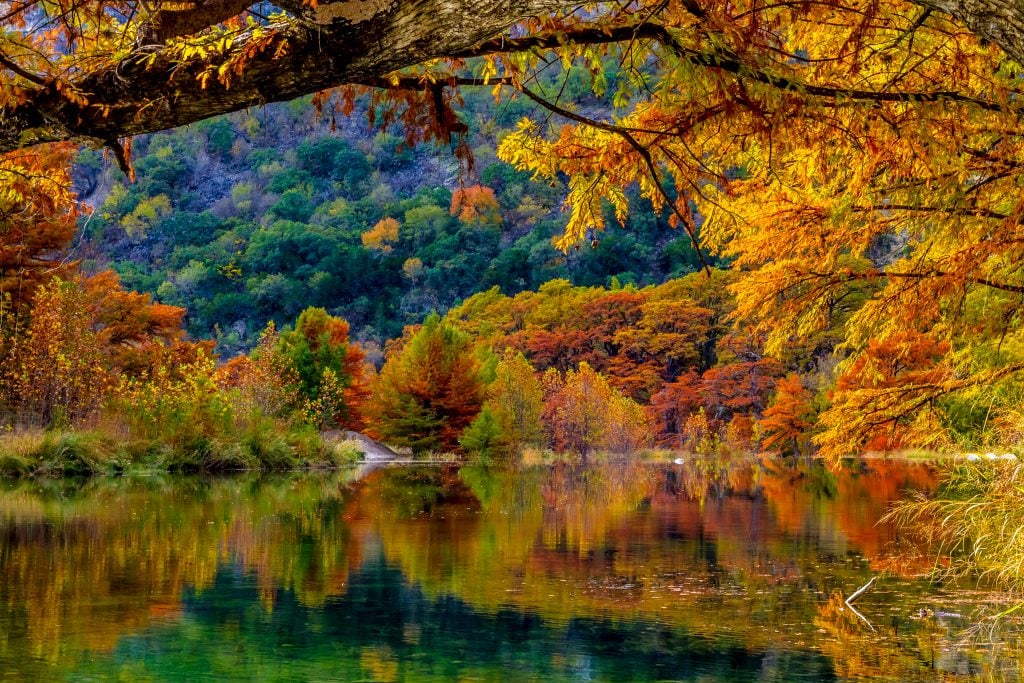 Some of the best hiking destinations in the Hill Country, such as Enchanted Rock, are perfect to visit in November when the weather has cooled off enough that the temperatures tend to be pleasant.
Small towns like Fredericksburg, Boerne, Llano, and more, are bursting with festivals throughout the season, and wineries are eager to welcome visitors to spacious patios.
Where to Stay in Texas Hill County
Oahu, Hawaii
From Sydney of A World in Reach
If you're looking for a place to escape the chilly fall weather, then book your flight to Oahu this November.
Whether you want to explore the culture or just relax by the beach, there is something for everyone on this beautiful island.
In November, Oahu's temperatures hover around 78 degrees during the day.
These cooler daytime temperatures make for great hiking weather, yet are still warm enough for a beach day.
The best part of visiting Oahu in November is that it's in the middle of the low season for tourists, which means fewer crowds and cheaper prices on flights and lodging!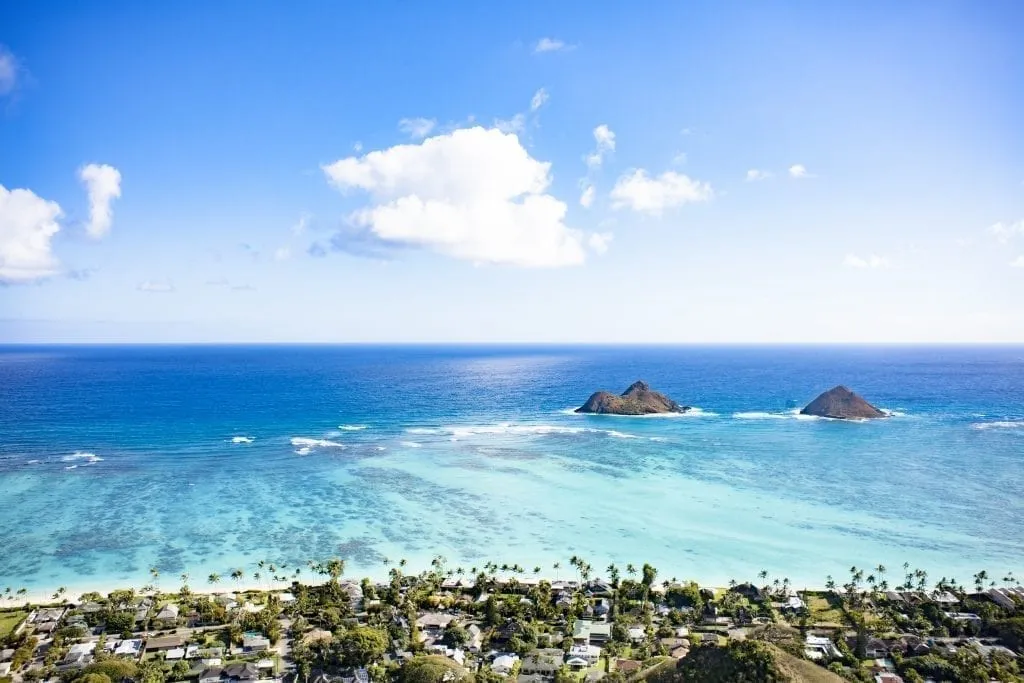 There are so many amazing things to do in Oahu to keep you busy during your trip.
Oahu has some of the best beaches in the world, from the world-famous Waikiki Beach to the quiet beaches of the North Shore.
Oahu is also known for its hiking trails – Diamond Head is one of the most popular on the island.
Other unique things to do in Oahu include taking a local cooking class or going on a catamaran cruise to see marine life.
Where to Stay in Oahu, Hawaii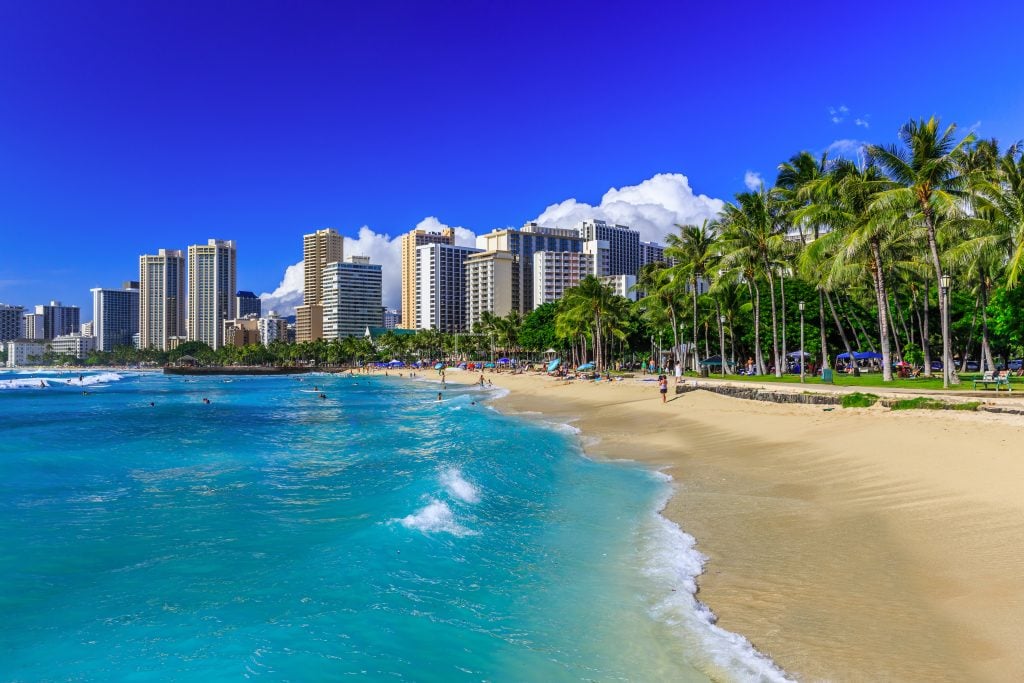 Napa Valley, California
From Dhara of Roadtripping California
Visit Napa Valley in November, and you will fun the best of Northern California's renowned wine country without the crowds of summer or crush season.
Fall colors in Napa Valley peak in November, so it's a fabulous time to drive around the region and take in the brilliant hues of the vineyards and deciduous trees.
Pick a few wineries to visit, not only for outdoor tastings with views but also for the beauty of the gardens and grounds.
Or, if you are feeling adventurous, go ballooning over the valley to enjoy the fall color from above!
Napa Valley is known for its farm-to-table food offerings, and November is the time for all things pumpkin and squash.
You will find seasonal delicacies on the menus of many area restaurants and bakeries.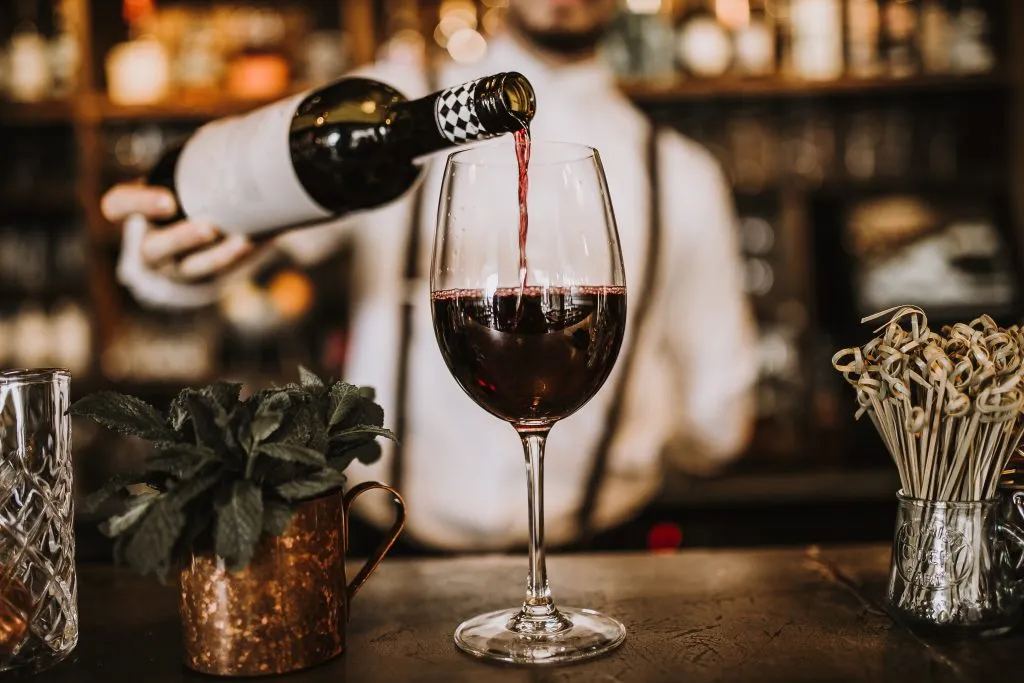 The pumpkin spice latte at Bouchon Bakery is a must!
Starting in mid-November, you can enjoy holiday decorations in the shopping centers of Napa Valley towns, as well as lights at night.
The air is a little crisp in the evenings, so bring layers and enjoy strolling the festive streets.
Each Napa Valley town offers unique boutiques and galleries if you want to get in a little holiday shopping during your November vacation in the USA.
From olive oils to artisanal chocolates, and, of course, world-famous wines, you will have lots to choose from!
Where to Stay in Napa Valley
To relax in Napa Valley, book a room for a few nights at the Calistoga Motor Lodge and Spa.
You can enjoy the on-site hot springs where you can soak all of your holiday stress away while rejuvenating your skin with natural minerals.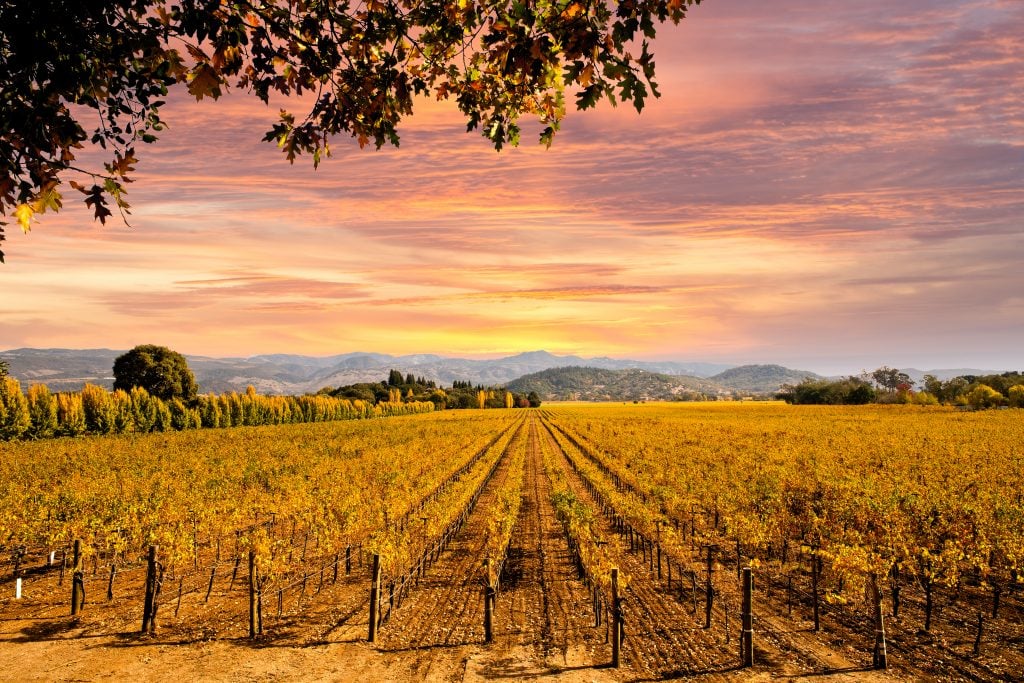 Kauai, Hawaii
From Nikki of She Saves She Travels
If you're looking for a great November vacation in the USA, then Kauai, Hawaii absolutely must be a consideration.
Kauai is the lushest and most underrated of the Hawaiian islands.
Nicknamed the "Garden Isle", Kauai's beauty is arguably unmatched by the more popular islands of Oahu, Maui, or the Big Island.
Home to the stunning NaPali coast and Waimea Canyon, this island just begs to be explored.
The month of November is one of the best times to travel to Kauai.
Flights and accommodations tend to be more affordable because the island is less in demand.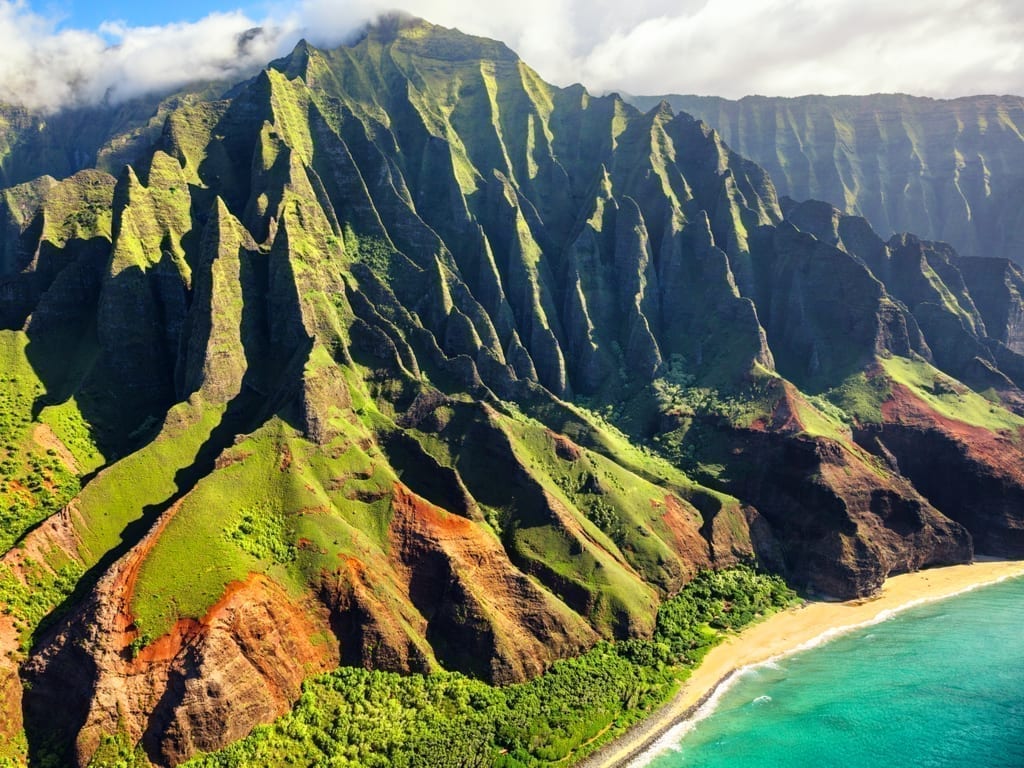 Staying in the popular Poipu area allows for easy access to most of the island, and provides a lot of accommodation options from luxury hotels to small condos.
Be sure to take a day trip to the north shore and check out all the best Kauai beaches like Anini Beach, Tunnels Beach, and Secret Beach.
Another perk to traveling to Kauai in November is that the foliage is still in bloom from the summer months and the heavy rainy season hasn't quite started yet. It's a fantastic time for hiking in Kauai, too.
Where to Stay in Kauai, Hawaii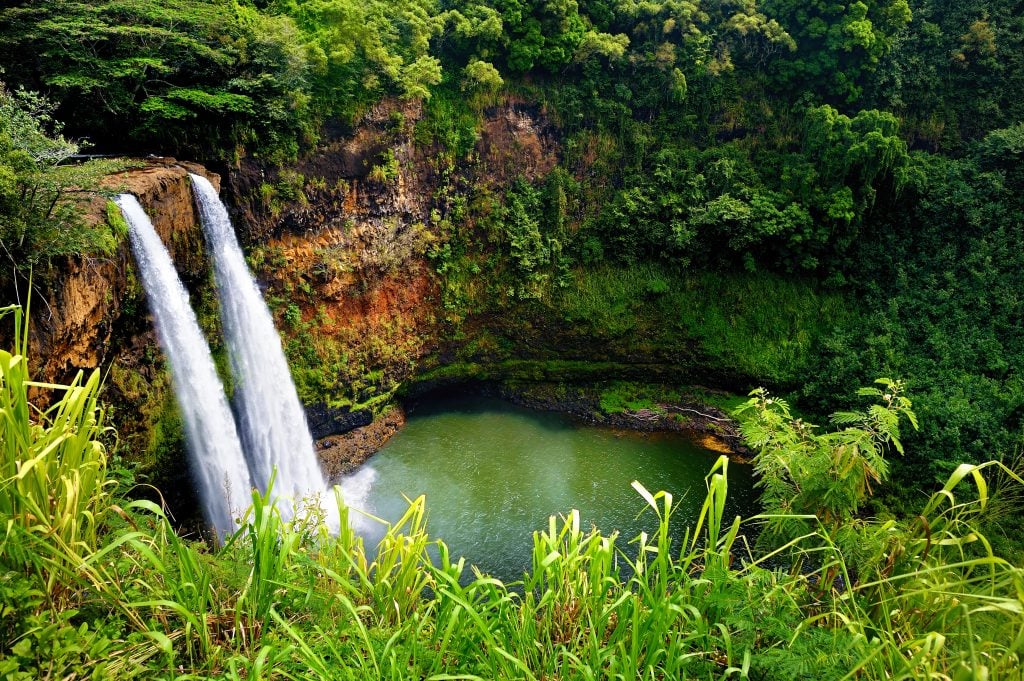 San Juan, Puerto Rico
From Julia of The Cure for Curiosity
If your idea of the perfect vacation is enjoying endless summer, it's time for a new type of trip in November.
Elongate your warm weather by heading to the sunny island of Puerto Rico!
Puerto Rico is a territory of the United States offering an exotic island vacation all without a passport and while using the US dollar.
However, the swaying palm trees, lively music, and vibrant island life that greet you will make you feel like you've traveled much further!
Exploring the colorful Caribbean city of San Juan, Puerto Rico you'll find everything from historic forts, like the can't miss Castillo San Felipe del Morro, to beautiful beaches with amazing snorkeling and scuba diving, even in November!
Get acquainted with the Old San Juan area and then branch out into the other top experiences in San Juan.
Take a salsa class. Try the local cuisine, like Mofongo. Hike in the tropical El Yunque Rainforest. Swim in the waterfalls. Really immerse yourself in the charms of Puerto Rico!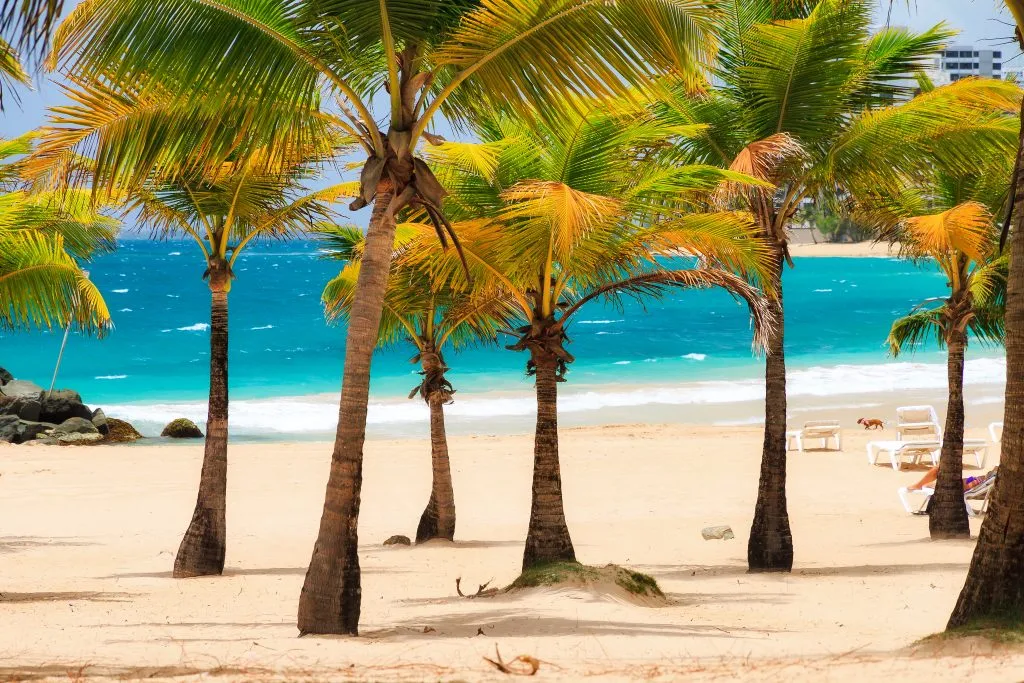 With such a rich culture, San Juan is a city unlike any other in the United States.
It will sweep you off your feet and keep you coming back again and again for the sand, sun, tasty local delicacies, friendly culture, and of course, the music that just makes you want to dance!
Where to Stay in San Juan